Easy steak hacks
Steak is my favourite protein, hands-down, but it took me years to have the confidence to cook even the simplest of steak cuts like sirloin or a ribeye in my own kitchen.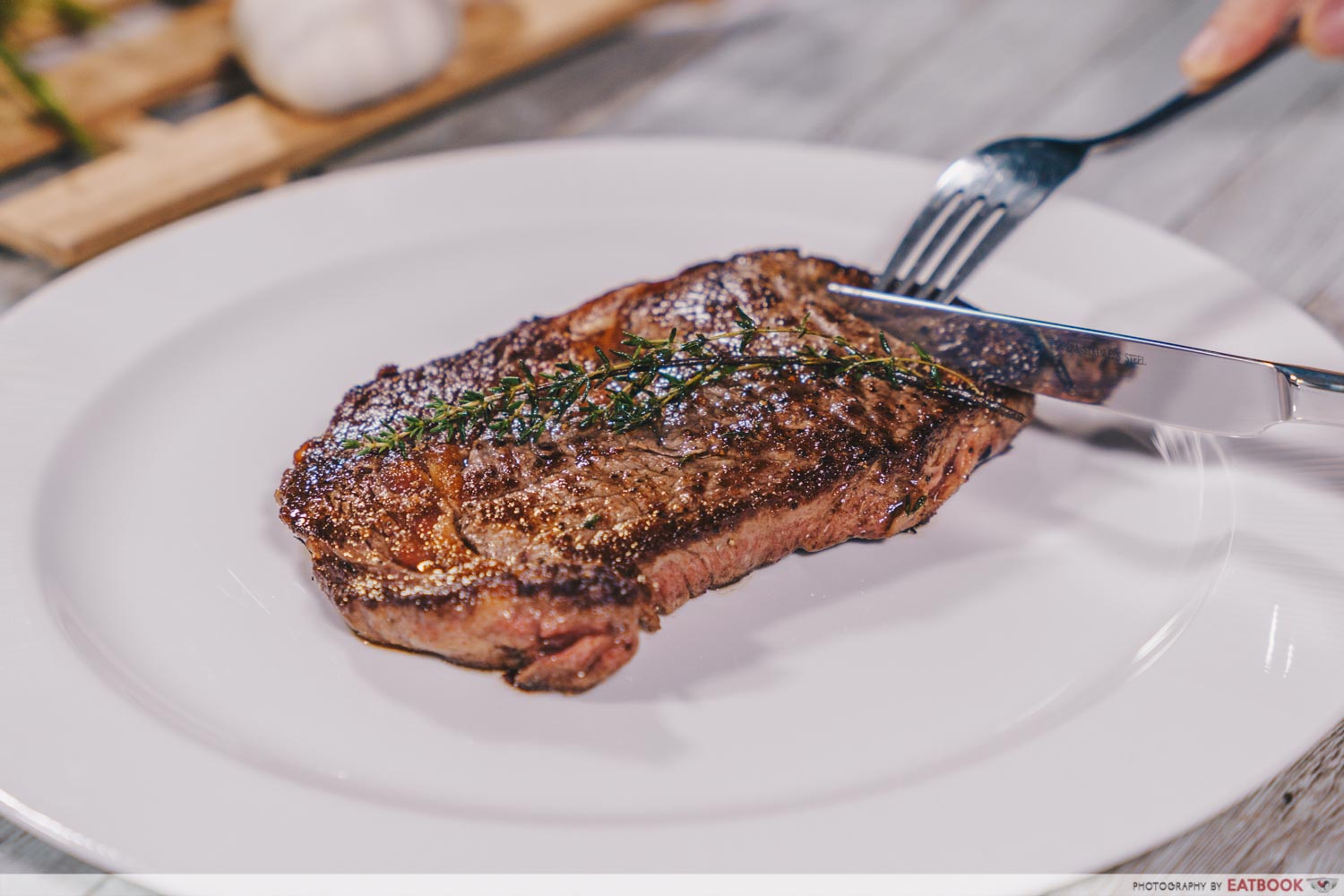 Though steak is truly simple in formula—all you really need is fire, beef, fat, and salt—it is tricky to ace, given how easy it is to overcook it if the conditions aren't right. As everyone knows, well-done steak is a travesty, and pretty much a waste of the money you put into buying that quality cut of beef.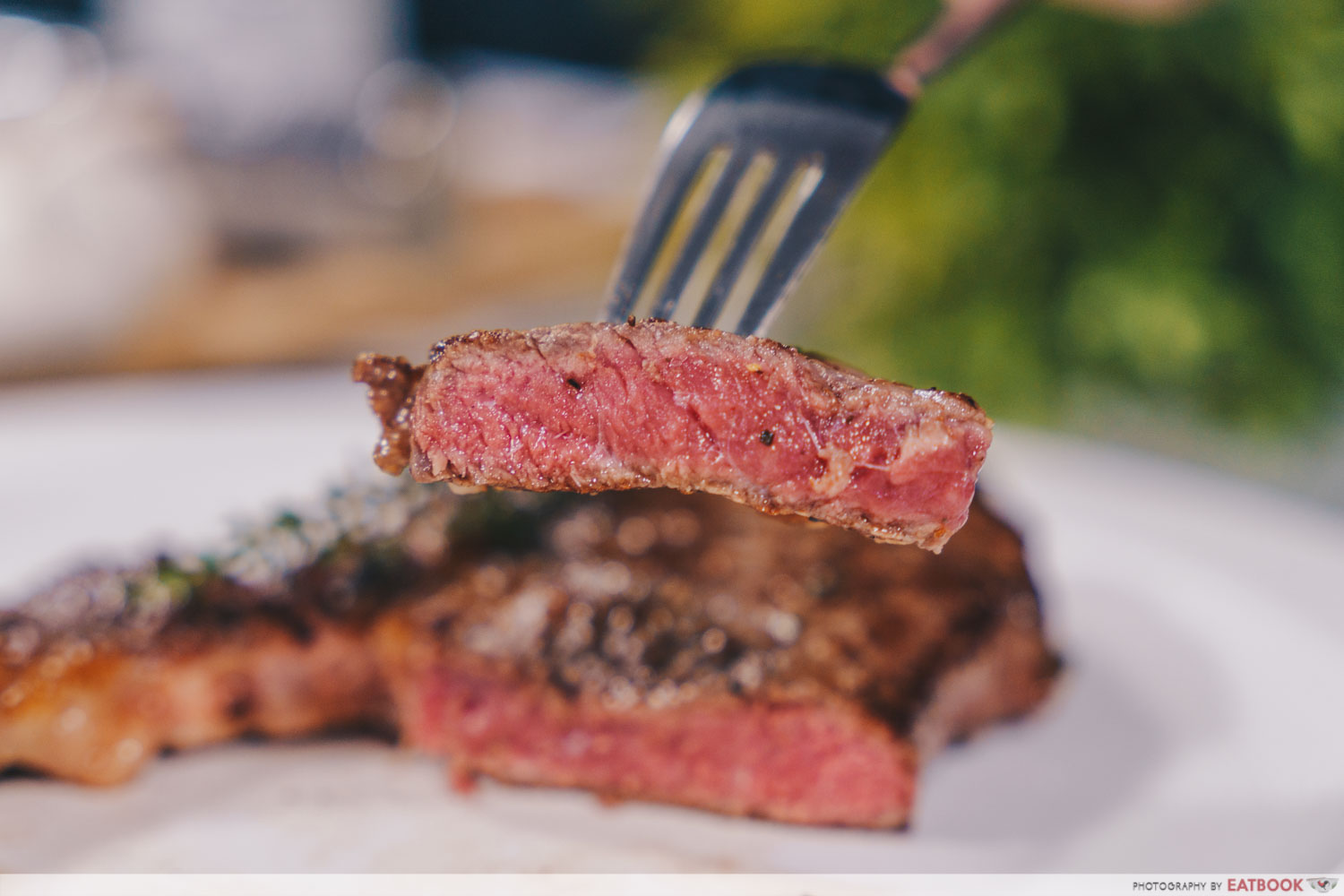 Along the way, I've picked up some easy steak hacks from watching the pros at work, all in the name of improving my home cooking game. So simple that even a complete kitchen noob can nail these, I am passing these on in the hopes to inspire confidence in fellow home cooks when confronted with steak on the menu.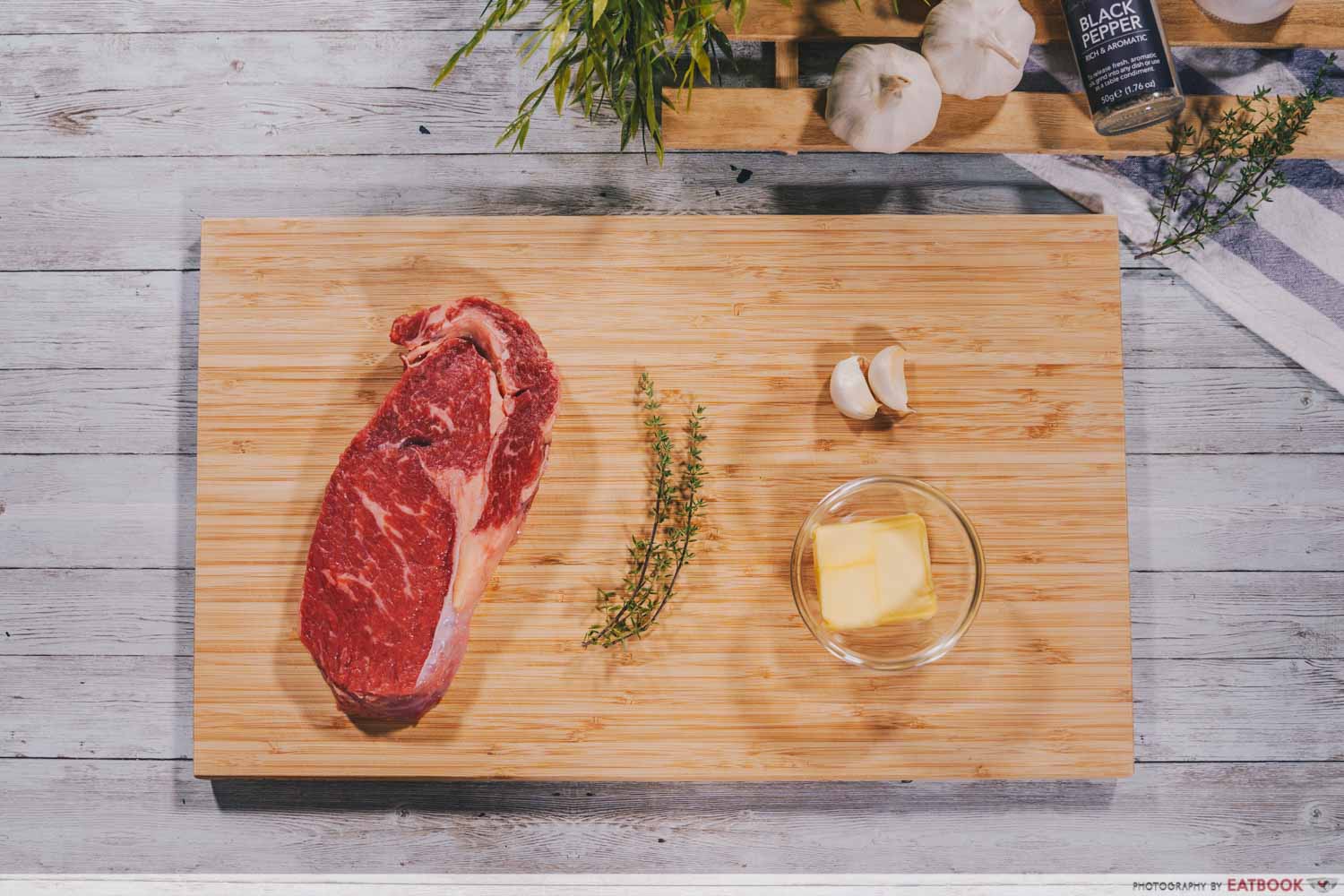 Before we get to the hacks, here are some ground rules before cooking:
Speak to your butcher

when shopping for steak in order to know what you should order, though ribeye or sirloin are easy bets.

The time it takes to cook steak to your desired temperature really depends on the thickness of the cut. A general rule of thumb is that a 22mm steak takes about a total of two-and-a-half to three minutes per side to cook on a stove to get a medium-rare cook, over medium heat. You can follow

this chart

for more detailed prep times. 

Always cook your steak at room temperature,

as cooking it cold can result in an uneven temperature throughout the cut.

Dry your steak

with a paper towel before cooking, as wet steak = bad, boiled steak.
Hack 1: Tenderise your steak with salt overnight before cooking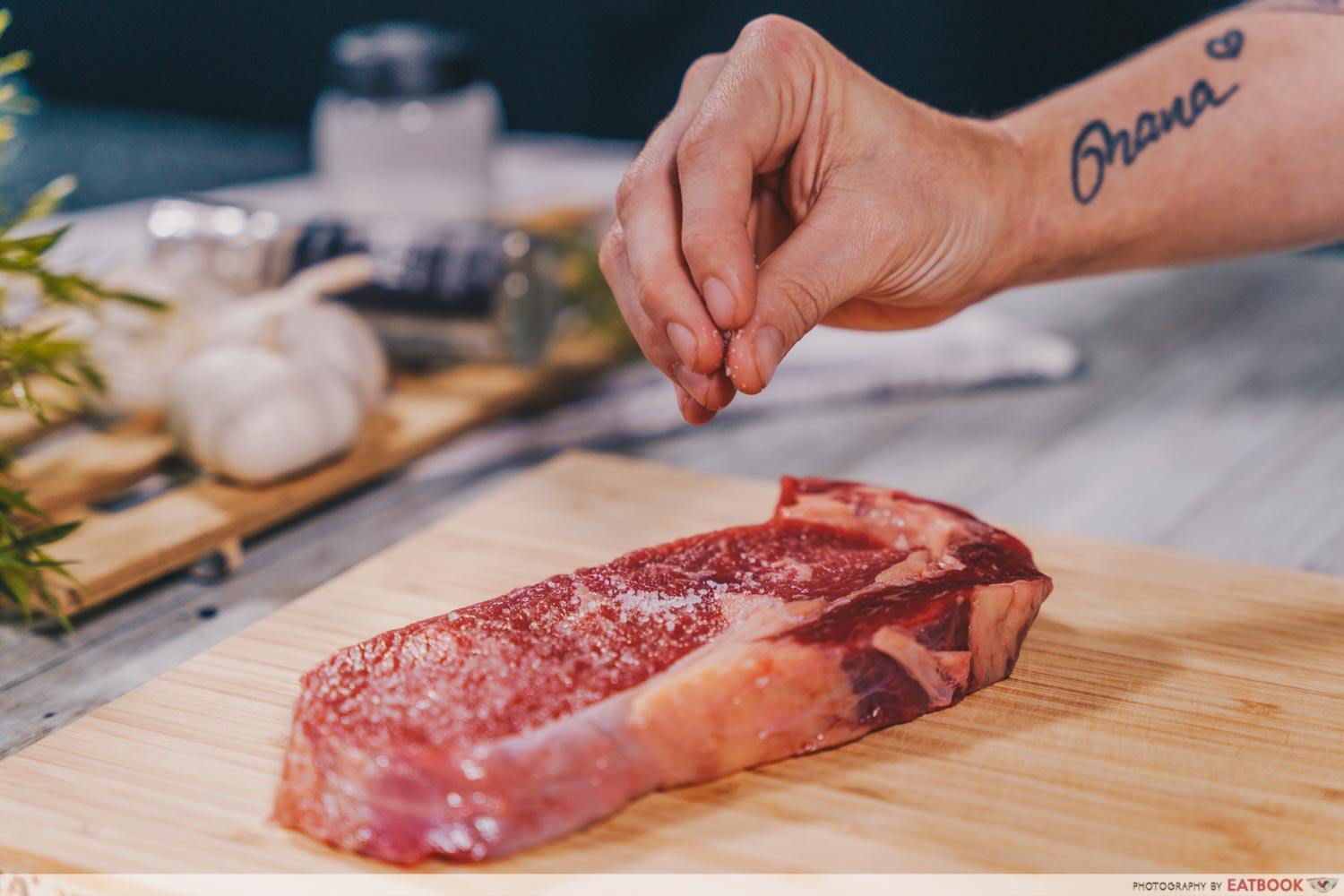 The best steak hack advice I was ever given was to season your steak like you're making it wear a shirt made out of salt and pepper. Sounds silly, but seasoning your steak before cooking is vital if you want it to score big on both texture and flavour.
A game-changing tip I picked up was to salt my steak on both ends overnight, leaving it on a rack in my fridge, uncovered. Compared to a steak salted just half an hour prior, this overnight prep made all the difference when it came to the tenderness of the steak. Finish off with a bit of pepper before it hits the pan, and you're gold. If you don't have the time, an hour in advance works almost as well.
Hack 2: Flip the steak more than once for an even sear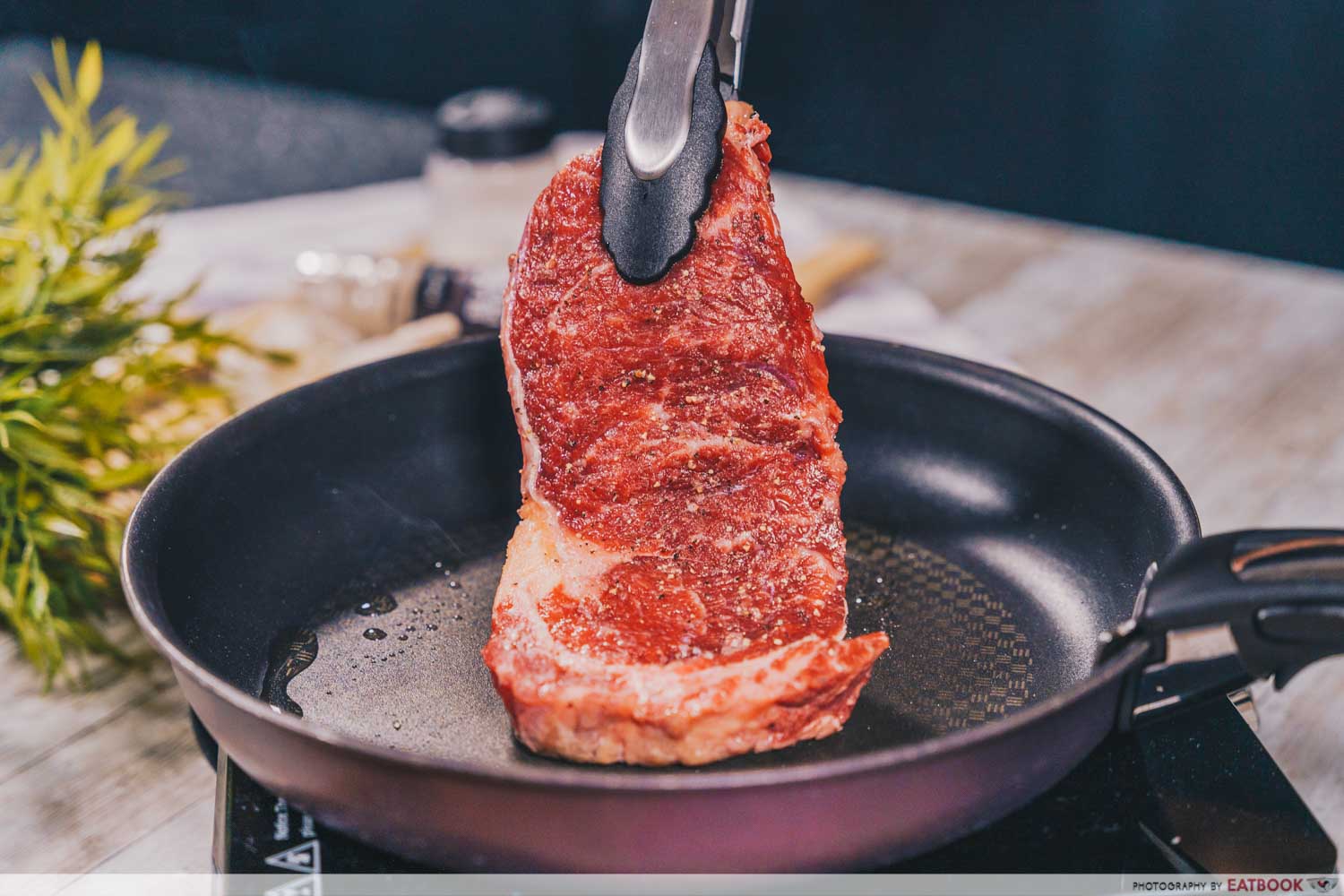 Most steak cooking guides mention that you can only flip steak once when you cook it, and only when the side touching the heat has fulfilled its allotted cooking time. I disagree, because personal tests have proven that flipping your steak multiple times throughout the cooking process actually helps make the steak more even in doneness. Just make sure to seal the sear on one side first by browning it, then get to flipping.
It sounds controversial, but it does work, and license to flip your steak multiple times also helps ease some of the anxiety of just staring at the beef as it sizzles in the pan, wondering if you're doing it right. 
Hack 3: Baste your steak with herbed butter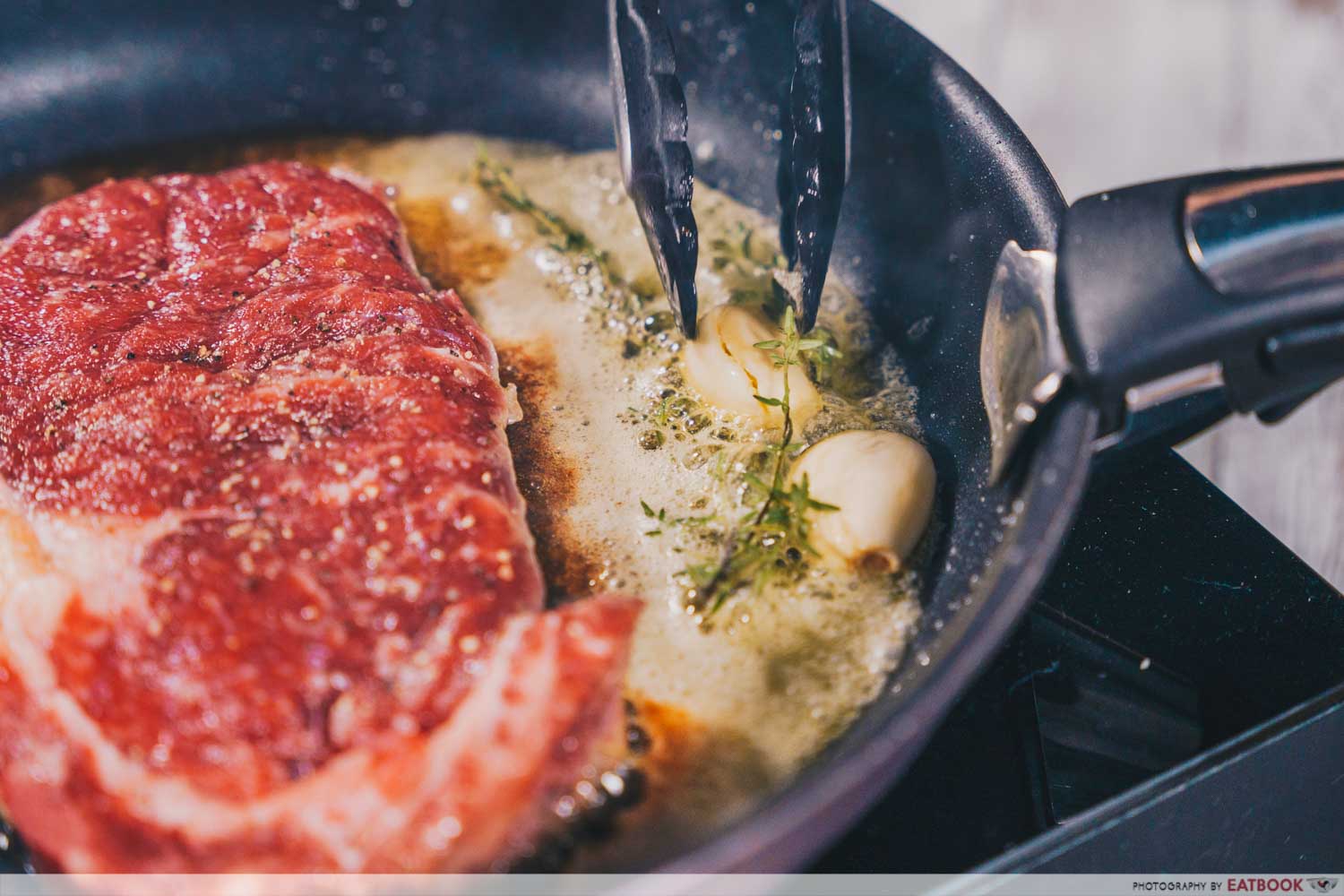 A simple way to improve the flavour of your steak is to baste it with a herbed butter throughout the cook.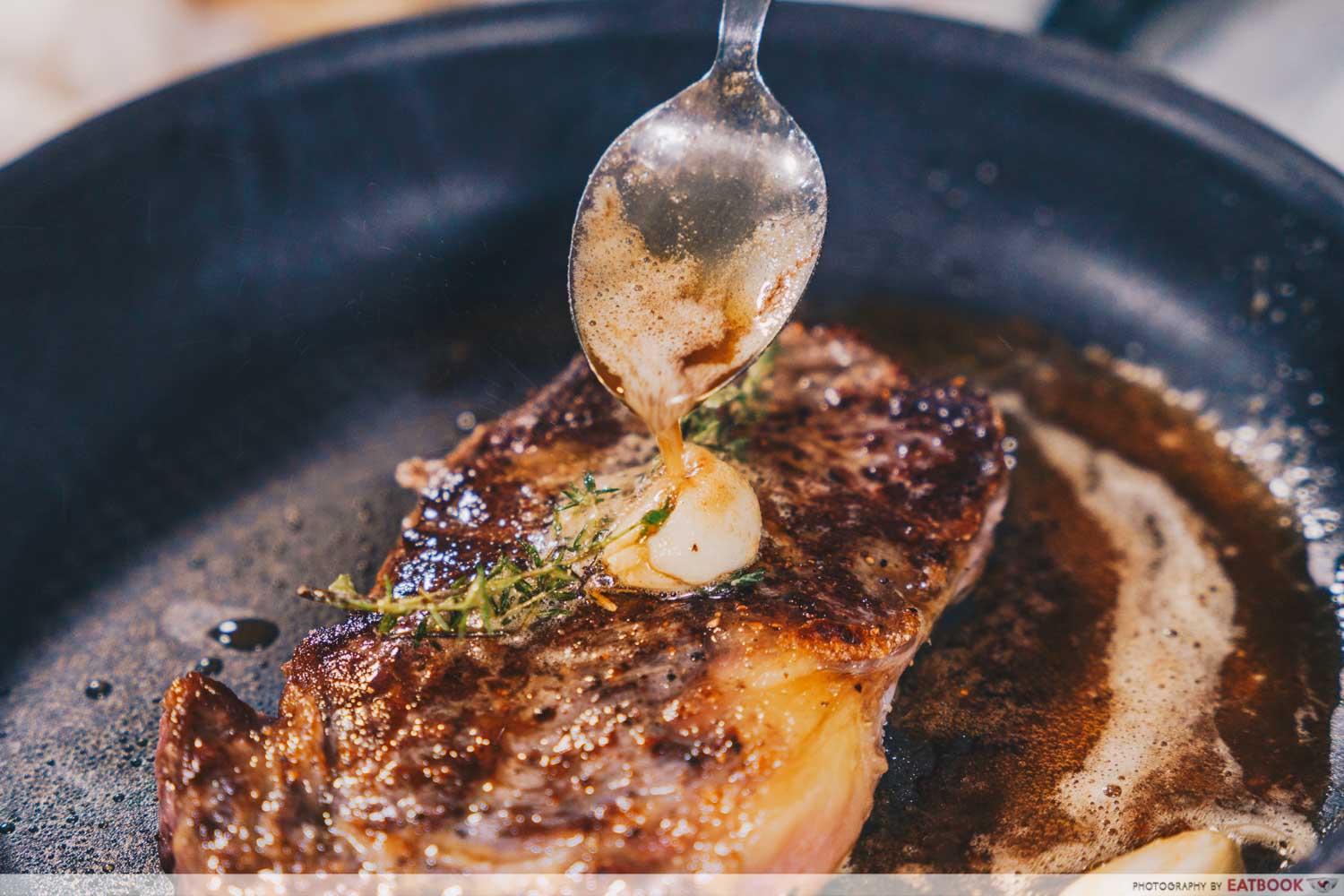 Have one tablespoon of butter, two cloves of garlic, and a few herbs of your choice, be it thyme, rosemary, basil, or a mix, in the pan as you cook the steak, and occasionally spoon the browned butter and herb mixture onto the steak as it sizzles.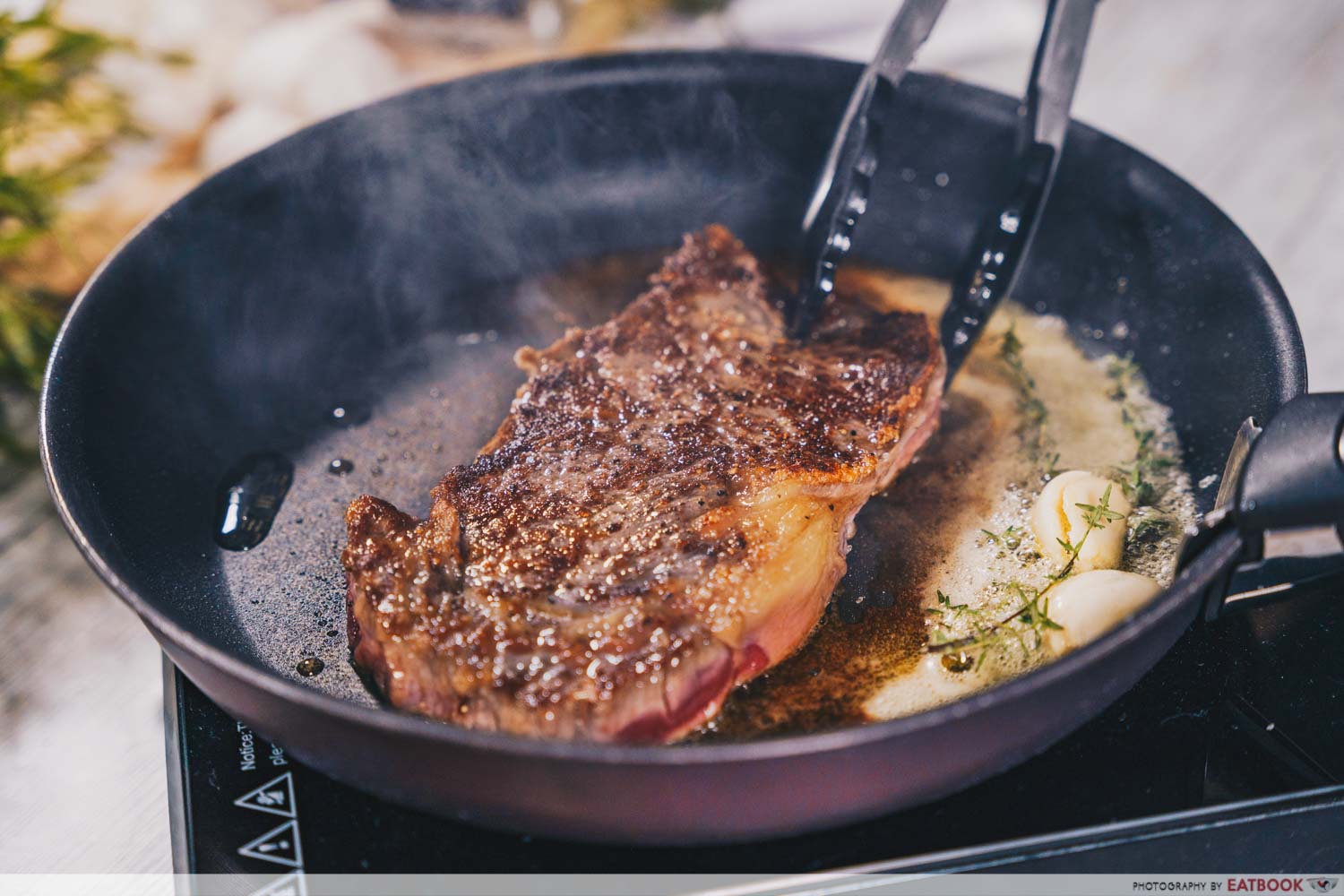 There, you're now armed with steak hacks that will help you ace your next meal. But, for nights when you're lazy to face the stove and prefer dining out instead, here are some steak restaurants to dine at instead, complete with gifts exclusive to UOB cardholders.
Lawry's The Prime Rib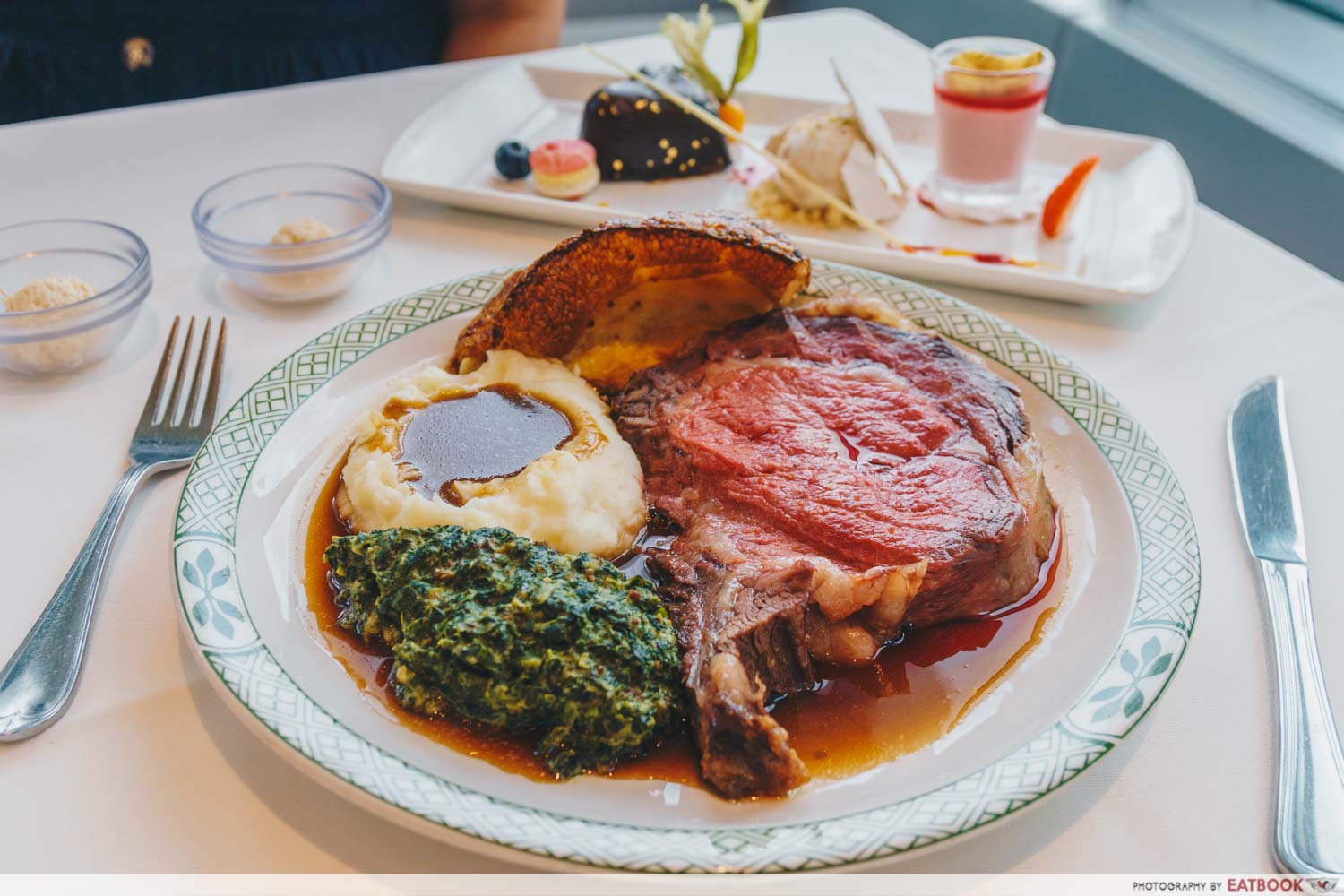 From now till 20 December 2020, get 20% off ala carte food items when you dine-in at Lawry's The Prime Rib, be it lunch or dinner, with a UOB card. The renowned American steakhouse will also have 10% off their takeaway menu for UOB cardholders, which includes takeaway, curbside pick-up, or delivery, with the code "STAYHOME10". 
Address: 333A Orchard Road, Mandarin Gallery, #04-01/31, Singapore 238897
Opening hours: Sun-Thurs 11:30am to 10pm, Fri-Sat 11:30am to 10:30pm
Tel: 6836 3333
Website
Dallas Restaurant And Bar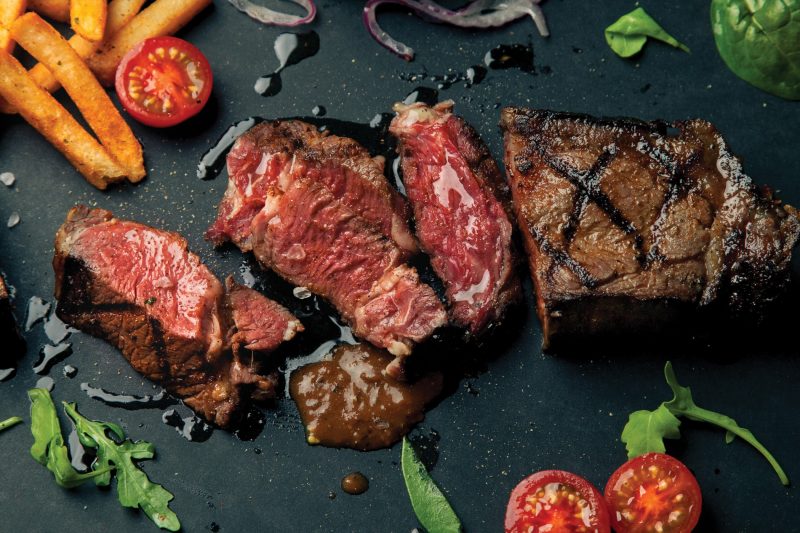 Image credit: Dallas Restaurant and Bar
Boat Quay's popular Dallas Restaurant and Bar will be offering UOB cardholders 20% off their ala carte and monthly set meal menus at their Boat Quay outlet. With this deal, you can get their signature Prime Ribeye with Fries (U.P. $38++) at quite a steal. Each has 250g of beef—a generous portion of meat that will leave you very satisfied. Terms and conditions apply.
Address: 31 Boat Quay, Singapore 049820
Opening hours: Daily 11:30am to 10:30pm
Tel: 6532 2131
Website
Zafferano Italian Restaurant & Bar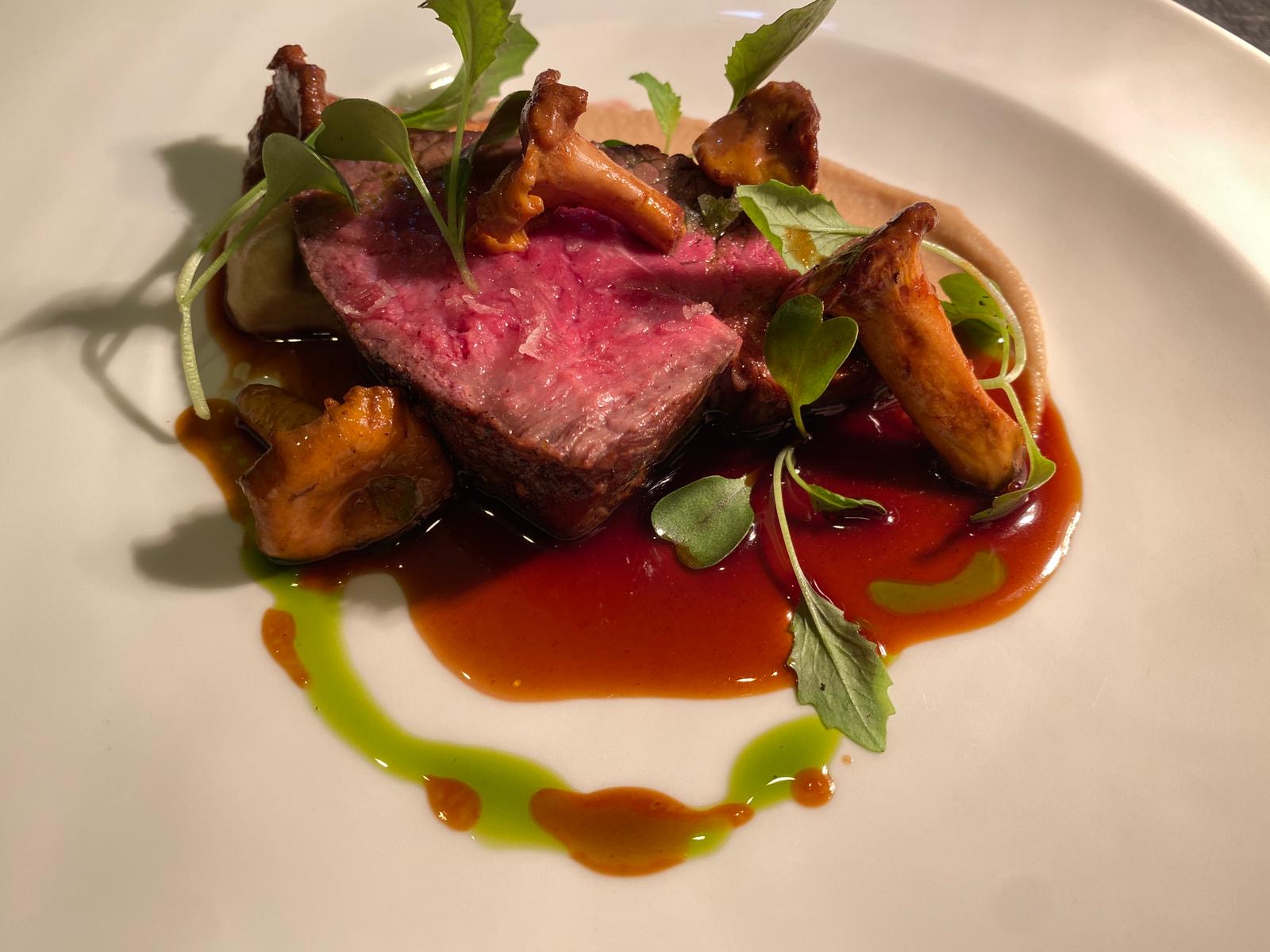 Image credit: @zafferanosg
The festive season is knocking at your doors, so instead of sweltering over a steak-laden grill at home, you can always opt to suit up and dine out at Zafferano Italian Restaurant & Bar, which will have 15% off their festive menus for UOB cardholders. Choose from either the three-course, priced at $98++, or the four-course, priced at $118++, and be wowed by dishes such as a Hokkaido Scallops crudo, and an A5 Miyazaki Wagyu Striploin. Reservations are required, and blackout dates, as well as other terms and conditions, apply.
Address: 10 Collyer Quay, Level 43, Ocean Financial Centre, Singapore 049315
Opening hours: Tues-Fri 12pm to 3pm, 5:30pm to 11pm, Sat-Sun 12pm to 3pm, 6pm to 11pm
Tel: 6509 1488
Website
Dolce Vita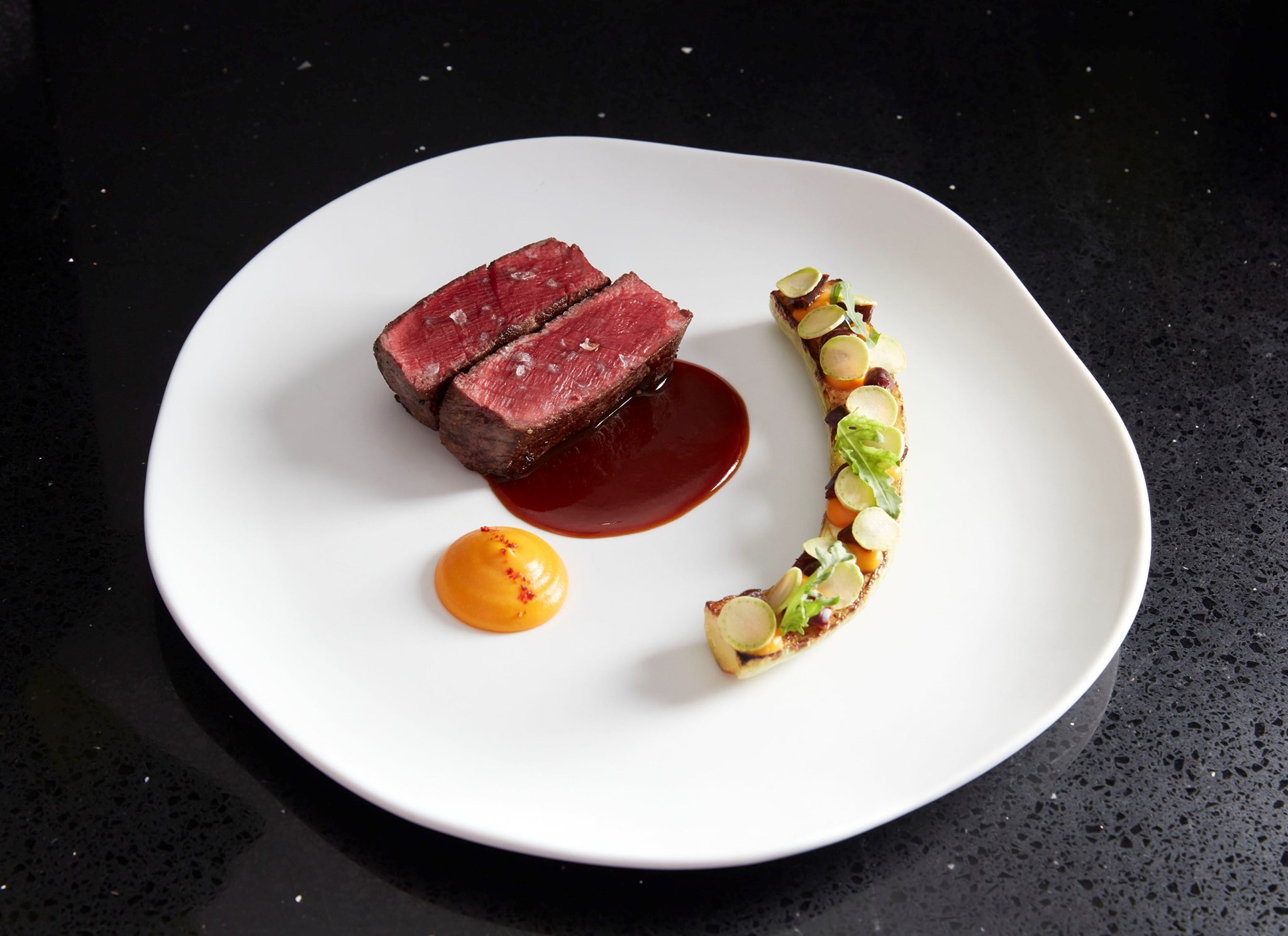 Image credit: Dolce Vita
Dolce Vita at Mandarin Oriental Hotel is known for their modern interpretations on Italian classics, but outside of pasta, they prepare a delicious Pan-Roasted Australian Wagyu Beef Tenderloin ($48++), served with yellow endives, winter truffles, and a veal jus. Enjoy this and more, sweetened with 15% off your total food bill if you have a UOB card. This offer is valid for dine-in only.
Address: 5 Raffles Avenue, Mandarin Oriental Hotel, Singapore 039797
Opening hours: Daily 12pm to 2:30pm, 6:30pm to 10pm
Tel: 6885 3500
Website
Osia Steak & Seafood Grill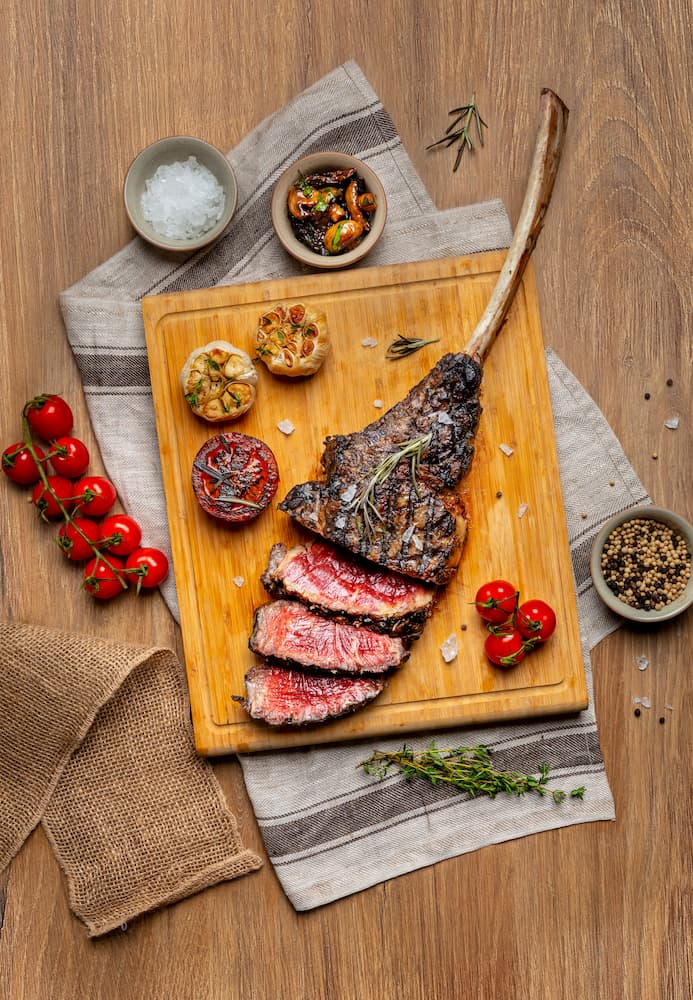 Image credit: Osia Steak & Seafood Grill
Located in Resorts World Sentosa, Osia Steak & Seafood Grill specialises in Australian produce, which also includes beef. Enjoy the likes of the highly sought-after wagyu striploin from award-winning beef producers, Mayura Station, and more, at 10% off your total food bill with a UOB Mastercard, from now till 31 December 2020.
Address: 26 Sentosa Gateway, #02-140/141, Festive Walk, Singapore 098138
Opening hours: Mon, Thur-Sun 12pm to 3pm, 6pm to 10pm
Tel: 6577 6560
Website
Steak hacks, and more steaks
Whether it is cooking your own ribeye or striploin with the steak hacks we have listed, or treating yourself to steak cooked by the pros at the restaurants we've listed, there are many ways you can enjoy this prized protein. With UOB cards, you won't have to break the bank either.
Photos taken by Lim An.
This post was brought to you by UOB Cards.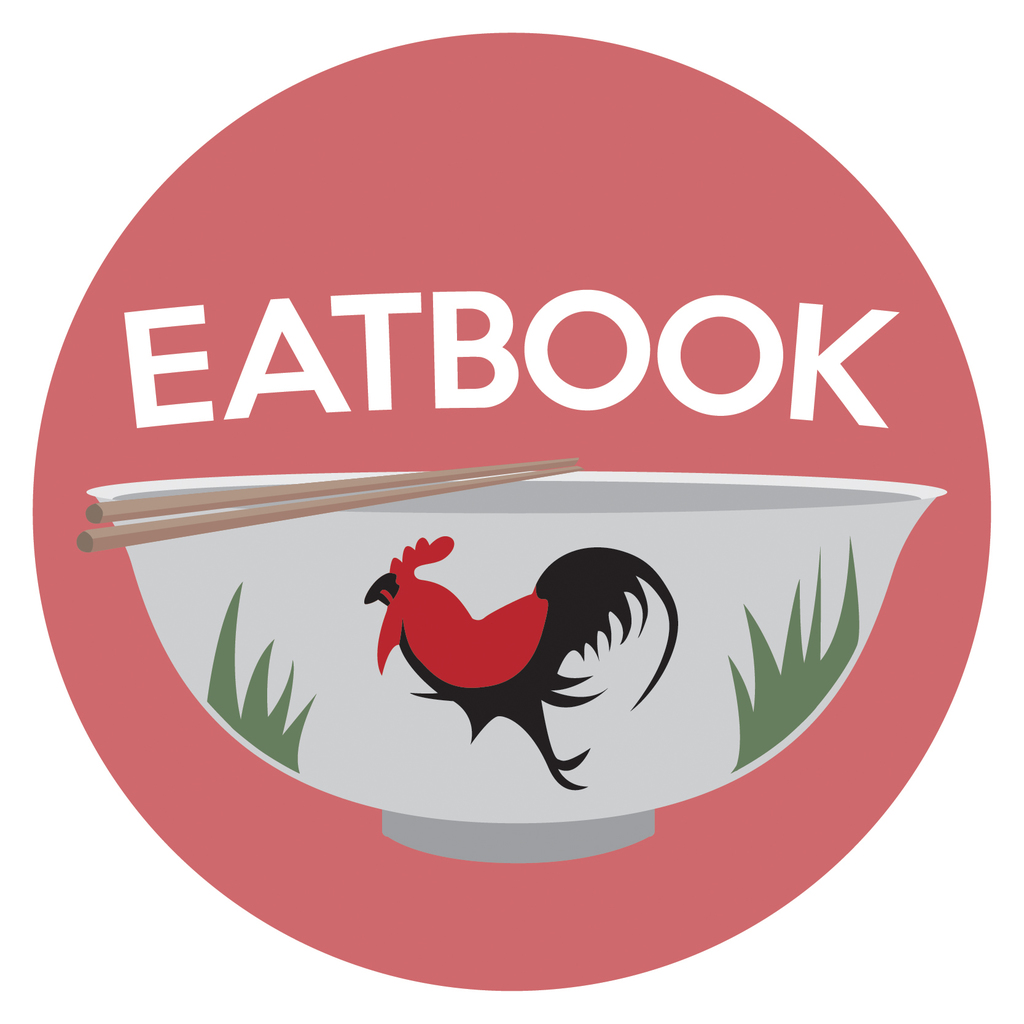 Drop us your email so you won't miss the latest news.