---
Try these underrated steak cuts
---
Move over sirloin and ribeye, these underrated steak cuts are sure to blow your mind with immense flavour at relatively lower price points. Most of these steak cuts are hard to find, yet they can hold their own against popular variants. Now that dine ins are permitted, you can now try these underrated steak cuts at your fav' steak restaurants! Who knows, you might discover a new favourite. 
---
1. Flat Iron Steak
---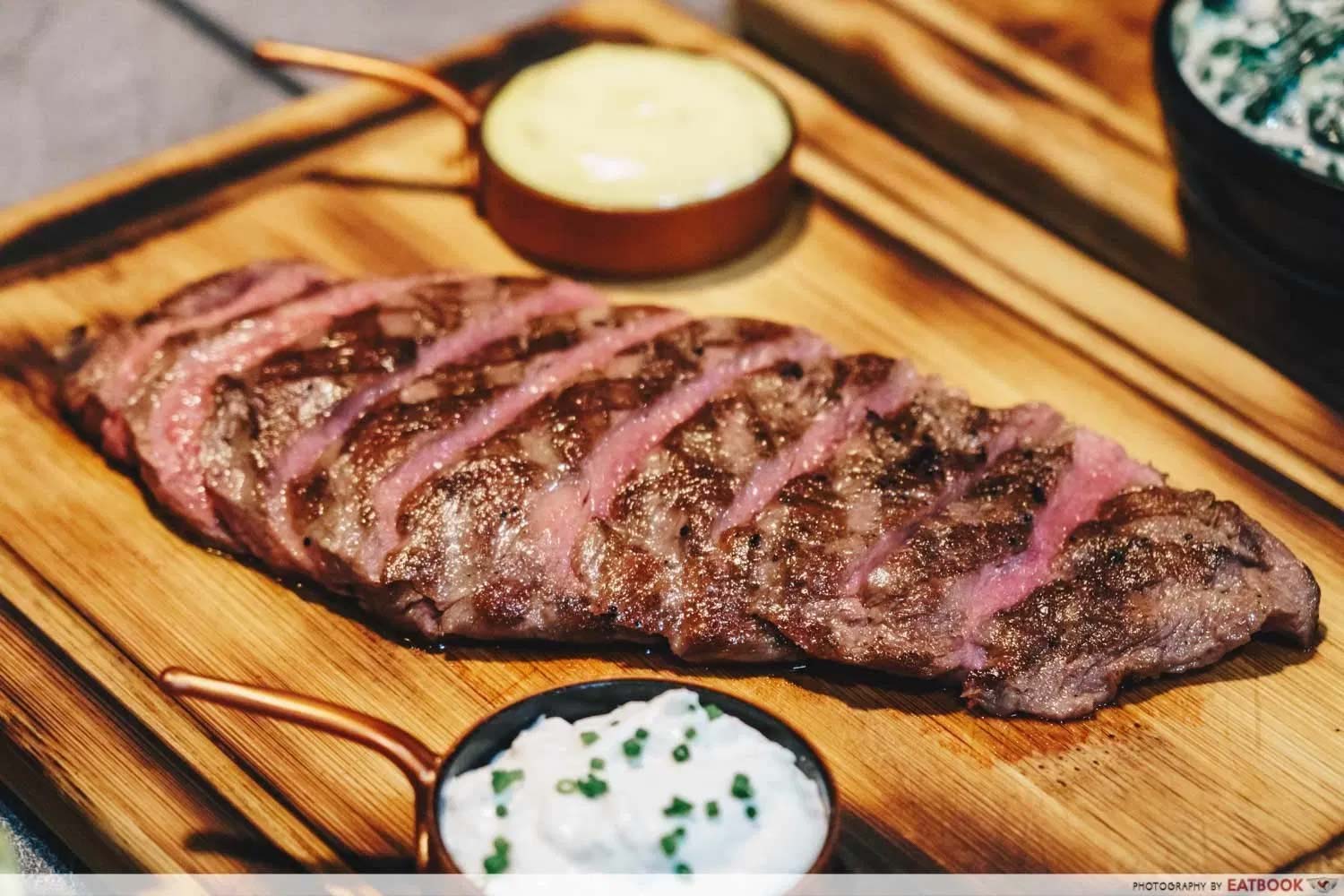 Superseded only by the expensive tenderloin in terms of tenderness, the Flat Iron Steak is an immensely succulent cut that's undeservingly underrated. Obtained from the cow's shoulder, the flat iron cut is tender and possesses a superb degree of marbling. Thankfully, its popularity has gained traction in Singapore in recent years, and more restaurants have pinned it on their menus. 
Situated along hip Club street, The Feather Blade has spearheaded Singapore's flat iron steak movement with its tasty flat iron steaks. You have to get a taste of their signature menu item, The Feather Blade Steak ($21++). The steaks are sous vide prior to cooking, making each morsel consistently tender and rich in flavour.
Address: 90 Club Street, Singapore 06945
Opening hours: Tue-Sun 11am to 8pm
Website
The Feather Blade Review: Flat Iron Steak And Hearty Beef Bowls Topped With Foie Gras At Club Street
---
2. Hanger Steak
---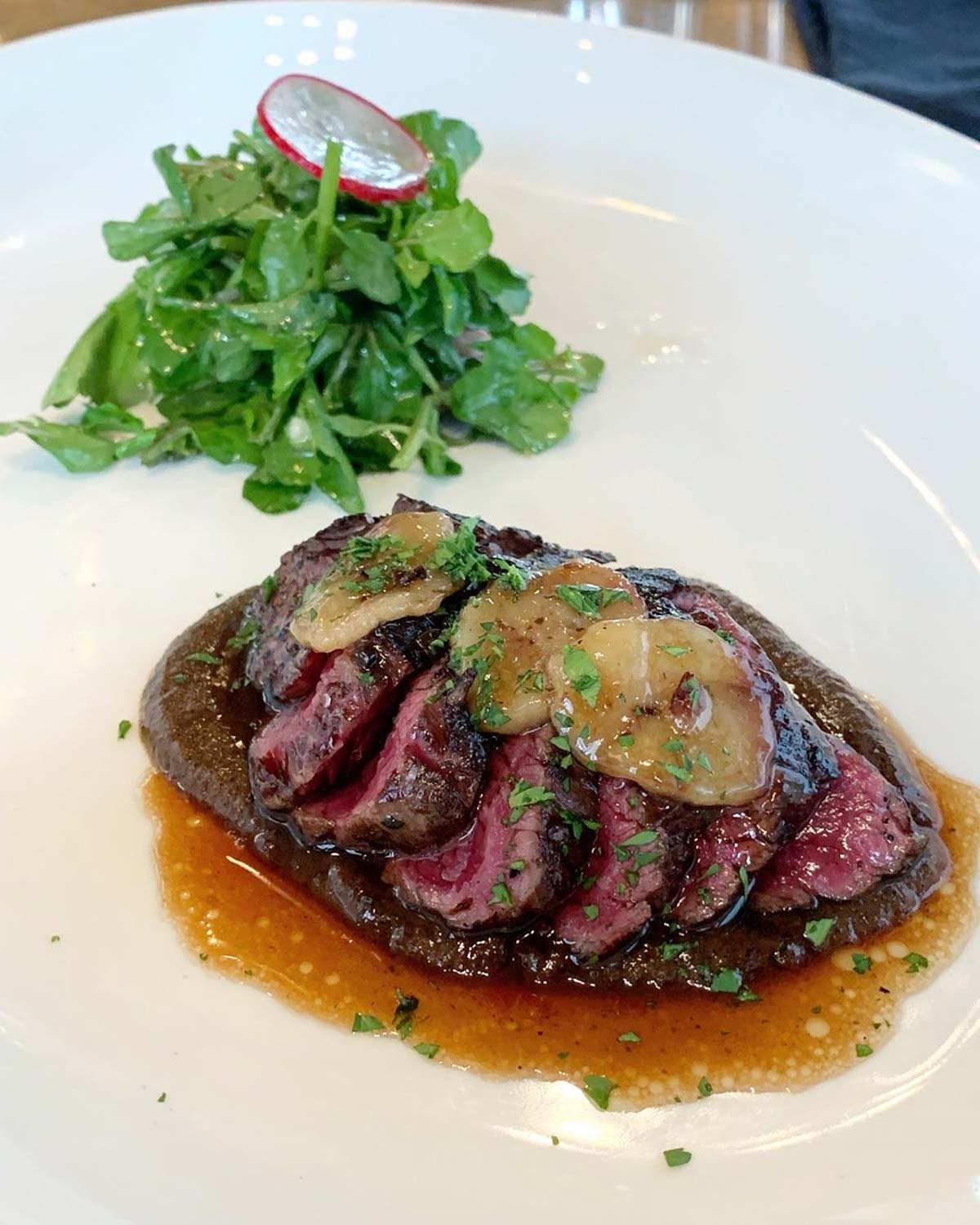 Image credit: @chinesecookie
The underrated Hanger Steak is one of the cheapest cuts on this list. As per its name, this cut literally hangs at the cow's front belly. Hence, it is extremely tender since it doesn't do any work. A whole cow only contains one or two servings of hanger steak, making this an extremely rare find. Tender and hard to source, the hanger steak is an all-time butcher's secret! This cut is best enjoyed thinly sliced, and marinating it will enhance its flavour profile to a whole new level.
One Michelin-starred Burnt Ends serves up uber-tasty hanger steaks that are sure to make any meat lover swoon. Their Onglet ($28+ for 100g) is succulent, and features a charcoal-grilled hanger steak that exudes a pleasant smoky flavour. The steak is topped with decadent chunks of bone marrow, then finished with a piquant burnt onion sauce to give the steak an added smoky zing. 
Address: 20 Teck Lim Road, Singapore 088391
Opening hours: Daily 11:30am to 9pm
Tel: 6224 3933
Website
---
3. Tri-Tip
---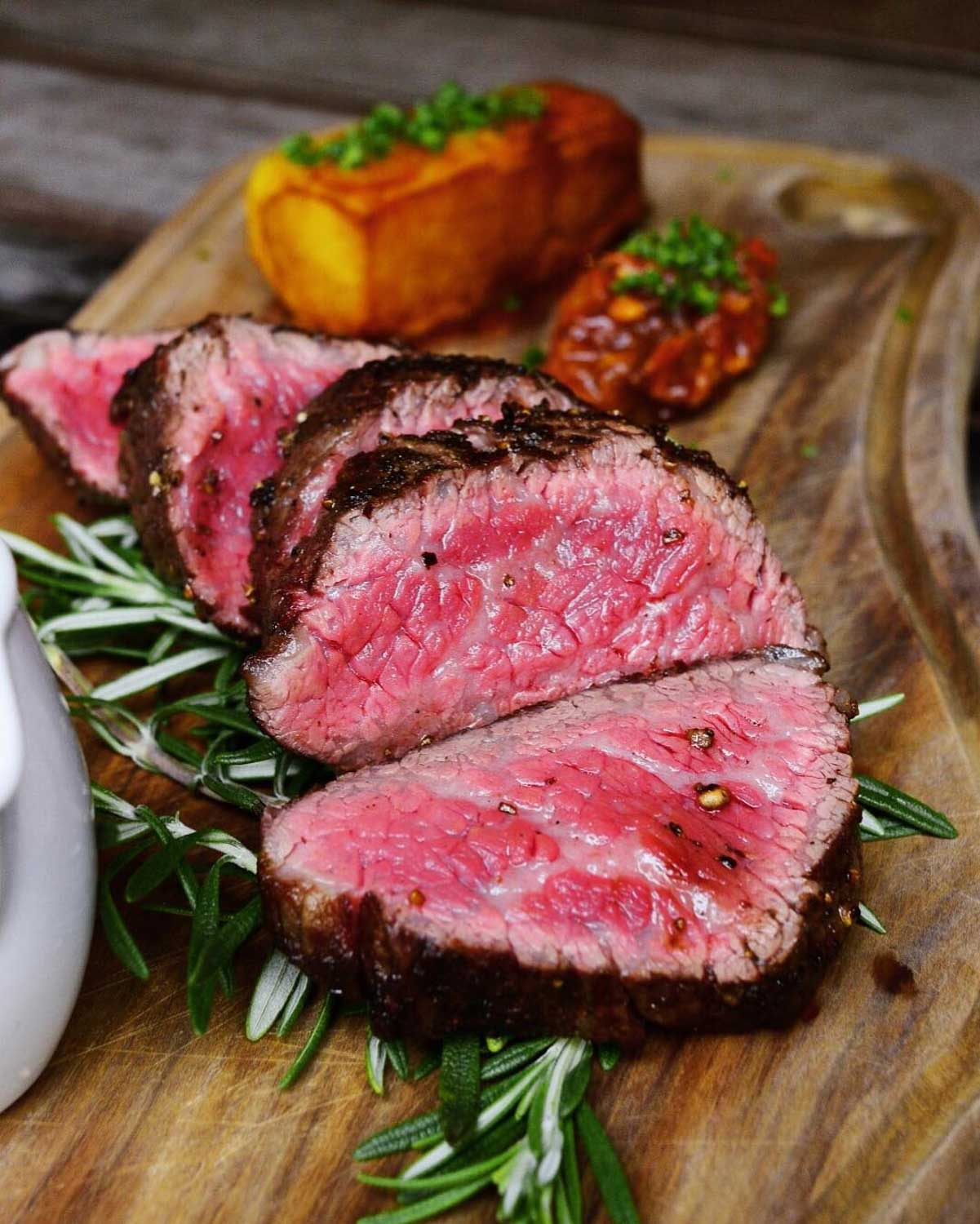 Image credit: The Market Grill Facebook Page
As its name suggests, the Tri-Tip is triangular and is a solid and cheaper alternative to its close cousin, the classic sirloin. This overlooked cut comes from the bottom of the sirloin, and takes well to rubs and spices. It's best-cooked medium to break down some of the connective tissue that runs through it, allowing for an easier chew.
Famous for their buttery lobster rolls and juicy cuts of meat, the tri-tip cuts served by The Market Grill are held to the highest of standards. Try their Wagyu Tri-Tip ($47++ for 200g), which consists of tender steak that has a good rendering of fat. Each piece possesses a smoky aroma and a deep flavour profile.
Address: 208 Telok Ayer Street, Singapore 068642
Opening hours: Mon-Sat 11:30am to 2:30pm, 6pm to 10pm
Tel: 6221 3323
Website
---
4. Ribeye Cap
---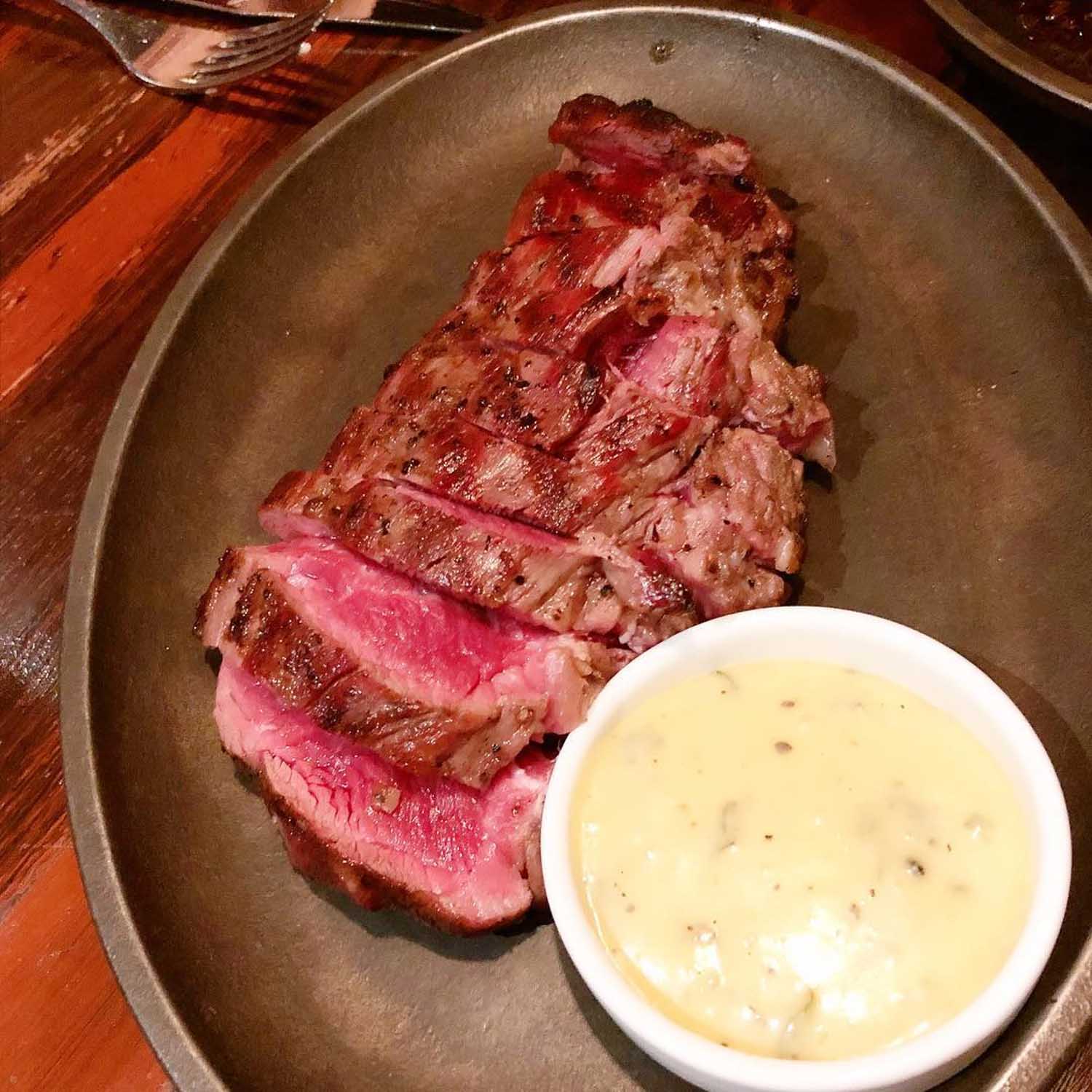 Image credit: @jolenekwok
Many are familiar with the well-loved ribeye cut, but are oblivious to its cousin, the uber-flavourful Ribeye Cap. This tasty slab of meat is a strip cut that's attached to the rib-eye centre, and is known for its distinct flavour and immense tenderness. As described by Seth Blagden, the General Manager of Morton's Singapore, this cut "has all the flavour and juicy fat of a ribeye, with the tenderness of a tenderloin". 
Not many steakhouses in Singapore offer this elusive steak cut, and one restaurant that does it well is Bedrock Bar & Grill. Try their Ribeye Cap Steak ($128++ for 300g), which features a hefty piece of grain-fed ribeye that excels in flavour and tenderness. This dish is only available in limited quantities each day, so do get it when it's still in stock.
Address: 96 Somerset Road, #01-05, Pan Pacific Serviced Suites Orchard, Singapore 238163
Opening hours: Daily 11:30am to 3pm, 5:30pm to 10:30pm
Tel: 6238 0054
Website
---
5. Denver Steak
---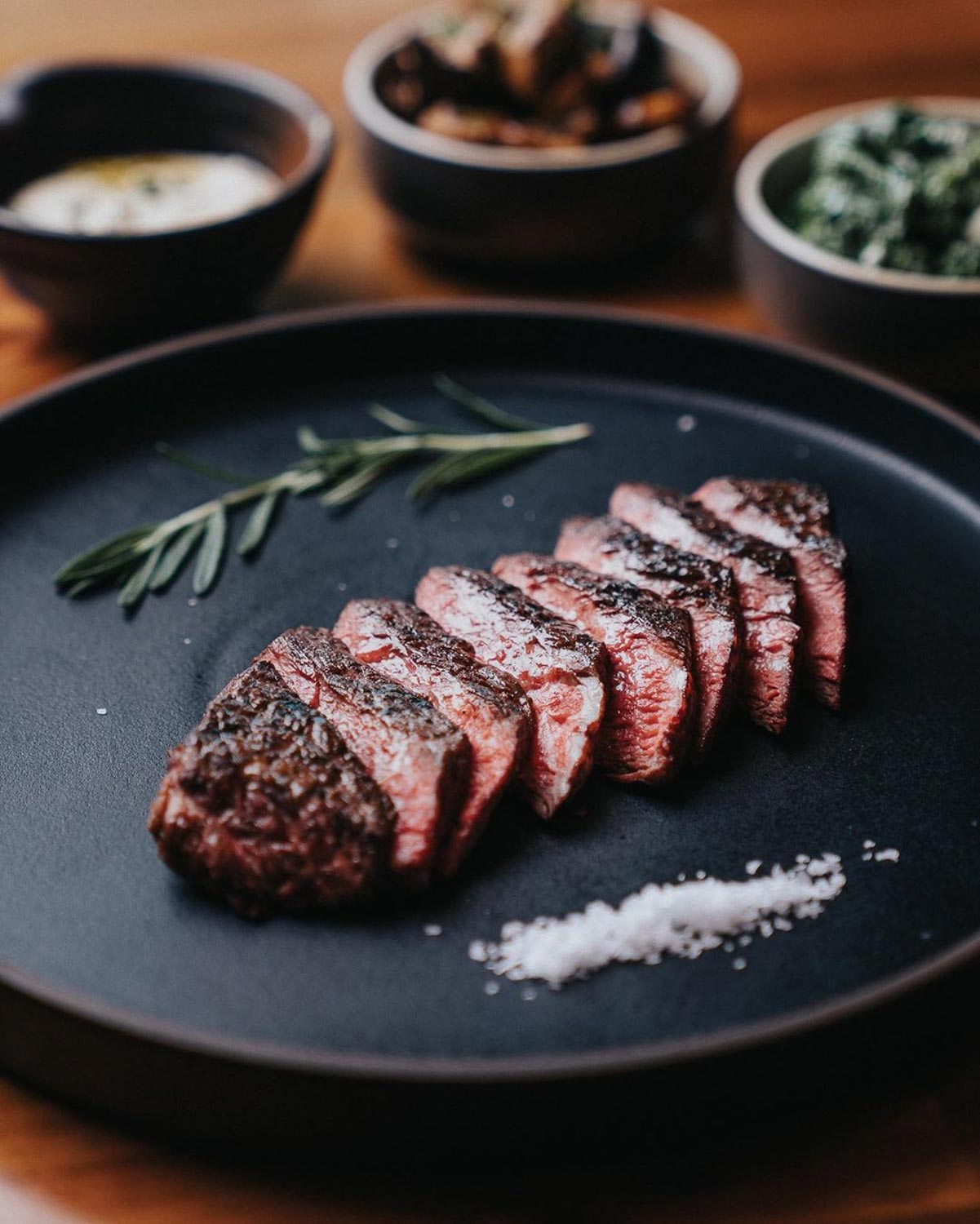 Image credit: @fatbellysg
Denver Steak is a remarkably tender cut of beef that's highly raved by steak connoisseurs. This tender steak is sliced from the chuck primal cut of the cow, which possesses a wonderful degree of marbling. This allows it to retain its juiciness during the cooking process. Interestingly, there's no real reason why this cut shares a name with the capital of Colorado, a state that's located in the United States of America.
Back in Singapore, the Denver steaks at Fat Belly are top notch and well executed. Try their Jack's Creek Crossbred Wagyu Marble Score ⅘ Denver ($52 for 200g), which features Denver steak from Australian Wagyu cattle. Two words can be used to describe each piece of meat: tender and beefy. 
Address: 10 Jalan Serene, #01-04, Singapore 258748
Opening hours: Thurs-Tue 6pm to 10pm
Tel: 6314 2247
Website
---
6. Flank Steak 
---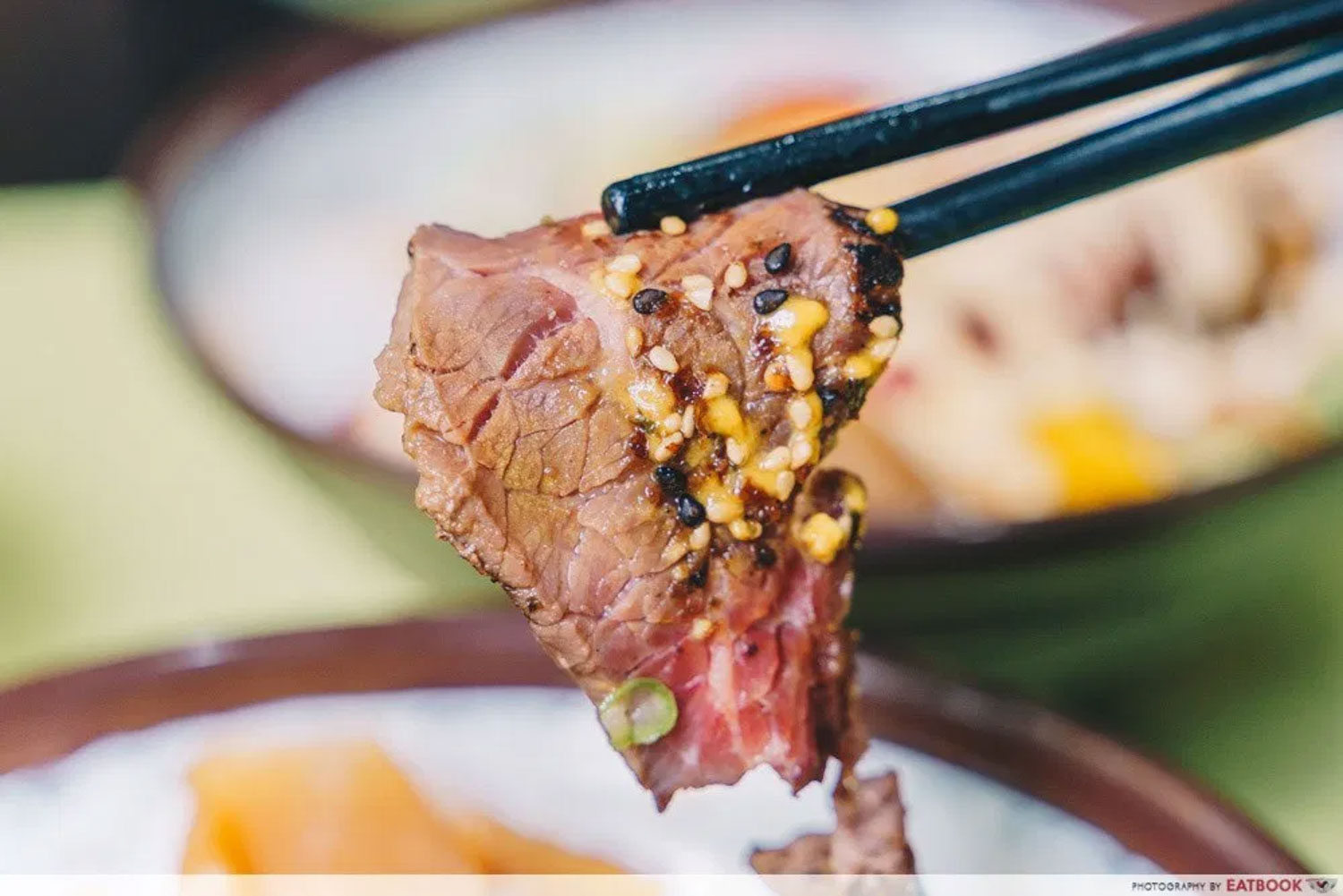 Located below the loin, Flank Steak is a lean cut that's sourced from the abdominal muscles of the cow. As a result, it contains a relatively high amount of grain, or meat fibre. Flank steaks are best marinated prior to grilling in order for its intense beefy flavour to shine. 
For quality flank steak slices, Craft'B is definitely worth a visit. This humble hawker stall dishes out tantalising steak rice bowls in Amoy Street Food Centre. Try their Flank Craft' Bowl ($7.90), which consists of tender, thinly sliced flank steak that's paired with a selection of flavourful sauces, including their highlyraved mentaiko sauce. The bowl also consists of refreshing soba noodles and a generous amount of colourful vegetables. The stall is only open during the weekday lunch hours, so come down early to chow on their delicious steak bowls.
Address: 7 Maxwell Road, #02-115, Amoy Street Food Centre, Singapore 069111
Opening hours: Mon-Fri 11am to 2pm
Tel: 9680 9392
Website
Craft'B Review: Hawker Stall Serving Legit Steak Rice Bowls At Amoy Street Food Centre
---
7. Skirt Steak
---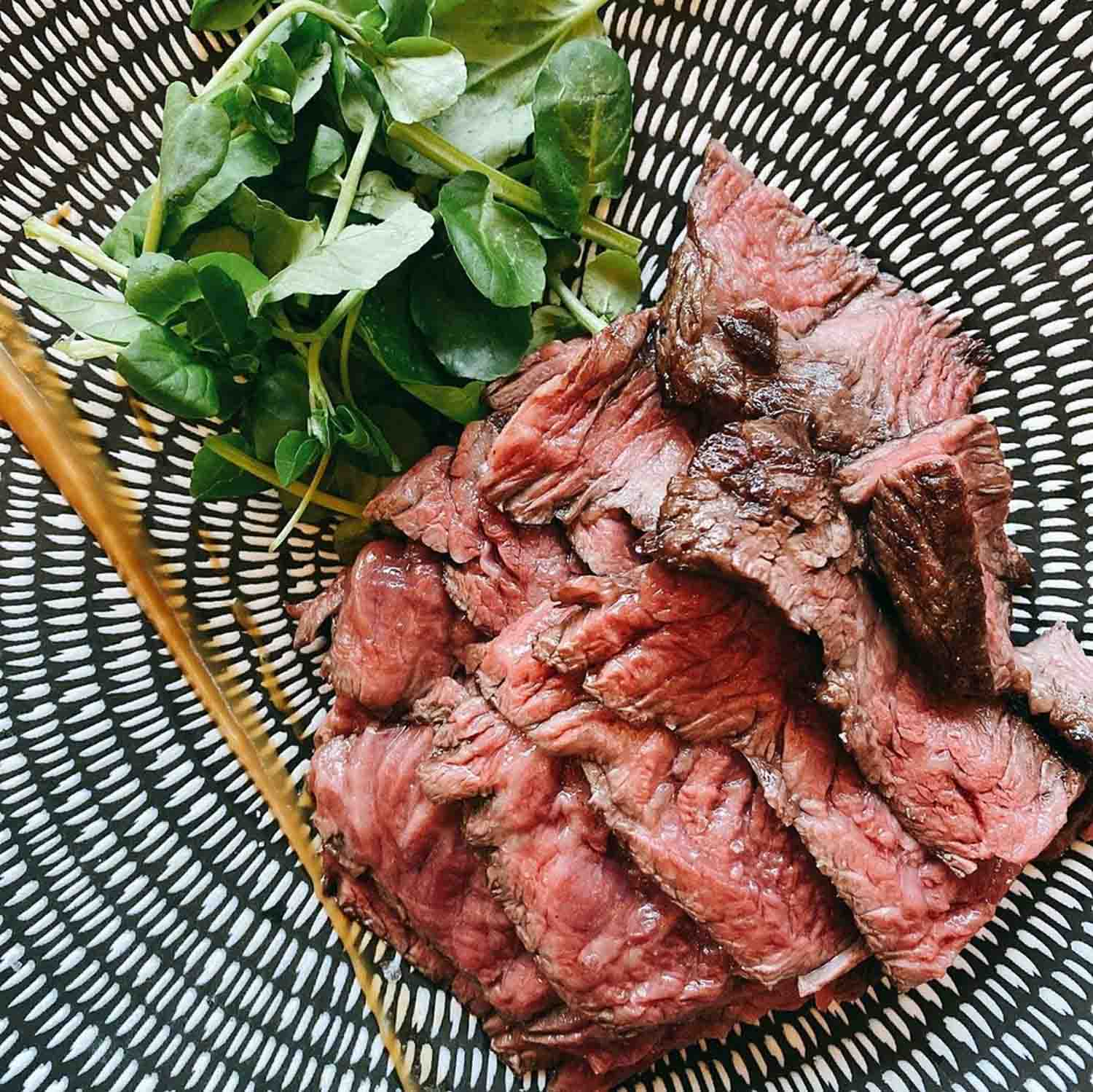 Image credit: @robynleeburgess
Also known as the alter ego of flank steak, the fattier Skirt Steak cut has a more intense beefy flavour than the former. There's a saying that "the most tender steak cuts are never the most flavourful", and the skirt steak helps put this phrase into perspective. As it contains a lot of tough fibres, it isn't the most tender of cuts. However, the skirt steak has a robust and deep flavour profile that would put some classic steak cuts to shame.
The Butchers Cut Skirt Steak ($89++ for 300g) at SKIRT Restaurant is a good example. This sizable dish features a skirt steak cut from premium Australian Wagyu cattle. The rich flavour in each bite of meat was evident, and I could make out hints of sweetness and smoky undertones. 
Address: 21 Ocean Way, W Hotel Sentosa, Singapore 098374
Opening hours: Sun-Thurs 6pm to 10pm, Fri-Sat 6pm to 11pm
Tel: 6808 7278
Website
---
8. Chuck Steak 
---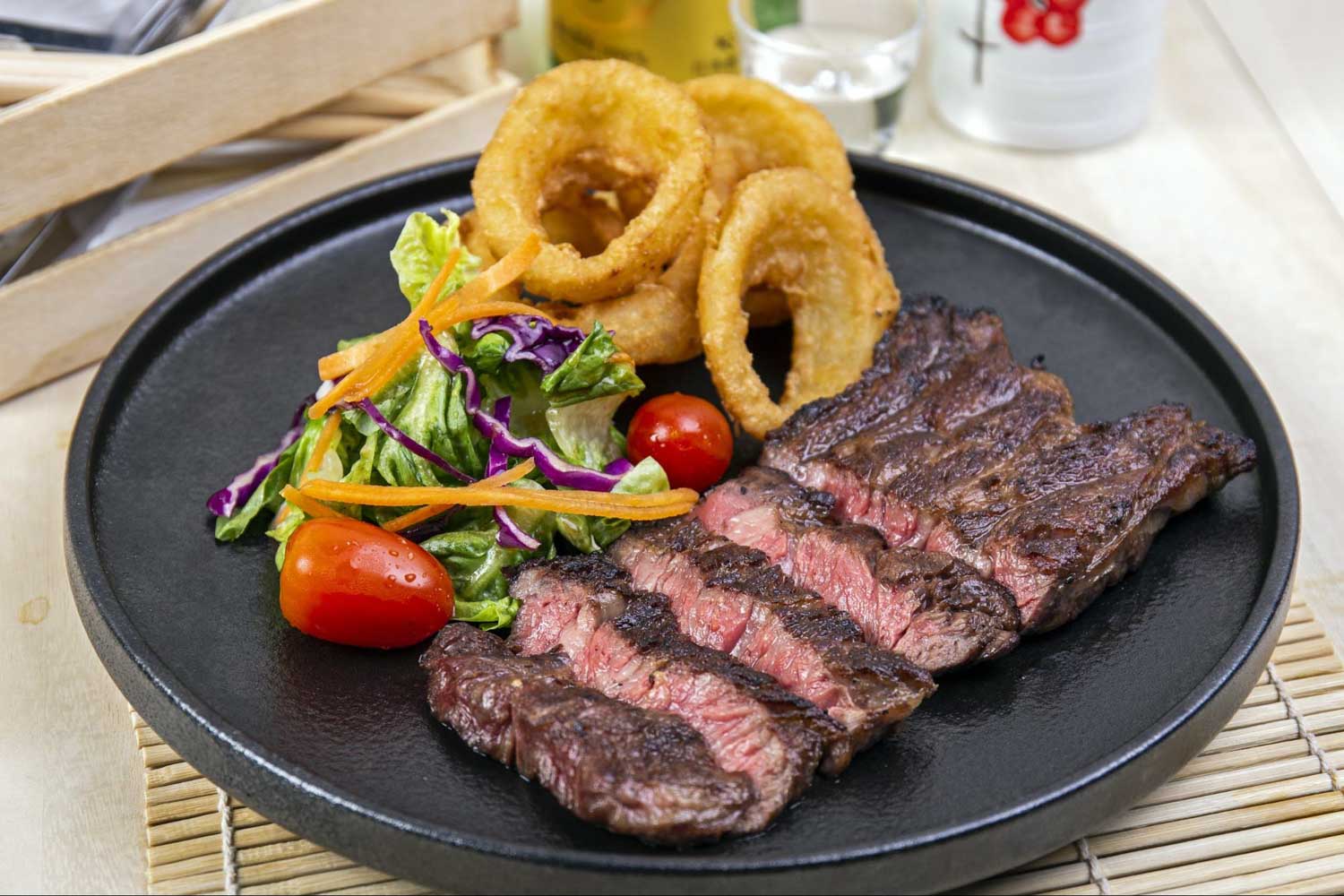 Image credit: BIZEN Okayama Wagyu Steakhouse
Like many other cuts on this list, Chuck Steaks aren't the most tender. But if you're looking for a steak that has exceptional flavour, these are worth a try. This cut stems from the chuck primal of the cow, which is the large section of meat at the shoulder region. As this part of the cow does a lot of work, the abundance of tough muscles account for its slightly tougher texture as compared to classic steak cuts. Not many places in Singapore sell chuck steaks, so you'll have to dig deep to find one.
Owned by the Astons Group, BIZEN Okayama Wagyu Steakhouse is known for their tantalising steaks, and being a trailblazer putting out a myriad of adventurous beef cuts. They even offer most of the underrated beef cuts on this list! Their Chuck ($34.90+ for 220g) features a sizable hunk of meat that's delicately sliced thin. Each piece is juicy and has a good amount of beefy flavour.
Address: 68 Orchard Road, #N3-10, NomadX@Plaza Singapura, Singapore 238839
Opening hours: Daily 11:30am to 10pm
Tel: 6219 3463
Website
---
9. Rump 
---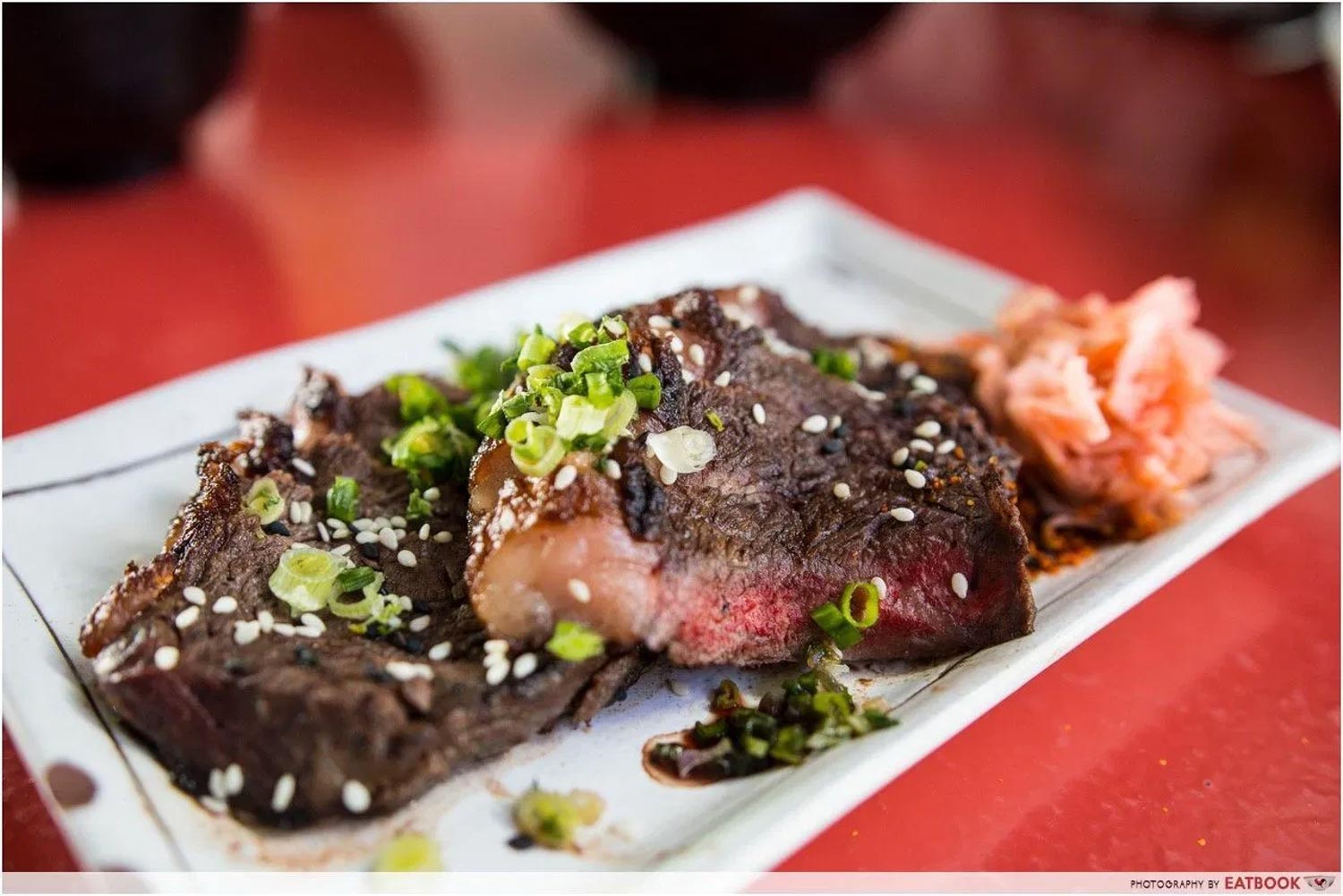 Rump Steak is an especially flavourful cut that stems from the backside of the cow. Though slightly chewier than the classic sirloin and ribeye cuts, the rump steak excels with its high degree of marbling and flavoursome nature. Due to its strong taste profile, this cut is best enjoyed with a mildly flavoured sauce or none at all!
The Burning Oak at Bedok Marketplace takes rump steak up a notch with its Wagyu Rump Ala Carte MBS ⅘ ($14). Though not the most tender of cuts, each piece has the right amount of marbling and a deep flavour profile. Diners who prefer flavour over tenderness in their beef should try The Burning Oak's rendition of rump steak. 
Address: 348 Bedok Road, #02-16, Singapore 469560
Opening hours: Tue-Sun 12pm to 2pm, 6pm to 9pm
Tel: 9873 6093
Website
The Burning Oak Review: Wagyu And Foie Gras Dons At A Hawker Centre
---
10. Pope's Eye
---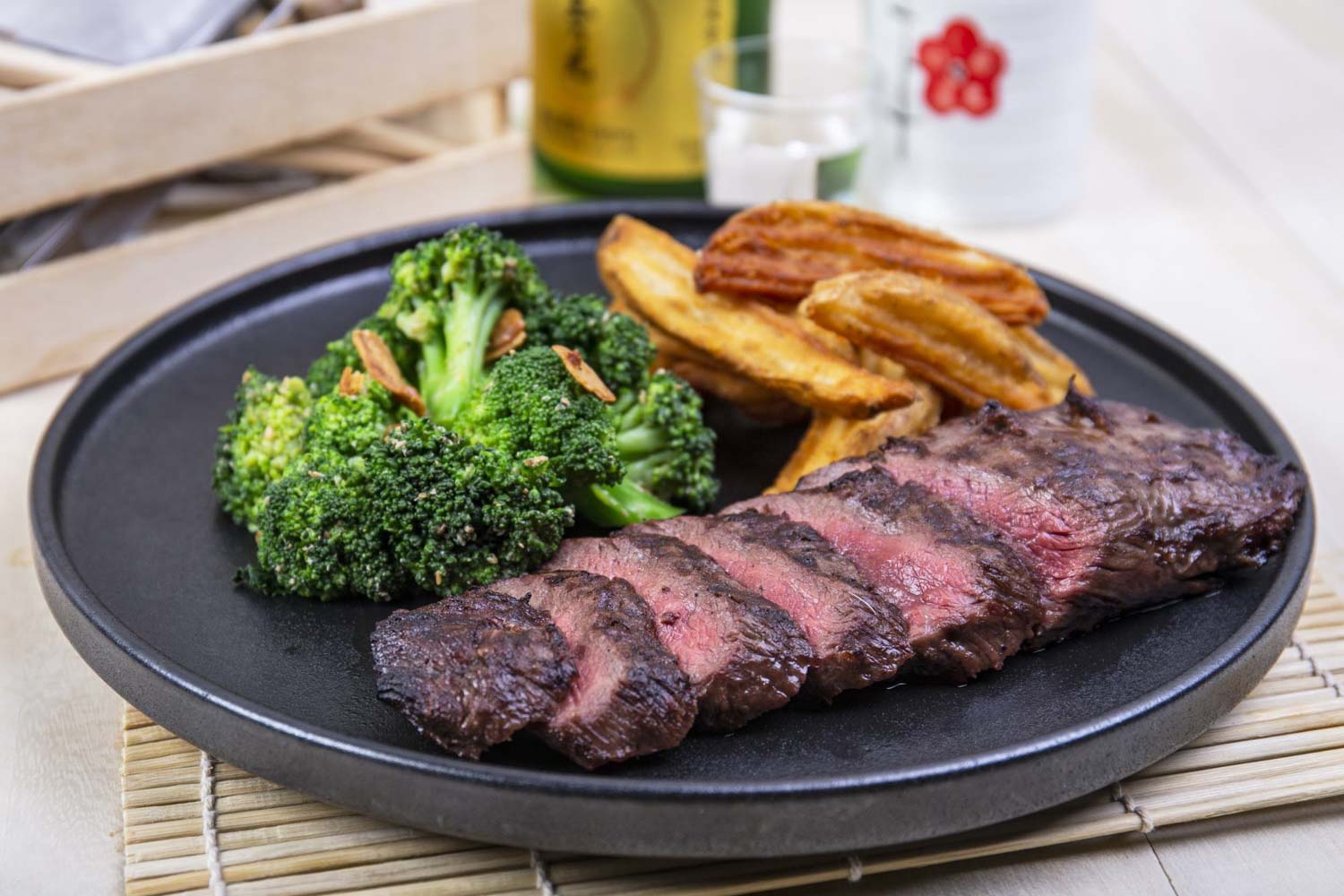 Image credit: BIZEN Okayama Wagyu Steakhouse
Aside from the hanger steak, Pope's Eye is another well-hidden butcher's secret due to its small size and immense flavour. Cheekily enough, many butchers are said to take it home for themselves as they recognise its worth. Akin to its namesake, the size of this cut is minuscule, and only two servings of it can be derived from each cow! 
Currently, only one place in Singapore sells this elusive cut, and it's once again BIZEN Okayama Wagyu Steakhouse. Each piece of meat from their Pope's Eye ($37.90+ for 180g) is delightfully tender with a good depth of flavour. I certainly hope more awareness for this cut would be raised, and I applaud the Astons Group's effort for bringing such underrated cuts to the Singaporean masses. 
Address: 68 Orchard Road, #N3-10, NomadX@Plaza Singapura, Singapore 238839
Opening hours: Daily 11:30am to 10pm
Tel: 6219 3463
Website
---
Underrated steak cuts
---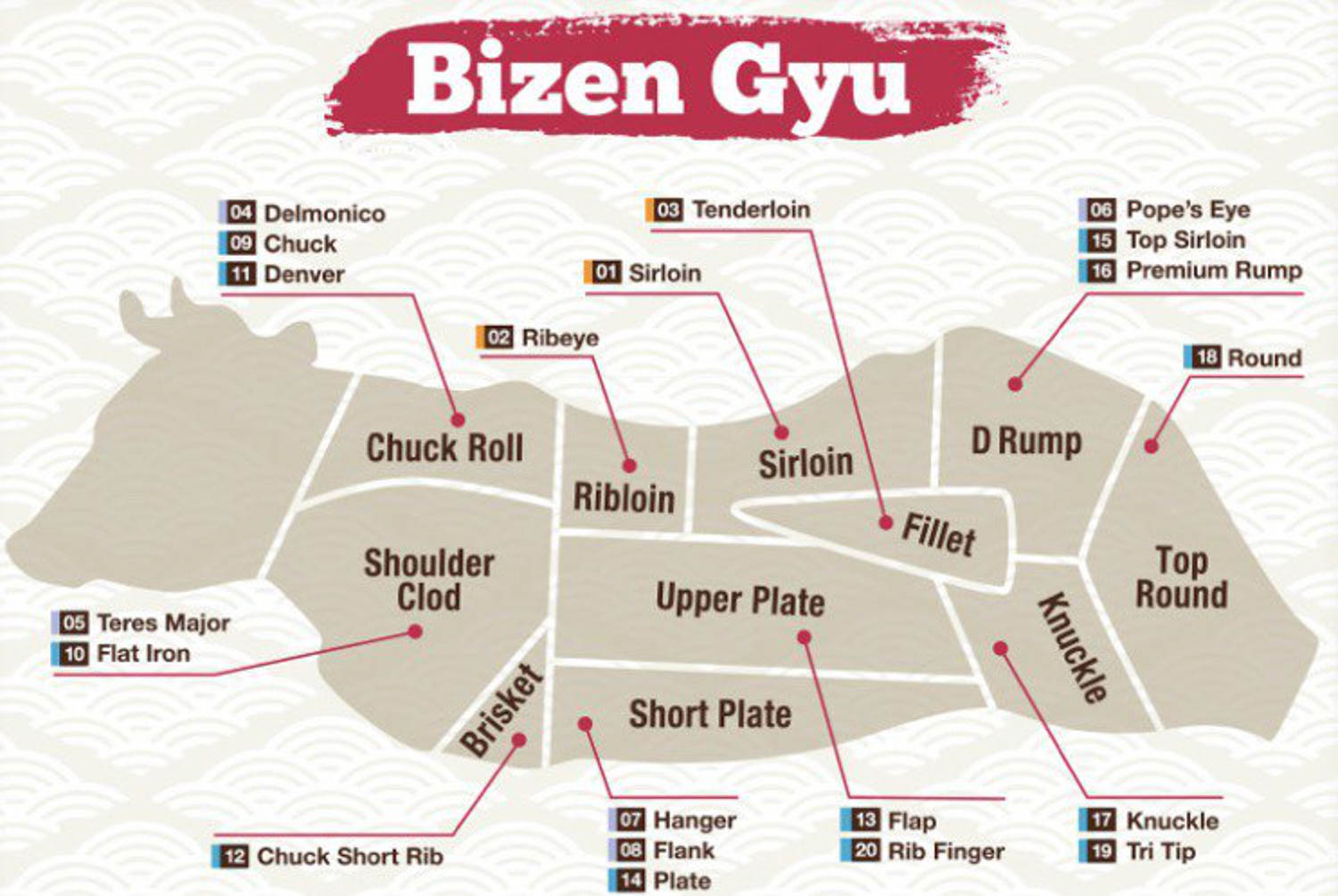 Image credit: BIZEN Okayama Wagyu Steakhouse
Those interested to uncover more underrated steak cuts should refer to the above infographic. To be more conscious beef consumers, it's imperative that we know which parts of the cow our fav' steak cuts come from. No part of the cow should be wasted, and all steak cuts deserve a chance. 
Shake up your steak monotony with these underrated steak cuts. You would be glad to hear that many of them are cheaper and more flavourful than the traditional ones. Give them a shot, and let us know what you think in the comments below! Remember, the most tender cuts aren't always the most flavourful.
10 Best Steak Restaurants In Singapore For A Classy And Romantic Date Night
Steak lovers have to check out these 10 best steak restaurants in Singapore and 11 cheap steaks under $30++. Those that wish to get delicious steaks delivered to them can peruse these 23 steak places offering delivery for all budgets.