---
Flat iron steaks in Singapore
---
Despite being a self professed lover of all the best steaks, I only recently discovered the existence of flat iron steaks, following my visit to the Flat Iron restaurant in London. It has since been my cut of choice at numerous steakhouses, due to its rich flavour and affordable price point. The flat iron cut stems from the cow's shoulder and possesses a wonderful degree of marbling. After being cooked on the grill, the steak becomes extremely tender and flavourful.
10 Best Steak Restaurants In Singapore For A Classy And Romantic Date Night
You no longer need to be boujee to get a taste of mouth watering steak. The flat iron steaks on this list will surely give you the best bang for your buck, and your tummy.
---
1. The Feather Blade
---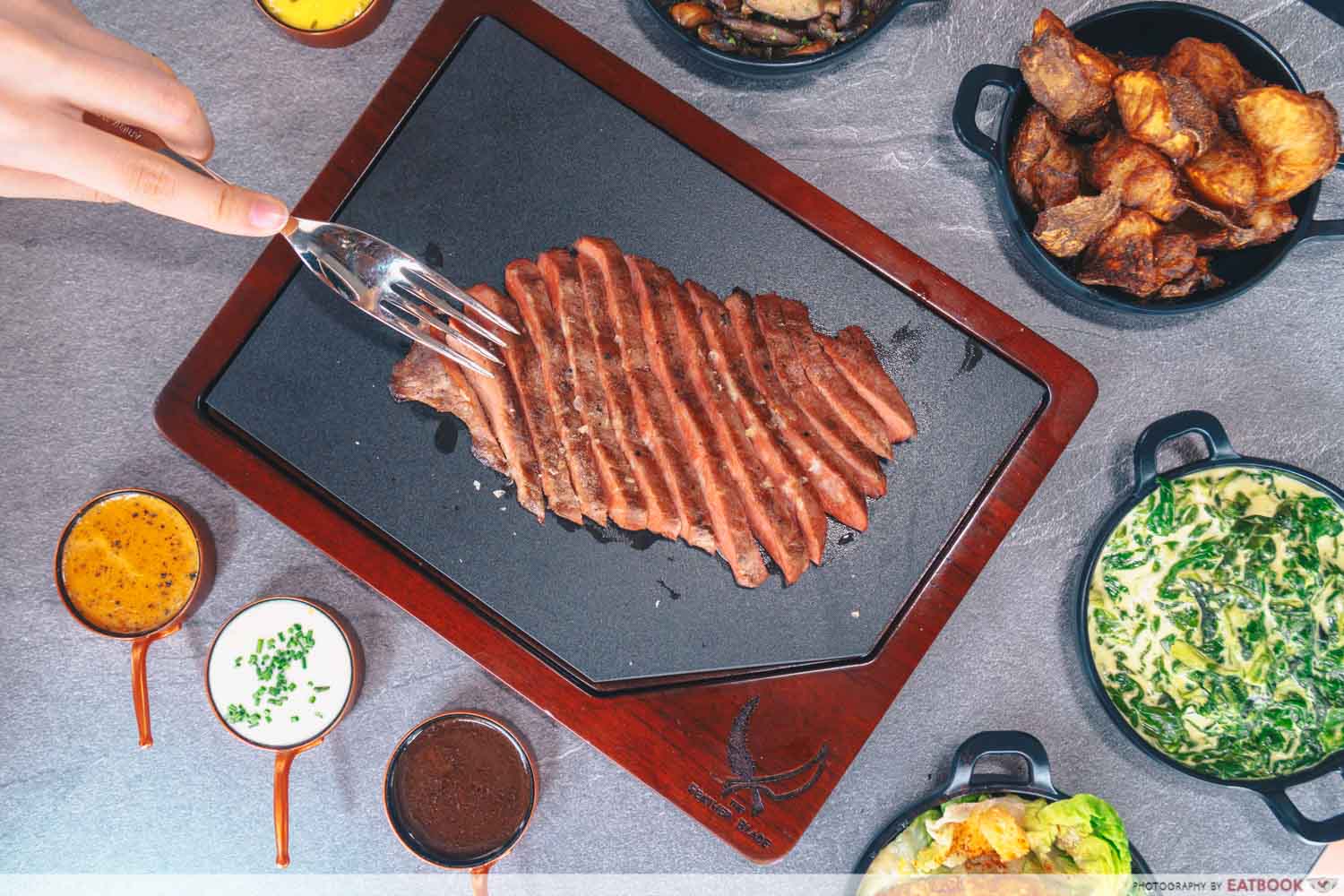 A highly raved restaurant that is nestled along a stretch of vibrant shophouses on hip Club Street, The Feather Blade dishes out quality flat iron steaks at an affordable price. The Feather Blade Steak ($21++) features 200g of flat iron steak, and is their prized cut of beef.
Even though the steak is only seasoned with salt and pepper, it gives an explosion of pleasant flavours when bitten into. The steak tastes somewhat buttery, due to the rendered fat. You can pair the steak with their curated house-made sauces ($2++ each), including Sichuan Peppercorn, Bearnaise, Horseradish Cream, and Red Wine, to complement the flavour profile of the already succulent steak.
Check out our full review of The Feather Blade here.
The Feather Blade Review: Flat Iron Steak And Hearty Beef Bowls Topped With Foie Gras At Club Street
Address: 90 Club Street, Singapore 069458
Opening hours: Mon-Thur 11:30am to 2:30pm, 5:30pm to 11pm, Fri 11:30am to 2:30pm, 5:30pm to 11:30pm, Sat 5:30pm to 11:30pm
Tel: 8921 9097
Website
---
2. Fat Belly
---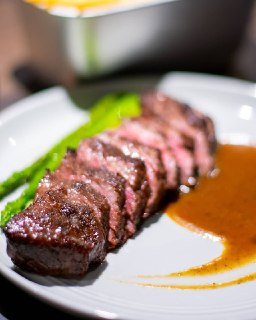 Image credit: @mr_qingz
Fat Belly is a modern steakhouse that is well known among steak lovers for serving great steak. Their Nipponham Angus 150 Day Grain Fed 200g Flat Iron ($22++) is surprisingly affordable, considering the prices of the other cuts of steak served by this classy restaurant. The steak is cut consistently thin and its melt-in-your-mouth tenderness is heavenly.
Address: 10 Jalan Serene, #01-04, Singapore 258748
Opening hours: Thurs-Tues 6pm to 10pm
Tel: 6314 2247
Website
---
3. Stirling Steaks
---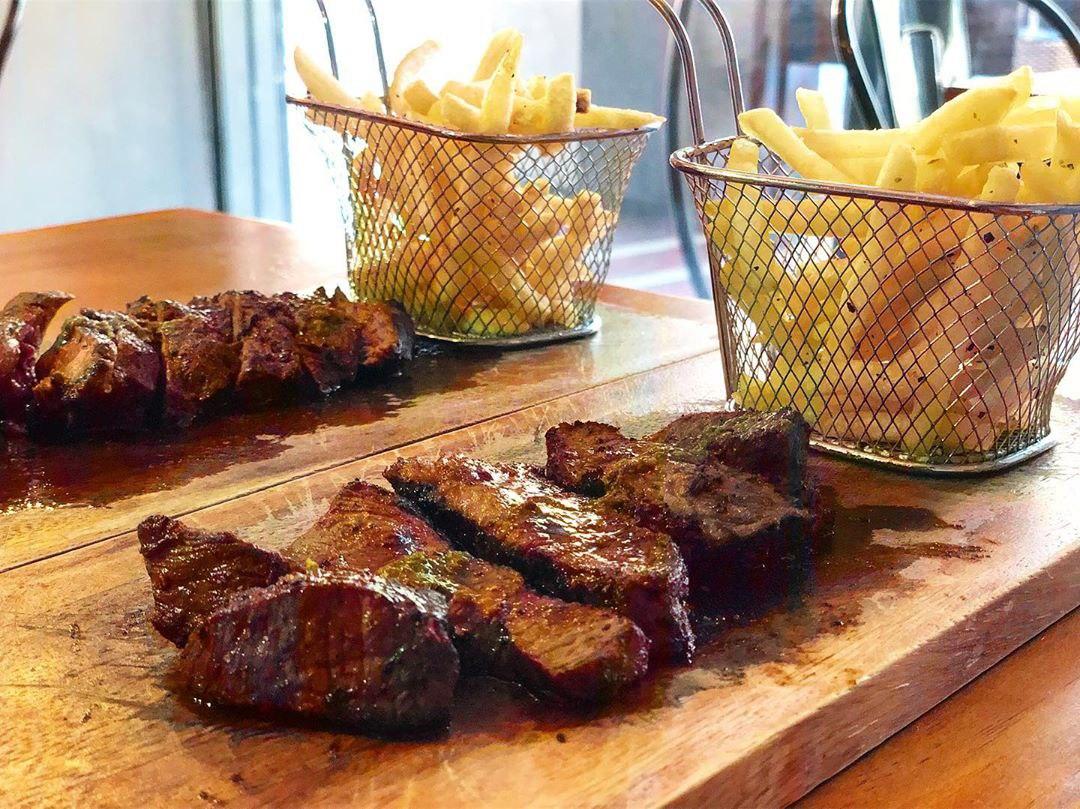 Image credit: @drinkeatpost
Priced at $9.90++, Stirling Steaks' Value Flat Iron Steak is the cheapest one on this list. Served on a rustic wooden chopping board, the mouth-watering steak is served with salsa verde, a delish sauce made from herbs. The acidity of the salsa verde pairs beautifully with the rich flavour of the beef, creating pleasant mouthfeel.
The chef grills the steaks over majestic charcoal fires which can be seen from your seat, resulting in a smoky dish that's a feast for your eyes and tummy.
Address: 43 East Coast Road, Singapore 428764
Opening hours: Daily 6pm to 10pm
Tel: 6958 0000
Website
---
4. Meat n' Chill
---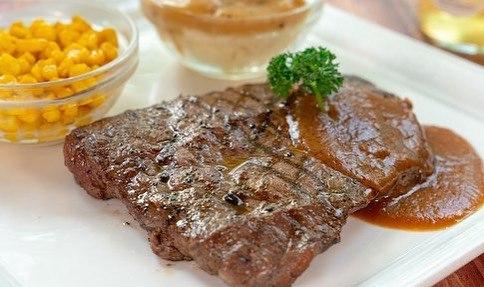 Image credit: @meatnchill
Situated along Bukit Timah Road, Meat n' Chill serves succulent flat iron steaks in a chill atmosphere. Their Grain Fed Flat Iron ($25++) is extremely juicy and well seasoned, with its smokiness stealing the show. It comes with two tantalising sides, including their tasty Cajun rice, straight cut fries, and creamy mashed potatoes. You can even add on fresh black truffle shavings at an additional $8++ for a burst of earthy flavours.
Address: 805 Bukit Timah Road, #01-04, Sixth Avenue Centre, Singapore 279883
Opening hours:  Tue-Fri 11:30am to 2:30pm, 5:30pm to 10pm, Sat 11am to 3pm, 6pm to 10pm, Sun 11am to 3pm, 6pm to 10pm
Tel: 8812 4455
Website
---
5. MediumRare
---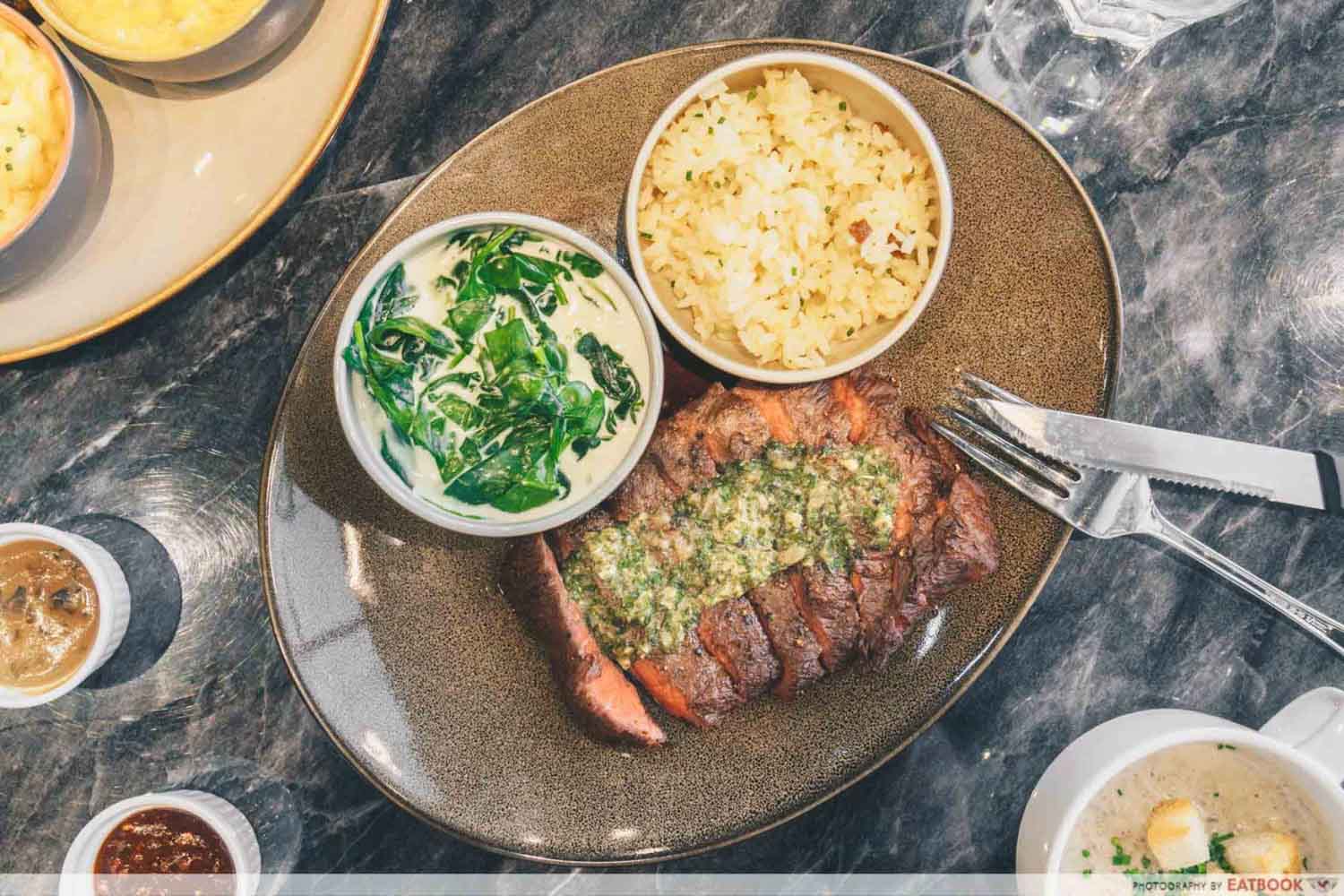 MediumRare is a steak haven in the midst of the bustling Century Square mall. One of their menu highlights is their Flat Iron ($18++) steak, which is innocently packed with robust flavours and guaranteed not to disappoint. Each order comes with two tasty sides of your choice, including potato wedges, onion rings, and more! If you're craving for more, each extra serving sets you back $2.50.
Find out more about MediumRare.
MediumRare Review: Saveur Opens A Steakhouse At Tampines With Steak Under $20
Address: 2 Tampines Central 5, #01-35, Century Square, Singapore 529509
Opening hours: Daily 12pm to 10pm
Tel: 6789 1121
Website
MediumRare is not a halal-certified eatery.
---
6. BIZEN Okayama Wagyu Steakhouse
---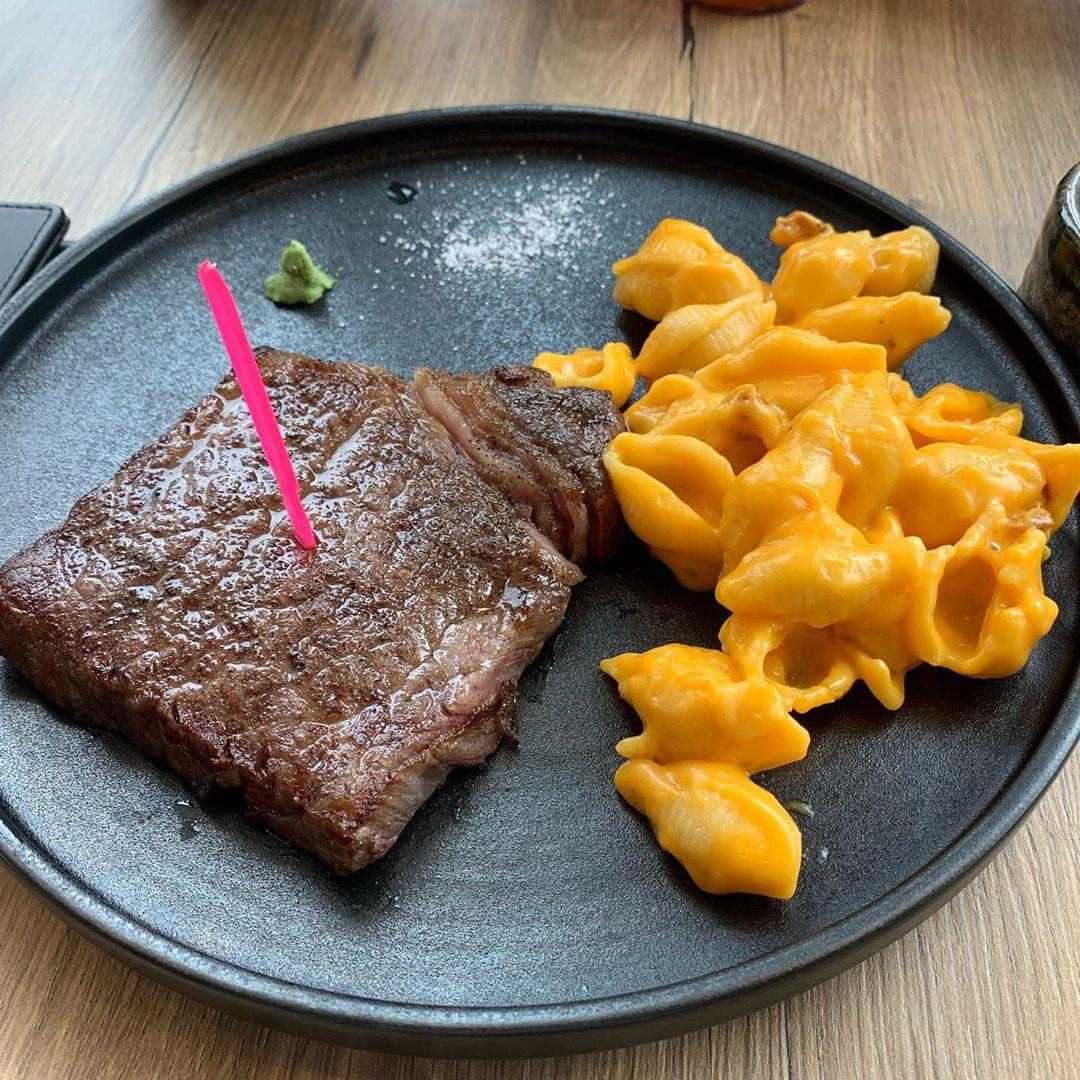 Image credit: @cxeatagram
Opened by the Astons group, Bizen aims to bring tasty Japanese steaks to the heartlands at relatively affordable prices. Their Blade Steak ($19.90++) which is finely cut, is presented impeccably on a black platter in all its glory. The marbling of the beef is superb and the fat is well rendered. Every order of the steak comes with a choice of one side dish. There are many sides to choose from including koshihikari rice, mashed potato, and udon.
Address: 68 Orchard Road, #N3-10, NomadX @ Plaza Singapura, Singapore 238839
Opening hours: Daily 11:30am to 10pm
Tel: 6219 3463
Website
---
7. Huber's Bistro
---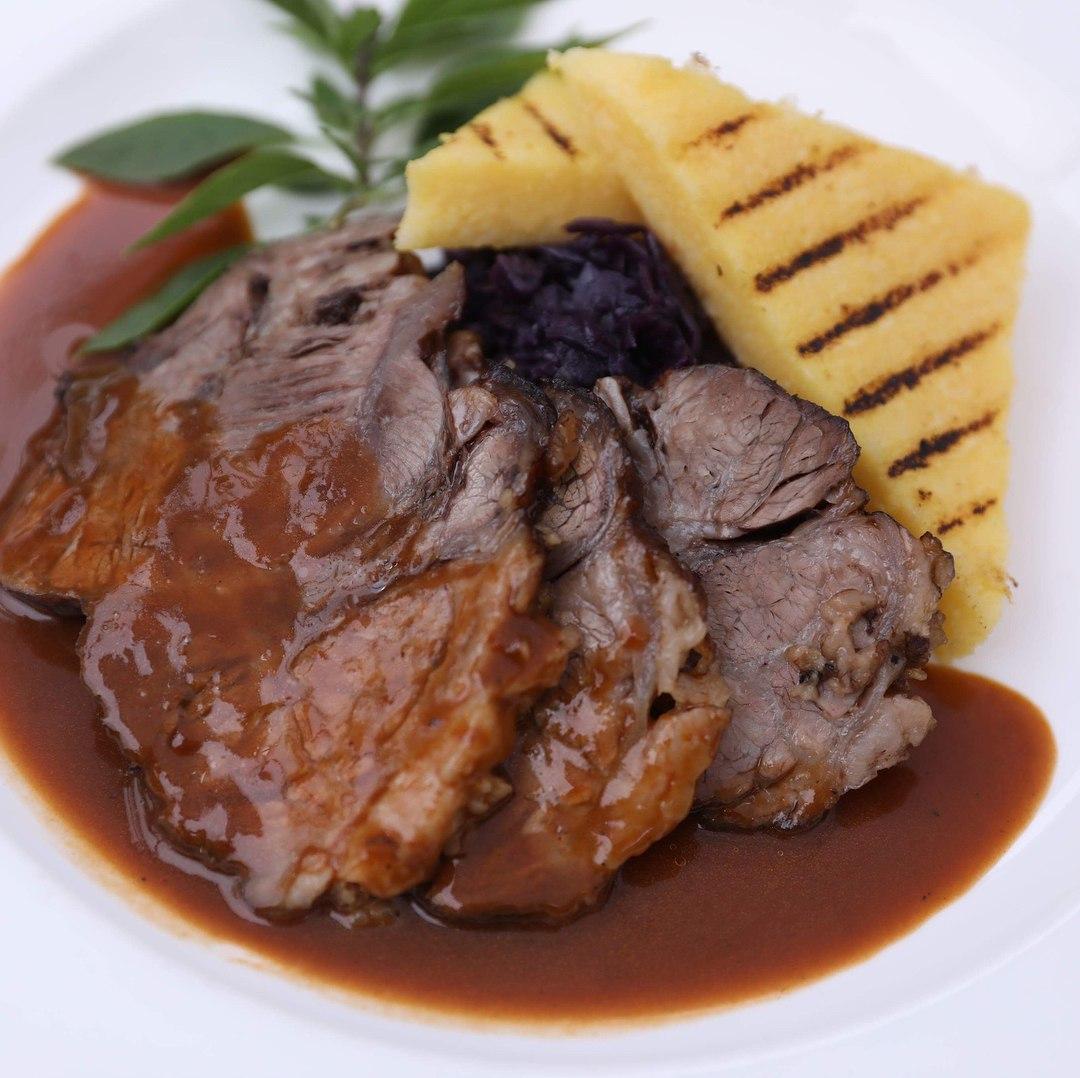 Image credit: @hubersbutchery
Huber's Bistro is a butchery-cum-bistro on Dempsey Road that serves one of the tastiest steaks in Singapore. This is due to the fact that their beef is conveniently picked from their butchery a stone's throw away, and that they source for high quality meats overseas. Their Flat Iron Steak (+$16++) that's served with Café de Paris sauce is a match made in heaven. The steak also comes with a side of crispy French fries. The juicy steak, infused with the creamy butter, creates a mouthwatering combo that's truly an indulgence at a steal.
Address: 22 Dempsey Road, Singapore 249679
Opening hours: Mon-Fri
Tel: 6219 3463
Website
---
Get flat iron steaks for a hearty meal
---
Flat iron steaks have taken Singapore by storm over the past year, and for good reason! They sit well on Singaporeans' palates and they won't blow a hole in your budget. If you value low prices and prefer the more traditional cuts of steak, check out the best cheap steaks in Singapore.
10 Cheap Steaks Under $30++ That Are Mouth-Watering Delicious