---
Late-night food spots in town
---
Getting hangry is the sole reason why I carry around a snack pouch. But after working out or watching a late-night movie in town, I don't just want to nibble on nuts or fruits. A filling meal is what I need to satisfy my stomach, the bottomless pit. If this sounds all too familiar, we've got just a list for this. Check out our curation of 10 late-night food supper spots in town to dine till the wee hours of the morning.
---
1. Beauty In The Pot
---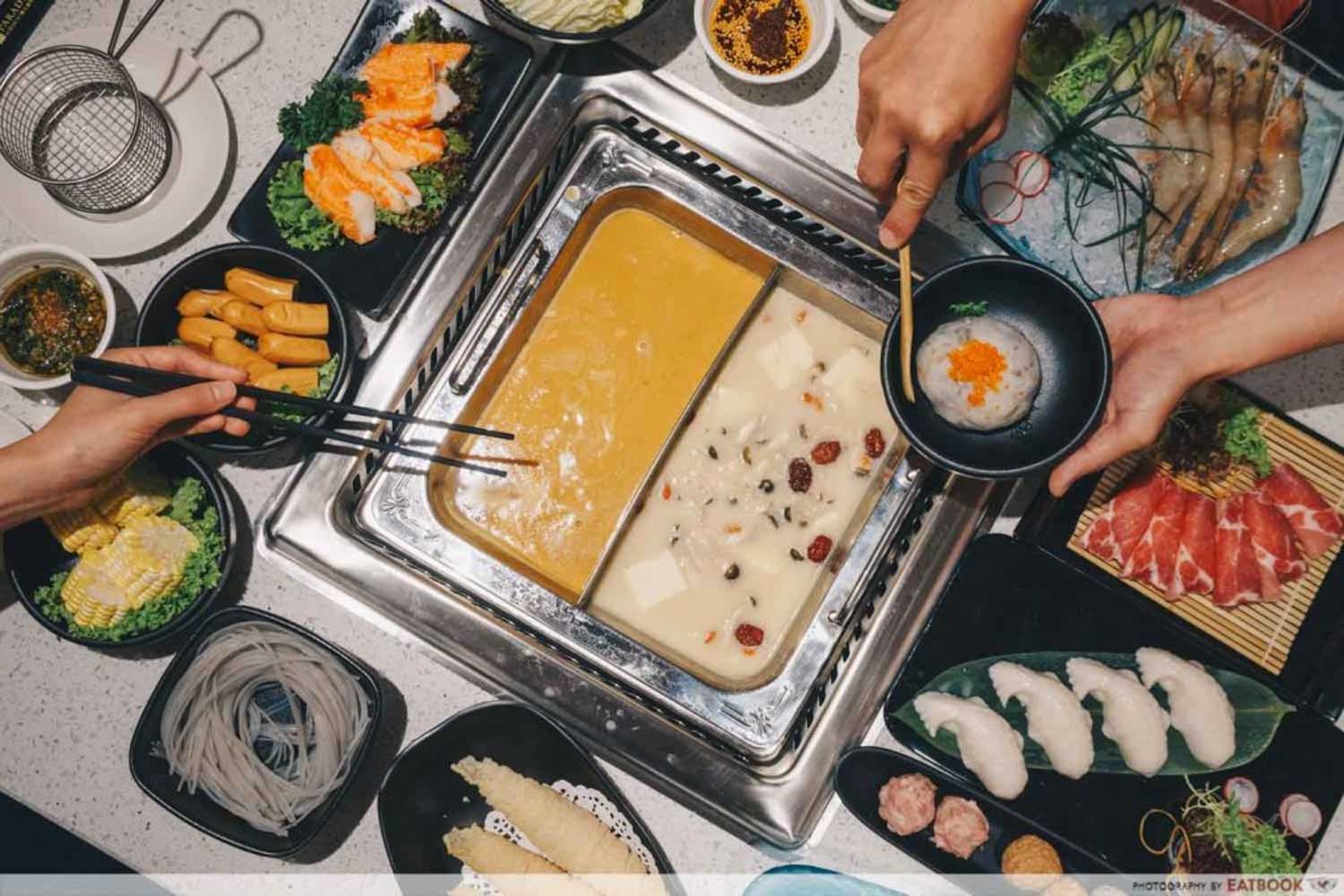 When scrolling through Instagram in the darkness of my room, I'm bound to land myself on a story of someone having supper at Beauty In The Pot. This popular late-night food joint has twin ($8++) and quart ($5++) pots which are great for large groups to share a variety of their rich soup bases, such as Beauty Collagen and Cooling Coconut. Plus, you'll get 20% off their food items when dining in after 10:30pm, so go HAM on their Signature Homemade Fish Tofu ($2.20++) and Fried Beancurd Skin ($5++).
Address: 176 Orchard Road, #05-15/16, The Centrepoint, Singapore 238843
Opening hours: Daily 11:30am to 6am
Tel: 6235 3557
Website 
---
2. 49 Seats
---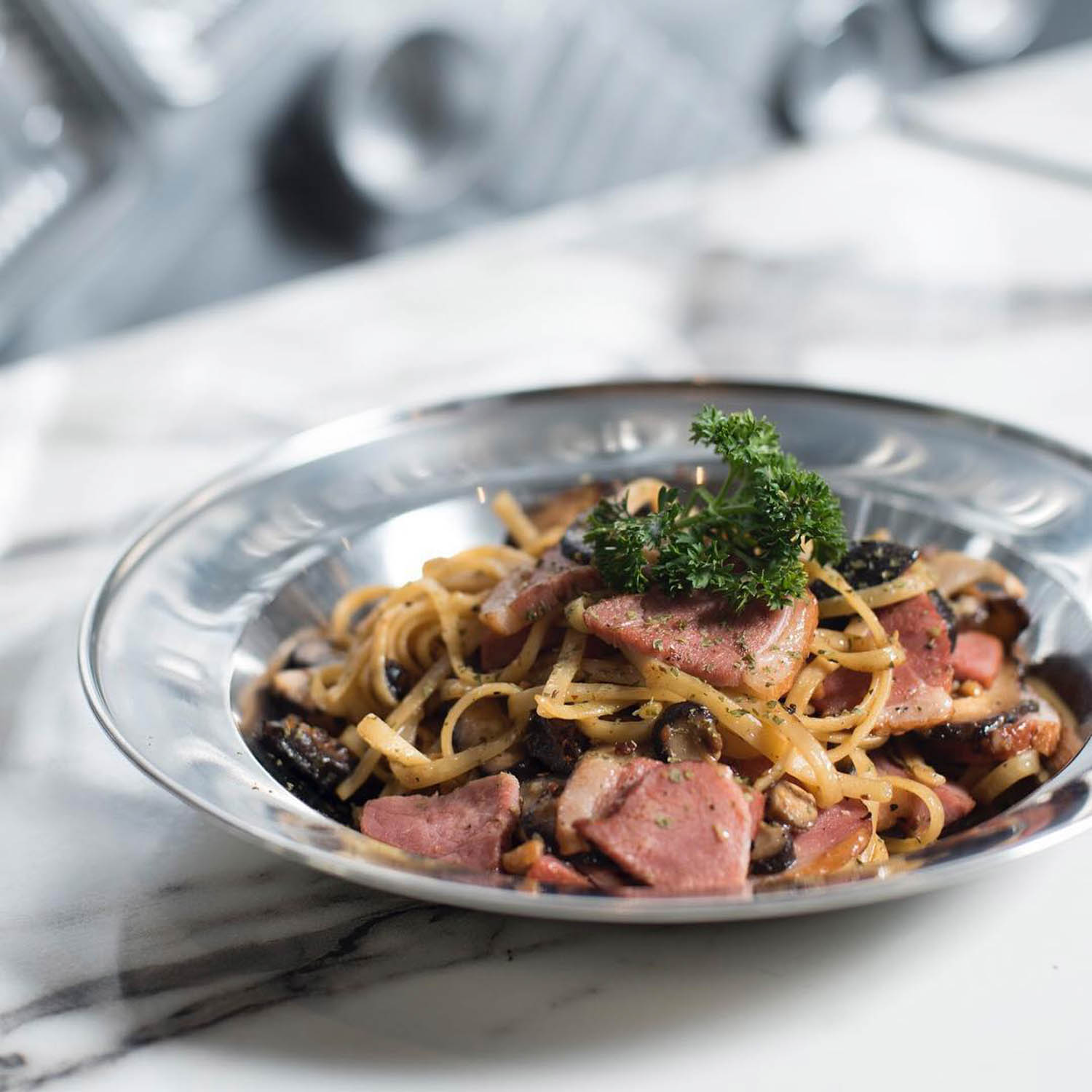 Image credit: @49seats
Eating in town can be a pricey affair, but dining at 49 Seats is kind to your wallet with nett prices on their Western fare. Their popular Tom Yum Seafood Pasta ($14.90) is a terrific fusion of classic carbonara with some familiar spicy and tangy tom yum flavours. Their Smoked Duck Aglio Olio Pasta ($14.90) is also a great alternative for those who can't tolerate spice. Al dente linguine is paired with thick chunks of savoury duck in this dish. The value-for-money prices don't just stop there, as they have a supper promotion which starts at 10% from 10pm onwards.
Address: 176 Orchard Road, #01-49, The Centrepoint, Singapore 238843
Opening hours: Mon-Thur 11:30am to 2:30am, Fri-Sat 11:30am to 5am, Sun 11:30am to 11pm
Tel: 6225 4332
Website
---
3. Korat Thai Cafe
---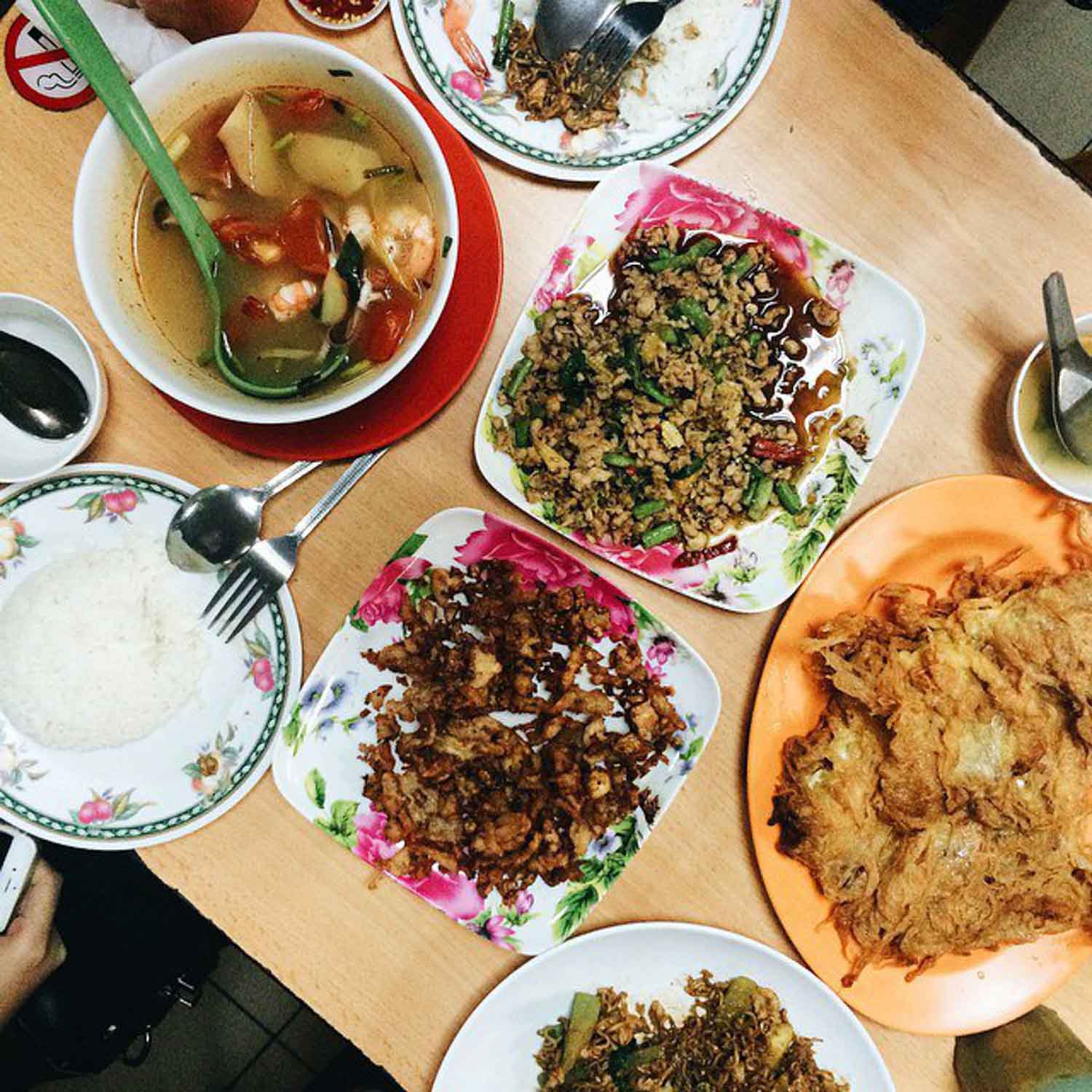 Image credit: @greenteafields
Korat Thai Cafe at Orchard Towers is a no-frills eatery serving legit Thai food which makes you feel like you're dining at one of the many night markets in the Land of Smiles. The Milky Tom Yum with Seafood ($11.90) is a must-order for its iconic sweet and tangy flavours. You'll score generous portions of succulent seafood to have along with this spicy goodness. Get a side order of their Signature Crispy Omelette ($7.90) which is deep-fried to a sinful, golden perfection. Your diet can wait with this fluffy egg dish.
Address: 400 Orchard Road, #03-28, Orchard Tower, Singapore 238875
Opening hours: Sun-Thur 6pm to 2am, Fri-Sat 6pm to 3am
Tel: 6736 2282
Website
---
4. KPO
---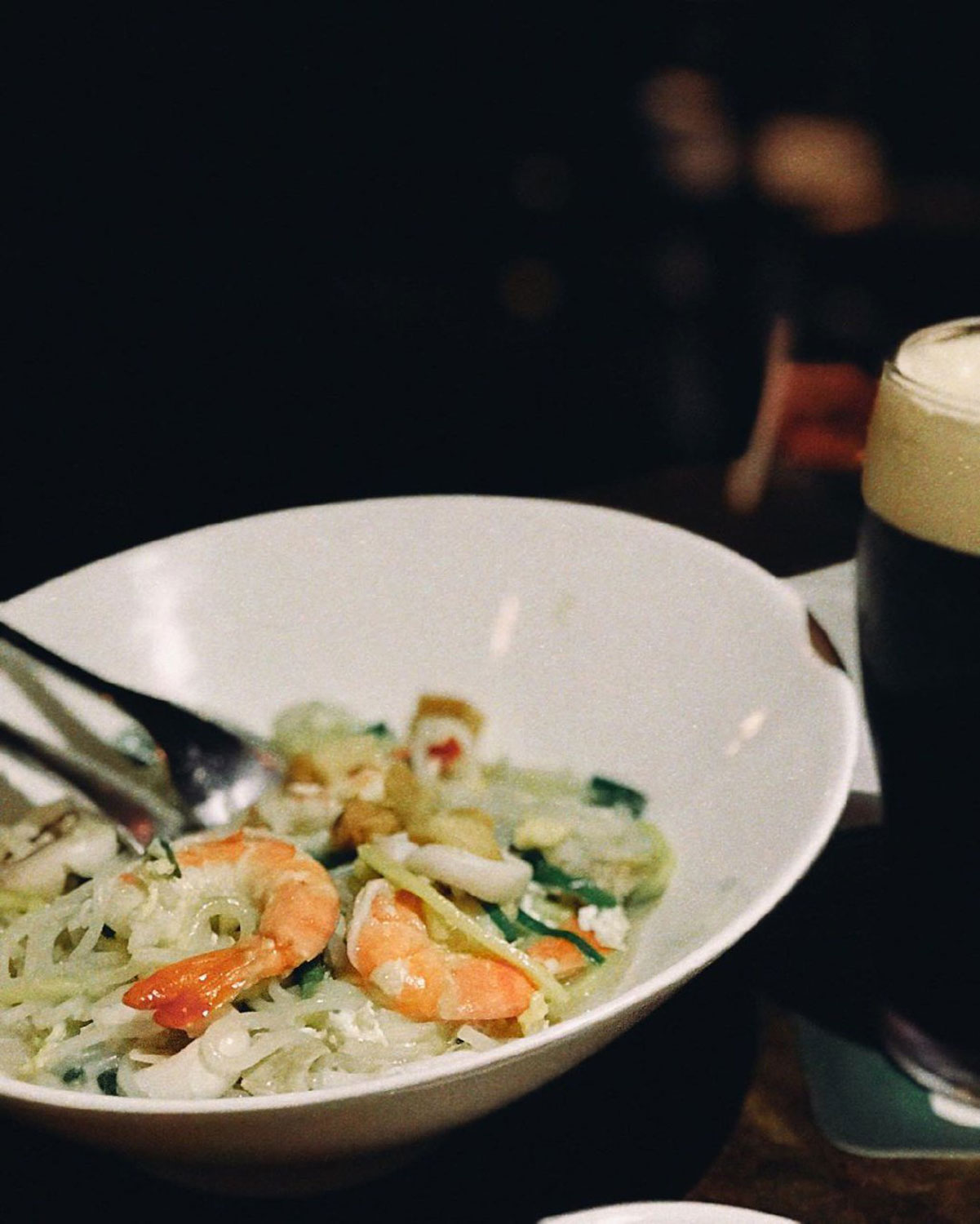 Image credit: @kposg
Besides serving a slew of alcoholic drinks, KPO also has food options to sober up with. Get a taste of classic hawker fare with their KPO Hokkien Mee ($18). This wok hei dish comes with a mix of crunchy prawns, juicy squid, and tender strips of pork belly. If you're feeling peckish, munch on some spicy Salted Egg Fish Skins ($18) or their flavour-packed Award-Winning Chicken Wings ($18/$25) for a savoury kick. Dining at a bar is often on the pricier side, but KPO doesn't have any hidden service or GST charges, making their quality food value for money. Pop in by 12:15am from Monday to Thursday, and 1:15am on Friday and Saturday to catch the last food order. 
Address: 1 Killiney Road, Singapore 239518
Opening hours: Mon-Thur 3pm to 1am, Fri 3pm to 2am, Sat 6pm to 2am
Tel: 6733 3648
Website
---
5. Privé Wheelock
---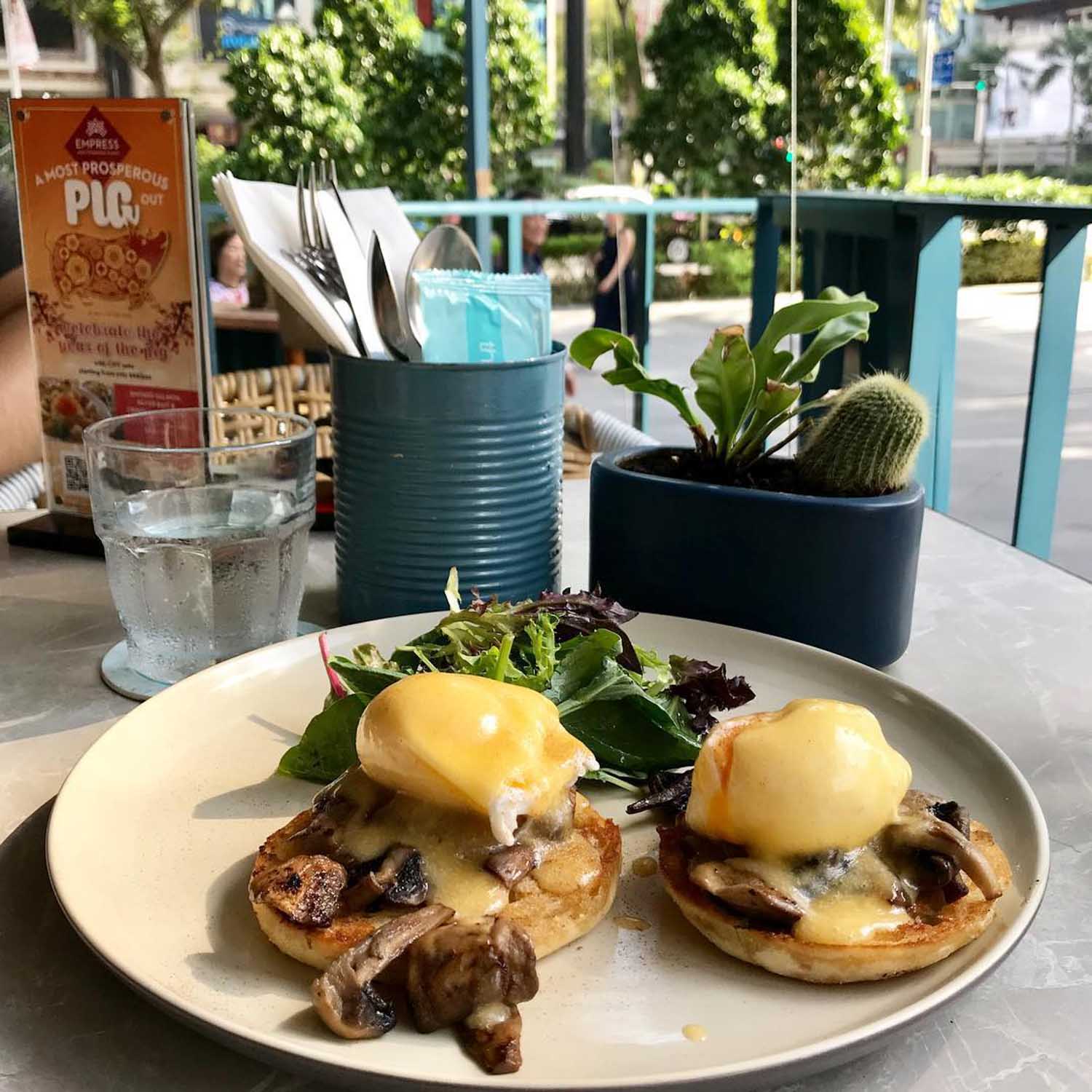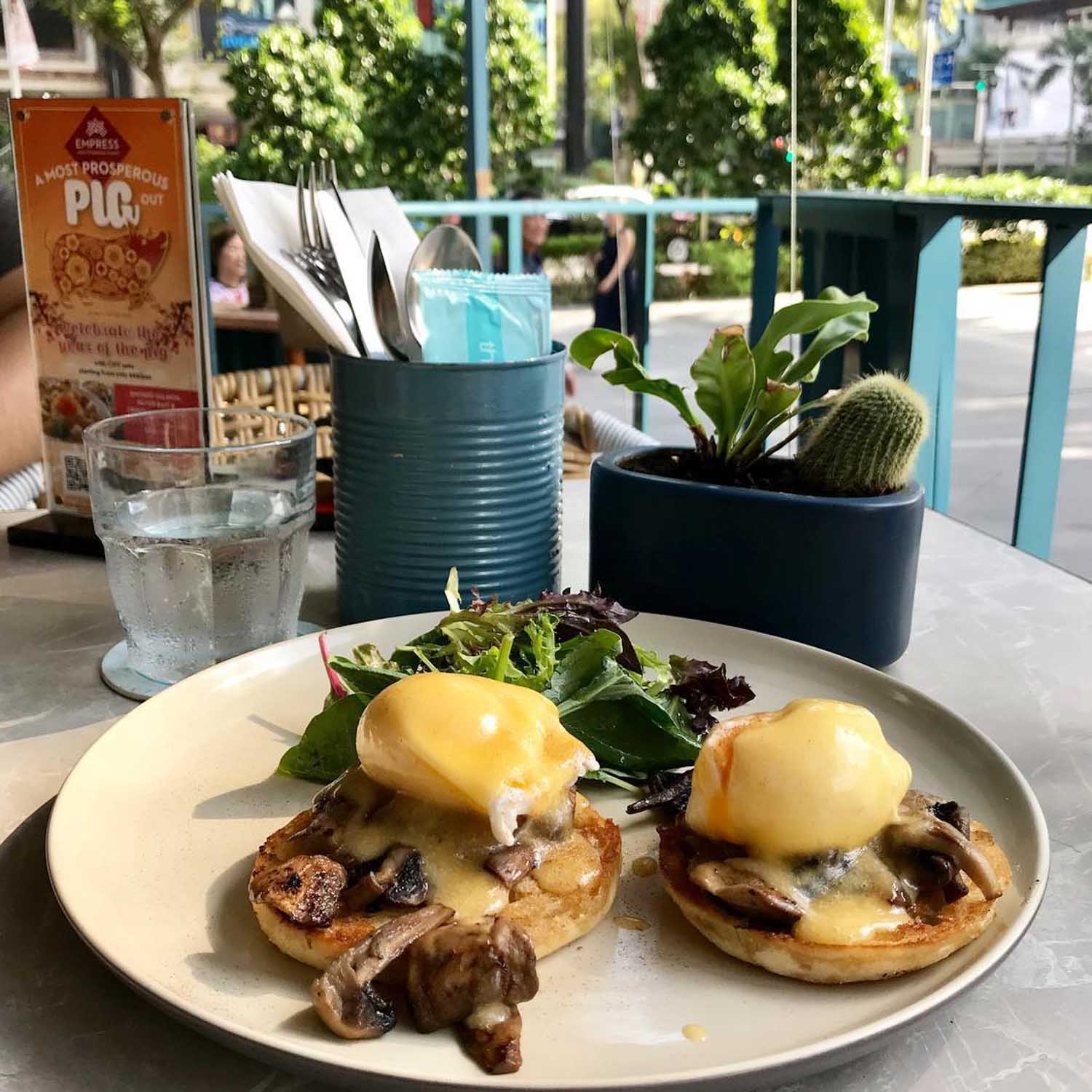 Image credit: @themodishfoodie
Kick back and relax at Privé Wheelock. The alfresco dining area of this casual European cafe is perfect for people watching as you chomp on a Classic Wagyu Beef Burger ($22++). This thick burger features double beef patties cooked to medium with a warm, pink centre. If this sounds too jelak to eat at such a late hour, you can opt for the Breaded Crab Cakes ($12++) which come with an aromatic garlic mayo dip. Just as Cinderella rushes home before the stroke of midnight, be sure to get here before the kitchen closes at 12am!
Address: 501 Orchard Road, #01-K1, Wheelock Place, Singapore 238880
Opening hours: Mon-Fri 9am to 1am, Sat-Sun 8am to 1am
Tel: 6776 0777
Website
---
6. Foodsmith
---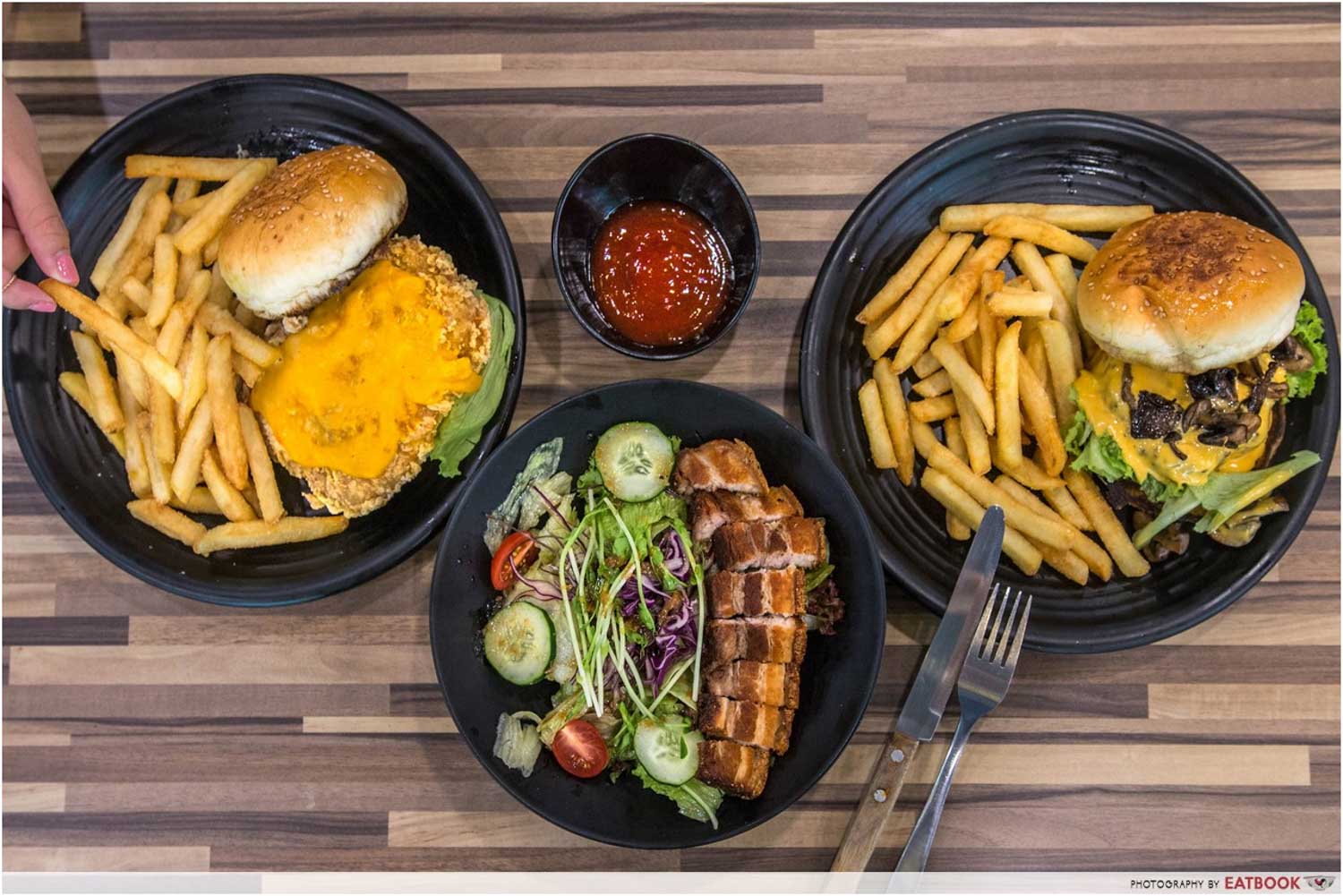 If you need to recharge after a cardio workout at the nearby clubs, then fuel up at Foodsmith. This Western stall operates 24/7 at Liang Court, serving hearty Western dishes with generous portions. Chomp down on their aromatic Truffle Mushroom Beef Burger ($10.90) which features a dense beef patty that is packed with robust and earthy flavours. If you're still thinking about the healthier choice at this hour, order the Pork Belly Salad ($7.90). You'll get your daily intake of vegetables as well as a side of proteins with the crispy sio bak.
Address: 177 River Valley Road, #01-06, Liang Court, Singapore 179030
Opening hours: Mon-Sat 24 hours, Sun 11am to 9pm
Website
---
7. Senor Taco
---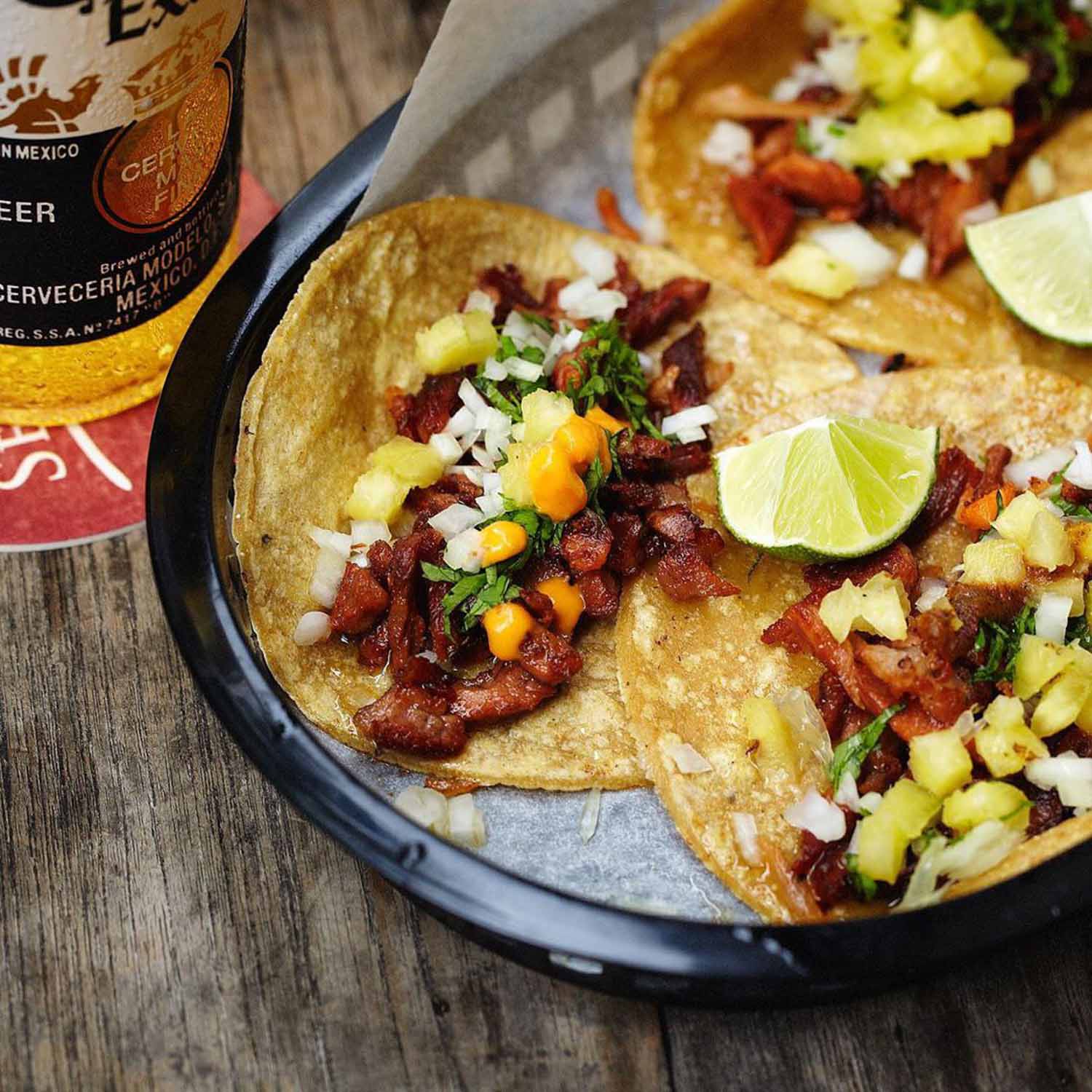 Image credit: @senortacocq
Don't be taken aback by the booming live Latin music when visiting Senor Taco. This lively joint in the heart of Clarke Quay dishes out legit Mexican fare with a menu ranging from tacos to sharing platters. Their Pork Belly Carnitas ($8++) is a corn tortilla stuffed with tender chunks of pork belly that have been braised for half a day. If you're dining with friends,  spilt the Prawn Ceviche ($22++) as there is more than enough of this fresh-tasting prawn dip to go around.
Address: 3A River Valley Road, #01-07-A, Singapore 179020
Opening hours: Wed-Sat 4pm to 3:30am, Sun-Tue 6pm to 1:30am
Tel: 6336 1734
Website 
---
8. Ramen Keisuke Lobster King
---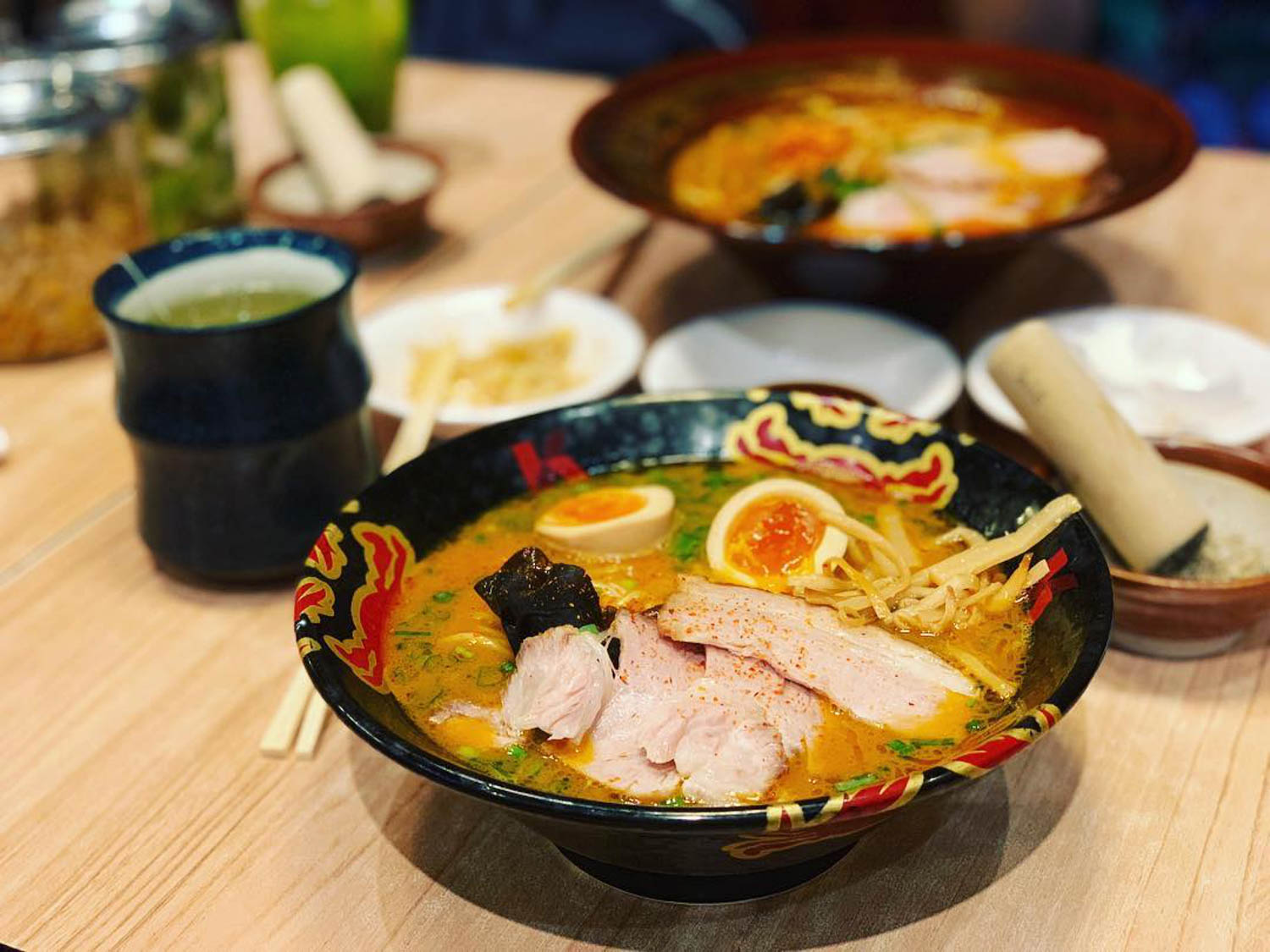 Image credit: @chuan.tank
I've stumbled into Ramen Keisuke Lobster King one too many times after a night of club-hopping. This ramen stall serves springy noodles in a rich lobster broth that would perk you up after dancing for hours. Get the Lobster Broth Ramen Special with Rich Creamy Soup ($20.90++) for a full experience of their lobster-bisque-like soup which takes four to six hours to prepare. A visit to a ramen joint isn't complete without an order of Pork Gyozas ($8.80++). These crispy dumplings are stuffed with a juicy pork filling and pan-fried to golden perfection.
Address: 3C River Valley Road, #01-07, The Cannery, Singapore 179022
Opening hours: Daily 6pm to 5am
Tel: 6255 2928
Website
---
9. Graffiti Cafe
---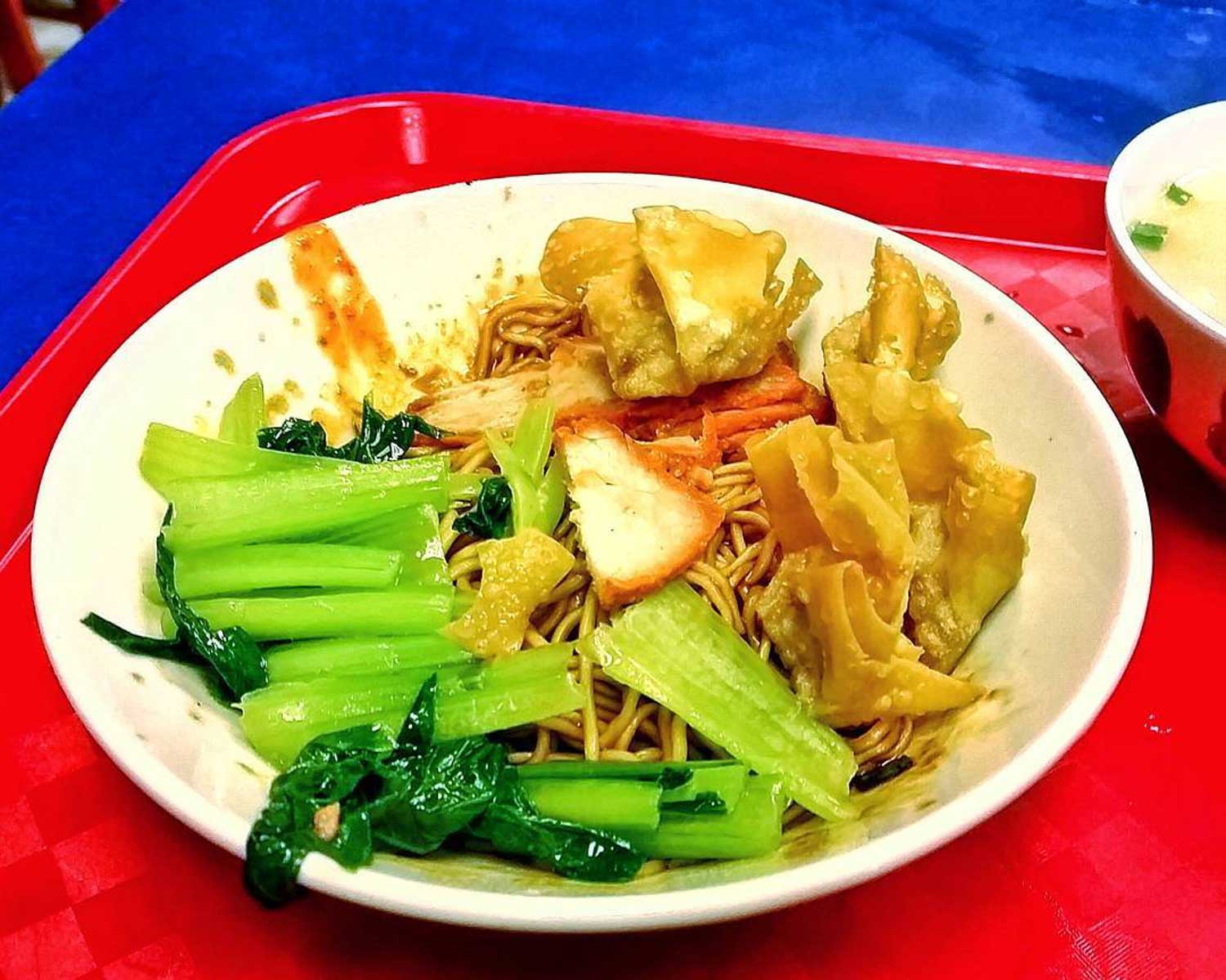 Image credit: @suyannie
You can't go wrong with a hearty bowl of wanton mee to satisfy the late-night food munchies. Though there are no hawker centres in the vicinity, you can count on Graffiti Cafe by the famous Pontian Wanton Noodles. This eatery is open 24/7, so you can get their Wanton Mee ($4.20) at any time of the day. If the slices of sweet and savoury char siew in this dish are not enough, add on some Crispy Fried Wanton ($1.60 for six, $3 for twelve pieces). 
Address: 5 Koek Road, #01-08/14, Cuppage Plaza, Singapore 228796
Opening hours: Daily 24 hours
---
10. Rochor Original Beancurd
---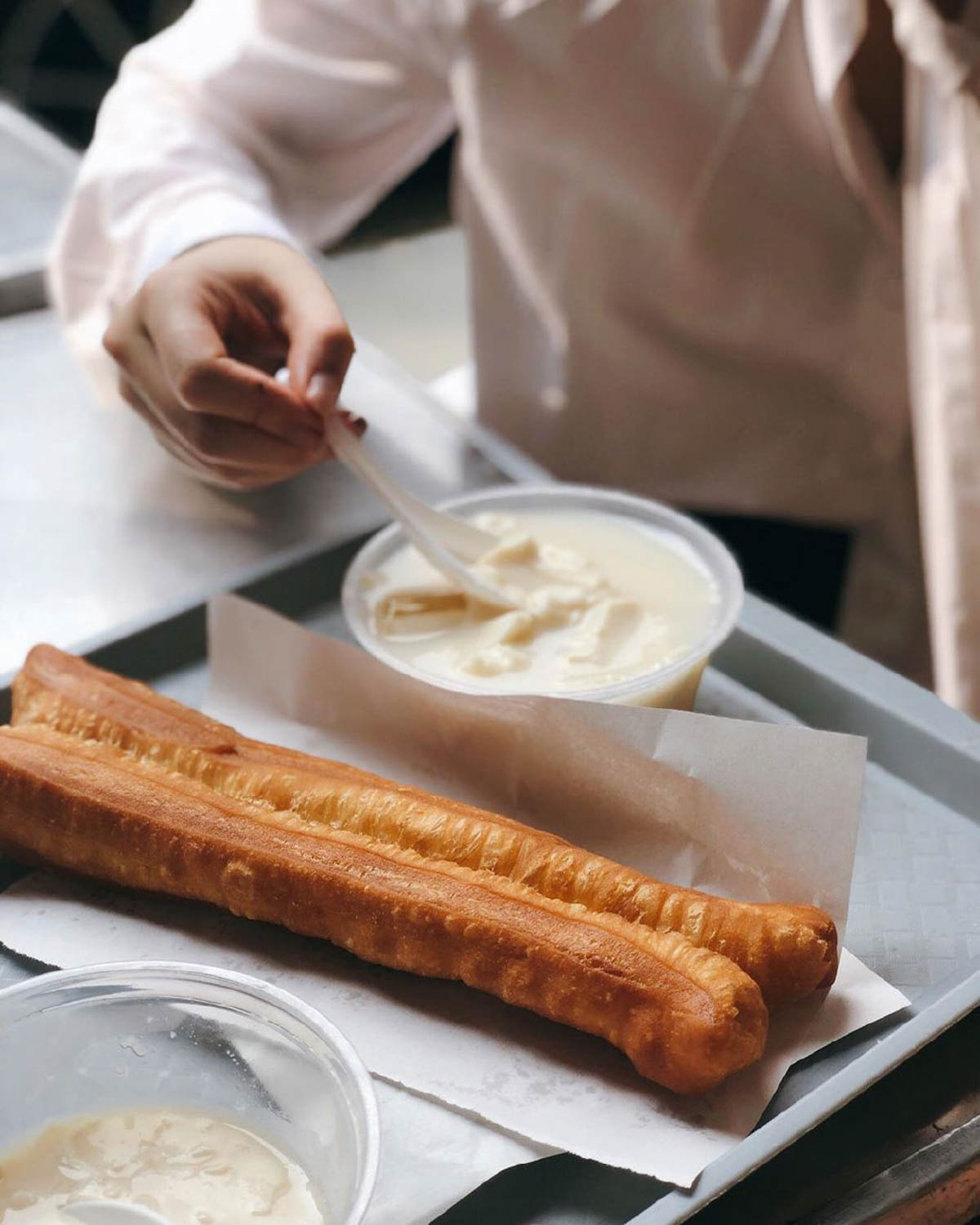 Image credit: @twofoodfools
Rochor Original Beancurd is one of the less sinful places on our supper list with their house-made soya bean desserts. My usual order consists of their silky Hot Beancurd ($1.20) and Cold Soyabean Milk ($1.20), which I usually mix together. For a greater depth of textures, get the fluffy Butterfly ($1) or crispy You Tiao ($1) to dunk into this dessert. They've jumped onto the bandwagon of Pudding Beancurd ($1.50), which features a sweetened beancurd, but I still prefer the traditional version.
Address: 2 Short Street, Singapore 188211
Opening hours: Mon-Thur 11am to 1am, Fri 11am to 3am, Sat 12pm to 3pm, Sun 12pm to 1am
---
Late night food spots near Orchard Road and Bugis
---
Unlike Fight Club, the first rule of supper club is to share late-night eateries with your kakis. Armed with this list of supper spots, you won't have the case of munchies anymore. If you are looking for more good food around town, check out our full review of Gyu Tori Wagyu!
Featured image adapted from @49seats and @chuan.tank.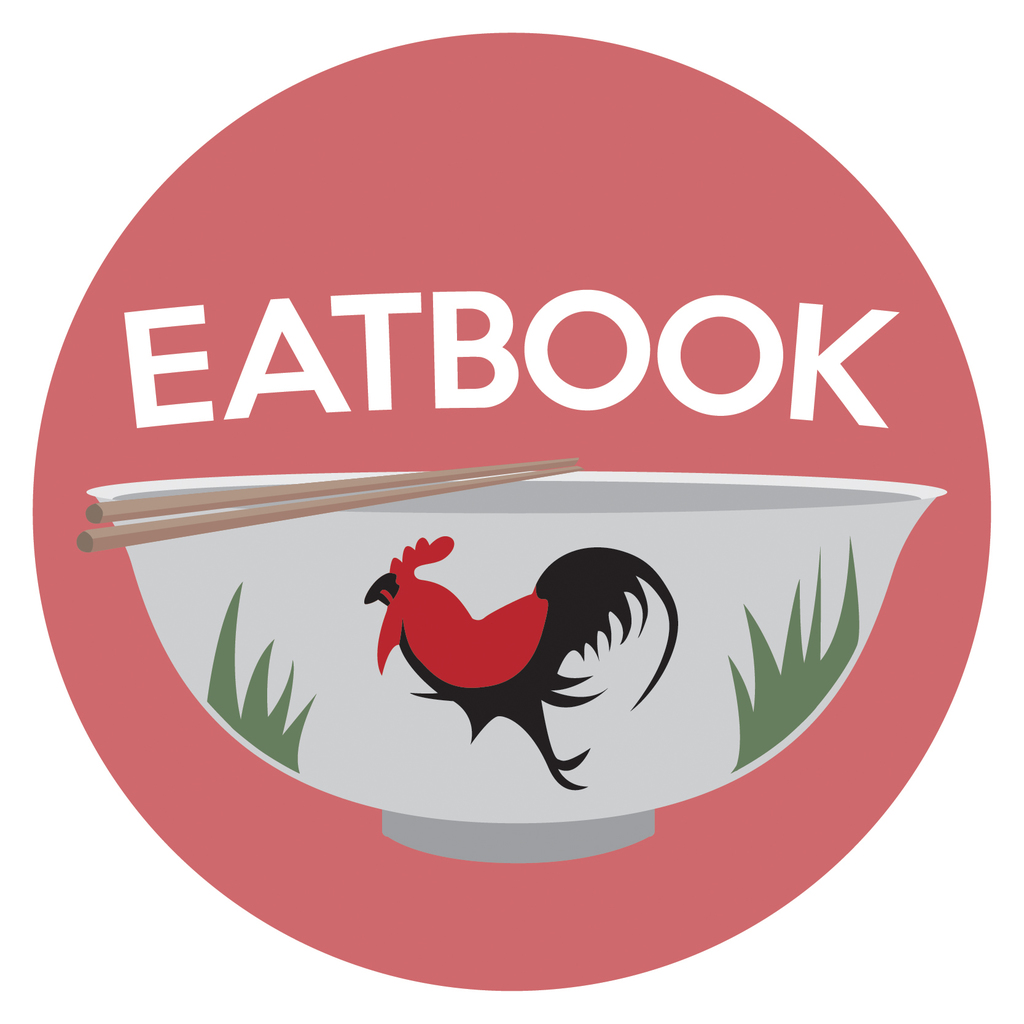 Drop us your email so you won't miss the latest news.