Tachinomiya – a Japanese bar at a HDB block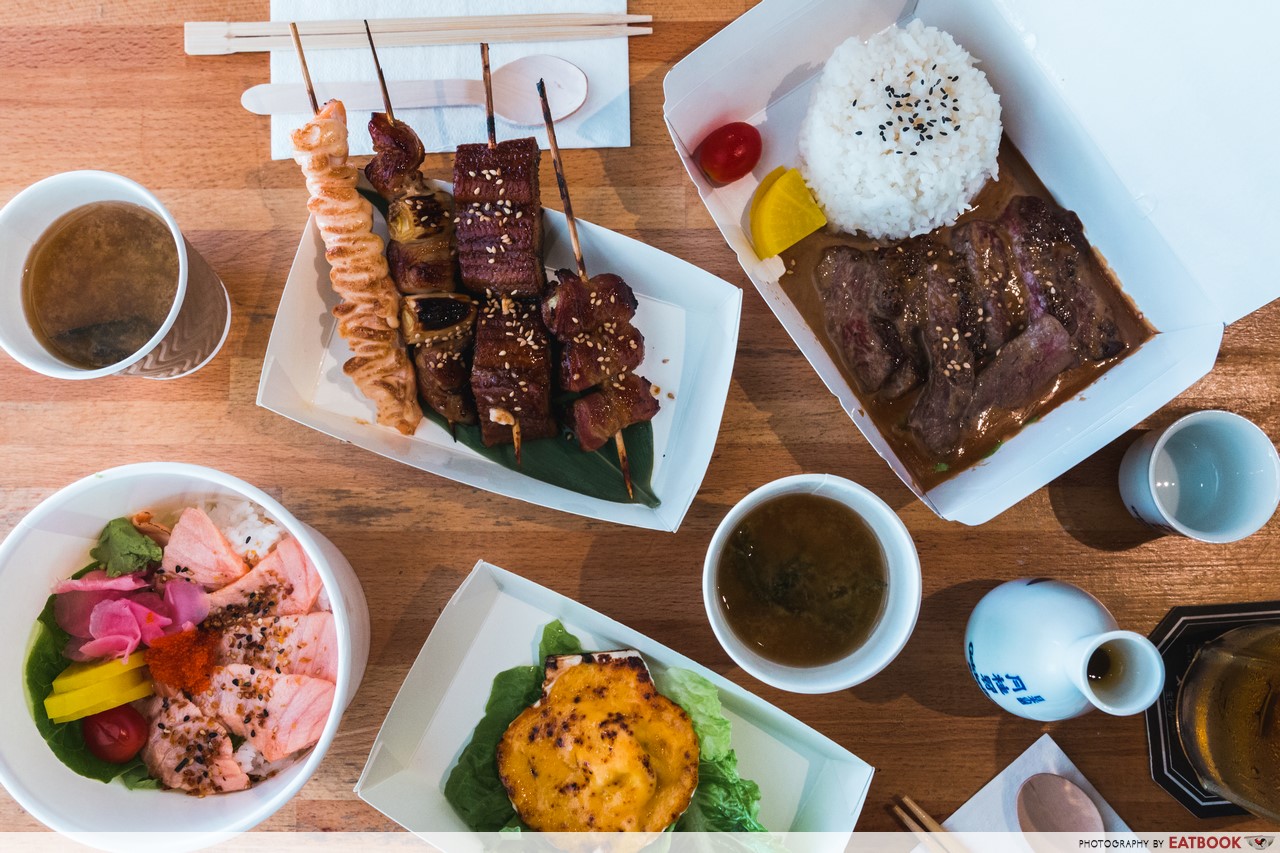 Whenever "izakaya" is mentioned, I tend to think of swanky Japanese bars found at the edges of the CBD. Which is ironic, considering how this word refers to casual bars or drinking houses that usually serve inexpensive food. 
Tachinomiya is an izakaya that sticks closer to the word's definition. This neighbourhood bar found at a HDB block in Kovan makes grabbing a beer an on-the-way-home affair for those living along the North-East Line. It opens until midnight on most days and till 2am on Saturdays, so you can enjoy late-night chats over small bites without worrying about getting death stares from the staff.
Food at Tachinomiya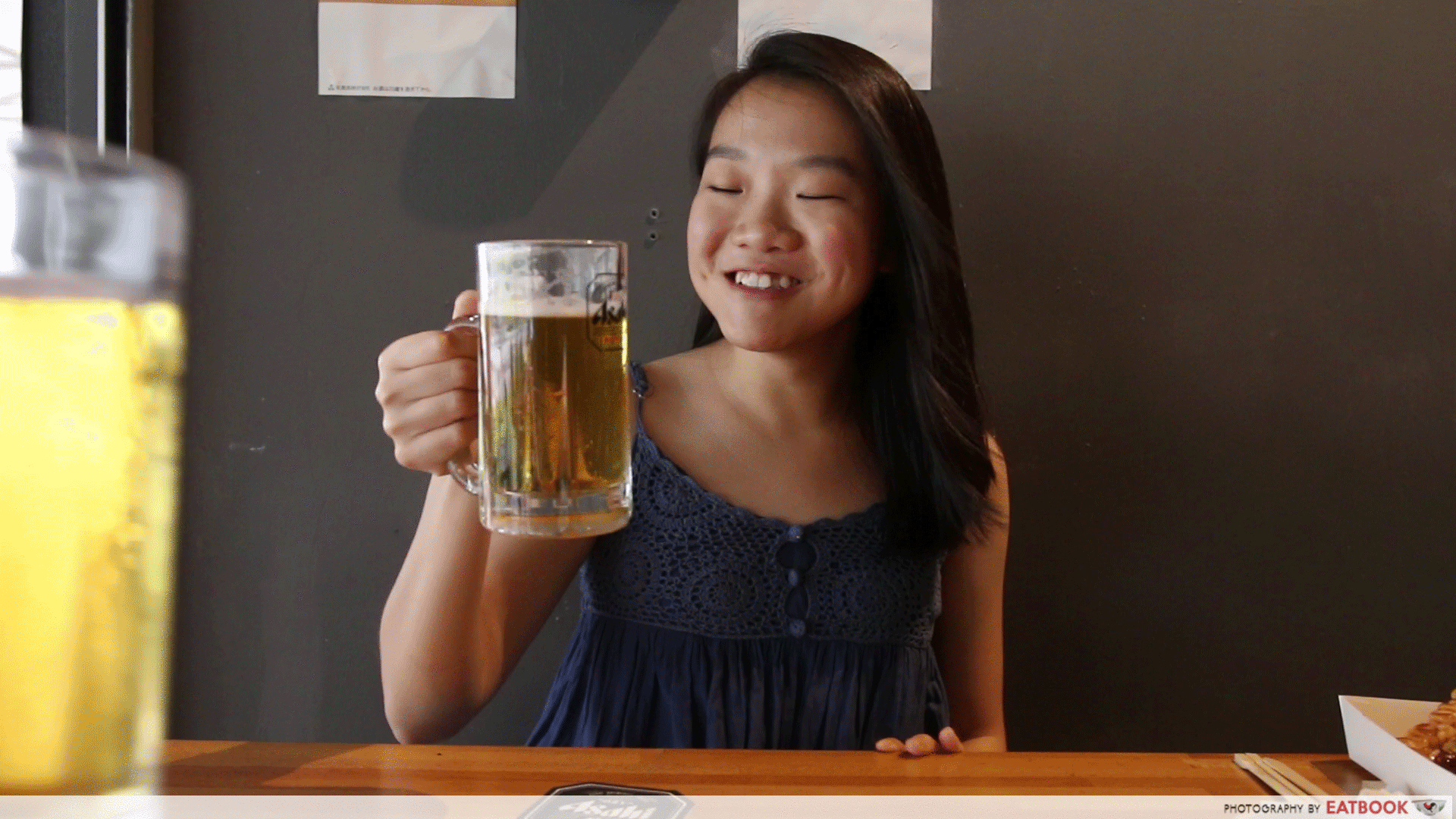 Tachinomiya's drinks menu features an array of Japanese beers, sake and whiskeys. They have Asahi on tap, so we got two pints of Asahi Super Dry ($9.50 per pint). For larger groups, a 3L Asahi Super Dry Tower ($55) makes a value-for-money option.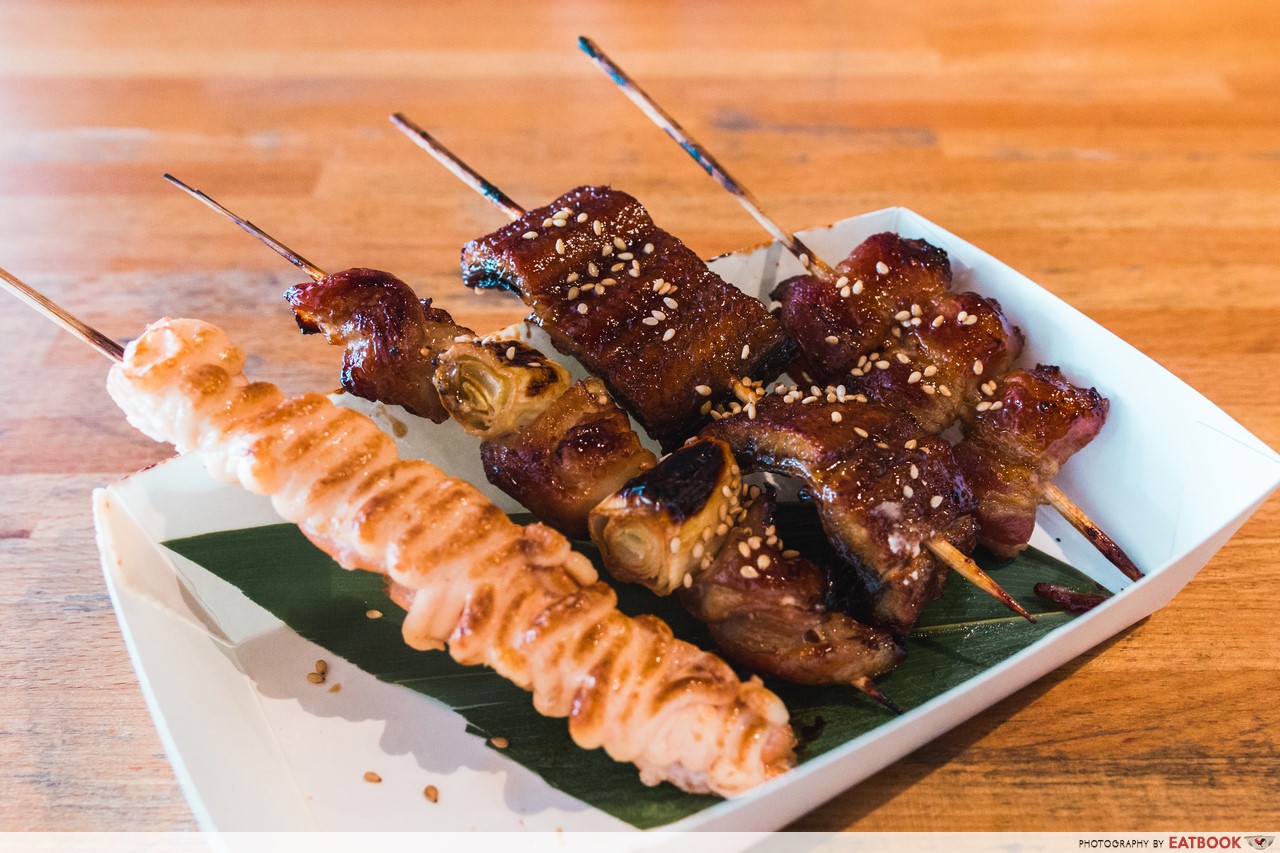 It's always nice to have finger food to nibble on between sips, so we ordered some yakitori sticks to share. There's a minimum of four yakitori sticks per order and we chose Asparagus + Bacon ($2.50), Pork Belly + Leek ($2.50), Mentai Salmon ($4), and Unagi ($4).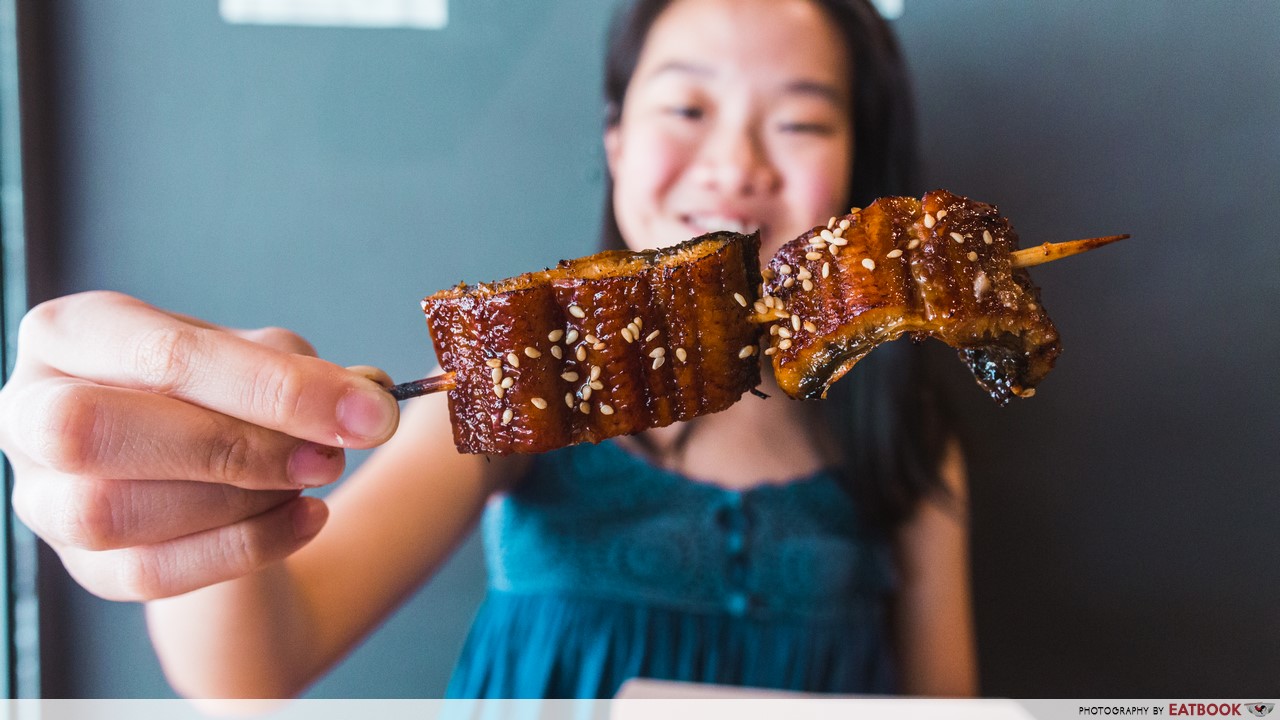 I liked that the tare (Japanese dipping sauce) used to coat the yakitori wasn't too thick or sweet so the flavours of the meat came through. My favourite was the unagi, which had two substantial slices of grilled eel. The mentai salmon was also tasty because Tachinomiya tops the salmon liberally with mentaiko sauce, though it could've been better if the salmon was cooked to a lower level of doneness.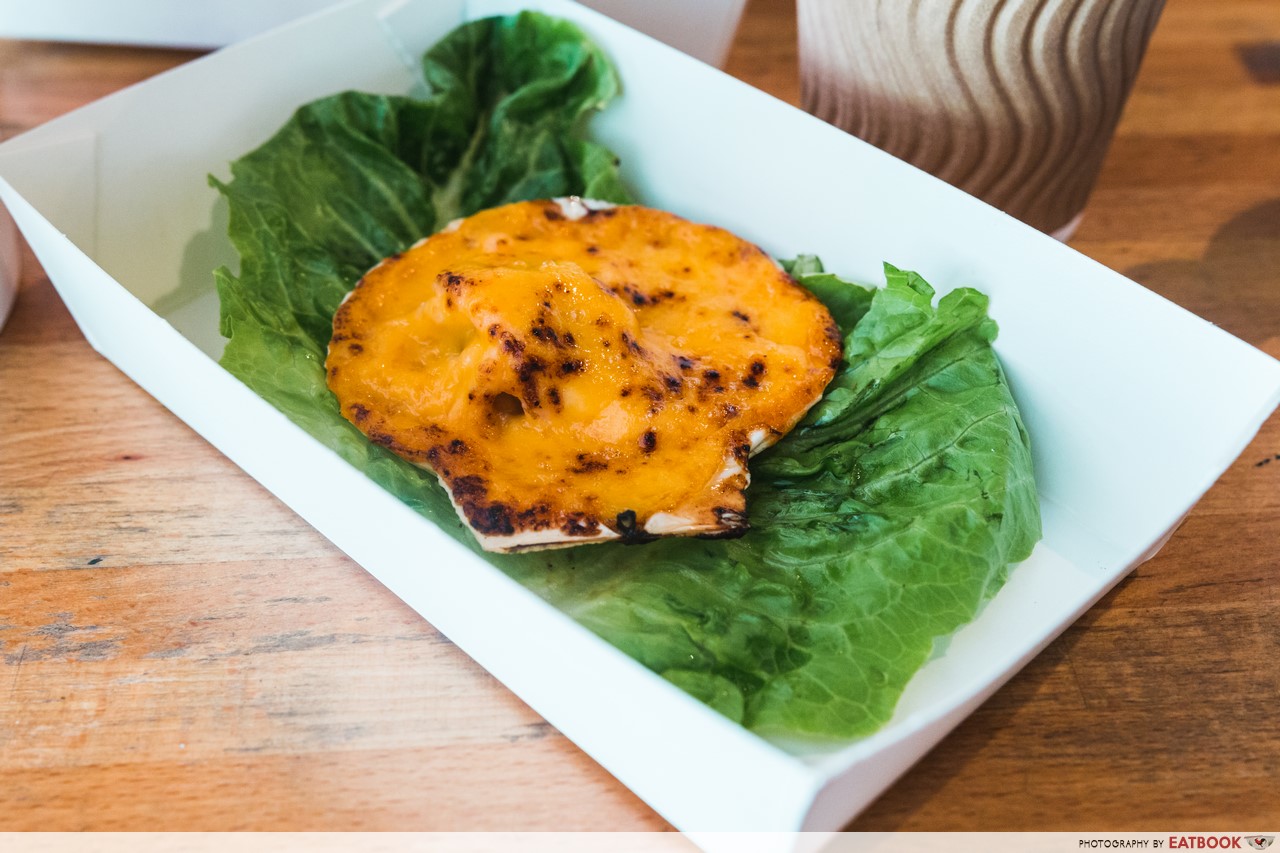 Cheese Mentaiko Scallop ($3.50) was everything we were expecting and more. The scallop was served in its shell, with a dollop of mentaiko and a thick, gooey layer of torched cheese blanketing it.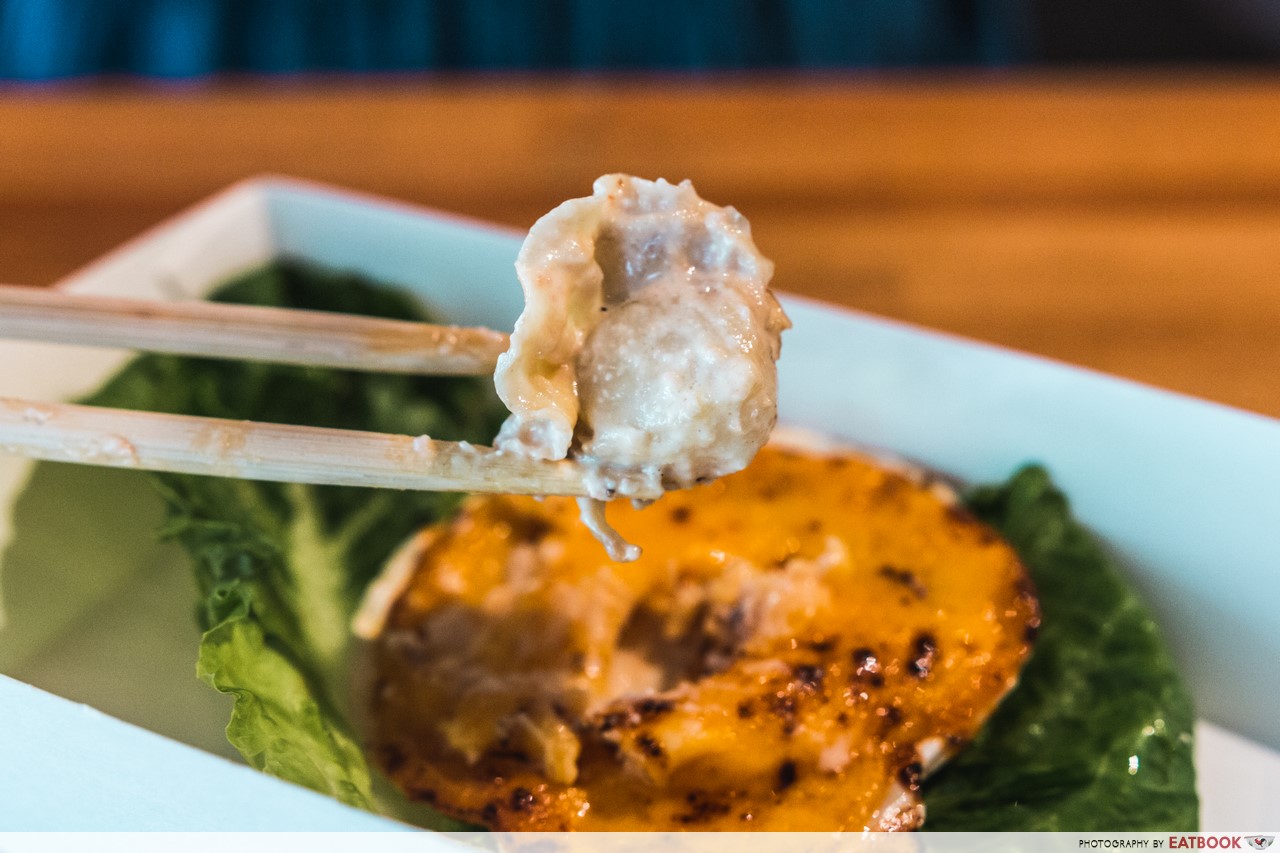 A taste of the rich, salty cheese melded with creamy, umami mentaiko immediately had us muttering "so good" while we stuffed more in our mouths. This is a flavour combo that dethrones salted egg and truffle, but it's pretty heavy on the palate so just one or two of these scallops should satisfy. The scallop was juicy and fresh, though its mildly sweet flavour was overshadowed by the other components.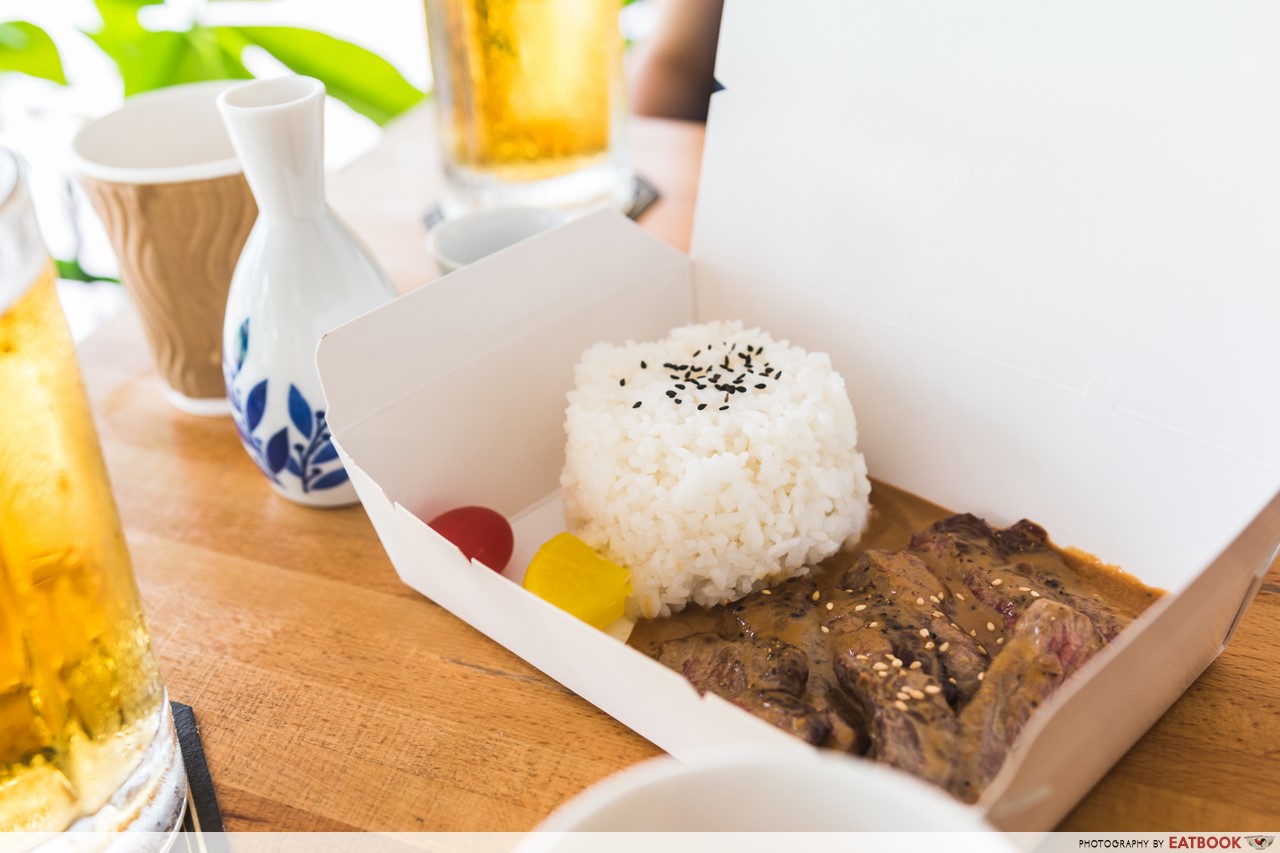 Since we were there during lunchtime, we were able to get their lunch sets. Tachinomiya offers a promotion on four bento sets during lunch. Each set goes at $8.90 and consists of a donburi, a cup of miso soup, and tea. We opted for Gyu Steak ($8.90).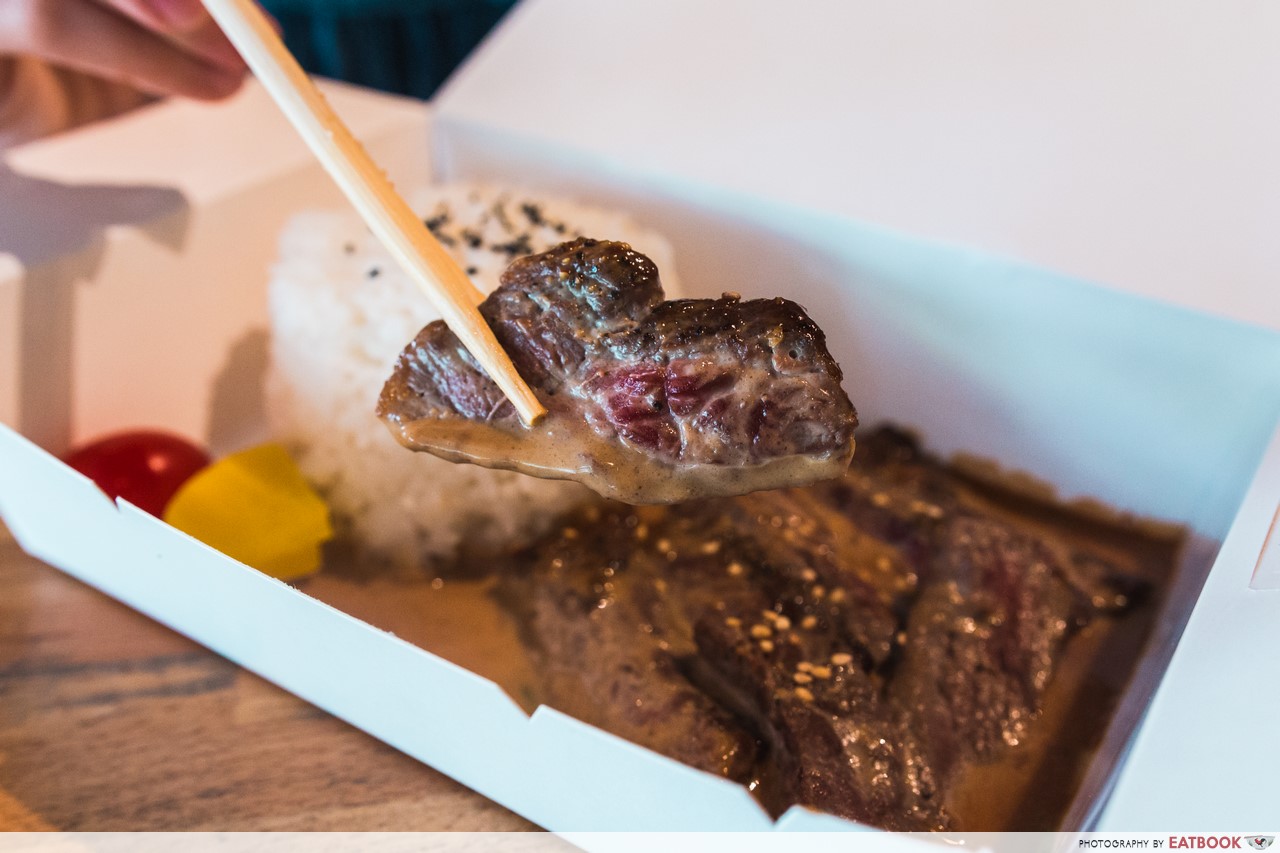 These slices of beef had promising pink centres but they turned out to be rather tough and chewy. We found ourselves needing the brown sauce they came with to help with the dryness. The sesame seeds used were particularly fragrant and they imparted an intense nutty aroma to the jasmine rice.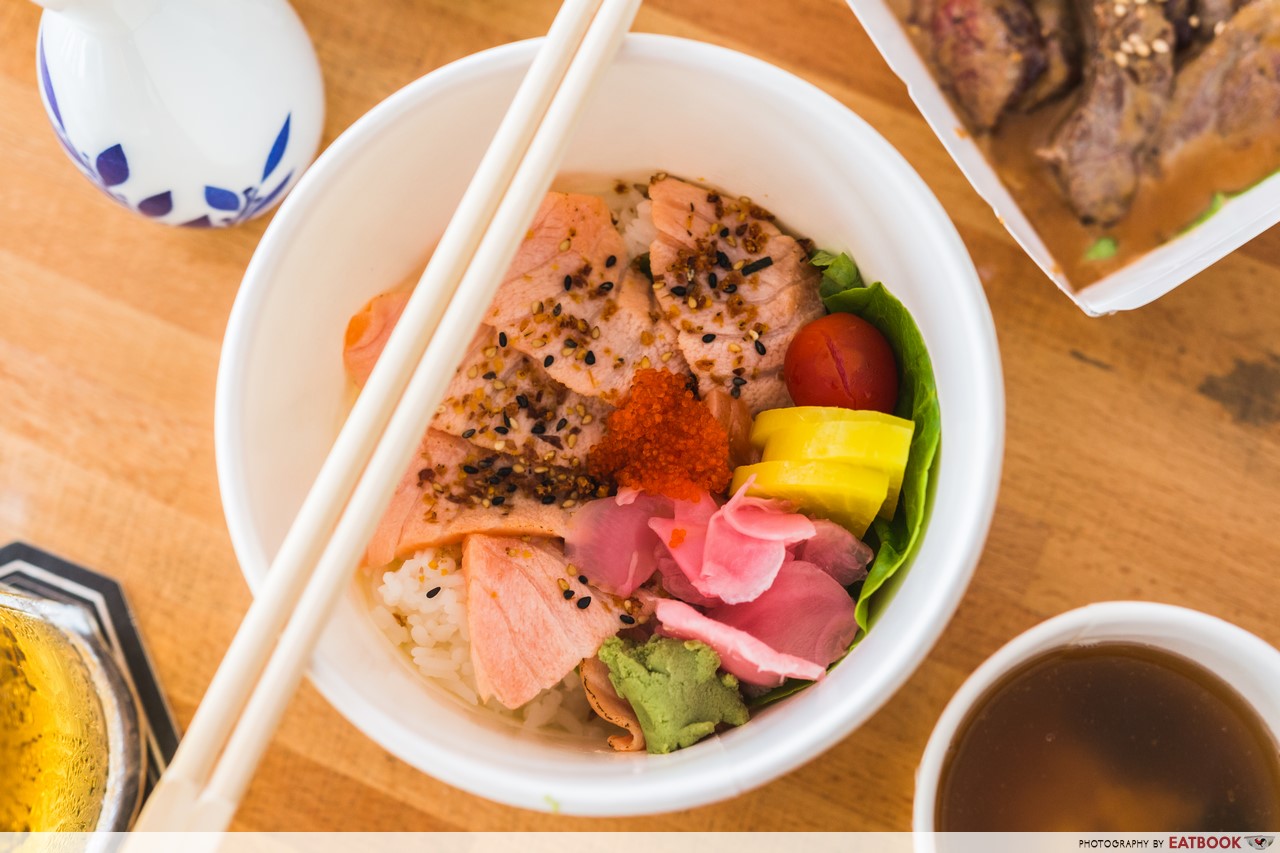 We also decided to try Aburi Salmon ($15), which was served with a cup of miso soup like all rice bowls on their menu. While it wasn't bad, we had higher hopes for this. The slices of salmon were thin, and it's possible to find more satisfying salmon rice bowls elsewhere at $15 or less.  
Ambience at Tachinomiya
Tachinomiya has casual, modern furnishings, and it is good for groups of four or smaller. It's a cosy space and you can choose between indoor and outdoor seats, or grab a seat at the counter. Food is served in disposable containers.
The verdict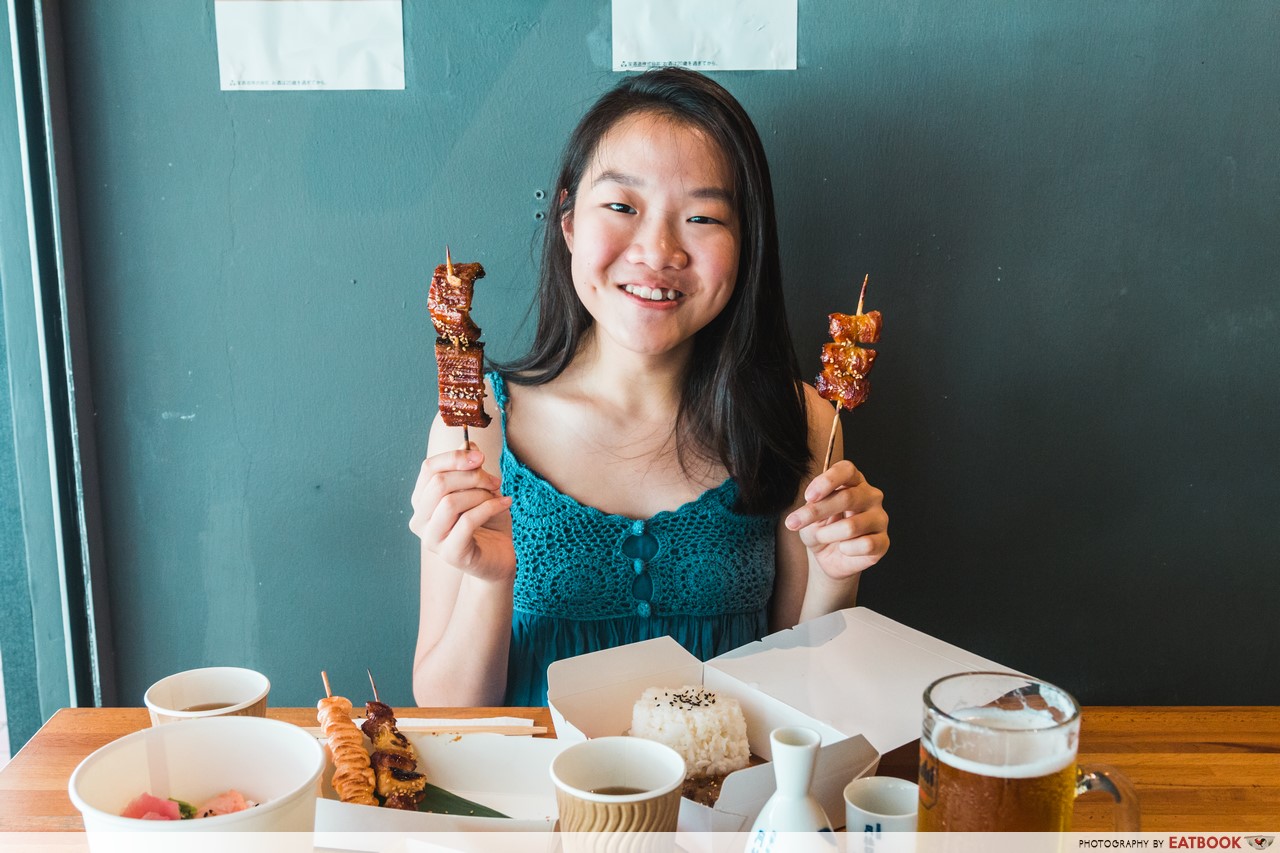 Tachinomiya makes a comfortable hangout for those in the neighbourhood. They have affordable lunch sets and a variety of rice bowls if you want to have a full meal, but the mains we ordered weren't impressive. Instead, we'd opt for finger food and sides to go along with our drinks.
This is an independent review by Eatbook.sg.
Summary
Pros
– A short walk from Kovan MRT Station
– Open till late
– No GST or service charge
Cons
– Mains were unimpressive
– Limited seats
Recommended Dishes: Cheese Mentaiko Scallop ($3.50), Unagi Yakitori ($4), Mentai Salmon Yakitori ($4)
Operating Hours:
Monday – Thursday: 11:30am to 2:30pm, 5:30pm to 12am
Friday: 11:30am to 2:30pm, 5:30pm to 1am
Saturday: 11:30am to 2am
Sunday: 11:30am to 12am
Tel:
6286 0738
Address: Blk 211 Hougang Street 21, #01-285, Singapore 530211