---
Not Your Average Tapas Joint
---
Update (4th April 2019): Tapas 39 has permanently closed.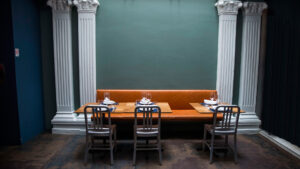 Source
Tapas has never been my top choice for a night out. The high prices that seem to almost be inversely proportionate to the serving sizes have always deterred me from entering one of those snazzy tapas bars. However, if I had to choose a place to blow my money on savoury small snacks, Tapas 39 would be one of my top choices. The Spanish small plates they serve have distinct French and Italian influences, making the whole dining experience quite the gastronomic affair.
It's the perfect place for an intimate lunch time date, or a post-work drinking and snack hole . Just be prepared to dish out the cash because these bite sized delicacies certainly do not come cheap. They do have a tasting menu of five tapas for $60, which will offer slight cost savings for all you bargain-hunters out there!
---
Pan-seared Scallops & Pork Jowl on Truffled Parsnips – $16
---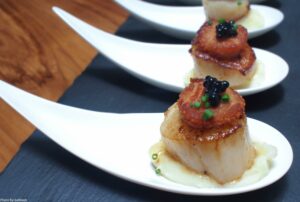 Tapas 39 did immeasurable justice to these beautiful scallops with our first dish of the day. These perfectly seared scallops were served with a tender pork jowl and a rich truffle parsnip puree. The light seasoning allowed the sweetness of the scallop to shine through, and contrasted well with the savoury pork jowl, salty caviar, and earthy flavours of the parsnip puree. I couldn't have asked for a better party in my mouth.
---
Sea Urchin Au Gratin Topped with Champagne – $20
---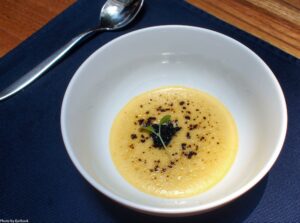 This simple portion of sea urchin au gratin looked ordinary, but I've learnt to never judge a book by its cover. The sweet notes from the champagne first hit your tastebuds, creating a gentle warmth that mellows out before you taste the creamy richness of the briny sea urchin. This is one dish I would order again in a heartbeat.
---
Octopus on Mashed Potatoes – $30
---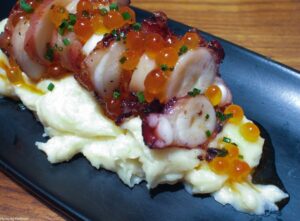 Just when I thought things couldn't get any better, our server came out with these gorgeous plates of seared octopus. Although the mashed potatoes were a little underseasoned and had a rather gummy texture, the octopus more than made up for the lacklustre carbohydrate.
The octopus is first cooked sous-vide, allowing for an even and tender cook, before being quickly seared on a grill for a tantalising smoky finish. The chorizo oil and ikura also added dimension to the dish, making it one of the highlights of our experience at Tapas 39.
---
Squid Ink Aquarello Rice with Red Prawn – $18
---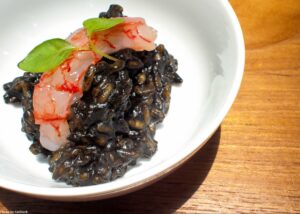 At this point I was absolutely sure our time at Tapas 39 would hit a plateau, but this portion of squid ink risotto brought us to an all new high. The Aquarello rice has been aged for 7 years, giving it an amazing texture and mouthfeel. Although the rich umami squid ink flavour of the risotto was exceptionally enjoyable, the red prawn definitely stole the show with its incredible sweetness.
---
Gourmet Pizza – $15
---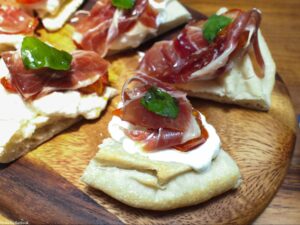 This classic combination of soft doughy crust, silky Stracciatella, parma ham, fresh tomatoes and basil might seem underwhelming compared to all the other outstanding dishes we had, but the simplicity of this dish works. The flavours are clean and well-balanced, making this a good and relatively affordable filler at Tapas 39. There's nothing superb about this gourmet pizza, but the freshness of the ingredients definitely speaks for itself.
---
Lamb Skewer with Mint Couscous – $20
---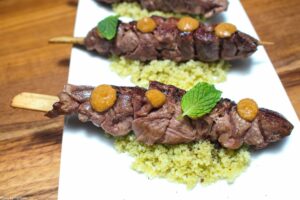 My least favourite dish of the day were the lamb skewers, which I found to be on the dry side. Although it's commendable that the meat wasn't too gamey, it was underseasoned and could do with more of the refreshing muhammara sauce.
---
Iberian Pork Burgers – $18
---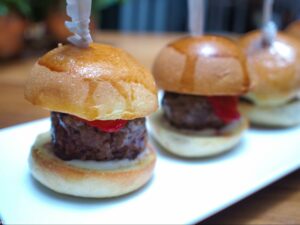 We ended our meal here on a fantastic note with these iberian pork sliders. Think rich, buttery brioche buns, juicy pork patty, flavourful apple cardamom aioli, and the sweetest smoky piquillo peppers all together in one amazing little burger. Even pork haters like me became converts downing after this lip-smacking combination.
This post was brought to you by Tapas 39.
Summary
Pros:
Portions were more generous than expected
Tapas were executed brilliantly
Good quality ingredients
Excellent balance of flavours
Cons:
Steep price point
Lamb was a little too dry
Recommended Dishes:
Sea Urchin Au Gratin $20
Squid Ink Aquarello Rice with Red Prawn $18
Octopus on Mashed Potatoes – $30
Opening hours:
Mon – Sun: 1130am – 12am
Address: