---
Tea hacks for a quality brew at home
---
As someone who loves eating but hasn't got endlessly deep pockets, I need to manage my food budget fairly strictly. I can never justify forking out cash for tea when I dine out – spending upwards of $5 for a drink I can recreate at home with a scoop of tea leaves and hot water isn't the most appealing. I'm always looking for ways to zhng my tea at home, so I spoke to a tea sommelier, Mr David Chan, to get some tea hacks.  
---
1. Don't brew tea with boiling water
---
Whenever I'm in the mood for a cup of tea, I want it ASAP. That means drowning my tea bag in scalding hot water the second my electric kettle switches from 'Boiling' to 'Ready'. It does the job but if you want to get a better cup of tea, David recommends leaving the kettle to cool first.
"You almost never need water that hot to brew a cup of tea", he says. Delicate teas, namely white, yellow, and green teas, should be brewed at a lower temperature between 65°C and 80°C, while black tea can withstand temperatures from 88°C to 100°C. If you're unsure of how much time you should leave your water to cool, err on the side of cooler water – tea leaves can be ruined in too high temperatures, but a lower-than-optimal temperature won't hurt.
---
2. Make your own tea blends
---
You've probably noticed many tea speciality shops selling special tea blends that are wonderful to sniff. Instead of blowing money on every release, try DIY tea blending at home to create a unique, go-to drink.
Get yourself some loose leaf tea to start and go wild with your creations. It's best to use dried ingredients, chopped up to approximately the same size as your tea leaves, for better storage. Experiment with dried fruit and flowers, and even spices and herbs for warmer, more potent blends. Chinese medical halls are troves for dried products you can use.
Tips for beginners include cutting open your favourite tea bag blend to get an idea of what you like and starting out with more robust black, oolong, or green tea leaves. These have a stronger natural fragrance that hold their own against added flavours. To these, David recommends flavourful fruit complements such as peaches, passionfruit, and lychees.
---
3. Find quality tea leaves
---
It's widely accepted that whole leaves are better than fannings and 'tea dust' commonly used to fill tea bags. Fannings and tea dust refer to the tiny, broken leaves left after higher grade whole leaves have been picked off. That's not always true though – fannings from higher quality leaves make more aromatic tea than whole leaves of lower quality.
There are other ways to tell if tea leaves are of quality. One is by smell – dry leaves should have a distinct and lingering aroma. Another is whether the tea leaves crunch when you press them between your fingers, which is a sign they haven't absorbed moisture and foreign flavours from their surroundings.  
---
4. DIY cold brew tea
---
With the weather being unbearably warm lately, a steaming beverage is the last thing anyone would want on a sweltering afternoon. You can still get your tea fix with a cold brew – just steep tea leaves in cold water in the fridge for around six to 12 hours. "Cold brewed teas taste fruitier and less bitter", David says.
You can, of course, go ahead and do this for your favourite Earl Grey but lighter white and green teas tend to taste better as cold brews. This is because darker teas have higher levels of tannin that tend to be more pronounced cold, and would probably leave you more thirsty after a drink.
---
5. Make good matcha

---
Matcha-anything is a food trend I'm up for. David's preference is matcha kori AKA matcha crushed ice. To make that he uses a cocktail shaker along with matcha powder, crushed ice, and a sweetener. He recommends sugar syrup over honey as the latter can be too cloying. To jazz it up, he sometimes puts some mango slices in for a refreshing fruity taste.
---
6. DIY fruit tea
---
Visiting cafes where pots of fruit tea come with eye-popping $20 price tags made me determined to recreate them at home. An easy method is adding freshly cut fruit in with tea leaves to steep in hot water. To get more flavour out of your fruit, simmer it in a covered pot with pre-brewed tea until the fruit is completely cooked through and almost falling apart.
You can't really go wrong with any combination of fruit. As a tip, pears and sweet plums make a sweeter brew while more water and a squeeze of lemon help balance an overly sweet tea.
---
7. Pair your food with tea

---
The same way a glass of wine notably enhances a meal, tea and food pairings are the work of tea sommeliers. A well-paired tea can bring out more flavours in your food and vice versa. One guiding principle is to opt for robust teas to go with strongly flavoured food, otherwise the beverage's taste will be harder to distinguish.
Having tea with dessert, or tea with Chinese or Japanese cuisine is a pretty standard practice, so why not experiment with stuff such as hawker food? The next time you're eating chicken rice, get a cup of white tea to go along. "But if the rice comes with a really spicy chilli sauce, oolong and black teas would be better," David added.
---
Training trade professionals with e2i materclasses
---
Mr David Chan is a veteran in the food industry and he's also a training partner with the Employment and Employability Institute (e2i).
David is the founder of ETCetera Services, a food and beverage training and consultancy company, and was formerly the Vice Principal of the Wine and Spirit Institute, the Singapore Hotel and Tourism Education Centre (SHATEC).
He serves as the Honorary Secretary of the Association of Bartenders & Sommeliers, Singapore, and has been involved in organising and judging numerous competitions including the Asia-Pacific Bartender of the Year Competition and the National Cocktail Competition.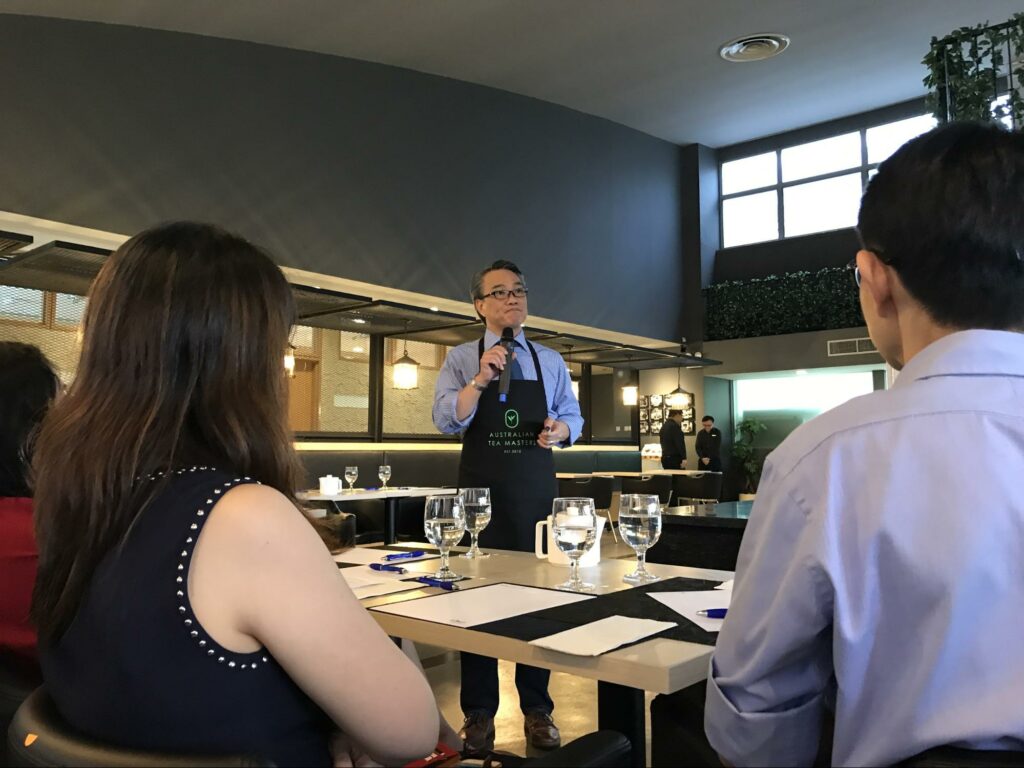 David has been a long-time training partner of e2i and has taught more than 700 employees. In particular, he specialises in tea training and wine education as a Certified Tea Sommelier of the Australian Tea Masters and a nominated educator of UK Wine & Spirits Education Trust, respectively.
e2i connects industry professionals like David with companies and trade professionals to provide solutions in human capital, training, and technologies. e2i also supports training and productivity needs of businesses with funding for productivity initiatives, job redesigning, and Place-and-Train programmes.
e2i also organises masterclasses regularly and caters to a wide range of industries. Some masterclasses they've organised before include beverage pairing with mains, making F&B businesses profitable and running successful restaurants.
One way you can benefit from e2i is to attend their events that'll let you learn more from pros in various industries. Check out their events calendar to find out which of their workshops or talks suits you!
This post is brought to you by e2i to share how professionals can get a leg up in their skills, networks, and careers with curated masterclasses by e2i.
---
Photos of Mr David Chan were taken by Adeline Koh, e2i.