Christmas buffet at The Square Restaurant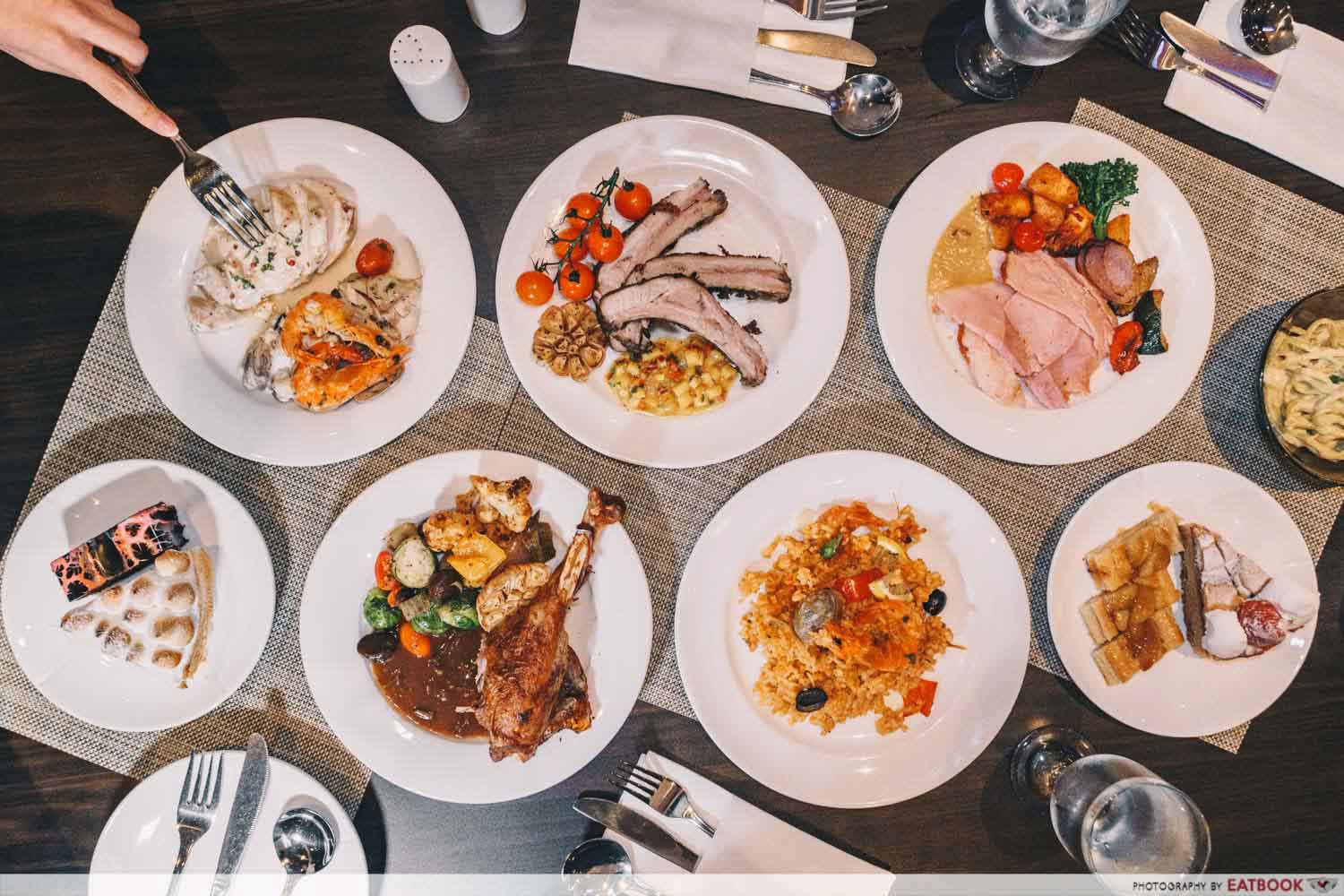 As much as I love Christmas, preparing a full-on feast can be a tiring affair. That's why buffets and online deliveries are a blessing for those who wanna kick back but still relish in festive food. However, those options usually cost upwards of $100. Multiply that by an entire family and boy, you'll start looking for a Christmas miracle. Thankfully, The Square Restaurant is letting you have a wallet-friendly feast with their Christmas buffet.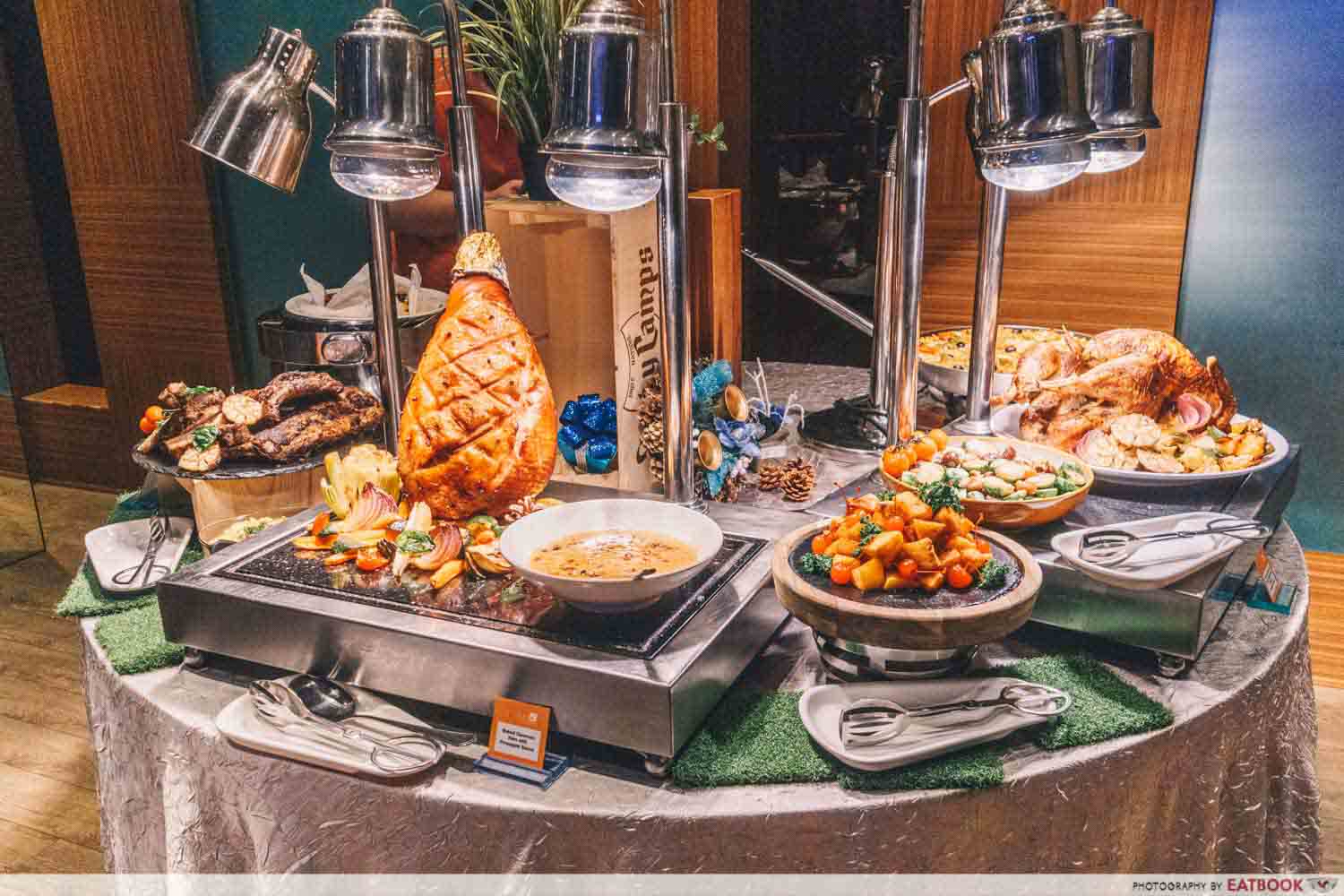 Get together with your close ones and check out their Christmas offerings from 1 to 31 December 2019. Whether you're visiting for lunch ($48++) or dinner ($68++), their array of holiday dishes will keep you stuffed like a Christmas stocking.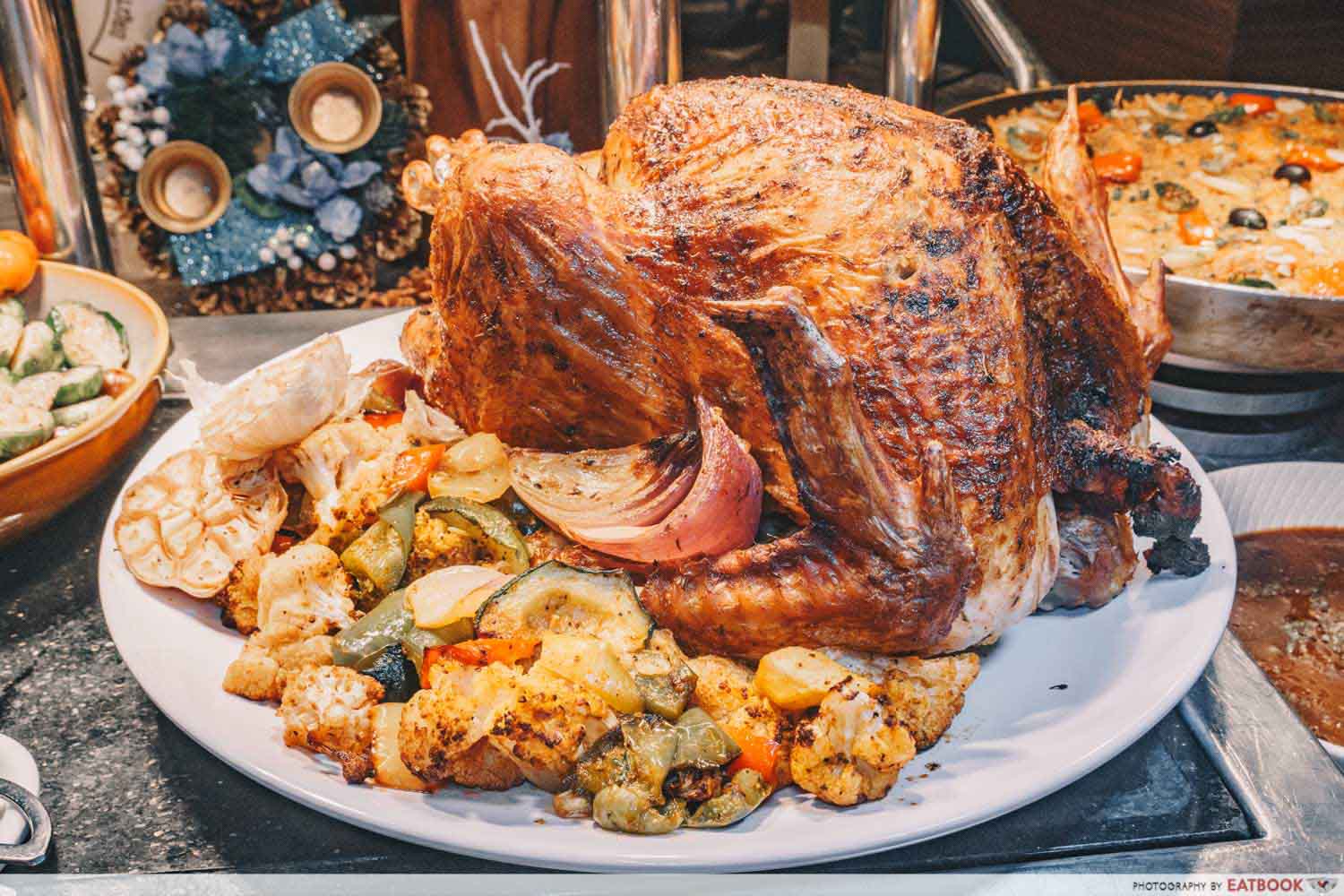 Just like how the star is a finishing touch to a Christmas tree, a festive buffet isn't complete without a glistening turkey. The Square Restaurant takes their roasting game seriously with the 24 Hours Roasted Brine Turkey with Giblet & Cranberry Sauce. Thanks to the long brining process, the turkey was crisp on the outside while its natural juices were locked in.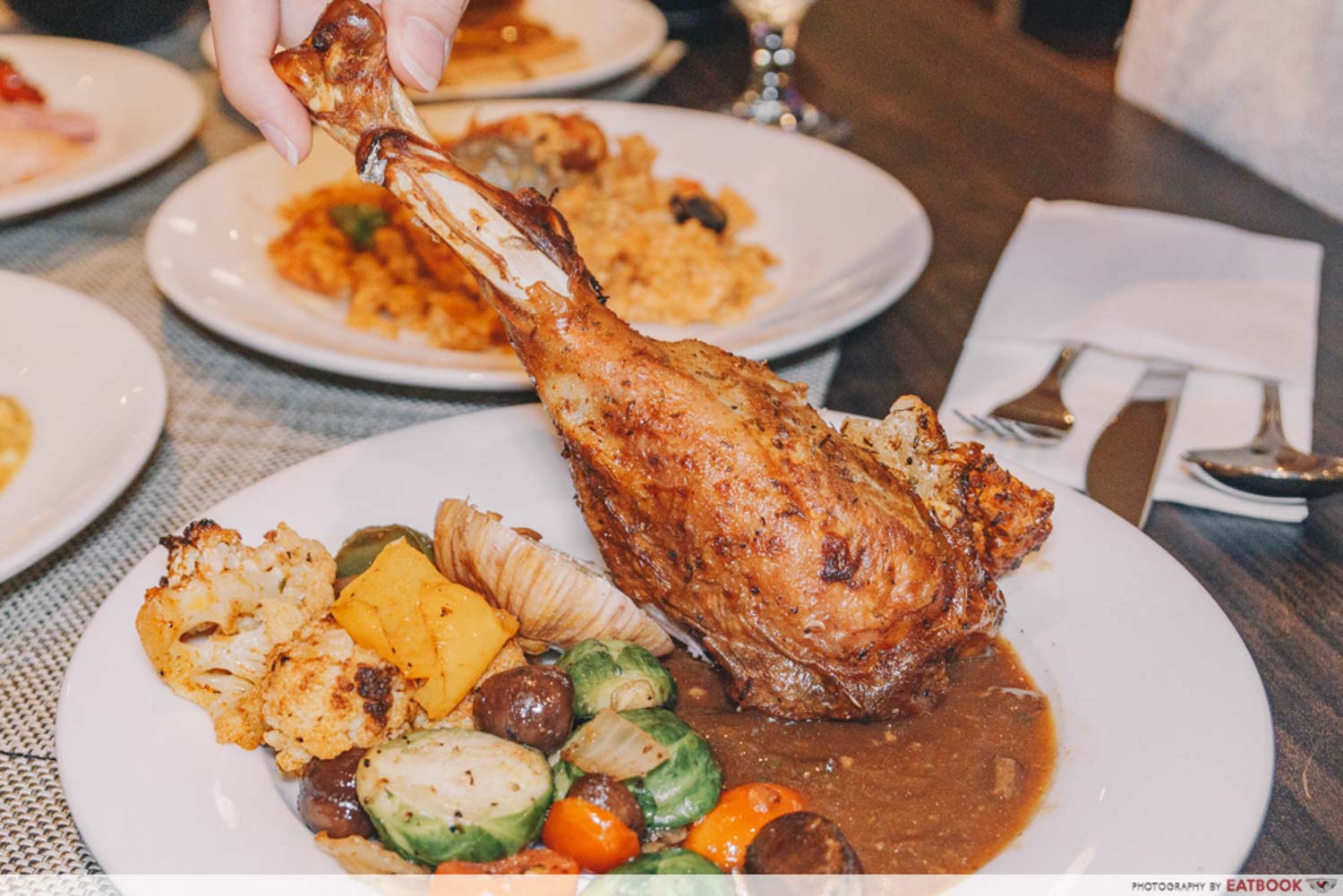 Be quick to get dibs on the turkey leg. This juicy meat was well seasoned from its savoury skin to flavour-packed flesh. The accompanying giblet and cranberry sauce enhanced the robustness of the turkey and gave it a hint of sweetness.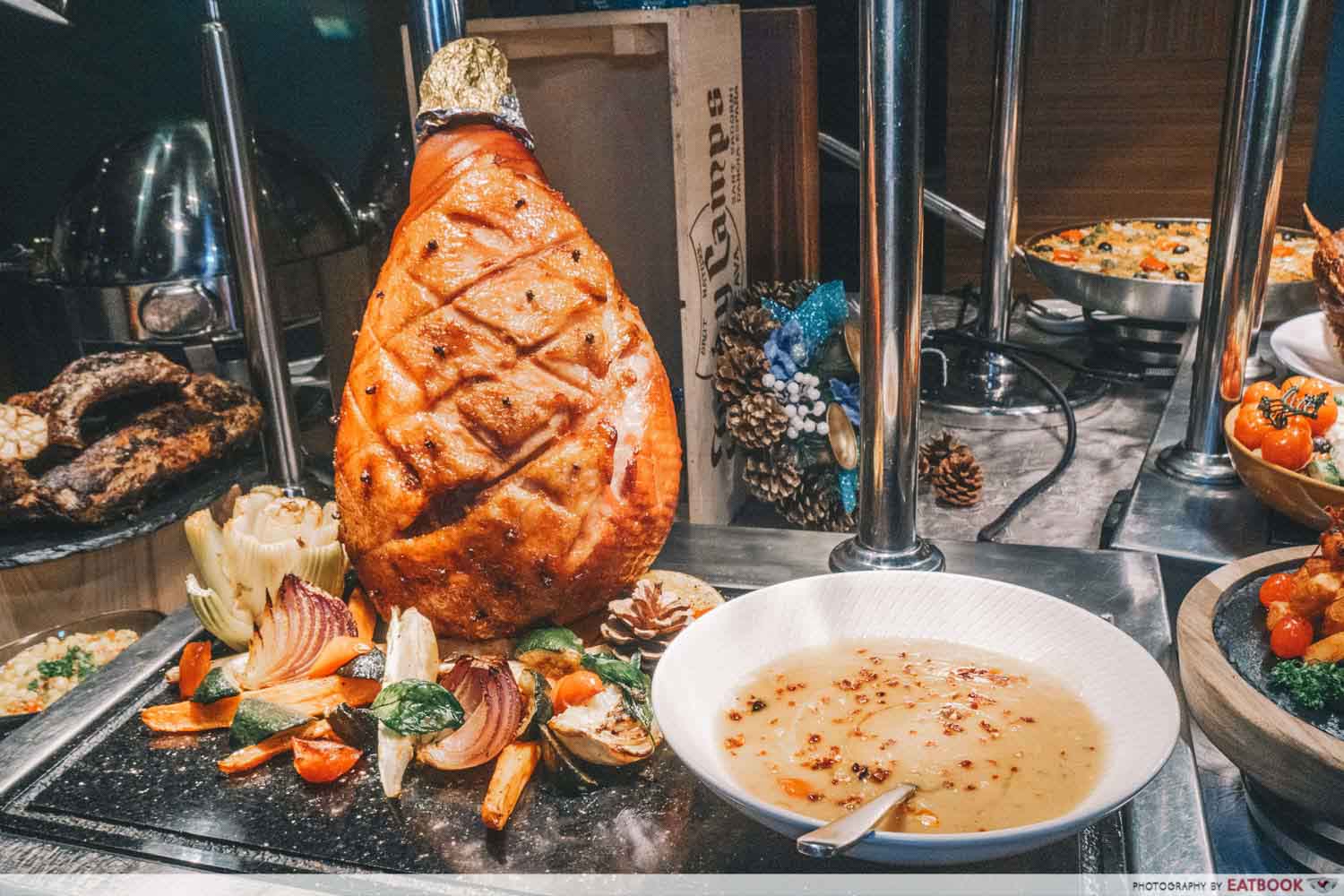 Don't just fill your entire plate with tasty turkey, as the buffet has other mouth-watering mains such as Baked Gammon Ham with Pineapple Sauce. Ham slices with glazed skin attached to them are my favourite pieces as I'll get the best of both worlds with the savoury, flavour-packed meat and sweet crust.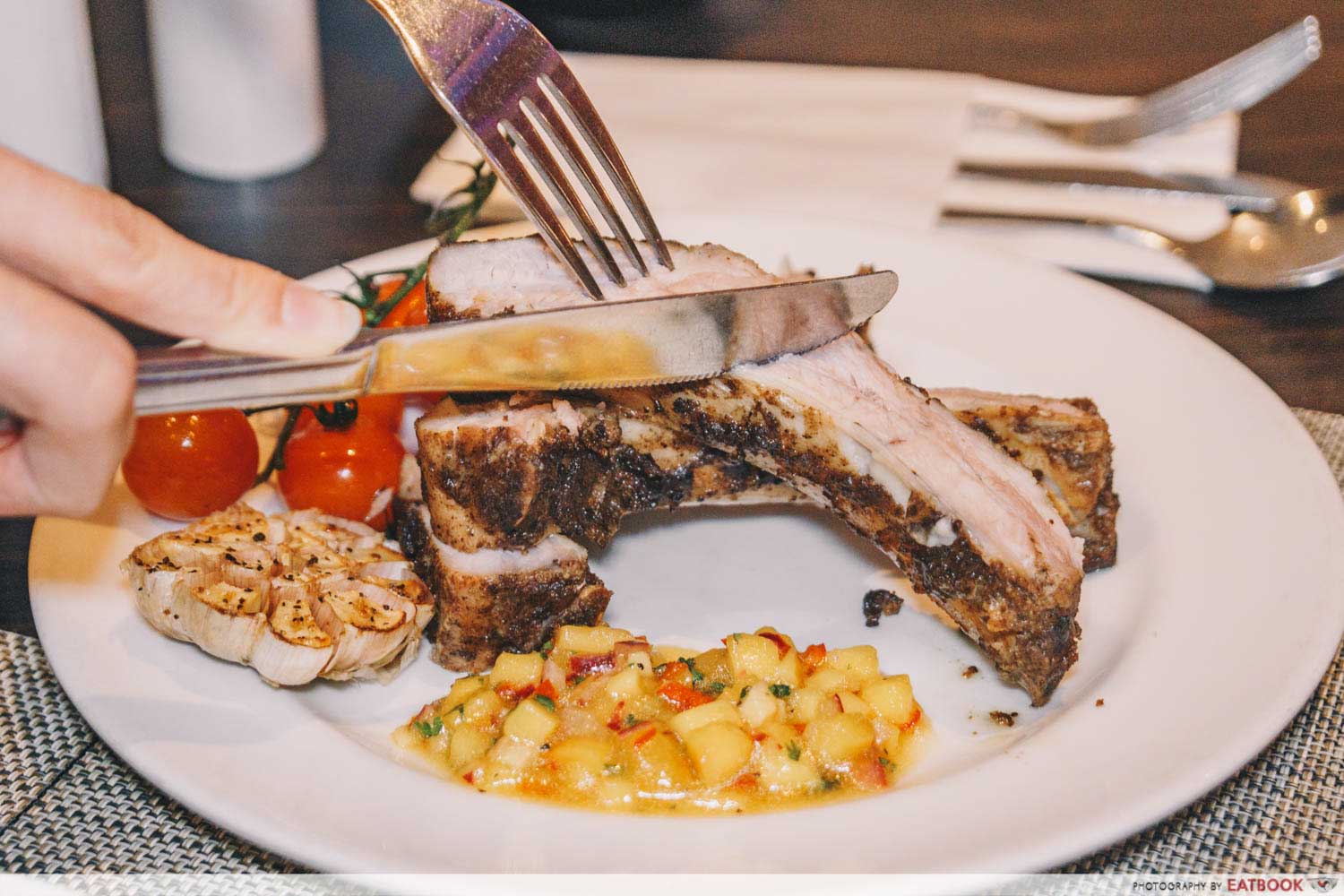 For more protein to load up on, check out their Roasted Cumin & Pepper Infused Pork Ribs with Mango Mojo. My dining companion was quick to polish off these flavoursome ribs, proving how well-seasoned they were. However, I would have preferred the meat to be more tender as it took some effort to tear it off the bone.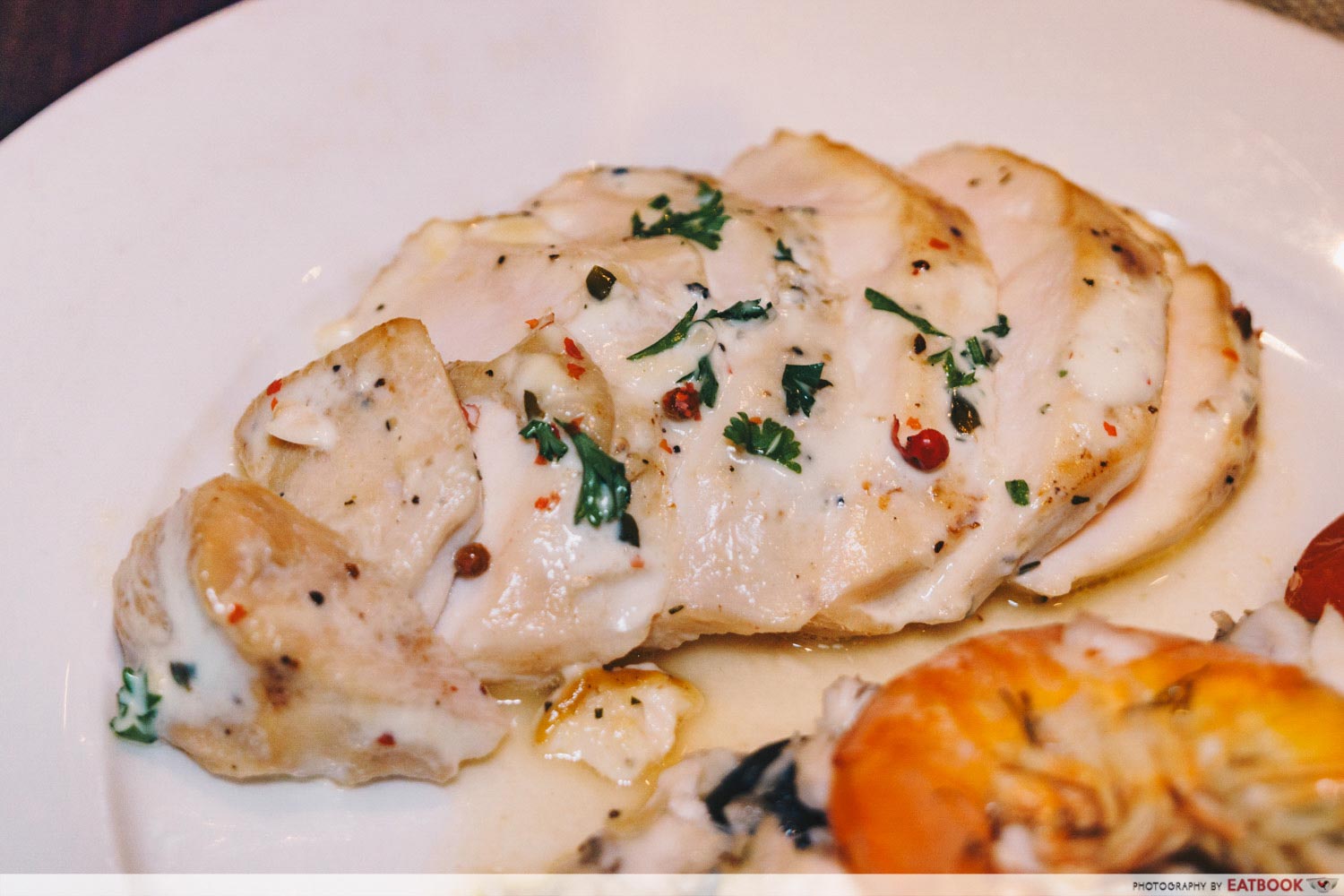 Although buffets are an excuse to go all out, sometimes you need something light-tasting, such as the Sous Vide Chicken Breast with Pink Peppercorn Gravy, as a break from other bold-flavoured dishes. Unlike most chicken breast which tend to be dry, these slices were succulent and moist, thanks to the sous vide cooking process.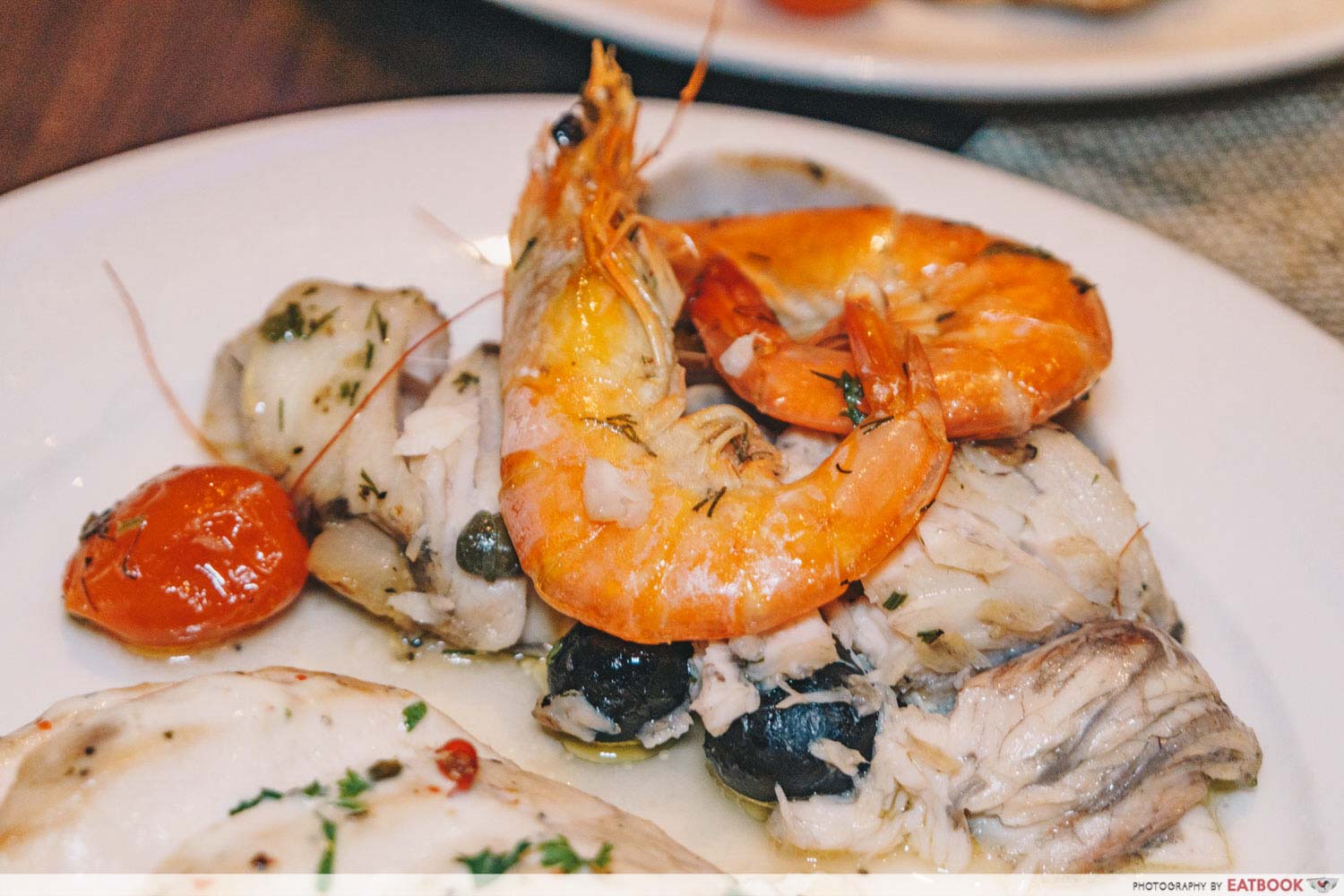 Besides their range of flavourful meat, The Square also offers Mediterranean Sea Bass en Papillote with thick slices of sea bass and prawns. The natural sweetness from these fresh-tasting seafood was enhanced by the light wine-based sauce.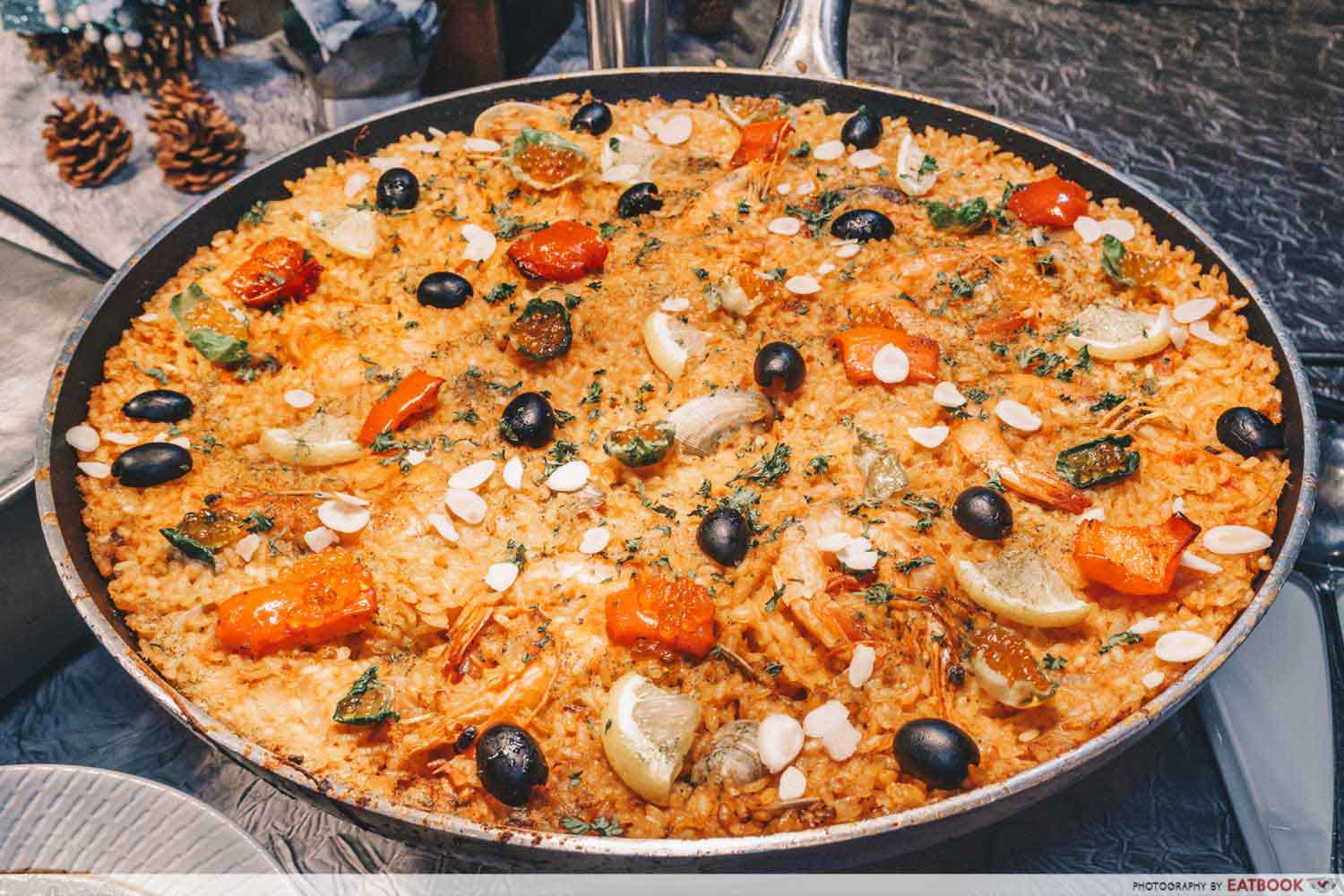 I tend to skip carbs during a buffet as I want more stomach space for meat dishes. But I was enticed by the gargantuan pan of Spanish Seafood Paella, accessorised with prawns, clams, and ikura. Sadly, I overhyped myself and was left disappointed with how lacklustre and mushy the rice grains were.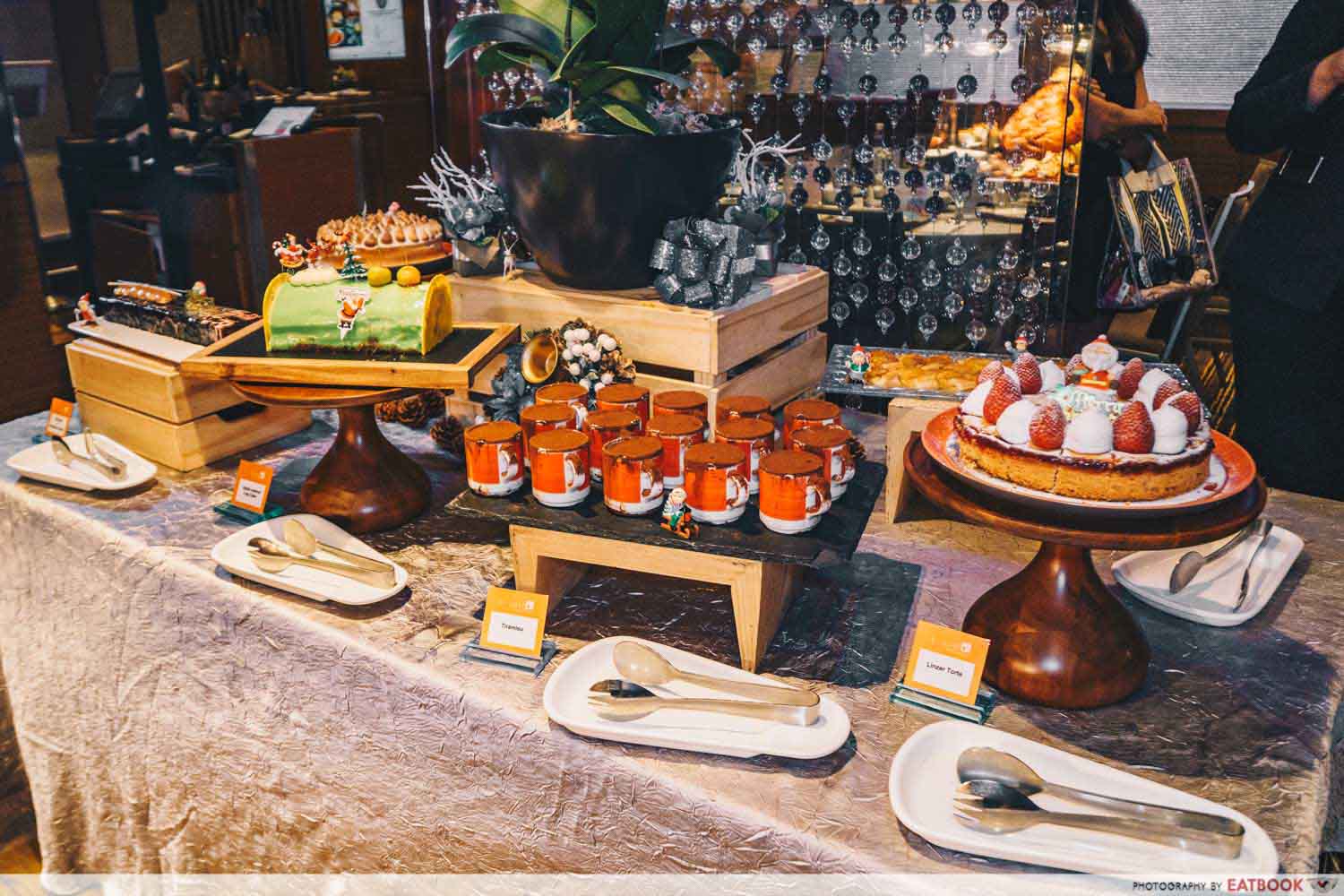 From log cakes to gingerbread cookies, Christmas is a great time for those with a sweet tooth. The Square doesn't hold back with their dessert table. You'll feel like a kid in a candy shop with their ample spread of toothsome festive-themed treats.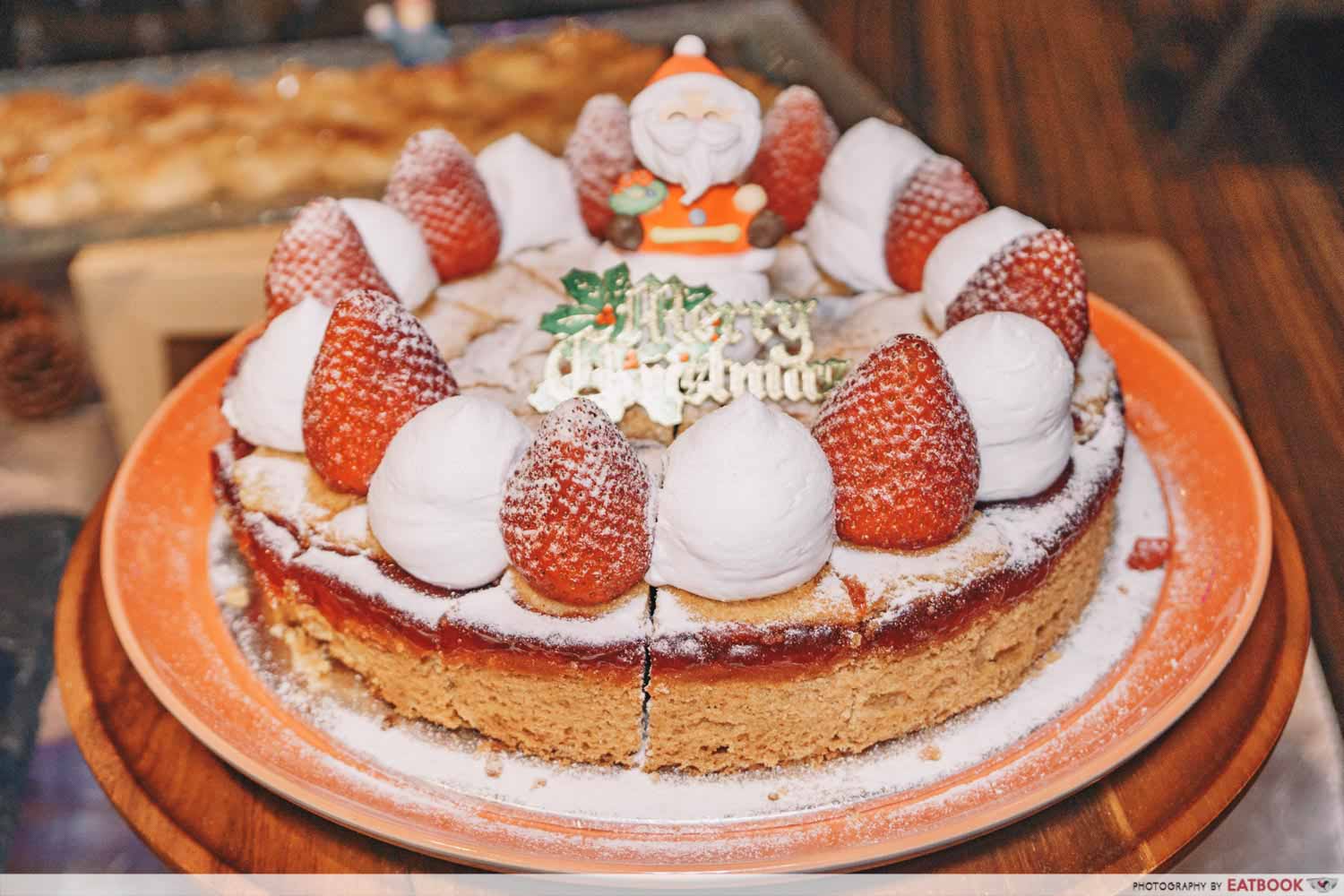 Get into the festive mood with a slice of their rich and buttery Apple Walnut Log Cake or tart Linzer Torte, which is essentially a shortcake made with fruits and nuts. Alternatively, there's the Brownie & Hazelnut Cream to satisfy your chocolate cravings. My favourite from their dessert table was the Lemon Meringue Cake which was slightly tangy yet sweet.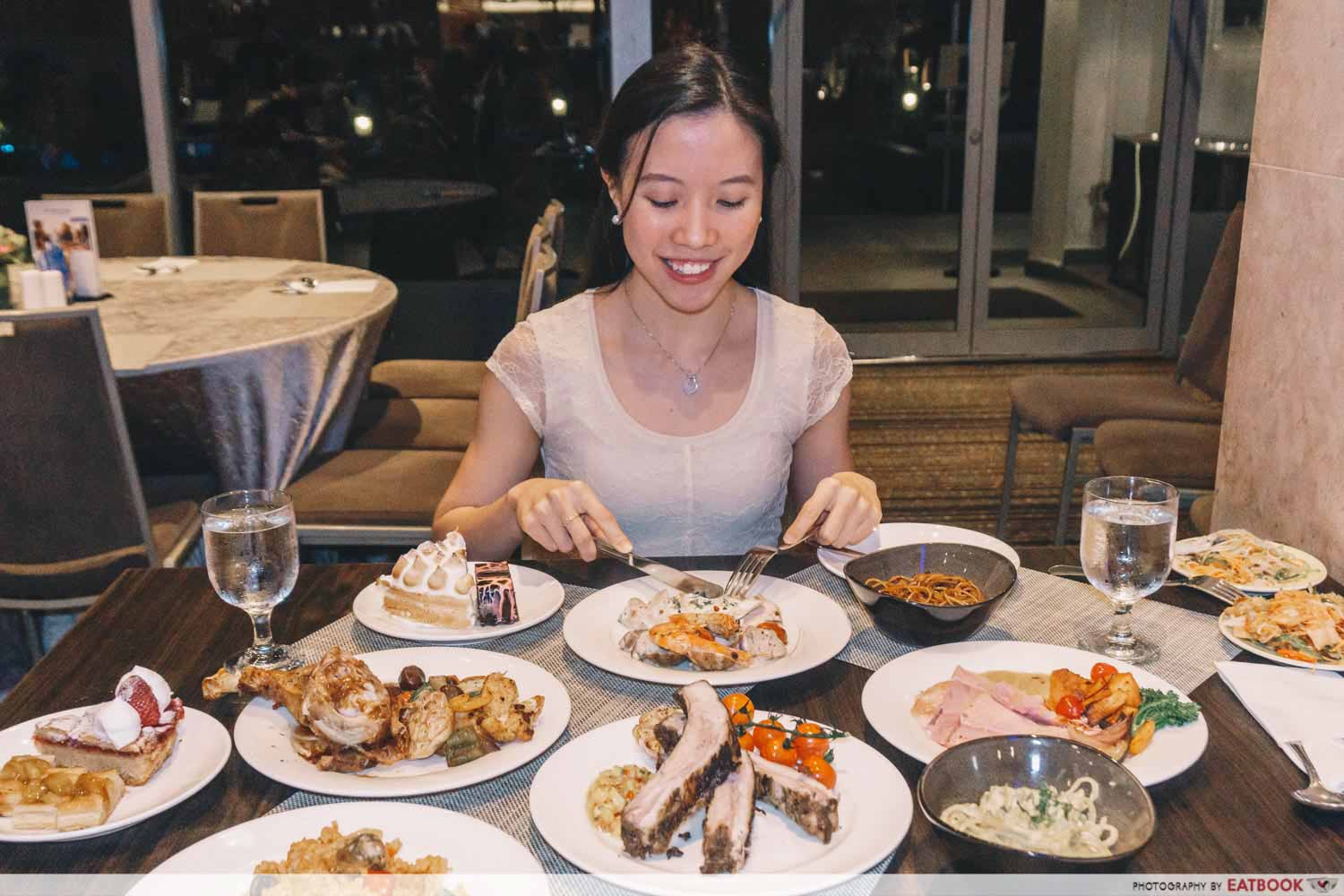 Besides these festive dishes, The Square Restaurant's usual buffet offerings—including salmon sashimi and mala pasta—will be on full display. They even serve a local favourite, durian pengat. 
Before you make a date with the fambam, do note that the Christmas lunch buffet is available from Monday to Saturday, while the dinner session is from Sunday to Thursday. Be sure to call 'em beforehand as blackout dates apply to 24, 25, 31 December 2019 and 1 January 2020.
By the way, we've got your back with a 30% discount. To score this deal, all you gotta do is quote "Eatbook30" in the comment box when you book on the website. With this code, you can enjoy your Christmas lunch buffet from $33.60++ onwards, while the Christmas dinner buffet will set you back from $47.60++, giving more Feliz to your Navidad. You can also use this code on their Exquisite Seafood Gourmet Buffet Dinner and The Sunday Clan brunch buffet, which go at $54.60++ and $47.60++ respectively after discount. 
Address: 177A River Valley Road, The Square Restaurant, Novotel Clarke Quay, Singapore 179031
Opening hours: Mon-Thur 12pm to 2:30pm, 6pm to 10pm, Fri-Sat 12pm to 2:30pm, 6pm to 10pm, Sun 12:30pm to 3pm, 6pm to 10pm
Tel: 6433 8790
Website 
Photos taken by John Lery Villanueva.
This post is brought to you by Novotel Clarke Quay.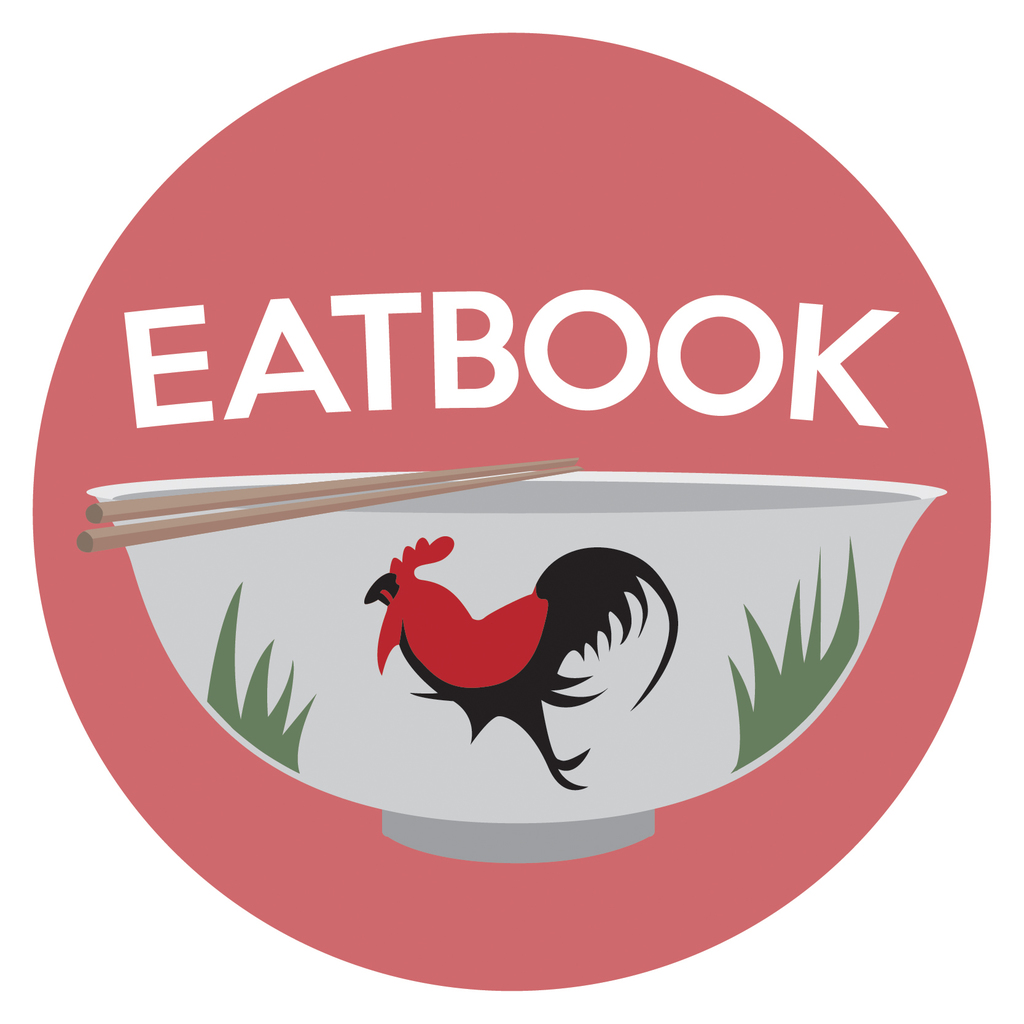 Drop us your email so you won't miss the latest news.