---
Go cheap but atas at Timbre+
---
$1. It's barely enough to cover a bus ride or even buy a bottle of water at 7-11. But for the month of November, its value will skyrocket as Timbre+ is offering a crazy list of $1 meals in collaboration with UOB Cards and Apple Pay! And no, we aren't talking about cheapo tasters, but full-blown meals that'll both fill your tummy and satiate your taste buds for the next 21 days.
---
1. 12-hr Crispy Pork Belly (U.P. $16.90)
---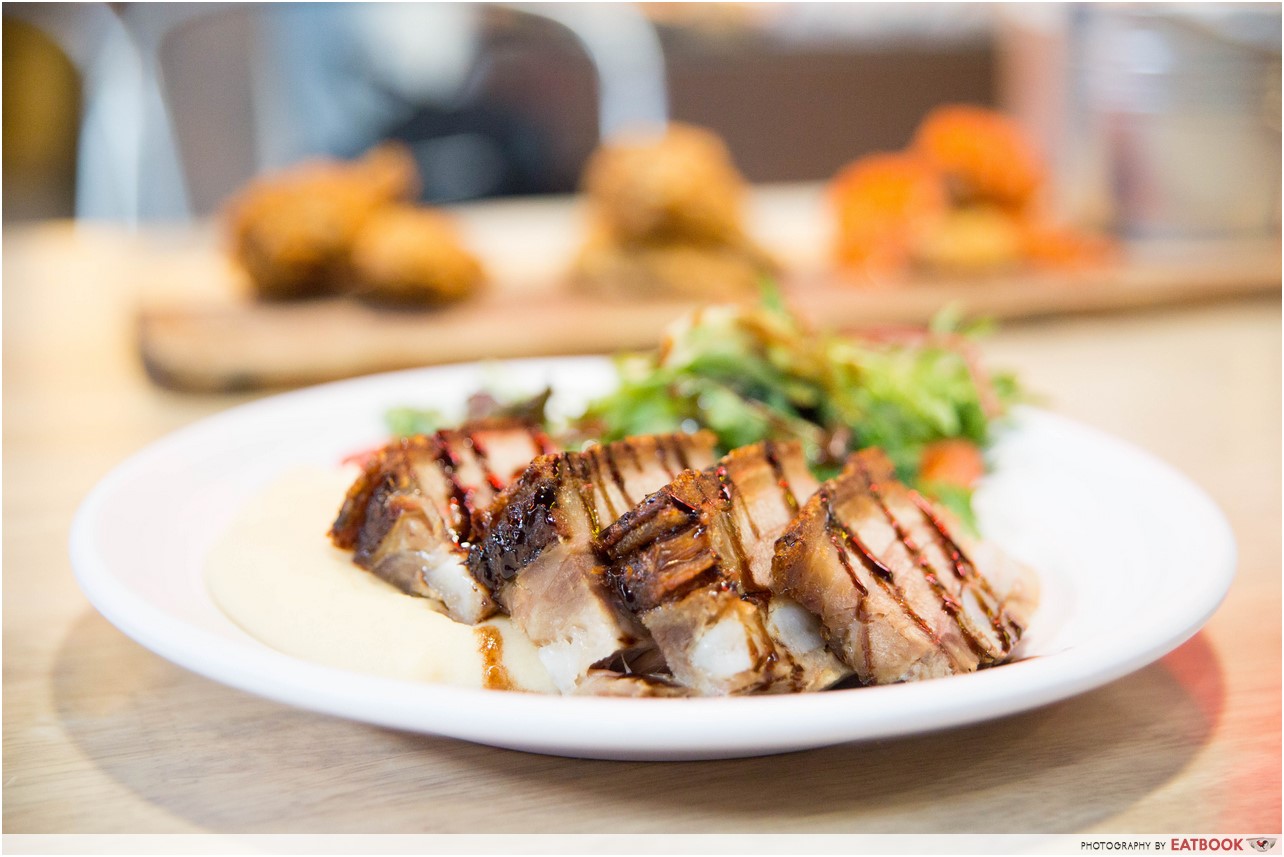 Garçons transforms our favourite sio bak into a refined 12-hr Crispy Pork Belly dish, with an elegance that could only be French. With quality akin to what you'll get at a restaurant, this is one deal you gotta seal. Having skin that crackles with each bite and a honey balsamic reduction to balance the flavours, it's almost daylight robbery to eat this dish at a buck.
---
2. Stew Beef Pho (U.P. $10.90)
---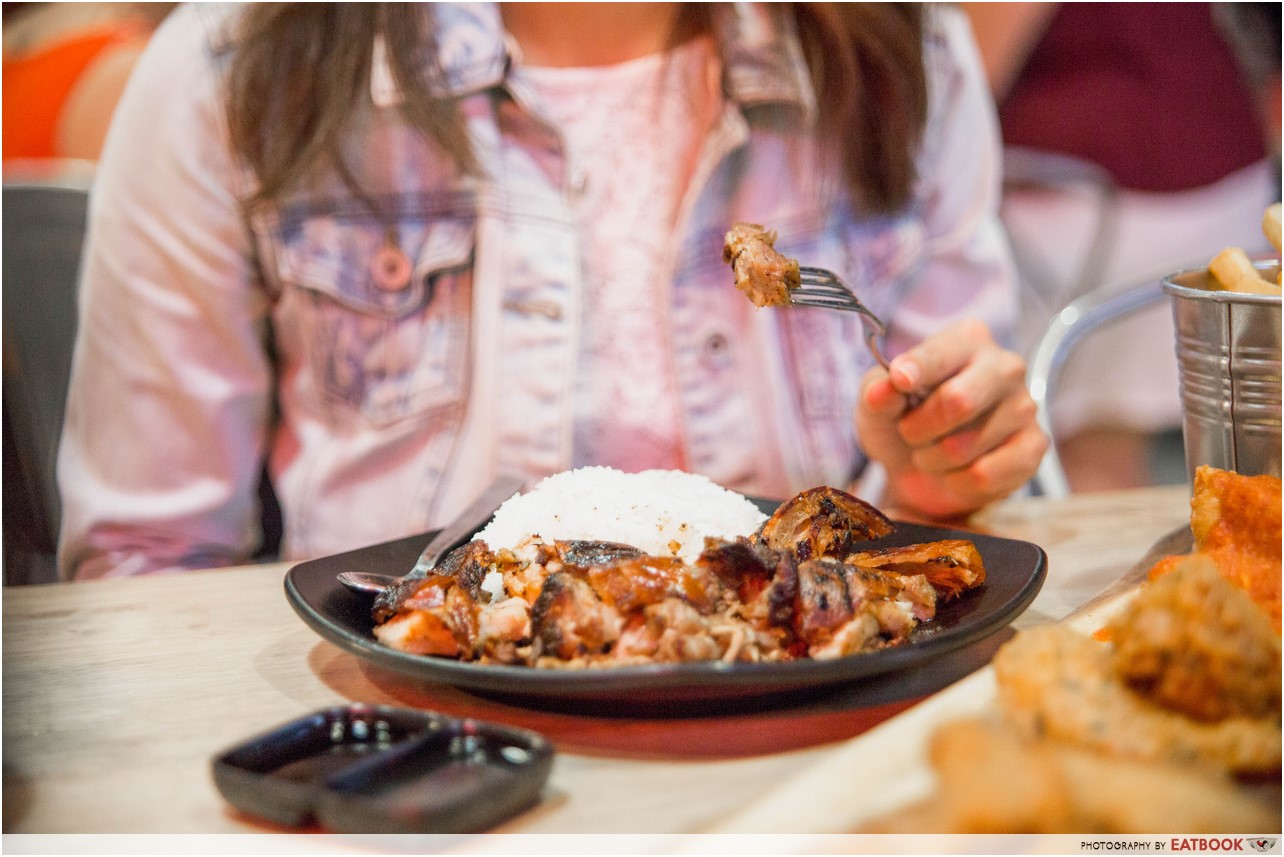 Simplicity shines through in Tuk-Tuk Viethai Cuisine's Stew Beef Pho. This unassuming bowl contains a light yet full-flavoured broth, paired with tender slices of beef that won't disappoint. Just don't leave the pho soaked for too long, or you won't be left with any soup. It's hard to find Viet-Thai fusion food in Singapore, so drop by if you're in the mood to try something new!
---
3. Yakitori Bento (U.P. $8.80)
---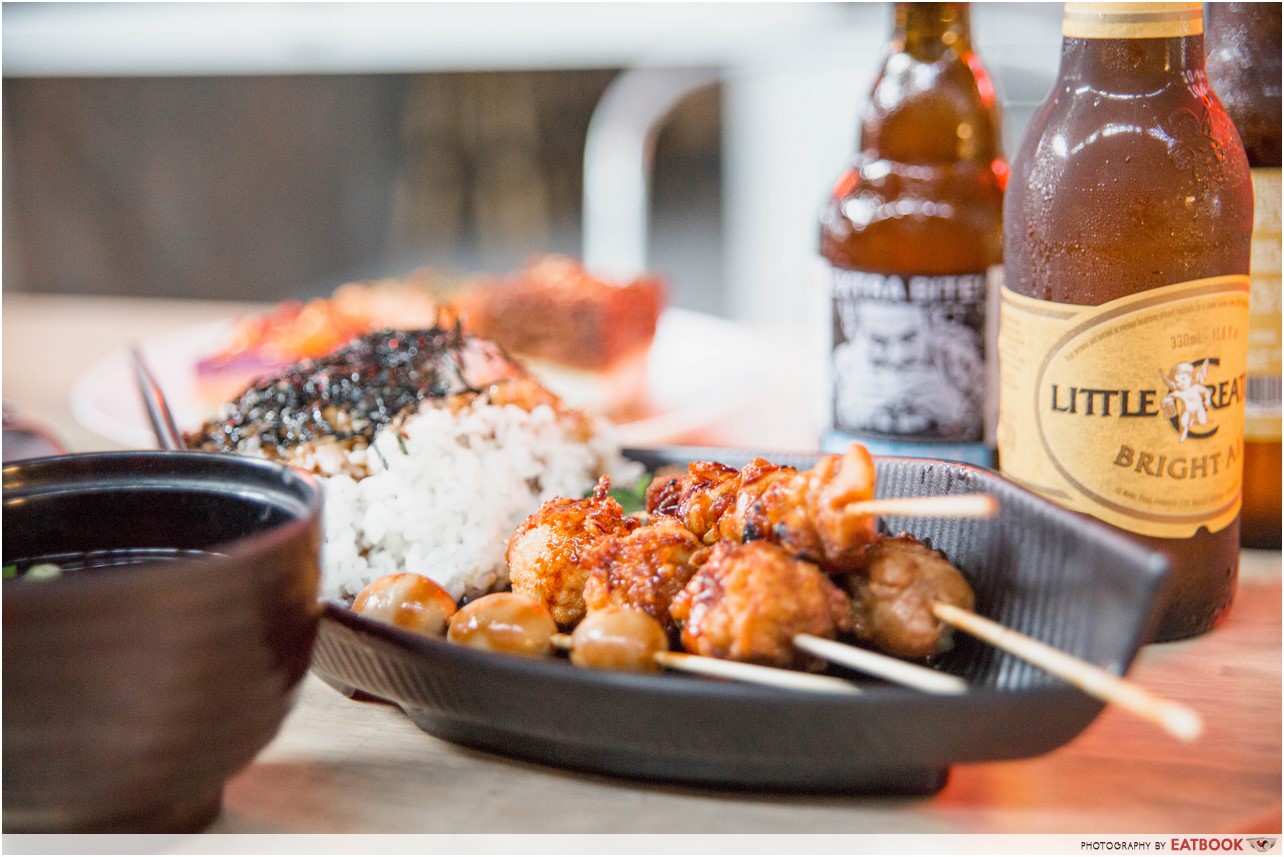 Yakitori is all about the final tare (yakitori seasoning) dip that brings the best flavours off the grill. That's why Chef Teppei Yamashita slogged for months to perfect the tare for his latest venture Teppei Daidokoro. Order a Yakitori Bento Set and be treated with intense charcoal flavour-infused sticks. Definitely a level-up from neighbourhood-favourite Tori Q.
---
4. Spicy Bellychon with Rice (U.P. $10)
---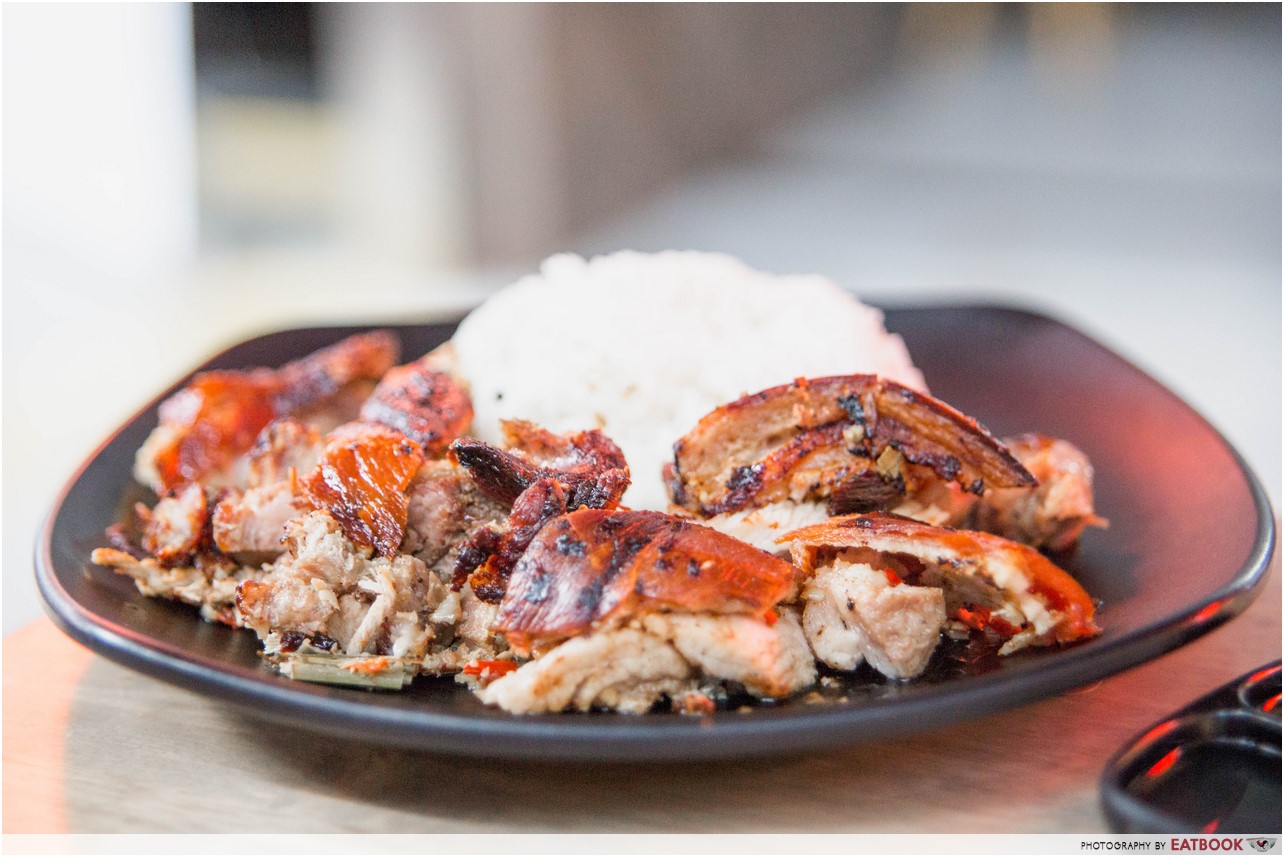 Iskina Cebu prides itself as one of very few shops in Singapore that can fulfil your cravings for authentic lechon de Cebu, a.k.a suckling pig roasted the Cebu way. Although presentation could be better, Spicy Bellychon with Rice tasted legit – crisp and succulent without being overly fatty.     
---
5. Barramundi Fish and Chips (U.P. $15)
---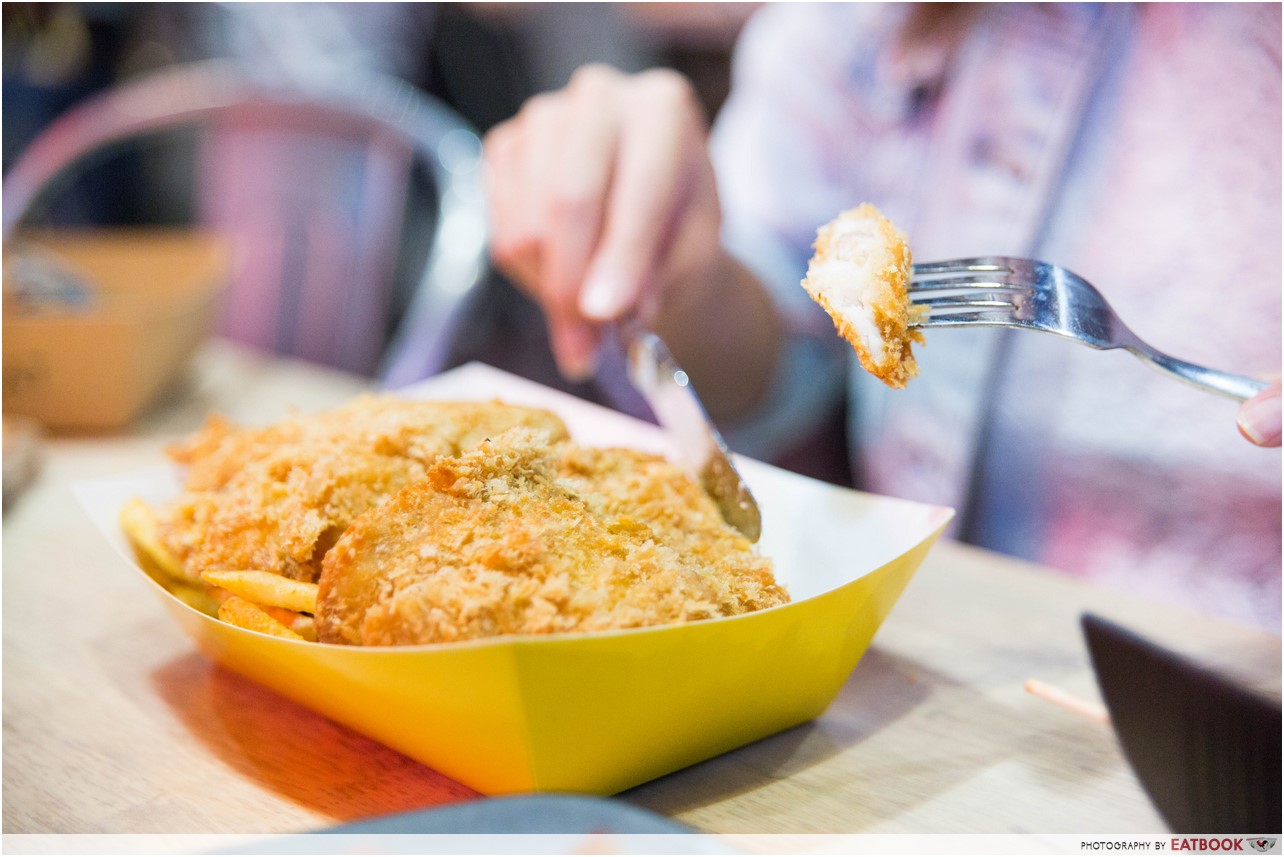 Seafood lovers rejoice! Dancing Crab Shack is part of the $1 gang, dishing out Barramundi Fish and Chips for us commoners to enjoy. Lightly battered, the fish is filled with soft, white and flaky flesh encased within a crispy shell. Definitely a good catch.  
---
6. Signature Seafood Paella (U.P. $9)
---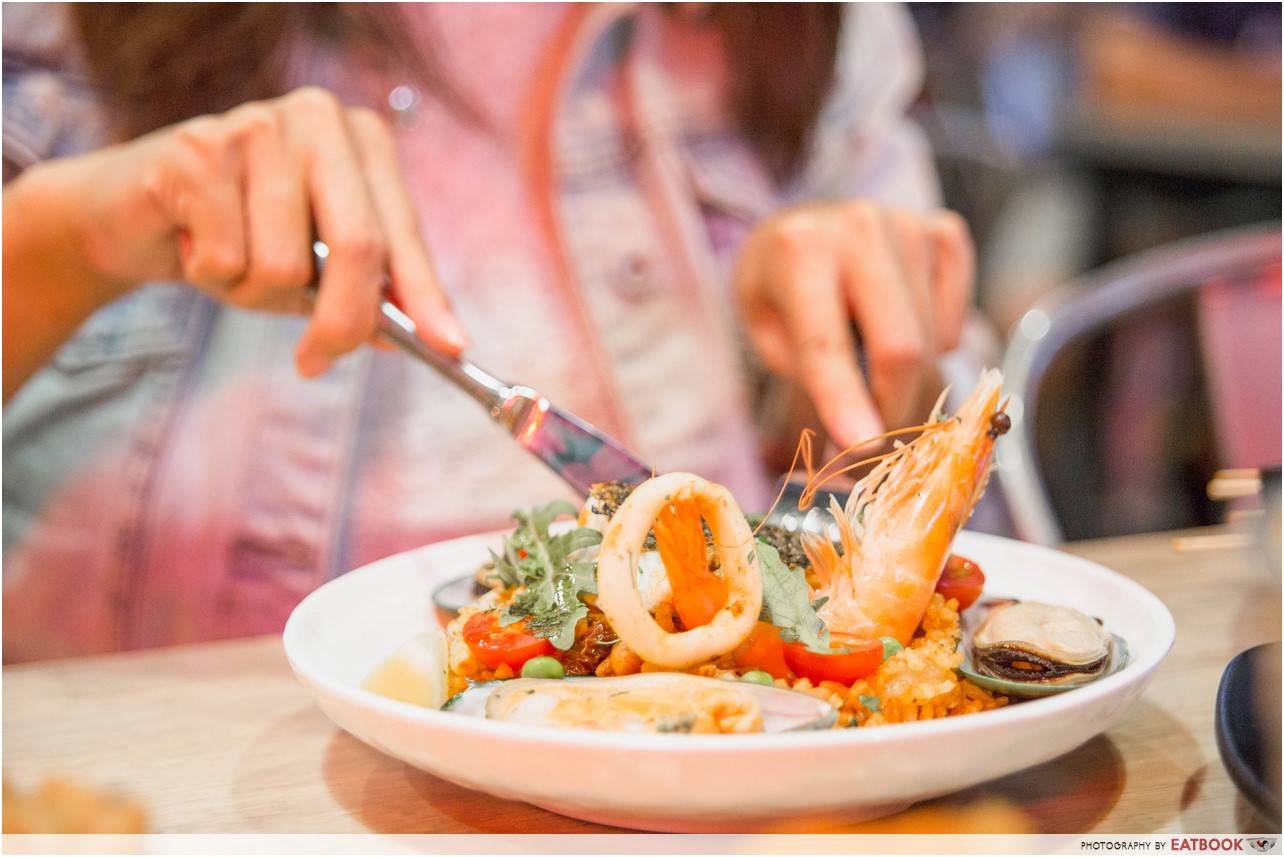 At Portico Platos, fresh ingredients sourced locally or extracted from their own edible garden are used. Be wowed by Signature Seafood Paella cooked on the spot for all to marvel at from 6:45pm onwards. From plating, to bursting flavours and generous portions, it's truly the highlight of their menu.
---
7. Big Bern's Beef Whoopass Cheeseburger (U.P. $14.90)
---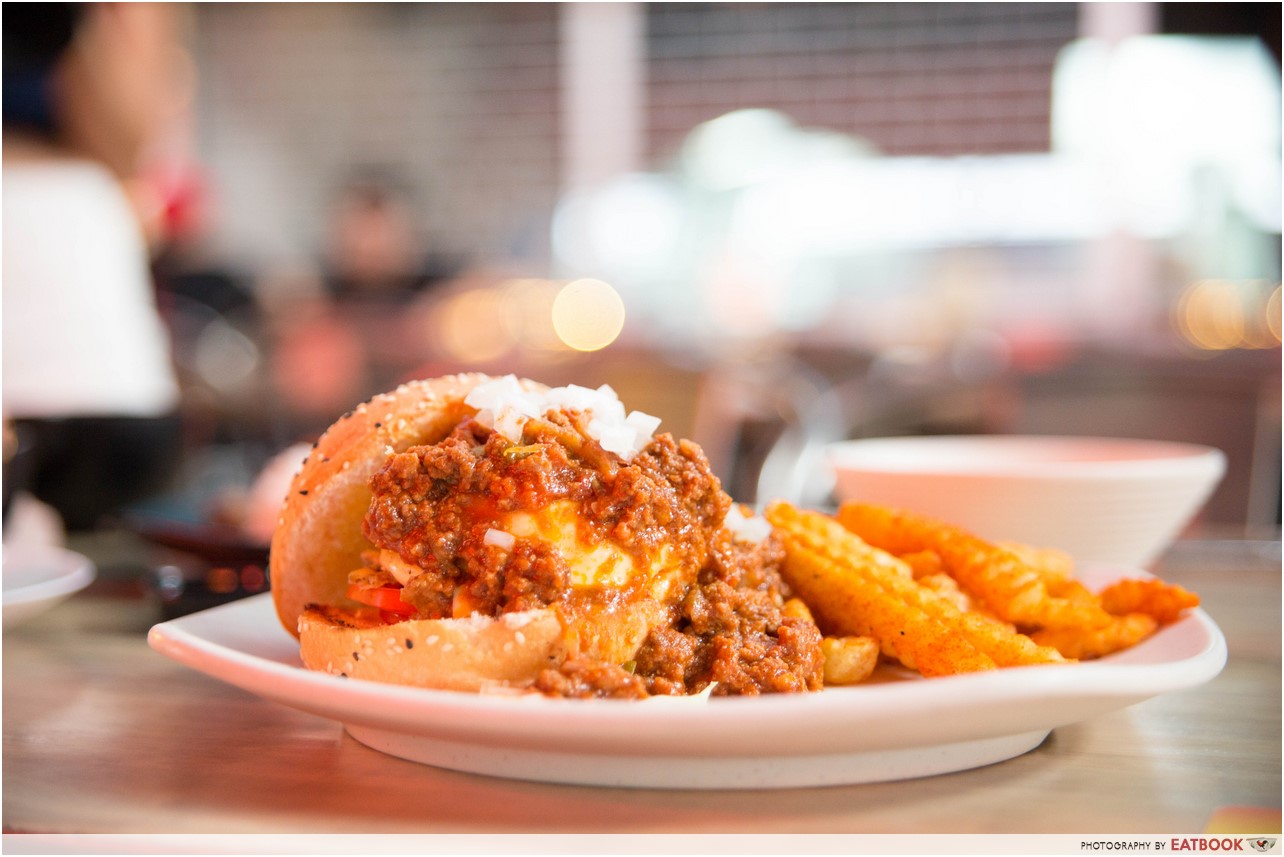 Big Bern's American Grill is all about massive comfort foods that'll get you down and dirty. Big Bern's Beef Whoopass Cheeseburger goes all out with two slices of American cheese atop a beef patty, finished with a dose of chili con carne for that extra kick! Complete the meal with two sides of your choice, from normal or cajun fries, to mushroom soup, pasta salad, and even homemade gumbo.
---
8. Meal Platter (U.P. $10.80)
---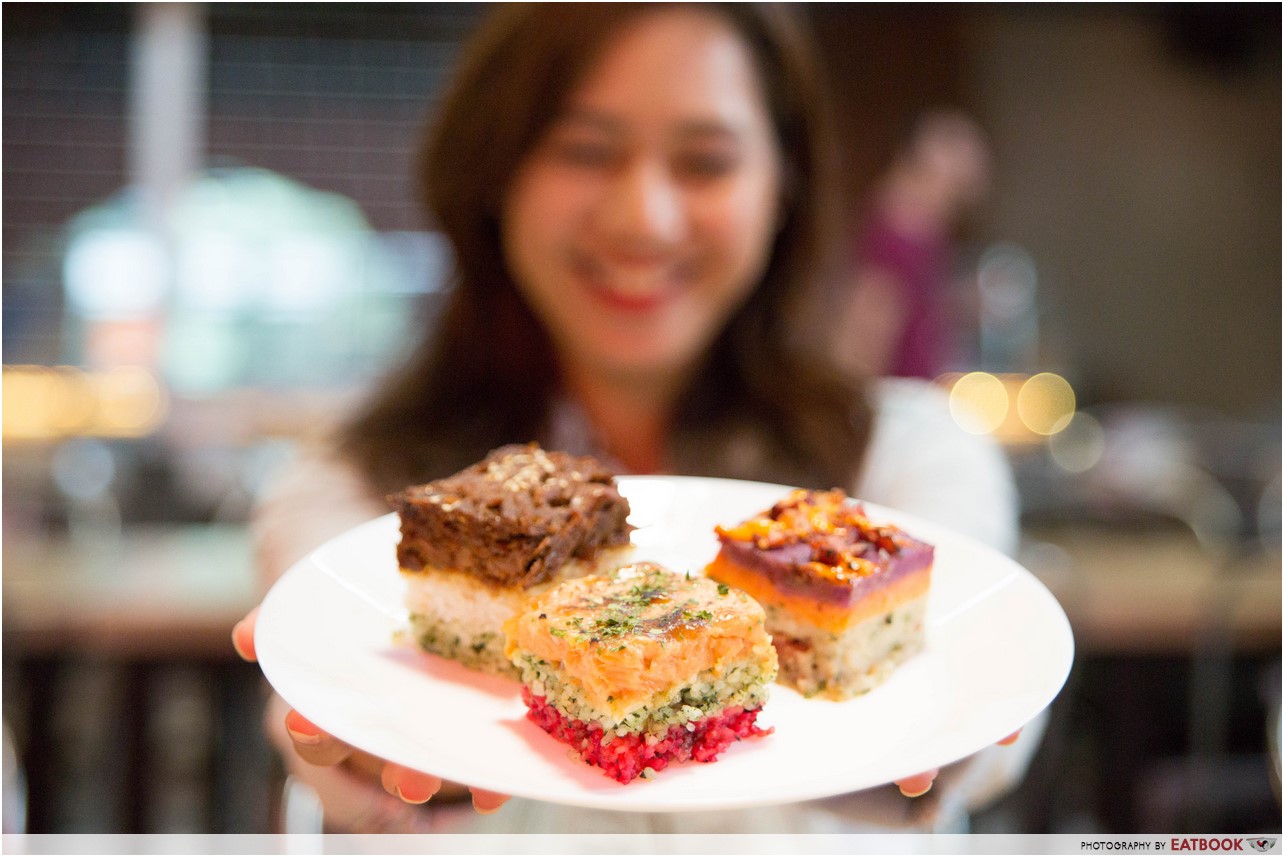 Considering how all their food are served in square blocks, we wouldn't be surprised if we found out that the people behind Food Anatomy are Lego fans. To them, delicious food is not enough, it must also be beautiful. Curious foodies like myself were dying to give it a try, and Meal Platter gives you a taste of their best. We picked Bacon and Potatoes, Korean BBQ pork, and Yuzu Salmon for our own version of a surf and turf.
---
9. Fat Samurai Pizza (U.P. $9)
---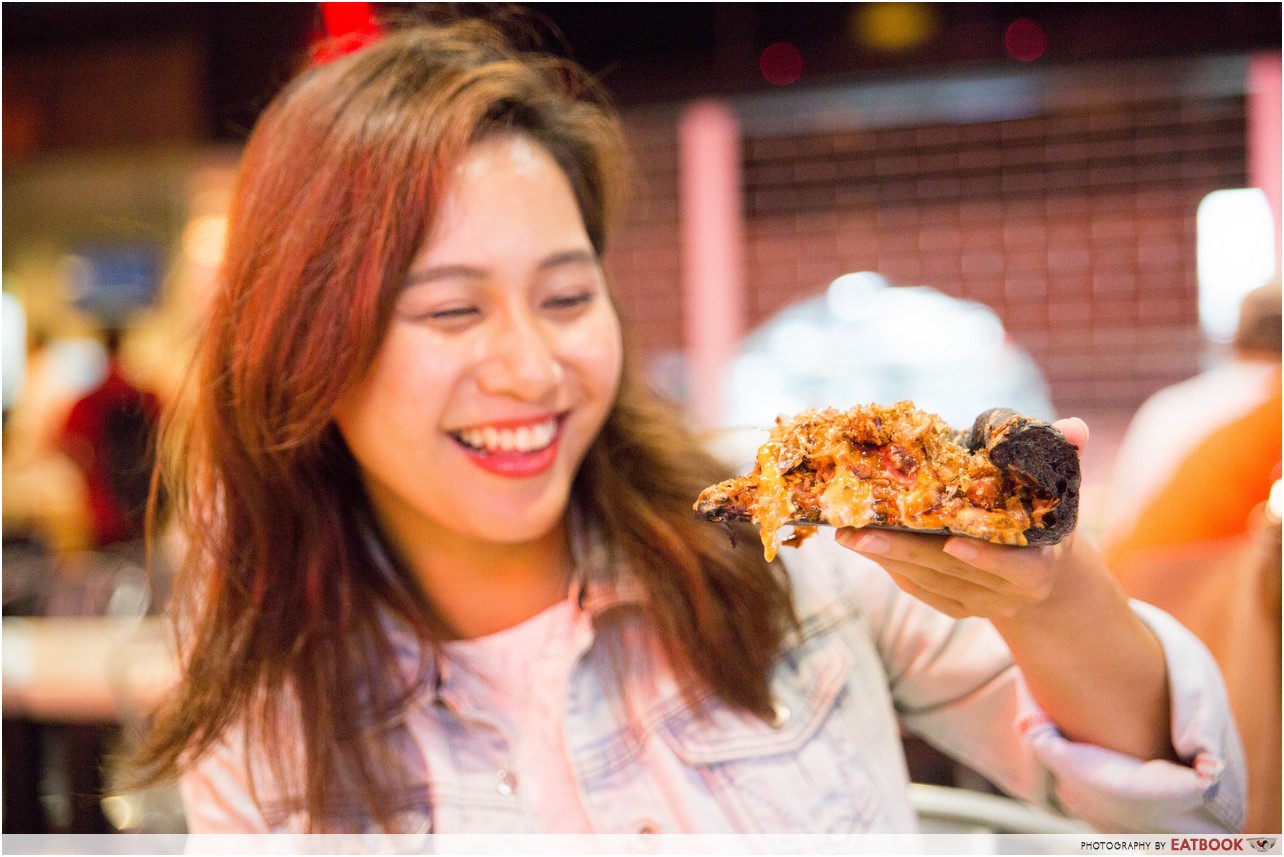 If you thought Tanuki Raw only excels at Japanese cuisine, think again. The World Is Flat by Tanuki Raw makes you toss out all preconceptions of how your pizza should look and taste like. The sheer amount of ingredients in Fat Samurai Pizza is so extravagant, you'll be wondering if you're eating a pizza at all. Think bacon, prawns, duck confit, beef and roasted cabbage seated atop a charcoal crust, topped with smoked brie, mozzarella, bonito flakes and 2 types of sauces – buon appetito.
---
10. 6pc Chicken Wings Set (U.P. $12.90)
---
As if Two Wings's original wings aren't irresistible enough, they're constantly upping the game with creative flavours like chilli crab and even salted egg yolk! Thankfully, you can opt for a pair of each flavour with their 6pc Chicken Wings Set. And trust me, you'll be wanting more of those salted egg yolk wings that are crispy, non-greasy, and plain addictive.
---
BONUS! $1 Bottle Shop Beer (U.P. $10)
---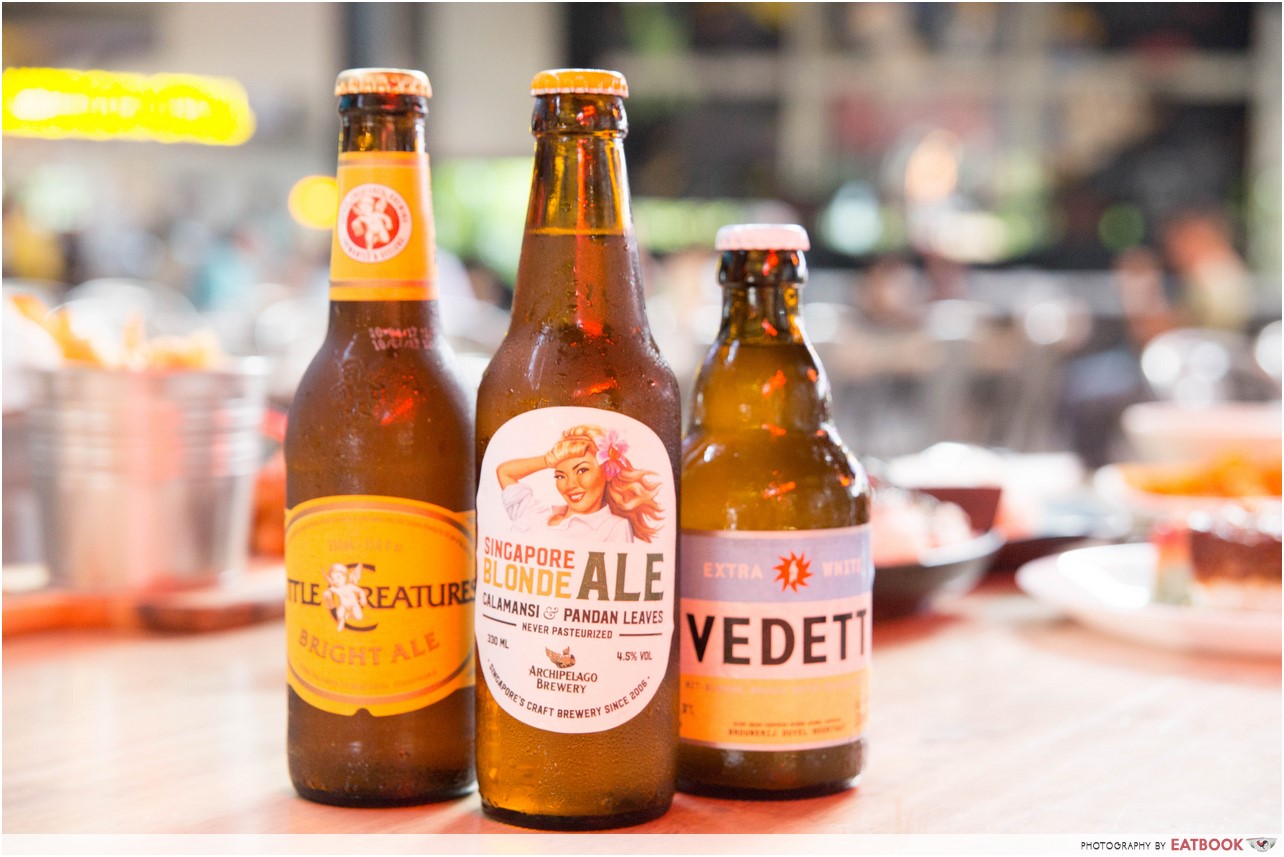 For those still not sold, Bottle Shop also has bottled beers at $1 each! This is the only time alcohol's cheaper than water in Singapore, so grab one while it lasts. Choose from Archipelago Brewery's Singapore Blonde Ale, Vedett Extra White and Little Creatures Bright Ale, usually priced at $10. More adventurous folks can also try Jim Beam Citrus Highball for $1 as well!
---
Eat like a boss
---
Nothing should get in the way of your feasts this month with these crazy-value deals that'll give you plenty of bang for your 1 buck! Check out Timbre+ to eat like a boss for the whole of November, Monday to Saturday, from 6pm onwards.
The promotion is valid for anyone using UOB Cards on Apple Pay, and limited to the first 10 to 15 redemption per stall on each day. Each customer is limited to 1 redemption per day for dine-in only. Promotions start at 6pm. Click here for more details.
When we went down on a Thursday evening, we spotted queues for some stalls even before 6pm. So hurry down early to grab your $1 meals before they're all gone for the day!
Address: 73A Ayer Rajah Crescent, JTC LaunchPad @ One-North, Singapore 139957
Opening hours: Mon-Thur 6am to 12am, Fri-Sat 6am to 1am.
Partner stalls open from 6pm onwards.
Tel: 6252 2545

This post was brought to you by UOB Cards.