---
UOB Cards 1-for-1 deals
---
It's a good time to be a UOB Cardmember as the bank is teaming up with over 60 restaurants to give you 1-for-1 food deals. From Boston lobsters to high tea sets and omakase dinners, cardmembers can expect a slew of discounted food. Best of all, unlike certain deals which have a short shelf life, the ones listed here will extend till the end of October 2020—giving you plenty of time to summon friends who are UOB Cardmembers, or simply sign up for a UOB Card yourself.
Here are a few 1-for-1 food deals you can enjoy with your friends!
---
1-for-1 Japanese food including omakase sets and ramen
---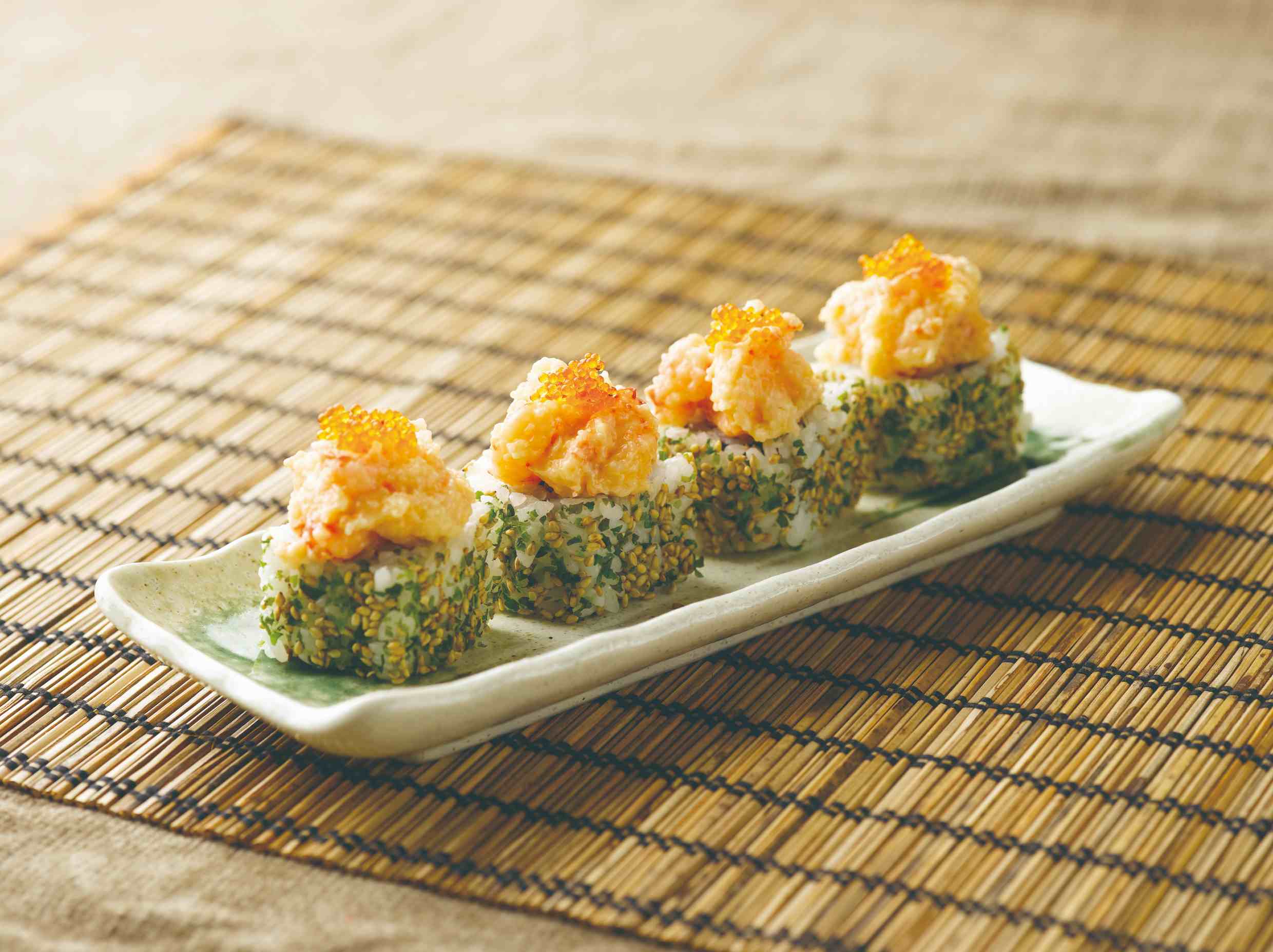 Image credit: Sushi Tei
Holidays to The Land of The Rising Sun might not be happening this year, but you can still partake in cheap and legit Japanese food with your UOB Card. Enjoy 1-for-1 Lobster Salad Roll (U.P $10.80++) at Sushi Tei. It comprises four pieces of rice rolls that are topped with briny lobster meat and tobiko. 
You can also head to Sakae Sushi for their 1-for-1 Sushi Moriawase (U.P $24++) which lets you pick between a platter of salmon sushi and sashimi, or torched-seared sushi.
Those who are feeling a lil' more baller can head to Michelin-starred Tsuta for their 1-for-1 ramen, which is applicable on the likes of their Mala Tonkotsu Soba, Shio Soba and more. Alternatively, plan a date at Kyoaji Dining for their 1-for-1 omakase (U.P $68++) where you'll each get a five-course meal comprising tempura, sashimi, chawanmushi and more.
---
1-for-1 Chinese dishes including double-boiled chicken soup and Boston lobsters
---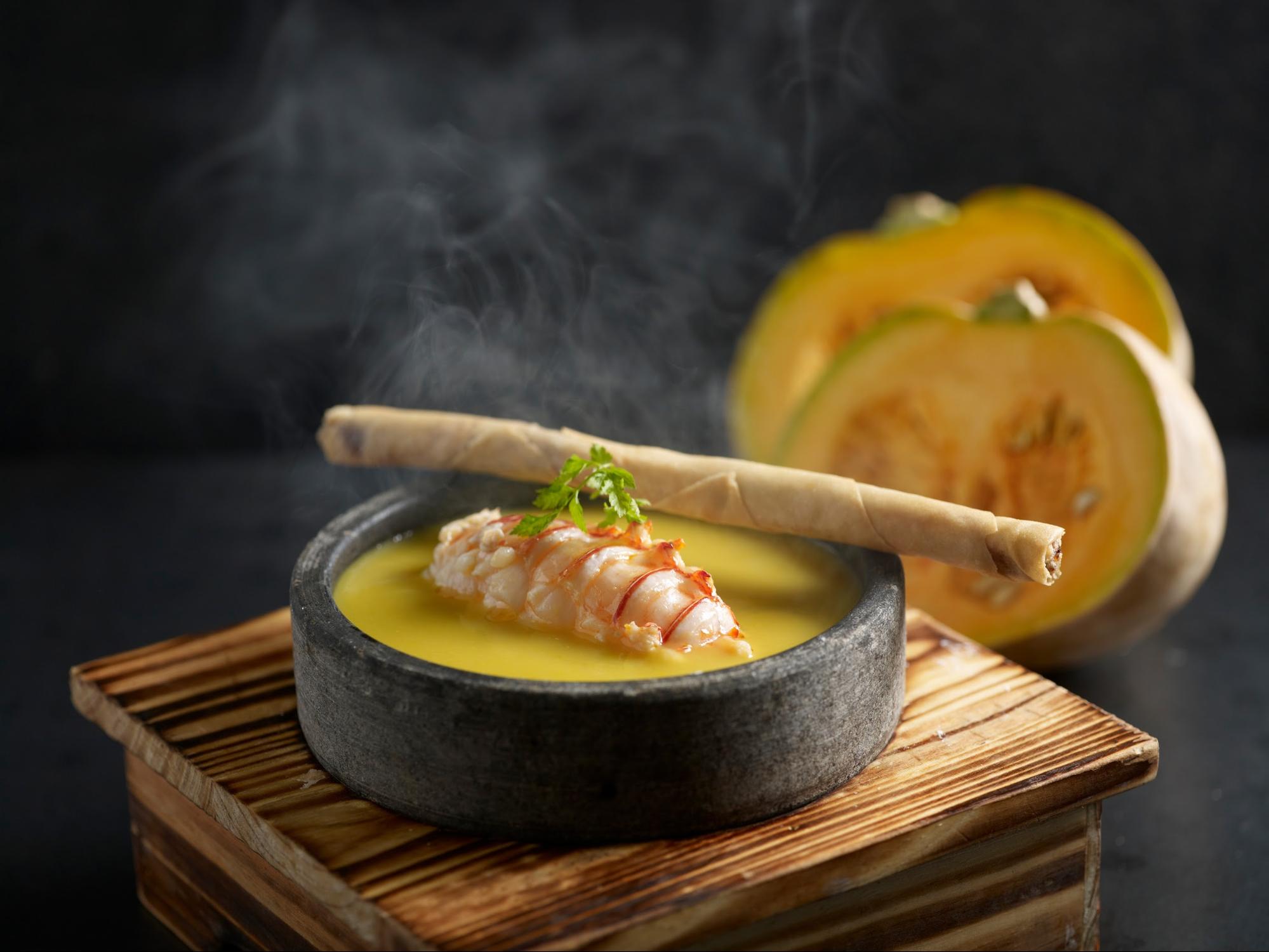 Image credit: Song Garden, Mecure Singapore Bugis
Those looking to treat ah ma and ah pa with their newly earned GST voucher should book a family dinner at Song Garden to score 1-for-1 soups and desserts. These include their popular Braised Lobster with Pumpkin Puree Served in Hot Stone Pot with Crispy Bacon Roll ($30++), and Double-boiled Chicken Soup with Fish Maw and Sea Whelk ($28++).
Alternatively, head to Peach Garden for their 1-for-1 soups such as Double-boiled Baby Superior Shark's Fin with Essence of Chicken Soup ($72.76).
If you're looking to add a dash of luxe to your meal, head to Mouth Restaurant for their 1-for-1 Mini Buddha Jumping & Boston Lobster set which comes with fresh and meaty lobsters. 
For those who have an upcoming hotpot sesh at Haidilao Hot Pot, be sure to spend at least $80 there to get 1-for-1 pork belly (U.P $9++) that's limited to the first 15,000 redemptions.
---
1-for-1 high tea sets with dim sum
---

Image credit: @sichuandouhua_sg
If Circuit Breaker has made you miss indulging in leisurely afternoon tea sessions, treat yourself and your loved ones to the 1-for-1 Imperial High Tea Sets (U.P. $38++) at PARKROYAL on Beach Road's Tian Fu Tea Room, located within Si Chuan Dou Hua Restaurant.
There, you'll be able to gorge on nine dim sum items refreshed on a monthly basis, including their Steamed Minced Meat Dumpling, Deep-fried Spring Roll with Shredded Duck Meat, and Homemade Fine Bean Curd with Wolfberries—paired with a choice of classic Chinese tea from a selection of eight premium tea blends.
You can also head to Tian Fu Tea Room at the TOP of UOB Plaza in September for their 1-For-1 Mid Autumn Imperial High Tea (U.P $48++) which comes with a refreshing cocktail concocted with premium Da Hong Pao tea leaves! 
---
1-for-1 Asian delights
---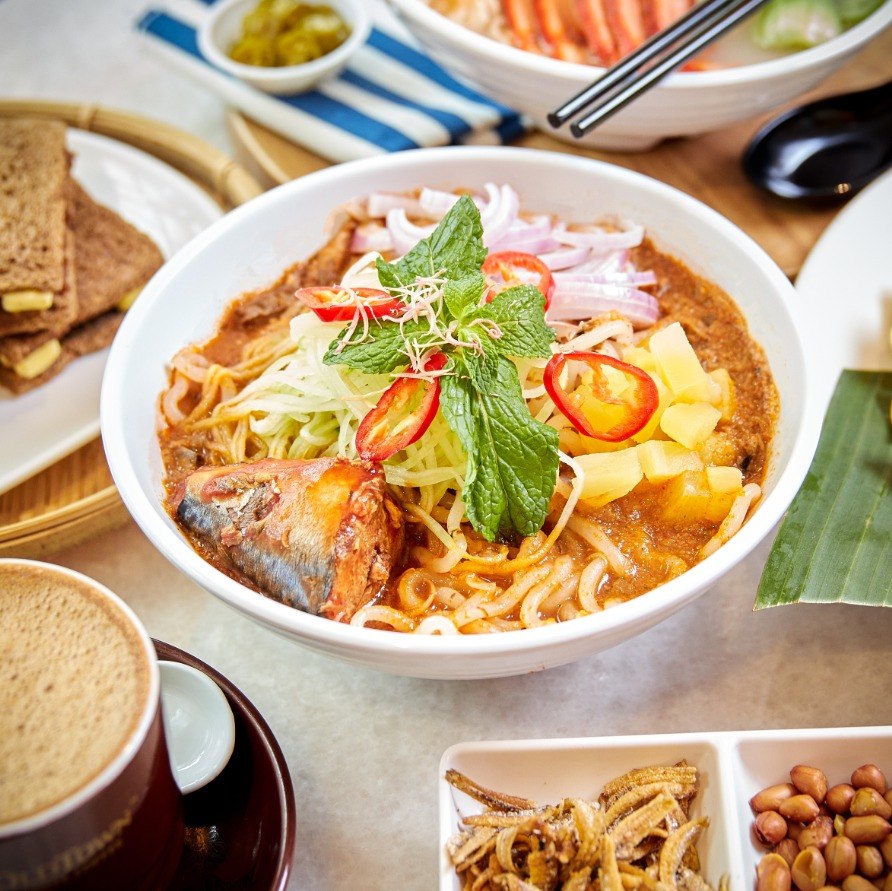 Image credit: OLDTOWN White Coffee
For those who love Southeast Asian fare, head to OLDTOWN White Coffee and Baba Chews Bar & Eatery for 1-for-1 deals on selected mains. The famous Malaysian joint will be having a 1-for-1 promo on their Penang Assam Laksa (U.P $9.30++) and Ipoh Chicken Hor Fun Dry (U.P $9.30++). 
On the other hand, if you love Asian fusion dishes, head to Baba Chews Bar & Eatery for their range of zhnged nosh including the Ayam Buah Keluak Burger (U.P $18++), where a grilled chicken patty is doused in buah keluak sauce and sandwiched between buttery brioche buns.
---
1-for-1 drinks
---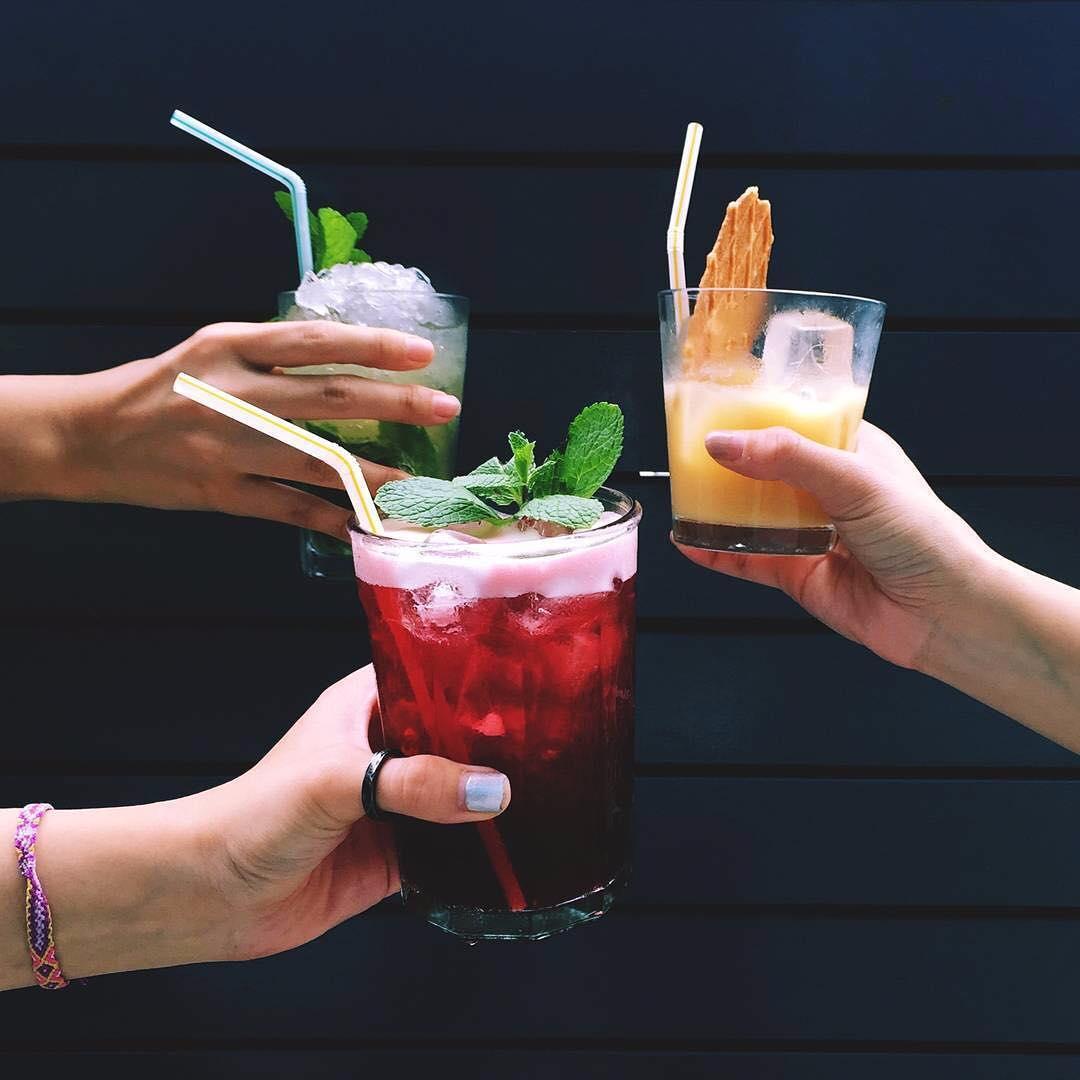 Image credit: @iwannayolo
Just 'cause WFH is the norm now, doesn't mean the pressures of work have disappeared. Crack open a cold one with your buddies after you pang kang at OverEasy Fullerton.
From 5pm to 8:30pm on weekdays, they will have 1-for-1 housepours, beer, and wines. Drink your worries away with the likes of Noblesse Cabernet Sauvignon (U.P $16++) and Prunotto Moscato D'asti (U.P $16++). If you're still feeling peckish after your meal, bring home their 1-for-1 burgers which will only be available for takeaway.
If you need to get tipsy over the weekend, head to The White Rabbit for 1-for-1 Hendrick's Gin and Tonic (U.P $18++) from Tuesdays to Sundays.
---
1-for-1 cafe food
---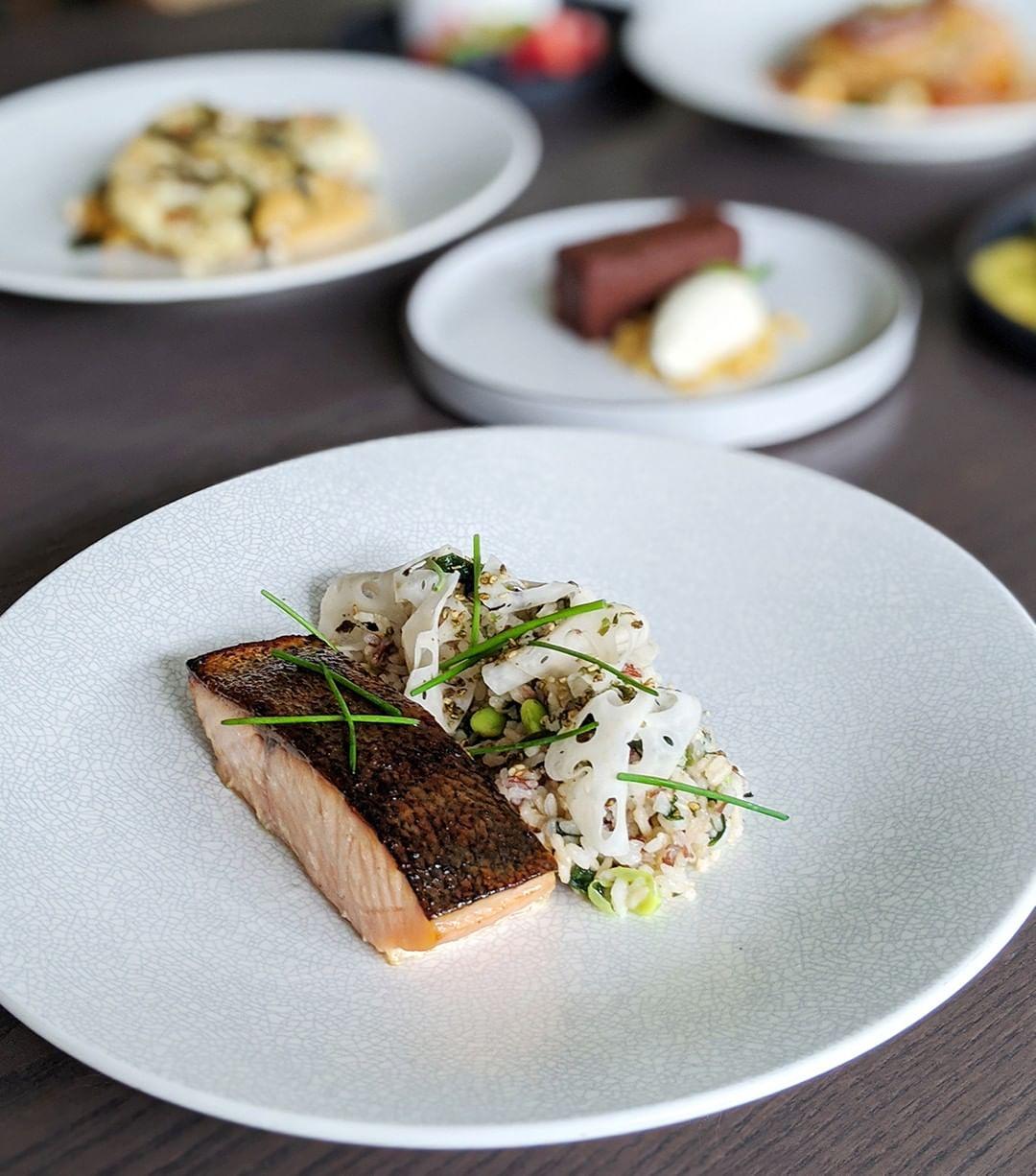 Image credit: @clancafe
Cafe hopping is finally possible after months of being indoors. Make a date with your bestie at Clan Café on Mondays to Saturdays, from 2pm to 6pm. Here, you can nom on 1-for-1 mains including the Miso Roasted Salmon, Seaweed, Brown Rice, Pickled Lotus Root (U.P $26++) and Crab Spaghetti with Lemon, Chilli, Parsley (U.P $26++).
If you're planning to chill at home with bae afterwards, make a pit stop at Extra Virgin Pizza to dapao their 1-for-1 pizzas such as the Margherita (U.P $20), Pepper Pig (U.P $30), and Shellfish Love (U.P $28++).
---
Enjoy more 1-for-1 food deals with UOB Cards
---
All these deals are just the tip of the iceberg, in terms of what UOB Cardmembers can enjoy. If you're eager to jump on the bandwagon, be sure to sign up for a UOB Card now.
Those who are already cardmembers can head to The Dining Advisor to check out even more food promos and discounts at places such as Singapore Marriott Tang Plaza Hotel, Sunset Bar, and Escape Restaurant & Lounge.
This post is brought to you by UOB Cards.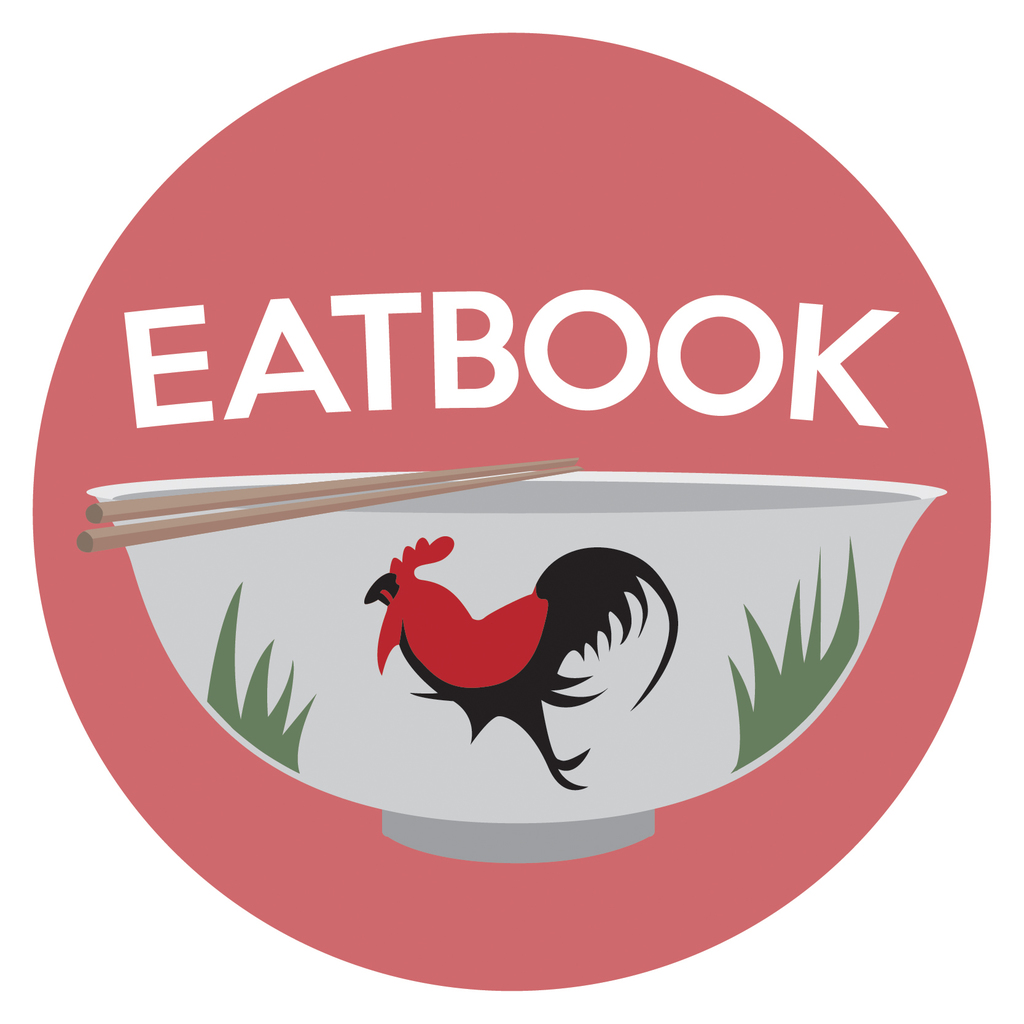 Drop us your email so you won't miss the latest news.