Cafe Brunch with A Crazy Asian Twist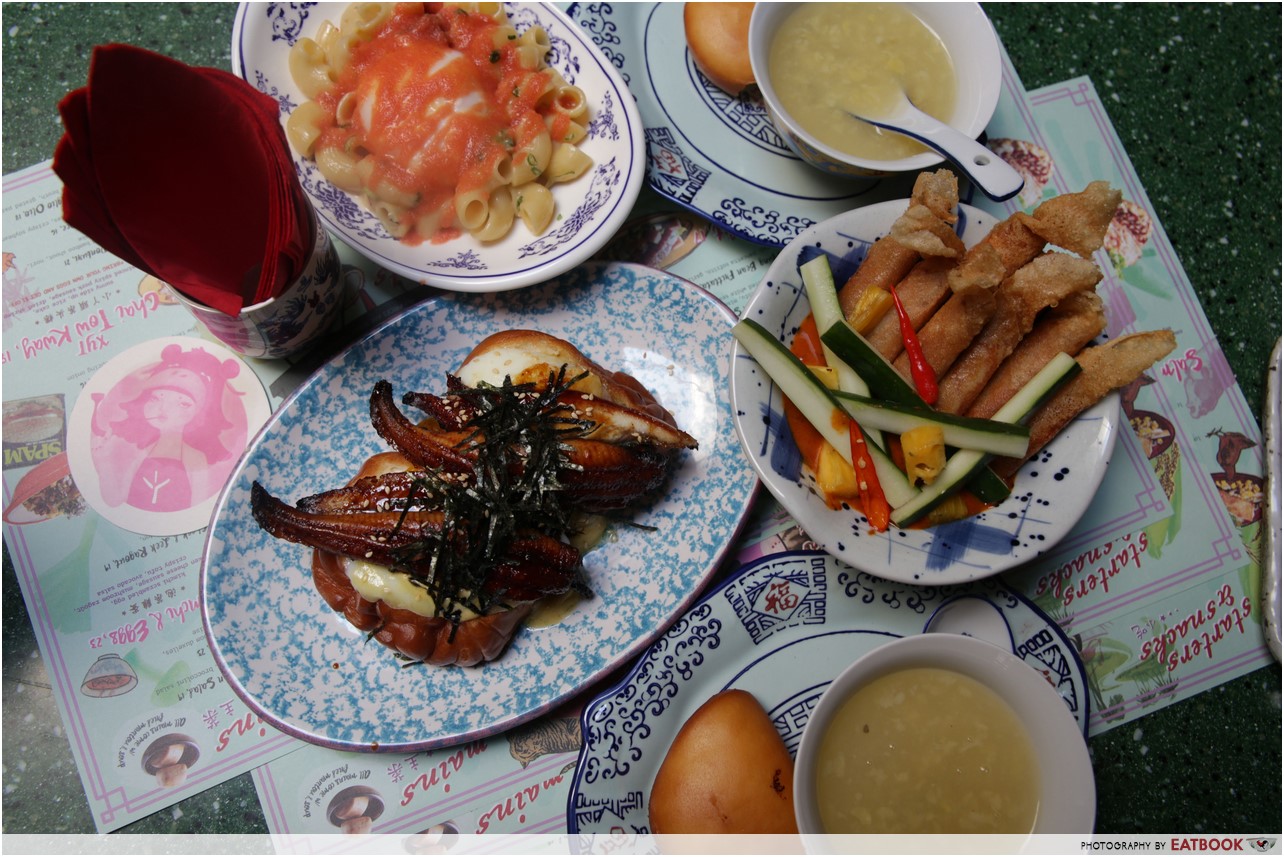 Tucked away on quiet Duxton Hill, Xiao Ya Tou is a modern fusion restaurant and bar that boldly revolts against convention. 
Opened by the same folks behind Symmetry, Xiao Ya Tou serves a brazen menu of hybrid brunch creations by infusing Asian flavours into Western cafe staples. With an unabashedly quirky style and imaginative dining concepts, they certainly stand out among the string of new eateries popping up everywhere.
The lure of mythical-sounding dishes like unagi eggs benedict and mantou ice-cream sandwiches was too hard to resist, and so I headed down on a Saturday morning to check out their brunch offerings.
Food at Xiao Ya Tou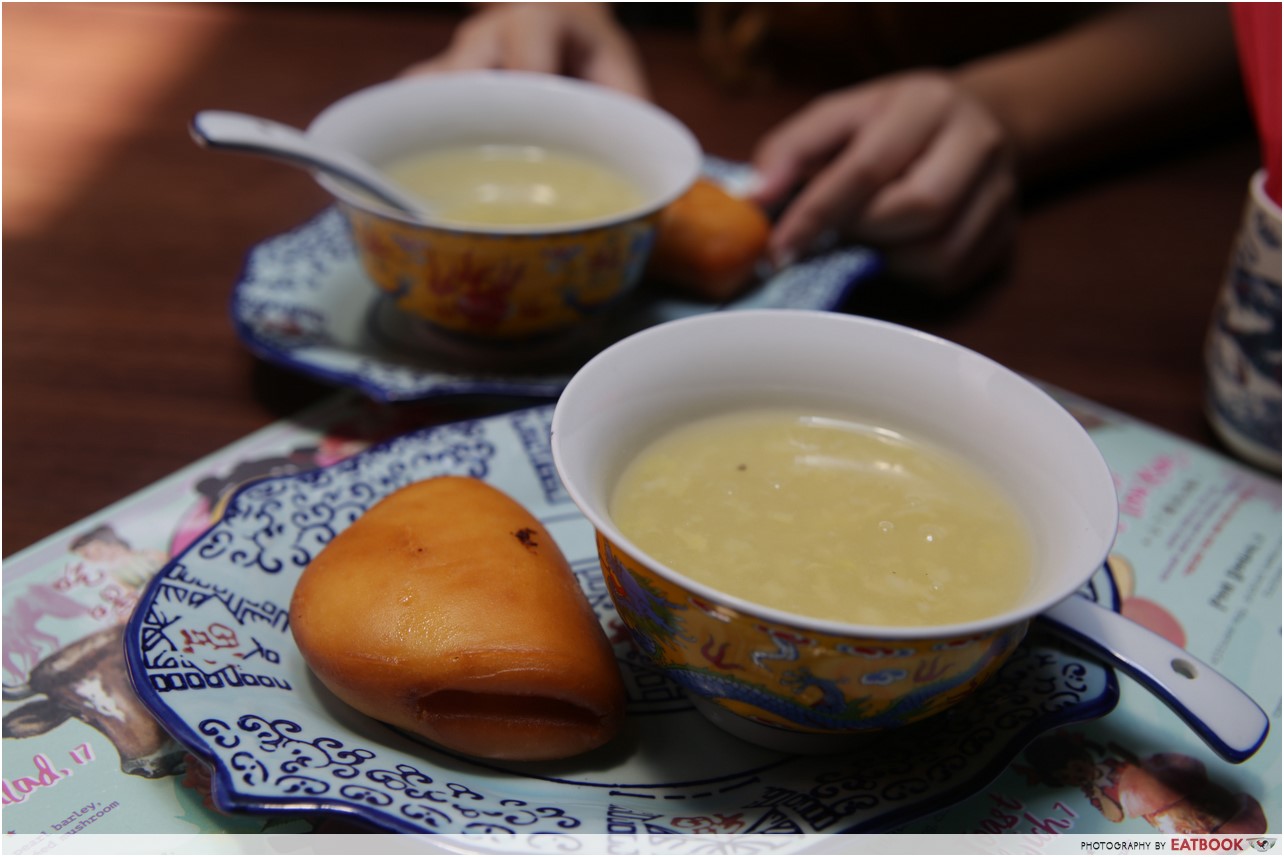 Every order of a main dish will get you a complimentary bowl of soup – Tau Suan (sweet mung bean soup) in our case – accompanied by a Deep-Fried Mantou bun. The glazed golden-brown mantou had been fried so fresh, that when pulled apart, I could see steam rising from its pillowy white interior.
Even though this starter was nothing out of the ordinary, the sheer satisfaction of dunking a piece of fluffy, slightly crispy mantou into warm sweet bean soup is real. This solid pairing served as a prelude to brunch, and with my senses jump-started, I looked forward to finding out what their mains had in store for me.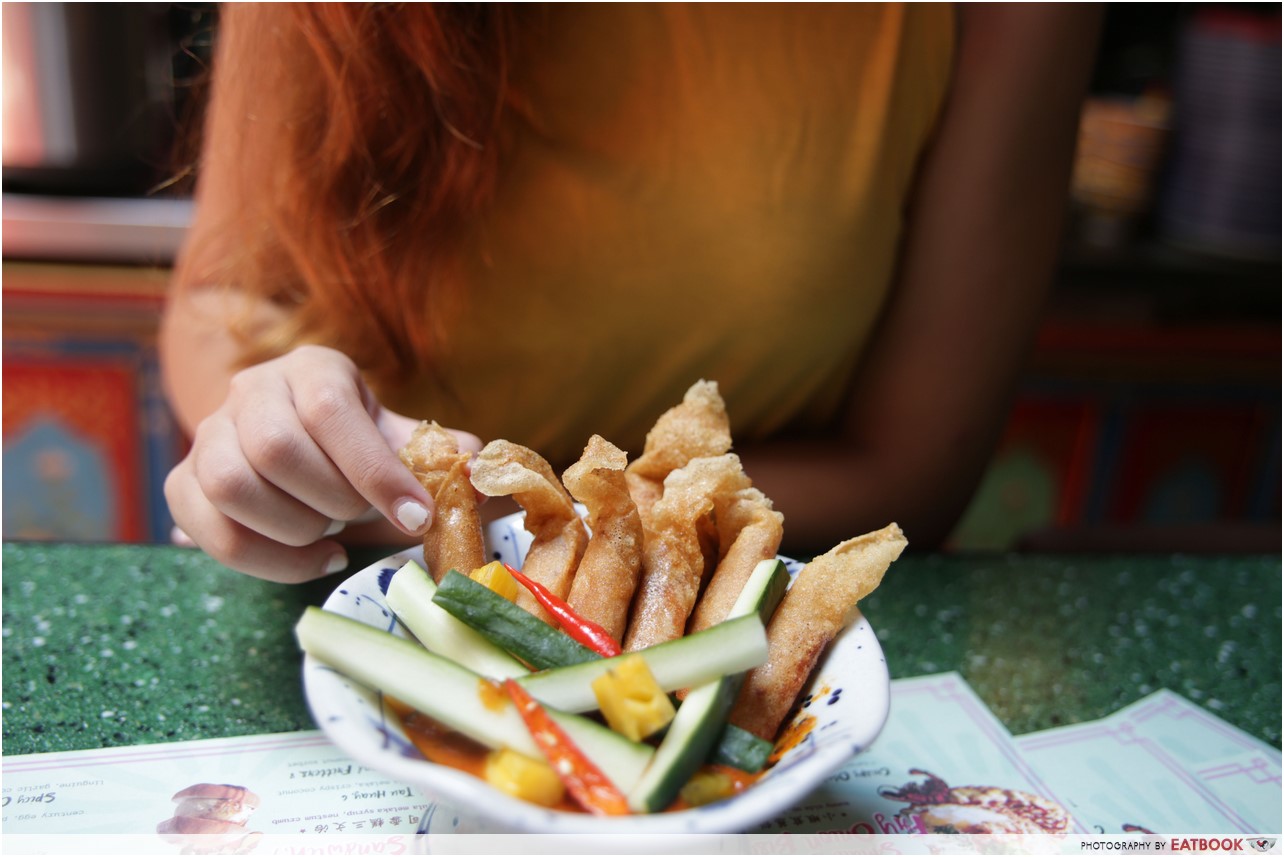 Our side of Crispy Otak-Otak Rolls ($12++) was served arranged artfully in a porcelain bowl. This dish comprised of crispy deep-fried spring roll skin wrapped around spiced fish paste, accompanied by sticks of cucumber, pineapple cubes and a fragrant tamarind peanut sauce.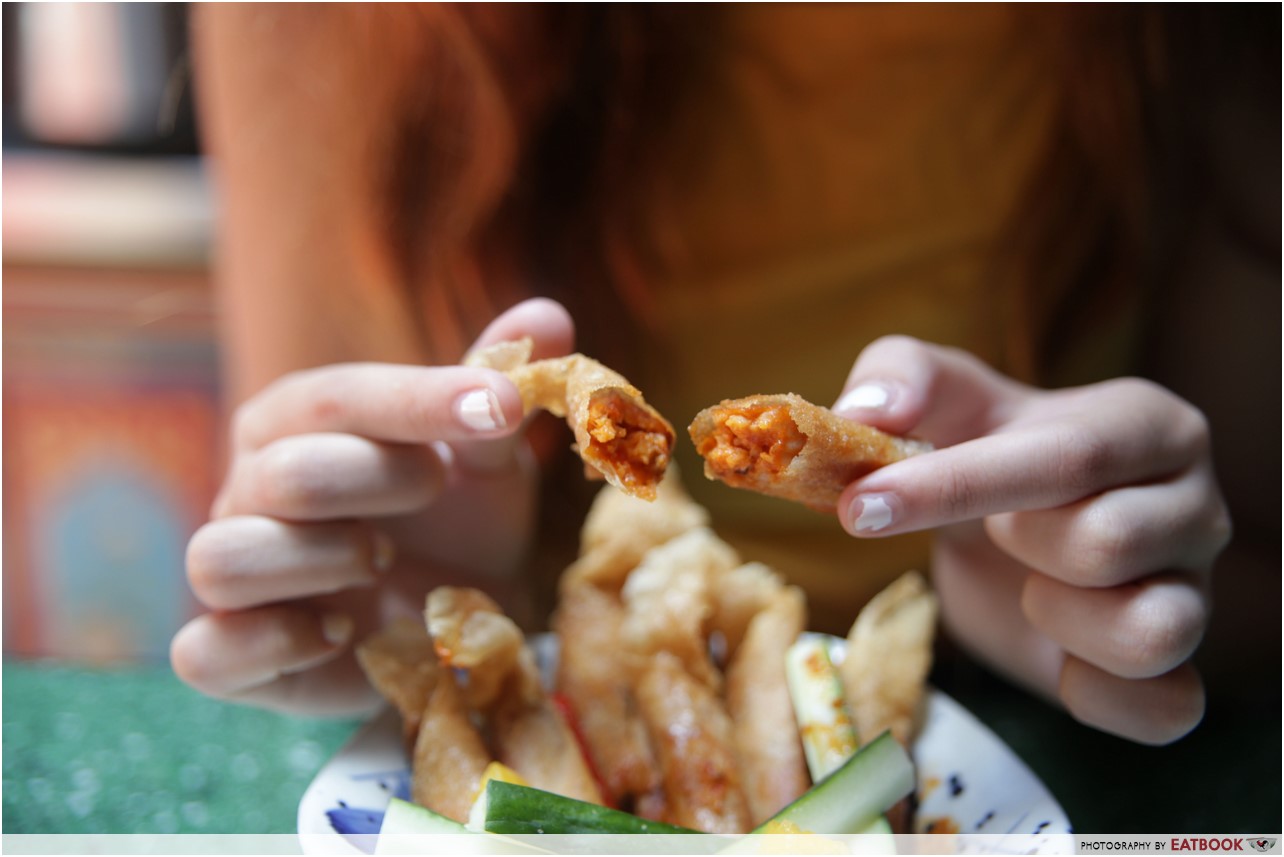 This marriage was a harmonious one, with the thin, crunchy skin contrasting beautifully with soft, well-seasoned otak filling. I appreciated how the rolls weren't overwhelmingly spicy, which allowed for sweetness in the fish meat to shine through.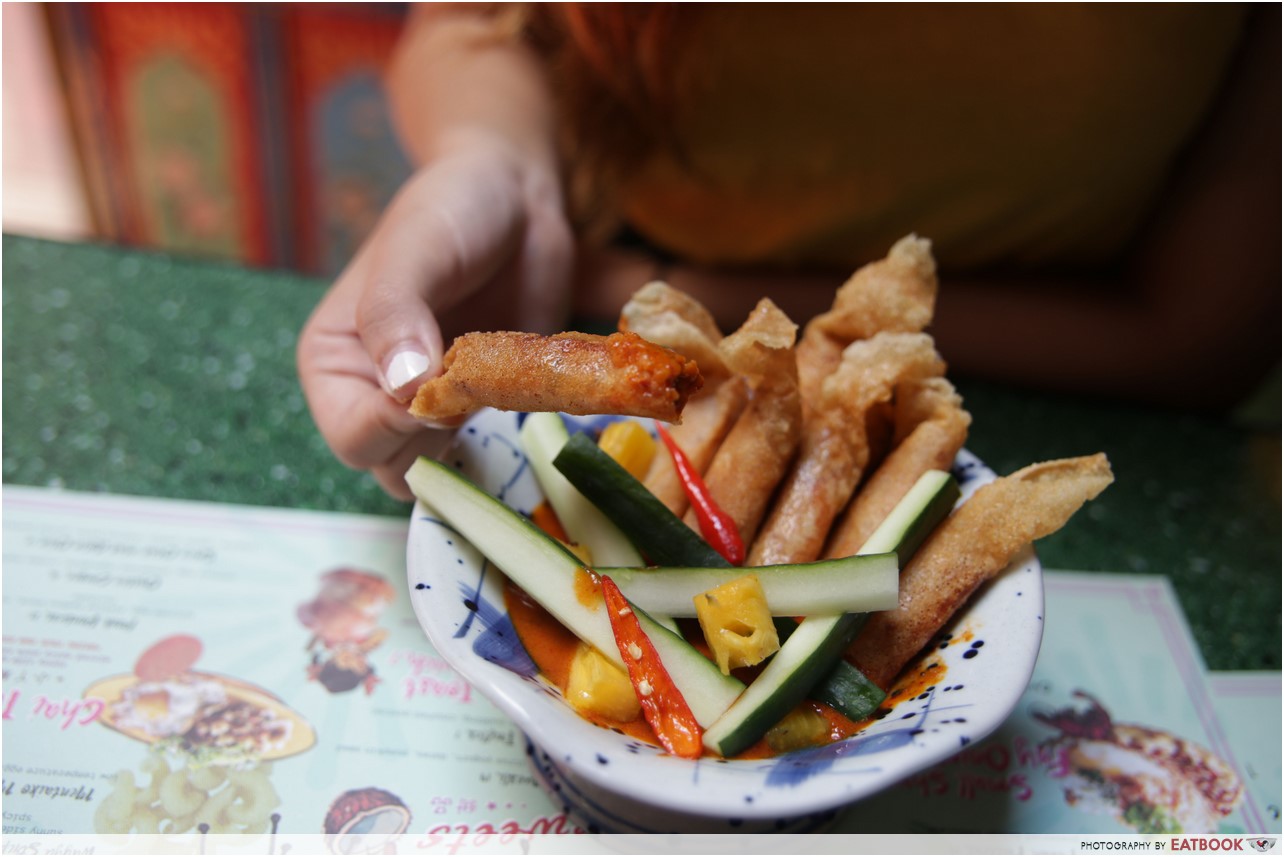 The accompanying tamarind peanut sauce made for an excellent complement to the otak rolls – with a good balance of sweet, tangy and spicy. If anything, a little more acidity would have been appreciated, to cut the sinfulness of the the deep-fried otak sticks.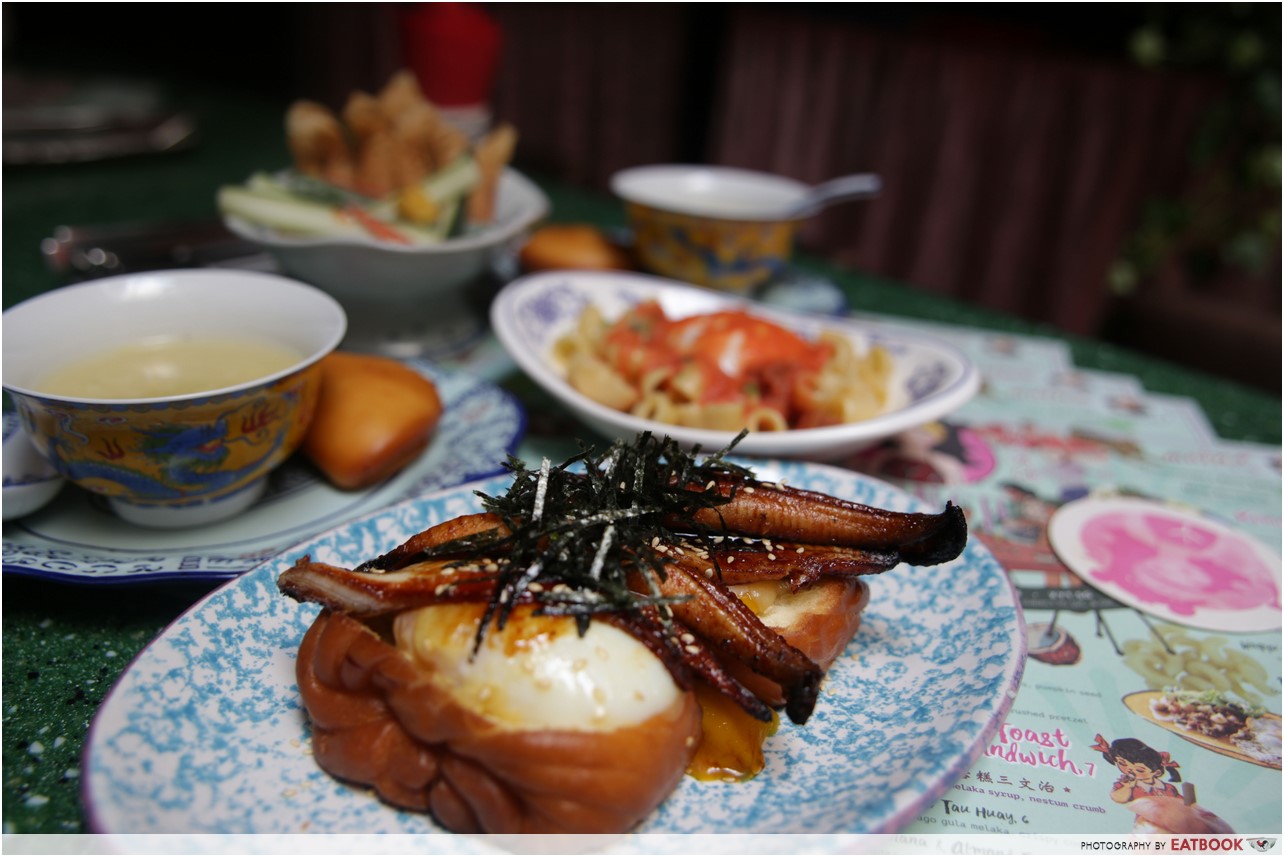 Unagi Benedict ($23++) is an unconventional combination comprising grilled slabs of unagi, yuzu hollandaise, a pair of wobbly low-temperature eggs and a generous layer of duxelles (minced mushroom paste), all atop two fluffy fried mantou buns.
I was blown away at first bite. The level of umami in this dish is intense, all thanks to the killer combination of teriyaki-glazed unagi, minced mushrooms and nori flakes. The flavour of the succulent grilled eel was also enhanced by the sweet, slightly crisp mantou, with the buttery duxelles and creamy lava egg lending some extra richness to the dish. An edge of smoky char from the unagi rounded off this immensely satisfying brunch creation.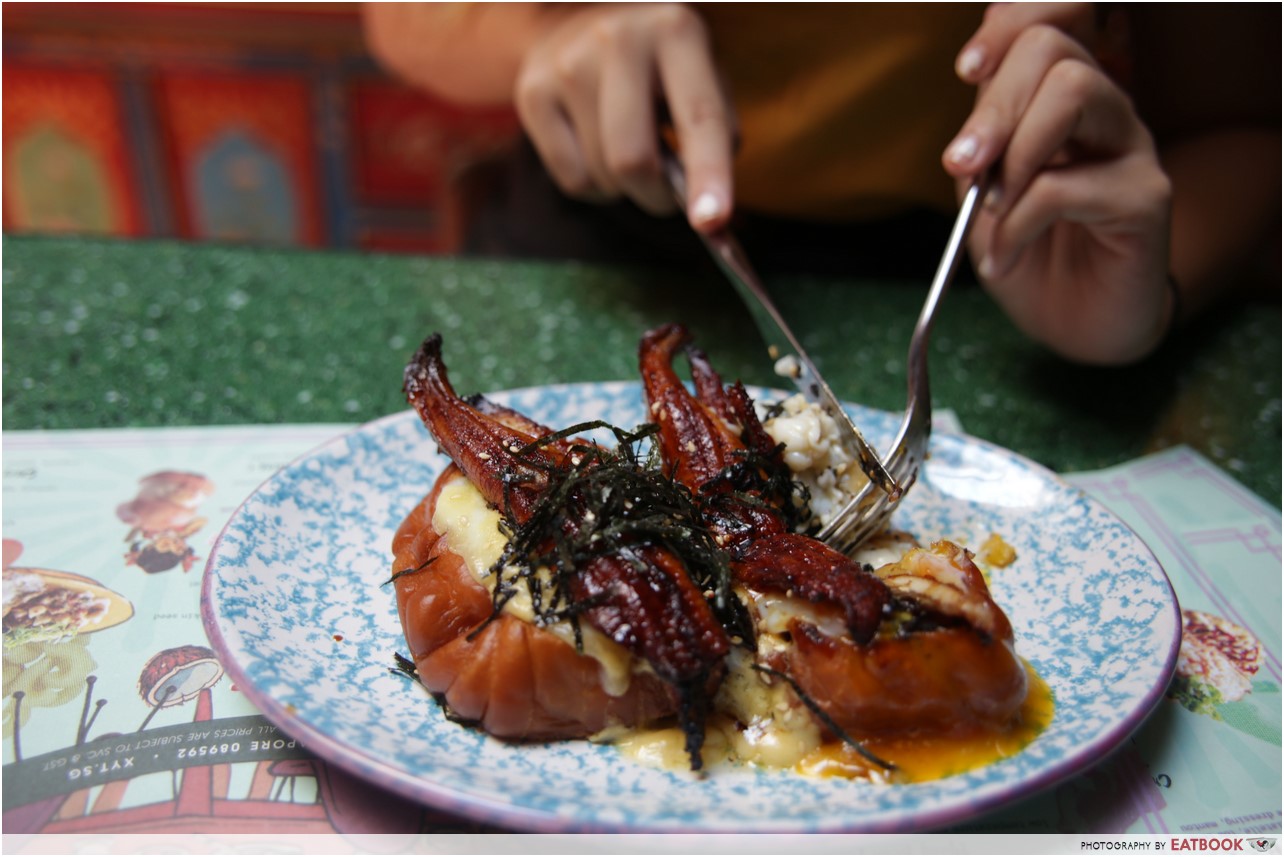 My one gripe was that the yuzu in the hollandaise didn't stand out, having been overpowered by other components. It would have been great if the yuzu had been more prominent to contrast against the richness in the eggs benedict.
Don't be deceived by the small portion. This ultra-indulgent brunch staple makes for a perfect sharing plate, as the combined richness of the various components might make it too jelak for one.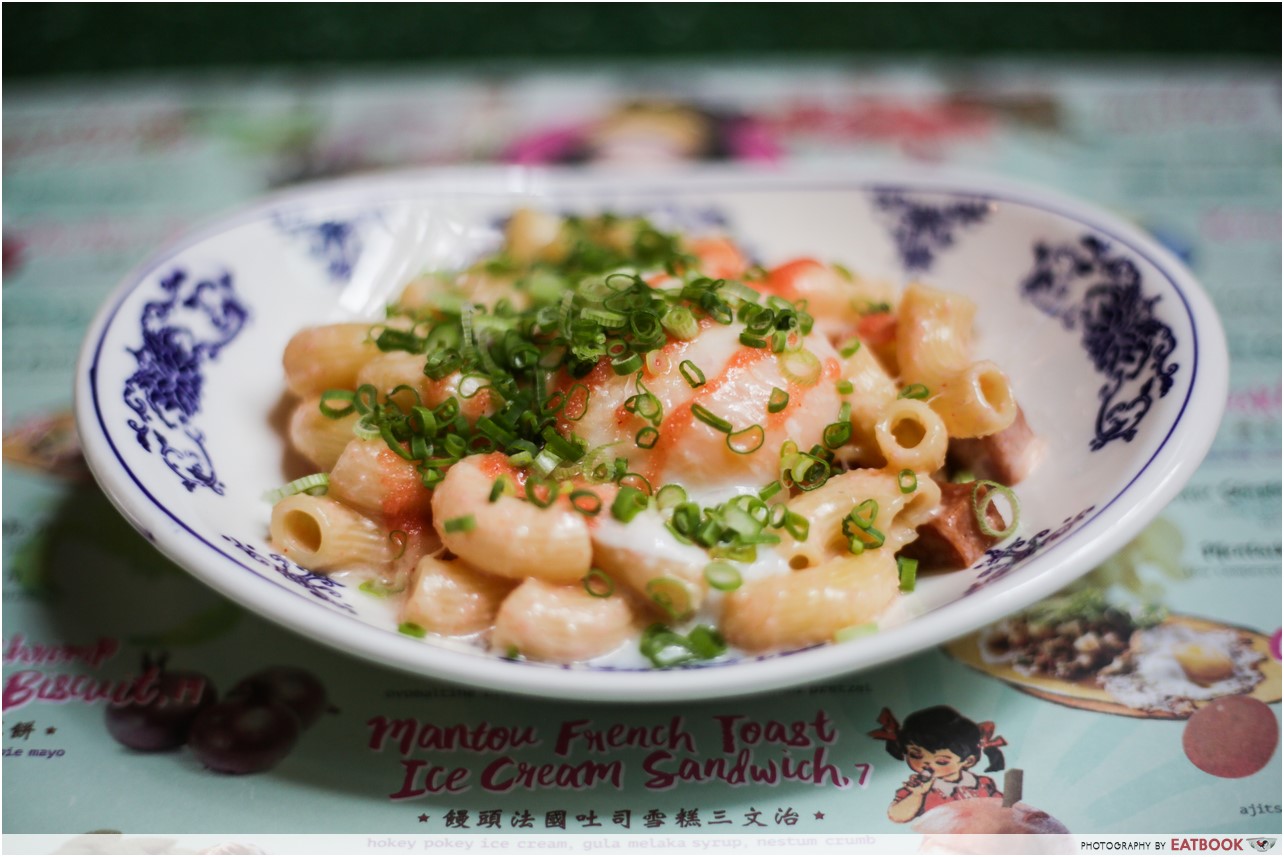 From the minute I saw Mentaiko Mac & Cheese ($16++) on the menu, I knew I had to order it. Xiao Ya Tou's twisted rendition of this American classic had macaroni, spam cubes, a poached egg and a liberal drizzle of brightly-hued mentaiko sauce.
Unfortunately, this highly-anticipated dish fell short of my expectations. It's definitely not what you'd expect mac and cheese to be; it lacked the characteristic creamy sauce and gooey golden-brown crust of melted cheese typical of most mac and cheese dishes.

Granted, the mentaiko flavour was evident in the sauce, but the combination as a whole just didn't gel. Furthermore, this dish was too salty for my liking. Compared to the impressive Unagi Benedict, the Mentaiko Mac & Cheese is a definite miss.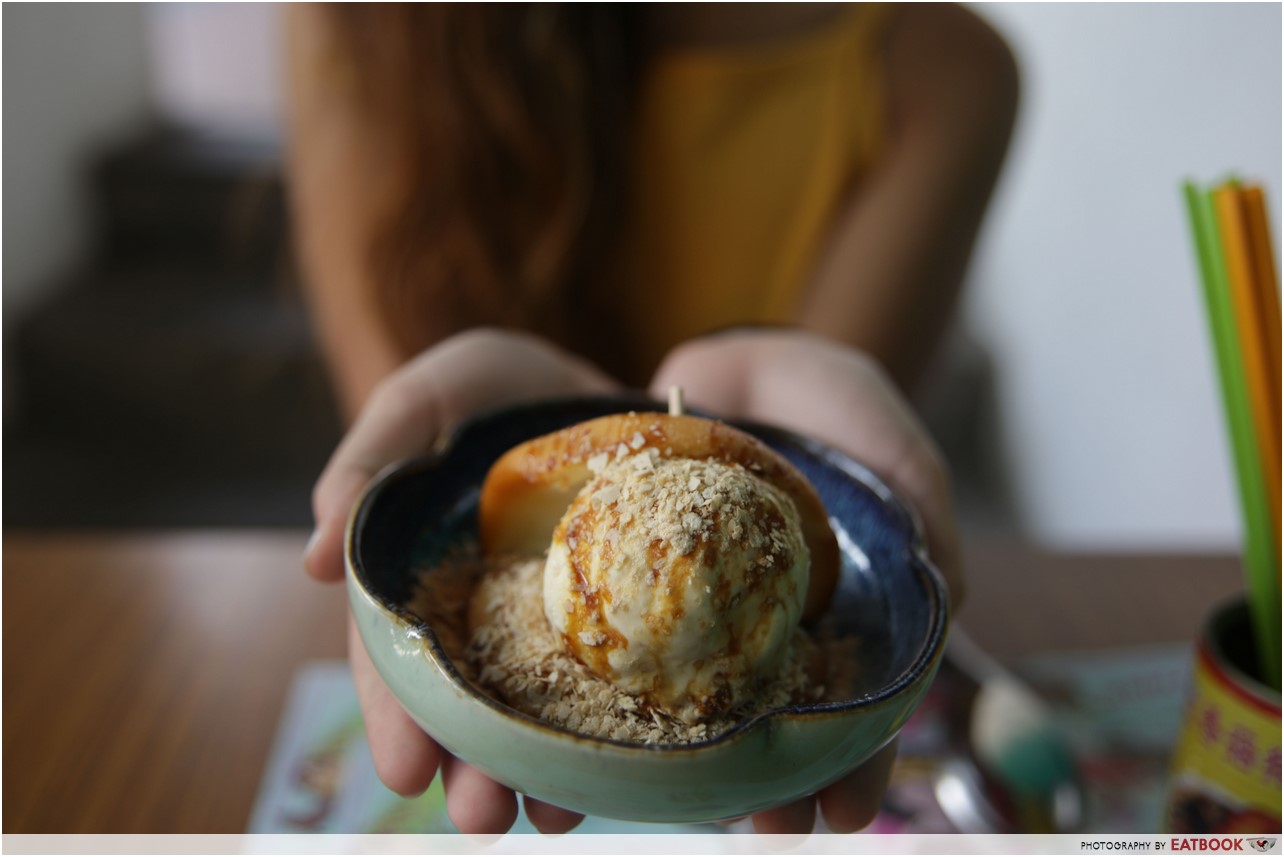 There is nothing like a Mantou French Toast Ice Cream Sandwich ($7++) to cap off a supersized brunch. This dessert is made of hokey pokey ice cream, a fried mantou bun, a generous dose of gula melaka syrup and a heap of NESTUM 3-in-1 Cereal.
I thought the sprinkling of NESTUM was ingenuous, giving an extra touch of nostalgia to this sweet slider. Another thing that worked was the combination of hot fried mantou and cold ice-cream. The medley of contrasting temperatures and textures makes for a super shiok treat.
However, I didn't spot the "French Toast" element in the dessert at all – labelling a fried mantou as French toast is quite a stretch. Do expect this dessert to be really sweet as well. Those who don't have a huge sweet tooth might find this too saccharine to polish off, but if you're into toffee, honey and other sugary things, you'll probably love this.
It would be great if the dessert came with the option of having other ice-cream flavours in the mantou. I can imagine a scoop of dark chocolate gelato or fruit sorbet making for a refreshing pairing, especially for customers who appreciate desserts that aren't so cloying.
Ambience at Xiao Ya Tou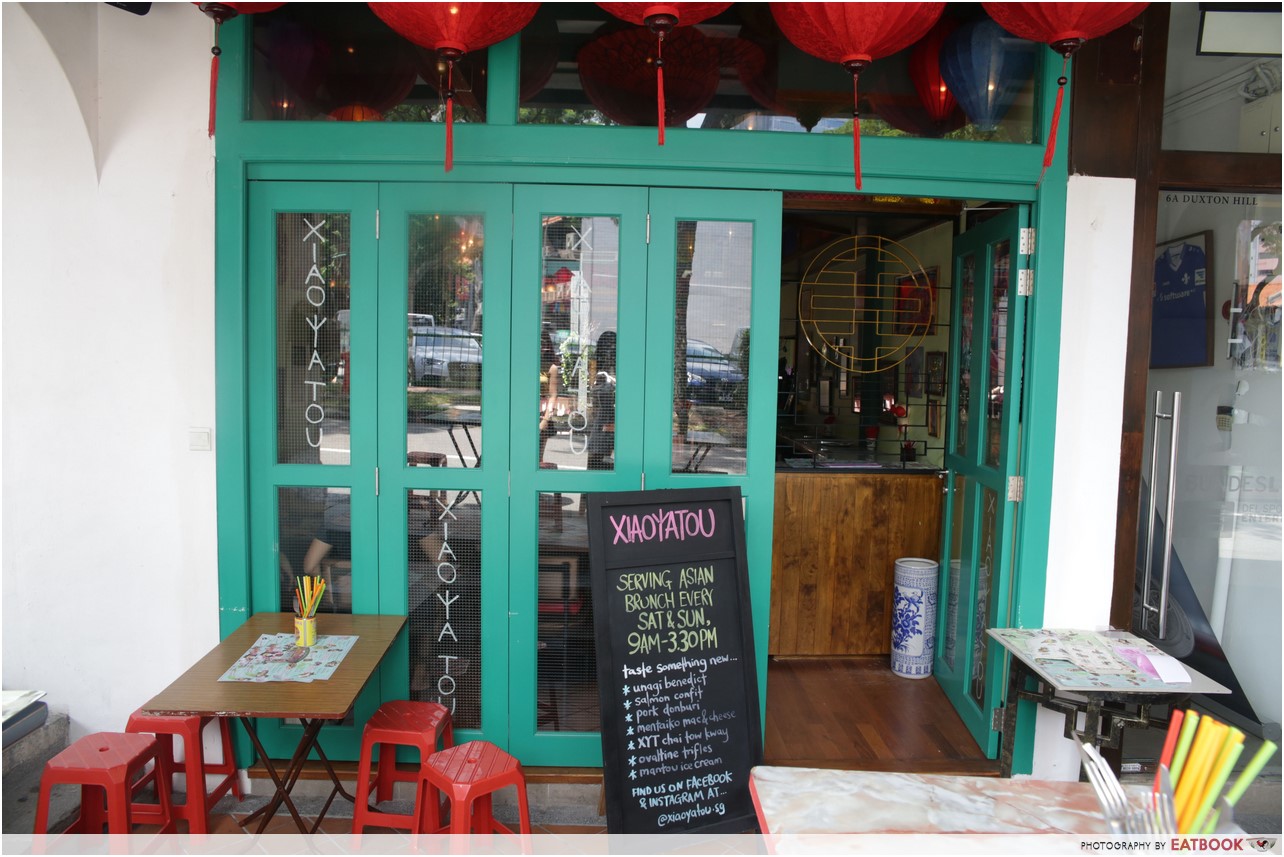 Stepping into Xiao Ya Tou felt a little like being transported to another realm. Like their menu, the interior of Xiao Ya Tou is an eclectic amalgamation of an old-school zi char eatery and a sleek new-age cafe – Think shiny marble-topped high counters set alongside wooden foldout tables, and completed with quintessential red plastic stools you see at your favorite zi char place. This effect is enhanced by a mix of faded retro posters and modern art that adorn the walls.
The Verdict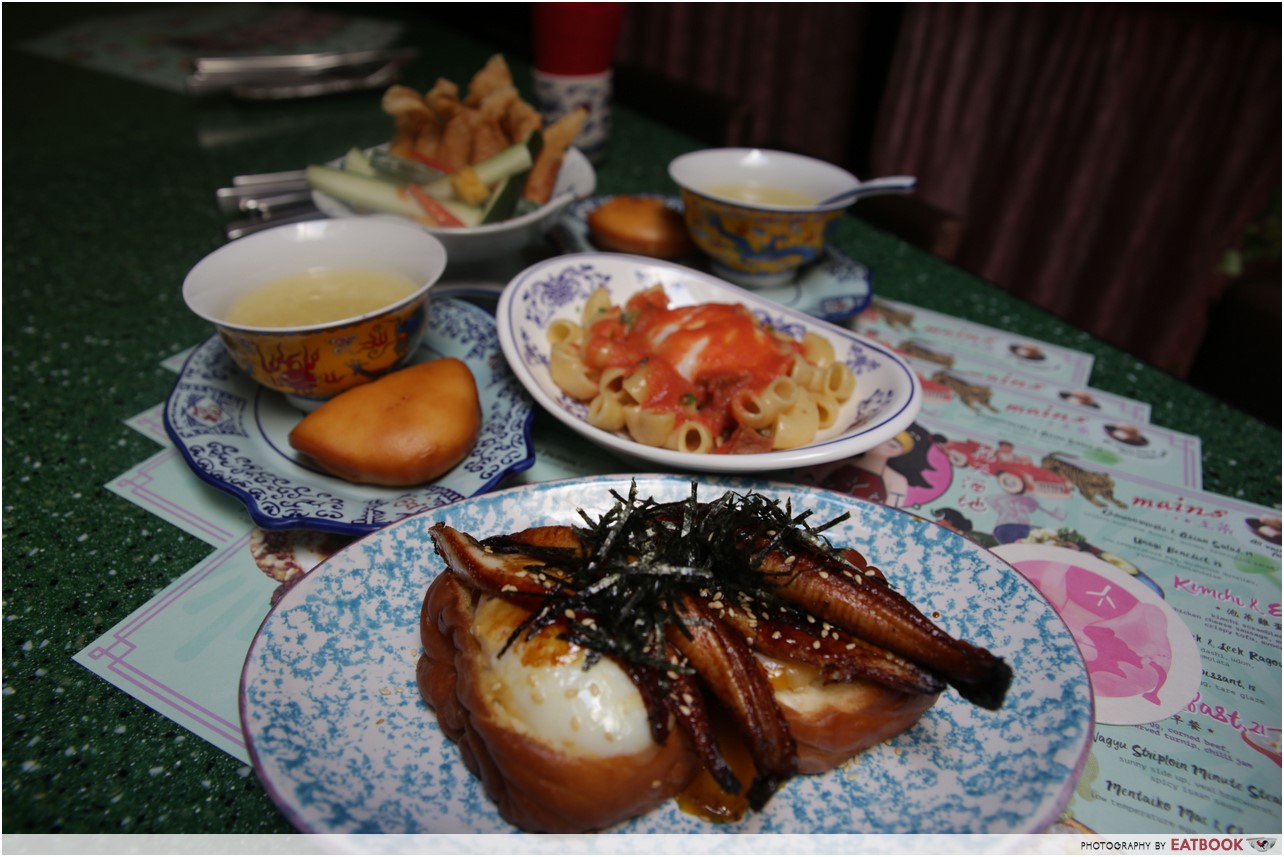 I was impressed by the ingenuity of Xiao Ya Tou's fusion brunch menu. While there are certain dishes to be improved, others left quite an impression on me – in particular, the luxurious, umami Unagi Benedict. Although portion sizes aren't large, they're generous in terms of quality and creativity. However, do expect prices to be on the steep side.  
Aside from having a menu filled with crazy fusion options, Xiao Ya Tou has a kickass personality to boot. I'd give it full marks for ambience and atmosphere, with its stylish, eccentric decor and inventive layout.
Brunch is only served on weekends, but I would definitely head back on other days to try their modern zi char-style dinner menu, as well as to check out their extensive drinks list for some insane concoctions. If you're looking to treat yourself to an adventurous, indulgent brunch in an awesome space, Xiao Ya Tou is sure to check all the boxes.
This is an independent review with all expenses borne by Eatbook.sg.
Summary
Pros
– Unique dishes
– Convenient location
Cons
– Expensive
– Brunch only served on weekends
Recommended Dishes: Crispy Otak-Otak Rolls ($12++), Unagi Benedict ($23++)
Operating Hours:
Monday – Tuesday 11am to 11pm
Wednesday – Thursday 5pm to 11pm
Friday 11am to 12am
Saturday – Sunday 9am to 12am
Address: 6 Duxton Hill, Singapore 089592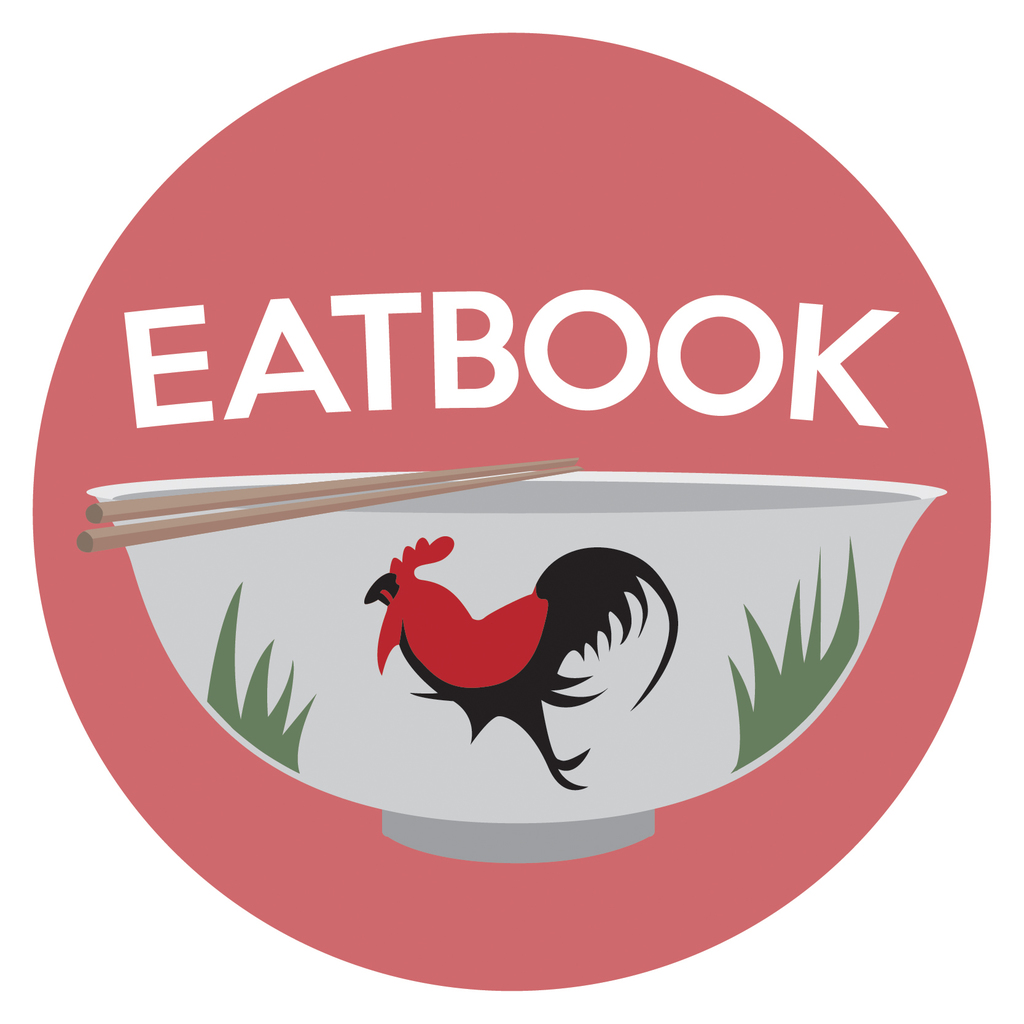 Drop us your email so you won't miss the latest news.