Yakiniku OK in Pasir Ris for Japanese BBQ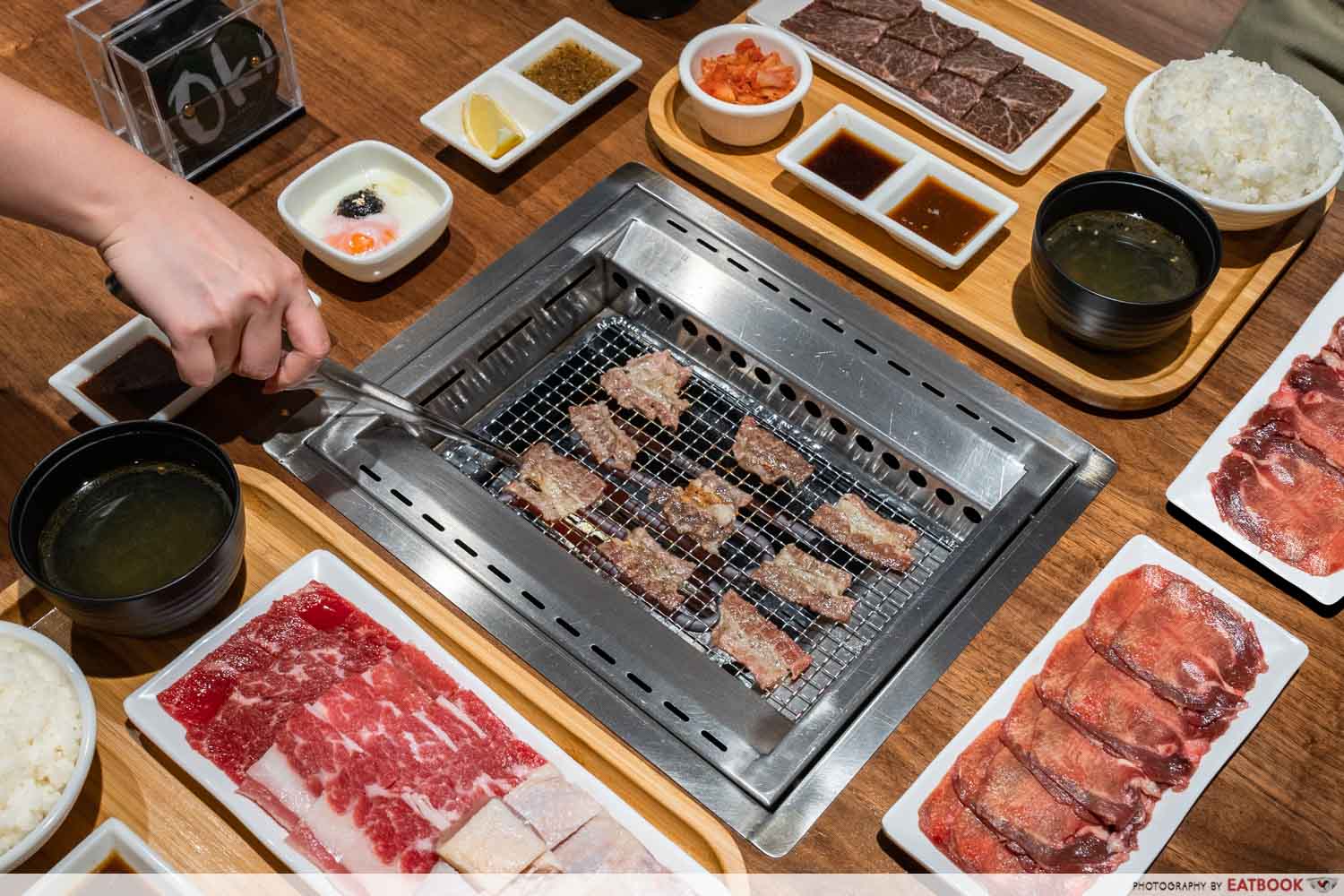 There's a new yakiniku restaurant in town and this time, it's located in the East! Yakiniku OK is a no-frills barbeque restaurant in Pasir Ris' White Sands Mall, serving affordably priced meats and Wagyu sets.
Head down soon as they're giving away free 100g of Beef Karubi (U.P$6.90) with any purchase of their Premium Wagyu Set ($35.80 for 120g). Bonus: they also do not have service charge and GST!
Food at Yakiniku OK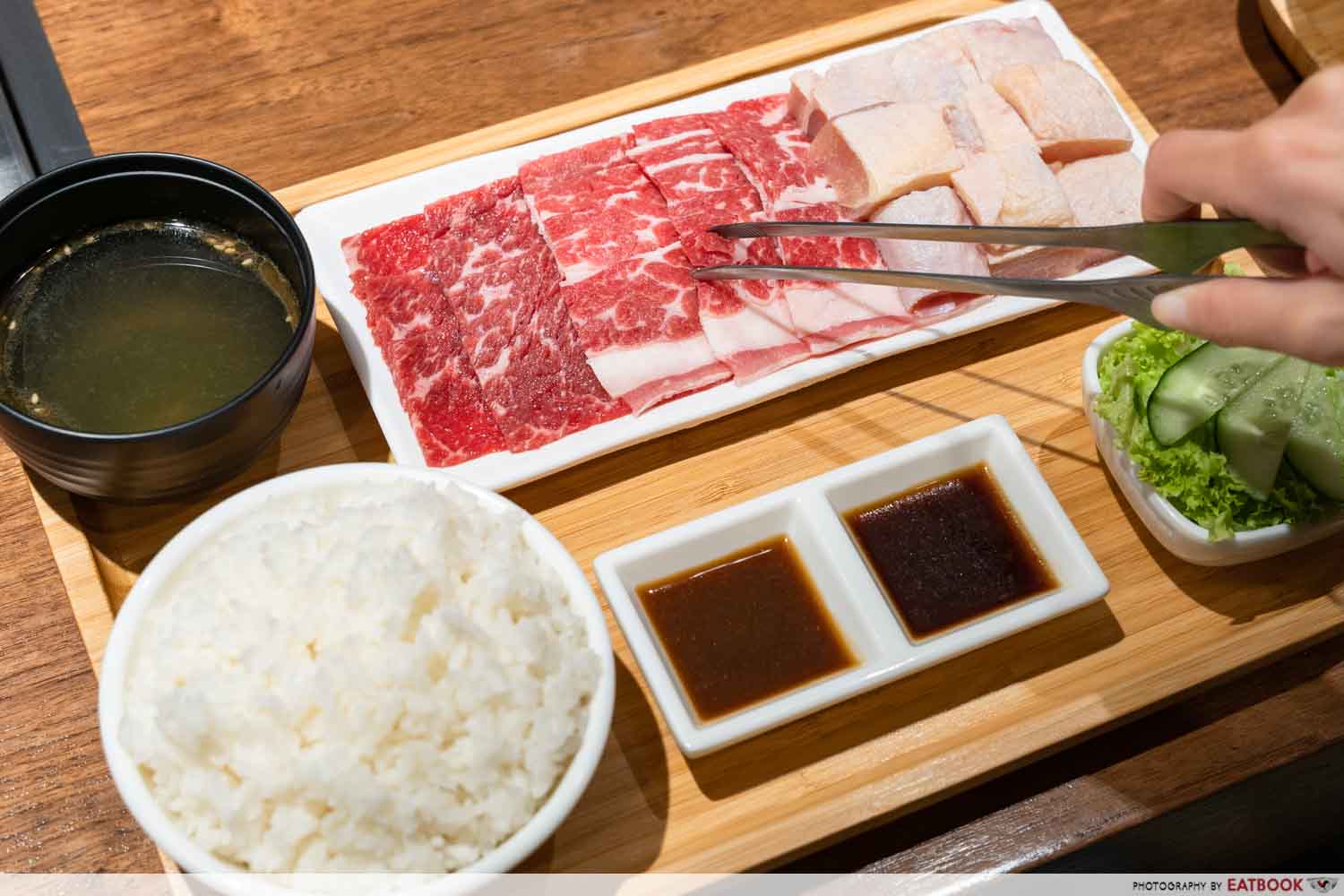 To start, we had the Zabuton Set (U.P $18.80 for 200g), which featured a selection of beef chuck eye roll, short plate, and chicken thigh. With every set ordered, you can also choose two out of five sauces to dip your grilled meats in: BBQ, Garlic, Spicy Miso, Chilli Padi, and Spicy Garlic. Each set comes with a bowl of rice, miso soup, and your choice of kimchi or salad.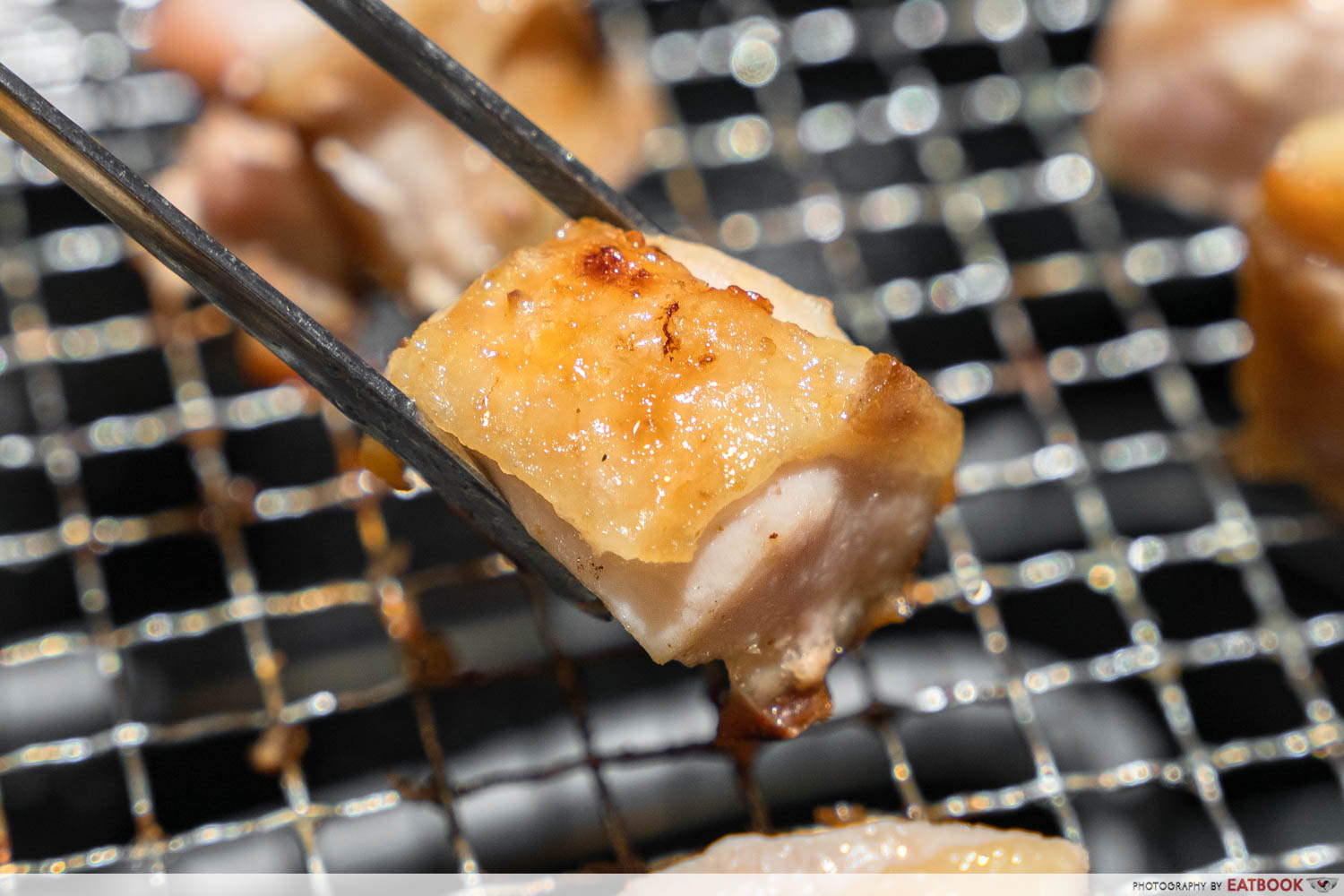 I didn't expect much from the plain-looking chicken thigh but found it to be delightfully crispy when grilled, and well-marinated. While the chicken took some time to cook, the resulting payoff was a tender bite and a smoky char.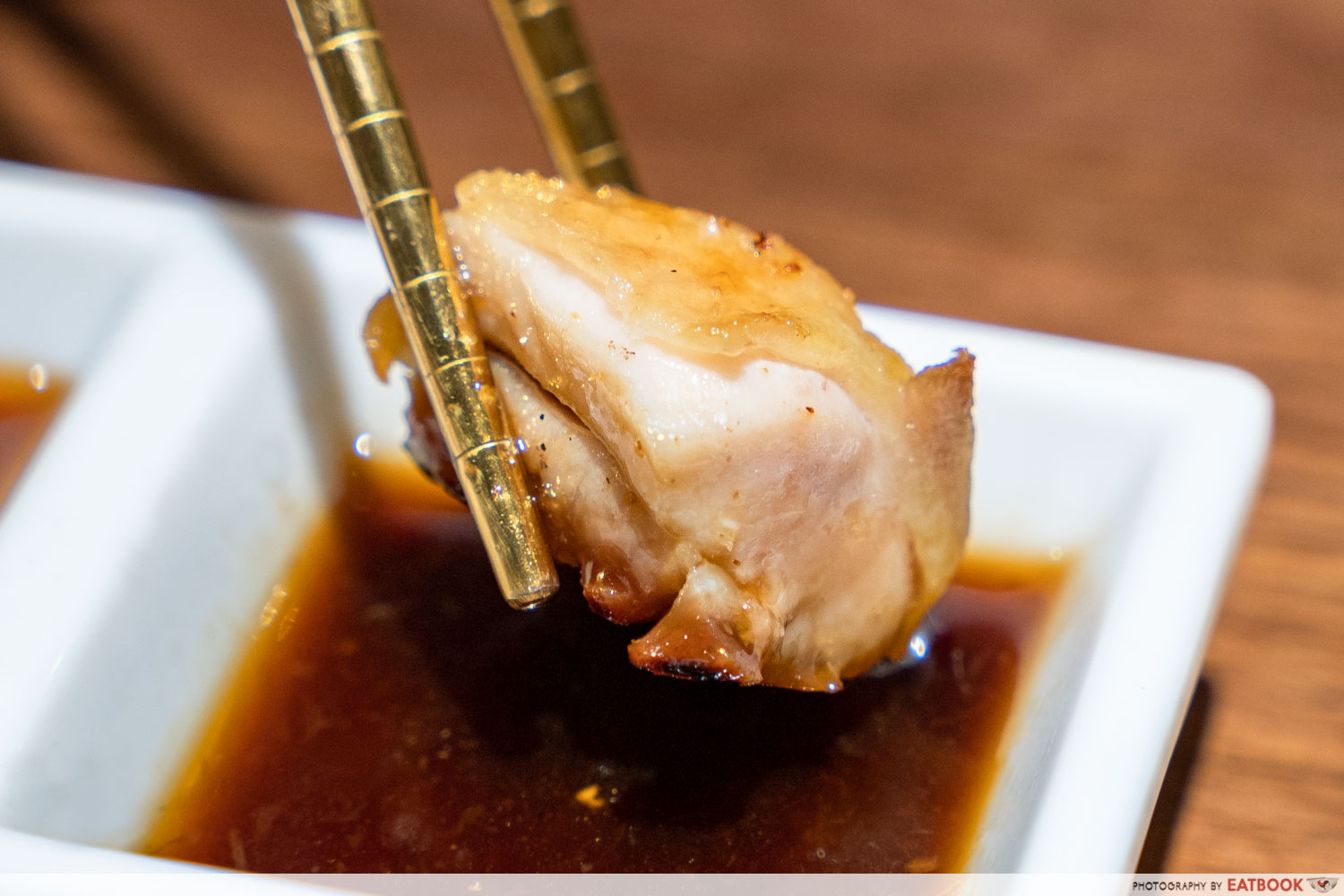 I especially liked having the chicken with the BBQ sauce, which was more sweet than sour, and had a tangy aftertaste.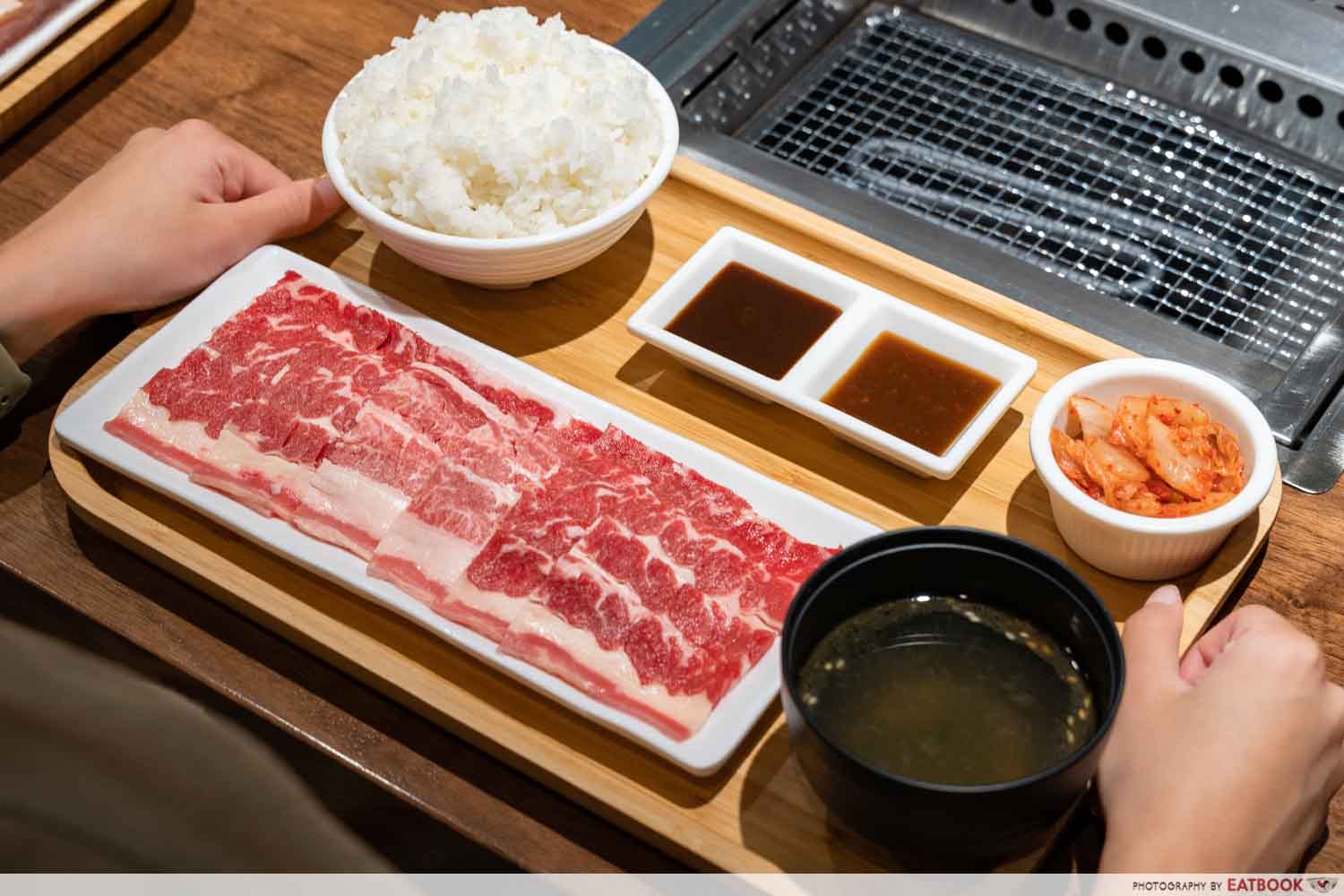 The glistening short plate were fatty and featured a bacon-like texture. I'm not a fan of fatty meats, but my colleague who likes them mentioned that these were a touch chewy and milder in beef flavours.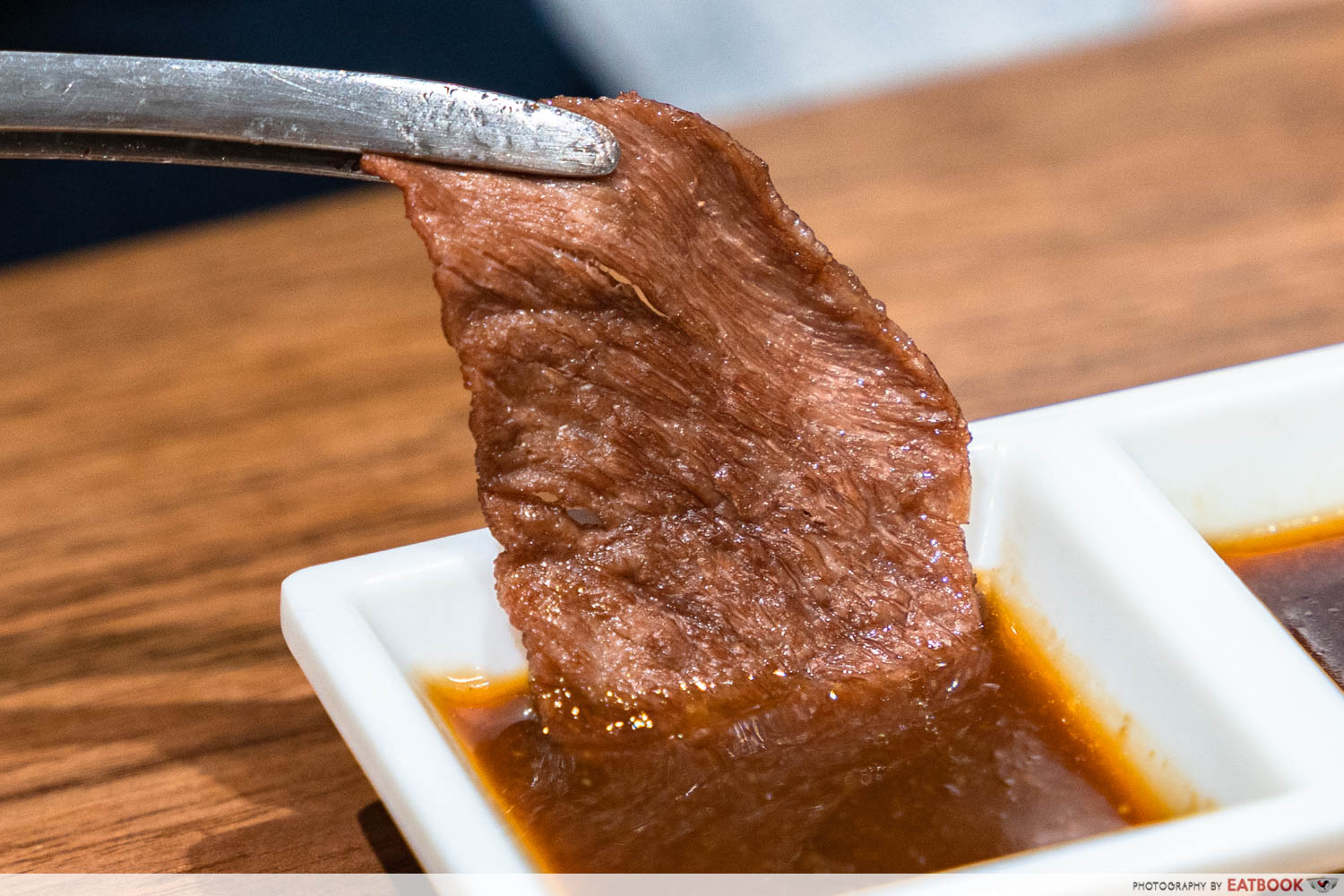 The sweet garlic sauce went well with the meats, especially the chuck eye rolls, which was lean and meaty. As it was a less fatty cut of beef, it was tougher than the chicken and short plate, but still retained some juiciness.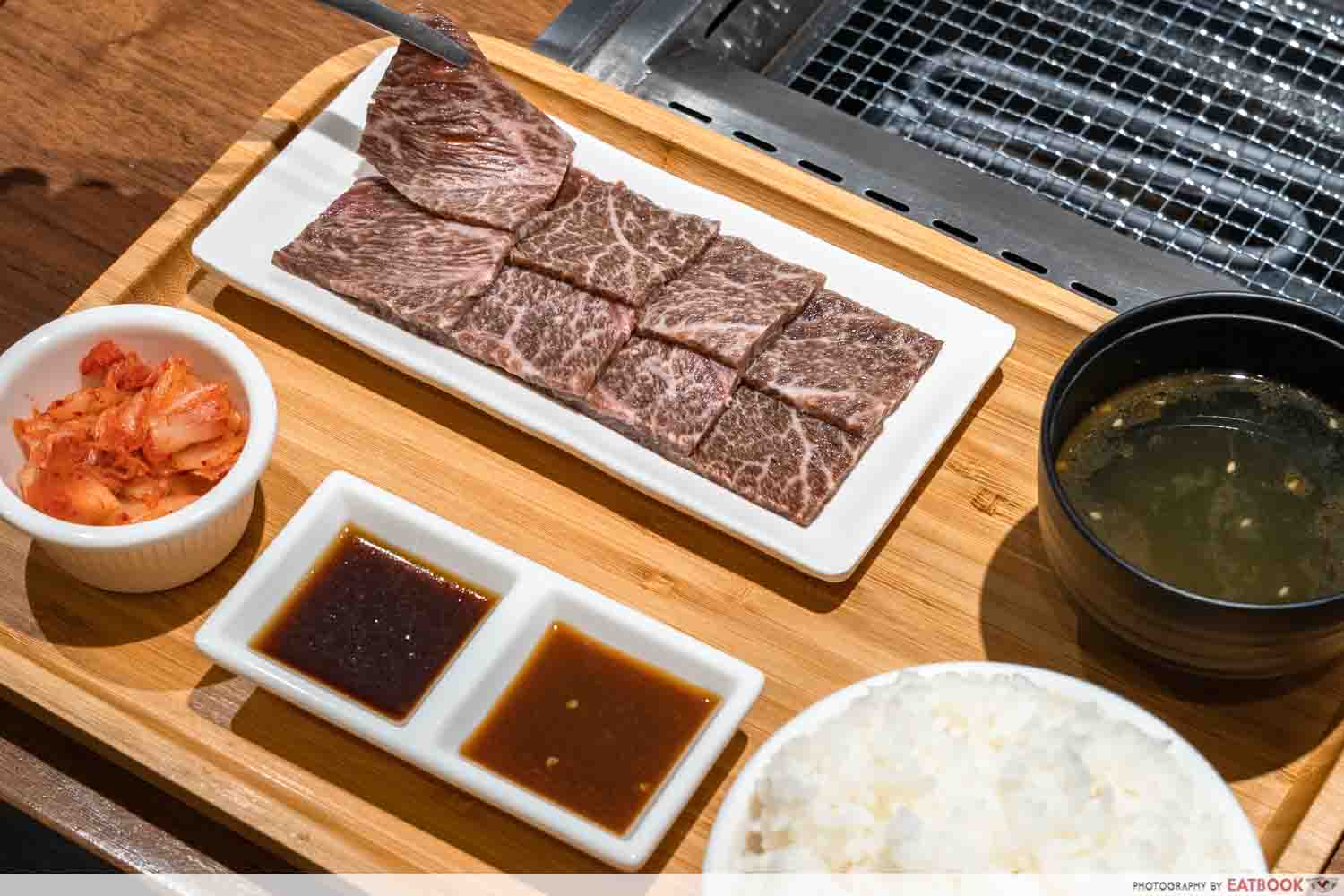 No yakiniku experience is truly complete without Wagyu, so we got ourselves the Premium Wagyu Set featuring A5-grade Wagyu from Japan. If you notice that the meat has a darker colour, that's because Yakiniku OK sources their meat from a halal supplier that rears a different breed of cows.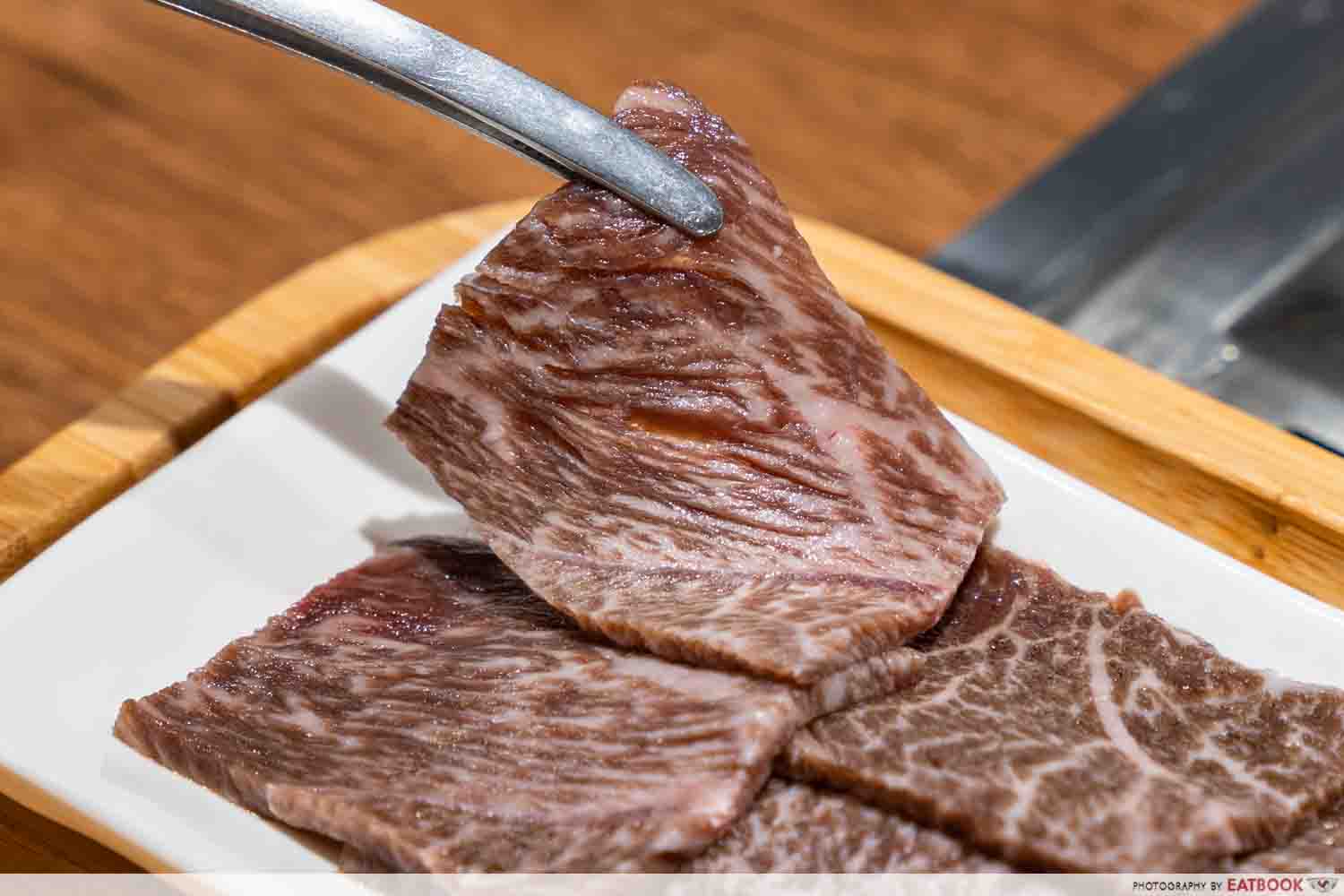 The Wagyu boasted excellent marbling and had a depth of flavour that allow it to be enjoyed on its own without seasoning. Be careful not to overcook the Wagyu as the grill heats up very easily. It's also best enjoyed with the Spicy Garlic sauce, which reminded me of chicken rice chilli but was a whole lot spicier.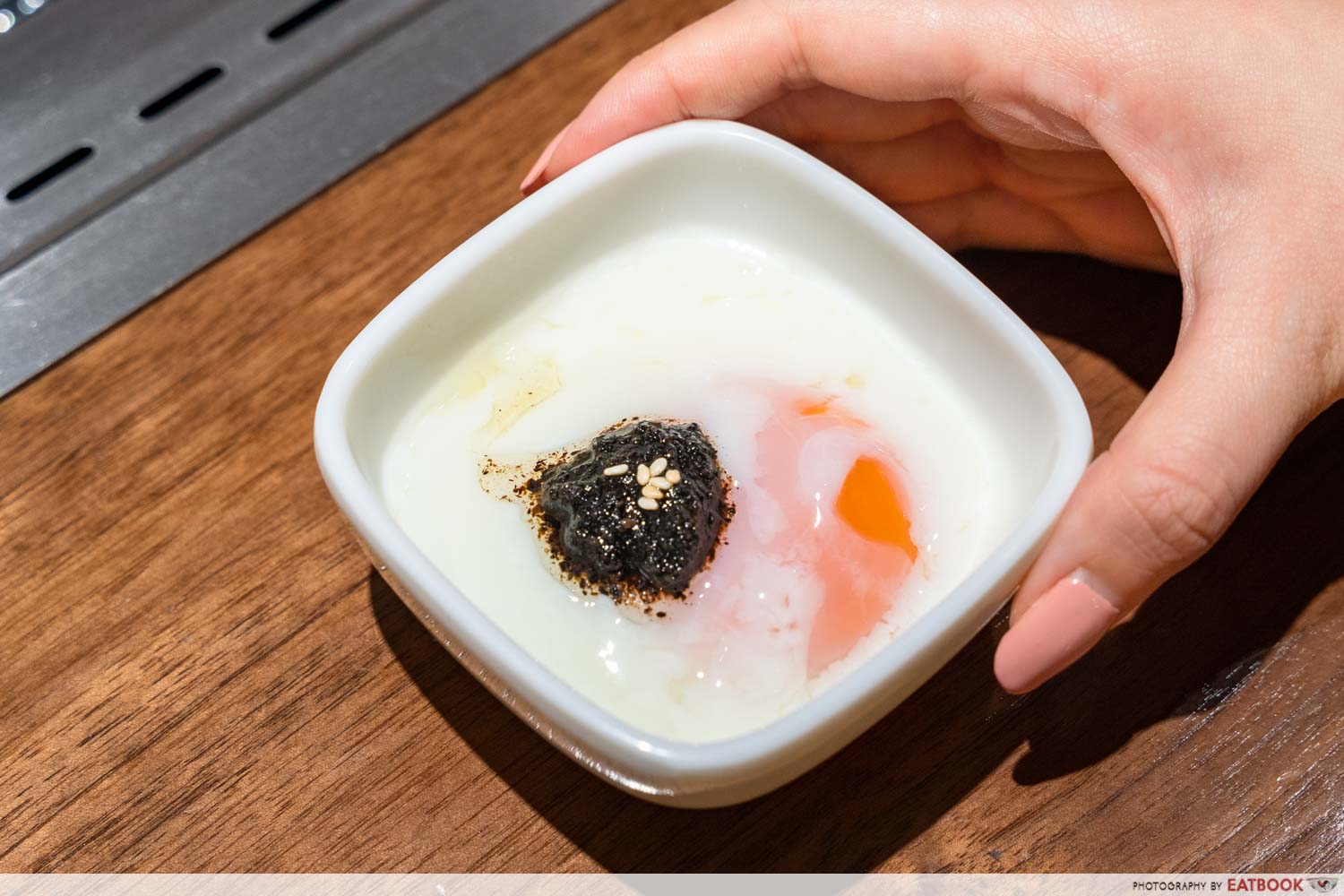 If you love truffle, I highly recommend getting the Truffle Egg ($4.90), which is a zhnged-up version of the traditional yakiniku egg dip. I was amazed by how strong the truffle fragrance was, and couldn't stop myself from repetitively coating the meat with this creamy glaze.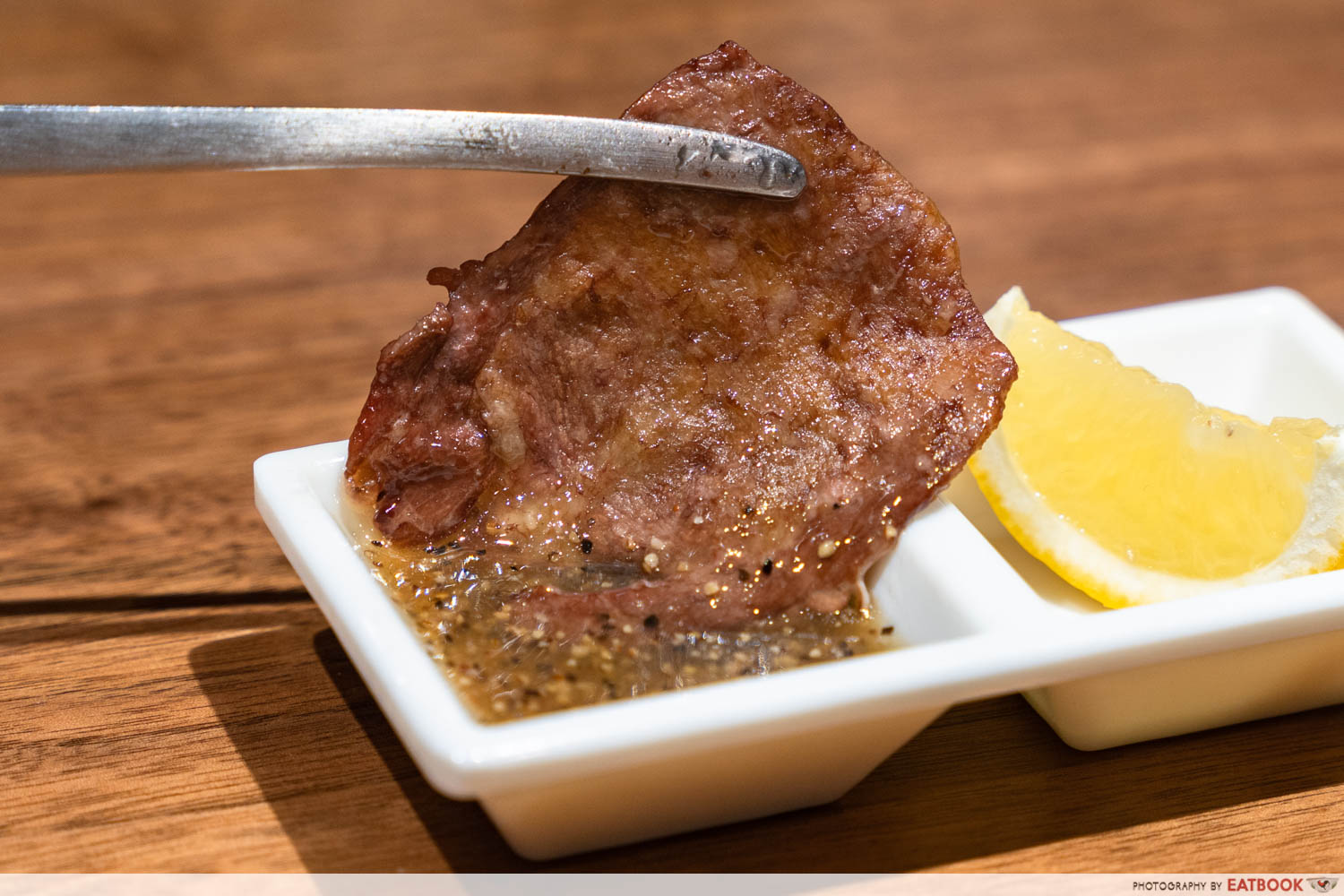 The restaurant also features an ala carte menu, with the cheapest item being the Toriniku Chicken Thighs ($3.90 for 50g). We went for the Gyu Tan ($8.90 for 50g) AKA beef tongue, which had a soft and chewy texture. The gyu tan came with its own exclusive sauce, a zesty yuzu dip with a lemon wedge.
Ambience at Yakiniku OK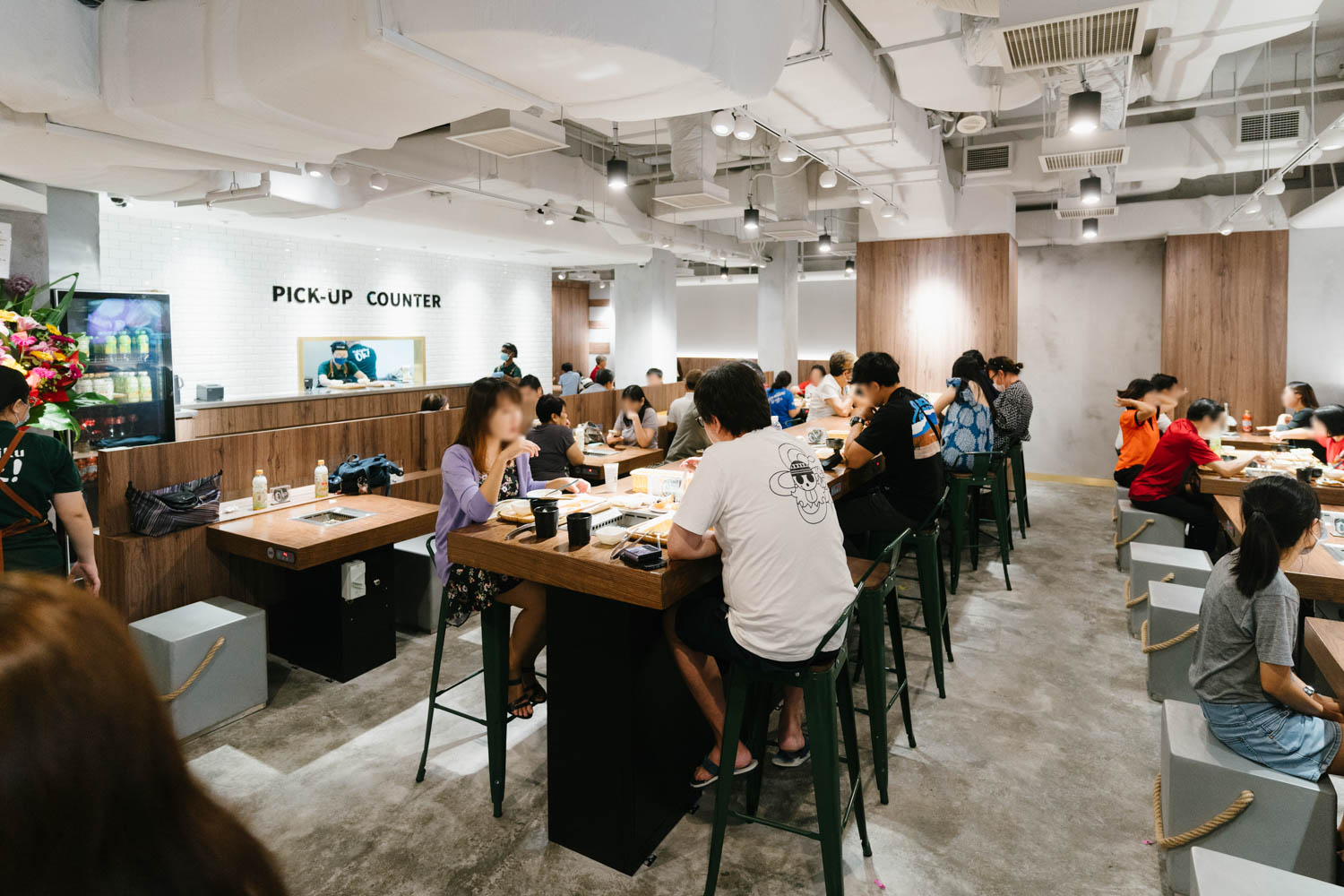 Image credit: Yakiniku OK
Yakiniku OK is a spacious restaurant with tables for couples, large families, and single diners. All tables have a built-in grill system and a silent exhaust, allowing you to cook your meat easily without constantly having to fan the smoke away! There's no pumping loud music here, so you can expect a relaxing atmosphere suitable for catch-ups with friends and family.
The verdict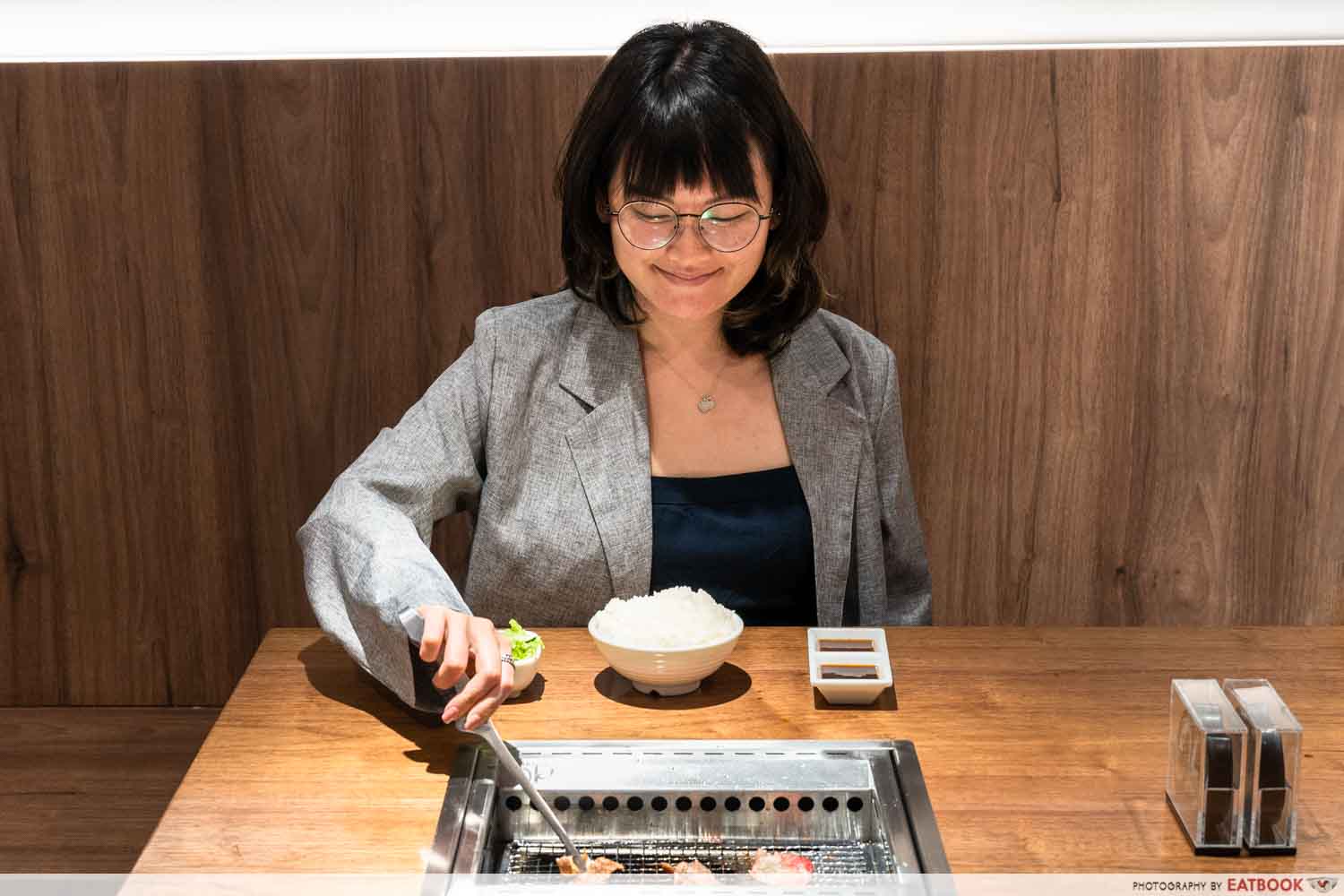 Yakiniku OK is a decent spot for those looking to fill up their tummies without breaking the bank. There is a good variety of meats, and I was impressed with the tastiness of the chicken, Wagyu, and savoury truffle egg. For more details on their ongoing promotions, check out their Instagram and Facebook page.
If you're looking for more good eats in the East, check out these 10 cafes in the east food guide!
Address: #02-12/13/14, White Sands Mall, Pasir Ris Central Street 3, Singapore 518457
Opening hours: Daily 11am to 10pm
Tel: 68449003
Website
Yakiniku OK is currently in the midst of applying for its halal certification, but does not use pork, lard, or alcohol.
Photos taken by Hui Hui Lau.
This post is brought to you by Yakiniku Ok.
Yakiniku OK Review: New Japanese BBQ Restaurant In Pasir Ris With Wagyu Sets
Yakiniku OK Review: New Japanese BBQ Restaurant In Pasir Ris With Wagyu Sets -

8/10
Summary
Pros
– No GST and service charge
– Delicious meats and truffle egg dip
– Affordable prices and ongoing promotions
Cons
– Less convenient location for those not living in the east
Recommended dishes: Zabuton Set ($18.80 for 200g), Premium Wagyu Set ($35.80 for 120g), and Truffle Egg ($4.90)
Opening hours: Daily 11am to 10pm
Address: #02-12/13/14 White Sands Mall, Pasir Ris Central Street 3, Singapore 518457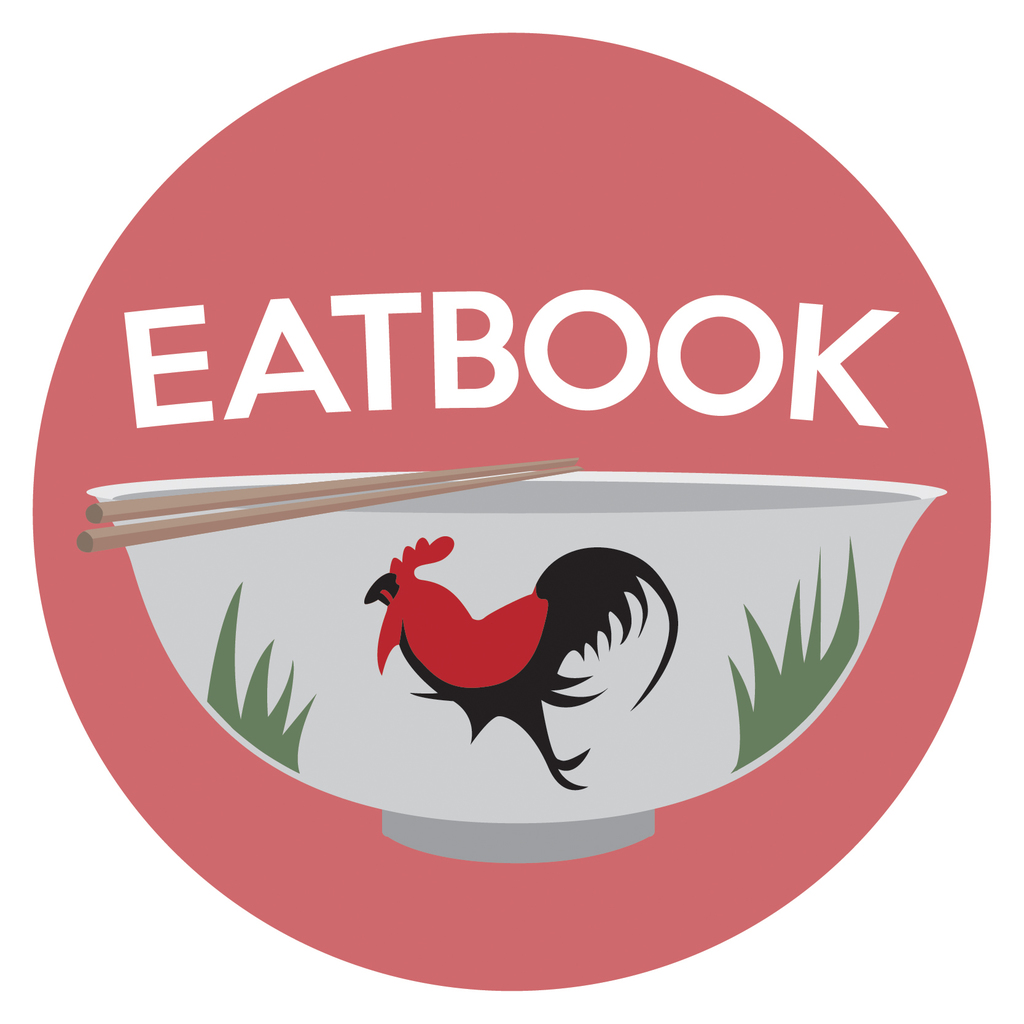 Drop us your email so you won't miss the latest news.