Eat 3 Bowls has lu rou fan that tastes just like Taiwan's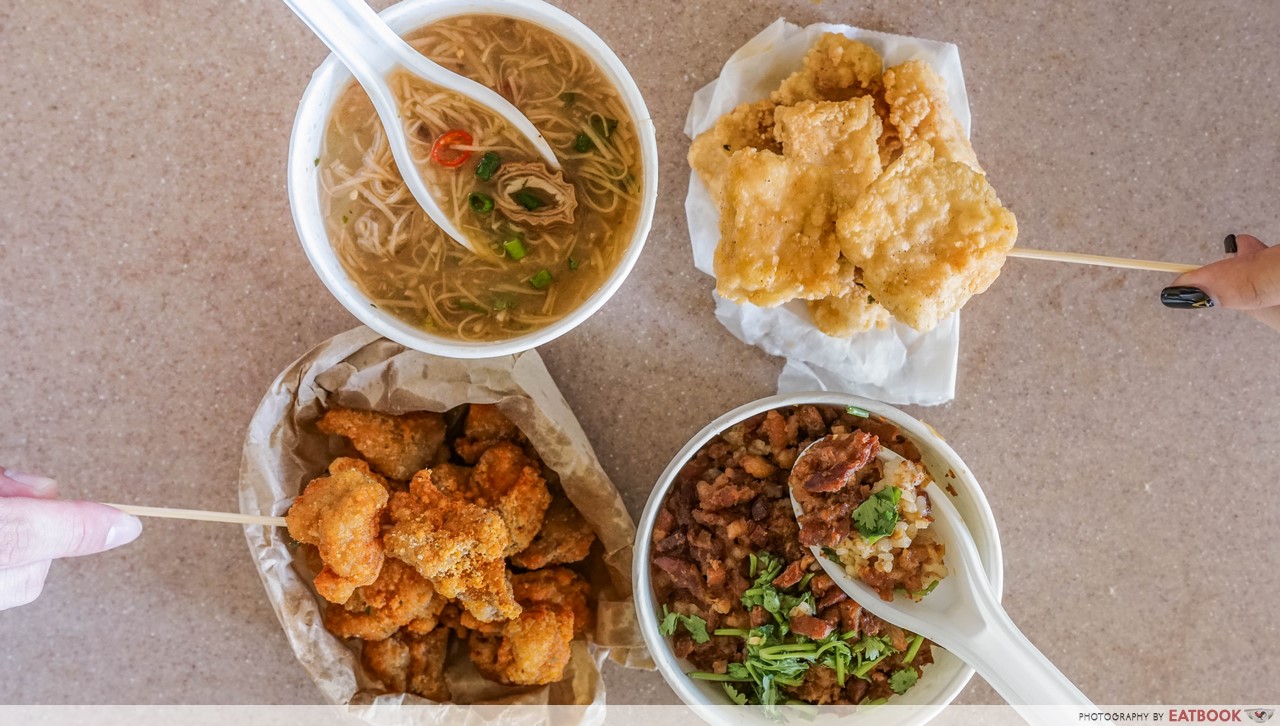 Hang out with friends who've just returned from Taiwan and you'll hear the same gripe: "I miss lu rou fannn." As much as milk tea holds a special place in our hearts, you'll gain more street cred when you overload on more braised pork rice than you can count – the same reason why it's impossible to stop your pals from raving about it once they're back.
That was what I had assumed till I realised I could exchange $2.50 for a moment of silence and a bunch of happy friends. I'm talking about Eat 3 Bowls, a stall at Seah Im Food Centre that serves this popular street food and more that'll curb some massive cravings.
Food at Eat 3 Bowls
Focusing on Taiwanese street snacks, Eat 3 Bowls offers items such as mee sua and fried chicken – kinda like your ever popular Shihlin Taiwan Street Snacks. Our mission that day was to see if their Lu Rou Fan ($2.50) could compare to the OG ruling the streets of Taiwan.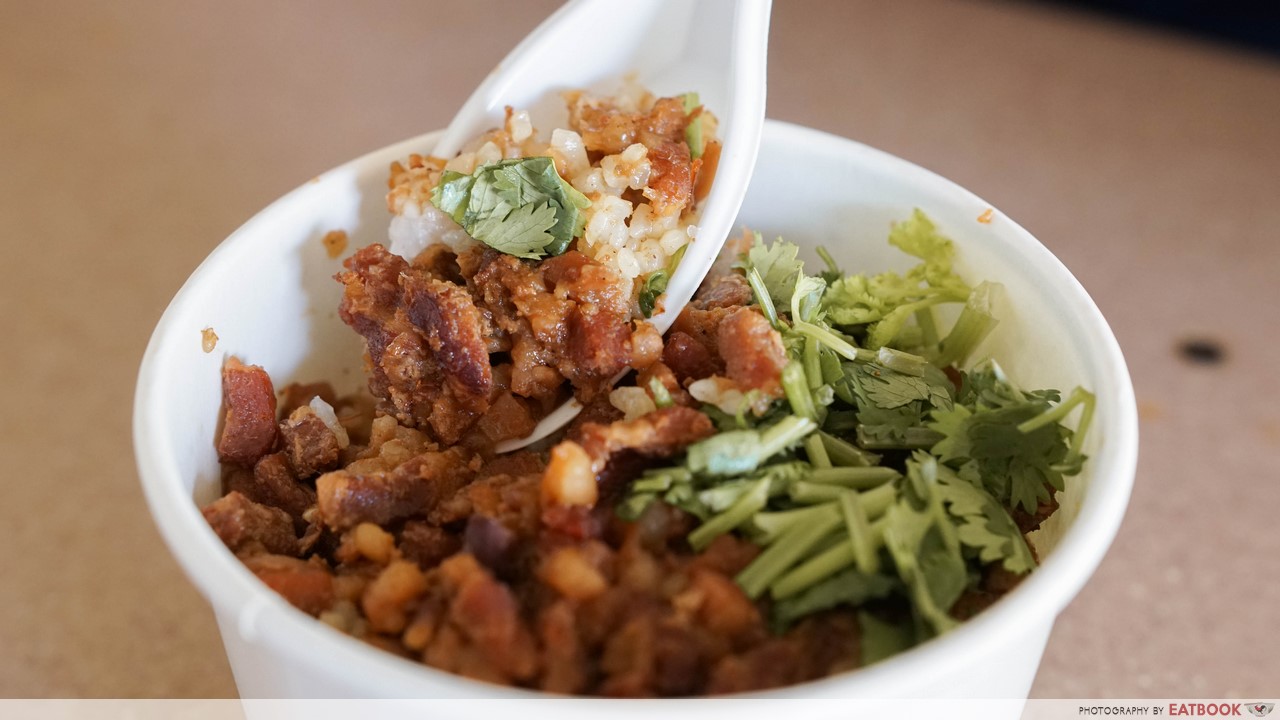 The dish arrived, its presentation simple. White rice peeked beneath a heap of braised meat and parsley, and we eased our spoons in for an equal portion of protein and carb. The first bite was a savoury explosion balanced out by slight bitterness from the parsley. The second, was a mouthful of caramelised pork that had me reaching for the next bite. The mix of lean and fatty pork gave the dish a variety of textures, so each bite contained a bit of chewiness with spikes of creamy fat.
While it didn't taste just like the original version, it did come pretty dang close. It was like a homemade version of the lu rou fan you can find scattered across the streets in Taiwan, and we were impressed.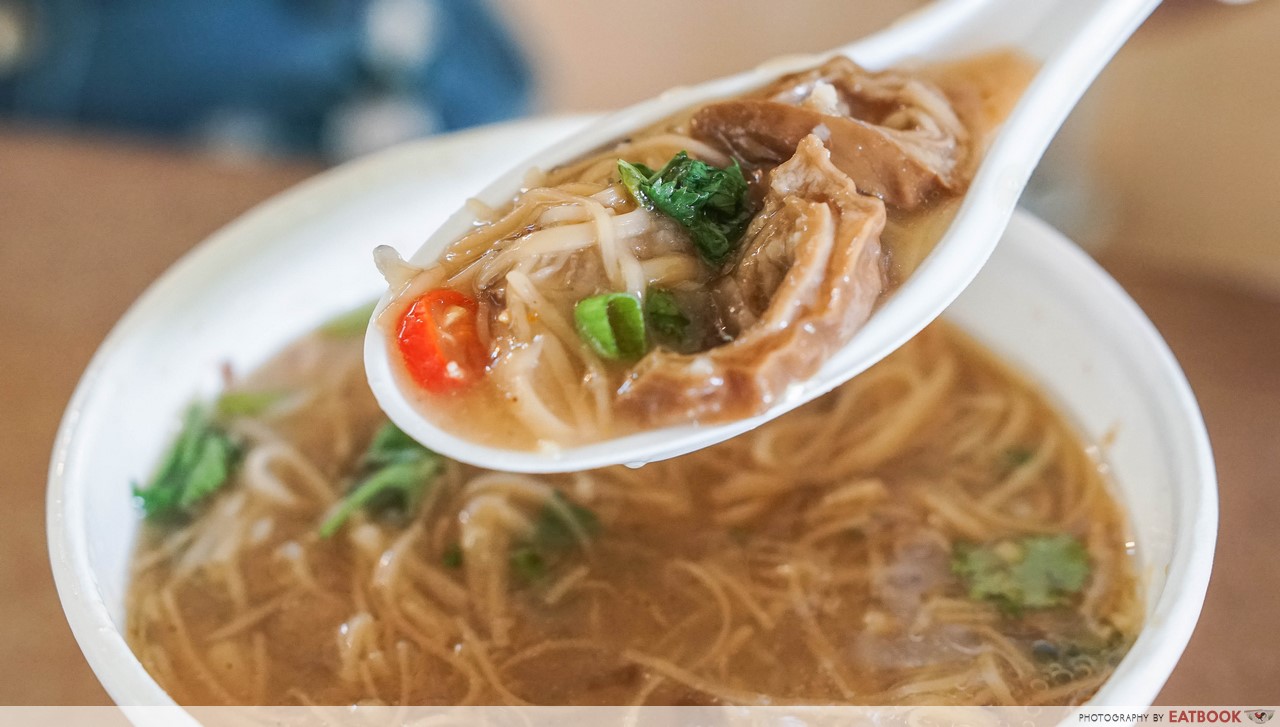 I was never a fan of intestines, but we couldn't leave without trying Intestine Mee Sua ($3.50). Turns out, it wasn't as horrifying as I had imagined it to be. It was peppery, vinegary and savoury all at the same time, with just the right amount of sour. The kind that whets your appetite instead of tightening your jaw with fear.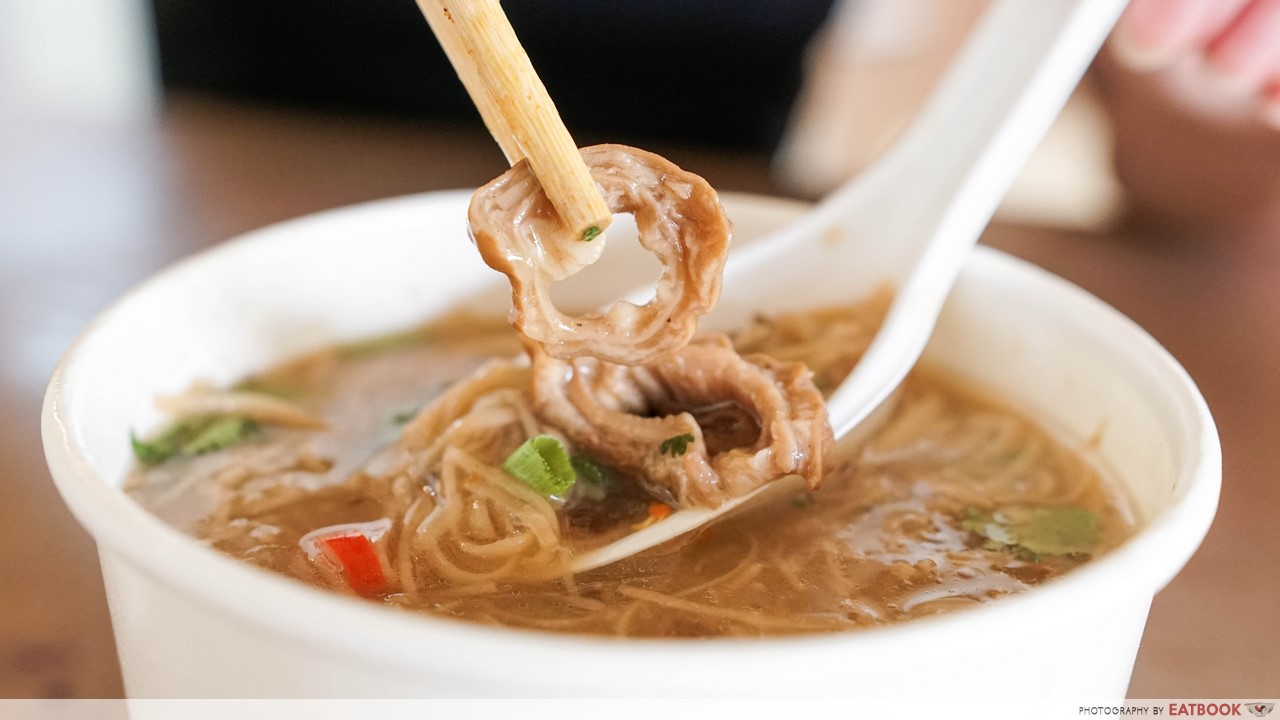 The intestines aren't bad. I had braced myself for the worst but they weren't chalky, so I managed to have a couple. It could also have been because they were smaller than usual, and the gravy was strong enough to mask any odour it might've had.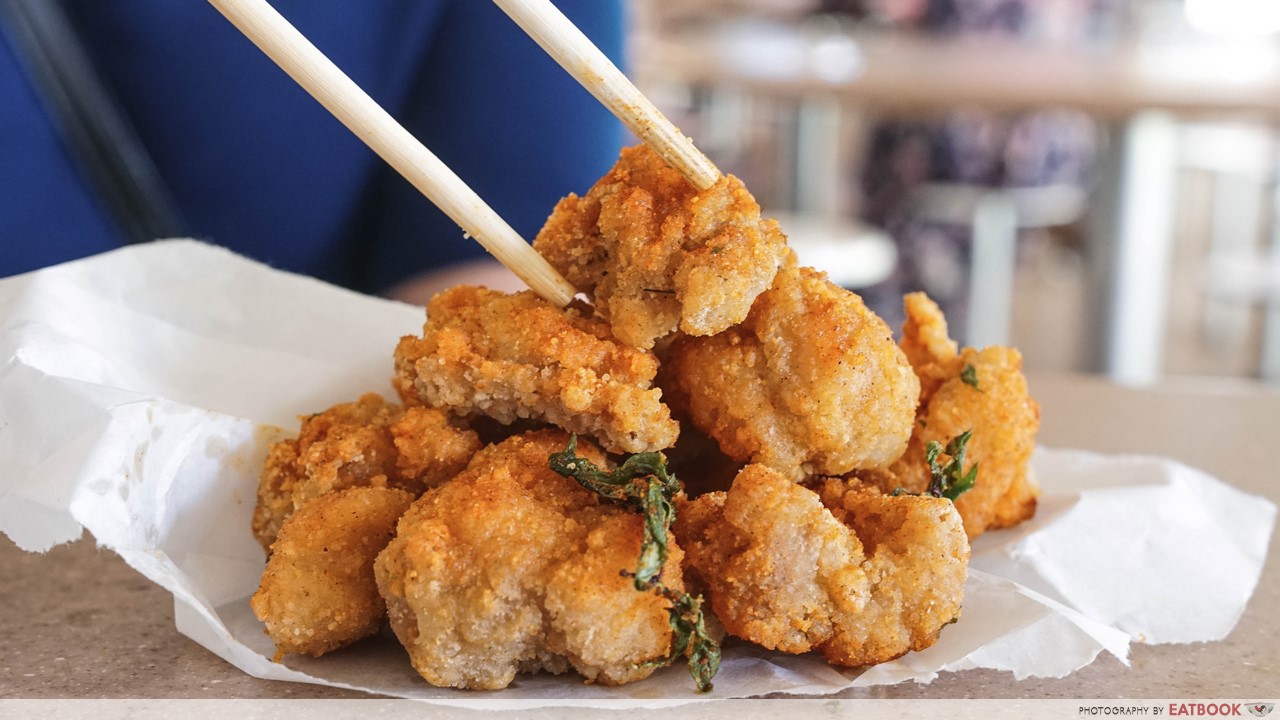 To skip on fried chicken would be a crime, but the Salted Crispy Chicken ($4) wasn't what we had expected it to be. They reminded us of popcorn chicken, except larger with a little spice seasoning. There was also a nagging taste of stale oil, which put us off.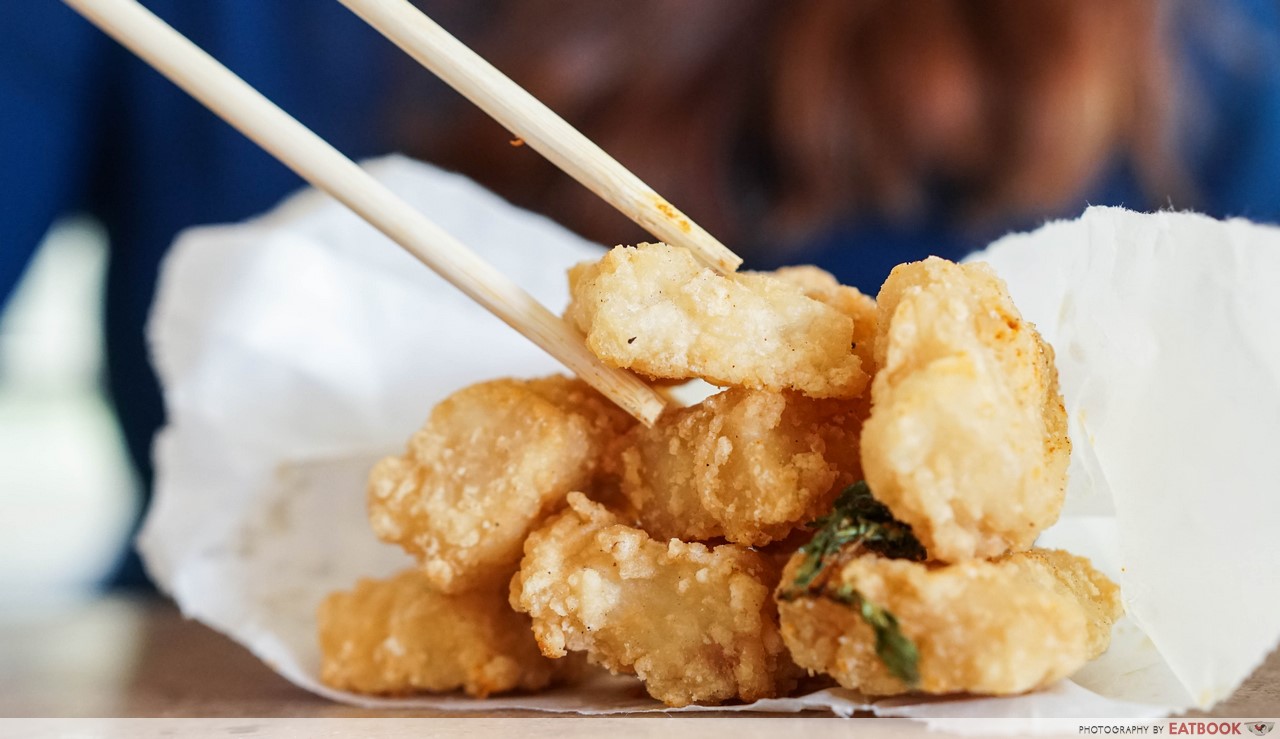 Fried Fish Fillet ($4.50) fared better with a crisp outer coat and flaky meat. Unfortunately this tasted like stale oil too, but we like how the batter was just thick enough to coat the chunk evenly.
Ambience at Eat 3 Bowls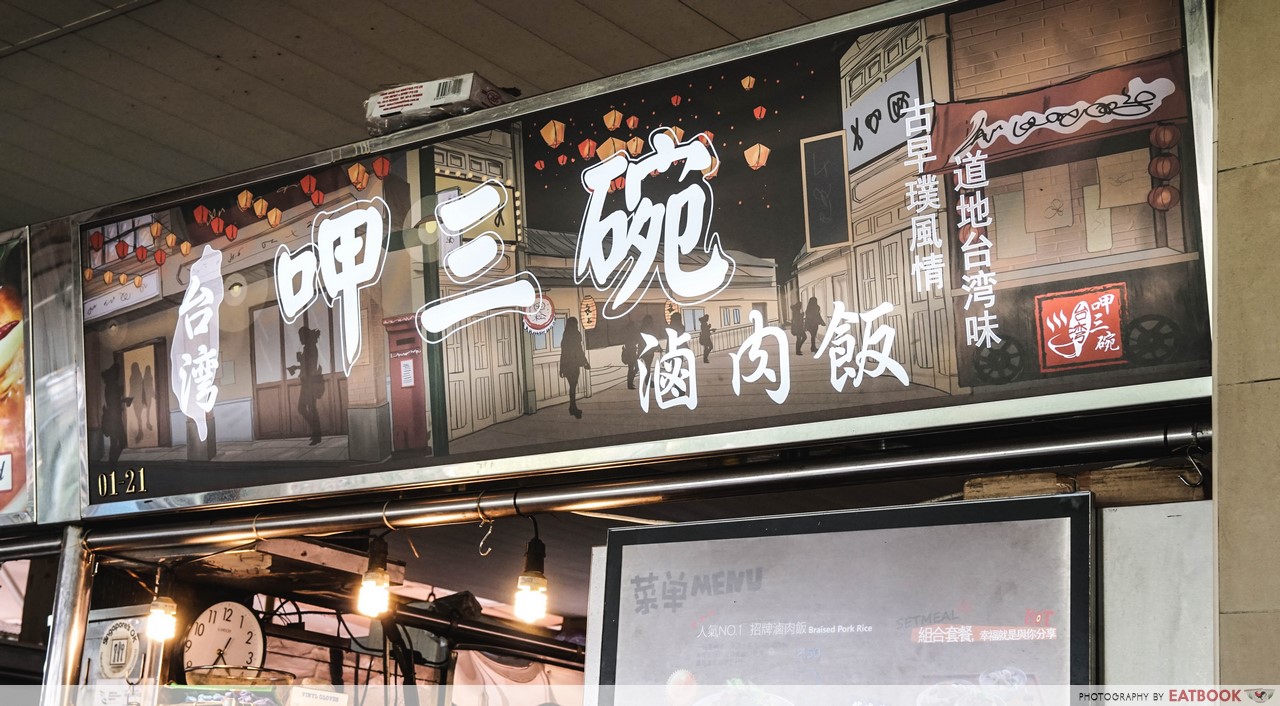 Situated at Seah Im Food Centre, it might get too warm and stuffy on a hot day. But there are ample fans in the food centre so just scout around for a good seat and you'll be fine. It took us five minutes to walk there from Harbourfront MRT Station, and there were signs leading to where it is so you won't have to worry about getting lost.
The verdict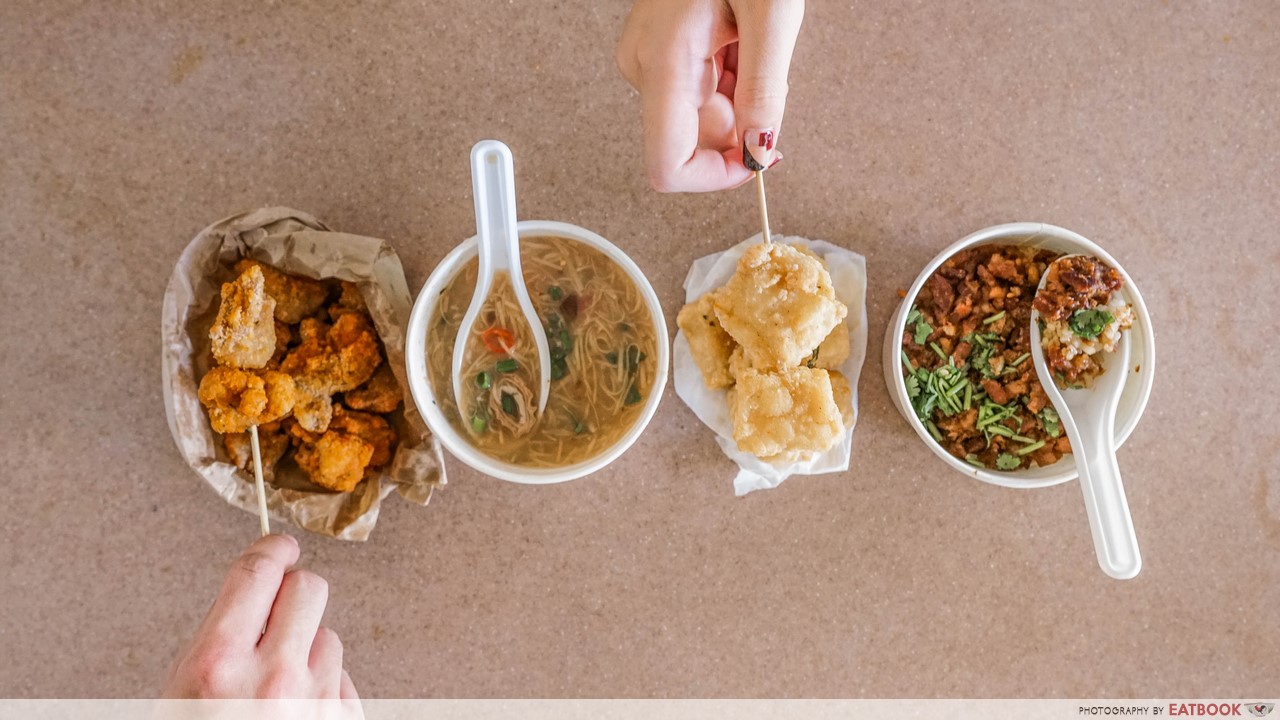 I don't know where else you'd find a lu rou fan that tastes this good for $2.50 in Singapore. It's definitely worth a trip down just to have a bowl, so if you've always wanted to try this dish out for yourself, you know where to go.
Address: 4 Seah Im Road, #01-21, Seah Im Food Centre, Singapore 099115
Opening hours: Mon-Sat 9:30am to 8pm
Tel: 9154 8191
This is an independent review by Eatbook.sg.
Summary
Pros
- Value for money
- Lu rou fan was done very well
Cons
- The environment might put some people off
- Other dishes were mediocre
Recommended Dishes: Lu Rou Fan ($2.50), Intestine Mee Sua ($3.50)
Operating Hours:
Monday - Saturday 9:30am to 8pm
Tel:
9154 8191
Address: 4 Seah Im Road, #01-21, Seah Im Food Centre, Singapore 099115