15 Stamford By Alvin Leung at City Hall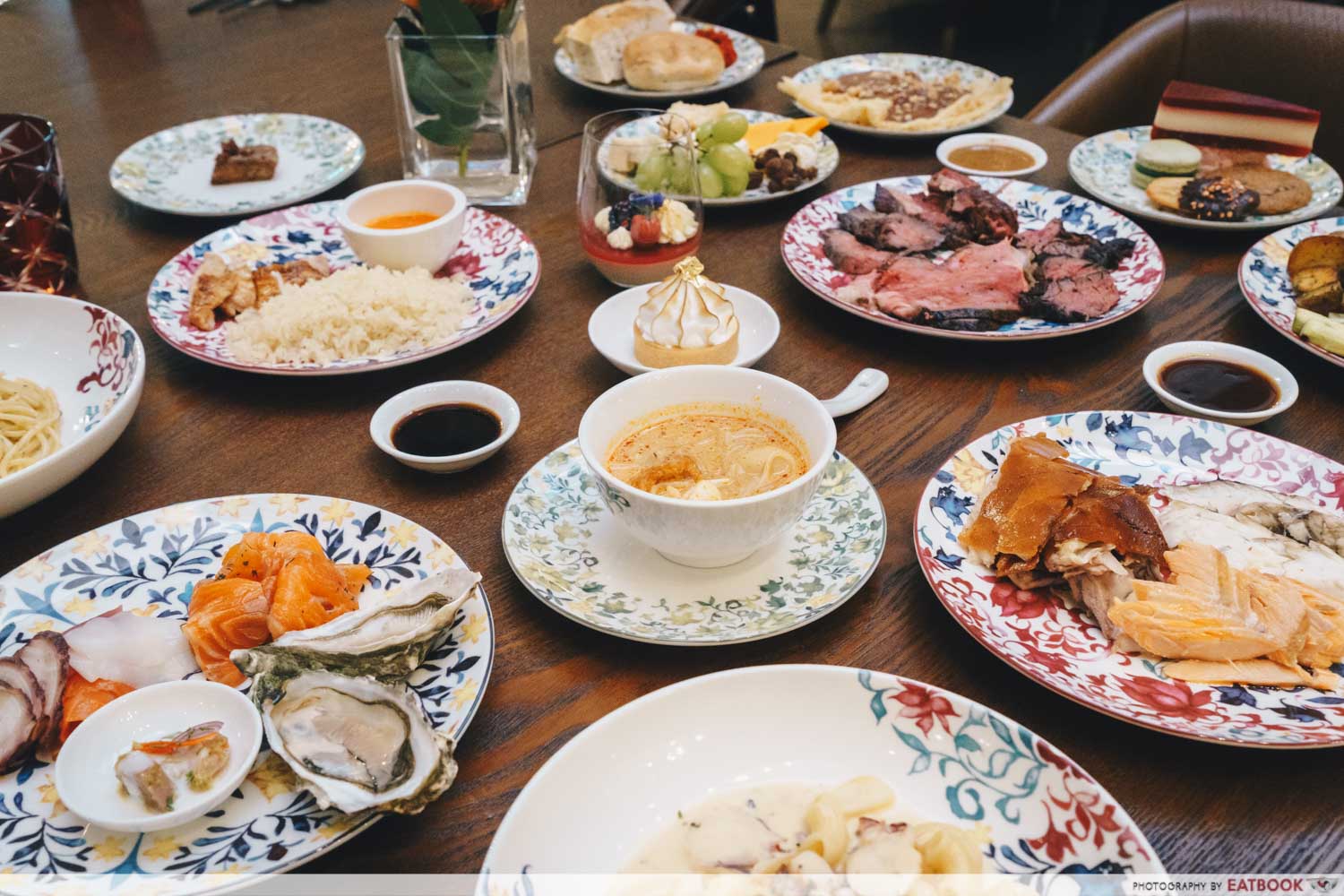 I never found it easy to splash anything above $100 for food, especially when a simple $4 plate of roasted pork rice can put a smile on my face. Bottom line is, it takes a lot to impress me when it comes to pricey food.
However, the $148++ Sunday brunch buffet at 15 Stamford By Alvin Leung got my attention with their free-flow spread of premium dishes such as foie gras, suckling pig, wagyu beef and more. Ridding activities off our precious Sunday afternoon, my colleague and I tread on to The Capitol Kempinski Hotel to find out if the buffet is really well worth its hefty price tag.
Food at 15 Stamford By Alvin Leung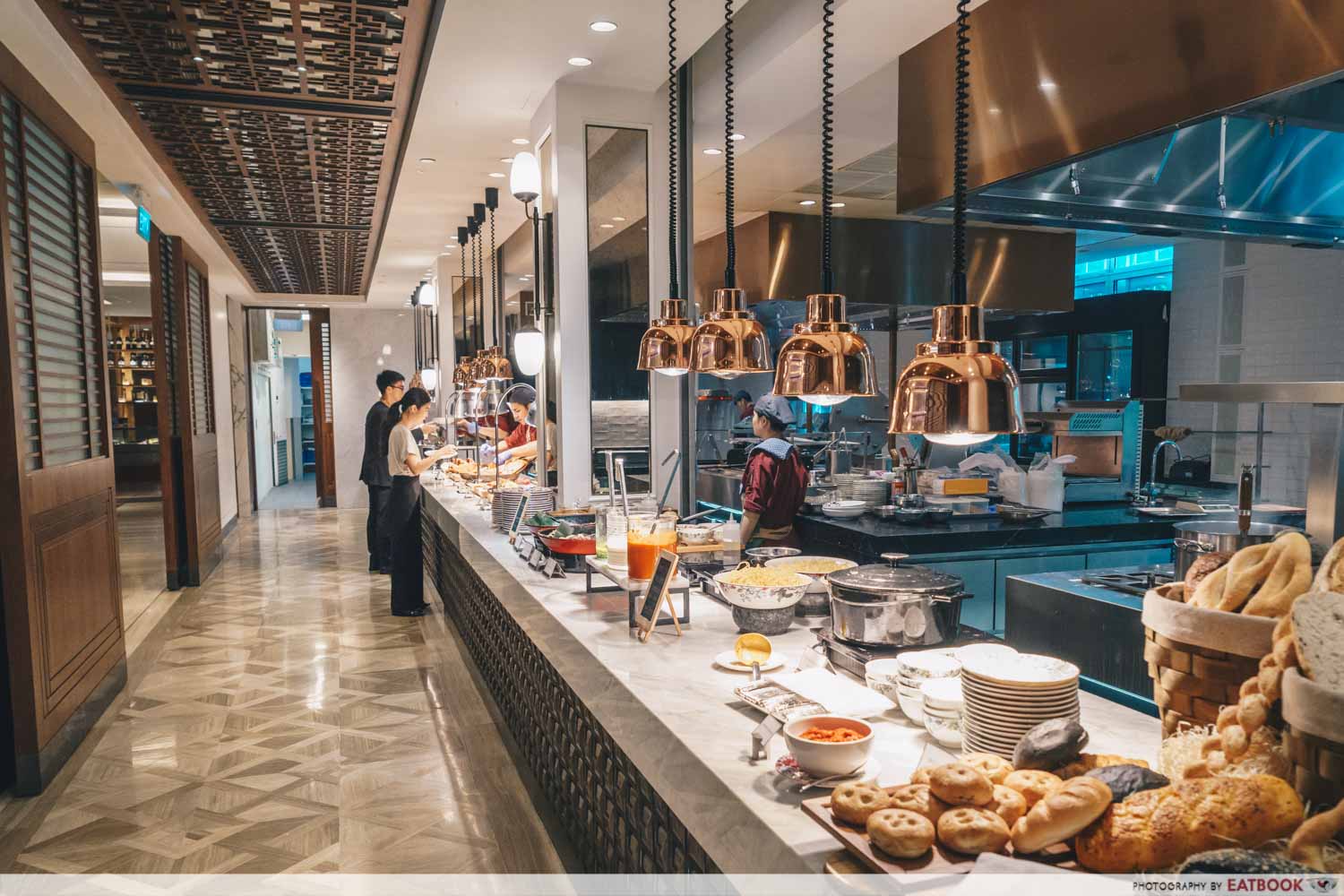 This brunch buffet boasts one of the most extensive spreads I've ever seen. It covers almost all the bases, from local dishes to Asian and Western cuisines. You're in for a treat if desserts are your guilty pleasure too.
Be spoilt for choice starting from their open kitchen which features freshly cooked 15 Stamford Laksa bowls, wagyu beef, foie gras and more.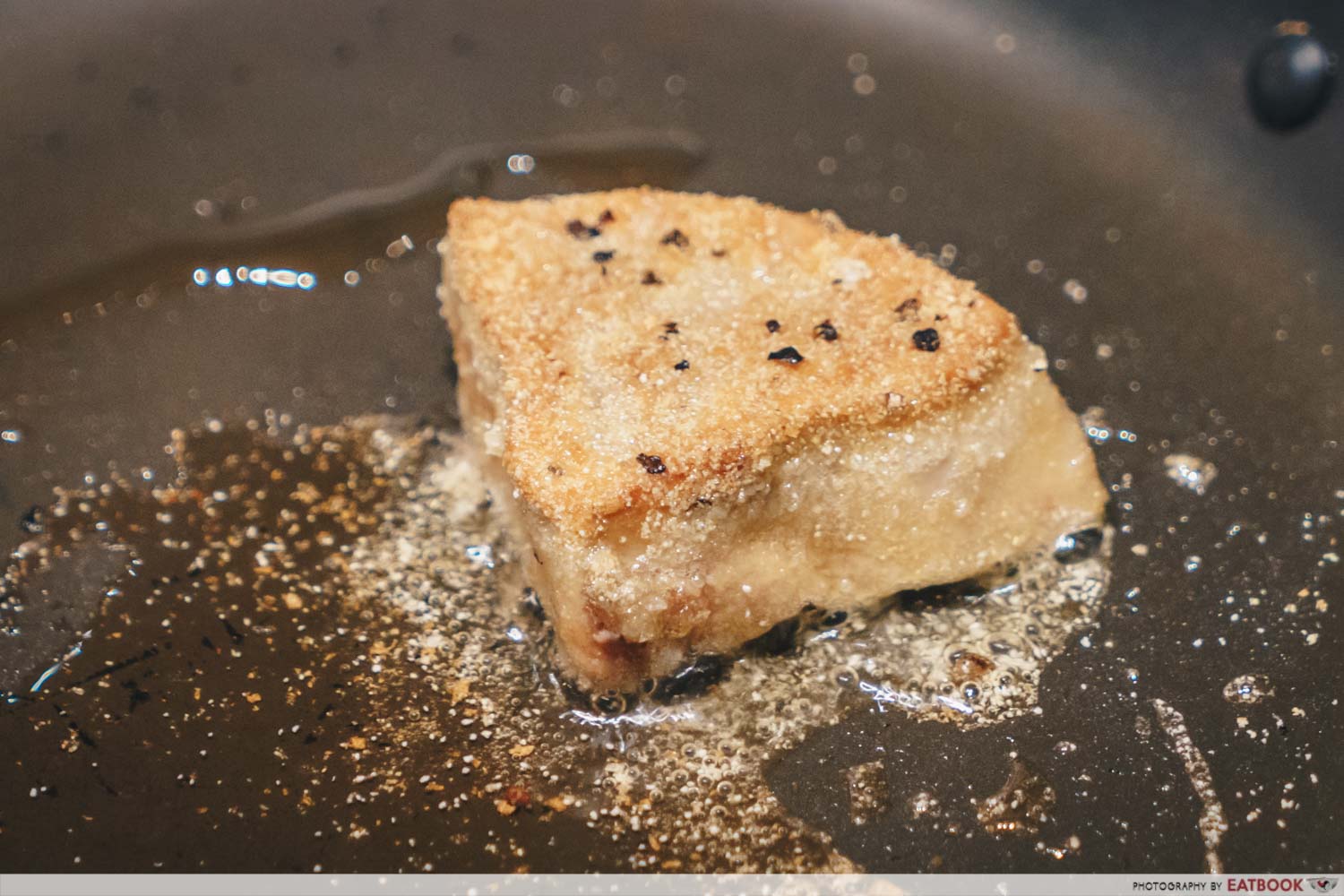 Saving the best for last is a no-no, especially with the foie gras live station. This is the first dish I recommend making a beeline for. 
The goose liver is pan-fried on high-heat and coated with finely milled corn grits for a beautiful crunch on the edges. Seasoned with a pinch of salt, pepper, and a dash of vanilla rum, this buttery chunk is a flavour bomb at its optimal form. Savour the dish with a spoon of pineapple chutney for a sweet and savoury combination.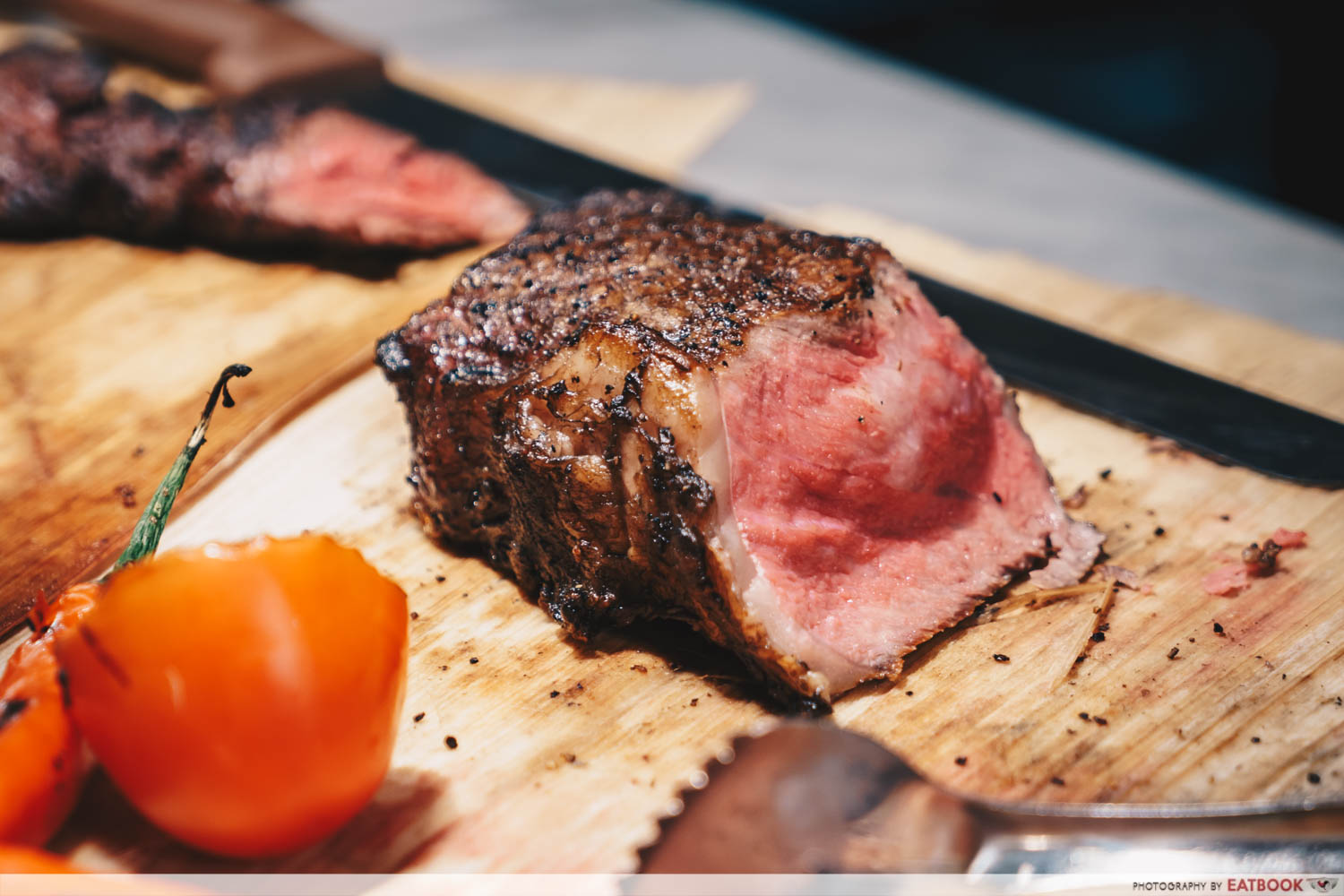 Head over to the next section for their wagyu beef. Choose from three kinds of steak: the hanger steak, strip loin, and tomahawk.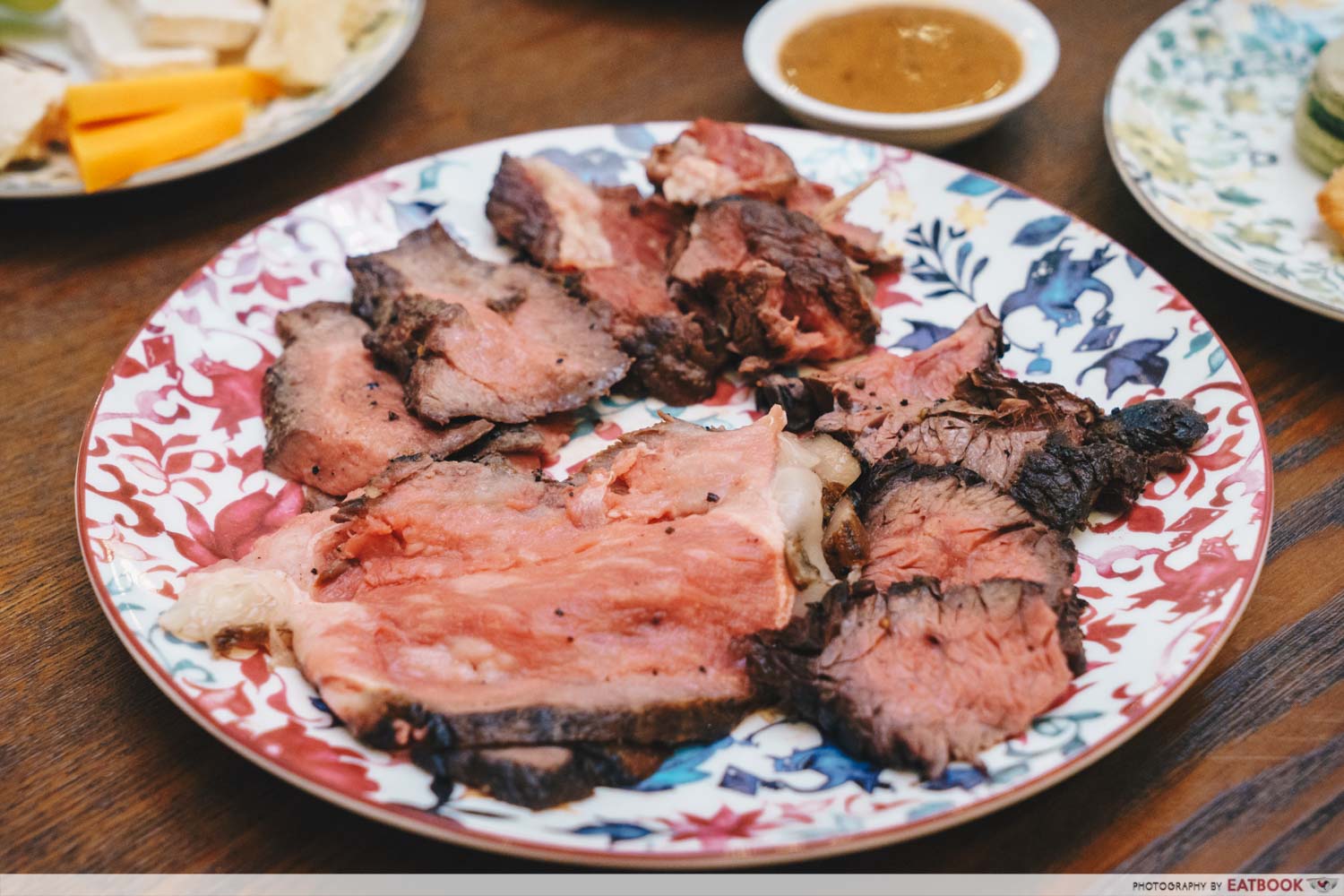 The best part of the bunch is the hanger steak. Also known as the 'butcher's secret', this steak is found mostly at higher-end restaurants because of its rarity—there's only one hanger steak per animal. Located near the diaphragm, the steak is a muscle which doesn't do much work.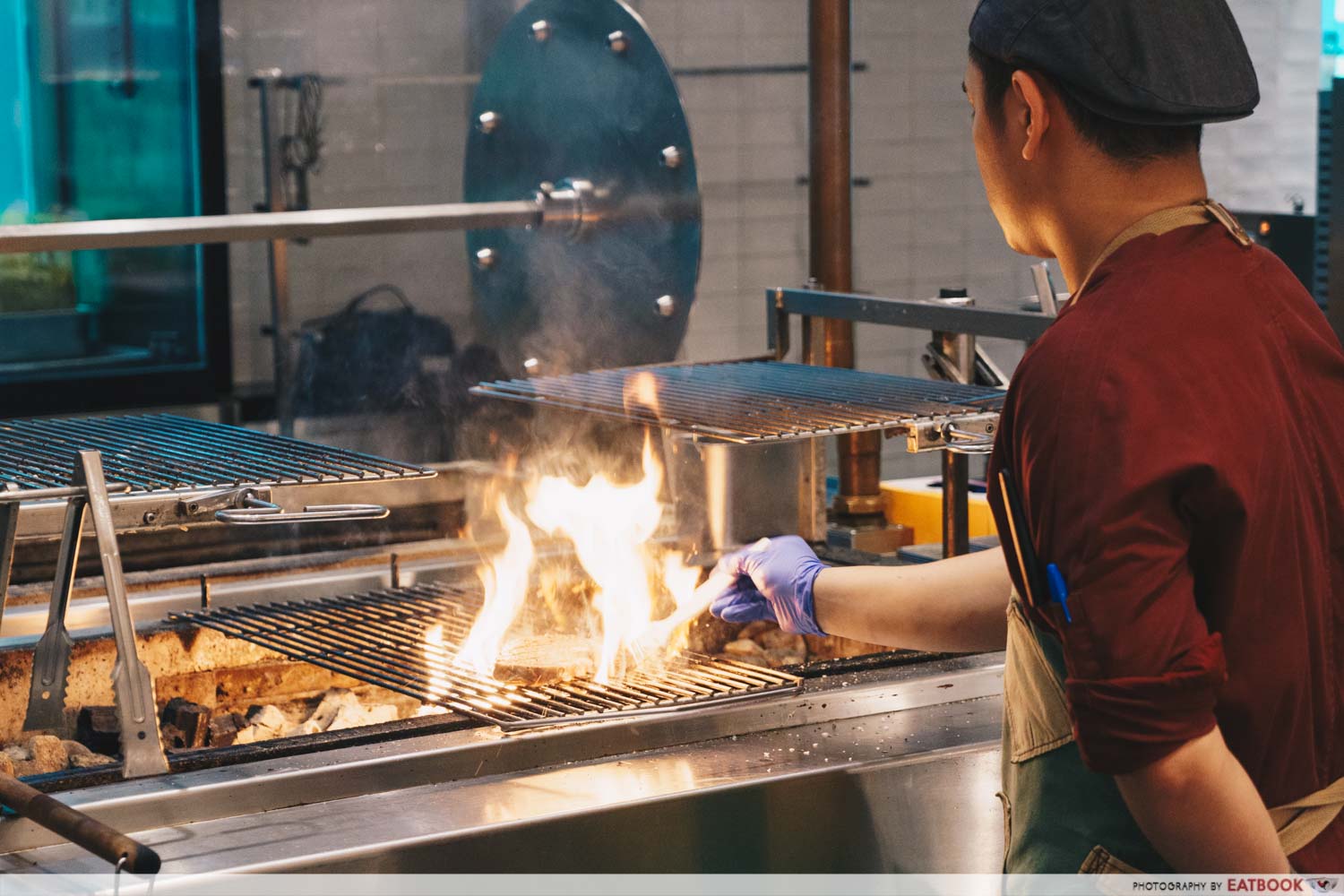 This is the reason why the coveted steak is seared on a smoking-hot charcoal grill and is done almost rare, so you can enjoy how naturally tender it is.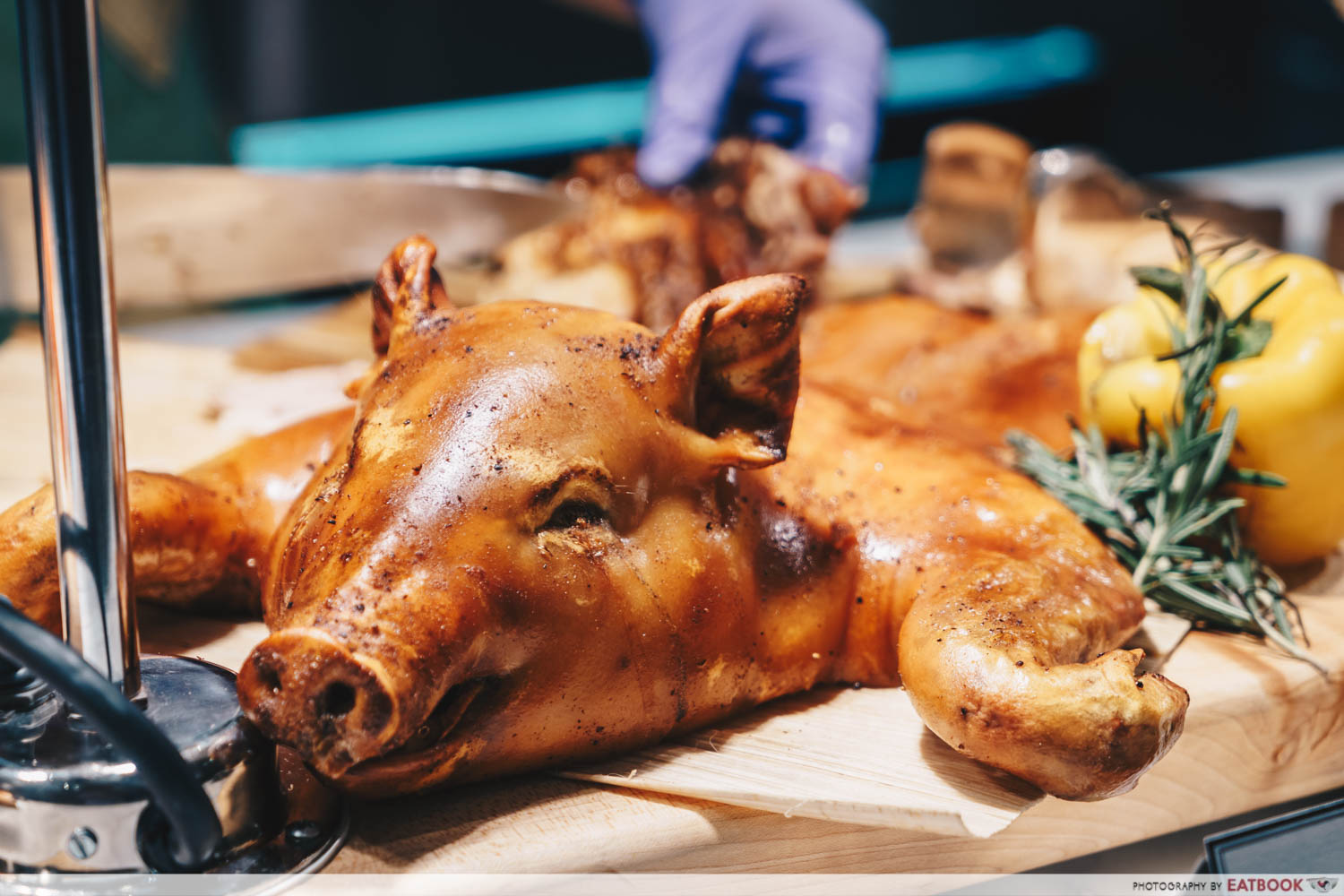 I was also surprised to find a whole Suckling Pig in the brunch buffet spread. Usually available on special occasions such as weddings, this elusive roast pork is now free for you to enjoy as much as you want.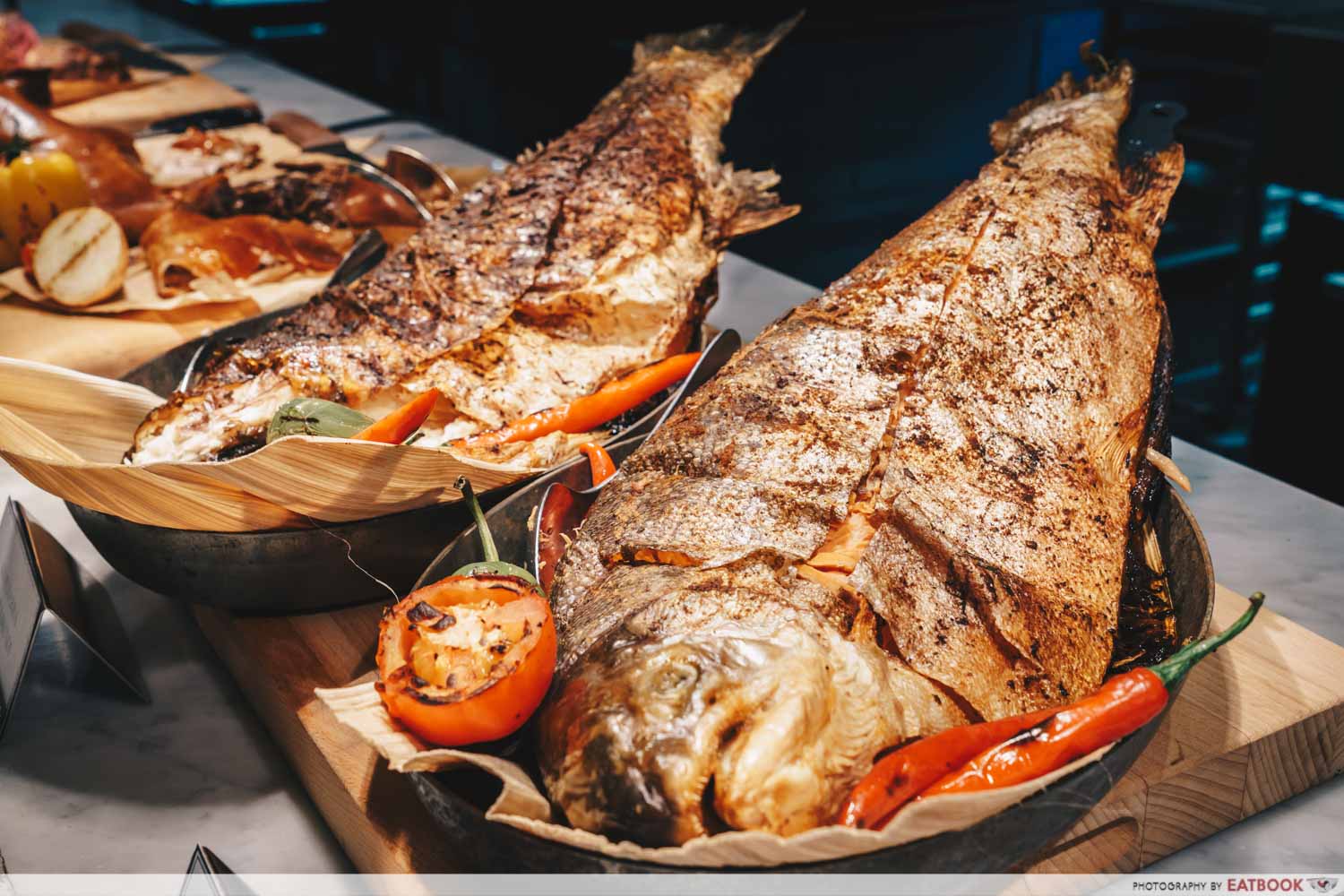 Seafood lovers are also in for a treat with this duo of big, baked fish. The fish on the left is the Kuhlbarra Barramundi. Grown in Singapore waters, the barramundi is fresh and mildly sweet thanks to the farm-to-fork and harvest-to-order practices of Kuhlbarra. 
The second fish is the Fjord Trout. Unlike the river trout which is sometimes plagued with a slightly muddy taste, the Fjord trout is clean-tasting due to the crystal-clear mix of glacier water and seawater they are farmed in.
Pro tip: trouts are known to store fats in their belly, so head straight for their deliciously fatty belly and savour the rest of their firm and lean, low-fat high-protein meat later.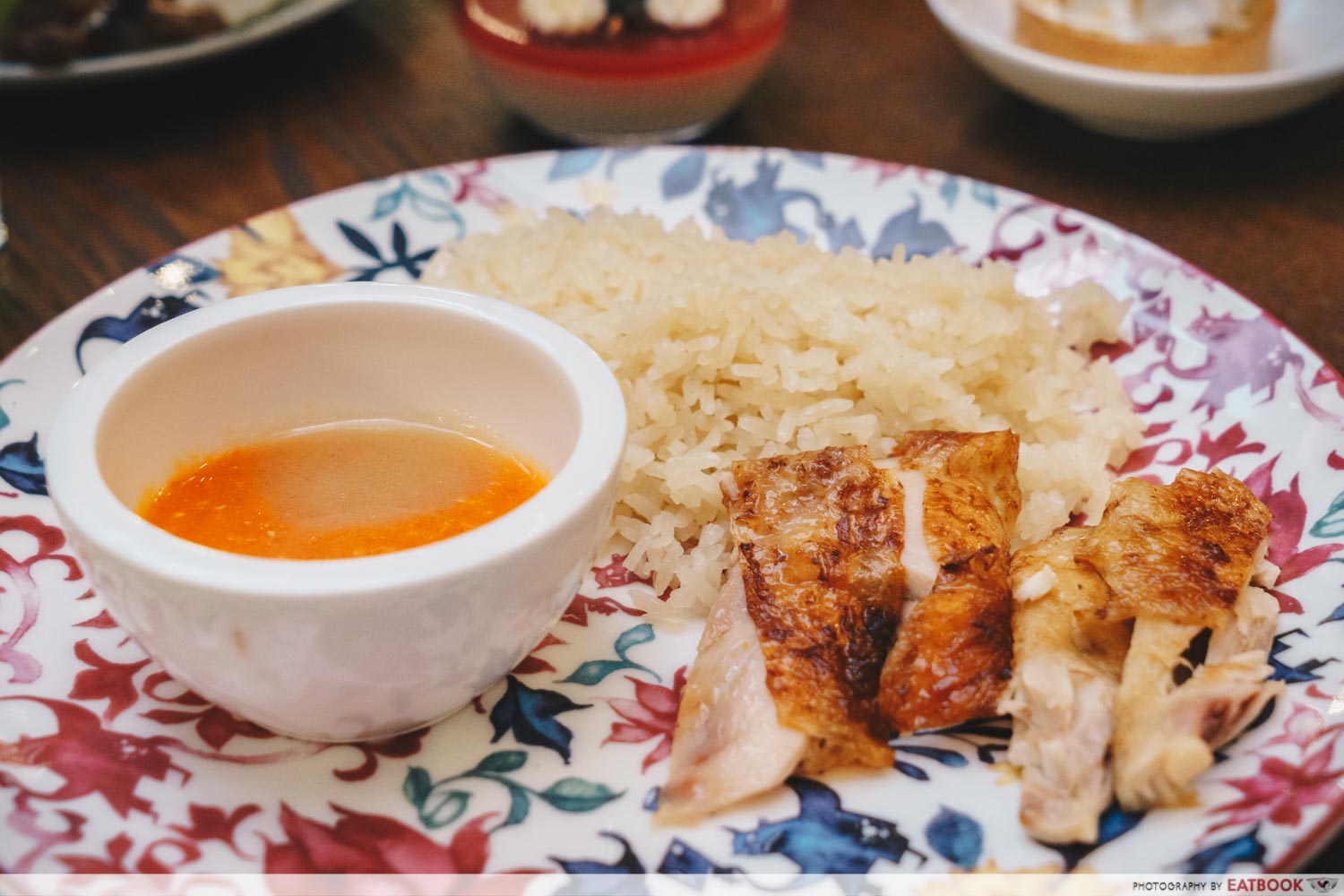 15 Stamford By Alvin Leung also serves local classics such as their fragrant 15 Stamford Laksa and 15 Stamford Chicken Rice, which comes with tender slivers of roasted chicken thigh along with sweet and spicy chilli.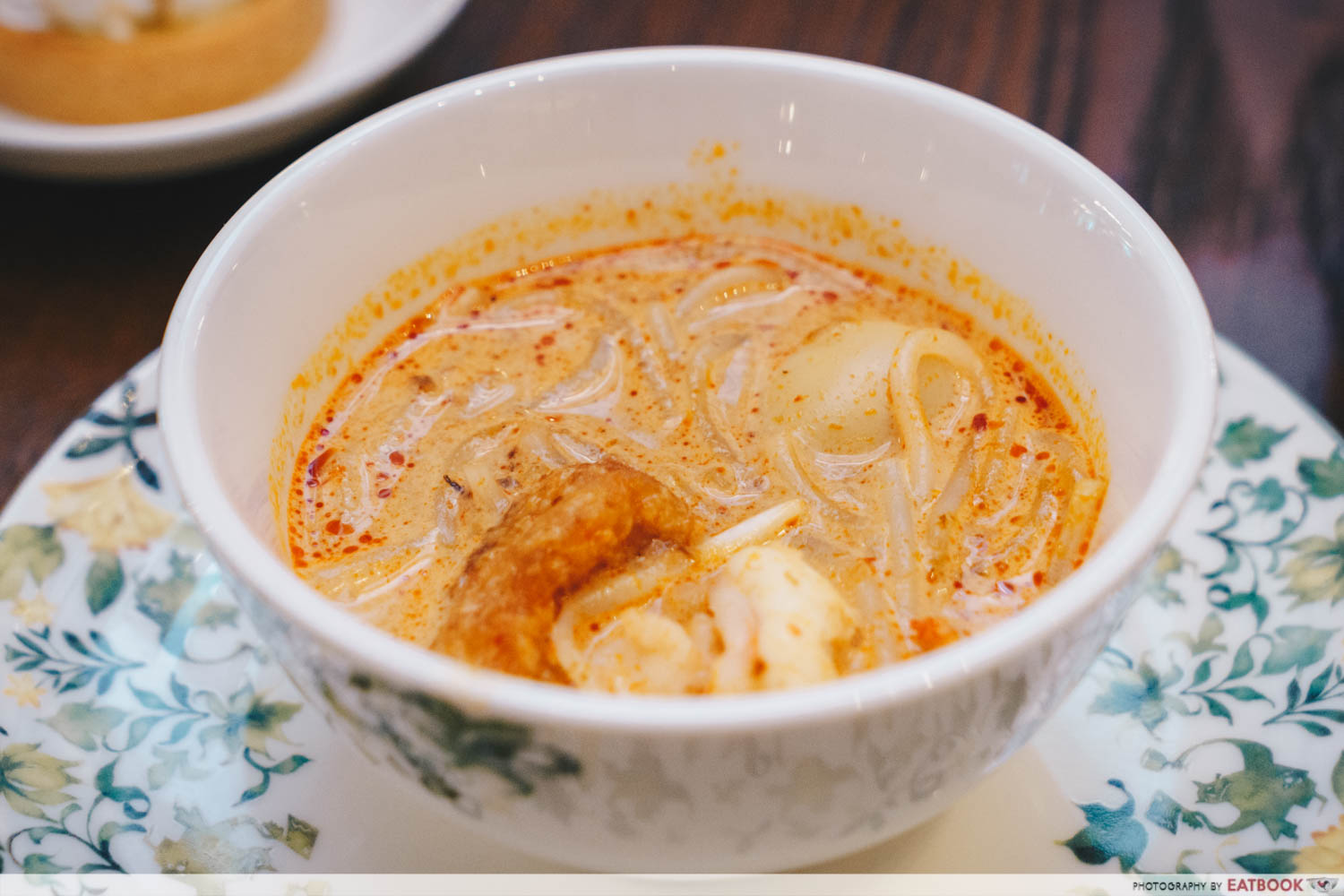 These dishes by the 'Demon Chef' are so rich in flavour that it made me go back for more servings—something my mother would scold me for, as they are full of carbs and readily found in hawker centres.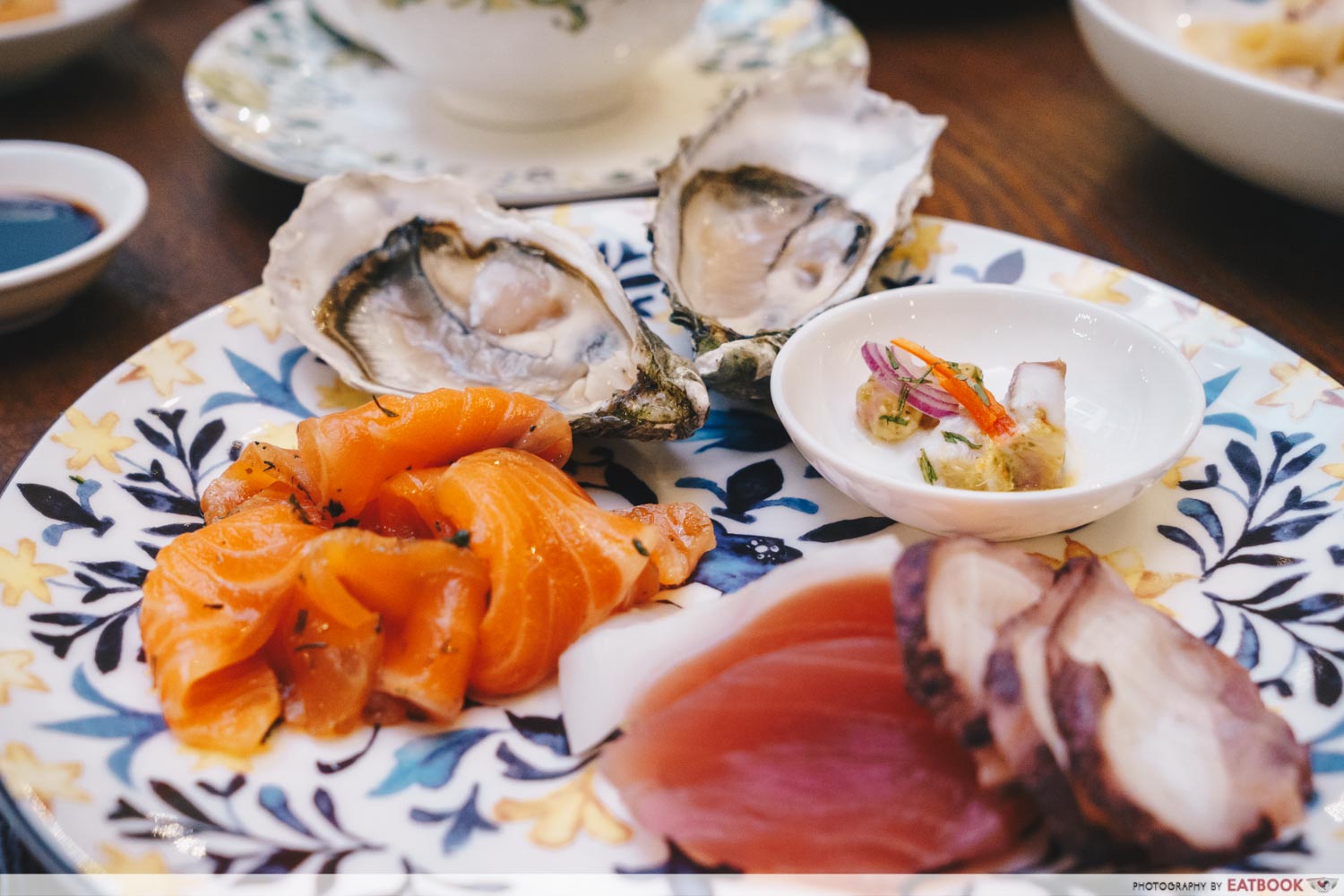 This buffet is also great for those looking to have their fill of sashimi as there's also a Japanese spread featuring assorted sushi, maki, Salmon Gravlax, and Yellowtail Amberjack Ceviche.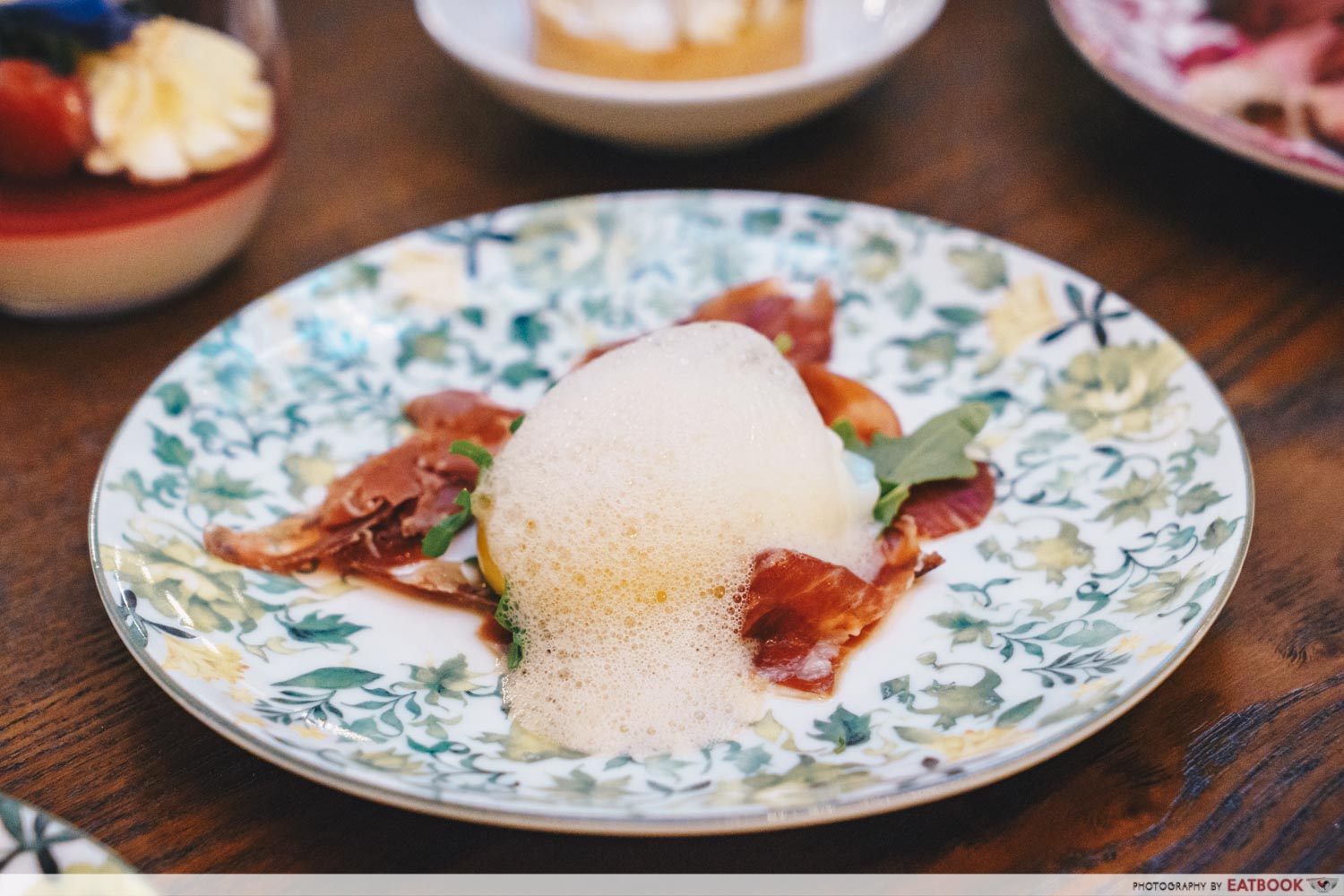 Don't forget to check out the brunch specialities: 62°C Hen's Egg, Atlantic Cod, and Granola. These are the only items in the buffet that are not free-flow. You can only order each dish once. 
The 62°C Hen's Egg is a personal favourite. It boasts a simple egg decorated with a mushroom foam which disappears with an earthy hint. Leave the flavours to the Jamon Iberico and arugula at the bottom instead.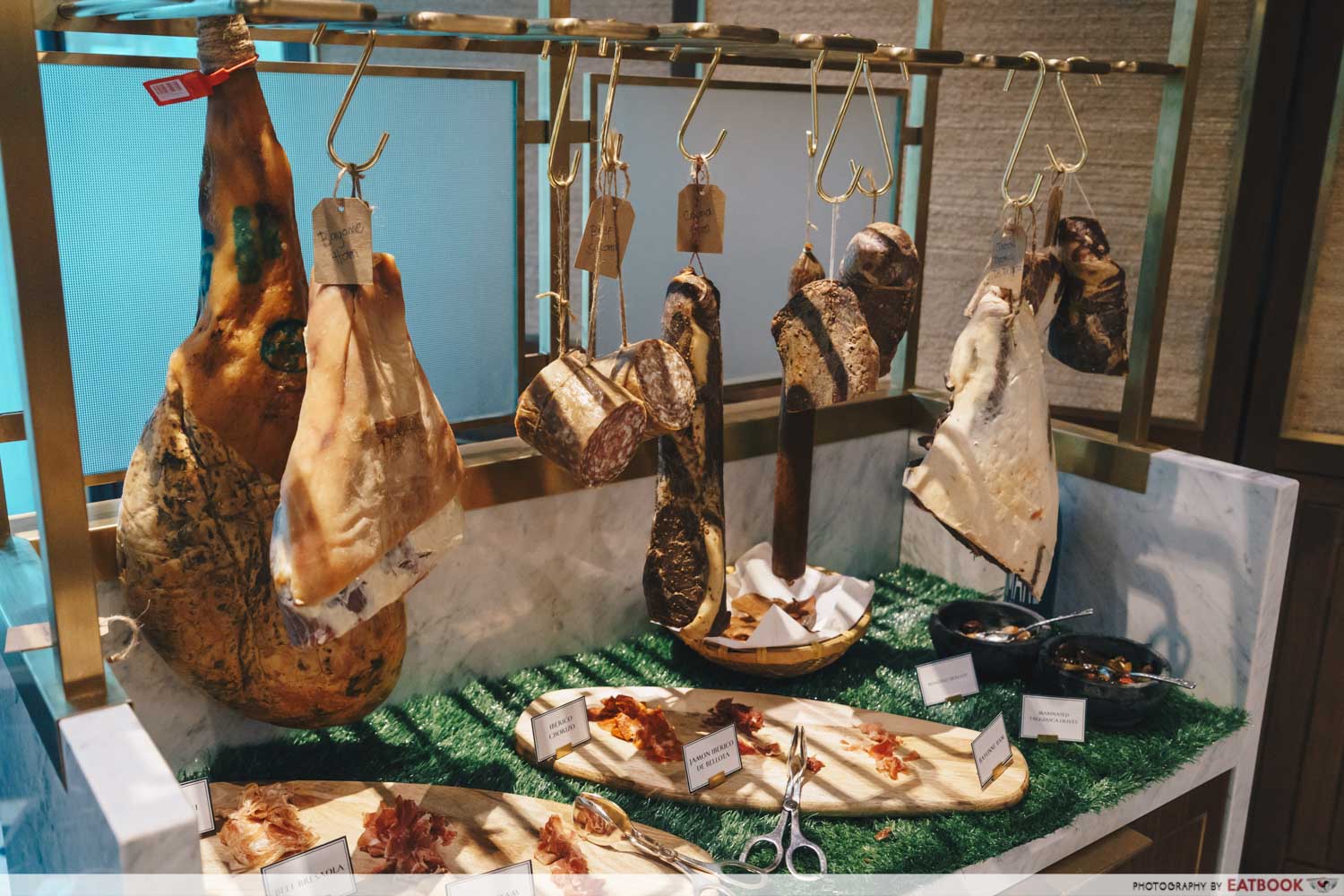 I was floored when I explored further into the restaurant as I was greeted by a staggering variety of cured meats. Start with the Beef Bresaola or Beef Salami, which are heavier in spices but cleaner in flavour. Next, try the simple Bayonne Ham and end off with the amazing and addictive Jamon Iberico De Bellota, which is pure porky bliss.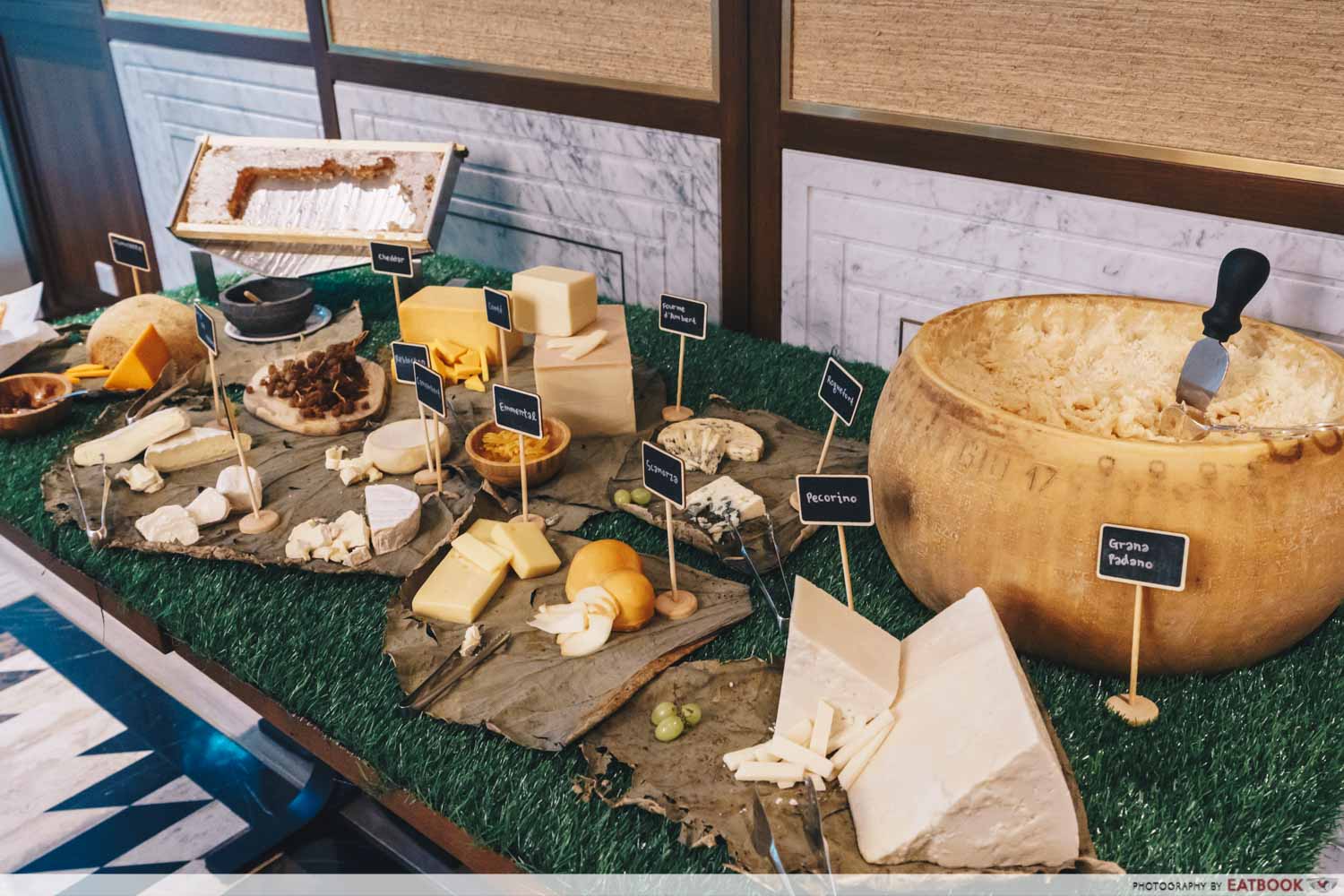 With the year-end bonus coming around the corner, you can also opt for their $168++ brunch buffet option which comes with free-flow champagne, cocktails, red wine, white wine, and beer. You can enjoy your crisp wine with a huge variety of cured meats and more than 12 types of cheeses!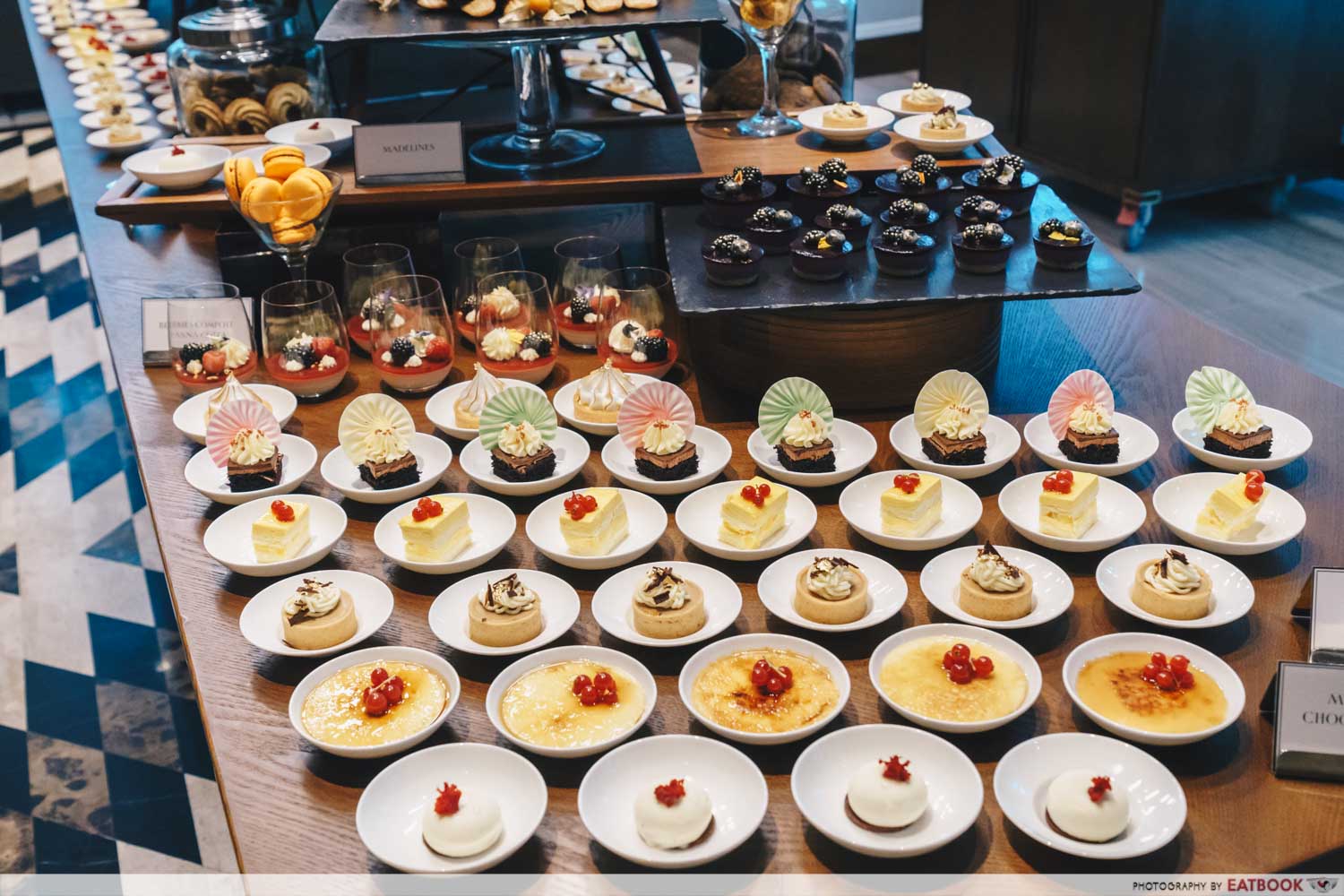 Those with a sweet tooth can also look forward to their dessert table. Plates and trays of tarts and cakes line a table that's as long as two ping pong tables. There are items such as Mint Ivory Chocolate Cake, Vanilla Crème Brûlée, and Berries Compote Panna Cotta. These individually plated desserts are small but dangerous—pop one in your mouth and you will be coming back for more. Be sure to try the Mint Ivory Chocolate Cake! Imagine bites of bittersweet chocolate cake, enveloped in rich cream with a slight kick of mint.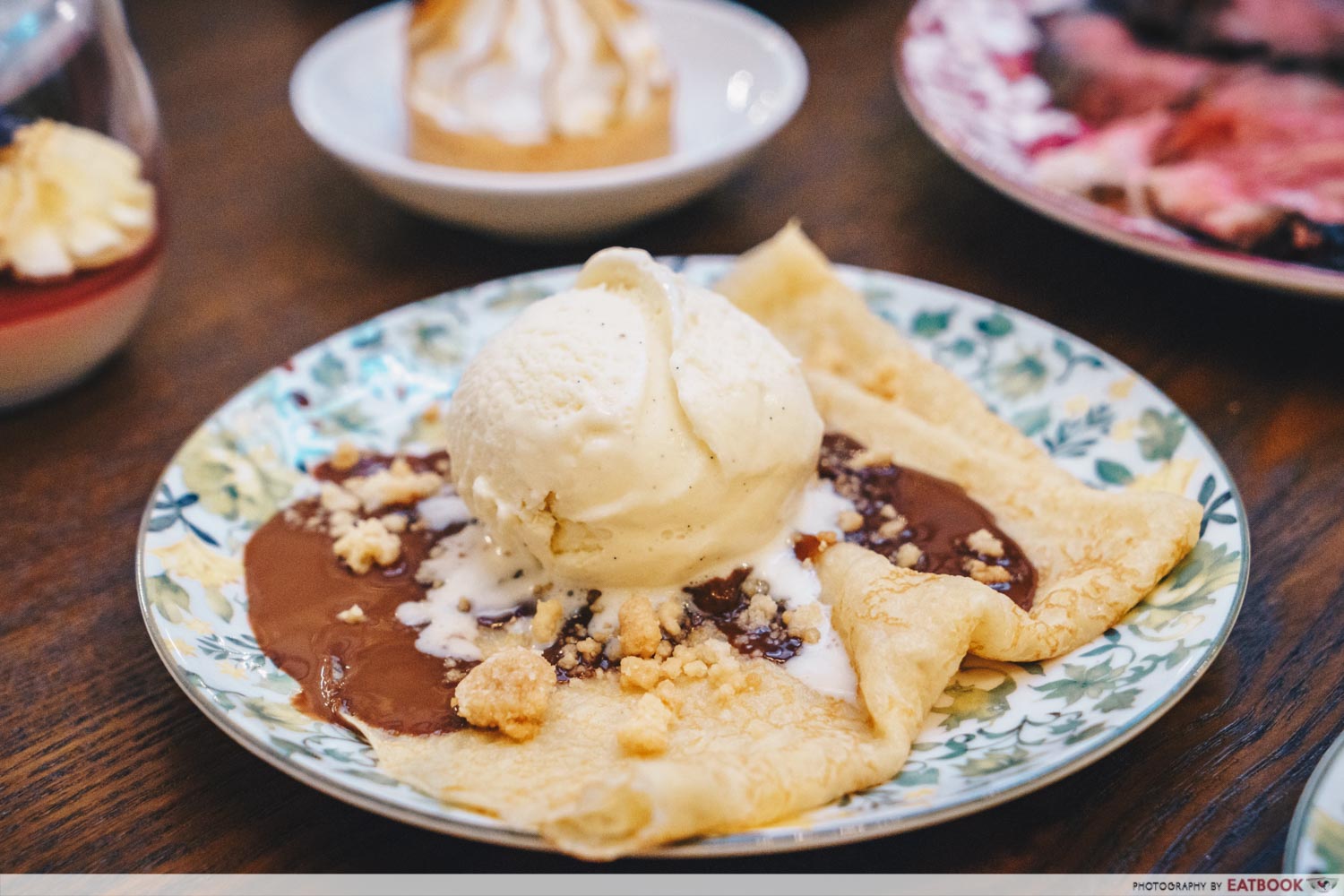 A must-try at the end of your buffet is their crepe. Imagine paper-thin crepe, doused in a warm milk chocolate sauce, dusted with as much buttery crumble as you like, and a huge scoop of ice-cream of your choice. There are also toppings such as nuts and chocolate chips which will be a hit with kids as well. 
Ambience at 15 Stamford By Alvin Leung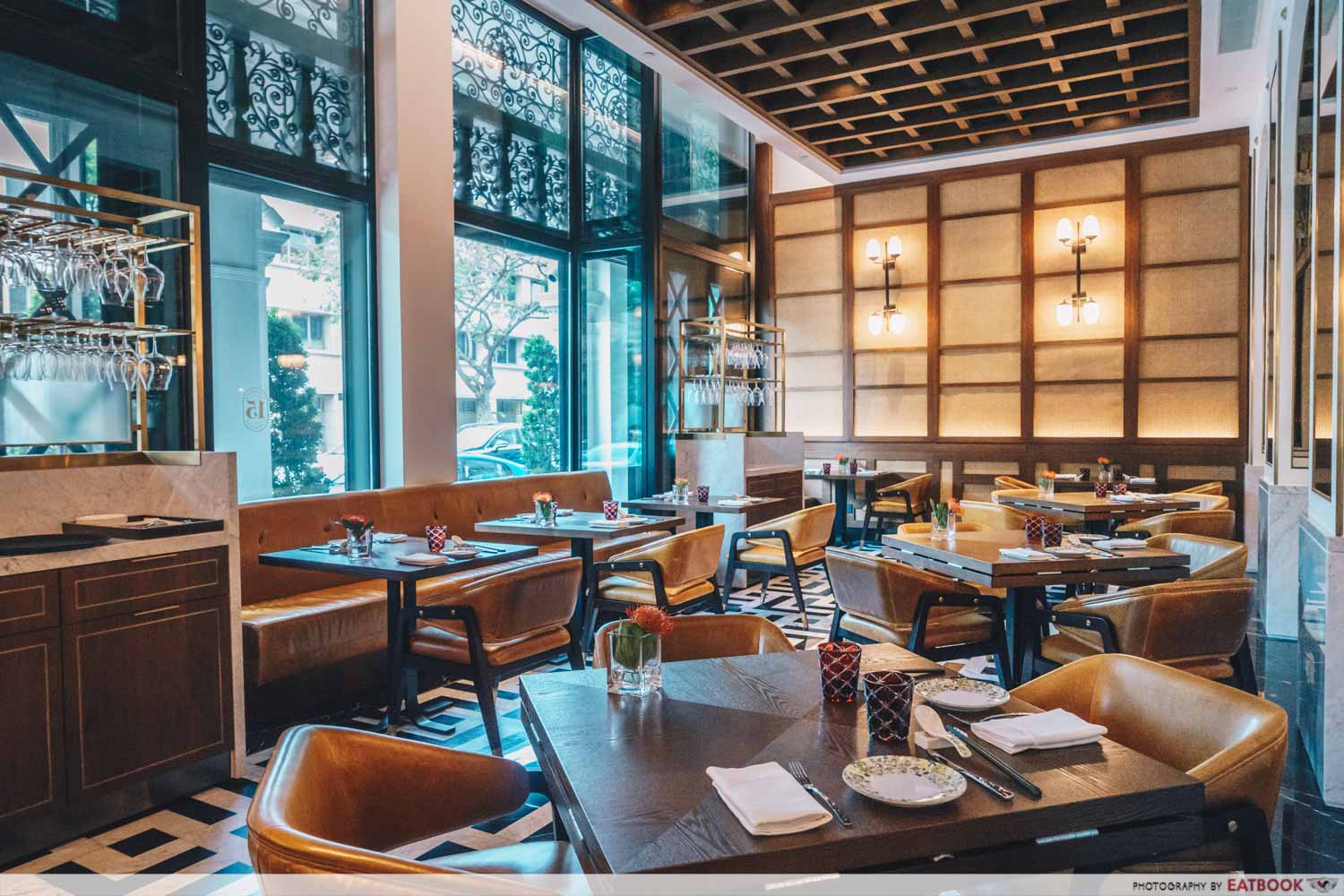 Located at level 1 of The Capitol Kempinski Hotel, 15 Stamford By Alvin Leung is a 150-seater restaurant with a glitzy ambience. With monochromatic tiled floors and a good stream of natural lighting, it is also a backdrop for an IG-worthy brunch with girlfriends. The luxe brown leather chairs and dim lighting also make for a romantic and private spot to celebrate anything and anyone worthy of the $148++ buffet. 
The verdict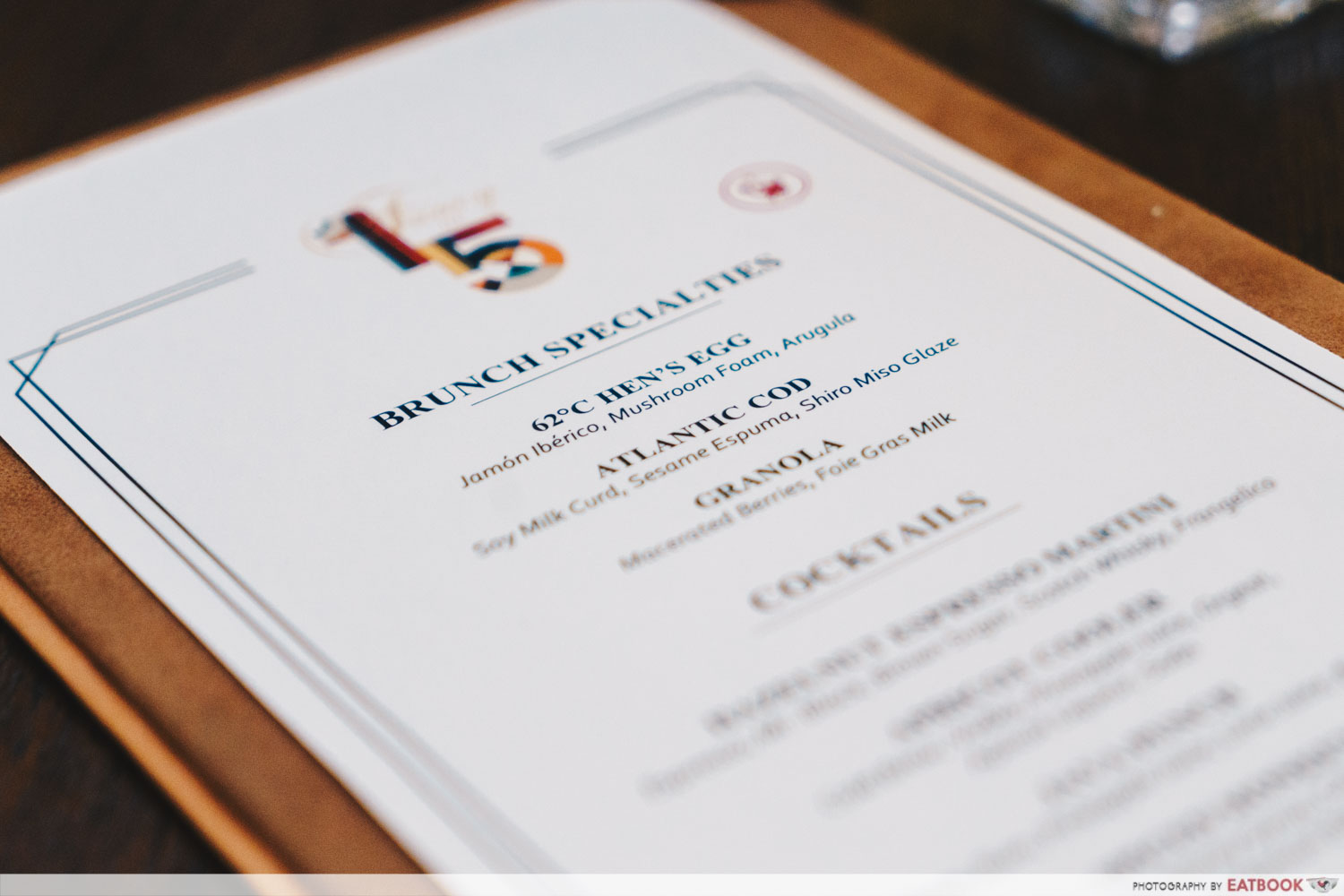 It is never easy for me to splash the cash on buffets, as the amount of food I can eat in one sitting is never enough to cover the cost. However, the Sunday brunch buffet at 15 Stamford By Alvin Leung has found a special place in my heart because of its ambience, quality of food, and astonishing variety. I found myself making a mental note to come back here for special occasions or family birthdays in the future.
If you're looking for more places to impress a date, check out these 10 beautiful cafes in Singapore.
Address: 15 Stamford Road, The Capitol Kempinski Hotel, Singapore 178906
Buffet hours: Sun 12pm to 3pm
Tel: 6715 6871
Website
Photos taken by Maverick Chua.
This is an independent review by Eatbook.sg.
Summary
Pros
– Beautiful ambience
– Quality ingredients used
– Well-seasoned dishes
Cons
– Need to top-up for their cocktails
– Refilling of buffet spread stops around 30 minutes before closing
Recommended dishes: Foie Gras, Wagyu Beef Hanger Steak, Jamon Iberico De Bellota
Buffet hours: Sunday 12pm to 3pm
Address: 15 Stamford Road, The Capitol Kempinski Hotel, Singapore 178906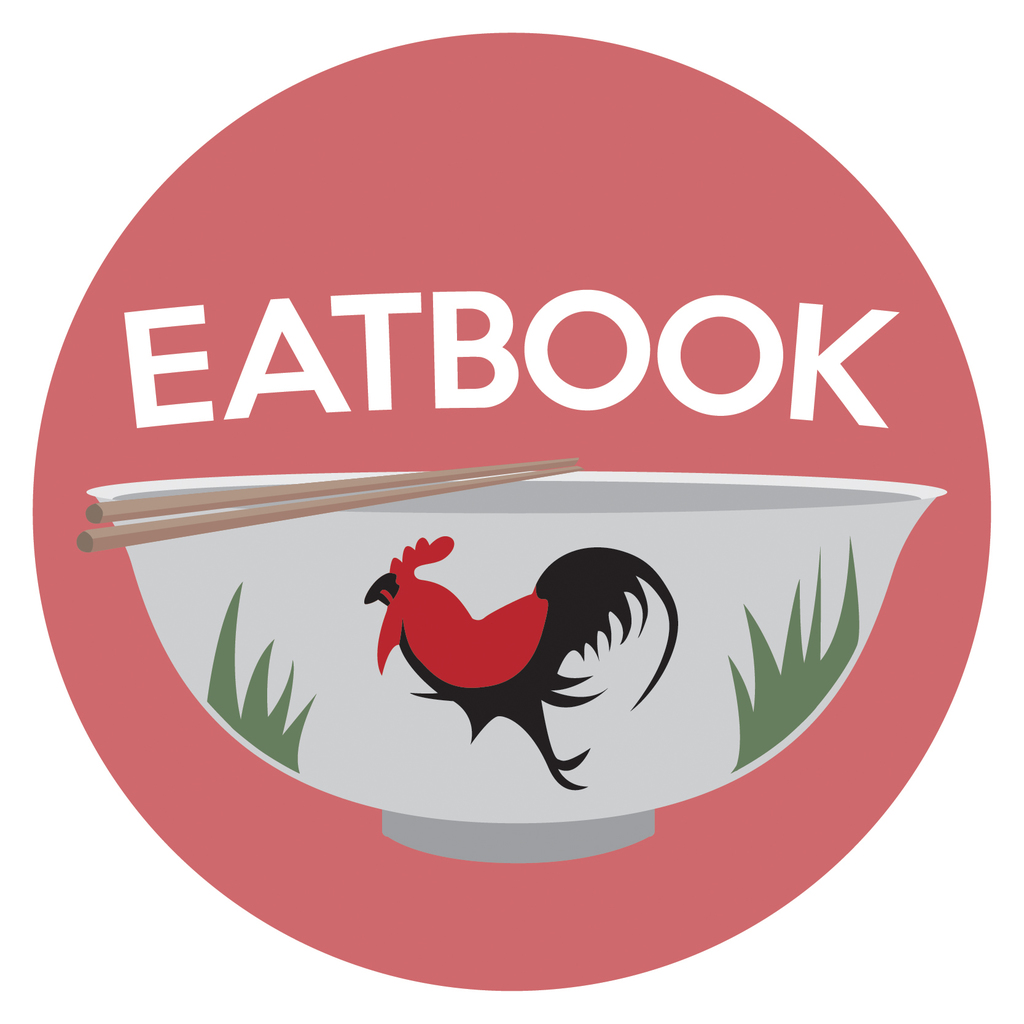 Drop us your email so you won't miss the latest news.