3-course Ribena meal recipes
If you ask me for one definitive childhood drink, Ribena is the clear answer. My mother used to offer me a glass of Ribena as a treat after school, guising the berrylicious beverage as a way for me to also get my Vitamin C fix. Fast forward to adulthood, and Ribena still remains a staple, now for a new reason: apart from drinks, Ribena in all its forms also makes for a great ingredient in savoury recipes and desserts.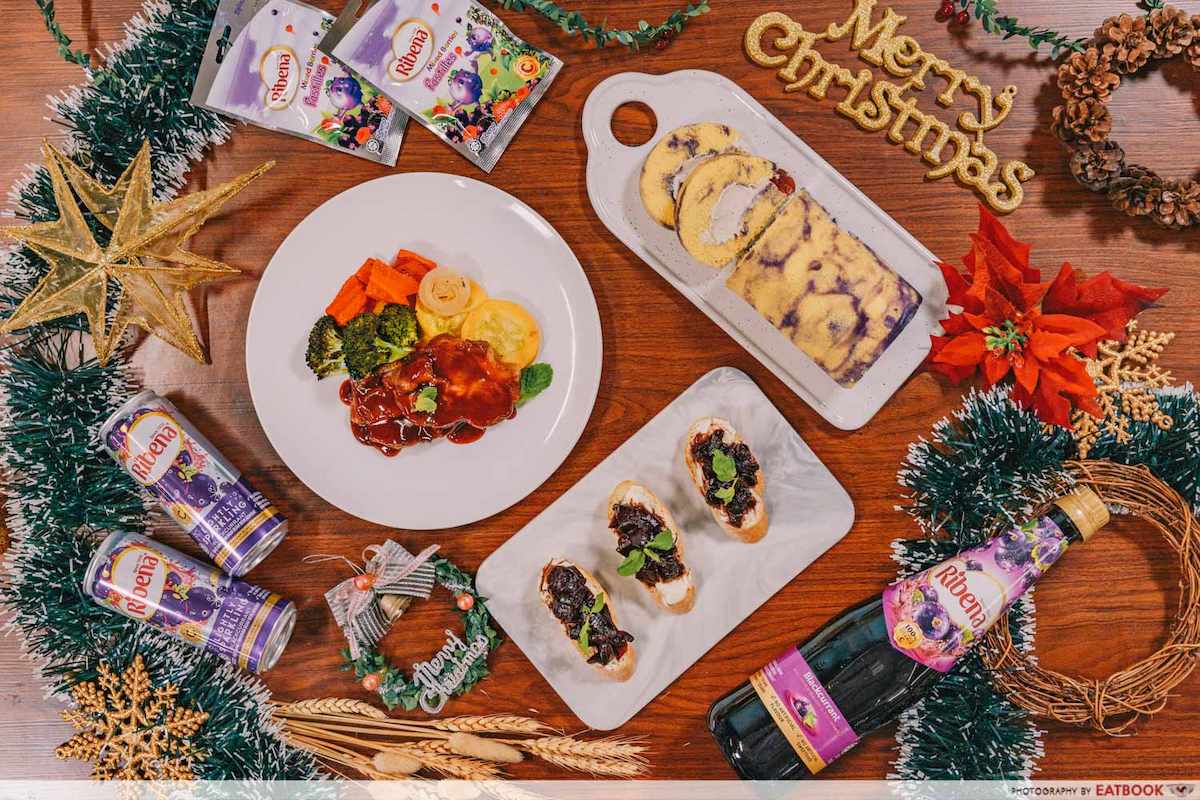 The Eatbook team has proven this, tackling simple Ribena recipes to make at home, with goodies like Ribena chicken wings and dalgona "coffee". This festive season, I'm one-upping the Ribena game—to showcase the versatility of Ribena Cordial, Ribena Sparkling, and the chewy Ribena Pastilles. Check out the recipes for a 3-course Ribena meal to wow at your next Christmas party.
5 Easy Ribena Recipes Including Ribena Dalgona, Berry Chicken Wings & Jam Danishes
---
1. Bruschetta with Ribena Onion Jam
---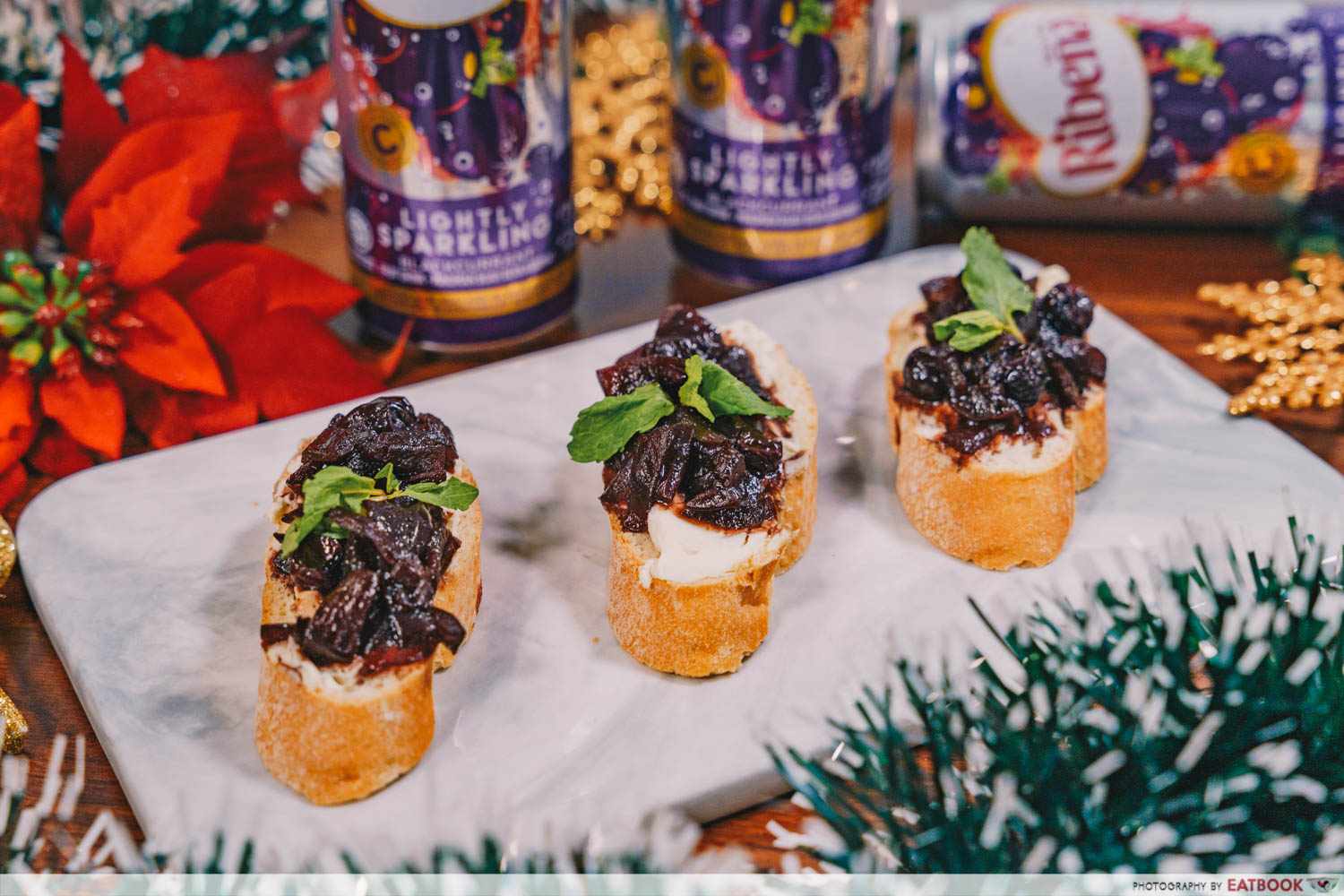 Bruschetta is such a staple appetiser at parties. Swap out the usual tomato-and-olive-oil combo, and embrace another classic as a topping instead: onion jam. I often make mine with blueberries as I enjoy how the fruit adds a tartness to the robust jam.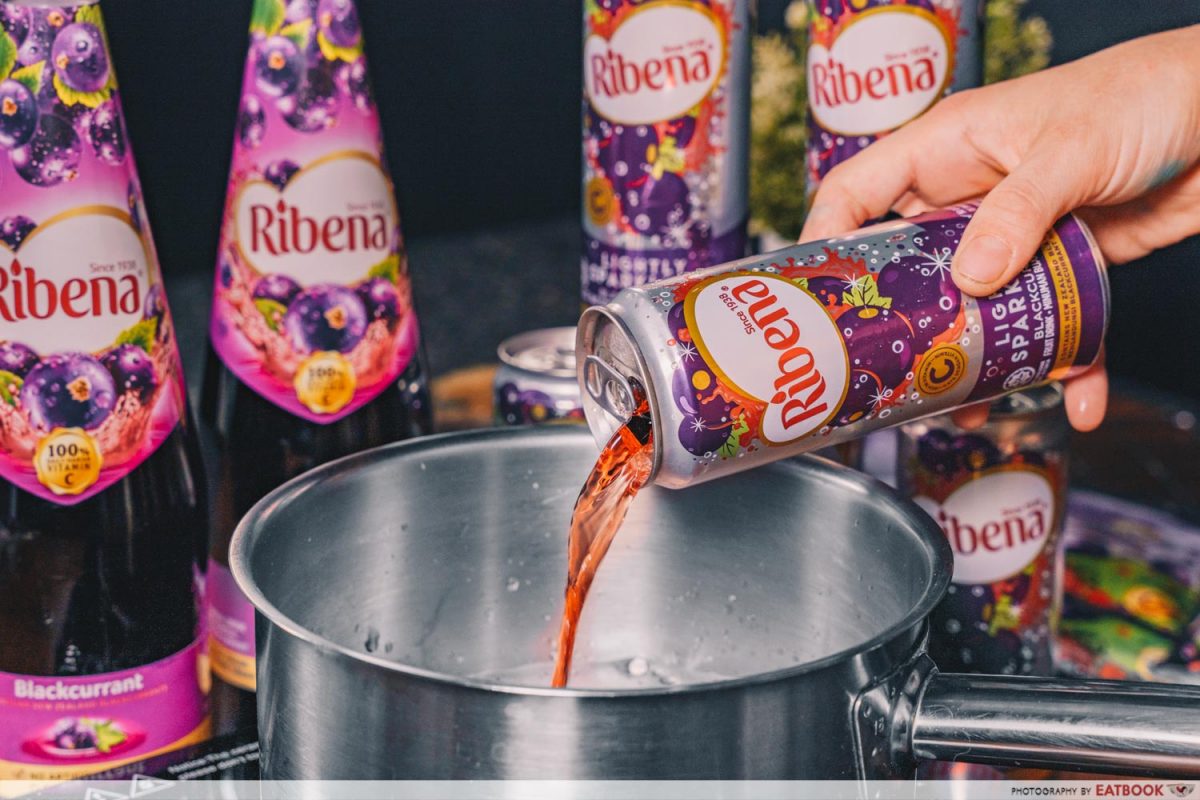 To amp up the berry factor, I use a sparkling Ribena reduction to zhng up the original recipe. Simply boil half a can in a heavy-bottomed saucepan till the mixture glazes the back of a spoon, and you are good.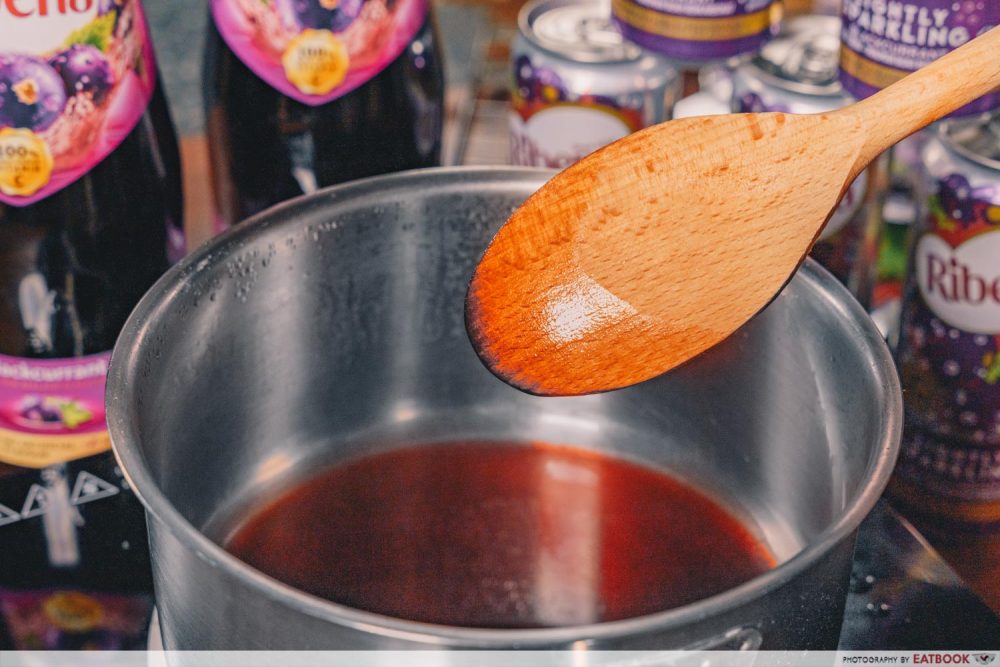 This Bruschetta with Ribena Onion Jam is also a fuss-free appetiser to prepare, as well as assemble, since there are just three components—bread, cheese, and jam.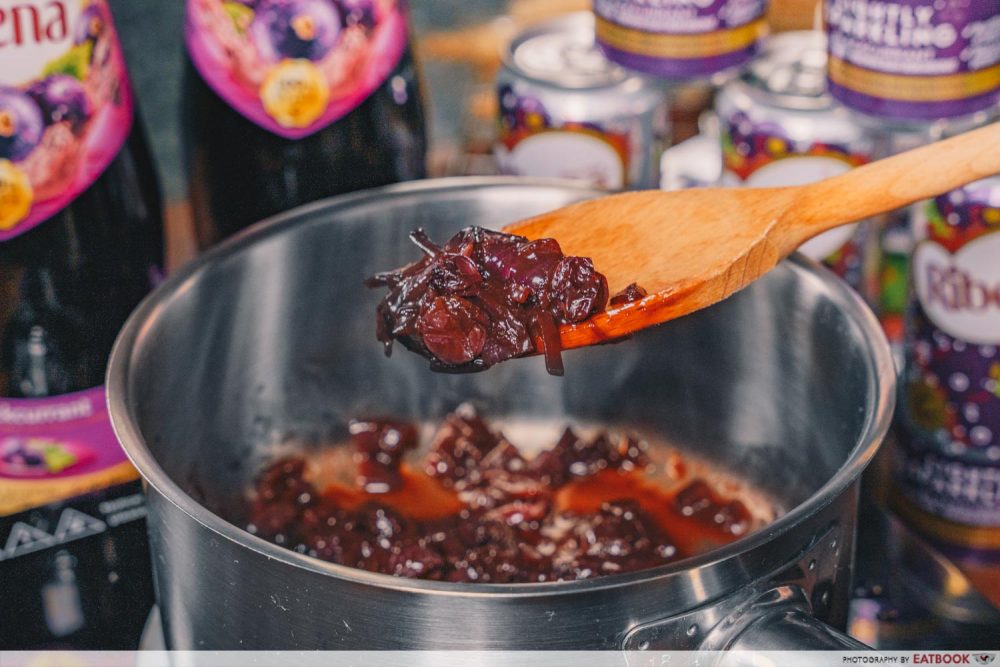 You can also keep it for up to five days in the fridge to last you throughout all your festive hosting duties.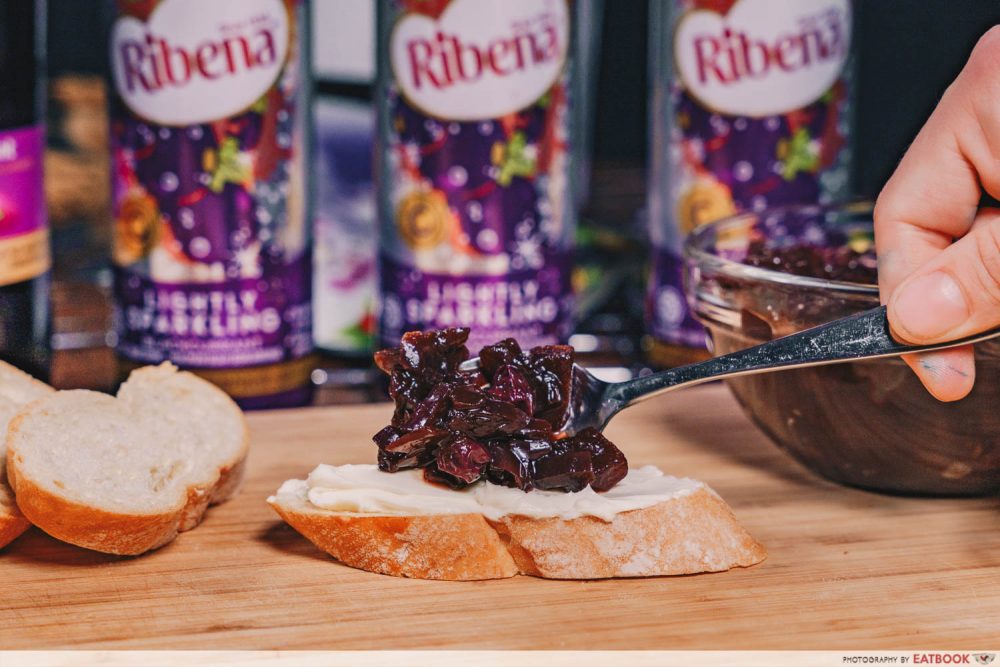 Yield: Feeds up to 8
Cooking time: 40 minutes
Ingredients:
½ can Sparkling Ribena
2 red onions, diced
1 cup blueberries
2 tbsp extra virgin olive oil
¼ cup brown sugar
¼ cup balsamic vinegar
Handful of herbs like rosemary, thyme, or bay leaves
1 tsp salt
½ tsp pepper
1 baguette, sliced into diagonal rounds
1 cup of ricotta or cream cheese
Mint leaves
Directions: 
In a heavy-bottomed saucepan, reduce the Sparkling Ribena till it halves in volume and glazes the back of a spoon. Set aside to cool.

Add your olive oil and onions in a clean heavy-bottomed saucepan. Cook on medium-high heat, stirring occasionally as the onions brown. This takes about 10 to 15 minutes.

As the onions cook down, toast your baguette slices lightly. Set them aside. You don't want them to be hot when you begin to assemble them.

Now that the onions are browned and softened, add brown sugar, blueberries, balsamic vinegar, and your Ribena reduction. Stir, then season with salt, pepper, and herbs. On low heat, cook until it is a thick, syrupy jam. This will take about 20 minutes.

Cool, then transfer to an airtight container to store. If you are assembling on the spot, take the baguette slices, and slather them with cheese. Top with half a tablespoon of onion jam each. Finish with a sprig of mint for garnish. Serve.
---
2. Ribena Pork Chops
---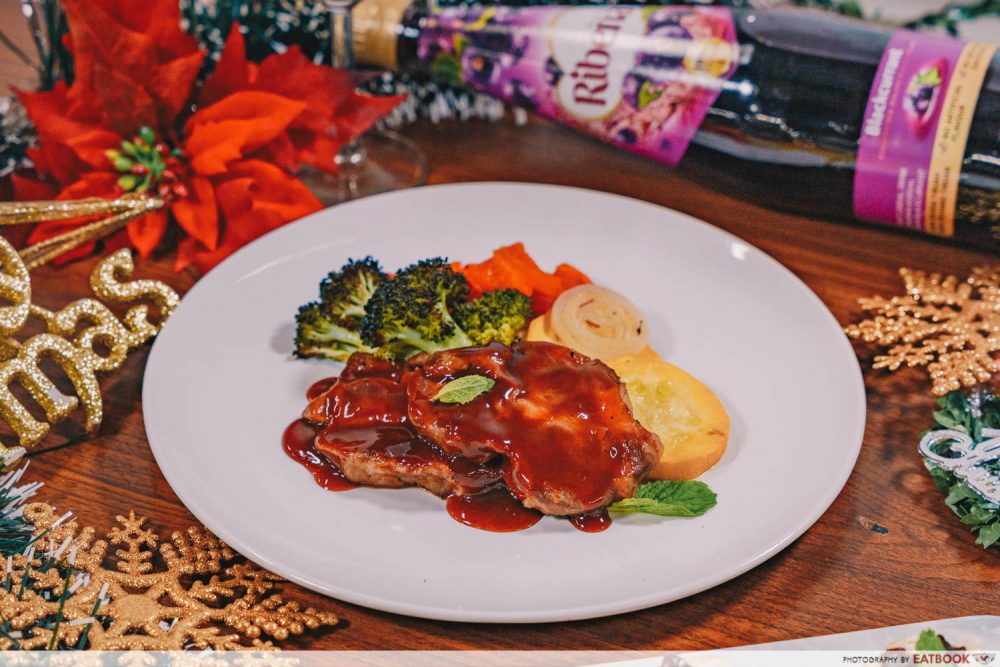 As much as I think I am capable of DIY-ing my sauces for roasts all the time, I often find myself taking shortcuts with my best friend: premade barbecue sauce. I use them regularly as a glaze for my pork chops, spruced up with spices or hot sauce for more kick.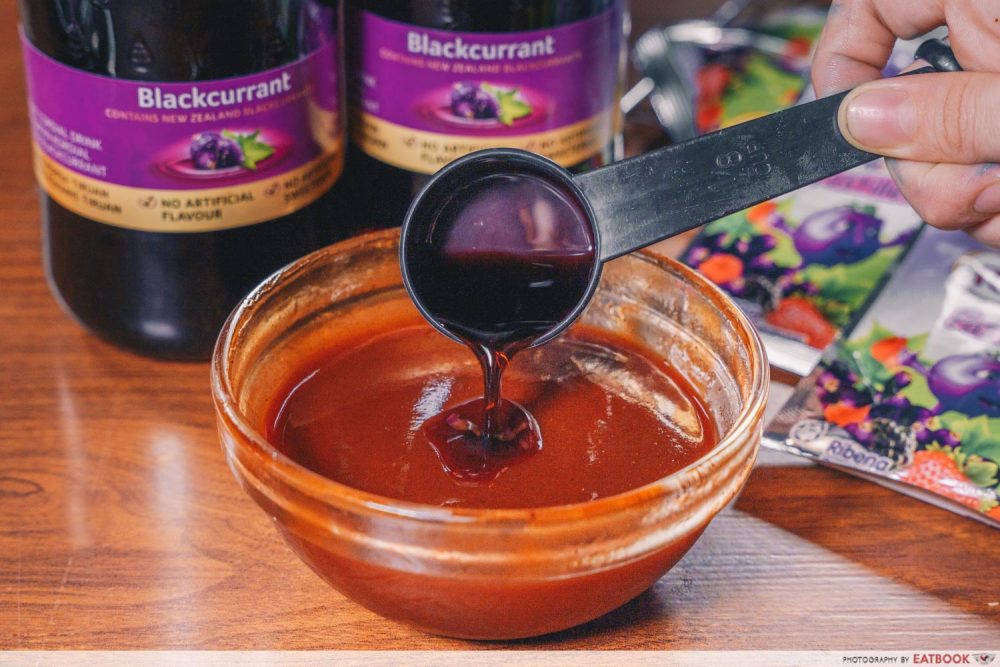 A recent happy accident showed me that adding Ribena cordial to barbecue sauce gives pork chops a nice, sweet-and-sour kick reminiscent of gu lou yok meets IKEA meatballs—don't think too much, it makes sense. Hence, Ribena Pork Chops were created.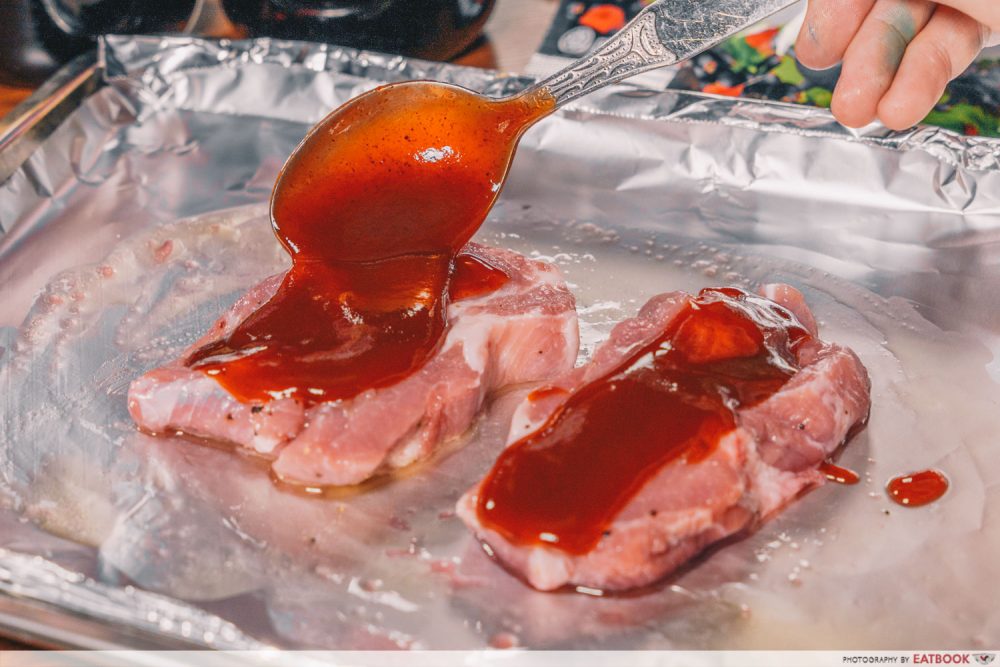 Intensify the berry flavours by marinating your pork chops in Ribena cordial too. I'd recommend doing so at least 24 hours in advance. Serve it alongside a roasted vegetable medley, mashed potatoes, or both. To make things even easier, this recipe uses an oven, so you don't have to hover over a pan.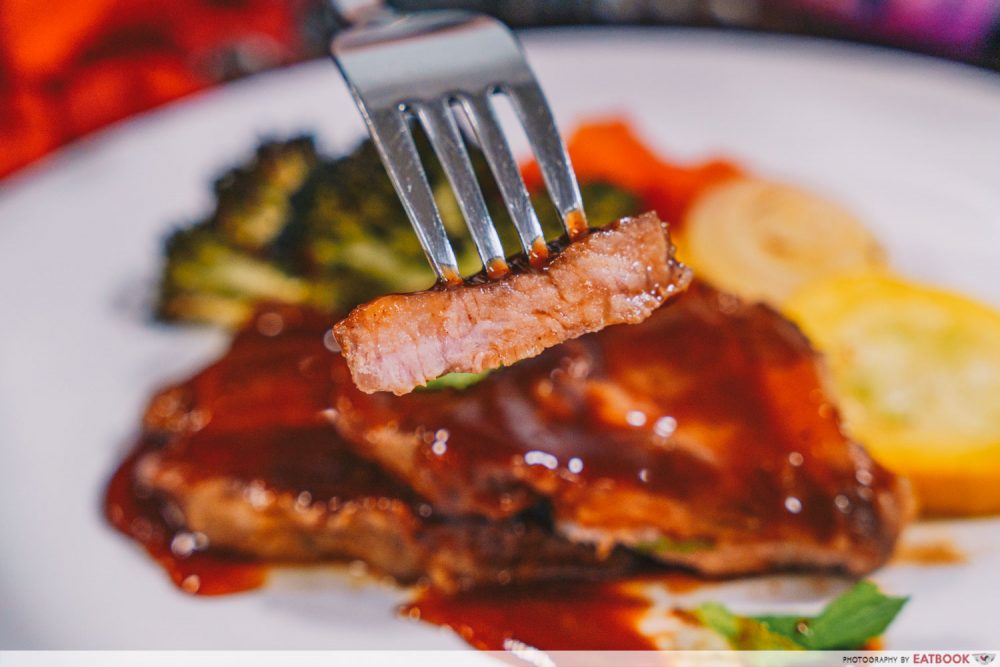 Yield: 2 servings
Cooking time: 40 minutes
Ingredients:
2 pork chops
½ white onion, chopped
1 cup barbecue sauce
⅛ cup + 2 tbsp Ribena cordial
1 tbsp + 1tbsp olive oil
Salt
Pepper
Paprika
Directions:
Place your pork chops in a bowl, and add 2 tbsp Ribena cordial, 1 tbsp olive oil, salt, pepper, and a dash of paprika. Wrap the bowl with cling film and leave it in the fridge overnight, or for a minimum of one hour.

In a separate bowl, mix 1 cup of barbecue sauce with ⅛ cup of Ribena cordial. Set aside.

Preheat the oven to 175 degrees. Line a baking tray with aluminium foil. Drizzle it with 1 tbsp olive oil.

Put the marinated pork and chopped onions on the sheet. Cover with more foil.

Bake for 25 minutes, then remove the foil. Pour more barbecue sauce on the chops. Broil for 10 minutes or until slightly browned. Remove from the oven.

Let the pork rest for 5 to 10 minutes before slicing. Plate and serve.
---
3. Ribena Tie Dye Roll Cake
---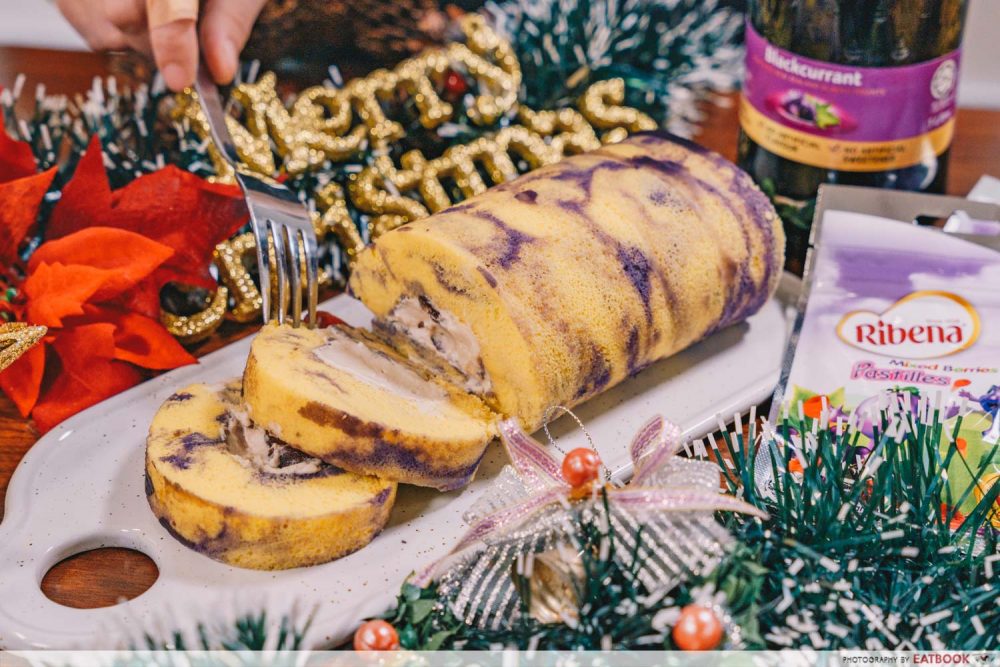 While I love good log cakes on a budget, you can always DIY a roll cake at home at much less of a cost. Inspired by Japanese roru keiki, where the cake is rolled once and packed with a dense, milky cream, as well as tie dye cake art, I've fashioned the ultimate crossover: Ribena Tie Dye Roll Cake.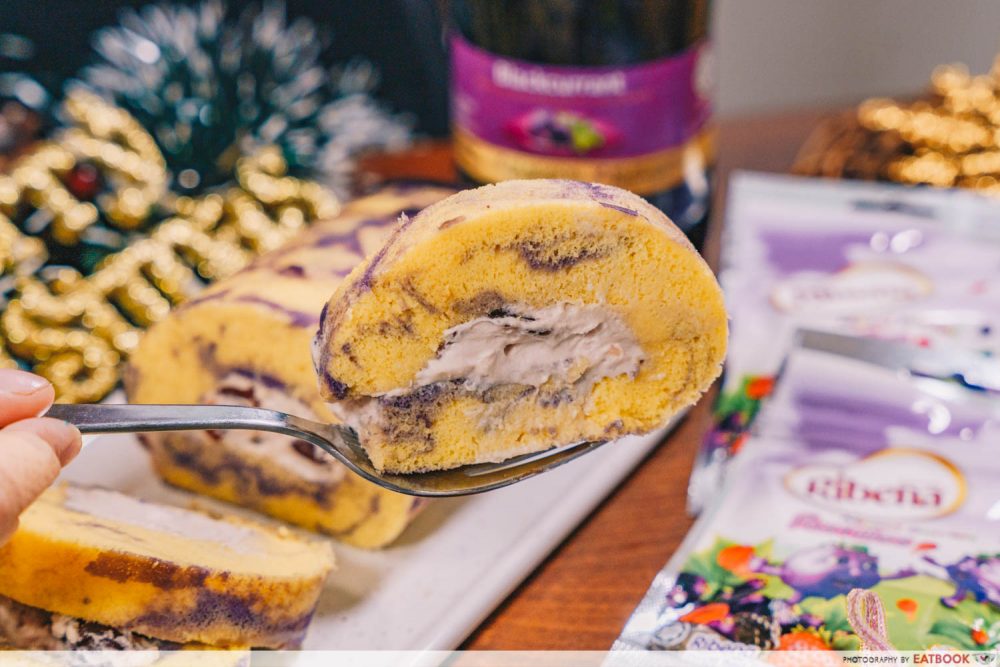 A simple vanilla sponge hugs a dense Ribena milk cream, studded with chewy Ribena pastilles for added texture. While this cake seems effortless enough on paper, there are some key tips to note when making this cake.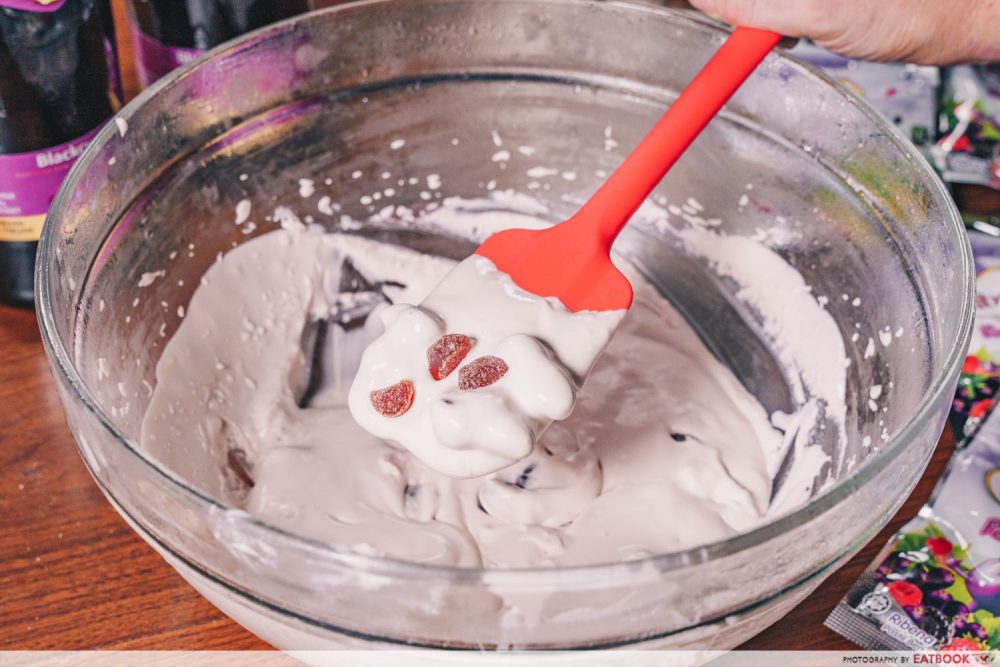 First, make the Ribena cream ahead of time, at least an hour and a half before you spread it. You want to set it in the freezer for an hour, minimum before you roll the cake. Don't go overboard, though, as it starts becoming like ice cream when it's too cold.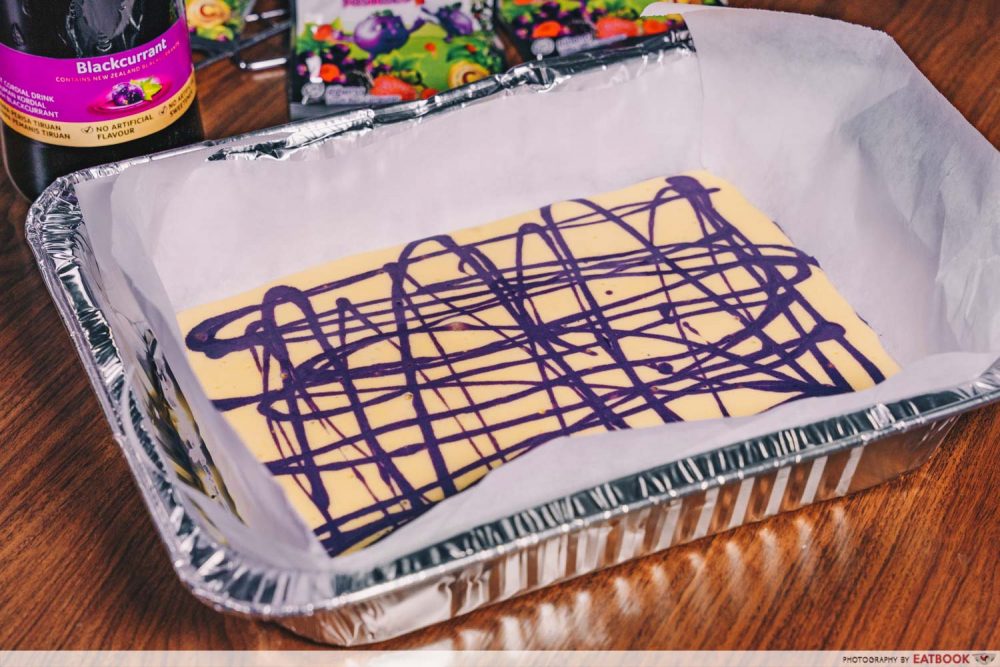 Next, depending on the eggs you use, the sponge can taste slightly eggy, similar to Taiwanese castella cakes. I recommend tasting the batter, and dosing with ½ tbsp more vanilla extract if need be before baking.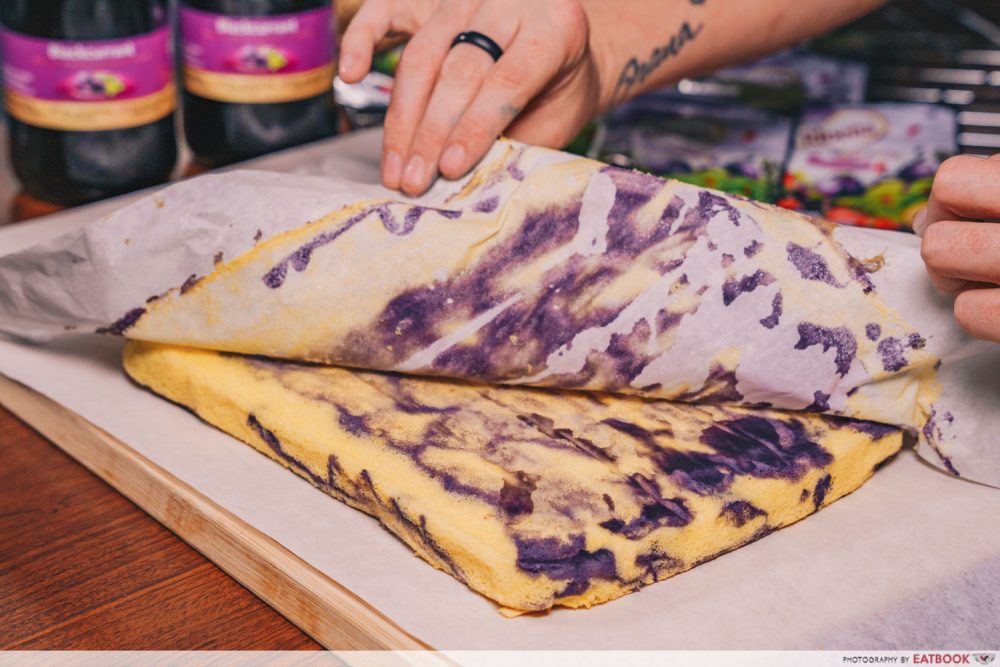 For decor, pipe with a thin nozzle on your piping bag to get a more natural tie-dye look. The bottom of the cake is where the design is.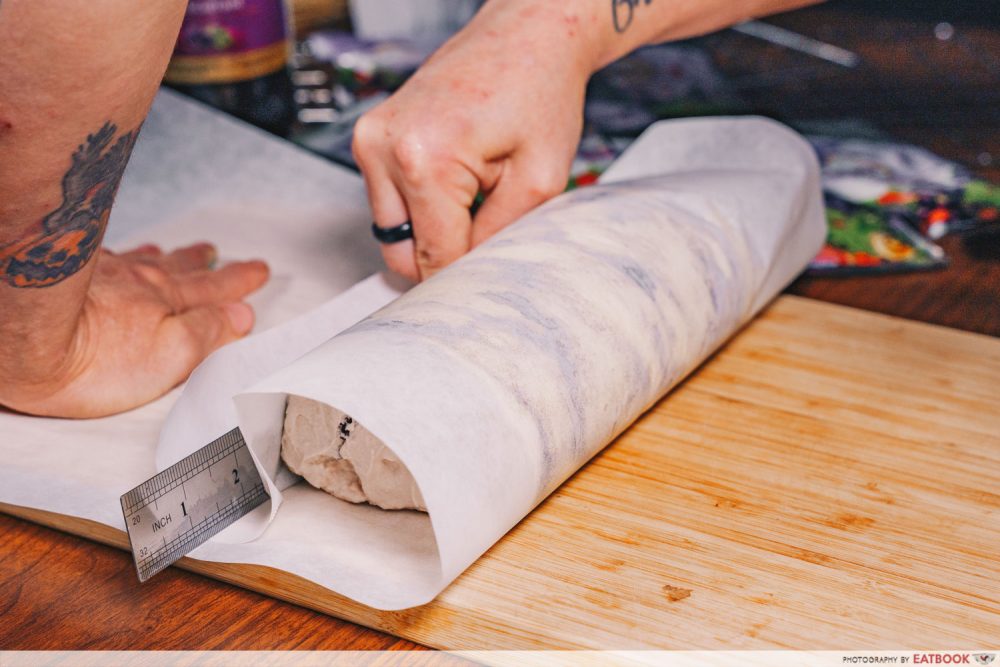 You must always pre-roll the cake warm out of the oven, so it is "trained" to be shaped into a tube. Failing to do this may result in your cake cracking later on, as cakes tend to be less malleable when cool.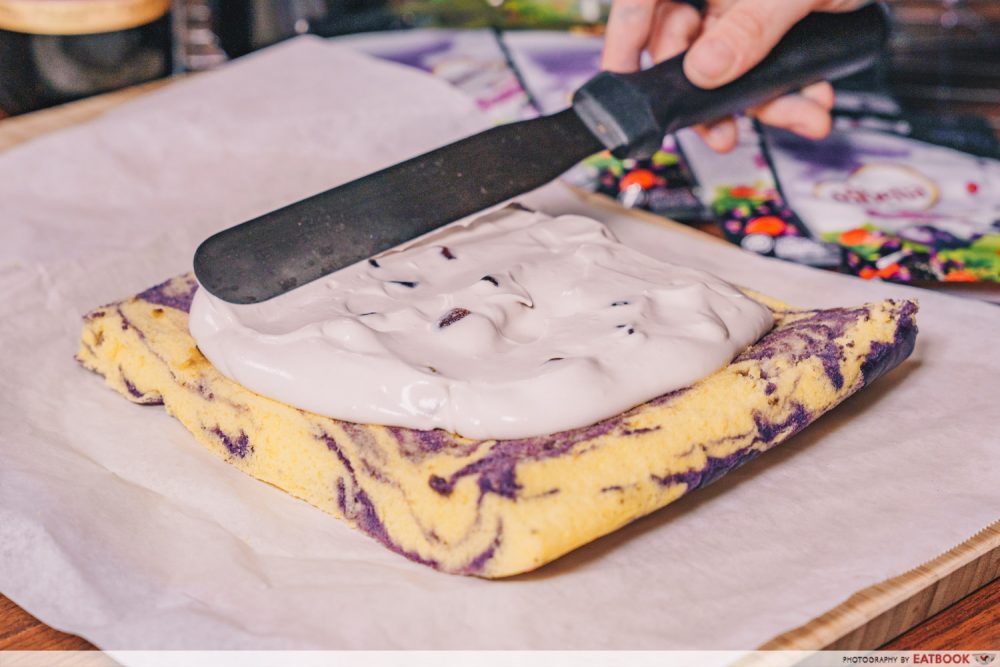 Only spread cream on your cake when it is at room temperature, or the cream will be runny.
Freeze your cake for at least one to two hours, or keep it in the refrigerator to set overnight. This is vital to having a tight, stable roll cake that doesn't ooze cream when cut. You can doubly secure the baking paper roll with cling film so the wrap holds its shape better too.
Yield: 6-8 servings
Cooking time: 2-3 hours
Ingredients:
4 egg yolks, room temperature
25g sugar
50ml milk
40ml vegetable oil
80g cake flour
1 tsp violet food colouring
4 egg whites, cold
60g sugar
340ml heavy cream
50g mascarpone
25g sweetened condensed milk
20g sugar
¼ cup Ribena cordial
2 bags Ribena pastilles, chopped
Directions:
An hour in advance, prepare a mixing bowl over an ice bath. Add the heavy cream, mascarpone, condensed milk, sugar, and Ribena cordial. Mix till cream is stiff and spreadable. Add the chopped pastilles and mix again. Let it set for an hour in the freezer.

Line a 30×30 baking tray with parchment paper. Preheat the oven to 170 degrees.

To make the sponge, put the room temperature egg yolks in a large bowl, add sugar, and mix well with a whisk until pale and thickened.

 Add milk and vegetable oil, and mix well.

 Sift flour and add to the mix. Whisk until no lumps are visible. Set aside.

In a separate bowl, beat cold egg whites till they form a meringue, with stiff peaks when you lift your whisk. Throughout the beating process, add the sugar in three parts.

Add a third of the meringue to the yolk batter. Mix with a spatula till incorporated and uniform.

Add the rest of the meringue to the same batter. Fold it in with a spatula till the mixture is uniform.

Separate ¼ of the batter into a small bowl. Mix in violet food colouring till it is a striking purple. Place purple batter into a piping bag.

Take your lined baking tray, and decorate it with stripes of the purple batter. Pour the cake batter on top in a uniform sheet. Use a skewer or chopstick to create marbled swirls.

Level the cake batter with a bench scraper. Gently tap the baking tray on the counter to release air bubbles, then smoothen the batter again.

Bake for 13 to 15 minutes on the lowest rack in your oven. As you wait, prepare a baking sheet on a cooling rack. The baking sheet should be of equal length to the cake. 

When the cake comes out of the oven, flip the cake onto the prepared sheet and rack. Peel off the baking paper on the bottom of the cake to reveal the tie-dye design. 

Trim the edges so the cake is uniformly rectangular. On the end seam of the cake, cut off the edge diagonally. This ensures a neater roll.

While it's still warm, roll the cake, and leave it to cool to room temperature in the baking paper. The tie-dye side should be on the bottom when you roll, so that the design is visible on the outside.

When the roll reaches room temperature, unroll it, and spread the cream on it in an even layer. Re-roll in the baking paper, and use a ruler to push against the cake for tension. Wrap this with cling film, and refrigerate overnight, or freeze for two hours before slicing to serve.
---
Festive 3-course Ribena meal recipes
---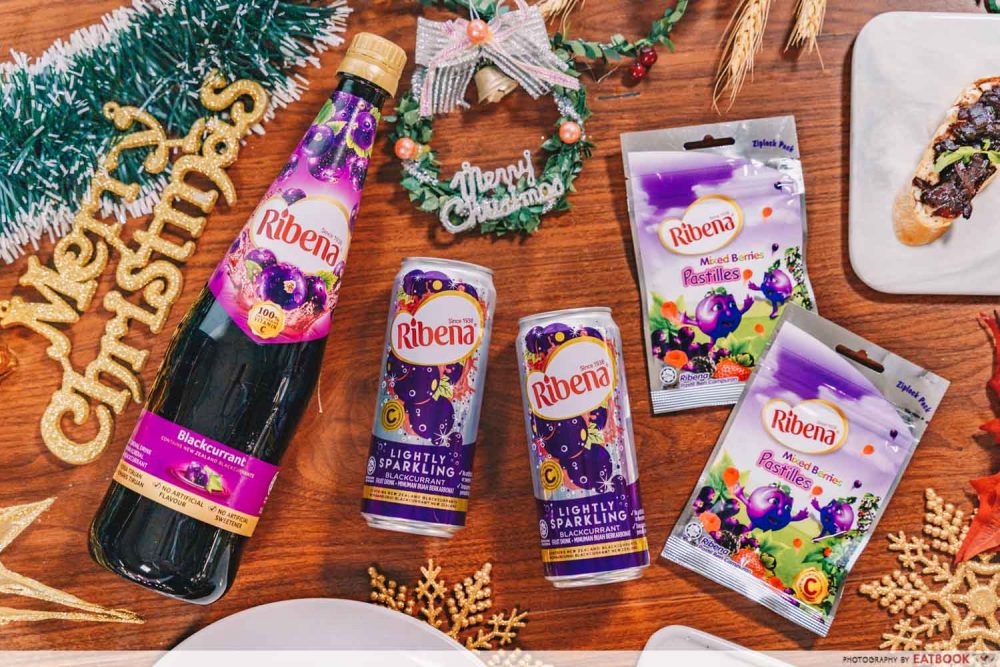 As shown, Ribena can be interpreted in many ways, even tying together a full 3-course meal that works for all your festive occasions. From pork chops to a tie-dye roll cake, these Ribena recipes will impress your relatives and friends for sure. If you'd like to give them a try, you can purchase Ribena from all major supermarkets and online via Redmart.
Photos taken by John Lery Villanueva.
This post is brought to you by Ribena.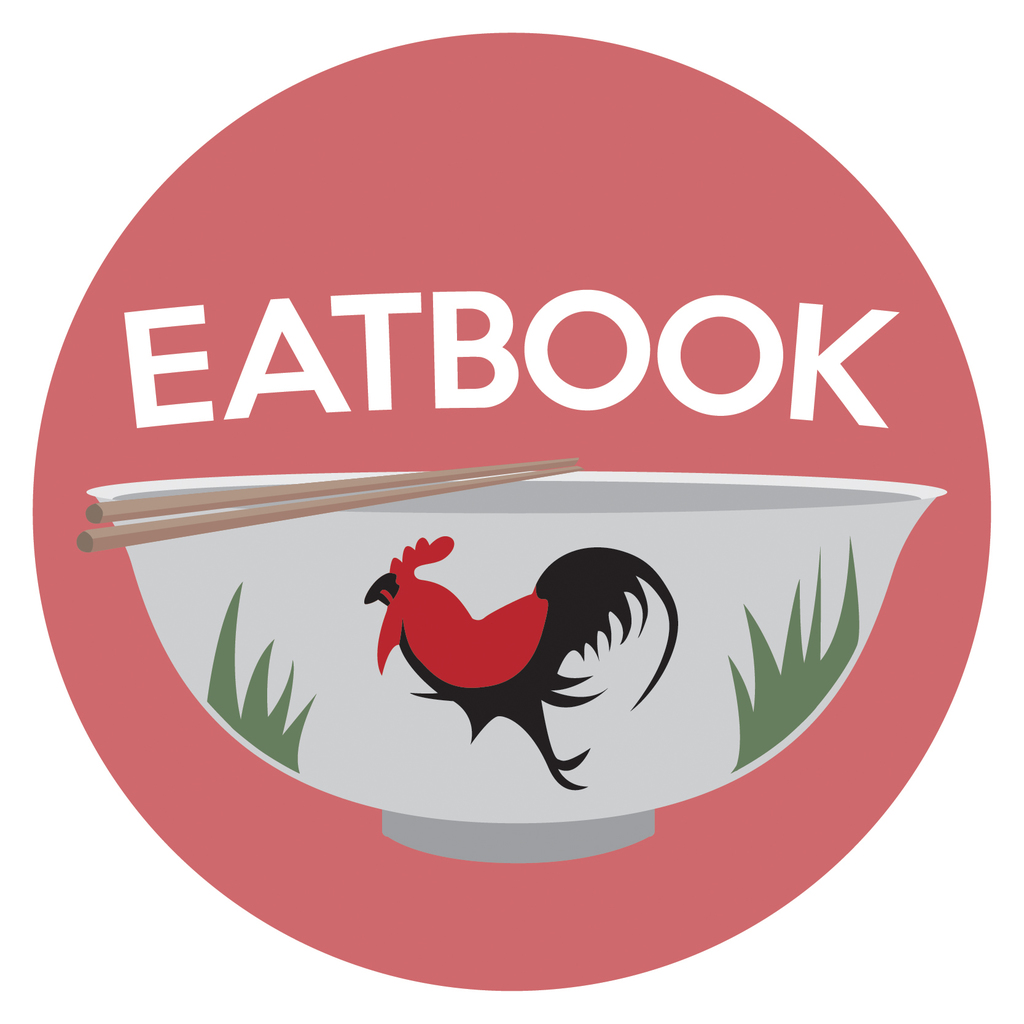 Drop us your email so you won't miss the latest news.