---
Easy and delicious Ribena recipes
---
As a lazy home cook, I'm all about that low effort, high returns-life in the kitchen. There are many clever shortcuts to take when cooking. Some tricks I've tried include using Ribena goodies such as their cordial, sparkling drink, and even pastilles for a variety of flavours in dishes and desserts. Here are five easy and delicious Ribena recipes to impress your family during the Circuit Breaker. 
---
1. Berry Chicken Wings
---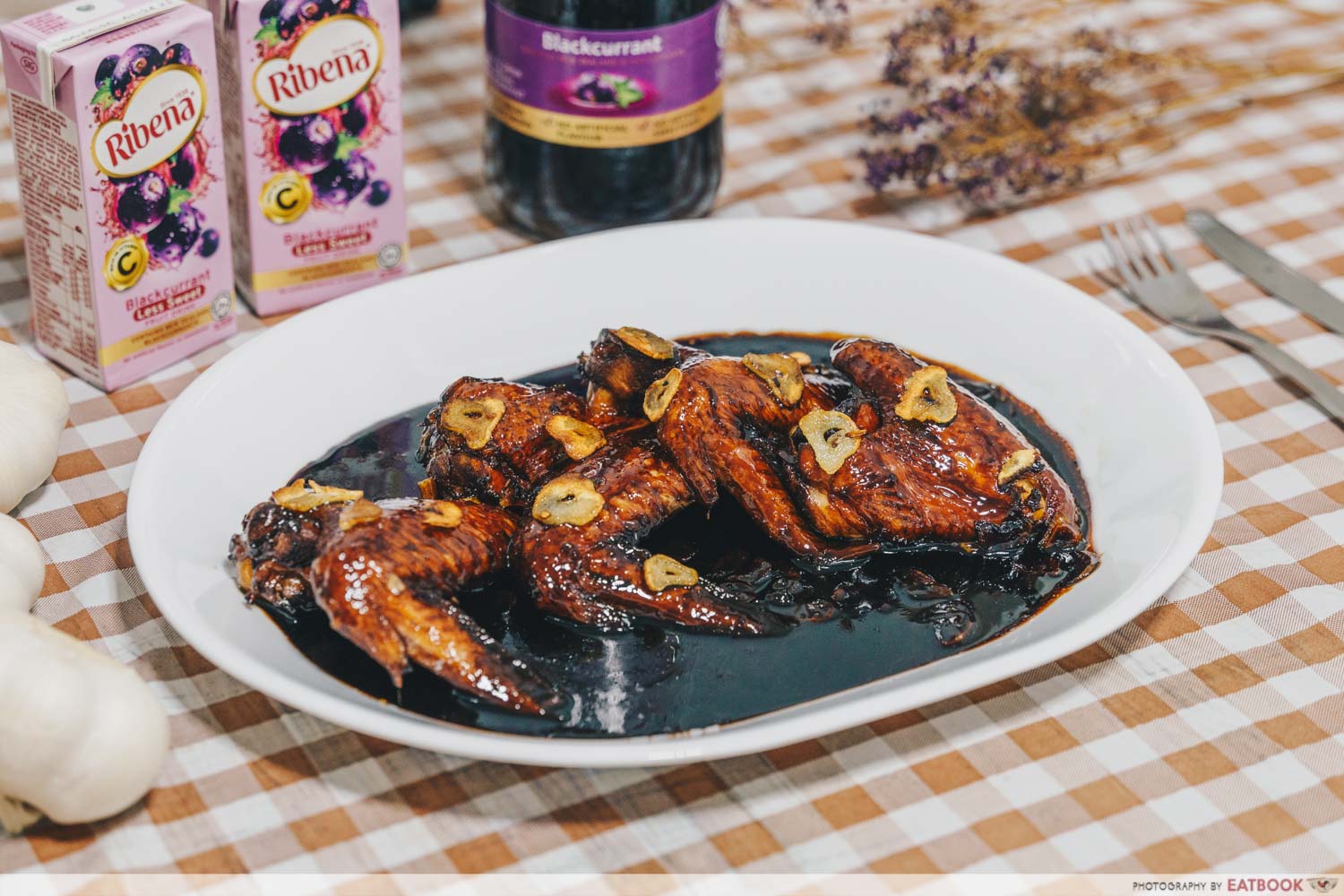 This Berry Chicken Wings recipe uses the same style of Chinese braising. The end result is a plate of well-coated wings with a combination of sweet and sour flavours from the Ribena. Thanks to the addition of lemon juice, there is also a kick of tartness that makes the dish even more appetising. 
More than skills, patience is the main essence of this dish which is top on our Ribena recipes list. Braising the wings and the marinade in the pan gives extra time for the chicken to absorb all the flavours. Simmering the sauce also thickens it, thus making it sticky enough to nicely coat every surface area of the wing.
Time needed: 20 minutes
Ingredients
4 chicken wings
¼ cup Ribena cordial
¼ cup lemon juice
¼ cup soft brown sugar
⅛ cup dark soya sauce
2 cloves garlic, sliced
Pine nuts (optional)
Cashew nuts (optional)
Fried Garlic slices (optional)
Steps:
In a bowl, marinate the chicken wings with Ribena cordial, lemon juice, soft brown sugar, dark soya sauce, and garlic. 

Seal the bowl with cling wrap, and let it sit in the fridge for at least two hours.

Using a non-stick pan, cook the chicken wings and marinade on medium heat for around two minutes.

When the sauce starts to bubble, reduce the heat to low, and allow it to simmer for 15 minutes as it thickens.

Plate and garnish with nuts and fried garlic for added texture and flavour. Serve immediately.
---
2. Ribena Jam Danish
---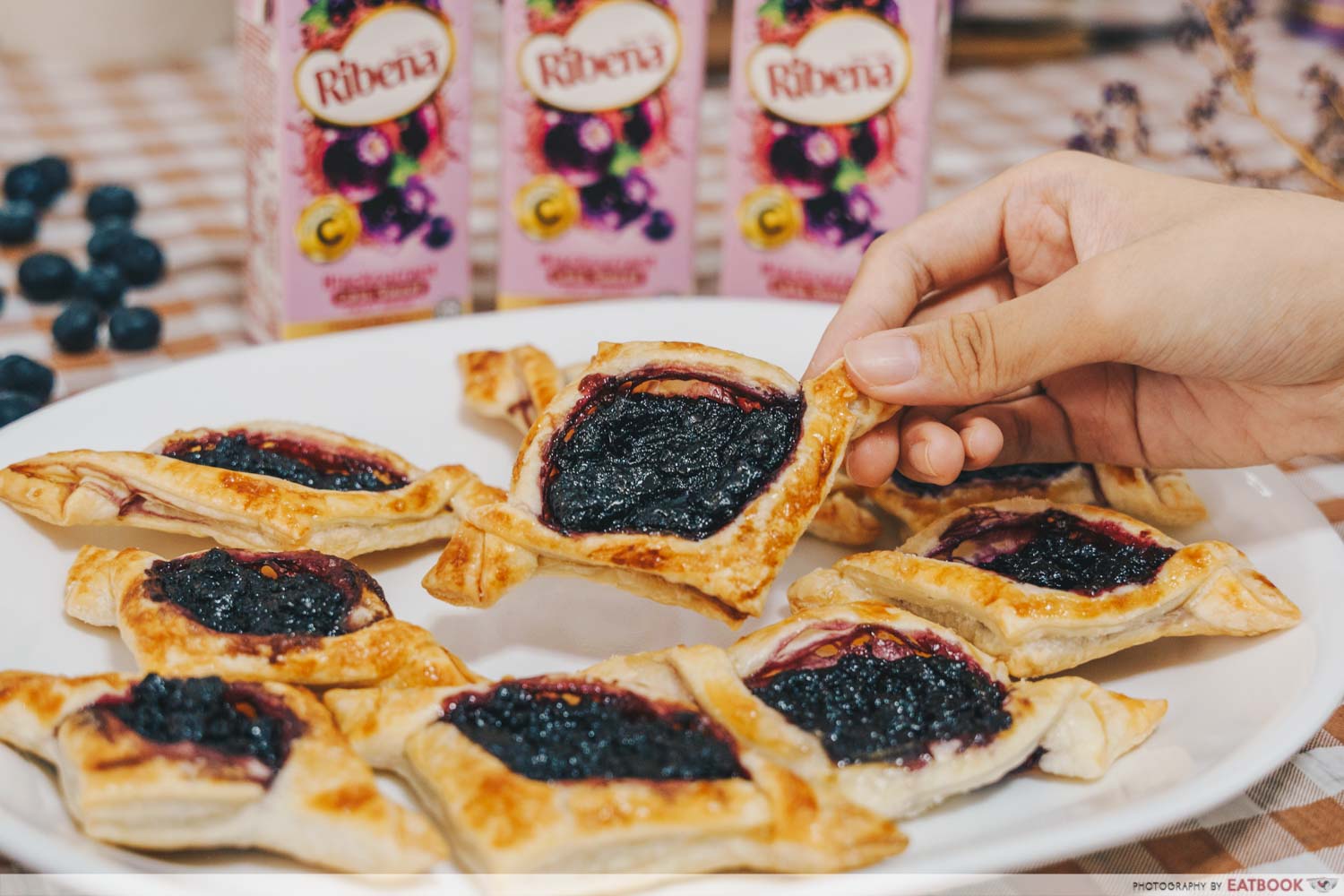 For those who have exhausted every no-bake cheesecake on the web, try your hand at these equally easy-peasy Ribena Jam Danishes. Simple and fuss-free, this recipe uses ready-made frozen puff pastry sheets, but feel free to attempt to make it from scratch.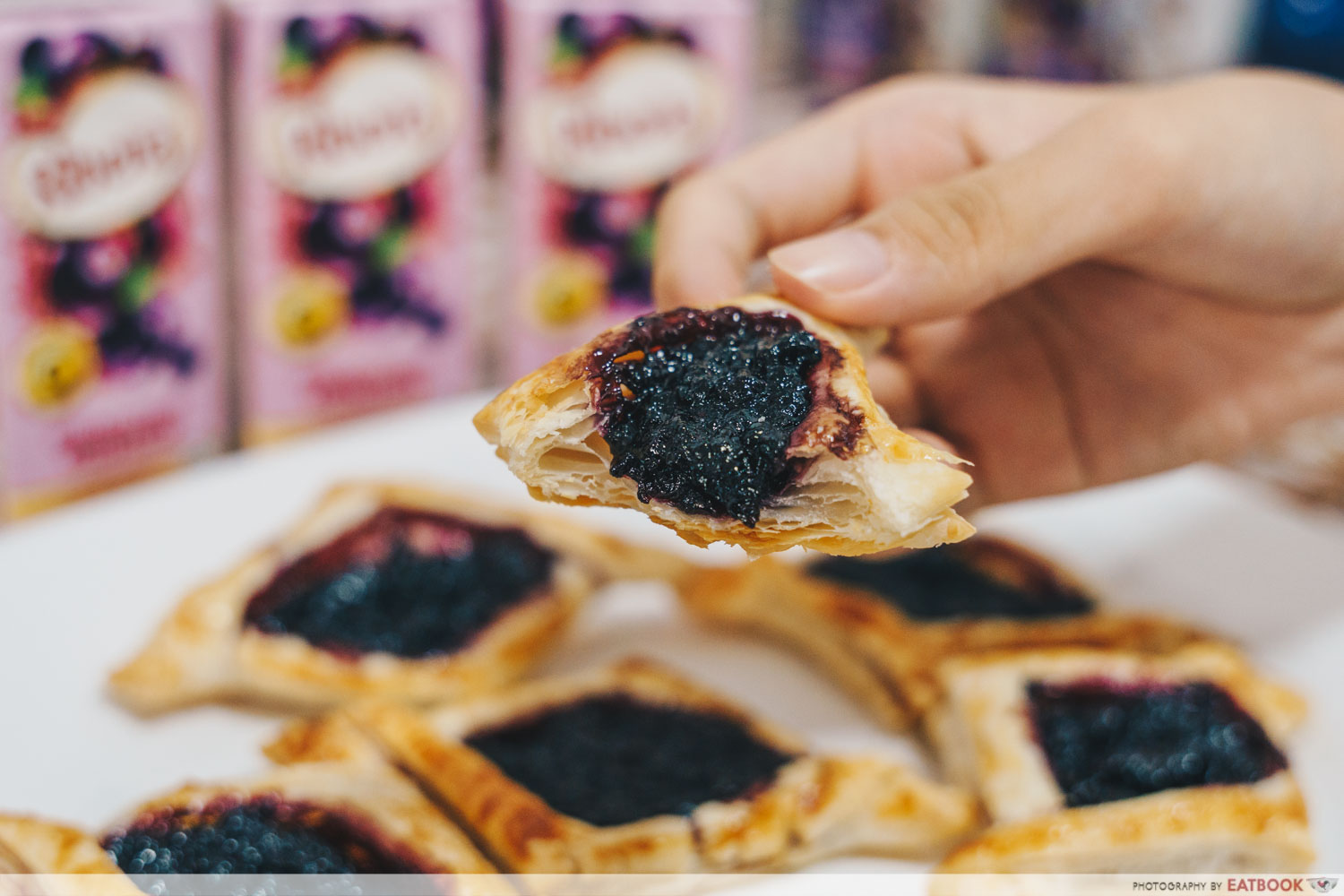 Just one juice box of Ribena's Less Sweet drink is sufficient for filling up the danishes, with a little extra to keep as jam for your next breakfast. The tart jam filling will pair nicely with the buttery fragrance of the pastry. Be careful not to lose count of the number of Danishes you've eaten!
Time needed: 1 hour
Ingredients
1 packet Ribena Less Sweet (200ml)
1 sheet frozen puff pastry sheets
3 tbsp granulated sugar
1 tbsp lemon juice
1 cup fresh blueberries
1 egg
Steps for jam:
Add Ribena, blueberries, and sugar in a pot, and bring to a boil on low heat.

Use a spoon to bruise the blueberries slightly, and keep stirring until everything boils down to a thick consistency.

When done, stir in lemon juice, and remove from heat.

Store in airtight containers or use immediately.
Steps for Danish pastry:
Preheat the oven to 180°C. 

Slice the puff pastry into equally sized squares and arrange them onto the parchment paper. 

Using a fork, poke holes only in the middle of each square where the Ribena filling goes. This allows the pastry at the edges to puff up, creating a border to hold the filling in.

Spoon the Ribena filling into the centre of the pastry, and feel free to shape the puff pastry in your own way.

In a bowl, whisk the egg, and brush it onto the edges of the pastry. Finish with a sprinkle of sugar on top.

Bake it in the oven for 15 to 20 minutes until golden. Serve warm.
---
3. Ribena Dalgona
---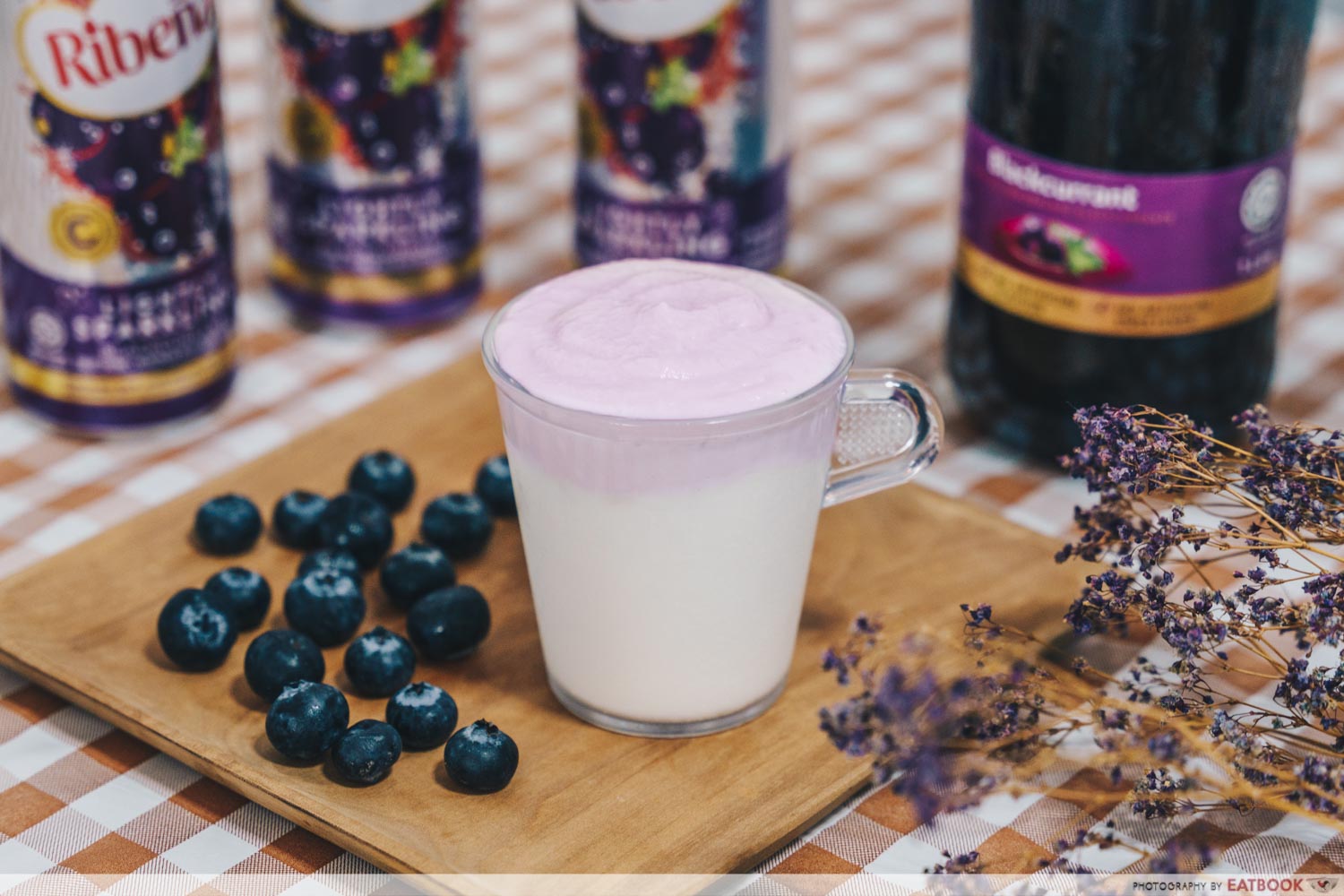 The Ribena Dalgona is a great non-caffeinated alternative to the 'internet-famous' Dalgona Coffee. Whipping this drink up can be a family event as kids will love the taste and pretty pastel colour of the berry-flavoured drink.
Using heavy whipping cream to make the frothy topping gives a nice balance of milky and fruity flavours. You can easily spoon it over milk for a simple after-meal dessert. Alternatively, use the purple whipped cream to zhng up any vanilla ice cream or cake you already have in the fridge.
Time needed: 10 minutes
Ingredients
1 cup heavy cream
2 ½ tbsp Ribena cordial
Ice
Milk
Steps:
Pour cold heavy cream into a chilled bowl, and whisk at a low speed for one minute.

Gradually increase the speed to medium-high as the cream thickens, and continue to whisk for around five minutes.

Add Ribena cordial to the whipped cream, and whisk again till everything is evenly spread out. Stop before the mixture turns grainy or clumpy.

Fill up the glass with ice and milk, and spoon the Ribena whipped cream on top. Serve immediately.
---
4. Ribena Milk Pudding
---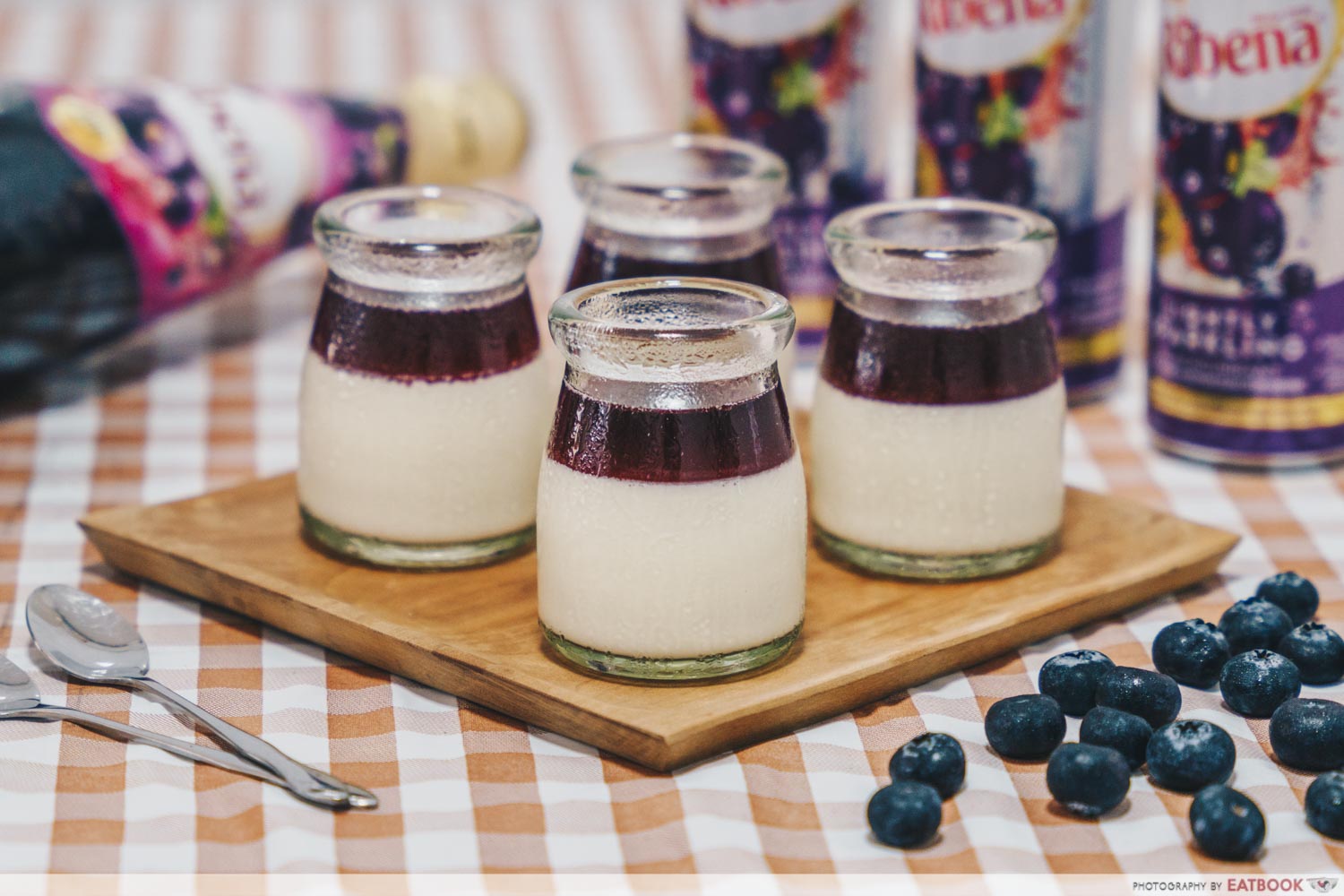 Instead of dishing out $4.60 a pop for Paris Baguette's Royal Pudding, you can now recreate your own Ribena Milk Pudding at home. Inspired by the berry-flavoured Royal Pudding, this Ribena recipe boasts a more intense blackcurrant flavour, without throwing the balance of sweetness and milkiness off-kilter.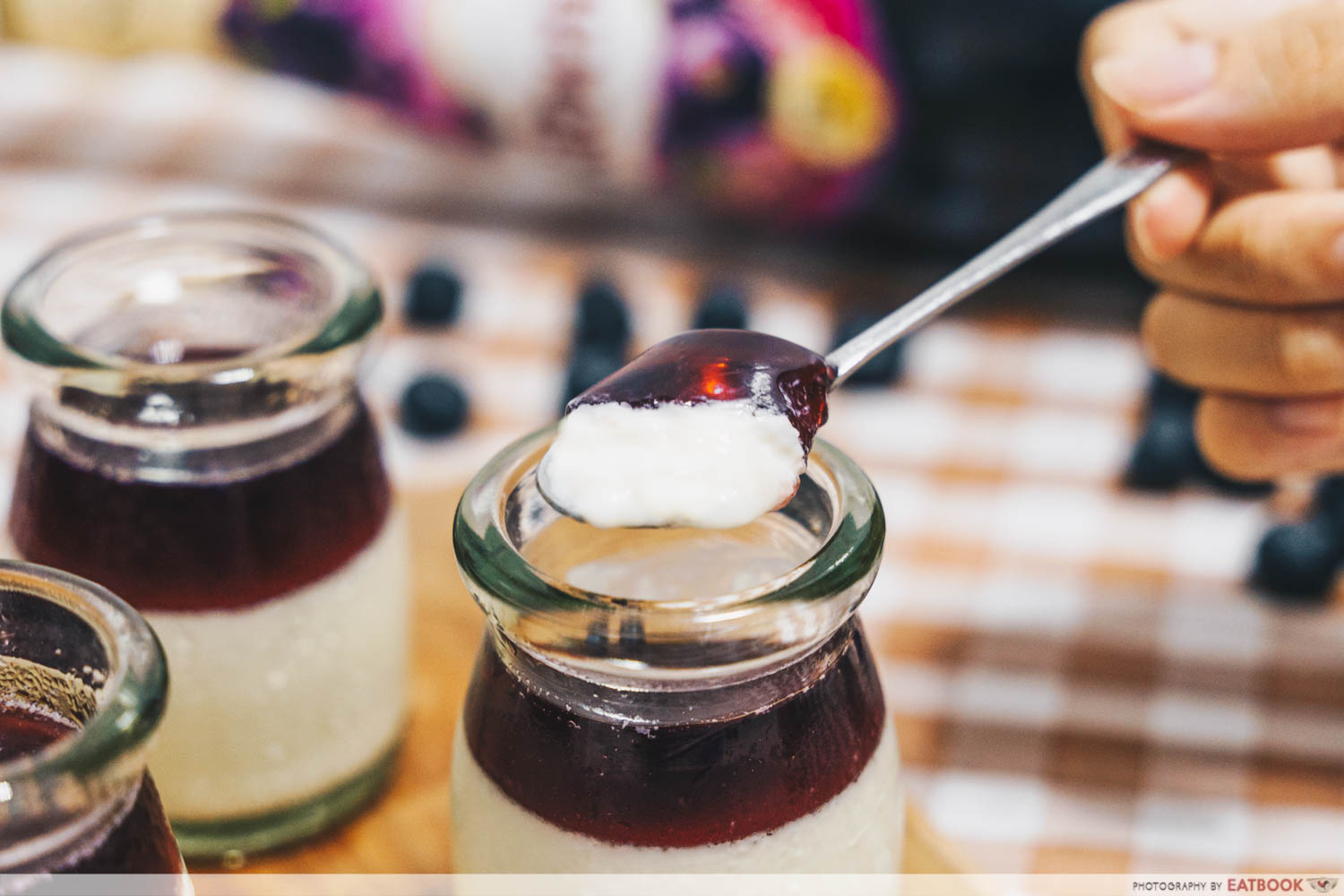 Even though the recipe requires more steps than the Ribena Dalgona, the end result is going to be much more rewarding. Each spoonful is melt-in-your-mouth, and can be kept in the fridge for a week. If you're looking to make more than four servings of the milk pudding, do adjust the recipe accordingly.
Time needed: 30 minutes
Ingredients
Milk Pudding:
15ml water
1 tsp gelatin powder
80ml whipping cream
120ml milk
30g sugar
Ribena Jelly:
50ml water
1 tsp gelatin powder
40ml Ribena cordial
Steps:
For the milk pudding layer, combine water and gelatin in a bowl and set aside for 10 minutes without stirring.

In a pan on low heat, combine whipping cream, milk, and sugar. Turn off the heat as soon as sugar is dissolved and before the mixture starts to boil.

Pour the gelatin mixture into the pan, and stir until dissolved.

Pour the liquid through a sieve, and split it equally between four glass jars. Chill them in the fridge for at least five hours.

For the Ribena jelly layer, combine water and gelatin in a bowl, and set aside for 10 minutes without stirring.

In a pan on low heat, heat up the Ribena cordial. Turn off the heat before the liquid starts to boil.

Pour the gelatin mixture into the pan, and stir until dissolved.

Leave the pan to cool to room temperature. Through a sieve, pour a layer into the four jars, and chill in the fridge for at least another three hours.
---
5. Ribena Sherbet
---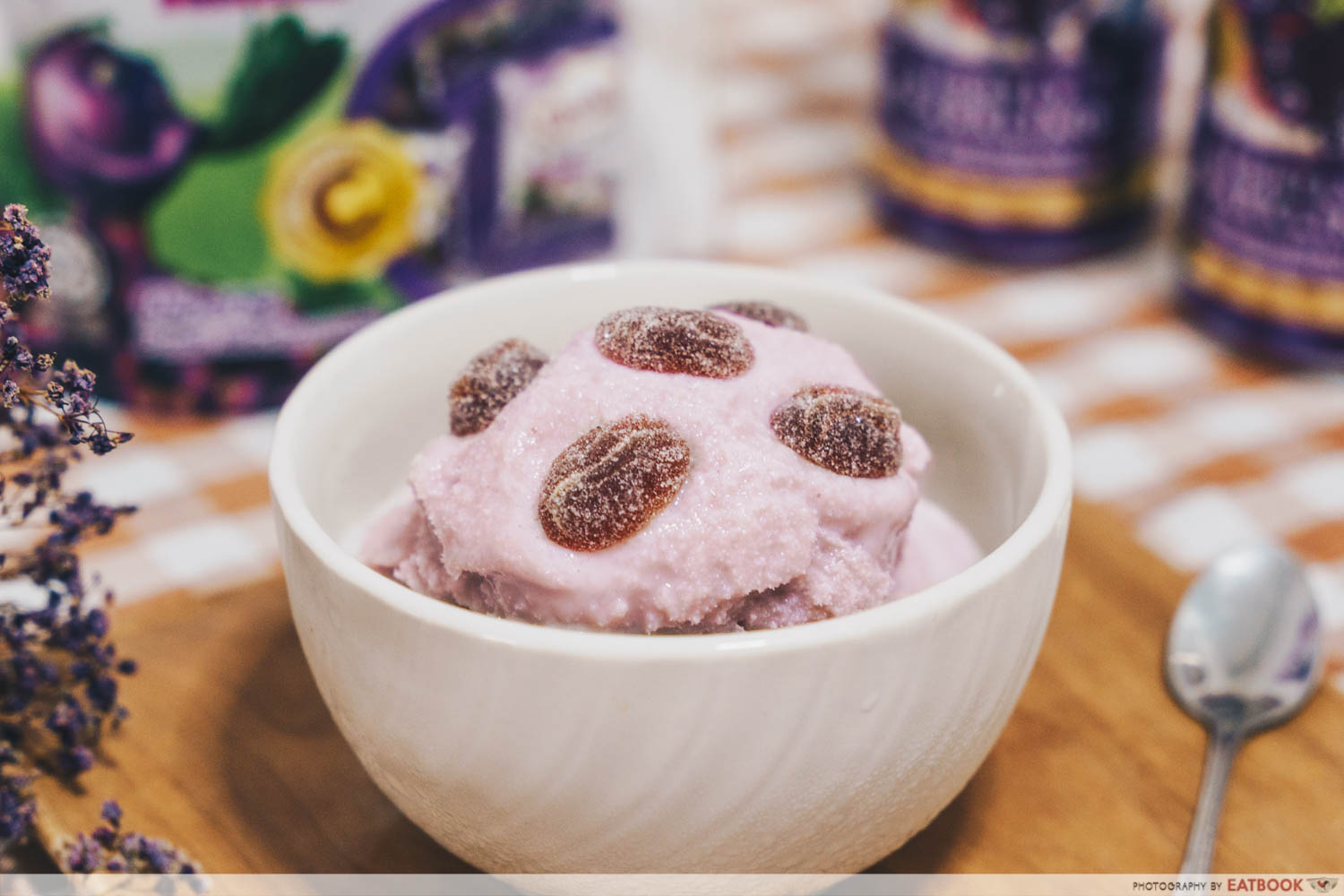 A fool-proof option would be to freeze the Ribena drink into blocks to make blackcurrant popsicles. But with all the days stuck at home, there's extra time to impress the family with something like the two-ingredient Ribena Sherbert instead. The trick here is to add condensed milk into the Ribena to bring the freezing point down a notch. This gives the sherbet an icy yet creamy texture that is right smack in the middle of a sorbet and an ice cream. 
For a chewy mouthfeel, feel free to throw on some Ribena Pastilles as toppings!
Time needed: 5 minutes
Ingredients
2 cups Sparkling Ribena
1 ½  cups condensed milk
Ribena Pastilles (optional)
Steps:
Combine Sparkling Ribena and condensed milk, and whisk until well combined.

Pour mixture into a freezer-proof container with cling wrap and freeze for at least eight hours, preferably overnight.
---
Ribena recipes to zhng up your Circuit Breaker
---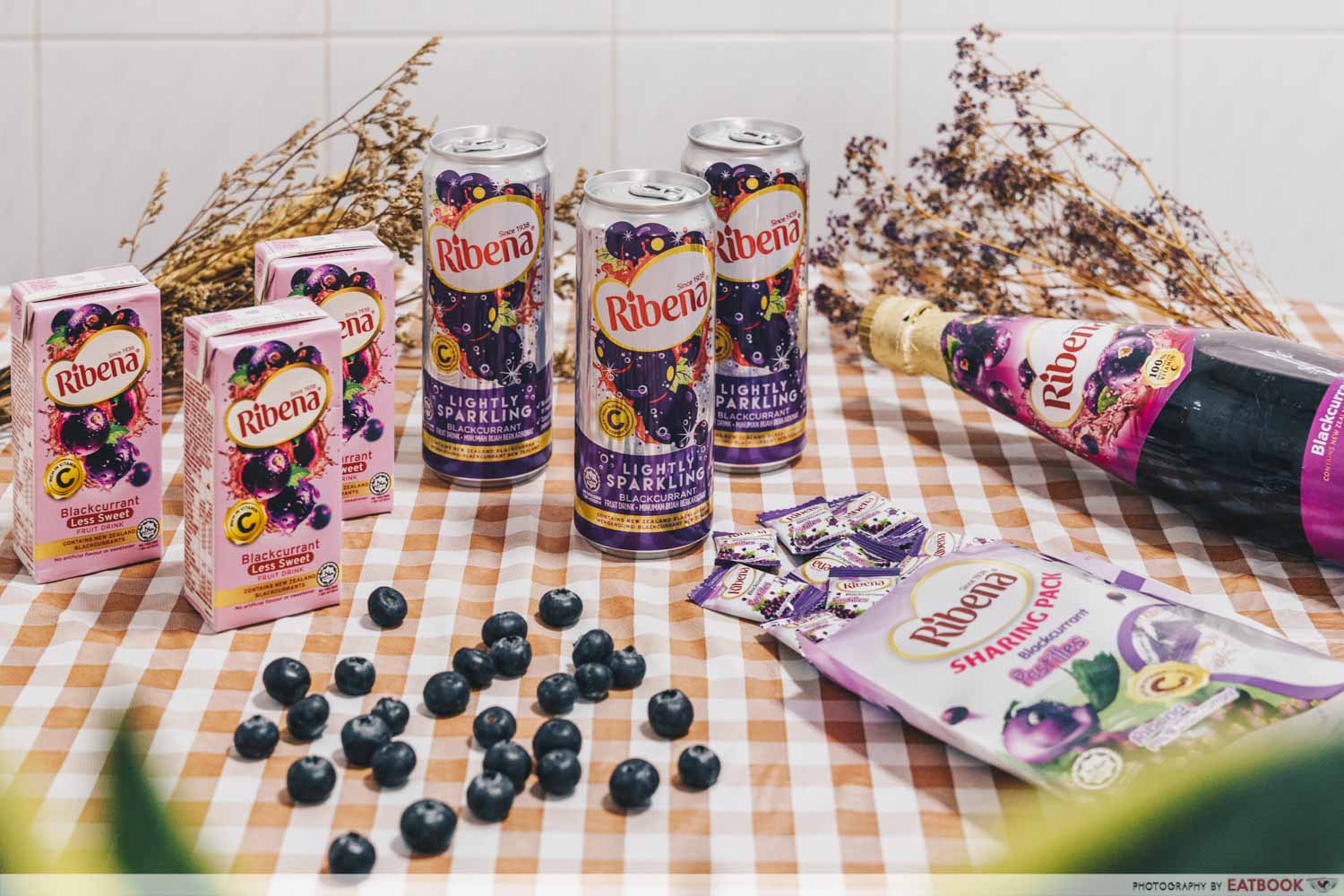 With all the extra time during the Circuit Breaker, home cooks can get creative with Ribena recipes for an added pop of colour and dimension of flavour. The fruity cordial, drink, and pastilles can easily be incorporated into simple recipes to zhng up both savoury food or plain desserts.
Rice Cooker Oyakodon Recipe: Easy And Tasty Japanese Donburi Made With A Rice Cooker
If you are looking for more easy recipes to try at home, check out the rice cooker oyakodon and rice cooker mentaiko mac and cheese recipes for less washing.
Photos taken by Lim An.
This post is brought to you by Ribena.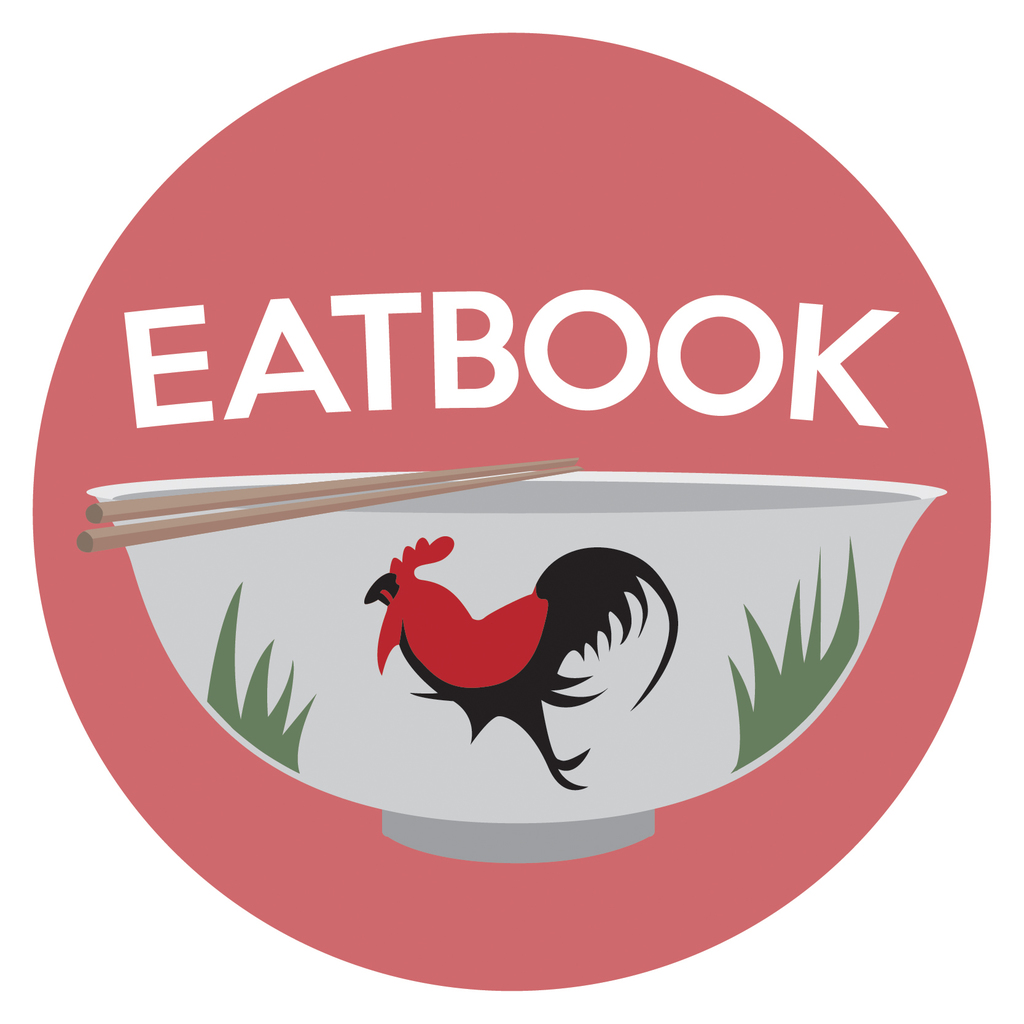 Drop us your email so you won't miss the latest news.