Oyakodon with just a rice cooker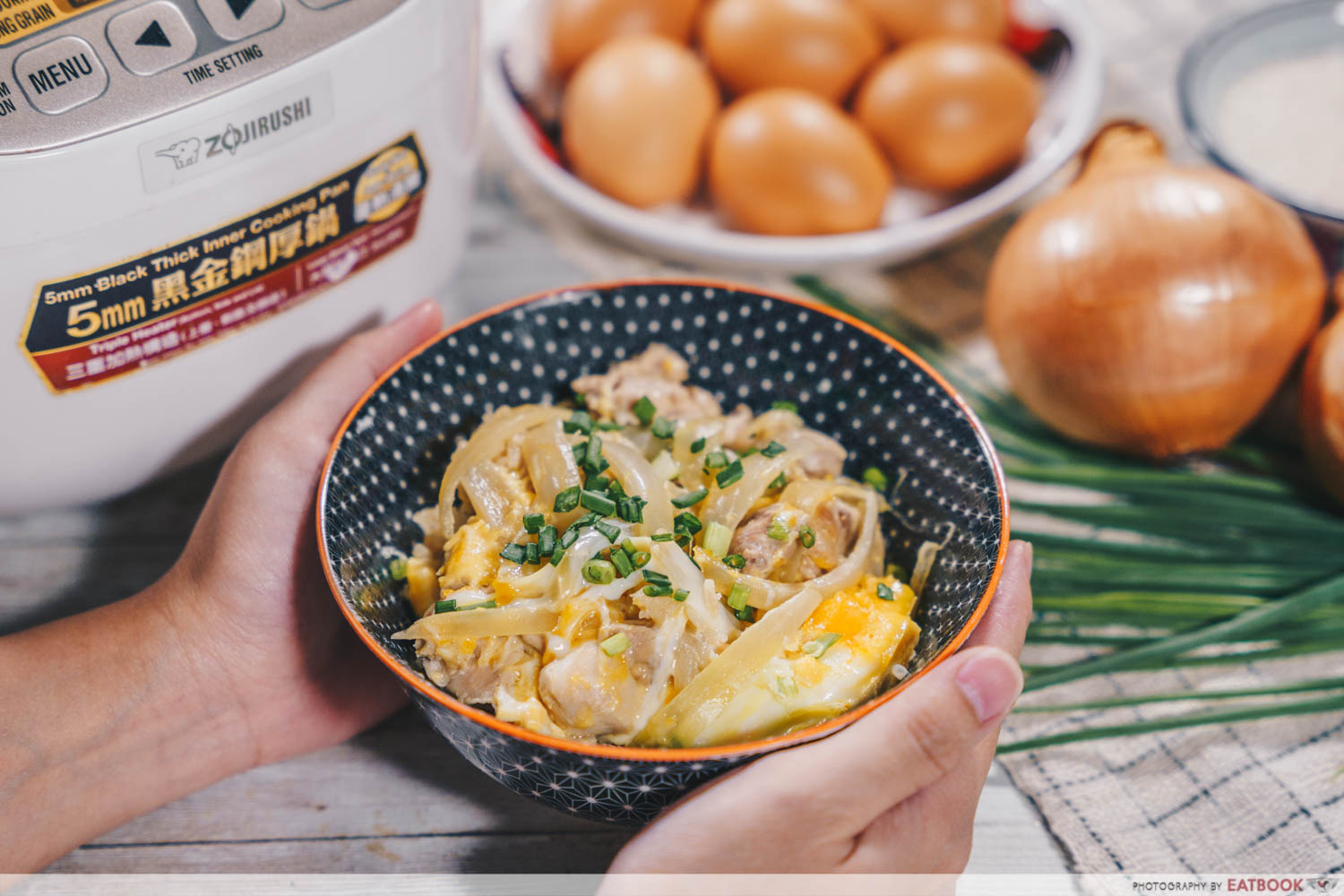 With the Circuit Breaker measures put into place, it seems like everybody on the internet is flaunting their mad cooking skills. As a home cook who steps into the kitchen every once in a while, I'm glad I have my basic know-hows and trusty rice cooker by my side. Being coerced into the kitchen in an attempt to save money from hefty food delivery surcharges, I've managed to come out with a rice cooker oyakodon recipe that requires minimal washing and prepping. Even though it might not look as good or taste as stellar as those that are made with the pan, this recipe is easy, foolproof, and best suited for lazy cooks like me.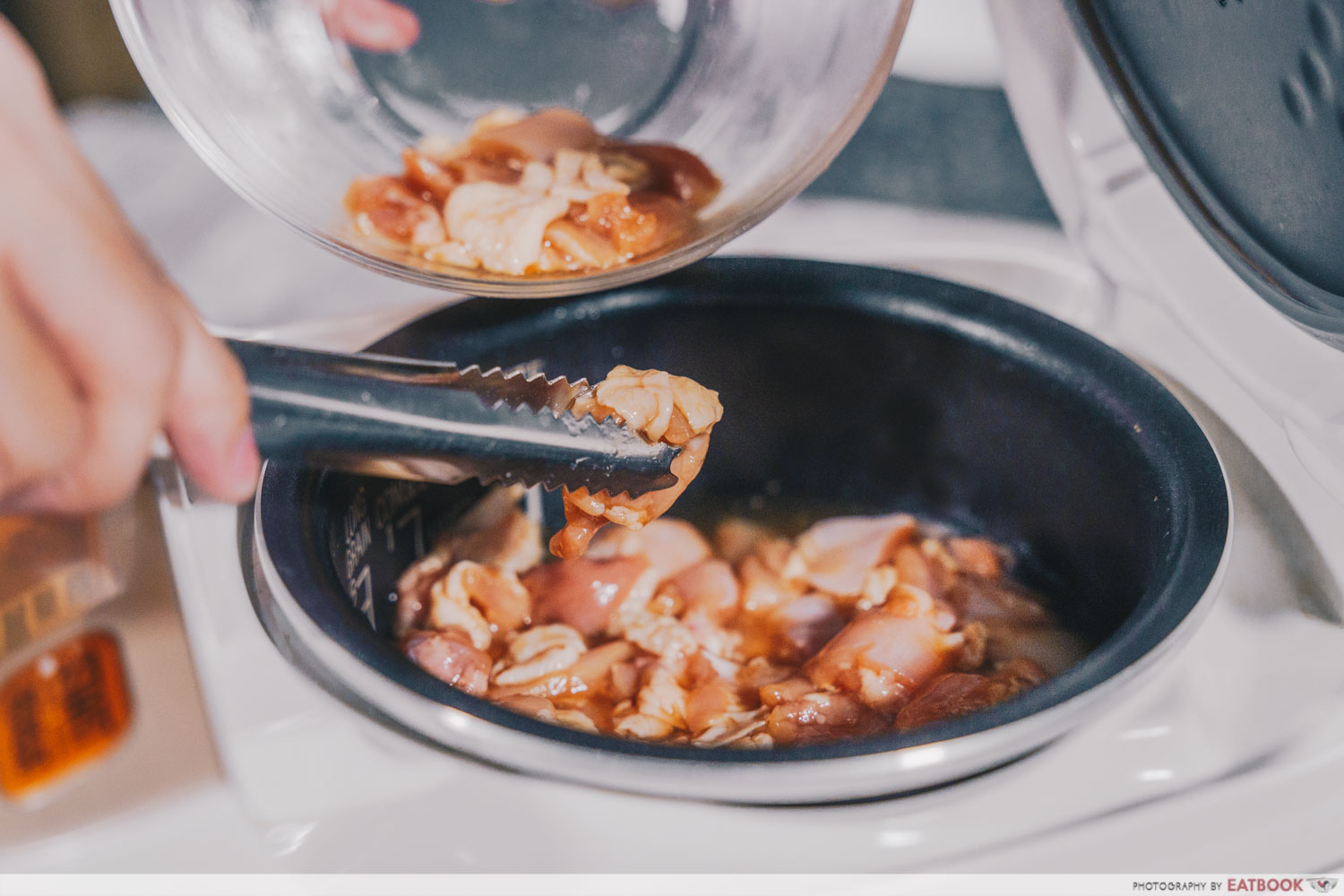 What's so special about rice cooker recipes is how it's meant to be a quick, one "pot" cooking affair. Instead of cooking the eggs and chicken separately in a pan, the lazy girl in me is going to skip some steps and dump everything in the rice cooker instead. Head to the bottom of this article for the full recipe!
---
The process
---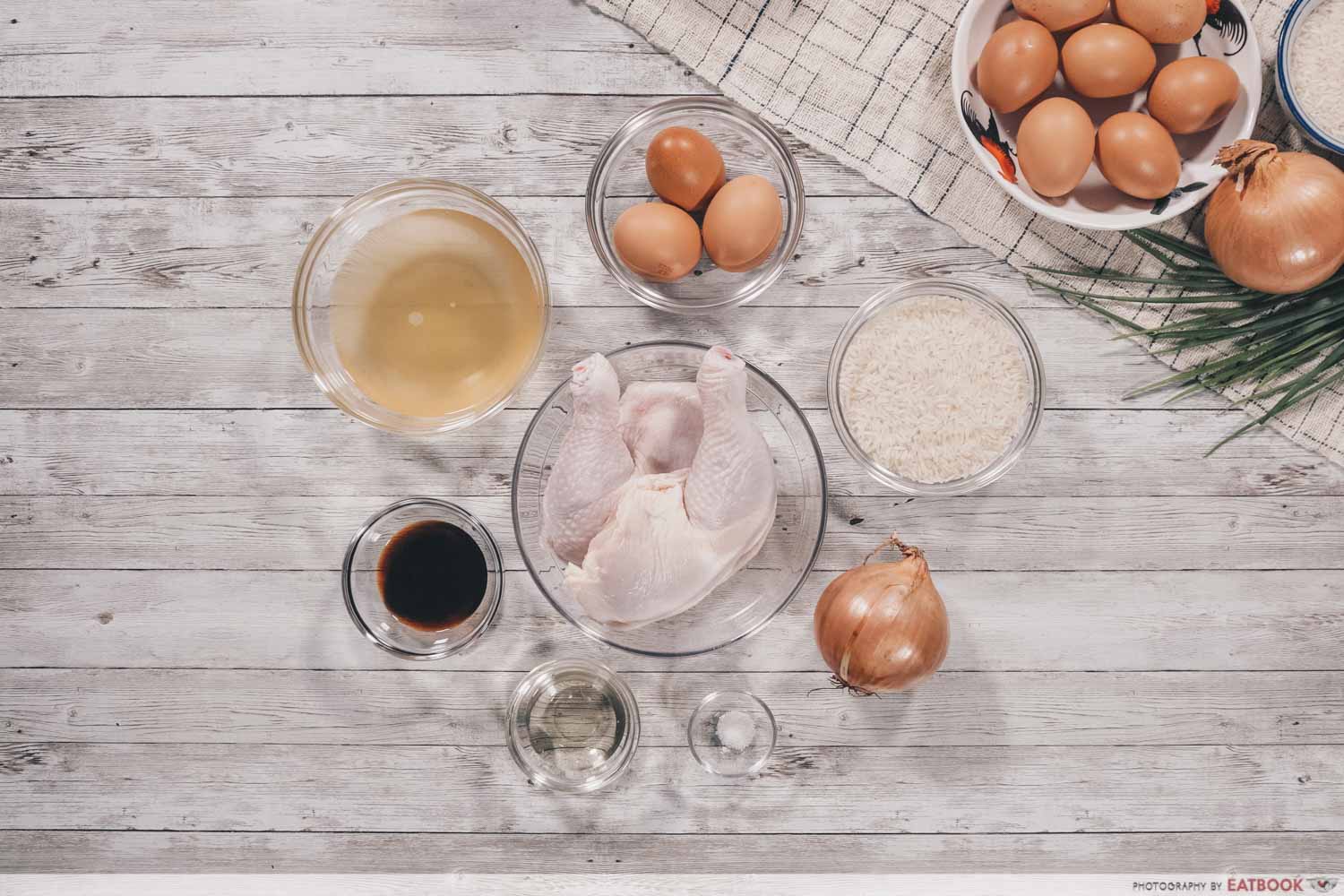 Though it sounds sadistic, oyakodon literally translates to "parent and child rice bowl". Contrary to its name, the dish never fails to soothe my body and soul thanks to its simple yet wholesome ingredients. To create this hearty dish, you will need common ingredients such as onions, eggs, and light soya sauce.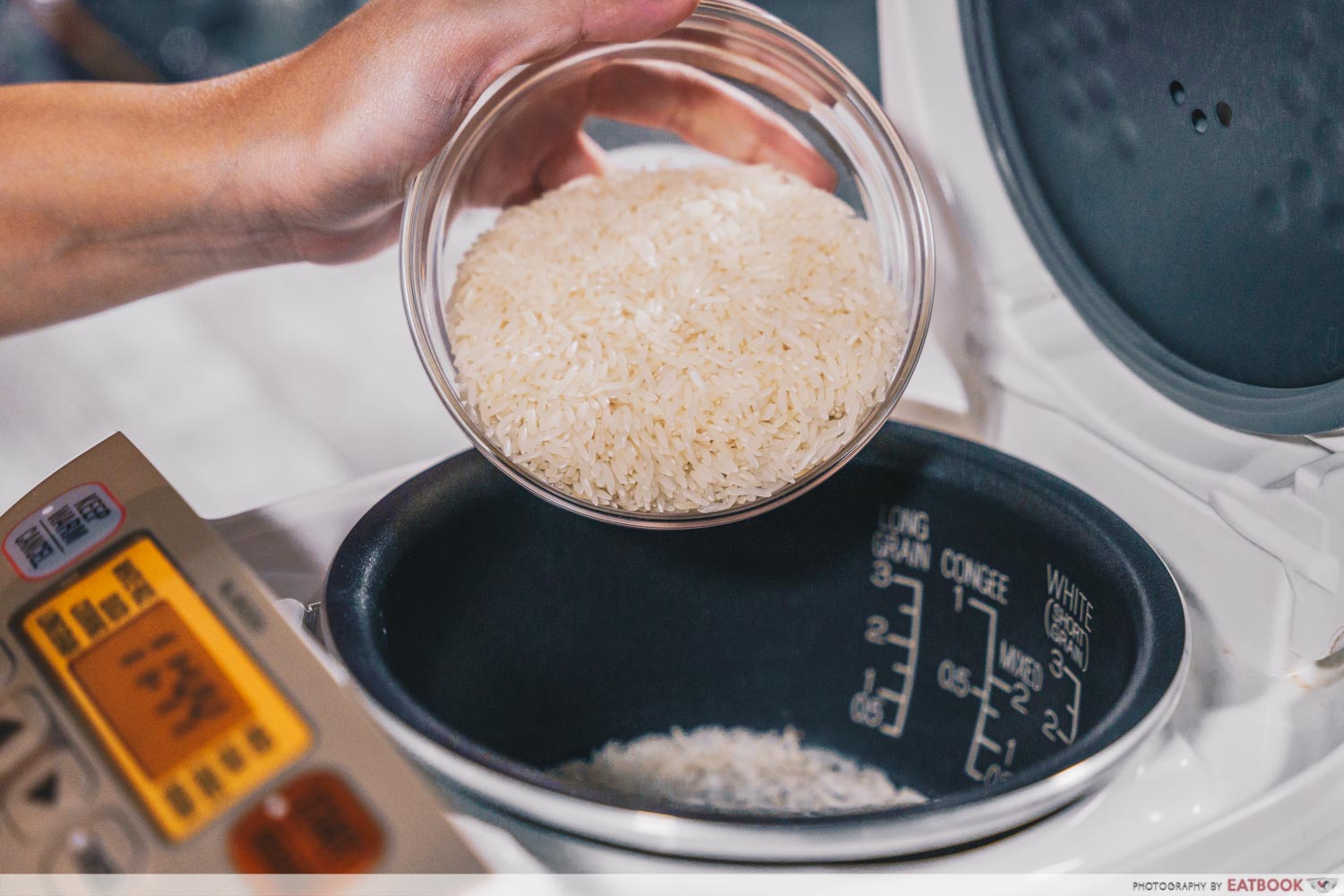 Give the rice a good rinse and drain well. I cooked the rice using chicken stock as it gives a whole wealth of flavour to the otherwise plain white rice. I only had jasmine rice in my kitchen, but feel free to use Japanese rice if you have them at home.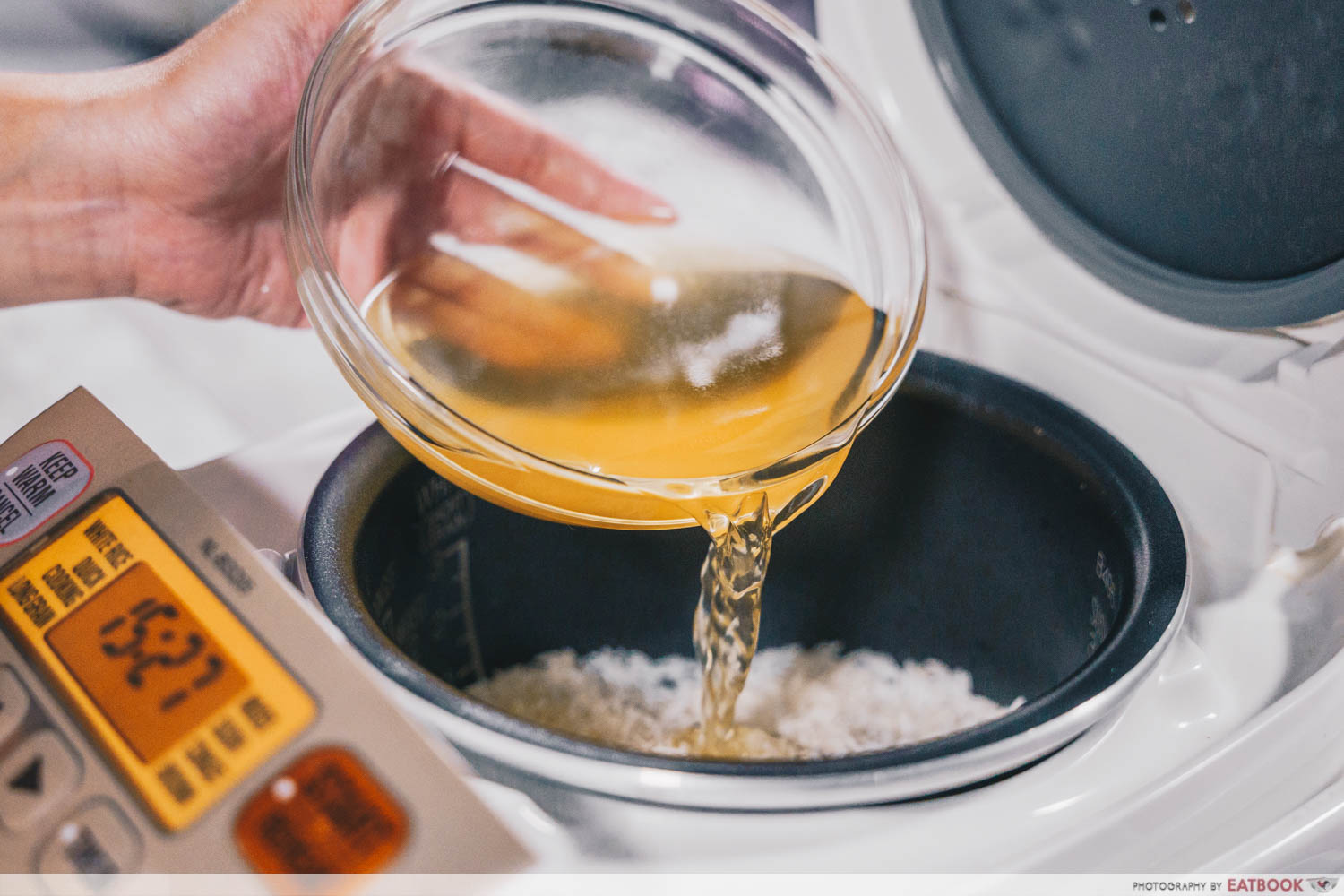 Pour the chicken stock straight into the rice cooker to flavour the rice. For those using Japanese rice, add in more chicken stock so that there's a rice to liquid ratio of 1:1.2. Else, stick to an easy 1:1 ratio with jasmine rice.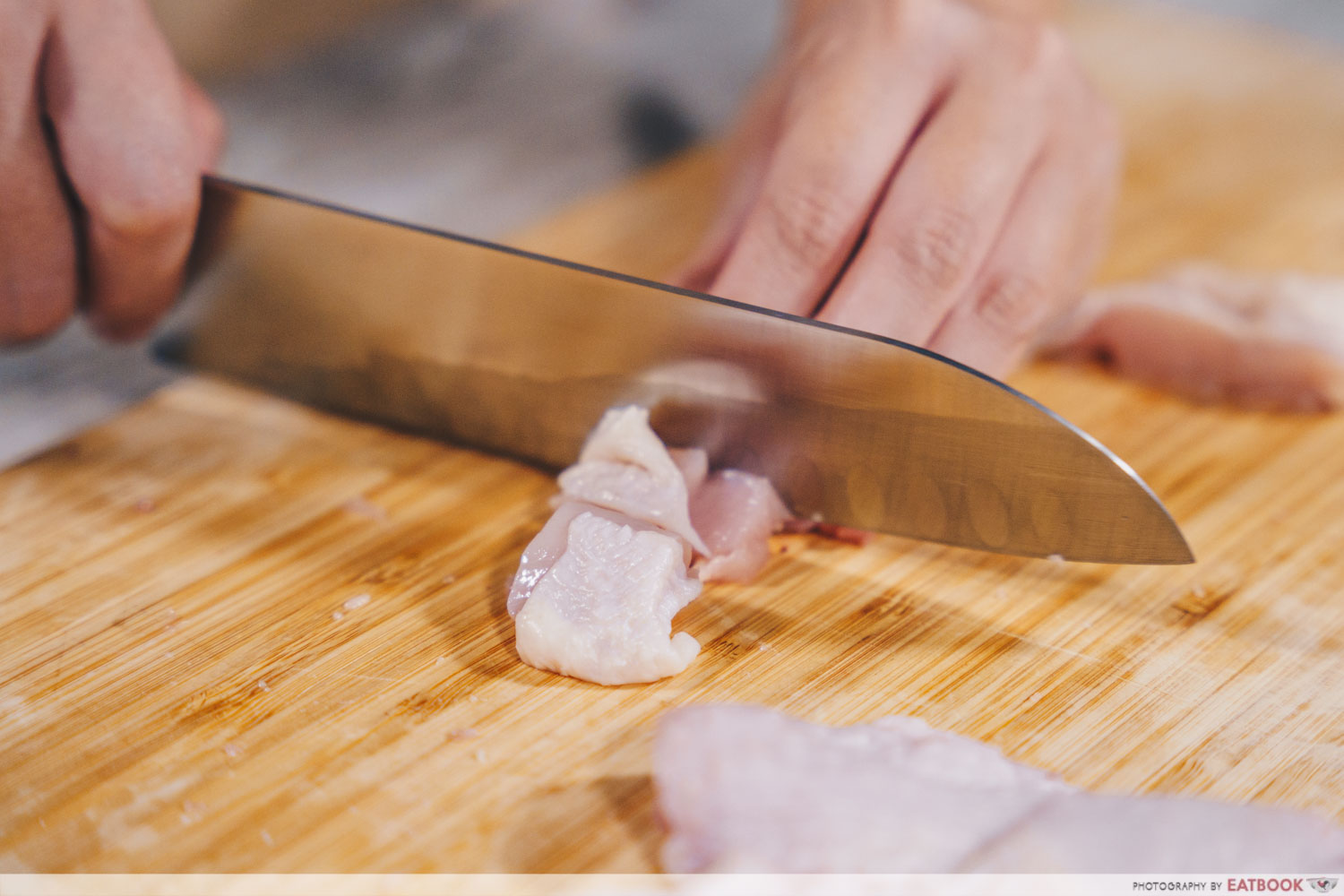 Don't hit the "Start Cook" button yet because there's more than just rice to be placed in the rice cooker! Debone and slice up your favourite cut of chicken into bite-sized pieces. Skin-on thigh meat is recommended as it is juicier and more flavourful than breast meat.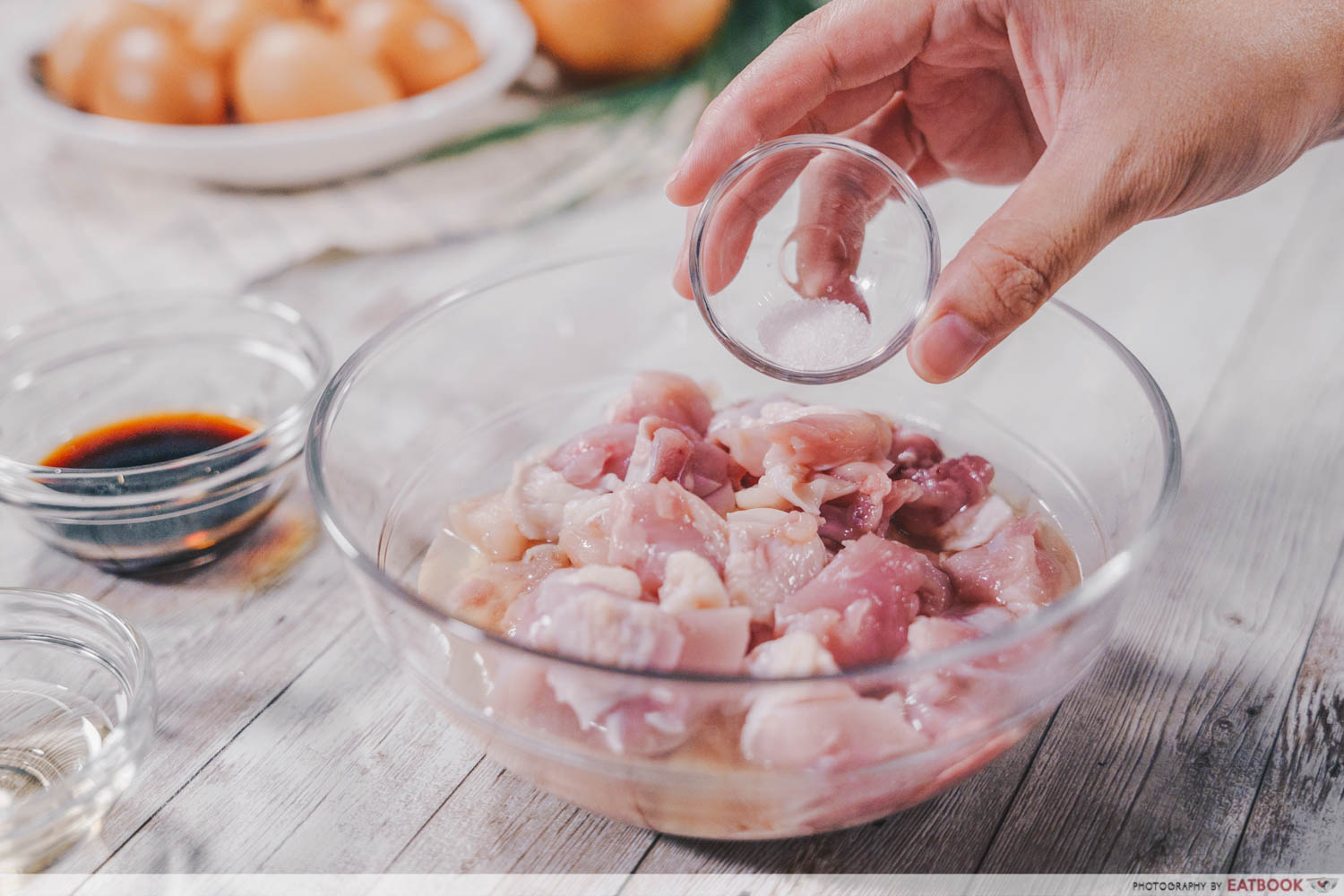 Lightly marinate them with soya sauce, mirin, sugar, and an extra dash of chicken stock. Let it sit in the fridge for 30 minutes while you slice a large onion and wash up any used utensils. 'Clean as you go' is after all a good habit picked up by many chefs.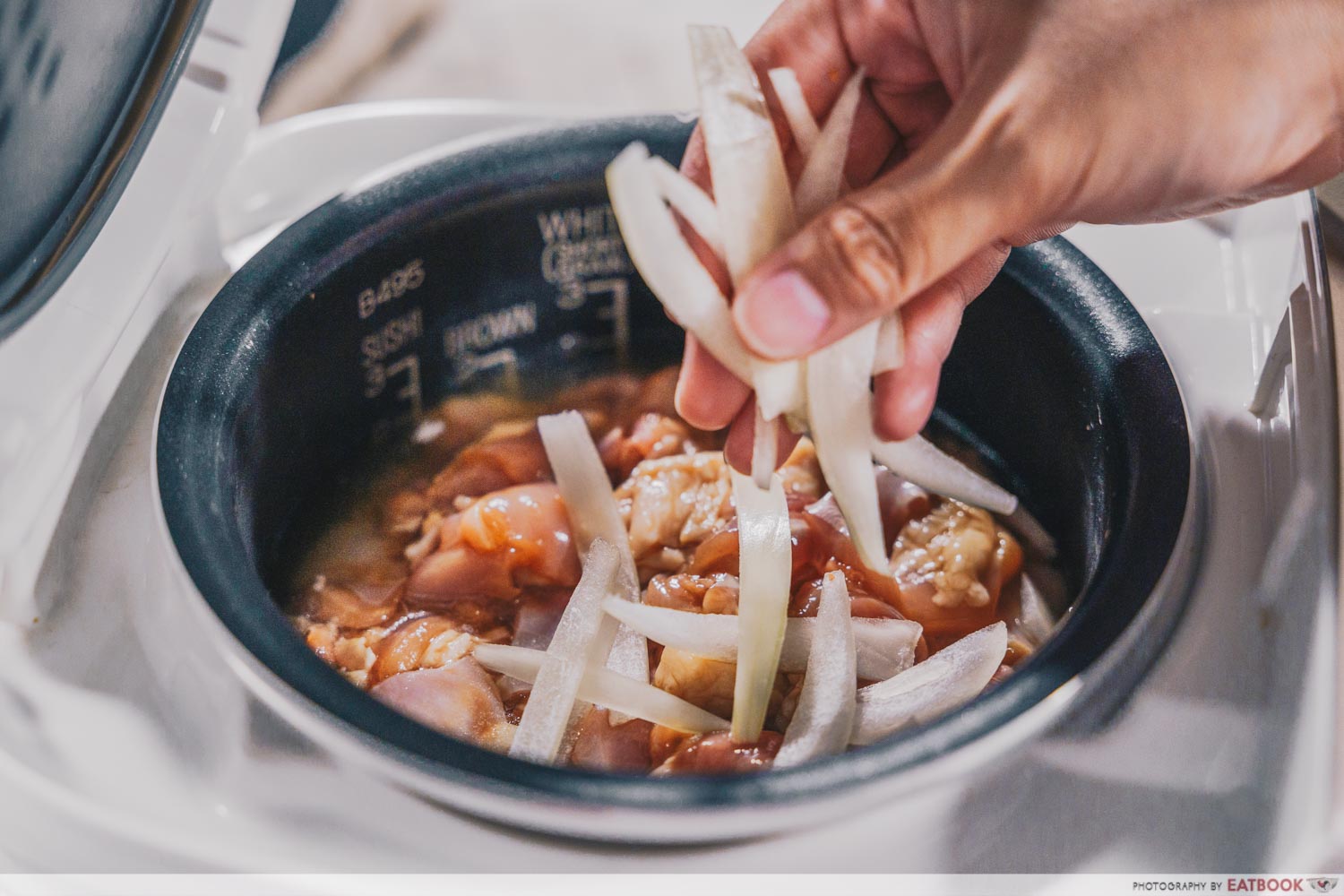 Place the diced chicken on top of the bed of rice, followed by sliced onions. Hit the cook button and wait for 60 minutes.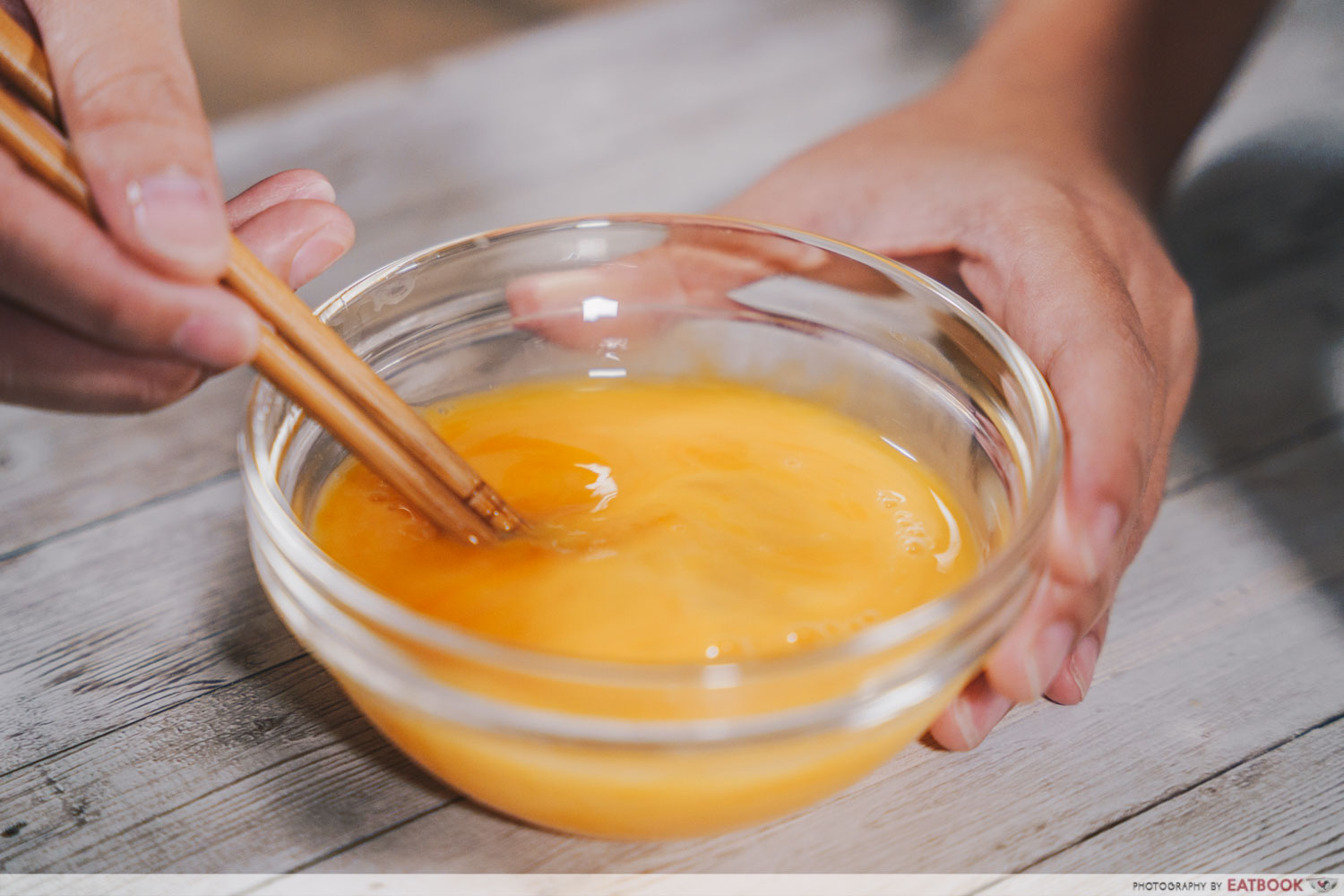 Lightly whisk together three eggs in a bowl and drizzle it over the cooked ingredients right as the alarm goes off. Whisking the eggs too heavily might result in a pale yellow egg atop the rice, robbing the potential of pretty white and yellow streaks on your final product.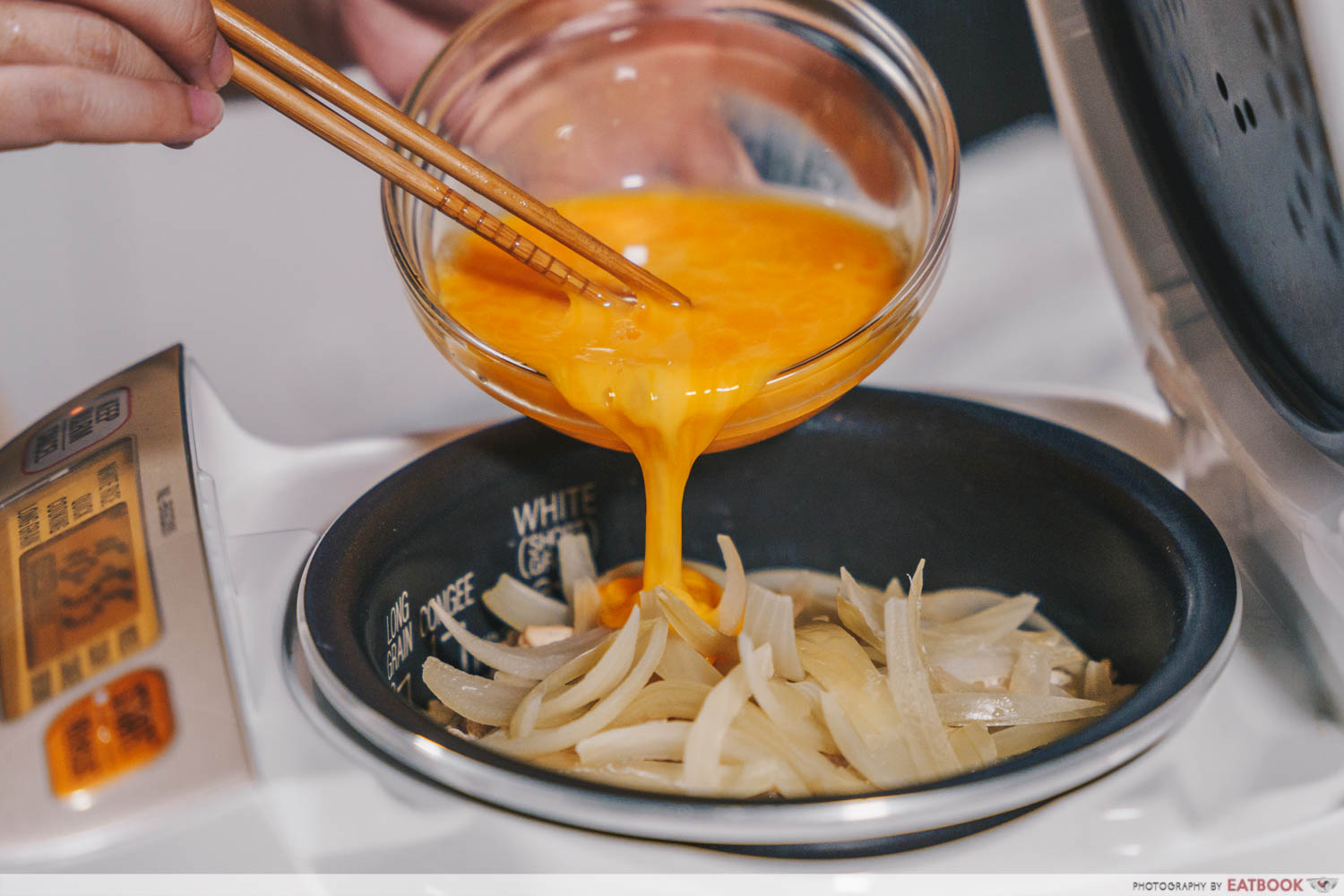 Fight your hunger pangs and close the rice cooker lid back on for another five to 10 more minutes to cook the eggs under the "Keep Warm" setting. The hallmark of delicious oyakodon is the almost set but runny eggs on top, so make sure not to overcook them.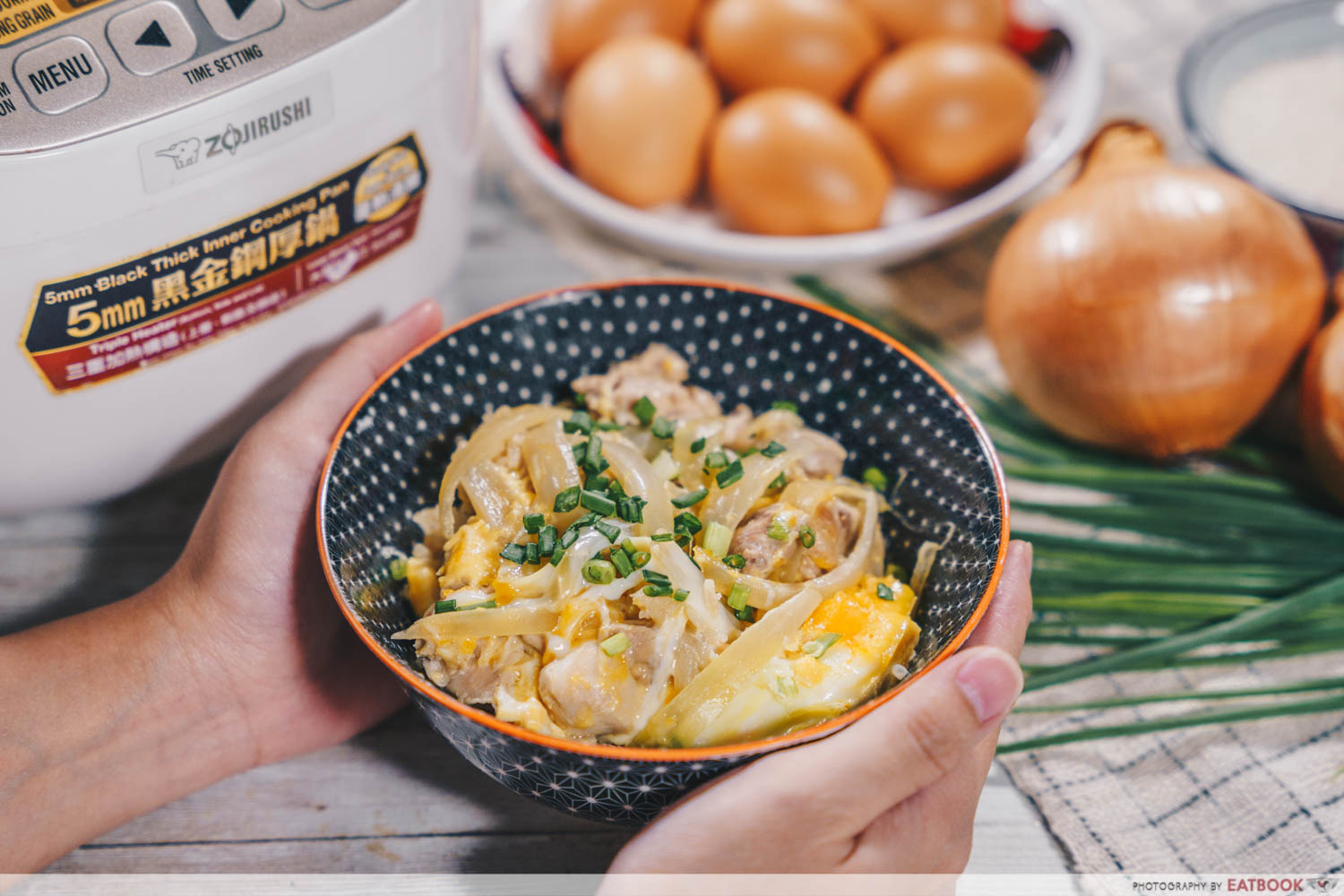 Once the eggs are ready, gingerly portion out the food into two bowls and garnish with spring onions for an additional pop of colour. Serve this quick and tasty oyakodon to your loved ones without letting them know it came out from just one rice cooker.
---
Rice cooker oyakodon recipe
---
Yield: Serves 2
Cooking time: 75 minutes
Ingredients:
1 cup rice
1 cup chicken stock or dashi stock
2 chicken thigh, cut into bite-sized chunks
3 eggs
1 large onion, sliced into long strips
Spring onions (optional)

Chicken marinade:
1 ½ tablespoon soy sauce
2 tablespoon mirin
4 tablespoon chicken stock
¼ teaspoon sugar
Directions:
Using a rice cooker pot, give the rice a good rinse and drain the water. Pour in chicken or dashi stock and set aside.

Marinate the chicken with soy sauce, mirin, chicken stock and sugar. Place the chicken into the fridge and let sit for 30 minutes.

Place chicken chunks followed by onions on top of the rice and hit the "Start" button on the rice cooker.

Prepare the eggs by whisking them lightly. Pour them in when the rice is cooked after 60 minutes.

Put the rice cooker lid back on to cook the eggs on "Keep Warm" setting for at least five more minutes. Serve with a garnish of chopped spring onions.
For more easy but delicious recipes, check out our "Parasite" steak ram-don recipe which takes less than 10 minutes to whip up, or this delicious Indomie pizza recipe which is a total crowd-pleaser at parties.
Indomie Pizza Recipe: This Instant Noodle Hack Lets You Eat Indomie On The Go
Photos taken by Lim An.