---
---
If you're feeling like the festivities are neverending, you're not alone. There's literally no pause between Christmas 2022 and Chinese New Year 2023, and it's time to hustle if you haven't already booked your reunion dinners. Between the Christmas indulgences, shopping, CNY dinners and angbao distributing, we totally get it if your wallets are feeling the pinch, so here's our guide to affordable reunion dinner menus to welcome the Year of the Rabbit.
---
1. Peach Garden Chinese Restaurant
---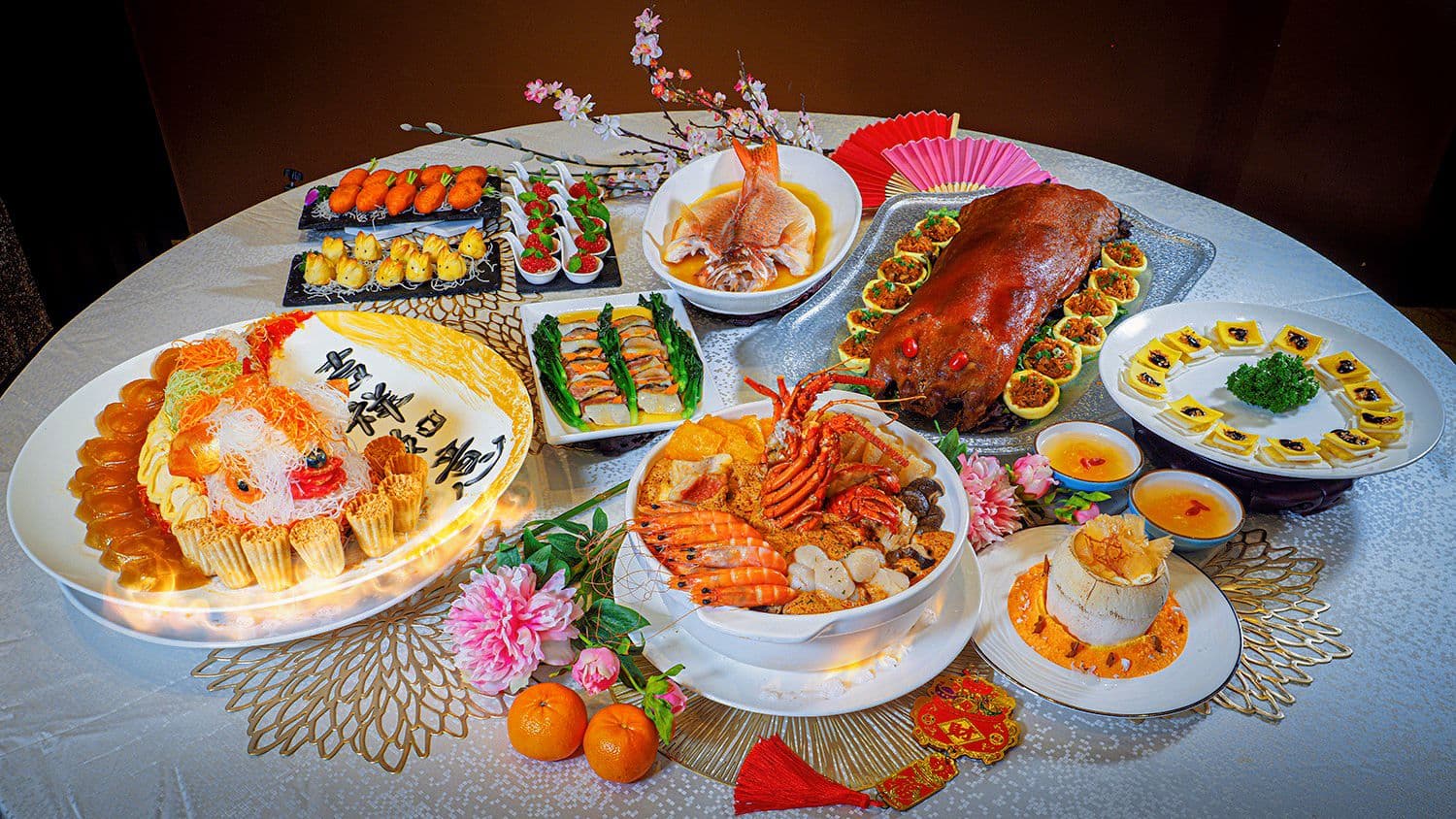 Image credit: Peach Garden Chinese Restaurant
Win brownie points with the parents and in-laws when you book the fam a feast from Peach Garden Chinese Restaurant. Whether you're thinking of dining out or ordering in, the Chinese restaurant group has got your back. Skip the fuss and opt for one of their set menus for eight to 10 diners, with prices starting from $635.04 for the takeaway Fortune Treasure Set, working out to less than $100 a person. 
Otherwise, create your own, more affordable reunion dinner menu, with Collagen Yuzu Yu Sheng with Petite Abalone ($105.84/$138.24), where yuzu collagen ingots of sauce melt onto the yusheng when set alight. This yusheng is only available for dine-in and takeaway orders. Wow the table with Premium Seafood Pen Cai with Laksa Broth ($505.44), which sees a local twist on the traditional pen cai, and end the meal on a candied note, with Osmanthus Pudding With Fruits ($28.94).
Place your CNY orders now for a 5% early bird discount, valid till 15 January 2023! What's more, Eatbook readers are entitled to an exclusive 15% off the Collagen Yuzu Yu Sheng with Petite Abalone when you quote 'EATBOOKCNY' at checkout on the e-shop, for takeaways, and dine-in orders. 
Website | Full list of locations
---
2. Chilli Manis
---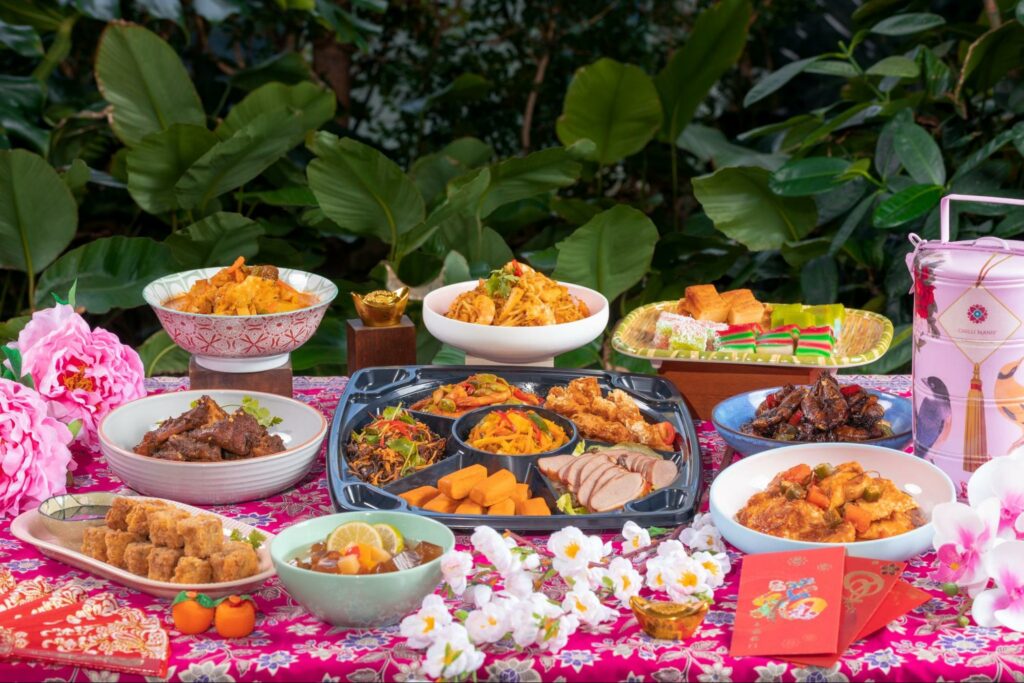 Image credit: Chilli Manis
If you're looking to host a CNY meal for a diverse group of friends or colleagues, halal-certified Chilli Manis may just be your answer. They've got five different festive buffet spreads, specially curated by their executive chef to celebrate the Year of the Rabbit, including two Peranakan ones! Prices for their affordable reunion dinner menus start from $29.88+ a person for the Abundant Harvest festive buffet, with nine courses of food for parties of 40 or more.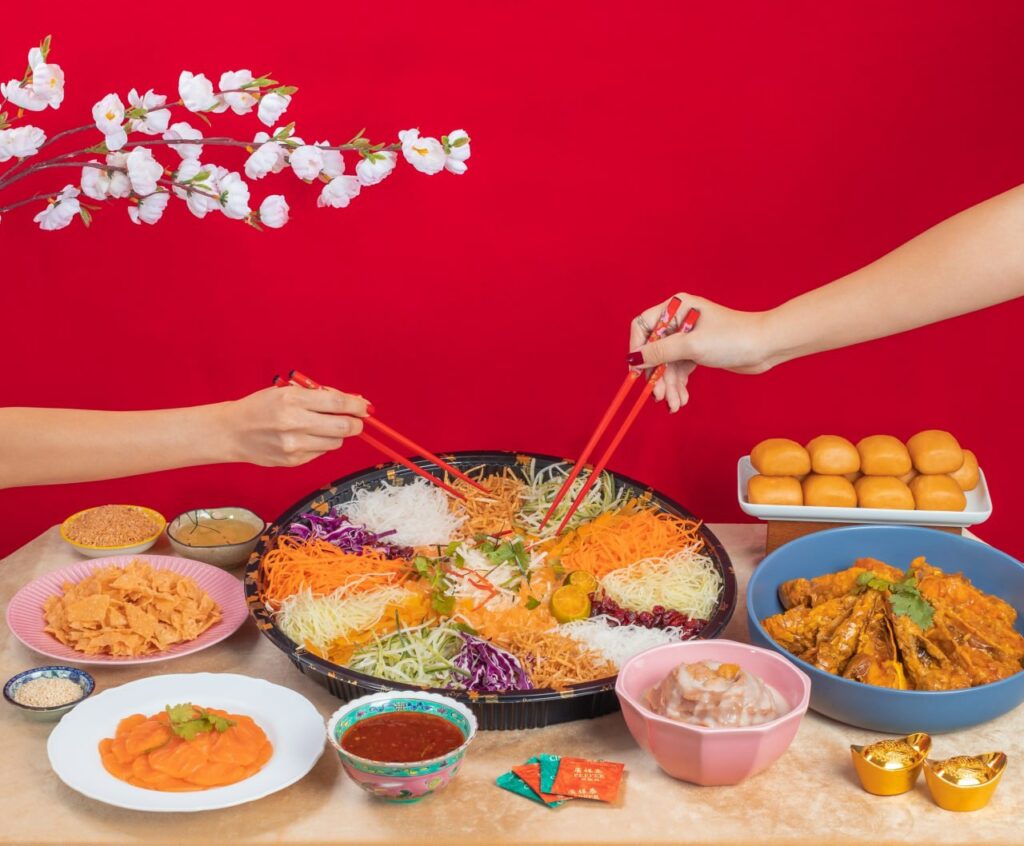 Image credit: Chilli Manis
If you're hosting a smaller gathering, go for Bountiful Blessing ($32.88+ a person) or Opulent Wealth ($36.88+ a person), for a minimum of 30 diners. Whichever you opt for, you can be assured of classic CNY dishes, including Fragrant Yam Rice with Lap Cheong & Mushroom, Fortune Chestnut Chicken, and the all-new Imperial Ebi with Yuzu Mayo.
Chilli Manis is known for their Peranakan catering, so you can't go wrong with Baba Fortune Celebration ($38.88+ a person) or Nyonya Riches Reunion ($42.88+). Signature Peranakan dishes on these menus include Signature Ayam Buah Keluak and Udang Goreng Assam, plus Blue Pea Flower Rice and Assorted Peranakan Kueh to end!
Place your orders for the period of 9 January to 12 February 2023 through their website, and stand to win a Peranakan dining set for two worth $188 when you order any Prosperous Festive Buffet set! Do note that there will be a festive surcharge of $2+ a person on 27 to 29 January, and 3 February to 5 February 2023.
Tel: 6250 1112
Website
---
3. Grain
---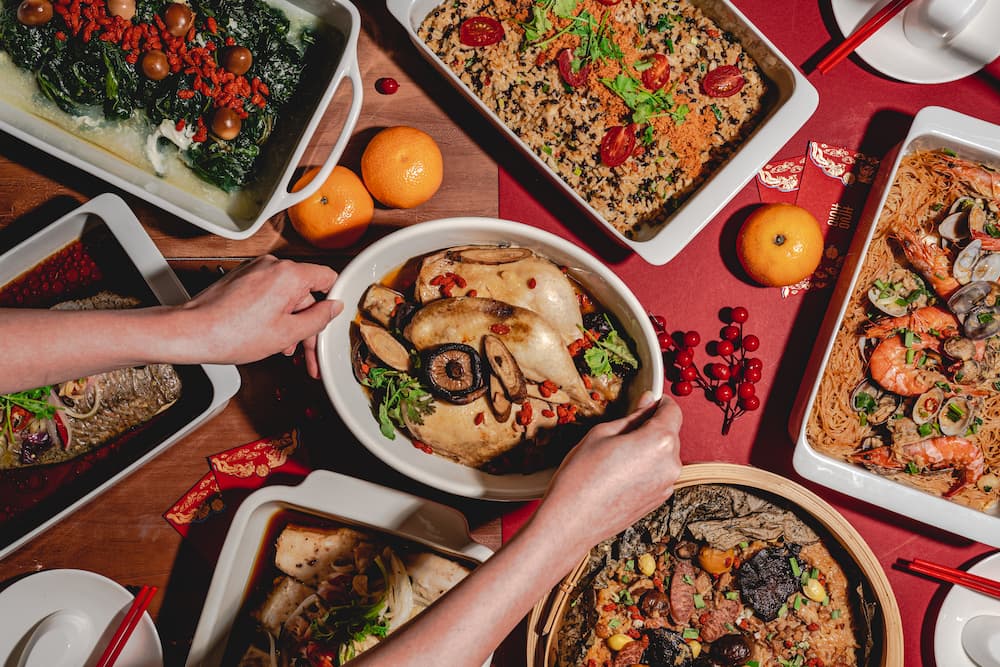 Image credit: Grain
With all the feasting that's slated to happen, it's little wonder if you're looking for a less sinful, but no less tasty option. Consider Grain, with their mission of 'Making Healthy, Tasty' this Lunar New Year, for a most wholesome CNY buffet prepared with quality ingredients. 
There are three tiers to Grain's Chinese New Year menu, with mini buffet options for smaller parties of at least 10, and full buffet setups catering to a minimum of 30 people.
From now till 19 January 2023, enjoy early bird rates of $25.88, $33.88, and $47.88 a guest, with seven, eight, and nine courses in each tier. You'll even get a free Fortune Salmon Yu Sheng with a house-made sauce blend! For the rest of the CNY run, till 5 February 2023, there's an additional charge of a dollar a person.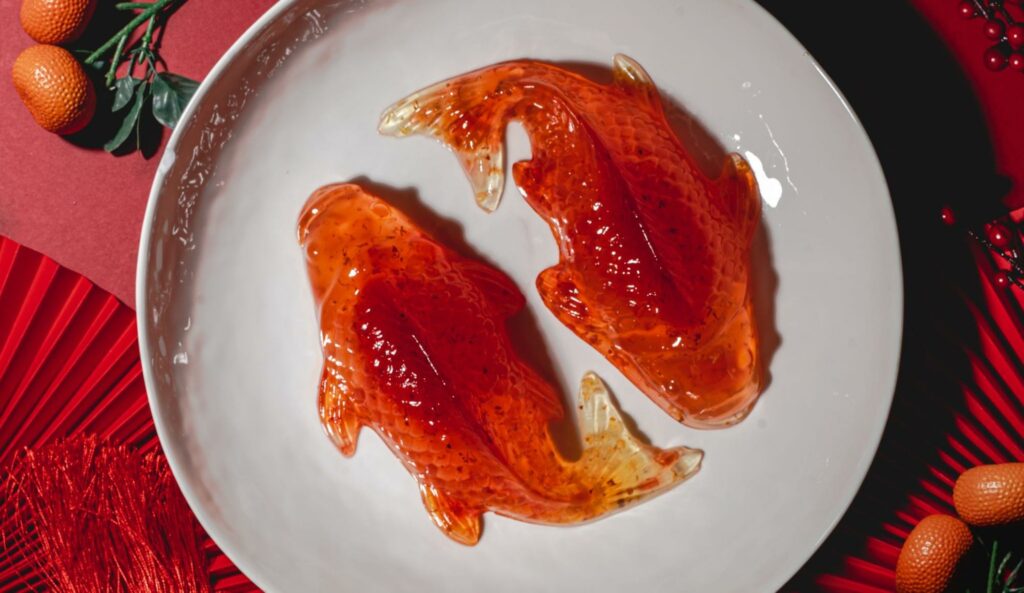 Image credit: Grain
Look forward to crowd-favourites including Heng Heng Chilli Crab Mantou,pandan-scented Cereal Rolled Oats Tiger Prawn, and Wok Hei Pumpkin Floss Fried Rice. Then dig into comforting Imperial Ginseng Herbal Braised Whole Chicken, starring a 12-hour chicken milk broth, and refreshing Osmanthus Konnyaku Koi for dessert.
Place your orders through the Grain website at least four days ahead of your intended party! Do note that there's a delivery and setup fee of $86.40 for a buffet, and order increments are in multiples of five diners each. Mini buffets without any set-up will only include a delivery charge of $43.20.
Tel: 3163 5335
Website
---
4. Lime Restaurant, PARKROYAL COLLECTION Pickering
---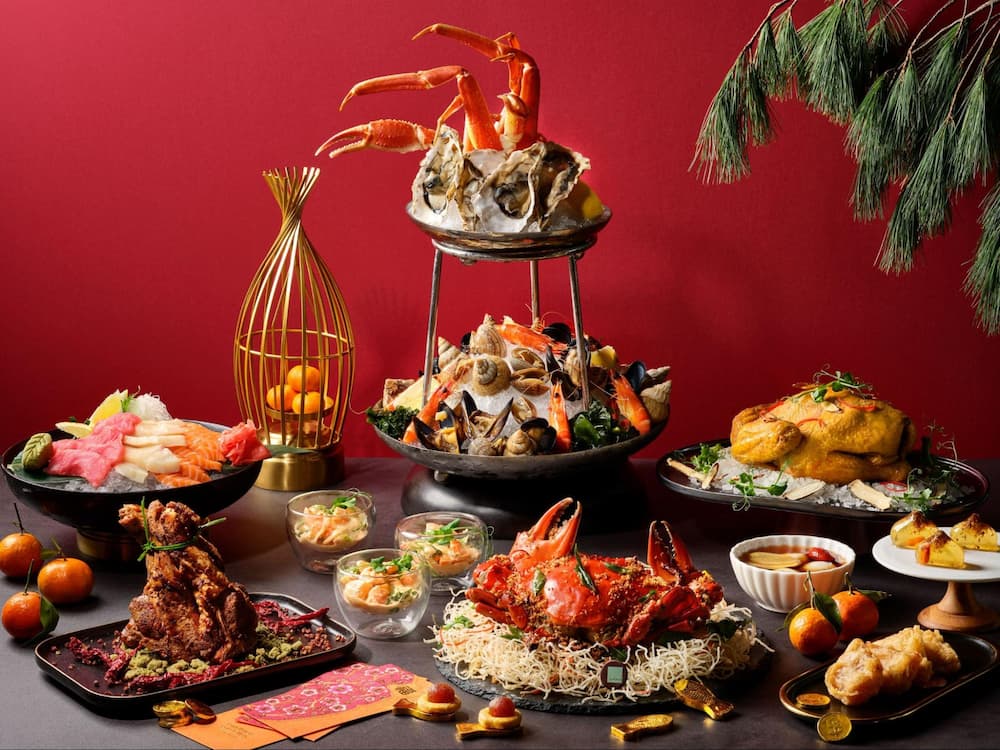 Image credit: Lime Restaurant
Lime Restaurant is offering diners value-for-money CNY buffet experiences this festive season—great for those looking for an indulgent meal that isn't too much of a splurge. Their first themed buffet, titled Feasts of Fortune, runs from 2 January to 5 February 2023. Prices start at $79++ per adult diner for weekday lunch, and you get a whole plethora of Asian-style bites, including free-flow Hong Kong-Style "Bi Feng Tang" Wok-Fried Crab, AKA the famed typhoon shelter crab, as well as Pan-Fried Lamb Chop with Szechuan Pepper, Truffle Siew Mai and more.
If you prefer to dine during the main CNY days themselves, then opt to reserve a table at the restaurant's Joyful Reunions buffet, available from 21 January to 24 January. This buffet is priced at $128++ per adult during brunch hours, and $138++ per adult for dinner hours. The levelled-up spread includes mouth-watering festive classics, ranging from Buddha Jumps Over The Wall to a Snow Crab Tower. If you have a UOB, DBS, Citibank, or American Express card, you can enjoy 15% savings on the two buffets! Note that this is not applicable on the eve of and on public holidays.
Find out more about Lime Restaurant's CNY buffets here. 
Address: 3 Upper Pickering Street, Singapore 058289
Opening hours: Daily 6:30am to 10pm
Tel: 3138 2251
Website
Lime Restaurant is not a halal-certified eatery
---
5. Opus Bar & Grill at voco Orchard Singapore
---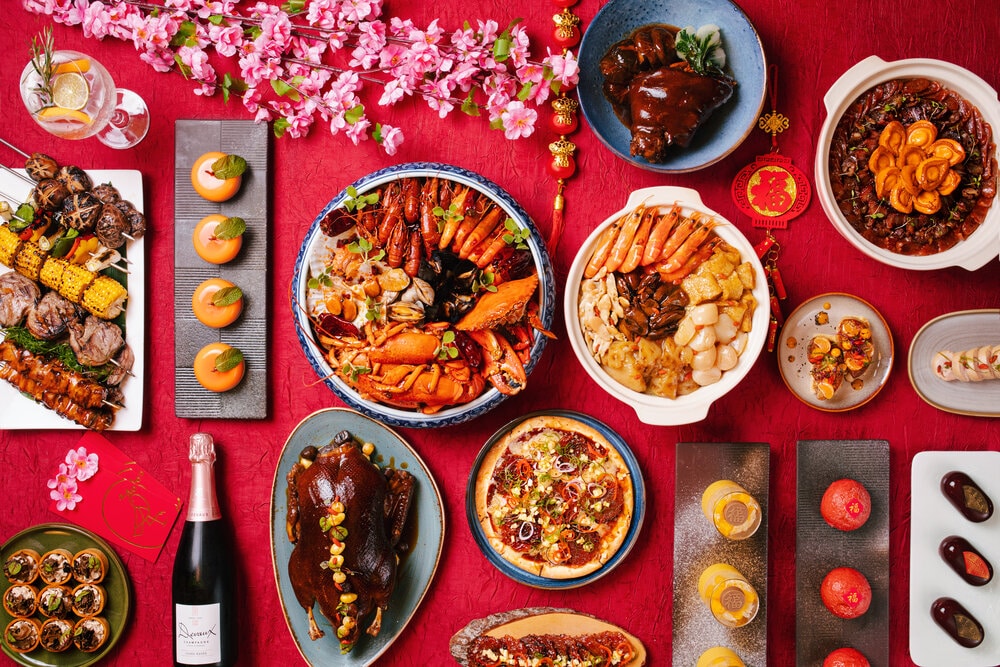 Image credit: voco Orchard Singapore
Instead of reunion dinners, consider having reunion brunch instead at Opus Bar & Grill in voco Orchard Singapore. Running every Sunday from 8 January to 5 February 2023, it's Sunday brunch with a festive, Lunar New Year spin, starring the most auspicious spread of goodies you could think of. Start with Golden Coin BBQ Chicken Meat (Bak Kwa) With Pineapple Salsa or Drunken Chicken with Wolfberries, then request a Mala Seafood Pot with your choice of ingredients: there's yabbies, tiger prawns, crabs and more.
You'll also find Lap Mei Claypot Rice with Mini Abalone, Braised Sea Cucumber Treasure Pot, and an Opus special, Chinese Eight Treasure Duck. All this, right alongside Pan Seared Foie Gras with Mandarin Orange Gel and other international flavours, and finished with Mango Sago Pomelo Pudding and classic Red Bean Soup with Rice Dumpling. 
Prices start from $118++ for adults, and $59++ for children between the ages of six and 12. If you're an IHG One Rewards Member, enjoy 20% off the bill!
Address: 581 Orchard Road, Singapore 238883
Tel: 6737 2233
Website
Opus Bar & Grill at voco Orchard Singapore is not a halal-certified eatery
---
6. YUN NANS
---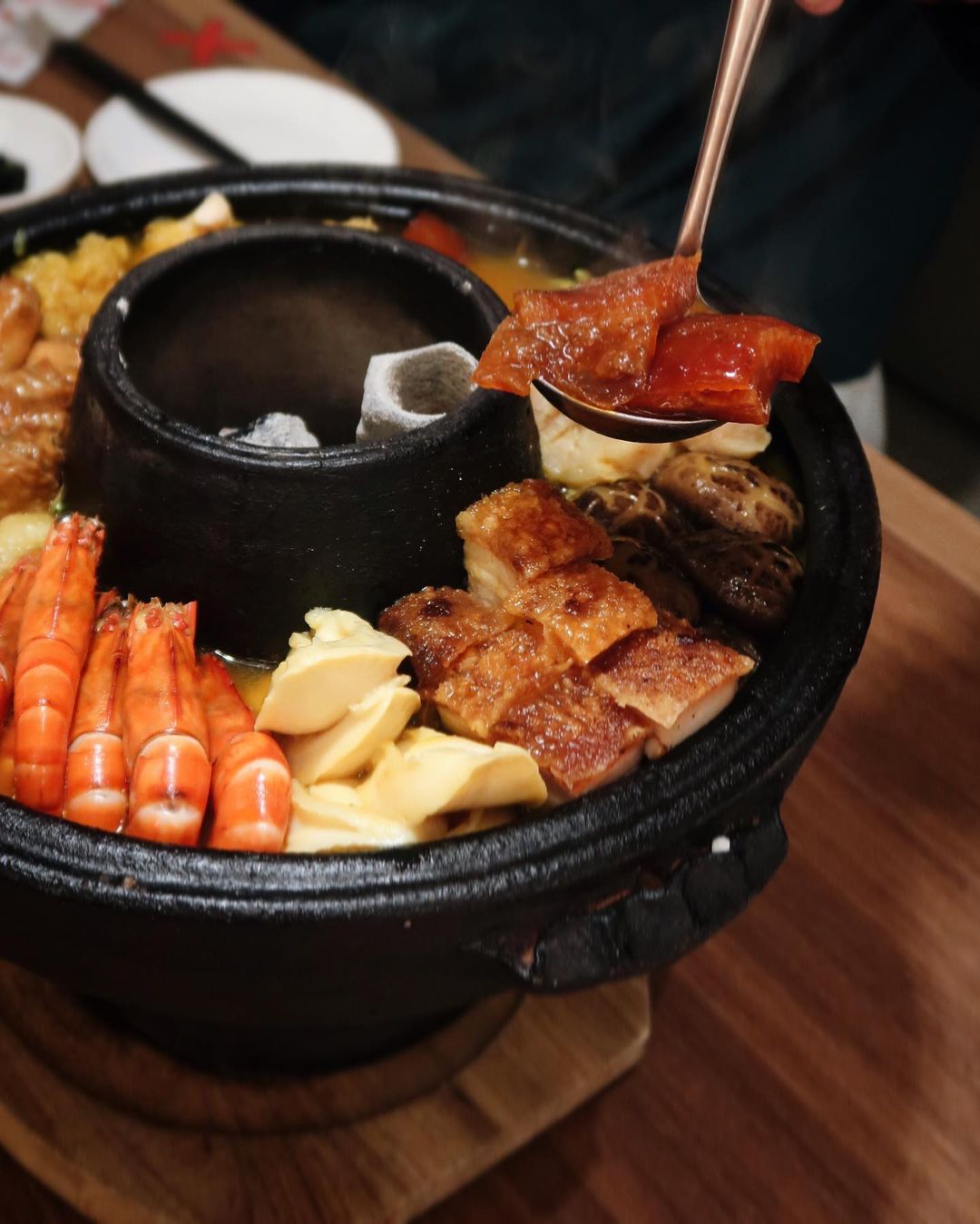 Image credit: @nkikichua
If you've not tried the Prosperity Treasure Hot Pot ($328++/$468++) from YUN NANS, you're missing out. The rich golden broth that forms the base of this pot is stewed for at least six hours with Jinhua ham, old hen, pork bones, pork trotters, conpoy, and more, then is laden with sio bak, sea cucumber, abalone, scallops, and fish maw, to say the least.
Enjoy it as part of their Special Take-home Festive Set for 4 to 6 pax ($348+), accompanied by Prosperity Abalone Yu Sheng ($68.80+/$88.80+), Steamed Glutinous Rice in Lotus Leaf, and Crispy Roast Chicken ($24.80+/$39.80+)—an all-new dish in YUN NANS' Lunar New Year line-up. Dine-in sets include the Happiness Set ($338++ for four), which ends with Freshly Baked Rose Pastry, a classic Yunnan dessert.
Website | Full list of locations
---
7. JUMBO Seafood
---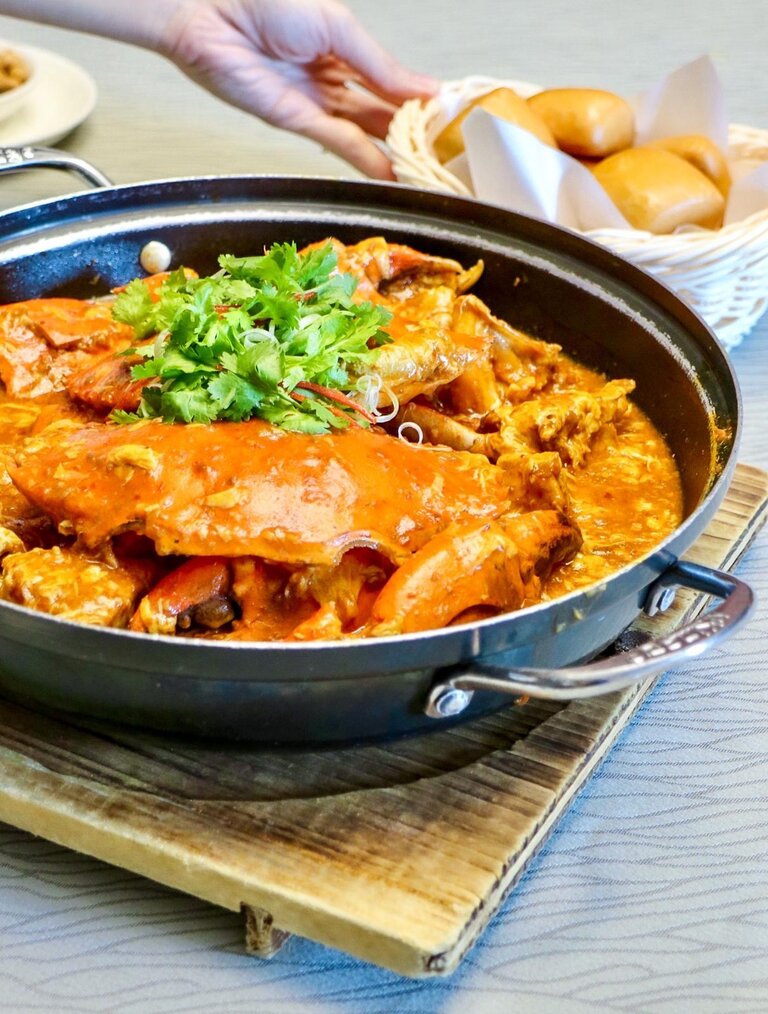 Image credit: JUMBO Seafood
It's auspicious to eat seafood for Chinese New Year, and there's no better place to enjoy these than at JUMBO Seafood, with their seafood-centric set menus and award-winning chilli crab. Plus, the reunion set menus here are pretty affordable too, with the lowest-priced menu for four at just $288++! It comes with Deshelled Prawn Fried with Cereal, 10-head Abalone Braised with Shiitake Mushroom and Chinese Chives in Abalone Sauce, and Award-winning Chilli Crab with Fried 'Man Tou'.
Families of six can consider the $568++ set, where Supreme Seafood Soup Braised with Cod Fish is followed with Cheese Baked Sesame Sauce King Prawn and Live 'Long Hu' Garoupa Steamed with Soy Sauce, ending on a sweet note with Mango Sago Pomelo.
 Website | Full list of locations
---
8. Chui Huay Lim Teochew Cuisine
---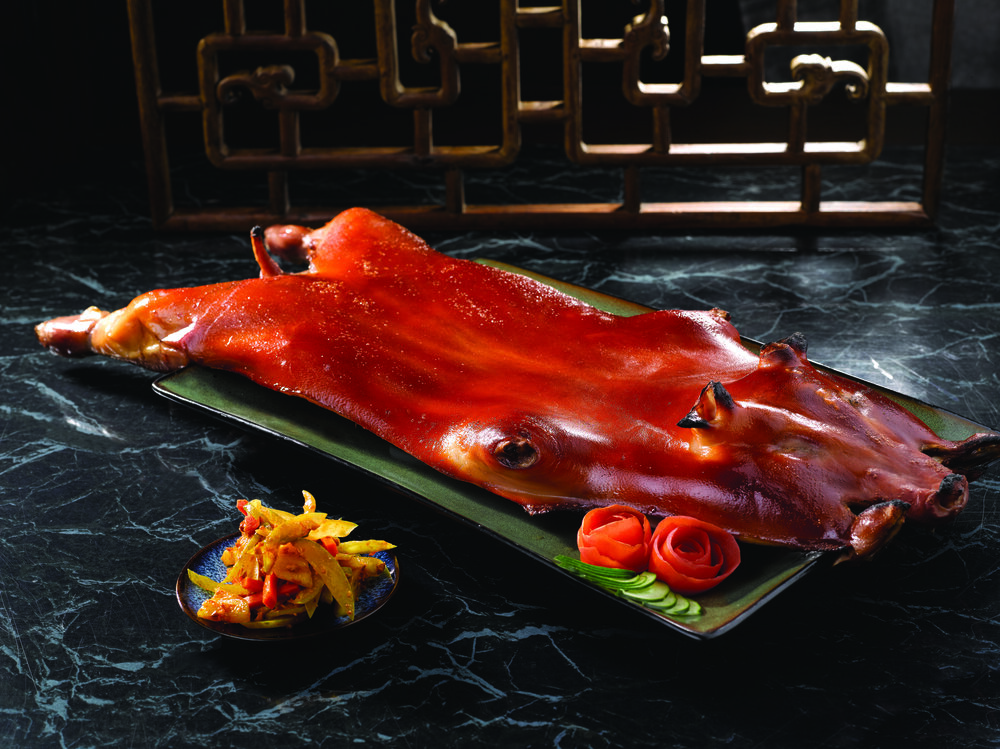 Image credit: Chui Huay Lim Teochew Cuisine
Whether you're headed to Chui Huay Lim Teochew Cuisine or Zui Xu Yuan Teochew Cuisine, you'll be feasting on Teochew classics as you celebrate this Lunar New Year. Thei CNY Celebration Sets start from $288++ for four, and they've got sets for up to 10 diners.
Whichever you pick, it'll definitely start with a Teochew Classic Platter, which comprises Deep Fried 'Ngoh Hiang', Deep Fried Liver Rolls, Pig Trotter Terrine, and Chilled Marinated Jellyfish. Other courses on the menus include Teochew 'Puning' Fermented Bean Chicken, Teochew Steamed Pomfret, Braised Duck with Beancurd, Teochew Roasted Suckling Pig Marinated with Five Spice, and more.
Website | Full list of locations
---
9. Red House Seafood
---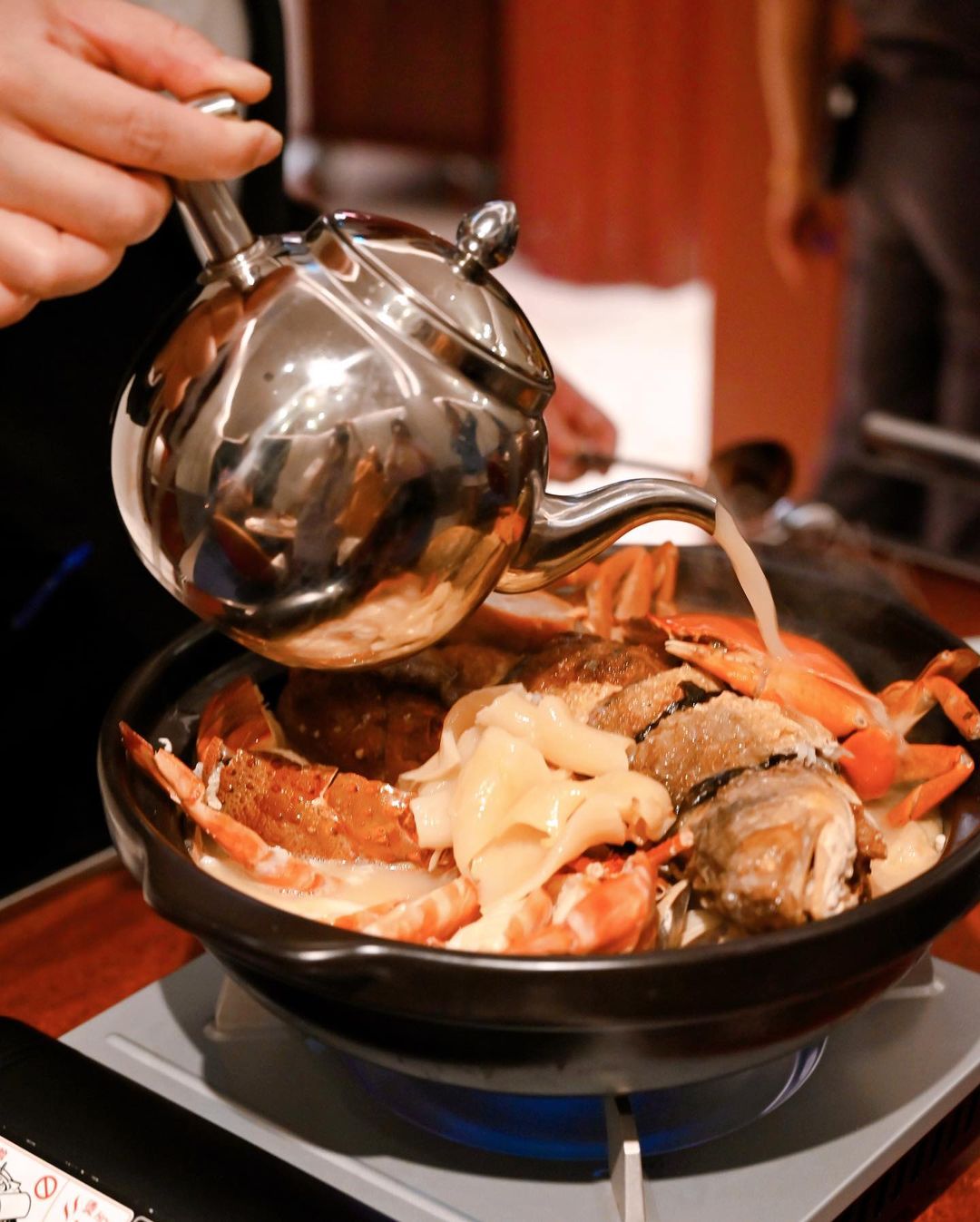 Image credit: @jiaxin_juan
Another seafood-based reunion dinner option to put on the list is Red House Seafood, where the Unity Menu for four to six diners is priced at $598++, and comes with a whopping eight courses! Here, their Prosperity Salmon & Ice Plant Yu Sheng is followed with speciallly curated dishes such as Steamed Dragon Tiger Grouper Fish with Fresh Clam, Grilled Tiger King Prawns in Miso Sauce, and Signature Chilli Crab Meat with Fried Mantou.
If you're feeling extra festive, the Bountiful Treasures Menu ($1688++) for eight to 10 takes the cake with Alaskan King Crab served Two Ways—the meat steamed with Chinese wine and egg white, and its legs baked with miso sauce. This set also comes with Double Boiled Cartilage Soup with Conpoy and Fish Maw, Braised 8-Head Abalone & Sea Cucumber with Purple Cauliflower, and Double Boiled Bird's Nest with Rock Sugar.
They've got pen cai too, in the form of Treasure Pot ($298++/$458++), starring 13 ingredients, and Royal Seafood Pot ($298++), available for both dine-in and takeaway.
Website | Full list of locations
---
10. Soup Restaurant
---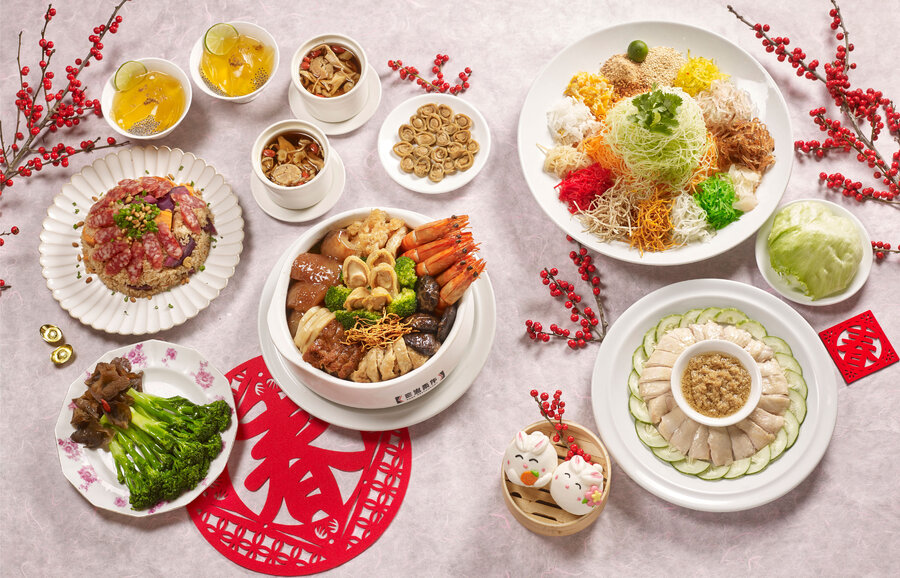 Image credit: Soup Restaurant
Soup specialist Soup Restaurant brings a slew of brand new dishes to their festive dining menus, which cater for as few as two diners, priced from $128++, working out to just $64++ a person!
Their take on pen cai is the Abalone Collagen Treasure Pot with Cordyceps Flower ($368++/$598++), which starts with a base of collagen broth, infused with cordyceps flowers, and braised for two hours with 10-head abalone, sea cucumber, fish maw, and all sorts of premium ingredients. Get it as part of their Reunion Takeaway Set for 5 Pax ($438+), which comes with Baby Abalone Yu Sheng, their signature Samsui Ginger Chicken, and Double Happiness Sweet Potato Steamed Rice with Chinese Sausage.
If you're opting for the Prosperity Set Menu (from $168++), you'll get to try their all-new soup: Double Boiled Golden Chanterelle Mushroom & Dried Scallop in Chicken Soup. Depending on the set that you order, you may also find yourself with Handmade Bounty Bunnies with Mini Longevity Buns, respectively filled with red bean paste, and lotus paste.
Website | Full list of locations
---
11. Ya Ge
---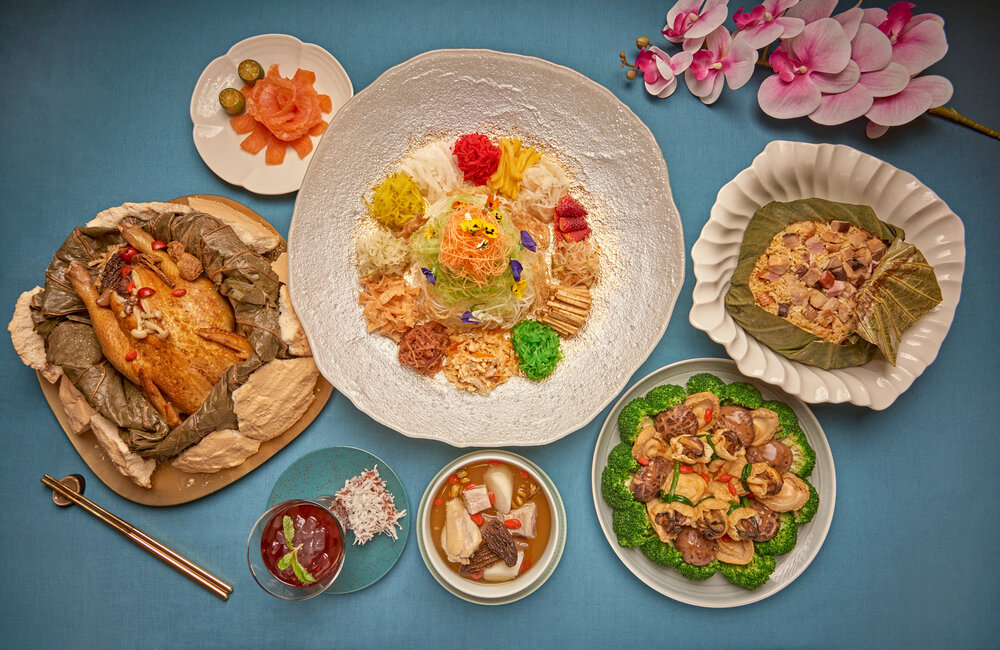 Image credit: Ya Ge
Modern Chinese restaurant Ya Ge in Orchid Hotel presents seven reunion dinner menus, including a six-course Longevity Vegetarian Set Menu priced at $48++ a diner that's perfect for those of us looking for a respite from the usual meat-heavy CNY meals.
If you're looking for a cosy night reunion dinner with just your SO or BFF, their Prosperity and Happiness Set Menus are priced at $78++ and $98++ respectively, with just a minimum of two diners to go. Expect tasty dishes such as Double-boiled Pork Ribs Soup with Starfruit & Winter Wheat, Braised 8-head Abalone with Oyster Fortune Bag, Chinese Mushroom and Black Moss accompanied with Broccoli, Steamed Fragrant Lotus Leaves Chicken with Pork Belly, Assorted Mushroom, Chestnut, Red Dates and Wolfberries, and more! Then, add on their Ya Ge Fortune Pot ($348++/$688++) for a pen cai filled with 18 ingredients.
Address: 1 Tras Link, Level 3, Orchid Hotel, Singapore 078867
Opening hours: Daily 11:30am to 2:30pm, 5:30pm to 10pm
Tel: 6818 6831
Website
Ya Ge is not a halal-certified eatery
---
12. White Restaurant
---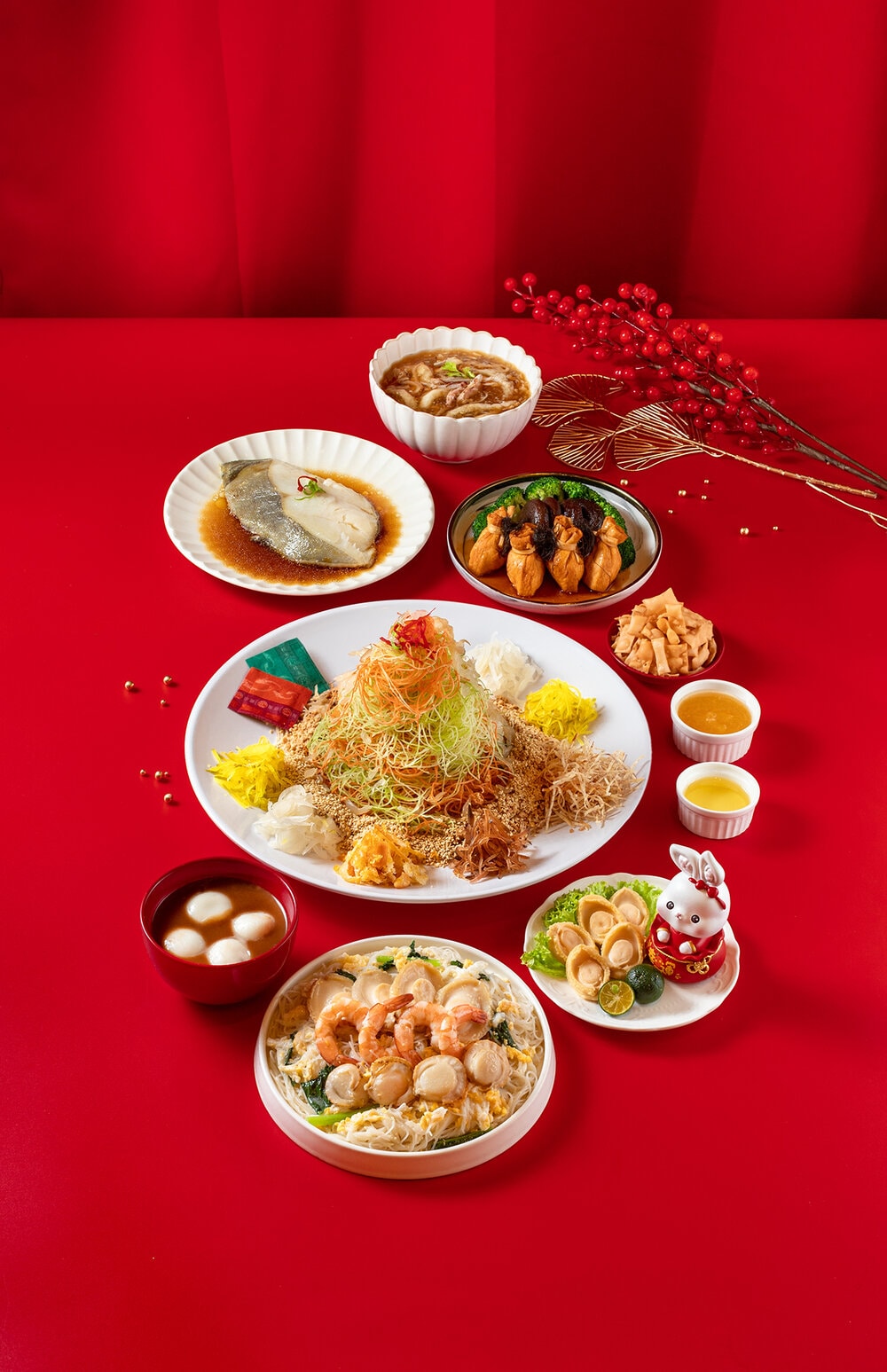 Image credit: White Restaurant
This goes out to fans of White Restaurant's signature White Beehoon: they've got CNY menus for parties all the way up to 10 diners, with the most affordable reunion dinner menu starting at just $198++ for four!
The Joyous Set ($198++) for four is a six-course extravaganza, working out to just $57 a person, and comes with their Grand Fortune Abalone Yusheng ($49.90++/$66.80++), topped with 18-head abalone and their house-made yuzu sauce. If you're here as a table of 10, the top-tier Fortune Set ($798++) is complete with Steamed "Live" Marble Goby, a whole Roasted Duck with Angelica Herb, Fatt Choy Shajing Oyster with Braised Pork Belly, Prosperity Bag and Mushrooms, and Abalone and Scallop White Beehoon.
Website | Full list of locations
---
12. Jack's Place
---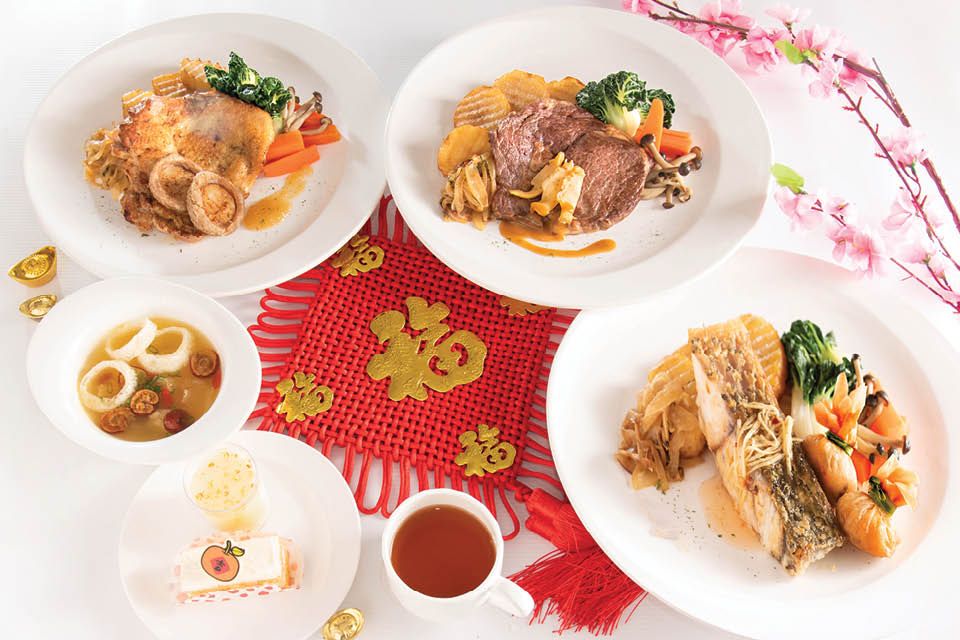 Image credit: Jack's Place
Those looking to enjoy a CNY feast with a twist can head down to Jack's Place. The homely Western restaurant is offering diners an Abundance Set Lunch ($24.80++ per person) to usher in the new year. Diners get to pick a main course, which sees Jack's Place signature dishes elevated with festive add-ons. Choices include having their N.Z. Ribeye Steak served with a side of Abalone Sauce and Sliced Abalone, or their Barramundi Fillet zhnged-up with a yu sheng-esque Ginger Plum Sauce, complemented with a Golden Money Bag Dumpling. All main courses are served with Lyonnaise potatoes and seasonal vegetables, a themed dessert, and coffee or tea. 
If dinner is more up your alley, Jack's Place is offering their Bountiful Dinner Set for 2, priced at $78.80++. Each set starts off with a Harvest Toss Seafood Salad, AKA yu sheng, topped with salmon. Then, for starters, a comforting Fish Maw & White Fungus Chicken Broth. For mains, diners get the best of both worlds, with a Bacon-wrapped Fillet Mignon served with Truffle Butter and Tiger Prawn, as well as Grilled Salmon with Tiger Prawn. The sets come with a baked potato each and seasonal vegetables. Naturally, the set rounds off on a sweet note with desserts.
This set menu is available till 29 January only. If you decide to just add on a yu sheng to your meal, Jack's Place is also offering diners either a Fortune Toss Abalone Salad ($23.80++) or Harvest Toss Seafood Salad ($18.80++) a la carte, available till 5 February. Three lucky diners who order either of these will stand to win a Bountiful Rabbit Year Catering voucher worth $338! This offer is also valid at Jack's Place sister restaurant, Eatzi Gourmet
Website | Full list of locations
Jack's Place is not a halal-certified eatery.
---
13. Eatzi Gourmet
---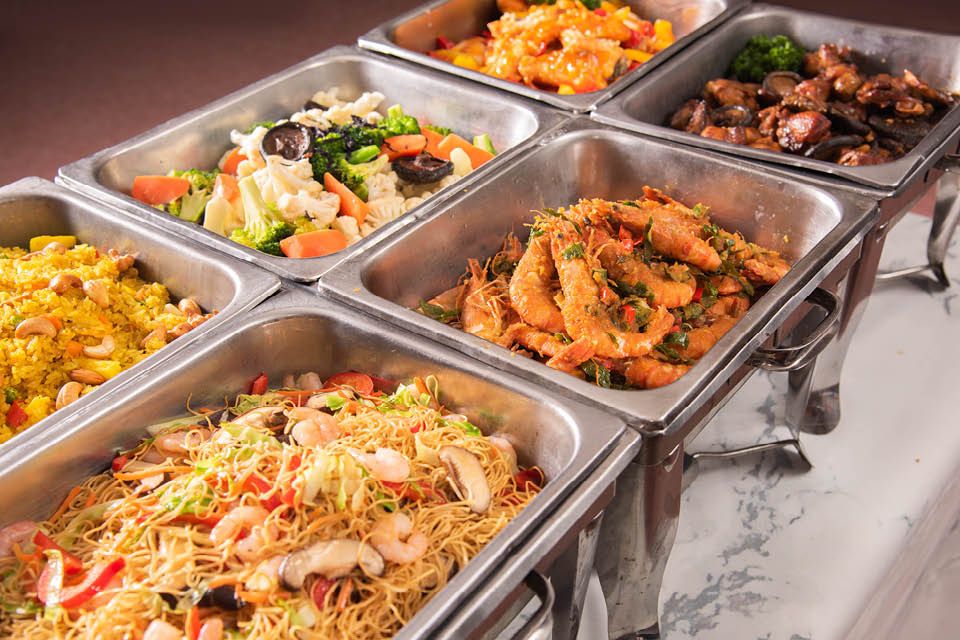 Image credit: Eatzi Gourmet
Those looking for CNY takeaways or delivery options can turn to Eatzi Gourmet Catering. They have a whole slew of halal-certified festive takeaway items available at special prices for the festive period—think $18.80++ for 1kg of Mushroom Soup to $118.80++ for 1.5kg of Roasted NZ Ribeye. For those seeking more traditional dishes, order their Prosperity Take-Home Set Menu (from $218.80++), which feeds five to 10 people with dishes such as Creamy Butter Prawns and Golden Yam Basket with Scallops. Those planning a larger party can turn to the Abundance Buffet Set instead. This is a festive buffet menu with 11 items, priced at $38.80++ per person. 
If you're planning an office party, Eatzi Gourmet Catering also has their Prosper-Licious Bento Sets ($16.80++ per person) and personal Lo Hei Rice Bowls ($16.80++ per person). You can choose between four options for the former, each prepared with unique CNY dishes. As for the solo yu sheng, each bowl comes with smoked salmon, prawns, snow crab leg, refreshing fruits, mesclun greens, and rice.
No CNY gathering is complete without sweet treats, so make sure you order some of Eatzi Gourmet Bakery's themed cookies and cakes. These nostalgic treats include roll cakes in flavours such as Nanyang Kopi and Hainanese Kaya, priced from $8.80++. There's also Lychee Pineapple Tarts ($21.80++) for a twist on a beloved classic treat.
Order via the Eatzi Gourmet website.
Eatzi Gourmet is a halal-certified eatery.
---
---
It's time to loosen those belts, and prepare yourselves for this month and a bit of feasting with our list of affordable reunion dinner menus. There's no dry January this 2023; save it for after we're done celebrating the Year of the Rabbit!
For more CNY stuff, check out Qoo10's Chinese New Year goodies. In other news, McDonald's has brought back their Prosperity Burger!
This post was brought to you by Peach Garden, Grain, voco Orchard Singapore, Chilli Manis, and JP Pepperdine Group
Feature image adapted from Peach Garden Chinese Restaurant, Ya Ge, Soup Restaurant, voco Orchard Singapore, Grain, Chilli Manis, Eatzi Gourmet and Jack's Place