---
Aqua Luna Is a Whole New Way To Experience City Vibes
---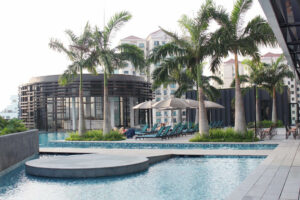 You'll forget you're just a ten minutes journey away from our bustling city centre once you take the elevator up to Aqua Luna. All you'll feel is the cool breeze caressing your cheeks, as you take in the scenic view of the infinity pool surrounding by lush greenery. This is a whole new world Aladdin would be proud to show Jasmine. (Read: amazing place to impress a first date.)
Aqua Luna is the perfect place to kick back after a hectic day at work. Just order yourselves a couple of bespoke cocktails, enjoy the 180 degrees view of the charming Queenstown area, and indulge in some hearty bar bites. Because if there's anything better than the ambience at Aqua Luna, it definitely has to be their signature drinks and food.
---
Speciality Cocktails
---
Summer Chill – $18
---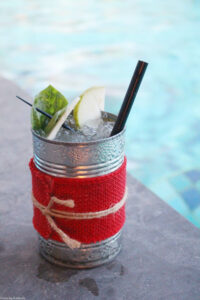 Start your night off with one of Aqua Luna's bespoke cocktails, Summer Chills. It's a refreshing thirst-quencher made from gin, elderflower liqueur and celery, before it's finished off with a dash of salt and pepper. It may sound a little strange, but the floral fragrance somehow manages to complement the sharpness from the celery.
---
Alexandra Sunset – $18
---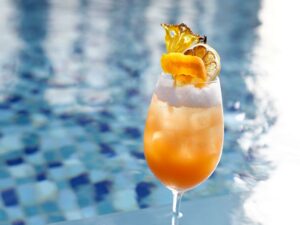 The Alexandra Sunset is a signature cocktail created to mirror the amazing sunset view you'll be rewarded with should you visit the bar in the evening. The lime, lemon, and pineapple juice in this drink highlights the citrusy flavours from the grand marnier, giving this drink a tropical feel. The touch of flamed rosemary adds a hint of smokiness to the concoction, adding more dimension to this interesting drink.
---
Spiced Mojito – $18
---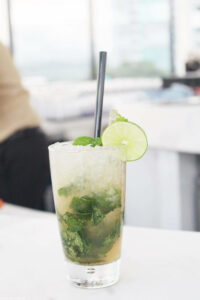 Our favourite drink of the day definitely had to be the Spiced Mojito. Jazzed up with aromatic notes from cinnamon, this zesty and fresh cocktail puts you right in the mood for Christmas!
---
Hot Melons – $18
---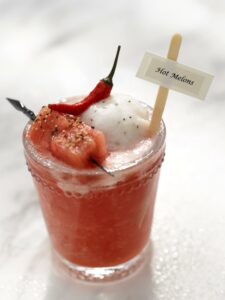 If the name of this flaming cocktail is not indicative enough, Hot Melons is a boozed-up watermelon juice on fire! It is spicy yet refreshing, thanks to the delightful scoop of tart soursop sorbet in the drink. This memorable cocktail is the perfect way to end your night of revelry at Aqua Luna.
---
Bar Bites
---
Truffle Polenta Fries – $10
---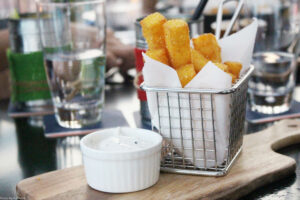 Drinks are not the only highlight at Aqua Luna. Unlike the typical pub grub you find at other bars, Aqua Luna does innovation nibbles that you won't find elsewhere. Just like this creative basket of parmesan crusted polenta fries that are served with a side of truffle mayonnaise. The use of real truffles in the dip gives it an authentic earthy flavour that pairs excellently with the crispy polenta. This is an absolute keeper.
---
Battered Cauliflower – $8
---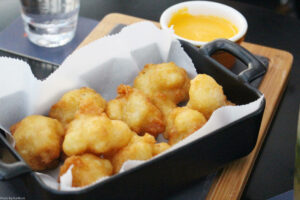 This creative dish transforms bland cauliflower into an addictive snack, proving that battered cauliflower is definitely the new kale chips. Each piece of cauliflower is coated in a crunchy yeasted batter seasoned with curry and onion powder. If that's not enough to whet your appetite, the cauliflower also comes with a side of glorious homemade bechamel cheese dip. It is savoury, creamy, and packed full of punch from the cheese. It's like an upgraded nacho cheese sauce, minus all that chemicals and additives.
---
Chorizo & Onion Flatbread – $18
---

Flat bread might seem like a super boring option, but Aqua Luna's version of a grown up pizza will have you swooning with joy. The crusty dough is topped with scrumptious chorizo, green chillies, red wine balsamic onions, fresh tomatoes, and just the right amount of mozzarella. It's perfect as a snack, but even better as a meal.
---
Crabmeat & Artichoke Flatbread – $24
---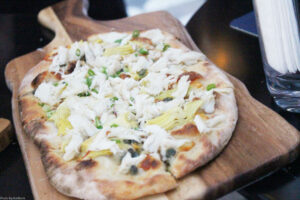 Likewise, the Crabmeat and Artichoke Flatbread exceeded expectations. Sweet, tender chunks of fresh blue swimmer crab meat are delicately scattered on top of a bed of crunchy artichoke and juicy Italian roma tomatoes. The flavours are subtle and mild, but extremely impressionable.
---
Dirty Steak – $36
---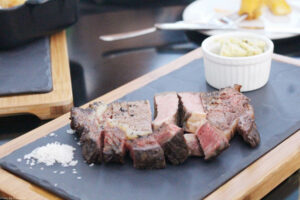 Since Aqua Luna shares the ktichen with The Carvery, it's no surprise their Dirty Steak was perfectly seared. This 150g slab of medium rare goodness has a tantalising smoky char that goes superbly with the umami-packed anchovy butter.
This post was brought to you by Aqualuna
Summary
Pros:
Unique cocktails
Innovative bar bites
Fresh ingredients used
Cons:
Non-air conditioned setting
Recommended Dishes:
Spiced Mojito – $18
Hot Melons – $18
Chorizo & Onion Flatbread – $18
Crabmeat & Artichoke Flatbread – $24
Opening hours:
Sun – Thu: 12pm – 11pm
Fri & Sat: 12pm – 1am
Address:
Level 7, Park Hotel Alexandra