Arbora at Faber Peak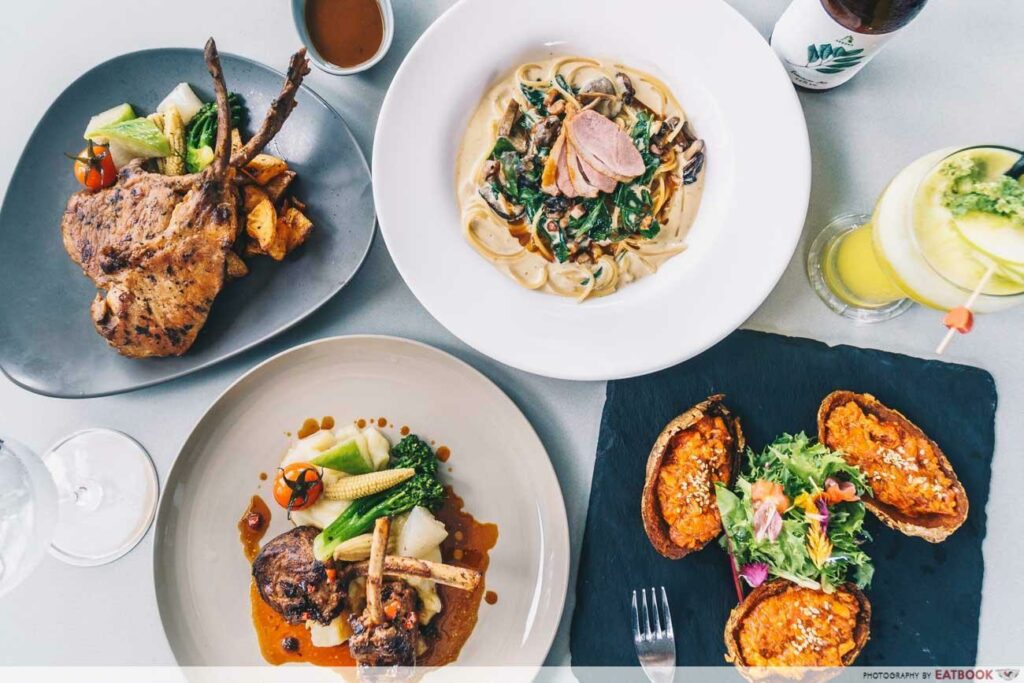 Finding the right family restaurant can be a daunting task. A place where the little ones can run around is a must, not to mention a chill and relaxing environment for the adults to unwind.
Perched on the top of Mount Faber, Arbora fits the bill, as it boasts a spacious lawn for young ones to have fun at. Along with tasty Western fare and a picturesque view of Sentosa and the sea, this newly opened restaurant makes for a special place for the family to enjoy some quality time together.
Food at Arbora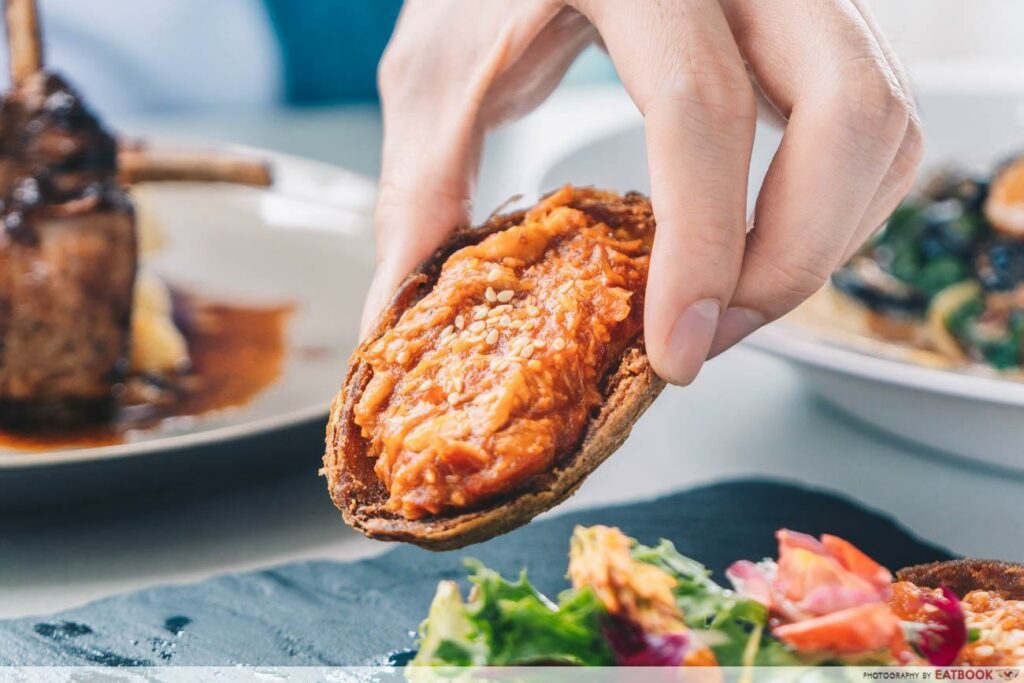 Helmed by Executive Chef Kenny Yeo, who worked at the revered three-Michelin-starred Le Centenaire in France and some of Singapore's finest restaurants including Les Amis, the food here is exquisitely presented yet casual enough for younger ones to enjoy.
The Chilli Crab Potato Skins ($14++) are a good example of this. The dish starts off with the familiar tangy Singapore-style chilli crab sauce that we all know and love. This creamy concoction is then poured onto deep-fried potato skins for a nice crunch.
The earthy potatoes and briny crab meat went well with a kick of spice from the chilli. You might want to be a little atas and use a fork and spoon here, but we dove right in with our fingers and enjoyed this gooey mess.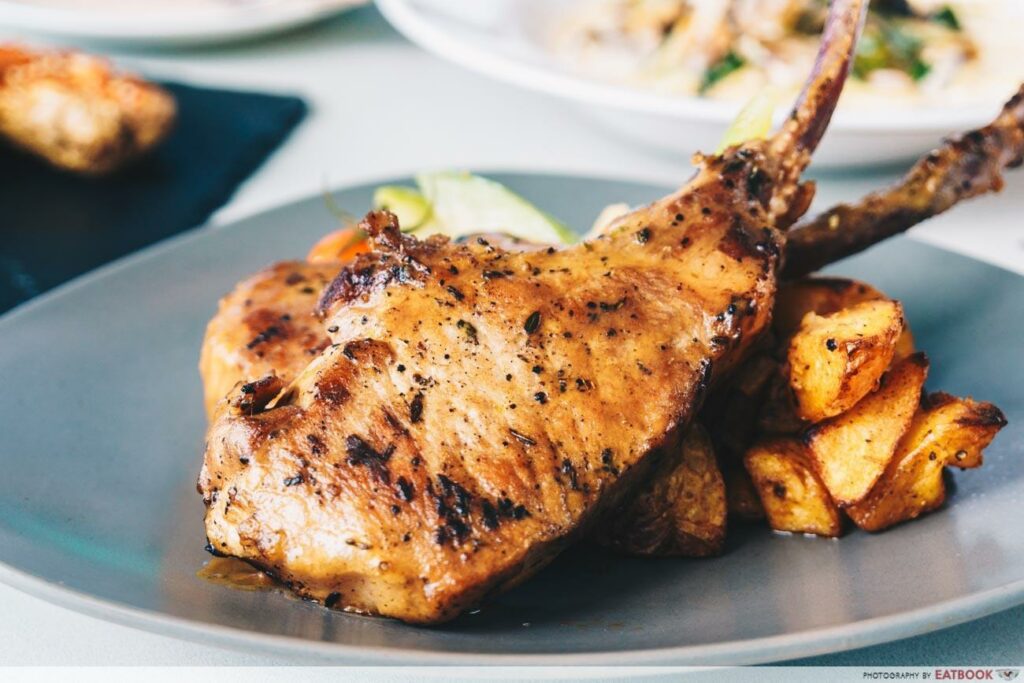 Ideal for sharing is the Tomahawk Pork Rib ($60++). Two thick cuts of bone-in pork chops are given a beautiful sear on the griddle before being finished off in the oven.
The result is a juicy and succulent pork chop that is cooked to just the right doneness – not an easy task considering how incredibly thick the meat is.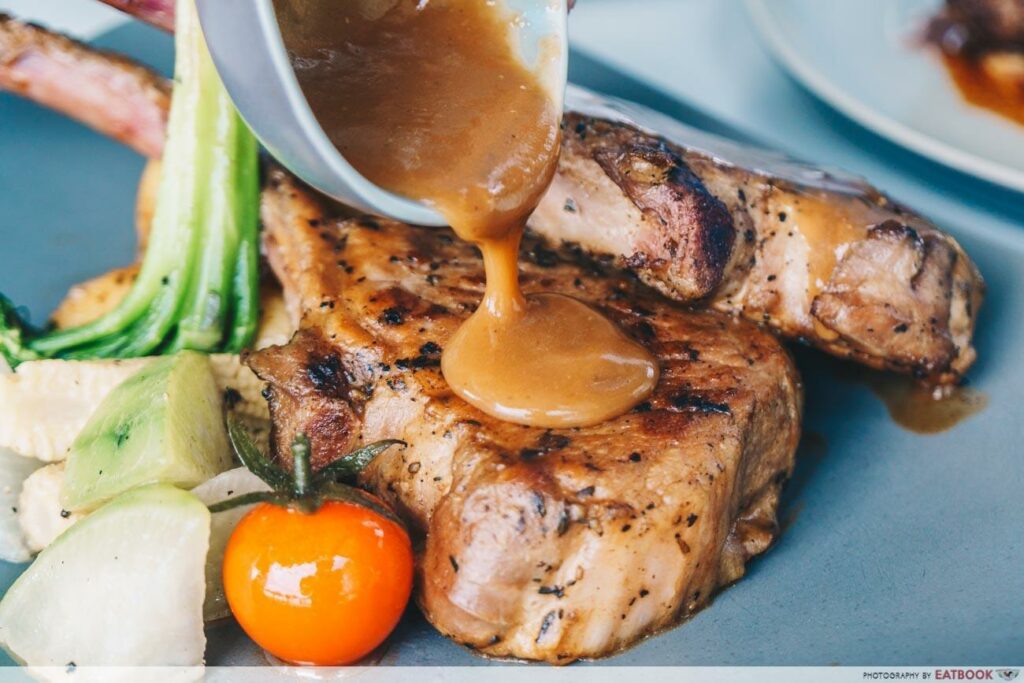 Chicken jus is also provided on the side for those who like a little sauce to go with their meat. I prefer to enjoy the meat as is, to fully savour the meaty flavours.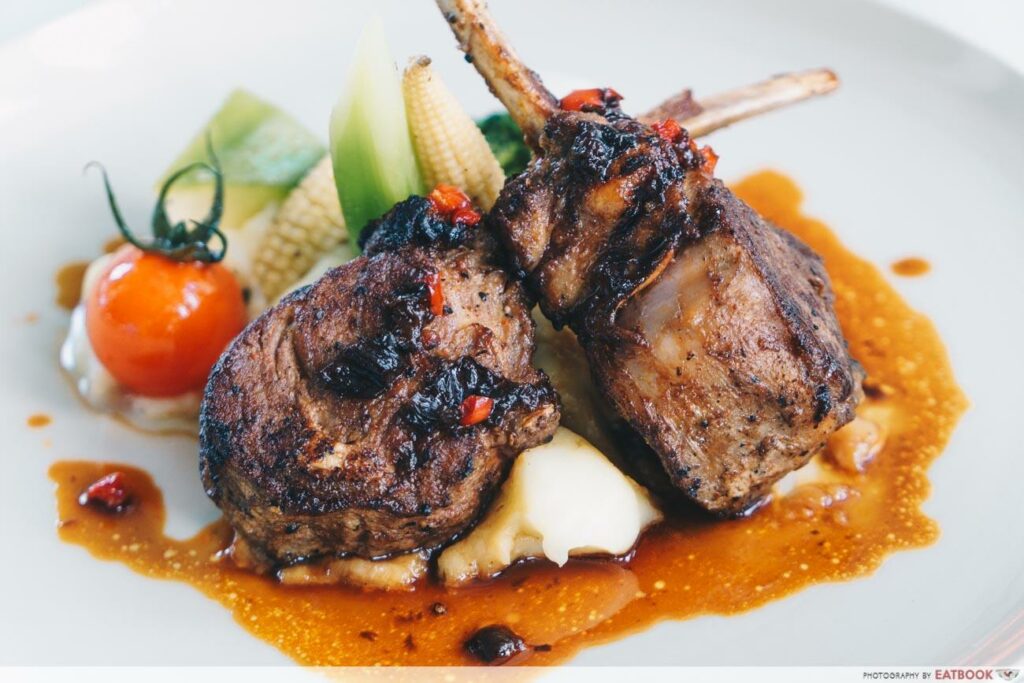 Looking impressive on the plate is the Rack of Lamb ($36++). Instead of using the classic pairing of mint jelly with lamb, a unique house-made prune sauce accompanies this dish. Combining prune juice with bell pepper and lemon, the chunky sauce scores with sweet, sour and fruity notes, all at the same time.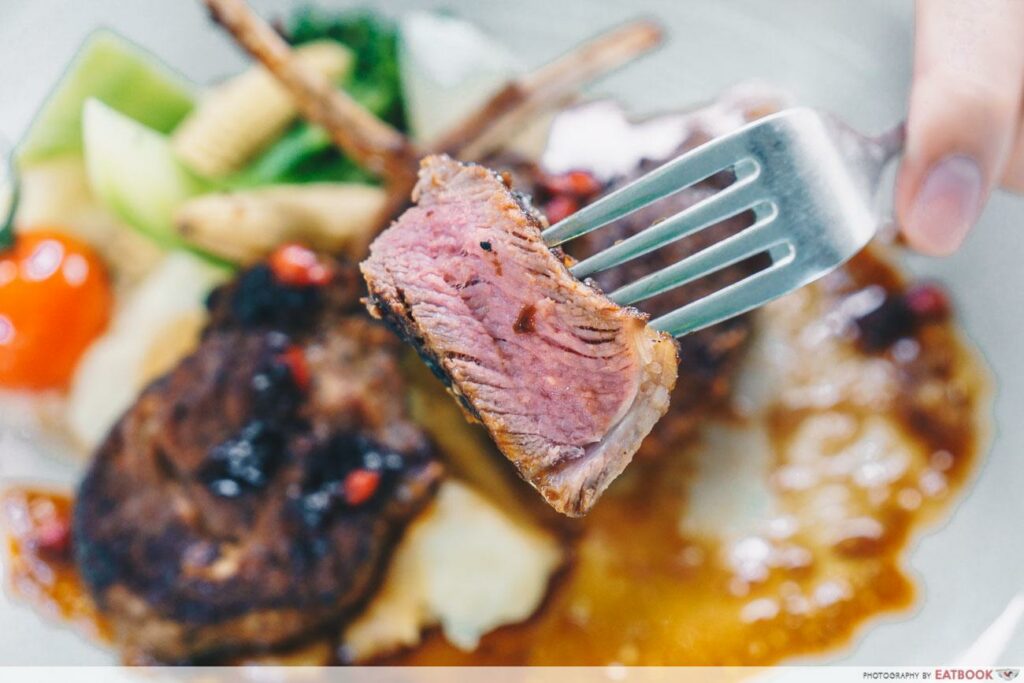 With a nice pink in the centre, the lamb had a good amount of juiciness within. The smooth and well-rounded flavour from the fats were also rendered nicely, resulting in meat that's tender instead of chewy.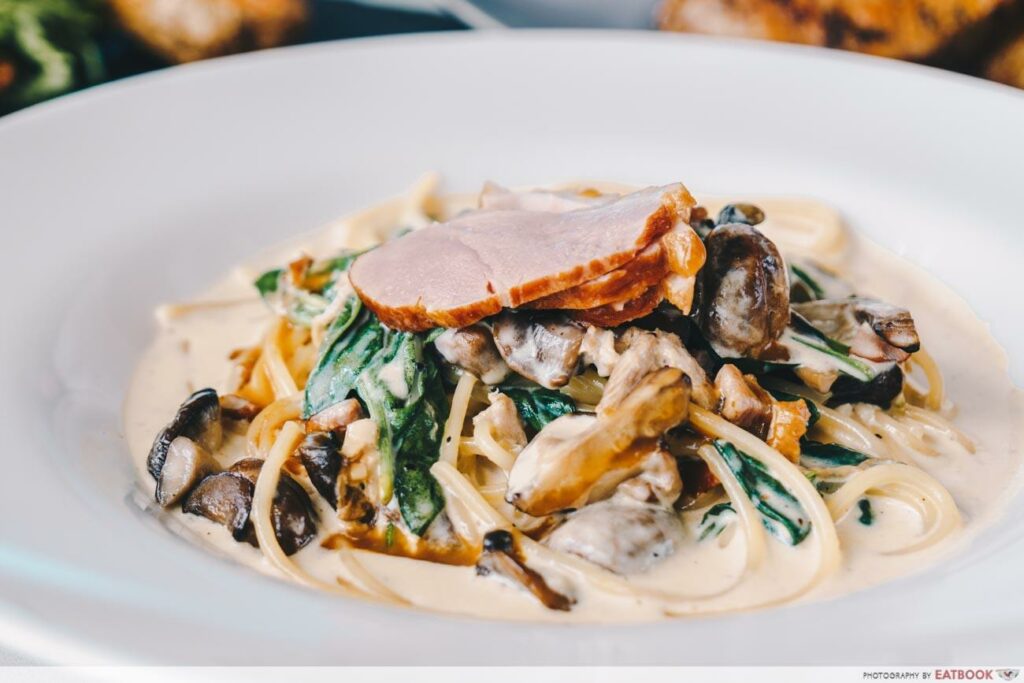 Make sure to leave room for carbs with the Smoked Duck Mushroom Ragout ($22++). Comprising smoked duck, stewed mushrooms, spinach leaves, fresh cream and spaghetti, the smoked duck breasts are given a quick sear before serving for a more robust flavour.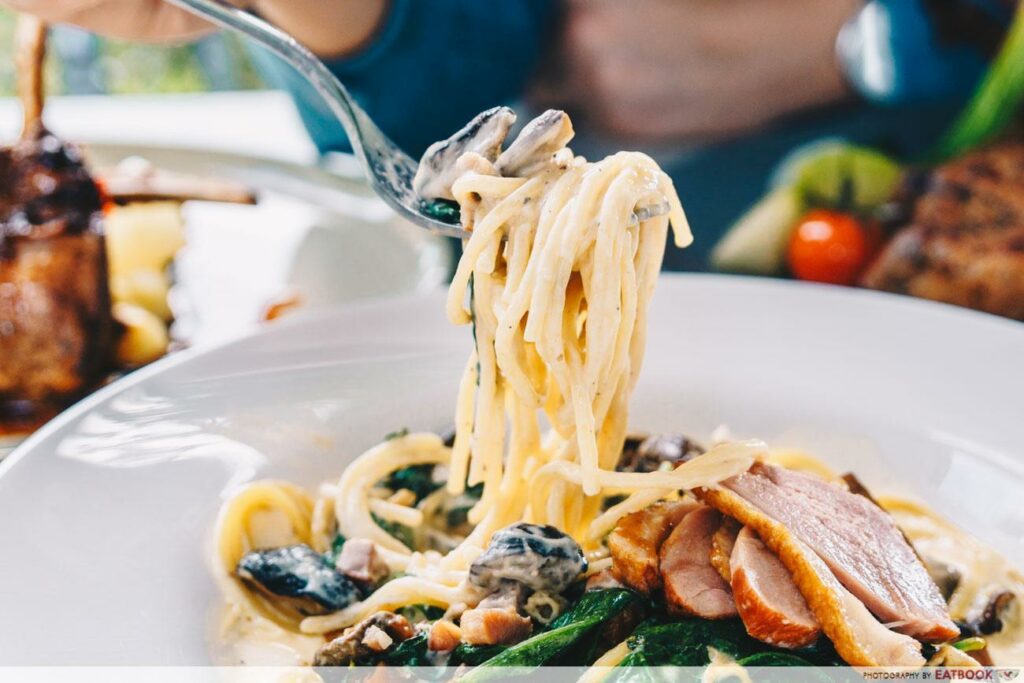 The pasta had a firm bite to them, soaking up the creamy sauce well. The mushrooms and wilted spinach also combined well to give a nice variety to the dish.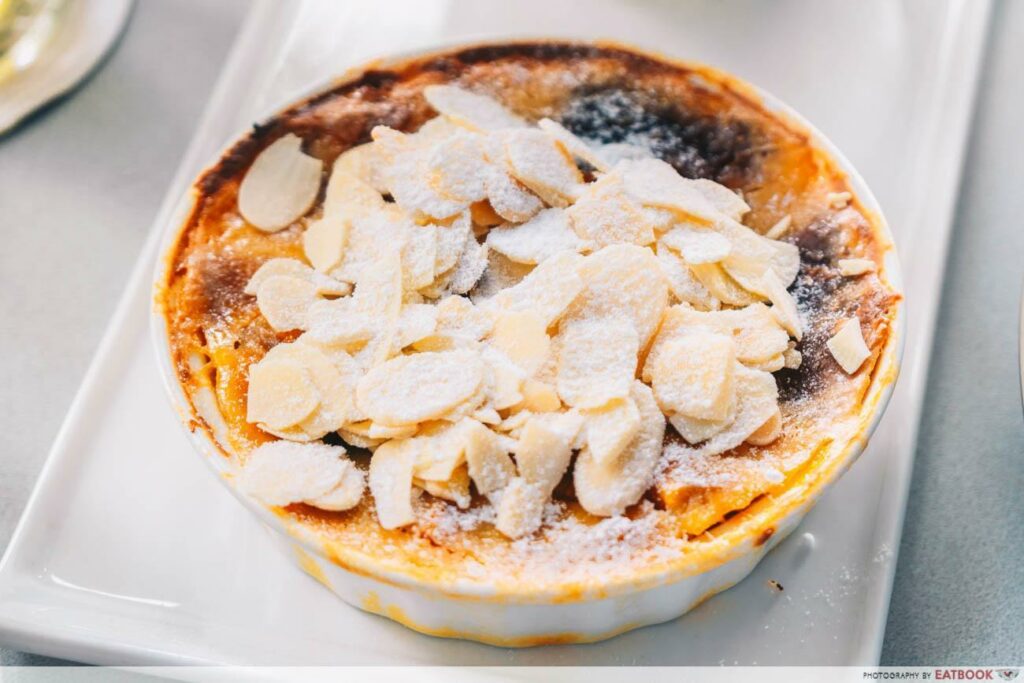 Despite their stellar main dishes, what impressed us the most was the dessert. Chempedak Bread & Butter ($14++) is a localised bread and butter pudding, with the clever addition of chunky bits of chempedak.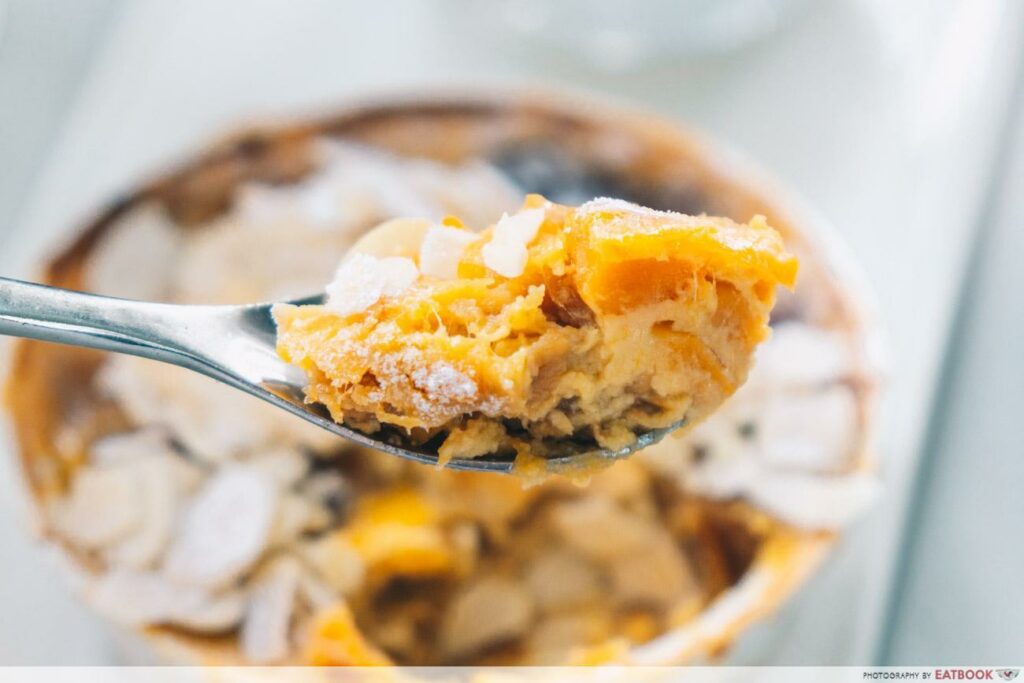 Combining creamy custard with the sweet nectary flavour of freshly ripen cempedak, this dish was a fitting way to wrap up the meal. A scoop of vanilla ice-cream, choke full of Madagascar beans, is also given on the side for an extra touch of creaminess.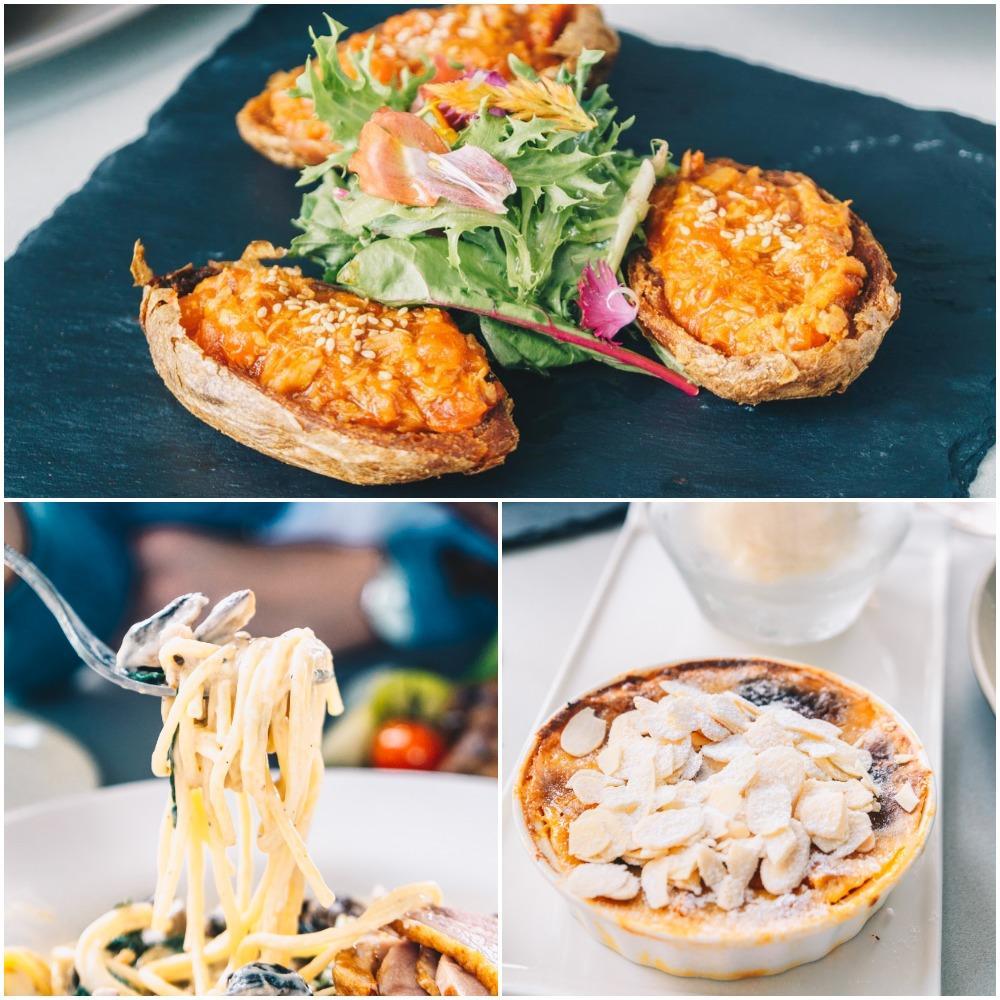 Arbora also offers Sharing Deals, which start from $75++ for two. This lets you choose one snack, two mains, and a dessert from a specially curated menu. It's quite a good deal considering how mains like the Smoked Duck Mushroom Ragout and Soy-Glazed Salmon ($30++) are included inside.
Ambience at Arbora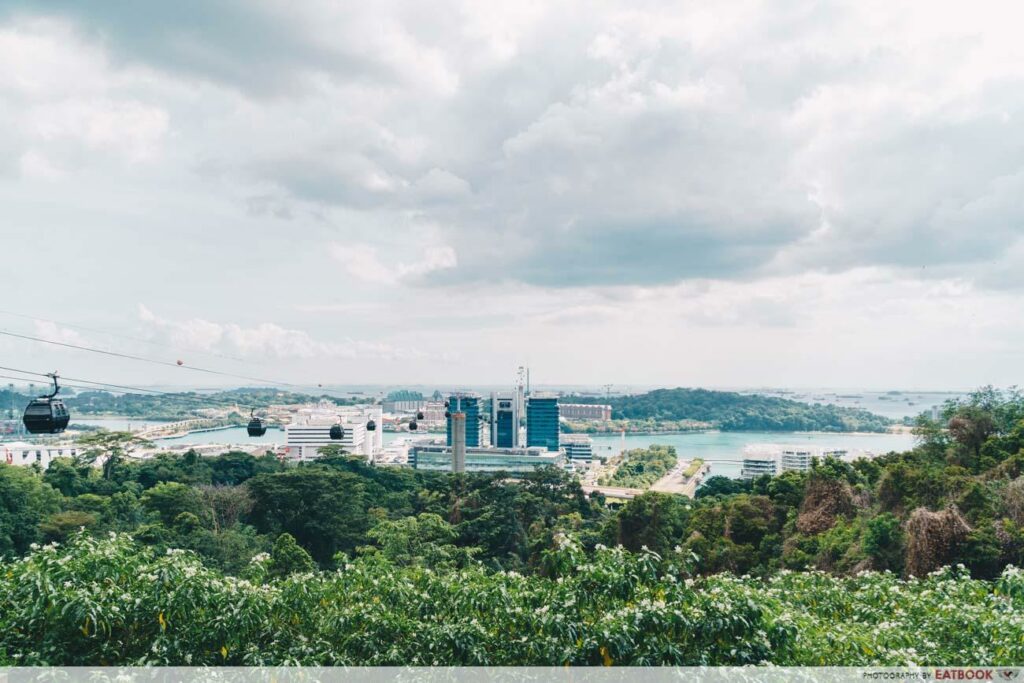 Neatly roosted 100 metres above sea level on the top of Mount Faber, the restaurant boasts one of the most magnificent views in Singapore. On a clear day, you might even be able to look out to as far as Indonesia's Riau Islands. You can even take a cable car up to the restaurant – a fun ride the kids will love. Alternatively, you can just take a Grab up from Harbourfront MRT too!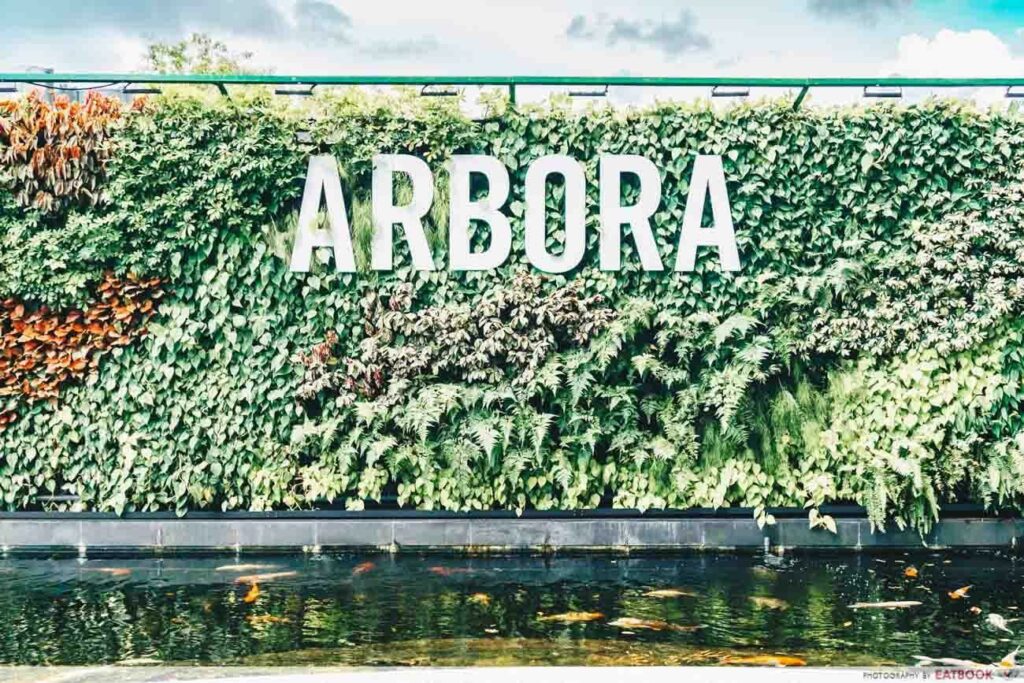 It's all about the chill vibes here, and Arbora's lush and tranquil location makes for an ideal place to unwind in the evening. It's also surrounded by loads of greenery, along with a 13m wide foliage feature wall that lets you take plenty of pretty pictures.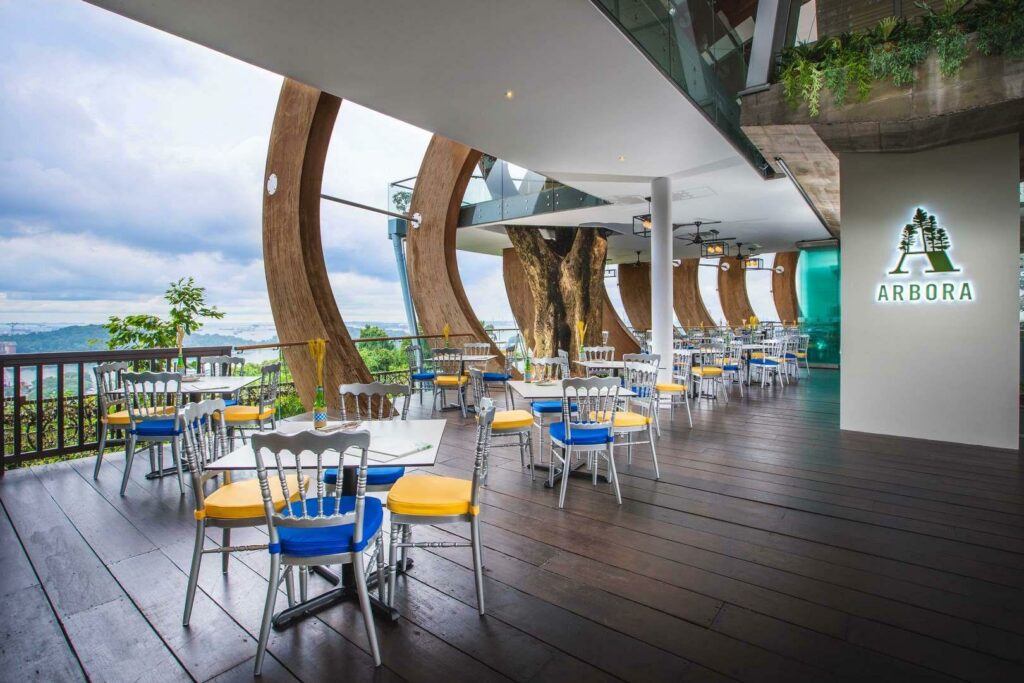 The restaurant's tranquil setting makes it a great place to relax for busy city rats. Along with a beautiful view of the sea and picturesque fairy lights at night, dining here with a glass of their botanical inspired drinks and craft beer does not sound like a bad idea at all.
The verdict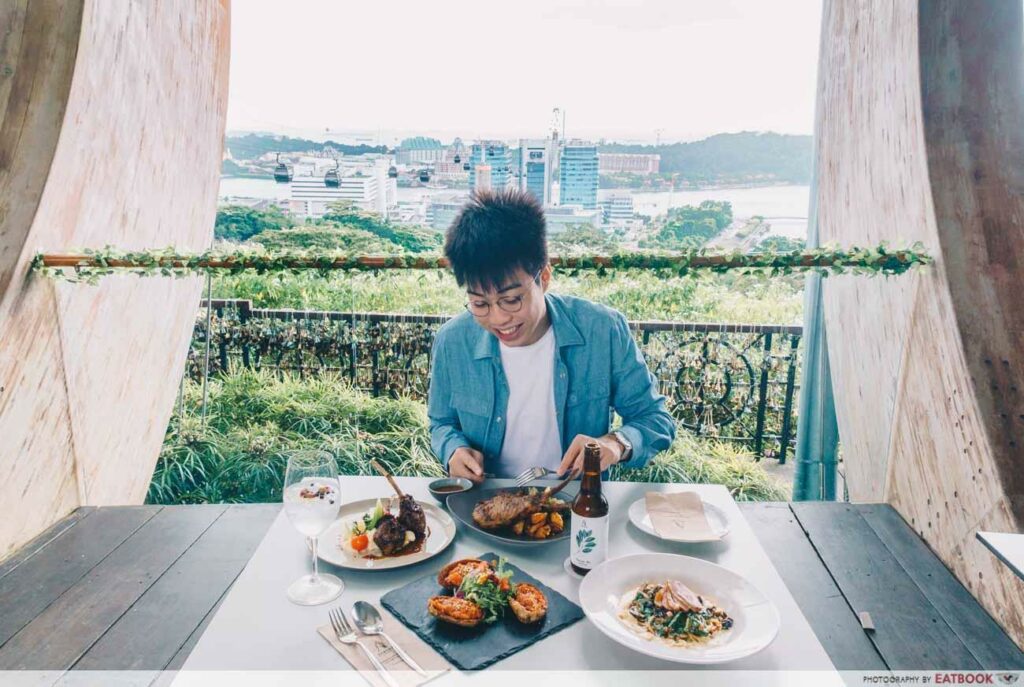 Surrounded by lush greenery, along with a beautiful view of the sea, it's hard to find another restaurant that offers such an experience.
Alongside tasty and comforting fare that everyone will enjoy, this place is ideal for that lazy weekend meal with the family.
Address: 109 Mount Faber Road, Faber Peak, Singapore 099203
Opening hours: Daily 11am to 11pm
Tel: 6377 9688
Website
Photos taken by Thaddeus Lim.
This post is brought to you by One Faber Group.
Summary
Pros
– Beautiful views – one of the best in Singapore
– Unique experience
Cons
– Getting to the top can be difficult
Recommended dishes: Tomahawk Pork Rib ($65++), Chempedak Bread & Butter ($14++)
Opening hours: Daily 11am to 11pm
Address: 109 Mount Faber Road, Faber Peak, Singapore 099203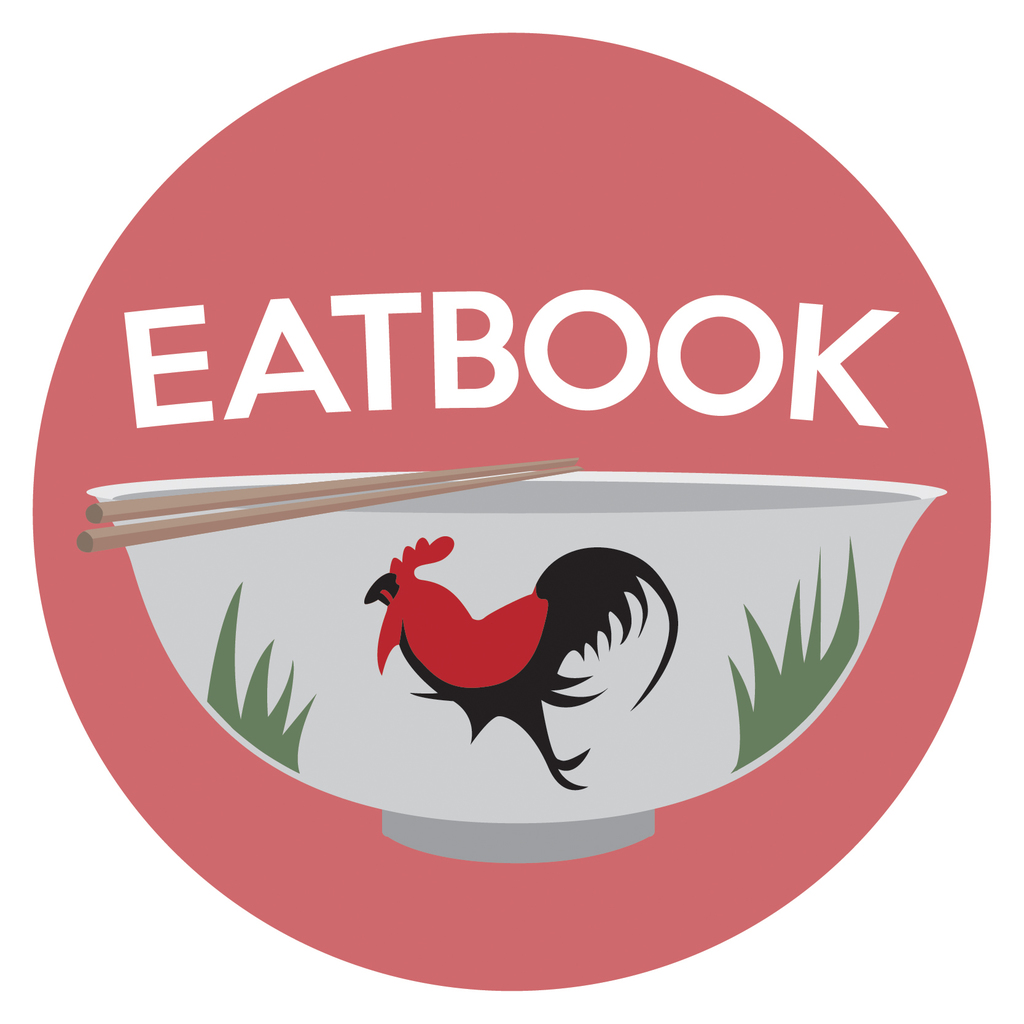 Drop us your email so you won't miss the latest news.