---
These avocado dishes ain't just for the health-conscious ones
---
I literally fawn over any avocado dishes, be it savoury or sweet. I still remember the first time I spiraled into pure avocado-induced bliss. It was purely by chance, and not because I wanted to get healthy. My family and I were at a hawker centre in Kovan. I was thirsty and sipping on something thick and creamy my father had bought me, and I liked it. A lot. It had only been a simple avocado smoothie, but it struck the match that would light my undying love for the little green fruit. If you're reading this because you're as crazy for avocados as I am, you've come to the right place.
---
1. Avocado Ice-cream
---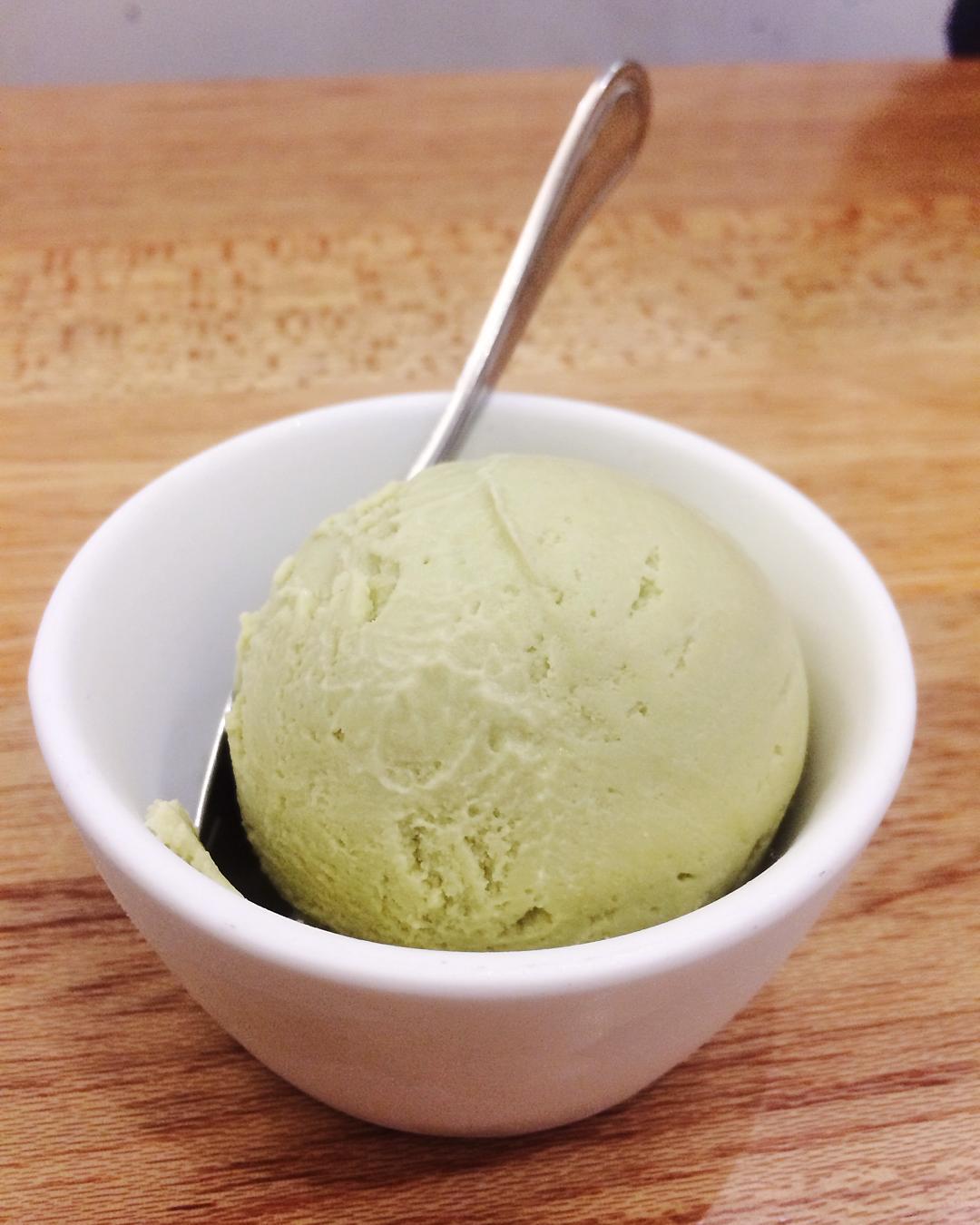 Image credit: @jinhojiakk
Among the vast selection of flavours offered by The Daily Scoop is Utterly Avocado ($12.50 per tub), a velvety avocado ice-cream sweetened with gula melaka. The buttery ice-cream is made using real avocados and is best savoured in a cone or atop fluffy waffles. If you're feeling adventurous, give Daily Scoop's Chilli Choc a try too; it's a dark chocolate ice-cream with a spicy kick!
Address: 1 Zubir Said Drive, #01-03, School Of The Arts, Singapore 227968
Opening hours: Sun-Thur 11am to 10pm, Fri-Sat 11am to 10:30pm
Tel: 6509 4875
Website
Full list of outlets
---
2. Avocado desserts
---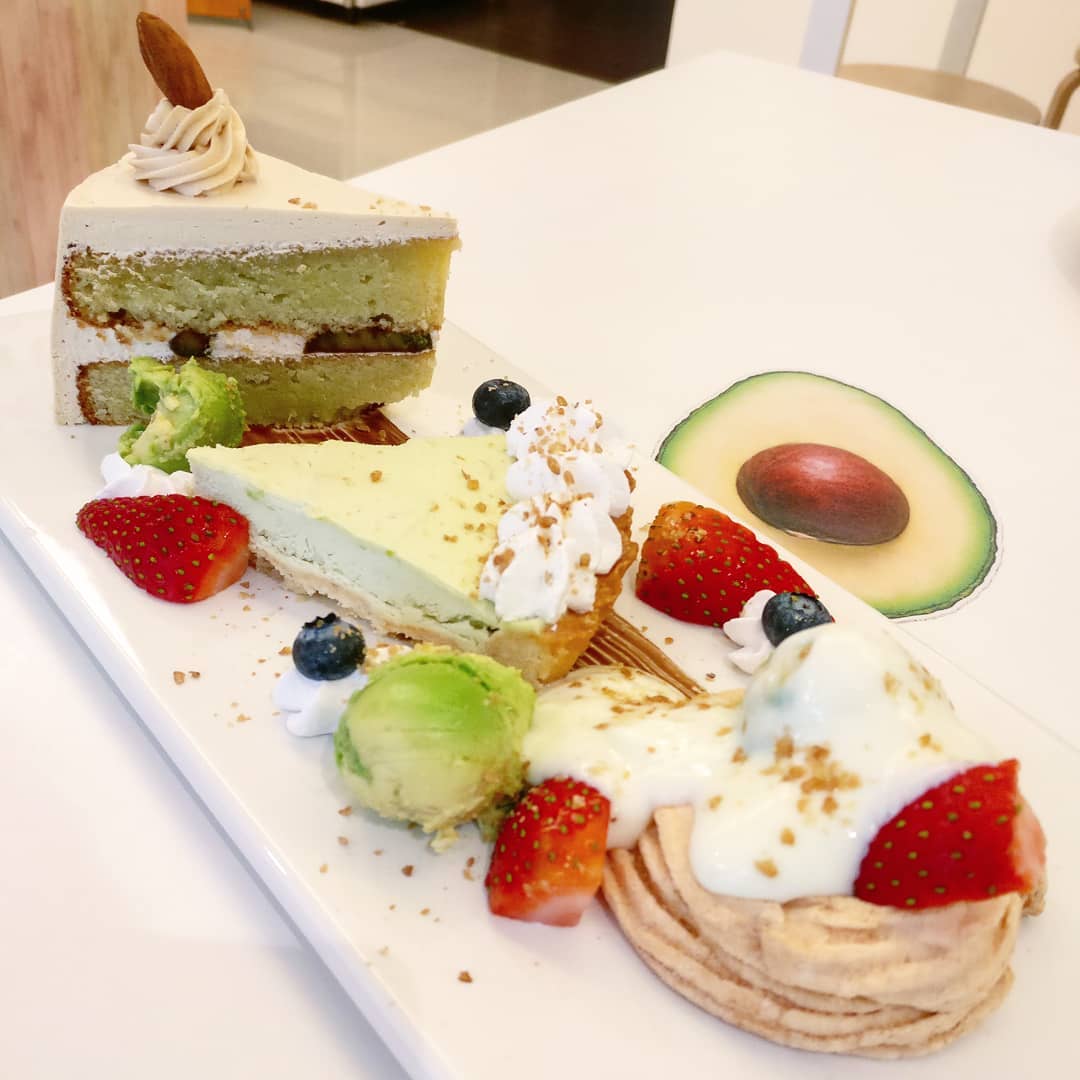 Image credit: @bengchuen
All The Batter has all the avocado desserts you can imagine, from pies to cream puffs to mini tarts. Try their best-selling Avocado Rhapsody Slice ($6.50), a luscious cake layered with chocolate and creamy avocado that is also diabetic-friendly! The avocado cream even contains little chunks of the fruit to add to its richness. Don't miss the refreshing milkshakes here either, such as the Avocado Nutty Galore ($8.90), which comes topped with a light swirl of whipped cream and nuts.
Address: 370 Alexandra Road, #B1-46, Singapore 169953
Opening hours: Mon-Wed, Fri-Sun 11:30am to 9:30pm
Tel: 8510 6313
Website
Full list of outlets
---
3.  Avocado Toast
---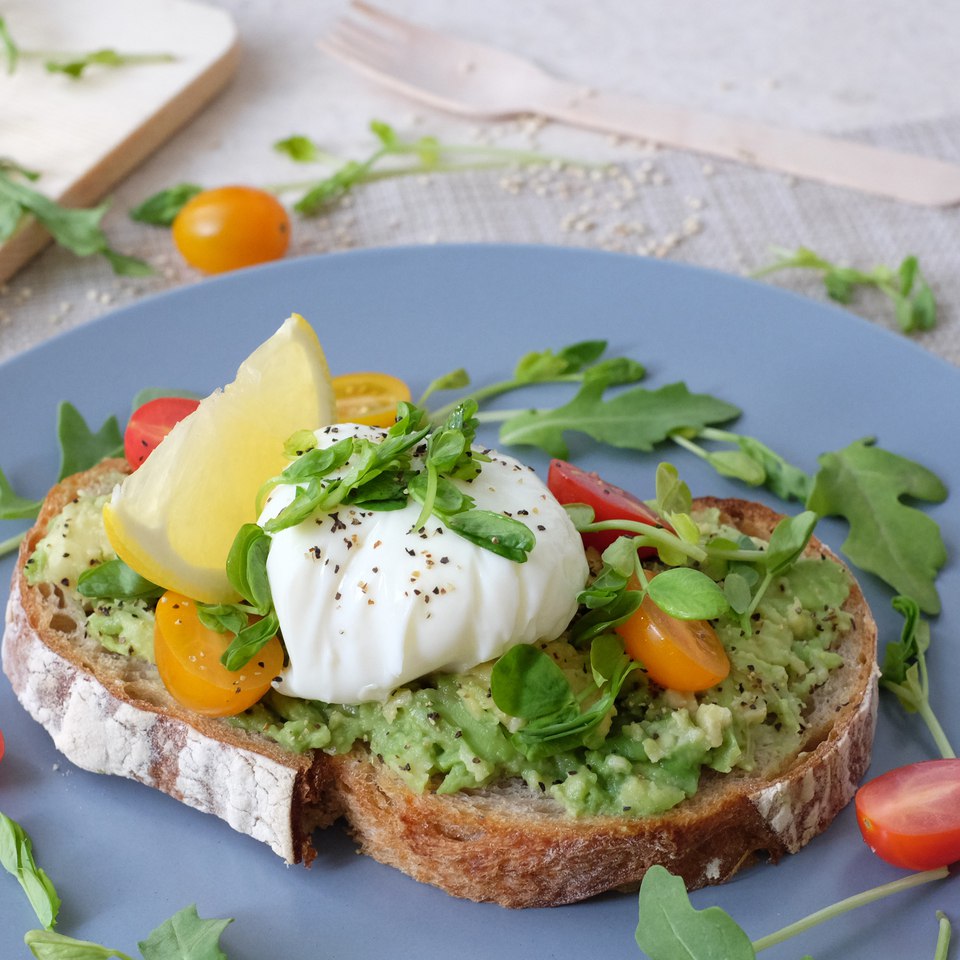 Image credit: @avorush
Avorush is an unassuming cafe in the CBD serving up nine different kinds of avocado toasts from $5.50, avocado milkshakes and DIY avocado bowls. Get a cup of Avo-Vanilla Frappe ($5.90) that's made with fresh avocado, honey, milk and natural vanilla flavouring. If you want something light to munch on, order yourself a slice of Over The Top ($6.50), which comprises smashed avocado, a poached egg, cherry tomatoes and feta cheese atop toasty sourdough bread. Alternatively, for something more substantial, build your own Avo-Bowl at $9 and upgrade it to a larger size at $13 if you're really hungry.
Address: 12 Marina View, #02-23, Asia Square Tower 2, Food Garden, Singapore 018961
Opening hours: Mon-Fri 7.30am to 8.30pm, Sat 9am to 3pm
Tel: 8251 4776
Website
---
4. Avocado Grilled Cheese
---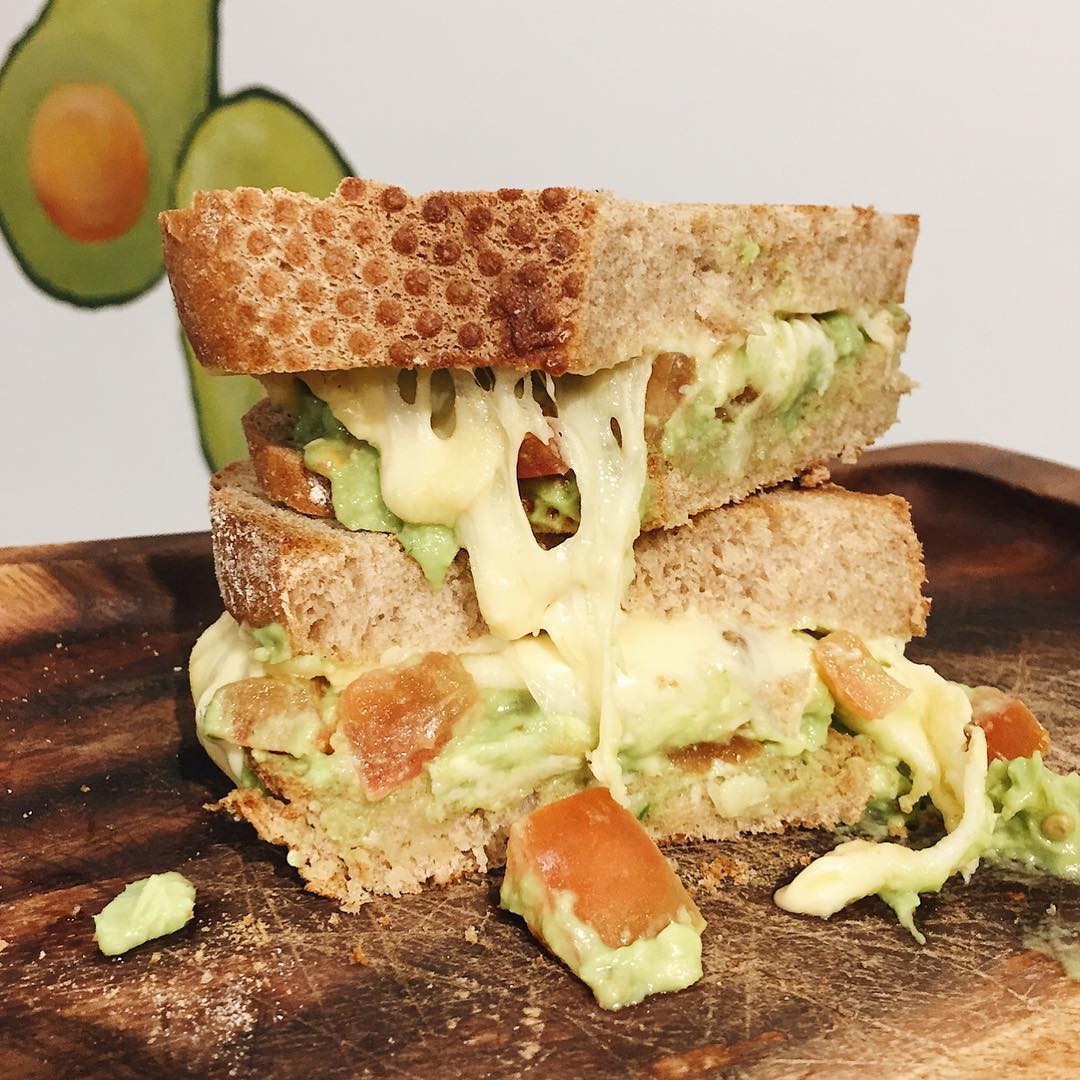 Image credit: @guacngo
As its name suggests, Guac And Go specialises in guacamole – a savoury avocado dip. This place is really generous with their avocados! Try their Guacamole Grilled Cheese ($12) for a spin on the usual avocado toast. This sandwich also comes with tomato salsa and is served with a side of zesty tomato soup, and tortilla chips for that added crunch, so you're sure to get your money's worth. For a wholesome meal, get their best-selling salad bowl Guacamole 2.0 ($15), which comes with a huge dollop of guacamole atop quinoa, chicken, tofu and more!
Address: 32 Maxwell Road, #01-08, Singapore 069115
Opening hours: Mon-Tue 10am to 4pm
Tel: 6221 2117
Website
---
5. Avocado Milkshake
---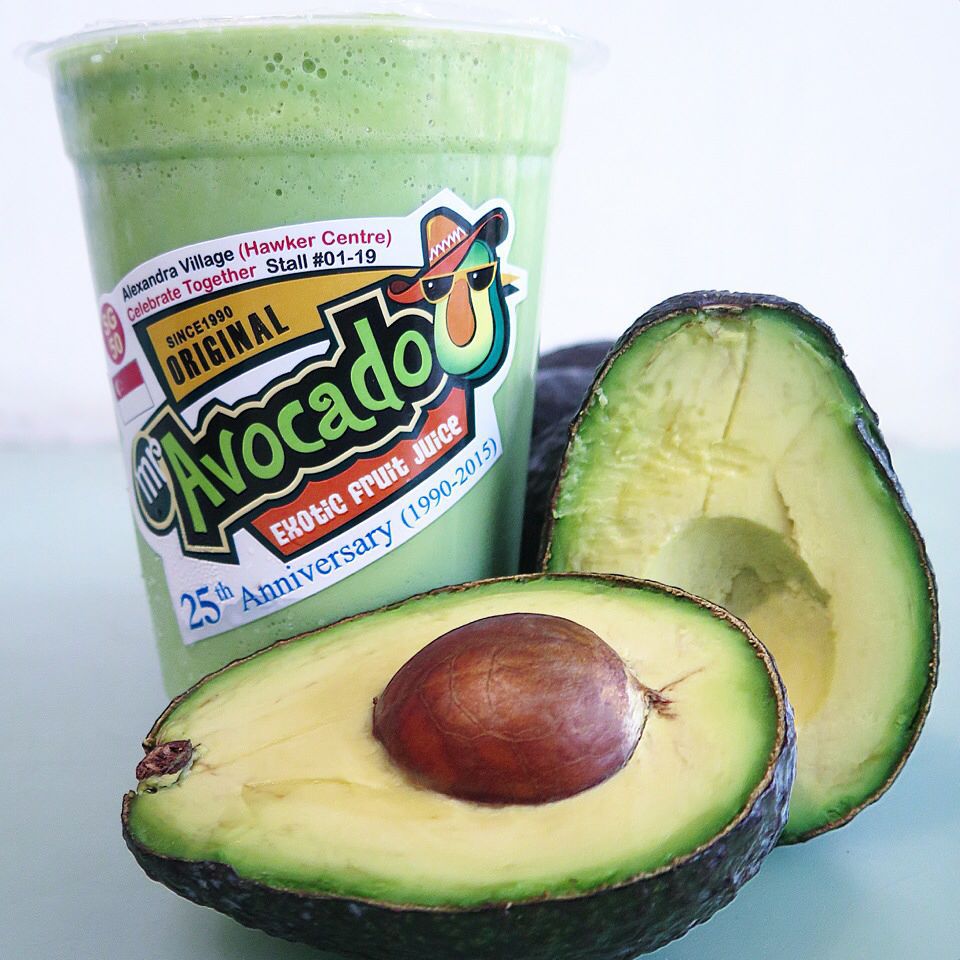 Image credit: @fabianpoon
If you're craving something simple and sweet, there's no point going to a cafe or restaurant to get your avo fix when you can just head on down to Mr Avocado Exotic Fruit Juice for the stall's speciality – Avocado Juice. At $2.50, there's no avocado shake that's more value-for-money! The well-blended drink is so smooth, you can hardly get any avocado chunks in it. Add 50 cents to further richen your creamy drink with gula melaka.
Find out what else to eat at Alexandra Food Village!
Address: 120 Bukit Merah Lane 1, #01-19 Alexandra Village Food Centre,Singapore 150120
Opening hours: Mon 11am to 9pm, Tue-Sun 11am to 7pm
---
6. Avocado Sushi
---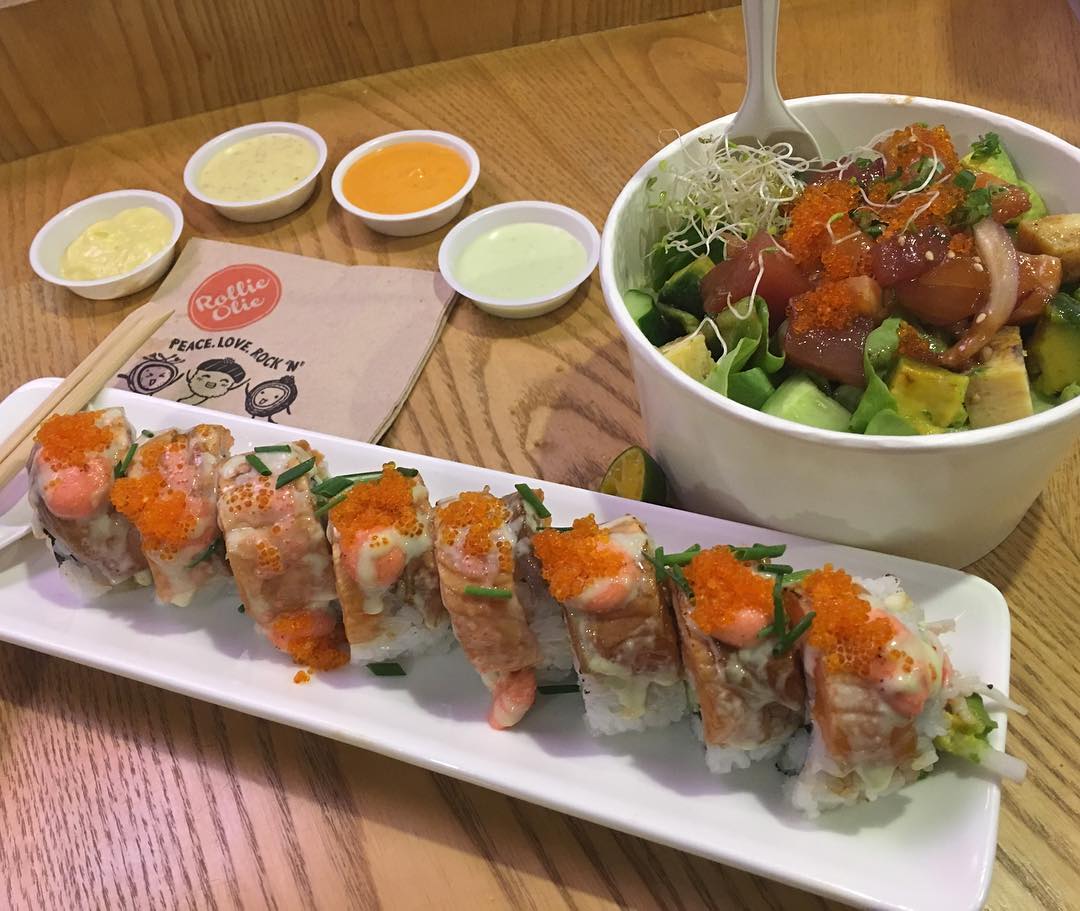 Image credit: @siaolianeh
Rollie Ollie makes you believe avocado and sushi were made to be eaten together. At this Asian-Californian fusion food chain, all hand-crafted sushi rolls on the menu are prepared with avocado. Hop on the mentaiko bandwagon by ordering yourself a roll of Sunkissed Salmon ($16.95), which is topped with seared salmon, torched mentaiko mayo, and stuffed with avocado. Alternatively, try one of their popular poke bowls like their Aloha Poke ($12.95/$15.95) – a mix of greens, sashimi, tamago and huge chunks of avocado, among other ingredients. What's cool is that Rollie Ollie also offers a unique selection of sauces to accompany your food, such as curry mayo, wasabi mayo and yuzu mustard.
Address: 1 Vista Exchange Green, #02-05, Star Vista, Singapore 138617
Opening hours: Daily 11:30am to 10pm
Tel: 8188 1525
Website
Full list of outlets
---
7. Avocado Poke Bowl
---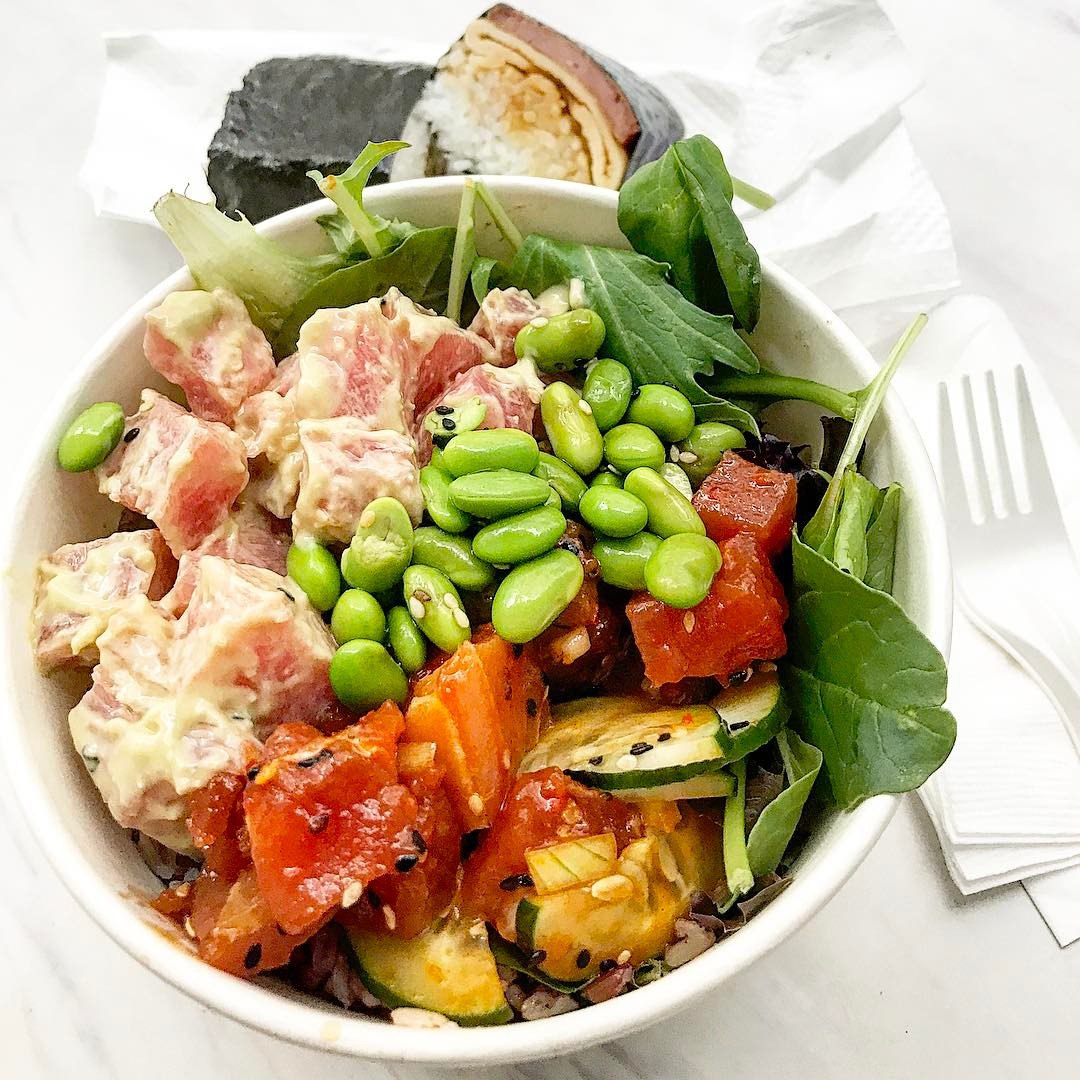 Image credit: @lifeparadox
Pololi specialises in poke bowls, another food trend making waves across our little red dot. Pololi has come to us all the way from Hong Kong and operates with a takeaway concept, to cater to the busy working crowd in the CBD. There are two sizes of poke bowls to select from, Keiki ($15.99) and Kama'aina ($17.99), depending on how much fish you want. You can decide on what base you want as well, from rice to salad to a mix of both. And where does the avocado come in, you may ask? Why, in none other than the marinade! Their Avocado Mayo – smashed avo in mayonnaise, is said to be a 'must-try for avo lovers'. It sure does give your sashimi chunks a satisfyingly creamy texture.
Address: 51 Telok Ayer Street, #01-06A, Singapore 048441
Opening hours: Mon-Fri 11:30am to 9pm, Sat 11:30am to 6pm
Tel: 6909 0589
Website
---
8. Avocado Salad Bowl
---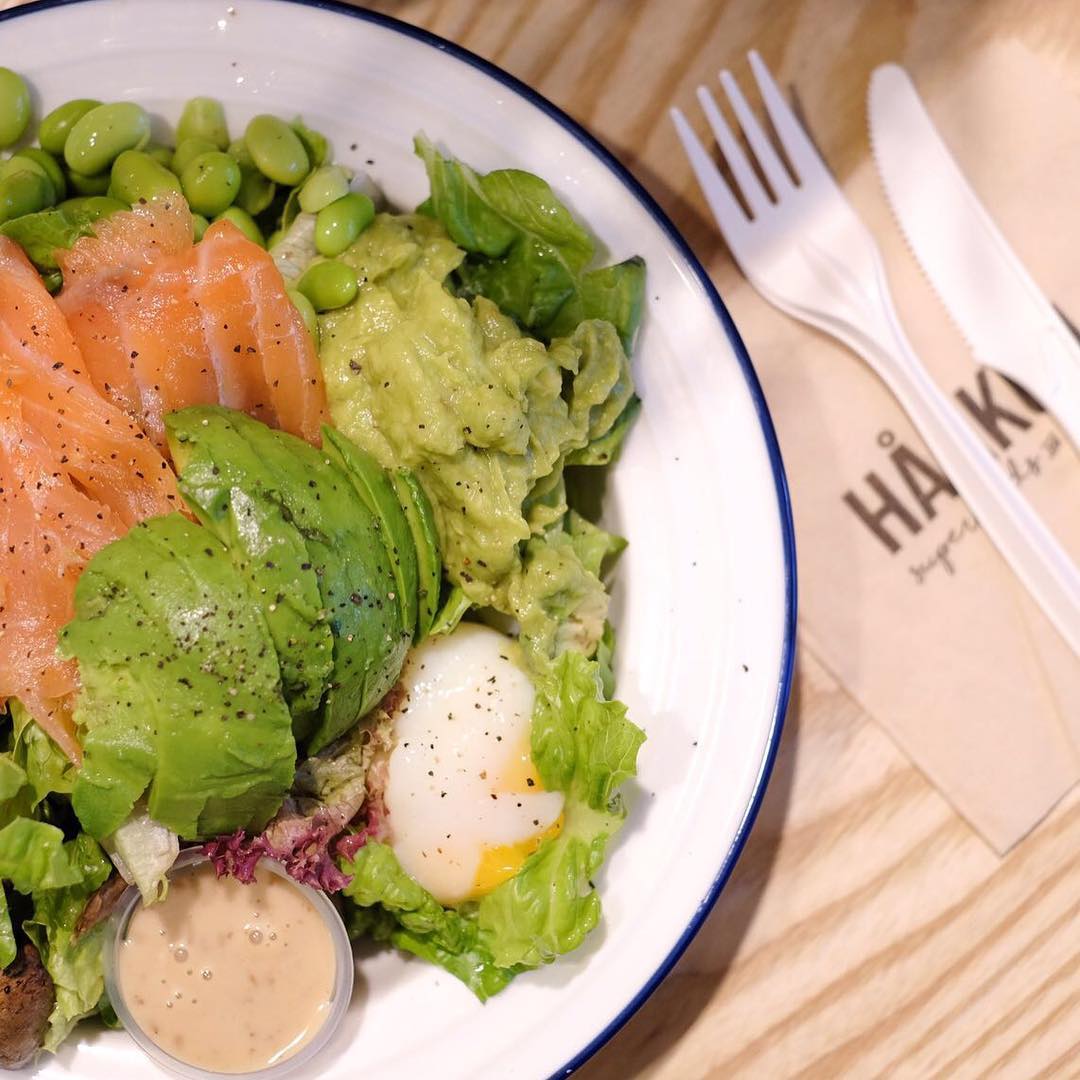 Image credit: @haakon.sg
If you're working hard to stick to your New Year's resolution of kickstarting a healthy lifestyle, Haakon is the perfect place to dine at. From offering Avocado Vegan Bowl ($12.90) to Avocado Hummus Toast ($8.90) to even allowing customers to select avocado spreads in their sandwiches, Haakon is an avocado-embracing paradise. Of course, they also sell other superfoods such as acai bowls and healthy Korean bibimbap, so there's plenty of nutritious variety for a hungry mouth.  
Address: 118 Holland Village, #01-03, Raffles Holland Village, Singapore 278997
Opening hours: Daily 8am to 10pm
Website
Full list of outlets
---
9. Avocado Sushi Burrito
---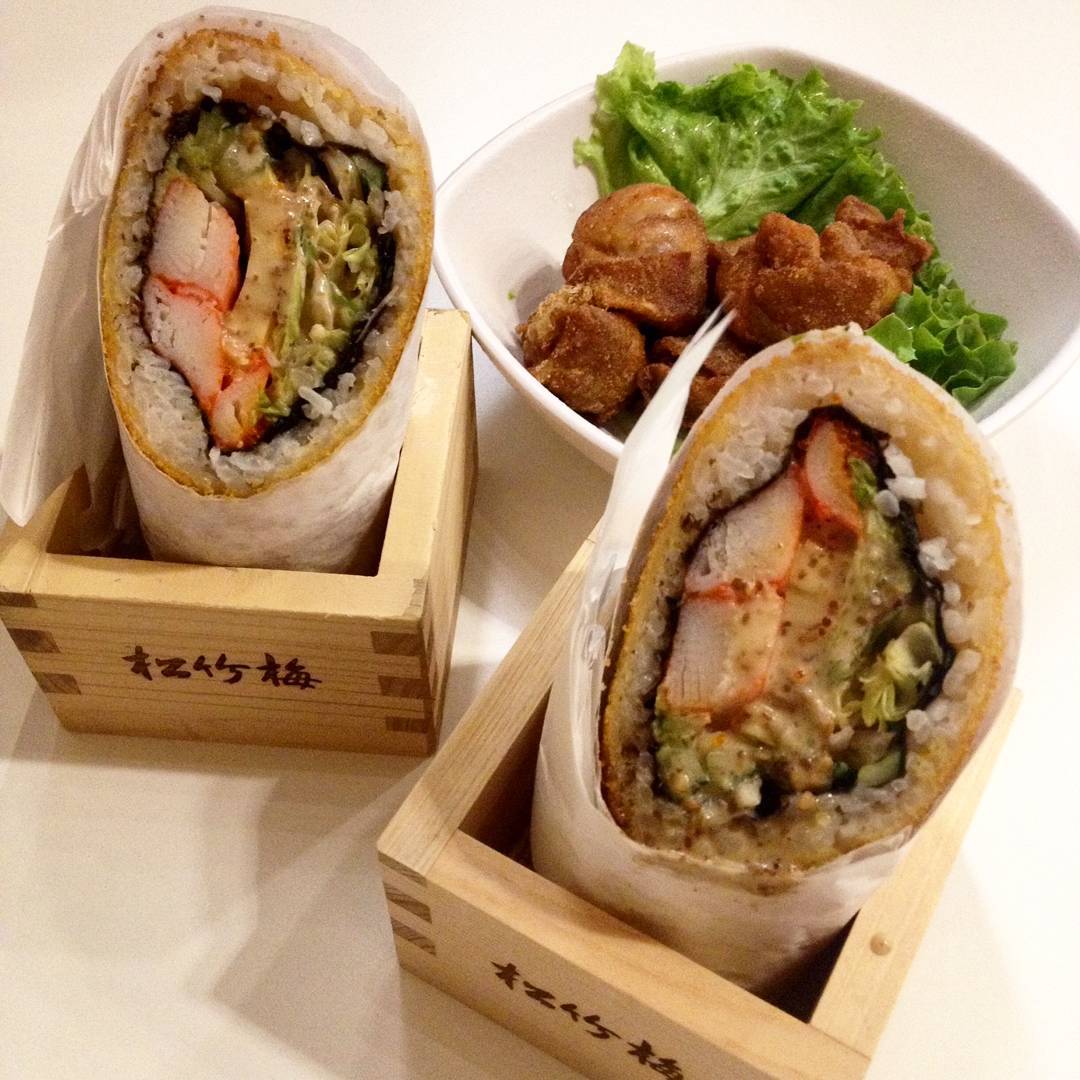 Image credit: @sushiburritosg
As its name suggests, Sushi Burrito lets you eat hand-held sushi wraps! Take their Signature Fried Back Roll ($6.90/12.90) for instance, which come stuffed with avo, cheese, tobiko and crabmeat. The exterior of the sushi is deep-fried, giving it a crispy bite. Order one of their Japanese salads, such as their Salmon Sashimi Salad ($7.90) that comes with leafy greens, avo slices and sashimi tossed in wasabi and yuzu dressing, if you're not feeling up for sushi.
Address: 100 Tras Street, #01-06, 100AM Shopping Mall, Singapore 079027
Opening hours: Daily 11am to 10pm
Tel: 6543 6860
Website
---
10. Avocado Pizza
---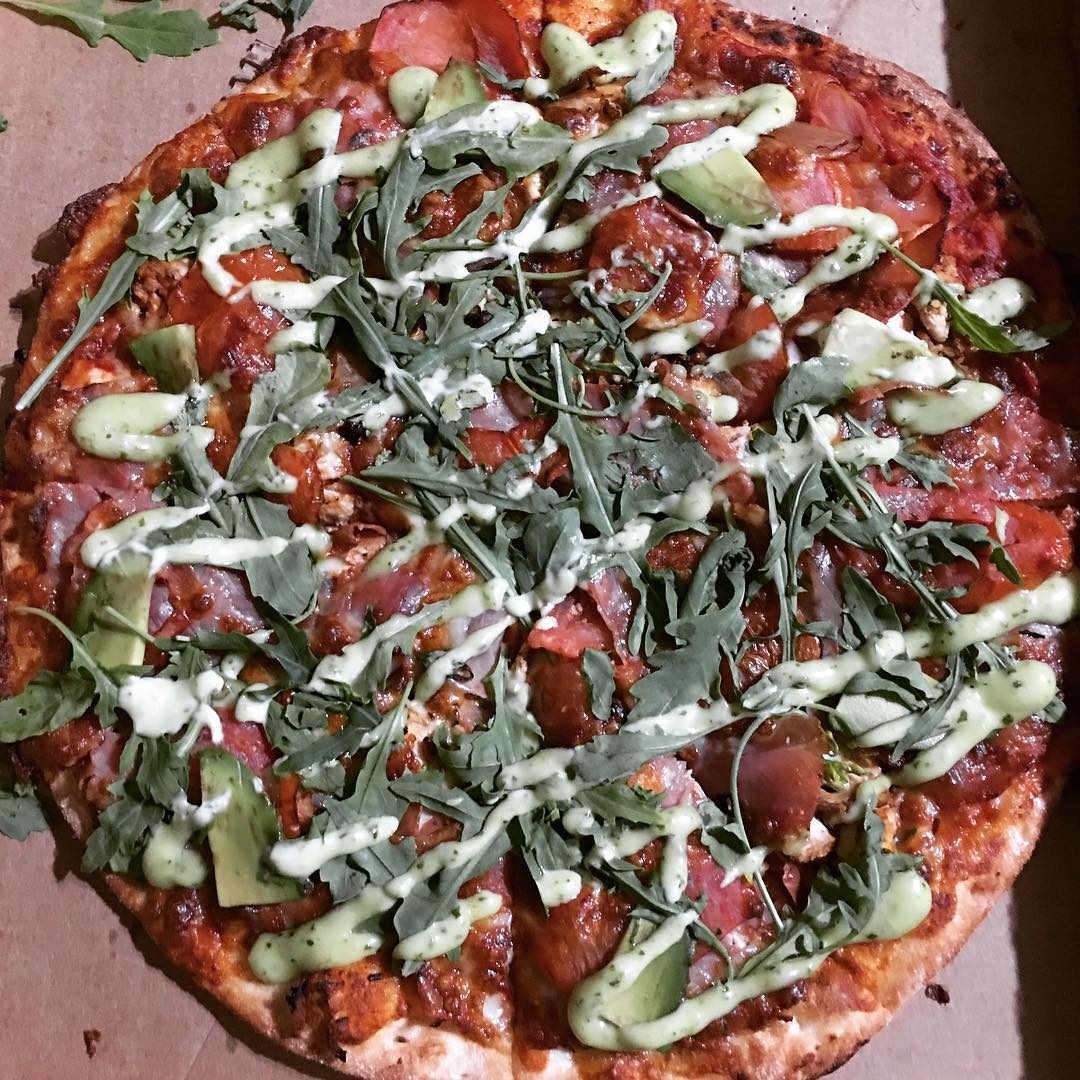 Image credit: @lidya_lee22
I've saved the best for last with Crust, an Australian pizza bar whipping up unique, gourmet pizzas which come with gluten-free options! Avo fans, you have got to try their Pesto Chicken Club ($18/21/22+). Picture this: succulent chicken breast fillets and avocado slices atop a delectably crispy crust blanketed in mozzarella and tomato sauce, with fragrant pesto aioli sauce drizzled all over the finished product. If this pizza doesn't get your mouth watering, I'm not sure what will.
Address: 34B Lorong Mambong, Holland Village, Singapore 277691
Opening hours: Mon-Thur 12pm to 11pm, Fri-Sat 12pm to 1am, Sun 12pm to 12am
Tel: 6467 2224
Website
Full list of outlets
---
It's hard to go wrong with avocado dishes
---
Avocado could work as a main ingredient, or as a simple garnish. Either way, they're delicious. It's time to satisfy those avocado cravings! Somewhere out there, there's an avo bowl, sushi roll or milkshake with your name on it, waiting for you to come and get it.