B Burger takes over the two-storey Lacoste store in Cineleisure
Update: B Burger is now permanently closed.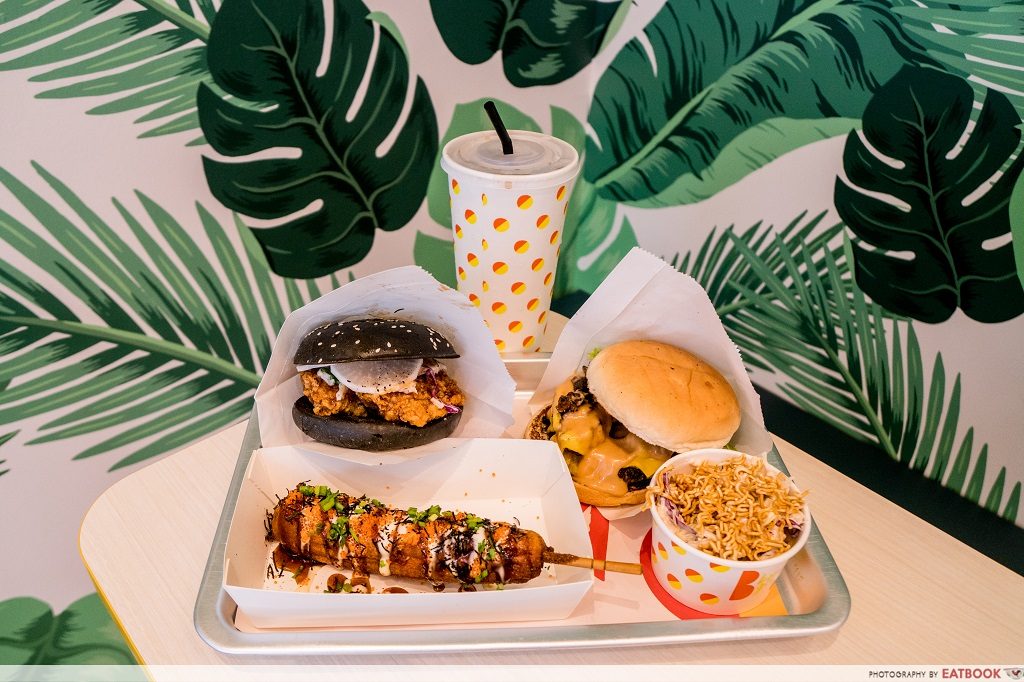 Using only fresh, hand-rolled beef patties that are never frozen and only cooked upon order, B Burger takes pride in the quality of their food. A modern Japanese spin is also given to further differentiate themselves from other fast food joints. Opened by fashion house Benjamin Barker, I was initially quite skeptical about the quality of their burgers. After all, fashion and fast food are far from being bedfellows. But after reading a glowing review by an established bartender in Singapore, I knew I had to give this hash house a go.
Food at B Burger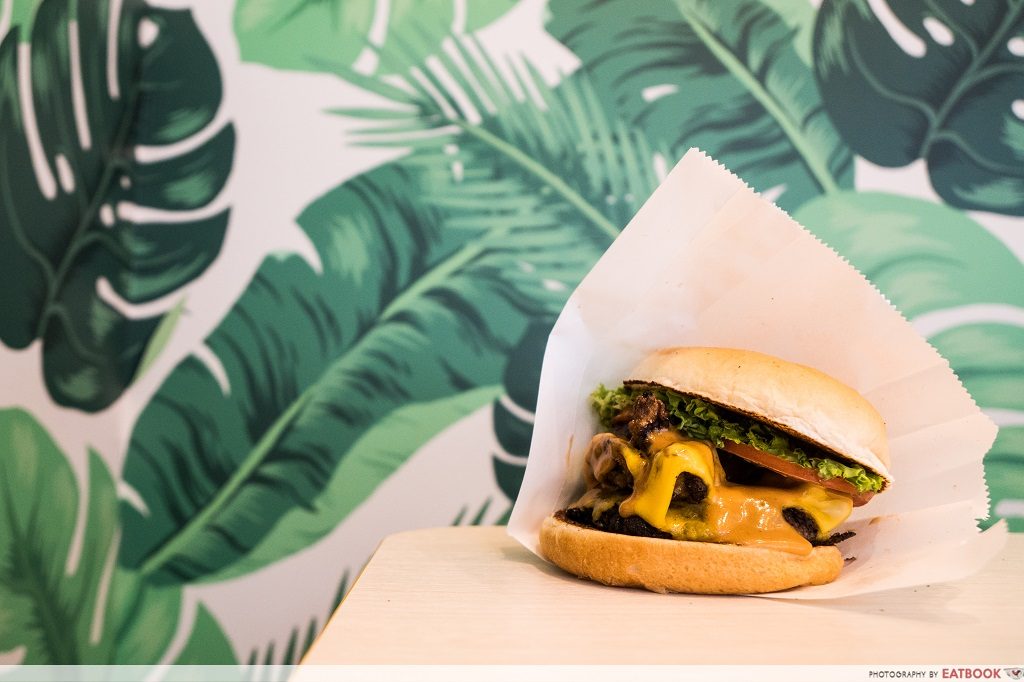 Out of the seven burgers gracing the menu, I decided to settle for The Baller Burger ($10.90), a meaty add-up to the vegetarian Umami Burger ($7.90). This way, I could enjoy two burgers in one – and boy was I pleased with my decision. The earthiness of the crispy fried buttermilk portobello and robust beefiness of the patty made me coo in delight as I sunk my teeth in. It also helped that the beef patty and portobello had an equal ratio of thickness, so neither overpowered the flavour of the other. The cheddar cheese also elevated the flavour and gave the burger a punchy funk, while their umami signature B sauce is a secret I've been dying to uncover. The only flaw was the mention of nori nestled between the buttery, toasted buns, which I couldn't get a whiff of.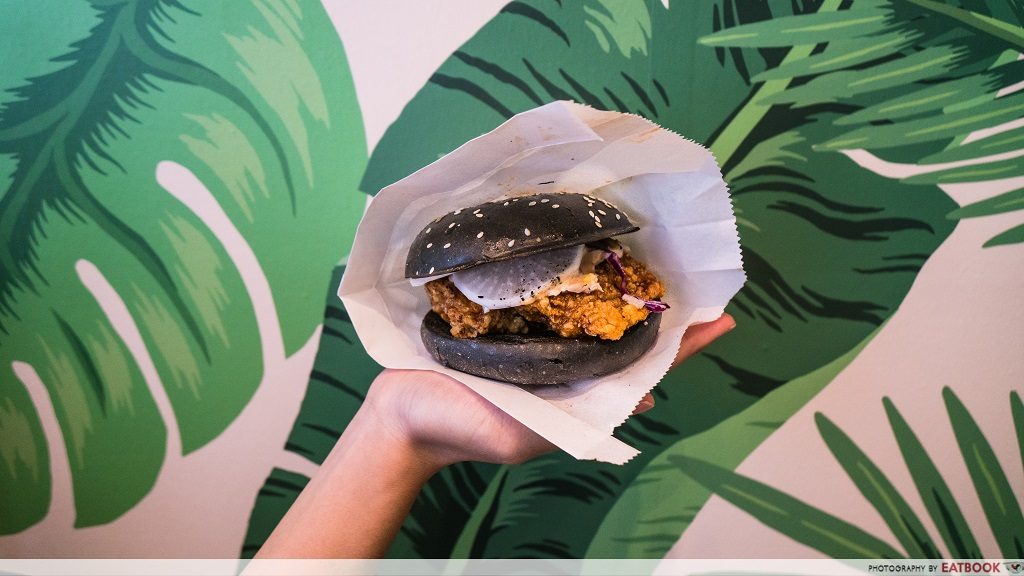 Waiting for me next in pillowy soft charcoal buns was the Karate Burger ($7.90), featuring a karaage chicken that was fried to golden perfection. As I bit into the fowl, a resounding crunch unveiled glistening white meat that was tender, albeit unctuous. Accompanied by Japanese wafu slaw, daikon pickles, Sriracha honey and B Sauce, these tangy-sweet condiments were an ideal pairing, as they cut through any oiliness present. Minus the lack of spicy notes, this black and gold delight can easily hold a torch to Singapore's favourite burger, the McSpicy. My mouth is watering just thinking about it.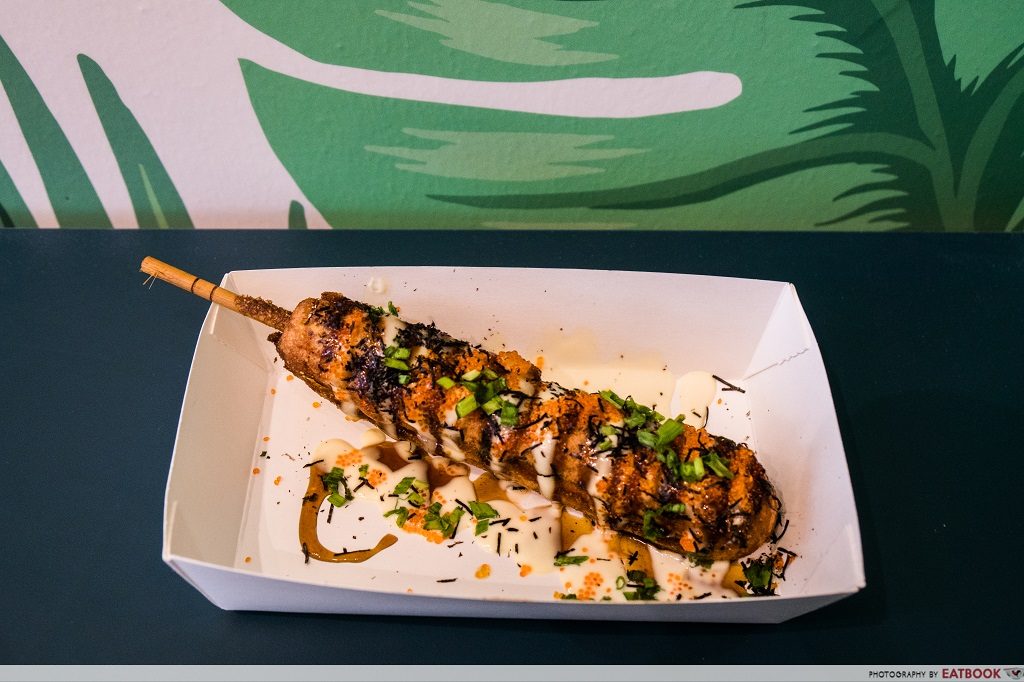 Unfortunately, everything soon went downhill after, starting from this Osaka Corndog ($6.90). Topped with tobiko and nori, before being slathered in teriyaki sauce and mayo, the cheese corndog was a far cry from the gloriousness of the former two. The sausage used did not deliver the fatty luxuriousness and succulent texture a good sausage should have. If they only change the sausage encased within the light cornmeal batter, then this main would get my nod of approval.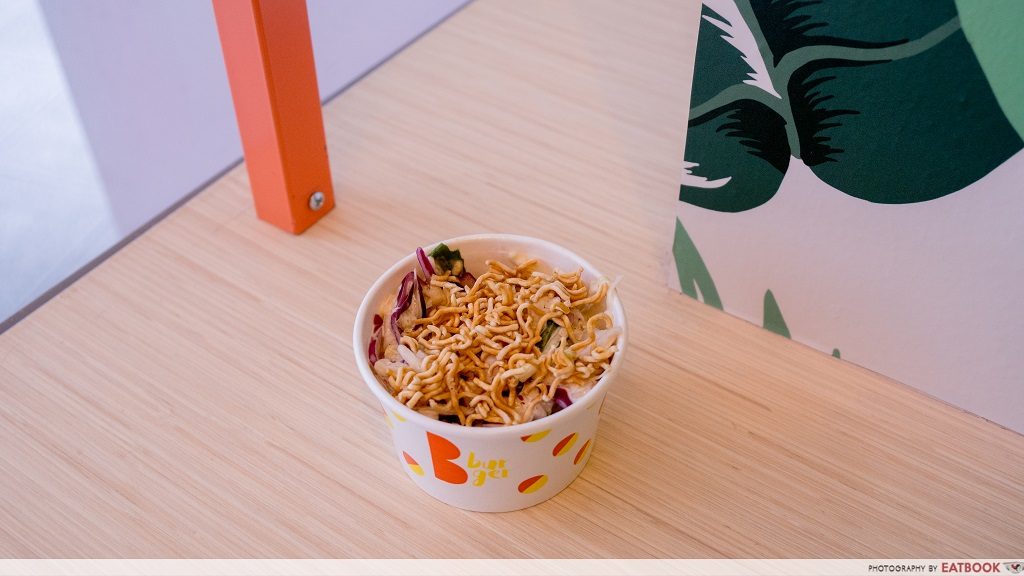 I was also prompted to upgrade my main into a meal with a side and drink for an additional $3.50, and was given a choice of fries, nacho soup or wafu slaw for the side. To balance out the meat galore, I opted for the slaw, which I regretted. The slaw, while fresh, was nothing to shout about and tasted like any regular coleslaw with no special seasoning. The ramen bits sprinkled on top also felt like a bad attempt in turning the slaw into a fusion salad.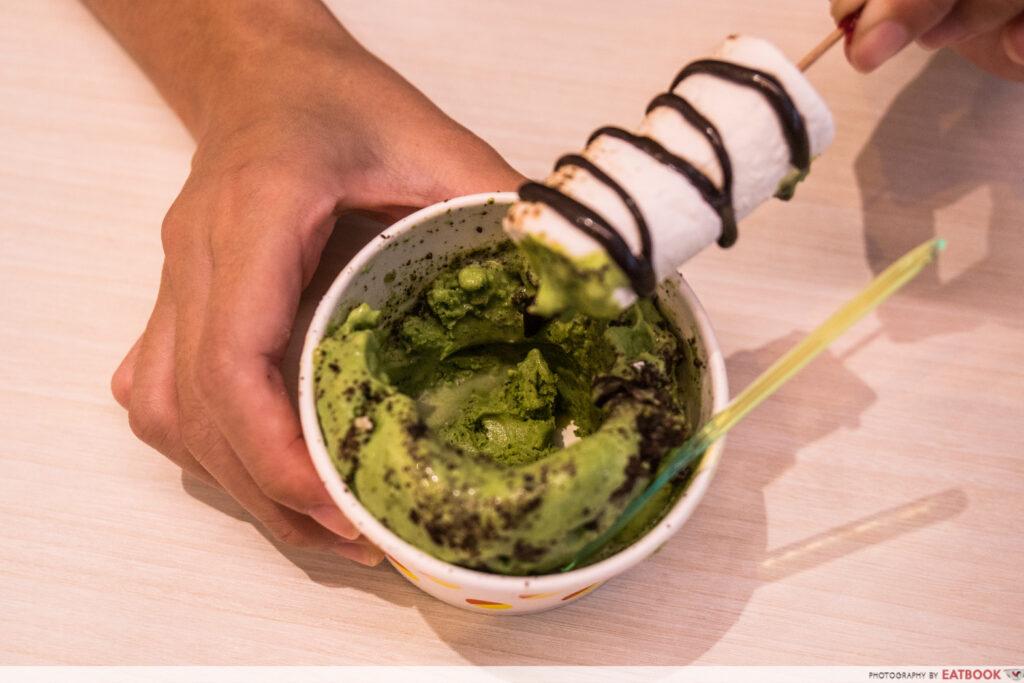 Even though I was full to the brim, I couldn't leave without trying their dessert – their ice-cream menu is even more extensive than their burgers! You can either create your own ice-cream or pick from one of their mix-in signatures. I decided to go for the former and constructed my own: a Single-scoop Matcha ($4) with Lavender Sauce ($1), and Toasted Marshmallows ($1) plus Oreo ($1) toppings. The matcha was a tad too cloying and I was put off by the presentation; there was a weird hole dug in the middle and I felt they could have given me more ice cream for the price.
Ambience at B Burger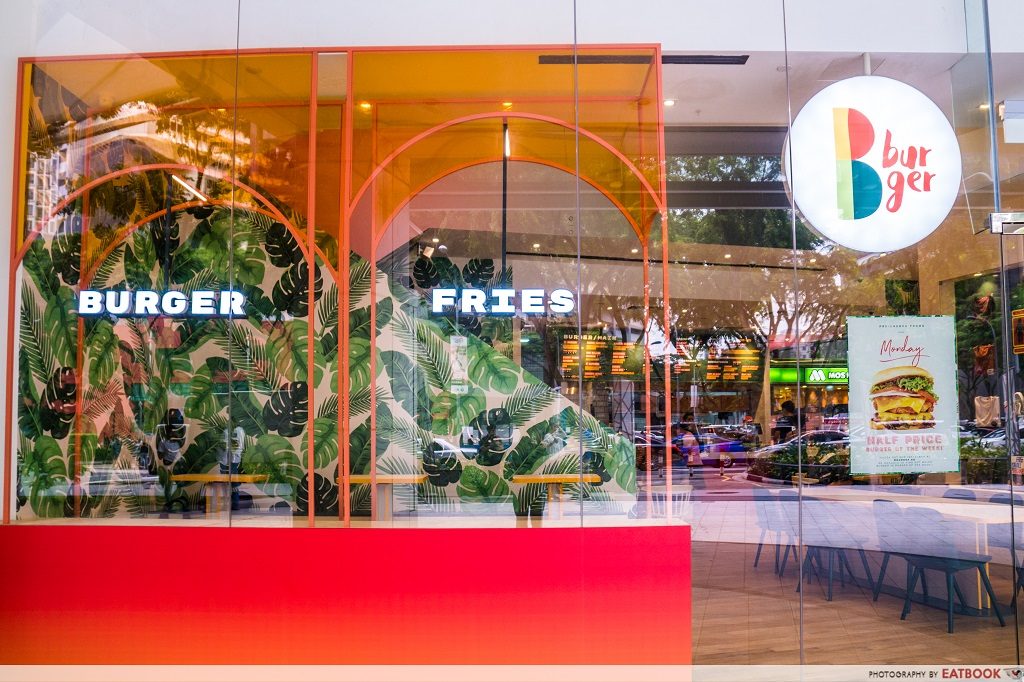 Aesthetics is key in this little joint, with boho grunge as the theme. Juxtaposed against floral wallpaper and neon orange fixtures is a showcase dedicated to the skating culture. The playlist also brings back fond memories of the years I wilted away at Somerset skatepark and Cineleisure, as songs from the era such as Nirvana, Simple Plan and Yellowcard ring through the air.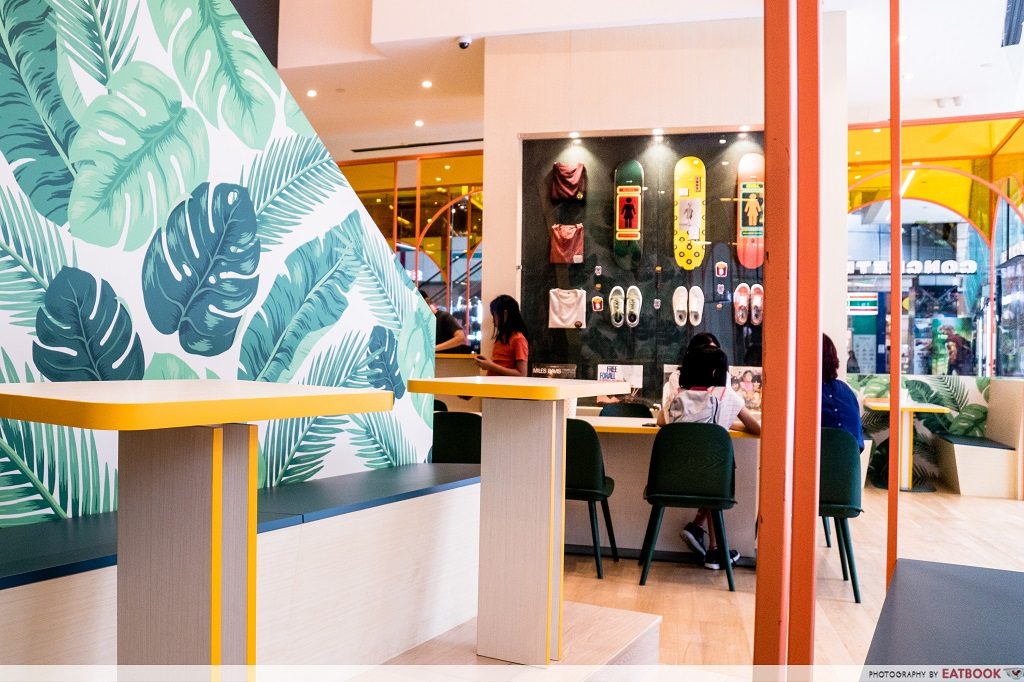 Much thought was put behind the seating arrangements. Individual diners can seek respite at the window seats facing the hustle and bustle outside, while those in a rush can grab a bite at the standing table. There are also four cosy booths for you to reenact a scene from Riverdale's Pop's Chock'lit Shoppe. My favourite spot, however, is the single-facing seats that's great for an intimate date.
The verdict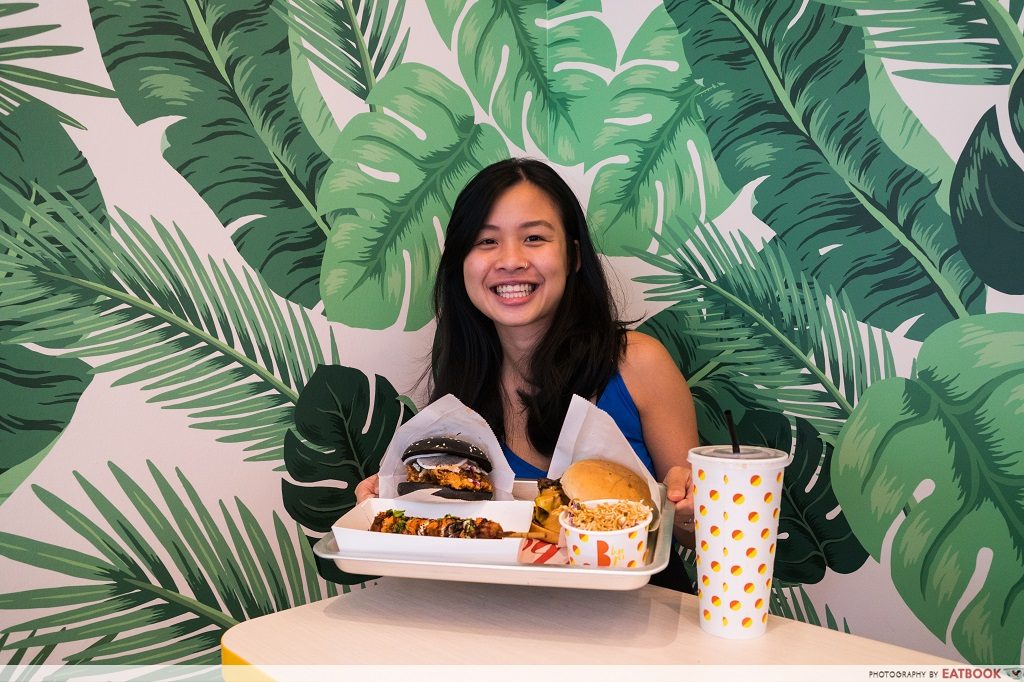 Stick to the burgers and you're in the clear for a stellar dining experience. Other than that, B Burger needs to step up on their other dishes, especially their ice-cream, which seems to be the second biggest draw of the brand. Will I be patronising the restaurant again? Yes, if I want top-notch gourmet burgers at an affordable price. For burgers that won't break the bank, check out our list of affordable burgers under $10. Alternatively, check out these halal food options at Orchard that can fill your tummy for less than $10.
Address: 8 Grange Road, #01-01, Cathay Cineleisure, Singapore 239695
Opening hours: Daily 12pm to 1pm
Website | Menu
This is an independent review by Eatbook.sg.
Summary
Pros
– Fresh, hand-rolled beef burgers
– Friendly service
– Inviting ambience
Cons
– Portion and sweetness of ice-cream can be improve
– Quality of sausage can be improve to match with the burgers
Recommended Dishes: The Baller Burger ($10.90) and Karate Burger ($7.90)
Operating Hours:
Daily 12pm to 10pm
Address: 8 Grange Road, #01-01, Cathay Cineleisure, Singapore 239695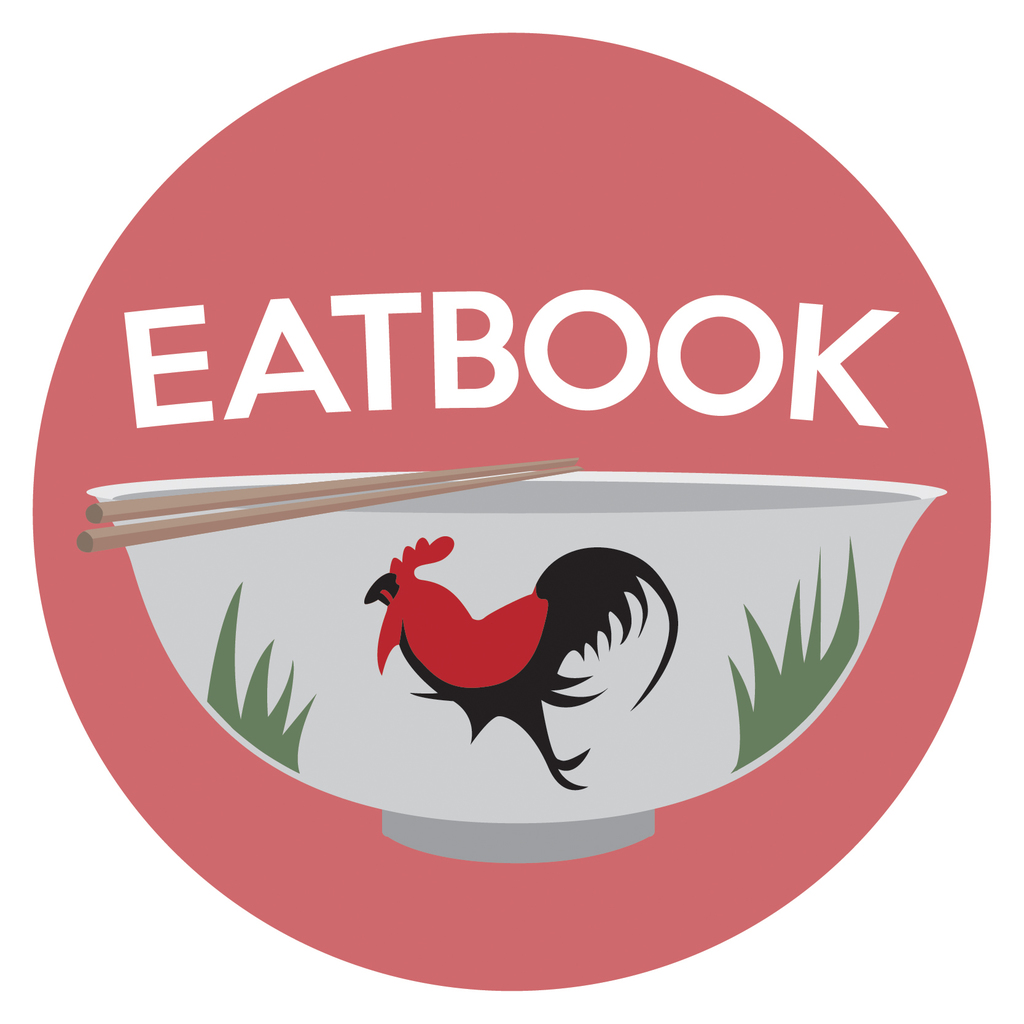 Drop us your email so you won't miss the latest news.