Baker's Brew CNY cookies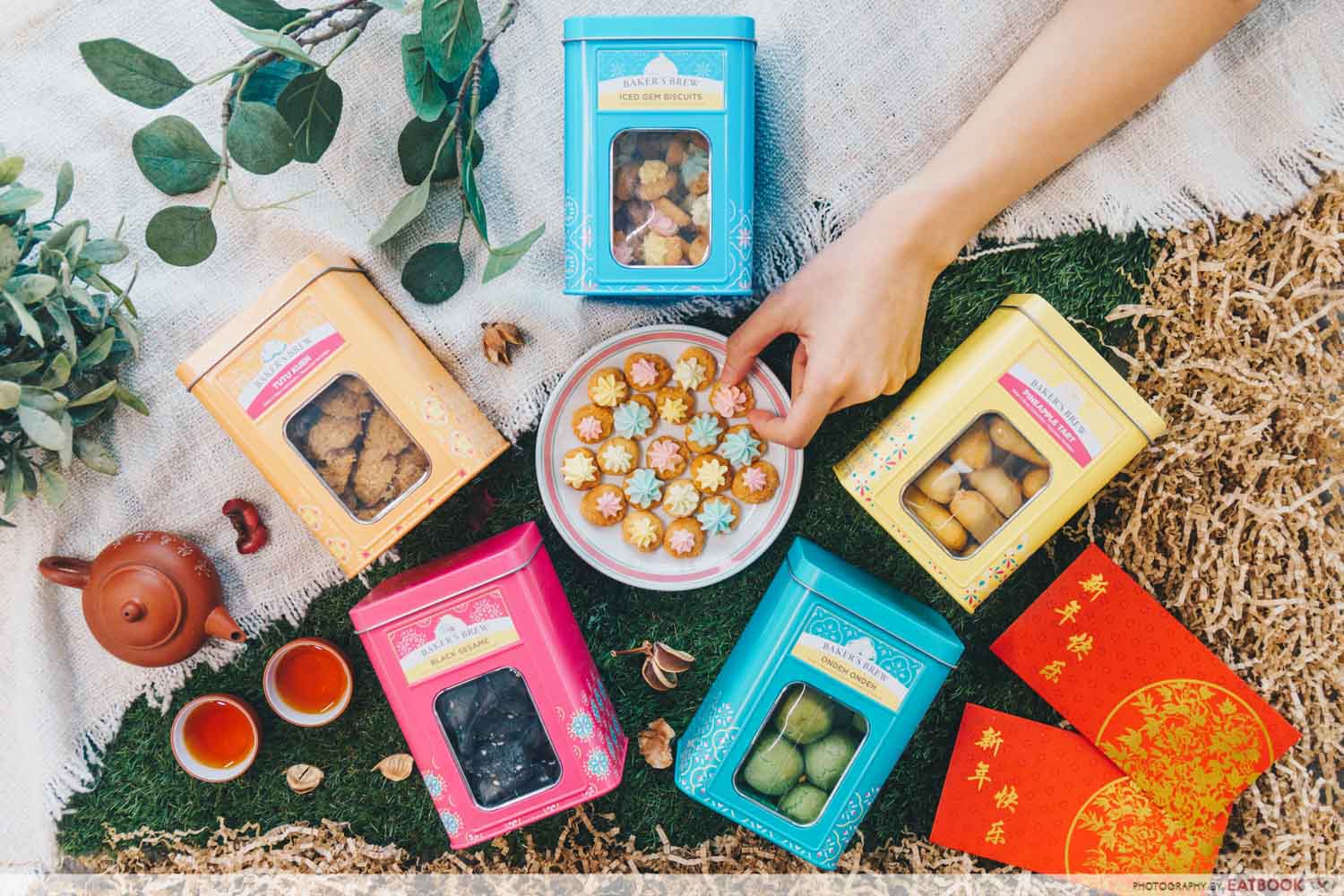 Coming from a Peranakan heritage, I am well-versed with how serious Chinese New Year celebrations are taken. Annual reunions with the extended family not only translate to boisterous affairs, but also a lavish spread of home-cooked food. Despite the myriad of flavourful dishes, my young, greedy self loved sneaking in snacks such as pineapple tarts and tutu kueh. Till today, the sight of these adorable cookies gives me a warm fuzzy feeling. Naturally, I made sure to have first dibs on Baker's Brew 2020 Chinese New Year Collection.
It felt like a blast from the past as Baker's Brew has transformed popular childhood snacks, including iced gem biscuits and tutu kueh, to delectable cookies. Each container of baked goods is priced at $26.80.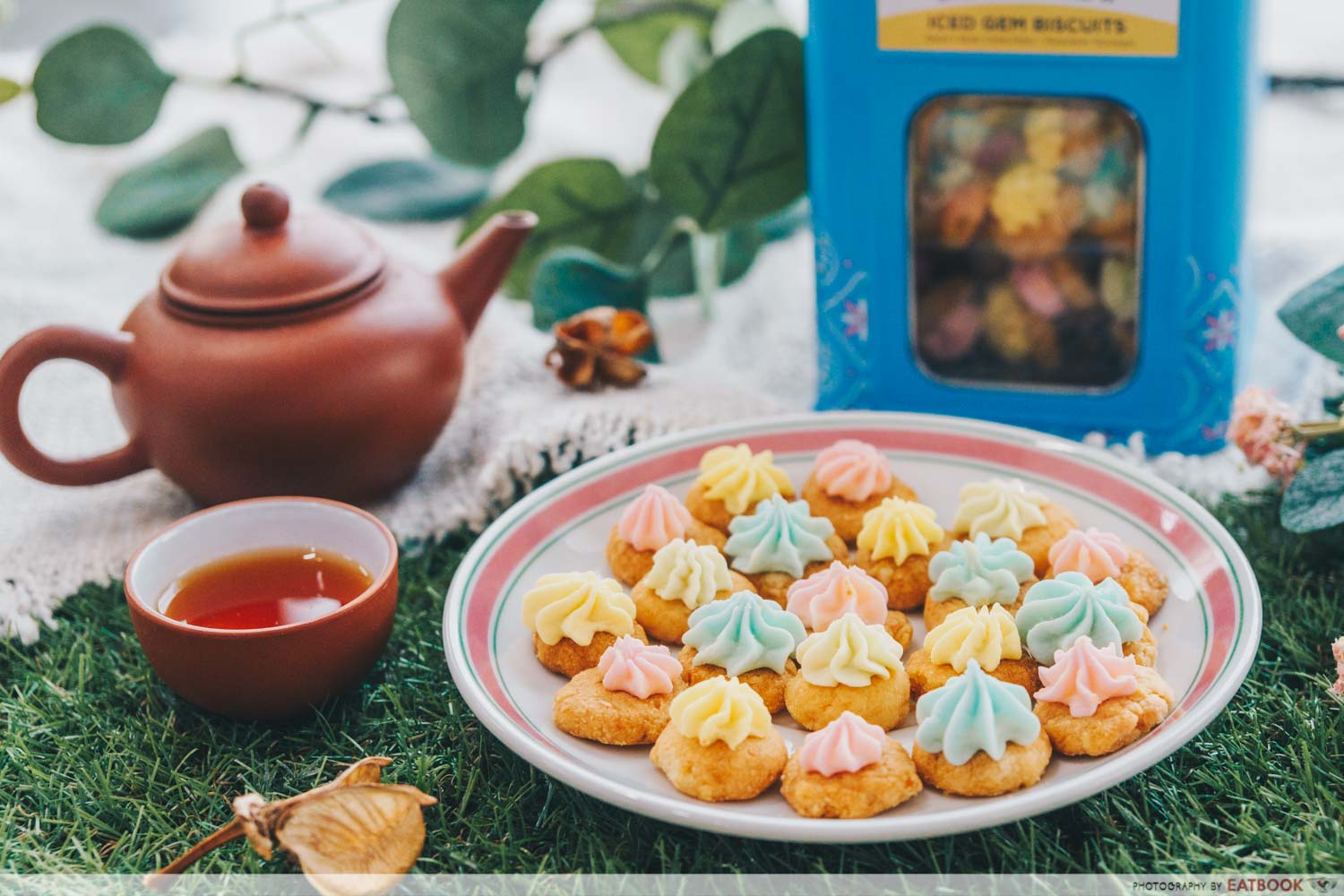 One of my favourite childhood treats is the colourful iced gem biscuits. I would always bite the sugary topping first for some sweetness before munching on the bland biscuit base. Baker's Brew has changed up this plain cookie bottom by adding cheese in their Cheddar Spiced Gems.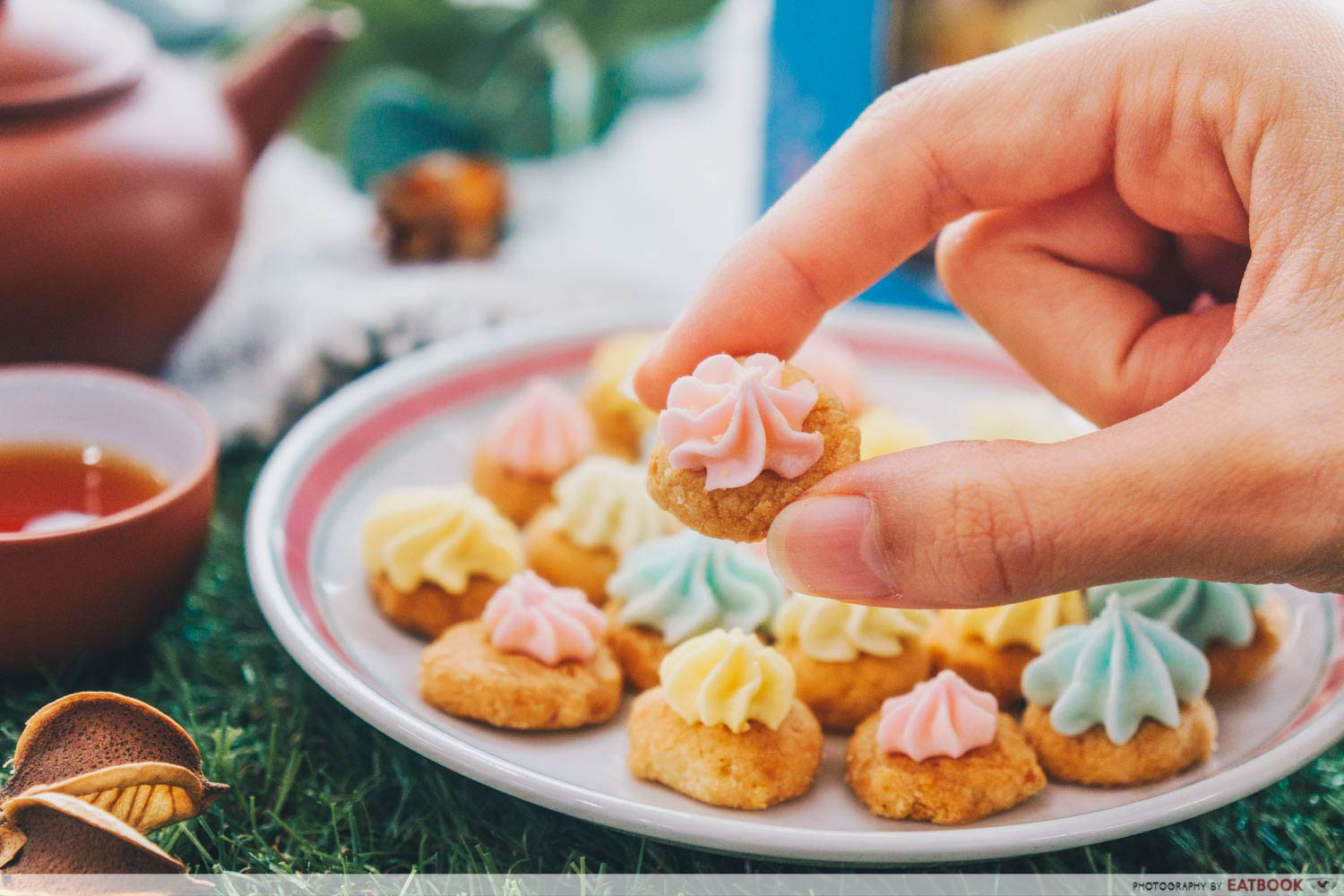 As these biscuits are handmade, you won't be getting a cookie-cutter shape for each gem, and this gives a rustic charm to the cookies. 
Unlike the sugar rush that I was expecting, these cute pastries were a melange of salty, spicy, and sour flavours. Thanks to a liberal addition of lemon icing, the tart notes came out strongest.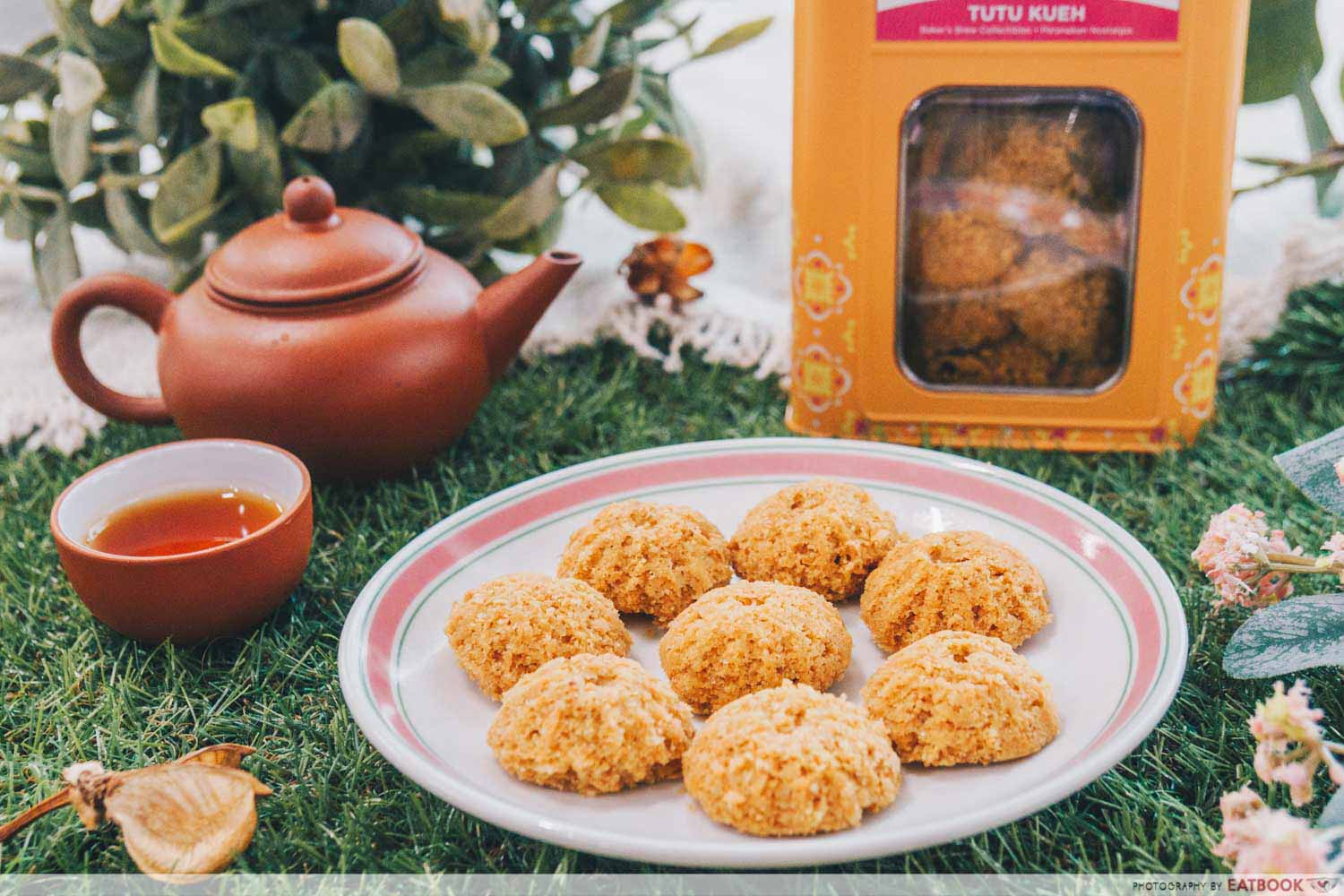 Another wave of sentimentality came in the form of Baker's Brew Tutu Kueh Peanut Cookies. Shaped like chrysanthemums, these fragrant cookies appeared like little sandy gems.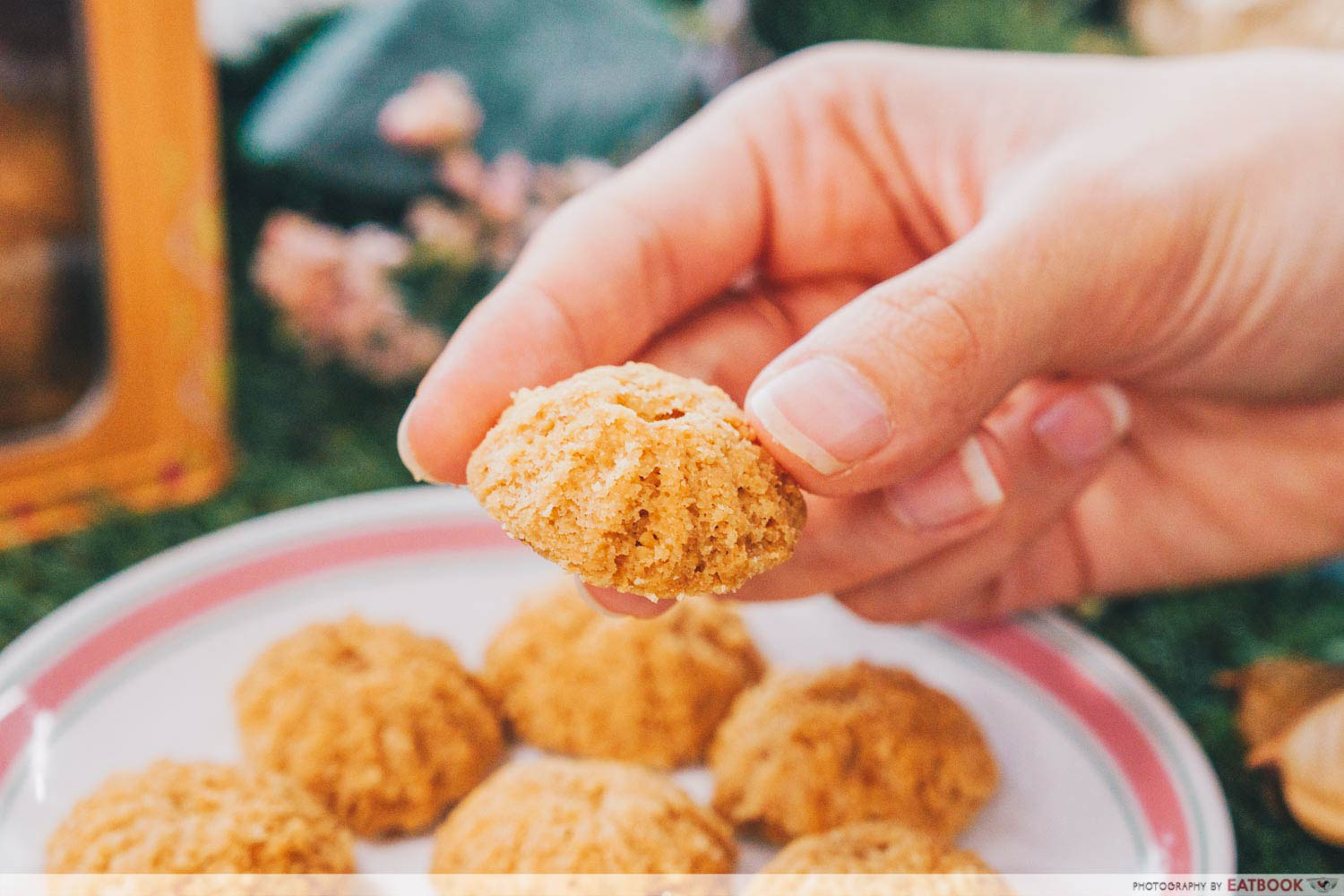 Made with roasted peanuts, the biscuits had a nutty aroma that reminded me of my mother's homemade peanut butter cookies. Do note their delicate cookie should be handled with care; I clumsily crumbled a piece before popping it in my mouth. When I successfully managed to eat an entire piece neatly, a robust earthy flavour engulfed my taste buds. A pot of fruity tea would be a great accompaniment to these savoury cookies.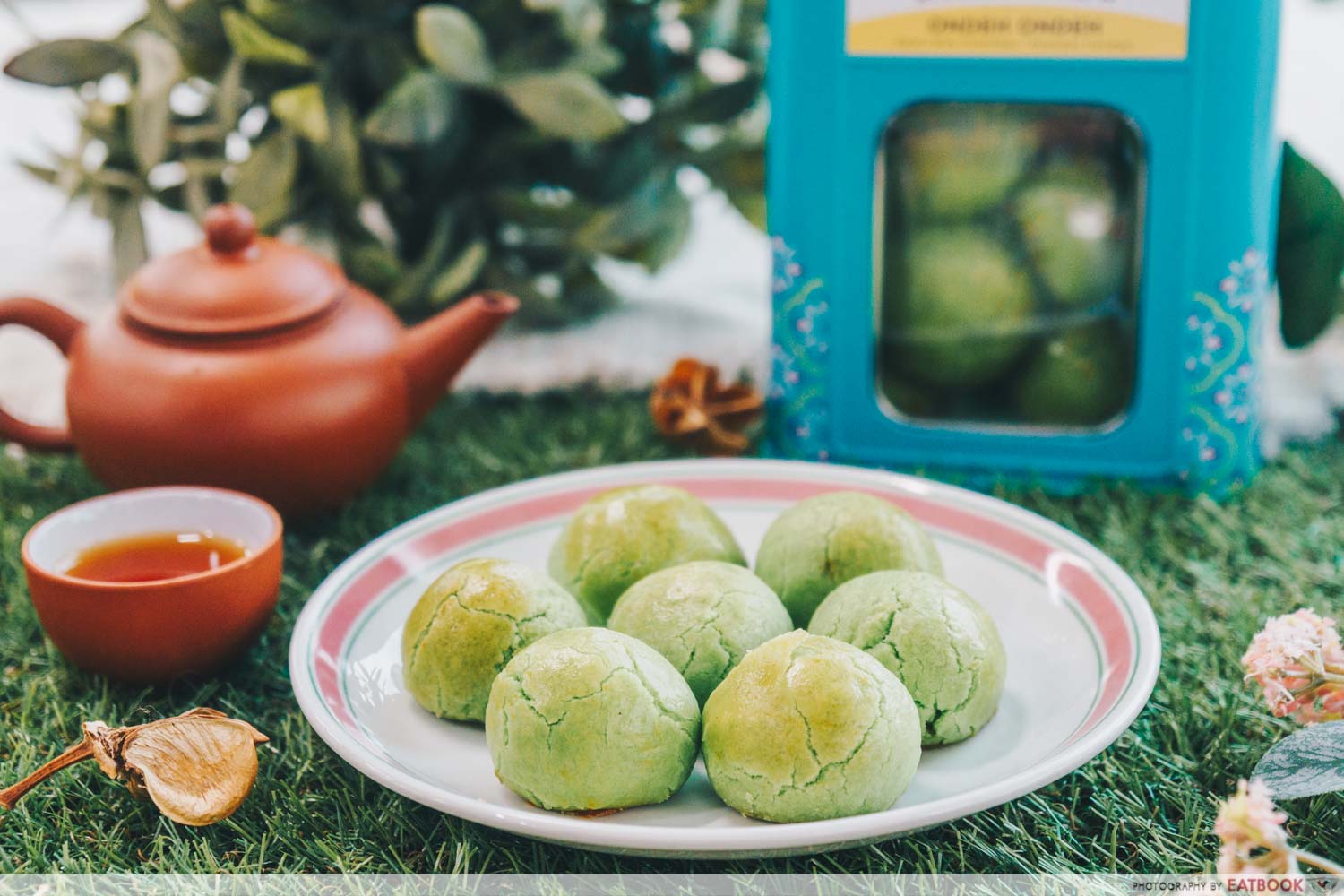 From pancakes to toast, I have tried various forms of ondeh ondeh and can now add Ondeh Ondeh Cookies to the list. This Baker's Brew signature cookie featured a pandan-infused dough with a classic pale-green hue. Bring it close to your nose and you'll be greeted with the familiar sweet scent of pandan.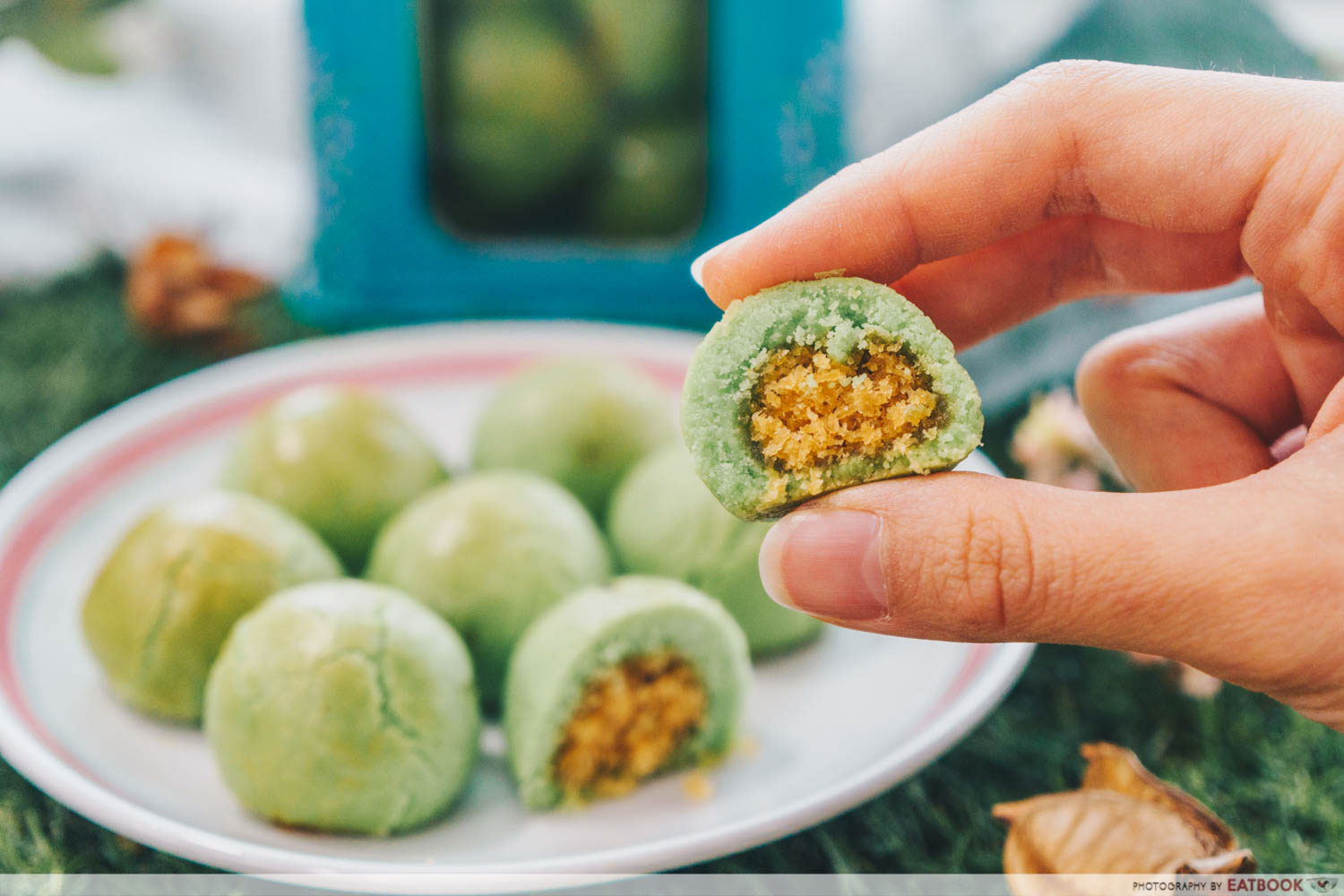 Just like regular ondeh ondeh, a bite through the cookie's firm pastry resulted in a burst of flavours from the generous gula melaka coconut filling. This compactness also meant less mess compared to the original kueh version. The mix of sweet and savoury notes from the palm sugar and coconut shreds kept this snack from being cloying.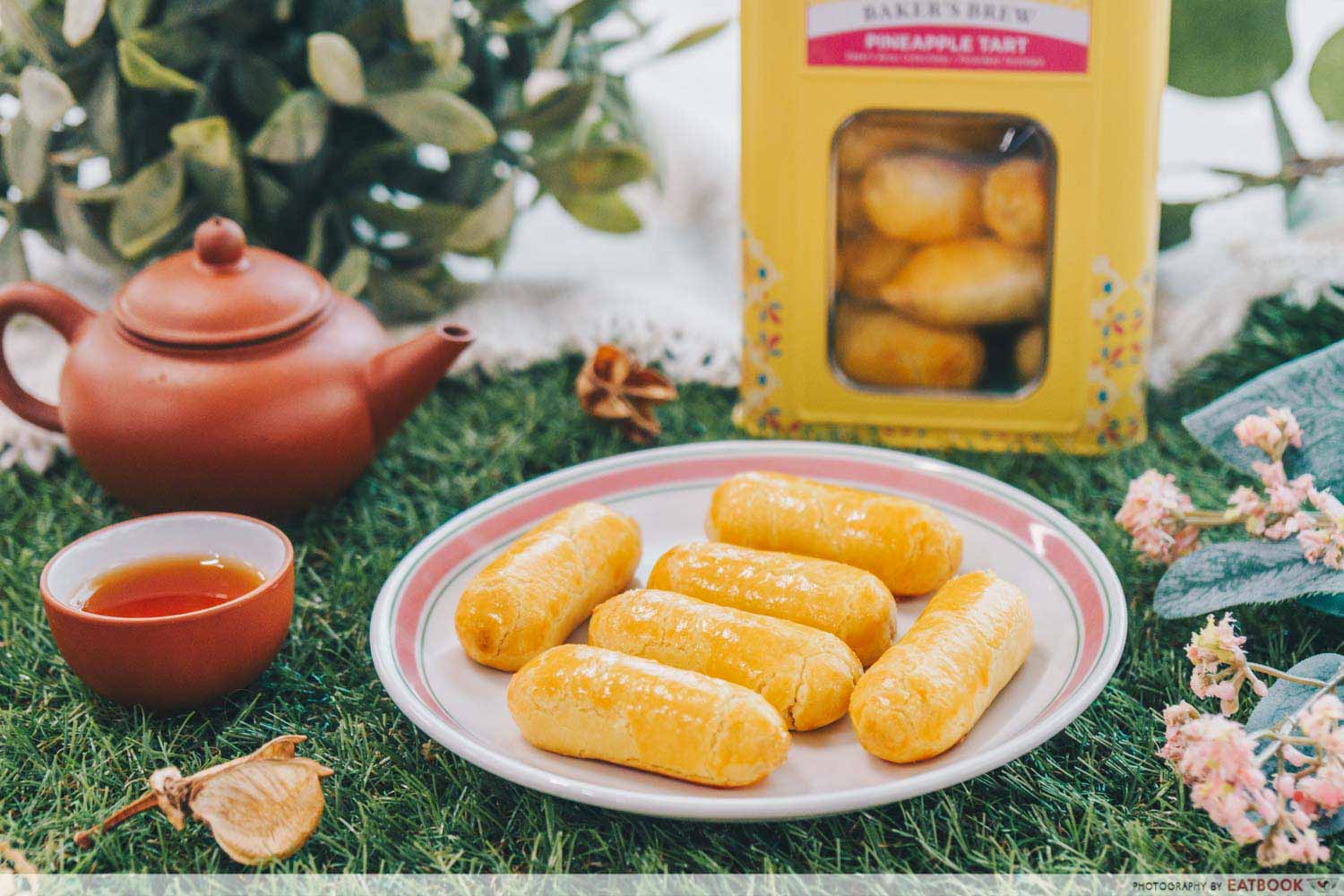 It's a crime to celebrate Chinese New Year without some classic pineapple tarts and you can avoid this with their Peranakan Pineapple Tarts which have cheese added into the dough.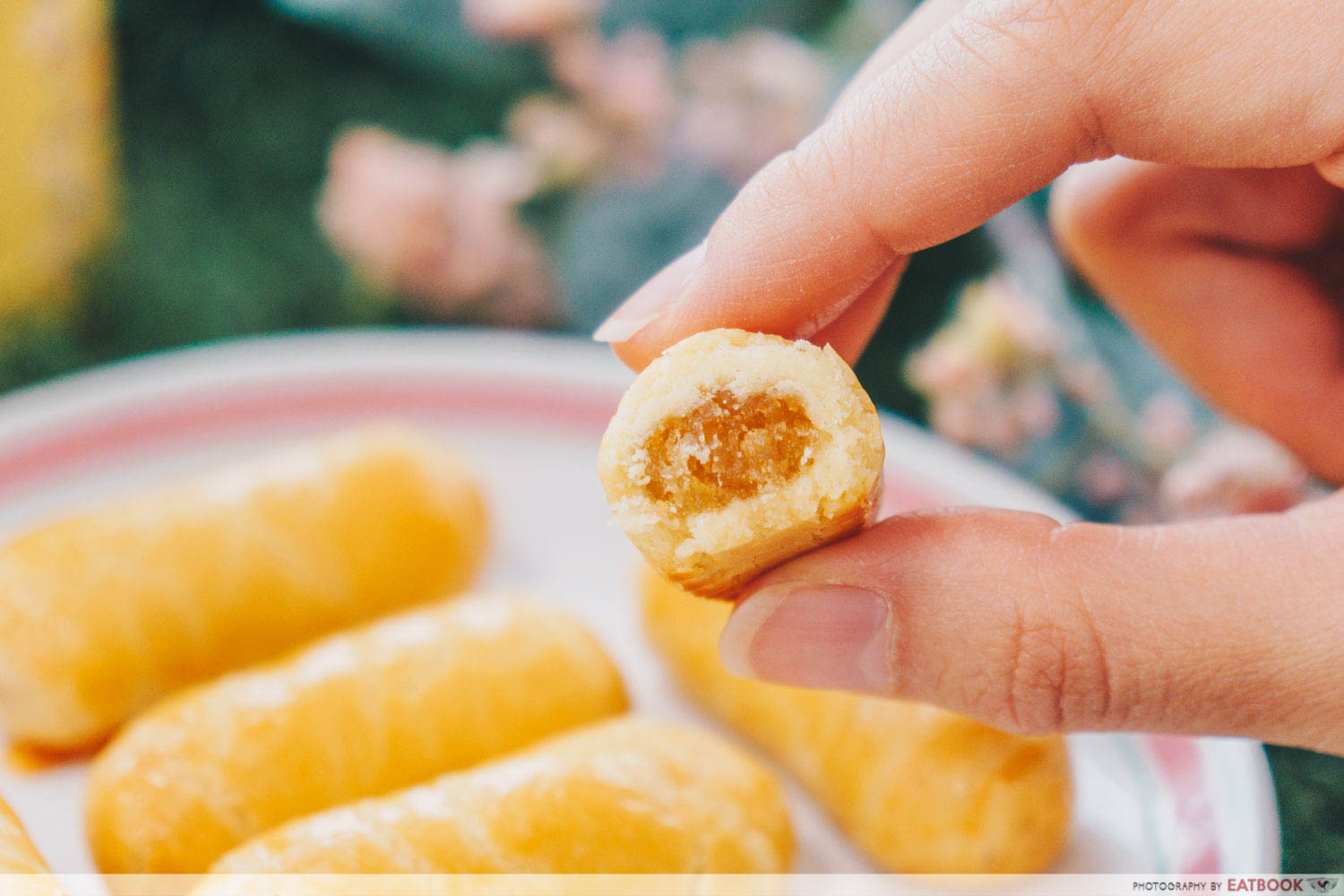 You can't go wrong with a buttery and flaky pastry encasing sweet Thai pineapple paste. The addition of cheese was subtle. Thankfully, each tart was not overly sweet, and I'll definitely be stuffing my face with many of them.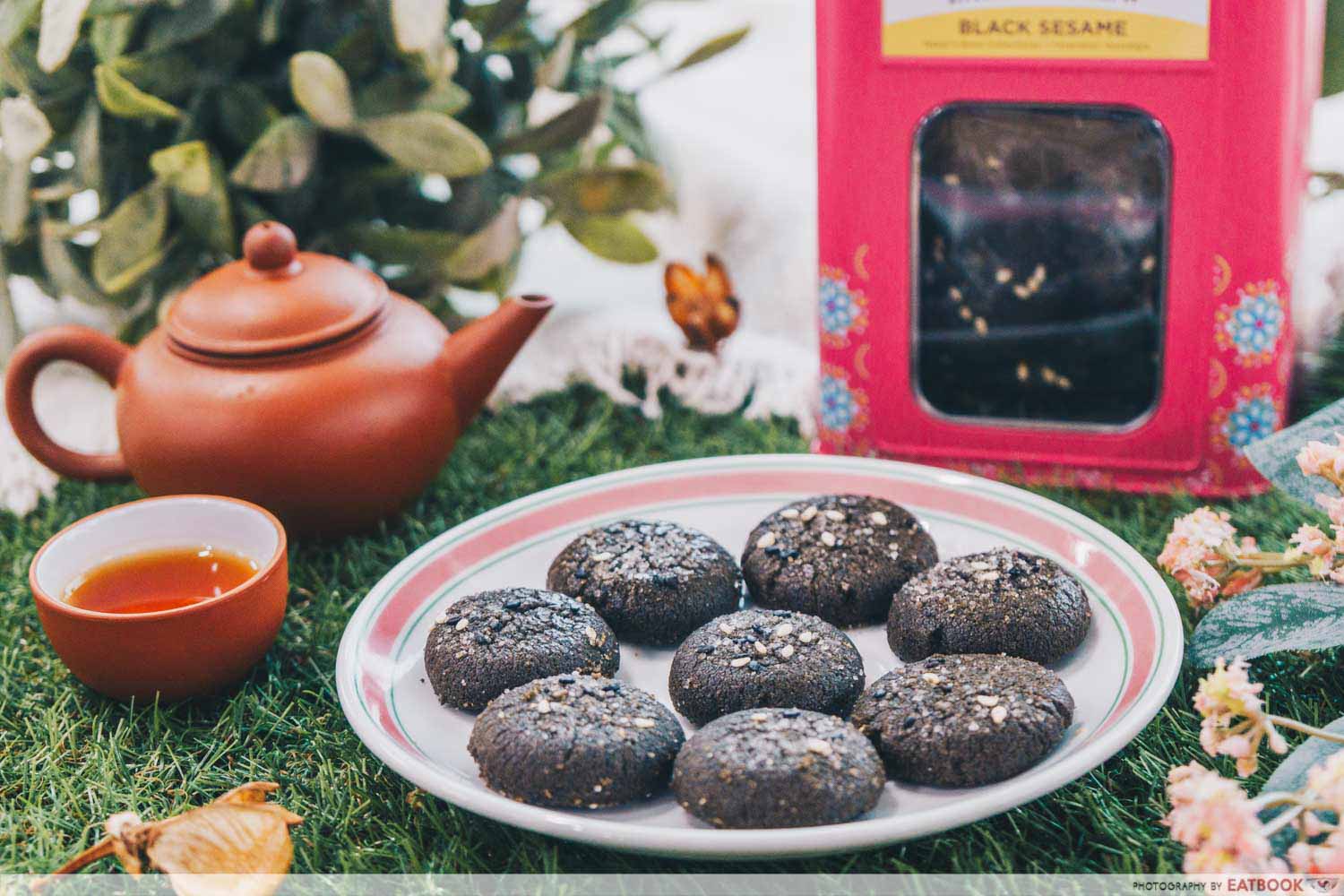 Those who love traditional black sesame desserts can now enjoy them in biscuit form with Baker's Brew's Black Sesame Cookies.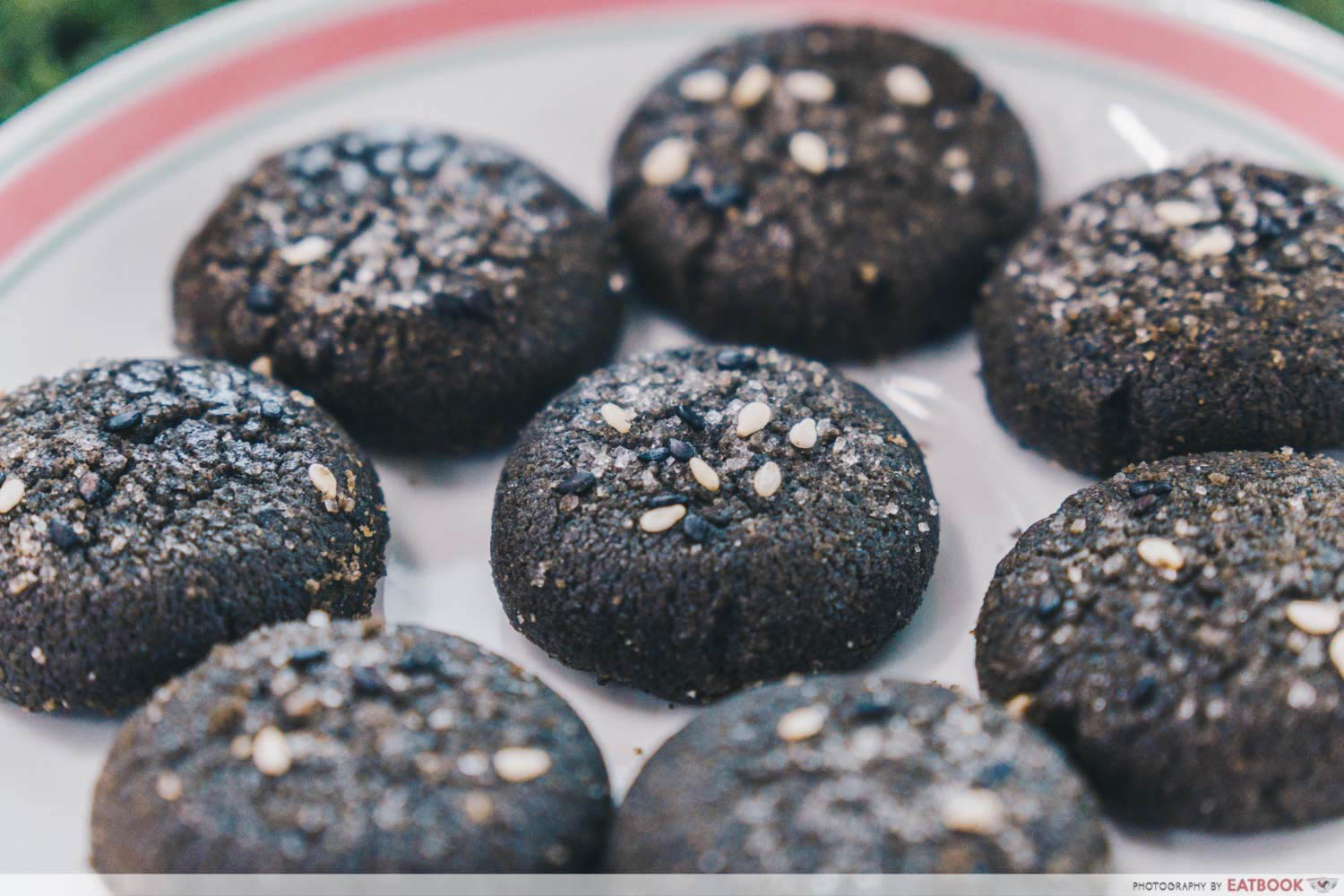 You'll get yin and yang action from the nutty brown butter and earthy roasted sesame. These biscuits are finished with sprinkles of sugar, along with white and black sesame seeds. A taste of these savoury cookies reminded me of my favourite sesame-filled glutinous rice balls, but with an added crunch from the sesame seed toppings.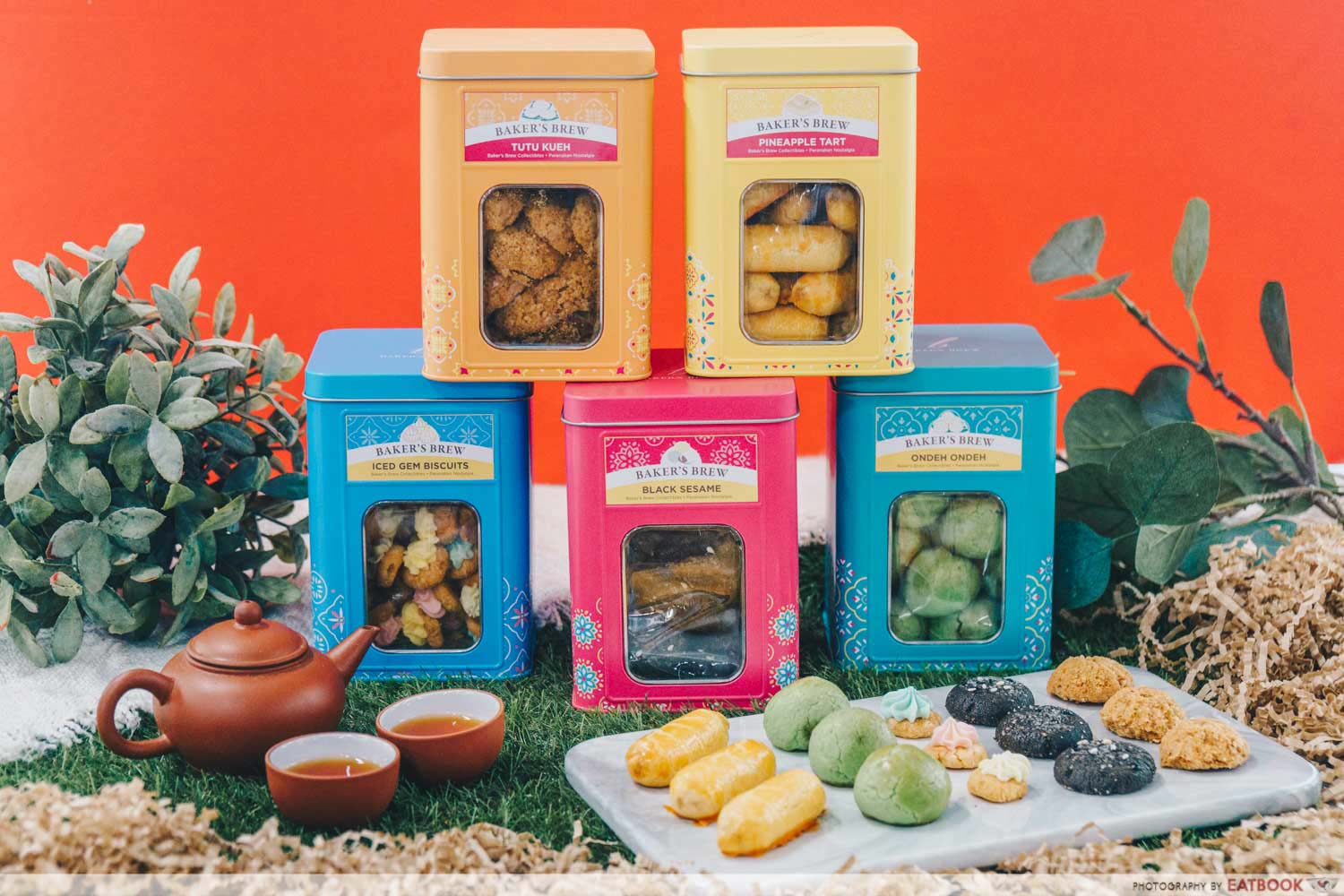 To drive home the nostalgia factor, these biscuits are packed in miniature old-school biscuit tins decorated with Peranakan motifs. As someone trying to #adult, I'm thankful that Baker's Brew comes through in the clutch to impress my Asian parents during the upcoming Lunar New Year. There is even a bundle of all five cookies for $125. 
The early bird catches the worm as orders placed before 12 January 2020 will score you 8% off. For more huat, the first 188 online orders and 88 in-store purchases get a complete set of Baker's Brew ang bao too!
Address: 290 Orchard Road, #05-46, Paragon, Singapore 238859
Opening hours: Mon-Fri 11am to 9pm, Sat-Sun 10:30am to 9pm
Tel: 6909 0669
Full list of outlets
Website
Baker's Brew is not a halal-certified eatery.
Photos taken by Lim An.
This post is brought to you by Baker's Brew.