---
Best Indonesian restaurants in Singapore
---
Indonesian food is not just one thing, but a vast umbrella spanning over 5,000 different recipes because of how diverse the archipelago is. Thanks to immigration and its foodways, we're lucky to have access to a distinct variety of Indonesian restaurants in Singapore. 
From Javanese dishes to Chinese-Indonesian fare, Balinese barbecue to hearty Minangnese stews—you can find them all and more at these top Indonesian restaurants in Singapore. 
---
1. Pagi Sore
---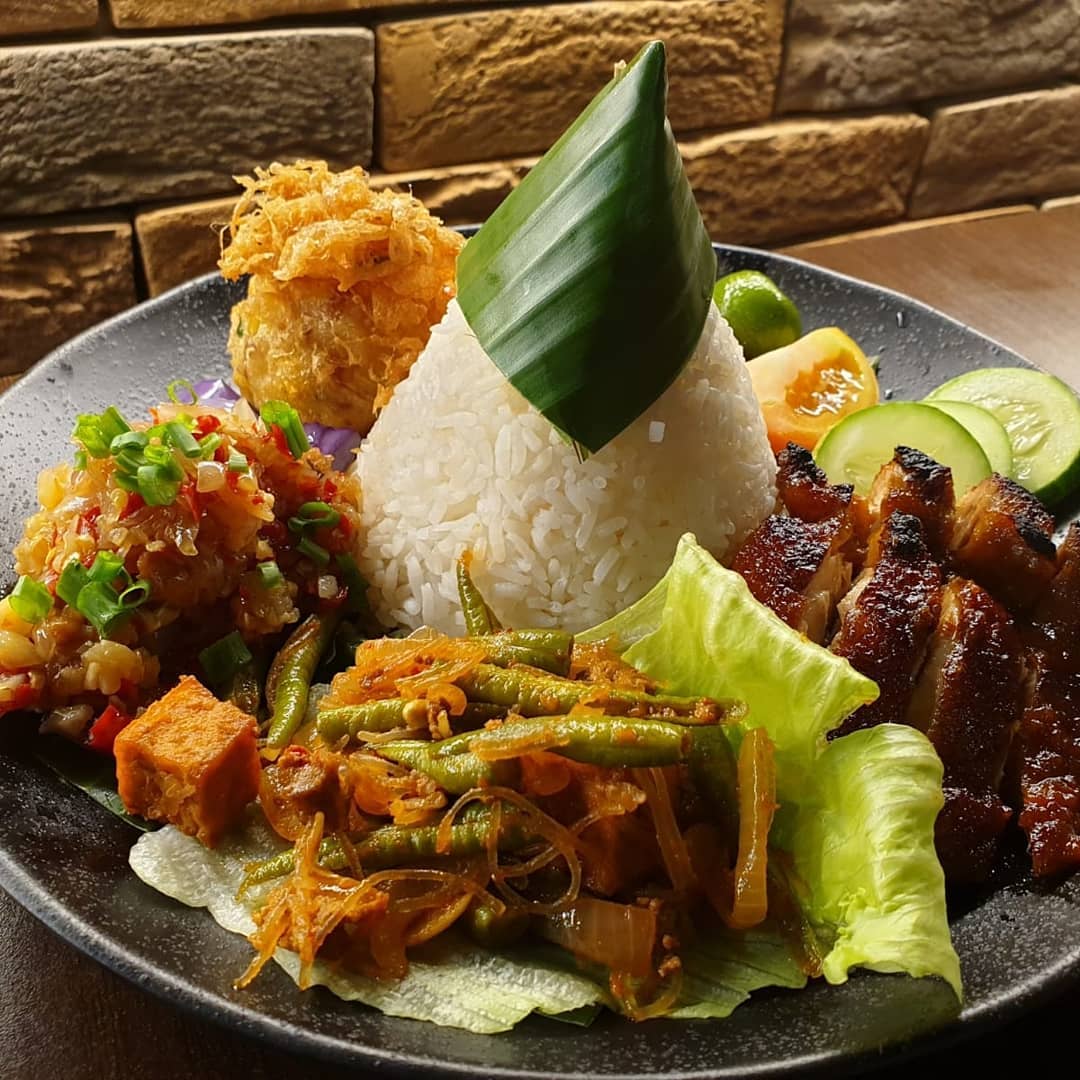 Image credit: @pagisoresg
Pagi Sore has been around since 1989, founded by first-generation Indonesian chef, Liyana Kwan. Their culinary ethos combines Indonesian recipes with Chinese cooking methods, resulting in a menu that offers spicy stir-fries, seafood, and meats, all made to share with plates of rice. Signatures here include their Ayam Gulai ($7.90++), a Padang-style chicken curry, their Ikan Goreng Balado ($28.90++), where a whole sea bass is deep-fried and topped with a zingy sambal balado, and their seasonal Petai Udang Pedas ($27.80++), where prawns are stir-fried with sambal and petai beans. If you're dining with a group, order their set menus to save you the fuss of picking a la carte. Their three to four-people set menu is priced at $110++ and comes with two appetisers, four dishes, dessert, beverages, and free-flow rice.
Address: 88 Telok Ayer Street, Singapore 048470
Opening hours: Mon 11:30am to 3pm, Tue-Sun 11:30am to 3pm, 5:30pm to 9pm
Tel: 6225 6002
Website
Pagi Sore is a halal-certified eatery.
---
2. KULON
---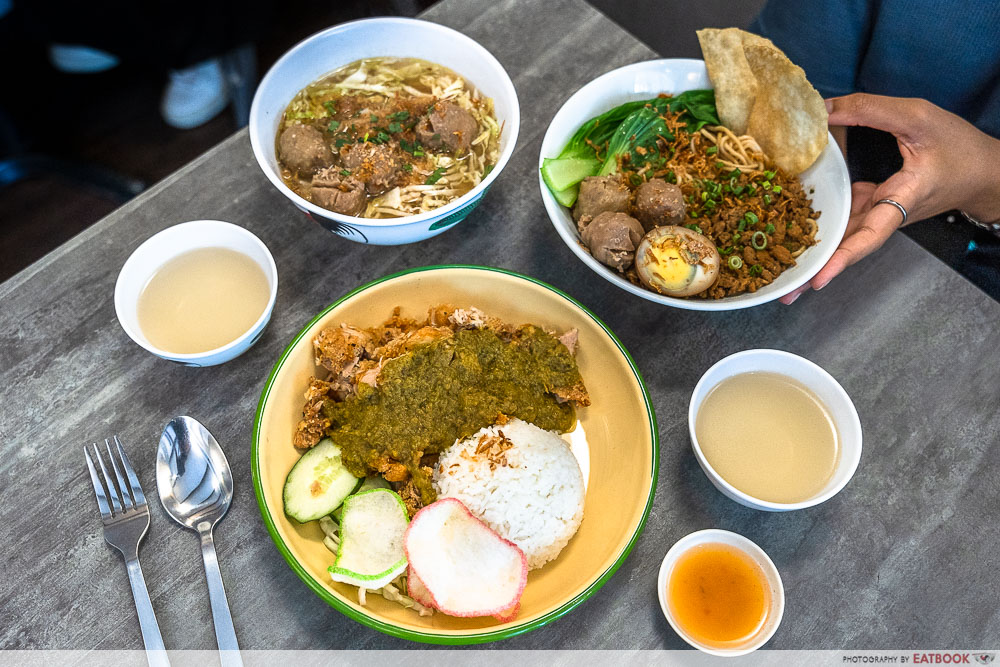 One of the highest-rated Indonesian restaurants on this list is KULON, a bakmi specialist located along Bali Lane. For the uninitiated, bakmi is a dish comprising seasoned dry noodles, typically topped with fried wontons, beef bakso balls, minced meat, and bak choy, as well as sambal. KULON offers a huge bakmi selection, mostly priced under $10. We highly recommend their Bakmi Komplit ($13.80), served with all the trimmings, though their Bakmi Crispy ($8.80) is another crowd fave worth trying, as it comes with a whole fried chicken thigh that's been marinated in spices. If you aren't a fan of dry bakmi, the eatery also offers soupy Mie Bakso ($6.20).
Read our KULON review.
Address: 30 Bali Lane, Singapore 189866
Opening hours: Tue-Fri 11:30am to 3:30pm, 5:30pm to 9:30pm, Sat-Sun 11:30am to 9:30pm
Tel: 6929 4686
Website
KULON is a halal-certified eatery.
KULON Review: Legit Indonesian Bakmi And Mie Bakso At Haji Lane
---
3. Cumi Bali
---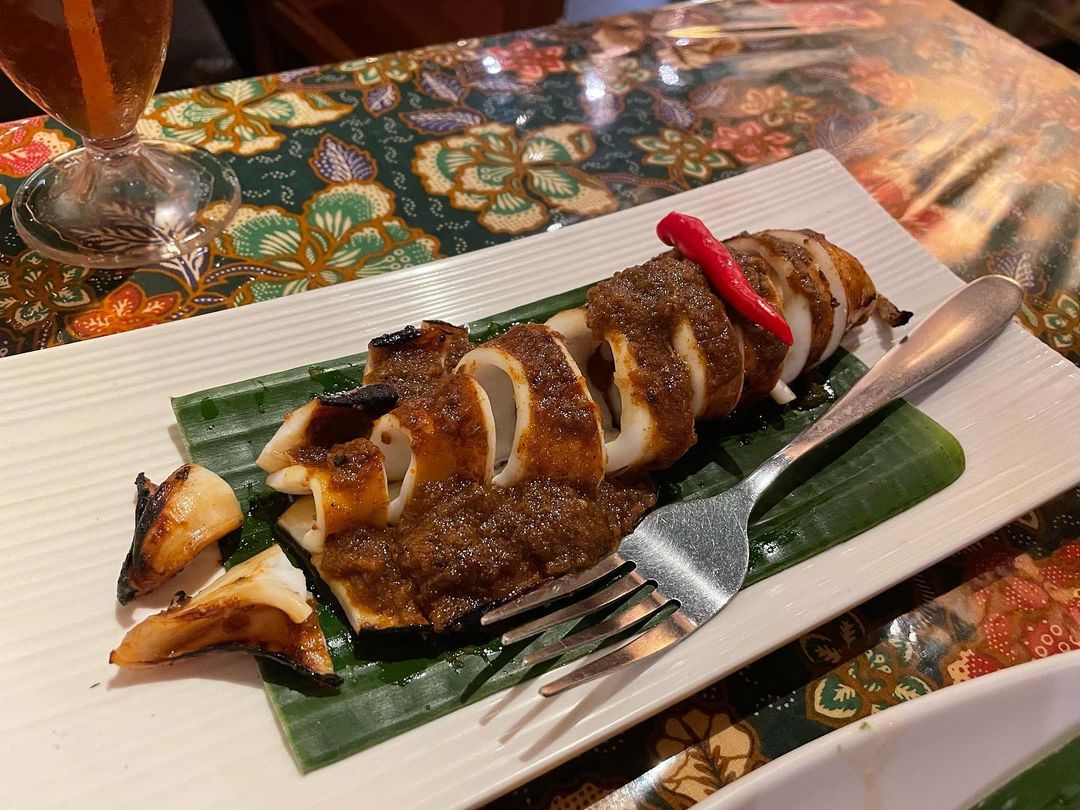 Image credit: @eat.like.sm
Cumi Bali has been a household name in the local Indonesian food scene, as it has been around since 1986. They've built a reputation for their delicious deep-fried and grilled seafood dishes, a few of which have become long-standing fan favourites. This includes the Ayam Sate Madura ($18++), sticky-sweet Balinese satay made with juicy chicken thigh, their famous Ikan Belado ($36++), a whole deep-fried fish topped with Balinese sambal balado, and their homely Sayur Lodeh ($20++), the mixed vegetable curry we all know and love. The restaurant is family-friendly and perfect for groups of diners—all the better to share more dishes with.
Address: 50 Tras Street, Singapore 078989
Opening hours: Daily 11:30am to 2:30pm, 6pm to 9:30pm
Tel: 6220 6619
Website
Cumi Bali is a halal-certified eatery.
---
4. Bara Food
---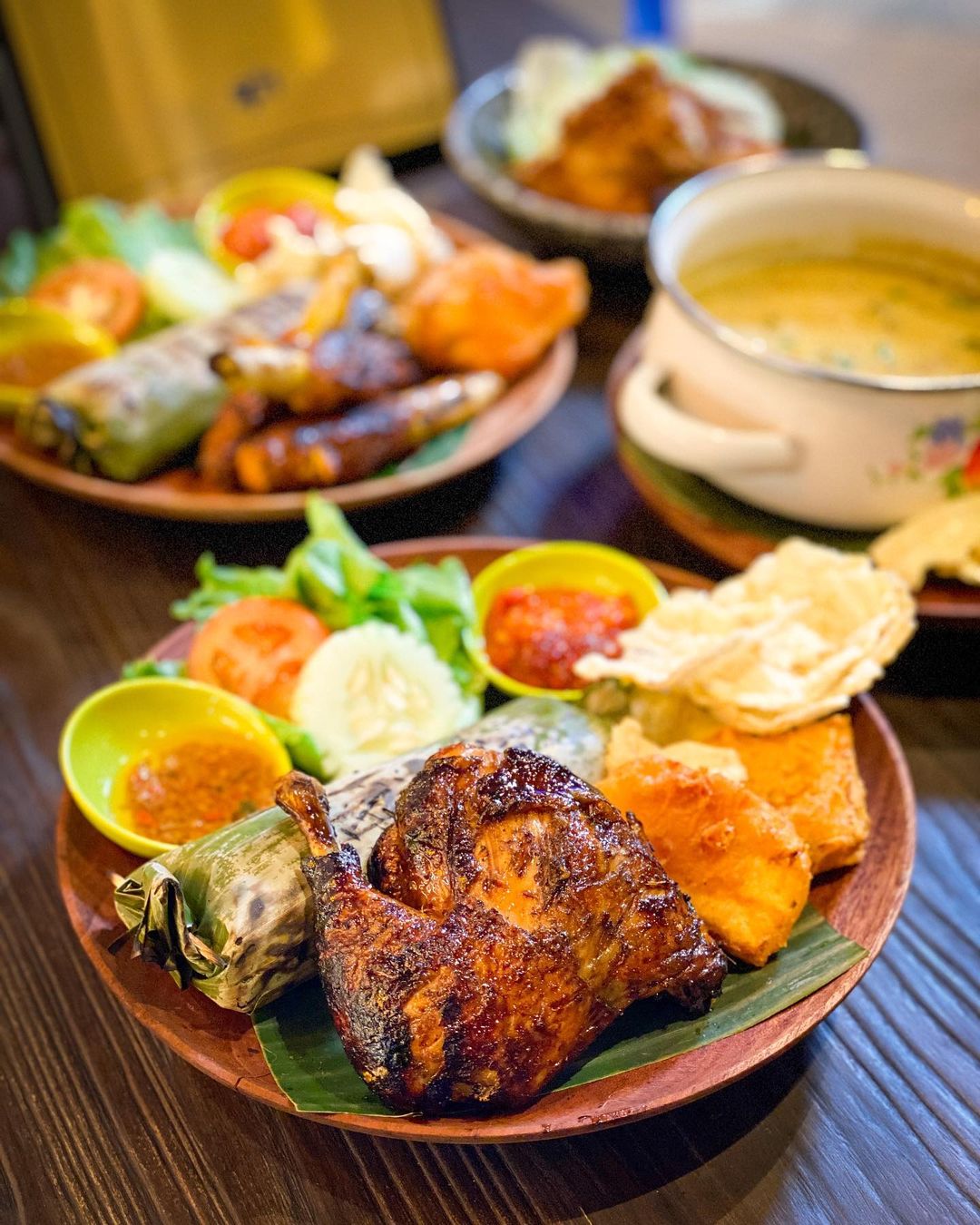 Image credit: @feieats
Bara Food is famous for their grilled dishes and their signature Nasi Bakar Bara sets. The latter is an all-in grilled platter with their popular grilled rice, crackers, different house-made sambals, fried tofu, tempeh, and your protein of choice, ranging from ayam goreng serunding to sate lilit. Sets start at $12.50. To go with your platter, we recommend getting the peanutty Gado Gado ($10) or the Indonesian corn fritters known as Bakwan Jagung ($2.50 each) to share.
Address: 16 Enggor Street, #01-10, Singapore 079717
Opening hours: Daily 11am to 8pm
Tel: 8182 6876
Website
Bara Food is a halal-certified eatery.
---
5. Kintamani
---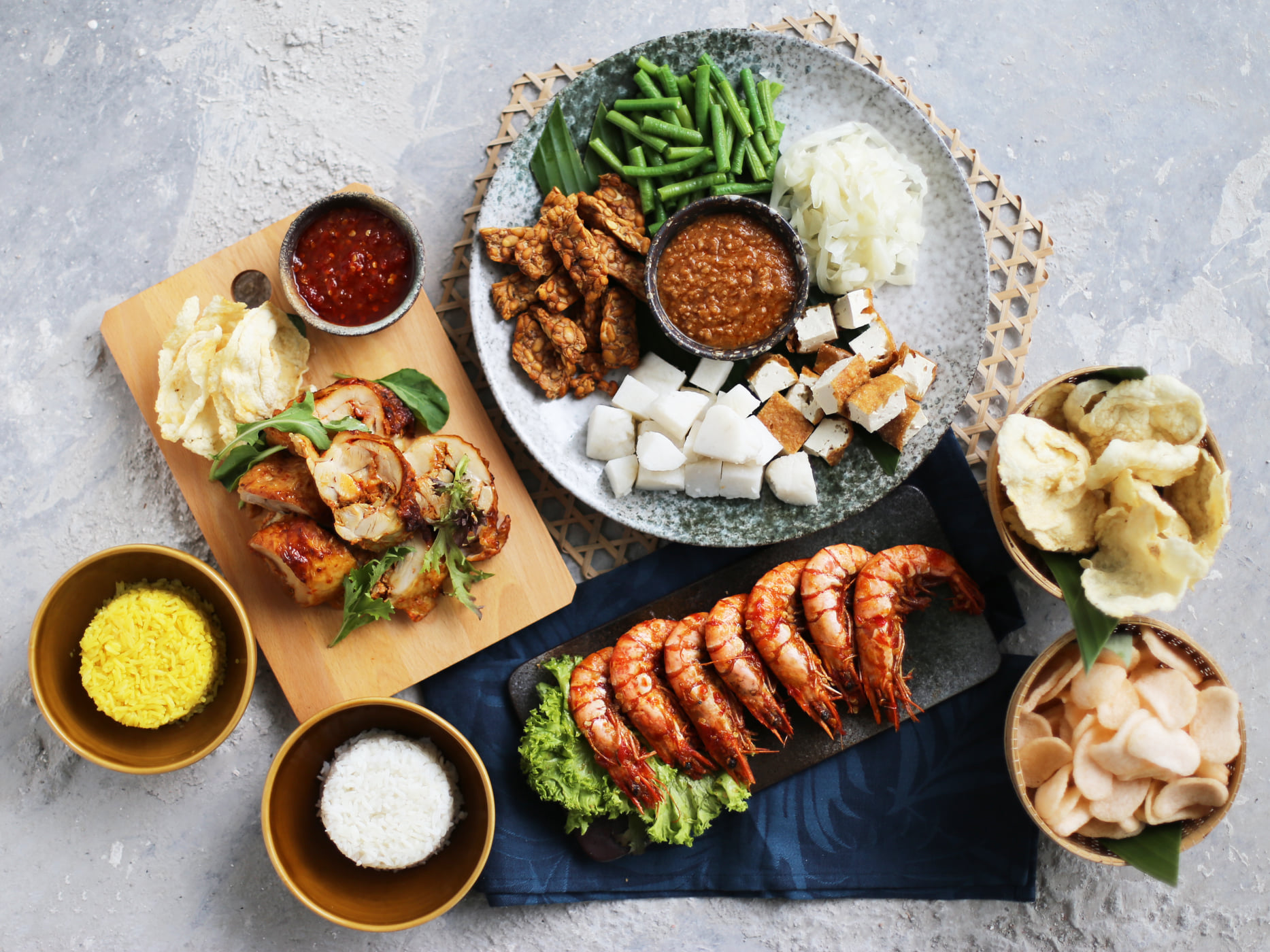 Image credit: Kintamani
Here's a surprisingly affordable hotel buffet to check out: Kintamani at Furama Riverfront offers all-you-can-eat Indonesian dishes from just $38++ per adult for weekday lunch. There's a staggering amount of items on the menu, including beloved staples such as beef rendang to a medley of different Indonesian soups. There's even a carvers station, where you can eat your fill of Ikan Bakar. That's not forgetting the fact that you get to pair your meal with seven different types of regional sambals, and six different types of rice. Save stomach space for dessert, as options abound here—eat your fill of kueh, durian pengat, and traditional hot and cold desserts.
Address: 405 Havelock Road, Level 3, Furama RiverFront, Singapore 169633
Opening hours: Daily 12pm to 2:30pm, 6pm to 10:30pm
Tel: 6739 6463
Website
Kintamani is a halal-certified eatery.
---
6. Bumbu Restaurant
---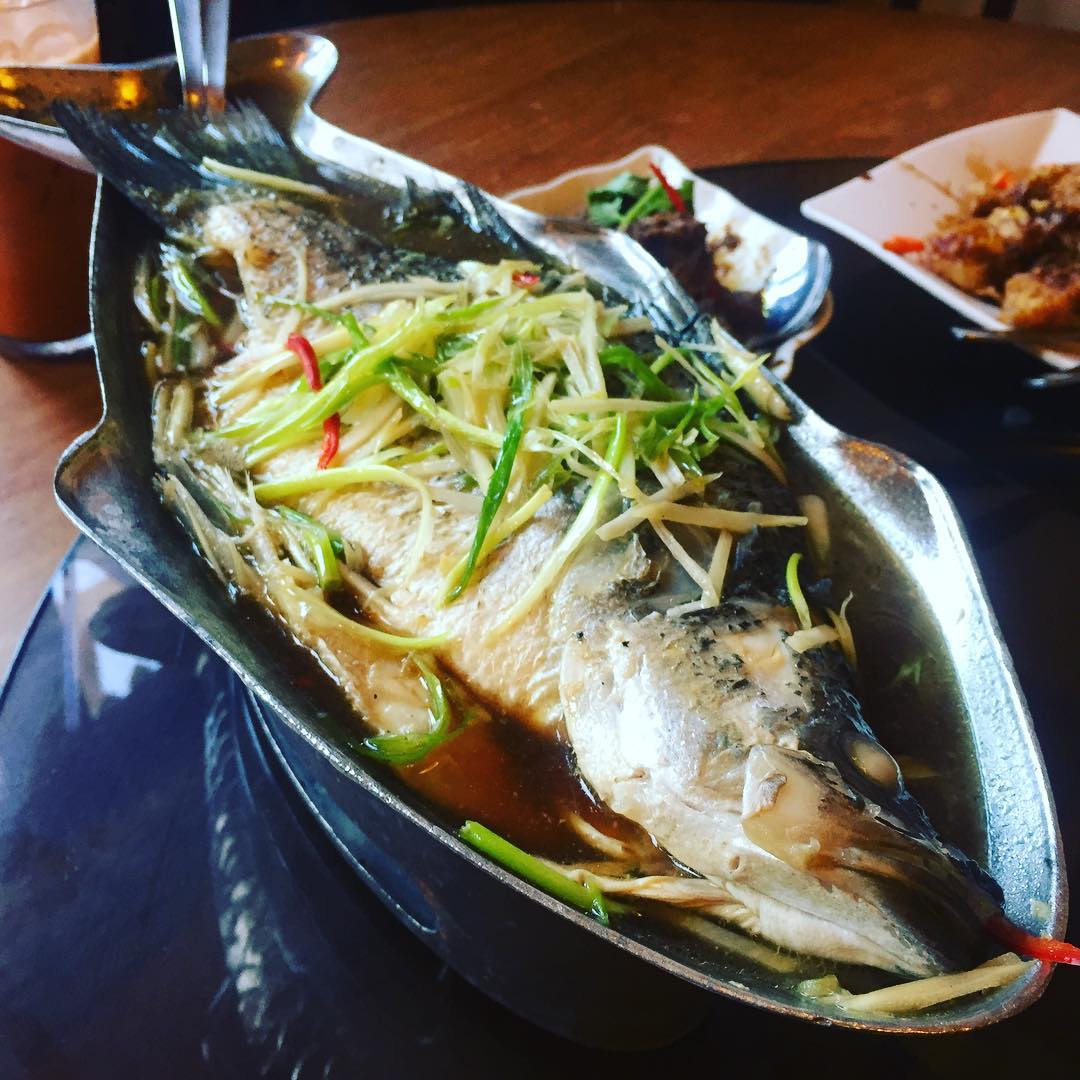 Image credit: @dearbabette
Bumbu offers something a touch different from the other Indonesian restaurants on this list: affordable Thai-Indo dishes served family-style. There's quite a variety of items on the menu and most feed up to four people. Dig into their Thai Style Belachan Fried Rice ($11.90++), which is served with chicken and extra chilli padi on the side, alongside their oh-so crispy Signature Tahu Telur ($11.50++). Aside from these popular picks, you have your choice of Thai curries, stir-fried seafood, and grilled chicken prepared with different sauces, including the Peranakan Signature Buah Keluak ($15.50++).
Address: 44 Kandahar Street, Singapore 198897
Opening hours: Tue-Sun 11am to 3pm, 6pm to 10pm
Tel: 6392 8628
Website
Bumbu Restaurant is a halal-certified eatery.
---
7. Pondok Jawa Timur
---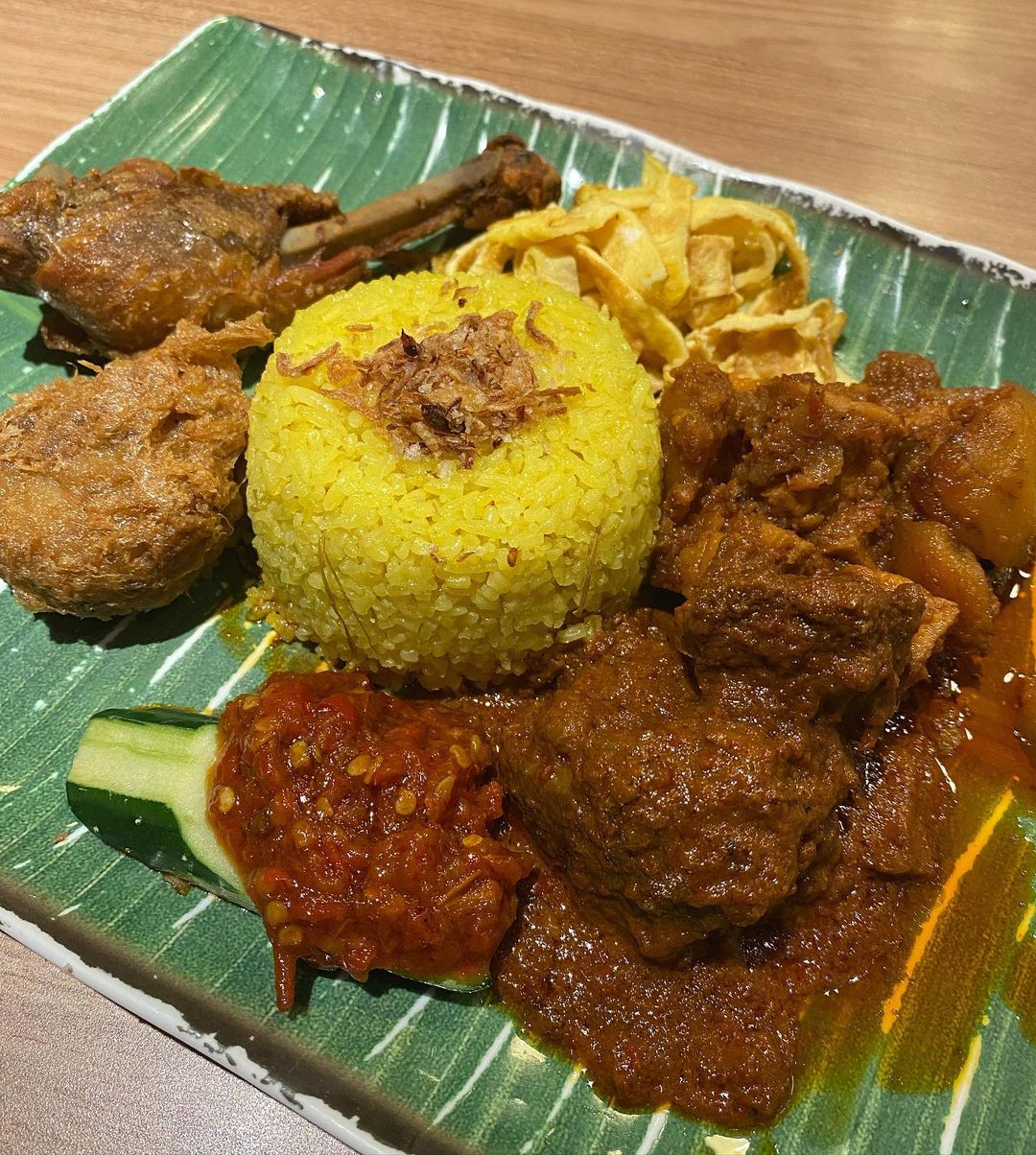 Image credit: @melmeleats
What began as a canteen in the Singapore Indonesian Embassy has since become Pondok Jawa Timur, a full-fledged restaurant that specialises in East Sumatran dishes, located in Far East Plaza. The eatery is established by an Indonesian cook, and offers hearty, familiar platters such as Nasi Kuning Komplit ($13.90++), paired with crispy fried sambal, beef rendang and fried chicken, as well as beloved noodle dishes such as Mee Soto ($9.90++). For nasi goreng lovers, here's where you can get your fix of the spicy Nasi Goreng Jawa ($9.90++), fried rice laced with shredded chicken, a boiled egg and a generous dose of spice.
Address: 14 Scotts Road, #05-22/23 Far East Plaza, Singapore 228213
Opening hours: Mon-Thurs 11am to 8pm, Fri-Sun 11am to 9pm
Tel: 6884 5853
Website
Pondok Jawa Timur is a halal-certified eatery.
---
8. Bebek Goreng Pak Ndut
---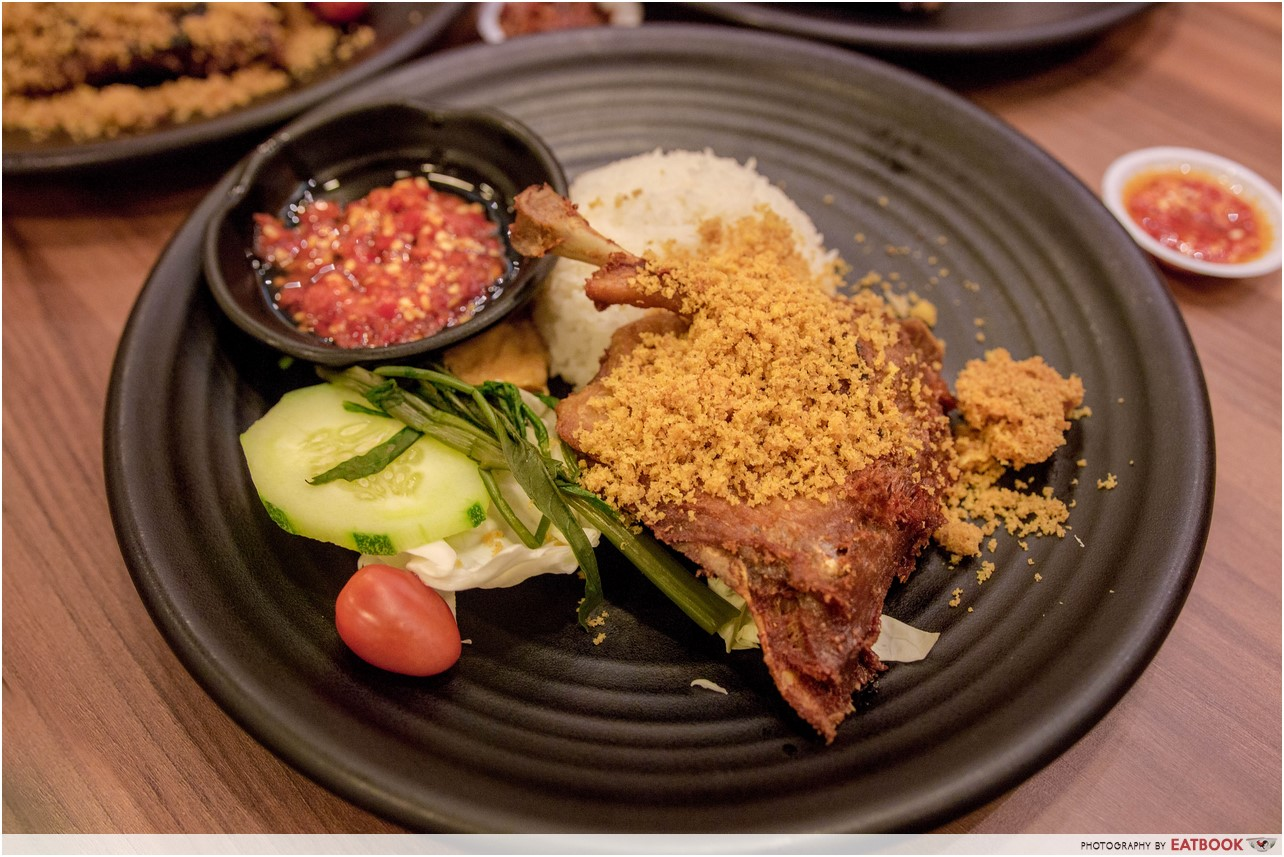 Bebek goreng is not as commonly found in Singapore as ayam goreng is, due to the relatively higher price of duck locally. This makes Bebek Goreng Pak Ndut—an eatery that specialises in this crispy fried duck dish—a cult favourite in the Indonesian restaurant space locally, especially because their dishes are typically under $12, despite their Orchard locale. Their Original Crispy Fried Duck + Rice ($10.90) is a must. The duck is marinated for 24 hours in a secret blend of spices before it is deep-fried to crackling, crispy ends. The set is also served with fragrant white rice, tempeh, tofu, and a side salad.
Address:  304 Orchard Road, #01-42 Lucky Plaza, Singapore 238863
Opening hours: Daily 11am to 9:30pm
Tel: 6734 4787
Website
Bebek Goreng Pak Ndut is a halal-certified eatery.
---
Must-try Indonesian food in Singapore
---
Here is our guide to some of the best Indonesian restaurants in Singapore. If you want to head to Indonesia for the real deal, check out our Batam food guide and our Bali food guide.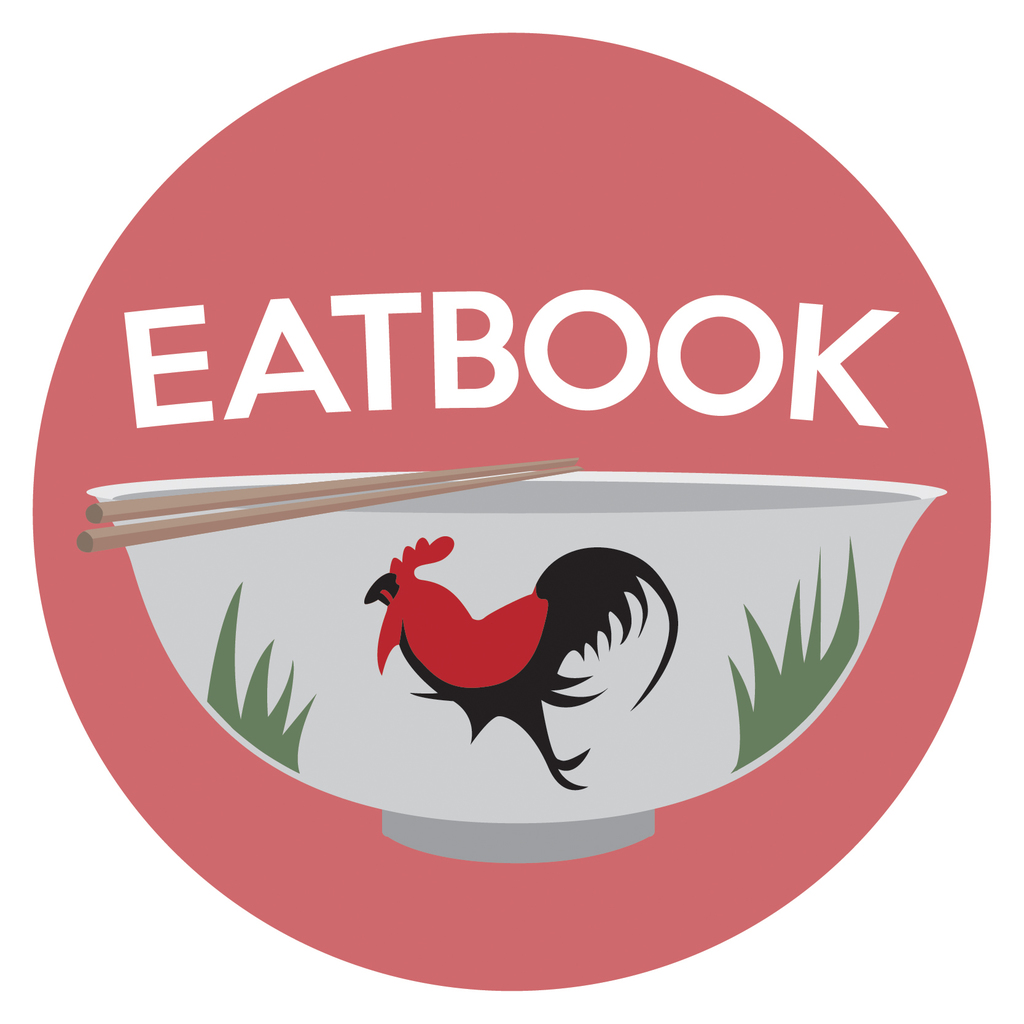 Drop us your email so you won't miss the latest news.