---
Best food you must eat in Bali
---
I'm not kidding when I say it's tough to find a warung in Bali with food that's not delicious. Almost every single warung we visited throughout our three-week vacation was amazing—we're talking about juicy satay skewers, fragrant plates of nasi goreng, and succulent suckling pigs that tasted as though they were cooked in a Michelin-starred restaurant. Best of all, these foods are relatively affordable, which means you can savour the best of Bali without breaking the bank.
If you're planning to visit this tropical paradise anytime soon, here is a list of the best food you must try in Bali, along with the best places to find them.
---
1. Ayam Bakar
---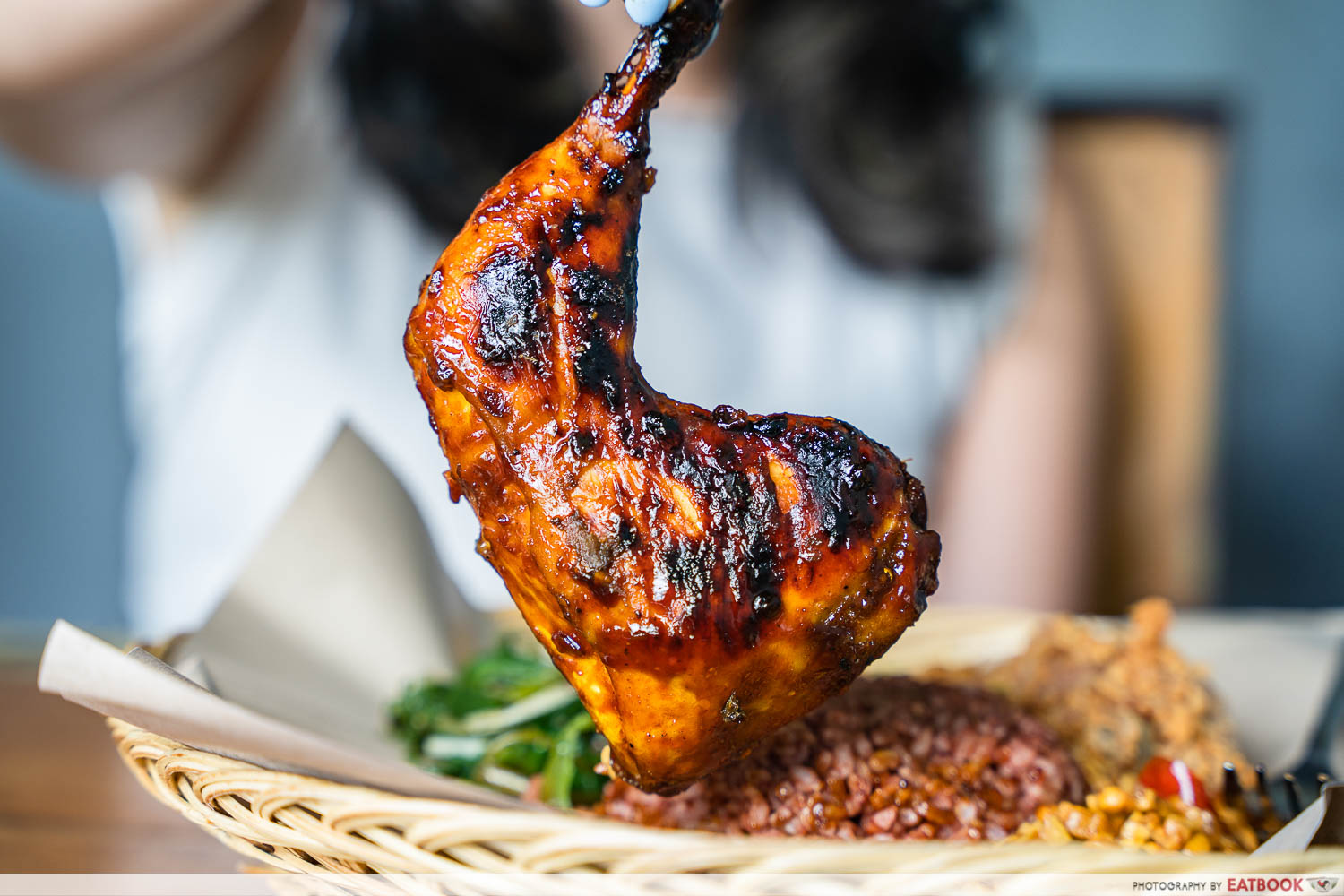 Ayam bakar translates to "burnt chicken", and is characterised by a torched, caramelised coating on the chicken skin. Compared to other kinds of chicken dishes, ayam bakar is known for having a heavy smokiness and slight sweetness thanks to the distinctive taste of kecap manis, AKA sweet soya sauce.
To prepare, the chicken is simmered in a pot along with a ginger paste known as bumbu and then charcoal-grilled. It's typically served with a mound of steamed white rice, along with savoury sambal belacan on the side for that spicy kick.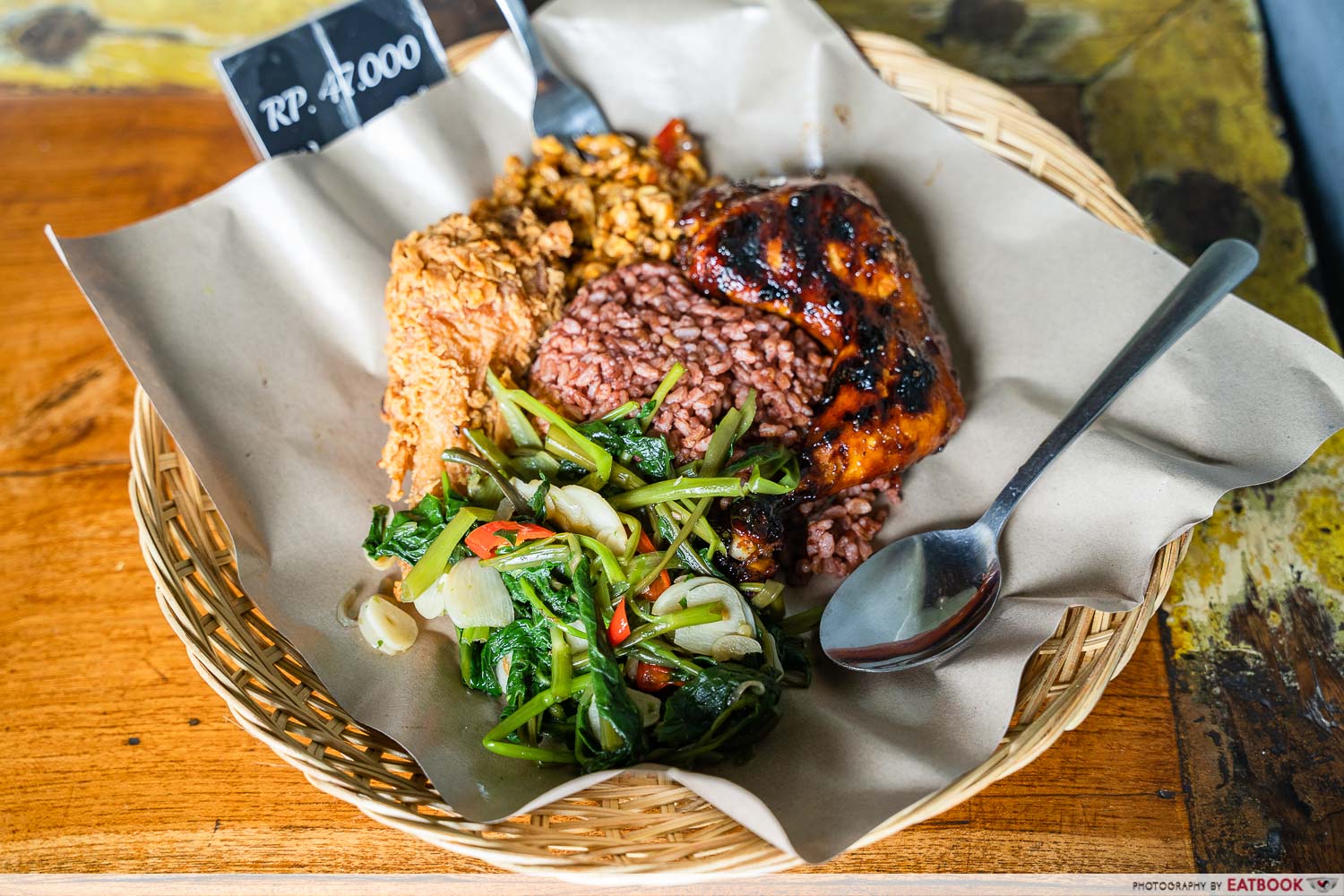 One of the best places in Bali to enjoy this delicacy is Warung Sika, a family-owned restaurant in Canggu popular for their "economy rice" concept and delicious ayam bakar. Here, a plate of ayam bakar with rice and vegetables will set you back IDR47K (~S$4.22).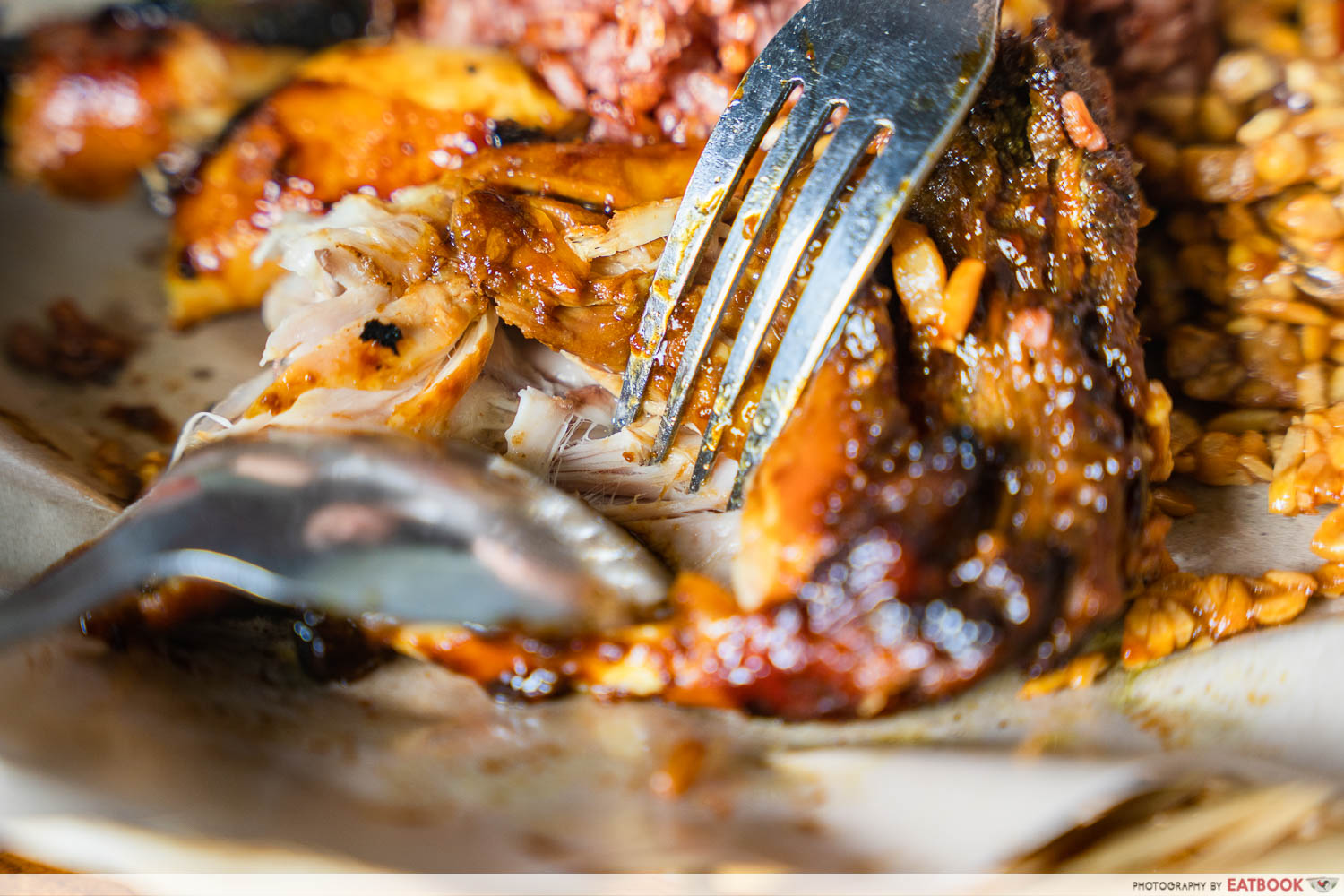 What makes the chicken here so good is the sticky dark soya sauce, which complements the savouriness of the glistening chicken skin. Plus, the meat itself is super juicy and tender––it remained that way despite being out in the open for quite some time during our shoot. If you'd like, you can also ask the warung aunty for a dollop of chilli, which packs quite a punch.
Expected prices: $4-$7
Address: Jalan Tanah Barak Nombor 45, Canggu, Kecamatan Kuta Utara, Kabupaten Badung, Bali 80351
Opening hours: Daily 9am to 9pm
Website
Warung Sika is not a halal-certified eatery.
---
2. Gado Gado
---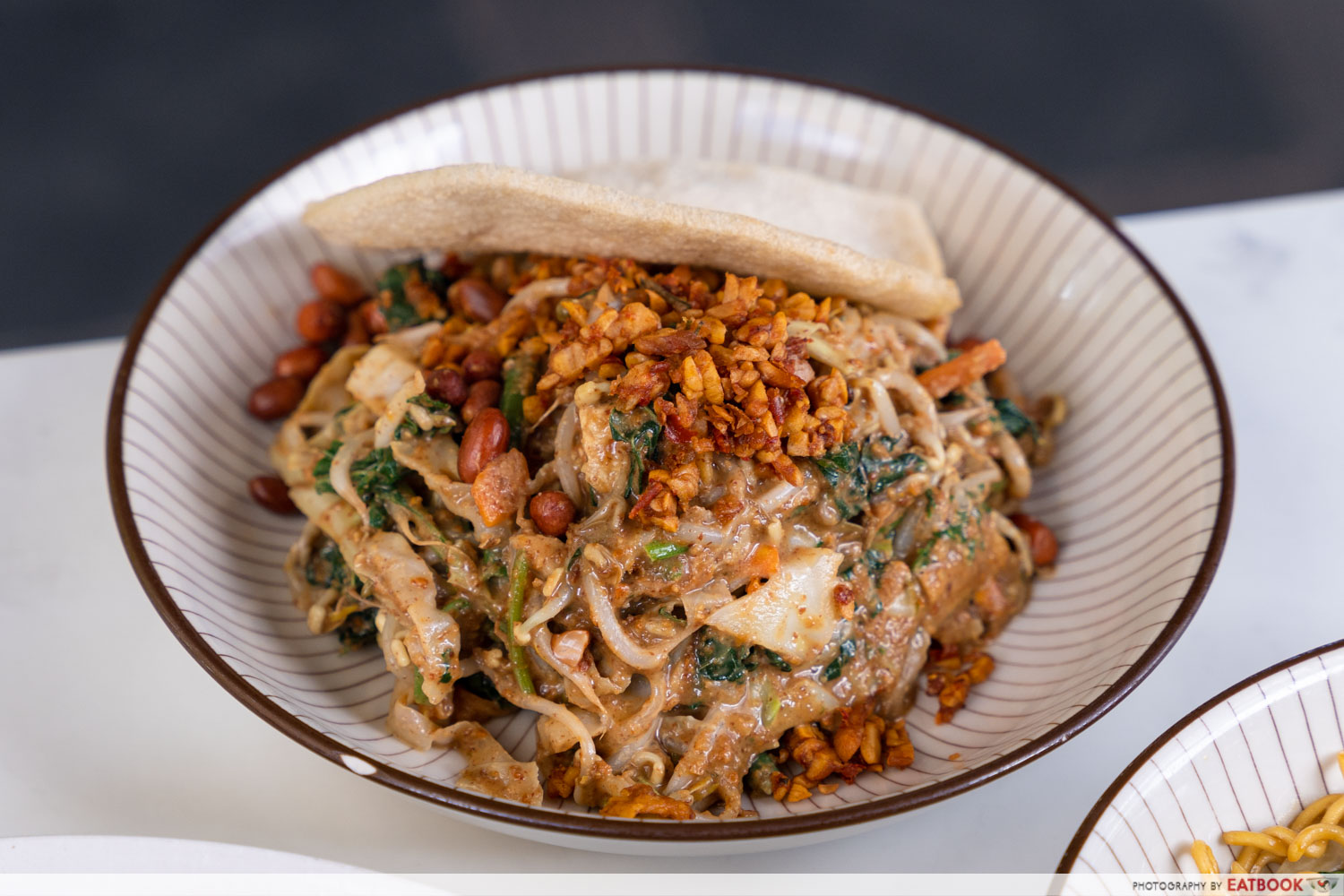 Even if you're not a fan of vegetables or salad, I guarantee that you'll love gado gado. This traditional salad comprises a medley of blanched or steamed vegetables, along with tofu, tempeh, lontong, and tempeh. All these are tossed in a savoury peanut sauce. Sweet, tangy, and just a little bit spicy, this dish is one of the tastiest Indonesian starters.
My favourite place to get my gado gado fix is Made's Warung, a popular eatery with outlets across Seminyak and Canggu. Priced at IDR40K++(~S$3.65++), the Gado Gado bursts with sweet and savoury flavours, and is drenched in a creamy sauce made using ground peanuts, spices, herbs, sweet soya sauce, and coconut milk.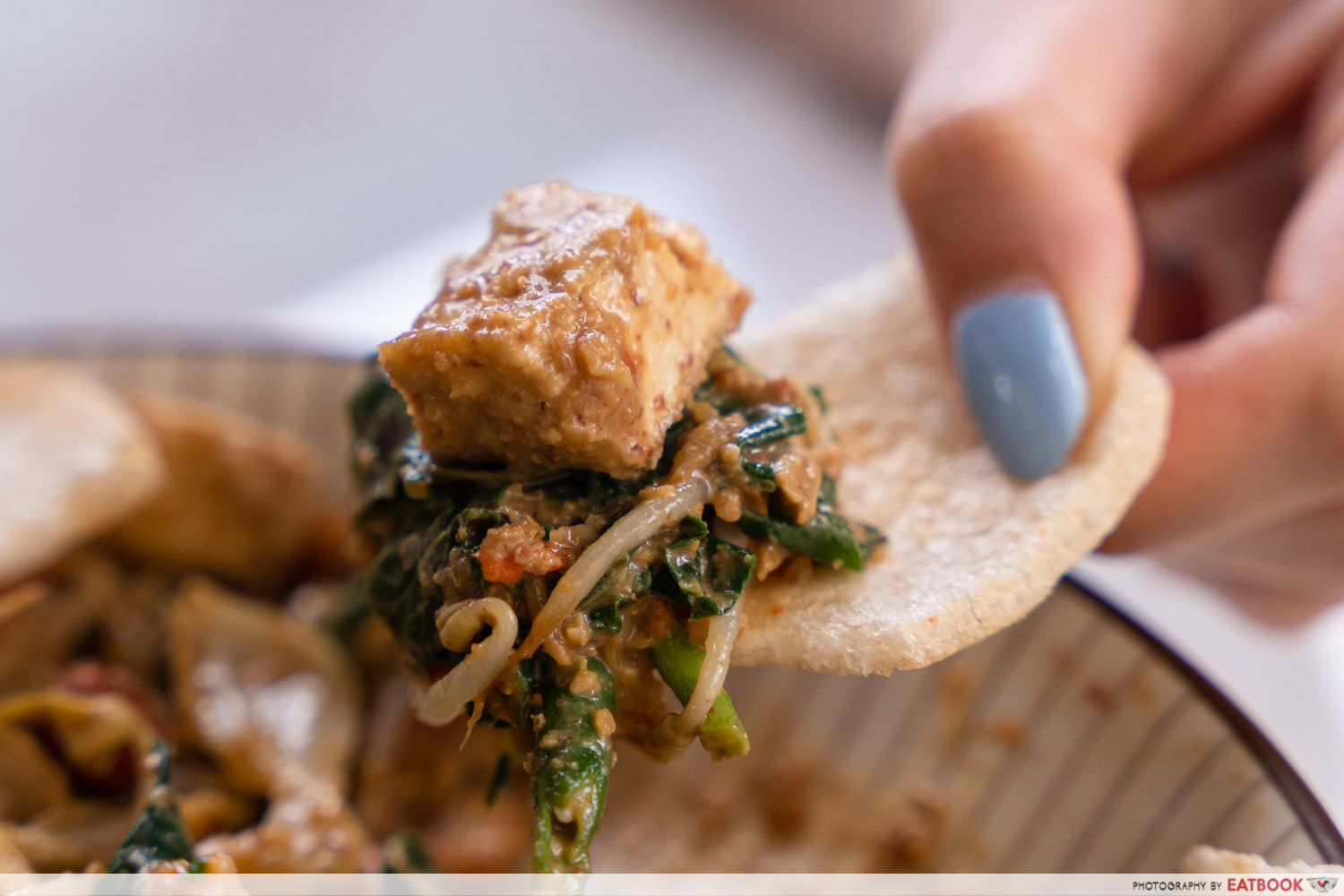 Gado Gado usually comes with crispy keropok, which can also be crushed into smaller pieces or used as a spoon to scoop up the ingredients.
Expected prices: $3-$5
Address: Jalan Raya Seminyak Nombor 7, Kecamatan Kuta, Kabupaten Badung, Bali 80361
Opening hours: Sun-Thurs 10am to 11pm, Fri-Sat 10am to 11:30pm
Tel: ​​+62 361 732130
Website
Made's Warung is not a halal-certified eatery.
---
3. Nasi Campur
---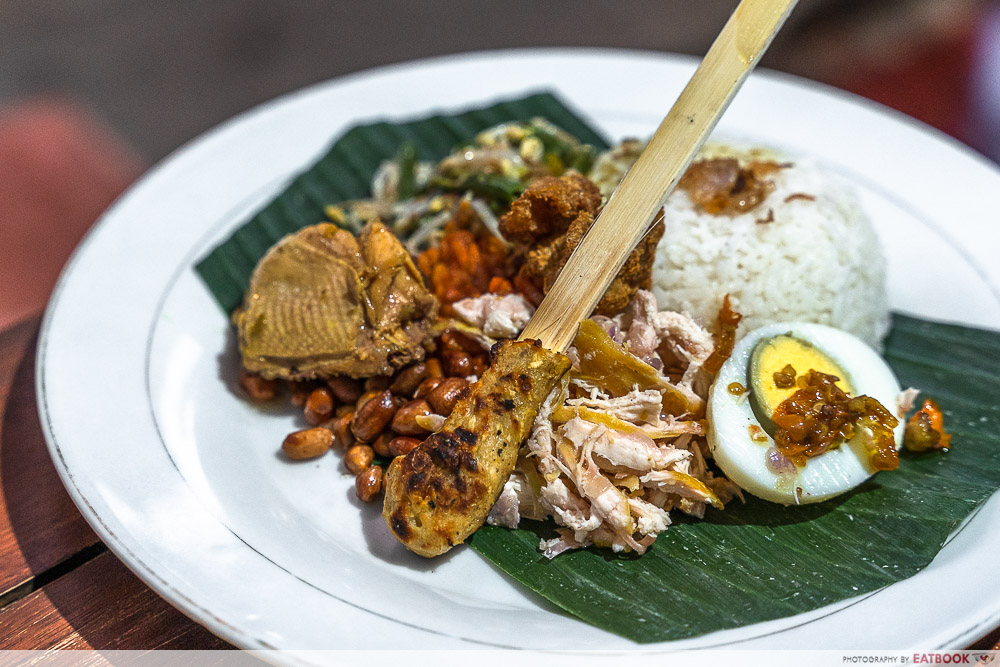 Nasi campur is essentially cai fan (Mandarin for "mixed rice"), but done in Balinese form. The hearty meal sees steamed rice topped with an assortment of ingredients ranging from meats, local vegetables, and tofu, to tempeh, eggs, and sambal. The combinations are endless, making this a versatile meal that suits all kinds of palates. Some warungs also serve nasi campur with a side of crackers and soup for a more complete meal.
After trying out more than 10 different nasi campur places in Bali, I've decided that Warung Makan Bu Rus has the best version of this dish. Their Nasi Campur Ayam costs only IDR35K(~S$3.16) but is super hearty and packed with a mix of local vegetables, egg, chicken, tempeh, and peanuts.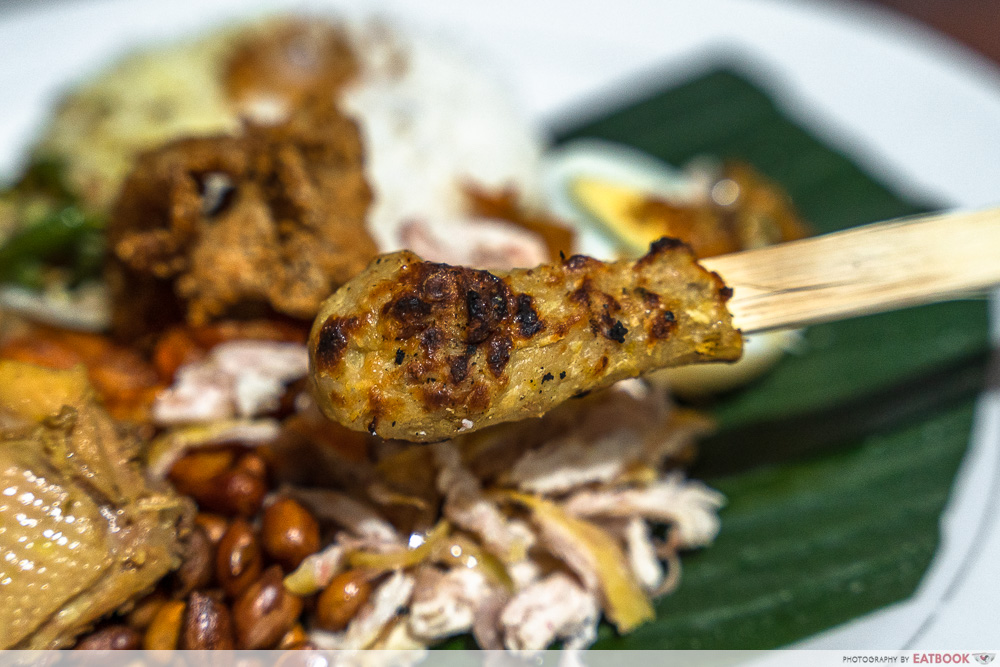 The nasi campur here also comes with minced chicken skewers, otherwise known as sate lilit, which is similar to traditional satay but has the meat wrapped around a flat skewer instead. The meat is also softer and chunkier, and has a distinctive taste of herbs.
Expected prices: $3-$7
Address: Jalan Suweta Nombor 9, Ubud, Kecamatan Ubud, Kabupaten Gianyar, Bali 80571
Opening hours: Daily 10:30am to 10pm
Website
Warung Makan Bu Rus is not a halal-certified eatery.
---
4. Soto Ayam
---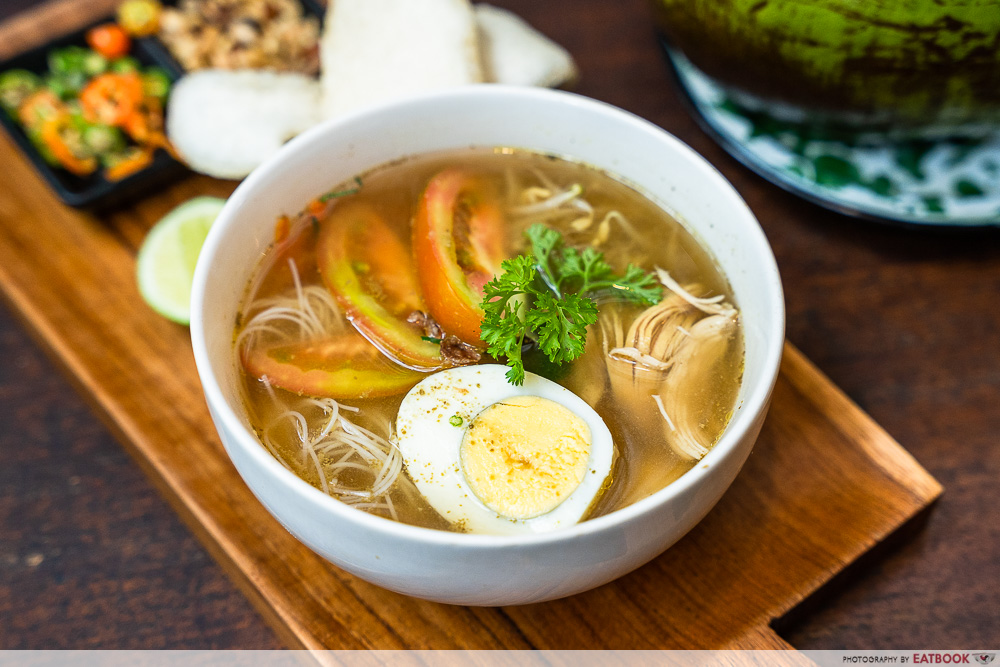 If you're a fan of chicken soup, we highly recommend you try soto ayam. This comforting Indonesian-style chicken soup is beloved for its rich and fragrant broth and is made using a blend of spices, including lemongrass and turmeric, with the latter giving the soup that signature yellow colour. It also includes ingredients such as shredded chicken, vermicelli, bean sprouts, and egg for a more well-balanced meal.
Soto ayam is often served with a range of condiments, including kecap manis, chilli sauce, and lime wedges, so diners can customise the dish's flavour according to their preferences. As the dish is generally light on the stomach, it's a popular dish for breakfast or as a light lunch.
Our most memorable bowl of soto ayam was found here at In Da Compound Warung, a unique warung in Ubud with cats, birds, and free-roaming rabbits. Their Soto Ayam is incredibly cheap––it's priced at IDR28K (~S$2.53) and comprises a generous bowl of bee hoon soaked in a clear broth, topped with shredded chicken, egg, tomatoes, and bean sprouts. While the ingredients were simple, the soup was flavourful, appetising, and even refreshing. We especially loved how the tender chicken soaked up the broth effortlessly, allowing us to taste the different types of spices in the dish.
Expected prices: $2.50 – $5
Address: Jalan Gootama Nombor 6, Ubud, Kecamatan Ubud, Kabupaten Gianyar, Bali 80571
Opening hours: Mon-Sat 12pm to 9pm
Website
In Da Compound Warung is not a halal-certified eatery.
---
5. Nasi Goreng
---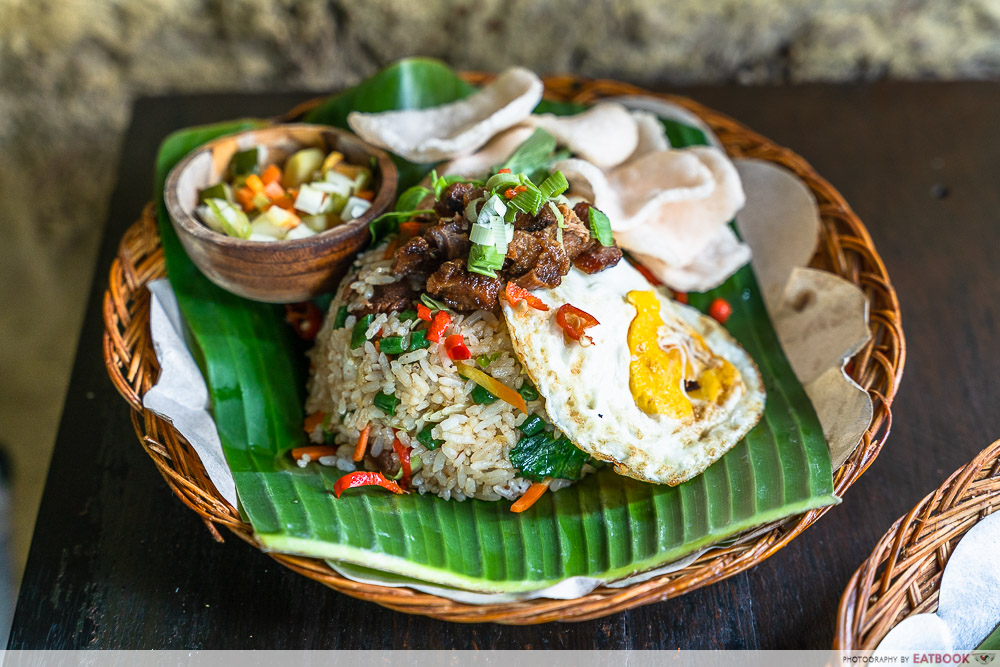 Nasi goreng is essentially Indonesian fried rice. A fun fact about this dish is that it originated during a time when rice was a scarce commodity, and Indonesians had to find creative ways to repurpose leftovers. Fast forward to today, this beloved dish is a staple in almost every Balinese restaurant and warung.
Indonesian fried rice differs from Singapore's Chinese-style fried rice in a few ways. The former usually uses more spices, such as shallots, garlic, and cayenne, while the latter typically uses sesame oil and oyster sauce. Nasi goreng is usually savoury-sweet and spicy, while Chinese fried rice tends to be more savoury and salty.
Warung Biah Biah has one of the best nasi goreng in Ubud, and we fell in love with their Nasi Goreng Babi Kecap (IDR33K/~S$2.98). Their fragrant fried rice is served on top of a banana leaf, and topped with stir-fried pork ribs marinated in sweet soya sauce. The meal is then complete with a side of Indonesian salad and crispy keropok.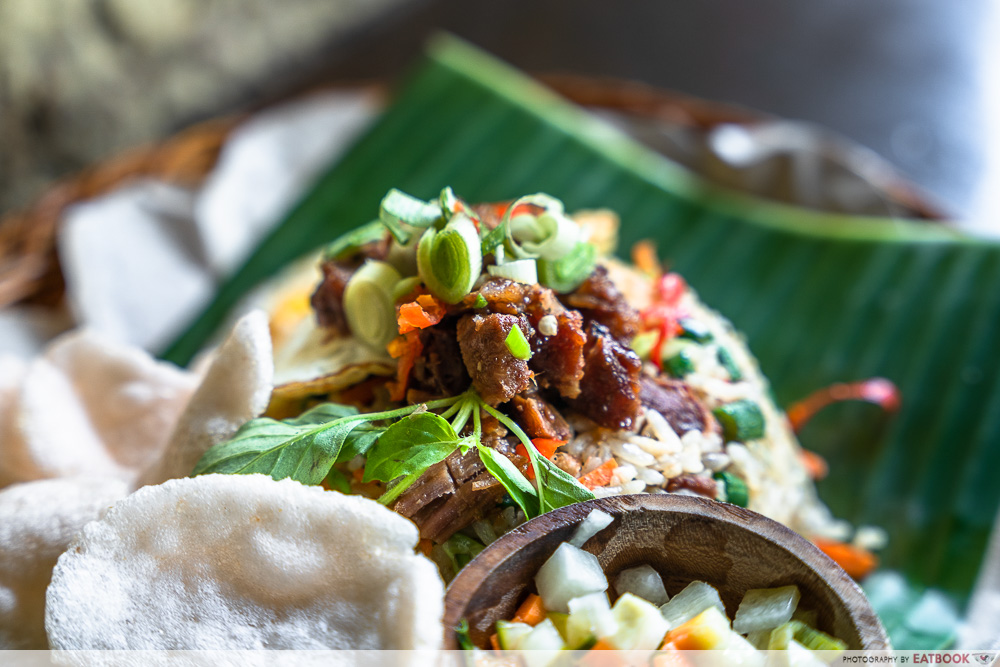 This was our first time trying babi kecap, AKA braised pork belly in dark sauce. We loved how the sauce infused into the pork belly's layers of fat and meat, and how the fat oozed with flavour as we bit into it.
Expected prices: $3-5
Address: Jalan Goutama Selatan Nombor 13, Ubud, Kecamatan Ubud, Kabupaten Gianyar, Bali 80571
Opening hours: Daily 11am to 11pm
Website
Warung Biah Biah is not a halal-certified eatery.
---
6. Satay
---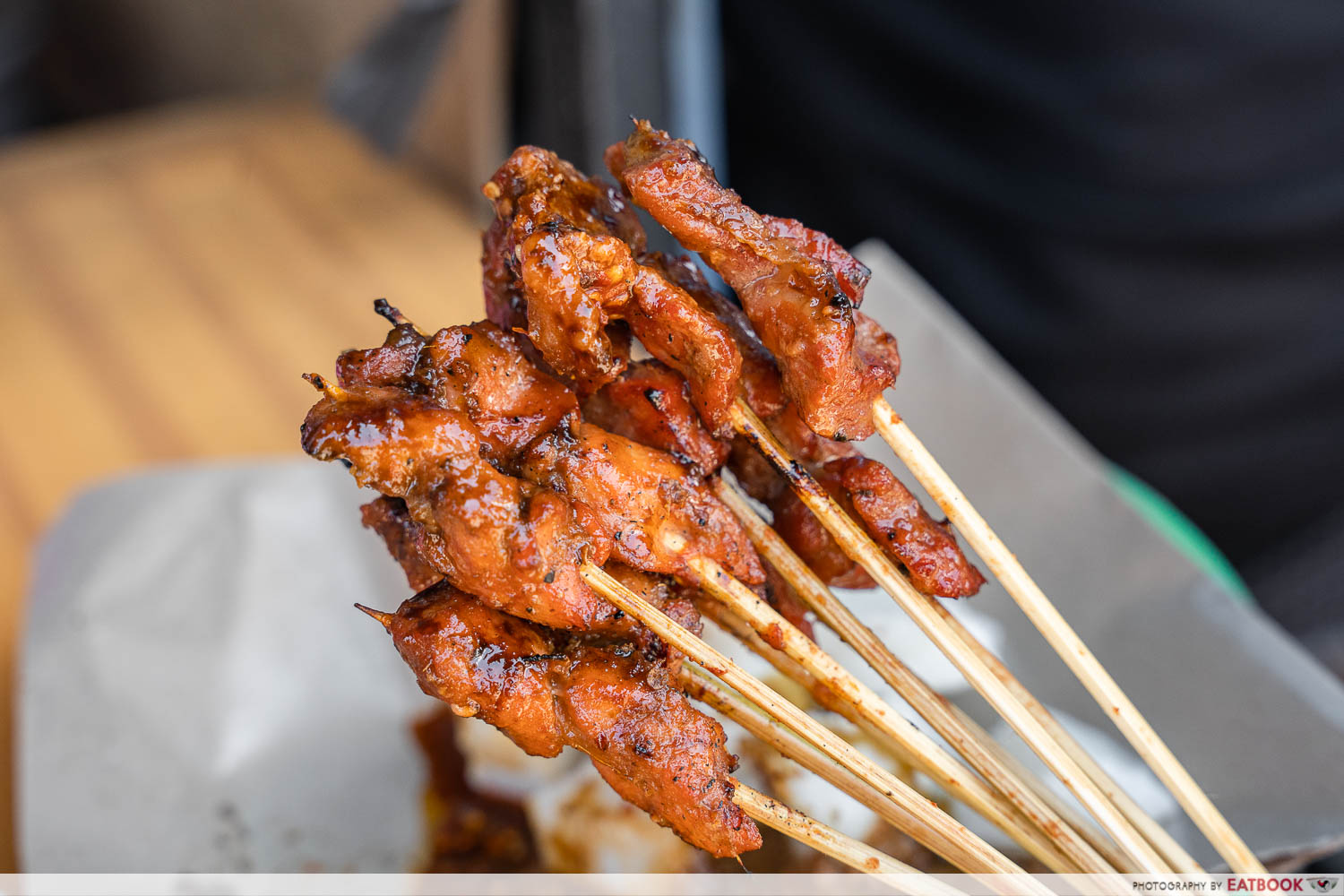 Yes, I'm pretty sure you know what satay is, but you still need to try them while in Bali because they're a little different from the ones we have back home.
In Indonesia, satay is marinated in lemongrass, garlic, and turmeric, giving it a stronger flavour profile as compared to Singaporean satay, which is typically sweeter. Indonesian satay is also chunkier and comes in a dark peanut sauce that's mixed with kecap manis.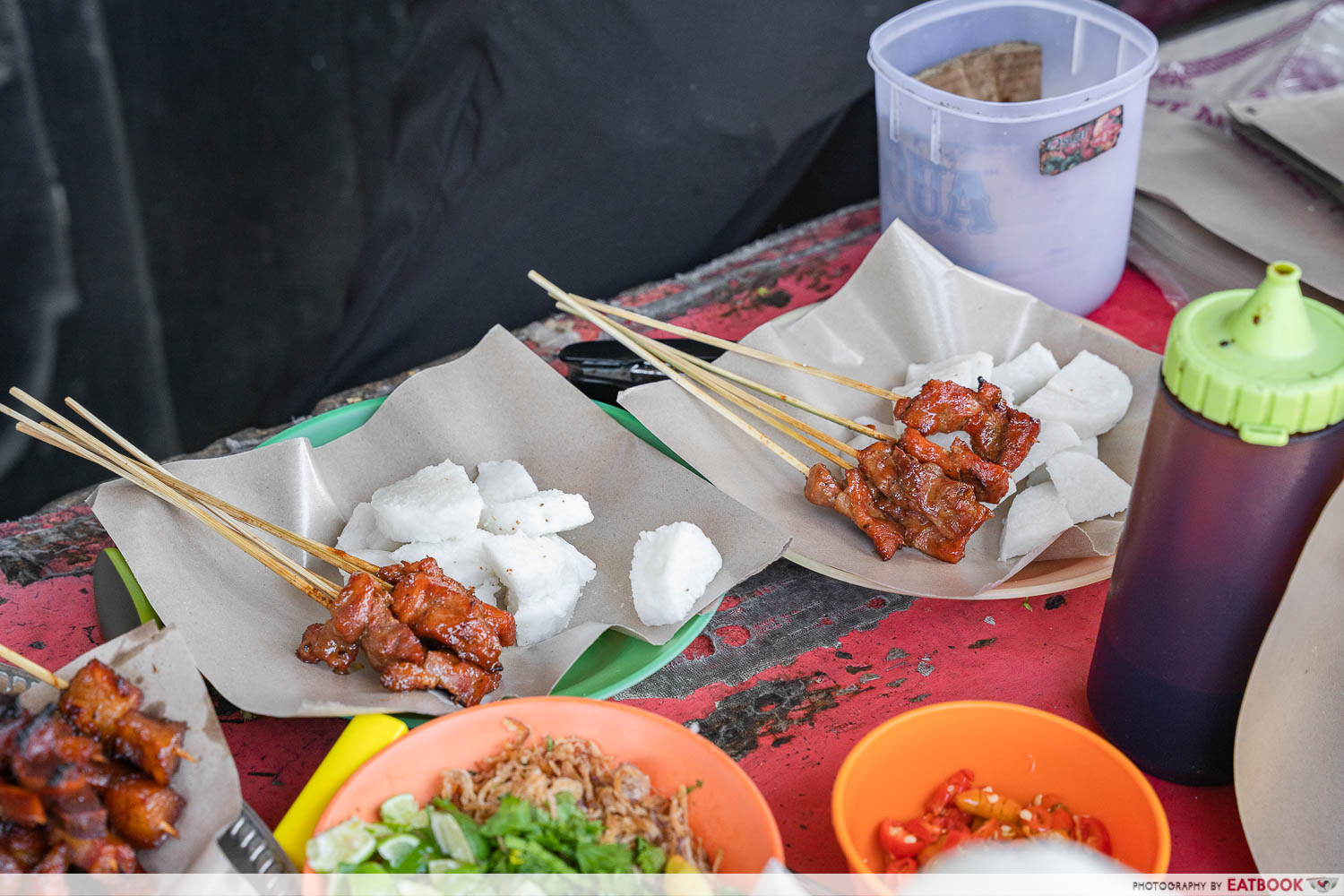 In Bali, pork satay is usually more common than chicken, beef, or lamb satay. For the best pork satay, check out Warung Sate Babi Pandu, a humble roadside stall manned by a mother-son team. A bundle of 10 sticks go for only IDR20K (~S$1.79), and you can also add on rice cakes for IDR5K (~S$0.45).
The satay here is incredibly tender, and is drenched in a viscous peanut sauce that's mixed with chilli. The chilli sauce made the satay even tastier, but be warned, it's super spicy!
Expected prices: From $0.10 per stick
Address: Jalan Pantai Batu Bolong No.21, Canggu, Kecamatan Kuta Utara, Kabupaten Badung, Bali 80361
Opening hours: Daily 11am to 7pm
Warung Sate Babi Pandu is not a halal-certified eatery.
---
7. Pisang Goreng
---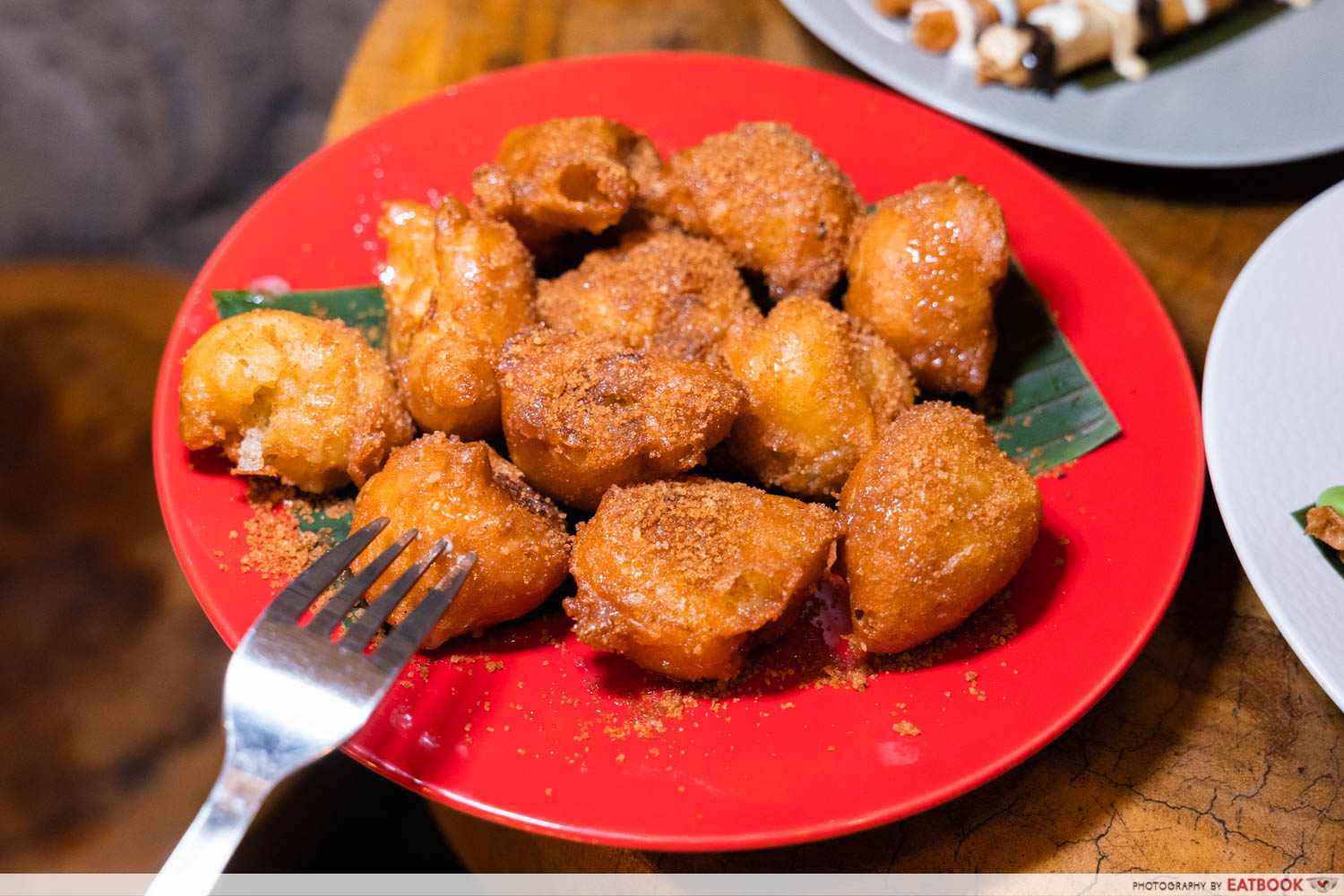 You may already be familiar with pisang goreng, which is a popular street food of battered and deep-fried bananas. You can enjoy this snack hot and crispy, or enjoy it as a dessert with a side of vanilla ice cream. In Bali, it's common to see vendors add extra toppings to pisang goreng, such as chocolate sauce, cheese, and even condensed milk to zhng up the flavour.
While pisang goreng spots are plentiful in Bali, our go-to was Pisang Goreng Gendut, a stall in Seminyak selling traditional pisang goreng, pisang goreng balls and pisang penyet (smashed banana). Their banana fritters are filled with overripe bananas and drizzled with a sweet syrup such as Tiramisu (IDR20K/~S$1.81) or Cappuccino (IDR20K/~S$1.81).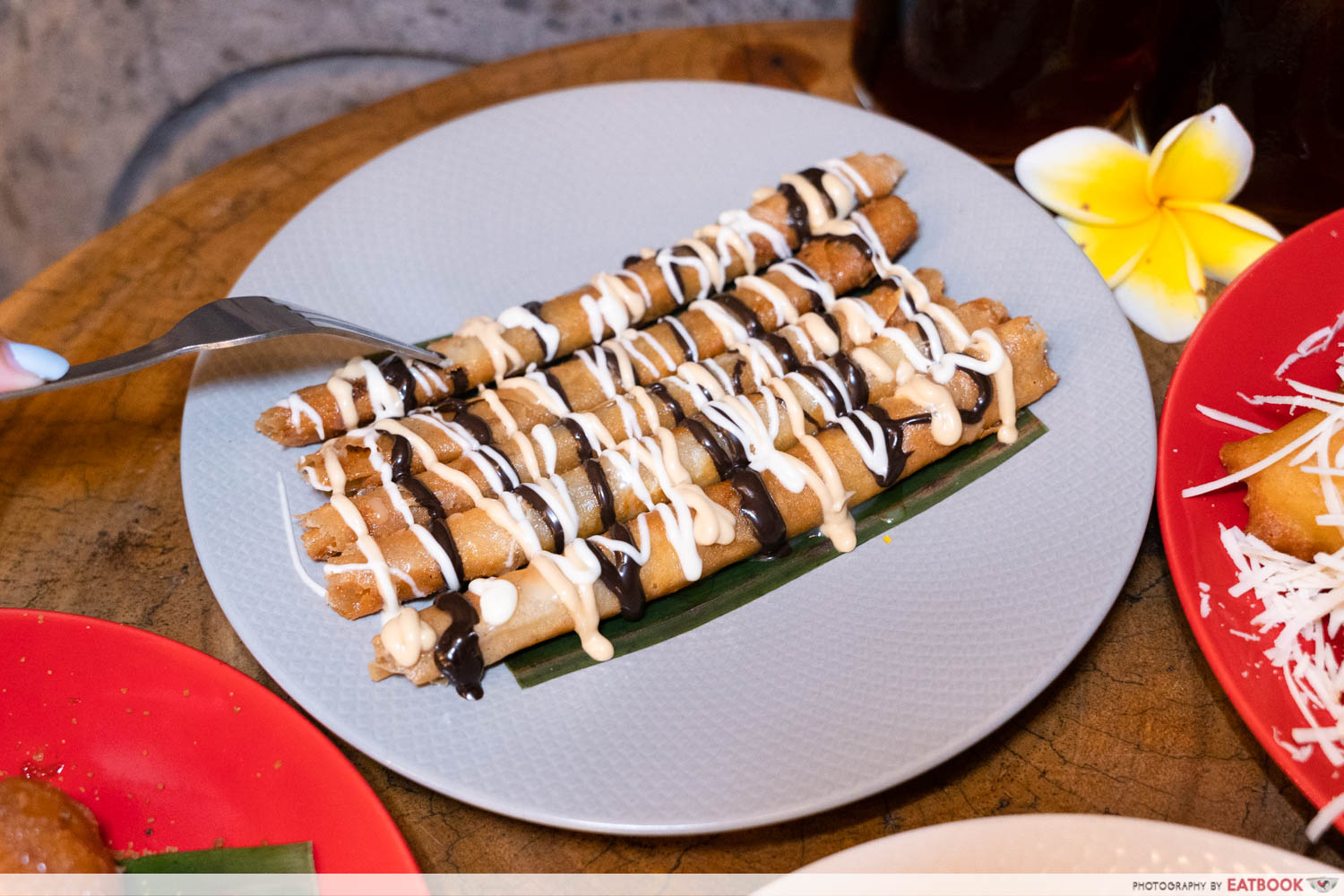 Our personal favourite was the Pisang Penyet Double Glaze (IDR20K/~S$1.82), slathered generously with chocolate syrup. This treat was addictive with a touch of natural sweetness from the locally grown bananas. The pisang goreng also wasn't too oily and had a batter that was on the thinner side. Most importantly, our fritters stayed crispy throughout our shoot.
Expected prices: From $0.10 per piece
Address: Jalan Dewi Sri Nombor 09, Legian, Kecamatan Kuta, Kabupaten Badung, Bali 80361
Opening hours: Mon-Thurs 11am to 11pm, Fri-Sun 11am to 12am
Website
Pisang Goreng Gendut is a Muslim-owned eatery.
---
8. Babi Guling
---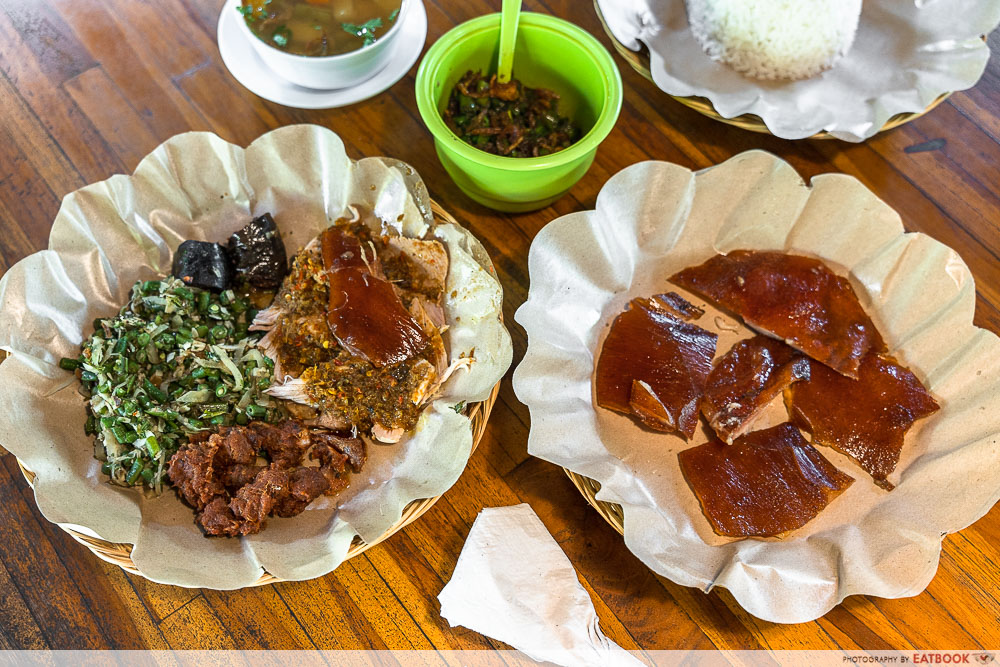 Also known as suckling pig, babi guling is a traditional dish that's often rated as one of the top foods you must try in Bali. This sees a whole pig roasted on a spit over an open flame for several hours until the skin is crispy and the meat is tender. The pig is also stuffed with a variety of local spices and is often served alongside rice, vegetables, and a side of spicy sambal sauce.
While babi guling is usually enjoyed during special occasions such as weddings and religious ceremonies, it can also be found at many restaurants in Indonesia. It's generally not too expensive, especially if you're going for ones that are served in the warungs.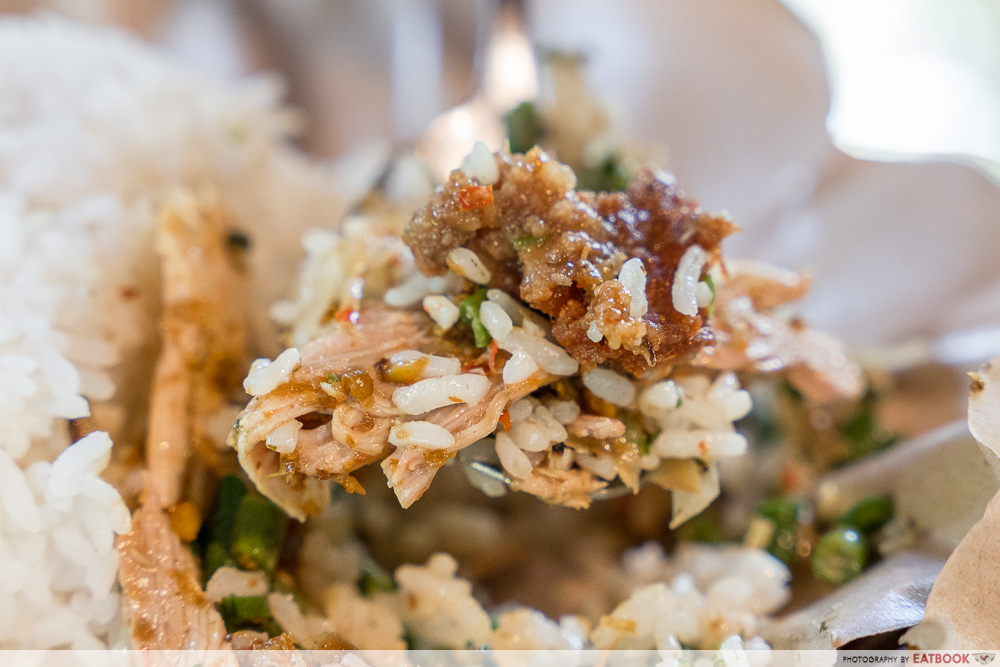 Our favourite babi guling can be found here at Warung Babi Guling Ibu Oka 3. This was the most unique warung we visited in Ubud, as part of the restaurant faces a rainforest, while the back section is housed in a garden with numerous parrots and koi fish. Suckling pig is the only food they serve here, and you can get the dish a la carte (IDR65K/~S$5.85) or as a set (IDR75K/~S$6.77) with soup and rice.
The babi guling is also served with Balinese spices, blood sausages, and crispy pork spin. Extra pork skin can be added for IDR60K (~S$5.41). Despite not being the biggest fan of pork, I thoroughly enjoyed its meaty flavour, along with the thin layer of fat underneath the crispy pork skin.
Expected prices: $5-$10
Address: Jalan Tegal Sari Nombor 2, Ubud, Kecamatan Ubud, Kabupaten Gianyar, Bali 80571
Opening hours: Daily 11am to 6pm
Website
Warung Babi Guling Ibu Oka 3 is not a halal-certified eatery.
---
9. Pork Ribs
---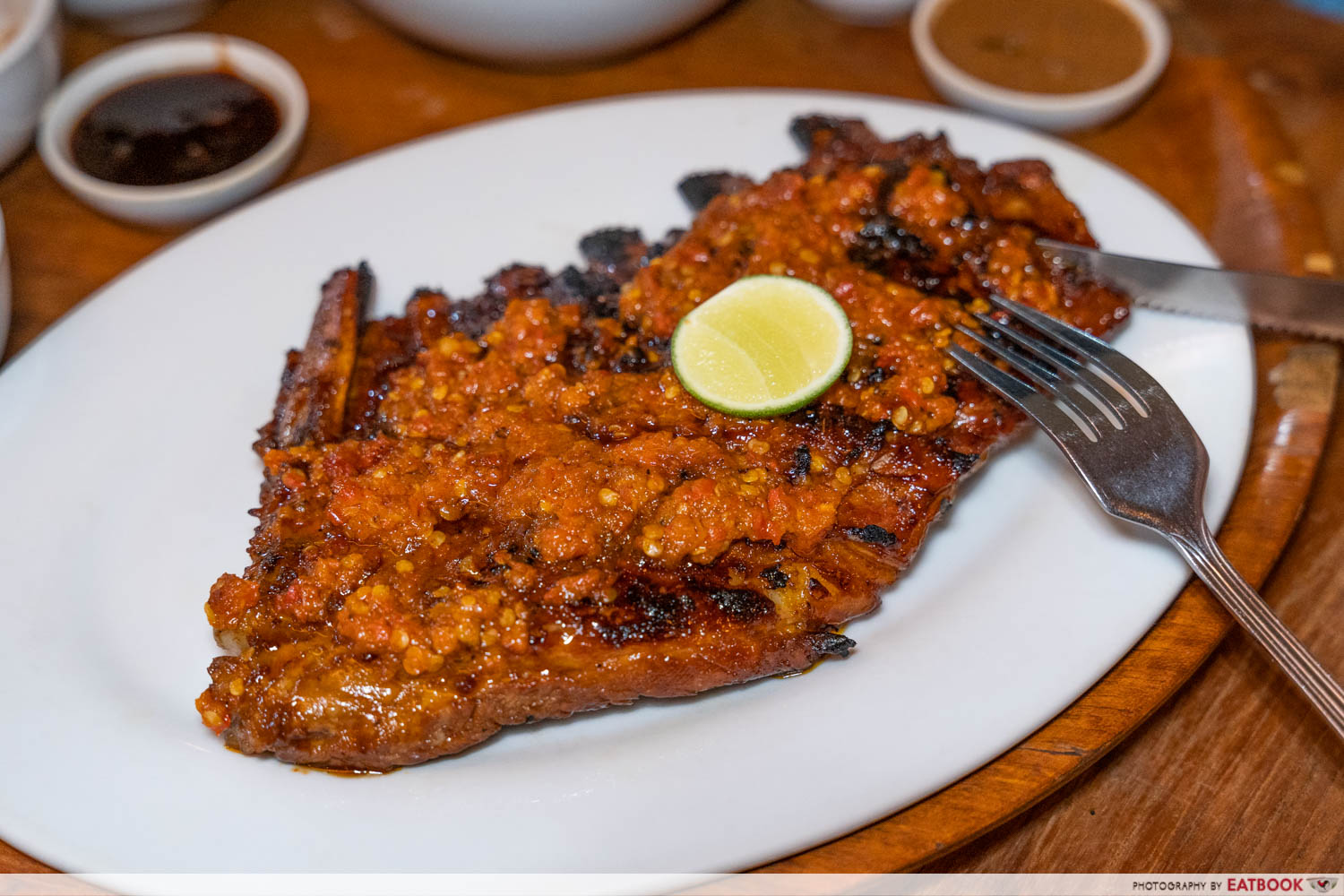 I didn't know pork ribs were a thing in Bali until I came to Seminyak. The bustling neighbourhood is chock full of restaurants and warungs claiming to have the best pork ribs, but we found our favourite at Warung Nia.
Compared to Western-style pork ribs, Indonesian pork ribs have a bolder, more complex flavour profile thanks to the use of local spices. The ribs also come with sambal, as well as sides such as satay or salad.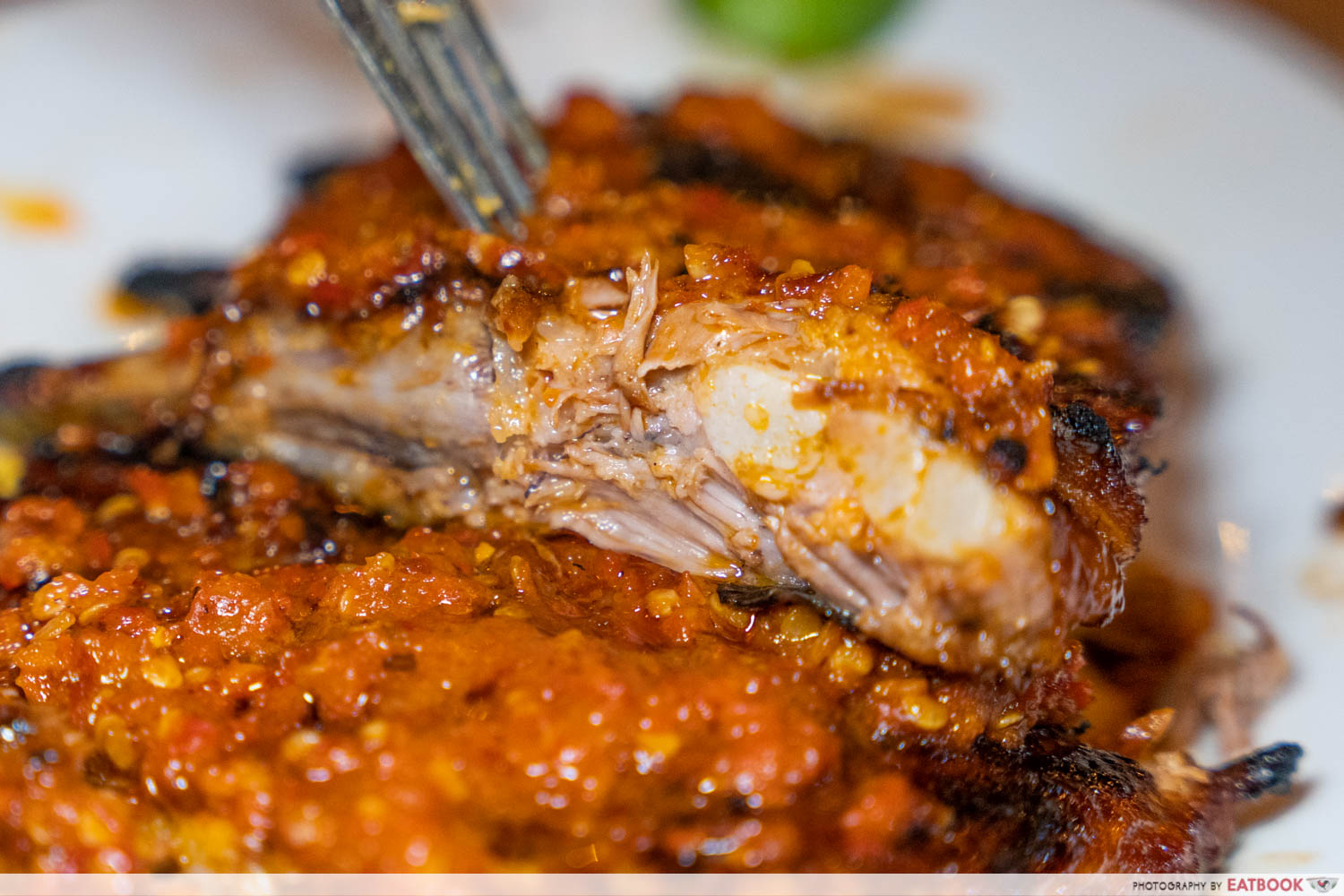 At Warung Nia, you're able to customise your preferred spice levels from Level 1 to Level 10. Trust us when we say that Level 3 is xiong enough, even for those who usually order da la.
The savoury-sweet ribs are so tender that they easily fall off the bone, and the meat also has a slight chew that makes each bite so satisfying.
Expected prices: $15-$30
Address: Kayu Aya Square, Nombor 19-21, Jalan Kayu Aya Seminyak, Kecamatan Kuta Utara, Bali 80361
Opening hours: Mon-Sat 11am to 10pm, Sun 10am to 10pm
Tel: +62 877 6155 6688
Website
Warung Nia is not a halal-certified eatery.
---
10. Rendang
---
This spicy beef dish, which originated from the Minangkabau ethnic group, sees slow-cooked beef added to a mixture of coconut milk, along with lemongrass, turmeric, and galangal—a type of tropical root spice similar to ginger. The long cooking process results in tender beef that's infused with a rich and piquant flavour. Compared to Singaporean or Malaysian rendang, Indonesian rendang is generally spicier and drier in texture.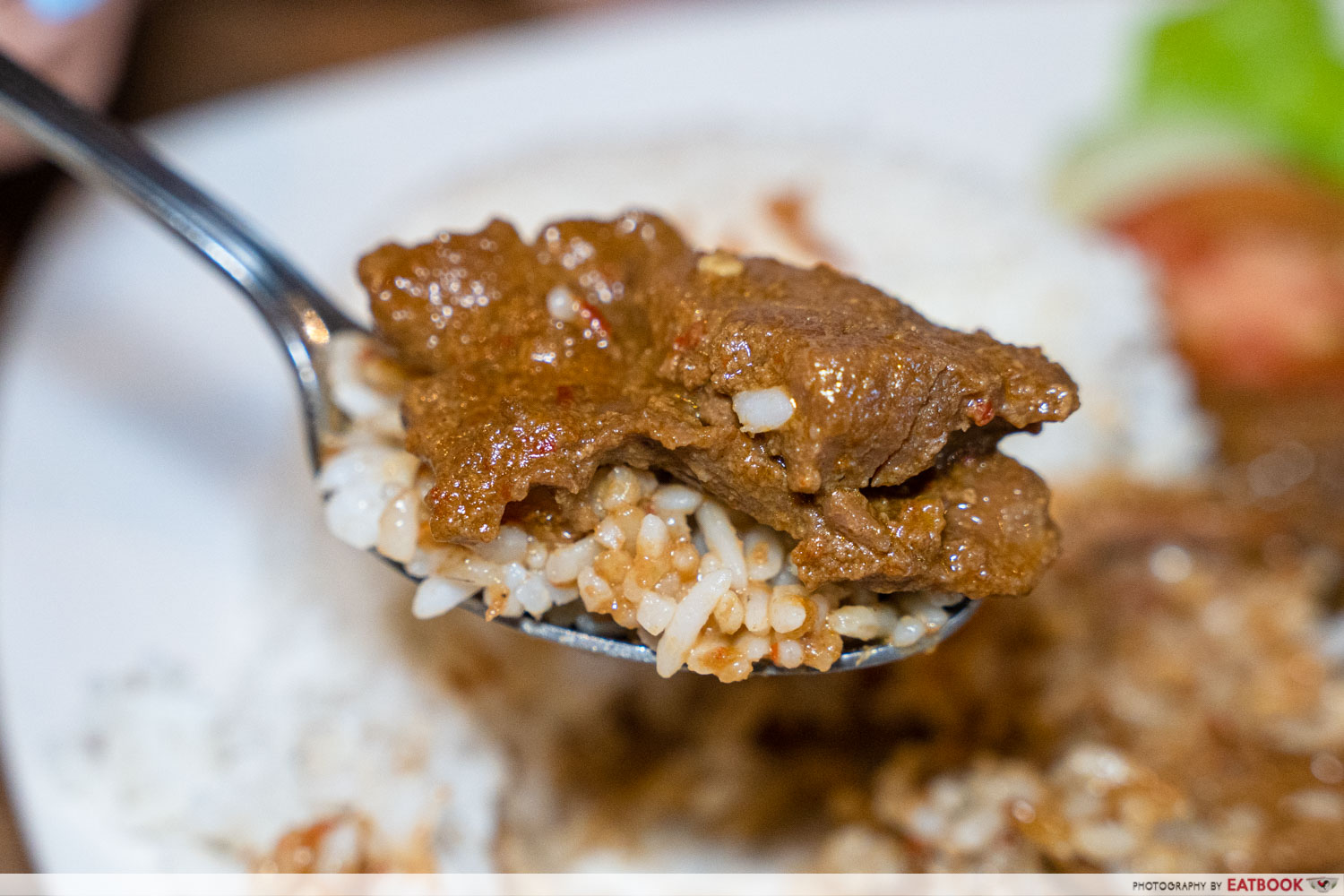 Here at Warung Leka-Leka, you can enjoy scrumptious Beef Rendang (IDR45K/~S$4.10), cut into bite-sized chunks and served with rice and chicken satay. The rendang here isn't too spicy, so it's suitable for those who aren't great with spice. As for the meat, each juicy chunk burst with a beefy savouriness that was oh-so-delicious. There's also a hint of coconut milk that gives the rendang some extra sweetness without being overpowering.
Expected prices: $4-$7
Address: Jalan Drupadi Nombor 9-80, Seminyak, Kecematan Kuta, Kabupaten Badung, Bali 80361
Opening hours: Daily 7am to 11pm
Tel: +62 819 0553 6939
Website
Warung Leka-Leka is not a halal-certified eatery.
---
What to eat in Bali
---
In between visiting gorgeous beach clubs and hitting all the chio cafes, be sure to make some time to visit Bali's authentic warungs and savour their delicious local food. If you'd like to bookmark more cafe-hopping spots in Bali, check out our Canggu food guide. For similar cuisine closer to home, read our Dapur Hassan review for affordable Malay and Indonesian dishes at Tampines.
Dapur Hassan Review: $3.80 Nasi Lemak By Legendary SG Goalkeeper In Tampines
Photos taken by Yi En Chew and edited by Melvin Mak.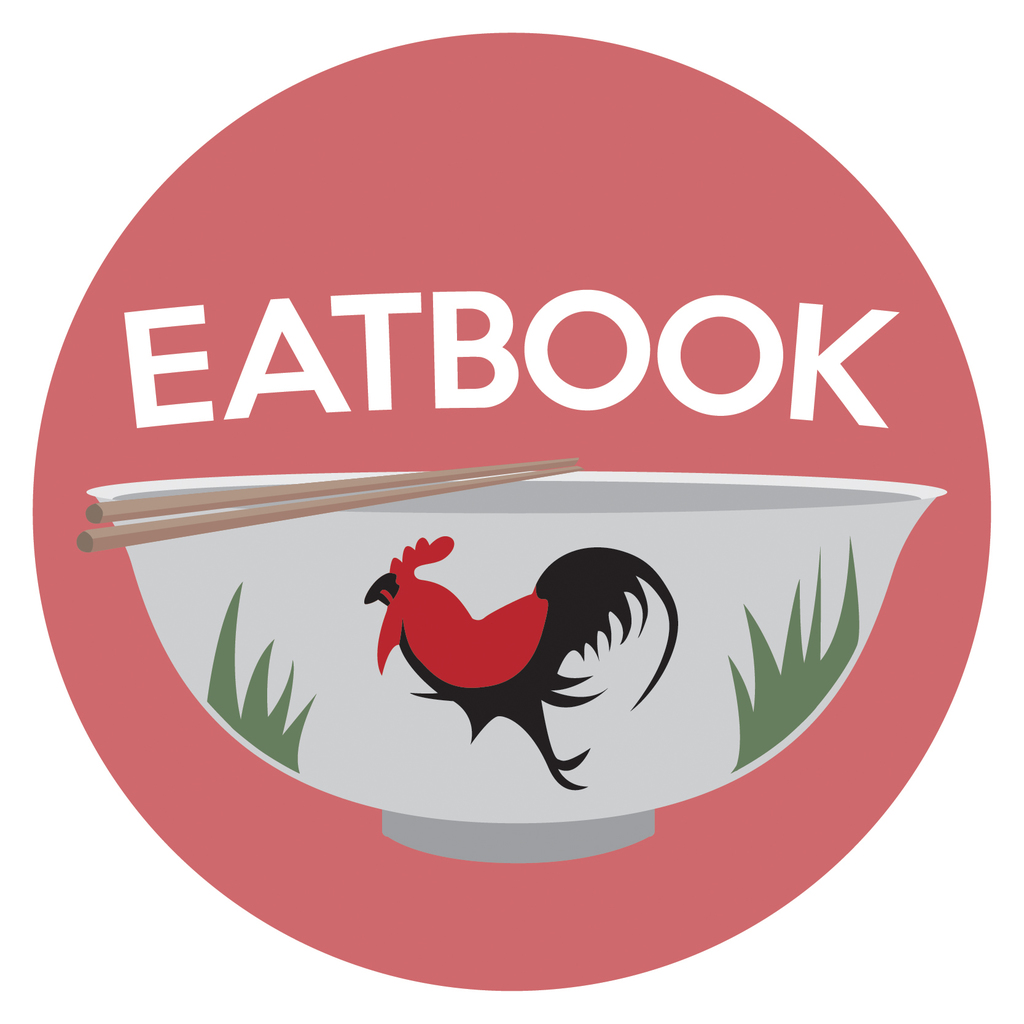 Drop us your email so you won't miss the latest news.