Dapur Hassan has affordable Malay dishes in Tampines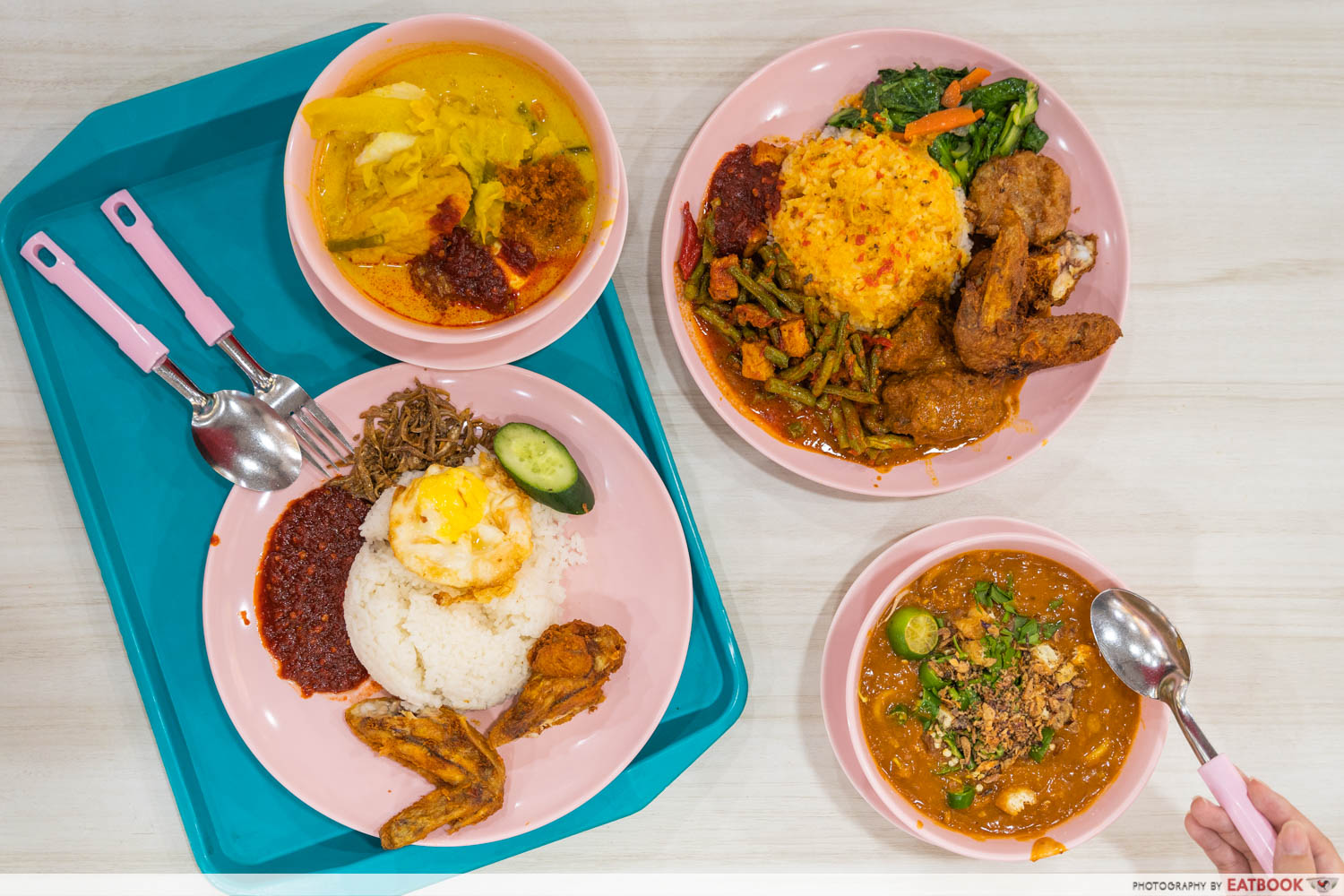 To fans of local football, Hassan Sunny is undoubtedly a name they will be familiar with. He is considered one of the best goalkeepers in our history, and his recent heroics in the 2021 AFF Suzuki Cup semifinals against Indonesia are still fresh in the memories of many, where he pulled save after save against an onslaught of opposition shots. Adding to the list of his accomplishments, he recently opened Dapur Hassan, a food stall in Tampines that's known to serve affordable Malay and Indonesian dishes.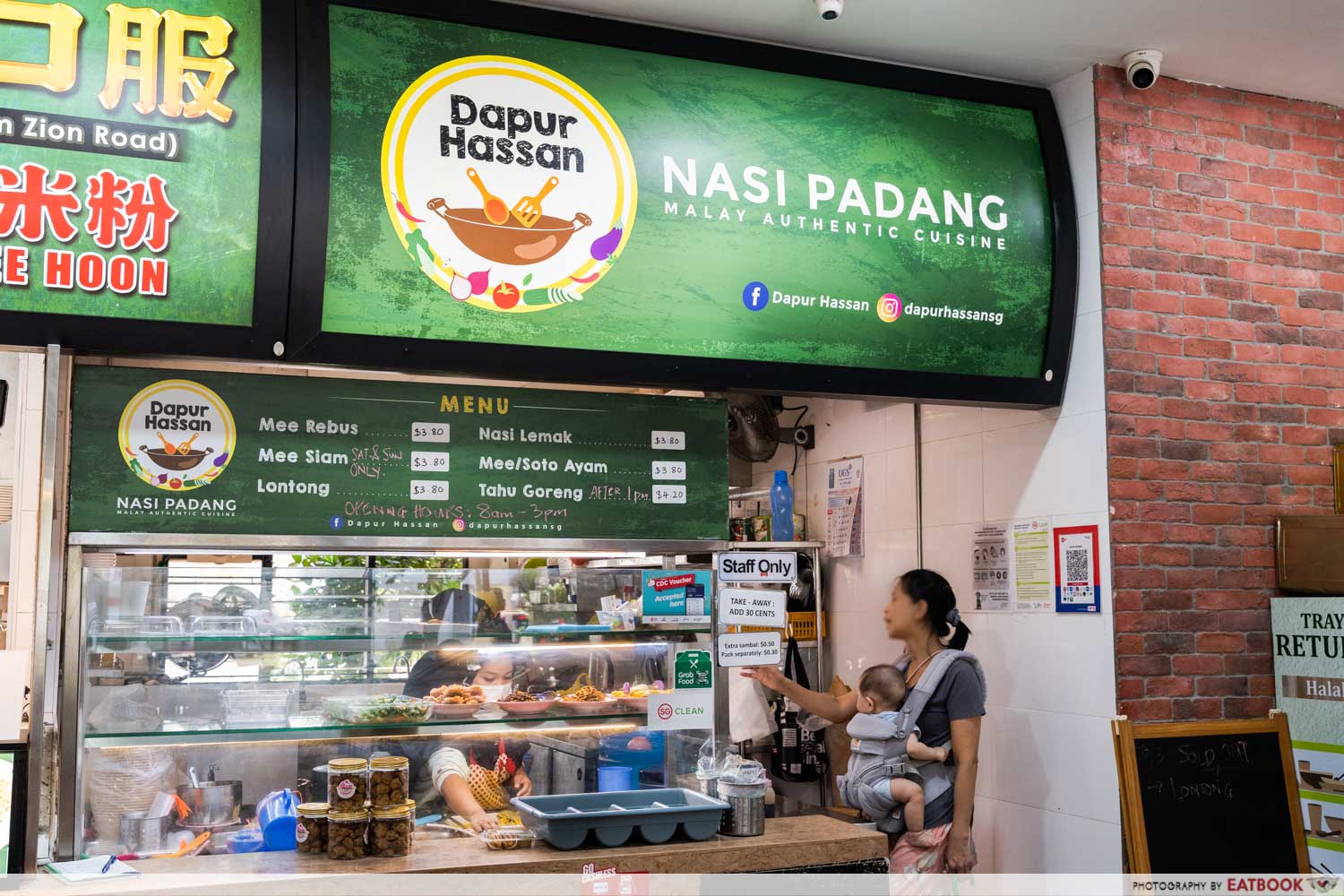 Since Hassan is still active in the local football scene, the stall is currently helmed by his family. The stall is also patronised by national football players including Ilhan Fandi and Hariss Harun, so pay the stall a visit for some star spotting if you're lucky! Unfortunately, my football-enthusiast colleague was unable to make this visit, but it was just as well, because I didn't meet any football stars.
Husk Nasi Lemak Review: Fusion Nasi Lemak With Sous Vide Beef Rendang And Moo Ping-Inspired Chicken
Food at Dapur Hassan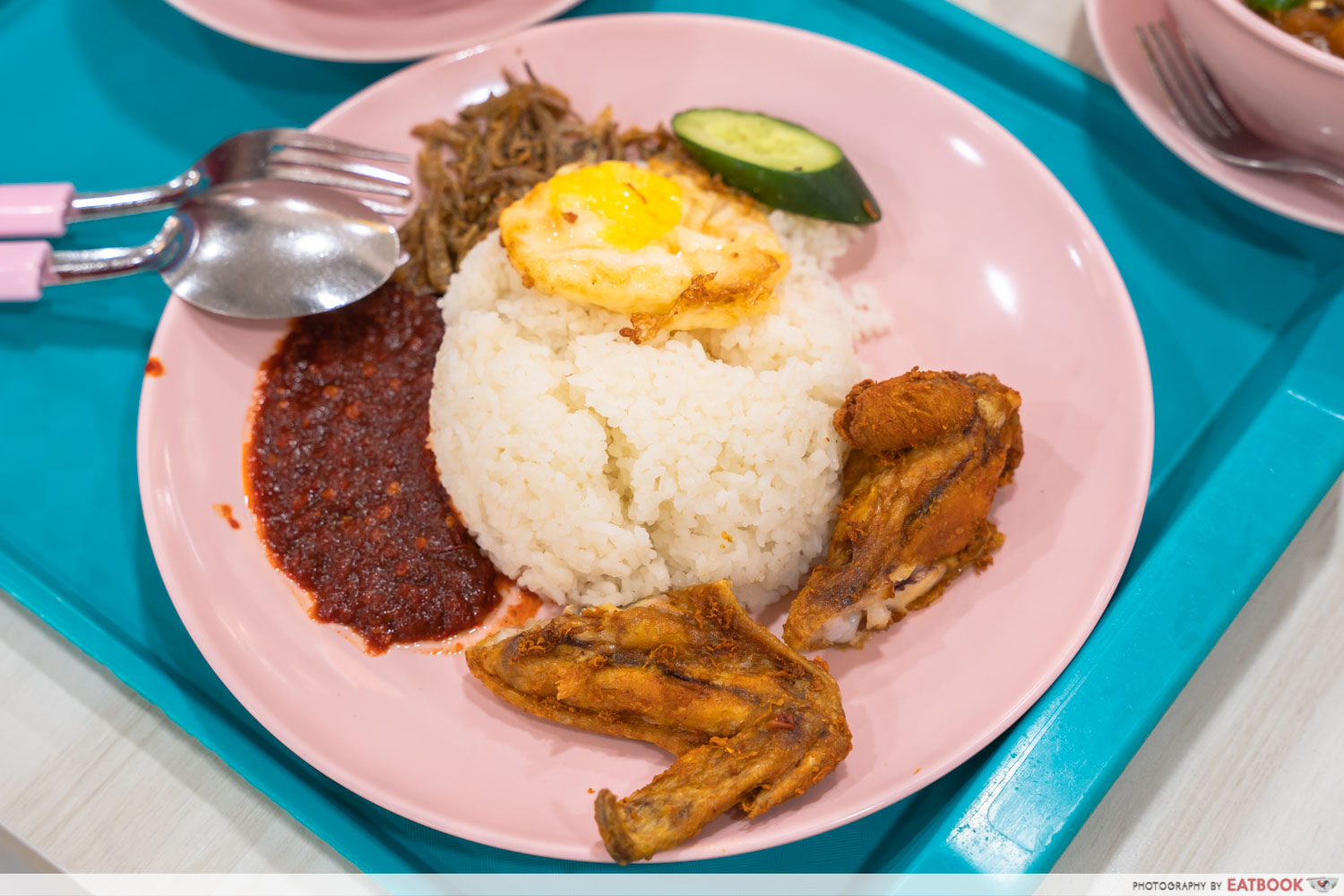 The dishes here are priced from $3.80, which I'd consider to be pretty affordable. We started with a classic Nasi Lemak ($3.80) which featured fried chicken, a mound of fluffy coconut rice, a fried egg, and a side of crunchy ikan bilis, alongside a dollop of their house-made sambal.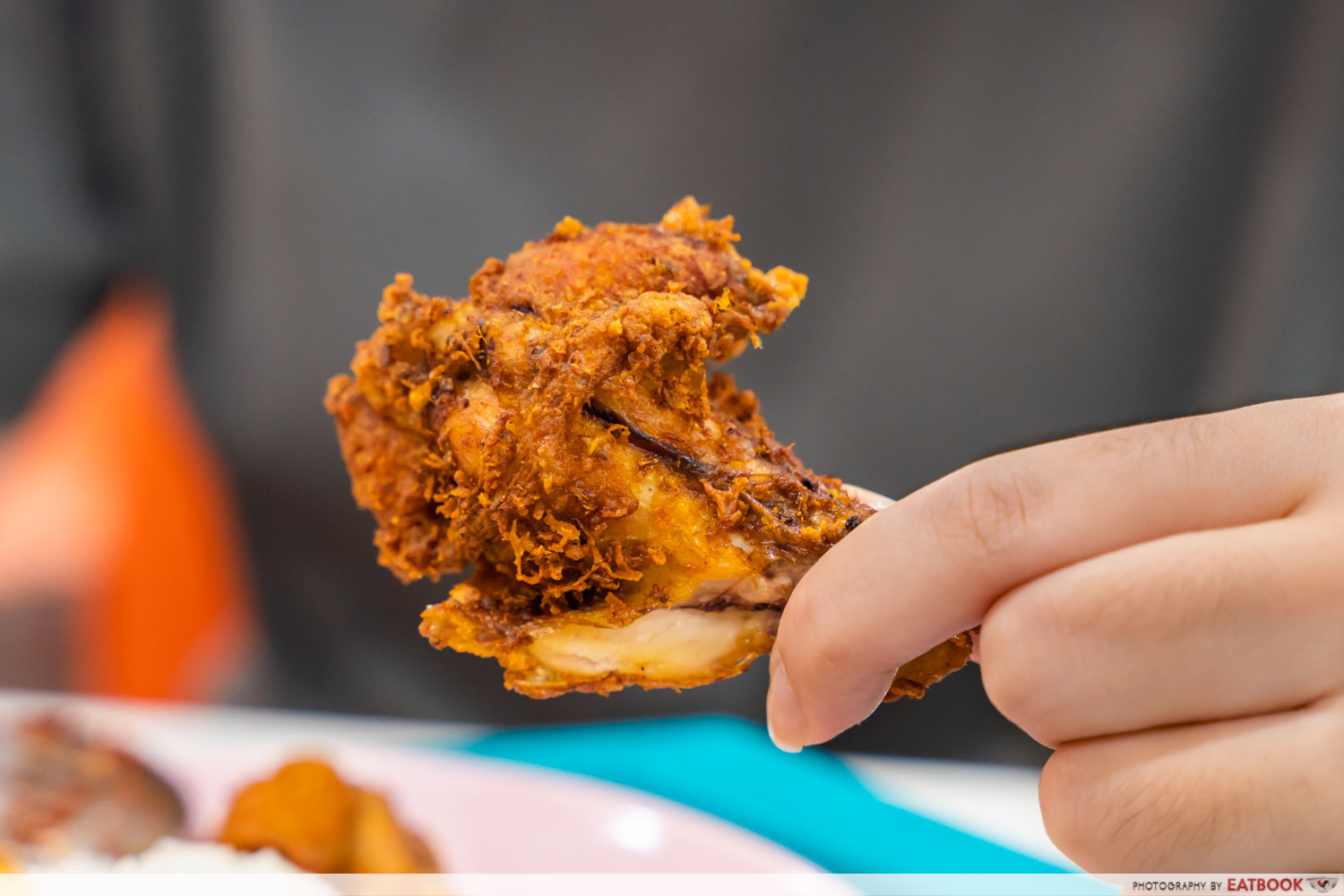 The chicken boasted a thin, crispy batter. However, I wished that the batter was more flavourful and the meat juicer. 
I was also mildly upset that the fried egg was cooked through, and I missed having a runny yolk to mix in with the rice. Nonetheless, the coconut rice was tasty, especially when it was mixed with the sweet-spicy sambal. If you prefer, you could opt for fried fish instead of chicken with your nasi lemak.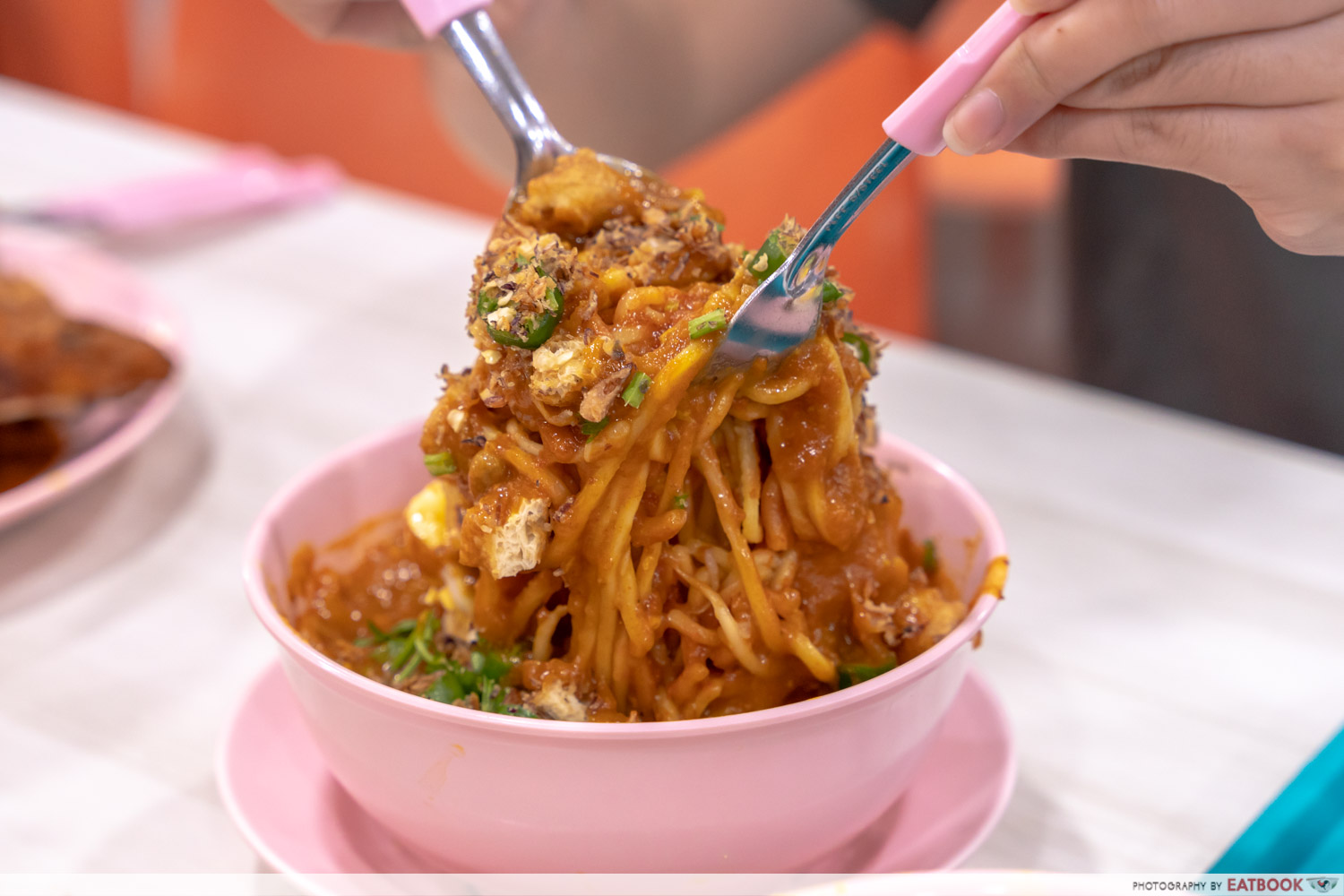 We moved on to Mee Rebus ($3.80), which came with a generous portion of yellow mee, bean sprouts, and the characteristic thick gravy, topped with fried shallots, slices of green chilli, and tau pok.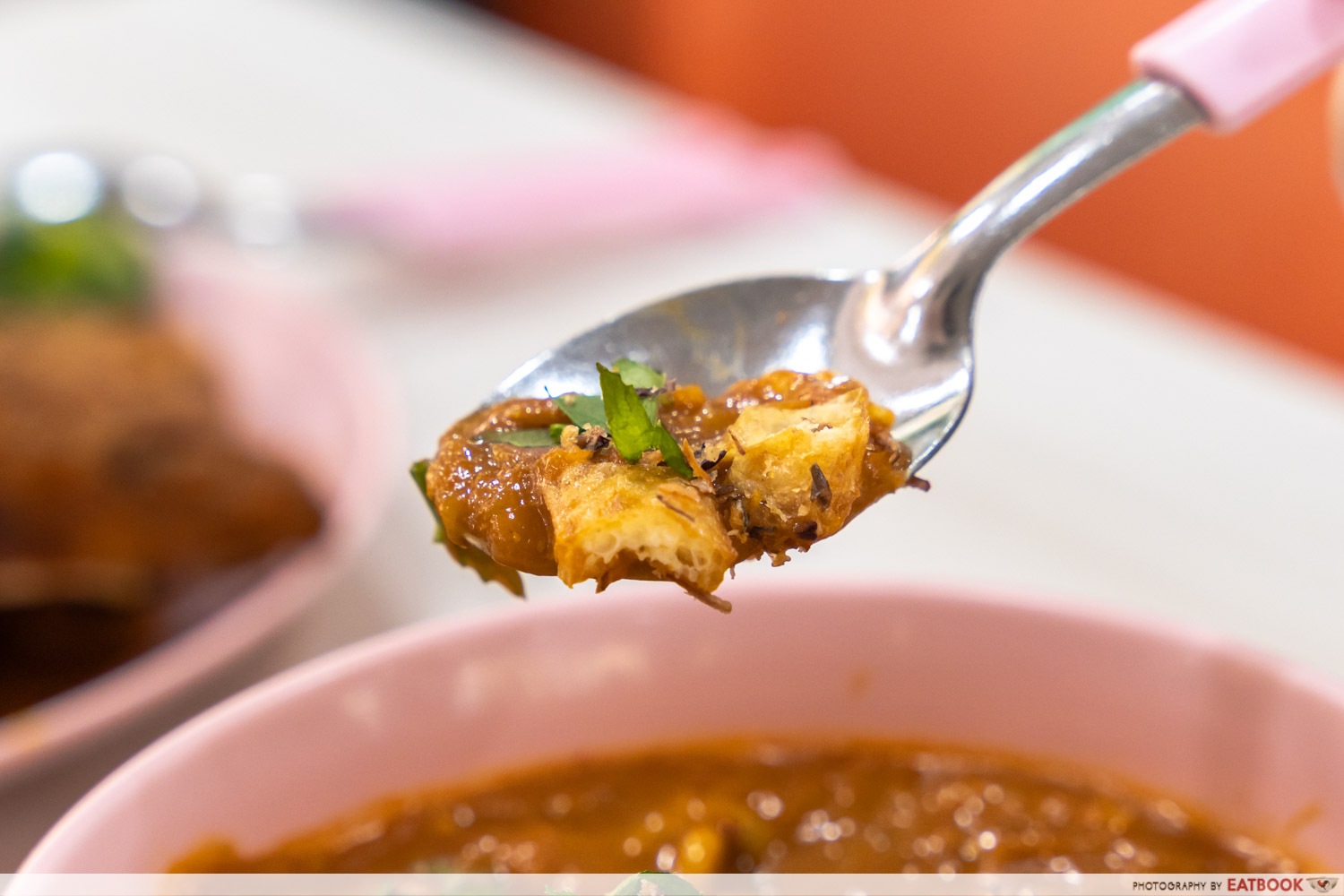 The creamy spiced gravy was sweet and nutty, which I enjoyed. As the gravy is not that spicy, you can also request to get more sliced chilli for that extra kick. Squeeze some lime over the dish too, as I found that it helped to cut through the heavy flavours, preventing it from being too jelak.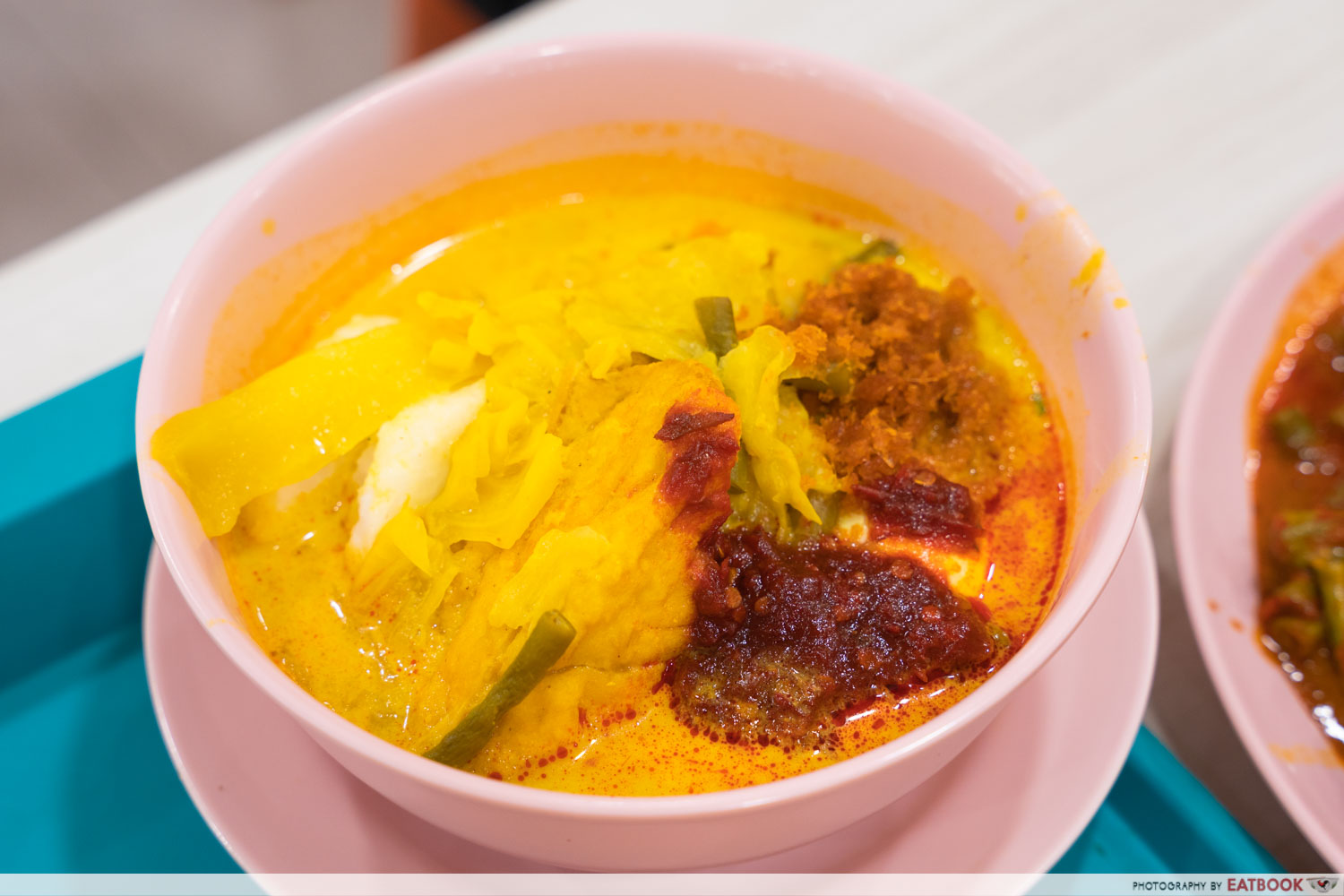 If you like your carb-heavy dishes, order the Lontong ($3.80). This bowl has rice cake, cabbage, long beans, tau pok, and a whole boiled egg, dressed in light curry. You can also request to add on extra sambal chilli if you're a spice champ.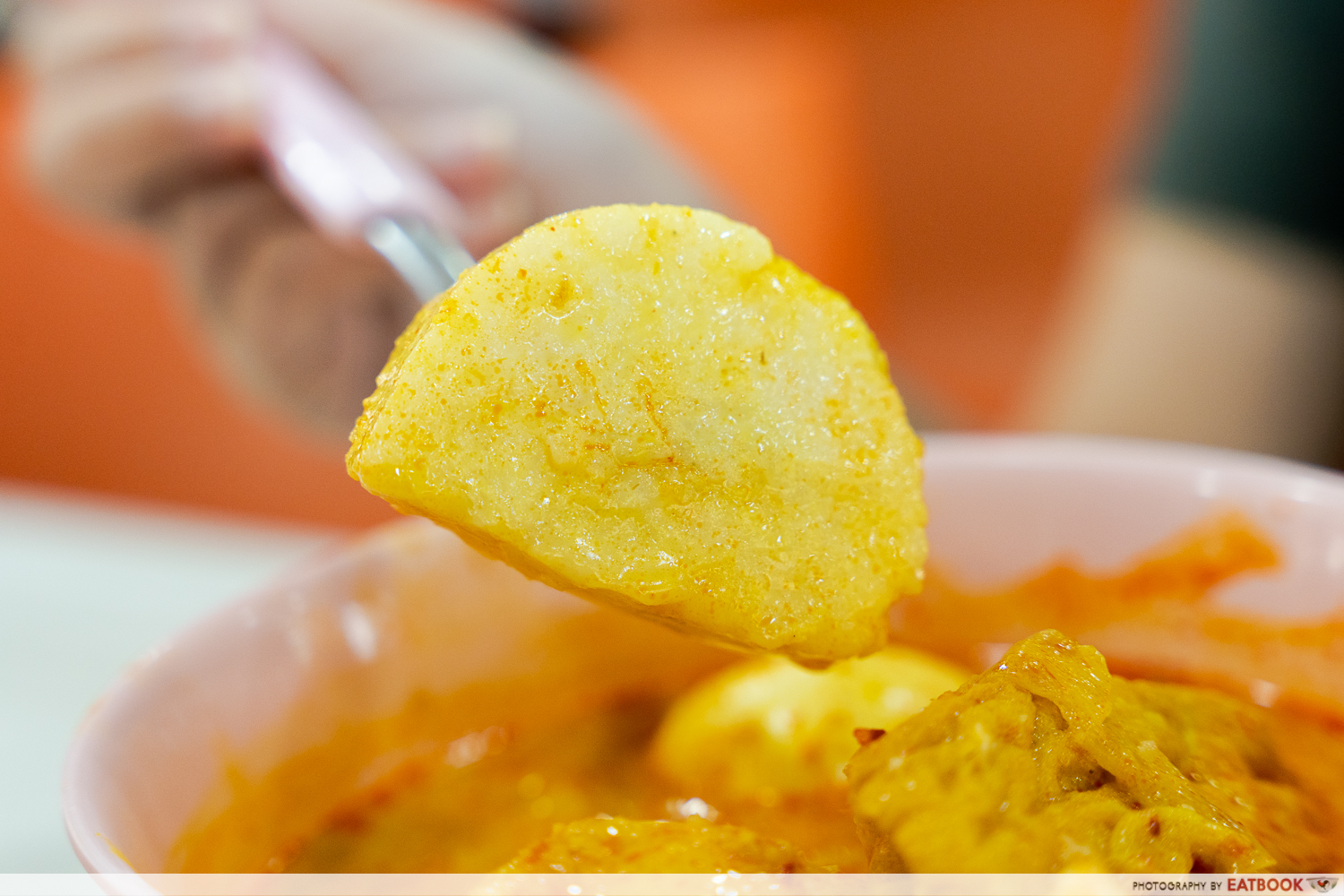 While I found the lontong chewy, it was not as smooth and fluffy as I prefer it to be. I usually enjoy it when carbs are doused in curry, but the nature of lontong is that it doesn't soak up the curry gravy. However, the tau pok more than made up for this.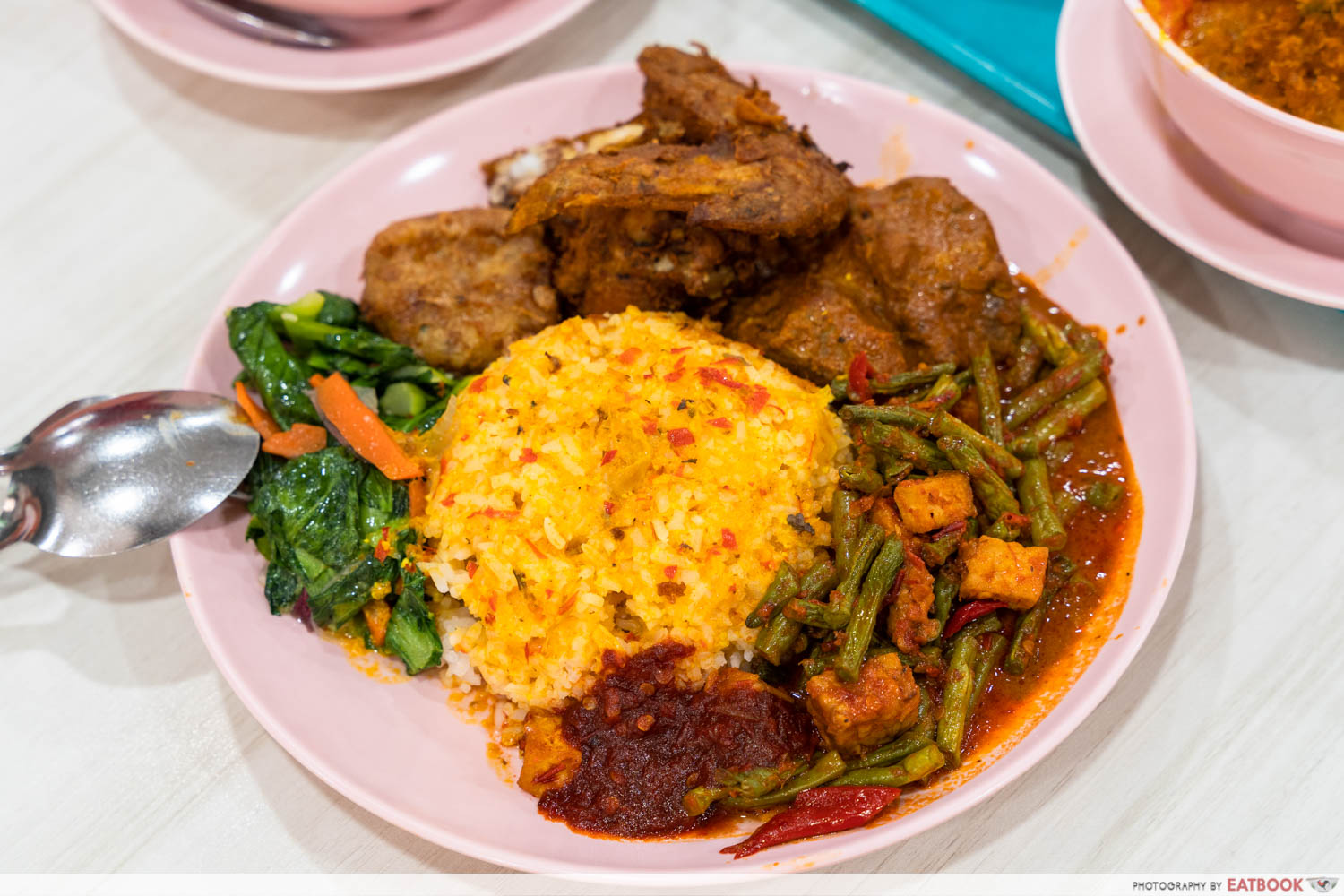 We finally got to the Nasi Padang ($9.20), a plate piled with three proteins and two vegetables: we opted for stir-fried mixed vegetables, sambal goreng, bergedil, beef rendang, and the same fried chicken as in the nasi lemak. 
I dug into the long beans first, and found them crunchy and flavourful. Meanwhile, the stir-fried vegetables were well-cooked, and helped to cut through the spiciness from the long beans. Mixing these vegetables with the curry-drenched rice was good enough to enjoy on its own!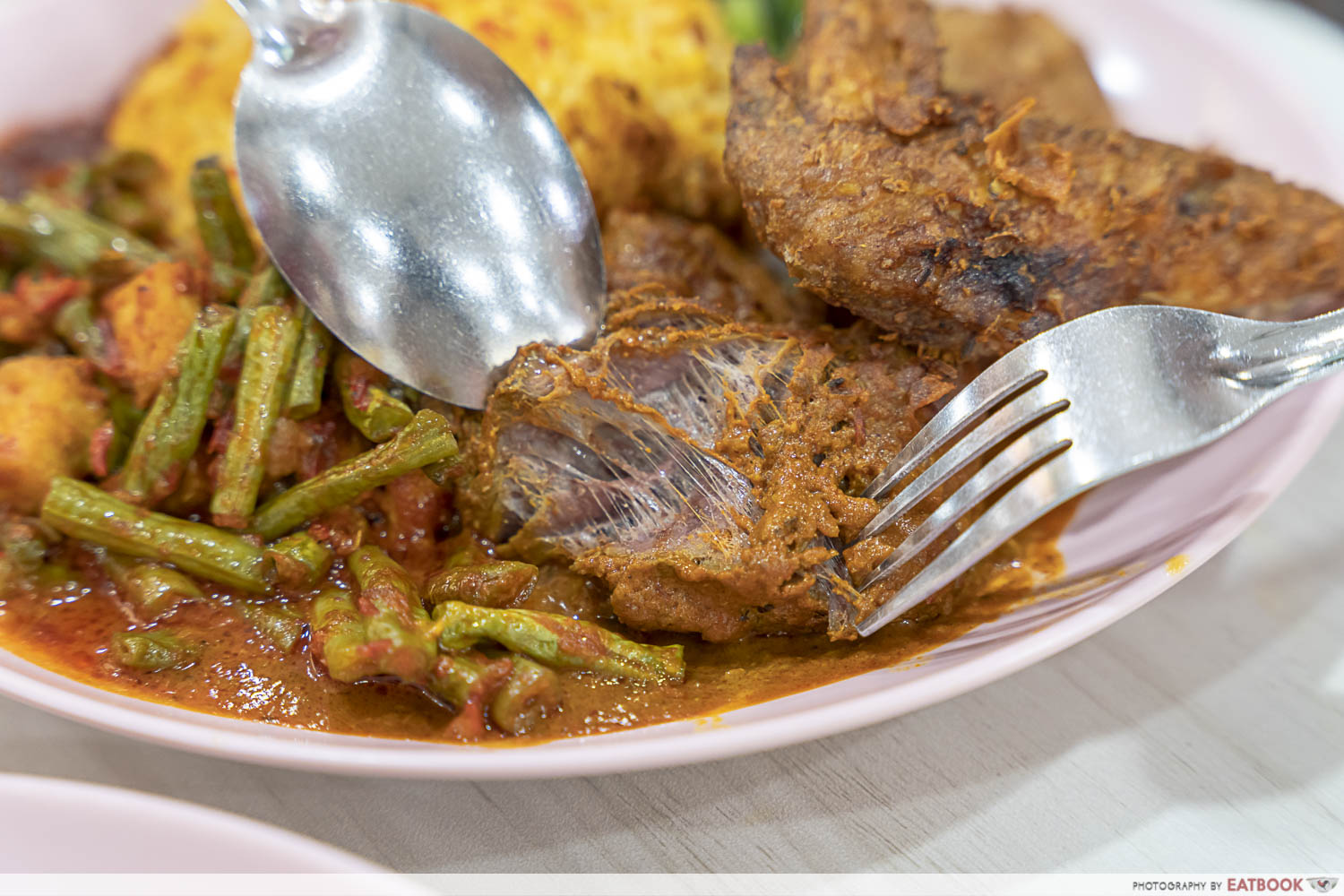 The beef rendang here is highly raved, so we had to try it. One thing that stood out to me was how flavourful the meat was. The meat was tender and the meat-to-fat ratio was just right, making for a satisfying and balanced texture. My colleague did remark that he wished it was softer, but you'd have to account that it had sat out for a while during the shoot. 
I usually order bergedil as a treat for myself, and I liked how this didn't disappoint, as the potato was soft and flavourful. I would have preferred it if the exterior was crispier though. 
Ambience at Dapur Hassan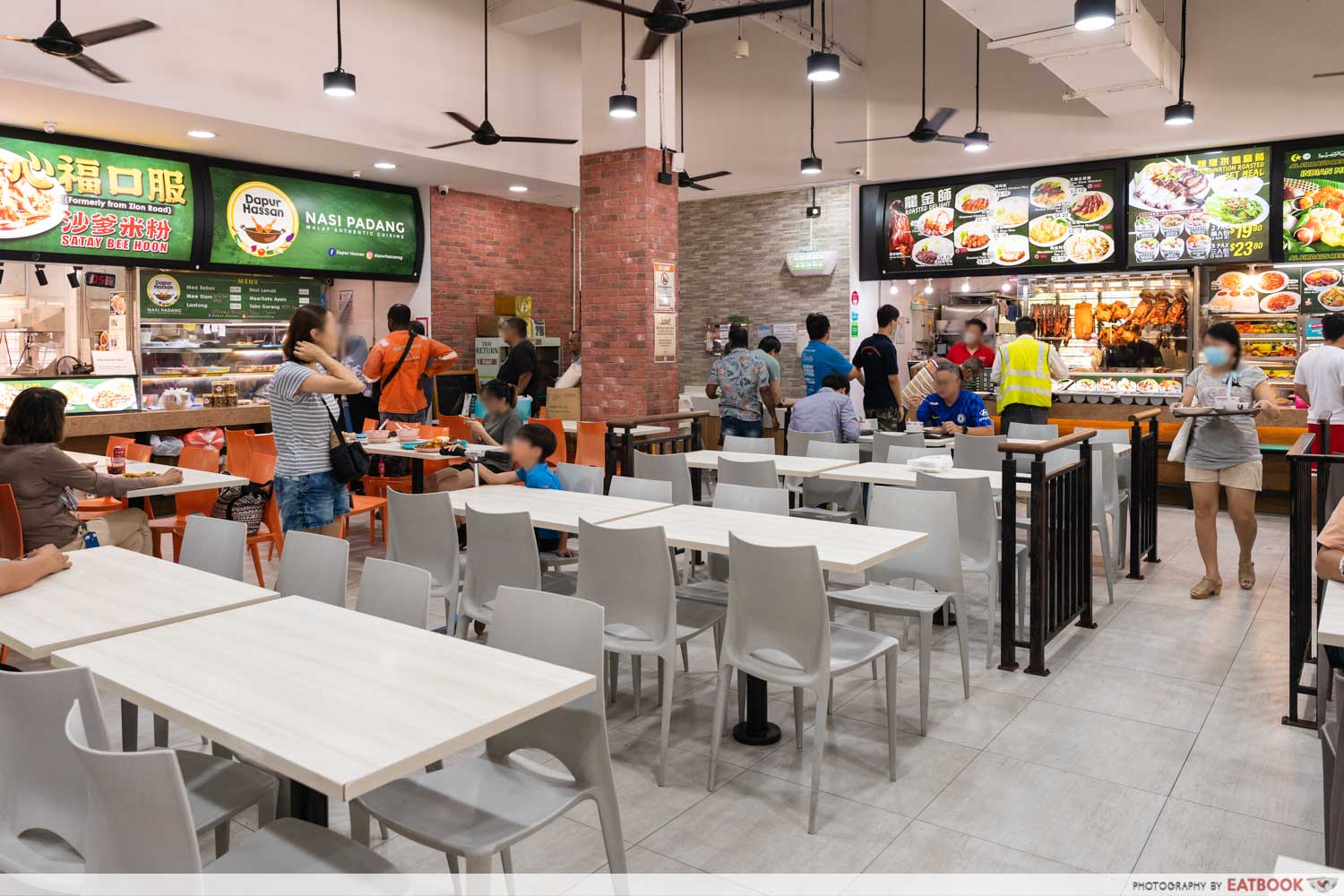 Dapur Hassan is located at Happy Hawker coffee shop, which is a 13-minute bus ride and six-minute walk from Tampines MRT Station. We were there at 10:30am, where there was a comfortable crowd. Even then, there was a steady stream of customers visiting the stall. 
I heard that they receive many Grab orders so if you want to avoid the peak period, you should visit early, considering that they also close at 3pm. Otherwise, I liked that the stall sported a clean look, with a brightly lit display. 
The verdict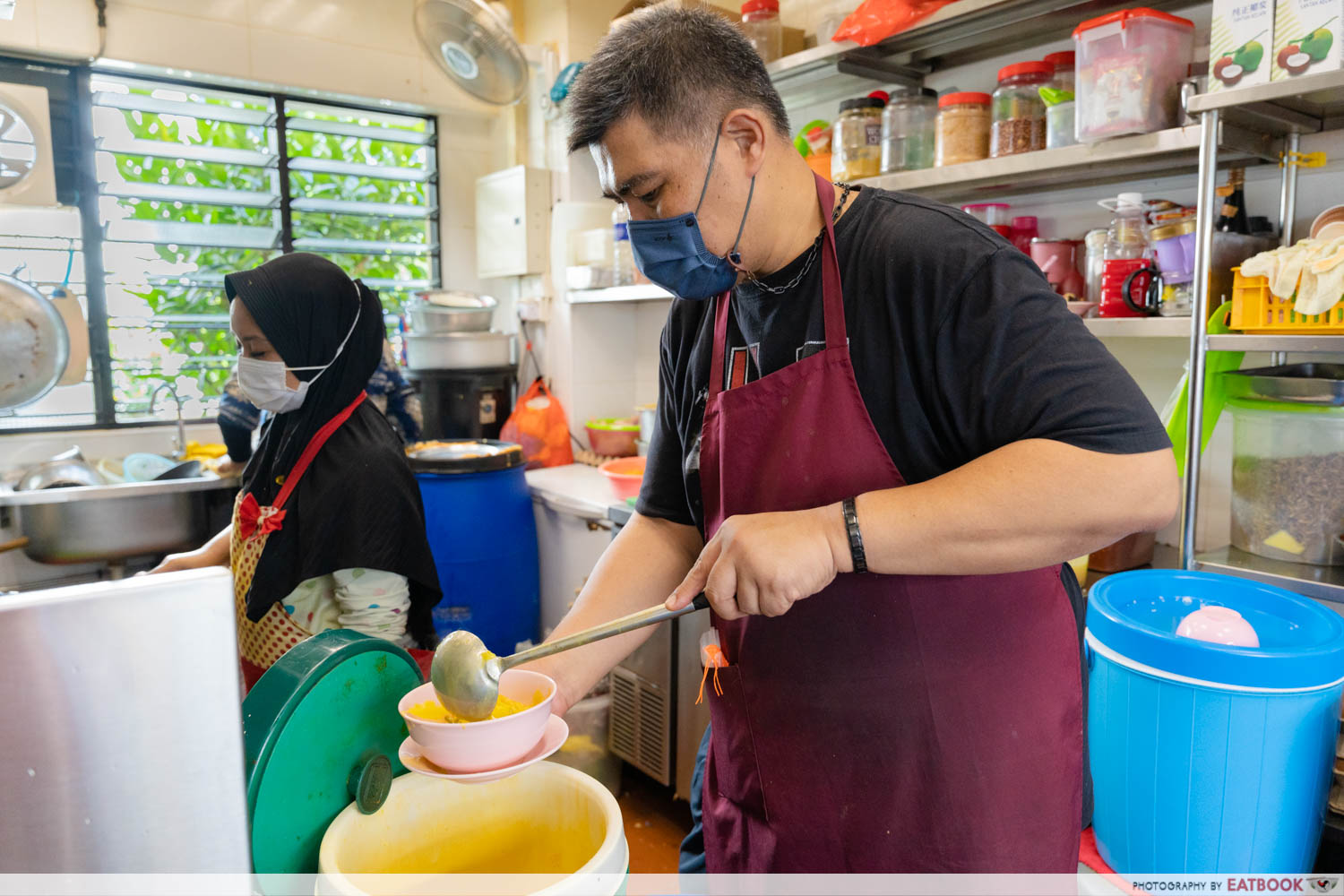 Dapur Hassan has tasty dishes that would suit anyone looking to enjoy simple Malay fare. I especially enjoyed the mee rebus and nasi padang! Unfortunately, I wouldn't travel down for this as the location is too inconvenient for me. Otherwise, folks who stay in Tampines can drop by for their affordably priced food. 
For more food in the hood, we have a Our Tampines Hub food guide! Alternatively, if you'd like more Malay food, read our guide to the best mee siam stalls in Singapore. 
Address: 872C Tampines Street 86, Happy Hawker, Singapore 528588
Opening hours: Tue-Sun 8am to 3pm
Website
Dapur Hassan is a Muslim-owned eatery. 
8 Mee Siam Stalls In Singapore To Try, Including $3 Mee Siam And A 40-Year-Old Recipe
Photos taken by Rifdi Syahir.
This was an independent review by Eatbook.sg
Dapur Hassan Review: $3.80 Nasi Lemak By Legendary SG Goalkeeper In Tampines
Dapur Hassan Review: $3.80 Nasi Lemak By Legendary SG Goalkeeper In Tampines -

7/10
Summary
Pros
– Tasty meals, reasonable portions
– Dishes are mostly affordable
– Beef rendang and vegetables were well-cooked
Cons
– Inconvenient location
– Fried chicken was not that flavourful
– Nasi Padang is slightly expensive
Recommended dishes: Mee Rebus ($3.80), Nasi Padang ($9.20)
Opening hours: Tue-Sun 8am to 3pm
Address: 872C Tampines Street 86, Happy Hawker, Singapore 528588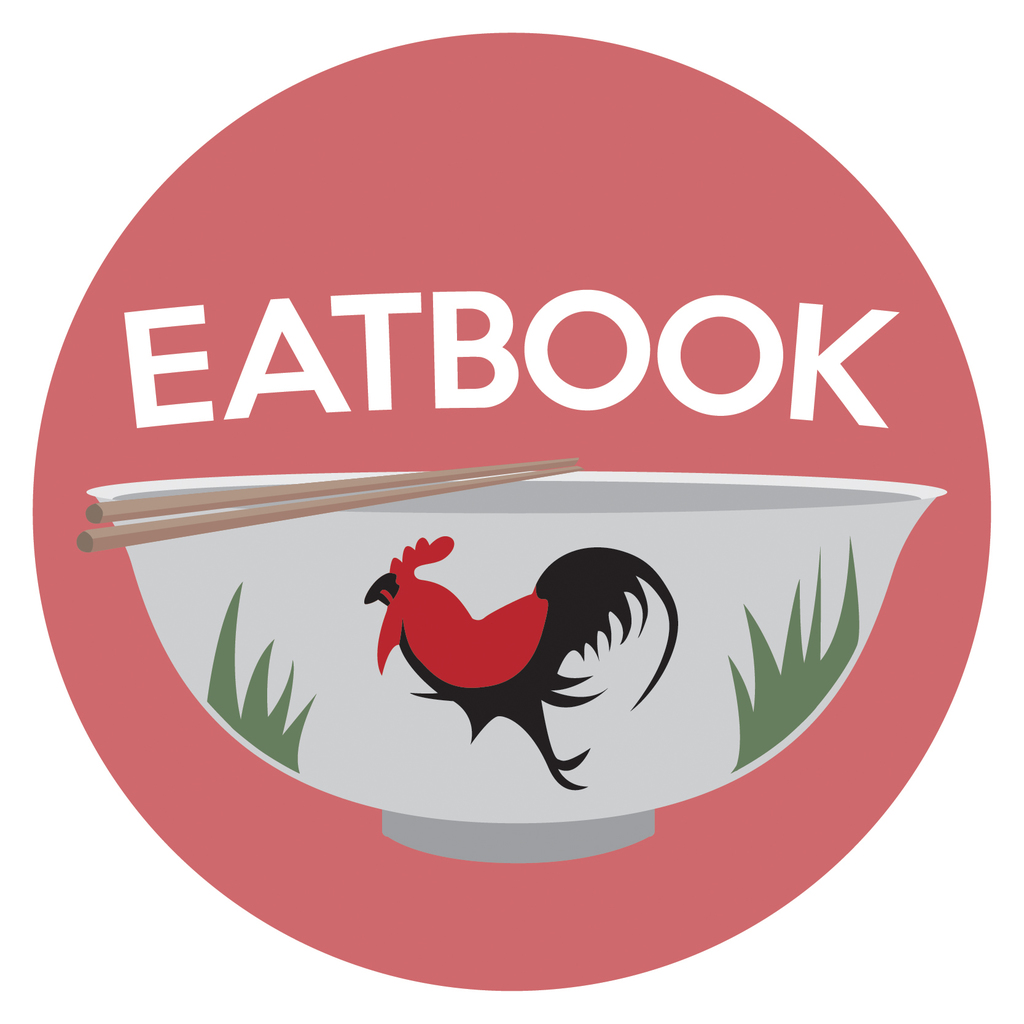 Drop us your email so you won't miss the latest news.