---
Best oat milk brands in Singapore
---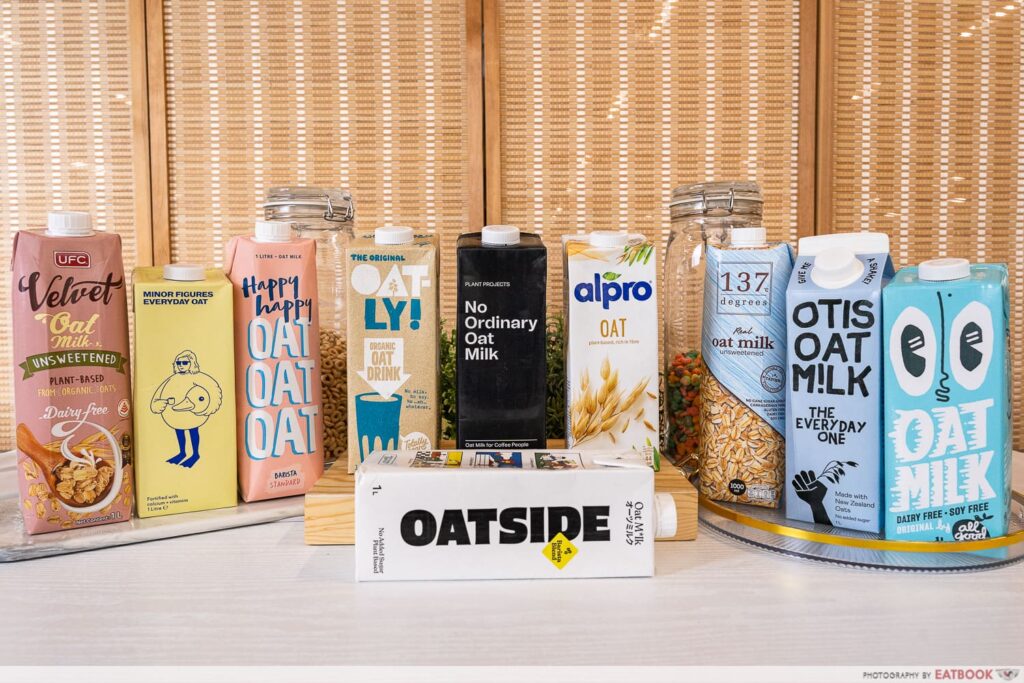 Non-dairy milk—oat milk, almond milk, soy milk and a few other iterations—has seen a steady rise in popularity in the past couple of years. Oat milk, specifically, is well-loved for its smooth and creamy body, which deems it an ideal canvas for coffee and tea. Fans rave about the nutty fragrance that's characteristic of the plant-based beverage, too. To help you sift out the brands worth trying, we've done the legwork and gathered our 10 best oat milk in Singapore, ranked by the Eatbook team.
---
The criteria
---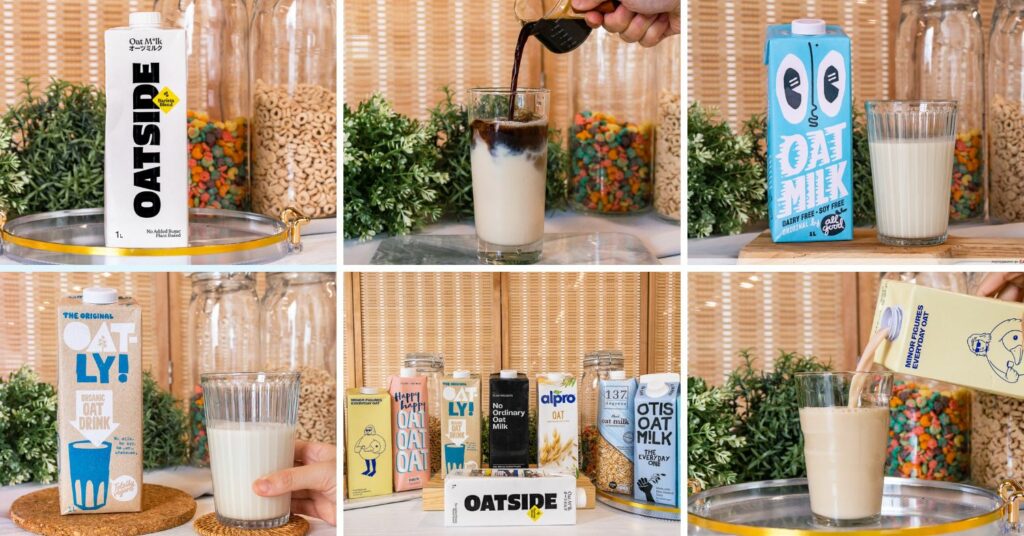 Before we get into the thick of it, I've come up with four criteria to help with the grading process.
First, the taste of the oat milk. We tasted each brand two ways: first on its own, then with coffee in the form of an iced oat latte. The oat milk should have a pleasant, natural flavour that's slightly nutty and earthy. It should not have a weird aftertaste. Next, the texture of the milk should be rich, creamy, and smooth, without any slimy or powdery mouthfeel.
Thirdly, we're looking at its compatibility with coffee, in terms of taste and texture. It should complement, instead of clash with, the coffee notes. The final aspect is value. We compared the price of each brand, relative to the amount you get in one carton.

Each category is given a maximum of 5 points, for a total of 20, which is then converted to a percentage score.
We only tested the original, unsweetened flavour of each brand to ensure a fair and consistent ranking. For brands that only offered a barista-standard version, that was what we went for. After narrowing down the top five brands, we gathered a panel from the team to do a blind taste test.
---
10. All Good Original Oat Milk, $6.55
---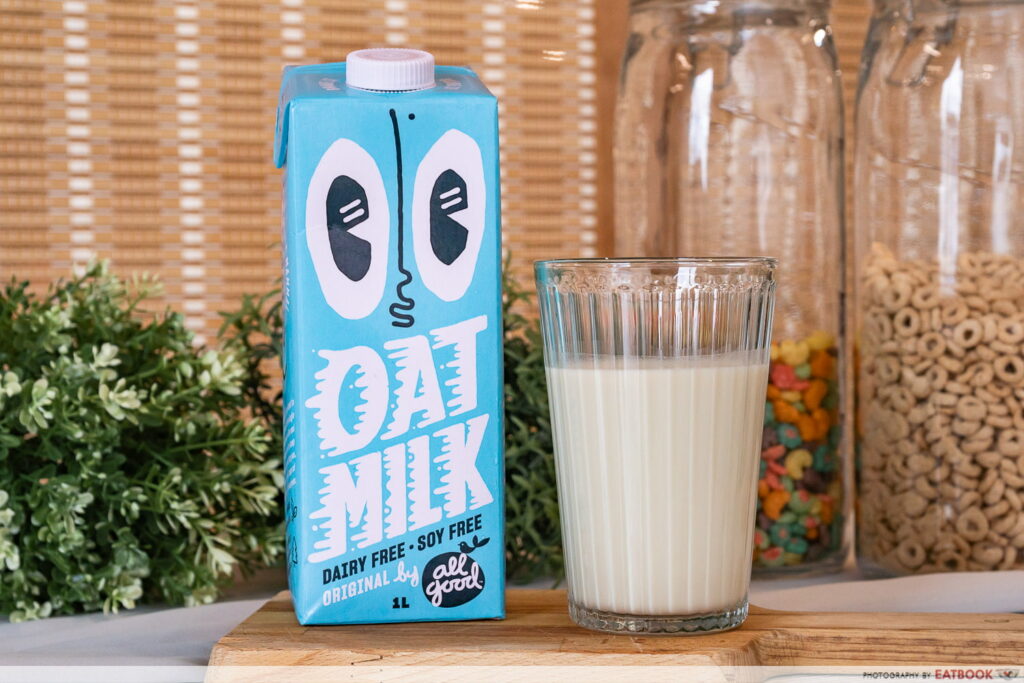 All Good Oat Milk from New Zealand fell short in terms of taste and texture. At first glance, this oat milk had a pale greenish shade, which was already odd to us. My first sip was an unpleasant one—this milk had a weird aftertaste that was almost bitter. It was also rather thin in consistency as compared to the others, lacking that smooth mouthfeel and rich body I was looking for. Just as I suspected, this oat milk did not go well with our Nespresso coffee at all.
Upon some digging, I found a review on Redmart agreeing with my point about the oat milk tasting bitter. All Good's barista version, on the other hand, has glowing reviews online, so I'll probably give that a shot next time.
Taste: 2.5/5
Texture: 2/5
Compatibility: 2/5
Value: 2.5/5
Total: 45%
---
9. Alpro Original Oat Milk, $6.04
---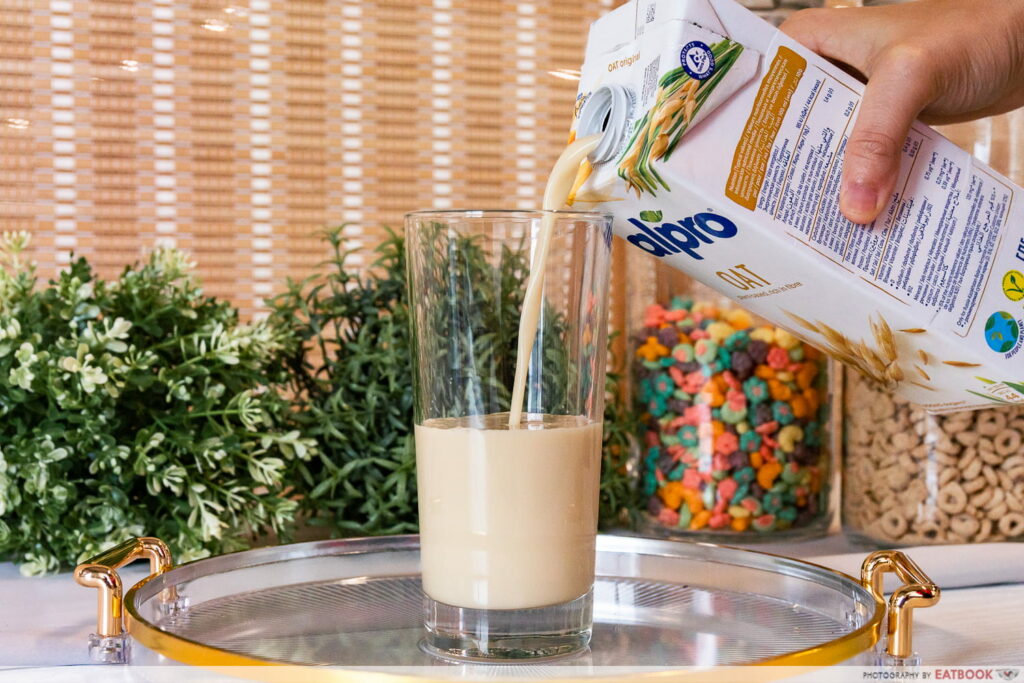 Alpro is one of the OGs of plant-based dairy, having been around since the 1980s. Unfortunately, their Original Oat Milk just didn't make the mark. To start, there was barely any oat flavour or fragrance discernible. Then, I was thrown off by the borderline slimy texture—perhaps a by-product of the soluble corn fibre and stabilisers as seen on the ingredient list.
While it wasn't particularly offensive-tasting when paired with coffee, it wasn't smooth enough texture-wise. Maybe this oat milk is more suited for cooking or baking instead of consuming it on its own.
Taste: 2/5
Texture: 2.5/5
Compatibility: 2/5
Value: 3/5
Total: 47.5%

---
8. UFC Unsweetened Oat Milk, $5.55
---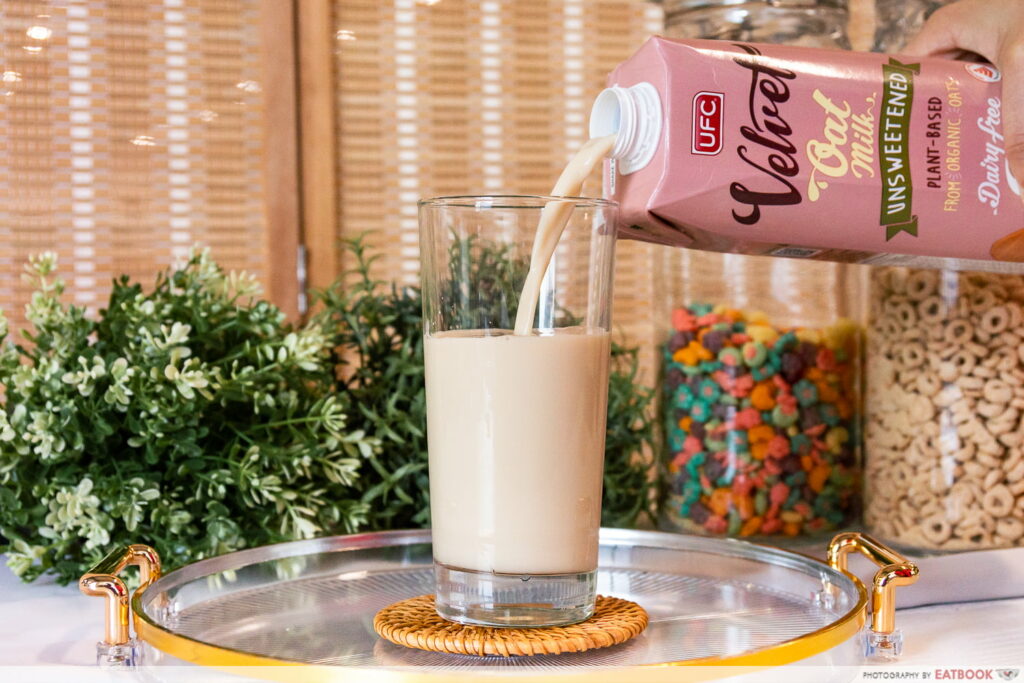 Despite being unsweetened, the Thailand-made oat milk was slightly sweet on the palate as compared to the rest. This sweetness hit us right away before dissipating to a weird aftertaste. On its own, it was not as smooth as I'd like it to be and left a strange coating on my tongue.
On a brighter note, it wasn't terrible with coffee as some of that sweetness helped to tone down the bitter notes of my strong brew. But in terms of creating a smooth and creamy beverage, this wasn't the best combination. Nonetheless, at $5.55 per litre, this was the cheapest oat milk on our list.
Taste: 2.5/5
Texture: 2/5
Compatibility: 2.5/5
Value: 3.5/5
Total: 52.5%
---
7. Oatly Organic Oat Drink, $6.50
---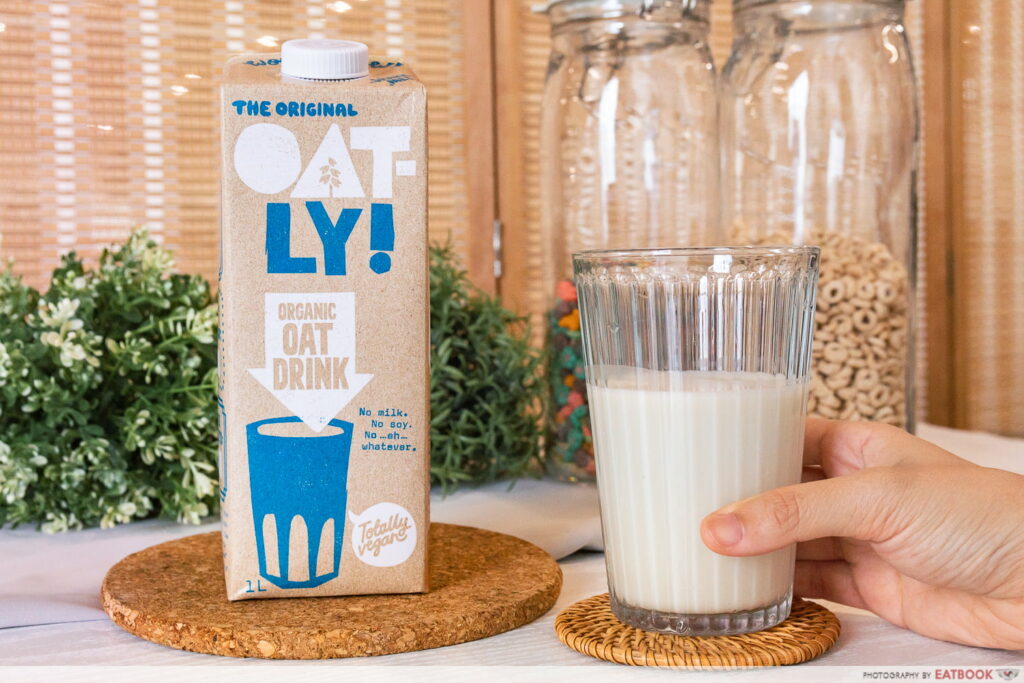 Oat milk giant Oatly has quite a cult following, having been around for over 20 years. I recalled enjoying their Barista Edition a while back, so I was stoked to try something else from their range.
To clarify, the original Oatly Oat Drink was sold out when we were doing this taste test, so we had to get the organic version. We did try the former shortly after and found it to be similar to the latter, though.
If you like your milk mild with a delicate oat fragrance, this would be right up your alley. While Oatly's flavour was inoffensive, I felt that it tasted rather flat. I would have preferred if there were more malty notes from the oats. Also, I found it to be on the thinner side, though it held up ok against the strong espresso.
Taste: 3/5
Texture: 2.5/5
Compatibility: 3/5
Value: 2.5/5
Total: 55%
---
6. Otis Oat Milk The Everyday One, $6.70
---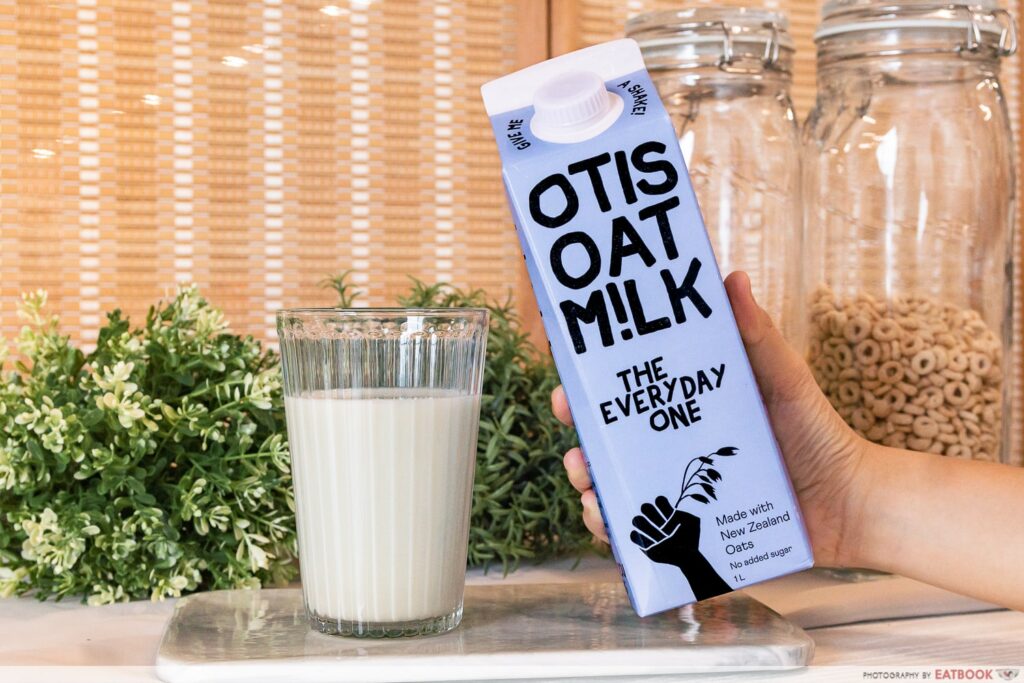 I remembered trying and liking the barista version of Otis Oat Milk after spotting it in Sheng Siong a while ago. I'm glad to say that their original rendition, The Everyday One, fared decently in this test.
Right off the bat, this milk tasted much better than the aforementioned brands—this reflects in Otis' final score, a significant jump from the previous names. It had a naturally sweet and malty flavour from the oats, which I liked. While it sweetened my coffee a tad, I didn't mind that at all, as it didn't clash but instead complemented the full-bodied espresso. The creaminess of the oat milk was just right for me, though some might prefer it richer.
This wasn't the cheapest option out there, but you can get it for as low as $5.10 a litre when there's a sale!
Taste: 3.5/5
Texture: 3/5
Compatibility: 3.5/5
Value: 2.5/5
Total: 62.5%
---
5. Happy Happy Oat Oat Oat, $6
---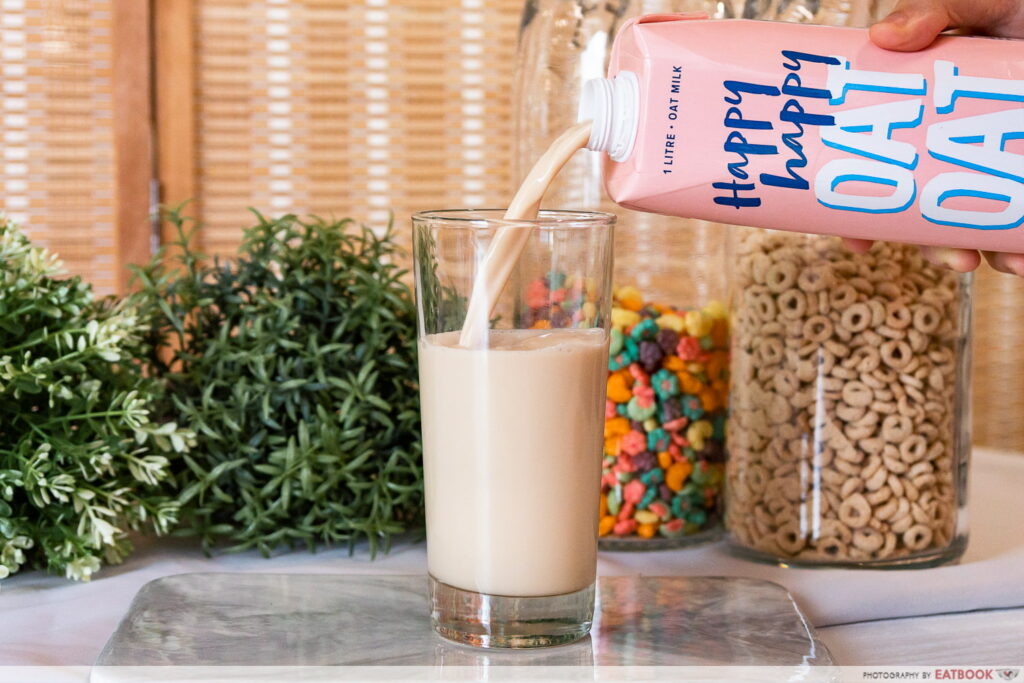 Happy Happy Oat Oat Oat was probably the darkest oat milk we tried on our shoot. The Thai brand only sells one version, which is also said to be barista-approved.
The panel was split on this. I found it interesting that there were divided responses—this just goes to show how individuals can have vastly different taste preferences! Two panellists said there was an almond-like aftertaste, while another person said she enjoyed the "milky" flavour and texture. One wasn't a fan of this milk, both with and without coffee.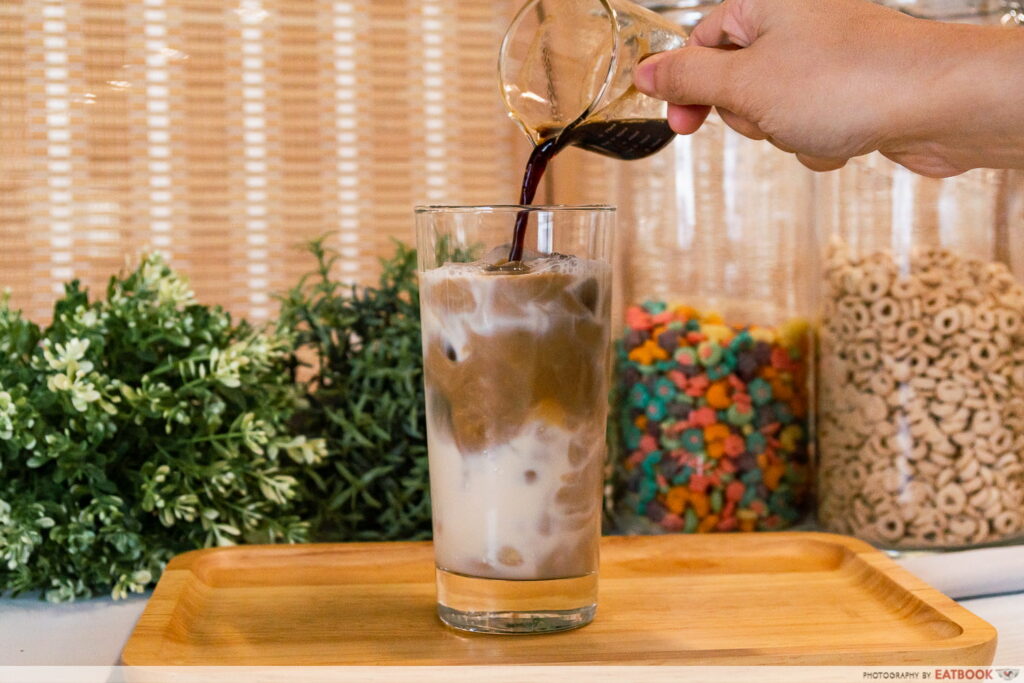 Personally, I enjoyed its malty taste, but some might find it overpowering. I also liked how it didn't have a distinct smell, and was rich enough to hold up against the strong espresso.
Taste: 3.5/5
Texture: 3.5/5
Compatibility: 3.5/5
Value: 3/5
Total: 67.5%
---
4. Minor Figures Everyday Oat Milk, $6.45
---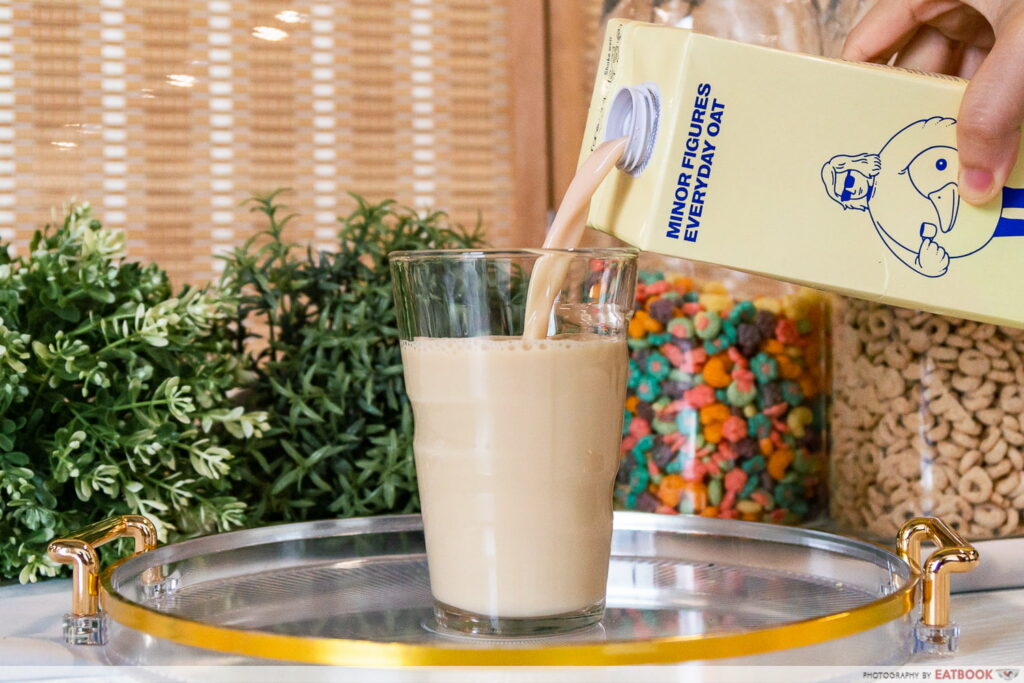 If you prefer something a little less malty and more balanced, try Minor Figures Everyday Oat Milk, which is tied with Happy Happy Oat Oat Oat. This had a milder oat flavour that wasn't as intense, so it might work better with your coffee.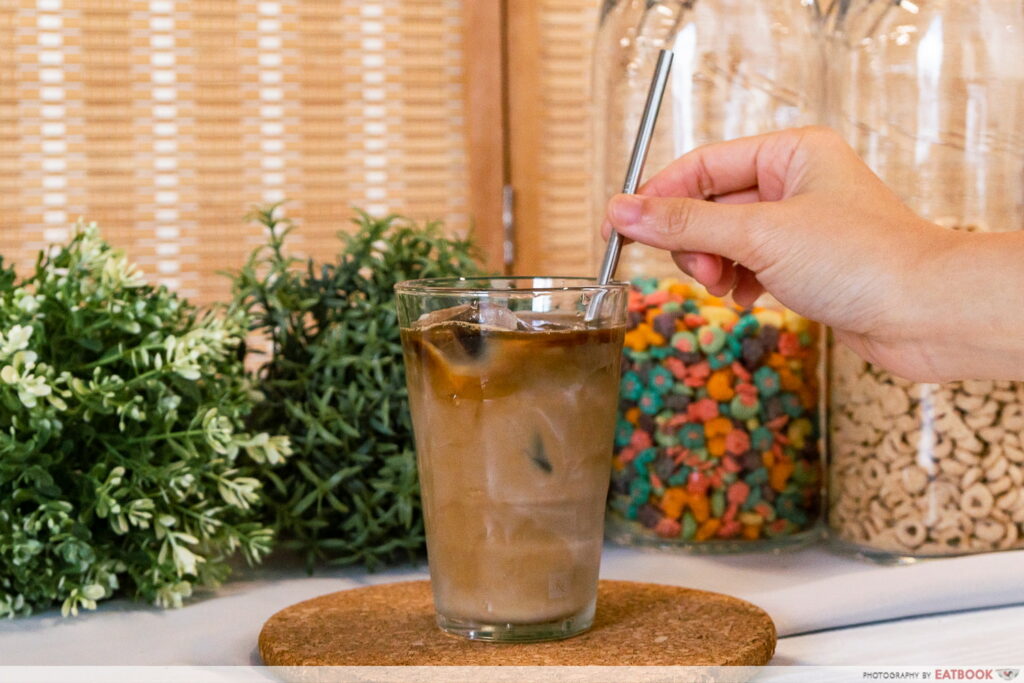 It was creamy with a natural sweetness from the oats, but I found myself wishing it was a tad smoother. While the panel unanimously agreed that this tasted fine as an iced oat latte, I would recommend their barista-standard version instead as it has a richer body, from my past experience.
Taste: 4/5
Texture: 3/5
Compatibility: 4/5
Value: 2.5/5
Total: 67.5%

---
3. 137 Degrees Oat Milk Unsweetened, $7.10
---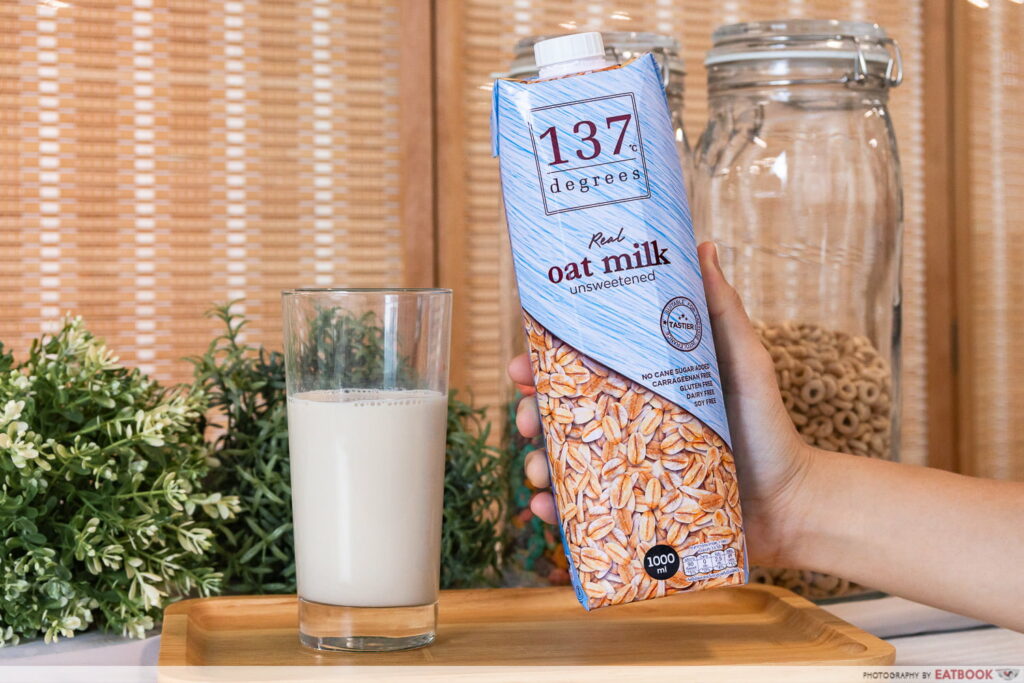 I'm a huge fan of Thai beverage brand 137 Degrees' range of nut milks, so when I saw that they also make an oat beverage, I knew we had to include it on the list.
A disclaimer: this oat milk tasted the most different from all the other brands we tried. There was that distinct creaminess we were looking for, but the real star here was its super malty flavour. Everyone on the panel agreed that this had a Horlicks-like taste and faint sweetness that's reminiscent of cereal-soaked milk—yum.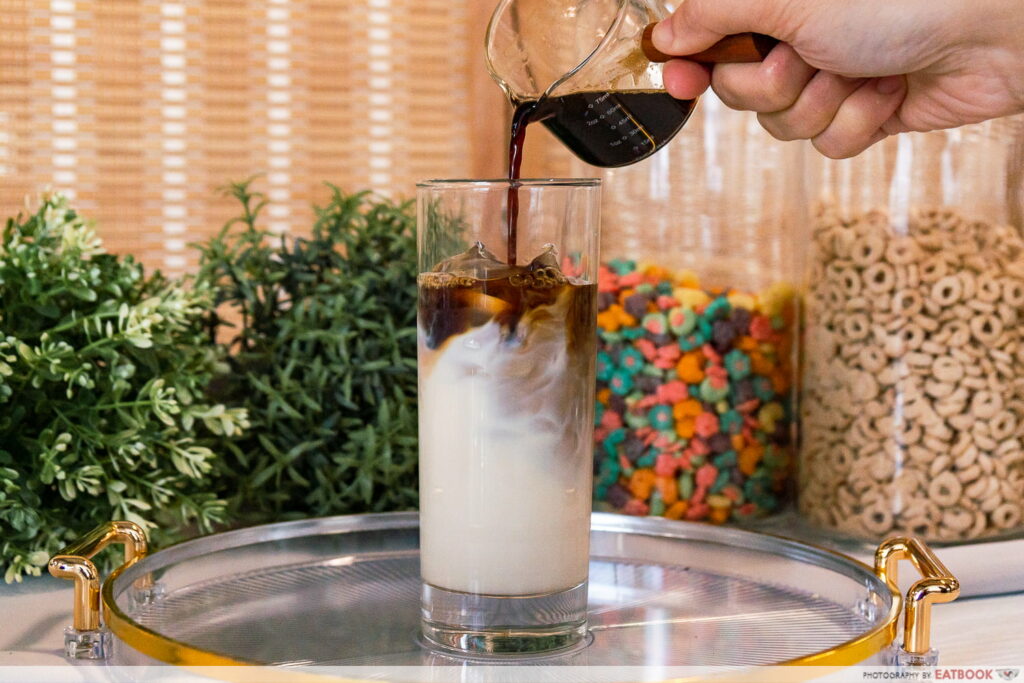 We all enjoyed the milk on its own, but a panellist mentioned that she didn't particularly like it when paired with coffee, as its flavour was too strong. On the contrary, I didn't mind it as I'm a fan of the malty richness.
Taste: 4.5/5
Texture: 3.5/5
Compatibility: 3.5/5
Value: 2.5/5
Total: 70%
---
2. Plant Projects No Ordinary Oat Milk, $6.57
---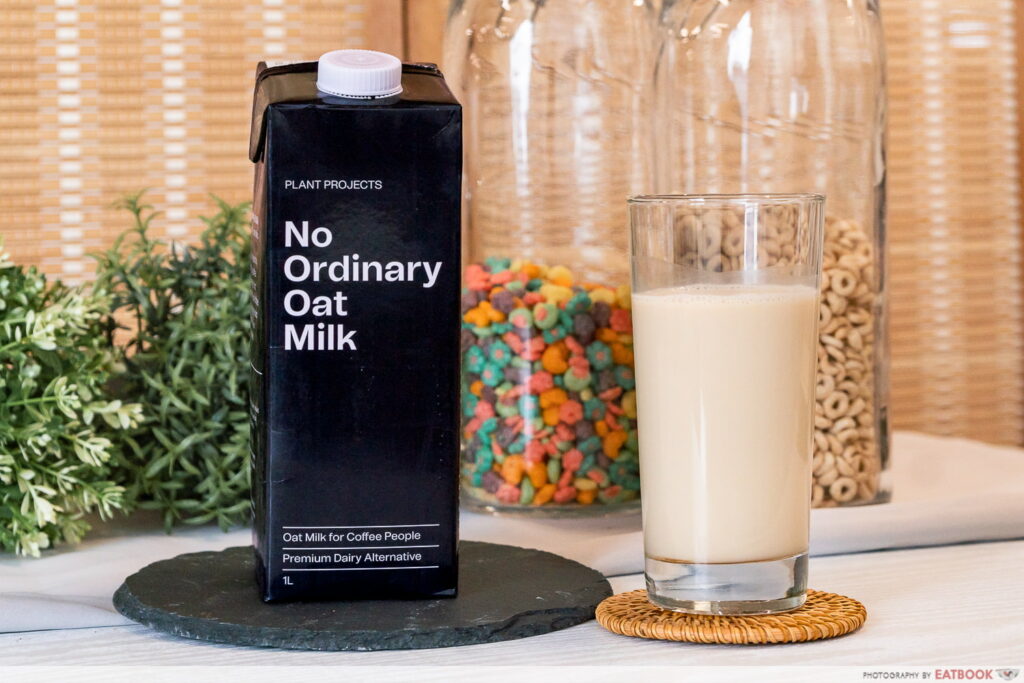 Australian brand Plant Projects' No Ordinary Oat Milk stands out for its simple yet bold black packaging. The oat milk is touted as a premium dairy alternative that's a step up from its counterparts, promising a smooth and creamy beverage that goes exceptionally well with coffee.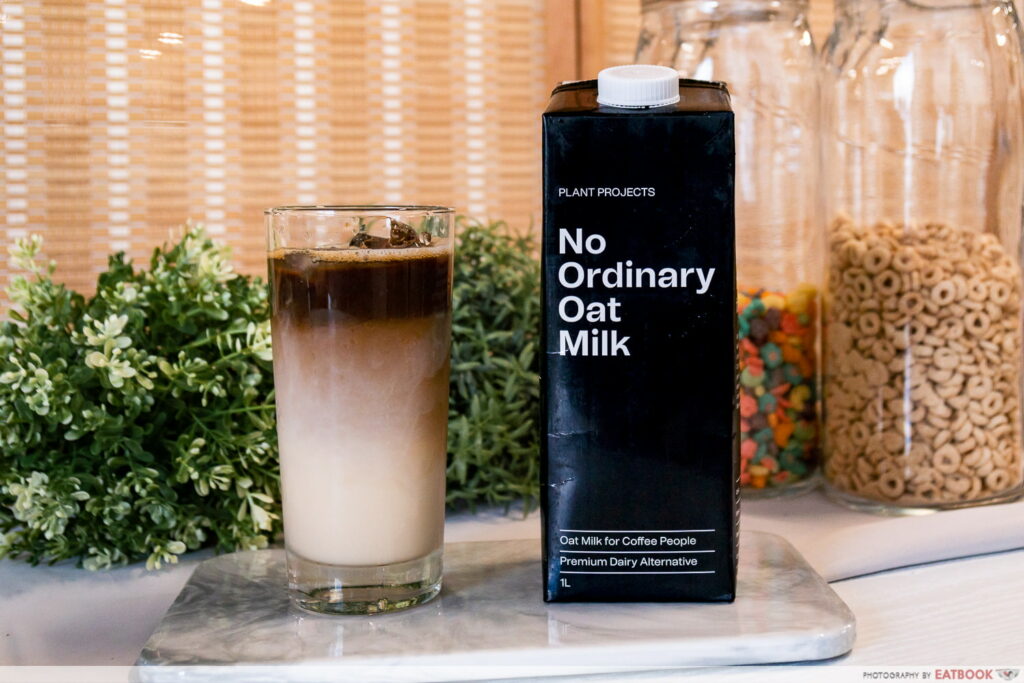 The panel agreed that this oat milk was indeed very creamy with a full body. This was also one panellist's favourite brand as she was a fan of its oat flavour.
On its own, I found it easy-drinking and fairly smooth. There was a comment from the panel that this oat milk had a slight graininess with coffee, but I disagreed with that. Perhaps we'd left the milk sitting for too long, which resulted in some sediments forming at the bottom of the cup—a totally normal occurrence. This wasn't a dealbreaker for me, but in hindsight, it might work better frothed up for a hot latte instead of an iced coffee.
Taste: 4.5/5
Texture: 4/5
Compatibility: 4/5
Value: 2.5/5
Total: 75%
---
1. Oatside Oat Milk – Barista Edition, $6.06
---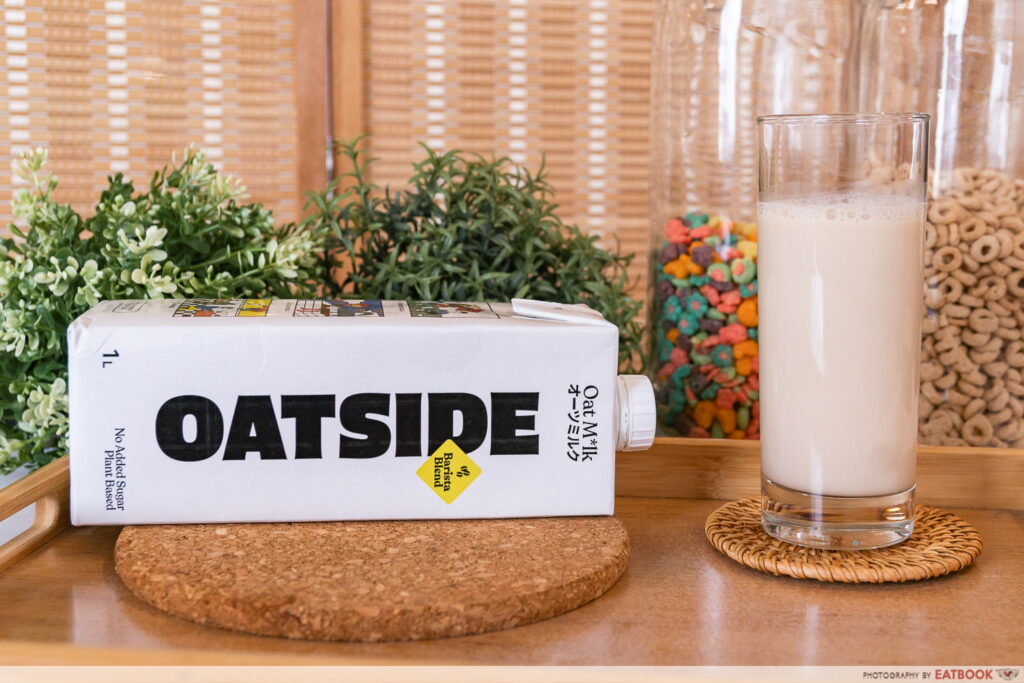 Coming in at the top spot is Oatside Oat Milk. This wasn't a surprise to any of us because the brand is so well-loved across the island— on Redmart it's rated 4.9/5 with close to 600 reviews.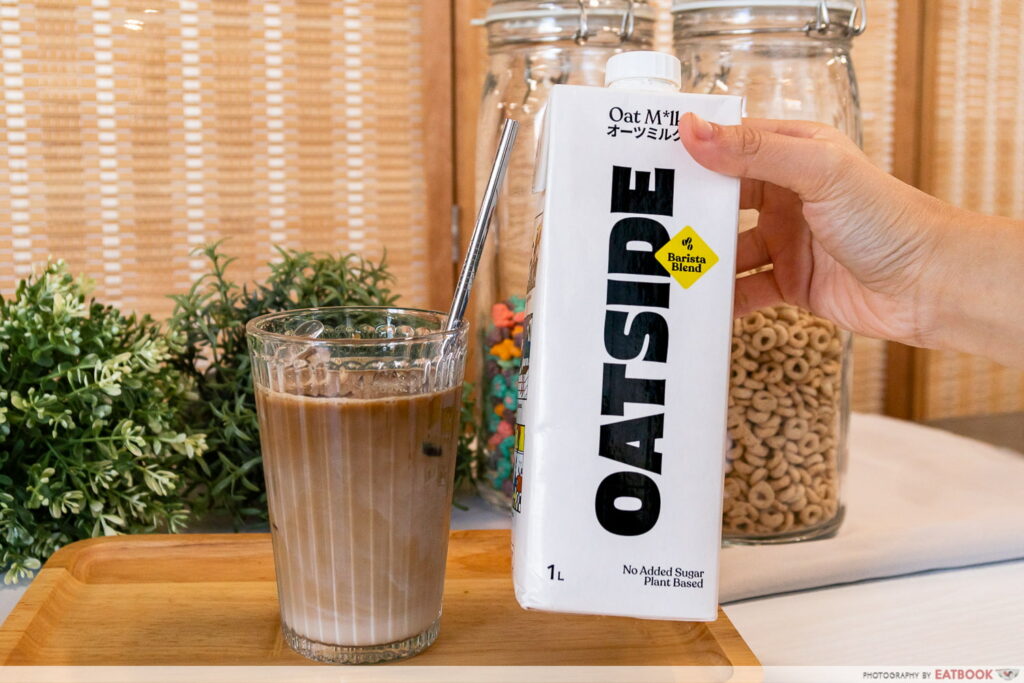 This milk scored on all fronts: taste, texture, and compatibility with coffee. It had a natural earthy sweetness that made it irresistible even on its own, with a rich and full-bodied creaminess that paired extremely well with the espresso. Although Oatside was the sweetest one on the list—strangely, there's no added sugar too—its flavour was well-balanced, making it versatile enough for different purposes.
Oatside was also highly raved across all the panellists—there wasn't a single negative comment about this oat milk.
Taste: 4.5/5
Texture: 4.5/5
Compatibility: 4.5/5
Value: 3/5
Total: 82.5%
---
Where to buy oat milk in Singapore
---
It's worth noting that taste and personal preferences are largely subjective—what one likes might not appeal to others. As with all our ranked listicles, we recommend you try out these shortlisted brands and find your personal favourite!
Before you leave, check out our full list of the best old-school waffles in Singapore, priced from just $1.30. Otherwise, we've also tested our 10 best kaya brands in Singapore, including both Hainanese and Nyonya versions!
10 Best Kaya In Singapore Ranked, Including A 98-Year-Old Bakery Brand
Photos taken by Aldrich Tan.
This was an independent review by Eatbook.sg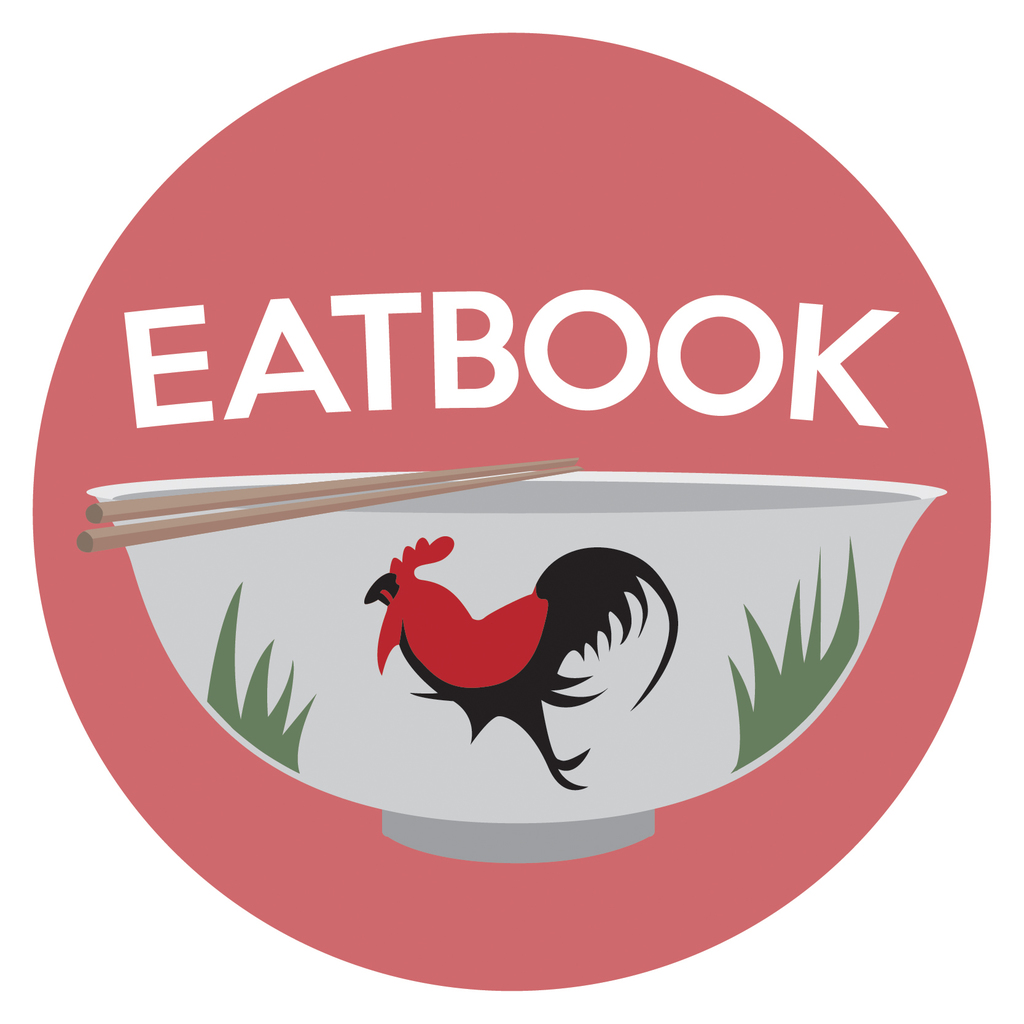 Drop us your email so you won't miss the latest news.