---
Best wedding buffet caterers in Singapore
---
Your special day should be all about you, and that includes the food you eat and the place you create an unforgettable memory with your new partner. With the number of weddings I had to attend in unique locations lately, I've also noticed a rise in buffet catering to accommodate the mass of relative strangers–and the fact that 12-course wedding banquets are really hard to hold in places such as a school canteen. In no particular order, here are 15 best wedding buffet caterers for that perfect day, no matter where you have it. 
---
 1. Amici Events and Catering
---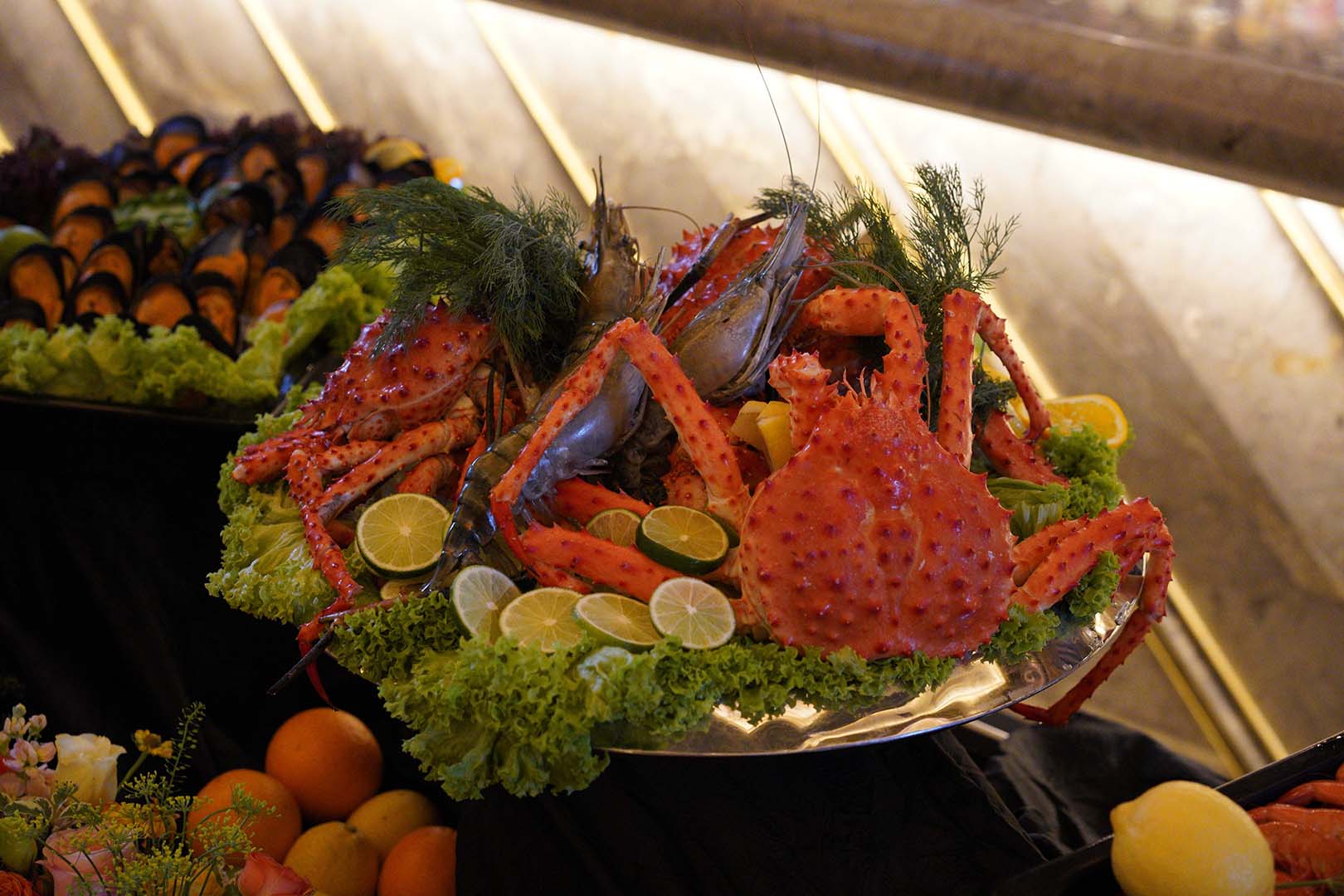 Image credit: Amici Events and Catering
Amici is an award-winning boutique caterer with a diverse range of foods, packages, and add-ons to choose from. Their cheapest wedding buffet option, Blissful, goes for $28+ per guest with a minimum of 100 guests. At that price, you get two appetisers, two rice or noodle dishes, one Asian and Western entree each, dessert, and two chilled beverages. Food offered by Amici would appeal to those with a taste for Asian cuisine: think Fried Malay-style Mee Goreng, Thai-style Pineapple Fried Rice, and their Signature Dried Laksa Thick Bee Hoon with Fishcake and Tau Pok.
Address: 8A Admiralty Street, #06-02, Singapore 757437
Tel: 6542 5679
Website
Menu
Amici Events and Catering is a halal-certified caterer. 
---
2. Elsie's Kitchen
---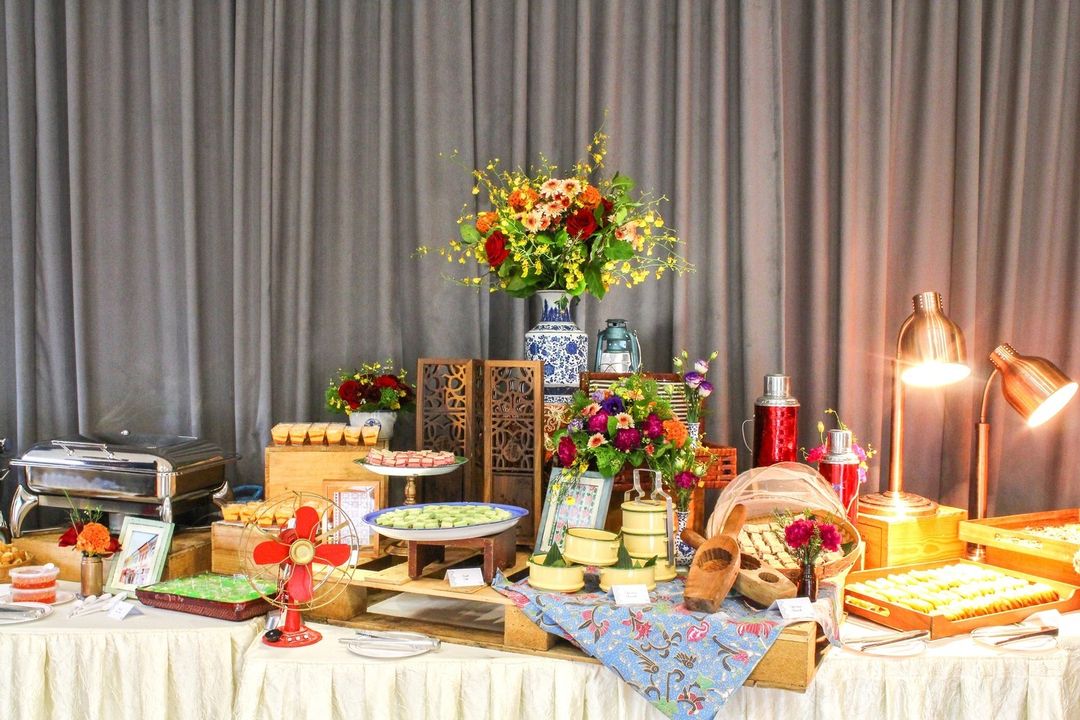 Image credit: @elsie_kitchen
Elsie's Kitchen is one of Singapore's oldest catering companies, delivering a diverse array of Asian delights for every and all occasions since 1954. Currently, this third-generation business offers a number of wedding buffets at various prices, starting from $14.50 a person for their eight-course Classic Wedding Reception buffet, to their 13 course sit-down Classic Wedding Buffet that is $69.90 a person, with a minimum headcount of 100 guests. Each package comes with an included food-tasting, buffet table set-up, and fresh flower arrangements.
As Elsie's Kitchen specialises in Asian cuisine, your choices primarily include traditional mains such as Peranakan Dry Laksa and snacks such as Soon Kueh and Deep Fried Gyoza, though they also have unique fusion items on offer such as an Otah Pizza appetiser.
Opening hours: Mon-Fri 9am to 6pm, Sat 10am to 4pm
Website
Menu
Elsie's Kitchen is a halal-certified caterer.
---
3. Chilli Api
---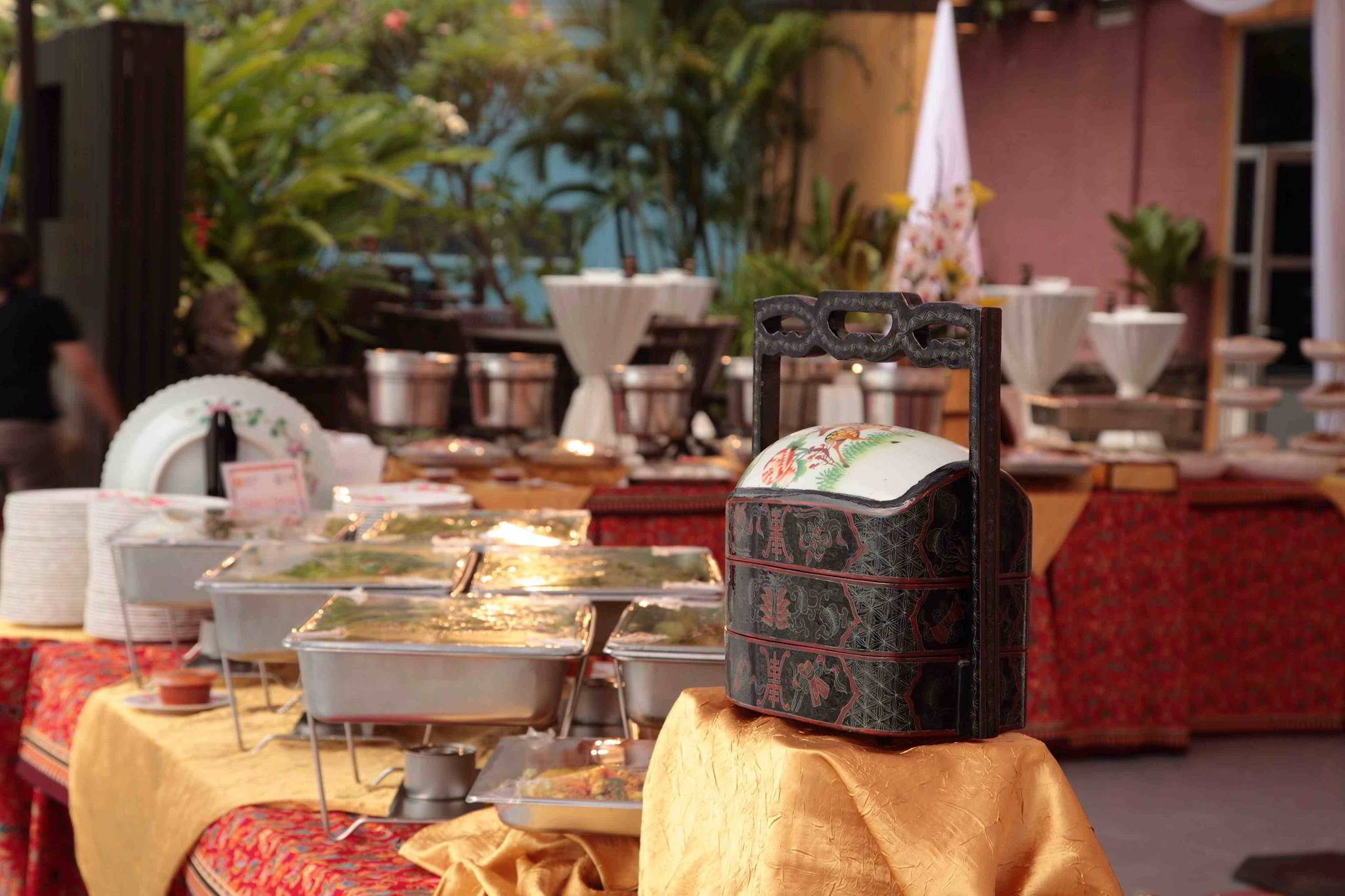 Image credit: @chilliapicatering
Chilli Api is the catering arm of Chilli Padi, a restaurant that specialises in Peranakan cuisine. They have four wedding buffet options available, starting from $19.80+ per person with a minimum of 100 people for their Modern Asian Happiness Wedding Brunch. Expect a feast of homely Nyonya food such as ayam pongteh alongside international fare including truffle Japanese pearl rice. You can also add on live-stations from $3.50 per person if you have at least 80 persons attending, with on-site chefs preparing delights from Nyonya Mee Siam to Chilli Padi's Signature Laksa Pao Fan. 
Tel: 6247 9531
Website
Menu
Chilli Api is a halal-certified caterer. 
---
4. Bellygood Catering
---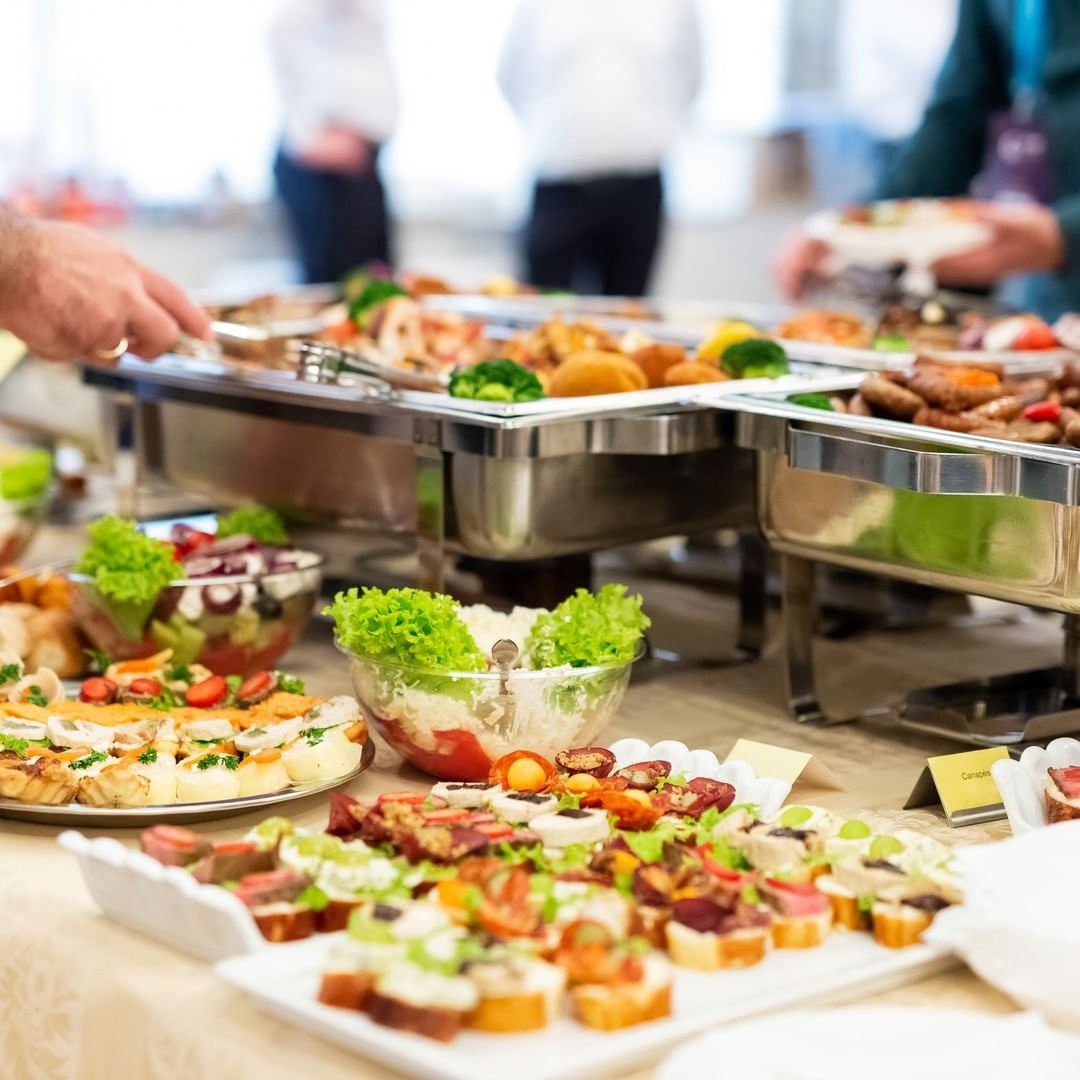 Image credit: @bellygoodcaterer
Bellygood Catering is a buffet-focused catering service under the Tunglok Group, which was pronounced Best Caterer by the Tatler Magazine in 2021. All their wedding packages come with floral decor, fully skirted tables, and a complimentary menu tasting for six people.
Prices start from $38+ for their Blissful Wedding Buffet menu, which features a primarily Asian feast with favourites such as their Signature Beef Rendang and Steamed Lotus Leaf Rice With Diced Chicken for the main course. Alternatively, go for their high tea wedding options such as the Joyous High Tea Wedding menu for $22+ per person, with a range of savoury snacks such as Tempura Prawn with Wasabi Mayo and mini Caramel Green Tea Cakes for dessert. 
Address: 26 Tai Seng Street, #02-01, Singapore 534057
Tel: 66941717
Website
Menu
Bellygood Catering is a halal-certified caterer. 
---
5. CoMoments
---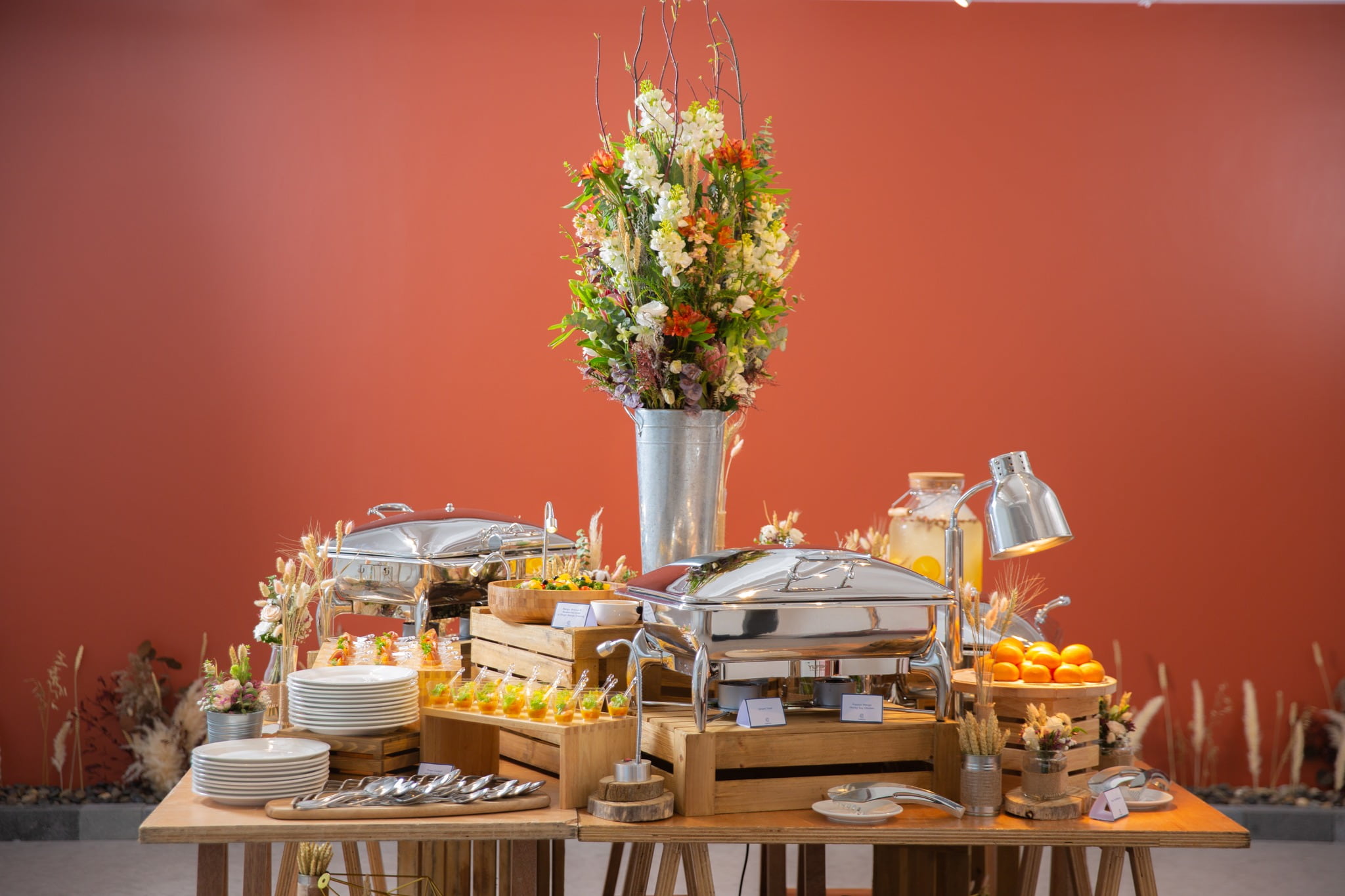 Image credit: CoMoments
CoMoments is the wedding specific branch of CaterCo Concepts, Neo Group's latest catering concept. Here, the wedding planners will work closely with you to realise your dream wedding, food included. Prices will vary depending on the food you want and the theme you're going for, but you can generally expect their buffet option to start from $18 per person, with a minimum headcount of 100 people. Dishes available include Umami Yasai, which is assorted stir-fry vegetables, and unique fusion food such as Passion Mango Honey Soy Chicken. For desserts, they offer everything from traditional kueh to an entire wall of donuts if that's what you desire. 
Tel: 6833 7997
Website 
Menu
CaterCo Concepts is not a halal-certified caterer.
---
6. OC Weddings
---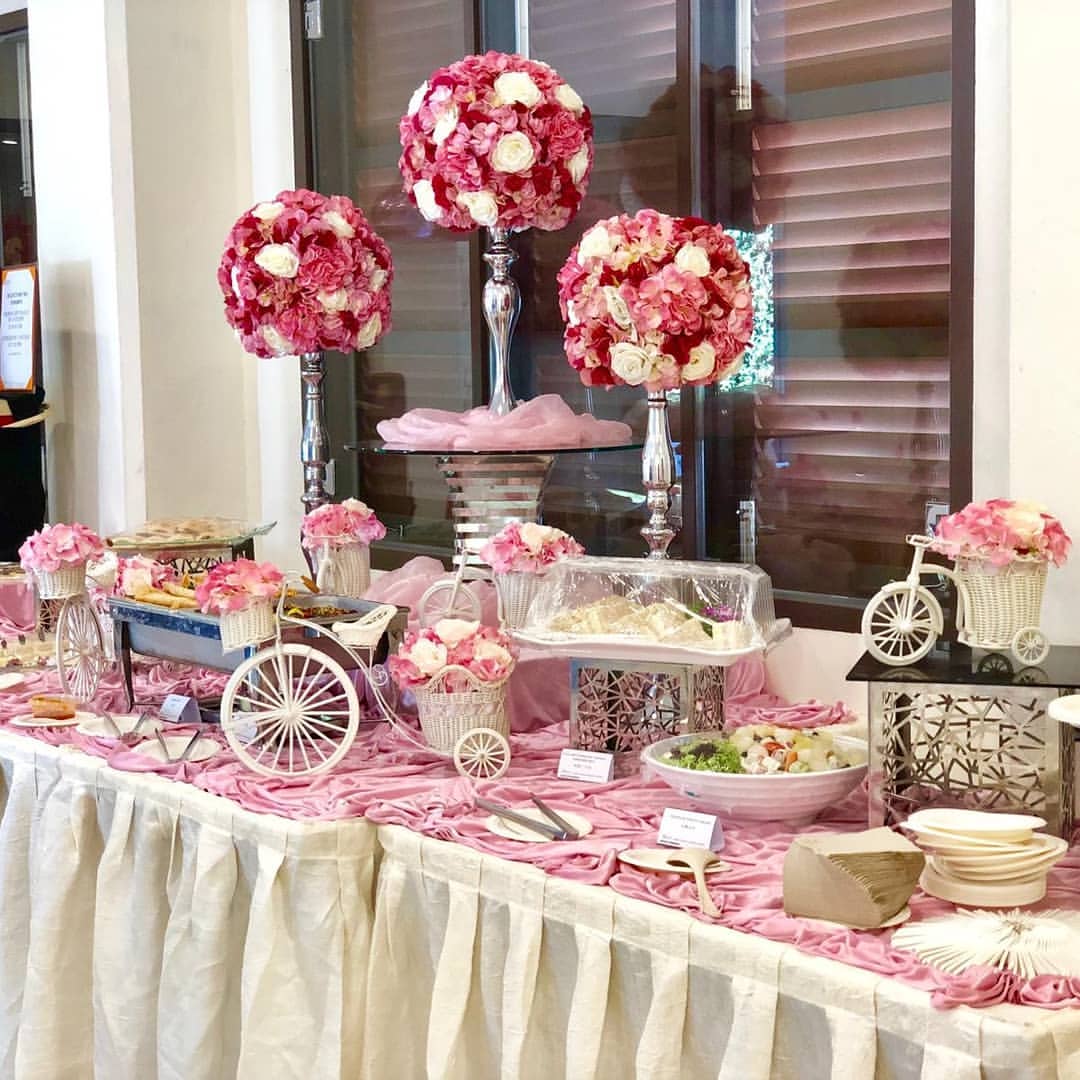 Image credit: @weddingsbyoc
OC Weddings by catering company Orange Clove offers buffet services with a number of adorable themes for you to choose from, from an all-pink affair to a rustic, vintage-Western set-up complete with a little gramophone. 
On the food side, their Sit Down Buffet Package is $72.76 per person, with a 100 guest minimum requirement. At that price, you'll have 14 dishes, two live stations, and two drinks provided. An eclectic mix of Western and Asian options are available, including Peking Duck and a Roasted Sirloin Beef carving station. More affordable are their four standing buffet options, from $19.26 per person for the Dedicated Adoration Standing Buffet Package which includes 11 dishes and one choice of beverage. Food options for the standing buffets are no less delectable, such as a Peranakan Ayam Panggang marinated in six different spices and baked New Zealand mussels.

Tel: 6515 0991
Website
Menu
OC Weddings is a halal-certified caterer. 
---
7. Stamford Catering
---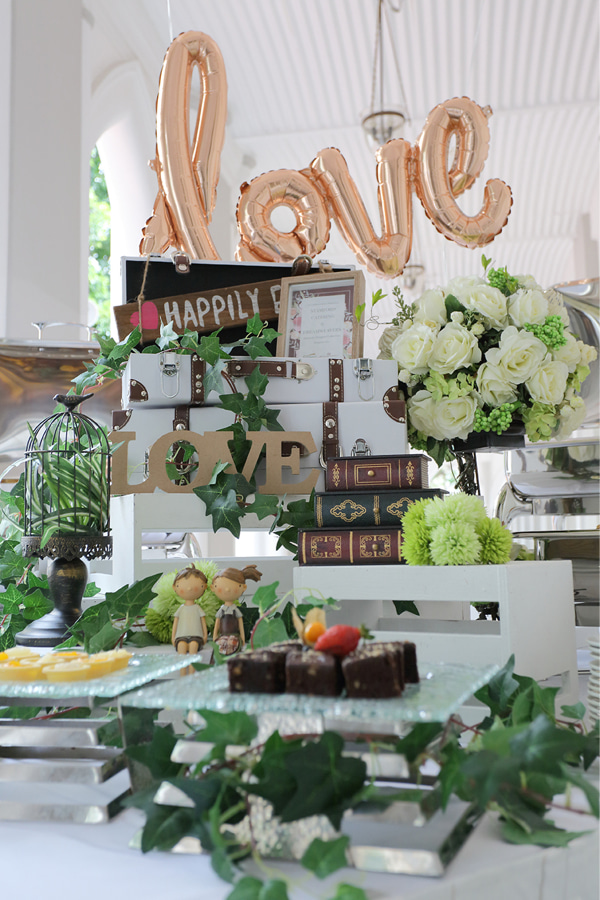 Image credit: Stamford Catering
It's hard to imagine anyone in Singapore not knowing of Stamford Catering, which has catered at  a variety of major local events such as the Youth Olympics for over 20 years. Each of their wedding buffet packages comes with a complimentary themed set-up to fit your vibe, and starts from $23.80+ per person for a classic wedding buffet. 
If you are having a smaller crowd, Stamford Catering also offers intimate wedding buffets that cater to as few as 20 people at affordable prices. Their Adoring Love Wedding Buffet for example goes for $18+ per person with a minimum of 30 people, with 10 fulfilling courses such as their Signature Wok-Fried Rice With Silver Fish, Fragrant Oat Cereal Prawn, and Chilled Cheng Tng With Snow Fungus And Longan for dessert. 
Address: 24A Senoko South Road, Singapore 758099
Tel: 6852 3338
Website
Menu
Stamford Catering is a halal-certified caterer. 
---
8. Four Seasons Catering
---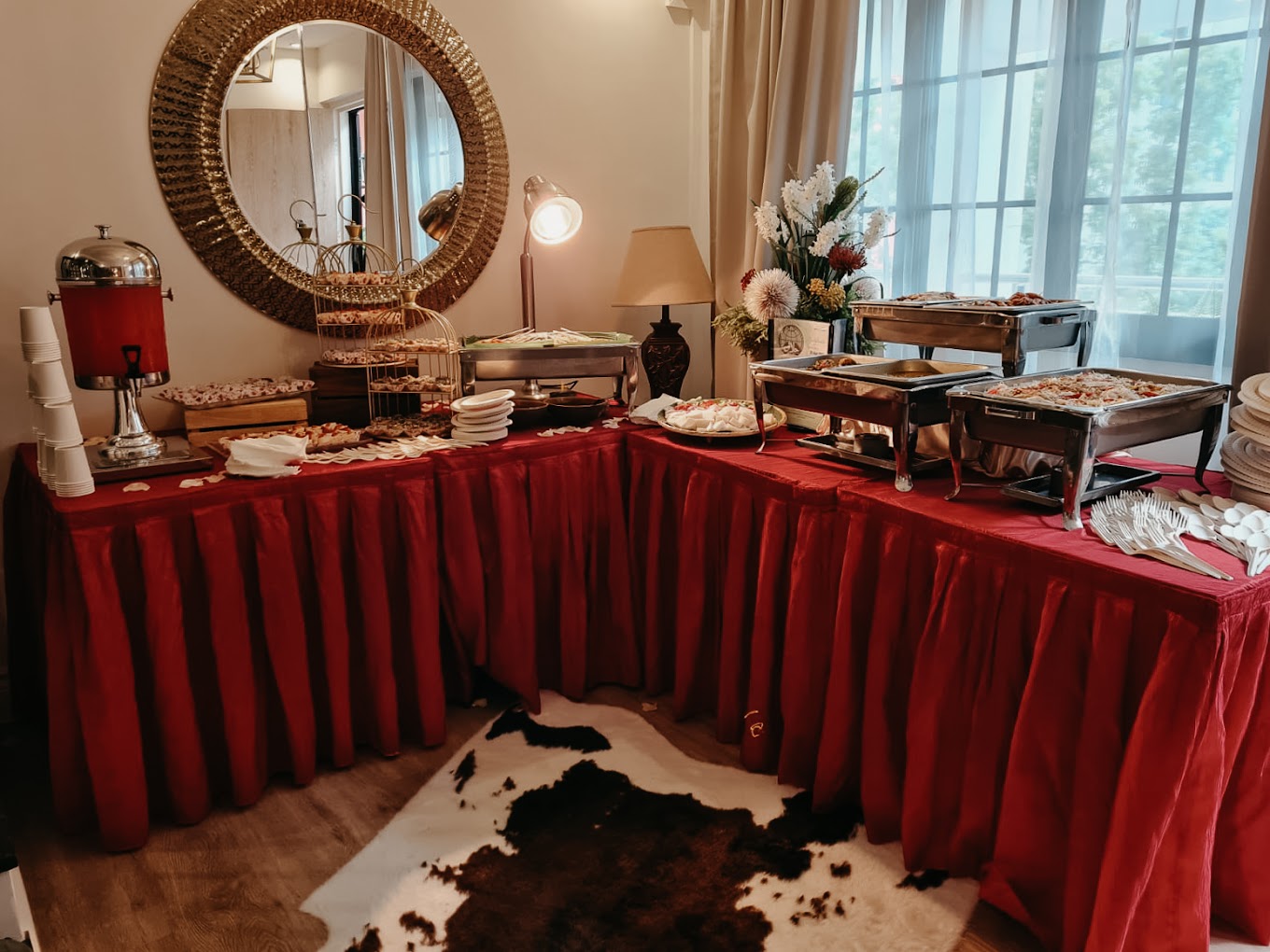 Image credit: Four Seasons Catering
Four Seasons Catering is another household name you'll have heard about, providing an extensive menu of local and international cuisine to all sorts of events since 1994. One of the best wedding buffet caterers for those on a budget, their buffet options are named after seasons, with the Spring Buffet going for an extremely affordable $11.90+ per person, for a minimum order of 50 persons. You get eight courses for your buffet, but each course has three to five options for you to choose from, making this one of the most affordable and customisable buffet options around. Food offered mostly leans towards local cuisine, such as assam fish, chicken rice, and nasi goreng.
Address: 39 Mactaggart Road, Singapore 368084
Tel: 6383 3003
Website
Menu
Four Seasons Catering is a halal-certified caterer.
---
9. Sakura Forte
---

Image credit: Sakura Forte
Sakura Forte is a halal-certified catering company that uniquely offers a sushi corner with either of their wedding buffet packages. Other than Japanese food such as udon, tori yaki, and mochi, the menus also have mains suited for local tastes including laksa and Cantonese-style steamed fish. The Eternal Love buffet goes for $39.90+ a head, while the Blissful Love buffet is $58.80+ a head.
Tel: 9299 0880
Website
Menu
Sakura Forte is a halal-certified caterer. 
---
10. Grain
---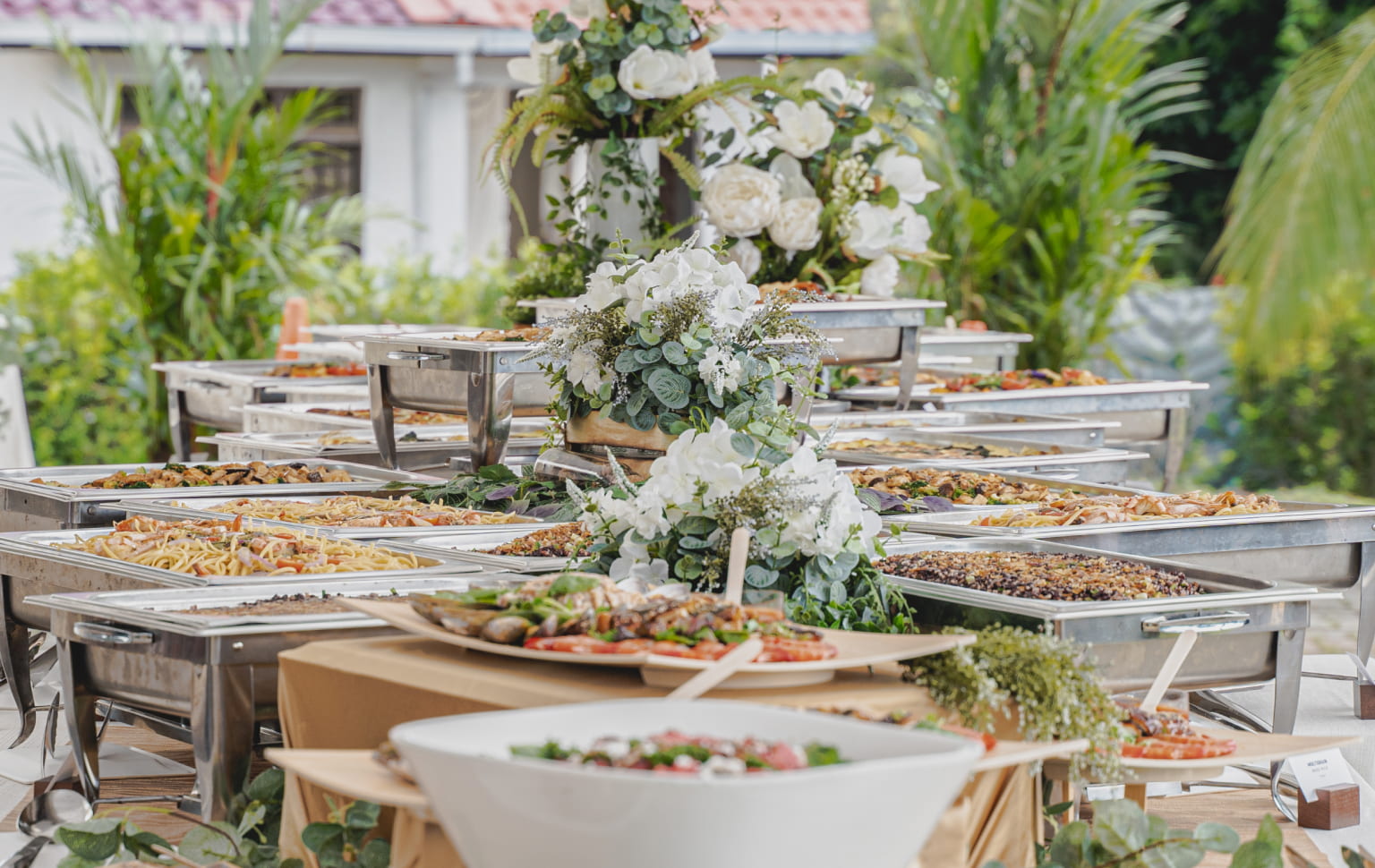 Image credit: Grain
Grain is a catering company that seeks to make healthy food delicious with their specially curated meals. Their Classic Wedding Buffet goes from $19.98+ per guest, and features a spread of Grain's most popular dishes set up for at least 30 of your closest friends and family to enjoy. If you prefer a more intimate event, Grain caters to that too with their Mini Buffets, designed for as little as 10 people with eco-friendly plates and cutlery. You can expect a wide range of unique meals to offer your guests, such as Tuscan Garlic Cream White Fish, Tomato Tri Colour Quinoa Black Rice, and Cajun Chicken Ragu. 
Address: 5 Burn Road, Singapore 369972
Tel: 3163 5336
Website
Menu
Grain is a halal-certified caterer. 
---
11. Rasel
---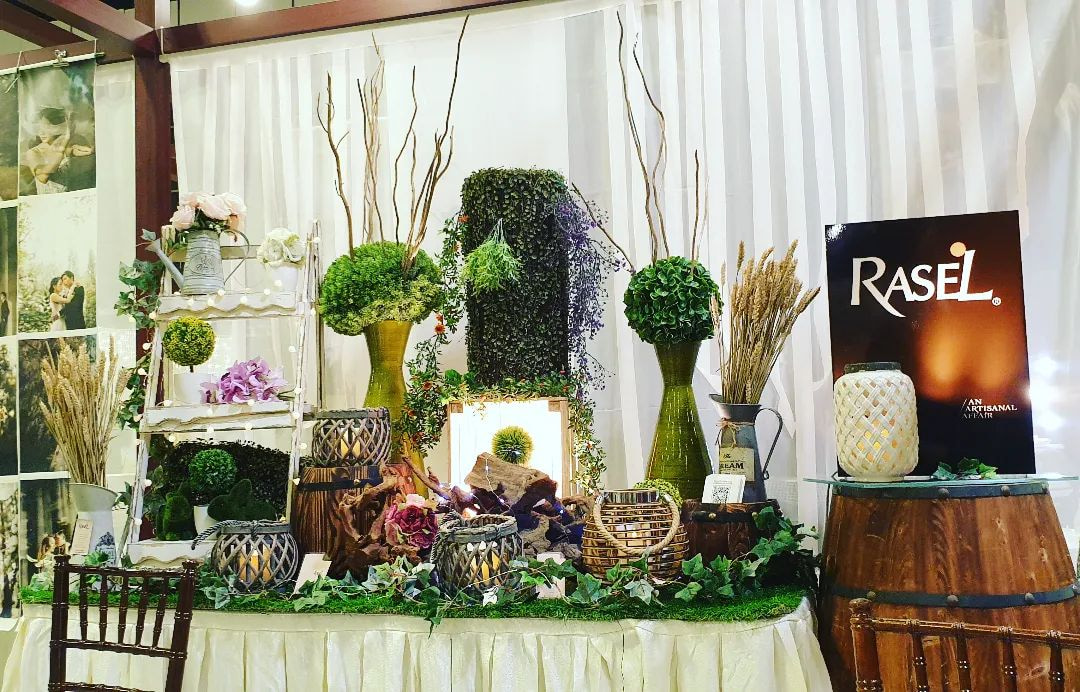 Image credit: @raselcateringsg
Rasel specialises in elaborate but tasteful buffets with gorgeous themed set-ups and a diverse menu. No matter what theme or where you hold your wedding feast, this caterer is sure to help you host it in style. Their most affordable buffet, LUSH, is priced at $22+ per person, with a minimum requirement of 200 persons. At that price, you get 12 courses and a beverage, including one DIY specialty corner that offers Kampong-Style Mee Siam With Gravy. Other items on the menu include Western delights such as Italian Chicken Cacciatore and Baked Turkish Rice. You also have the option of adding extra live stations and canapes on request. 
Address: 253 Pandan Loop, Singapore 128432
Tel: 6690 4508
Website
Menu
Rasel is halal-certified.
---
12. Purple Sage
<hr/ >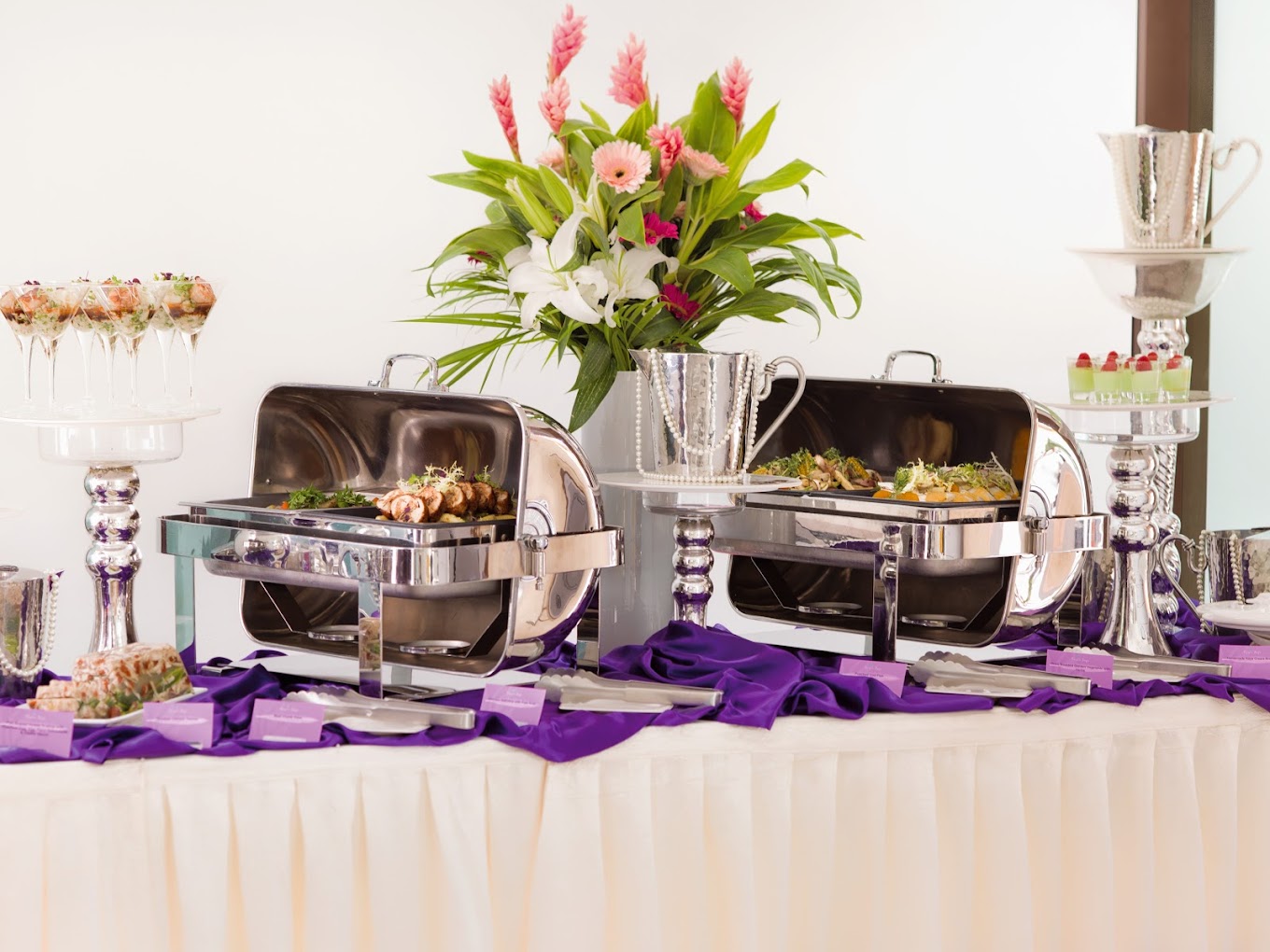 Image credit: Purple Sage
As a leading boutique caterer in Singapore, the wedding buffets offered by Purple Sage are nothing short of exquisite. Their Classic Brunch starts from S$27.86+ per person, featuring mains such as Baked Five Spiced Marinated Chicken, Mediterranean Style Tomato Rice With Herb, and Prawn Fritters With Citrus Lime Chilli. Each package comes with biodegradable serving plates and cutlery as well as your choice of Purple Sage's stunning wedding themed decor. 
Address: 157 Pandan Loop, Singapore 128355
Opening hours: Mon-Fri 9am to 6pm, Sat 9am to 1pm
Tel: 6396 6990
Website
Menu
Purple Sage is not a halal-certified caterer. 
---
13. Hungry Indian Catering
---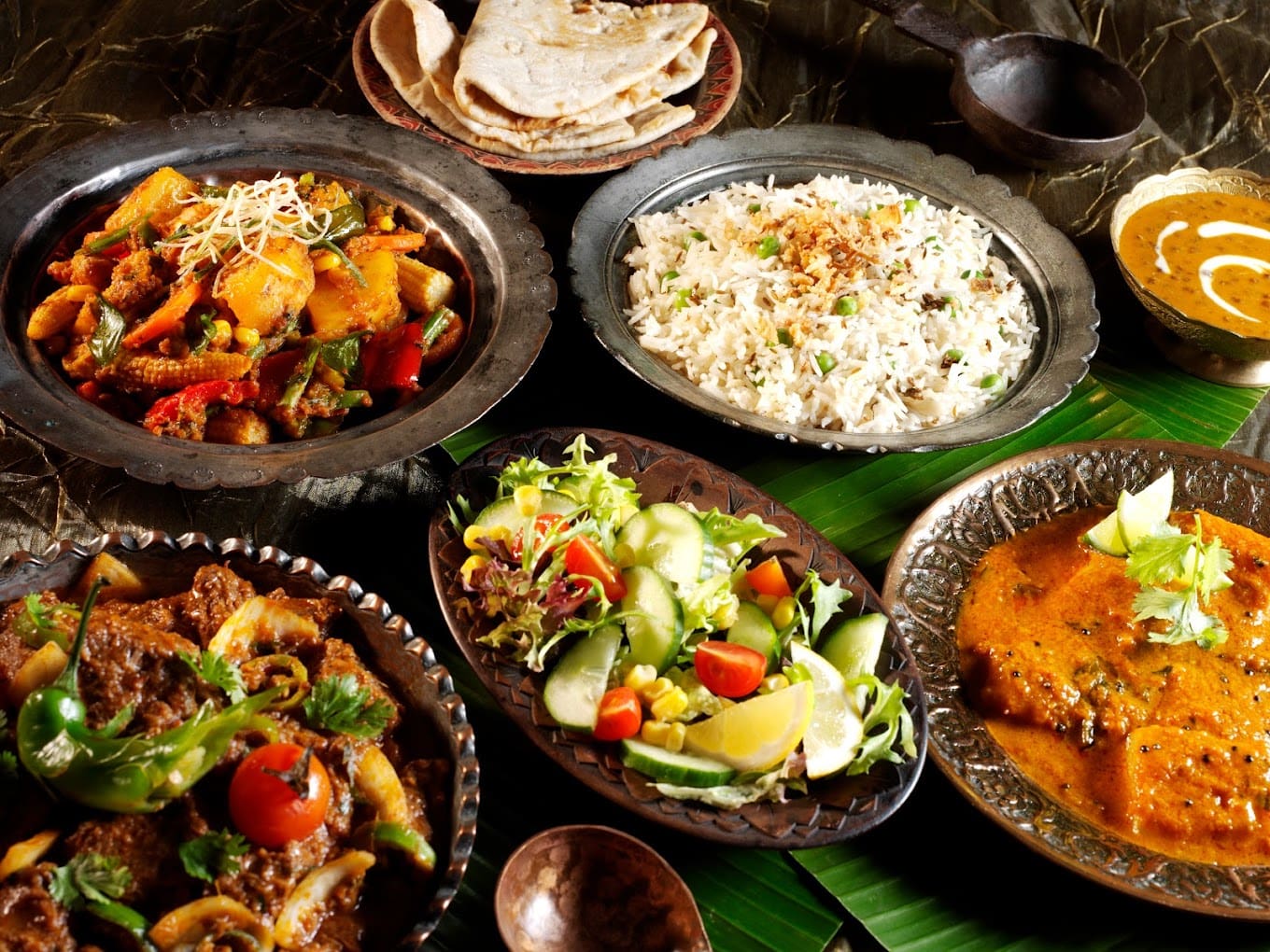 Image credit: Hungry Indian Catering Singapore
Hungry Indian Catering seeks to provide the best of North and South Indian cuisine to feed your hungry guests after hours of celebration. The buffets here are split into North, South, and Vegetarian menus, and go from as low as $13.50 per person with a minimum headcount of 40 people. Call them to enquire about their wedding buffets, and expect traditional Indian fare such as dalcha, briyani, and chicken masala to be on the menu. 
Tel: 6904 4414
Website
Menu
Hungry Indian Catering is a halal-certified caterer. 
---
14. Manna Pot 
---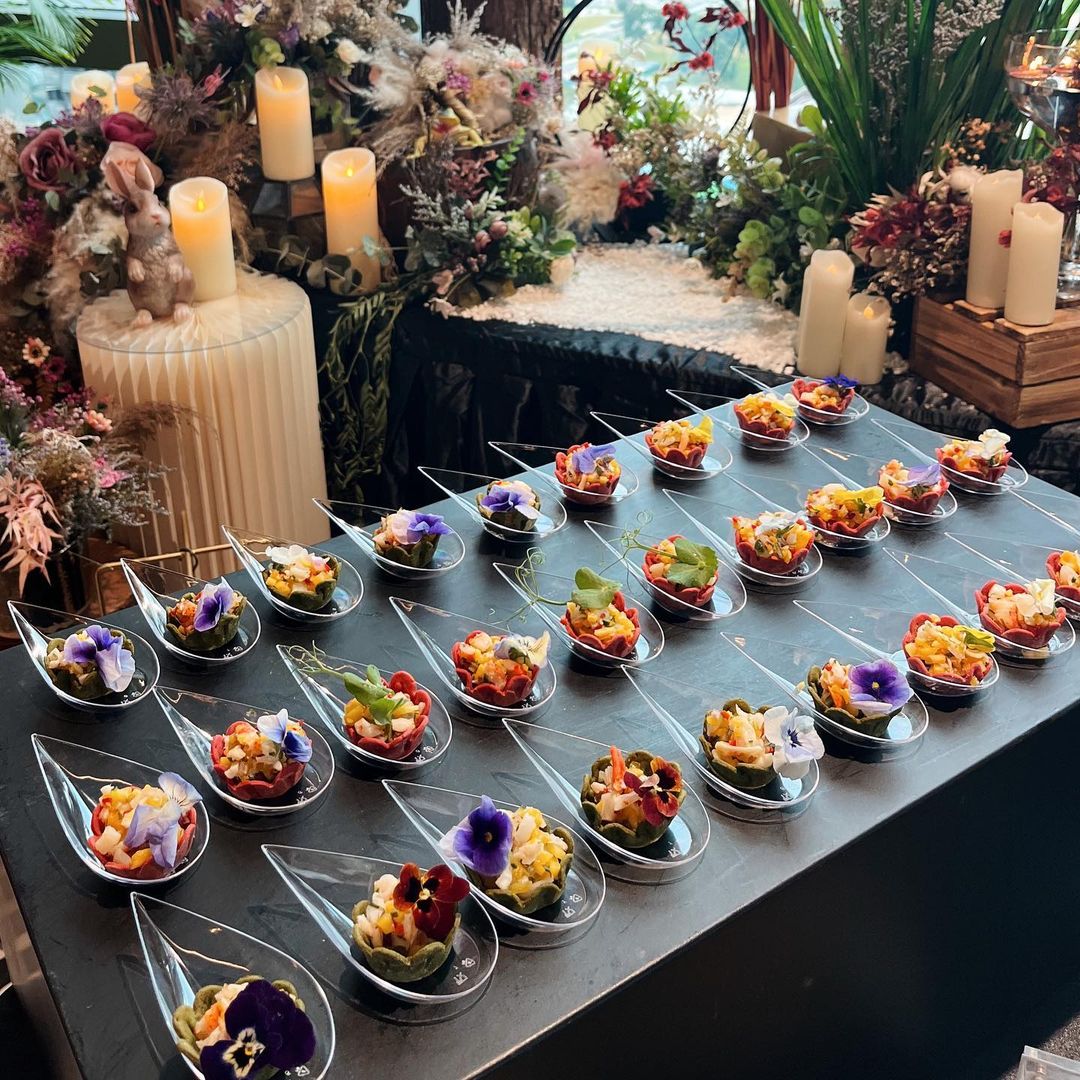 Image credit: @mannapotcatering
Manna Pot's specialty is providing an alternative wedding experience, and works in conjunction with its two sister companies to provide you with full wedding packages that are highly customisable. You can also just book their wedding buffet only on request if you've got everything else settled. On enquiry, prices start from about $18+ per person, depending on what you want to include. Be sure to ask for their handcrafted canapes, which come in a range of creative flavours such as Otah, Mango Salsa Lobster, and Vegan Polenta. 
Address: 1550 Bedok North Avenue 4, #04-16, Bedok Food City, Singapore 489950
Tel: 6853 1568
Website
Menu
Manna Pot Catering is a halal-certified caterer. 
---
15. LUXE
---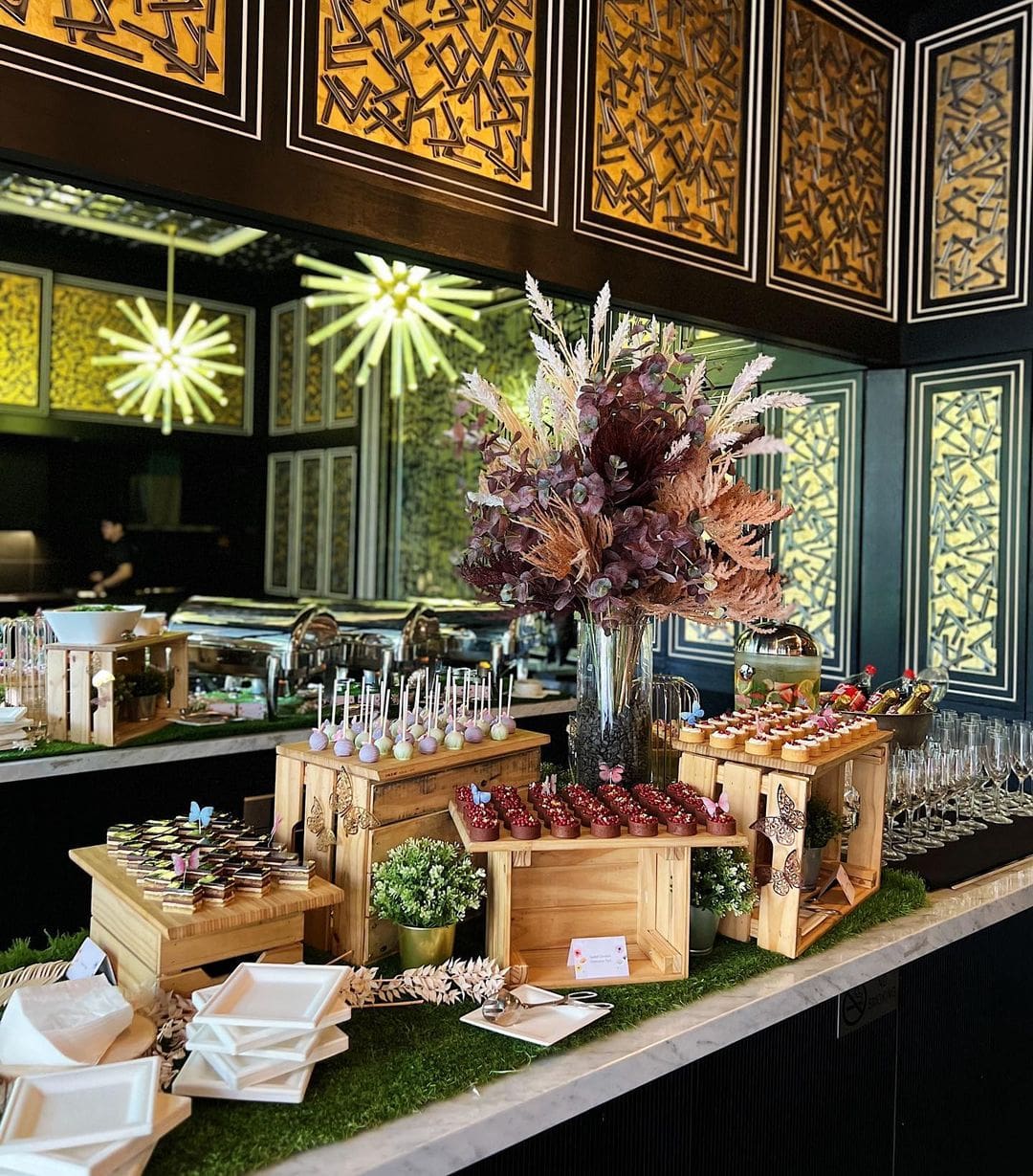 Image credit: @luxecateringsg
Recognised as Caterer of the Year at the 2018 World Gourmet Summit, LUXE offers you a taste of luxury French fare and quality hospitality that will make anyone feel like royalty. Go for their Felicite package, which costs $38++ per guest and has nine courses plus two beverages. Feast on mains fit for a king, such as the Provencal Vegetable Lasagna or the Caribbean Madars Rice. Also, $150 for every 100 guests you have gets you a live station on-site serving up either Peking Duck or A La Minute Seafood Laksa Linguine.
Address: 8A Admiralty Street, #01-34, Singapore 757437
Tel: 6570 9353
Website
Menu
LUXE is not a halal-certified caterer.
---
Wedding buffet catering services in Singapore
---
Your wedding can be the best day of your life—and a very hungry one, if you didn't have time to eat before the ceremony. There's really no shame in being a bridezilla or groom-zilla, so let these 15 best wedding caterers help you curate a menu that is tailored to every single one of your cravings for that special day! 
For more buffet feasts, check out our guide to the best buffets in Singapore, or our best buffet caterers guide if you want food delivered right to your doorstop for any and all occasions.
13 Catering Companies To Call In Singapore When You Kena Arrow To Plan A Party
Feature image adapted from Hungry Indian Catering Singapore, Amici Events and Catering, Stamford Catering, and @bellygoodcaterer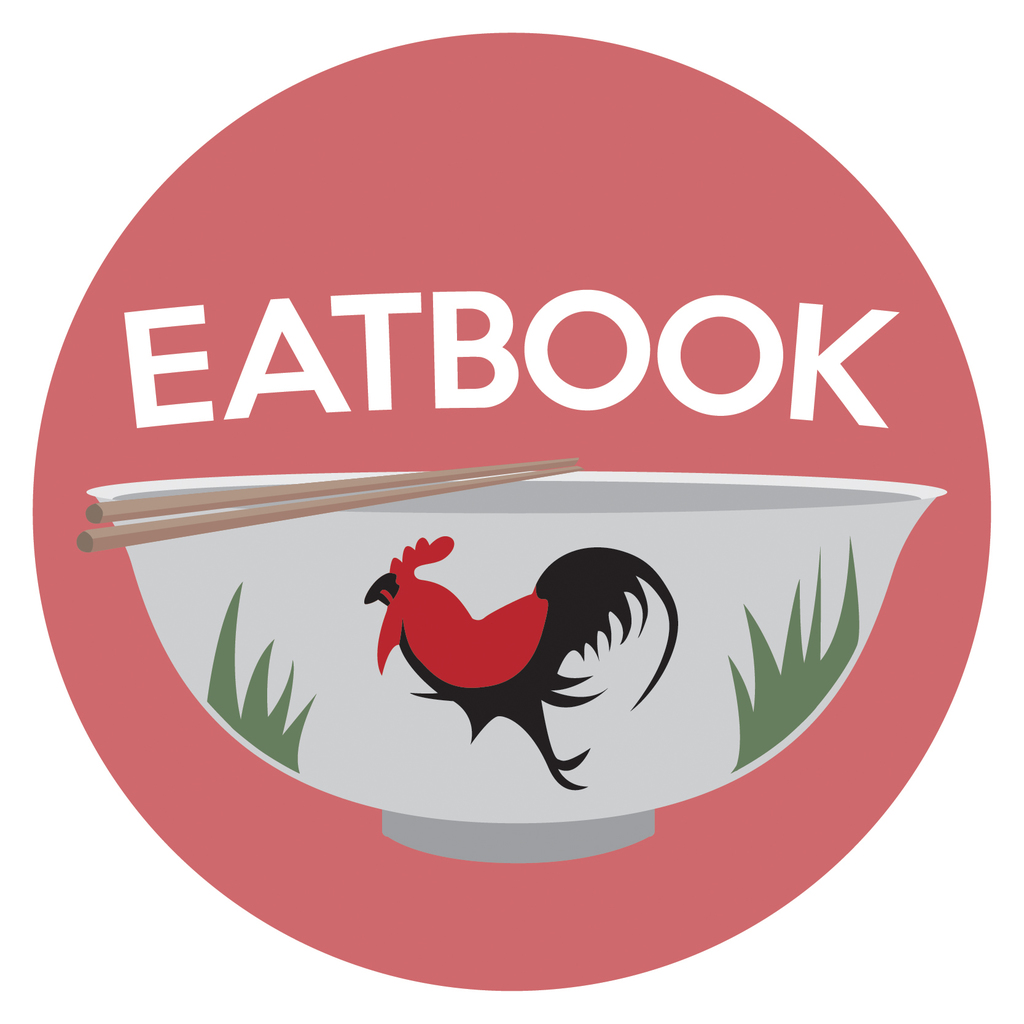 Drop us your email so you won't miss the latest news.