---
3-course breakfast recipe with home cafe vibes
---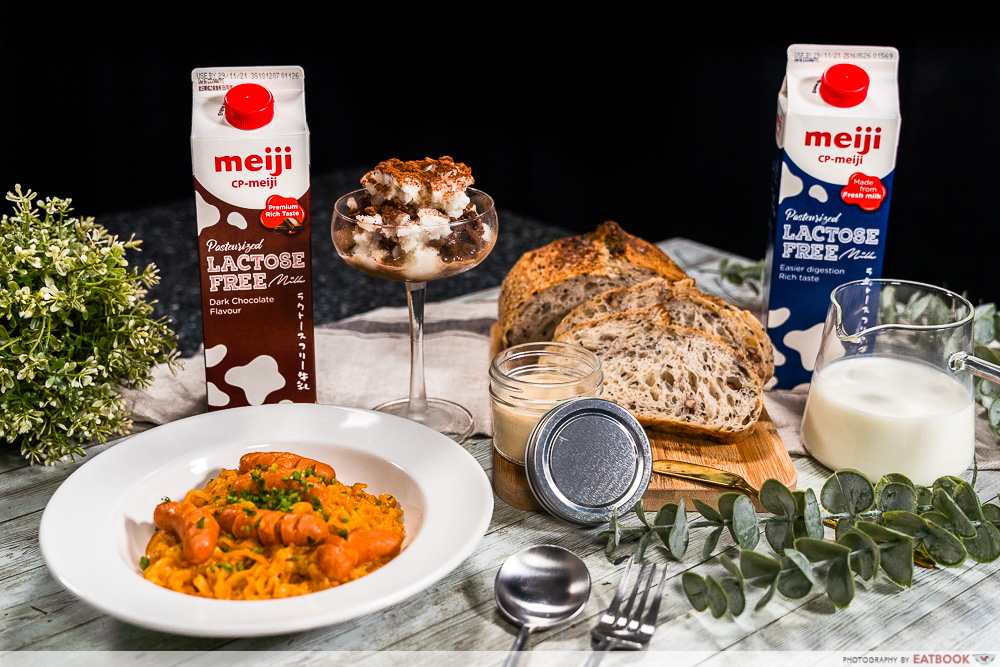 The Korean home cafe trend isn't dying out anytime soon, and both TikTok and Instagram are still plagued with these easy yet visually appealing recipes that anyone can recreate at home. Here is a 3-course breakfast recipe for picture-perfect yet quick sustenance in the morning.
---
1. Cereal Milk Spread
---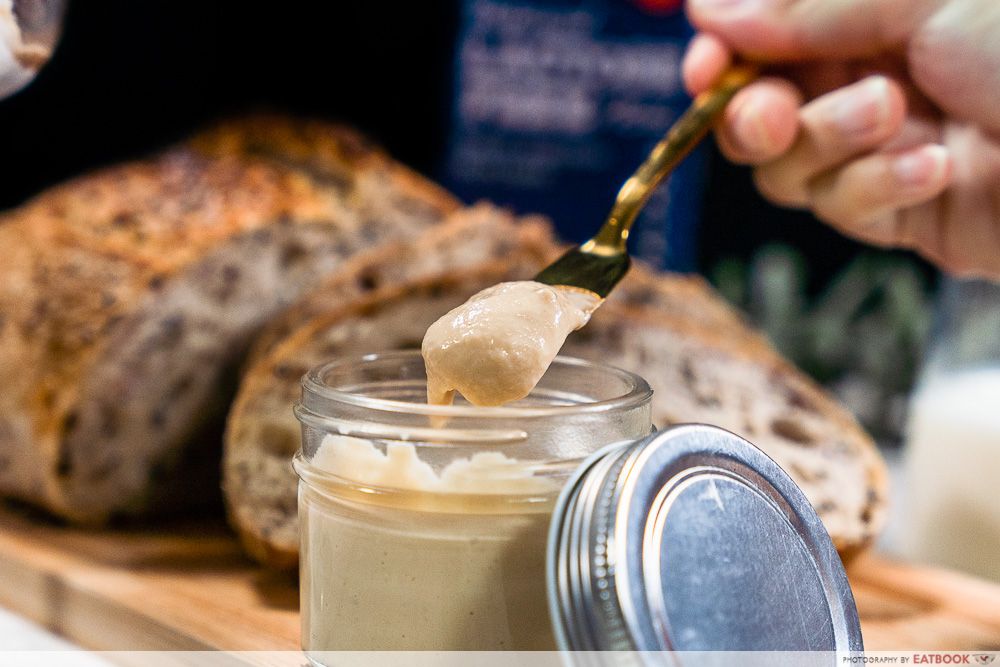 Anything 'cereal milk' is like the Midas touch for desserts. Inspired by New York's famous Momofuku Milk Bar cereal milk recipe, this Cereal Milk Spread is rich, creamy, and milky with a touch of saltiness. Kept in a pretty jar with a fridge life of one week, this spread can be enjoyed home-cafe style with toasted bread and a cuppa tea or coffee.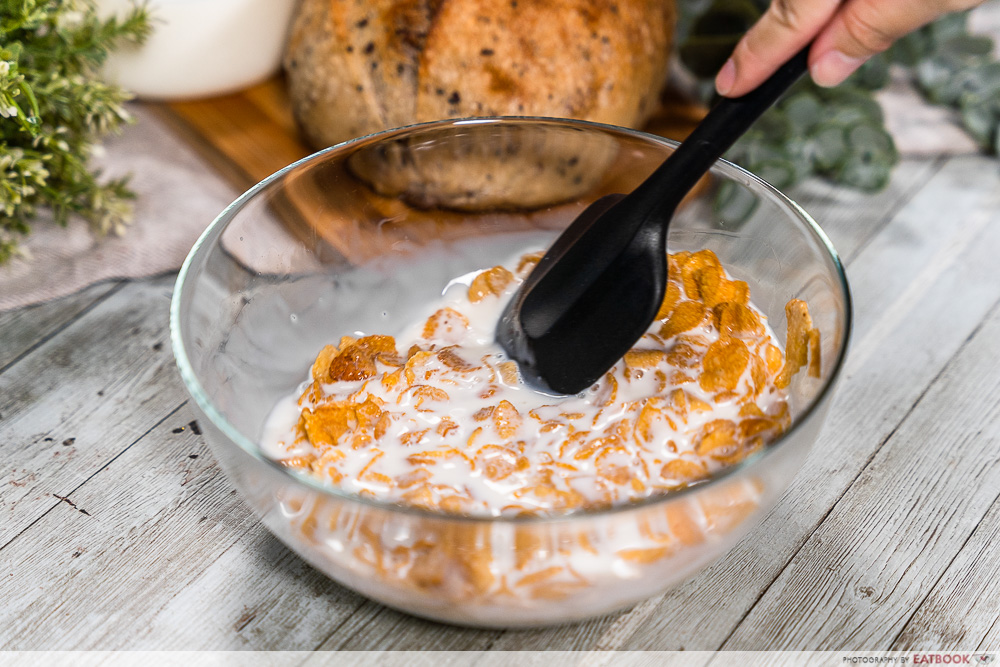 This recipe calls for plain corn flakes, toasted beforehand for more depth in flavour. Simply steep them in Meiji's Lactose Free Milk to extract all the nutty and aromatic goodness into the creamy milk.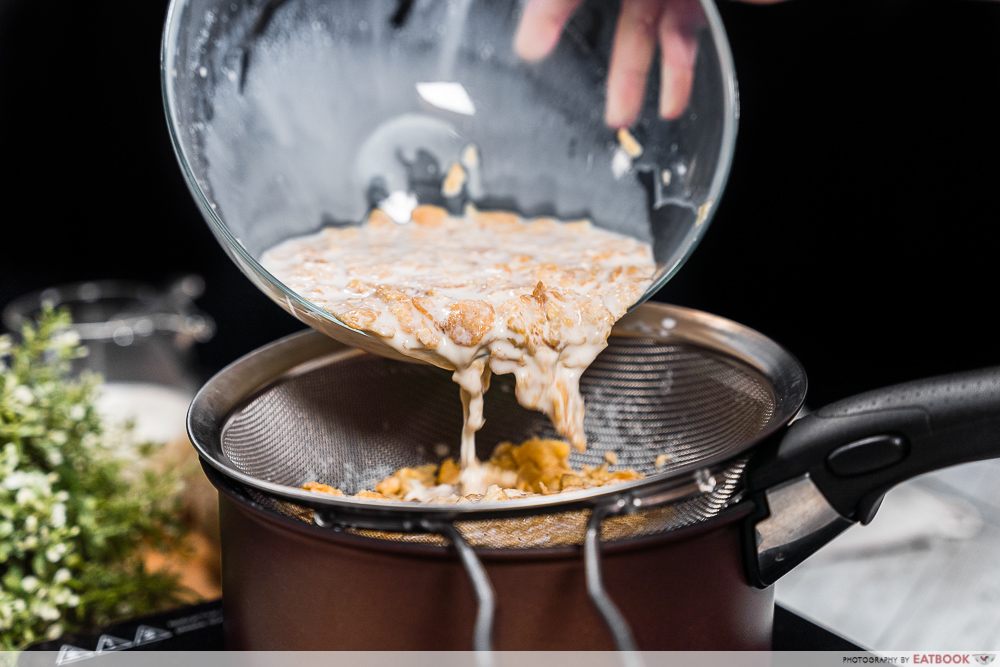 After letting them rest for at least 30 minutes, separate the cereal, pouring the milk into a saucepan right away. If you're feeling more adventurous, you can try replacing corn flakes with any of your favourite breakfast cereals instead!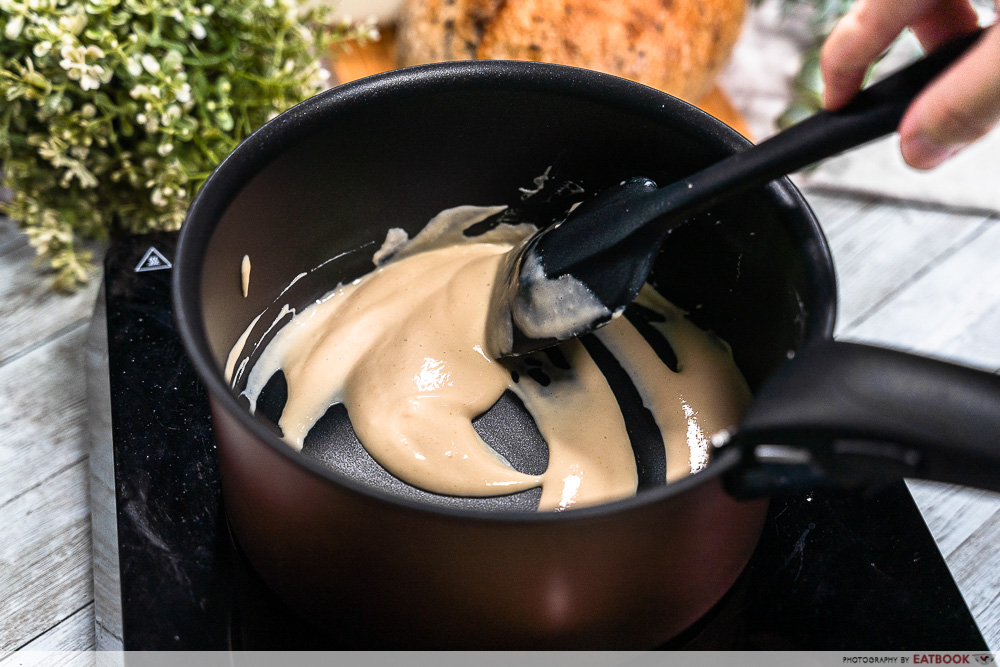 Season the cereal milk with some light brown sugar and a pinch of salt to add balance. Cornstarch is also added so that the milk spread will end up with a smooth and thickened consistency. Gently simmer the mixture down until the texture runs a little shy of a light mousse.
Yield: 1 jar
Cooking time: 1 hour
Ingredients:
50g corn flakes
400ml Meiji Lactose Free Milk
1 tbsp light brown sugar
1 tsp cornstarch
Salt
Directions:
Spread cornflakes evenly and toast them in a preheated oven of 150°C for 15 minutes. 

Combine toasted corn flakes and milk in a deep bowl and let it steep for at least 30 minutes.

Sieve the cornflakes out and discard them, keeping the milk in a saucepan. 

Whisk in brown sugar, cornstarch, and a pinch of salt into the saucepan. Simmer the mixture over medium heat for around 10 minutes, or until it reduces by half. 

Transfer the thickened cereal milk spread into a jar and refrigerate. Serve after 30 minutes.
3 Easy Cornflakes Recipes Including Oreo And Salted Egg Yolk Flavours For Hari Raya
---
2. Korean Viral Rose Ramen
---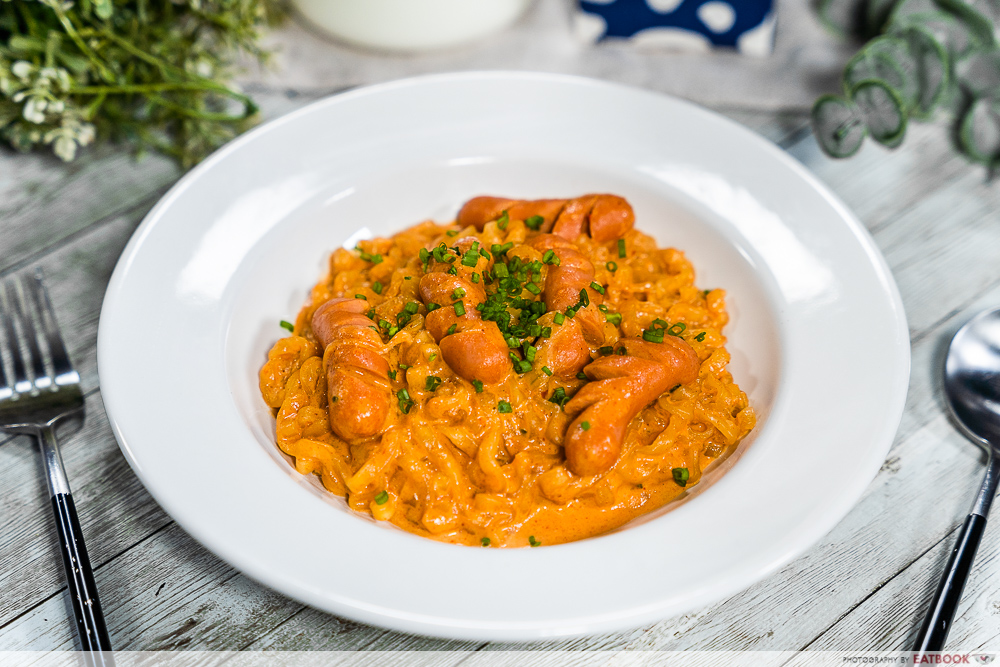 This is one cooking hack that would trigger hunger for all ramen and noodle fans. Despite being lactose intolerant, I personally prefer cream-based spaghetti over tomato-based ones. Thanks to Meiji's Lactose Free Milk, this Korean Viral Rose Ramen is finally a cream-based dish I can whip up easily with no fear of digestion pains after.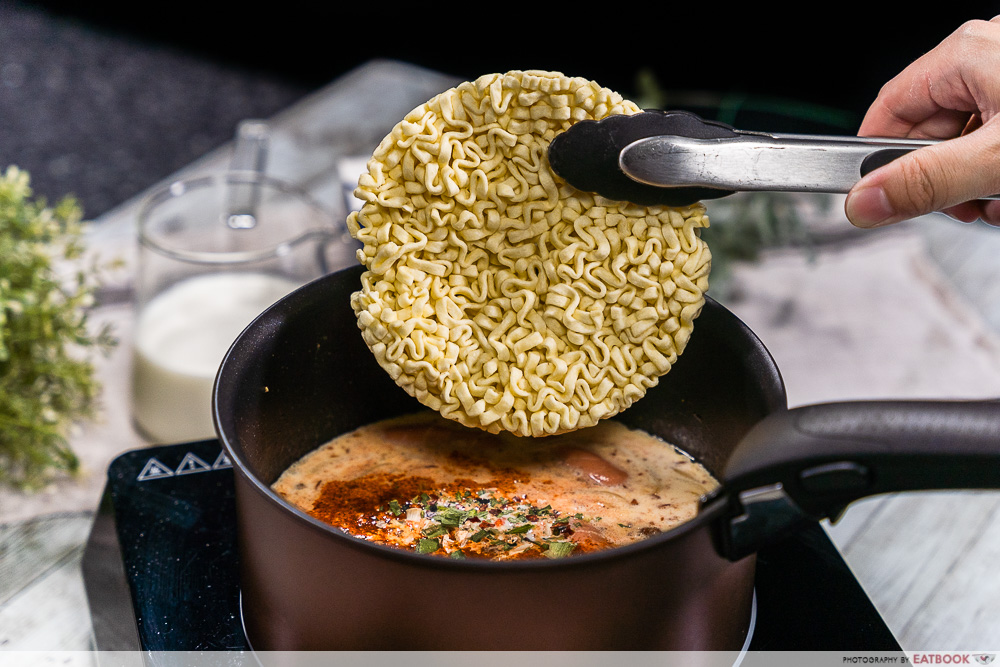 This trendy hack involves boiling your ramen noodles with milk instead of water, ensuring a rich and creamy final product. Make full use of the ramen seasoning, dehydrated vegetables, and add an extra spoonful of gochujang to elevate the dish with warmth and spice.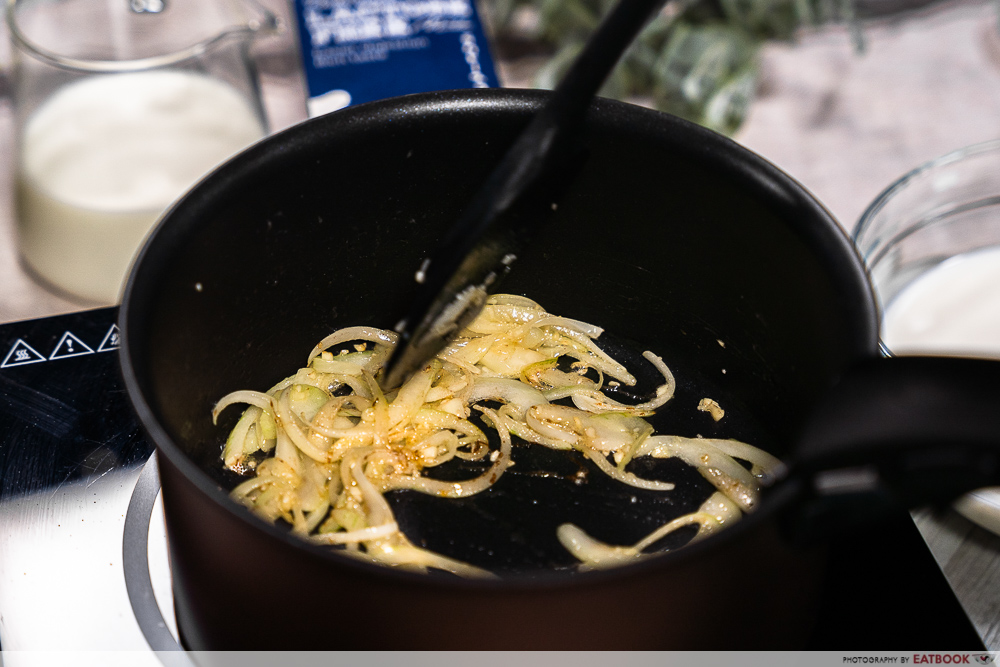 To further elevate the dish, the recipe calls for a stir fry of onions and garlic in butter till they are well caramelised. While they just become quite unidentifiable when mixed with the ramen noodles, their sweetness and bite come through as an undertone, mingling well with the salty ramen seasoning.
Feel free to skip this step if you're in dire need of more time in bed and less time in the kitchen.
This next step is just to combine the rest of the ingredients into a pot, bring them all to a boil, and voilà! You're done in three simple steps for the main course of this breakfast recipe.
Yield: Serves 1
Cooking time: 15 minutes
Ingredients:
1 tbsp butter
½ an onion, slices
1 tbsp garlic, minced
4 cocktail sausages
500ml Meiji Lactose Free Milk
½ tbsp gochujang
Ramen seasoning
Ramen noodles
Dehydration vegetables
Spring onion, chopped (optional)
Directions:
Using a pot, stir fry onions, garlic, and sausages with butter on medium heat until onions turn translucent.

Add milk, gochujang, ramen seasoning, and ramen noodles into the pot. Mix well and bring it to a boil, or until the noodles are cooked.

Garnish and serve immediately.
Steak Ram-don Recipe: Make The Famous "Parasite" Jjapaguri In Less Than 10 Minutes
---
3. Dark Chocolate Mocha Granita
---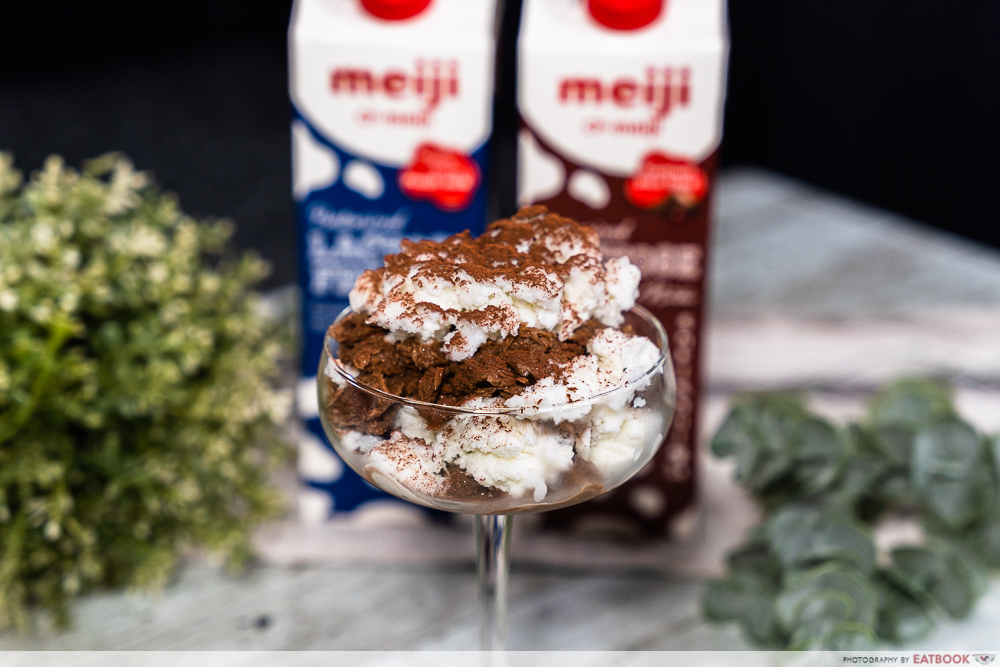 Granitas are like the cousins of sorbet, but the less fussy version. This frozen dessert is made with just three ingredients: milk, coffee, and sugar. Grab hold of freezer-friendly containers or metal pans, which works faster in freezing the liquid in the freezer, and get ready for some easy scraping followed by a robustly flavoured Dark Chocolate Mocha Granita.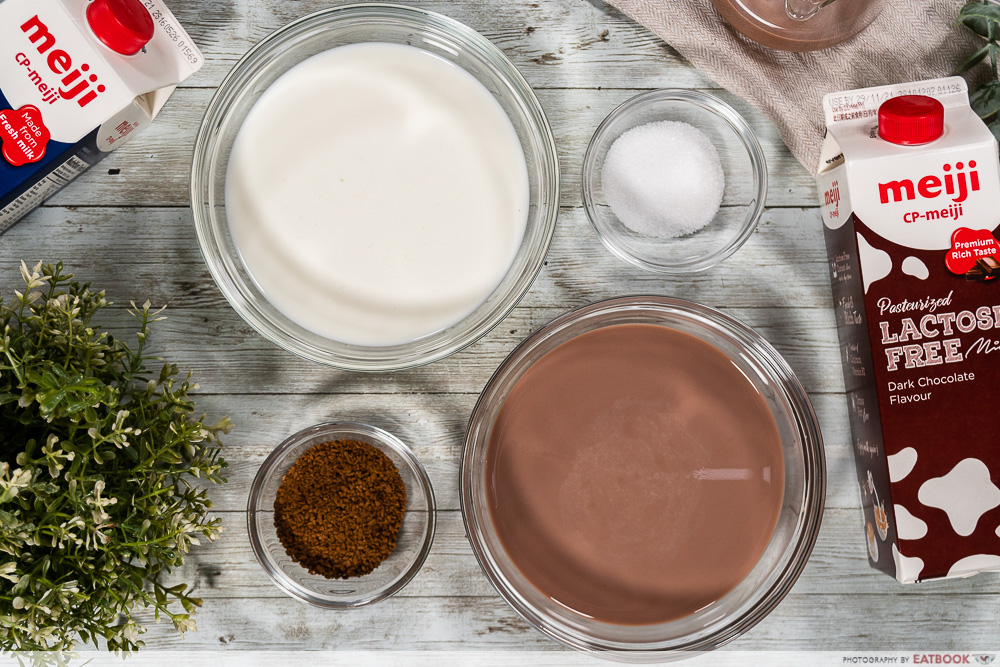 Our Dark Chocolate Mocha Granita will be made with plain milk and dark chocolate milk for contrasting layers of white and brown!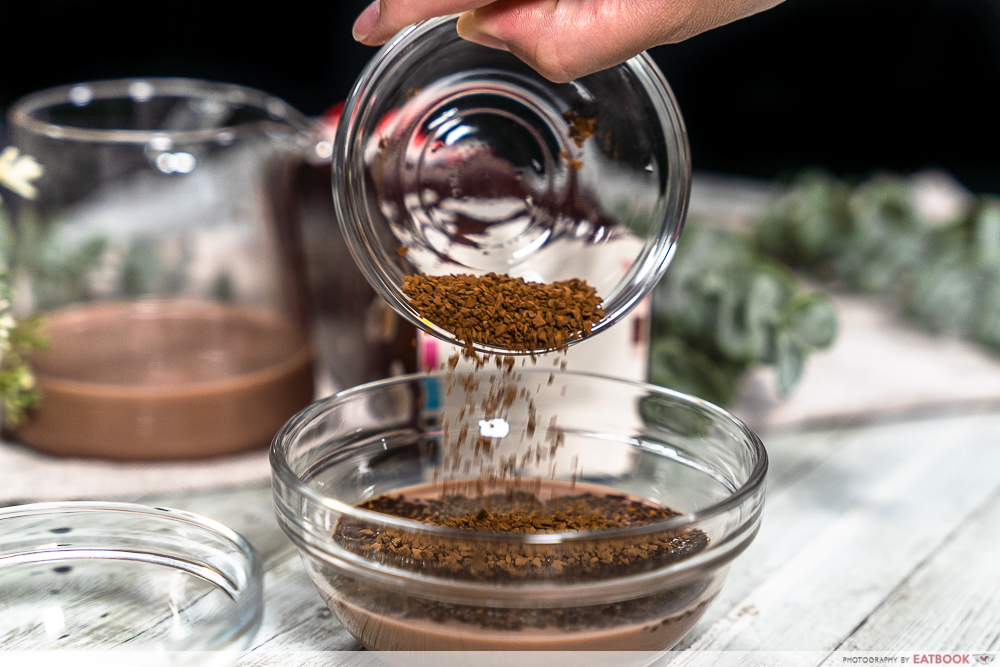 Separate a small portion of the dark chocolate milk and combine it with instant coffee granules and sugar. Pop it into the microwave and stir, making sure everything is dissolved. This step is essential as heating up all 400ml of chocolate milk in the microwave would mean a longer time for the milk to freeze.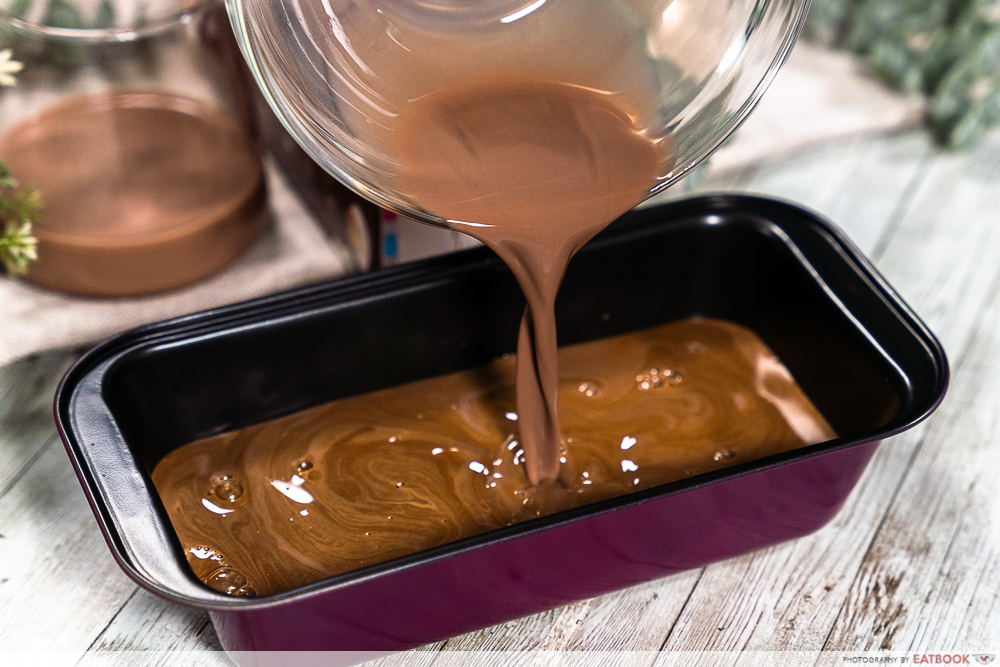 Pour this mocha into a metal pan, cover it with cling wrap, and pop it into the freezer for around two hours. The best part of making this dessert is that little attention is needed to whip it up. The only thing you would need to look out for is timing.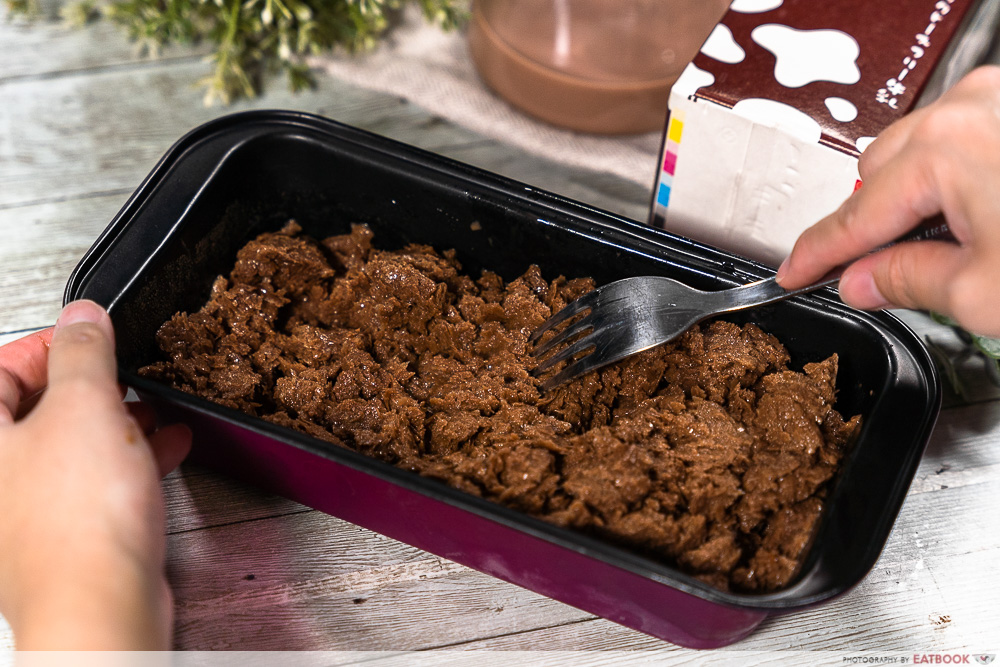 After one to two hours, depending on how fast the liquid crystallises, remove the pan from the freezer and loosen the frozen parts with a fork. Pop it back into the freezer for another hour or so, and it is ready to be served.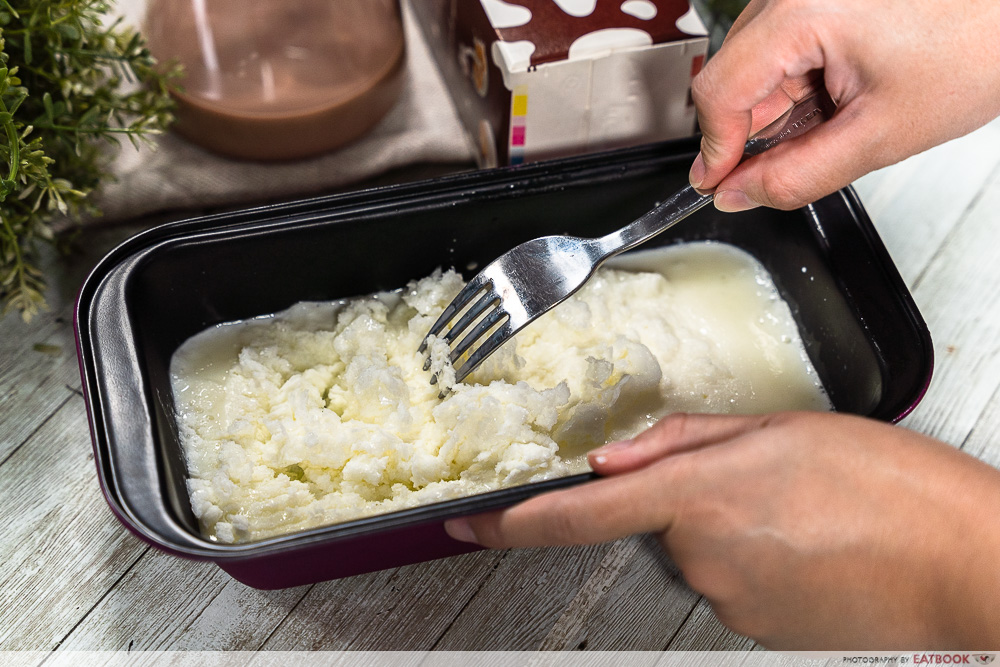 In the name of #aesthetics, simply do the same using the Meiji Lactose Free Milk for white layers on your mocha granita, as the dessert portion of the breakfast recipe. 
Yield: Serves 4 cups
Ingredients:
400ml Meiji Lactose Free Milk
400ml Meiji Lactose Free Milk – Dark Chocolate
2 tbsp instant coffee
1 tbsp sugar
Directions:
Separate 100ml of Meiji Lactose Free Milk – Dark Chocolate into a bowl. Add instant coffee and sugar into it, and microwave for 30 seconds.

Make sure all the coffee granules are well dissolved and combine with the remaining 300ml of dark chocolate milk.

Pour the mocha mixture and Meiji Lactose Free Milk into individual metal pans or freeze-safe containers, and freeze for around 2 hours.

Remove the containers from the freezer and use a fork to scrape the partially frozen granita thoroughly. 

Pop it back into the freezer for another 1 hour and repeat. Layer the two granitas into shallow glasses to serve.
---
Fancy but fuss-free recipes for all milk lovers
---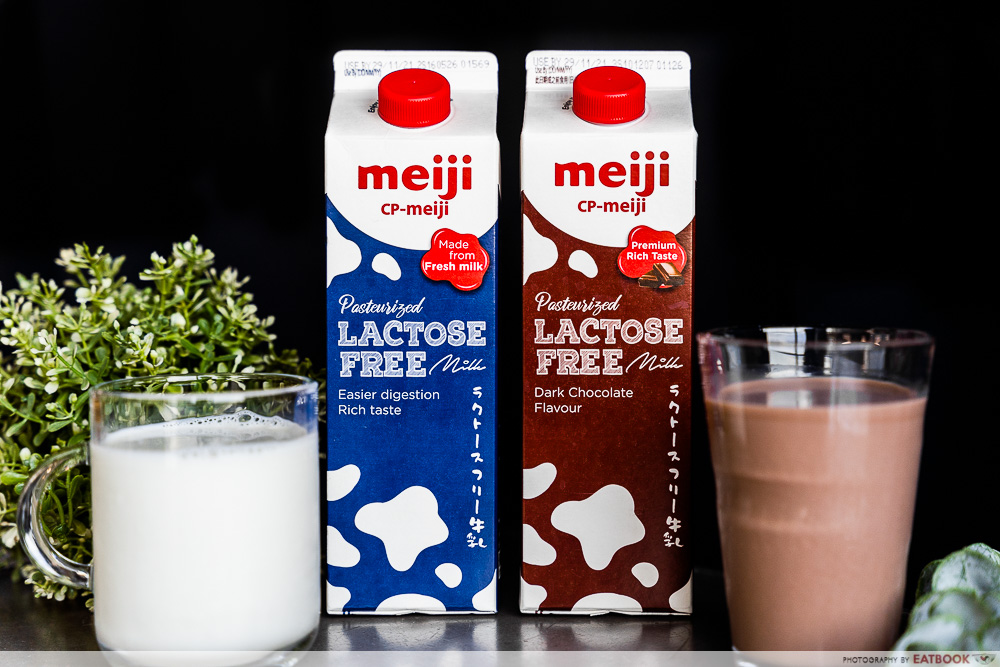 This IG-worthy and delicious 3-course breakfast recipe is one I wouldn't mind waking up to in the morning. As someone who loved all things dairy growing up, being lactose intolerant in adulthood has given me many post-indulgence inconveniences. 
Meiji Lactose Free Milk series is a great option if you're lactose intolerant, and you miss the rich and creamy flavour that plant-based milk cannot offer. It tastes exactly like their original milk, so anyone who loves milk can actually enjoy it. It also comes with protein, calcium, and B12 vitamins that are essential for the first meal of the day. 
Photos taken by Chew Yi En.
This post is brought to you by Meiji.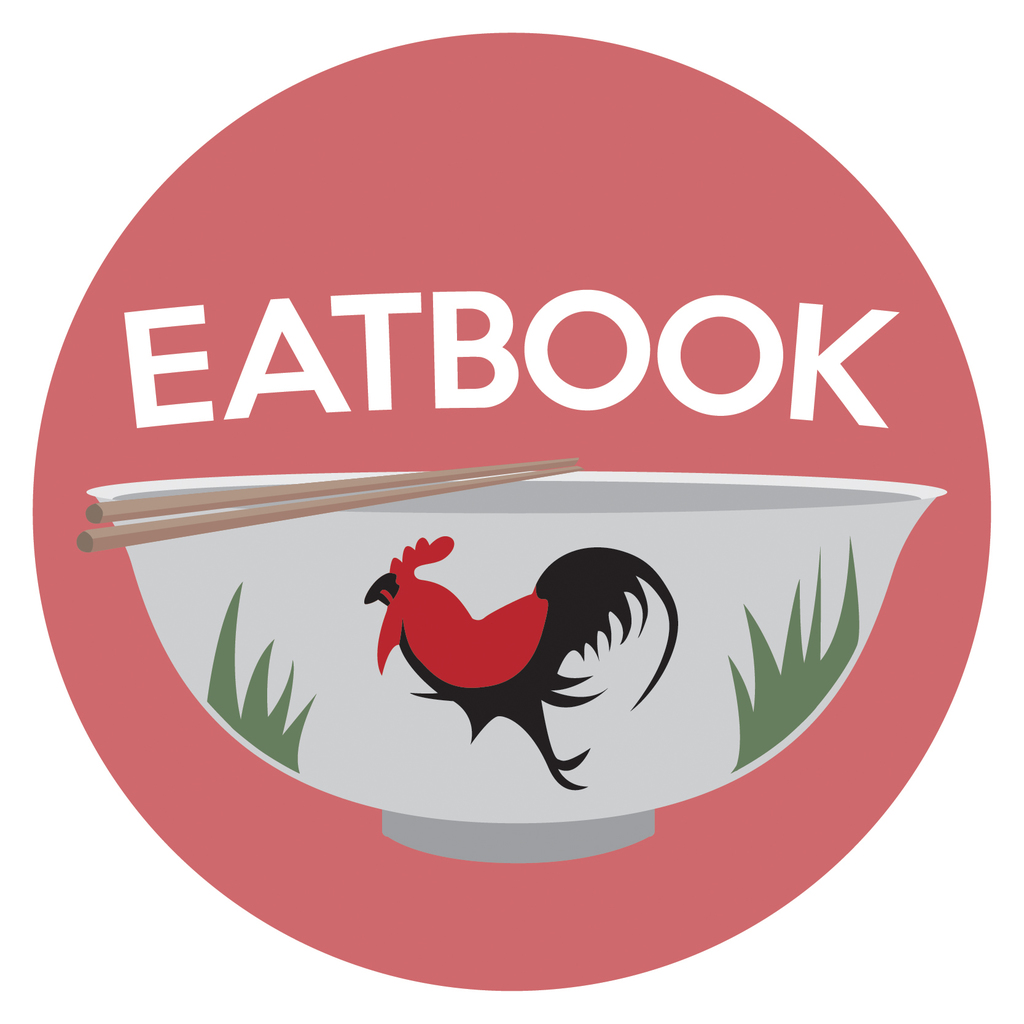 Drop us your email so you won't miss the latest news.