Atas drinks at affordable prices at The Brew Orchestra in JB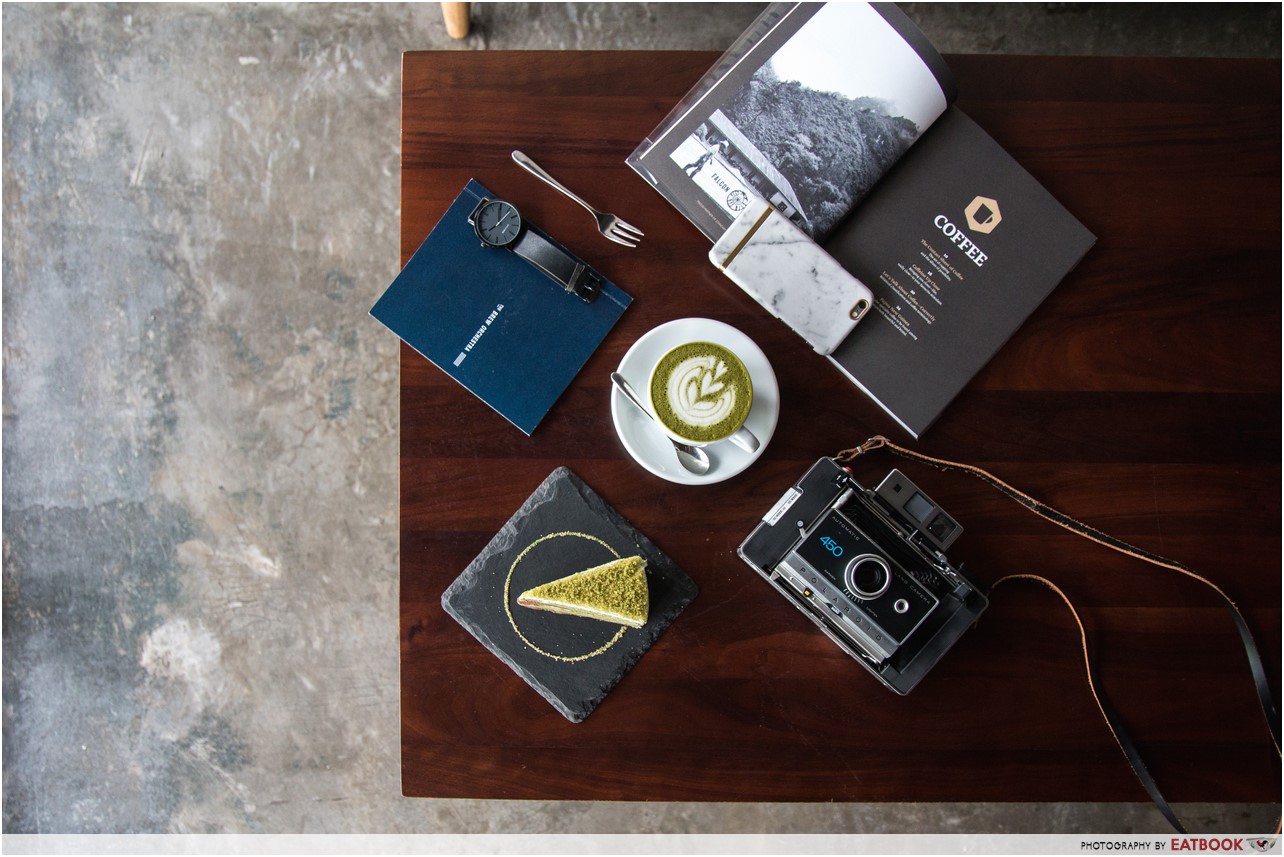 I've always been a fan of concerts and musicals, whether they're shown in Broadway, London or our very own Marina Bay Sands. From musicians and cast who go all out to create a flawless show to the grandeur of the majestic theatres, there's just something about watching such performances that doesn't match up to TV screens.
So imagine my surprise when I found an ulu cafe in JB that has decor inspired by orchestras. And it's not just any subpar cafe with diluted coffee, The Brew Orchestra is a specialty coffee bar complete with custom-made coffee machines.
Drinks at The Brew Orchestra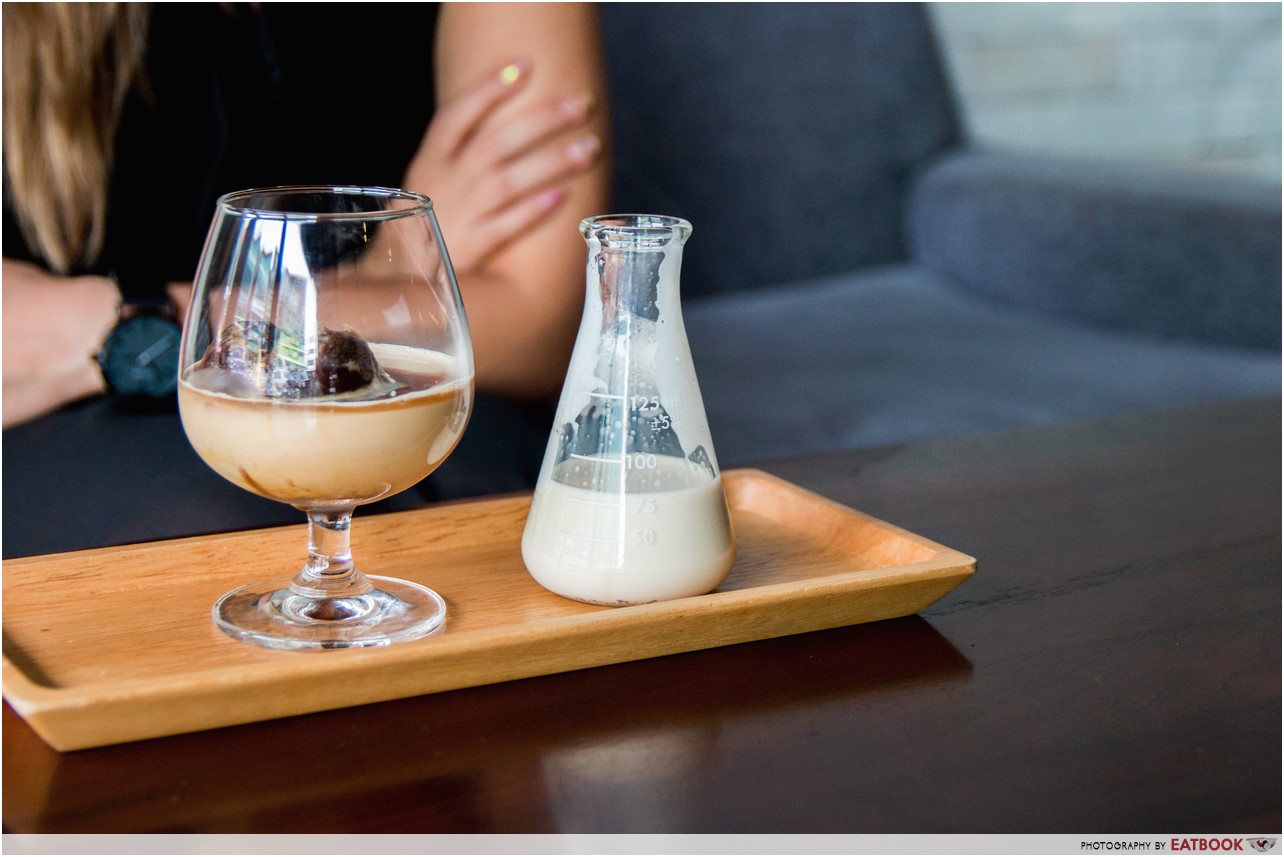 One of their three signatures and a play on the classic Adele song, Rolling in the Teap (RM21/~S$6.80) comes with an iced espresso ball rolling in warm milk that's infused with Earl Grey tea and flavoured with vanilla extract.
On its own, the espresso ball provides the melody – slightly bitter with bright, acidic notes, while the freshly steamed milk played the bass of an earthy, floral fragrance like dried potpourri. Strung together, this hot-and-cold duo brings a hint of sweetness with a slightly sour aftertaste. This smooth drink has a unique taste, one that reminds me of fruit tea mixed with coffee, and may not be for everyone.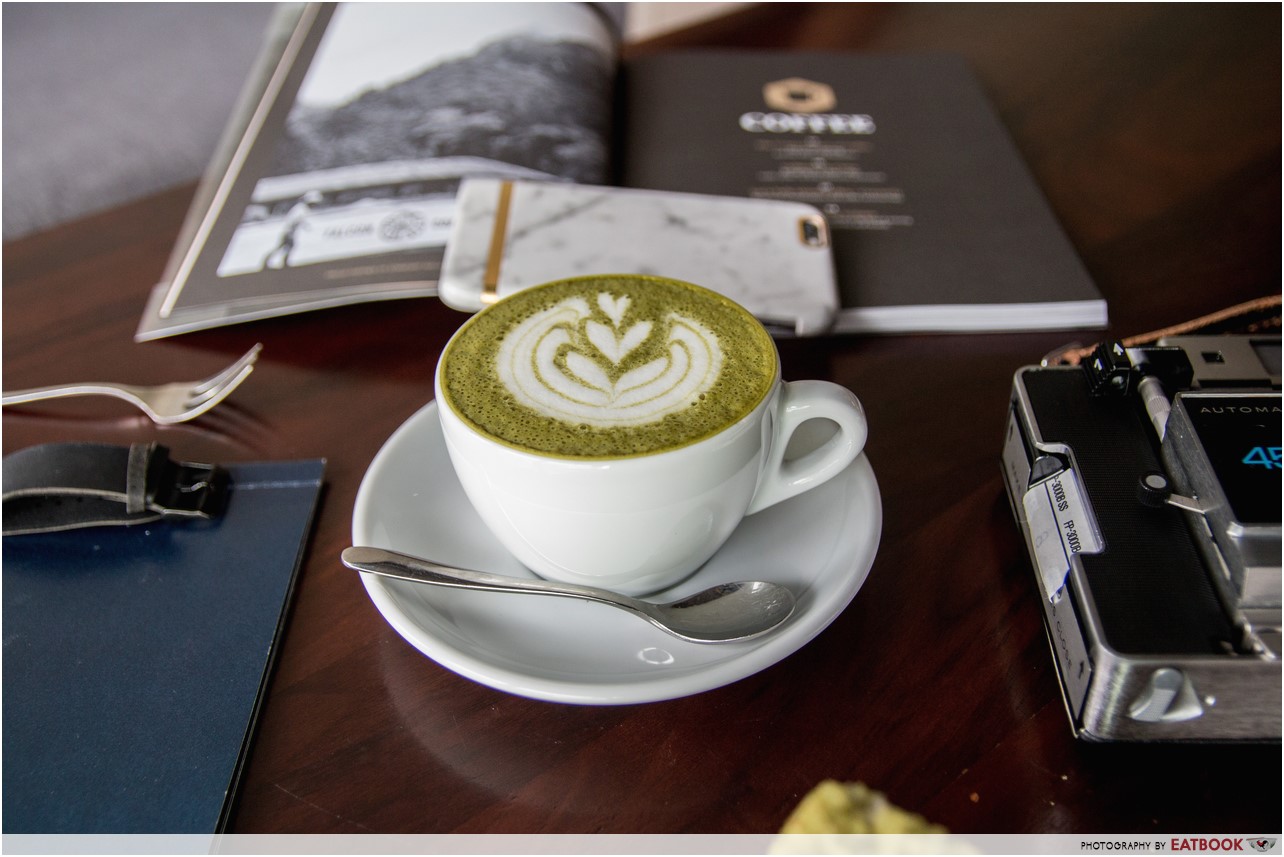 Brew Orchestra has three types of Japanese matcha – Shizuoka Organic Matcha (RM15/~S$4.85), Fukujuen Kyoto Matcha (RM18/~S$5.80) and Ippodo Matcha (RM20/~S$6.50). We ordered the first, which uses a matcha that, despite its rich colour, is not overpowering or bitter in taste.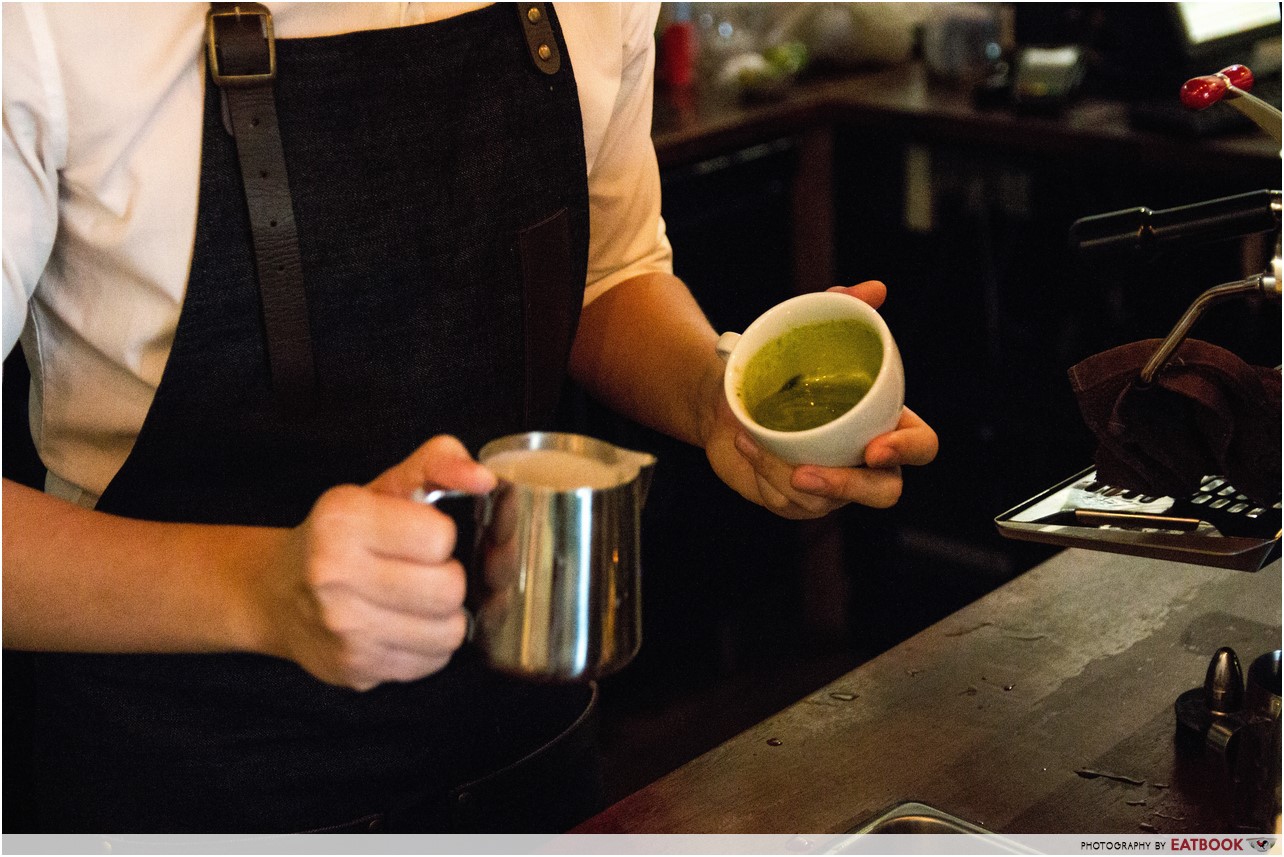 Harmonising with the density of steamed milk, the taste of matcha is subtle but distinctly astringent, followed by a lingering sweetness that gives the latte its deep aroma. For those who want something cold to beat the heat, you can opt to have it served iced by adding RM4/~S$1.30.
Desserts at The Brew Orchestra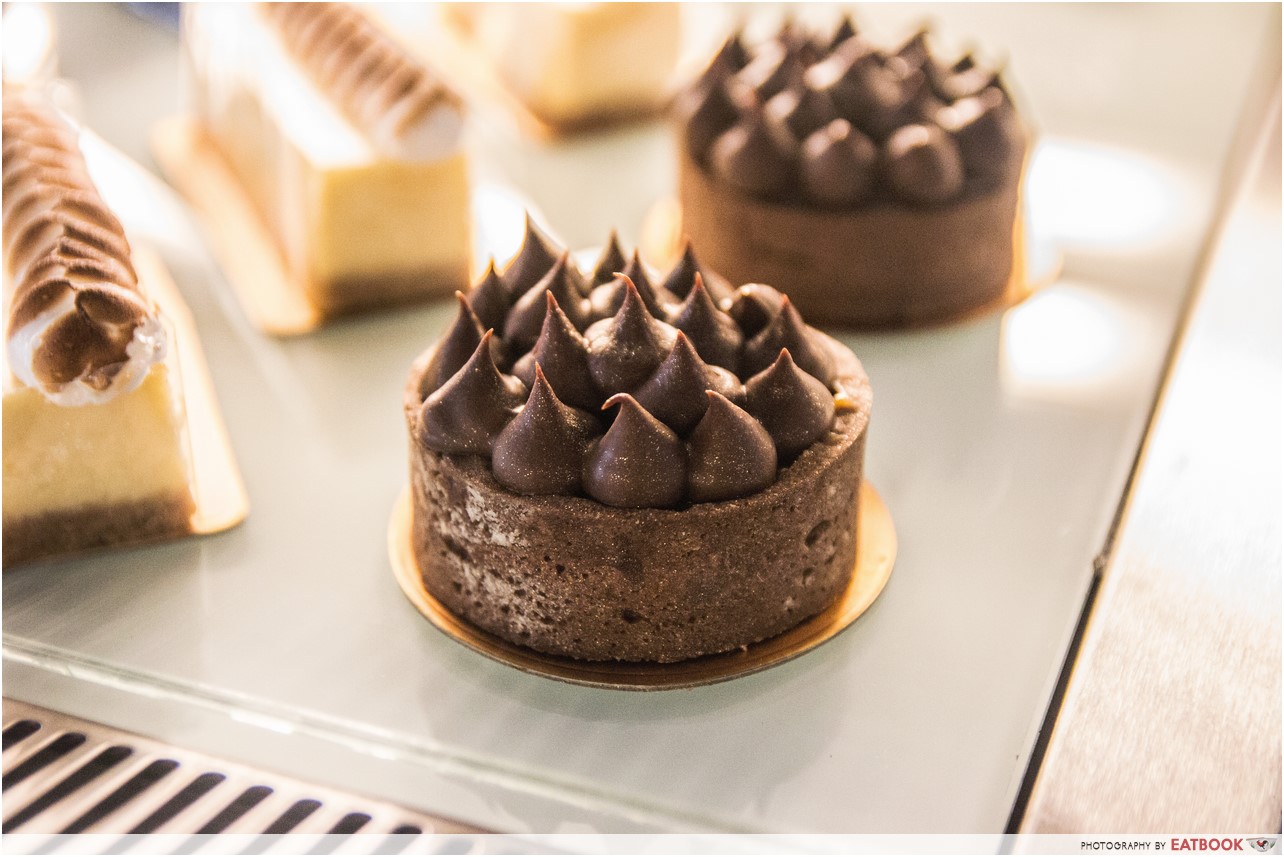 From inside the glass cabinet, Salted Caramel Choc Tart (RM12/~S$3.90) looks like an unassuming milk chocolate porcupine.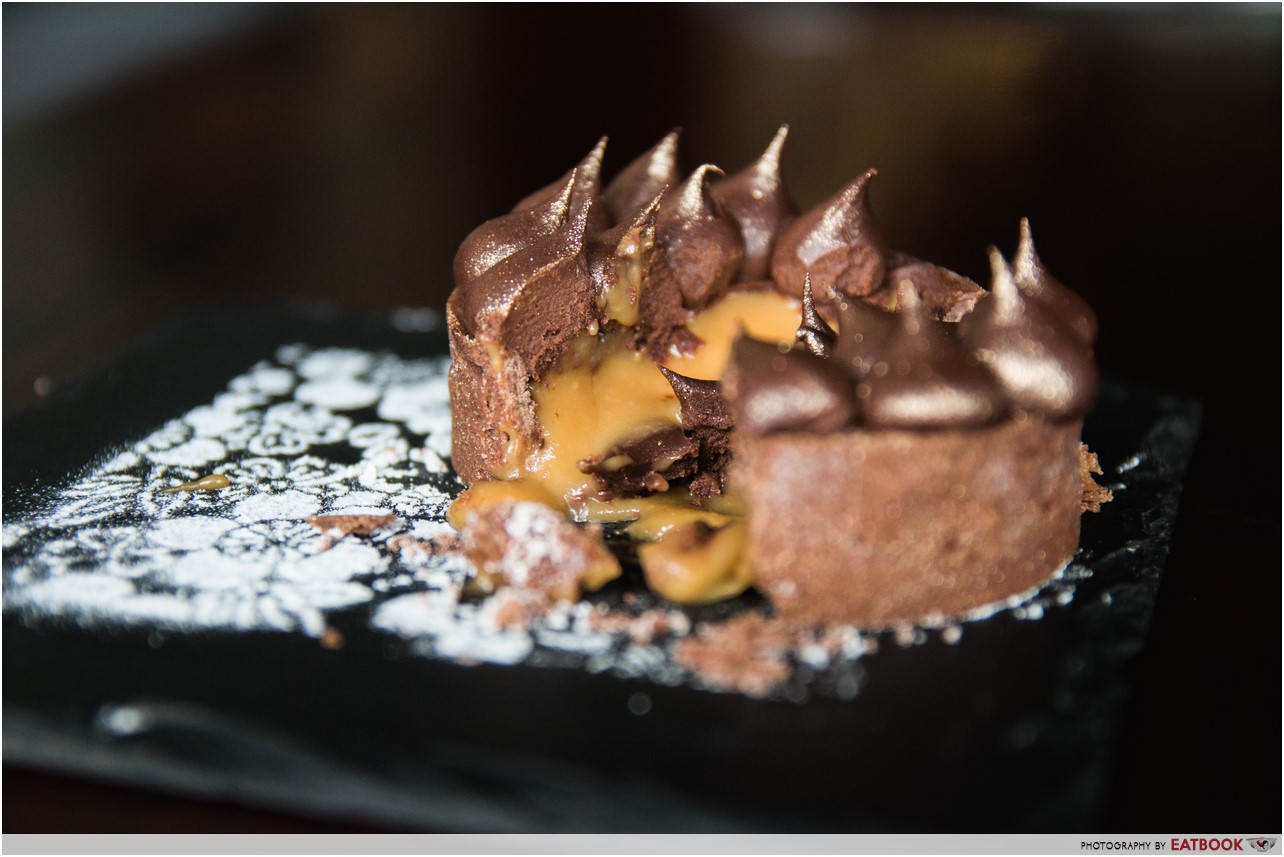 Armed with my metal fork, I felt like a gold miner picking away as the crust was fairly thick and hard to cut through. But all the effort was well worth it when I struck gold – or rather the golden elixir of salted caramel that immediately oozed out.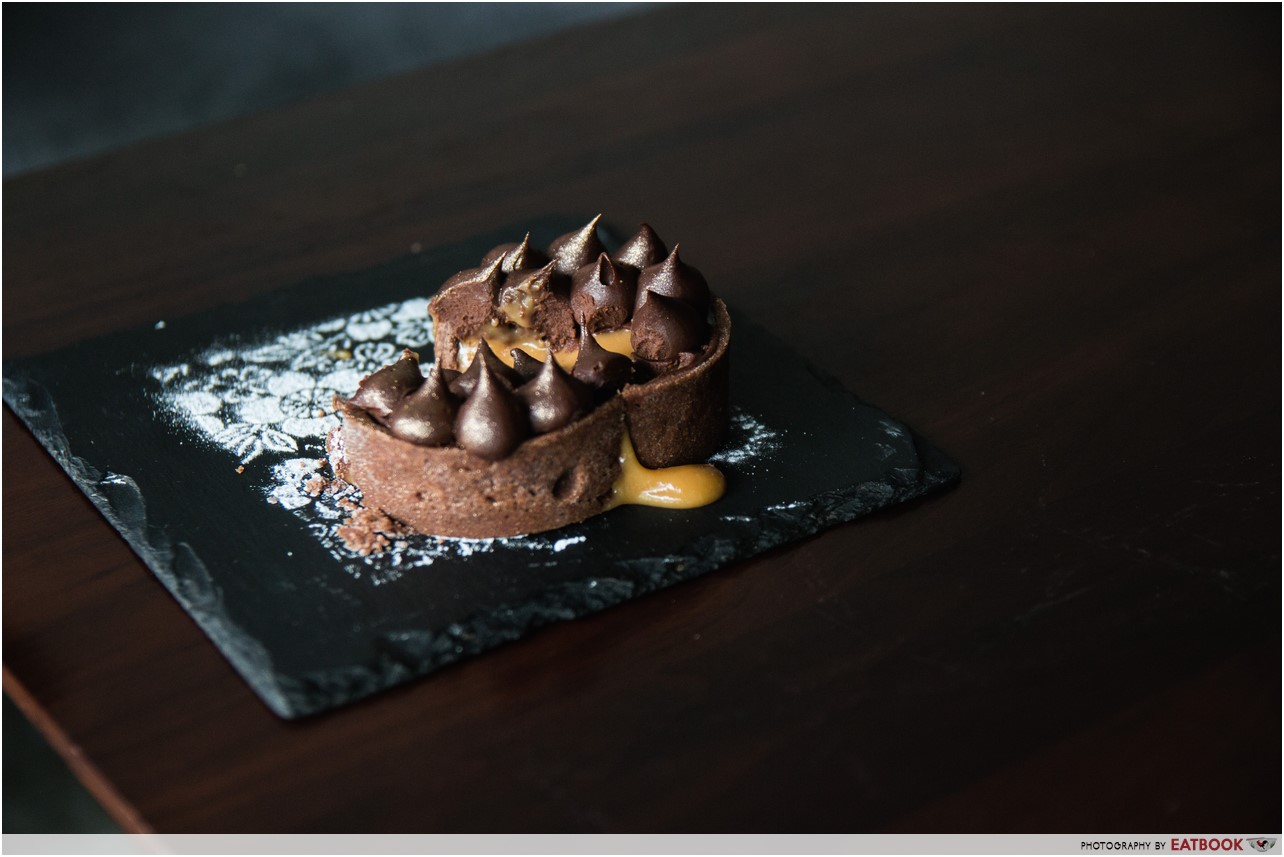 Lusciously thick with a touch of salt, it was too sweet to not be paired with the buttery shortcrust pastry, which had a crumbly texture like that of digestive biscuits to give some bite. On top, the piped chocolate mousse made with 75 percent milk chocolate provided an airy, smooth contrast that'll seal the deal for chocolate lovers.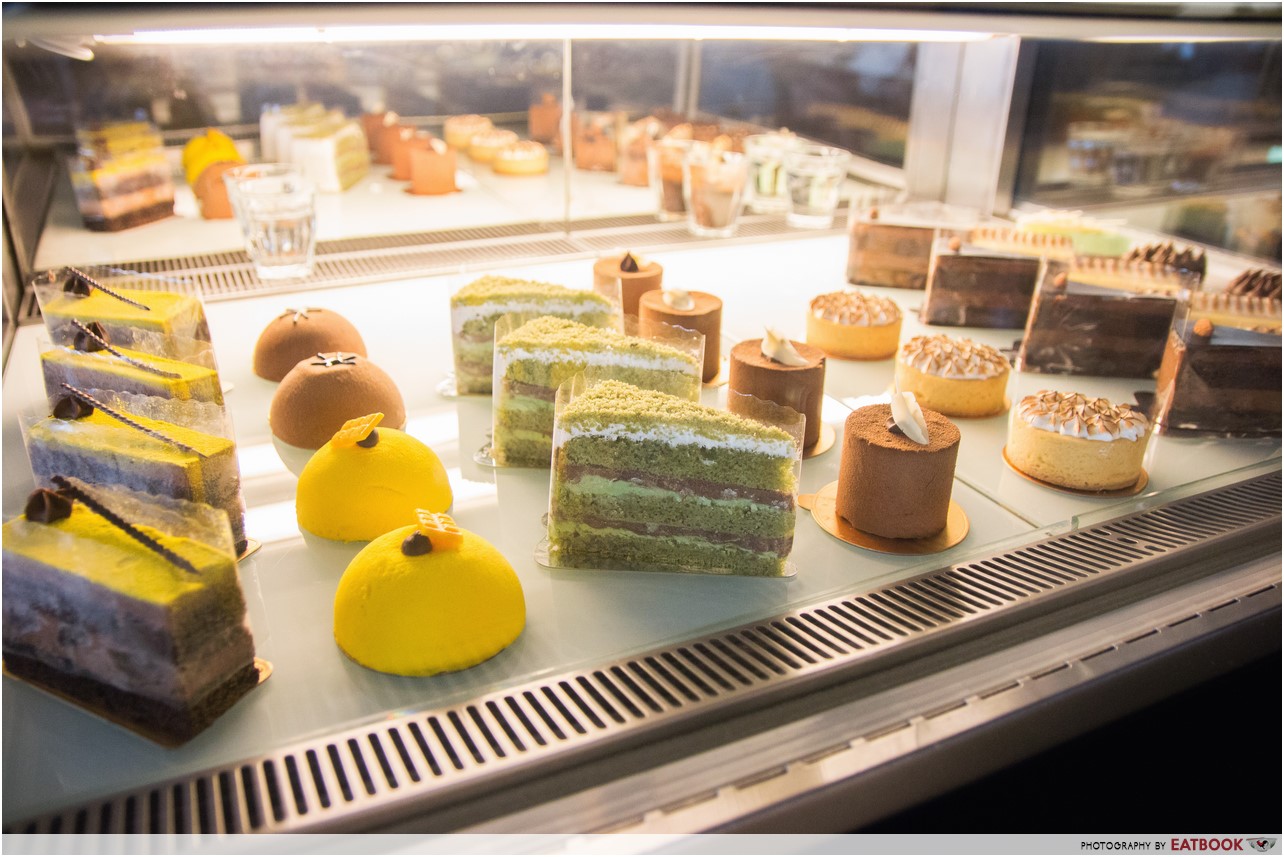 Matcha Cake (RM12/~S$3.90) is a much lighter alternative to the Salted Caramel Tart. The simple slice of cake is made out of matcha sponge, red bean paste and cream.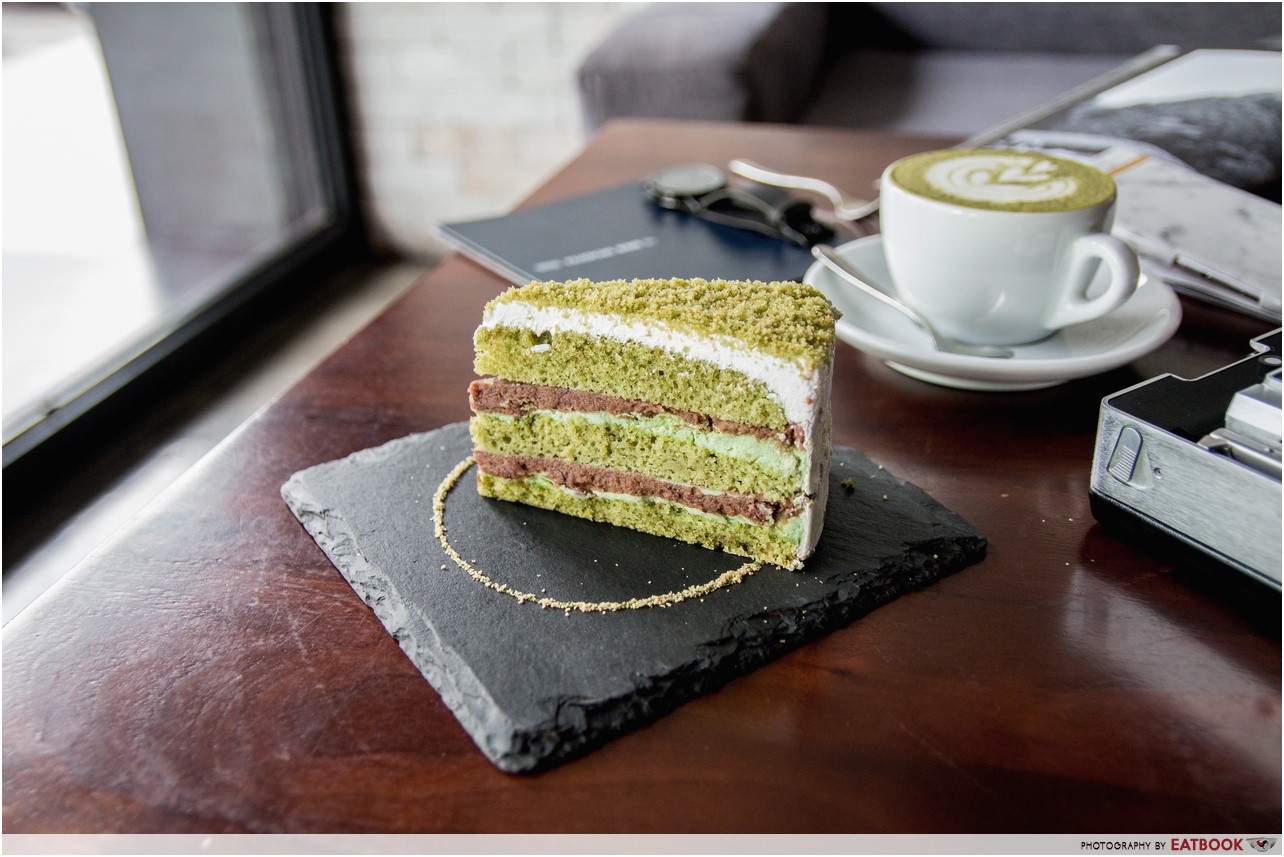 The sponge reminded me of a chiffon cake, with the only sweetness coming from the red bean paste. The plain cream adds a smoothness to the otherwise spongy texture, in contrast to the rough matcha crumble on top. I loved how each layer was distinct in its own flavours, but unfortunately had no uplifting element to prevent it from tasting quite dry.
Ambience at The Brew Orchestra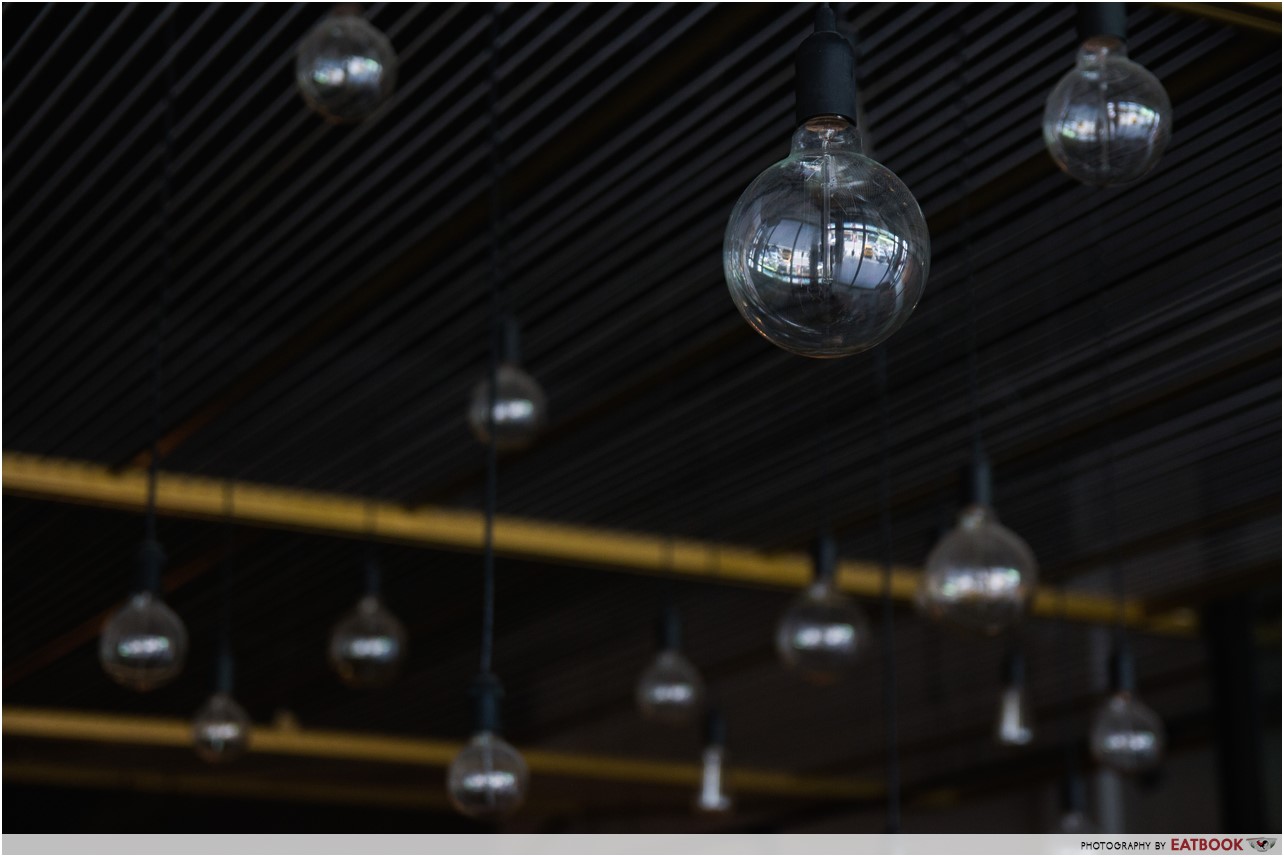 The Brew Orchestra features decor inspired by grand concert halls. It has a cosy, industrial atmosphere with a harp-like ceiling fitting and wooden-paneled walls warmly lit by cascading spotlights.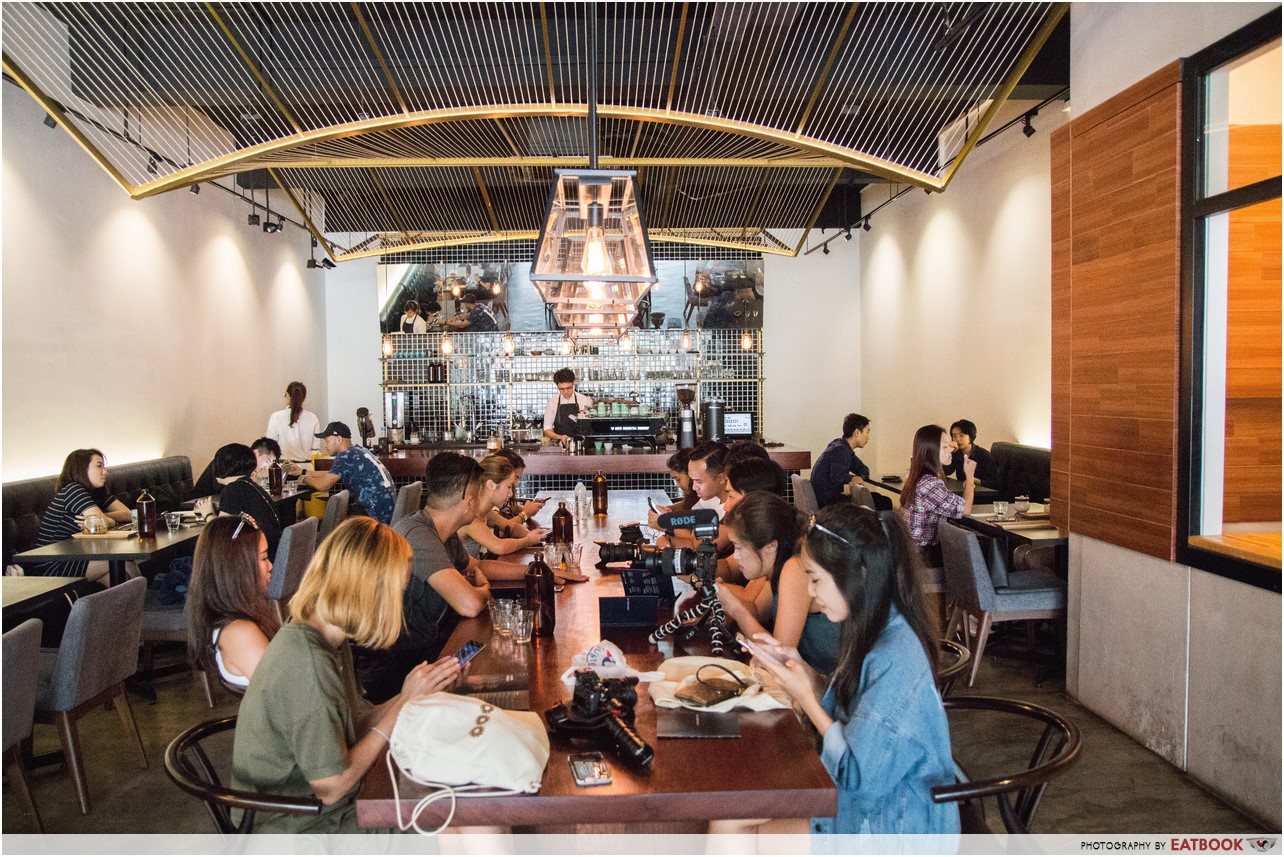 With plenty of seats, it can accommodate both small and large groups comfortably.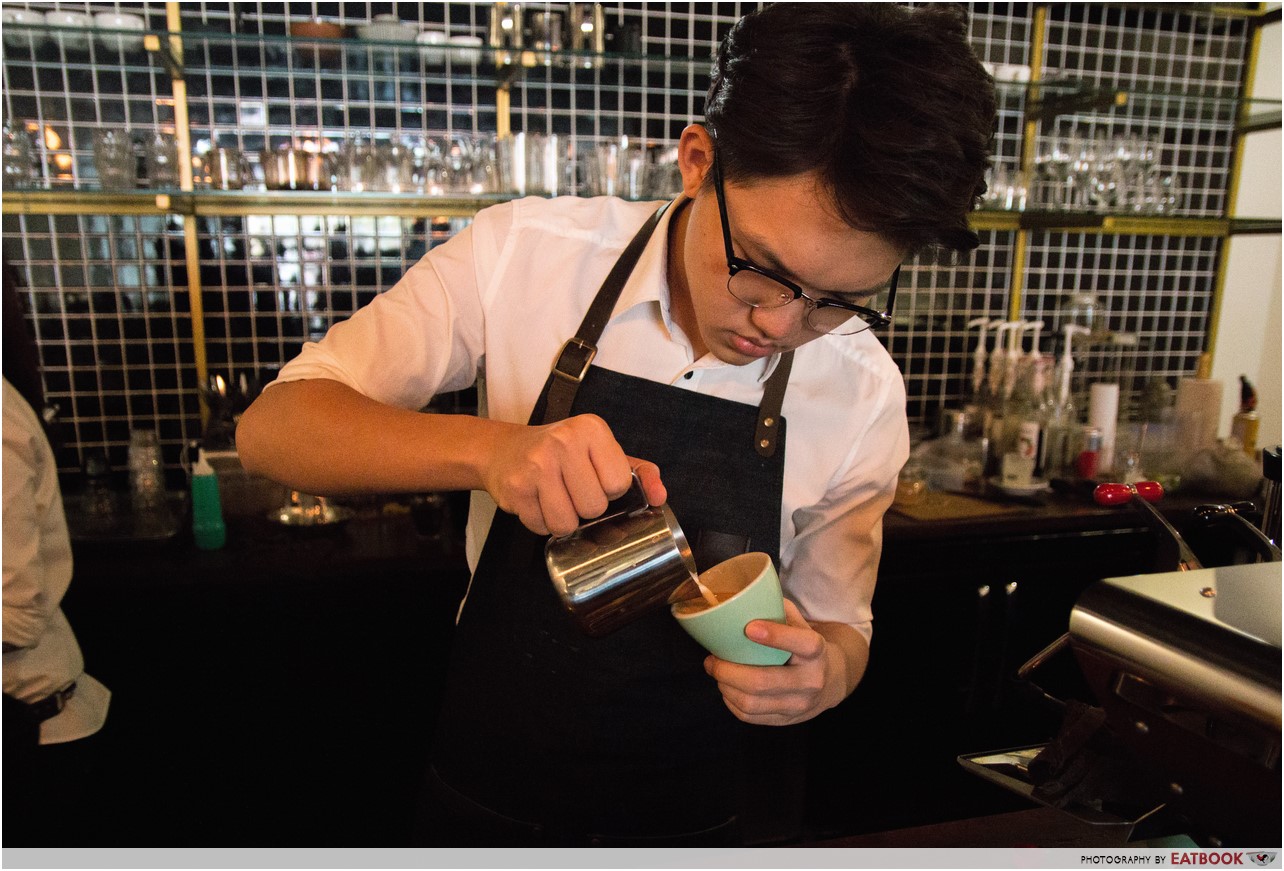 With two to three servers who double up as baristas, food for all 14 of us took about half an hour to arrive. Nonetheless, they were patient in taking our orders, answering any of our questions, and unlike the no-photography rule in theatres, were happy to let us snap photos of them at work by the coffee machine. A comfortable stay to enjoy a cup of coffee over meals and conversations, without being rushed to make way for new customers.
The verdict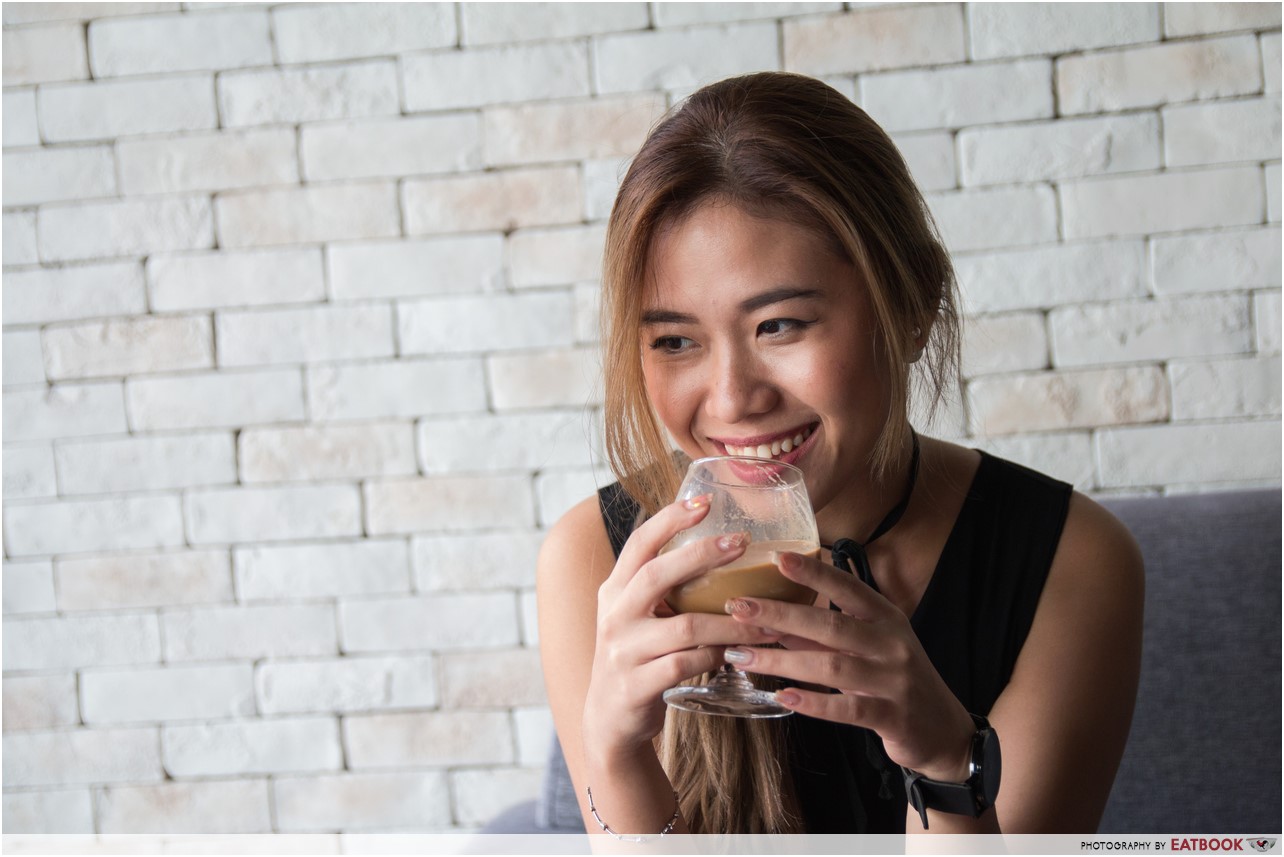 Like walking into a familiar musical where I'm able to anticipate the next lines, The Brew Orchestra has a menu that delivers simple and comforting fare that still manages to impress. Even though prices are slightly high for a cafe across the border, the quality of food and drinks here are better than the average cafe in JB.
Recently introducing a new brunch menu that serves dishes like Chicken Pesto Panini (RM18/~S$5.80) and Eggs Benedict (RM22/~S$7.10) alongside main courses that include Hokkaido Scallop Pasta (RM38/~S$12.30) and Truffled Ribeye Don (RM46/~S$14.90), The Brew Orchestra is perfect for a fuss-free brunch or afternoon tea.
Summary
Pros
– Interesting drinks
– Unique decor
– Good for both small and large groups
Cons
– Expensive drinks
– Inconvenient without driving
Recommended Dishes: Salted Caramel Choc Tart (RM12/~S$3.90), Shizuoka Organic Matcha (RM15/~S$4.85)
Operating Hours:
Monday – Thursday 8:30am to 10:30pm
Friday – Saturday 8:30am to 11:30am
Tel:
+60 7-358 8234
Address: 19 Jalan Molek 1/5C, Taman Molek, 8110 Johor Bahru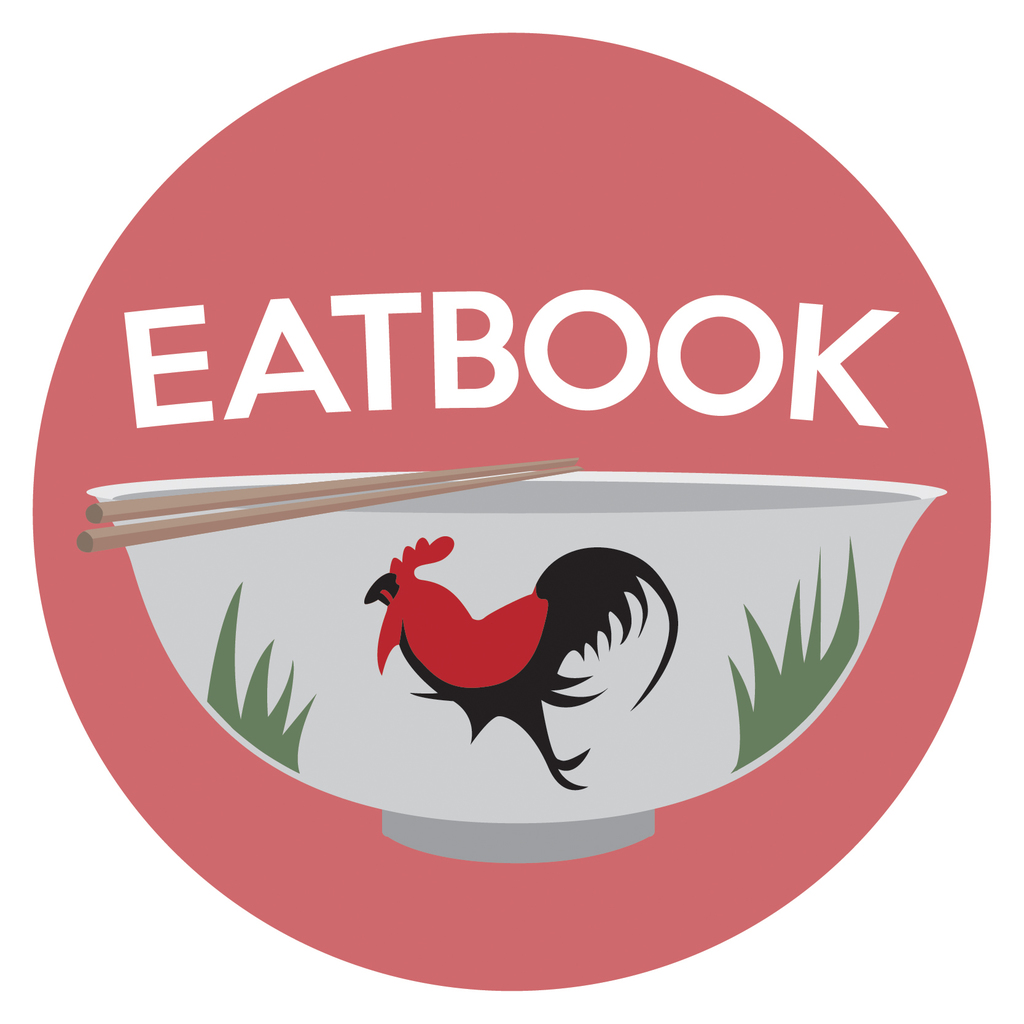 Drop us your email so you won't miss the latest news.