Brez'n serves Bavarian pretzel sandwiches and pork knuckle
Update: Brez'n is now permanently closed.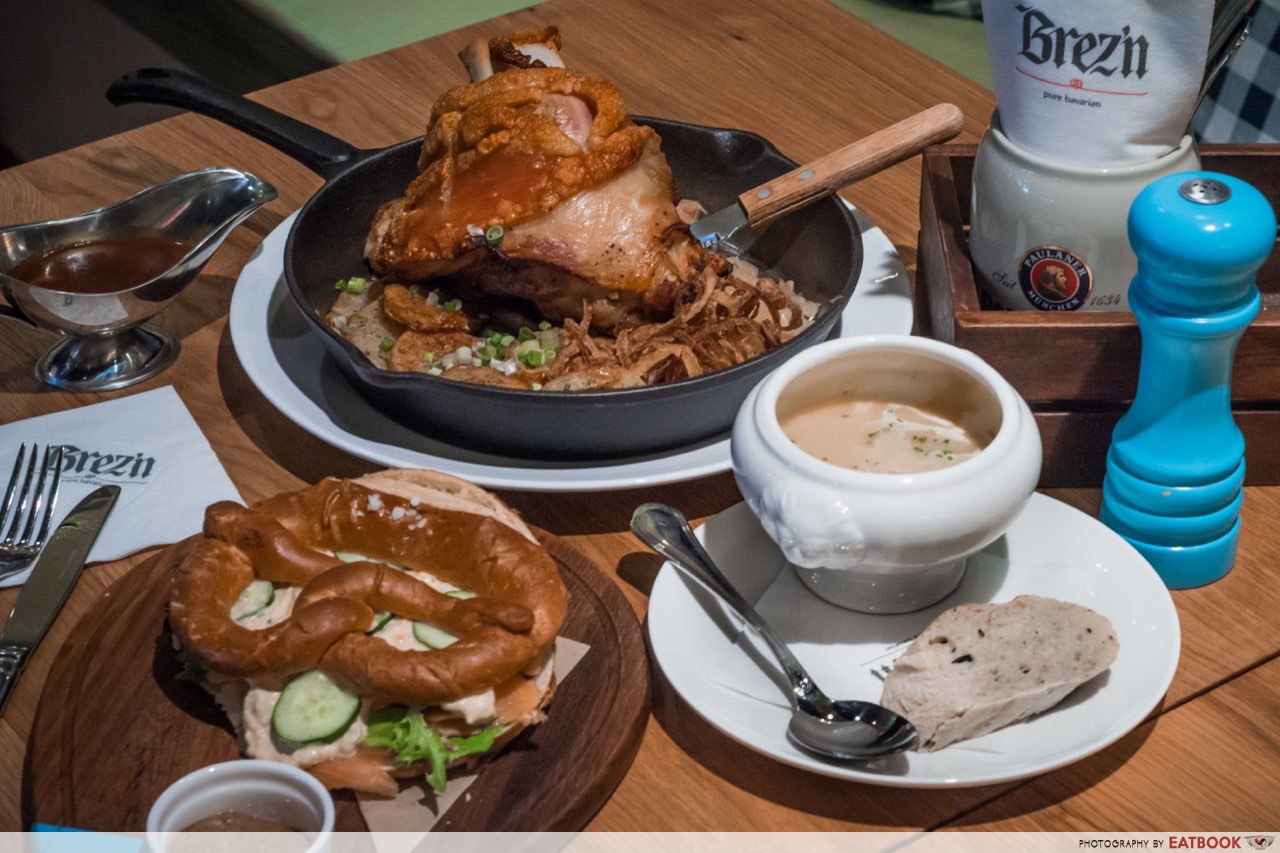 Sandwiches are my go-to when I need a quick-fix. However, as much as I love bread of all sorts, sometimes it's nice to have an alternative to encase the various fillings. Brez'n switches things up a little, by replacing toast with brez'n – German-style oven-baked pretzels. Yes, pretzels have holes in them, and no, the fillings do not fall through said holes.
Food at Brez'n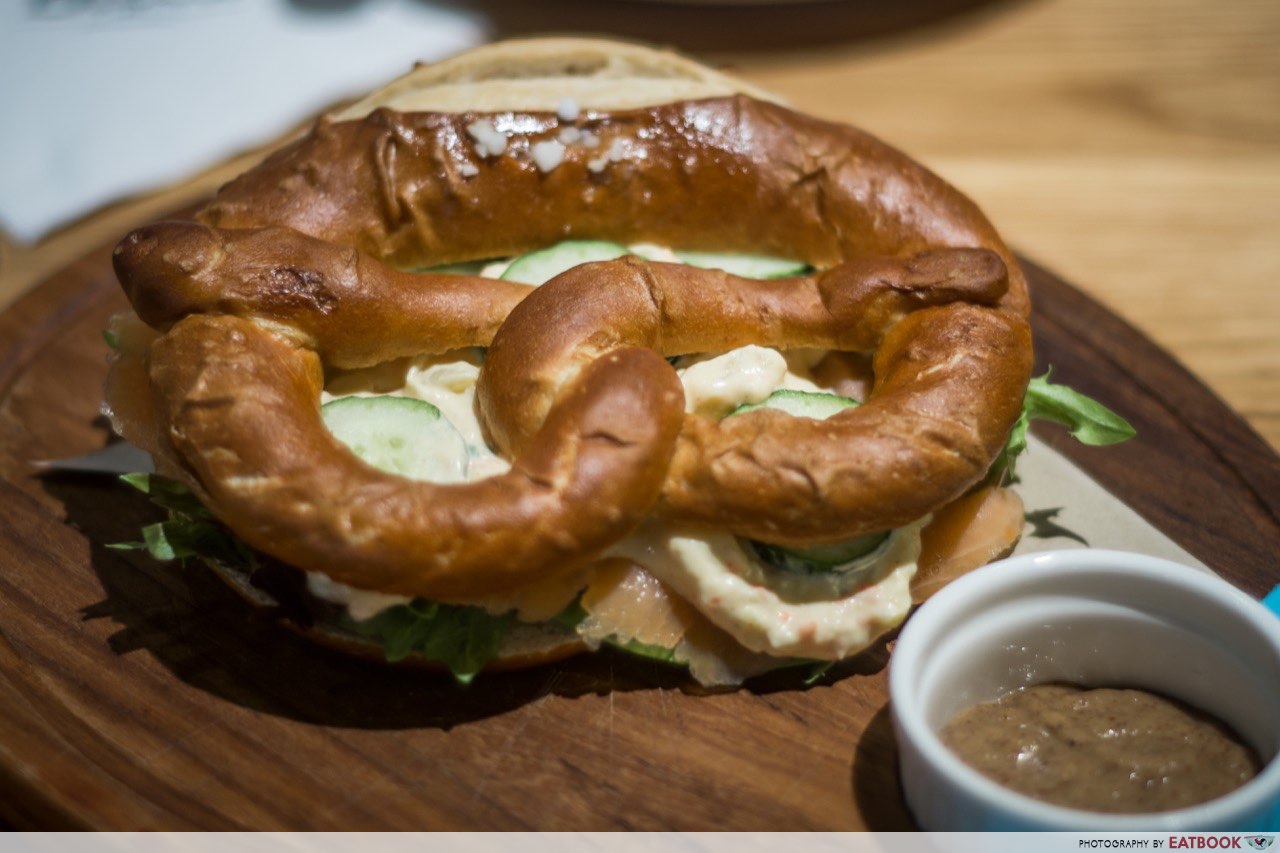 We came for brez'n sandwiches, so we started with brez'n sandwiches. Brez'n has set meals during lunch, and we opted for an express lunch set, which came with a brez'n sandwich and soup. Brez'n Sandwich Raucherlachs ($14++ for both a la carte and set) is, in short, a smoked salmon pretzel sandwich. Lettuce, smoked salmon, house-made Bavarian potato and cheese spread, and slices of cucumber sat between oven-baked brez'n, with honey mustard served on the side.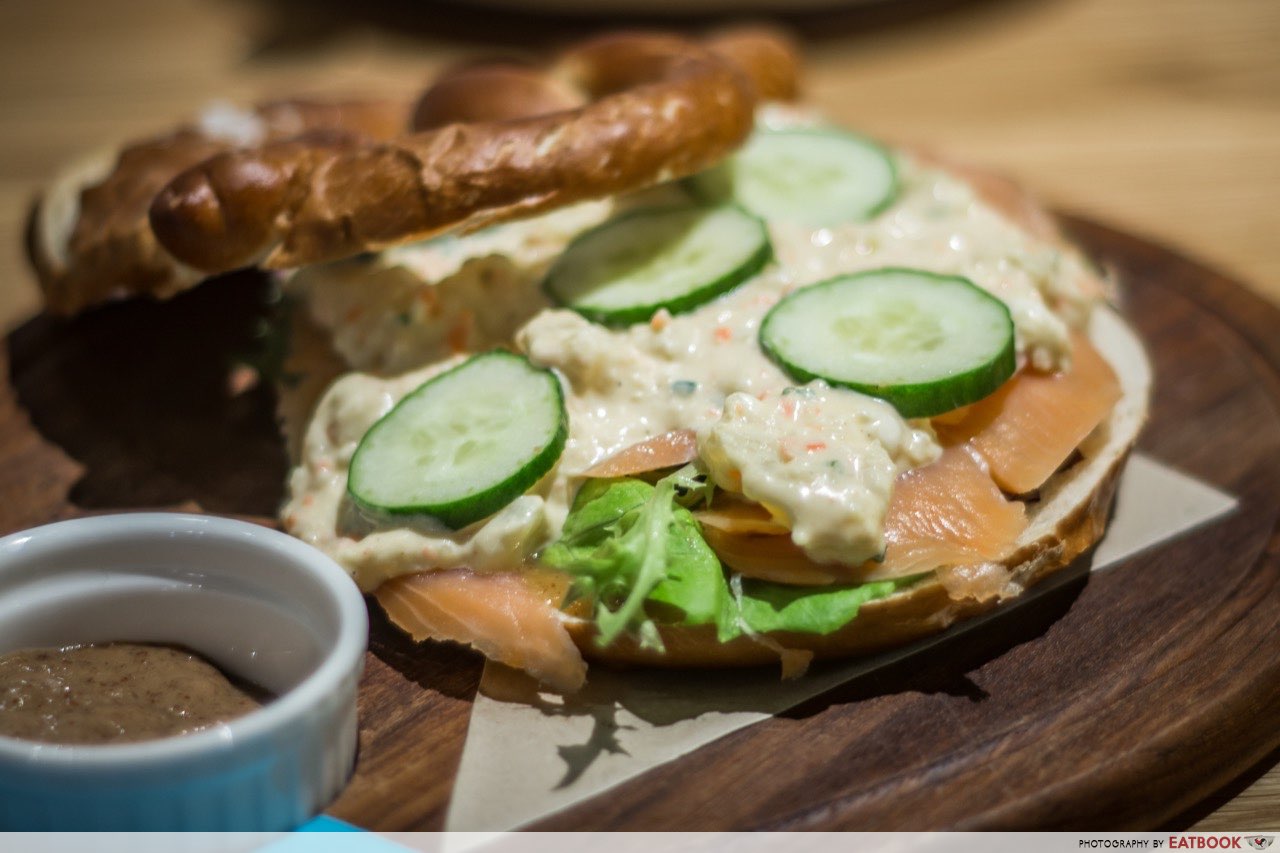 The pretzel itself was a bit hard, and cutting into it made quite a mess. Pro-tip: don't bother about being glam and just eat it with your hands. The smoked salmon was extremely soft and had a melt-in-your-mouth consistency. The potato and cheese spread that was slathered all over it, however, was a tad too salty, even with the refreshing crunch from the slices of cucumber.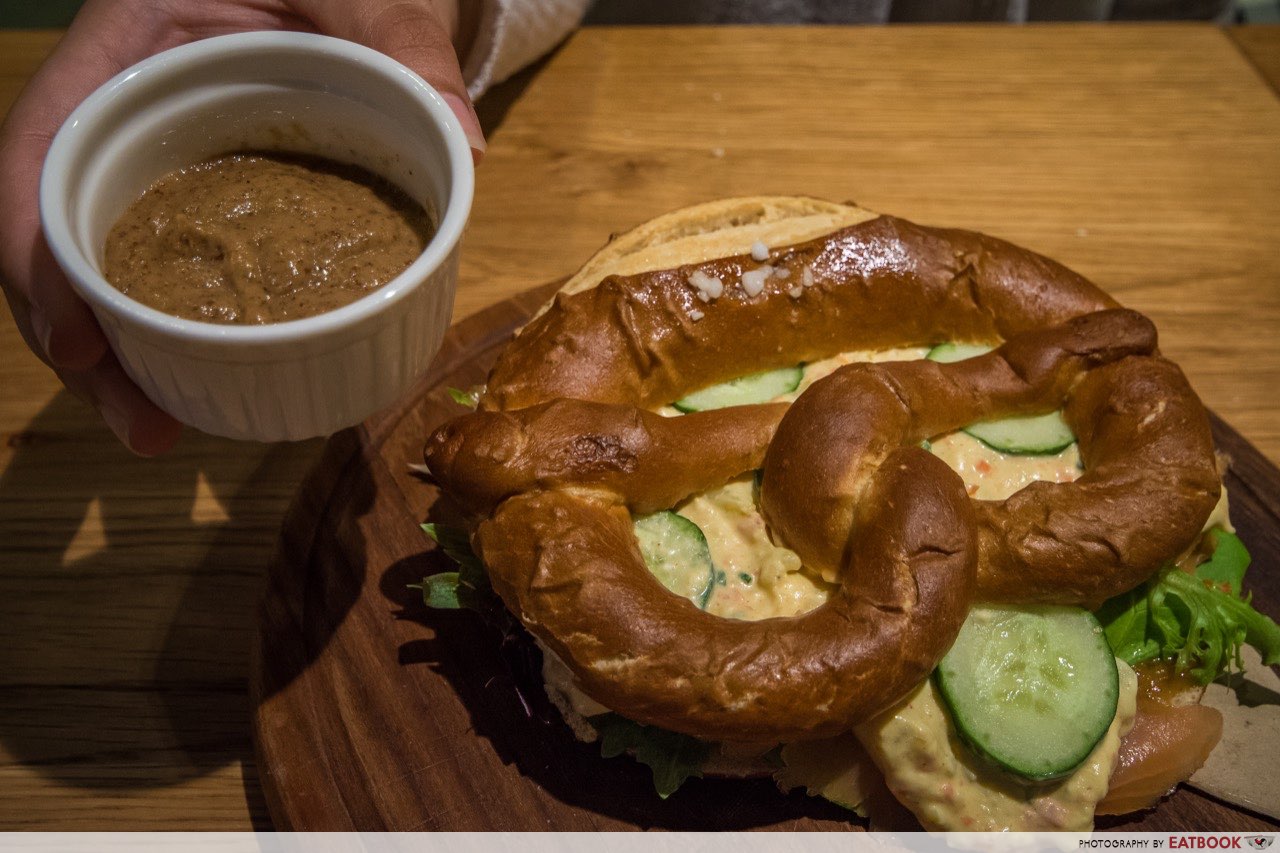 We decided to dip the sandwich into the honey mustard and this turned out to be a pretty good call. While the mustard did take away some of the saltiness, it was extremely sharp and slightly overpowering, so don't be too quick to dump all of it on!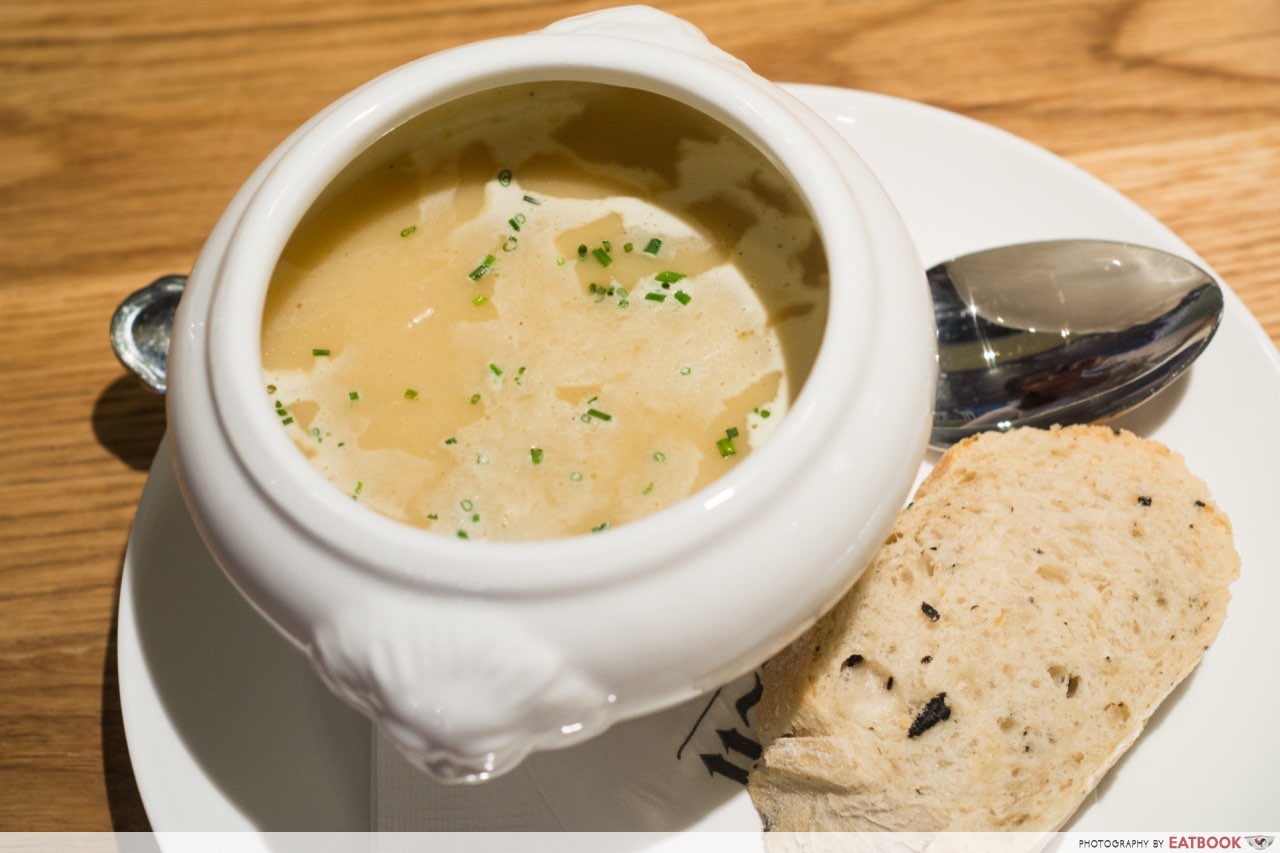 The mushroom soup that came with it was thick and creamy, and clung nicely onto a piece of raisins-studded focaccia on the side. The mushroom flavour wasn't very strong, and once again the soup was a bit too salty for my liking. The addition of chives and swirl of cream on top, however, were nice touches.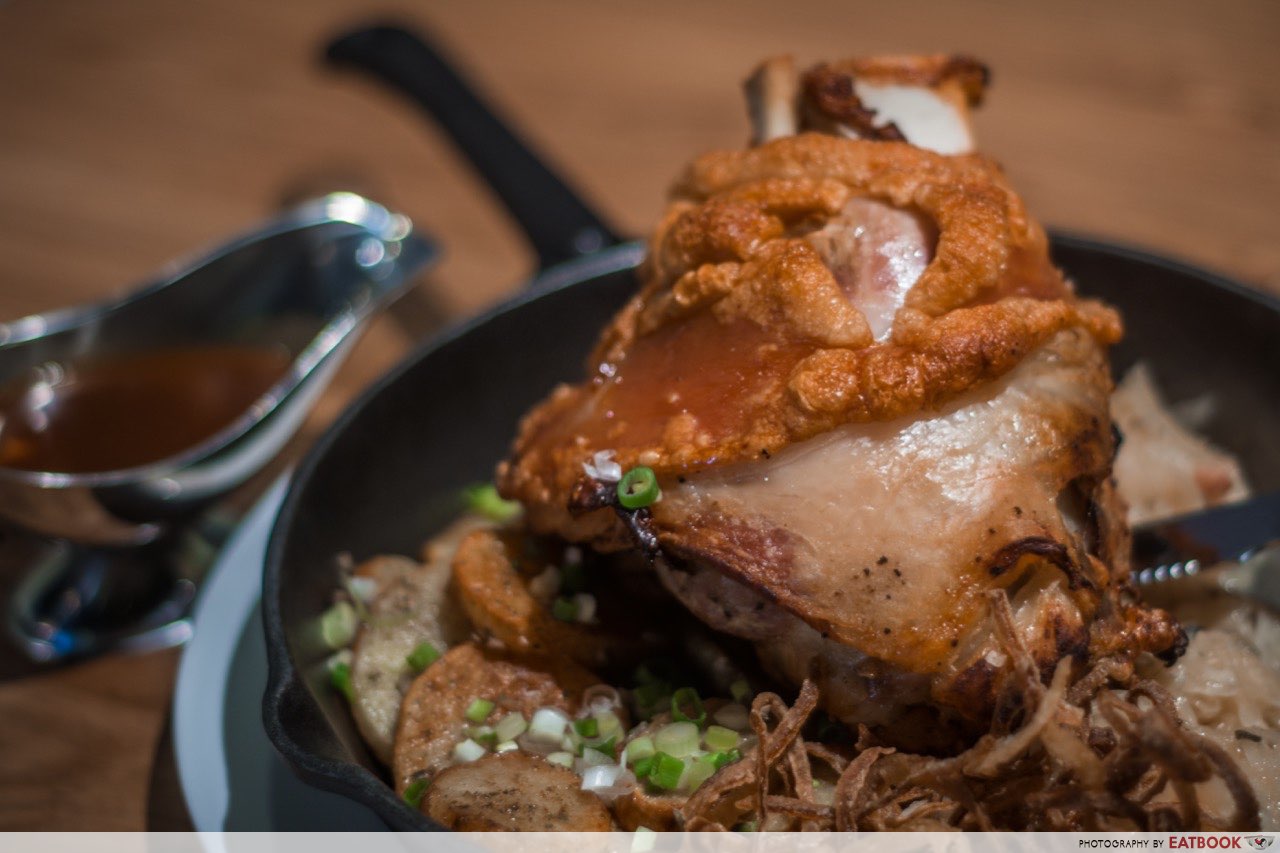 One of their highly recommended dishes, Schweinshax'n ($29.50++), is a massive piece of crispy pork knuckle with sauerkraut and roasted potatoes. It came with a side of dark lager beer sauce that tasted like regular brown sauce.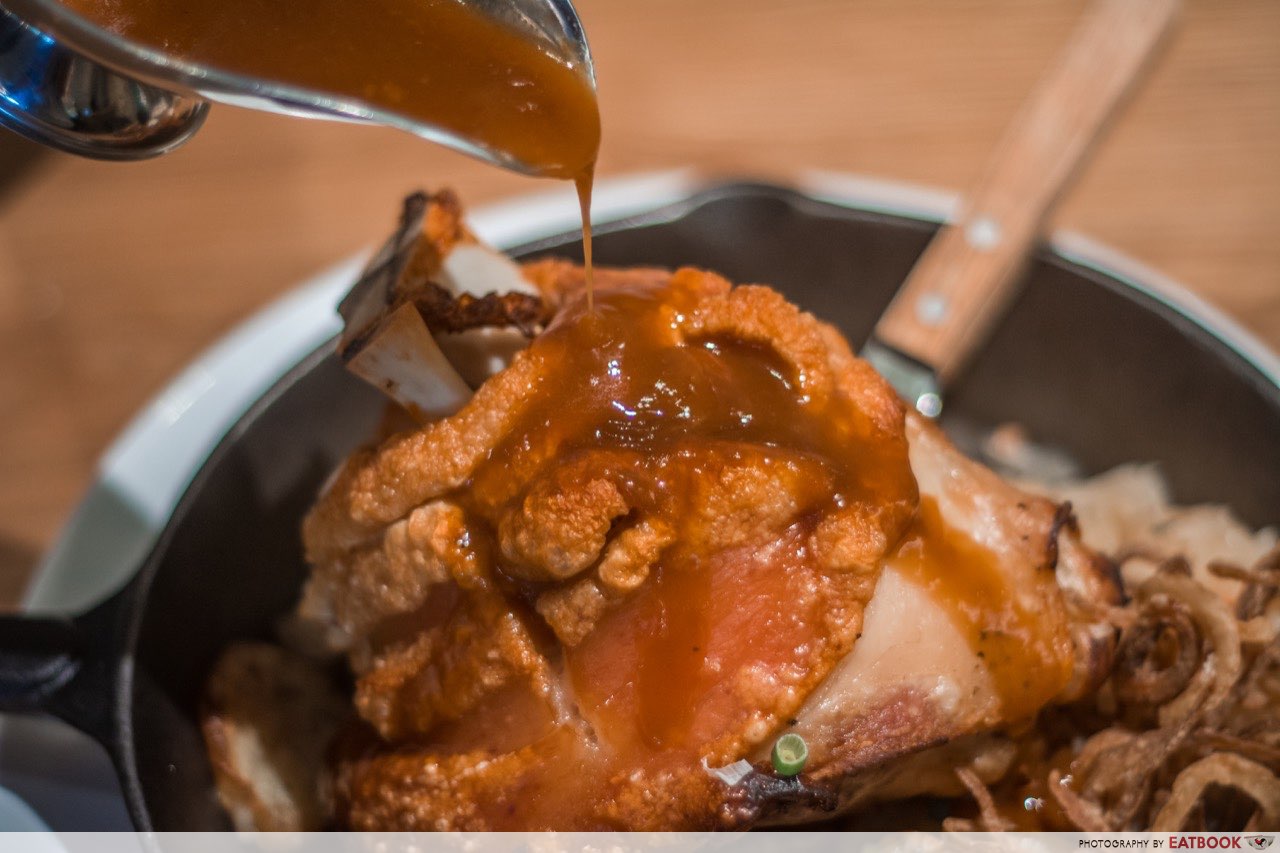 The pork knuckle itself was extremely meaty. The skin was beautifully brown, and cutting into it gave the most satisfying crackle.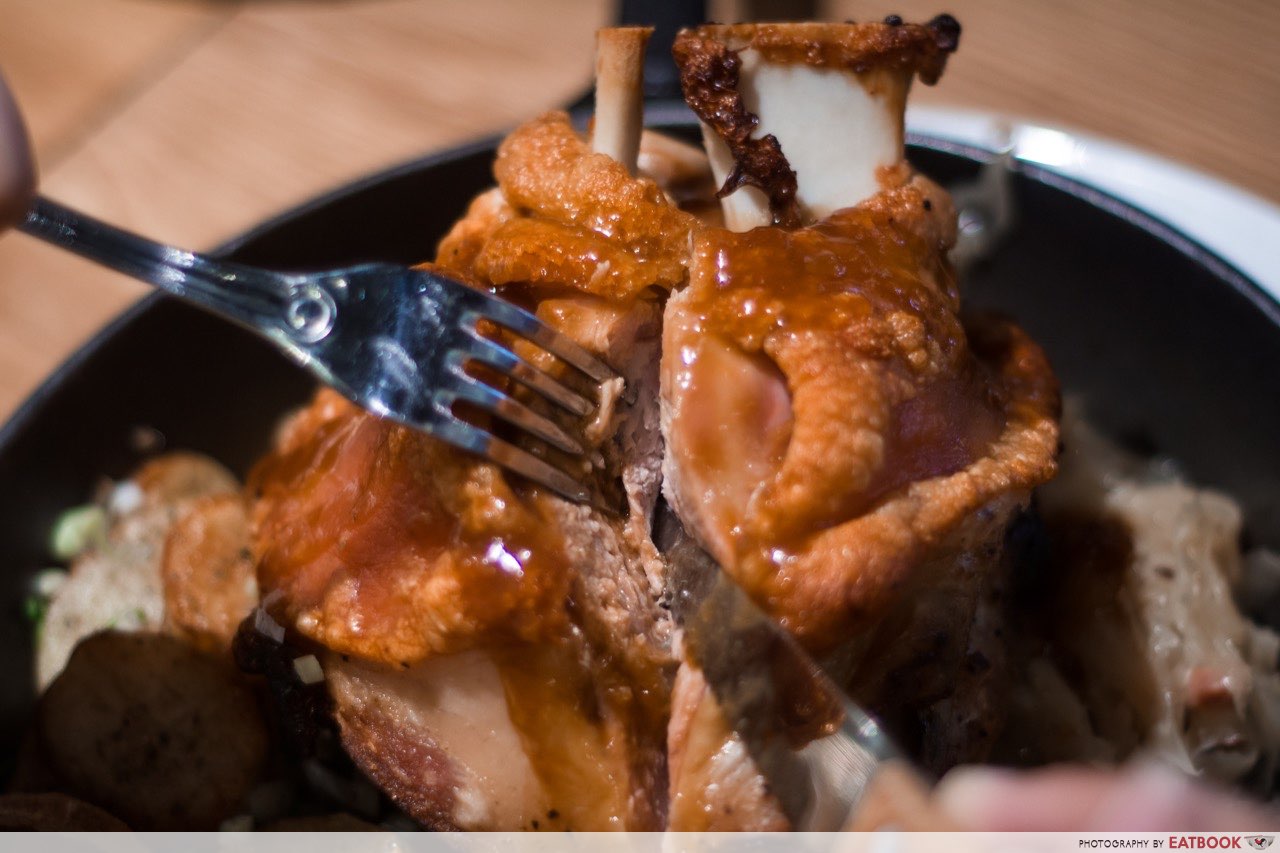 The meat was slightly pink, tender, very soft and easy to chew. It also had a good amount of fat that melted in my mouth. However, because the knuckle was so large, it wasn't pink throughout and some parts were a bit brownish and slightly tougher.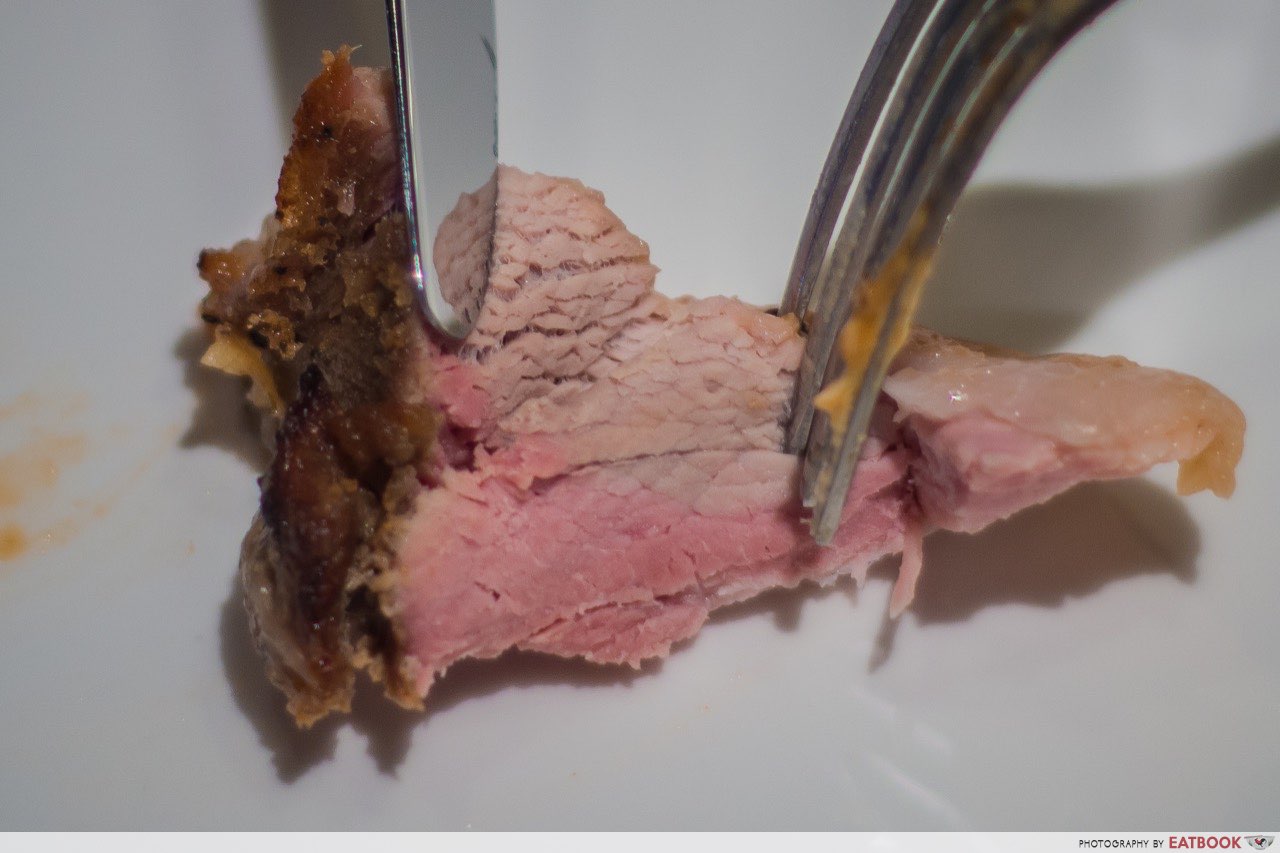 The meat closer to the bone had a pretty strong flavour, but the sauerkraut helped balance it out. Brez'n apparently infuses their pork knuckles with a house-made brine, but they might need to reconsider the amount of salt in the solution because, like the other dishes, this was a tad too salty.
The sauerkraut was more sour than I had anticipated. I personally wasn't a fan, but it is an acquired taste, and did help when eating the richer chunks of meat.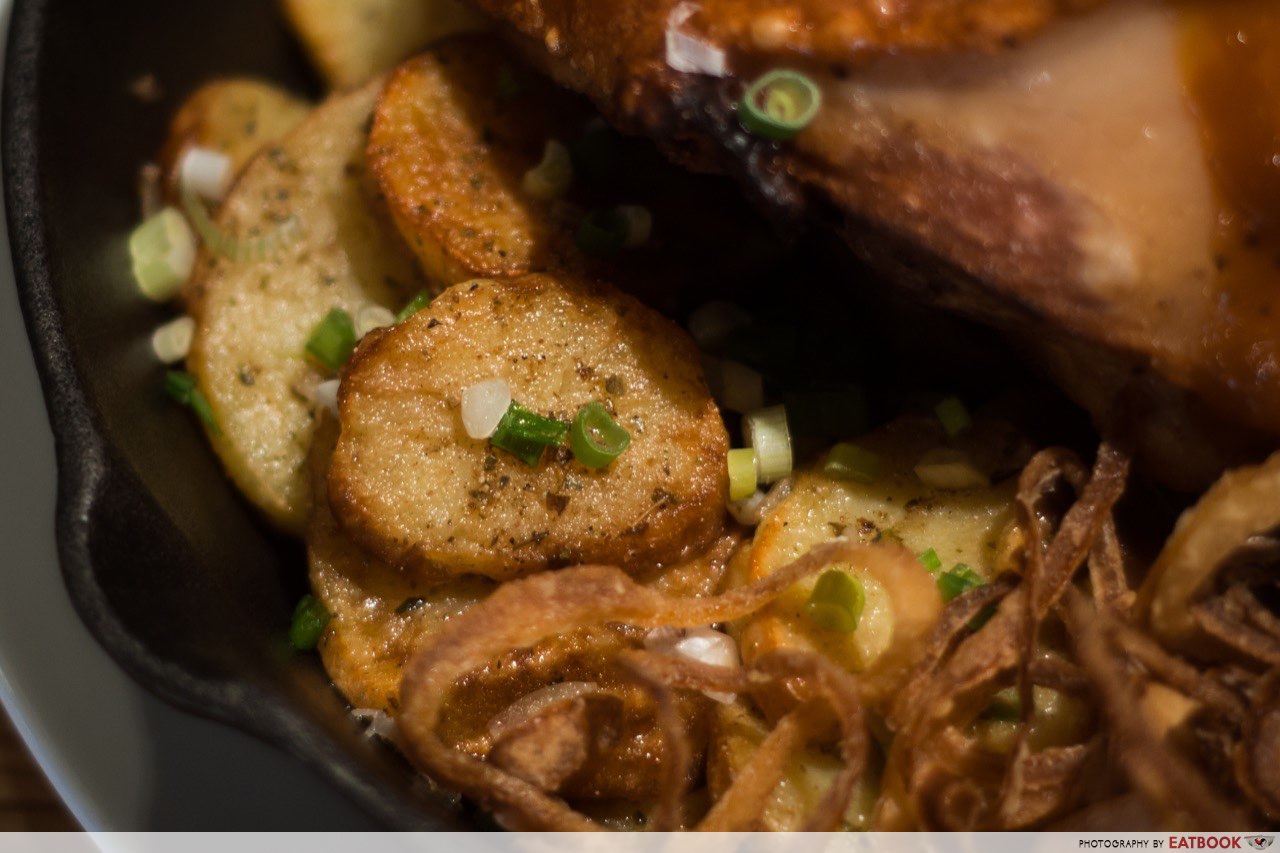 The roasted potatoes were one of my favourites. The skin was crispy, but the inside was soft. It was well-seasoned with herbs and delectable to chow down on in-between eating the meat.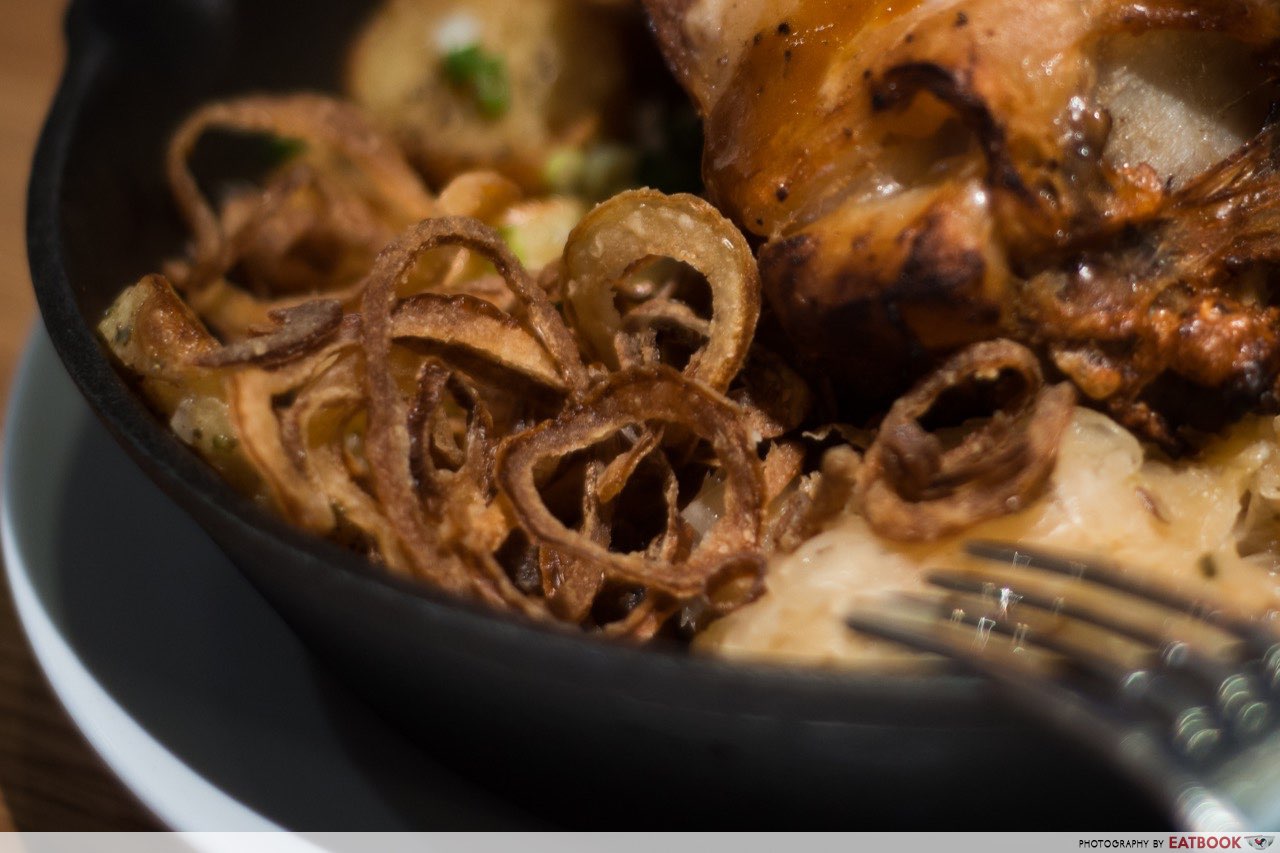 This dish also came with super thin fried onion rings, which were crispy and slightly chewy at the same time. These were another hit.
Ambience at Brez'n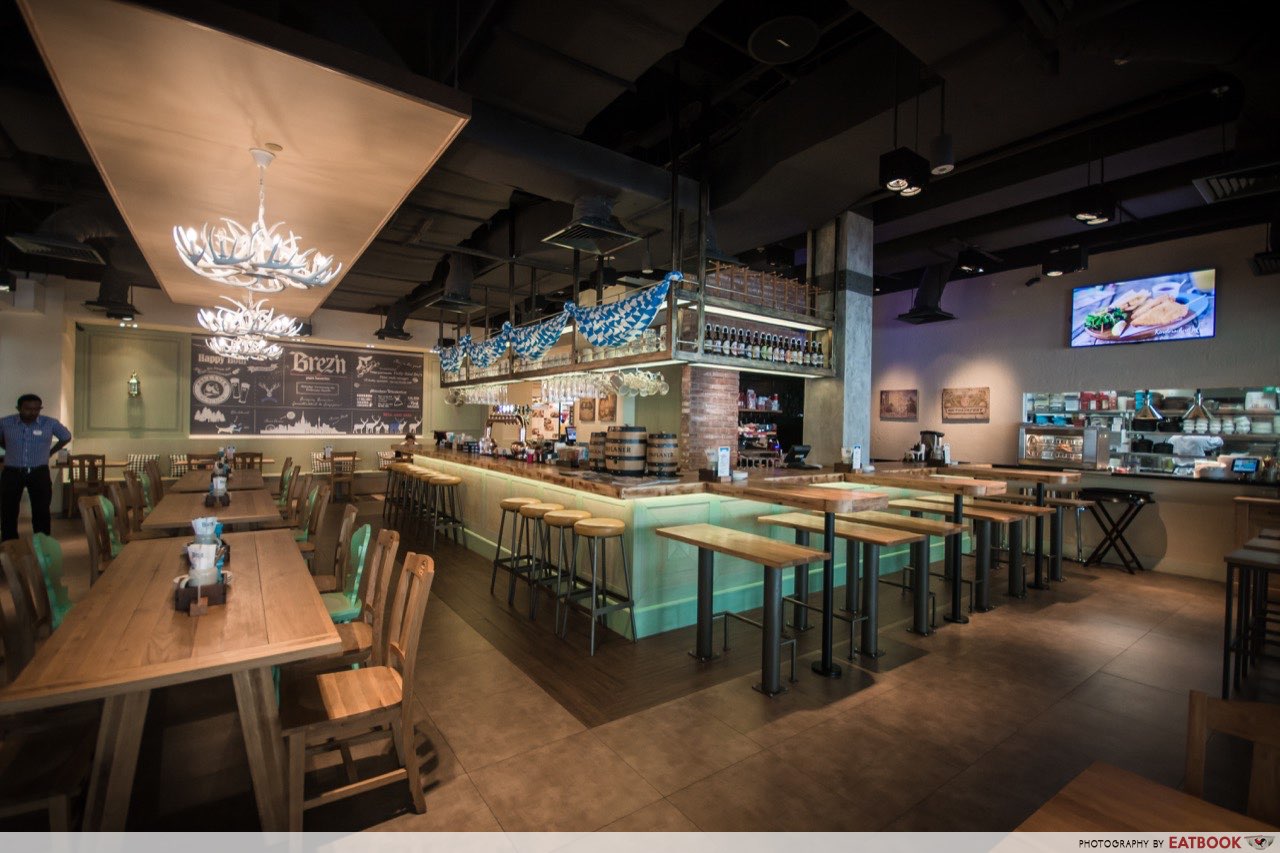 Located in the slightly upmarket Valley Point, Brez'n occupies a large space. Some of its seats are dotted with pillows, and the lighting is warm, overall making it a location you'd be happy to spend a couple of hours at. Getting there, however, is slightly tricky, since there isn't an MRT station or any recognisable landmarks nearby.
The verdict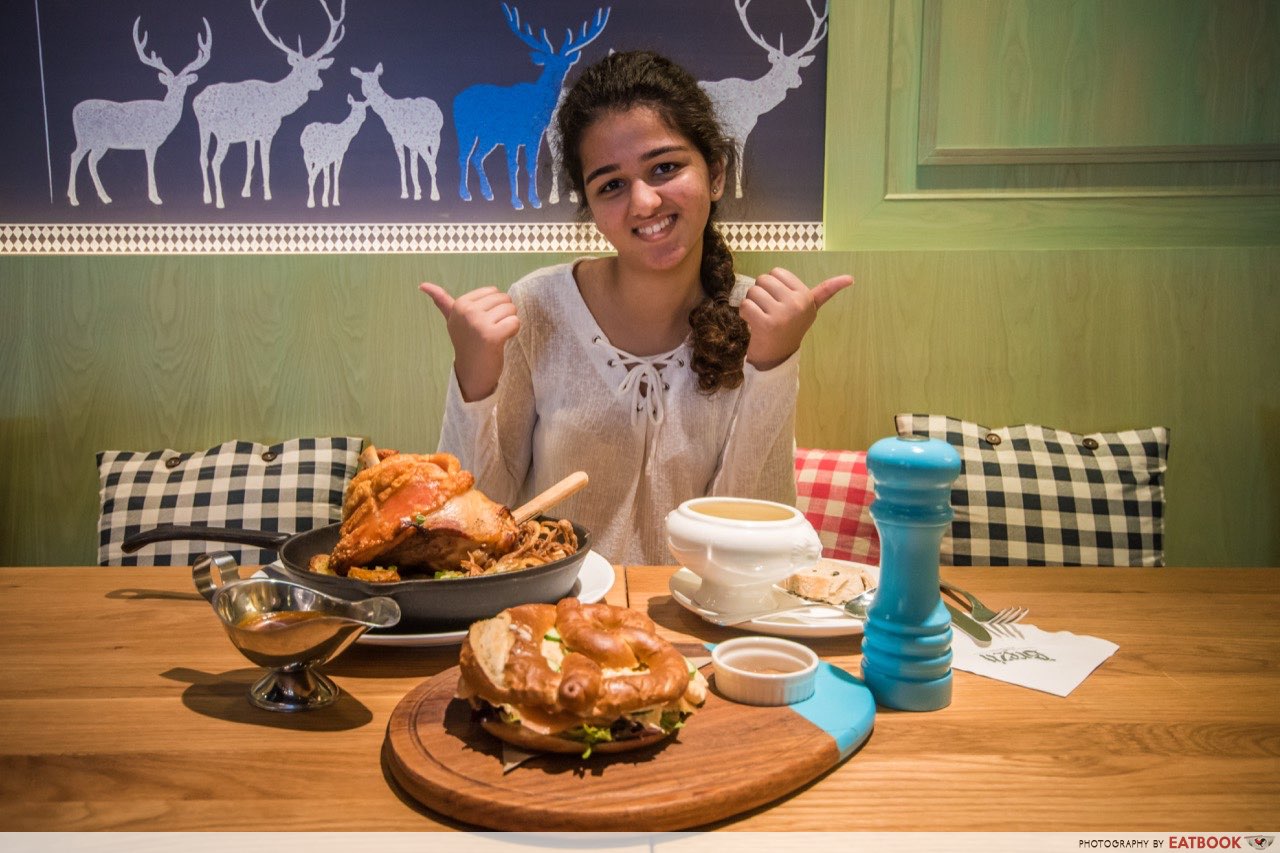 The mains themselves are pretty expensive, although the portions of food are large enough to justify them. We would recommend heading down for lunch, to make full use of their express lunch meals that come with soup and brez'n, as well as their set meals that include a soup, a main and dessert from $16++.
This is an independent review by Eatbook.sg.