---
Try British food in Singapore
---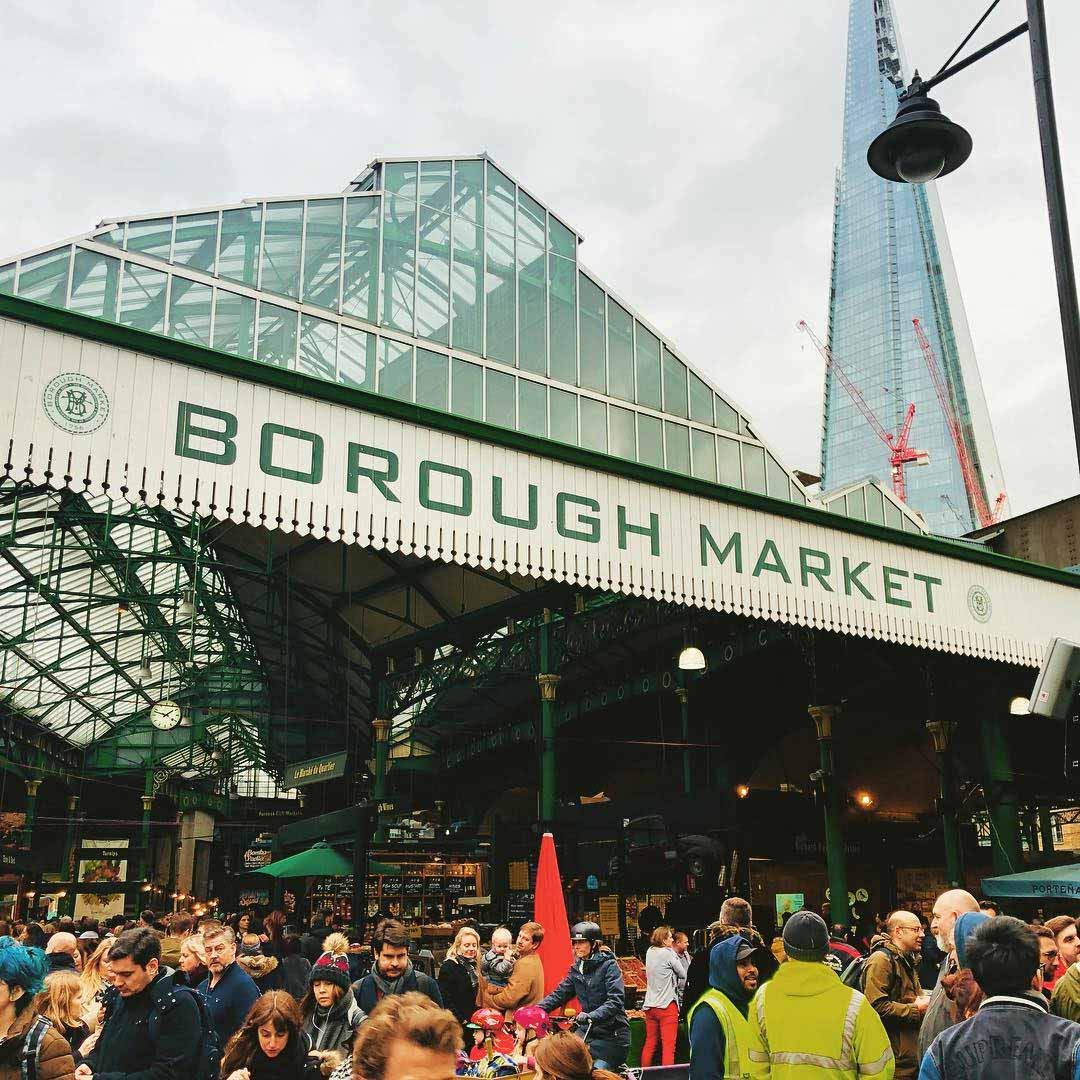 Image credit: @coko_73
With a beautiful mix of Victorian architecture and modern metropolitan cityscape, London is my favourite European city. Its metropolitan nature is reflected in its cuisine, which carries influences from all over the world.
No place is a better representation of London's food scene than Borough Market. An expansive outdoor complex with everything from seafood and baked goods to fresh produce and Ethiopian fare, visiting Borough Market is a must for anyone travelling to London. Surrounding the market are London's emblematic pubs, bursting with office workers in the evenings.
It's certainly hard to recreate that Borough atmosphere over here. But to hark back to your London holiday without blowing cash on a plane ticket, here are 10 British food in Singapore that will transport you there.
---
1. Sunday Roast
---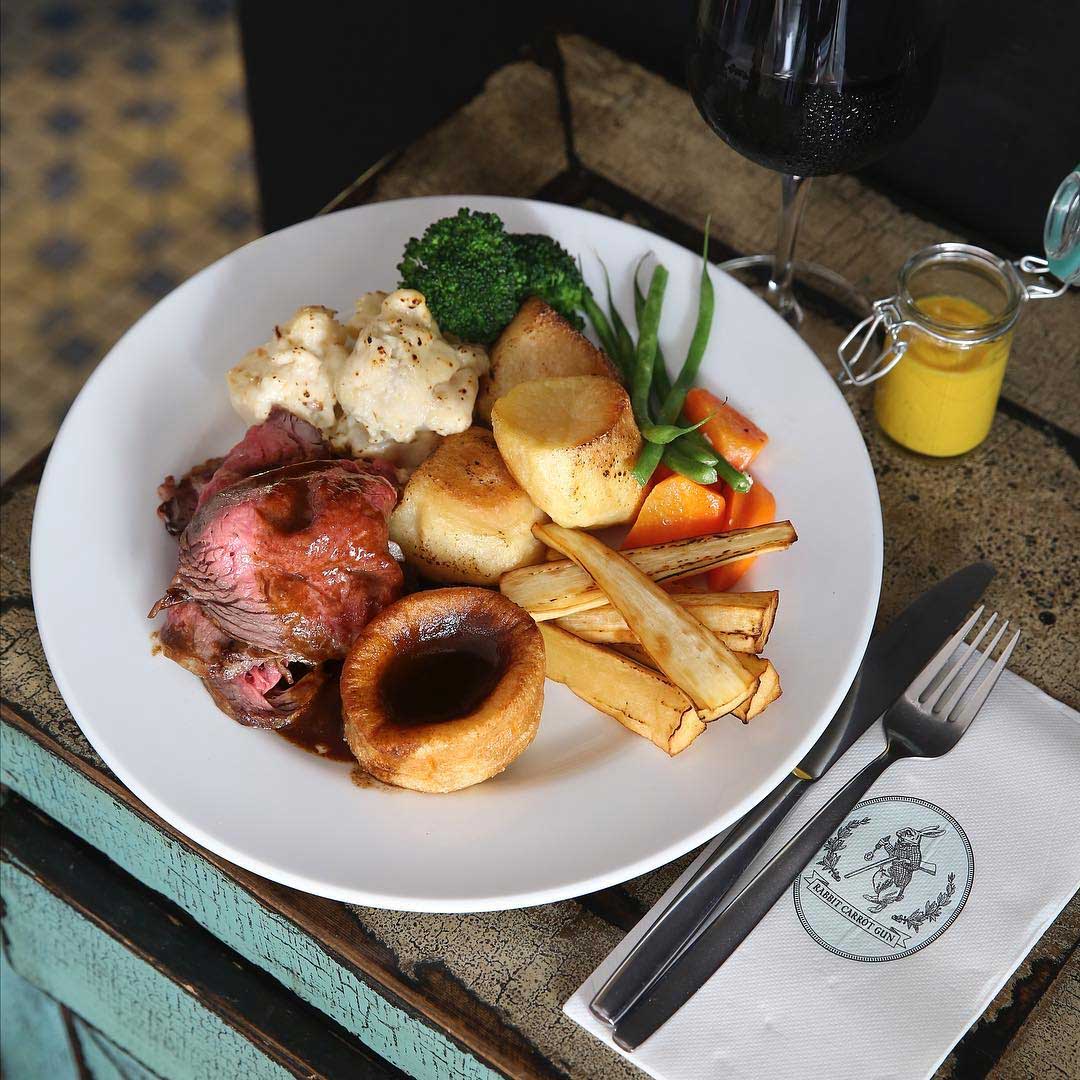 Image credit: @rabbitcarrotgun

Eating Sunday Roast ($29+) is a British weekend tradition. Anglo-inspired restaurant, Rabbit Carrot Gun's version of this dish is known as one of the best on the island, doing all the classic components well. It has tender roast beef slices, mellow roasted vegetables, and buttery yorkshire pudding topped with a hearty ladle of gravy. A simply gobsmacking plate.
After you've knocked yourself into a food coma, head next door to its sister bar, The Trenchard Arms, and down a pint with yer mates.
Address: 49 East Coast Road, Singapore 428768
Opening hours: Mon 11am to 10:30pm, Tue-Sun 8:30am to 10:30pm
Tel: 6348 8568
Website
---
2. Fish & Chips
---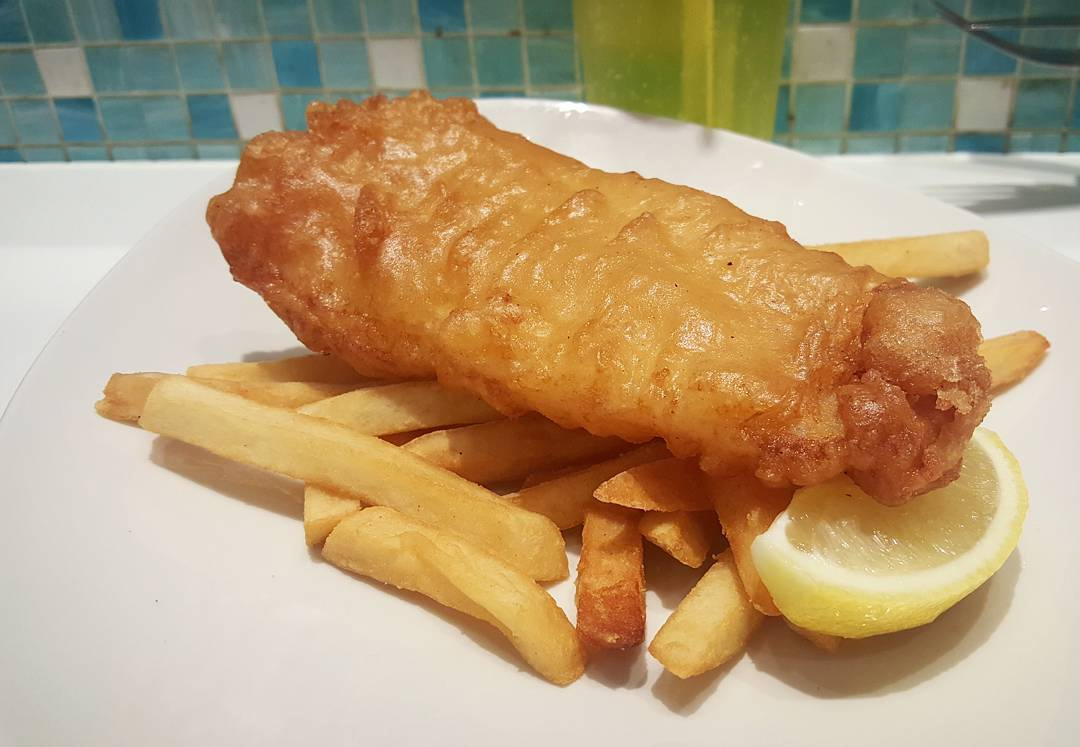 Image credit: @puidiot
Fish and chips is the quintessential British pub grub. It's served hot, oily and unpretentiously in newspapers everywhere to Brits from all walks of life. Despite its unassuming appearance, Fisherios serves up a value-for-money rendition of this classic. We recommend the Cod & Chips ($17.90), with moist, buttery fish coated by a crispy, not-too-oily batter that gets us going "Blimey!". If you're on a budget, their Beer Battered Fish & Chips ($8.90) will satisfy you just as well.
Address: 391A Orchard Road, #B204-4-2, Ngee Ann City, Singapore 238873
Opening hours: Daily 10am to 9pm
---
3. Duck Confit Sandwich
---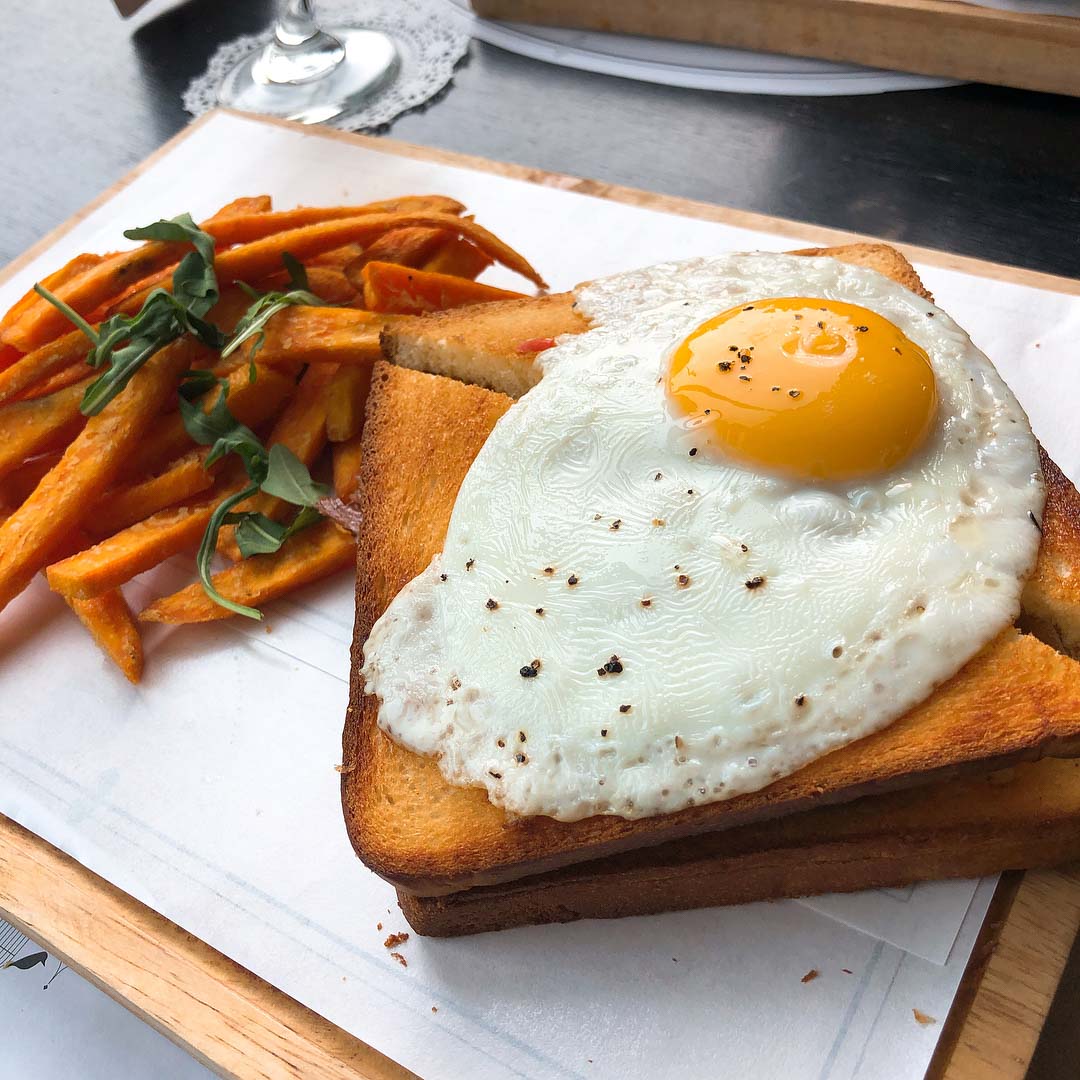 Image credit: @jofoodjourney
Yes, I am well aware this looks nothing like the magnificent duck confit roll from Borough Market. But hear me out, The Prince of Monte Carlo ($16++) at Arteastiq is the closest you're gonna get in Singapore.
Boasting crunchy slices of toast, rich duck confit and a perfect sunny side up, this is a formidable sandwich in its own right. If you close your eyes and dream hard enough while eating it, you'll be transported back to those cold London afternoons, wolfing down a luscious duck sandwich.
Address: 333A Orchard Road, #04-14/15, Mandarin Gallery, Singapore 238867
Opening hours: Mon-Fri 11am to 10pm, Sat-Sun 10am to 10pm
Tel: 6235 8370
Website | Full list of outlets
---
4. Flat Iron Steak
---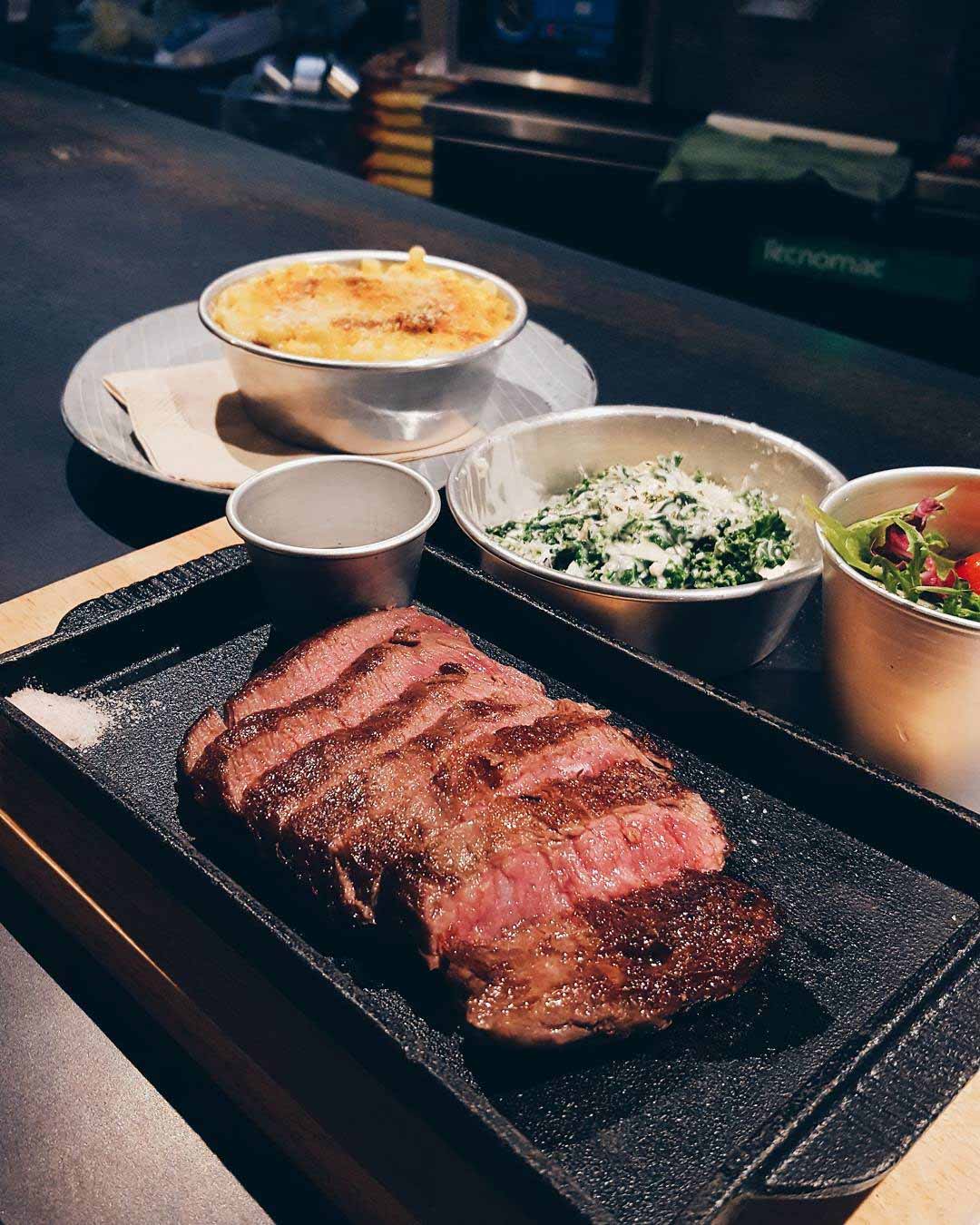 Image credit: @alittletoofat
Affordable food is hard to find in London, let alone an affordable steak. That's what makes flat iron steak and its namesake restaurant so popular there, with the headline dish going at a mere £10 (~$17.84).
At $35++, the 150-day Grain Fed Angus Flat Iron Steak at Fat Belly is a tad more expensive, but still an absolute bargain for a dry-aged steak. In fact, flat iron steak refers to a slightly tougher cut of beef from the cow's shoulder that gives a gamier flavour. The meat has a good chew but is still tender, while the dry-aging process bolsters the beef flavour, creating an intense carnivorous experience that will leave you chuffed.
Sharing the same space as Fat Belly is Sugarhaus, which serves brunch plates and painfully pretty desserts like The Galaxy ($8++).
Check out our full review of Fat Belly and Sugarhaus!
Fat Belly And Sugarhaus Review: Double-Identity Cafe With Steak, Foie Gras Ice-Cream And Galaxy Cake
Address: 10 Jalan Serene, #01-03A/04, Serene Centre, Singapore 258748
Opening hours: Sun-Thur 6pm to 10pm, Fri-Sat 6pm to 11pm
Tel: 6314 2247
Website
---
5. Scotch Eggs
---

Image credit: @ang_gary
A sprawling British gastropub by the waterfront, The Queen and Mangosteen is home to arguably the widest selection of British nosh in Singapore. Their Scotch Egg ($12++) is a particular favourite that is relatively difficult to find here.
Scotch eggs are half-boiled eggs encircled by a coating of minced meat – in this case, beef – before being breaded and deep-fried. This version is a right corker, having a crispy exterior and meat that isn't too finely minced, juxtaposing well with the creamy, molten egg yolk. It's finished off with a whisky mustard sauce that provides a nice sharp note.
Address: 1 Harbourfront Walk, #01-106/107, VivoCity, Singapore 098585
Opening hours: Daily 12pm to 12am
Tel: 6376 9380
Website
---
6. Bangers & Mash
---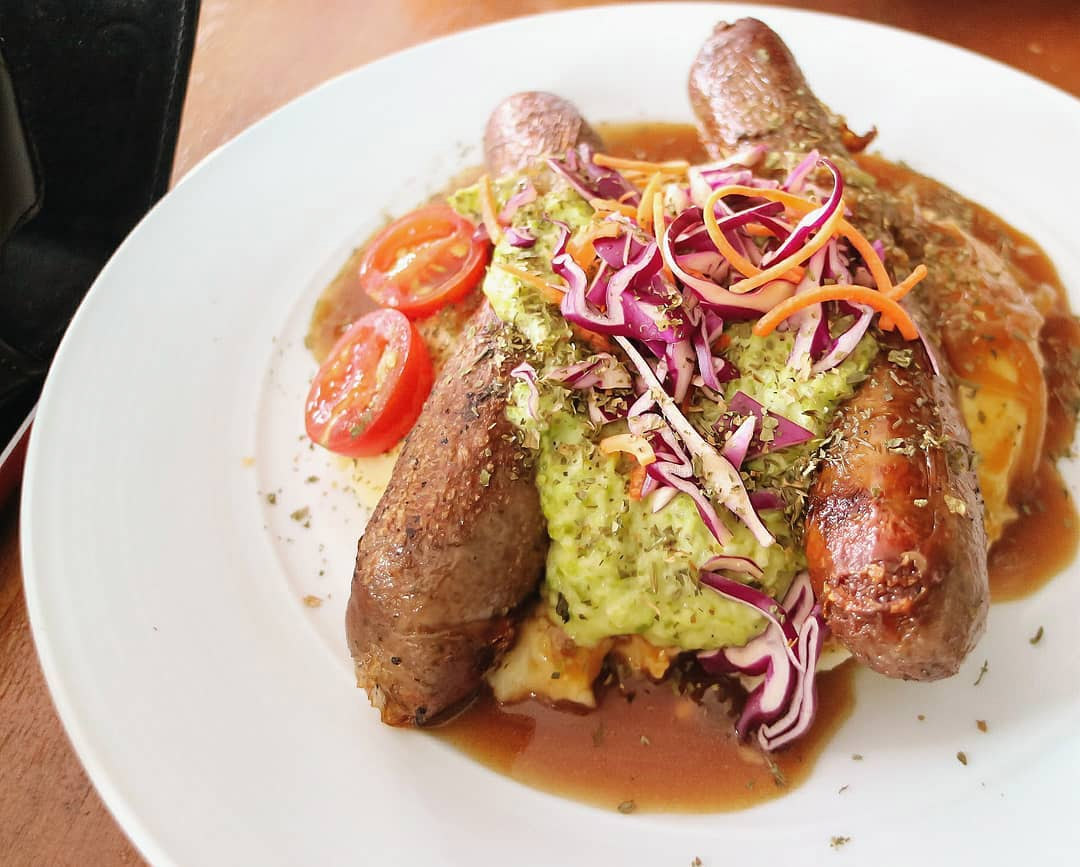 Image credit: @queenofcraps
With coarsely-ground, sage-spiked sausages and silky, gravy-drenched mash, Bangers & Mash is a pub staple and Britain's ultimate meat-and-potatoes dish.
At nautically-themed The Mad Sailors, coarsely-textured garlic and herb beef sausages act as a great counterpoint to the pile of creamy mash and mushy peas in their Bangers & Mash ($17.90++). A topping of fresh slaw is the unsung hero here, bringing balance to the heavy flavours on the plate. You could say it's an absolute banger of a dish.
Address: 24 Haji Lane, Singapore 189217
Opening hours: Mon-Thur 12pm to 10pm, Fri 12pm to 11pm, Sat 10am to 11pm, Sunday 10am to 10pm
Tel: 8768 0465
Website
---
7. Salt Beef Sandwich
---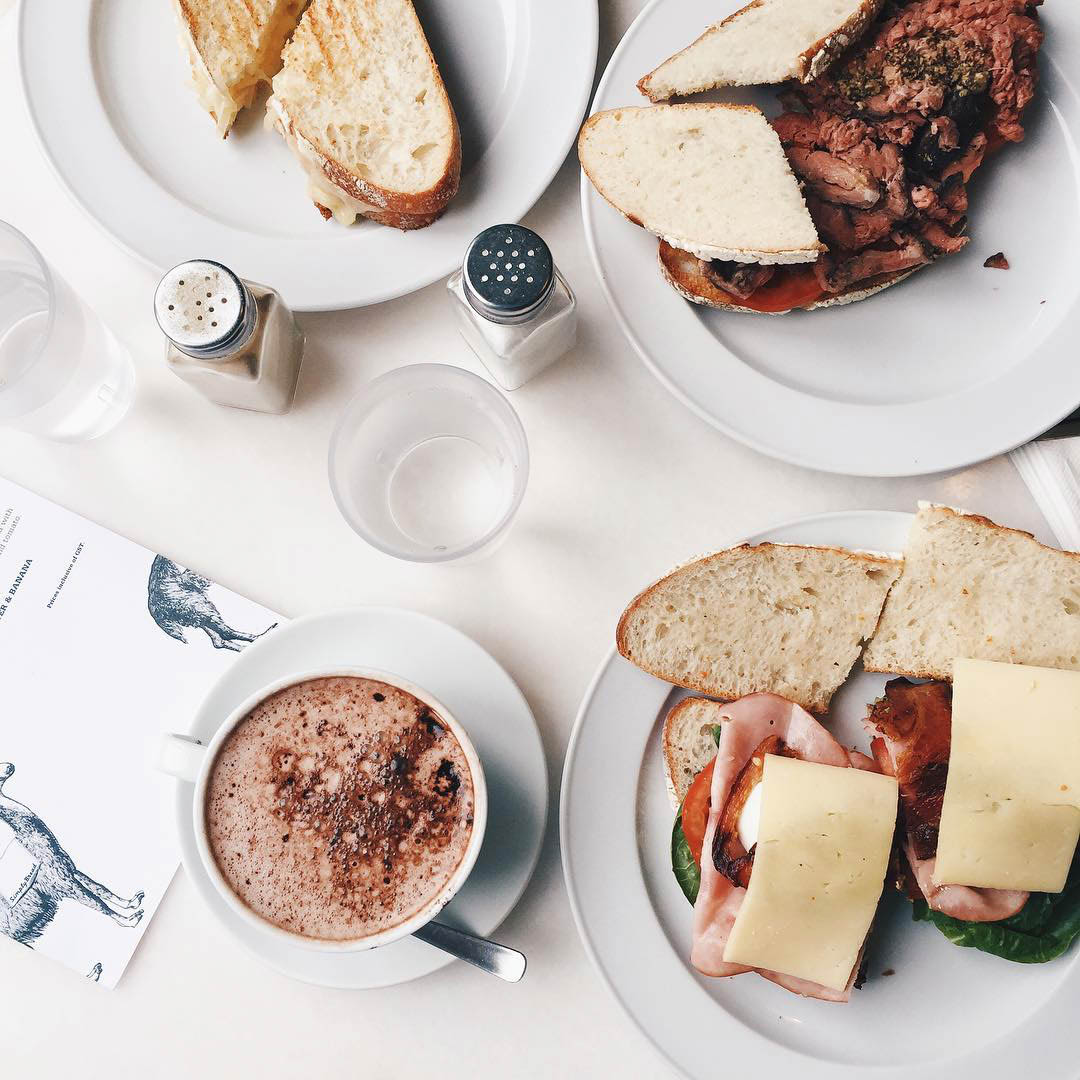 Image credit: @chiaraang
A cousin of New York's famous pastrami on rye sandwich, salt beef sandwiches are startlingly straightforward to construct. It simply combines thick chunks of salt beef, a generous layer of sharp English mustard and a few pickles slapped between two slices of bread. The key difference between salt beef and pastrami is that the former is usually leaner, and boiled rather than smoked.
Simply Bread is one of the few joints in Singapore serving up Salt Beef Sandwich ($11.50+). They do away with the tart crunch of pickles and balance out the salty, cured brisket with a healthy dose of searingly-hot, nostril-clearing English mustard.
Address: 1 Fifth Avenue, Guthrie House, Singapore 268802
Opening hours: Daily 8am to 7pm
Tel: 6466 7767
Website | Full list of outlets
---
8. Beef and Guinness Pie
---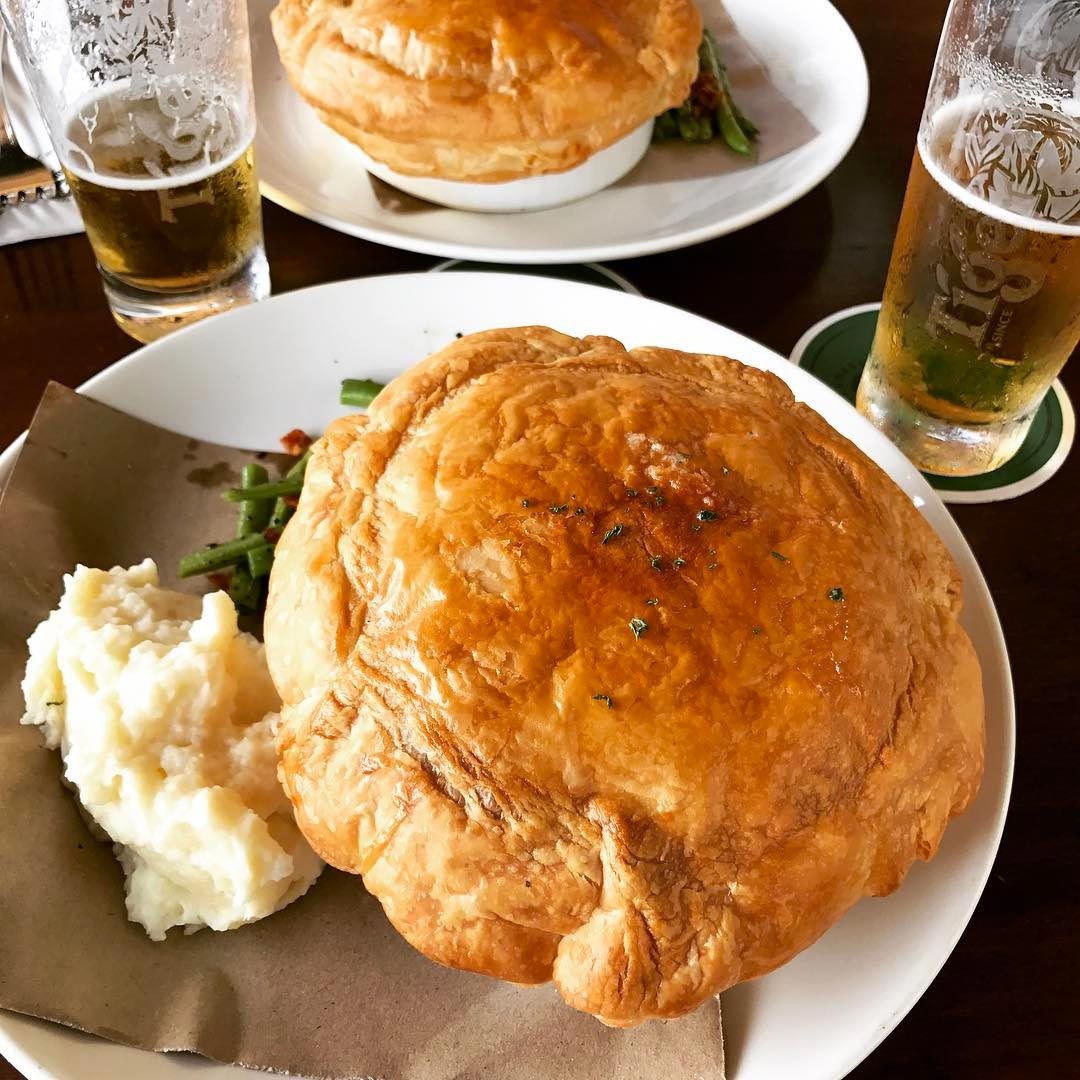 Image credit: @mingstergrammm

As if the Brits don't consume enough stout as it is, they stick it in their pies too. Much like adding wine to a bolognese, adding Guinness perfumes the pie gravy. This popular stout has a smooth, slightly bitter, coffee-esque flavour, imbuing the gravy with a deep heartiness.
Prototypical British pub The Penny Black serves a Beef and Guinness Pie ($18++) any Englishman would be happy with. Topped with a crisp yet fluffy layer of puff pastry, break the crust open and you'll get a steaming bowl of soothing and robust beef stew. Let your mind wander while eating this and you'll picture yourself half-drunk, nursing this dish and a tall glass of ale in the corner of a rowdy London pub.
Address: 26/27 Boat Quay, Singapore 049817
Opening hours: Mon-Thur 11:30am to 1am, Fri-Sat 11:30am to 2am, Sun 11:30am to 12am
Tel: 6538 2300
Website
---
9. Scones
---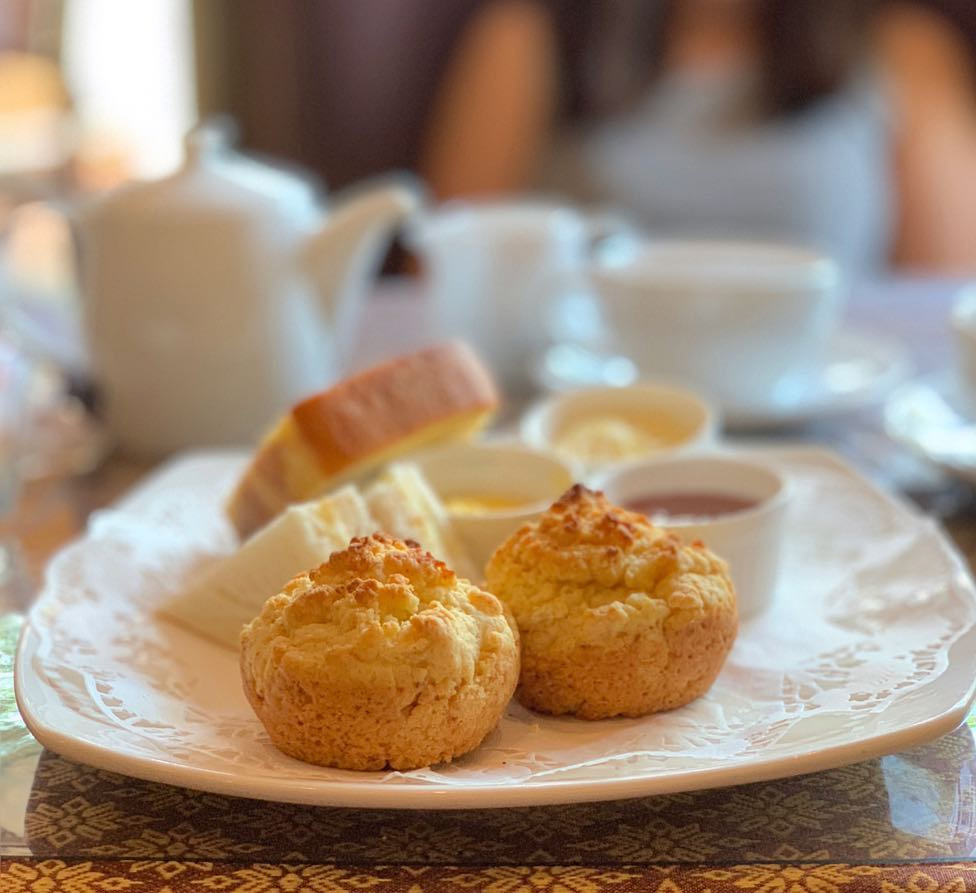 Image credit: @asherhayashi

The common perception of scones in Singapore is that it's an atas pastry, eaten by posh Brits for high tea. However, it's entirely possible to bring out your inner tai-tai and enjoy this crumbly pastry at affordable prices in Singapore.
Fosters is one place to live out that fantasy. They are famed for their Devonshire Cream Tea Set ($11.50++), comprising freshly-baked scones, teacakes, finger sandwiches, coffee or tea, and house-made strawberry preserve. The scones are rich and buttery, mingling well with the sweet and tart preserve.
Address: 277 Holland Avenue, Singapore 278994
Opening hours: Daily 11am to 11pm
Tel: 6466 8939
Website
---
10. Bacon And Chip Butty
---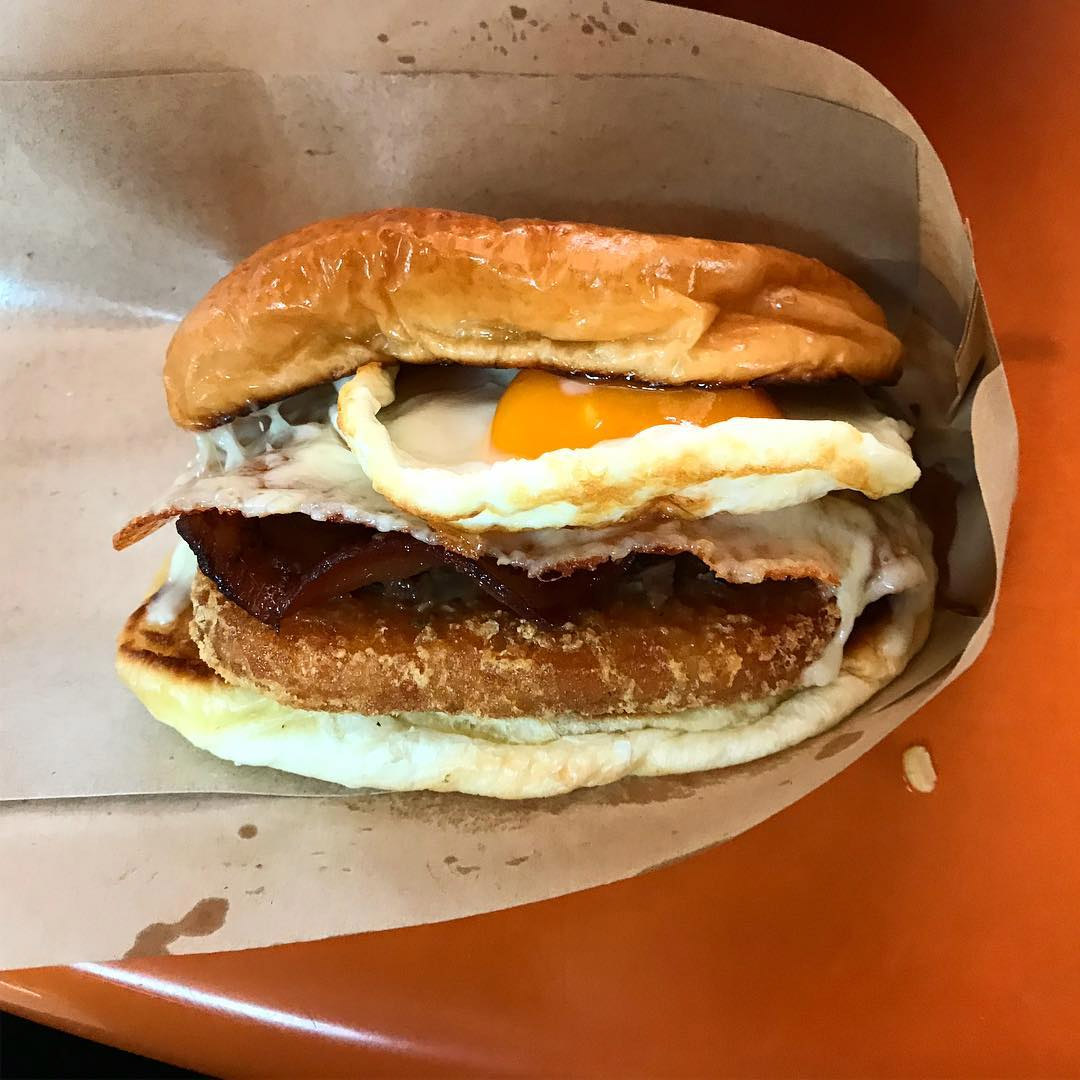 Image credit: @francis.shaun
This glorious greasy sandwich is a textbook British breakfast, but don't eat too much butty if you don't want your derriėre to grow.
The Bacon And Chip Butty ($5) from British-influenced hawker stall Lad & Dad is a veritably artery-clogging breakfast item. Like a Sausage McMuffin with Egg on steroids, it features a sunny side up, rashers of bacon and a hash brown between two toasted buns.
If you shove your guilt to the wayside and dig in, the gooey egg yolk, salty bacon, crispy hash brown and lightly charred buns form a cacophony of flavours in your mouth. Once you take the first bite, you're sure to polish this sandwich off.
Address: 1 Kadayanallur Street, #01-79, Maxwell Food Centre, Singapore 069184
Opening hours: Mon-Sat 11:30am to 2:30pm, 5:30pm to 8:30pm
Tel: 9247 7385
Website
---
Exciting eateries with English flair
---
Maybe you can't watch footy at Stamford Bridge, then head to the pub with the lads on a chilly Saturday evening over here, but we hope these 10 dishes can make those memories of London rush back from thousands of miles away.
If you'd rather be whisked off to Japan instead, check out our list of Japanese cafes!
7 Japanese Cafes In Singapore For Soufflé Pancakes, Tamago Sandwich And Brown Sugar Latte
Share some of your favourite British grub in the comments below.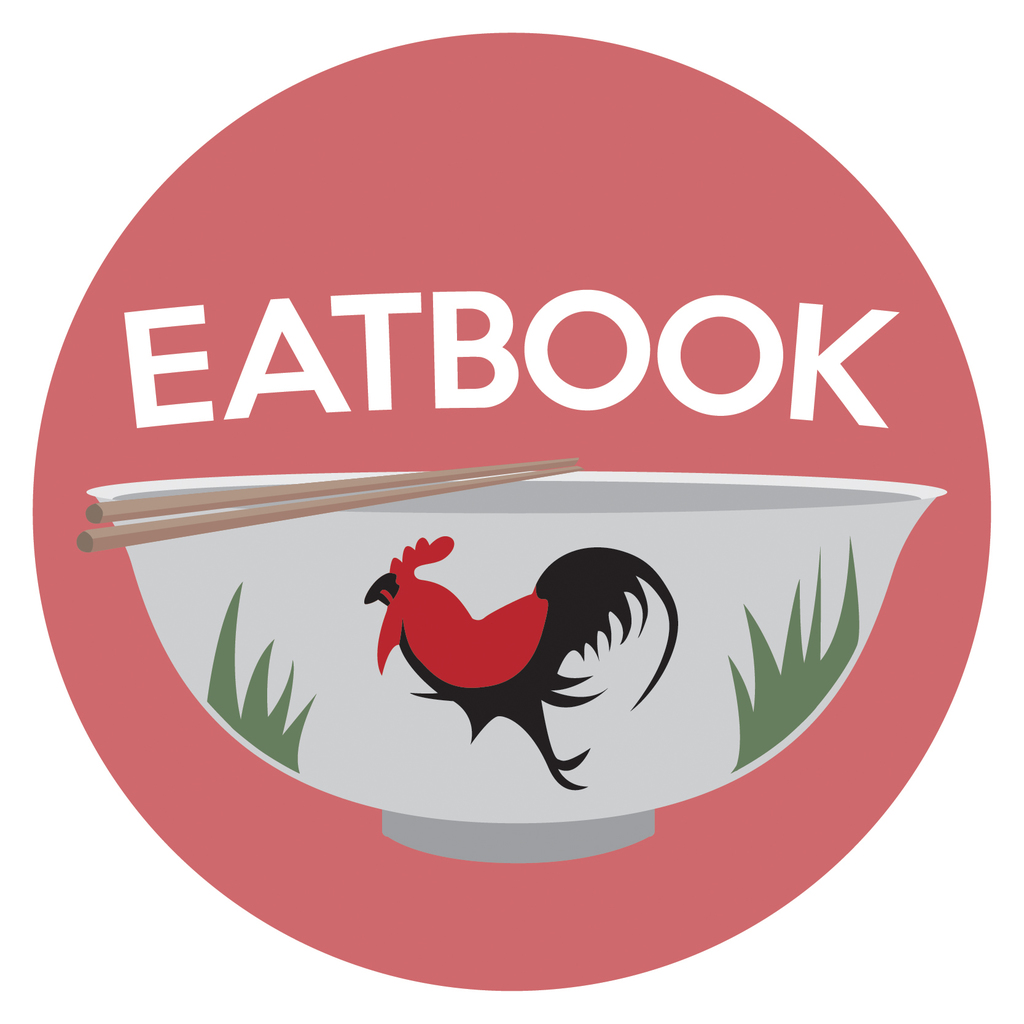 Drop us your email so you won't miss the latest news.