Bubble tea during the Circuit Breaker 
When the closure of standalone bubble tea stalls was announced yesterday afternoon, BBT lovers across the country braced themselves for the next few boba-free weeks. Besides resorting to DIY-ing your own BBT, there are still ways to get your sugary fix during this stay-home period. We've collated a list of eateries providing bubble tea delivery that will remain open during the Circuit Breaker. 
3 Bubble Tea Recipes That Are So Simple You'd Never Buy From A BBT Shop Again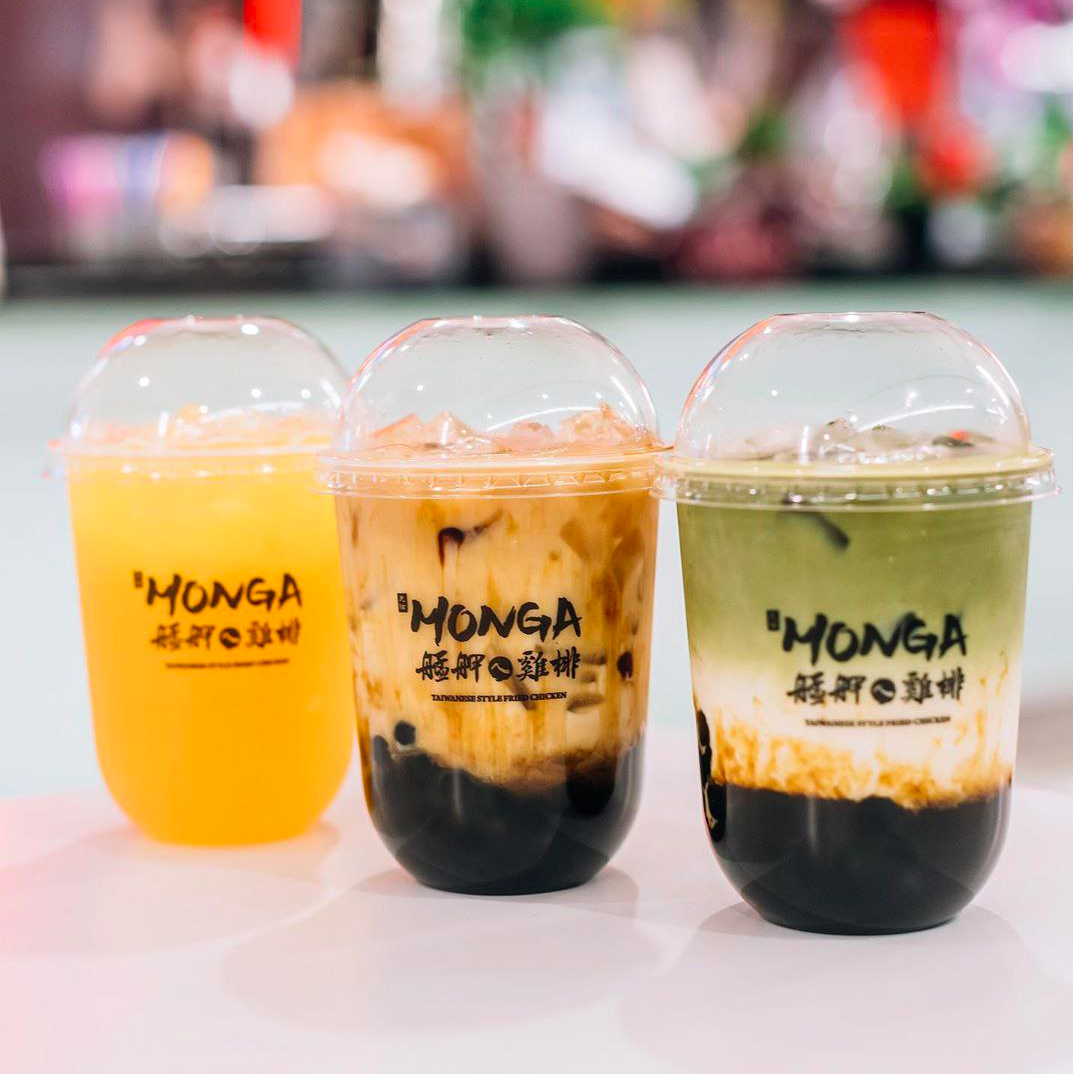 Image credit: @mongasingapore
1. Broti
Selling unique milk tea creations and aesthetic gradient drinks, Broti is a popular name among milk tea lovers. Though they don't sell bubble tea pearls as an add on, their fragrant milk tea offerings may convert you to the #nopearls side. Try their best-selling Thai Milk Tea ($6) which has an aromatic hit of black tea spices, or the Earl Grey Milk Tea ($6) which is a comforting blend of creamy milk and fragrant earl grey.
They have free islandwide delivery for a minimum order of three cups, and they make their deliveries from 4pm to 7pm daily. 
2. Lu Ding Ji
This Singaporean eatery specialising in lu rou fan bowls and Taiwanese-inspired dishes is selling their customisable bubble tea drinks together with any main dish order. All their bubble tea options cost $3, and you can customise the drink starting with a tea or milk tea base, a flavouring, and complete it with a topping. 
They offer free islandwide delivery with no minimum order, but they will have fixed delivery periods for different regions. They are also running a charitable effort to donate free bowls to workers in the service and medical line, so check out their Facebook page for more details on how to support their cause.
Address: 750 Chai Chee Road, #01-13, Viva Business Park, Singapore 469000
Opening hours: Mon-Fri 11:30 to 9:30pm, Sat-Sun 11:30am to 2:30pm, 4:30pm to 10pm
Tel: 8333 3590 / 9382 5657
Website
3. Kaca Coffee House 
This small Chinese eatery in Bedok first appeared on our radar for their customisable bubble tea hotpot. Sharing that unique dessert may not be viable now, but at least the eatery still sells affordable bubble tea and snow ice desserts alongside their main dishes. Their Roasted Milk Cap Oolong Tea ($2.80) is probably one of the cheapest you can find on the BBT market. Besides the classic black pearls, you can also add on red tea jelly, yogurt granules, and grass jelly to your beverages. 
They deliver to locations in Bedok and Tampines from 11am to 8:30pm daily for a flat delivery fee of $5. For free delivery, put in a minimum order of $20.
Address: 84 Bedok North Street 4, #01-25, Singapore 460084
Opening hours: Daily 10:30am to 11pm
Tel: 8168 5283 / 6721 9665
Website
4. SOD Cafe
Besides a bubble tea fix, you can head to SOD Cafe to dapao Western mains, intricate pastries, and hot cups of coffee. Alongside popular milk tea concoctions such as Hazelnut Milk Tea ($3.50) and Taro Milk Tea ($3.50), they also have more unique choices on the menu including Charcoal Oolong Milk Tea ($3.50) and a tangy Yakult Passion Tea ($4.50). 
They provide islandwide delivery for a minimum order of $30. For free delivery, put in an order of at least $50. 
Address: 51 Hougang Avenue 9, #01-03 Ci Yuan Community Centre, Singapore 538776
Opening hours: Daily 11:30am to 8:30pm
Tel: 6385 4026
Website
SOD Cafe order form
5. Dot Sugar
Located at Maxwell Food Centre, this drink stall has the largest selection of bubble tea of all the eateries on our list. Besides popular BBT choices such as Brown Sugar Fresh Milk w/ Pearl ($2.90) and Earl Grey Milk Tea w/ Pearl ($2.60), this boba drink stall also has affordable milk foam concoctions such as Milk Foam Black Tea ($2.50). 
For those living in the area, they can be found on food delivery platforms such as Foodpanda, GrabFood, and Deliveroo. Otherwise, they have islandwide delivery services with a base delivery fee of $12.50 for orders under $15, and a fee of $10 for orders above $15. Additional charges apply, based on your distance from the stall. WhatsApp 9753 5109 to order. 
Address: 1 Kadayanallur Street, #01-61, Maxwell Food Centre, Singapore 069184
Opening hours: Daily 9am to 3pm, 6pm to 8pm
Tel:  9753 5109
Website
6. Lai Lai Taiwan Casual Dining
This humble Taiwanese diner situated along Kitchener Road serves an impressively varied menu with Taiwan-style ramen dishes, egg rice bowls, claypot dishes, and fried sides. Order a classic Taiwanese Red Milk Tea with pearls for ($3.90) or try their newest fruit tea creations such as the refreshing Mix Fruit Tea ($5.80) which comes with real fruit slices.
They are delivering through food delivery platforms such as Foodpanda and GrabFood, and offer discounted prices for takeaway orders.
Address: 180 Kitchener Road, #03-39/40, Singapore 208539
Opening hours: Daily 11:00am to 10pm
Tel: 6509 5626
Website
7. Mun Ting Xiang Teahouse
Opened for over 20 years, this Chinese teahouse in Toa Payoh sells homely dishes ranging from mee sua to chicken cutlet with rice. Their bubble tea selection is reminiscent of the BBT stalls you find under HDB blocks with flavoured fruit and milk tea options, as well as ice blended bubble tea and milk shakes. In particular, the Grape ($4.90) and Chocolate Ice Blended ($4.90) drinks are options that you rarely see on the menus of large bubble tea chains.
They have their own delivery service which only covers specific regions near Toa Payoh. Otherwise, you can also order from them through food apps such as GrabFood and Deliveroo.
Address: 450 Lorong 6 Toa Payoh, #01-03/04, EraApac Centre, Singapore 319394
Opening hours: Daily 11:30am to 9:30pm
Tel: 6352 2022
Website
Mun Ting Xiang Teahouse order form
8. Monga Singapore
This fried chicken joint is an unexpected addition to the list with a selection of bubble tea to go with their crispy fried snacks. Their Black Dragon ($4.20) and Green Dragon ($4.20) bubble milk teas are flavoured oolong and matcha respectively. If you love fruit teas, they also have refreshing mixes such as Osmanthus Oolong Tea ($3.30) and Grapefruit Green Tea ($4.50) on the drinks menu. Do note that their bubble tea drinks are only available at their outlet at SingPost Centre.
They offer free islandwide delivery with a minimum order of $30. Place your orders a day in advance to secure delivery slots!
WhatsApp or call 8896 5136 to order.
Address: 10 Eunos Rd 8, #01-131, SingPost Centre, Singapore 408600
Opening Hours: Daily 11am to 9:30pm
Tel: 6262 0020
Website
9. Eat 3 Bowls
Eat 3 Bowls is a Taiwanese restaurant selling the famous Taiwanese beverage along with its juicy lu rou fan and beef noodles. Their drinks menu may not be as diverse as other BBT joints, but they do sell a pretty legit Taiwan Bubble Tea Latte ($3.80), and even the trendy Brown Sugar Bubble Tea Latte ($3.80).
You can order via this page and have their food delivered to you, and even get $8 off with a minimum spend of $50!
Address: 462 Crawford Lane, #01-61, Singapore 190462
Opening hours: Tues-Sun 11am to 9pm
Tel: 9154 8191
Website
10. I love taimei 我愛台妹
This recognisable kiosk selling Taiwanese fried chicken and popular street snacks needs no further introduction. They will remain open during this Circuit Breaker, and their multi-coloured bubble teas will still be up for grabs for every purchase of a food item. One of their most iconic drinks is the tri-coloured 1988 Milk Tea ($4.90) that is concocted with a mix of milk tea, winter melon tea, and butterfly-pea flower tea.
Alternatively, you can get their drinks via GrabFood and Foodpanda.
Tel: 6336 1887
Website
11. Long Hua Cafe
Long Hua Cafe is a drink kiosk nestled between the many hawker stalls found in Marsiling Mall. Besides the basic black pearls, they also offer fruit-flavoured pearls that pop in your mouth as extra add ons. On the BBT menu, they have nostalgic flavours including Blue Coral and Honeydew ice blended drinks from just $1.80.
Be sure to check out their GrabFood page if you want to indulge in their drinks.
Address: 4 Woodlands Street 12, #01-06, Marsiling Mall, Singapore 738623
12. Feng Food
Adding to the list of Taiwanese restaurants, Feng Food is a Chinese diner selling a long list of noodles and rice dishes, as well as Taiwanese bubble tea off their drinks menu. If your sweet tooth is suffering from the lack of BBT, their Brown Sugar Caramel Pearl Milk Tea ($3.90) should do the trick. Try their Taiwanese Roselle Tea ($3) for a more traditional take on the sweet beverage. 
To get your BBT fix without travelling to Northpoint City, order via their Foodpanda page.
Address: 1 Northpoint Drive, #B1-156, Northpoint City, Singapore 768019
Opening hours: Daily 11:20am to 9:20pm
Tel: 6481 8556
Website
13. Zoey's Diner
Drop by Zoey's Diner for a taste of Winnie's artisanal bubble tea creations. With a BBT selection including fruit teas, rose-infused concoctions, and classic milk teas, Winnie's Bubble Tea has a good range of boba drinks to choose from. All their teas, including the Classic Afternoon Milk Tea ($4.40) and Peach Rose Nectar ($5.20) are made with Taiwanese tea blends, so if you're missing your favourite Taiwanese BBT stop, you can head to this diner for a quick fix.
They offer islandwide delivery via GrabFood, and delivery around the area via Foodpanda and Deliveroo. Alternatively, if you live around the area, do a takeaway and Whatsapp 9159 7074 to put in your orders.
Address: 1 Sengkang Square, #01-01, Compass One, Singapore 545078
Opening hours: Daily 11am to 9:30pm
Tel: 9159 7074
Website
Bonus: Dessert Monster
Dessert Monster is a dessert hawker stall in Toa Payoh selling IG-worthy local desserts on top of boba-topped drinks. Although they don't have a delivery service, the stall will still be open—so those living in the neighbourhood can have their drinks to go.
Their Pearly Taho ($2.50) is a mix of a drink and a dessert, made with silky soy beancurd, sago, and sweet gula melaka syrup. Those having Tiger Sugar withdrawal symptoms can try their Brown Sugar Pearl Milk ($4) which comes topped with the syrupy boba. 
Check out our review of Dessert Monster!
Address: 210 Lorong 8 Toa Payoh, #01-26, Toa Payoh Lorong 8 Market & Hawker Centre, Singapore 310210
Opening hours: Daily 9am to 11pm
Tel: 8118 4347
Website
Feature image adapted from @thatgluttonn and @kk_isdatfood
Eatbook does not encourage dining out during the Circuit Breaker period. Save or bookmark this post and visit only after things get better!