Dessert Monster sells ice cream and local desserts
Update: Dessert Monster has moved to Upper Cross Street. Please find the updated stall information below.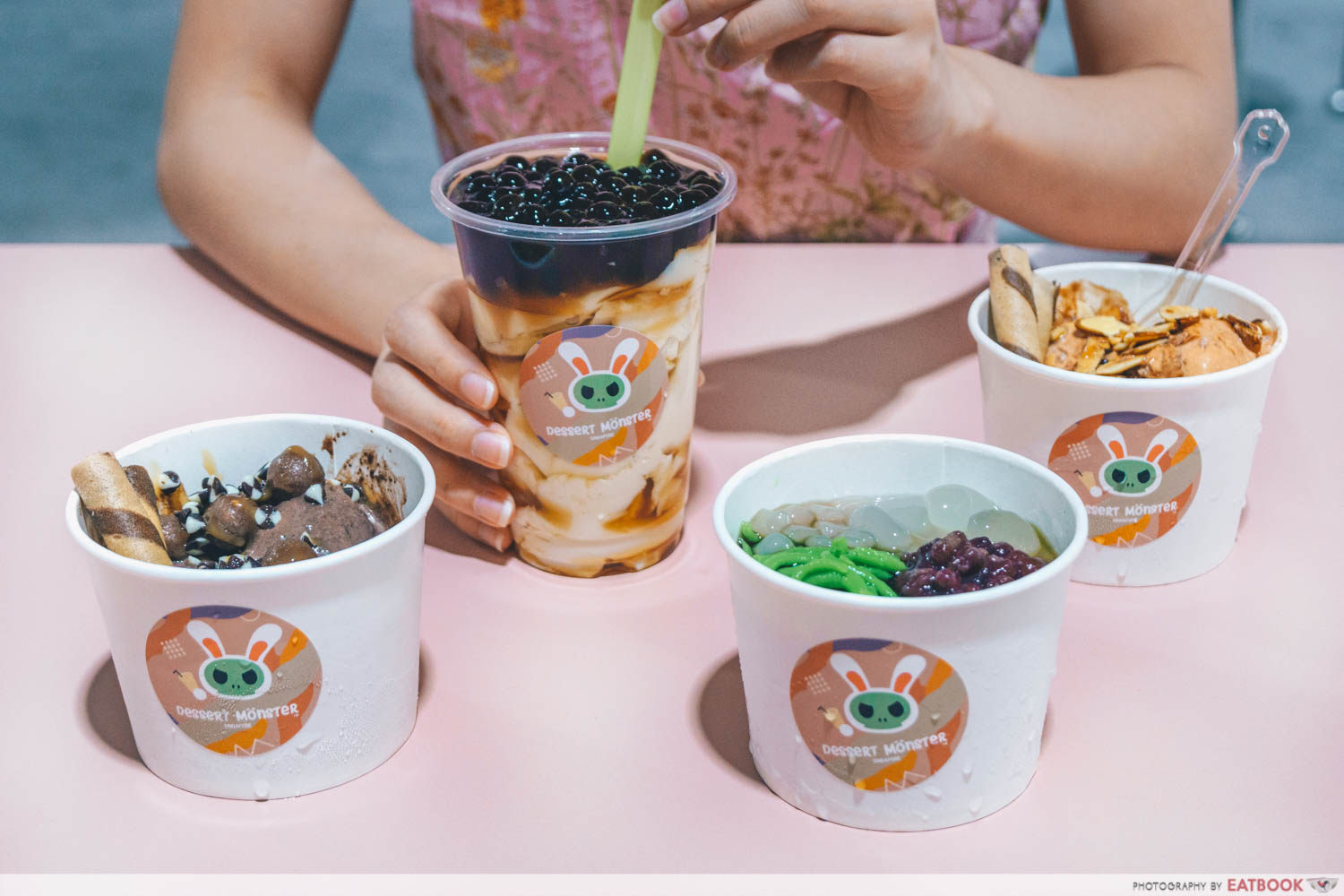 As a lover of sweet treats, I've always enjoyed digging into a cold, creamy dessert after a bowl of bak chor mee, and pondered the reasons behind the lack of ice cream stalls in hawker centres. However, the answer to that personal conundrum can wait. Because for now I've found Dessert Monster, a hawker stall with a wide selection of surprisingly interesting sweet delights, enough for me to try something new every time I visit.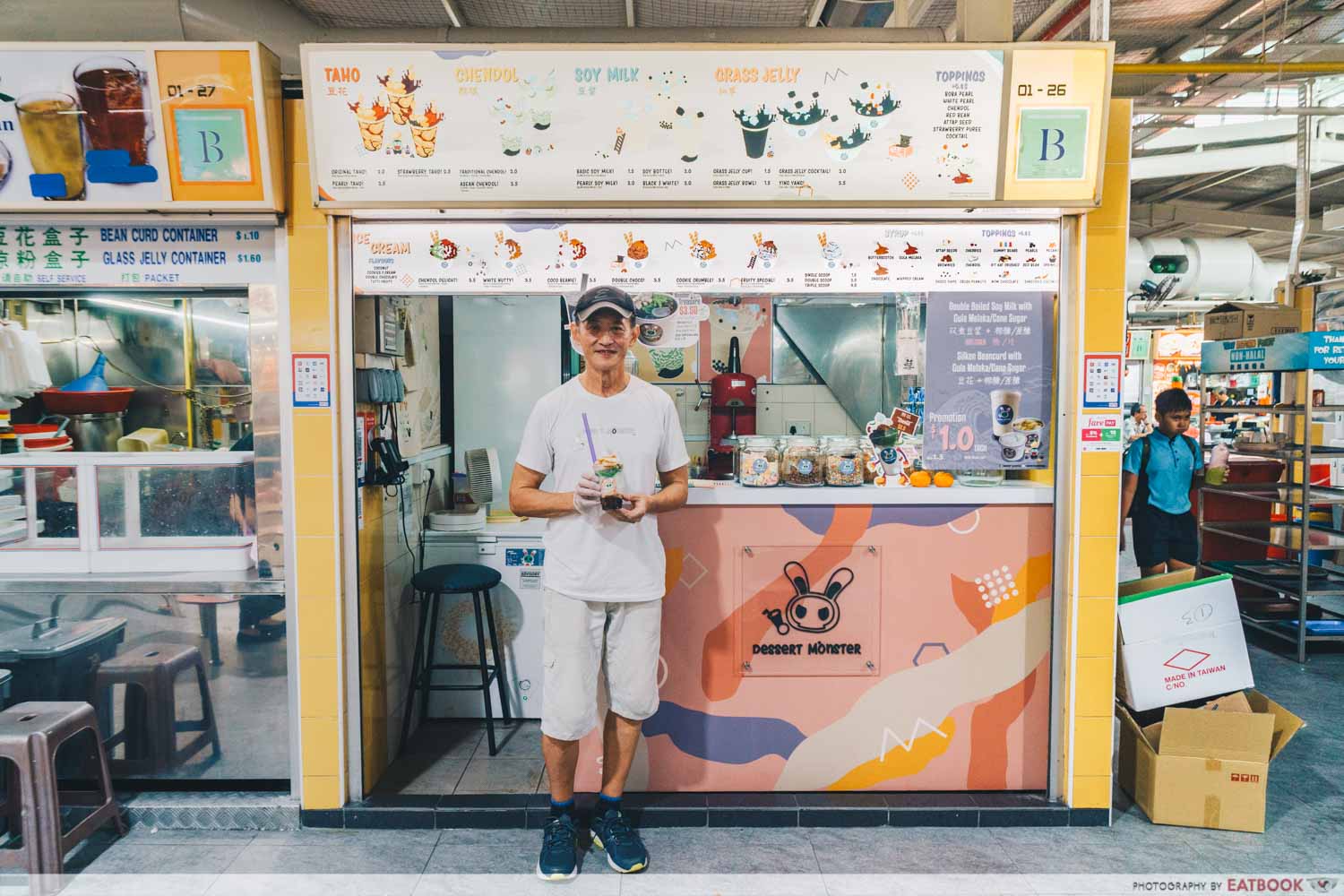 The owner, Rick Koh, started the dessert stall from ground up at the age of 63. With the help of his family, the semi-retiree runs the stall from 9am to 11pm every day, constructing each ice cream bowl, chendol, and drink by hand. 
Food at Dessert Monster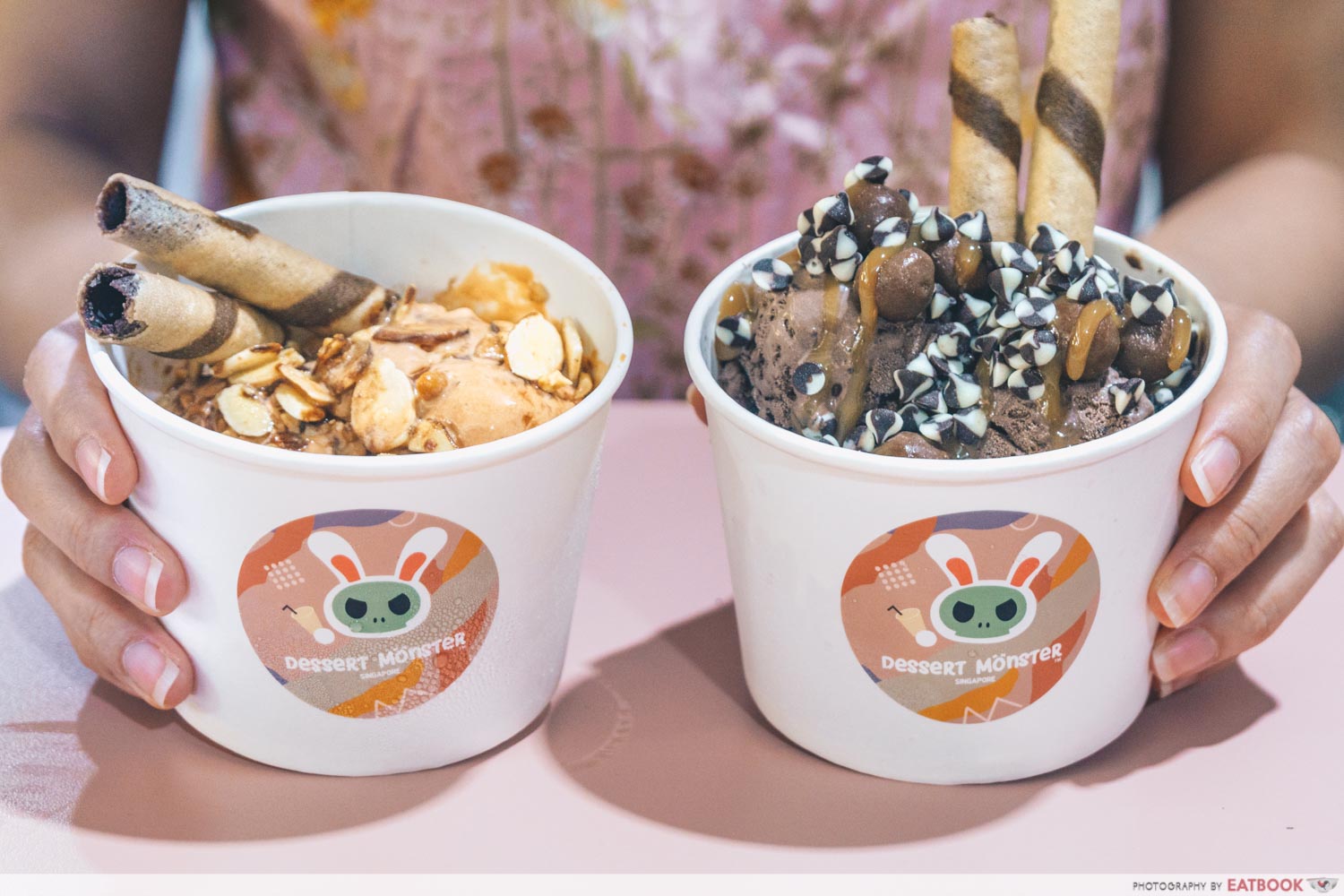 What really sets his stall apart from the rest is the range of fancy yet affordable desserts. We excitedly started with the ice cream to cool down from the warm afternoon. As if their menu wasn't extensive enough, every ice cream order gives an option of five ice cream flavours and over 18 kinds of toppings or sauces. Thankfully, for my indecisive self, Dessert Monster already has a few pre-constructed ice cream combinations for me to take my pick.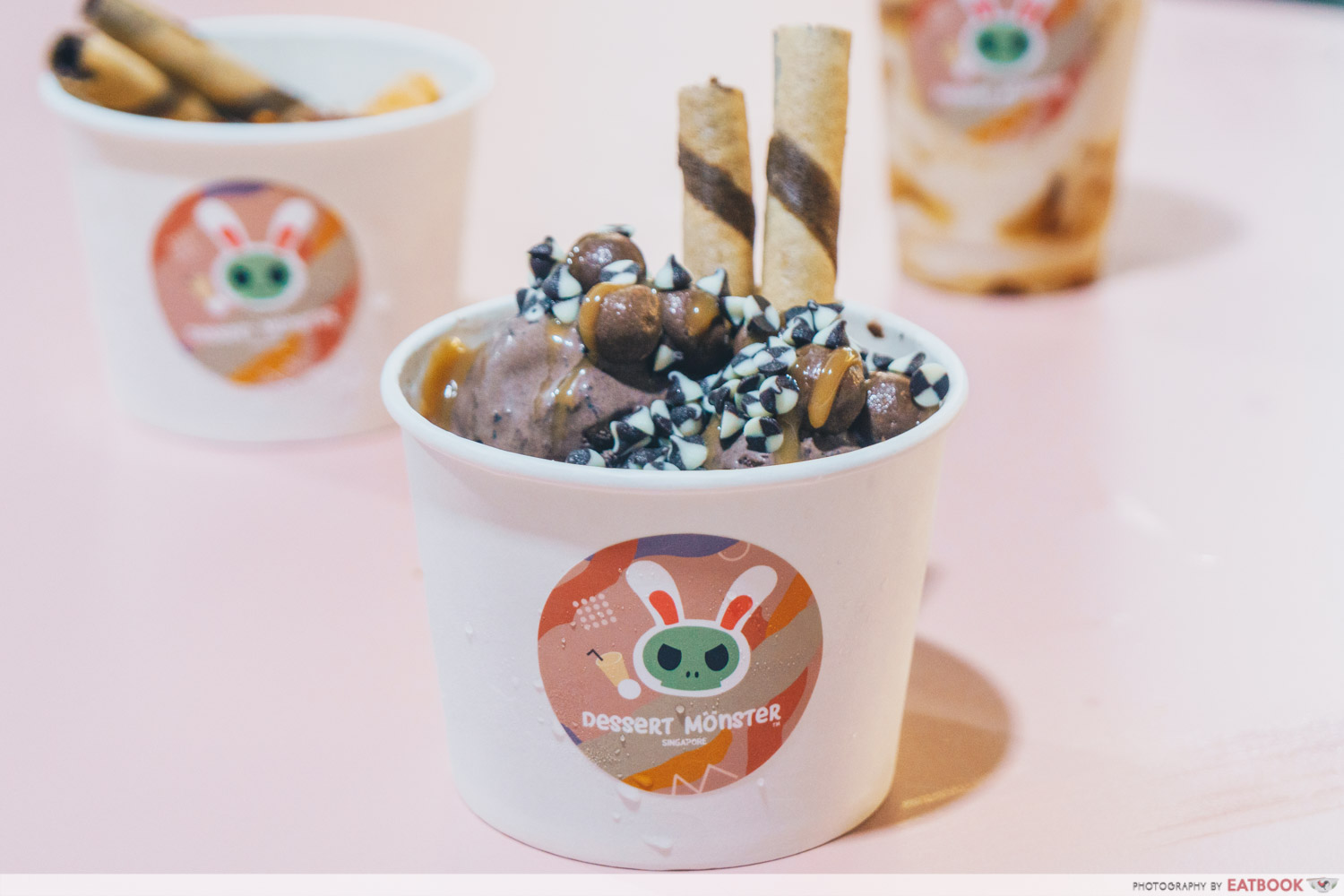 The Double Choco ($3.50 for three scoops) combo was the first to catch my eye. It comes with scoops of chocolate ice cream topped with crushed KitKats, chocolate chips, chocolate wafers, and a drizzle of butterscotch sauce. For a chocolate lover, this concoction already sounds irresistible.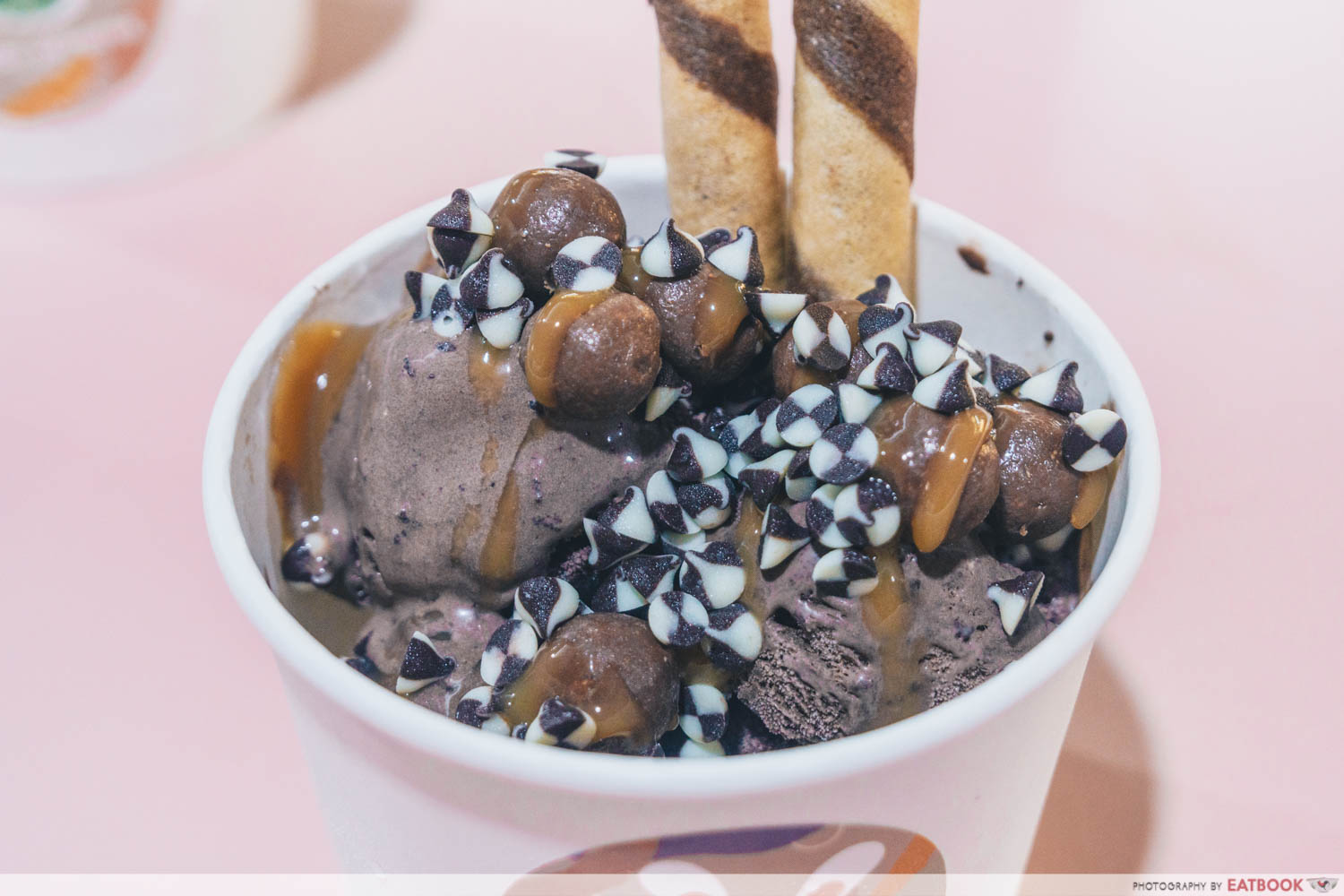 The generous serving of ice cream was pleasingly creamy without being too sticky or icy. The quality was similar to what you'd find at a $1 ice cream stall, but with that many toppings for $3.50, I'm not complaining. I usually go for dark chocolate options, so I was expecting the milk chocolate ice cream to be too sweet for my liking. Surprisingly, it avoided being cloying, even when mixed with the butterscotch drizzle.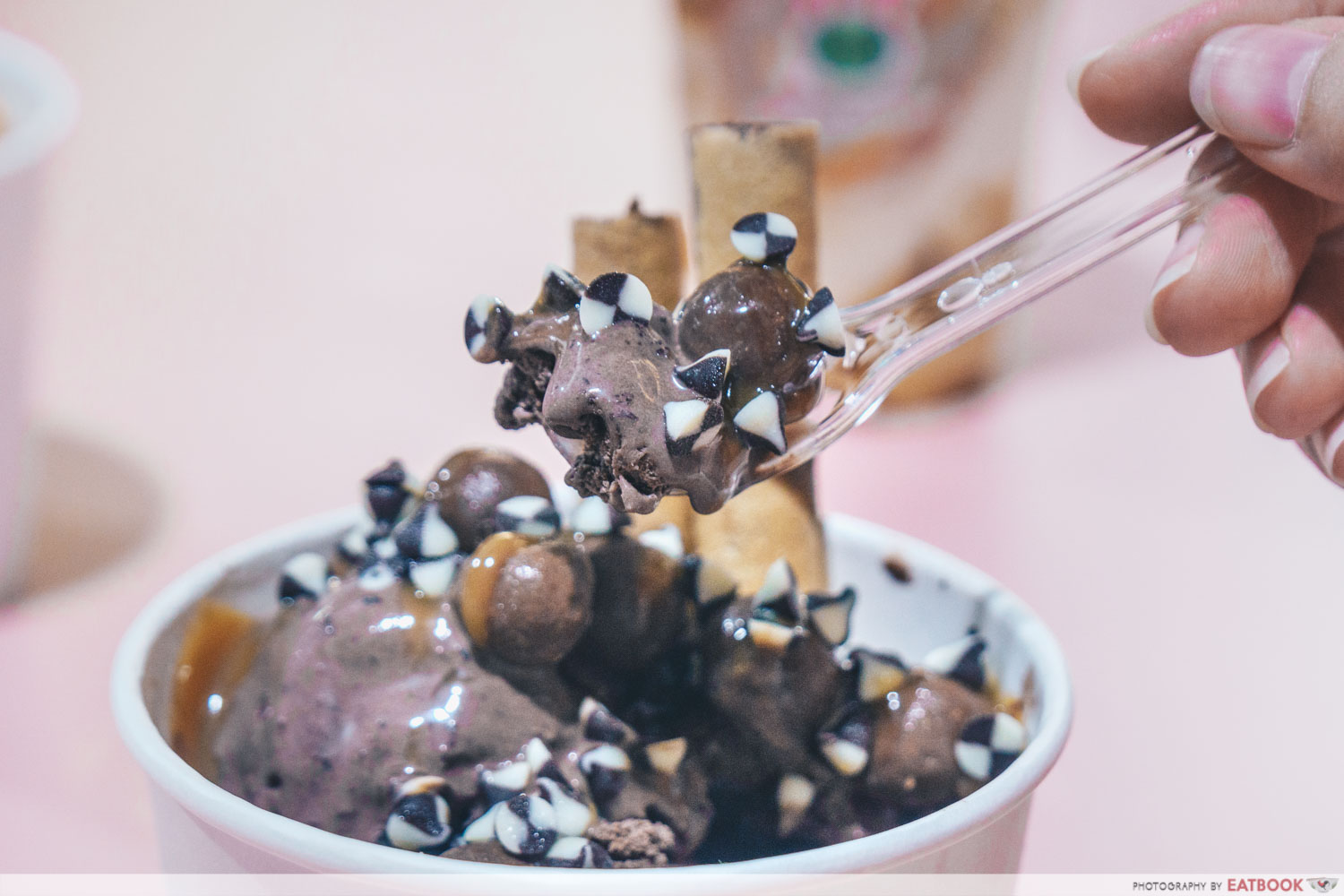 Amongst all the toppings, the highlight for me was the crushed KitKats. They were addictive nuggets of crunchy, biscuity goodness, coated with a shell of luscious chocolate.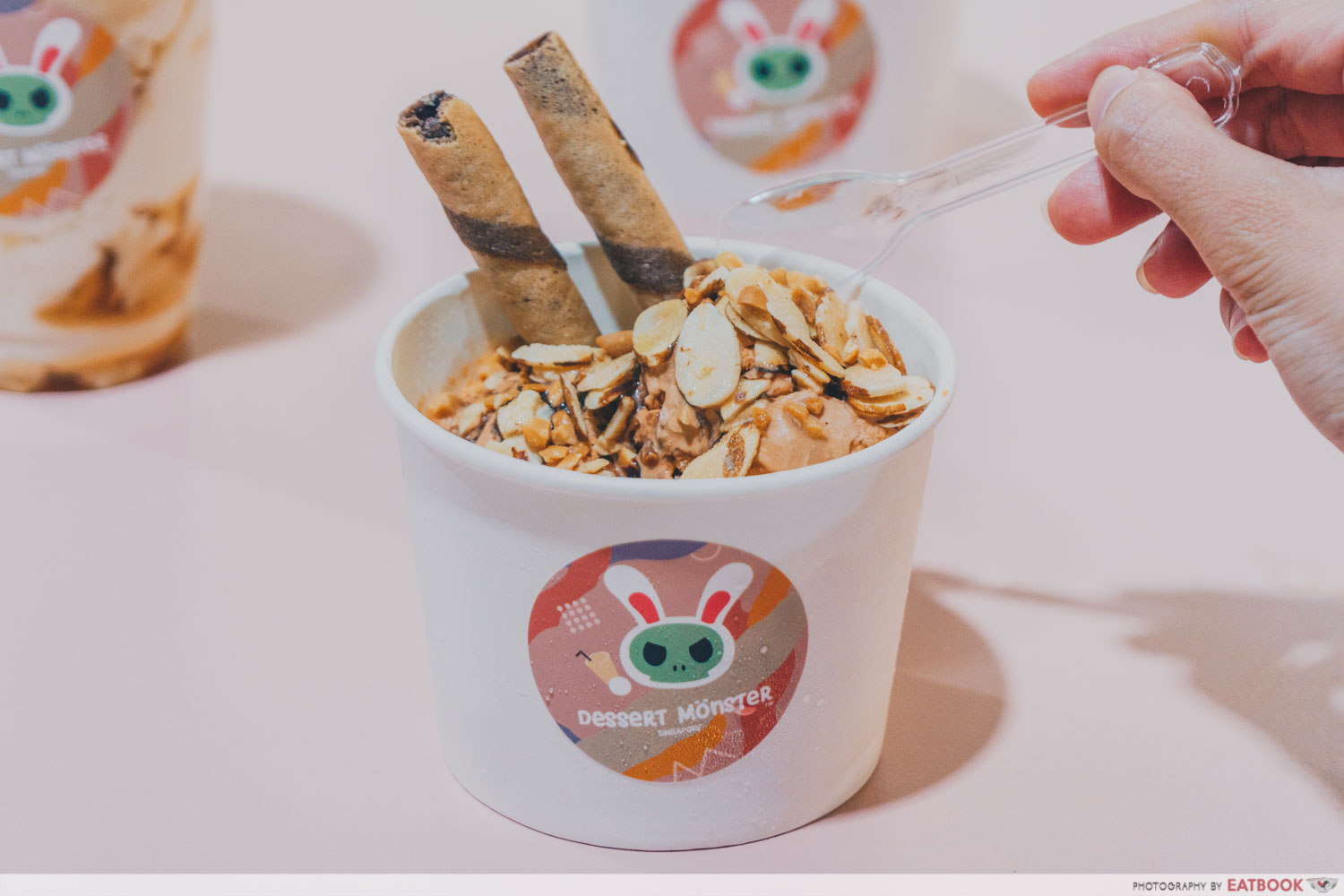 The newest ice cream flavour on their menu was the Thai Milk Tea Ice Cream ($4 for three scoops). I decided to try my hand at picking the toppings and settled on peanuts, almonds, chocolate wafers, and chocolate sauce to top the familiar orange-hued ice cream. 
With each topping priced at $0.80, our total bill added up to over twice the price of the Double Choco set, proving that the ice cream sets certainly offer more value for money.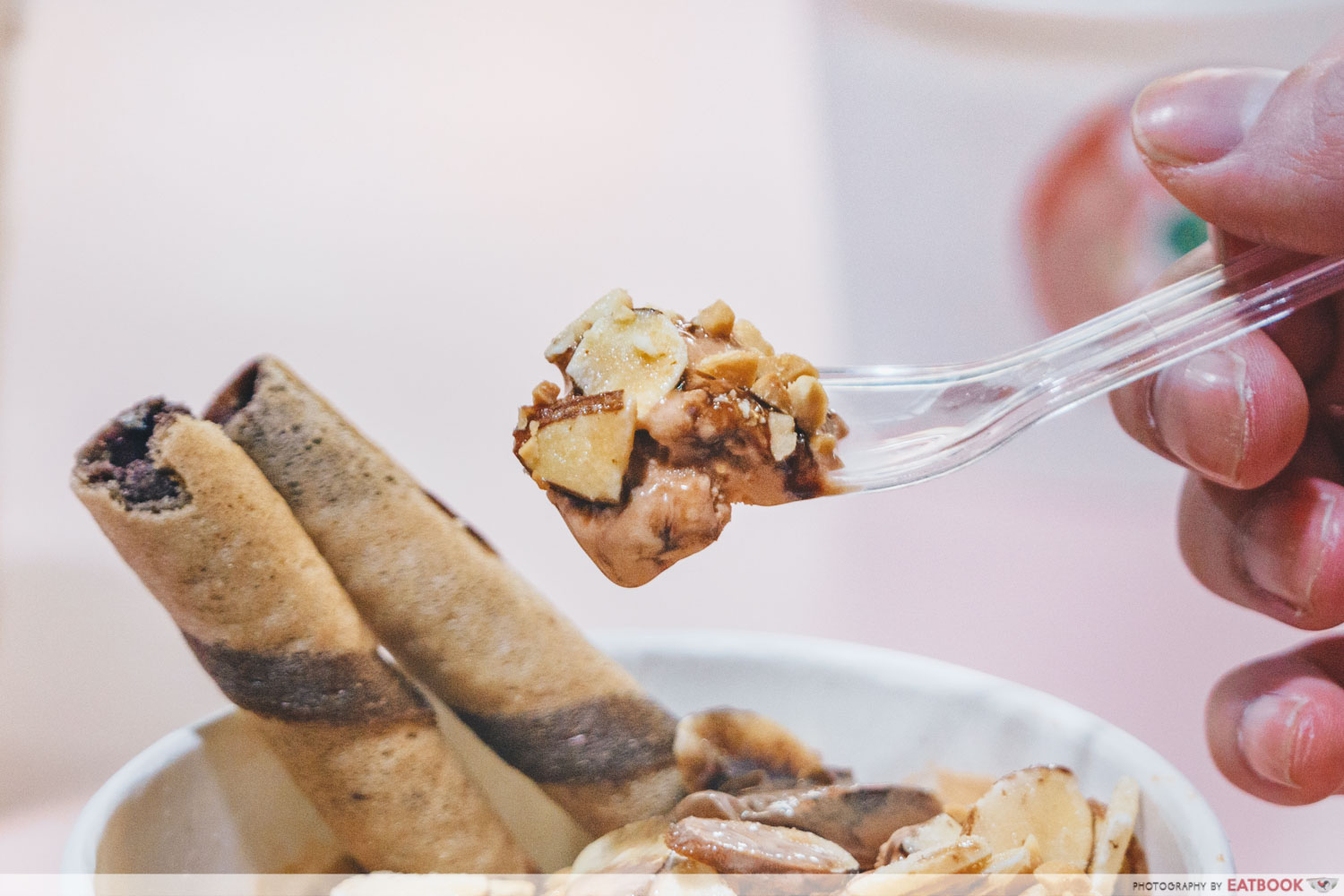 The ice cream carried a slight touch of fragrant Ceylon black tea, sweetened to just the right amount. I was glad I picked the nuts. The slivered almonds and specks of chopped peanuts added a roasted, nutty aroma, which paired well with the Thai milk tea ice cream. 
There was nothing to shout about for the chocolate wafers, but they served as a crispy, chocolate-filled snack when we felt like taking a break from the ice cream.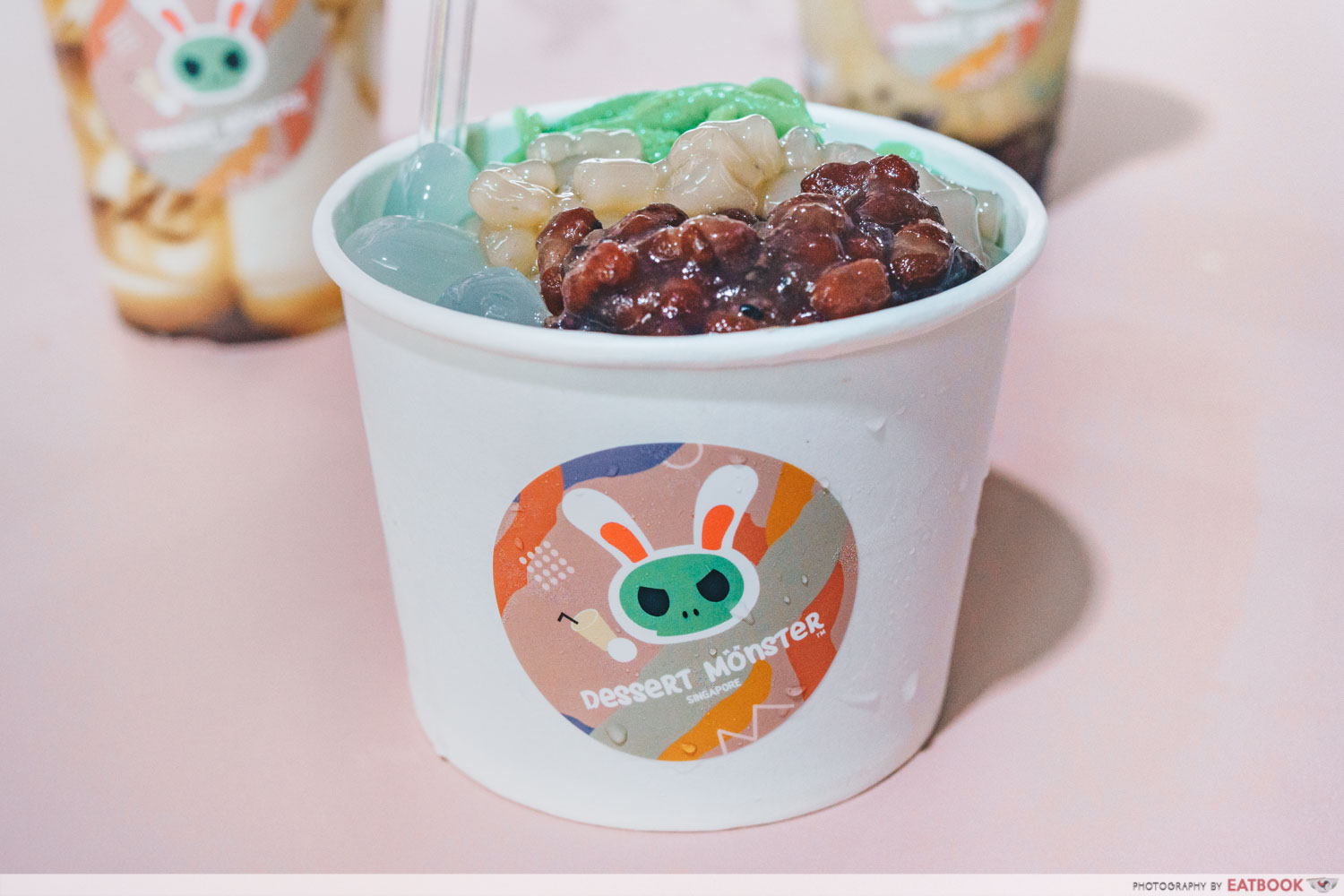 As I'm used to seeing my chendol look like an icy mountain with ingredients piled on the sides, I was charmed by the owner's elegant presentation of the traditional dessert. The Monster Treasure ($3.50) comes with a shaved ice and gula melaka base, and it is topped with grass jelly, red beans, attap seeds, taro QQ balls, and green pandan jelly.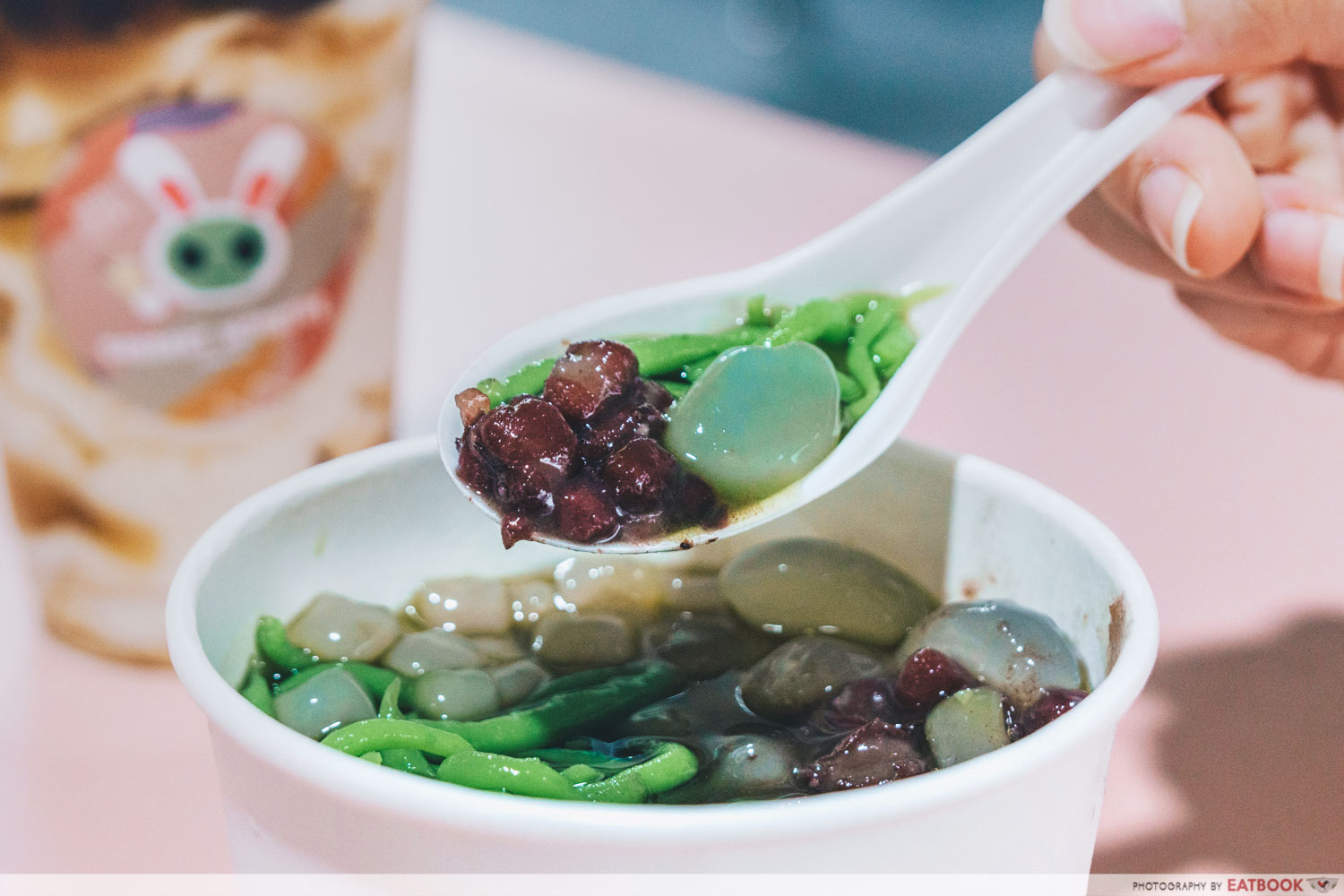 As I tried a spoonful of each topping, the mound of red beans emerged as my favourite. They were slightly sweet and earthy, but it was their smooth texture that won me over. I'm used to finding taro balls in a cup of bubble tea, but in this chendol, the bouncy taro mochi balls were a pleasant surprise. They were subtly sweet and chewy on their own, and when mixed with the ice, bloated up with the taste of gula melaka.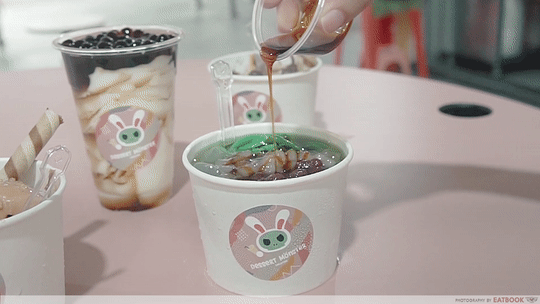 If you want your chendol to be a tad sweeter, you can ask for an extra drizzle of their syrupy gula melaka. We learned from Rick that unlike at many dessert stalls, the syrup here is not thinned out by adding extra brown or white sugar, thus preserving its iconic smoky, caramel flavour. 
With the combination of taro balls, earthy red beans, attap chee, pandan jelly, and finally faint notes of herbal bitterness from the grass jelly, it is easy to see why Rick's regulars keep coming back for more. This is a superior bowl of chendol fit for a dessert cafe.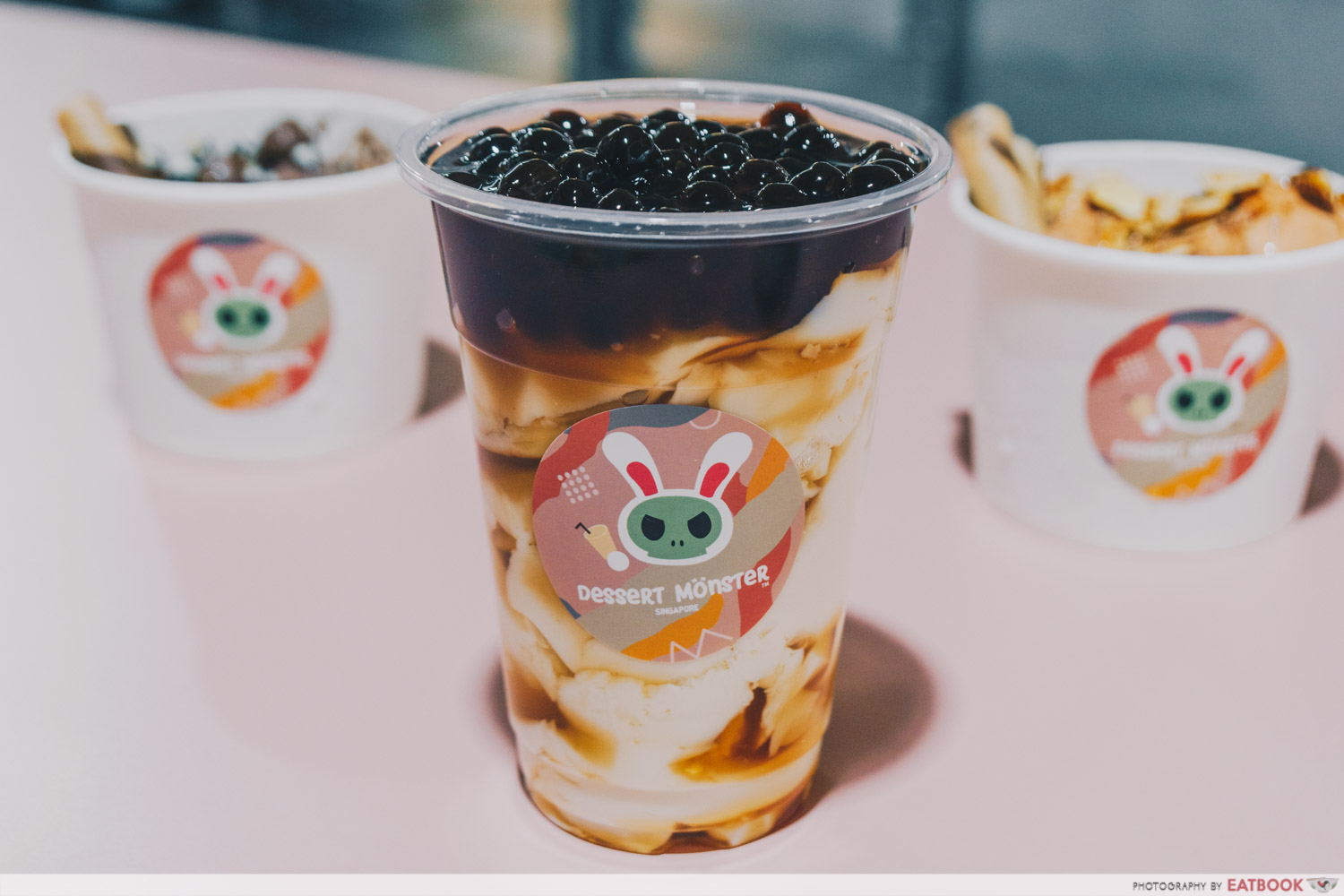 Out of all the desserts on the menu, this was the only item I was unfamiliar with. The Pearly Taho ($2.50) is the stall's take on a Filipino treat which is made of silken beancurd, sago and sweet syrup. Dessert Monster adds a Singaporean spin to the dessert, using thick gula melaka as the syrup and with an addition of chewy brown sugar pearls.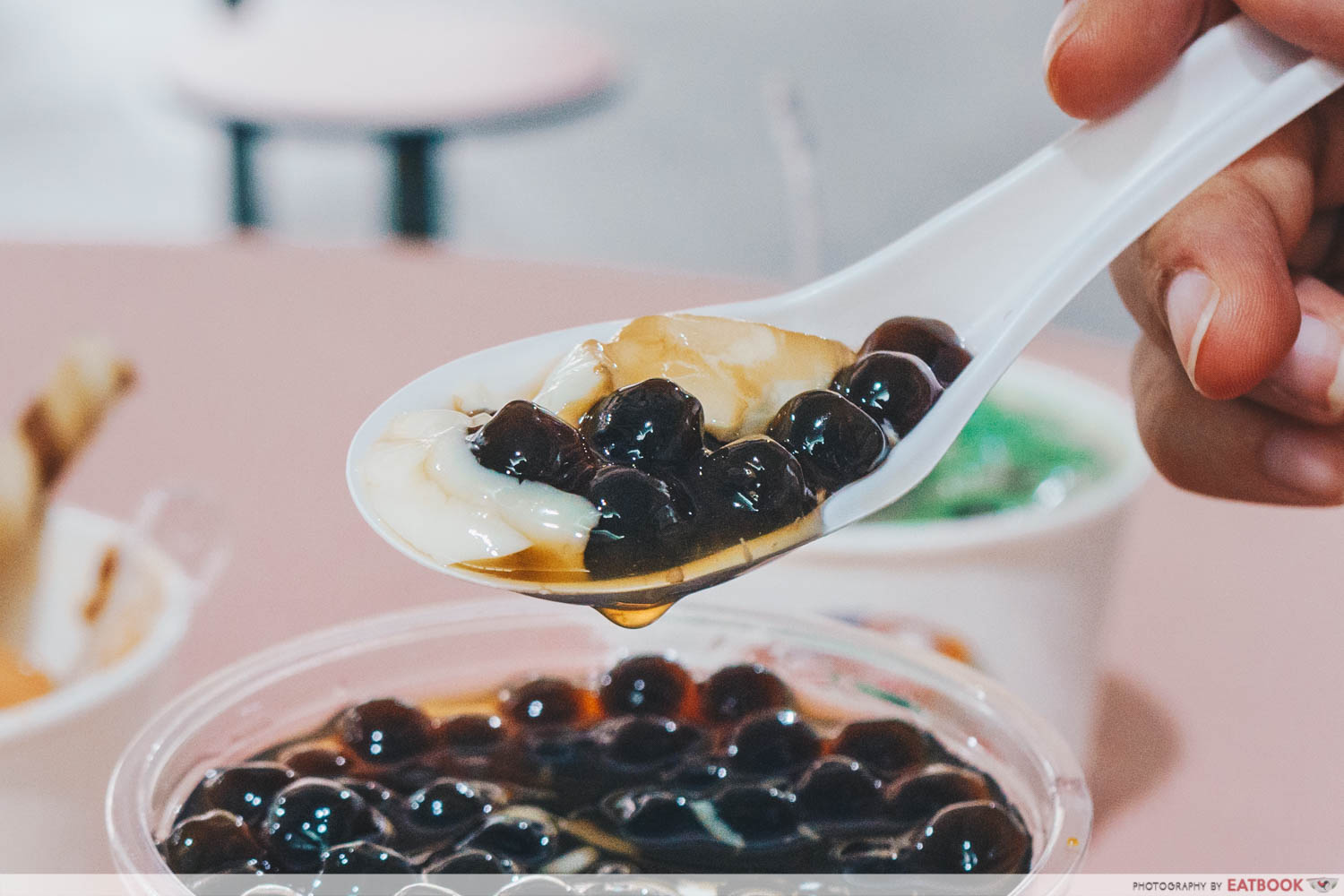 The taho here can be eaten from a bowl or slurped up through a straw, but the latter is how the dish is originally enjoyed. The owner shares with us that their soy milk is boiled twice to fully concentrate the nutrients and flavour into the jiggly beancurd. 
I was impressed by the quality of the brown sugar boba, as they retained a soft, bouncy texture. The owner let us in that they source their pearls from the same supplier as the popular bubble tea chain, Tiger Sugar. With all the elements of the dessert combined, this version of taho satisfied my dessert cravings for the day.
Ambience at Dessert Monster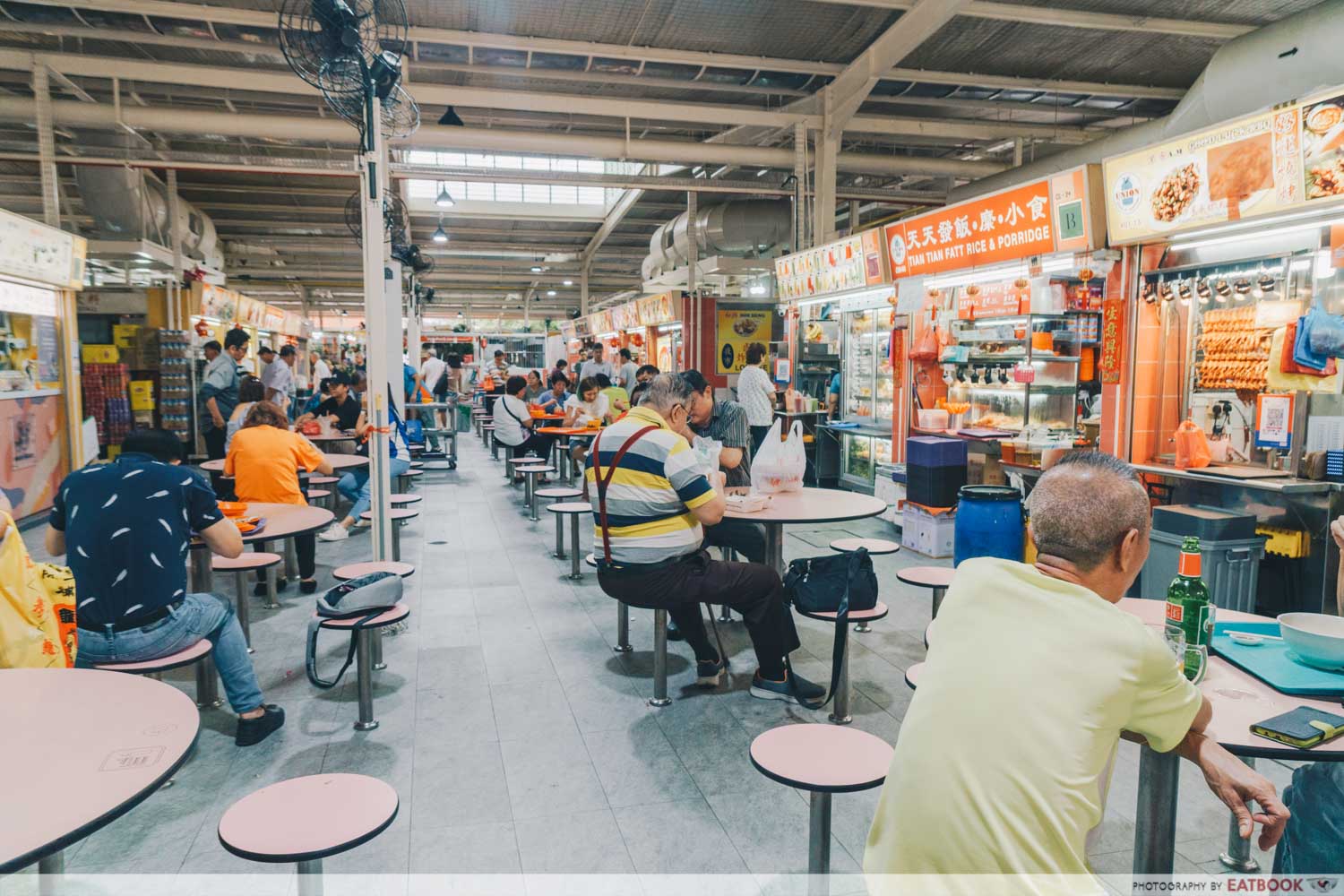 Dessert Monster is cosily tucked away in Toa Payoh Lorong 8 Market & Hawker Centre and it is about a five-minute bus ride from the MRT Station. The hawker centre is well ventilated with fans mounted above every row of tables, while the high ceiling lends a spacious feel. Though the place did not get very crowded during peak meal hours, the tables nearest to the fans were occupied relatively fast. So head down earlier if you want a breezy seat during lunch and dinner hours. 
The verdict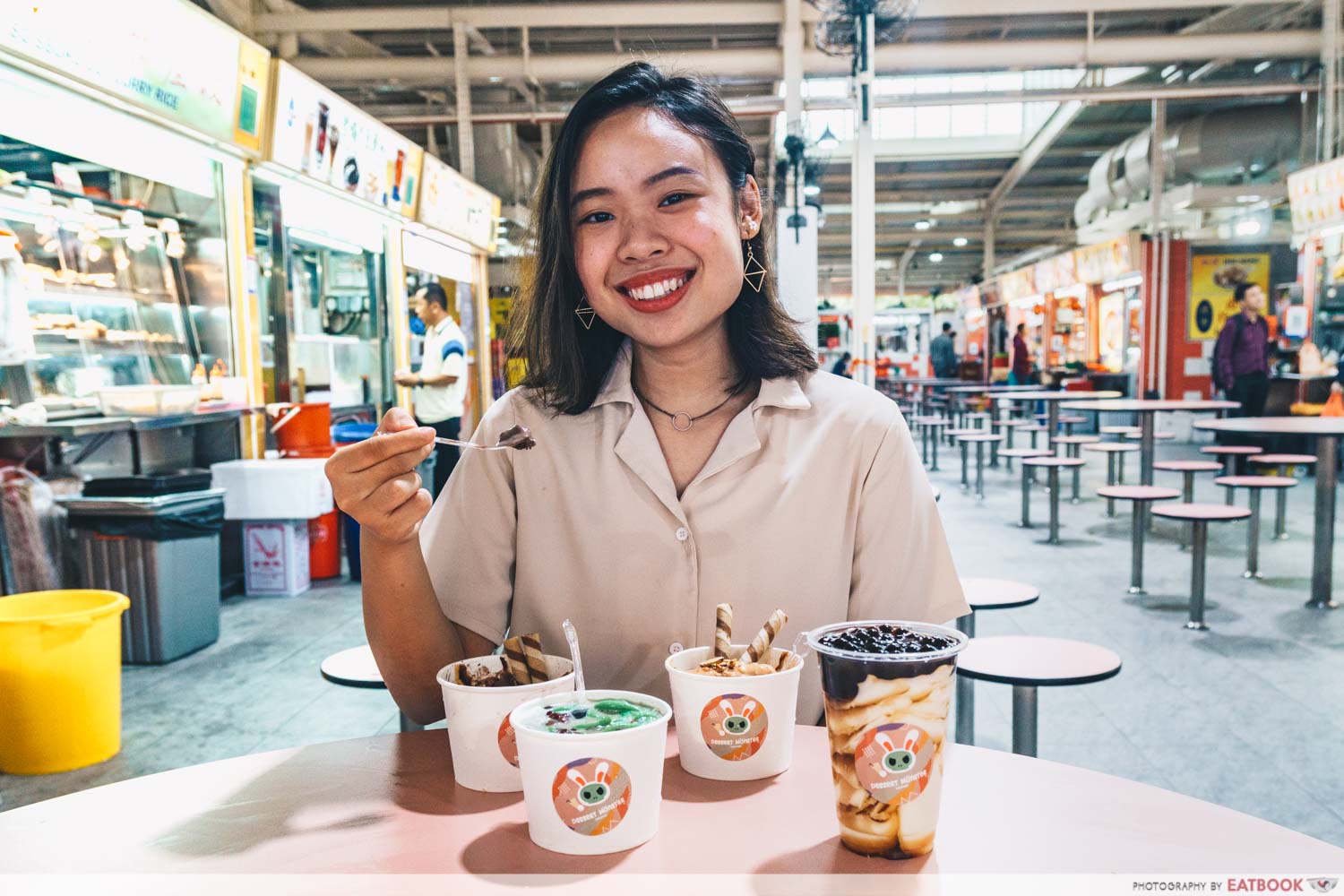 During our visit, I was mesmerised as I watched Rick carefully spoon toppings into the bowls, patiently taking steps to fill each empty spot with a sweet ingredient. What also struck me was how earnestly he runs his business. As I watched him chat with customers seated by the stall, it became clear to me that people return for the desserts, service, as well as the touch of warmth that he adds. 
Cheap and good treats aside, Rick's commitment to improving on his desserts and expanding his menu is enough to keep me coming back.
If you're a fan of local desserts, check out this list of our favourite chendol places around Singapore! 
Address:  101 Upper Cross Street, #B1-13, People's Park Centre, Singapore 058357
Opening hours: Daily 8am to 8pm
Tel: 8118 4347
Website
Dessert Monster is not a halal-certified eatery.
Photos taken by Chng Jia Yan.
This is an independent review by Eatbook.sg.
Dessert Monster
Summary
Pros
– Generous ice cream and topping portions
– Silky soya beancurd
– Friendly owner
Cons
– Inconvenient location
Recommended dishes: Monster Treasure ($3.50), Pearly Taho ($2.50)
Opening hours: Daily 8am to 8pm
Address: 101 Upper Cross Street, #B1-13, People's Park Centre, Singapore 058357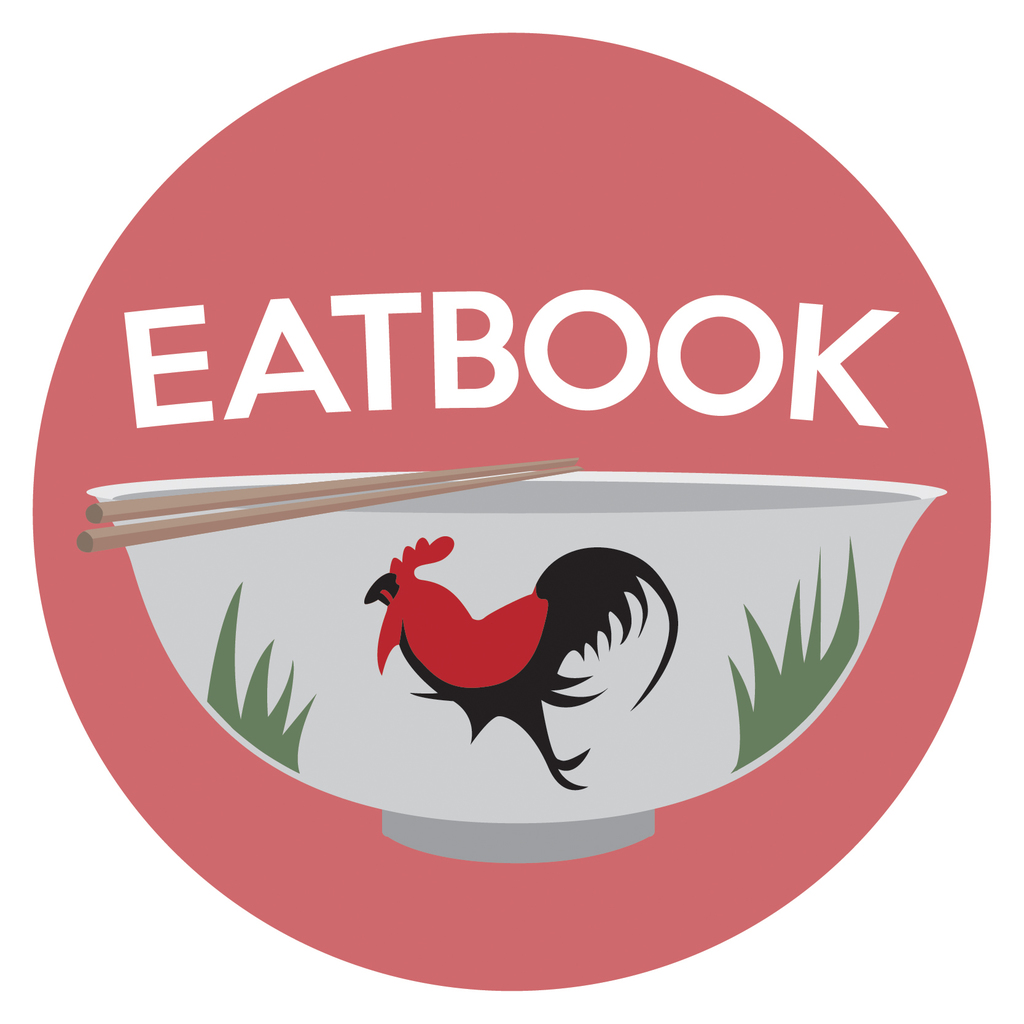 Drop us your email so you won't miss the latest news.