Bubble tea hotpot by 卡卡咖啡屋 Kaca Coffee House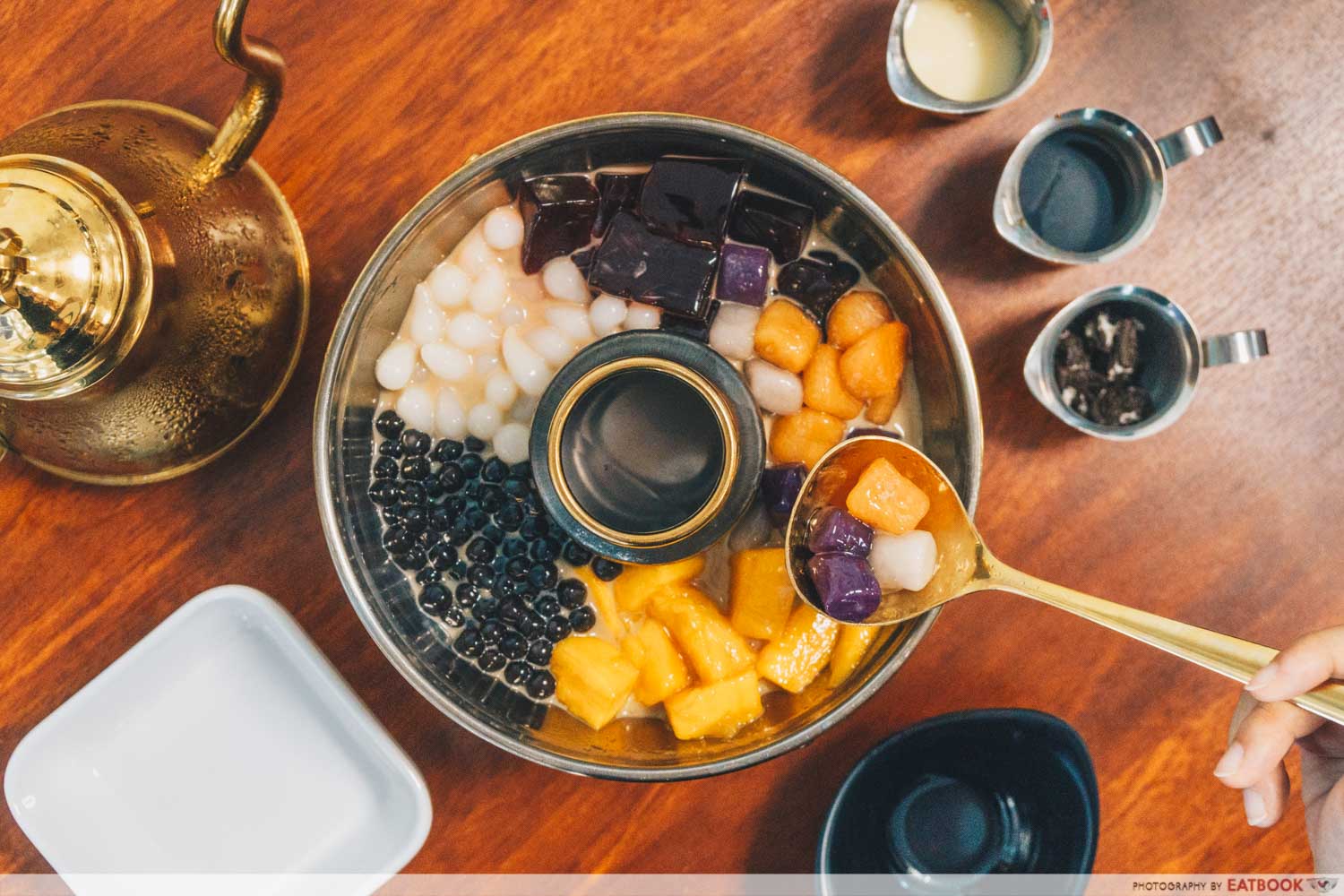 If you've probably heard of Spice World Hotpot's peculiar bubble tea hotpot concept, we've uncovered yet another to add the slew of quirky bubble tea creations. This unique bubble tea hotpot can be found in the unlikeliest of places—a small coffee cafe in Bedok.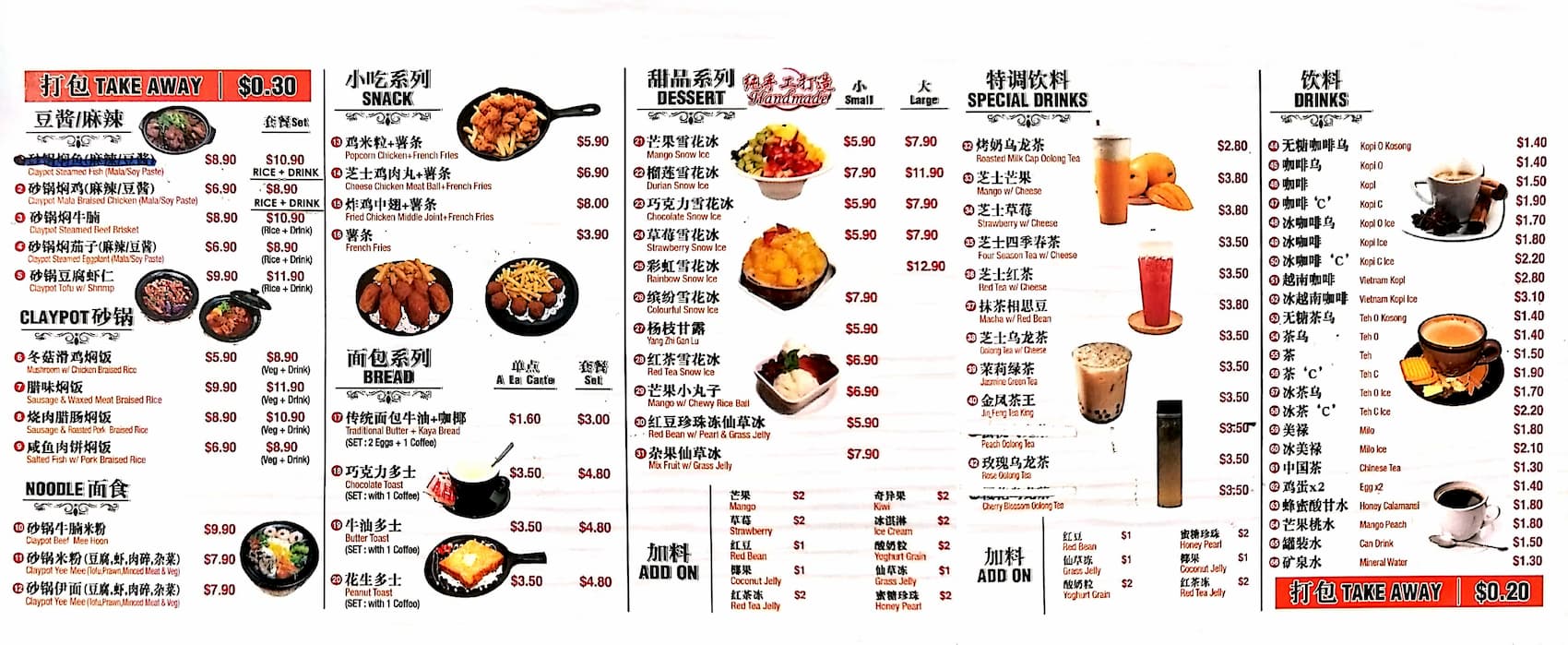 Named 卡卡咖啡屋 Kaca Coffee House, the quaint store features a surprisingly large range of items on its menu. From Mango Snow Ice ($5.90) and Claypot Mala Braised Chicken ($5.90) to coffeeshop kopi and teh, there's a large variety for any meal of the day.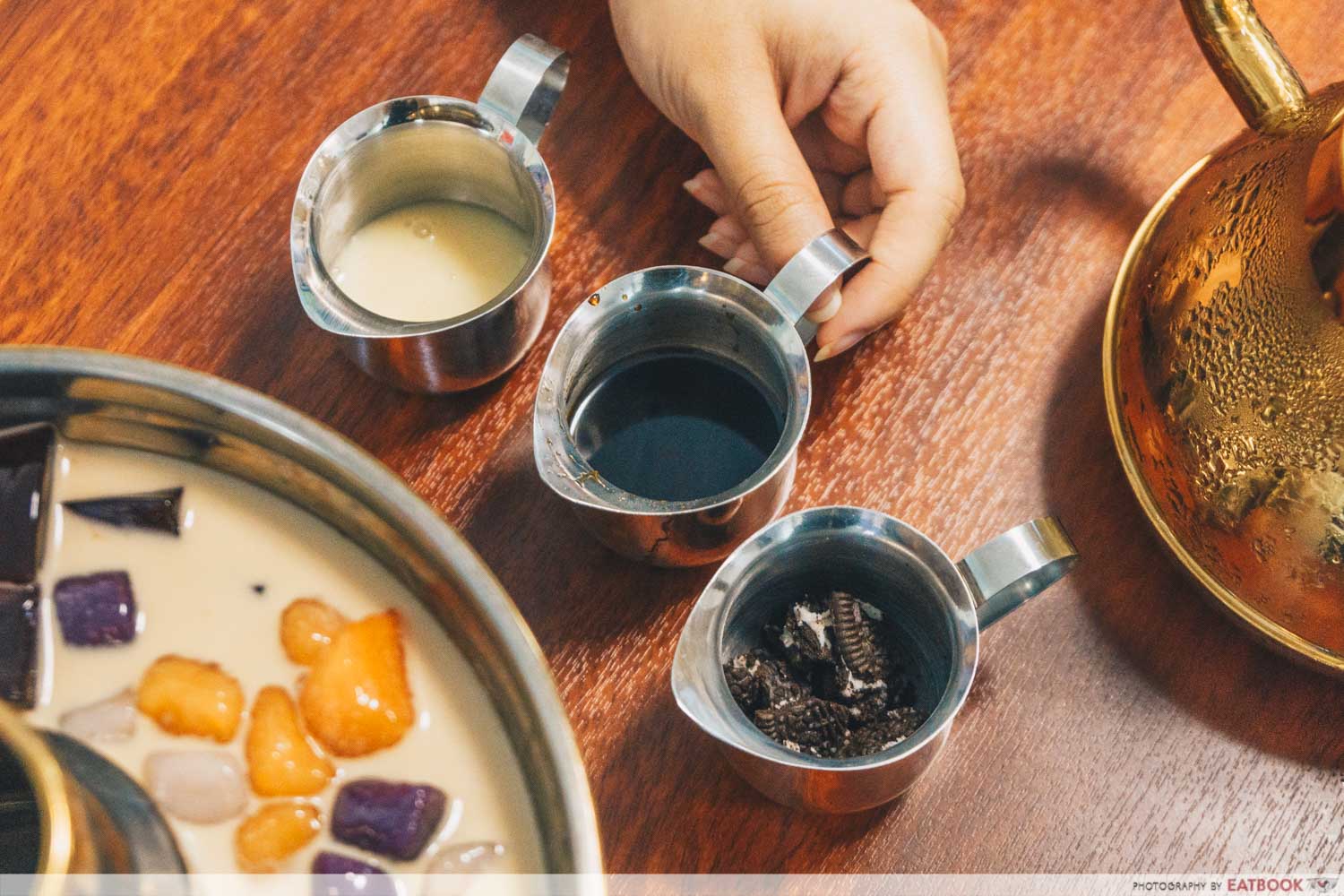 The bubble tea hotpot is going at a promotional price of $9.90, and comes with a choice of any five toppings and a base of either milk tea or coconut milk. The set is completed with three mini pitchers of condensed milk, gula melaka, and crushed Oreos that you can add to taste.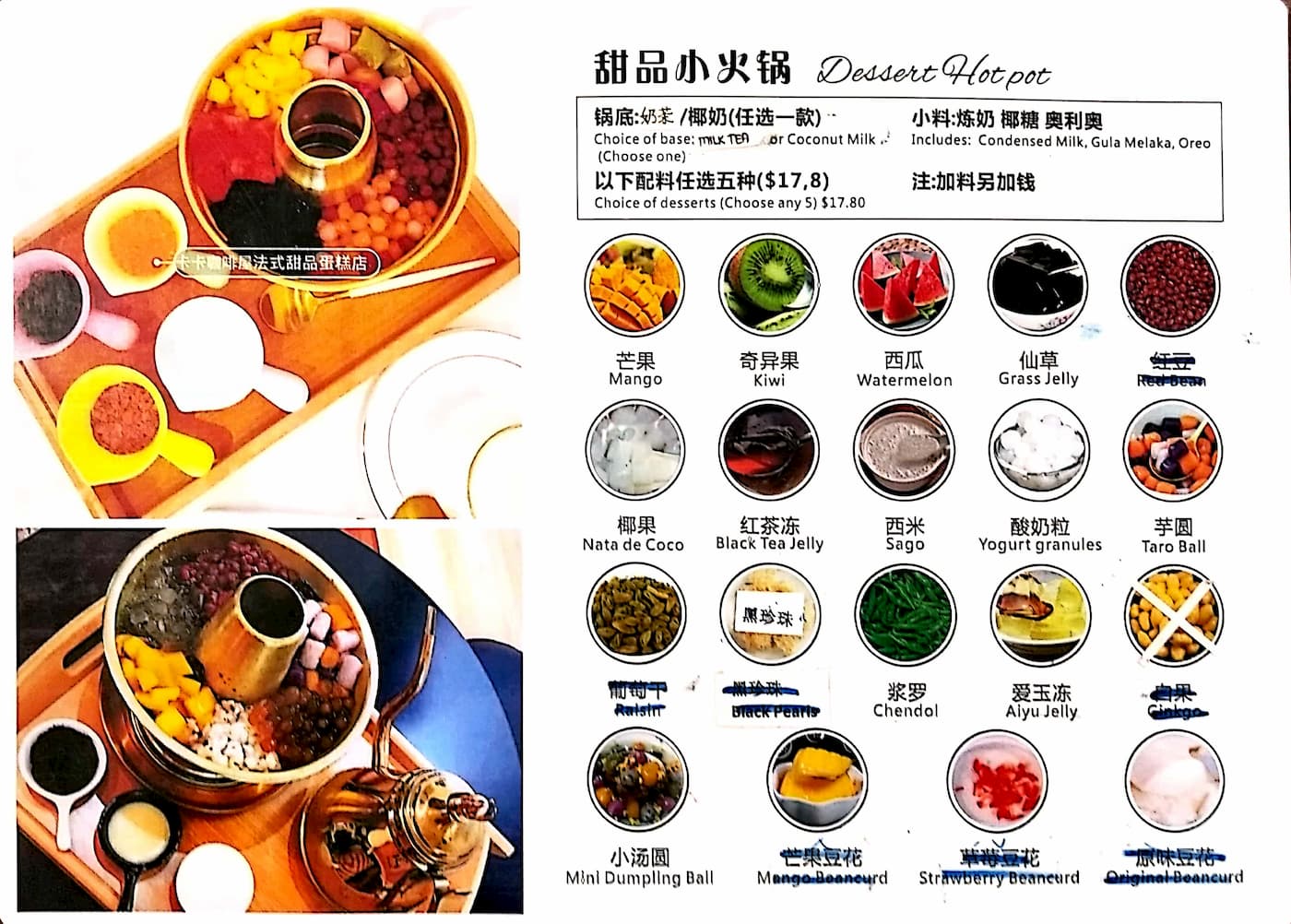 Unlike Spice World Hotpot's sweet and savoury version, this bubble tea hotpot only provides sweet ingredients for you to pick from, similar to Blackball or Nine Fresh's build-your-own-bowl concept. These ingredients include fruits, jellies, soya beancurd, chendol, and other common bubble tea toppings.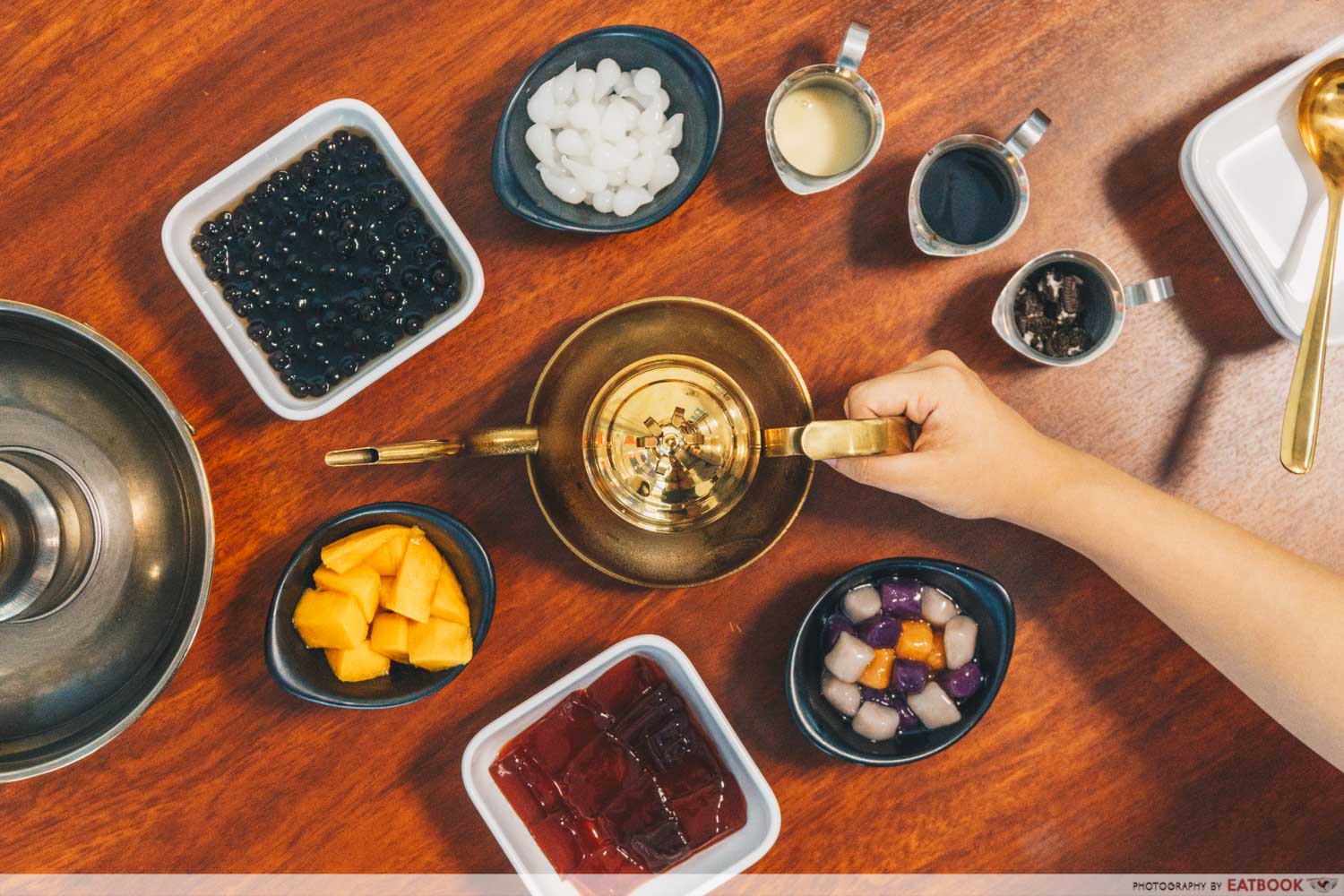 Despite its affordable price, each ingredient came in a generous enough portion to fill up its own section of the pot. We chose Mango, Black Tea Jelly, Yogurt Granules, Taro Balls, and Black Pearls as our toppings of choice, along with a Milk Tea base to complete our bubble tea hotpot.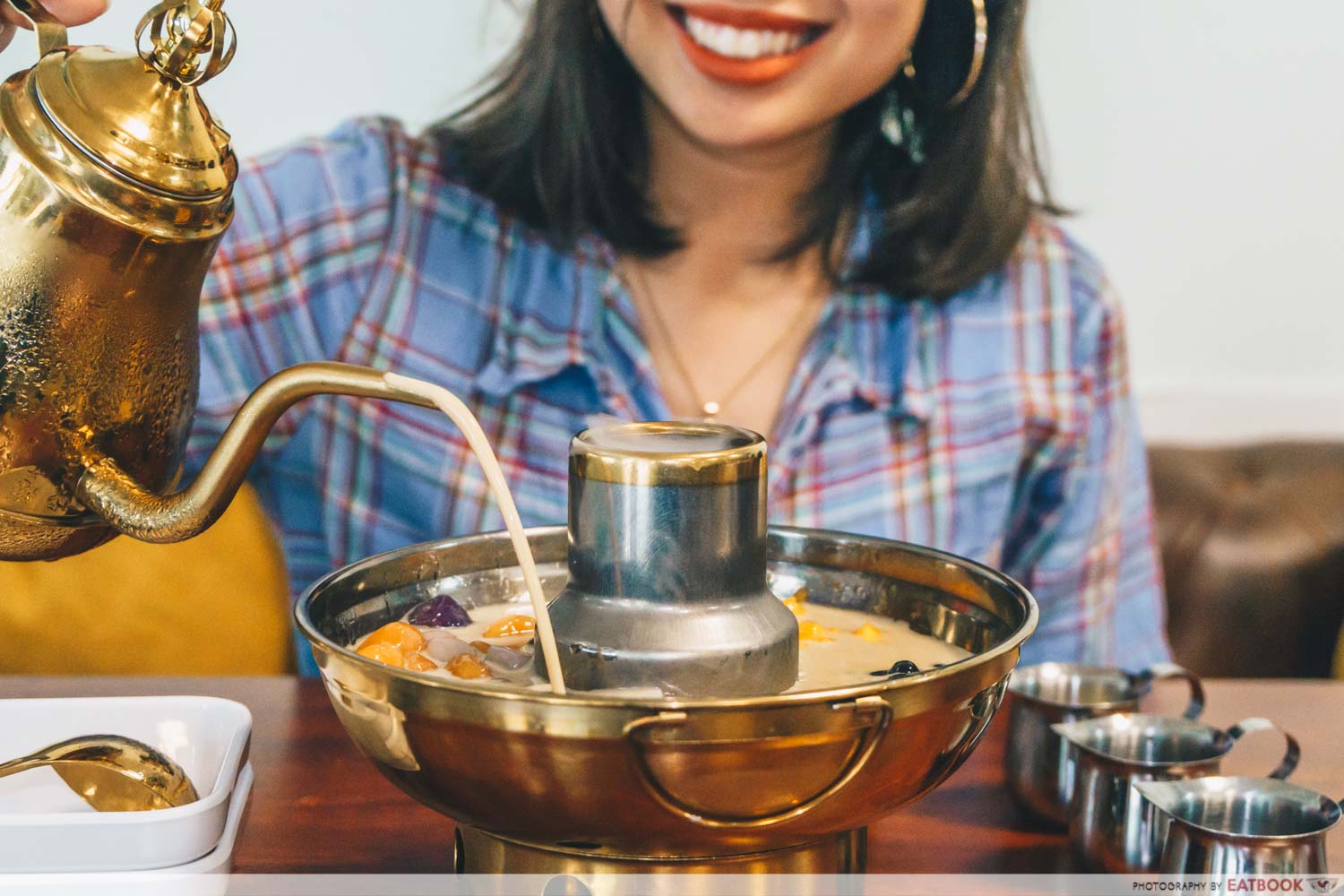 We were given an additional pitcher of warm water to activate the dry ice. Just like kids seeing magic for the first time, we watched in awe as 'smoke' began to rise from the centre compartment, adding the finishing touch to our hotpot. However, this smoke illusion only lasted for a few short minutes, so snap your pictures quick for the full hotpot look.
Arriving in a large golden kettle, our milk tea base was served chilled for us to flood our sweet dessert moat. The cold drink was thankfully not overly sweet, and its taste reminded me of Mineshine milk tea drink which does not have a potent tea fragrance.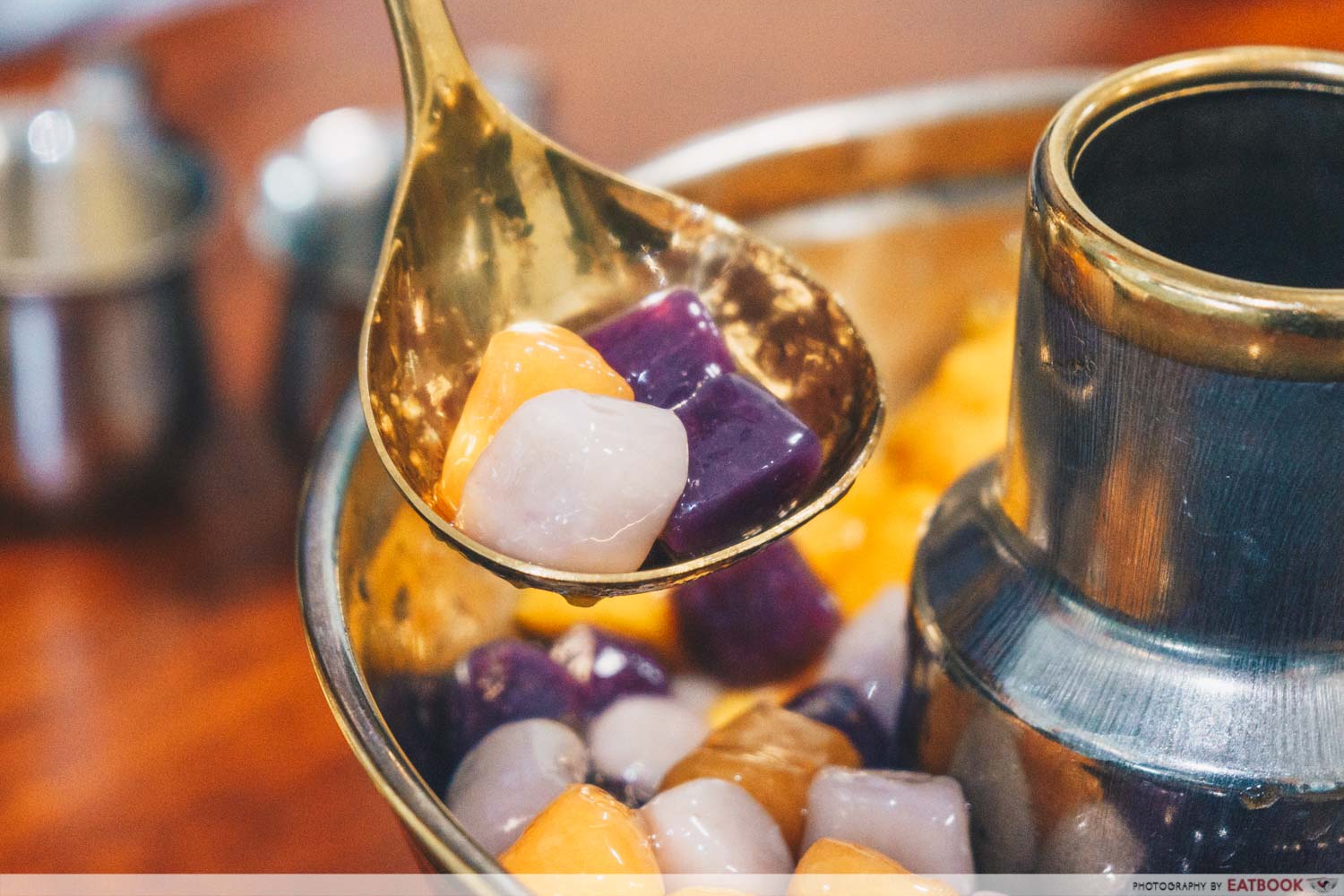 The colourful taro balls were delightfully QQ and offered up a good chew. In my opinion, they nailed the mouthfeel of these bouncy nuggets. These balls usually have a very light taste, but because of the mild-tasting milk tea base, I could single out their subtly sweet taro flavour.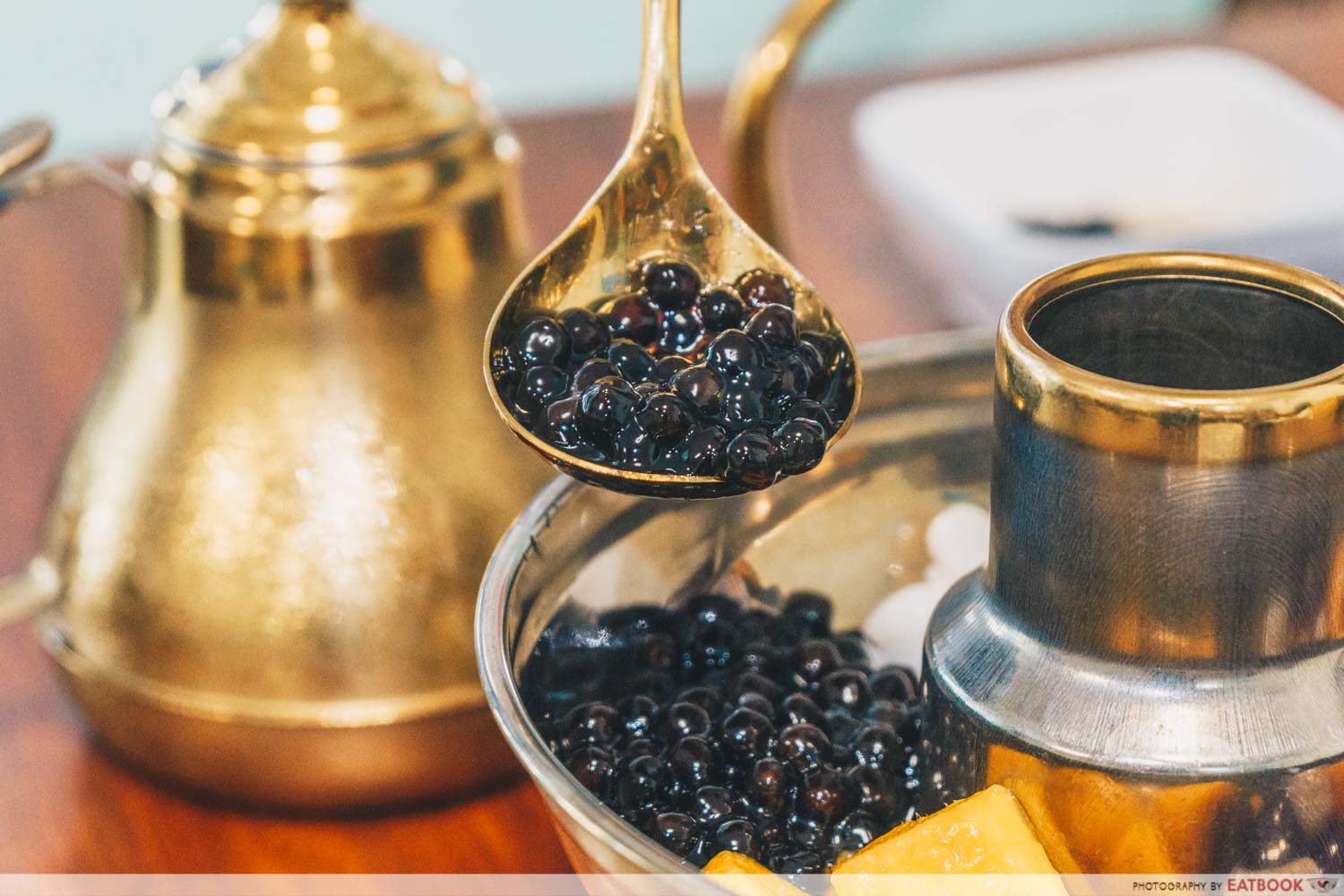 The sticky boba pearls were the most familiar topping on our list. They were served slightly warm from cooking, with the rich aroma of syrup wafting off it. As a frequent bubble tea drinker, I'll admit to having high standards for bubble tea pearls, and I found this batch to be a bit stiff for my liking.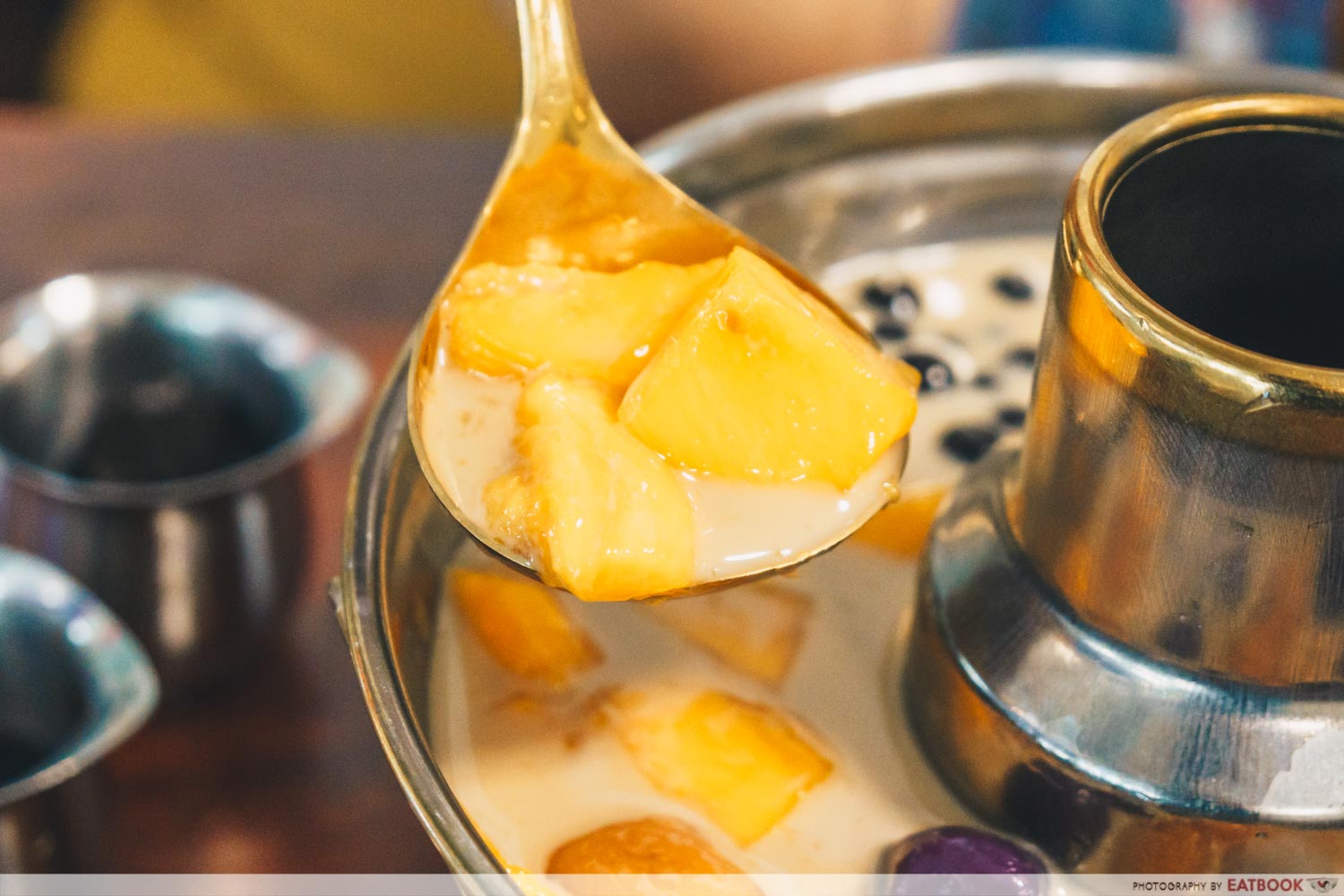 We went for mango to add a refreshing fruit element to the indulgent dessert pot. The mango chunks were firm, but soft in the mouth—a sign of being perfectly ripe. Of all the ingredients in the pot, I enjoyed these sweet and fruity mango chunks the most.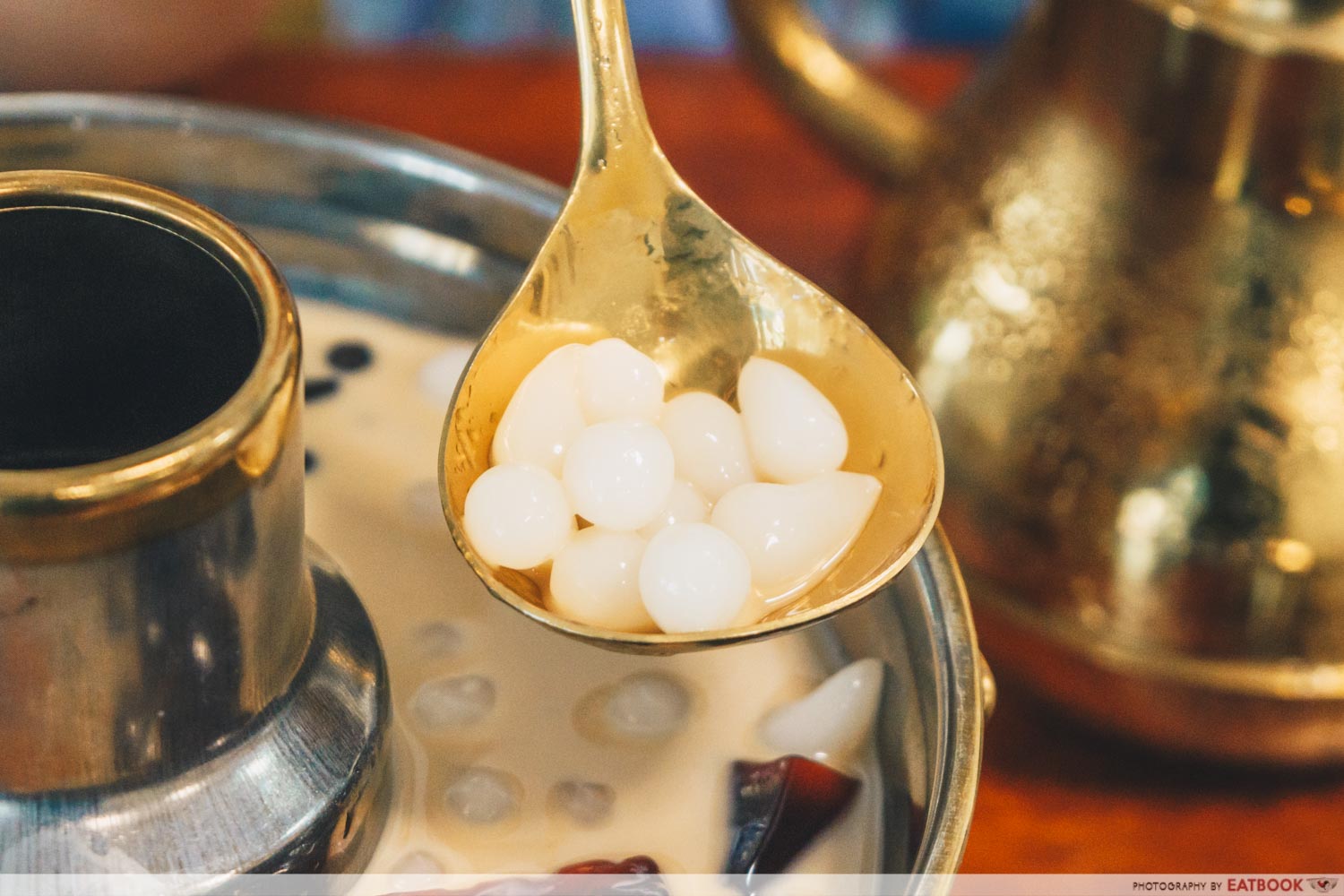 Our yoghurt granules looked like little white jellies that were bouncy and firm. I thought they would pop in my mouth like a jelly with a juicy centre but instead, their texture resembled agar-agar; firm all the way through. Flavour-wise, they were slightly tart but mostly sweet.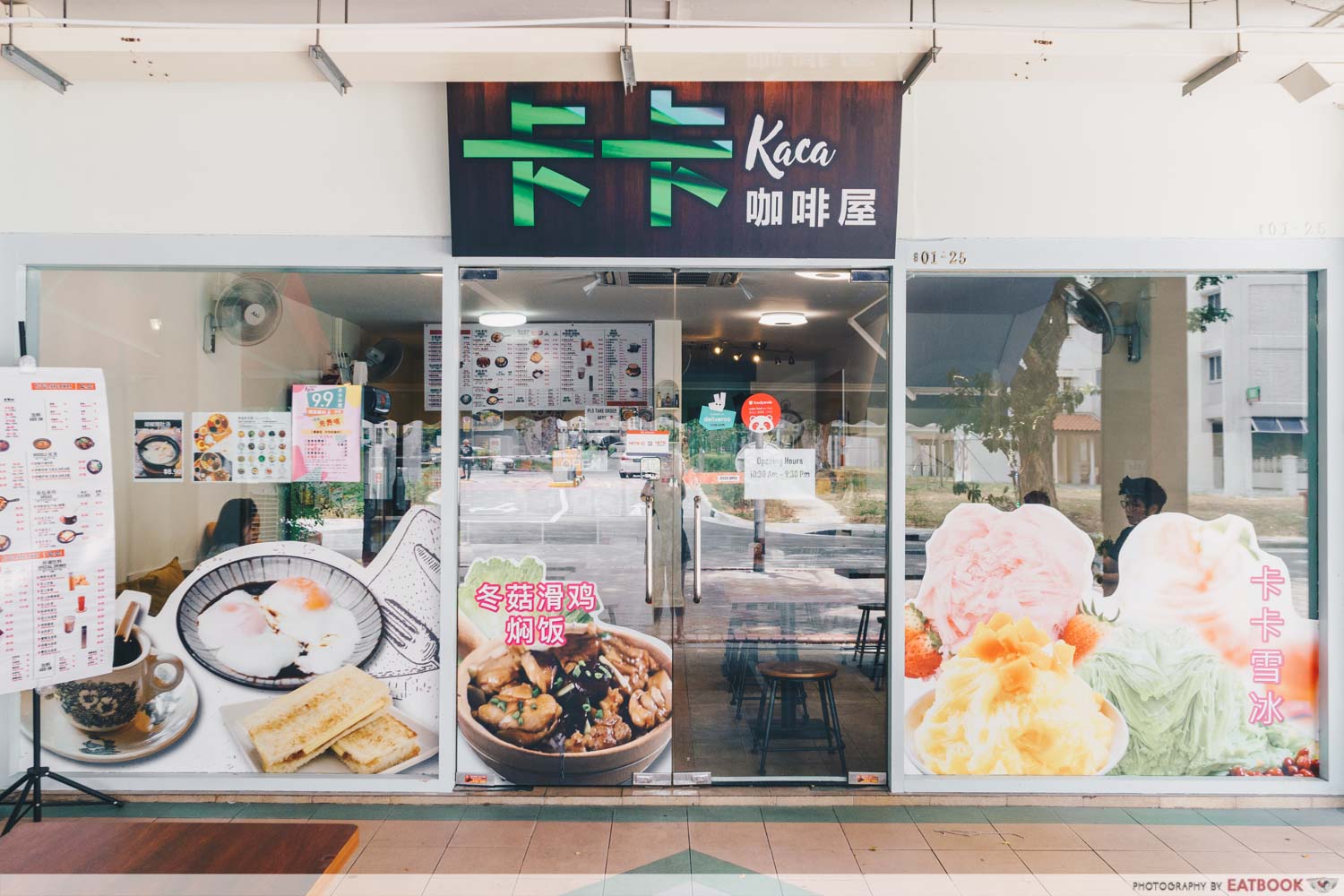 As gimmicky as it may seem, this bubble tea hotpot concept was a rather fun way to enjoy a typical dessert. Besides making an interesting subject to post on IG, this sweet hotpot can pose as a cute get-together excuse, especially with the weather being too warm for any real hotpot action. Next time I'm in the area, I'm calling up all my bubble tea-obsessed friends to share this affordable dessert! 
9 Hai Di Lao Alternatives With Equally Good Food And Service Sans Queue
If you're a fan of hotpot, regardless of sweet or savoury, check out our list of Hai Di Lao alternatives. Or, if you're looking for more bubble tea finds, read more about the newest Taiwan BBT in town, Chun Fun How Singapore.
Address: 84 Bedok North Street 4, #01-25, Singapore 460084
Opening hours: Daily 10:30am to 11pm
Tel: 8168 5283
Website
卡卡咖啡屋 Kaca Coffee House is not halal-certified.
Photos taken by Lim An.