---
Capita3Eats restaurants with free delivery
---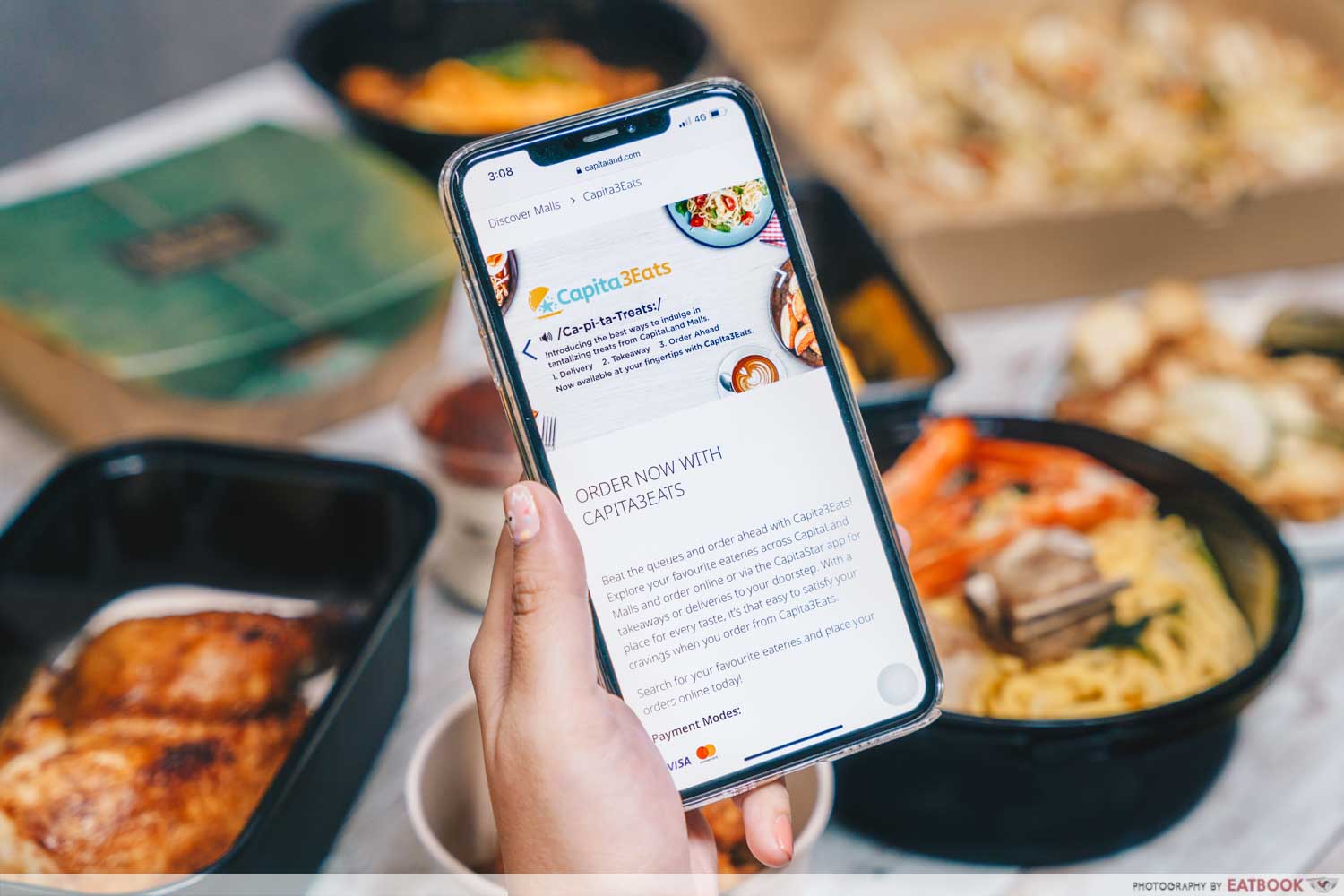 Masters of ordering food online would be able to relate to the pains of exorbitant delivery charges and peak-hour markups. It comes as good news for those who are tired of surcharges as from now till 31 August 2020, Capita3Eats will be offering free delivery for orders above $30 from selected eateries across CapitaLand Malls. 
Pronounced as "capita-treats", this new food delivery platform can be accessed via both their website and the CapitaStar app to order food from malls near your location. Read till the end to find out how you can score 5,500 bonus STAR$, 5x STAR$, and a $5 Grab voucher!
Look below for our round-up of 10 restaurants to order from for local eats, family platters and more, all at the comfort of your own home:
---
1. Poulet
---
Be it for friend meetups or close-knit family gatherings, the food from Poulet never fails to set the tone of a hearty feast for me. Simply settle a meal with their 1 Pax or 2 Pax Set Meal at $29.96 and $57.78 respectively. Each person will get a starter, a main, and a dessert. 
My recommended combo would be their creamy Mushroom Soup, Signature Half Roast Chicken with Mushroom Cream Sauce, and Milk Pudding dessert. Their juicy and tender French-styled chicken is definitely a must-order for a centrepiece on the dinner table. 
Order Poulet from Capita3Eats here
---
2. Bao Makers
---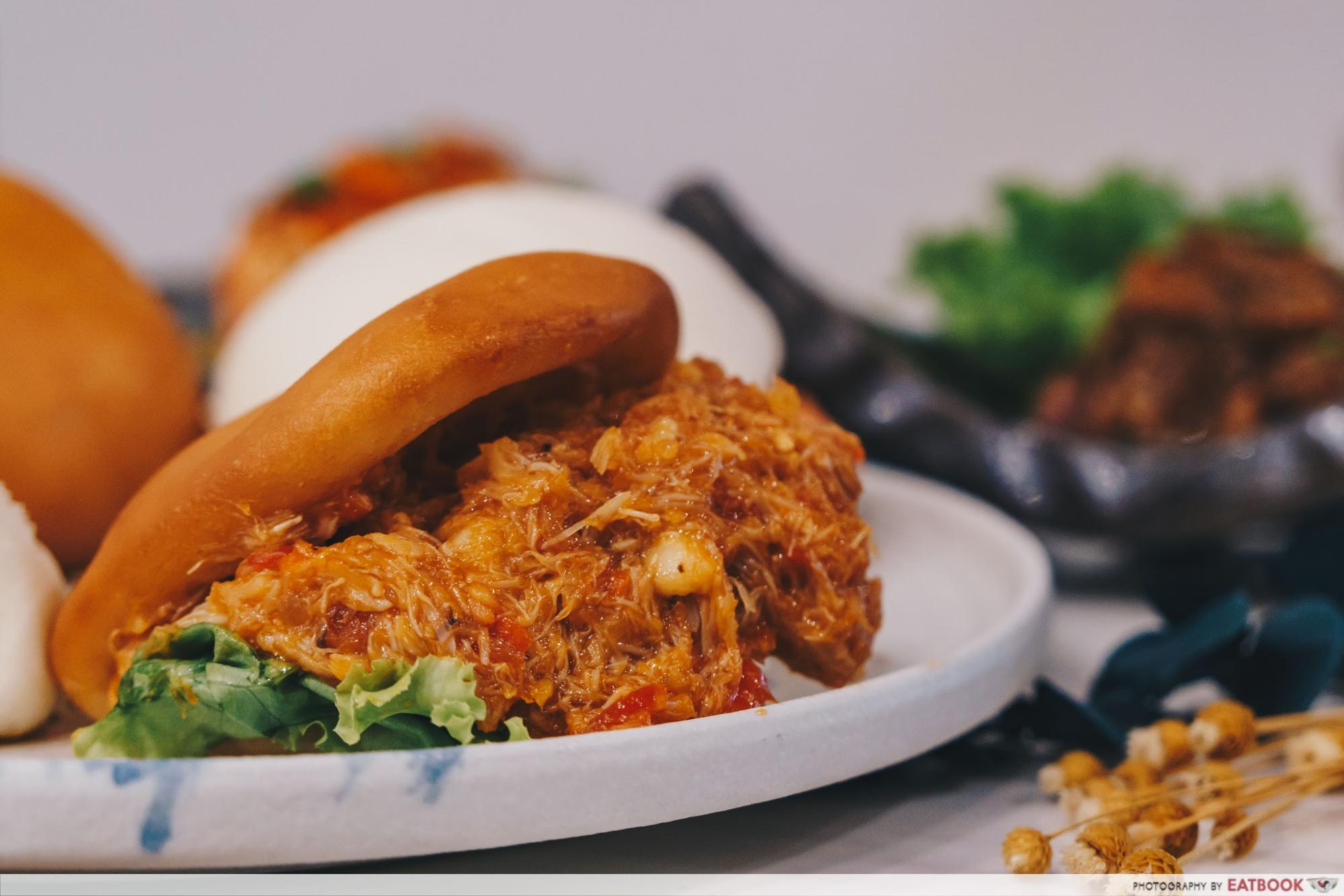 Previously only available at Jiak Chuan Road, Bao Makers has made its way into Westgate, making it more accessible to West-side folks like me who are craving for their mouth-watering stuffed bao. 
They have managed to successfully introduce local flavours into crispy deep-fried Chinese buns with their Chilli Crab Bao ($3.80) and Salted Egg Chicken Bao ($3.30). Suckers for anything mentaiko will also be happy to know that they have a luscious sauce-soaked Salmon Mentaiko Bao at $3.30 as well. 
Order Bao Makers from Capita3Eats here
---
3. Tamago-EN
---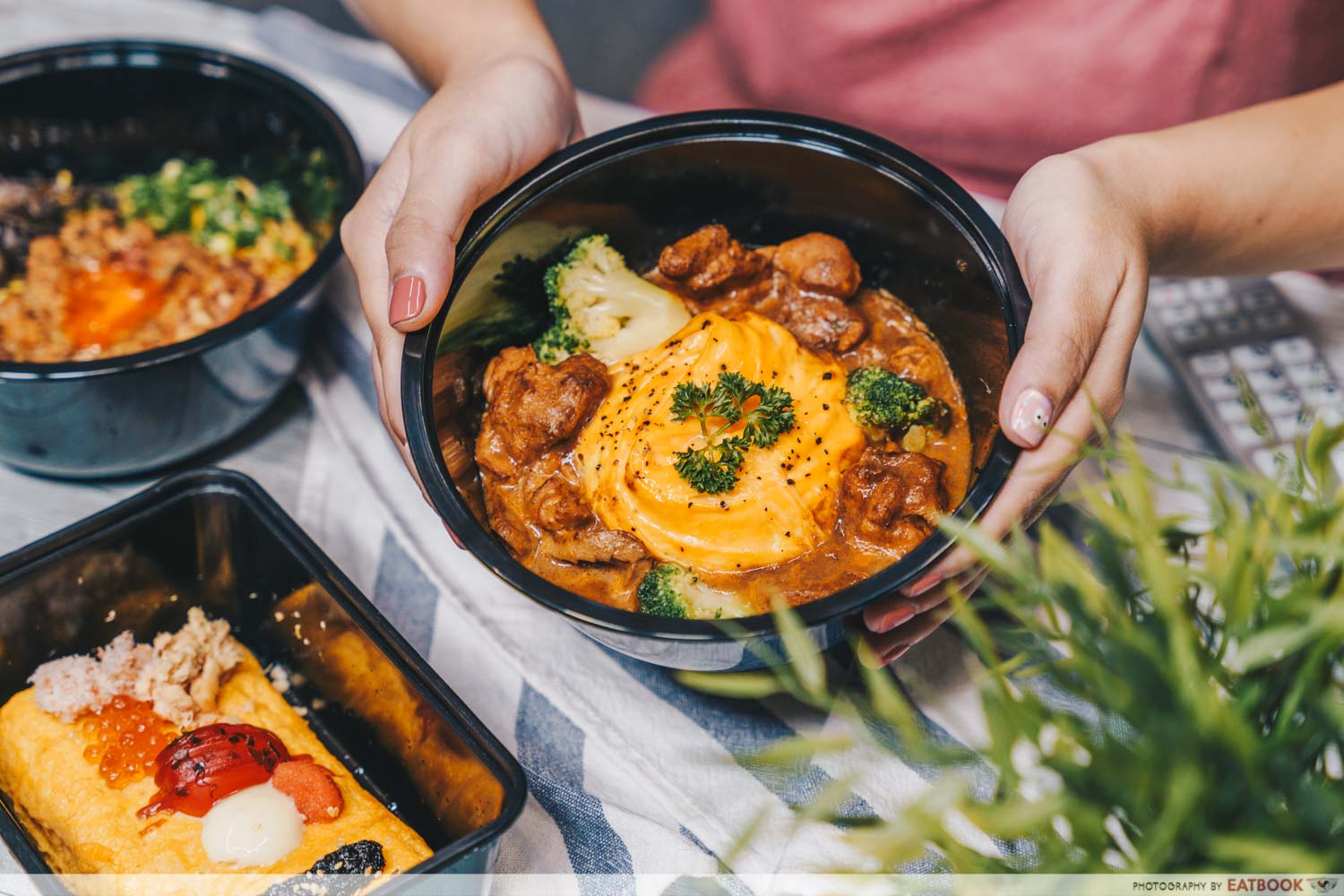 Located at Tampines Mall is the Japanese egg-centric restaurant, Tamago-EN. Every dish in the menu, such as their beef stew omu rice ($19.80) and Tamago-EN Oyako Don ($15.20), is adorned with a bright yellow cloud of egg in the middle. To savour the freshness of Okinawan eggs from, order their 5-kind Japanese Omelette Skewer ($10.40) which features sweet tamagoyaki flavoured with different toppings.
Order Tamago-EN from Capita3Eats here
---
4. CRAVE
---
There are some old faithfuls that I keep coming back to, and one of them is CRAVE. The Adam Road nasi lemak always hits the spot when I'm looking for a quick but satisfying meal, priced from $8.20 a pop with a choice of drink.
A favourite order of mine is the Perfect $10 Nasi Lemak with Chicken Wing and Bergedil meal which also comes with a choice of drink. The bed of fluffy basmati rice is topped with the essentials: a crunchy chicken wing that is nicely marinated through, a bergedil perfumed with spices, and a sweet and mildly spicy sambal chilli.
Order CRAVE from Capita3Eats here
---
5. Xing Ji Big Prawn Noodle
---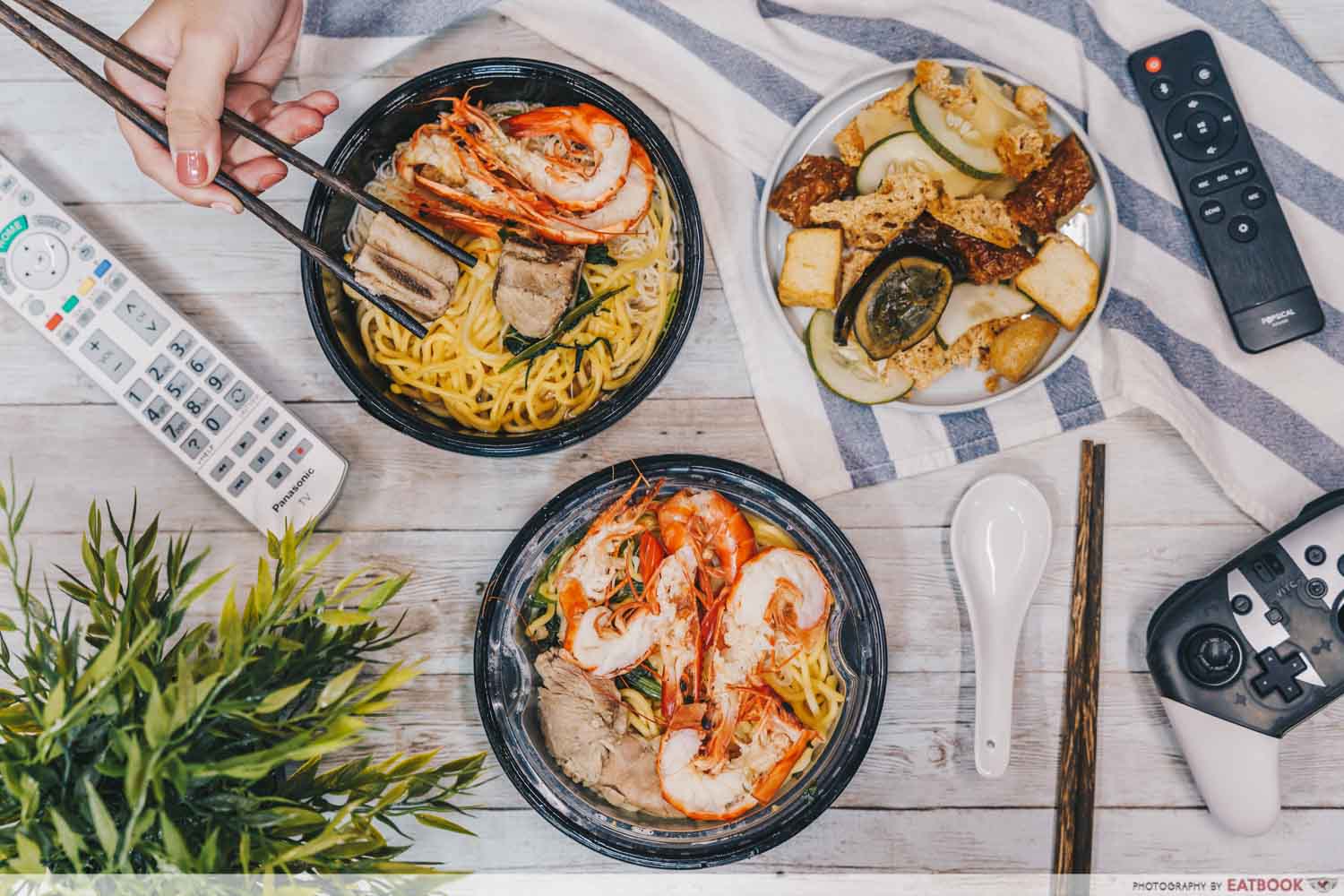 Another local favourite available is prawn noodles from Xing Ji Big Prawn Noodle. As a prawn noodle enthusiast, I thoroughly enjoyed its robust and slightly sweet prawn broth. Bringing the bowl directly up to my lips, I finished the full-bodied broth and wished for more.
Each bowl of Xing Ji Signature Prawn Noodle will set you back at least $8.50 for the smallest size, which comes with a good serving of noodles, prawns, and pork slivers. There are also ngoh hiang sets from $6.50, featuring meaty ngoh hiang, fishballs, and prawn crackers that still arrive deliciously crunchy at your doorstep. 
Order Xing Ji Big Prawn from Capita3Eats here
---
6. Big Fish Small Fish
---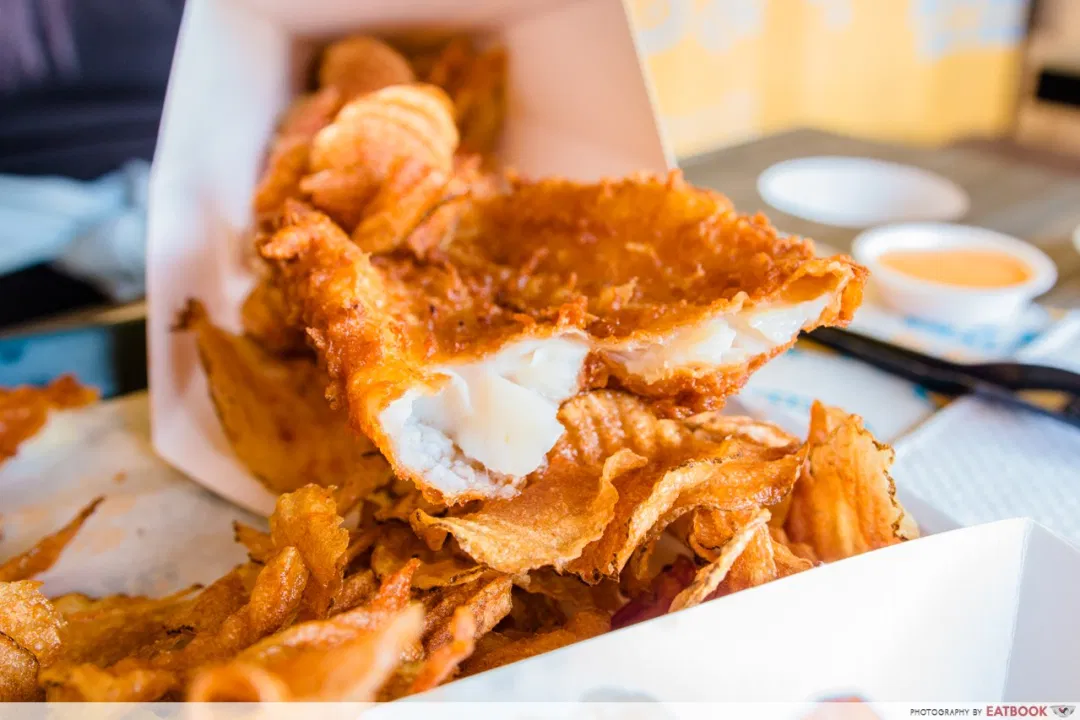 Available for delivery to places near Tampines Mall, JCube, and Bugis Junction, Big Fish Small Fish serves an affordable variety of fried and grilled fishes, which are paired with interesting sauces such as salted egg, curry, cheese and more. Expect a combination of crunchy batter and melt-in-your-mouth dory flakes, along with an abundance of their signature potato crisps to spare when you order the Dory with Crisps ($8.80). 
Those looking for more bang for the buck can check out their Fish Bucket ($48.80) which comes with eight pieces of fish, crisps, two mashed potatoes, two chowders, calamari, fries, and four sauces.
Order Big Fish Small Fish from Capita3Eats here
---
7. Fu Lin Fried Yong Tofu
---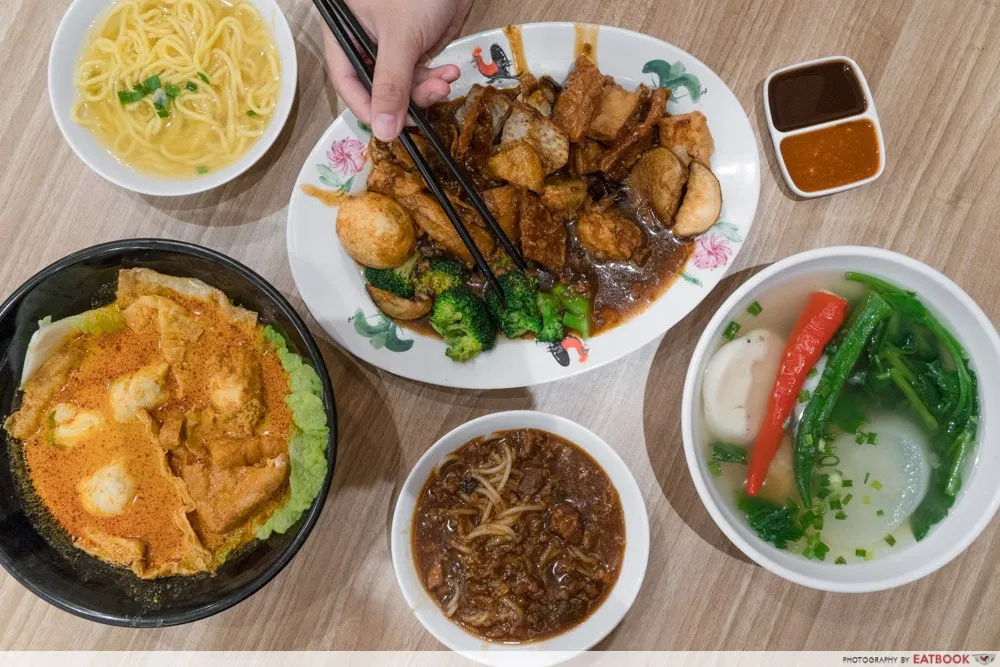 Skip Fu Lin Fried Yong Tofu's snaking lunch queue at IMM and order directly off Capita3Eats! The yong tau foo served here isn't just limited to the usual soup or dry versions, as they are actually known best for their gravy option. Select their 6 pieces with soup and noodles set ($6.50) or 6 pieces with gravy and noodles set ($7.50) that is doused in a brown, savoury, and starchy meat gravy made with minced chicken, mushrooms, and spices.
Order Fu Lin Fried Yong Tofu from Capita3Eats here
---
8. Lokkee
---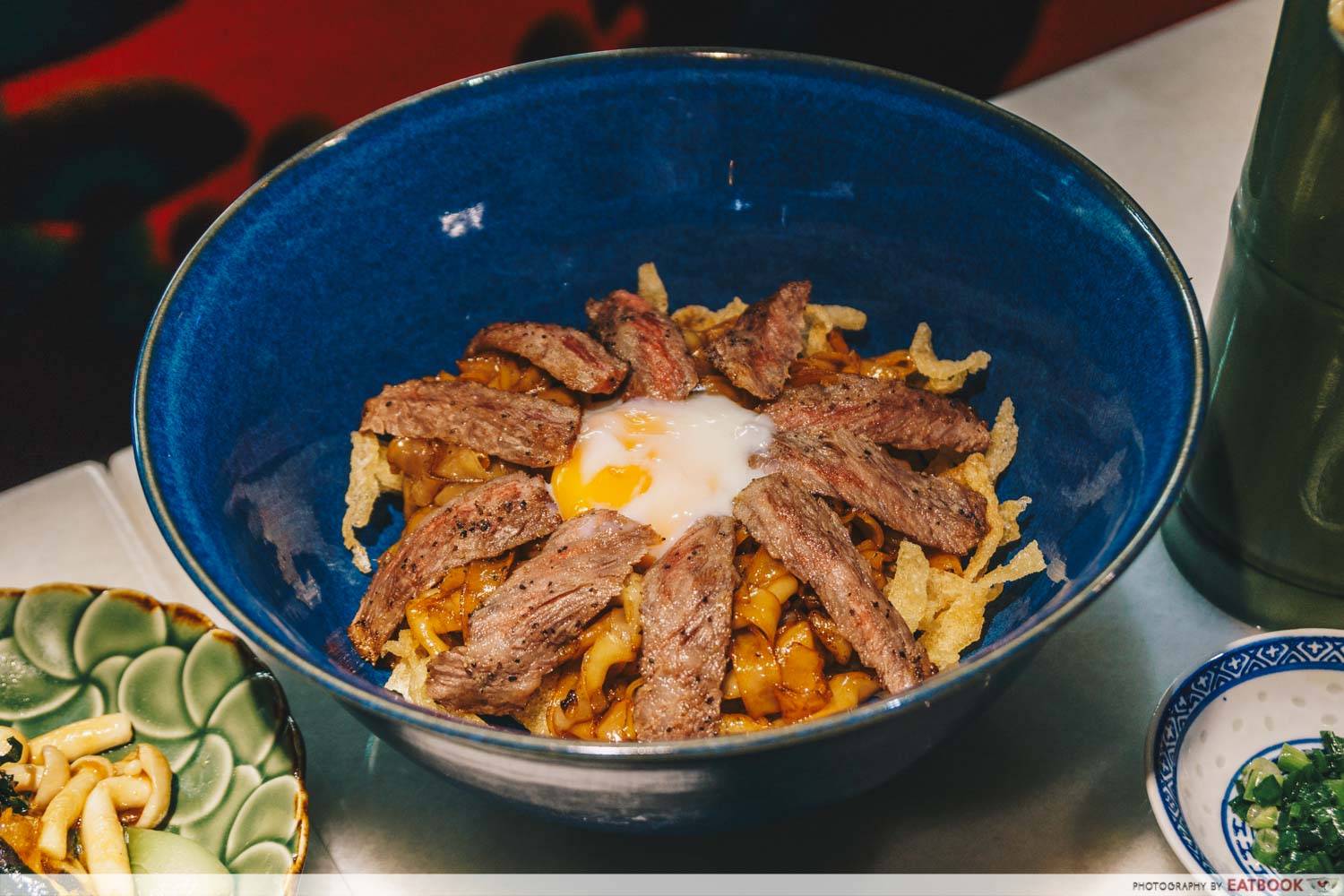 Lokkee offers an impressive menu of dishes including the much raved about Wagyu Truffle 'Hor Fun' ($72.80). This masterpiece feeds three to four people, presenting premium A4 Kagoshima Wagyu beef slices, thick and viscous truffle sauce, and a duo of stir-fried and deep-fried hor fun.
Great for celebrations, set menus from $105, featuring their popular Firecracker Chicken Nest, piquant Mala Grilled Barramundi, and lavish X.O. Crab Meat Fried Rice, are also available.
Order Lokkee from Capita3Eats here
---
9. Long Beach Seafood Restaurant
---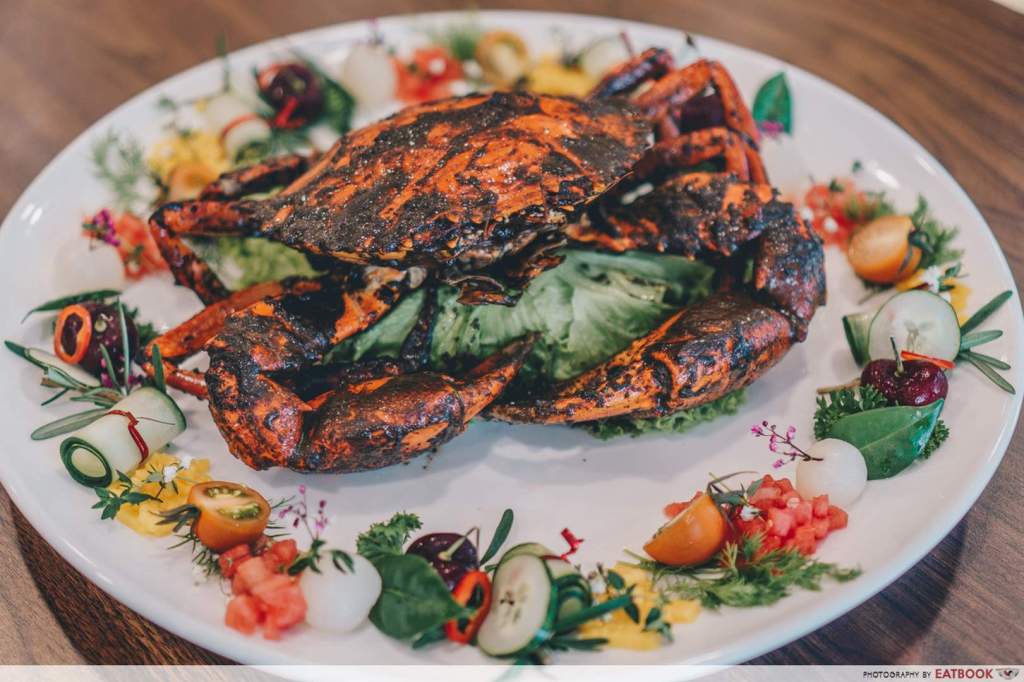 For those who miss having an atas meal out, ordering from Long Beach Seafood Restaurant might be a good idea. Food is all about sharing and that is why a seafood feast remains as many people's favourite. 
Order the Famous Black Pepper Crab and Popular Chilli Crab which are priced at $89 for an approximately 900g mud crab, or $106 for an approximately 1.2kg Dungeness crab. From live seafood, soups, to desserts, their delivery menu is almost as extensive as what you can find in their restaurant at IMM.
Order Long Beach Seafood Restaurant from Capita3Eats here
---
10. Pizza Maru
---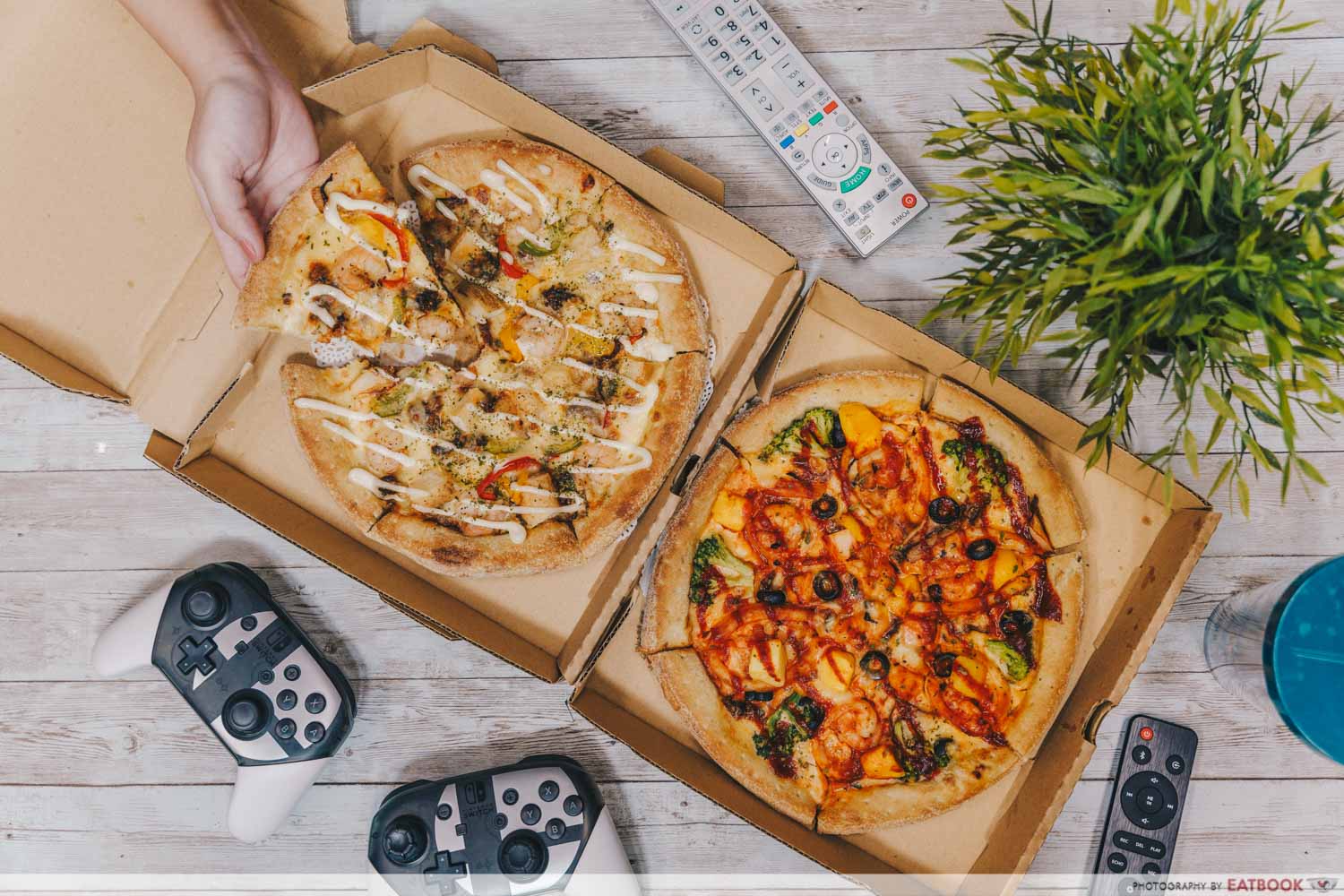 Pizza Maru from Korea boasts an array of colourful and interesting fusion-inspired pizzas, as well as eight flavours of Korean fried chicken in its menu. This makes them the most ideal place for a one-stop spot to settle your dinner parties. 
The Korean Surf N' Turf ($23.43) is a unique pizza with a hodgepodge of toppings including beef, shrimp, pickle, cheese, sour cream, sweet ranch sauce and more. If you were part of the honey butter chip hysteria, a must-order is their Honey Butter Coat ($19.15) chicken. The sticky sauce adds a delicious sweetness to each bite of the crunchy Korean fried chicken.
Order Pizza Maru from Capita3Eats here
---
Score free delivery with Capita3Eats
---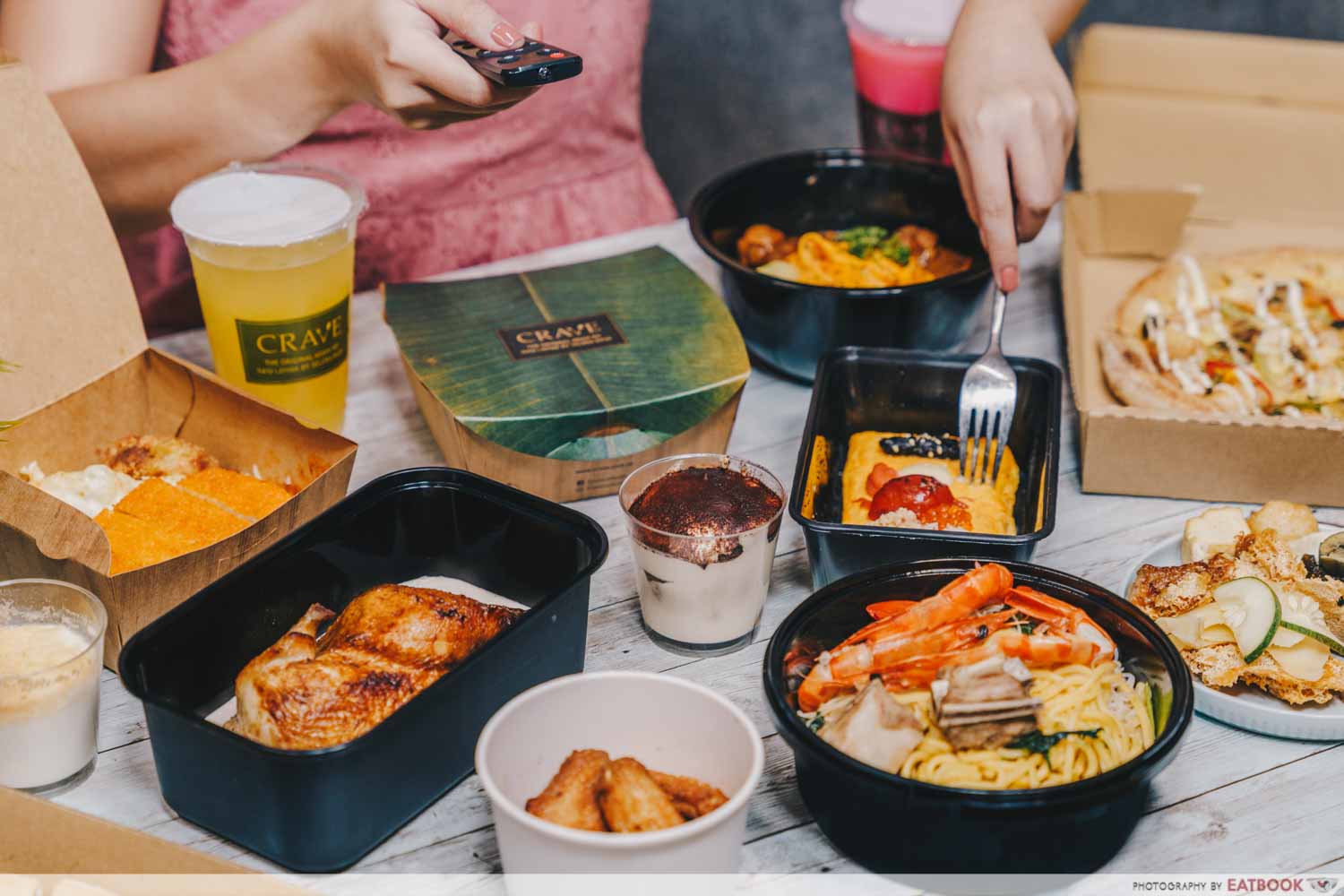 Other than free food delivery, Capita3Eats is also celebrating Singapore's 55th birthday by giving out 5,500 bonus STAR$ to members with a minimum purchase of $55. This is applicable for the first 5,500 customers in the month of August, so be sure to sign up as a CapitaStar member here before ordering your food to make full use of this promotion. New members will also get to receive a $5 Grab voucher with the promo code "GRABCS5". You can use this for your trip to the CapitaLand malls when you feel like dining out!
If you happen to be shopping in CapitaLand malls, do make use of the concurrent rewards program on Capita3Eats such as 5x STAR$ for all takeaway orders! 
Photos taken by Lim An.
This post is brought to you by Capita3Eats.