New Cartoon Network Cafe at Waterway Point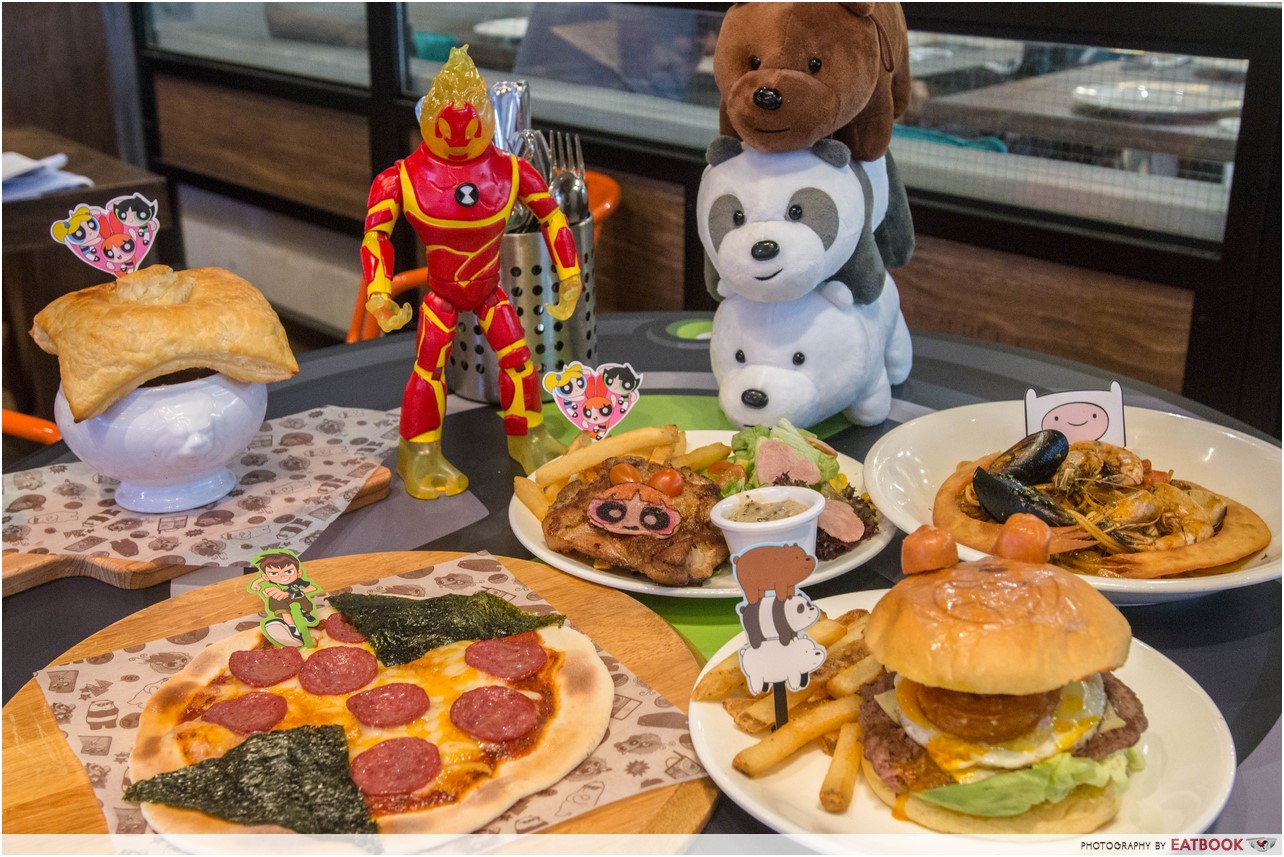 I'll admit it, even though I am way too old to call myself a kid, I still find it hard to not be fascinated when I come across either Disney Channel or Cartoon Network on the TV. While I am no longer a hard-core Buttercup fan, hearing that Singapore's first Cartoon Network Cafe opened just last weekend was enough to make me excited. A concept created by The Soup Spoon Union, the cafe features characters from The Powerpuff Girls, Ben 10, Adventure Time, and We Bare Bears!
Food at Cartoon Network Cafe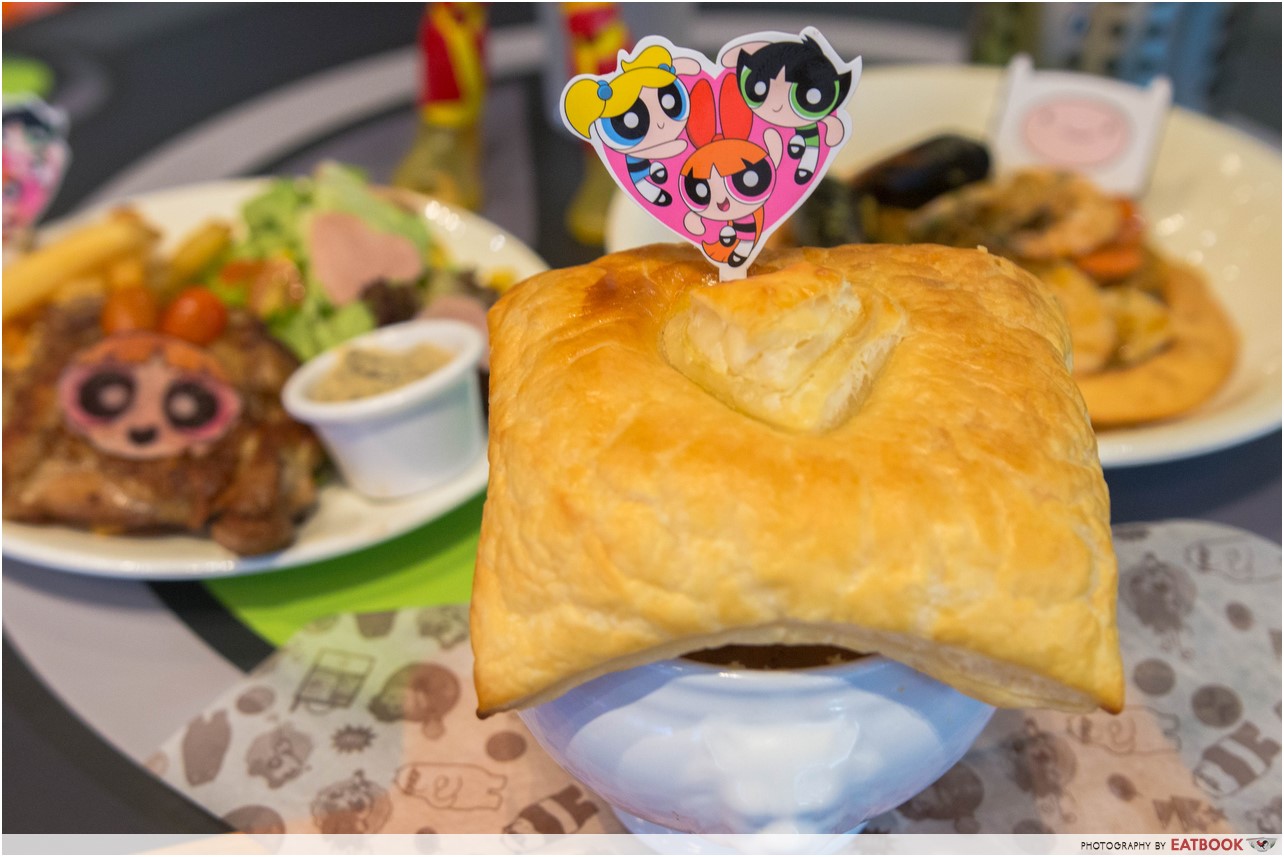 If you thought the Powerpuff Girls plushies and We Bare Bear wallpapers are all that makes up the themed cafe, wait till your food comes. At Cartoon Network Cafe, they serve simple Western dishes such as pasta, pizza, and burgers with a cute twist to the designs of the food!
While we were there, the first dish that we tried was Powerpuff Potpie ($10.90++). This is an appetiser where you get to choose between Velvety Mushroom or Clam Chowder soups. Along with the soup, the dish comes with a thick and crispy layer of puff pastry that sits on top of the bowl.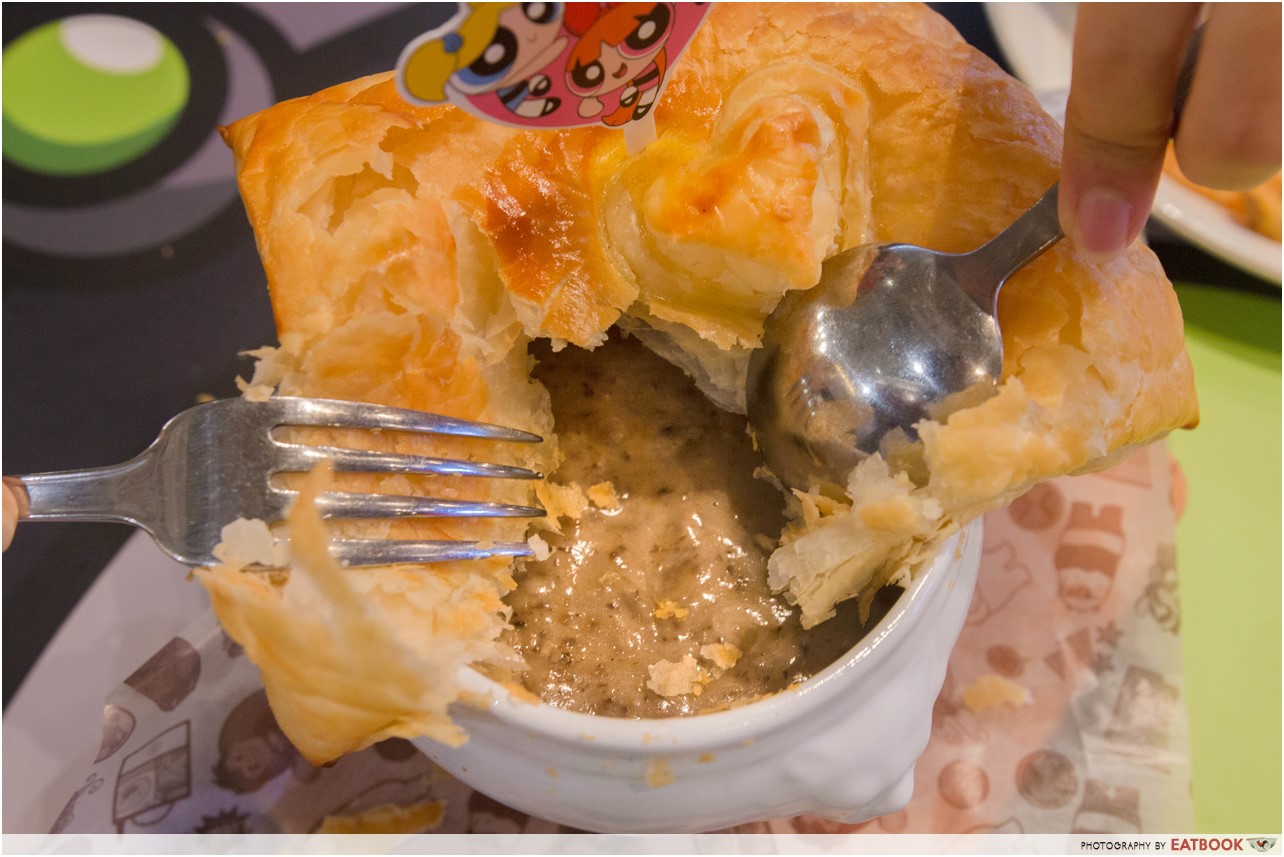 Compared to most soups that come with breadsticks, this was an interesting change that I thought was a better complement to the thick soup. Though the soup could do better with more flavour, fans of The Soup Spoon would find this dish familiar and to your liking.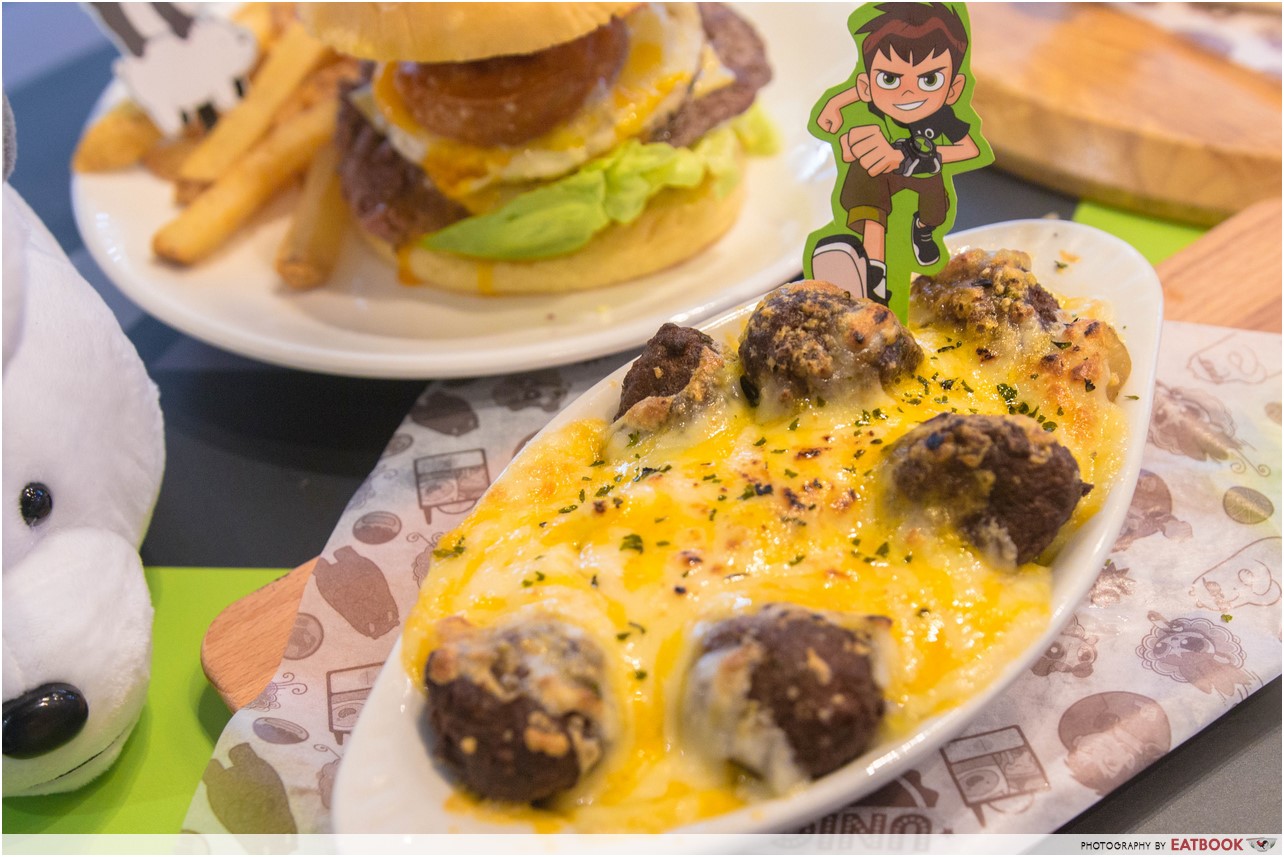 Another appetiser that we tried was their Ben 10 Baked Fries & Meatballs ($8.90++). Buried in a gooey heap of melted cheese that would make a great Boomerang shot, there were six meatballs, fries, and onion bits.
In terms of taste, I enjoyed the way the fries, cheese, and onions came together and the meatballs by themselves were tasty and well-marinated. However, texture-wise, the meat was way too dry and hard. Even with a knife, it was hard to cut the meatball into two and while the taste was decent, I couldn't bring myself to go for a second helping.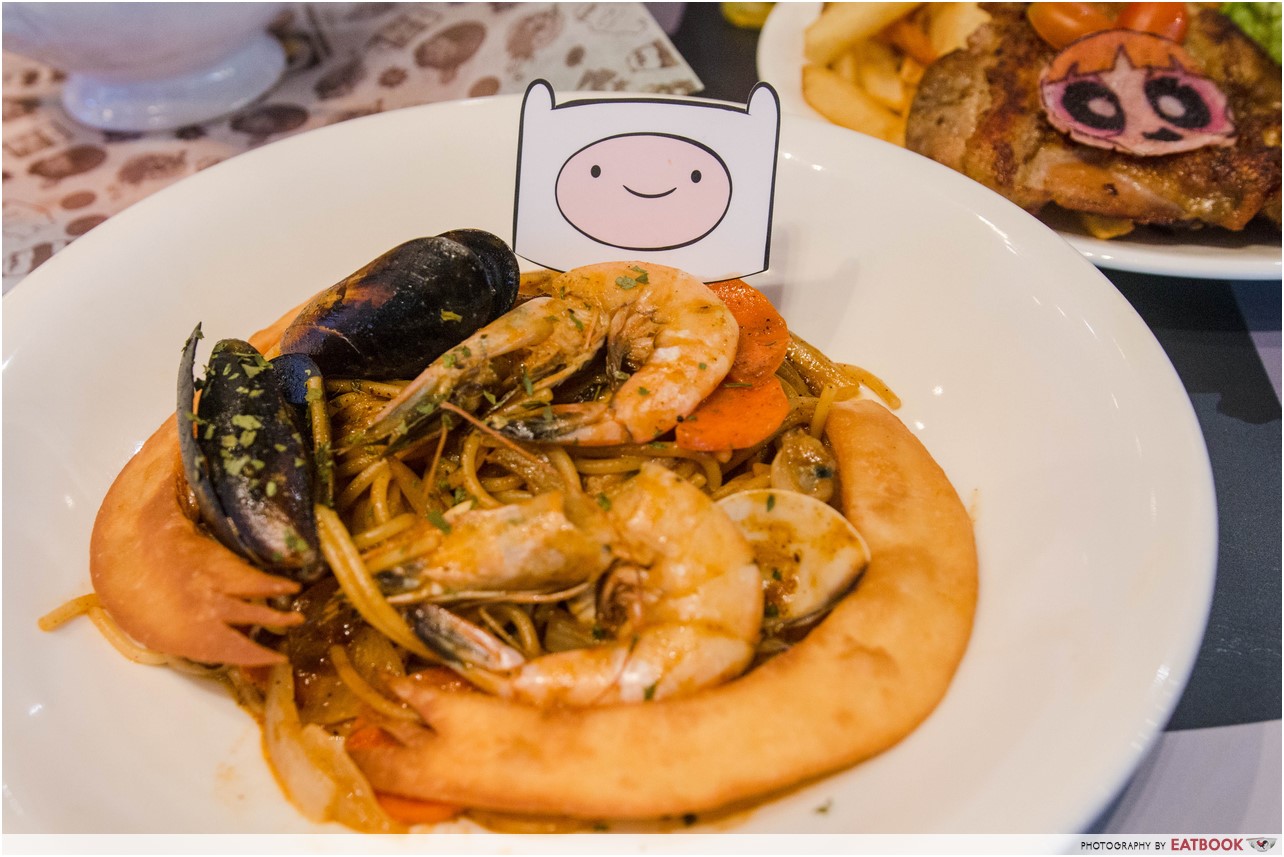 For mains, we had their Finn's Black Pepper Seafood Pasta ($18.90++). This was one of the better dishes that I would recommend! With two flat breads made into the shape of Finn's arms, the pasta also came with mussels, clams, prawns and mini octopuses. Tossed in black pepper sauce, the pasta was well-flavoured but not overwhelmingly spicy. The noodles were also cooked to the right texture and every strand was thoroughly coated with the sauce.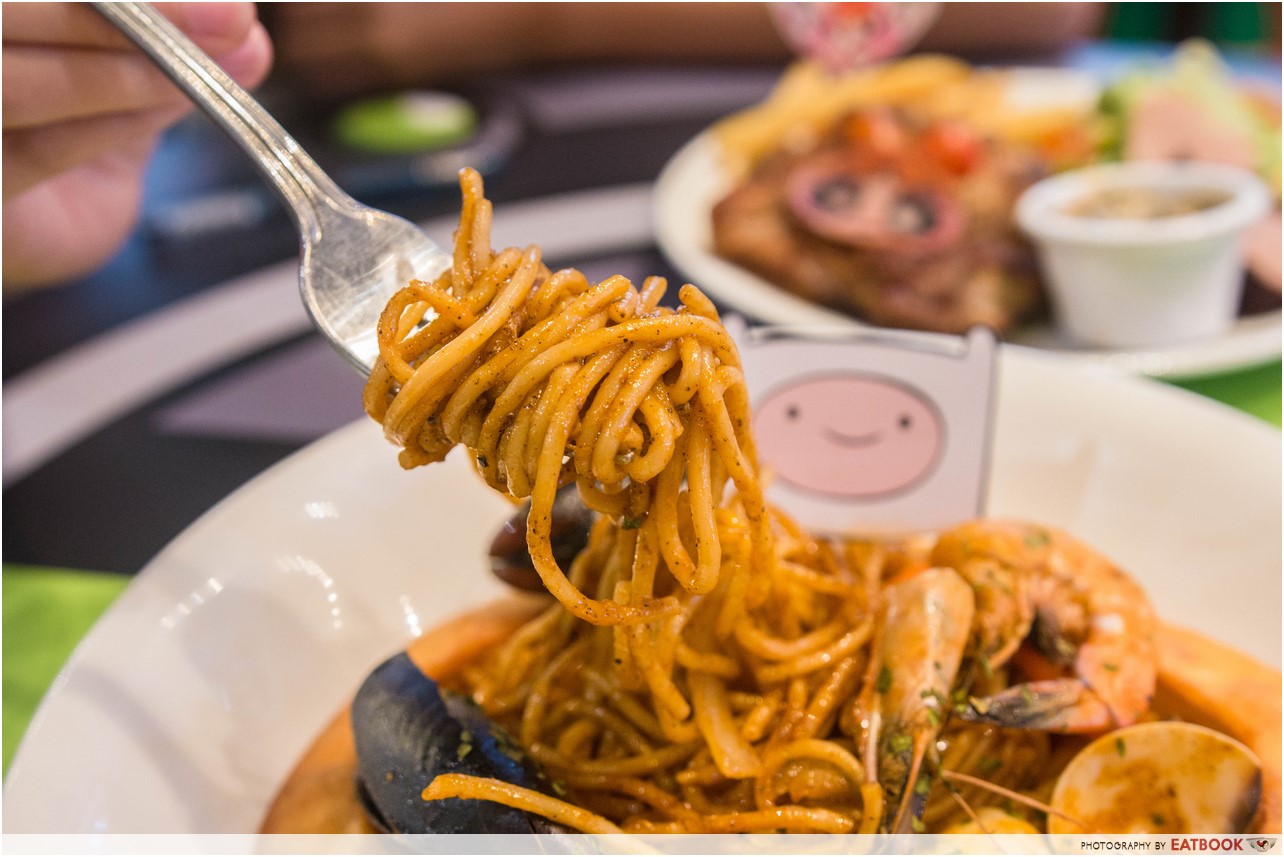 Though it sounds odd, the savoury and peppery noodles reminded me of a saucier version of mee goreng, but in a pleasant way. The ingredients, especially the prawns, were also decently fresh and generous in portion.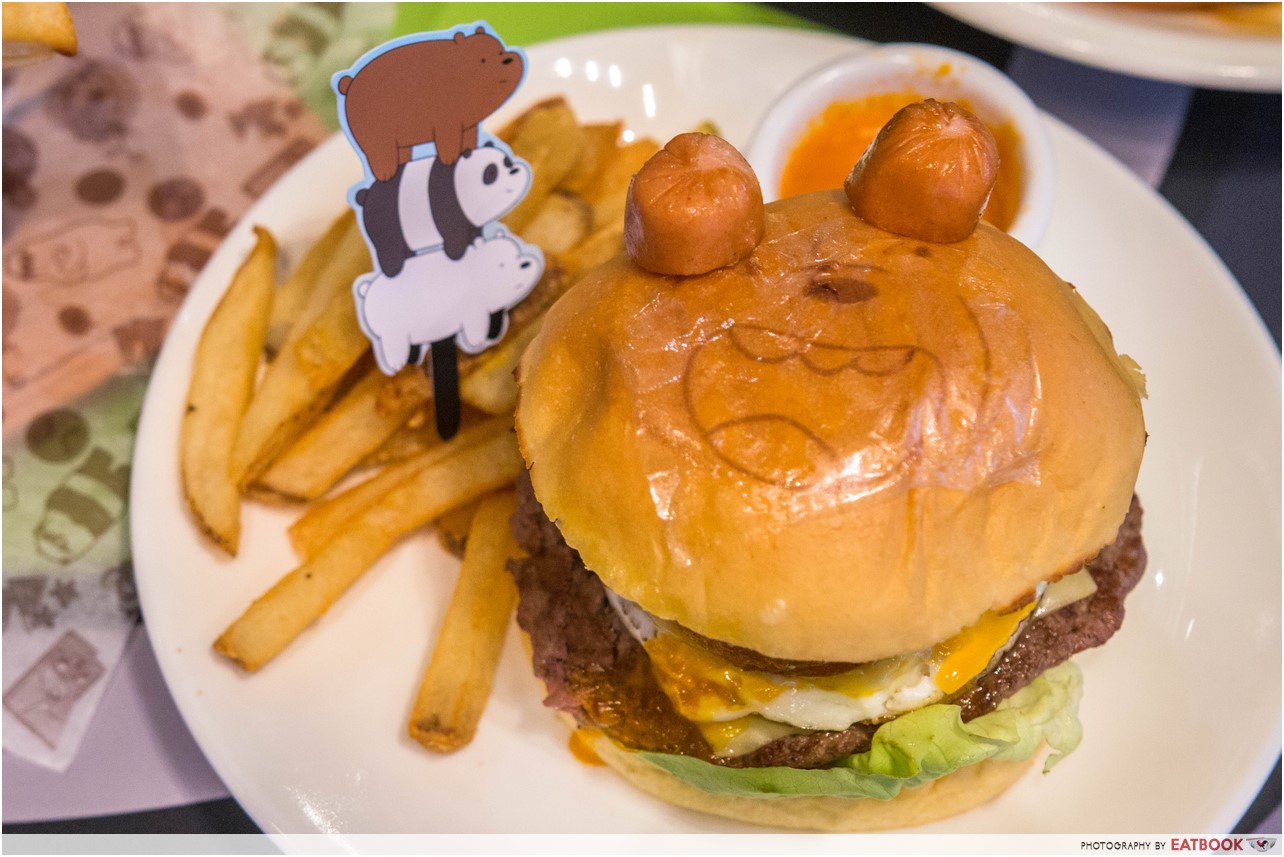 Another main that we tried was their Grizzly Beef Burger ($18.80++). This burger that features We Bare Bear's big brother Grizz, comes with a side of hand-cut fries. The burger comprised onion rings, a sunny side up, beef patty, lettuce, tomatoes, and two small sausages that made up the ears of the bear.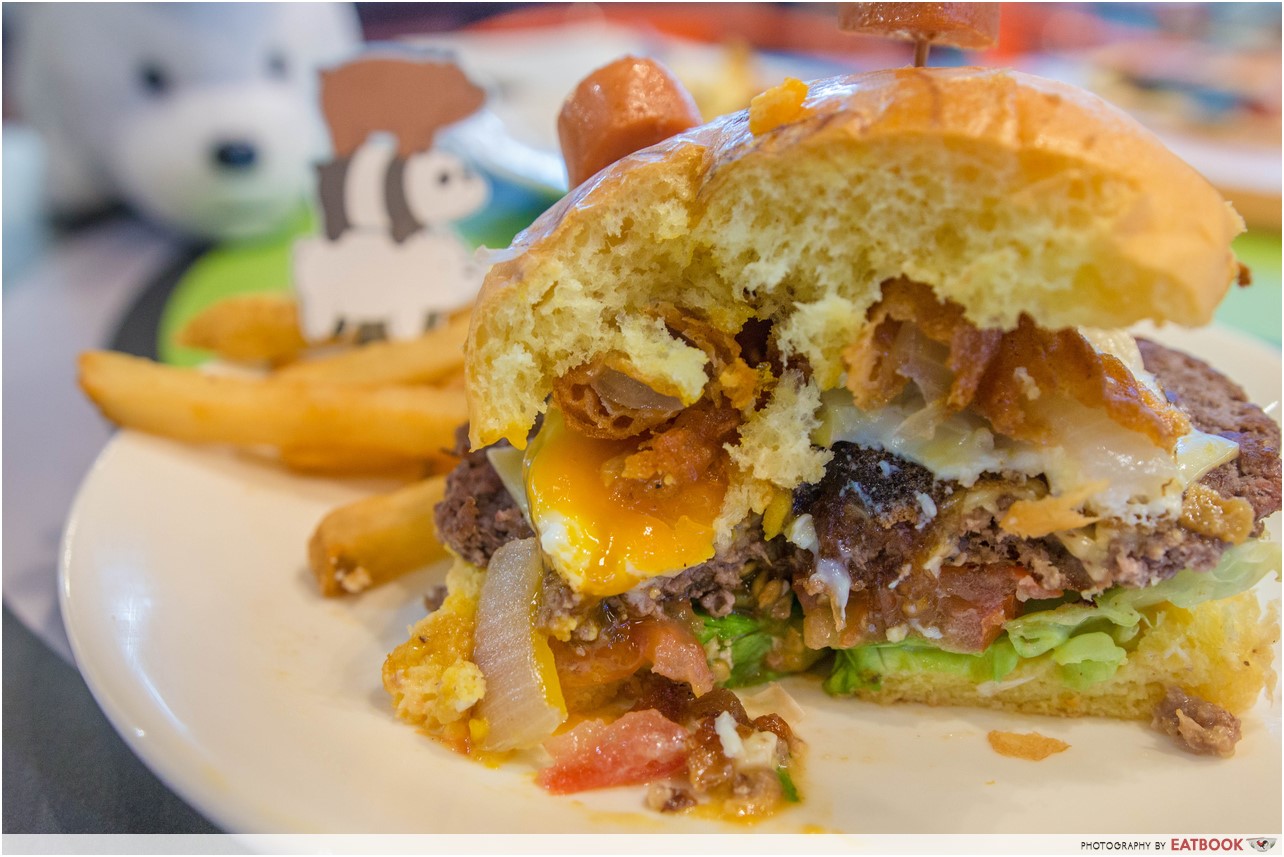 Even though the ingredients were generous, the quality was below satisfactory as the beef patty especially, was tough and tasteless. After a few bites, the only flavour that came through was the taste of the onion rings. For $18.80++, the burger was not value-for-money and the only saving grace was the hand-cut fries that were crispy and well-seasoned.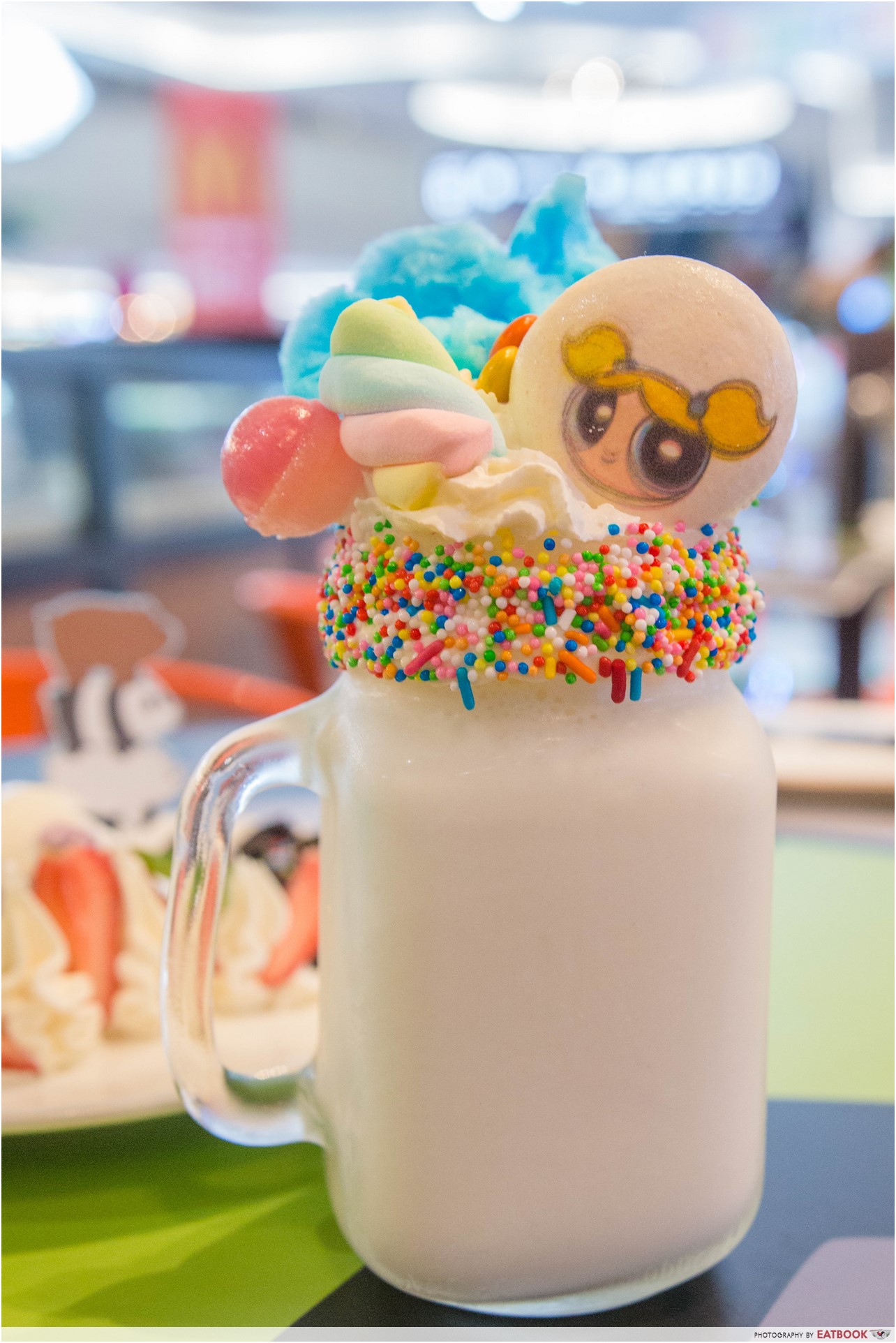 On to the most highly anticipated part of the meal, the desserts. If there is anything more detrimental to your waistline than milkshakes, it would be milkshakes overflowing with sweet treats. However, nothing could stop us from trying two of their many sinful beverages. One of the milkshakes that we had was Powerpuff Vanilla Milk Shake ($14.90++). The drink was topped with candy floss, marshmallows, a macaron, and a lollipop. At first sip, I was pleasantly surprised that the milkshake was not as sweet as I had expected it to be. Primarily milky, the drink was creamy and addictive. However, as the ingredients on top started melting and sinking into the drink, it quickly became too much for my liking.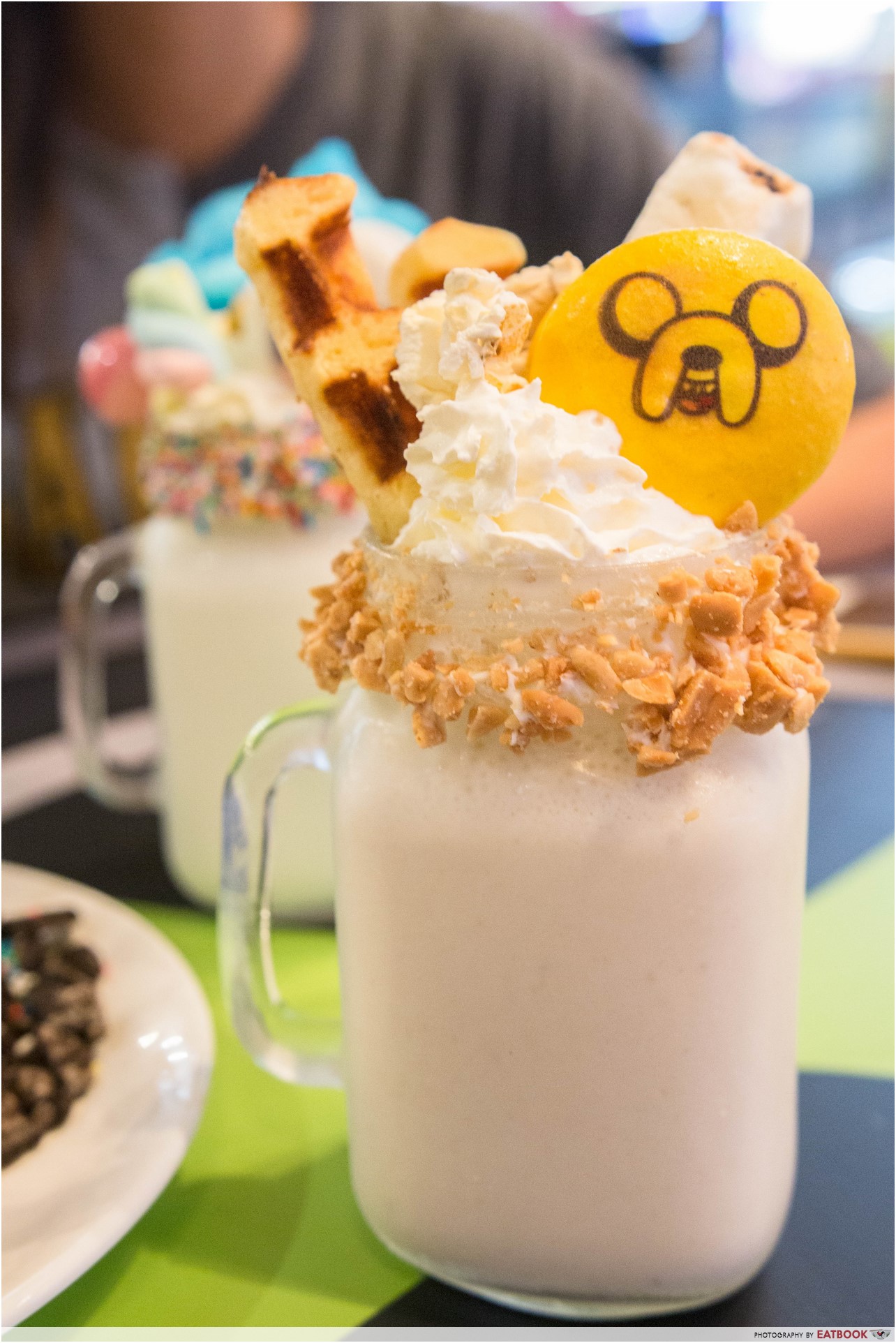 The Finn & Jake Peanut Butter & Banana Freakshake ($16.80++)  was more balanced. With waffles sticks, marshmallows, popcorn, and a macaron on top, the milkshake had a good amount of sweetness. Even though the taste of peanut butter was not prominent, I liked that the drink was filled with banana bits which added a touch of natural sweetness to the otherwise jelak dessert.
Ambience at Cartoon Network Cafe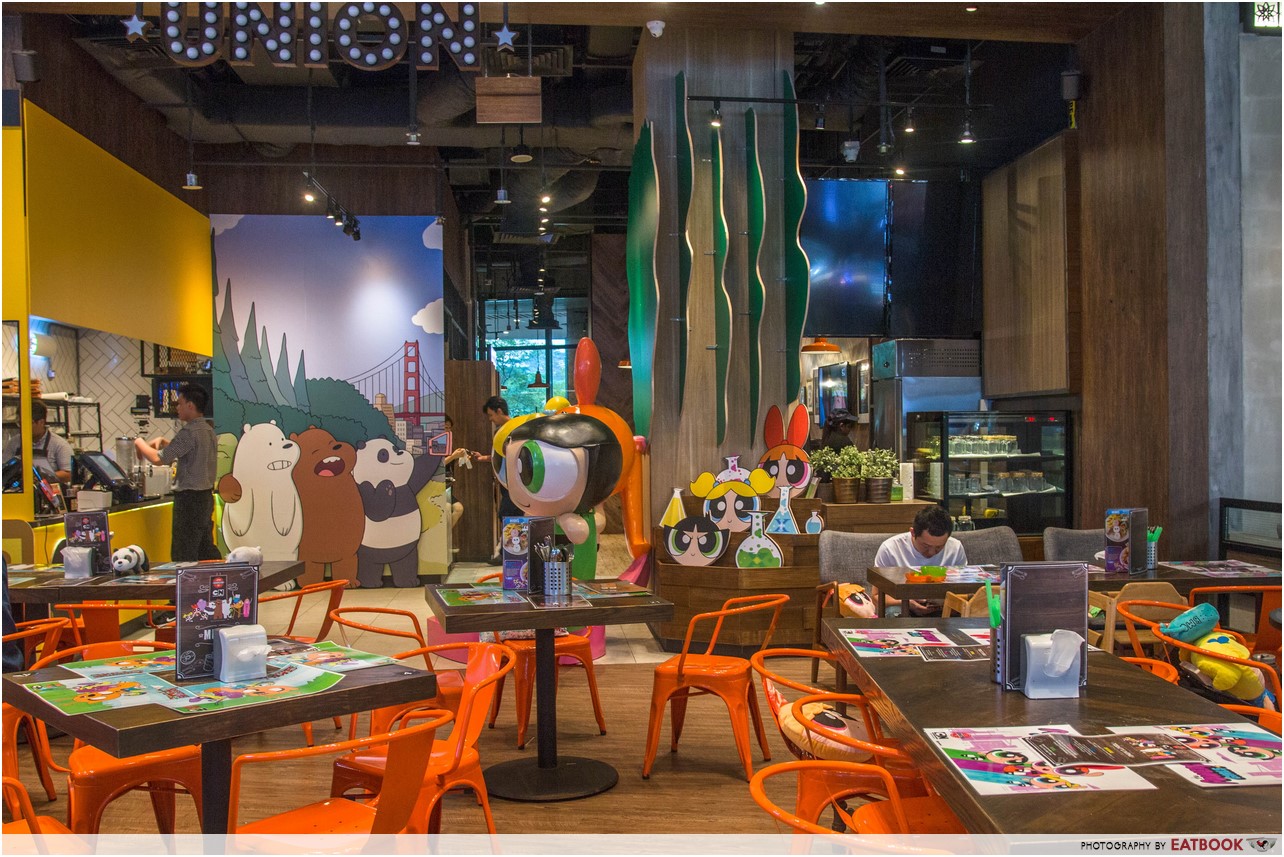 Found at basement one of Waterway Point's West Wing, Cartoon Network Cafe is a revamped version of The Soup Spoon Union. Even though the restaurant is sandwiched between many other eateries, the statues of Ben 10 and Powerpuff Girls make this cafe hard to miss. The cafe is also decorated with plushies, toys, and cardboard cutouts of the cartoons, making every spot in the cafe an IG-worthy place. Their open-concept kitchen is even decorated into a food truck, referencing an episode of We Bare Bears where the bears sold their food from their yellow food truck!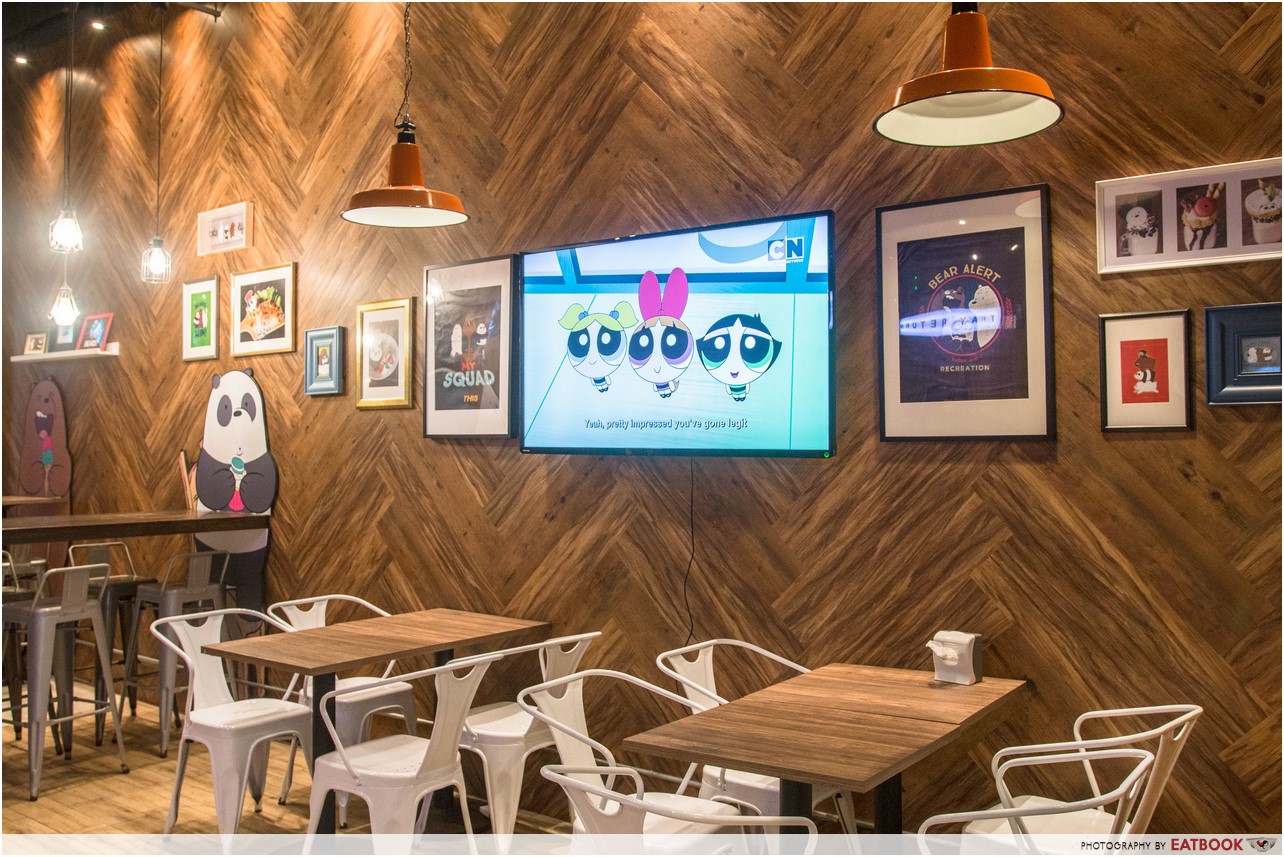 The cafe can fit up to 90 over people with seats suitable for smaller families and big groups. As if the food and decorations are not enough to entertain the younger ones, there is even a colouring corner and a TV screening Cartoon Network's shows for the kids.
The verdict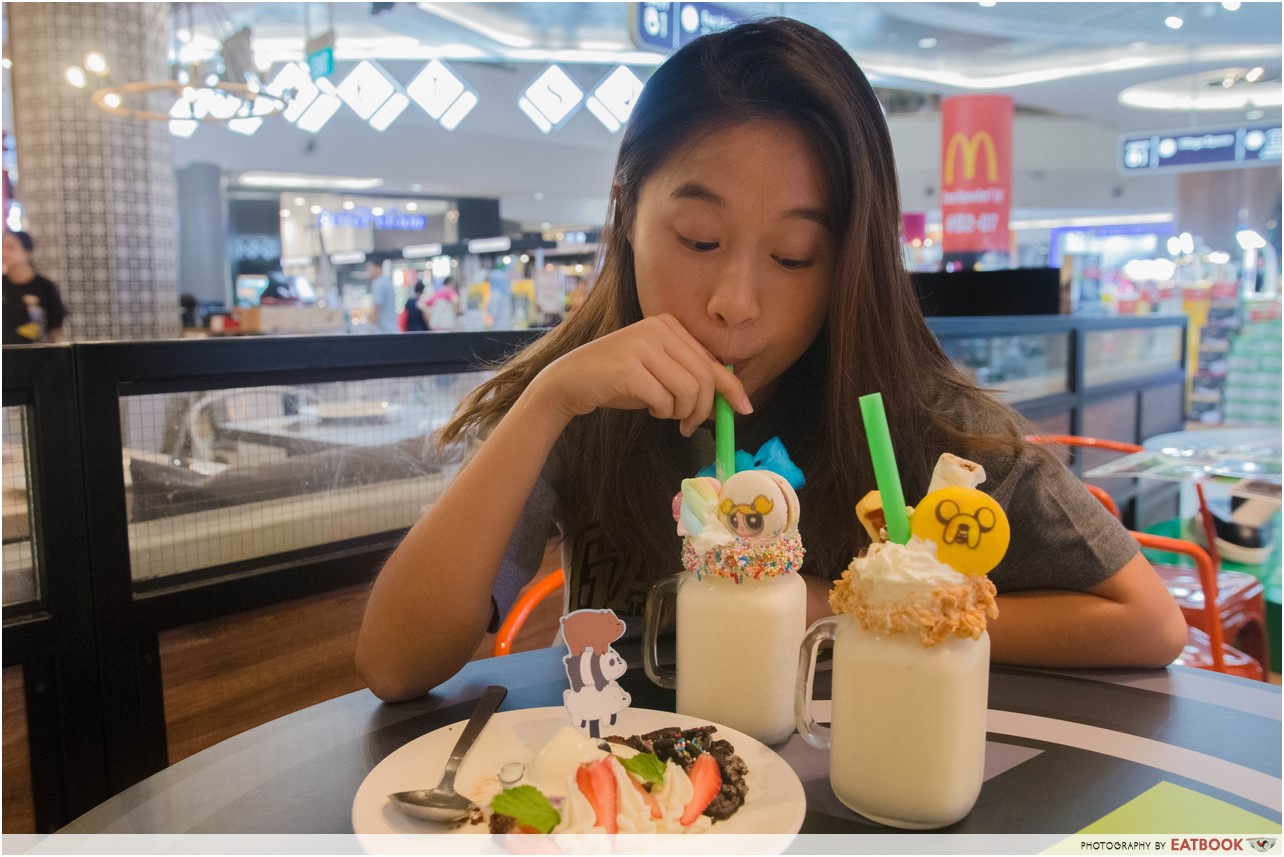 As a whole, I was impressed by the efforts put into decorating the cafe and designing the food. From the Powerpuff Girls freakshake to We Bare Bear's burger, the aesthetics of every dish surprised me. However, in terms of the quality of the food, there is still much room for improvement. I also found the food too pricey and for that, this visit would probably remain a one-time experience for me. But for those with kids, this would surely make a memorable and unique dining experience for them!
Address: 83 Punggol Central, #B1-12, Waterway Point Mall, Singapore 828761
Opening hours: Sun-Thur 10:30am to 10pm, Fri 10:30am to 10:30pm, Sat 10am to 10:30pm
Tel: 6385 9254
Website
Cartoon Network Cafe is not a halal-certified restaurant.
This was a media tasting at Cartoon Network Cafe.  
Summary
Pros
– Convenient location
– Family-friendly cafe
– Instagrammable food and decor
Cons
– Expensive
– Food was average
Recommended Dishes: Finn's Black Pepper Seafood Pasta ($18.90++), Finn & Jake Peanut Butter & Banana Freakshake ($16.80++)
Opening Hours:
Sun-Thur 10:30am to 10pm, Fri 10:30am to 10:30pm, Sat 10am to 10:30pm
Address: 83 Punggol Central, #B1-12, Waterway Point Mall, Singapore 828761