---
CBD dining deals for office workers
---
I just read an article on lifestyle inflation, where an increase in income brings upon a significant increase in spending⁠—which is why we find it hard to save for retirement. But boring, technical stuff aside, I do agree that ever since I got my first paycheck, I began to gravitate towards cafes and restaurants for lunchtime instead of hawker centres. Thankfully, dining deals are aplenty in Singapore, so I get to fund my "luxurious" eating habits without going broke. If you're a new office worker in the CBD, here are 10 CBD dining deals on ChopeDeals to KIV for your next meal!
---
1. Wafuken
---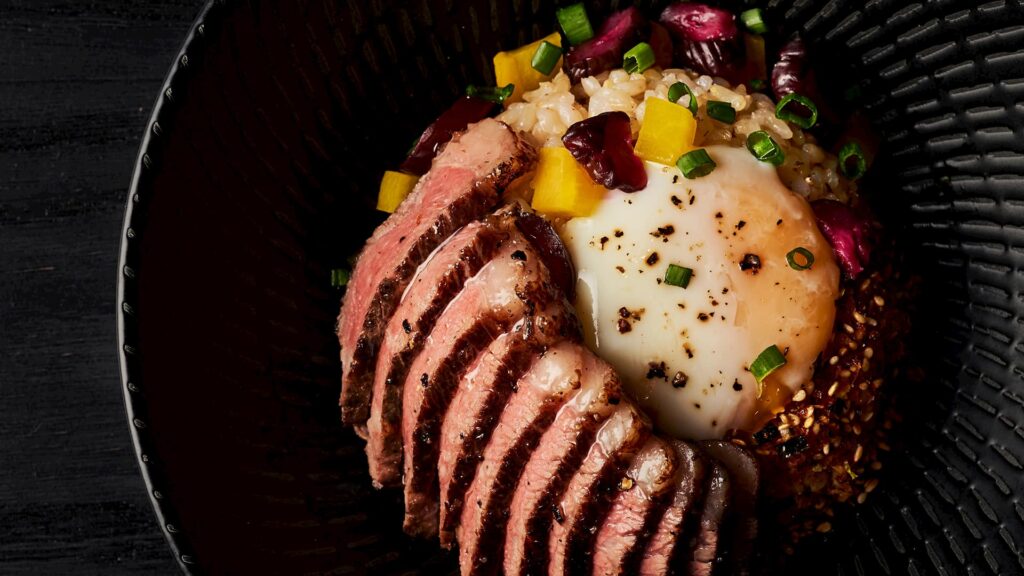 Image credit: Wafuken's Facebook page
Swing by Wafuken at Asia Square for hearty rice bowls featuring sous vide meat. It's pretty affordable too, and a simple bowl of soba with chicken breast will only add up to $6. Just remember to pre-purchase your cash vouchers on ChopeDeals for 35% off⁠—$9.75 gets you a $15 cash voucher, while $13 gets you a $20 cash voucher. 
Address: 2 Marina View, #02-05, Asia Square Tower 2, Singapore 018961
Opening hours: Mon-Fri 11am to 8pm
Get deal here
Address: 6A Shenton Way, #02-23, Oue Downtown Gallery, Singapore 068815
Opening hours: Mon-Fri 11am to 8pm
Get deal here
---
2. Wan Niu Wan
---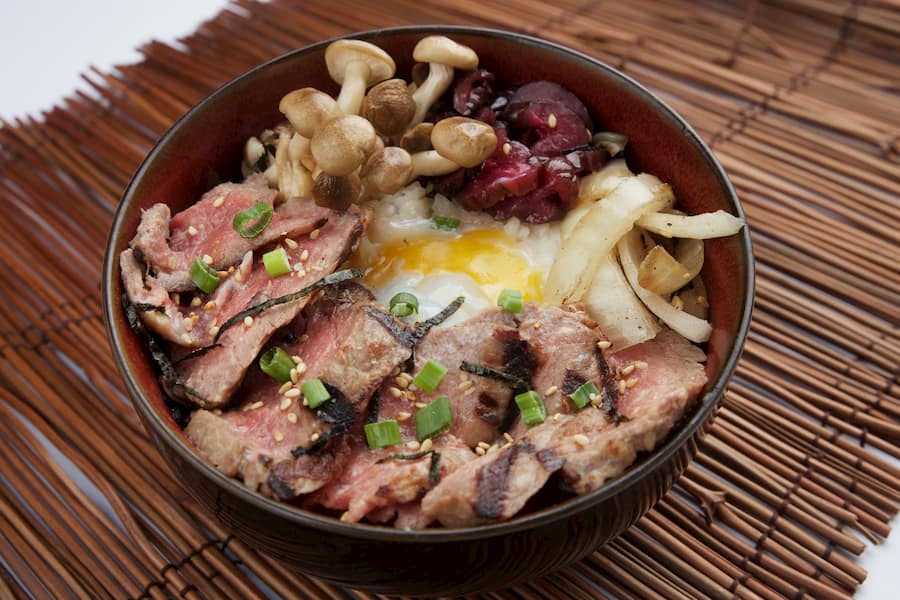 Image credit: Wan Niu Wan's Facebook page
Located at PasarBella Suntec City Mall, Wan Niu Wan serves scrummy donburi topped with tender meat. Get 23% off when you buy their Rice Bowl Set on ChopeDeals. The set comes with a choice of oven-baked salmon fillet ($13.90 nett), Iberico pork jowl ($14.90 nett) or wagyu rice bowl ($22.90 nett), together with an additional onsen egg, salad and soup. You will also get a free drink to complete your meal! 
Address: 3 Temasek Boulevard, #01-455, Suntec City North Wing, Singapore 038983
Opening hours: Daily 11am to 10pm
Get deal here
---
3. Poke Theory
---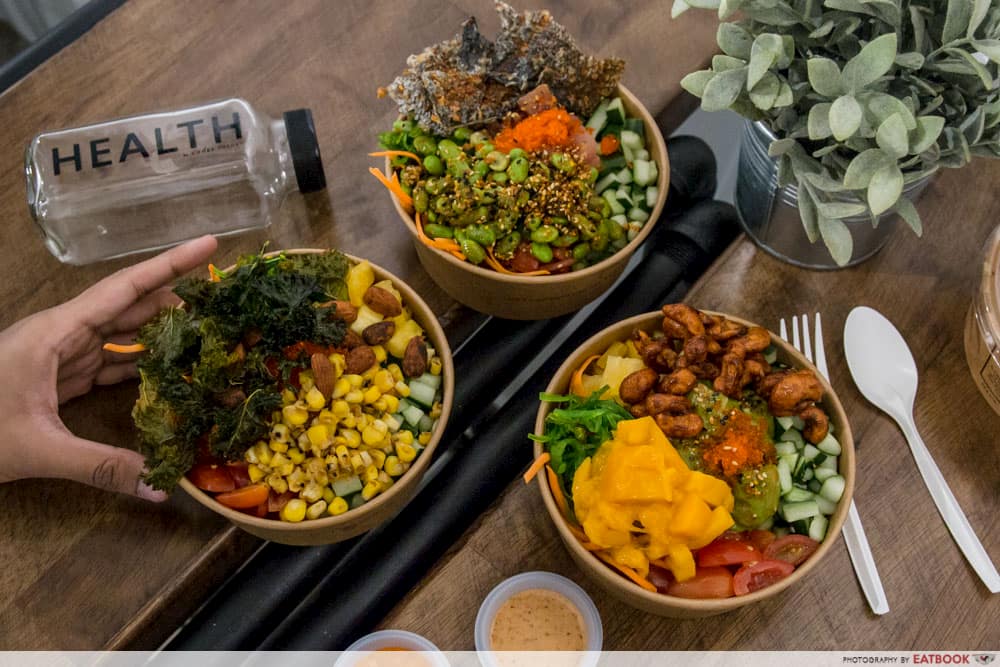 Popular among office workers, Poke Theory is best known for pushing out wholesome poké bowls. If you are looking for a quick bite between 3pm and 6pm, swing by their Duo Galleria or Telok Ayer outlet for an early dinner, as you can score a Light Poke Bowl and a glass of iced Lemonade at $10 nett on ChopeDeals.
Address: 7 Fraser Street, #01-36/37, DUO Galleria, Singapore 189356
Opening hours: Mon-Fri 11am to 8:30pm, Sat 11am to 4pm
Get deal here
---
4. DoSiRak
---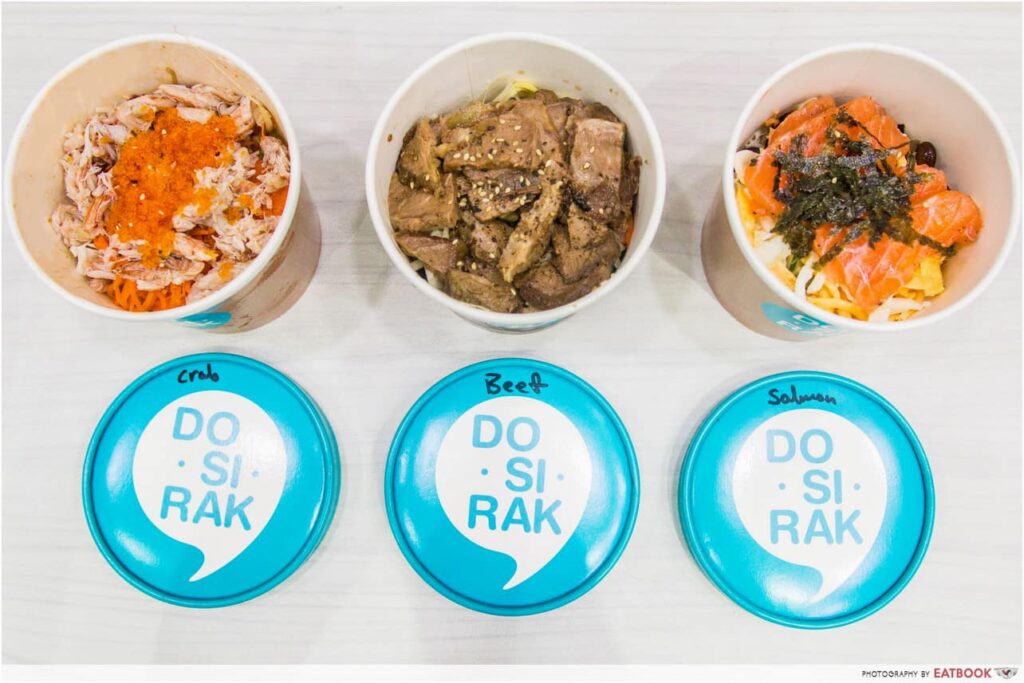 If your late lunch plans tend to include DoSiRak's healthy bibimbap, then you best be sure to stock up on some ChopeDeals cash vouchers. Priced at $6.50 and $13 for $10 and $20 cash vouchers respectively, these deals will ultimately give you 35% off your bowls!
Address: 6A Shenton Way, #01-44, OUE Downtown Gallery, Singapore 068815
Opening hours: Mon-Fri 11am to 8pm, Sat 11am to 3pm
Get deal here
---
5. Chunky Lobsters
---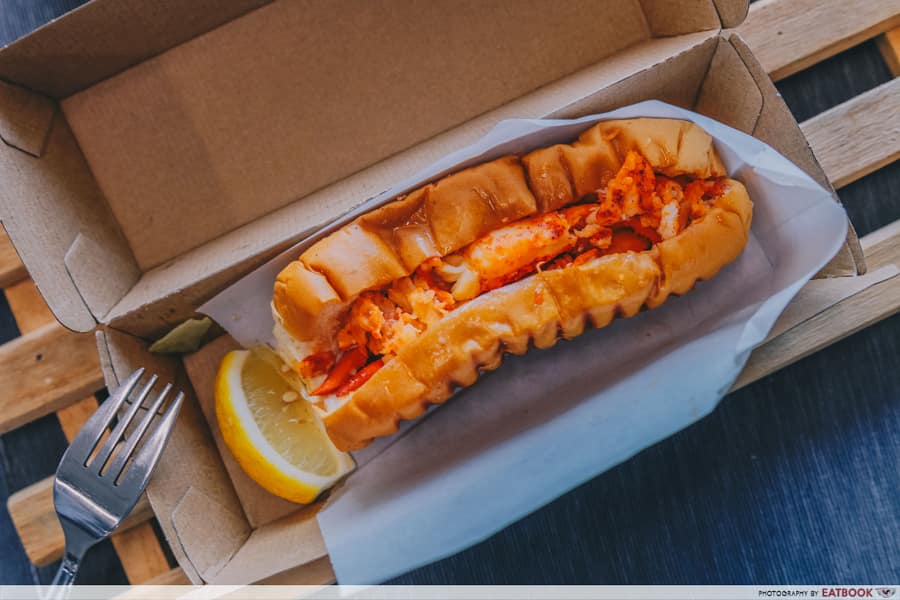 Lobsters are one of the most expensive shellfish to indulge in. But you can now get 25% off a Lobster Roll Set from Chunky Lobsters! Priced at $15 nett, the set is extremely value-for-money as you will get a lobster roll, lobster bisque, and a soft drink.
Address: 138 Robinson Road, Oxley Tower, #02-03, Singapore 068906
Opening hours: Mon-Fri 11am to 2:30pm
Get deal here
---
6. Plain Vanilla
---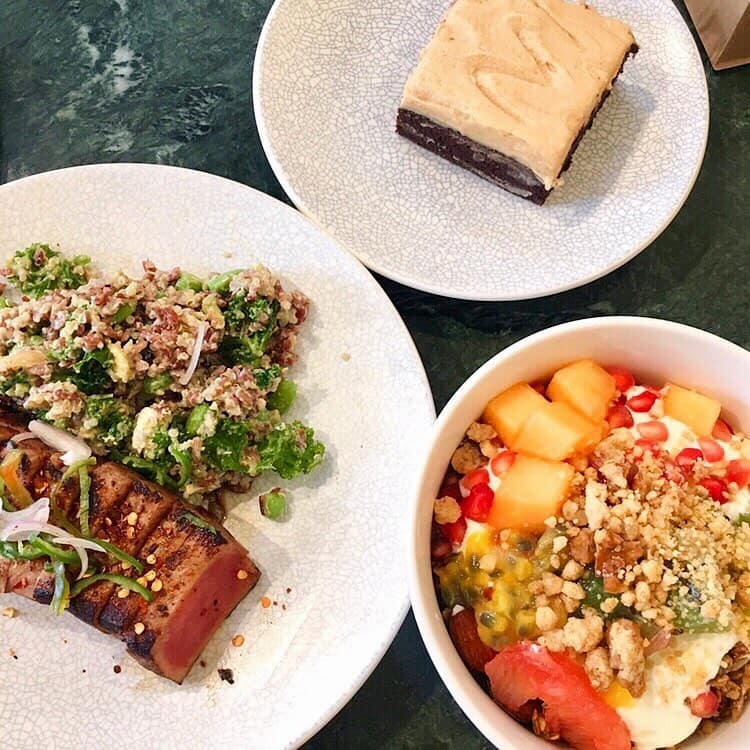 Image credit: @monkeycravings 
Plain Vanilla may be known for their toothsome cupcakes, but their sandwiches and granola bowls are worth ordering too. Net 35% off your bill when you pre-purchase a $20 cash voucher on ChopeDeals for $13. If you're dining with the whole crew, you can go ahead and buy the $40 cash voucher at $26 instead. 
Address: 134 Telok Ayer Street, Singapore 068600
Opening hours: Mon-Fri 7:30am to 6:30pm, Sat-Sun & PH 8am to 5pm
Get deals here
---
7. Kei Kaisendon
---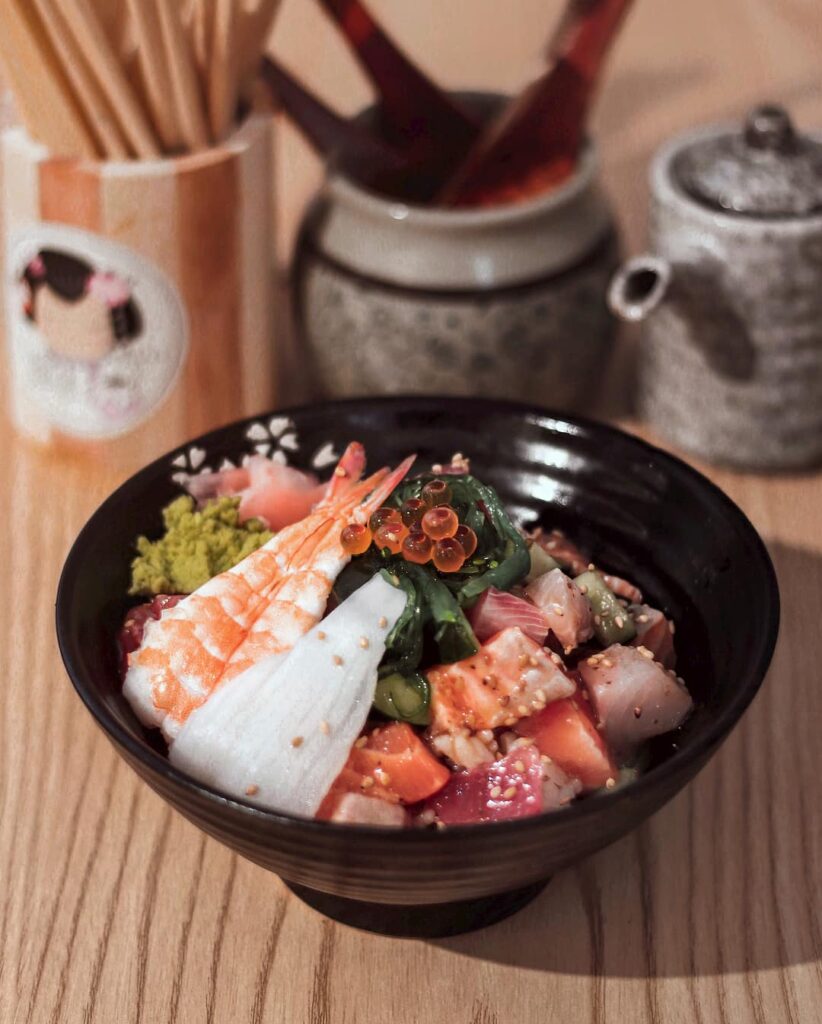 Image credit: @spadely
For those craving for Japanese food, you will be pleased to know that Kei Kaisendon's Signature Kaisendon Set on ChopeDeals will be going at $18 nett instead of $25.30! The set will definitely satisfy your taste buds, as it comes with a regular bowl of their signature kaisendon, mentaiko tamagoyaki, salad, miso soup and a choice of hot or iced green tea.
Address: 1 Raffles Place, #04-30, One Raffles Place, Singapore 048616
Opening hours: Mon-Sun: 11am to 4pm
Get deal here
---
8. Chen's Mapo Tofu
---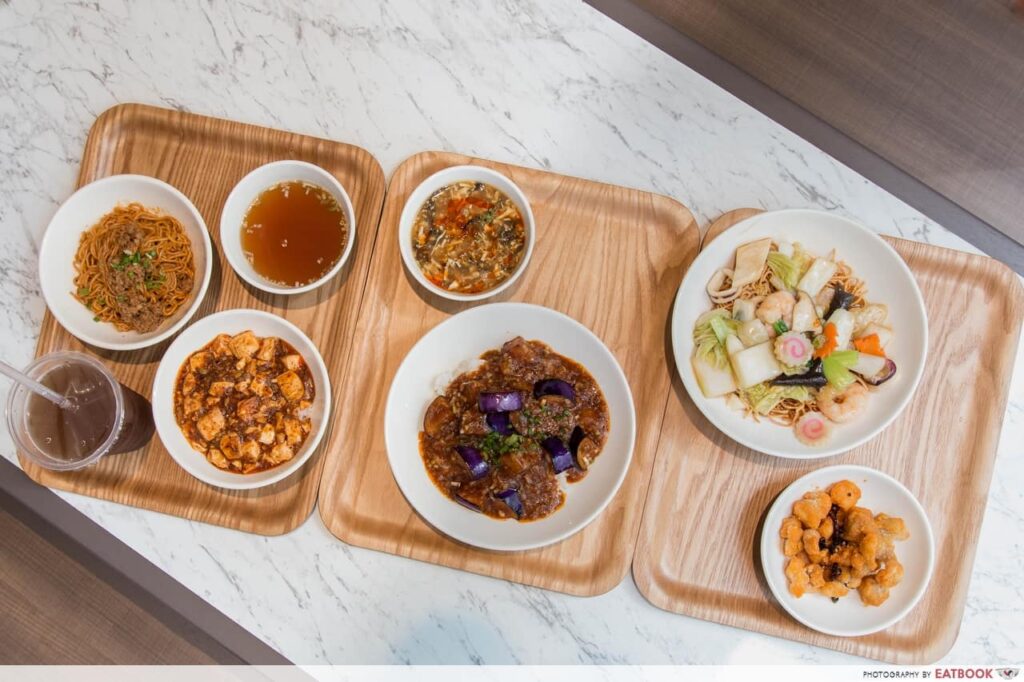 Ma la fans will love the Sichuan classics dished up at Chen's Mapo Tofu. Make it worth your buck even more, and get your hands on ChopeDeals' $20 cash voucher at just $15. This gives you 25% off the bill, which can be used during dinnertime too! 
Address: 6A Shenton Way, #02-29, Downtown Gallery, Singapore 068815
Opening hours: Mon-Sat 11am to 9pm
Get deal here
---
9. Seed & Soil
---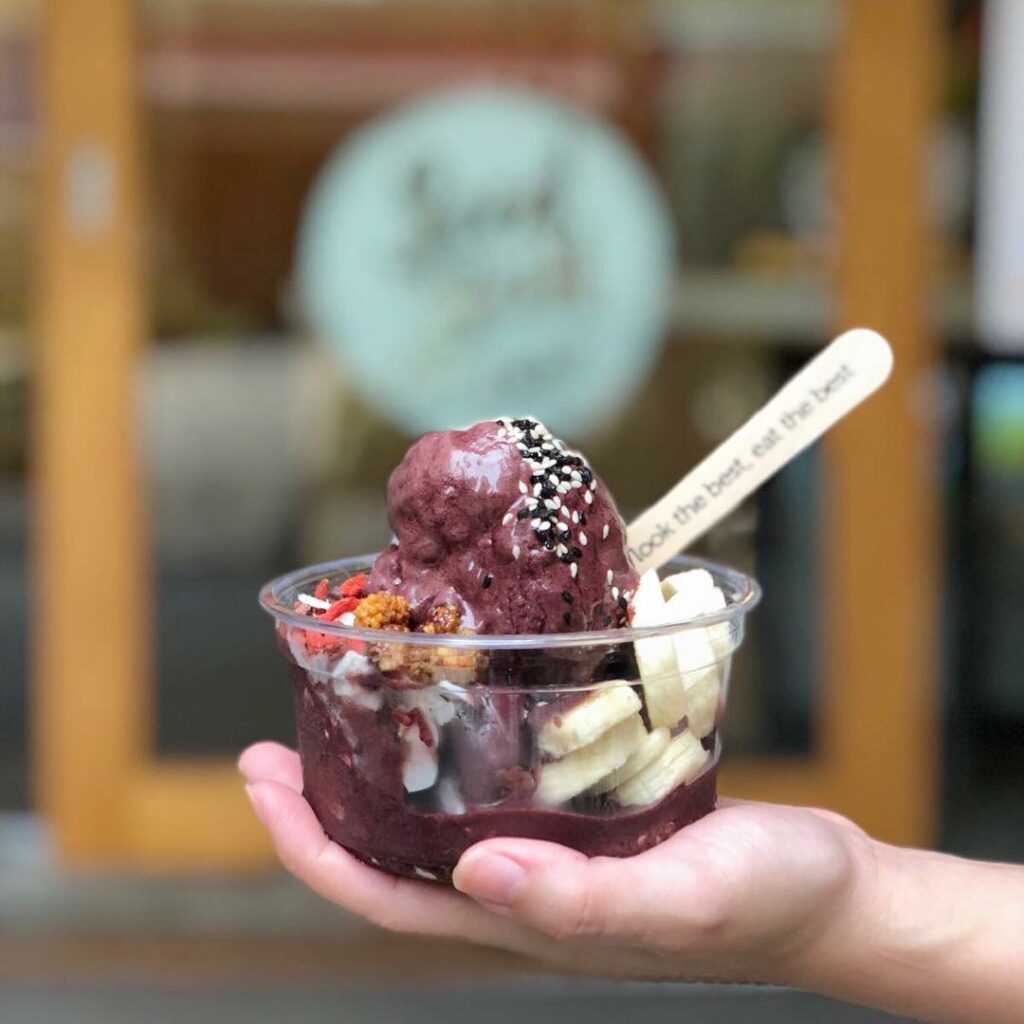 Image credit: Seed & Soil's Facebook page
Gym bunnies looking for a healthy bite should add Seed and Soil's Acai Bowl & Cold Pressed Juice Set ($15 nett) to their cart. The set comes with a regular acai bowl along with a regular cold pressed juice, which is a huge steal considering their juices easily set you back $8. 
10 Acai Bowl Spots For A Refreshing Pick-Me-Up To Combat Singapore's Warm Weather
Address: 1 Tanjong Pagar Plaza, #01-22, Singapore 082001
Opening hours: Mon-Fri 8am to 8pm, Sat 10am to 5pm
Get deal here
---
10. Grain Traders
---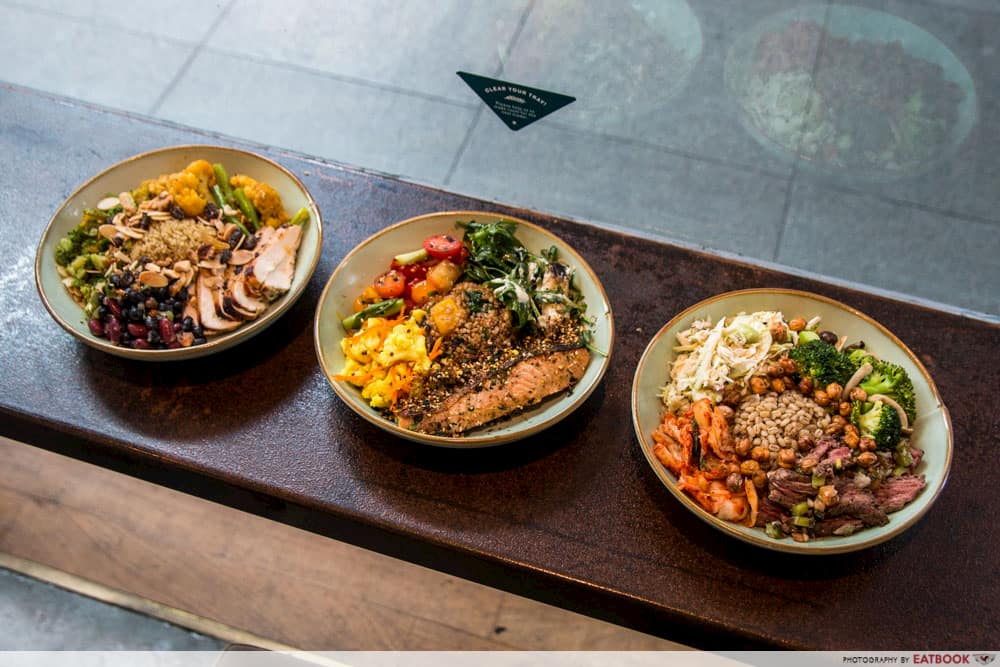 If you've always wanted to build your own bowls at Grain Traders, but always found it a tad pricey, you can now cinch 20% off when you purchase a $30 cash voucher for $24 on ChopeDeals! Since their regular bowls are only $16 for non-seafood options, you can split the cost of the cash vouchers with your work BFF.
Address: 138 Market Street, #01-01/02/03, CapitaGreen, Singapore 048946
Opening hours: Mon-Fri 8am to 8pm
Get deal here
---
Eat smart with ChopeDeals
---
If your hobbies include eating and drinking, then you should get on ChopeDeals ASAP to score a bevy of dining promos and cash vouchers across 600 restaurants. Aside from these CBD dining deals, there are also 1-for-1 deals at fancy hotel buffets and even 50% off cash vouchers at popular seafood joints such as Dancing Crab. So go forth and dine without breaking the bank with these deals!
10 Must-Visit Stalls At STREAT 2019 Including Char Siew Ribs And Zi Char Burgers
This post is brought to you by Chope.