---
Savour the past and present of Singaporean food at STREAT 2019
---
Diving headfirst into an intimidating queue for a simple plate of chicken rice seems like a fool's errand, but it's perfectly rational for most Singaporeans. Let's face it, we love food. Period. 
As such, it's no surprise that large-scale food events attract Singaporeans by the thousands. Think Eatbox, Shilin Night Market, and now, STREAT 2019.
Happening from 12 to 13 July 2019 at The Promontory, this opening event of the Singapore Food Festival will satisfy your appetite for local fare. Whether you're hunting for old-school hawker treats, or snapping away at mod-Sin creations, drop by this festival and feast at these must-visit stalls.
---
1. Meatsmith Western BBQ
---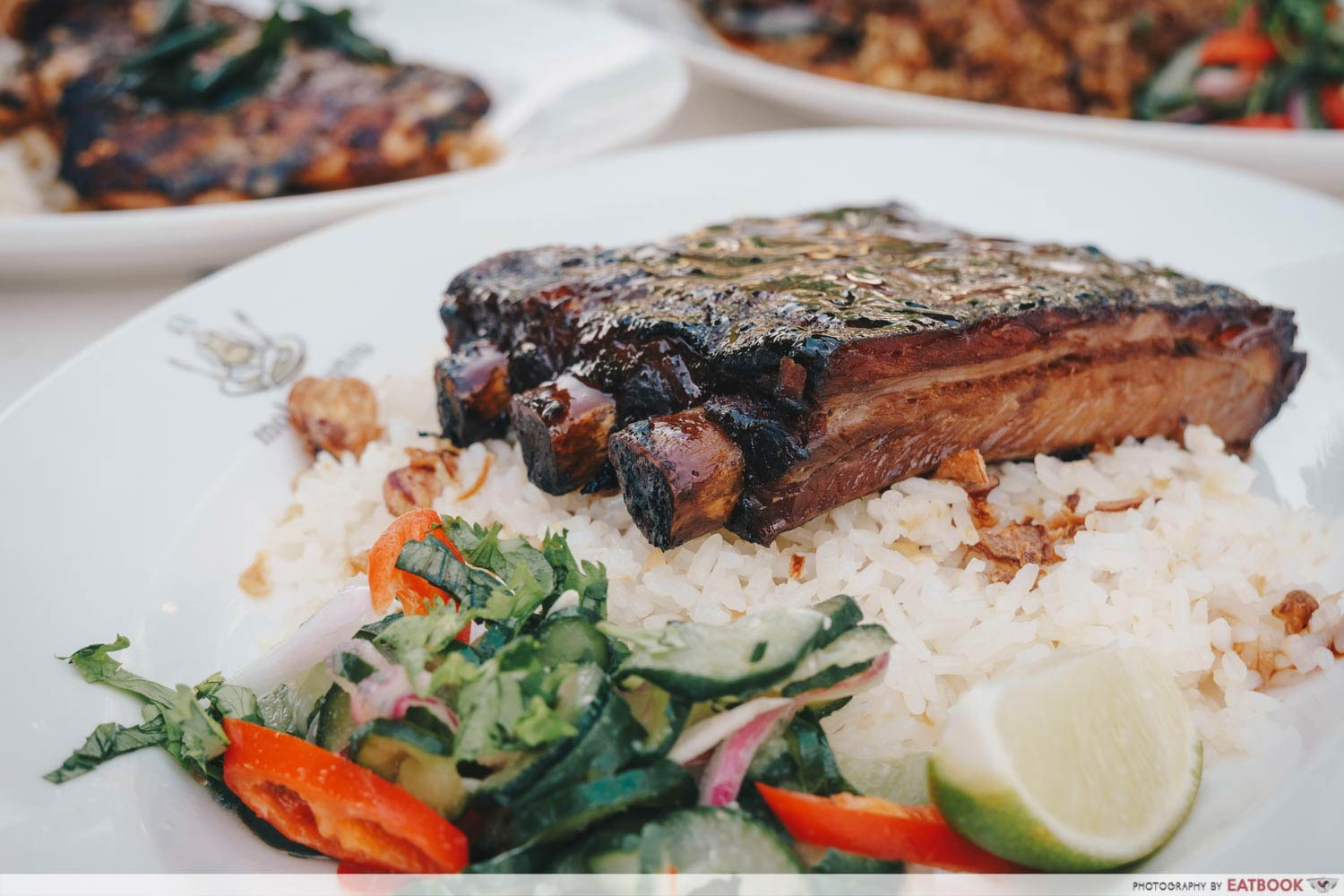 Enticed by the seductively smoky aroma wafting in the air, you'll inevitably make a beeline for Meatsmith Western BBQ. A roaring flame breathes life into their various meats, empowering them with a hickory fragrance. 
David Pynt of Michelin-starred restaurant Burnt End helms this eatery, so expect Meatsmith to wow with their selection. What we love most is the Cantonese-inspired Smoked Char Siew Ribs ($7). Lifted by the caramelised notes of their house-made hoisin sauce, these tender ribs shine in full porky glory.
Check out our review of Meatsmith Western BBQ!
Meatsmith Western BBQ Review: Michelin Starred Chef Opens Hawker Stall Selling Flame Grilled Meats
---
2. The Feather Blade
---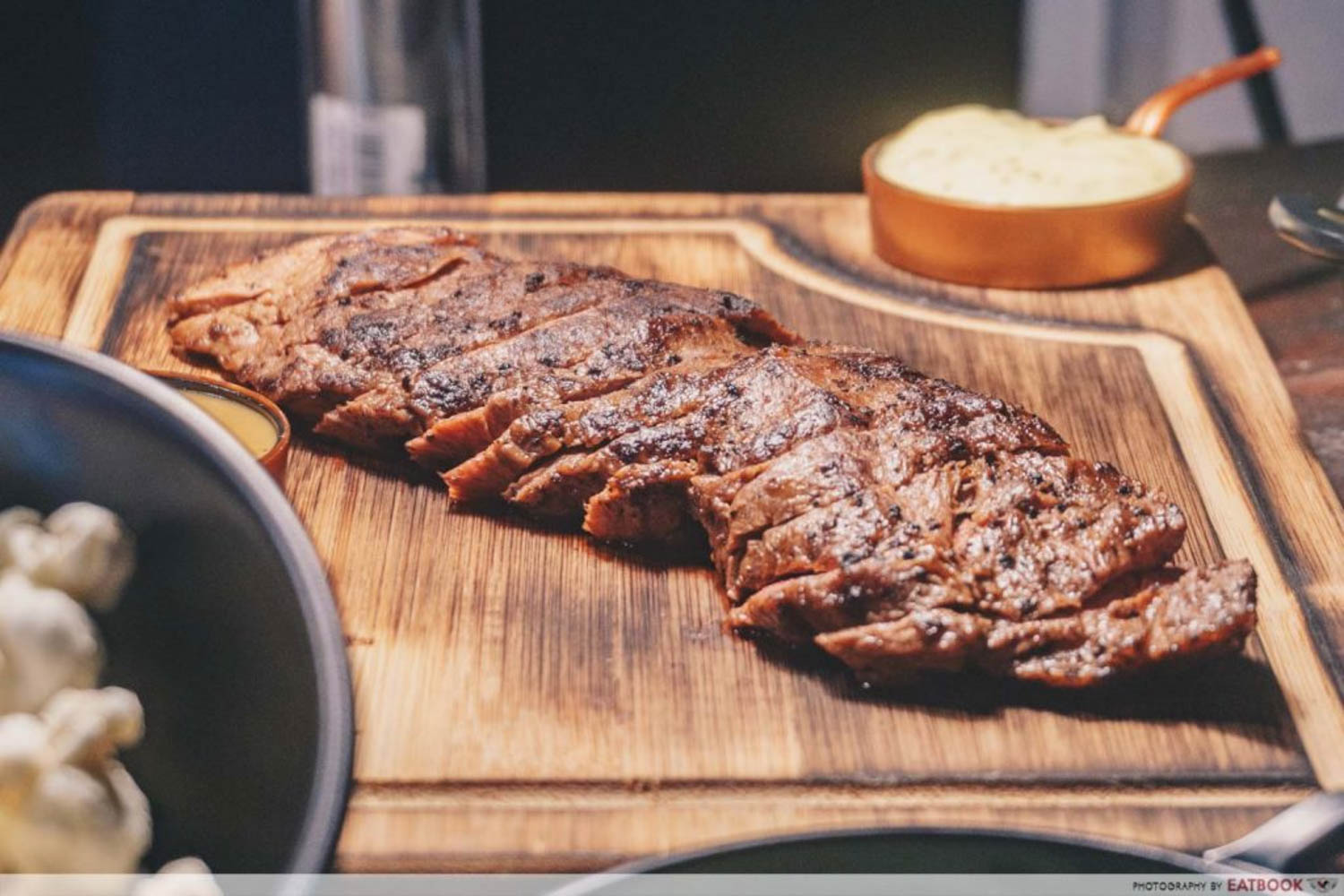 Kudos to The Feather Blade for giving The Feather Blade Steak—one of the most underrated cuts of beef—its due recognition. Cut from the shoulder of a cow, the meat shines with its buttery, aptly chewy, and oh-so-addictive tenderness. Giving pricier cuts such as sirloin and rib eye a run for their money, the Feather Blade Steak wows with its robust flavour. Although you can choose from four house-made sauces, it's best to enjoy the steak as it is. 
Check out our review of The Feather Blade!
The Feather Blade Is Now Permanent At Club Street Along With Secret Burger Item
---
3. Jam At SIRI HOUSE
---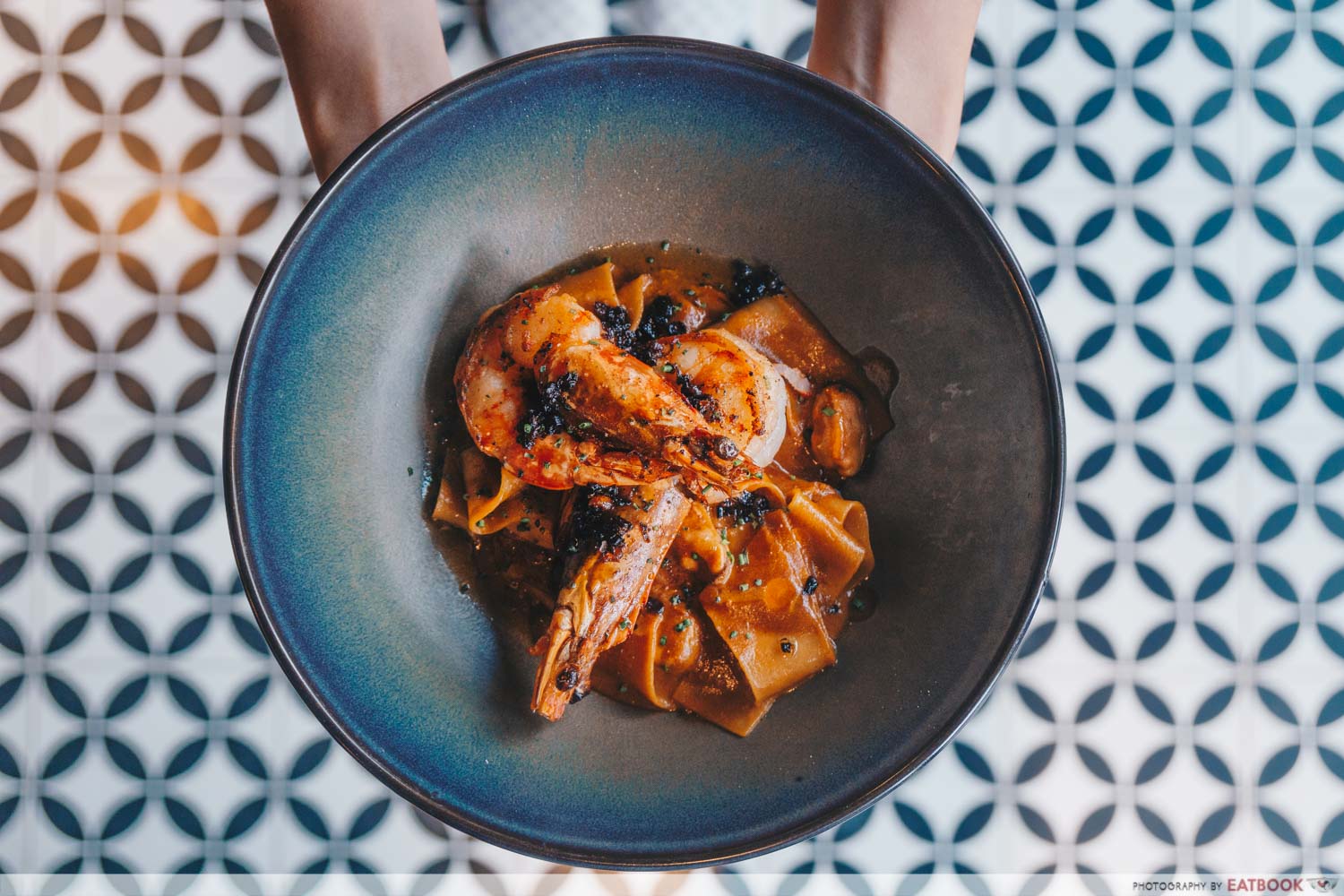 Jamming suggests a free-spirited performance, and that's just what Jam At SIRI HOUSE promises: a playful symphony of wacky yet mouthwatering dishes. Trust them to set the bar high with their house-made Pappardelle. Mopping up the umami-rich sauce, these bouncy sheets of pasta will have you clamouring for more with their crustacean and briny flavours. 
Check out our full review of Jam At SIRI HOUSE!
Jam At SIRI HOUSE: Atas Chicken Biskit And Seafood Bisque Pasta By Park Bench Deli's Ming Tan
---
4. Jin Ji Teochew Braised Duck & Kway Chap
---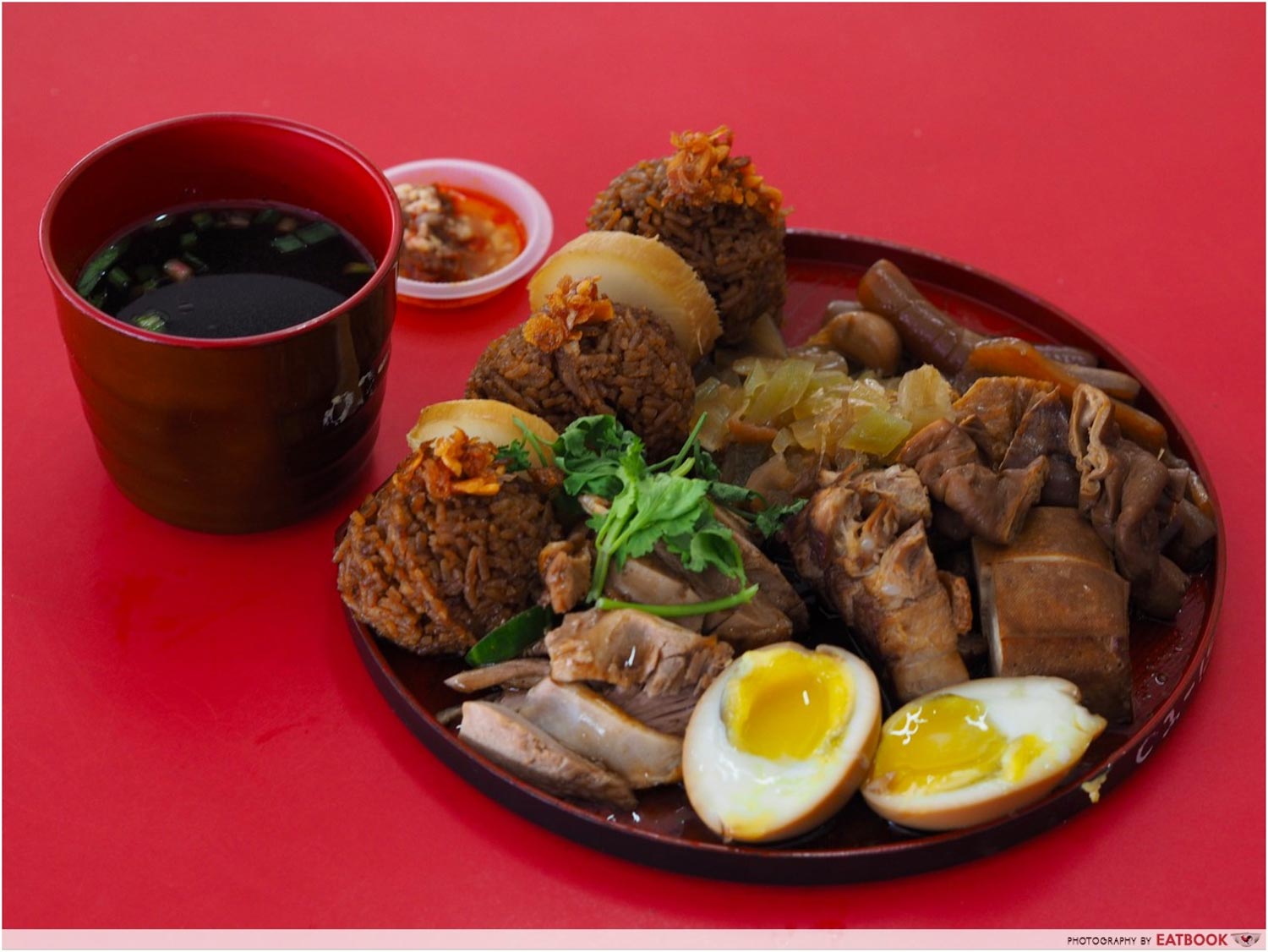 What I love most about Jin Ji Teochew Braised Duck & Kway Chap is how they've changed our view of duck rice with their Bento Combo Jumbo Set. Carefully shaped balls of yam rice and evenly sliced slabs of braised meat are all assembled with aesthetic precision on a bento-style tray. As delicious as it is camera-worthy, this revamped classic will wow you with tender slices of duck meat and savoury braised sauce.
---
5. Wok In Burger
---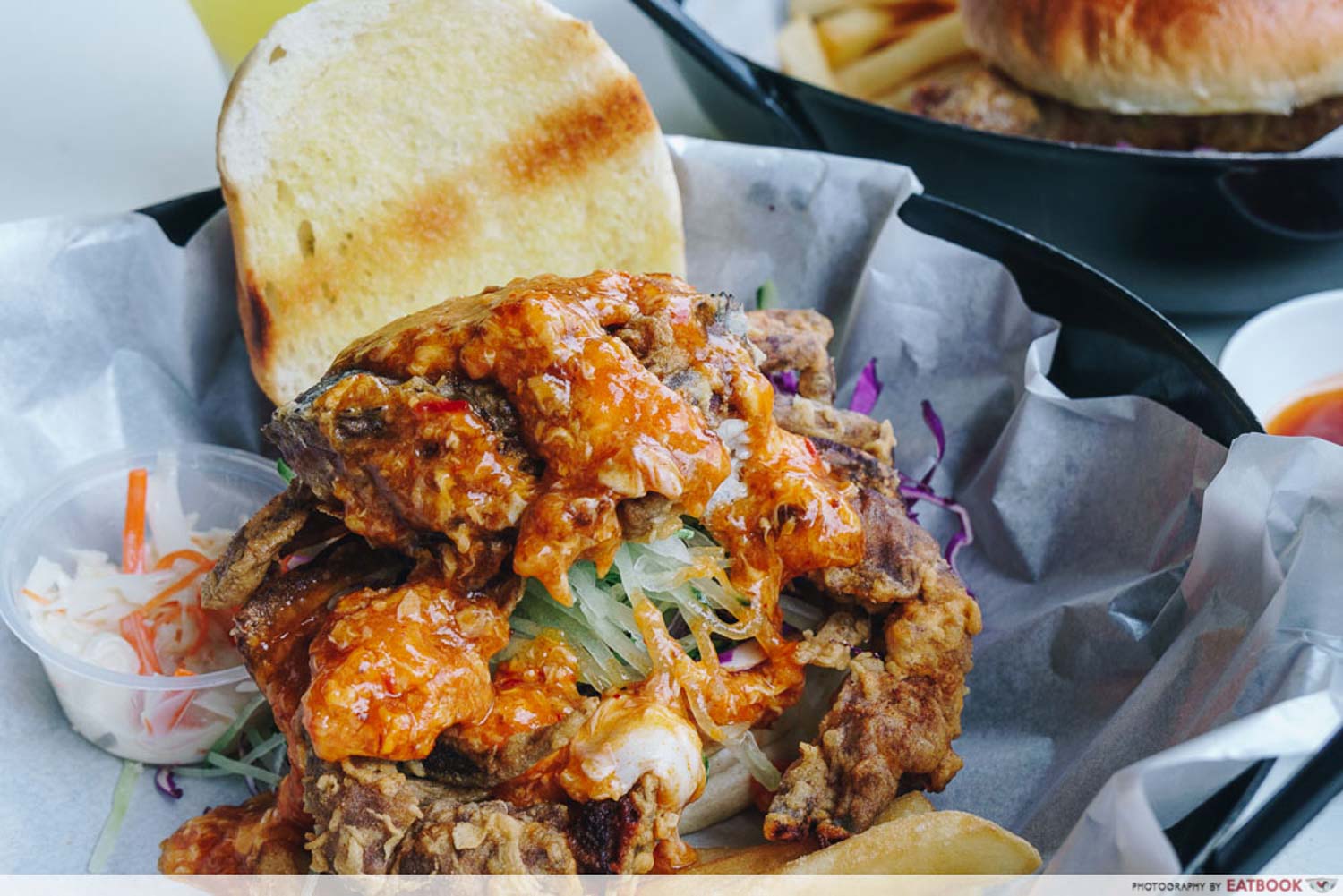 A sister branch of the acclaimed Keng Eng Kee Seafood, Wok In Burger presents local classics anew with their zi char-inspired burgers. In their hands, our national dish transforms into a mammoth Chilli Soft-Shell Crab Burger. Pillowy buns cushion the crisp fried crab and crunchy cucumber, creating an addictive blend of textures. A sweet and tangy relish then brings balance to the dish, cutting through the grease while accentuating the briny kick of the crab.
Check out our review of Wok In Burger!
Wok In Burger Review: Chilli Crab Burger And Salted Egg Pork Burger By Keng Eng Kee
---
6. Sabar Menanti Restaurant
---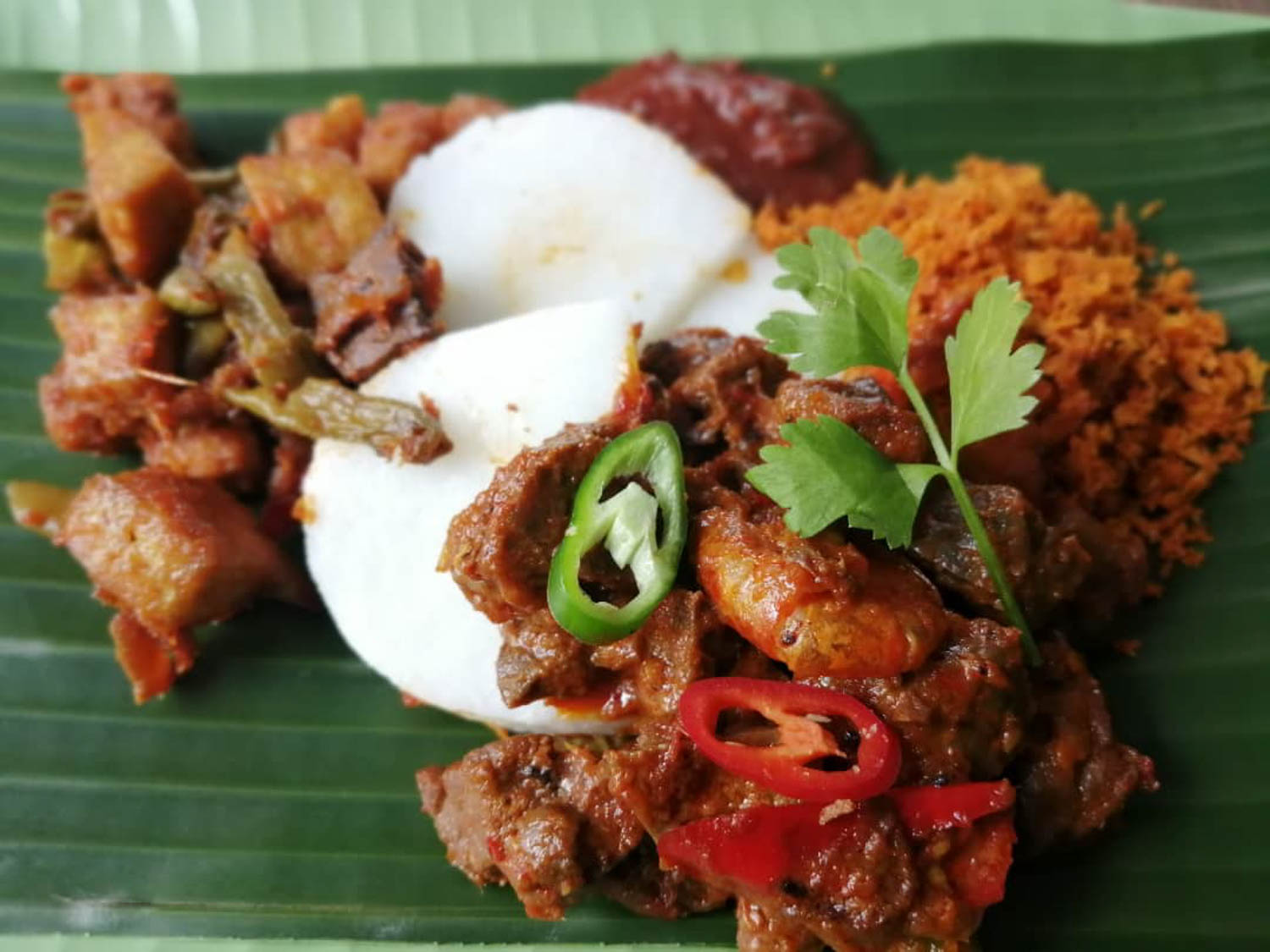 Boasting more than 50 years of history, Sabar Menanti Restaurant has become a national icon with their mouth-watering nasi padang. Since their main branch usually sells out before lunch, STREAT 2019 provides a rare opportunity to sample their sumptuous sides. Stack your plate full with their Sambal Goreng and Ayam Bakar, before ending your meal with the deliciously soft ketupat (rice cakes) from their Lontong.
---
7. Restaurant Ibid
---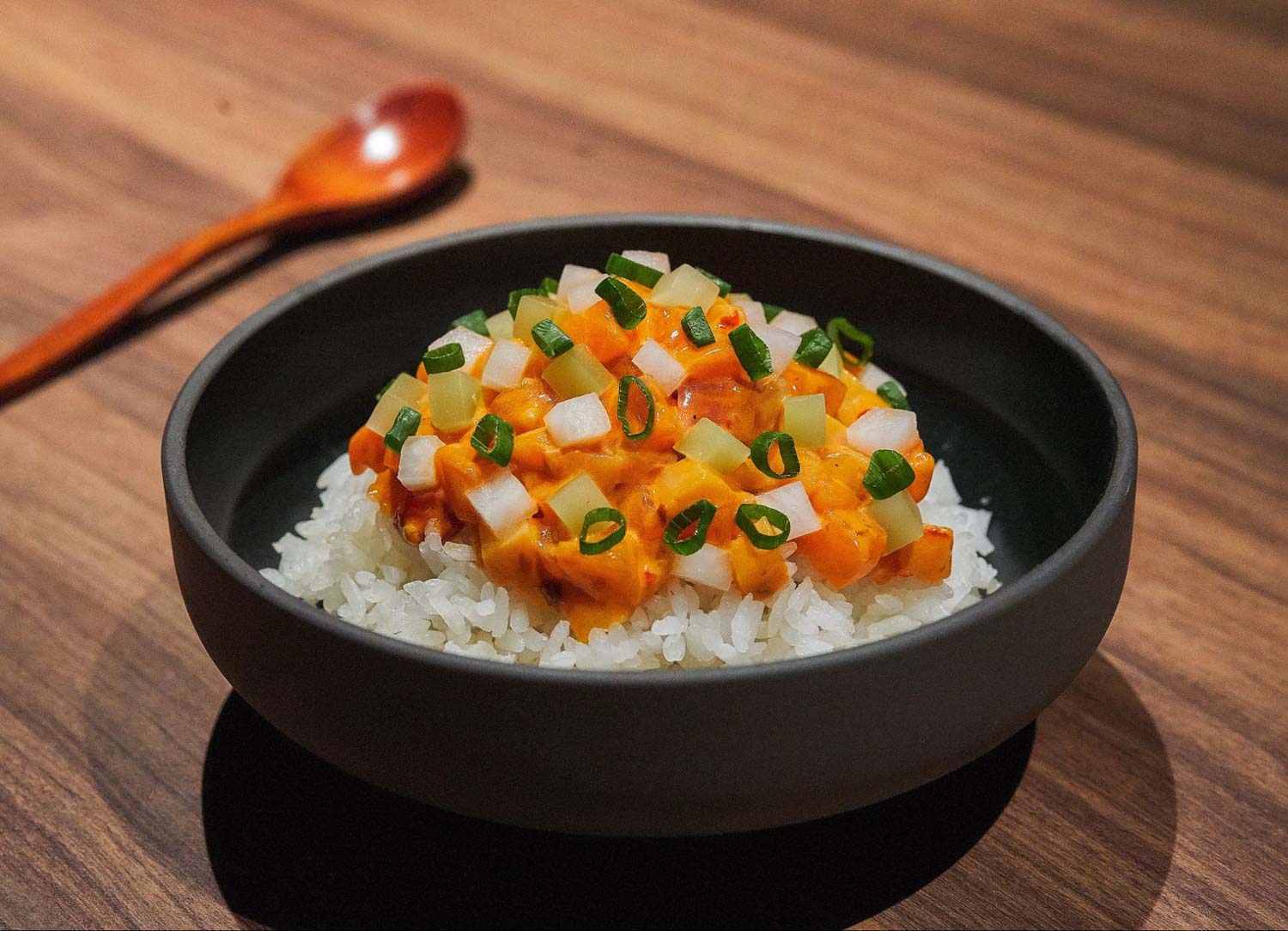 Image credit: Restaurant Ibid's Facebook page
We all watched with fanatic fervour when Singaporean Woo Wai Leong fought his way to become the first MasterChef Asia. All of his skills that wowed us on-screen, such as his slick chopping and meticulous plating, are on full display at his first restaurant, Restaurant Ibid. Spice fanatics will love their Laoganma Sashimi Tartare; the fiery chilli paste injects a much-needed piquancy that masks the briny aftertaste of the diced fish.
---
8. Artichoke
---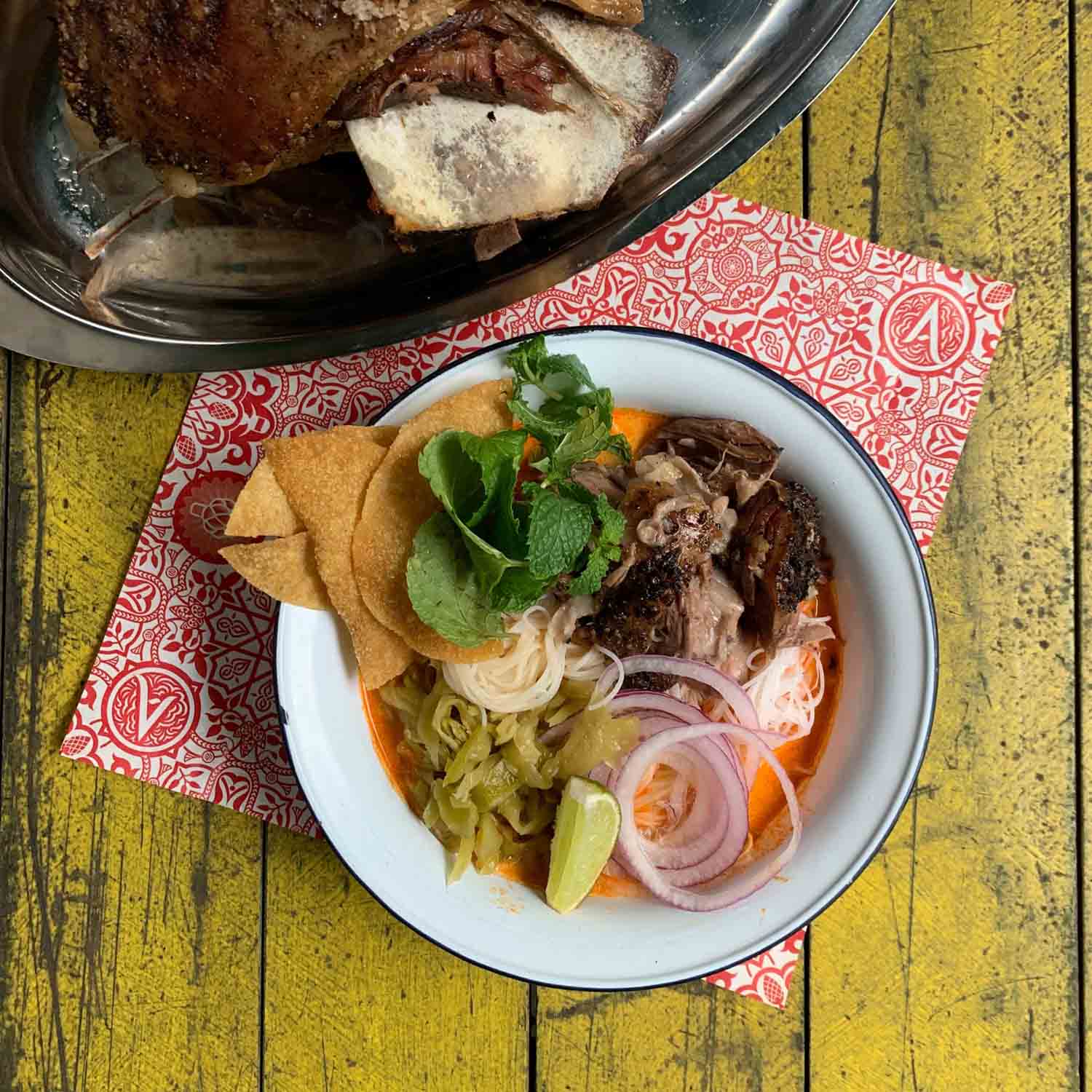 Image credit: Artichoke's Facebook page
Artichoke may be tagged as a Middle Eastern restaurant, but their playful creations will feel right at home to any Singaporean. Take the crowd-pleasing Curry Noodles, which is reminiscent of laksa. Drenched in a piquant broth, the silky vermicelli pairs superbly with the juicy Lemongrass Roast Lamb ($15). If you find mutton a tad gamey, opt for the Lemongrass Roast Pork ($15) instead. 
---
9. Indian Express
---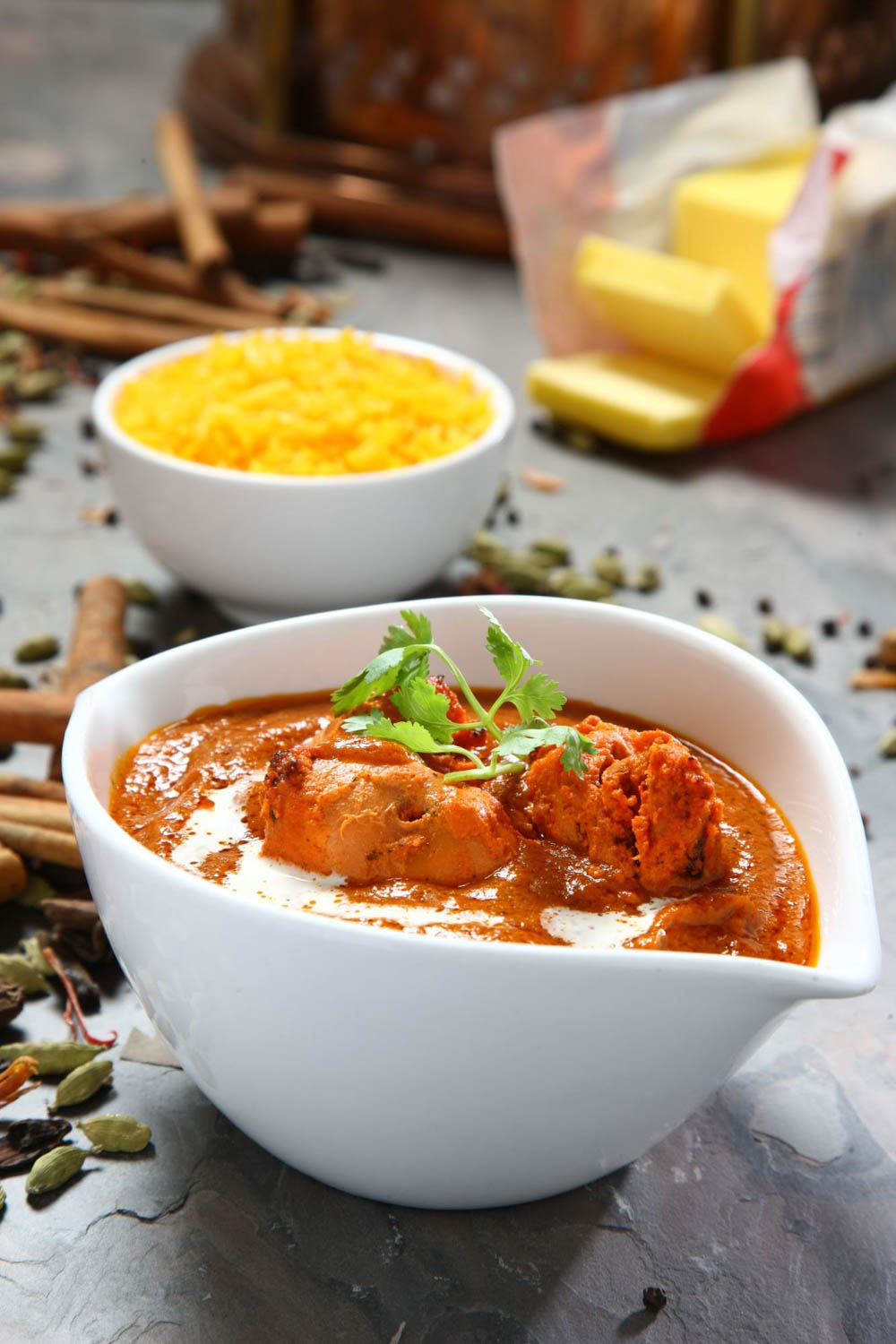 The Song Of India by Chef Manjunath Mural certainly lives up to their Michelin star—dishing up some of the best Indian food in Singapore. However, if you can't afford their lofty prices, Indian Express offers a worthy alternative.
Helmed by Chef Umed Singh, a deserving disciple of Chef Mural, Indian Express churns up Michelin-worthy Indian-Chinese fare at affordable prices. Their pop-up stall at STREAT will offer their most popular hits, including the signature Butter Chicken. Luxuriously creamy with a hint of tomatoey sweetness, this moreish treat begs for a basket of Garlic Naan to mop it up. 
---
10. FatPapas
---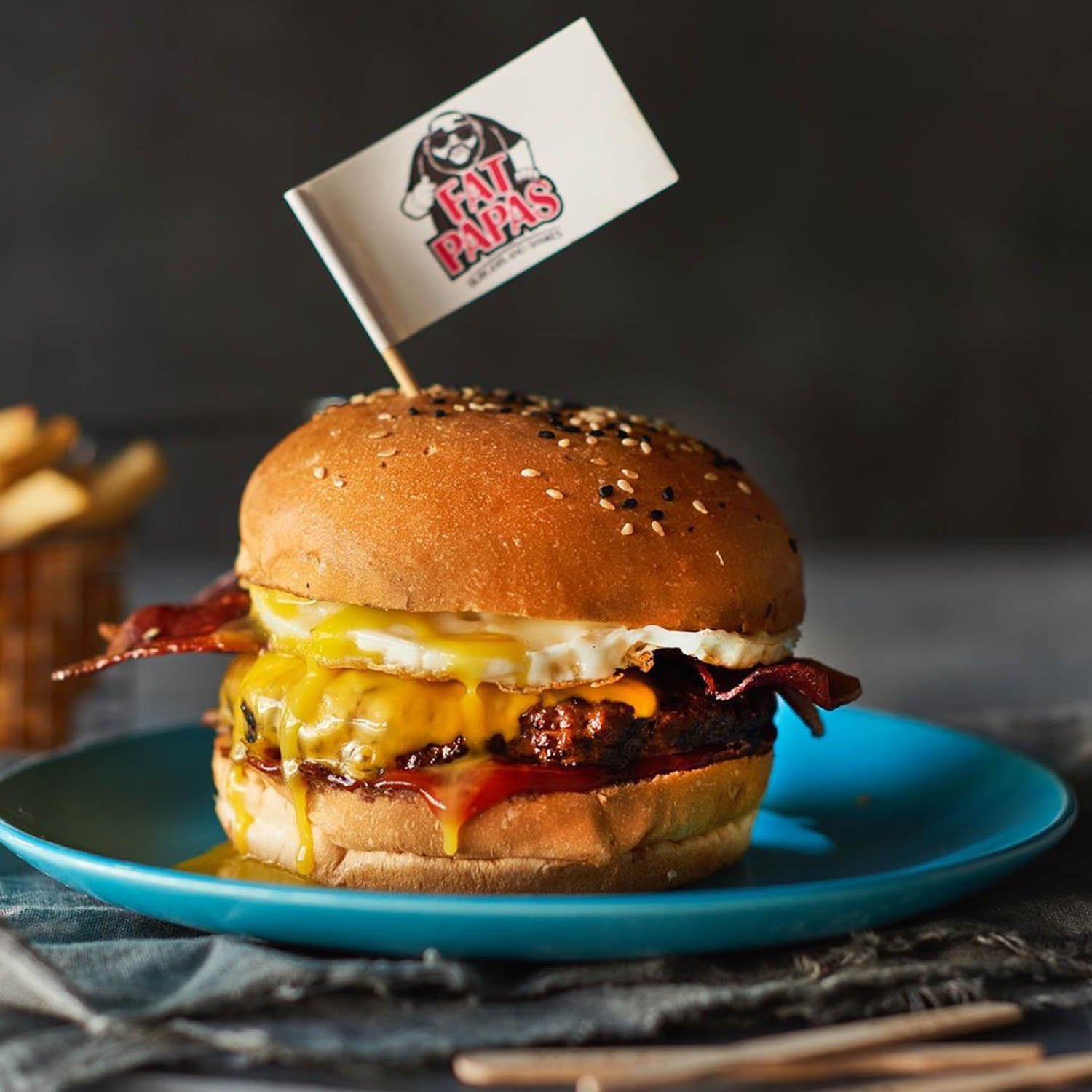 Image credit: @fatpapas
Weekends are meant for a spot of indulgence, so spoil yourselves with the sinfully delicious Wimpy burger from FatPapas. Boasting a hearty mix of juicy beef patties, crisp turkey bacon, and a runny fried egg, this filling treat will send you into an inevitable food coma. Equally lavish is their popular Elvis burger. An unlikely pairing of bananas and peanut butter shines in this set, pimping up the flavourful patty with their sweet zing.
---
Drop by STREAT 2019 at The Promontory
---
Set a date with your close friends and check out STREAT 2019 this coming July. Besides the bevvy of delicious dishes, this event also features culinary workshops by award-winning chefs and live music performances. 
On the other hand, those looking to enjoy a chill evening can relax with inventive cocktails comprising local ingredients at Origin Bar—the official pop-up bar for STREAT 2019.
Launching at STREAT 2019 are the Kaya Toast ($2) and Kopi-O ($2) Pocky sticks too! Be amongst the first to try these Singapore-exclusive snacks when you swing by this event.
FYI, STREAT 2019 also marks the start of the annual Singapore Food Festival (SFF), so watch out for a slew of activities that celebrate our rich food culture!
9 Must-Try Dishes At Singapore Food Festival 2019 Including Chilli Crab Takoyaki And Kaya Toast Pocky
Address: 11 Marina Boulevard, The Promontory, Singapore 018940
Event dates: 12 July 2019 to 13 July 2019
Opening hours: Daily 5pm to 11pm
This post is brought to you by the Singapore Tourism Board.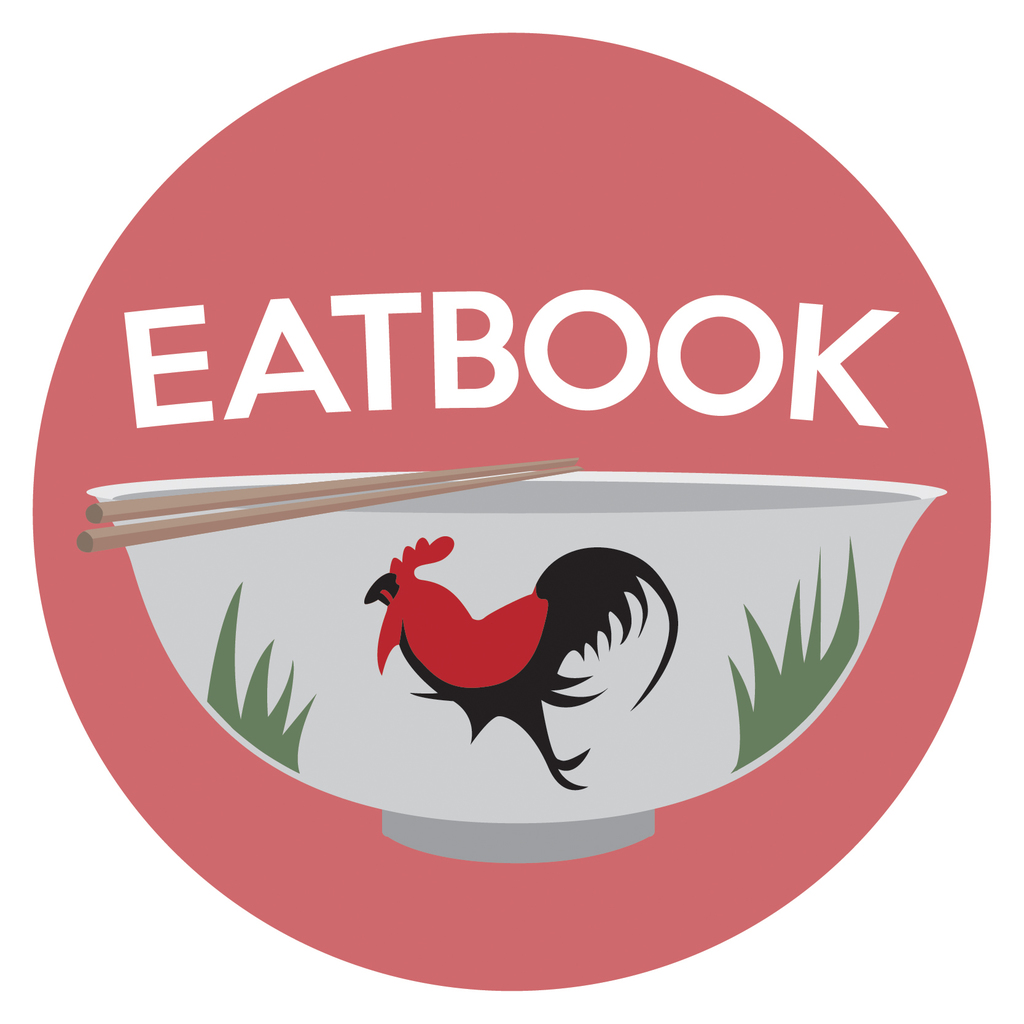 Drop us your email so you won't miss the latest news.