Char Restaurant has mala char siew and roast meat in Jalan Besar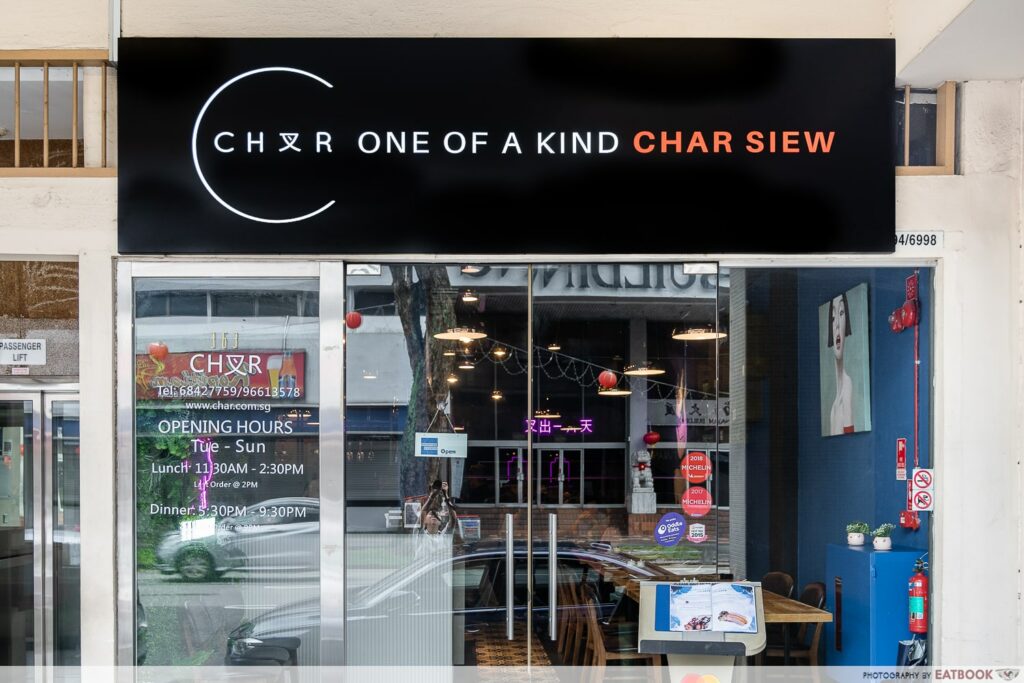 I'm always on the lookout for unique Chinese restaurants to bring my parents to for special occasions. Popular mod-Cantonese restaurant Char seemed to fit the bill, so I snapped up the chance to review their latest menu. After all, the Jalan Besar restaurant has received the Michelin stamp of approval: it was a Michelin Plate eatery from 2016 to 2018, and was listed in the Michelin Guide as Fine Cantonese Food in 2018 and 2019.
Food at Char Restaurant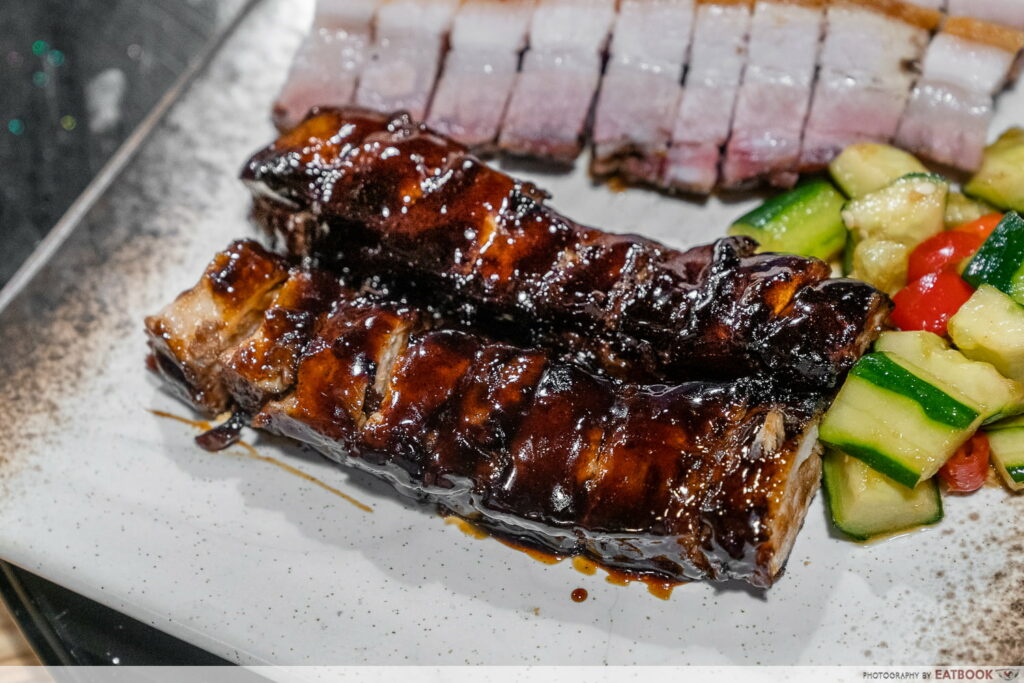 The name "Char" alludes to the restaurant's specialty: Cantonese roast meats. We had to start off with their Signature Char Siew ($27++), which stars 300g of pork belly roasted in a secret marinade. Each piece was sweet, sticky, and savoury all in one bite, with a discernible char on the outside.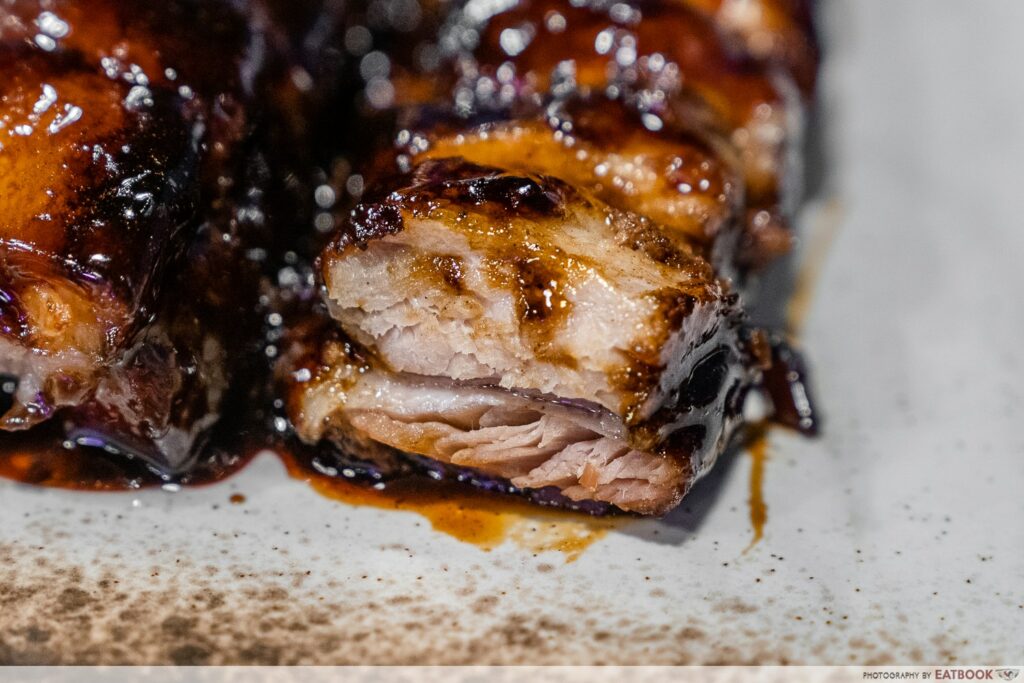 I quite enjoyed that this cut wasn't too fatty—there was a good balance between lean meat and fat—but felt that the glaze was a tad too sweet.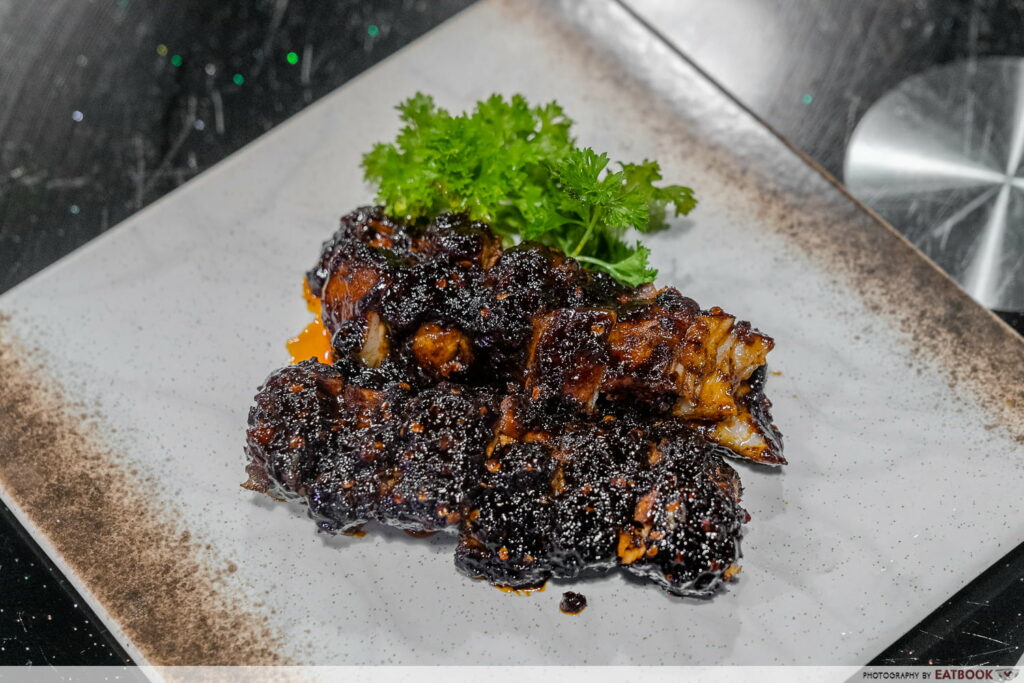 I much preferred the new Mala Char Siew ($20++) instead, which also turned out to be a unanimous favourite among the table. This featured a delightful crust with a peppery flavour that wasn't overly spicy.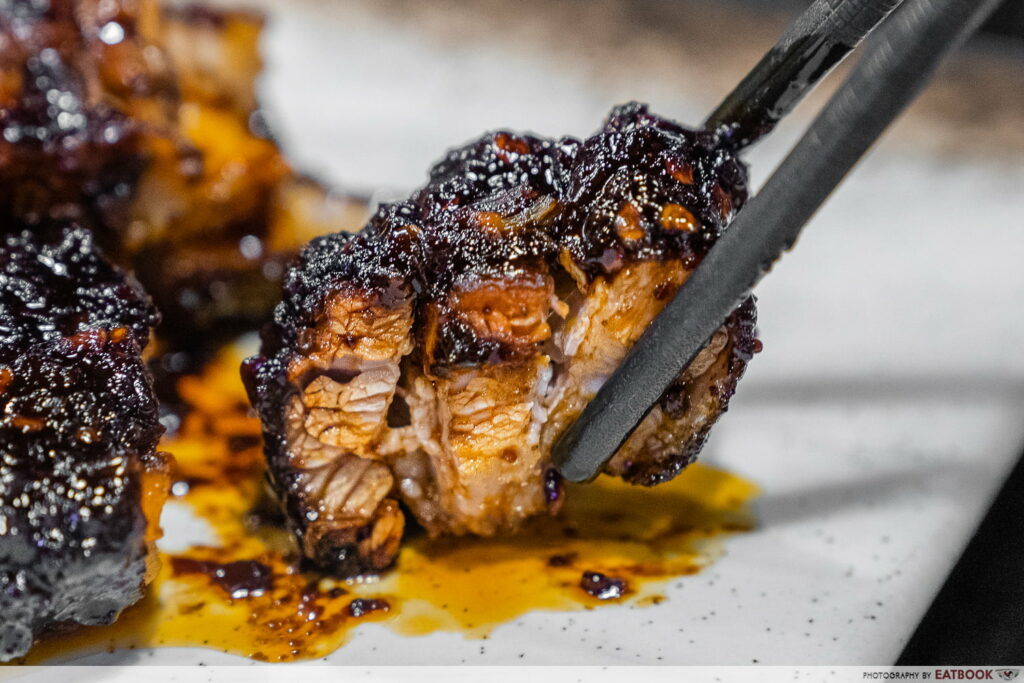 The mala spices—we're told there were 13 in total—elevated this char siew, adding complex layers of flavour to the otherwise one-dimensional, overly sweet pork.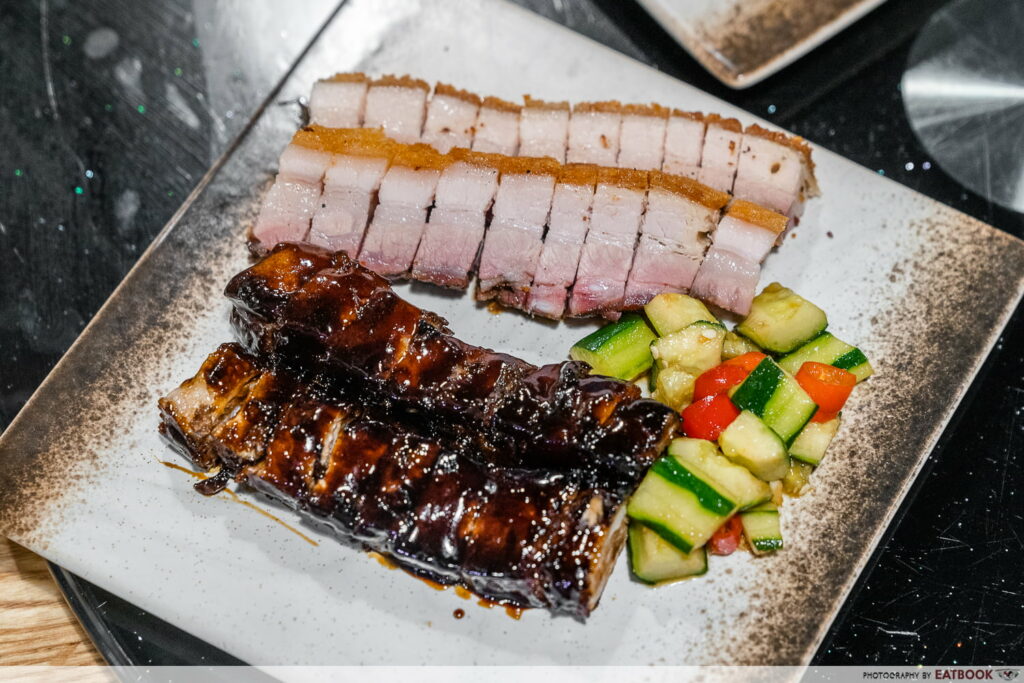 For those who want more variety, get the Double Roast ($38++): 200g of Char Siew and 200g of Roast Pork.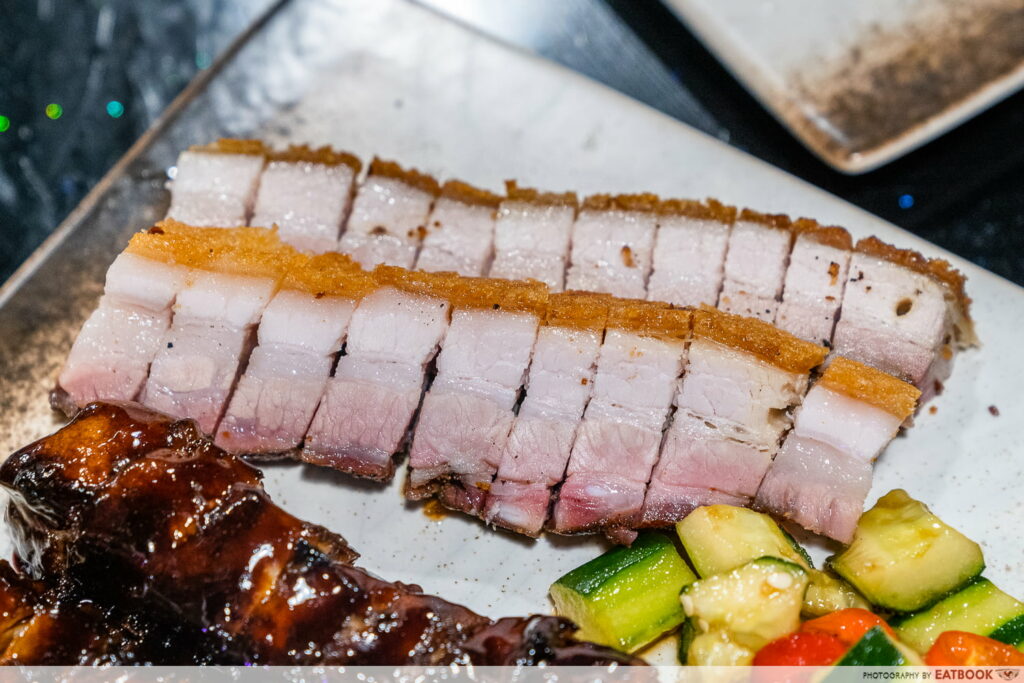 The siew yoke boasted perfectly crisp skin, with a decent layer of fat in the middle, complete with tender and flavourful meat.

Another highlight was the Pig's Stomach with Anxin Chicken Soup ($32++), which came in a stone pot that serves up to four diners. This soul-warming soup was brimming with ingredients, including pig's stomach slices and a whole free-range chicken.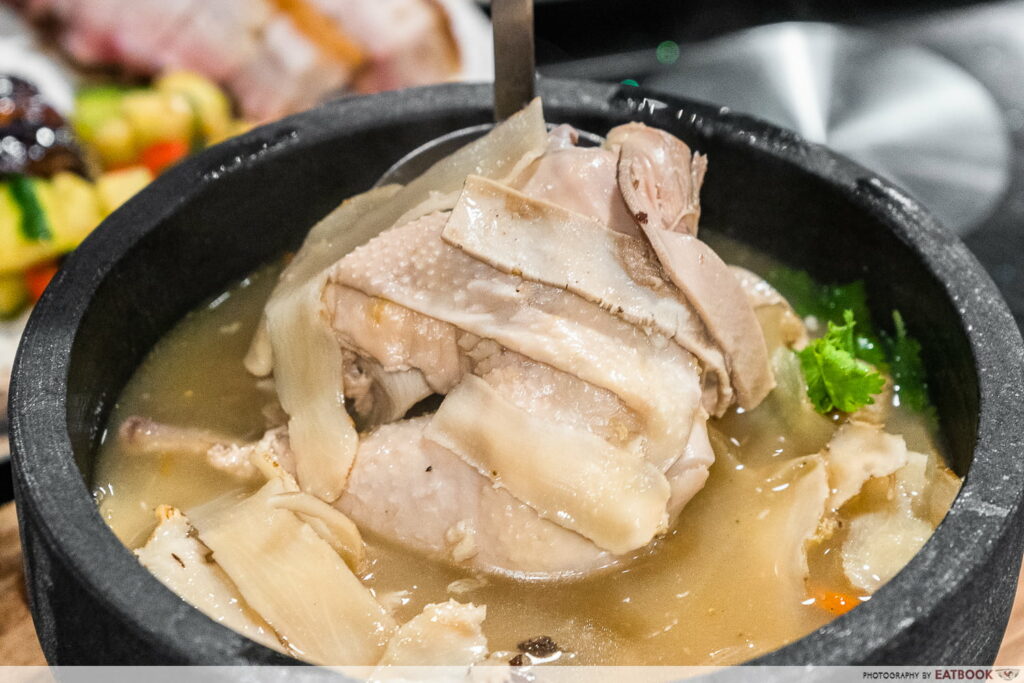 The full-bodied, almost creamy broth was slightly herbal with a strong ginseng fragrance—it tasted like it had healing properties. The chicken was fall-off-the-bone tender, while the pig stomach slices were not overly funky.
While delicious, it's definitely on the pricey end. I wouldn't mind splurging on this hearty soup during a special occasion, though!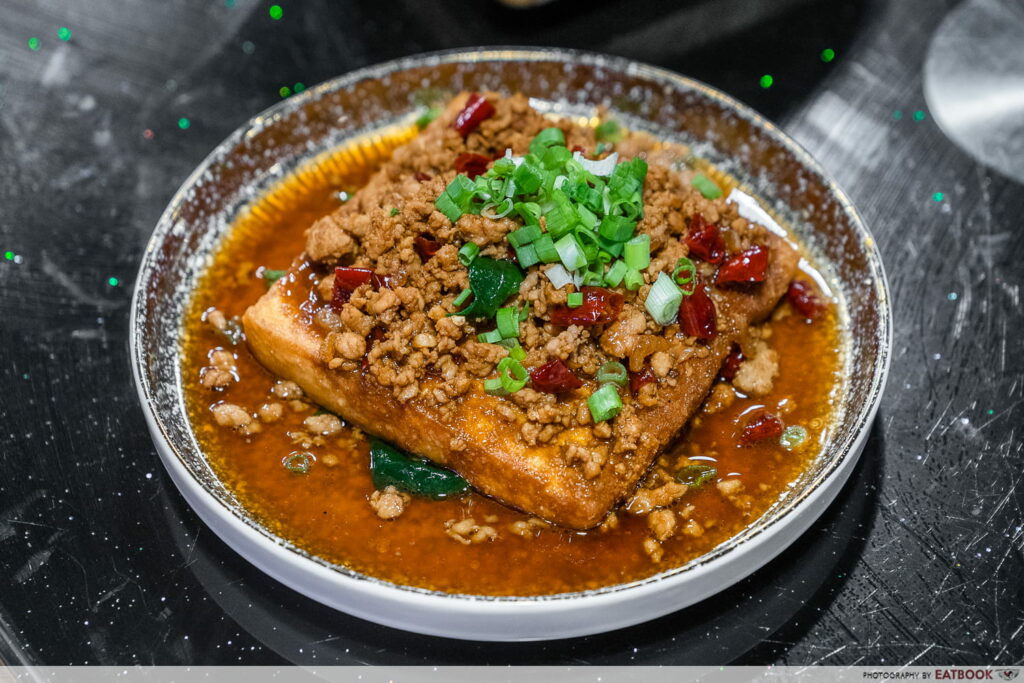 Those who want another filler item to pair with their rice can order the Hometown Beancurd with Minced Meat ($16.80++). This dish comprises a thick slab of beancurd that's handmade daily, then steamed and deep-fried. A generous lashing of garlic-fried minced meat, along with a premium house-made soya sauce, complete it.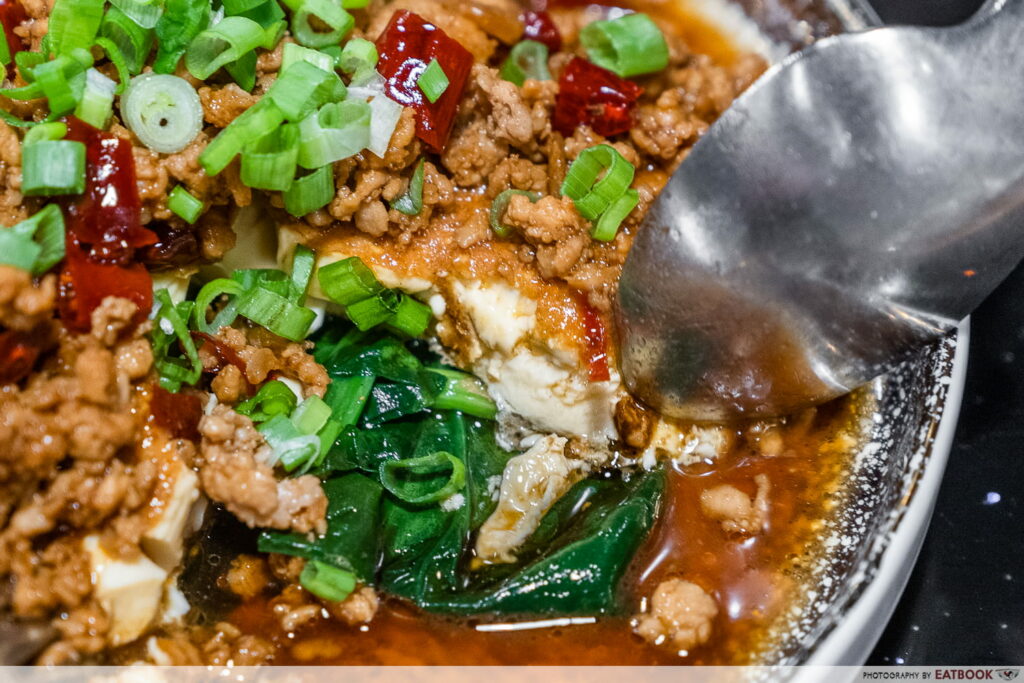 The beancurd was smooth and silky within, with a thin crust that added a pleasant textural contrast. It's a simple, fail-safe dish you won't go wrong with.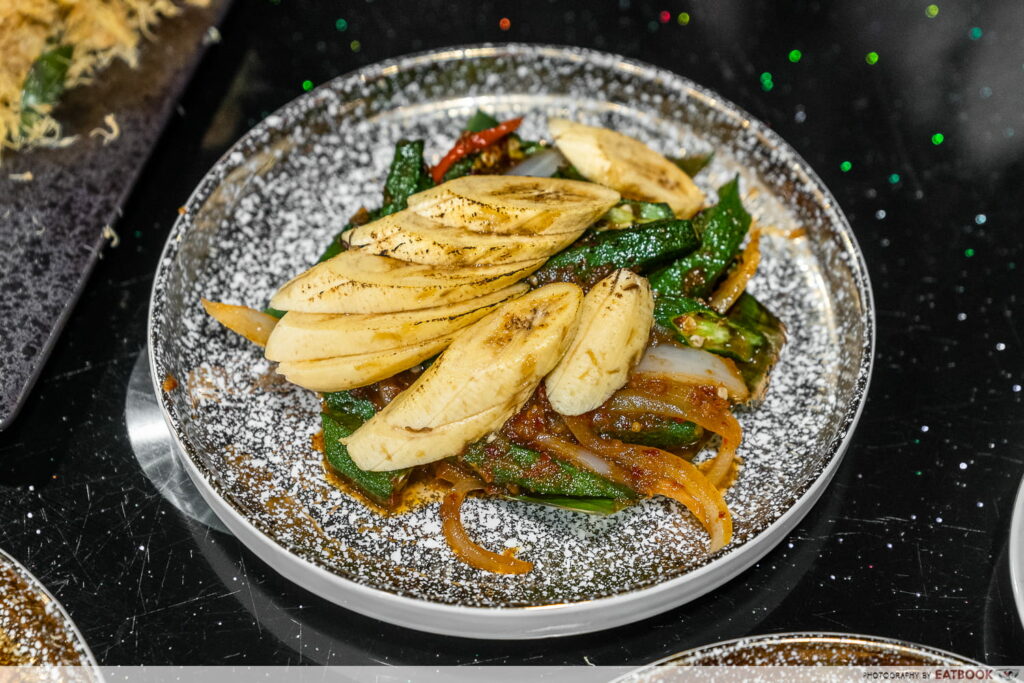 Unfortunately, I wasn't a fan of the Okra Banana Delight ($15.50++), which was exactly as its name suggests: stir-fried okra with torched banana slices, tossed in an aromatic sambal sauce. The banana slices did not mesh well with the soft ladies' fingers, resulting in an odd combination of sweet, spicy, and mushy.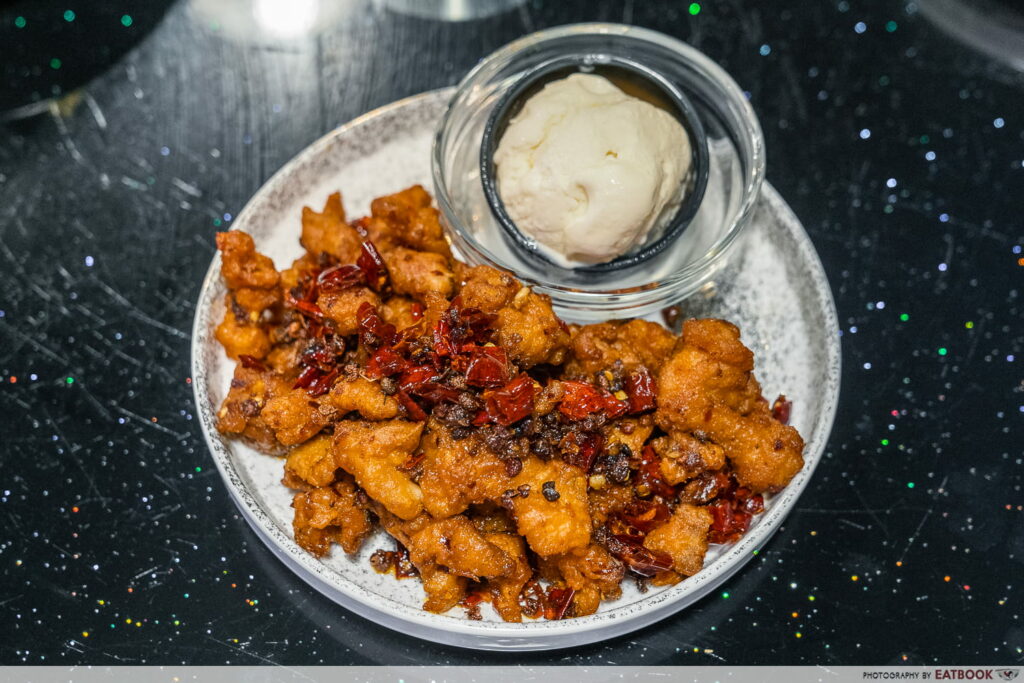 The Spicy Sichuan Chicken with Ice Cream ($18.80++) was another weird pairing; it combines deep-fried chicken pieces tossed with peppercorns and dried red chillies, served along with a scoop of vanilla ice cream.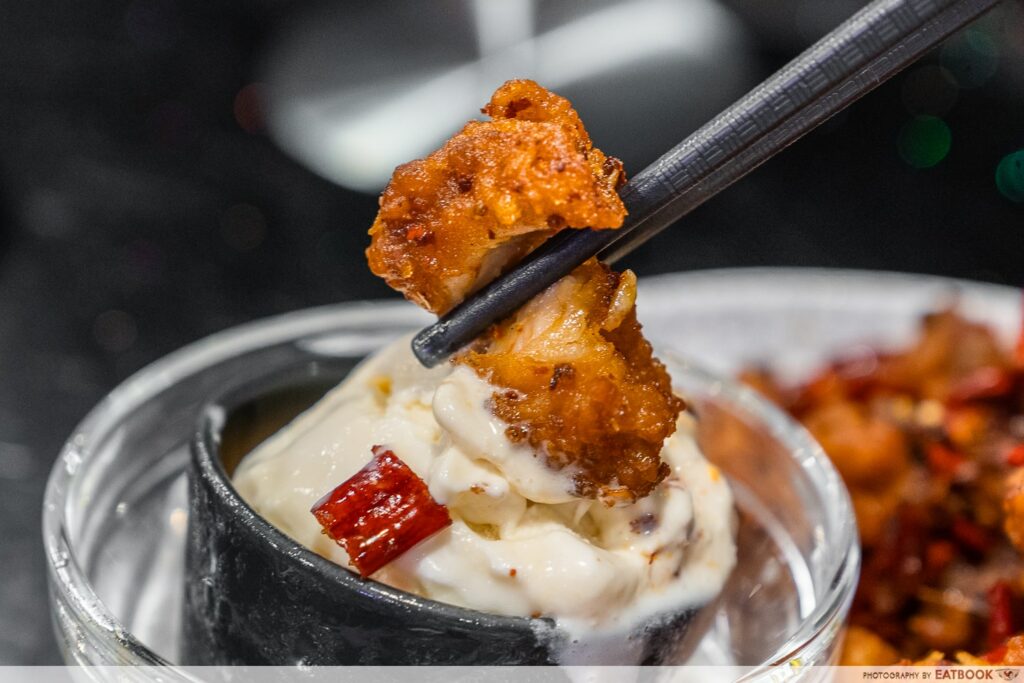 You're meant to dip the spicy chicken chunks into the cold ice cream to ease the heat, but I was rather thrown off by this sweet-spicy combination. I enjoyed the fried chicken on its own though, as it was flavourful enough and not overly numbing.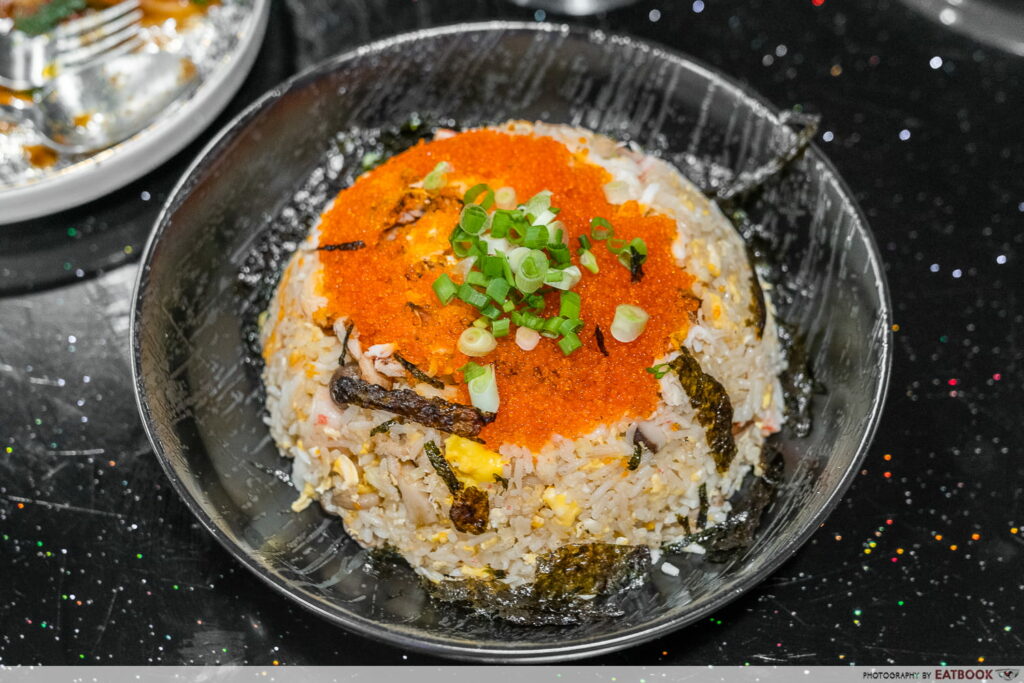 If you're bored of the usual white rice, zhng-up your carb order with Char's Crabmeat Fried Rice ($19.80++).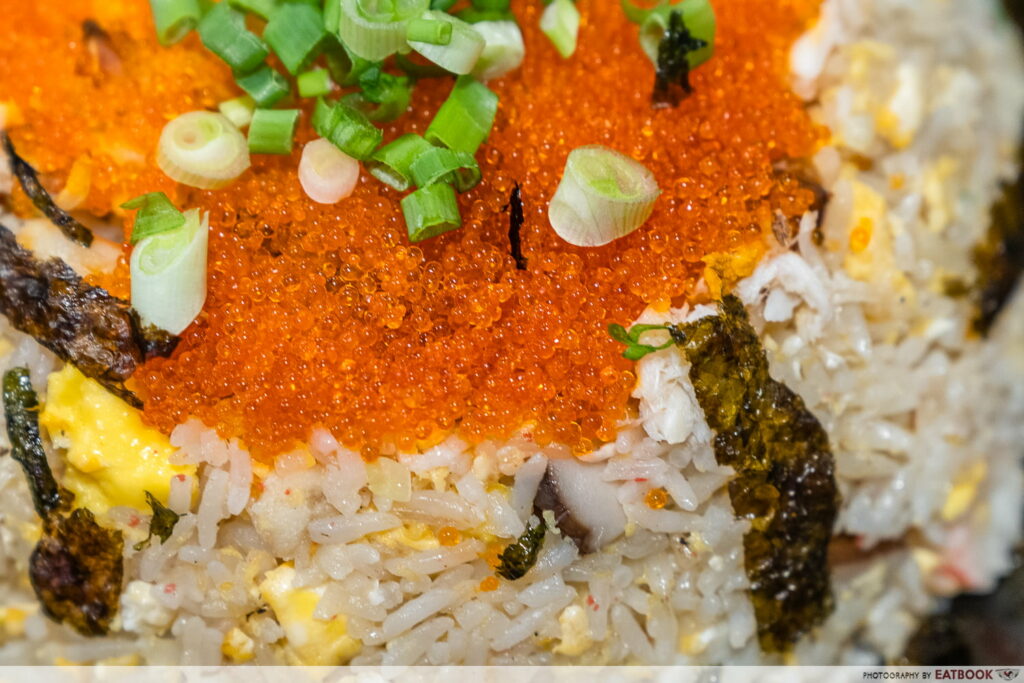 This came in a sharing-sized portion of egg fried rice with Sri Lankan crab meat, topped with loads of tobiko for a burst of umami. I wolfed down each spoonful of rice with a good dose of the restaurant's house-made XO chilli, which boasted fragrant notes of hae bee AKA dried shrimp.
Ambience at Char Restaurant
Char Restaurant sits along the row of shophouses in the bustling Jalan Besar locale, facing stiff competition from the numerous cafes and eateries in the neighbourhood. It's a nine-minute walk from Bendemeer MRT Station or Farrer Park MRT Station.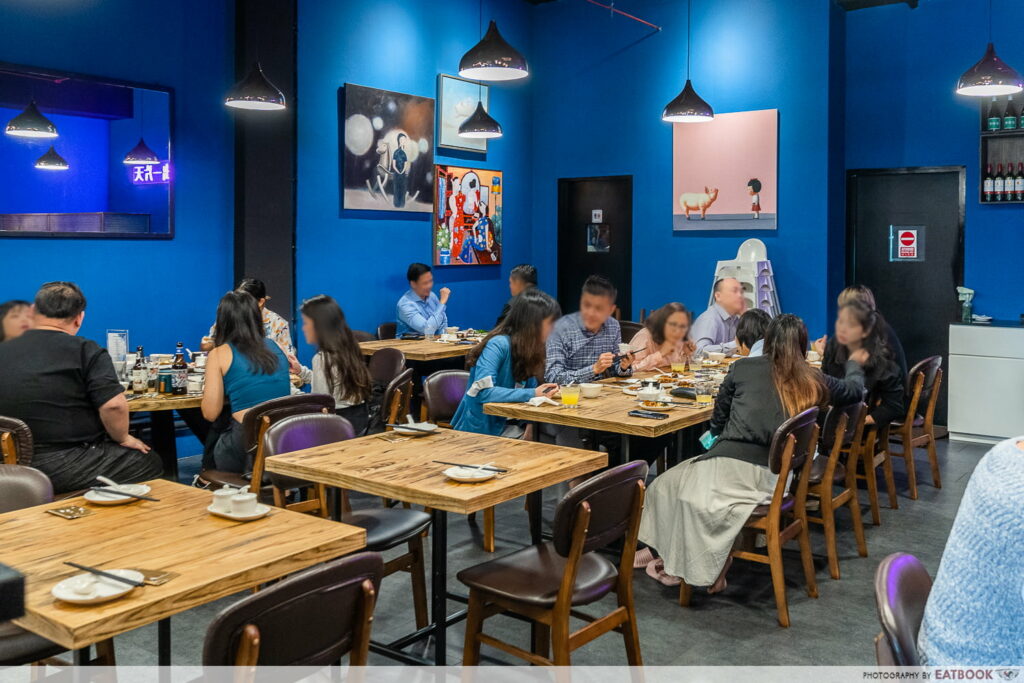 The restaurant was recently renovated with refreshed interiors that are clean and modern-looking. There's a variety of seating arrangements, including long tables for bigger gatherings. It's not exactly a huge space, so it's best to reserve in advance for a guaranteed seat.
The verdict
All in all, I was rather impressed with the quality of the dishes served at Char. Their Mala Char Siew is definitely a must-try, which says a lot, especially coming from someone who doesn't even like mala. I also appreciate their effort to switch things up with their newer dishes, albeit the few misses that came along with the experimentations. The prices here aren't cheap, so I'd recommend visiting in a group to try out more items!
Another must-try restaurant that's located nearby is Abundance, which serves Taiwanese food such as Din Tai Fung-style fried rice and gua bao! Otherwise, there's also Hwa Heng Beef Noodle, a popular hawker stall in Jalan Besar that sells old-school beef noodles from $6.
Address: 363 Jalan Besar, Singapore 208994
Opening hours: Tue-Sun 11:30am to 2:30pm, 5:30pm to 9:30pm
Tel: 6842 7759
Website
Char Restaurant is not a halal-certified eatery.
Abundance Opens In Jalan Besar, The Popular Taiwanese Cafe's Second Location
This was a media tasting at Char Restaurant.
Photos taken by Tan Zi Hui.
Char Review: Michelin-Approved Restaurant With Mala Char Siew And More In Jalan Besar
Char Review: Michelin-Approved Restaurant With Mala Char Siew And More In Jalan Besar -

7.5/10
Summary
Pros
– Mala char siew was delicious
– Most dishes were well-executed
– Modern interiors and cosy ambience
Cons
– Prices are on the higher end
– Limited seats
Recommended dishes: Mala Char Siew ($20++), Pig's Stomach with Anxin Chicken Soup ($32++), Crabmeat Fried Rice ($19.80++)
Opening hours: Tue-Sun 11:30am to 2:30pm, 5:30pm to 9:30pm
Address: 363 Jalan Besar, Singapore 208994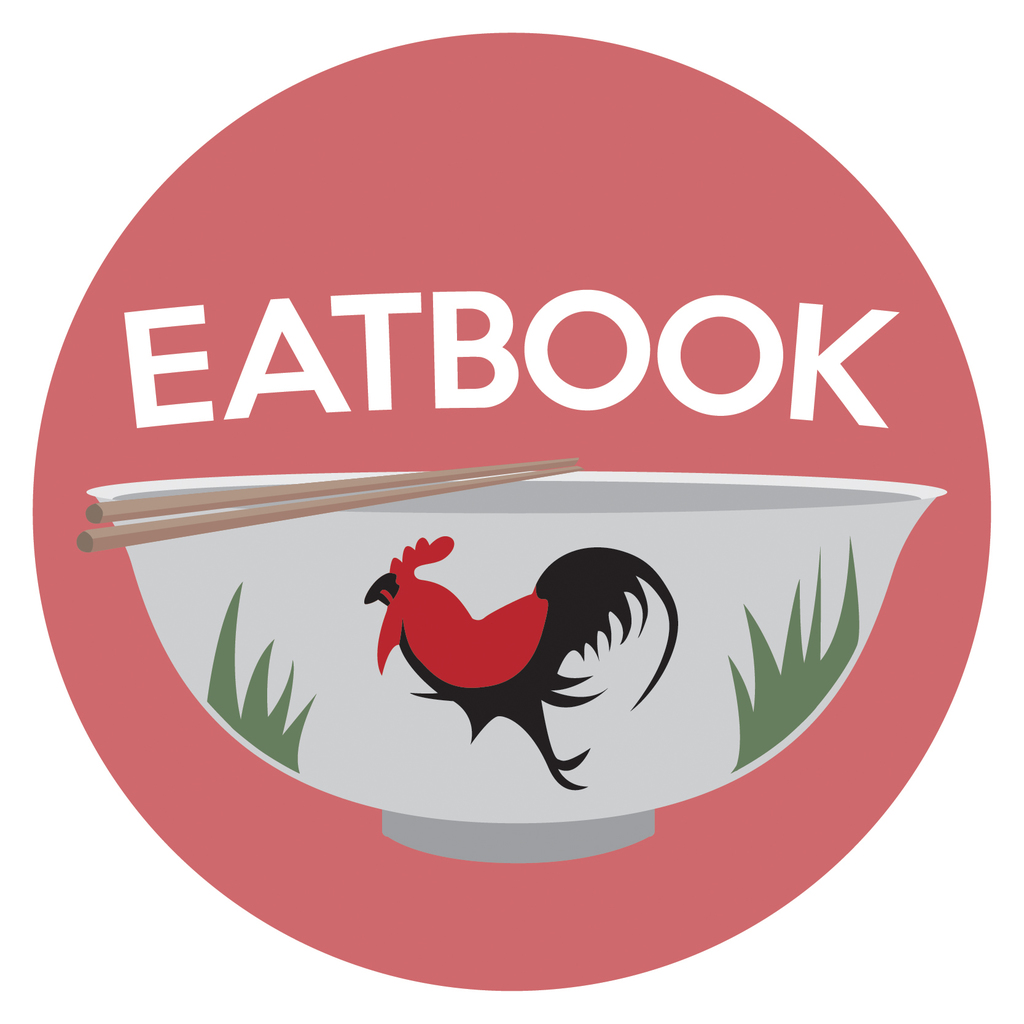 Drop us your email so you won't miss the latest news.