---
No money, no problem.
---
Food makes everything better – even work. But food at the Central Business District (CBD) can get quite costly, and even more so if you're an intern. Fret not, for here is a list of places you can get extremely affordable food and drinks around Tanjong Pagar that'll help pull you through the workweek.
---
1. China Square Fried Fish Soup (Blanco Court)
---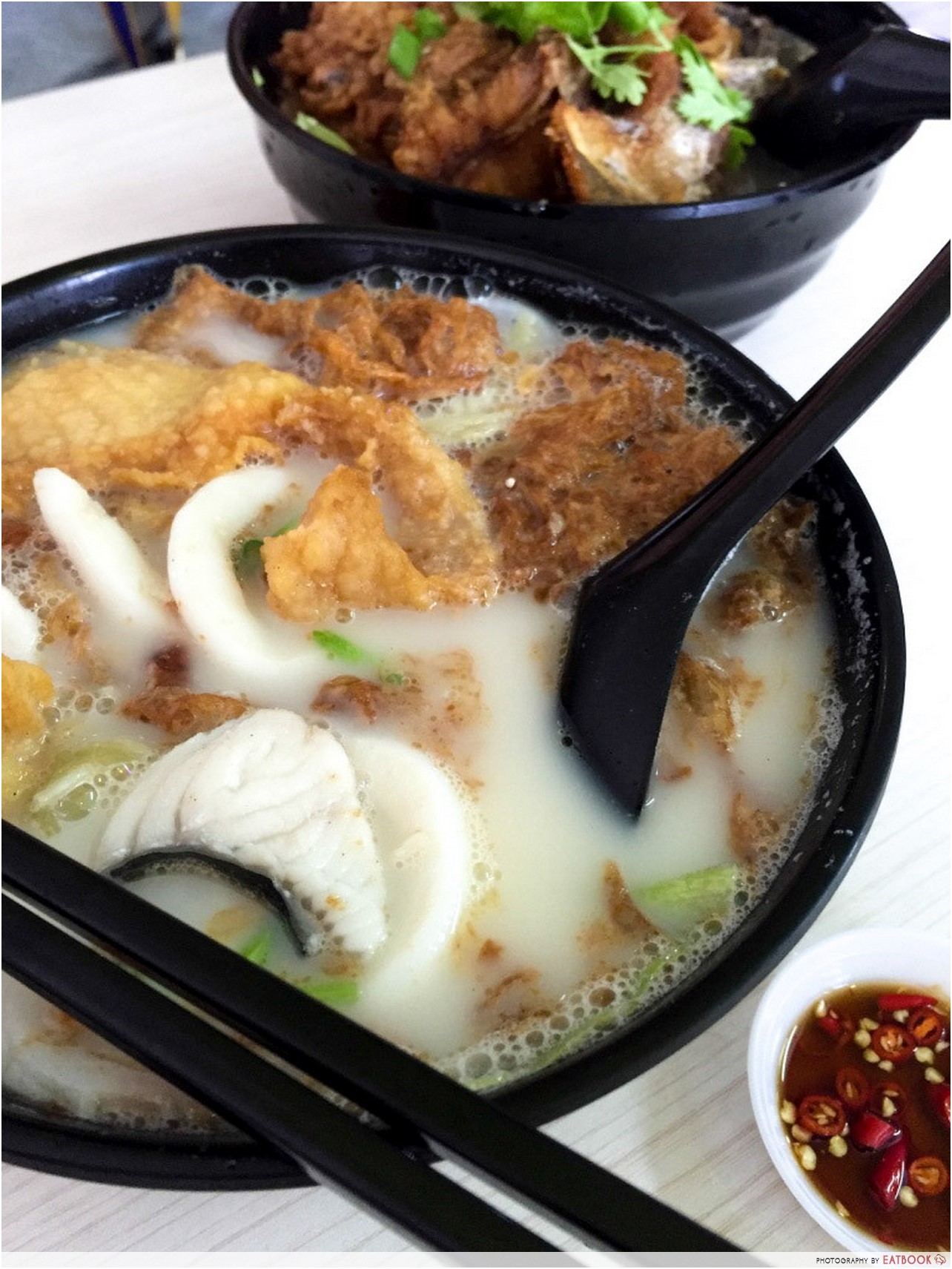 At PSA's Tanjong Pagar Complex, you'll find a steady line of about 10 people queueing for China Square Fried Fish Soup (Blanco Court) at any weekday lunch hour. Order its Fried Fish Soup ($5) and you'll get a generous serving of fish and a massive amount of deep fried egg floss. The oil from fried fish slices and egg floss enhances the fragrance of the soup, and the fried fish retains some of its crisp without becoming too soggy.
Address: 7 Keppel Road, #01-10/11, Heng Lee Yean Eating House, PSA Tanjong Pagar Complex, Singapore 089053
Opening hours: Mon-Fri 10am to 2:45pm
Tel: 9834 6682
---
2. Chocolat N' Spice
---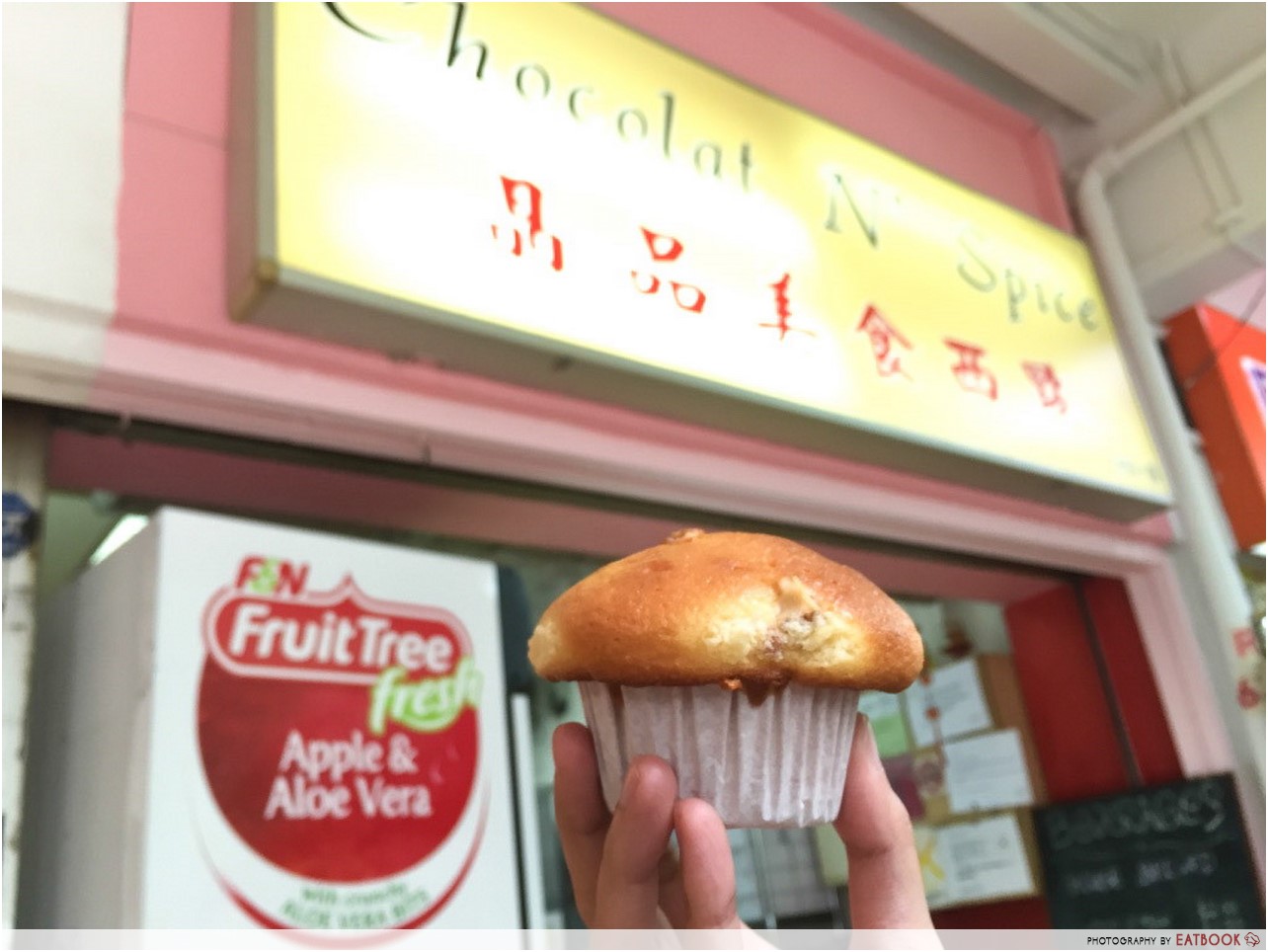 Anyone within a 2-metre radius of the store will be able to catch a fragrant whiff of these mouthwatering muffins (price ranges from $1.30 to $1.50). From ubiquitous flavours such as Chocolate Chip to unique creations like Pumpkin, Chocolat N' Spice's muffins are known for their light and fluffy texture. It's no wonder many CBD workers are seen buying box loads of these munchies during lunch hours. Either way, many flavours are sold out by 4pm on weekdays, so don't wait 'till it's too late to pop by!
Address: 1 Tanjong Pagar Plaza, #01-18, Tanjong Pagar Plaza, Singapore 082001
Opening hours: Tues-Fri 8:30am to 5:30pm, Sat 8:30am to 2:30pm
Tel: 9276 2110
Menu
---
3. Famous Crispy Curry Puff
---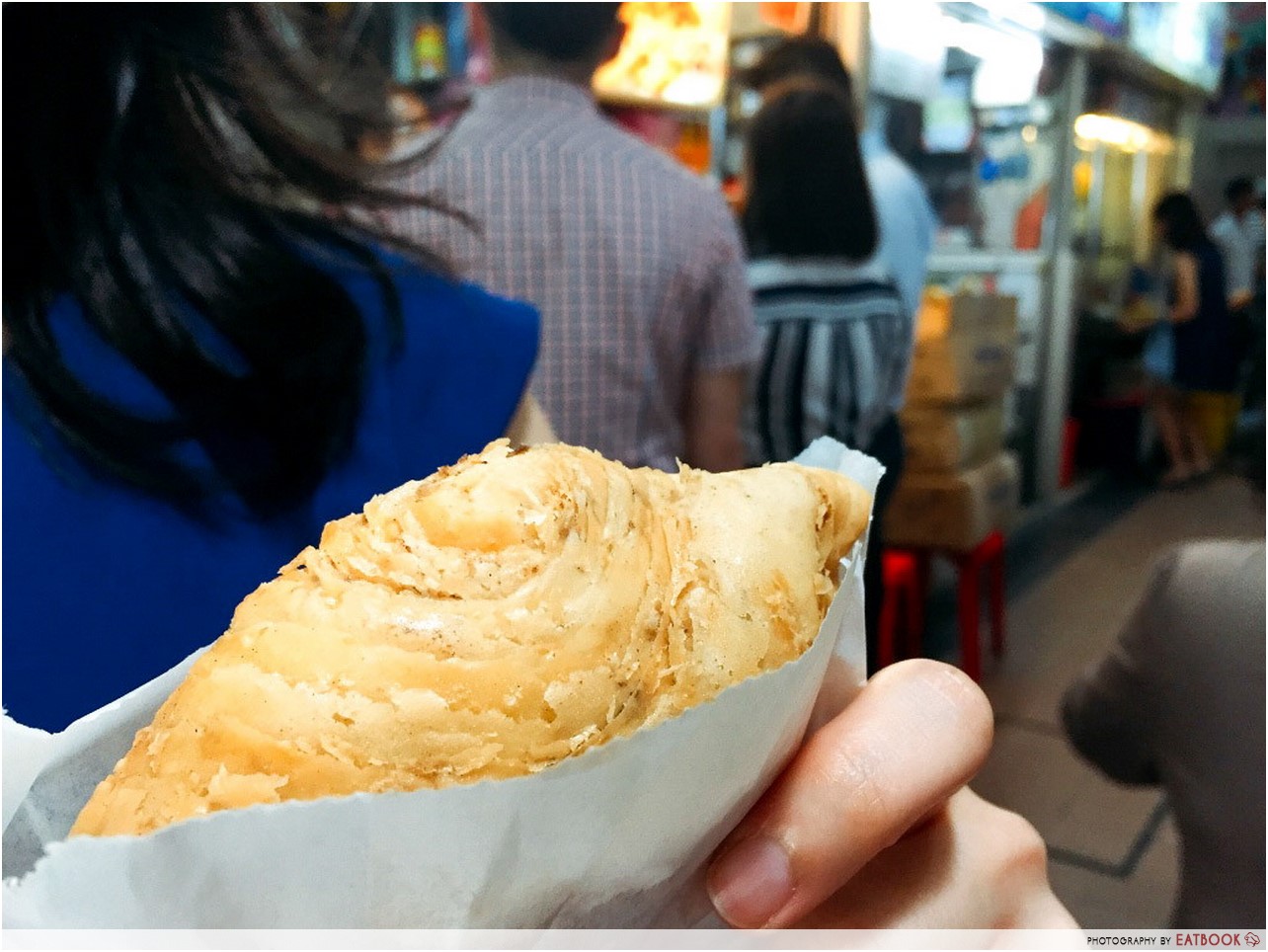 I kid you not, the stall selling these decadent curry puffs is actually called "Famous Crispy Curry Puff". Thankfully, this Bib Gourmand stall lives up to its name. The pastry of this curry puff ($1.20) flakes in your mouth with the first bite, while its piping hot curry oozes out slightly with each subsequent bite. Its fragrant filling of potato and chicken is well proportioned to its pastry, and it's a little on the watery side to moisten the pastry a little so you can swallow without going into a coughing fit.
Address: 7 Maxwell Road, #01-21, Amoy Street Food Centre, Singapore 069111
Opening hours: Mon-Sun 8am to 6pm
---
4. Blue Star Fishball Minced Meat Noodles
---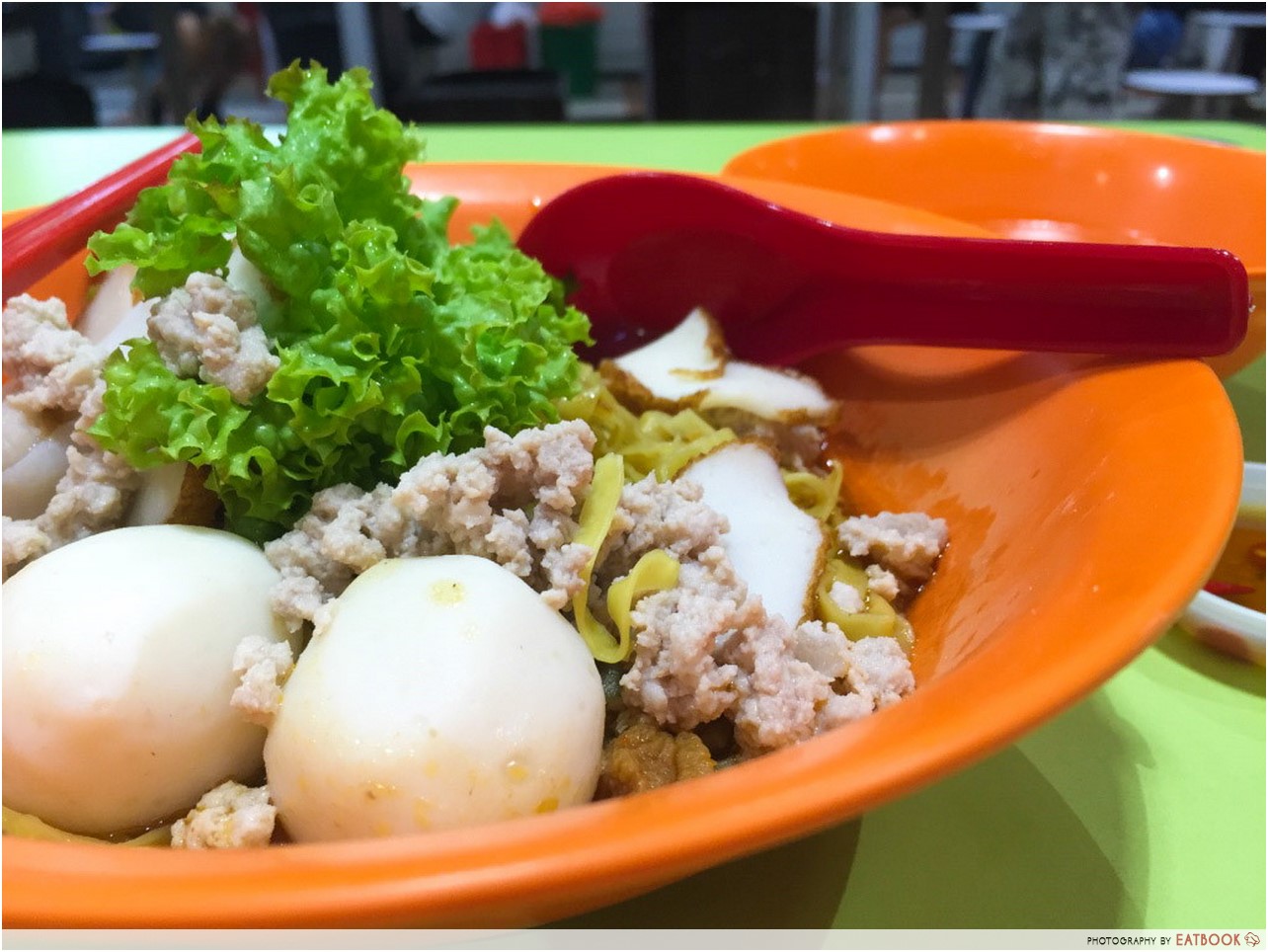 While most fish ball noodles these days come with excessive amounts of chilli or vinegar that makes them ghastly acidic, Blue Star's Fishball Minced Meat Noodles ($3) offers a perfect balance of lard oil, chilli, vinegar and braised mushroom sauce. Its noodles are al dante, and for just $3, it comes with 2 fish balls, a fish dumpling and minced meat. The only drawback is that I get only a small bowl of its tasty and comforting soup when I order the noodles dry.   
Address: 6 Tanjong Pagar Plaza, #02-41, Tanjong Pagar Market & Food Centre, Singapore 081006
---
5. Good Day
---
This rich and savoury Beef Hor Fun ($4.50) at Good Day is perfect for days where you're so hungry you start thinking about lunch at 11am. Cooked over a massive fire, you can taste the wok hei the moment it lands on your tongue. It also comes with a generous portion of beef that is so tenderised you might mistake it for venison. In a rather unconventional style, this dish is on the sweet side with a lingering, albeit mild, taste of black pepper – much like a dish of stir-fried black pepper beef that is often served with rice.
Address: 7 Maxwell Road, #01-21, Amoy Street Food Centre, Singapore 069111
Opening hours: Mon-Sun 1030am to 7pm
---
6. House of Chicken Rice
---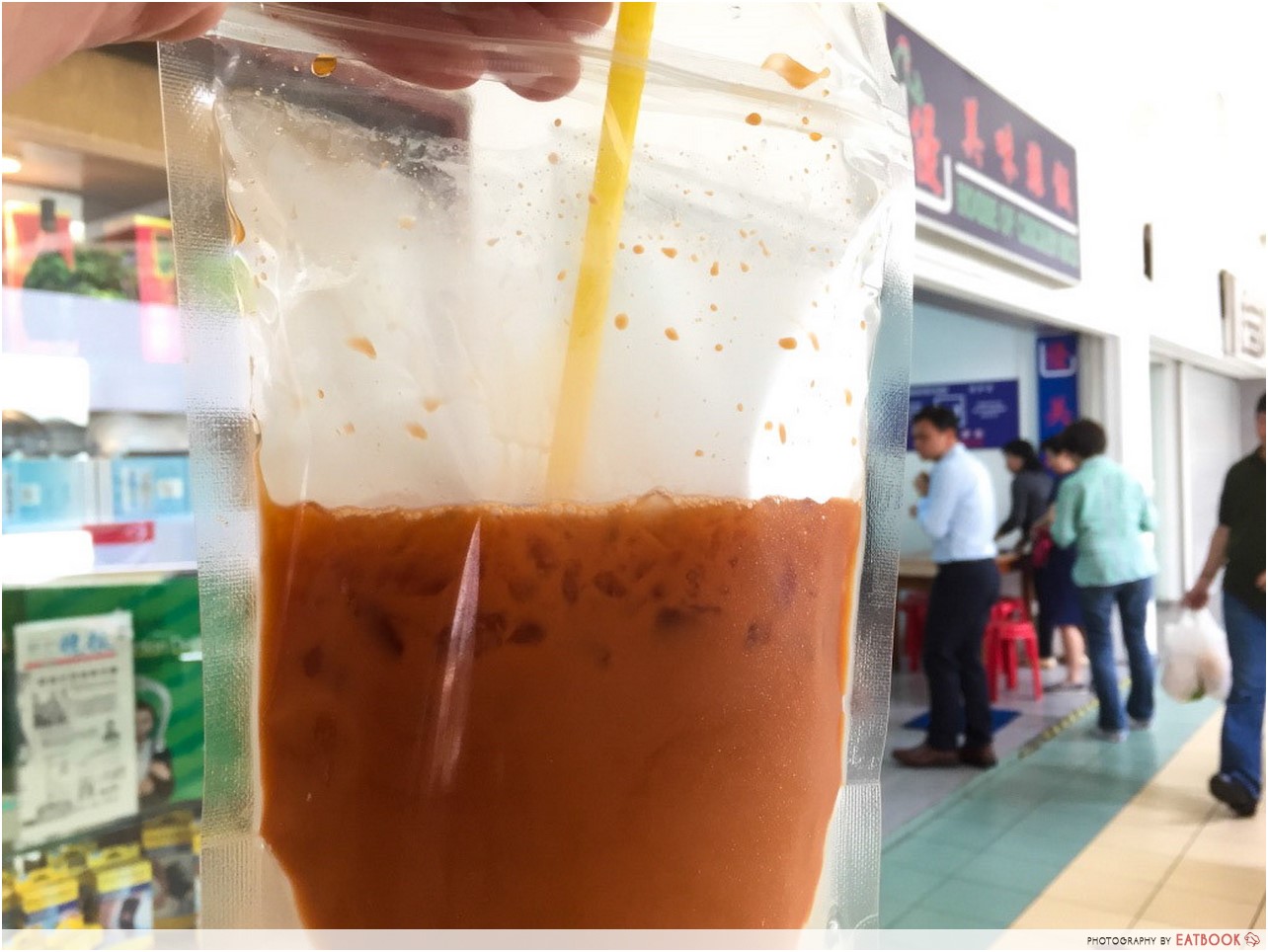 While most Thai iced teas out there are overpriced and insanely sweet, Iced Thai Milk Tea ($1.50) at House of Chicken Rice is the complete opposite. Moderately sweet and not too jelak, it's just nice for a post-lunch drink. Though its serving size of 330ml is smaller than usual, it's just the right amount for something as rich as milk tea. Granted, it's not as cool as those packaged in a lightbulb, nor does it have pearls for you to chew on, but its authentic taste is enough to satisfy a craving.
Address: 1 Tanjong Pagar Plaza, #02-07, Tanjong Pagar Plaza, Singapore 082001
Opening hours: Mon-Sun 11am to 10pm
---
7. Lu Ji Ban Mian & Fish Soup
---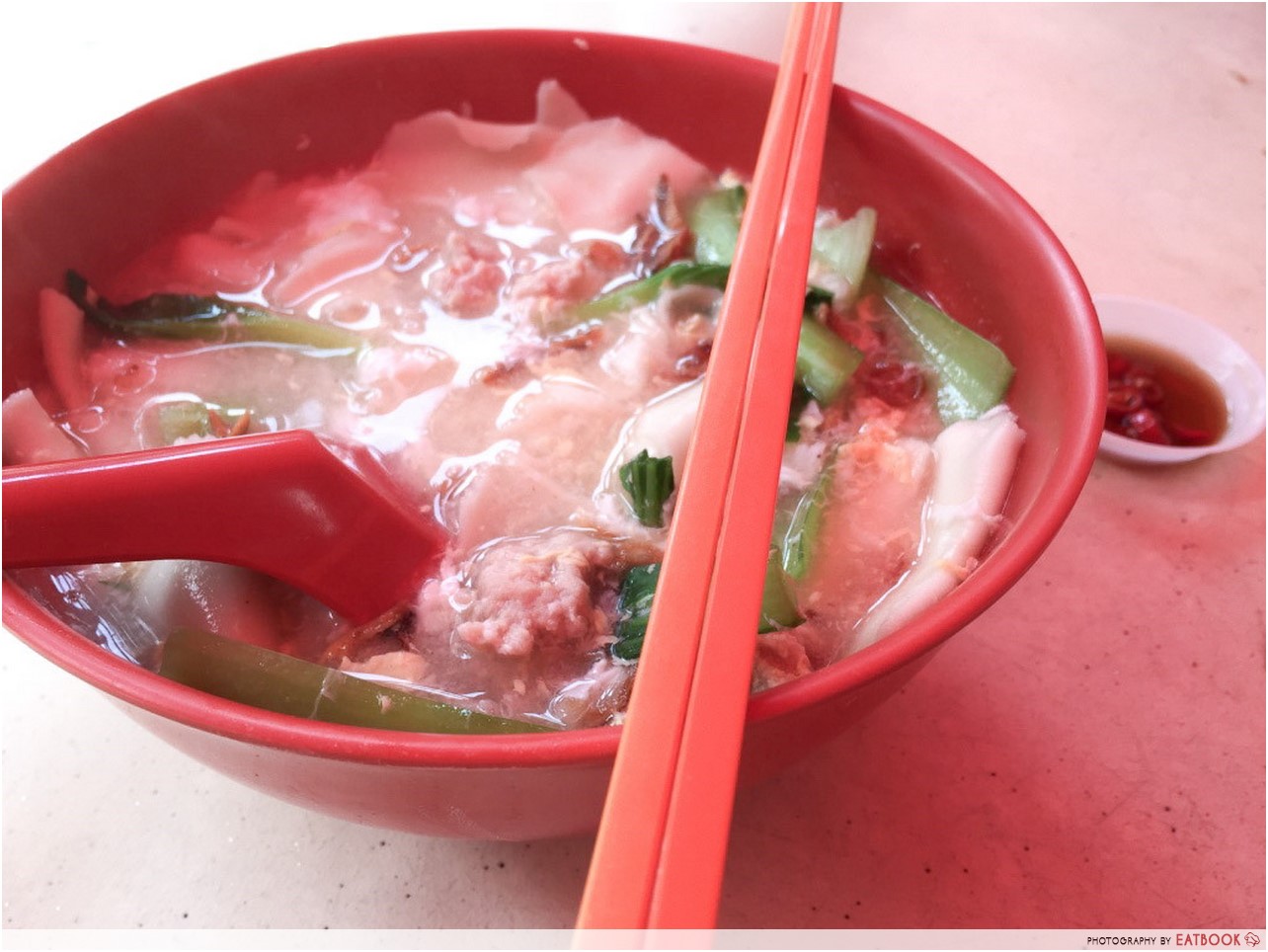 Located at the edge of Tanjong Pagar, Lu Ji Ban Mian & Fish Soup serves a homely bowl of mee hoon kueh ($3). The uneven texture of the mee hoon kueh assures you that its hand-pulled and not made in a factory. Slightly starchy because of the noodles, its soup is made of a rich but clear broth that's likely to have been slow-cooked for hours. To top it off, a good bunch of ikan bilis gives it a extra salty kick that perfects a bowl of ban mian. I was half expecting this tasty bowl of soup to be laden with MSG, but I was proven wrong when I didn't feel an insatiable thirst in the hours that followed.
Address: 243 Cantonment Road, Singapore 089770
---
8. Wonderfood Wanton Mee
---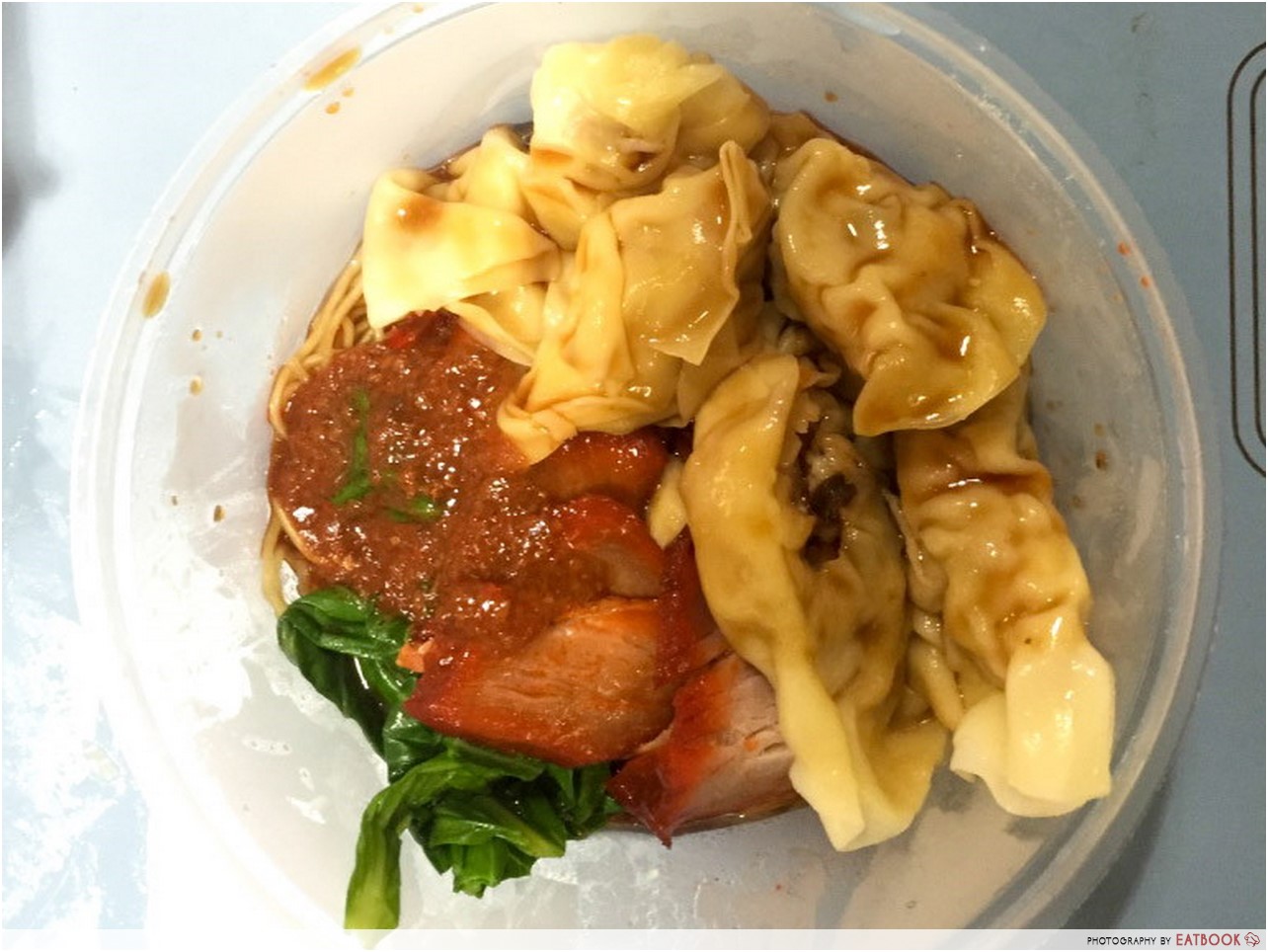 Wonderfood Wanton Mee has a wonderful pun in its name, and its wanton mee ($3) leaves little to be desired. Its springy noodles complement its combination of black sauce and chilli, while its smooth-skinned wantons are succulent and pleasing to the palate. Not too sweet and with just enough spiciness to give a kick, this tasty dish is definitely a well-balanced one.
Address: 7 Maxwell Road, #01-21, Amoy Street Food Centre, Singapore 069111
---
9. Nanyang Old Coffee
---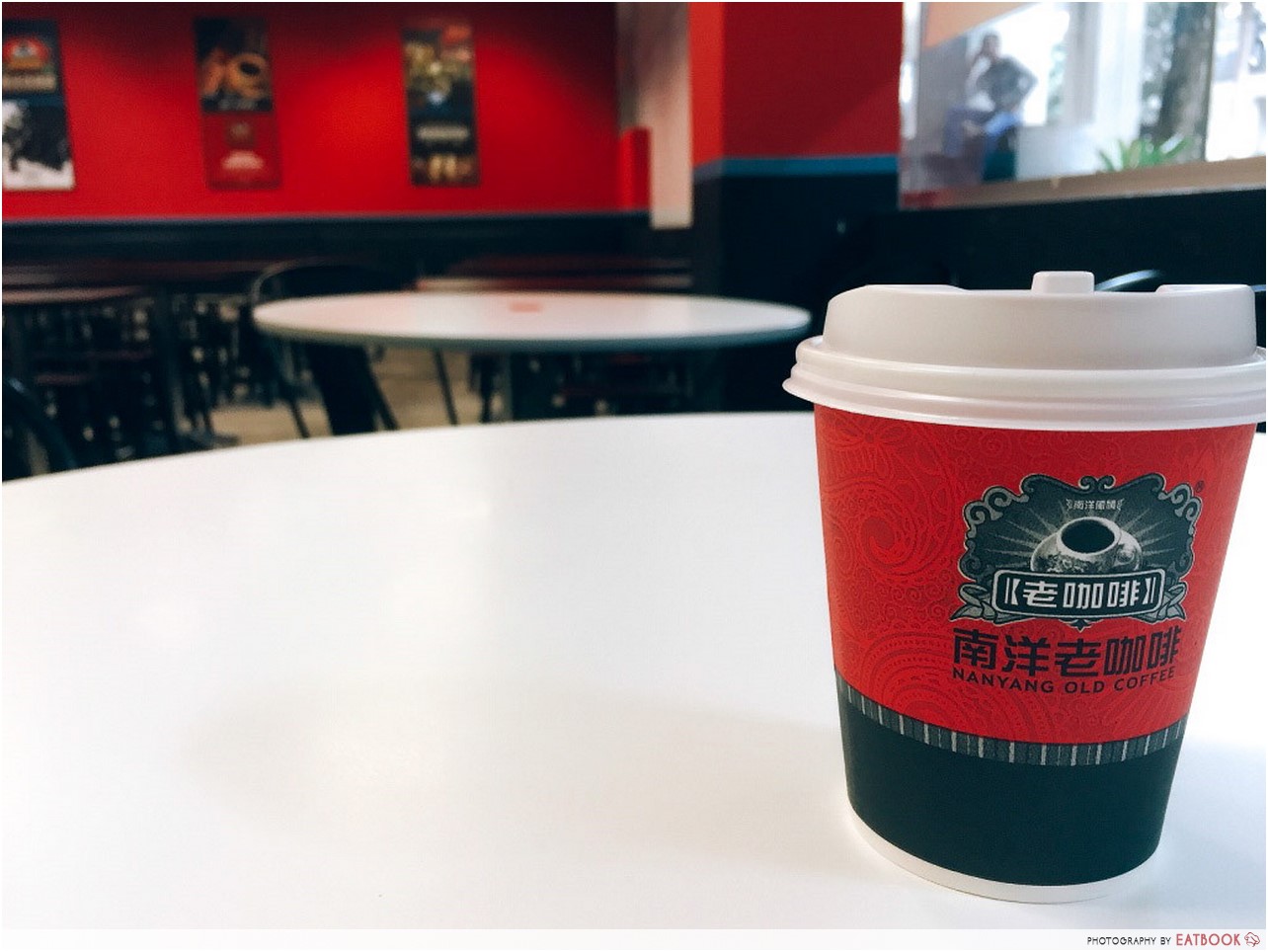 Tucked away at a corner of Tanjong Pagar is a quaint joint called Nanyang Old Coffee. For someone who's extremely particular about the consistency of his morning teh, I must say Nanyang Old Coffee serves a smooth, silky and comforting cup of traditional coffee and tea ($1.70 each). The cafe's cosy set-up with retro-hipster furnishing makes it quite a conducive place to start the day with a slow cuppa as you think about how to conquer the hours ahead.
Address: 3 Lim Teck Kim Road, #01-02, Genting Centre, Singapore 088934
Opening hours: Mon-Fri 8am to 5:30pm
Tel: 6100 3450
Menu
---
10. Bun Master
---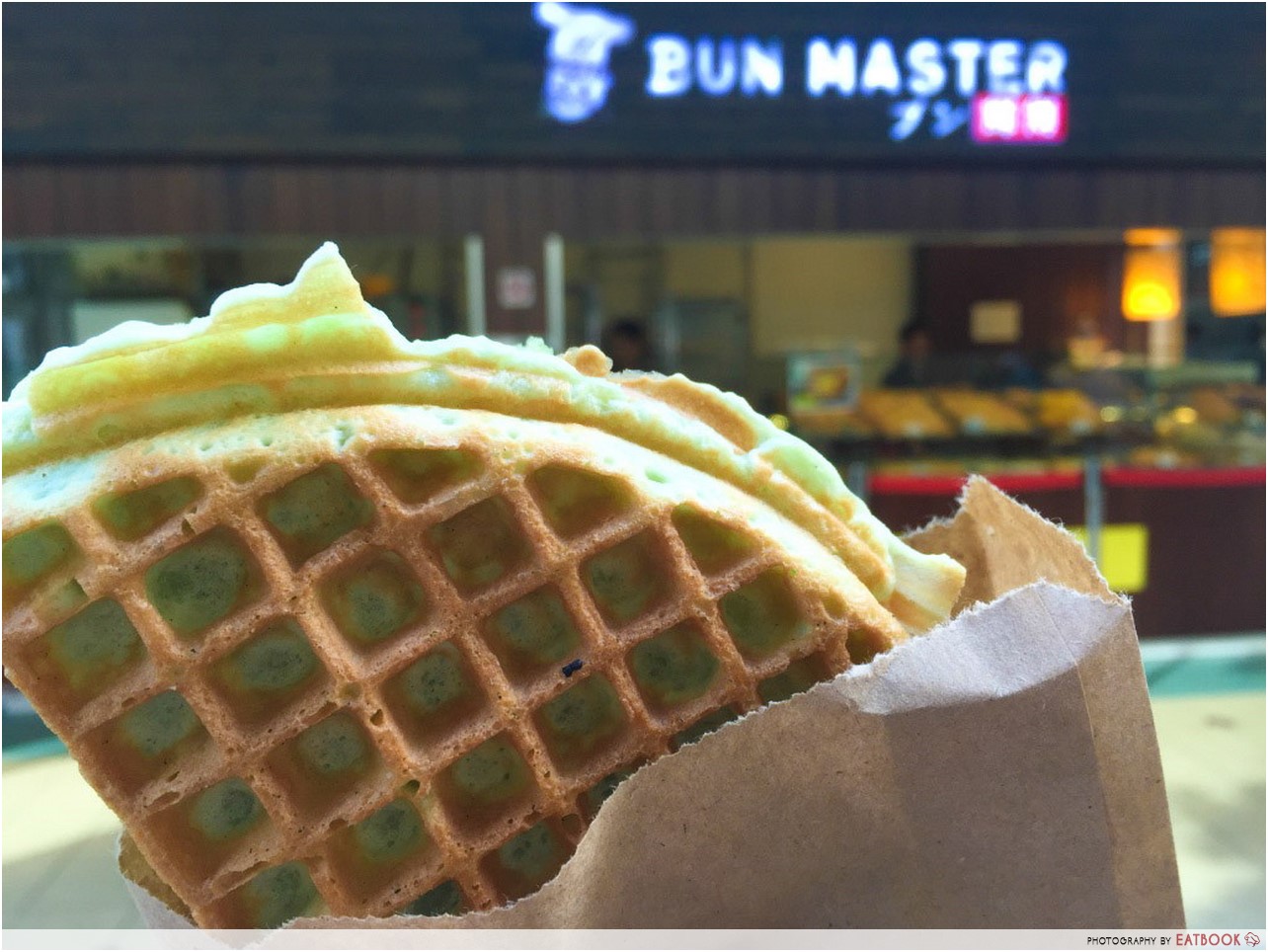 Tanjong Pagar may be laden with cafes famous for ice-cream waffles, but you'd be surprised by how hard it is to get an old-school waffle in the area. For the office worker who, like me, gets hungry every 2 to 3 hours, a mid-afternoon snack like one of Bun Master's traditional waffle (price ranges from $1.30 for plain to $2.80 for double filling) is always welcomed. With a generous spread of fillings like kaya or peanut butter, this made-to-order childhood delight is sure to warm your stomach and heart.
Address: 1 Tanjong Pagar Plaza, #01-31, Tanjong Pagar Plaza, Singapore 082001
Opening hours: Mon-Sun 8am to 10:30pm
Tel: 6483 1905
---
A bang for your buck
---
Working at Tanjong Pagar doesn't necessarily mean expensive salad lunches and gourmet coffee. With these inexpensive eats, you'll be able to fill your tummy no matter how much you're earning. Comment below if you've got other cheap and awesome food in the CBD to recommend!