Hainan Chicken Rice Ball serves chicken rice ball sets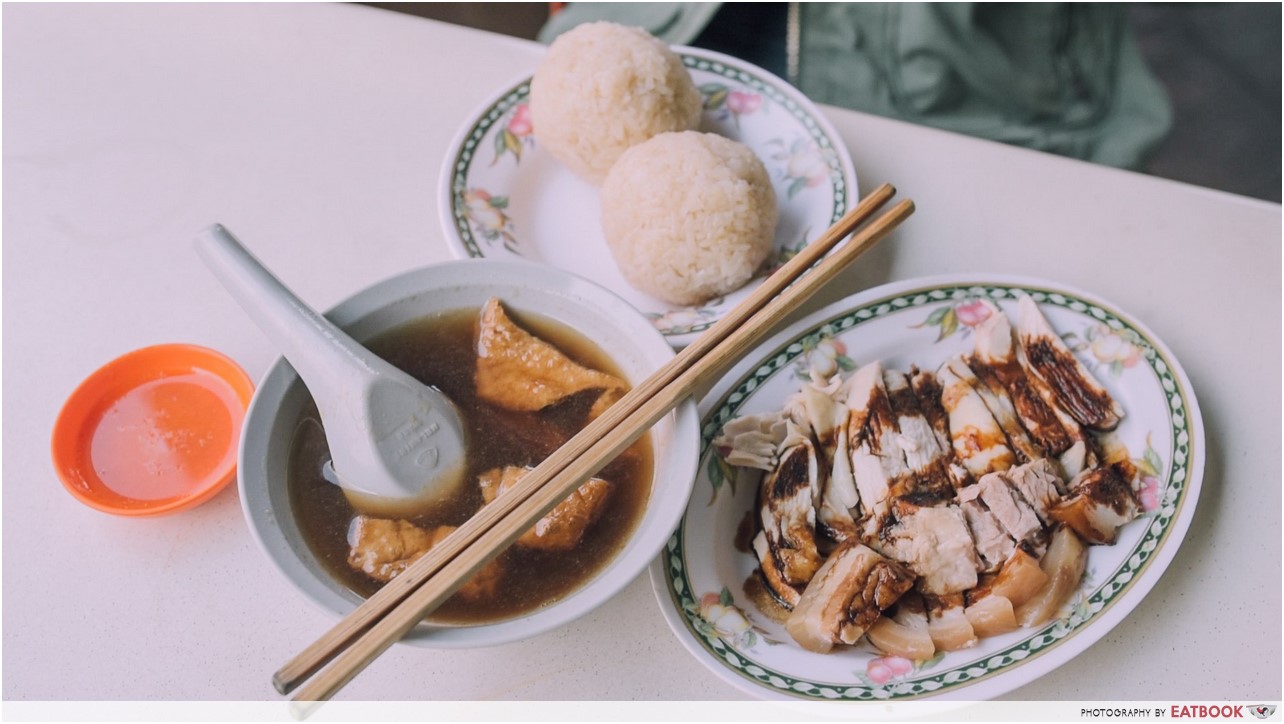 I stayed in Japan for close to a month last year, and apart from kaya toast, the Singaporean dish I craved for the most was chicken rice. Chicken rice is undoubtedly one of our hawker staples and my friends from overseas would pester me to bring them to a good chicken rice stall when they are here on vacation.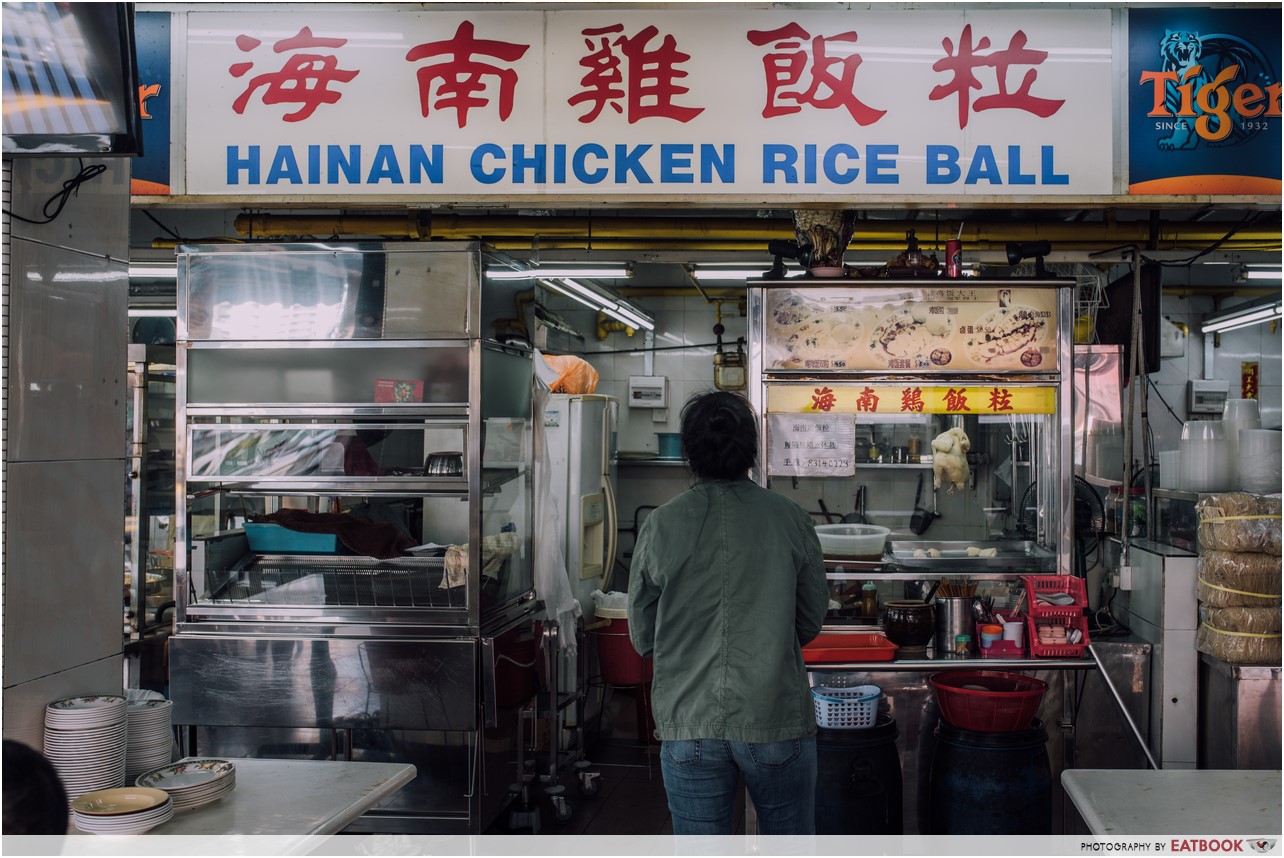 I used to take a long time to decide on where to bring them to, but this will no longer be a problem. Serving traditional Hainanese chicken rice balls and braised pork belly, Hainan Chicken Rice Ball stands out from the usual chicken rice stalls and will tug on both Singaporeans' and tourists' heartstrings.
Food at Hainan Chicken Rice Ball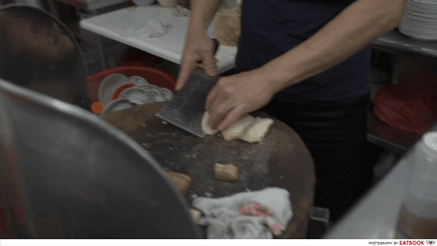 We got Chicken Rice Set Meal ($5), which came with two chicken rice balls, Hainanese steamed chicken, braised pork belly and tau pok (beancurd puff) soup.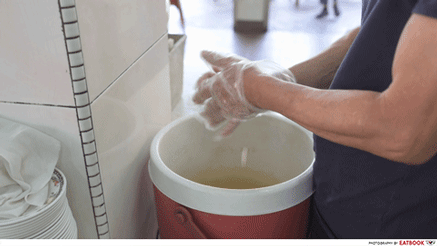 Upon ordering, the uncle deftly picked up a handful of rice and shaped them into tennis-sized balls in his palms. He even demonstrated how compact and well-made it was by throwing a chicken rice ball down from a height to have it land firmly on the plate with a thud.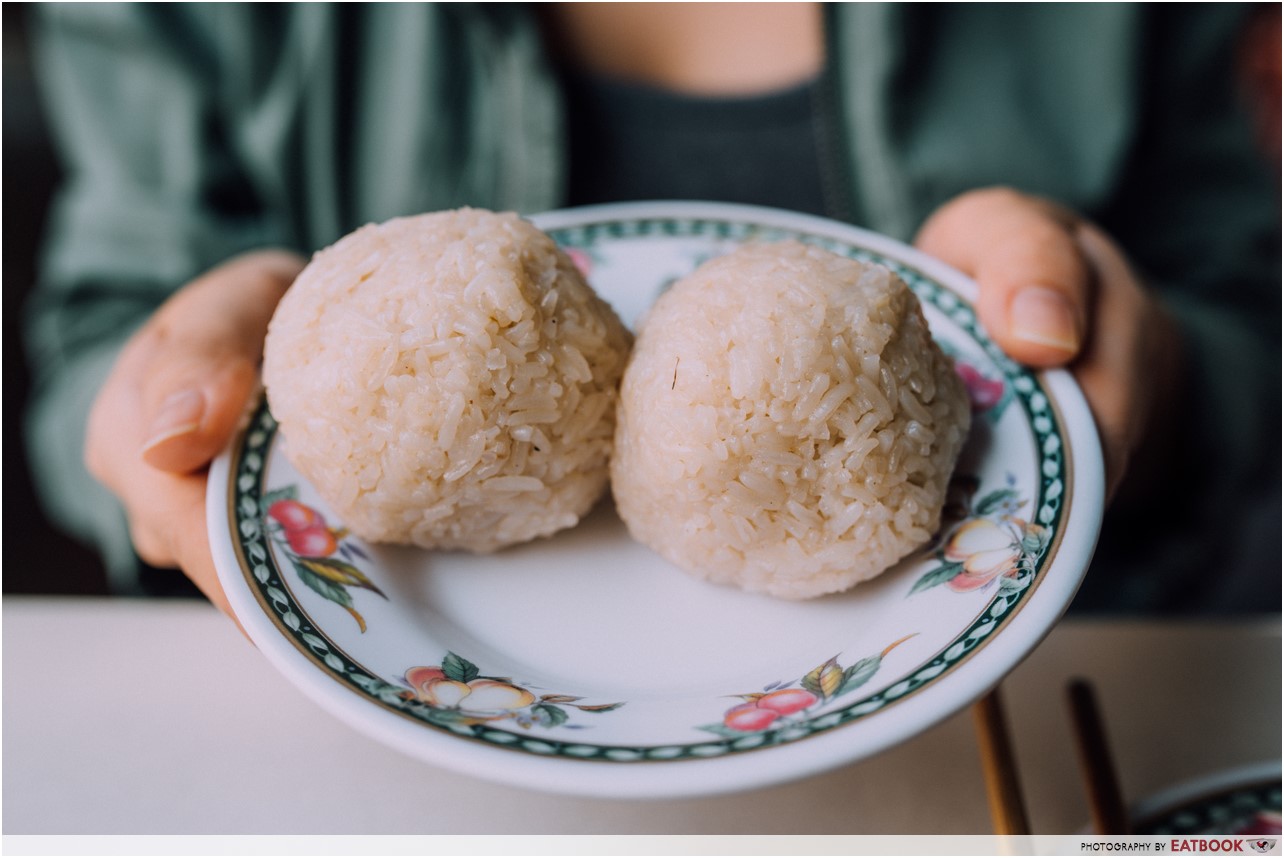 As much as I couldn't bear to ruin the perfect sphere, I dug into the rice balls with my spoon. The rice was not overly greasy, and had hints of fried garlic and shallots. I particularly liked how the flavour of the chicken stock was not too overpowering. This allowed me to finish a rice ball without feeling too jelak.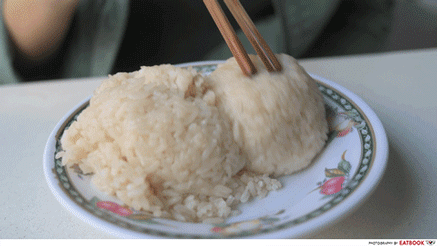 These rice balls had a very different texture from regular, loosely-packed chicken rice. As contradicting as it sounds, the grains of rice were both sticky and dry at the same time, and broke into clumps and then separate grains in my mouth.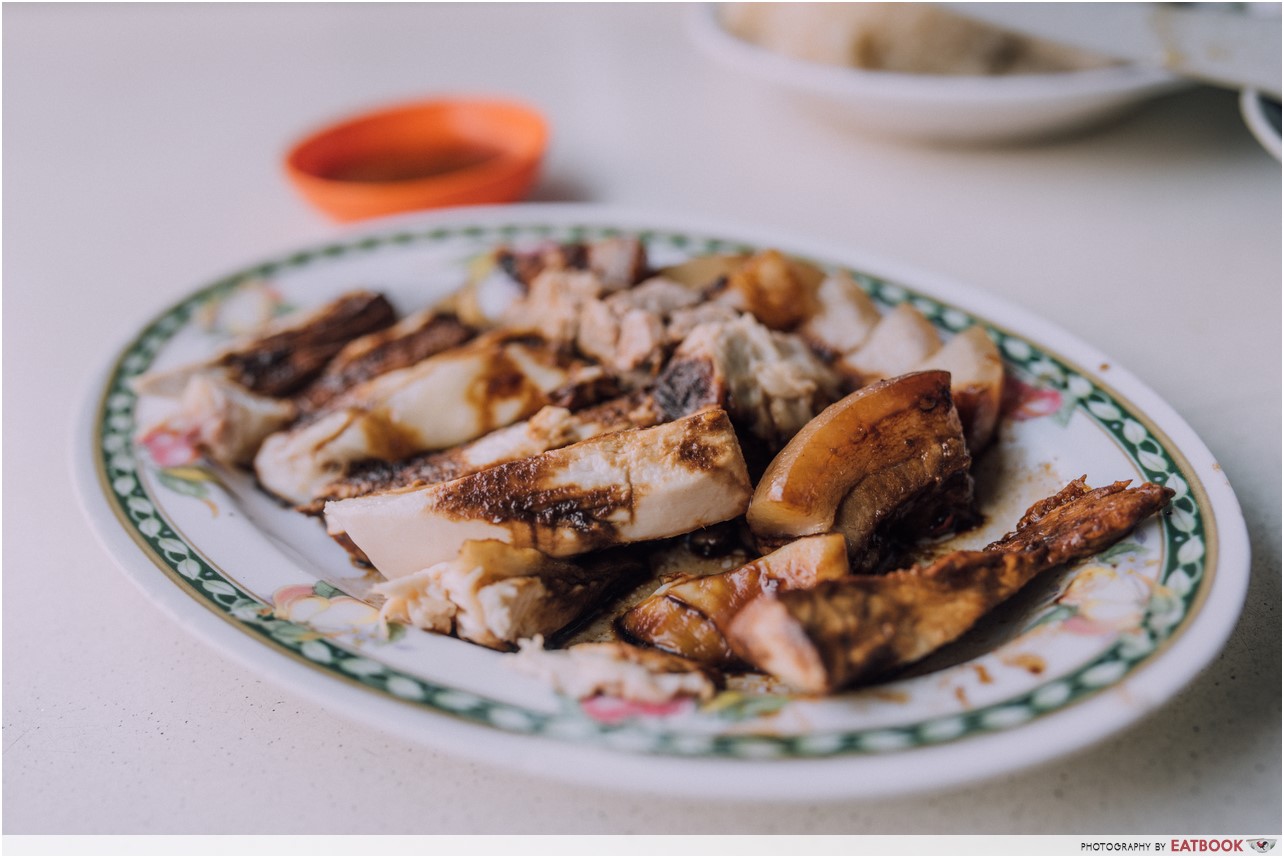 The portion of chicken was quite generous, considering that this meal costs just $5. Sadly, the meat was underwhelming. It took on only the taste of dark soy sauce, and bore nothing to impress.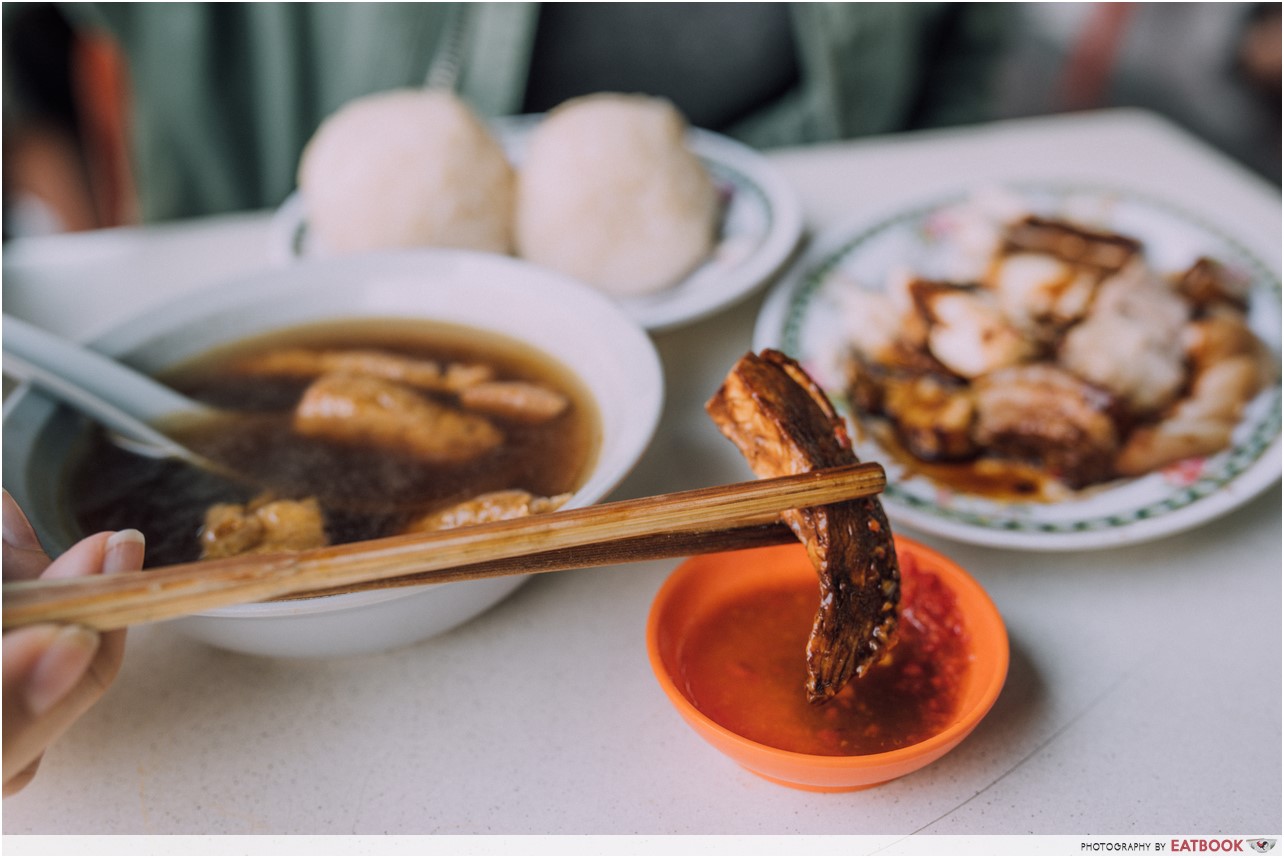 I'm not a big fan of spicy food and would usually leave the chilli at chicken rice stalls untouched. But I got desperate for more flavour here so I turned to their chilli, which is made with a variety of chilli peppers, ginger, lime and sesame oil. I thought it wouldn't pack much of a punch due to its watery texture and pale colour, and dunked the entire piece of chicken into the saucer – wrong move. The chilli first tingled my tongue with a sharp, biting sensation, and slowly revved up to a full-blown sting. I had to down several gulps of water to reduce the heat!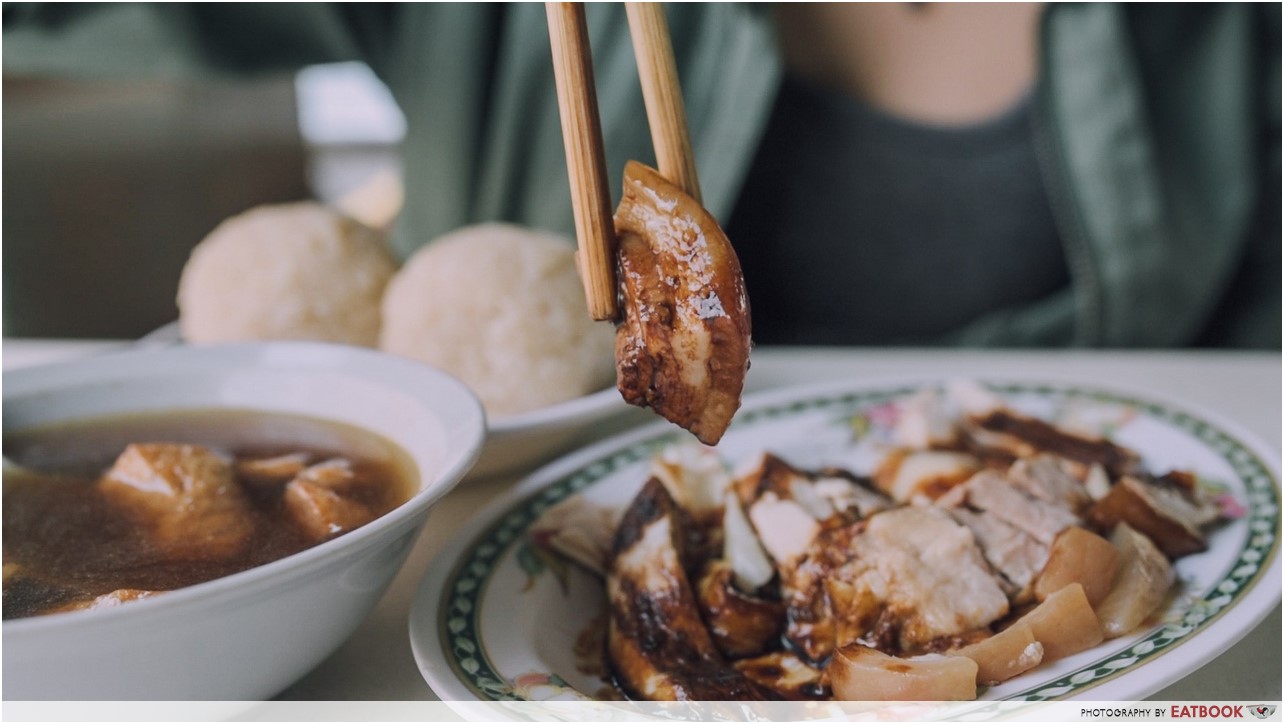 I found myself more attracted to their braised pork belly, which was simmered in chicken stock, soy sauce and herbs. The pork belly had a good proportion of fats to meat, and was so tender that minimal effort was needed to chew the meat – it melted in my mouth almost instantly. It was, however, leaning towards the saltier side. Eat it with rice to mask a bit of the saltiness and even out the flavours.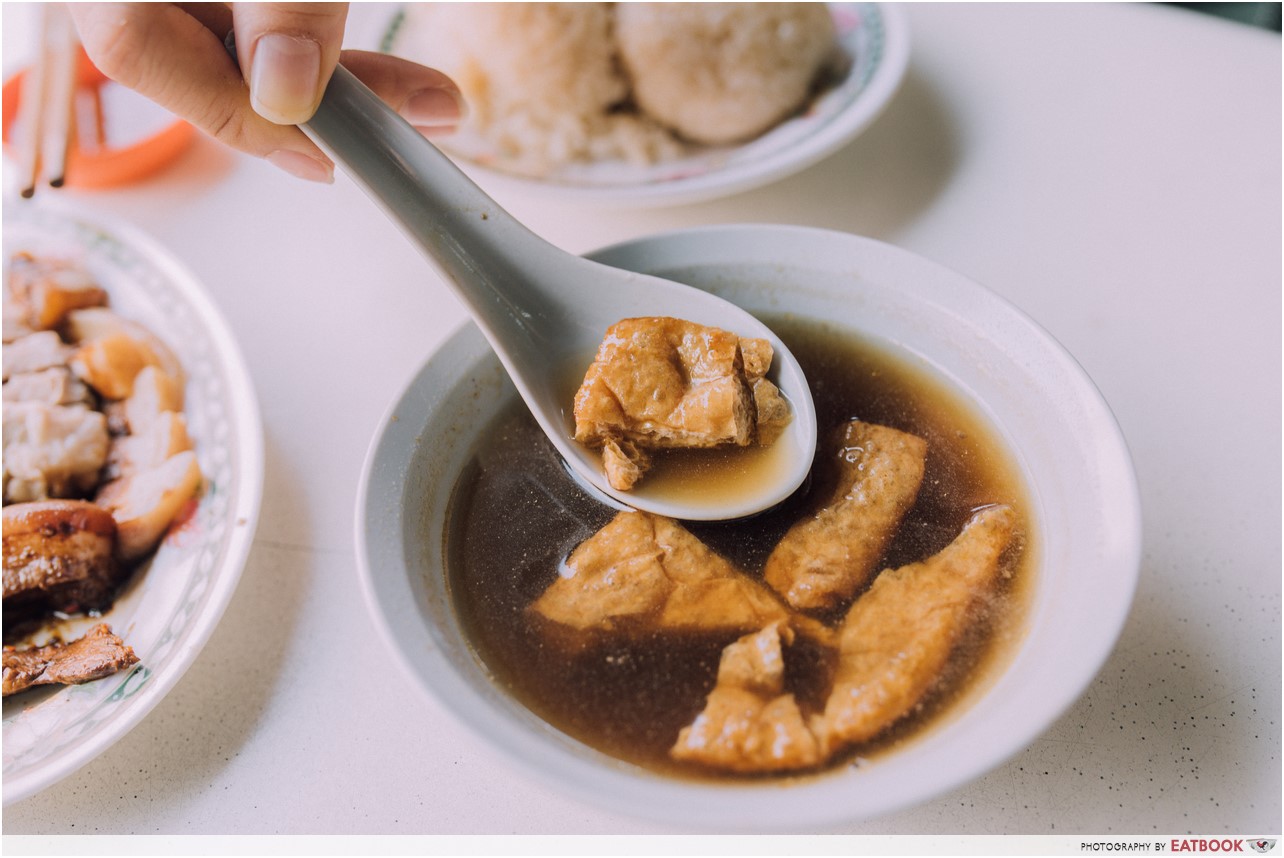 I was slightly taken aback when the stall owner scooped a ladle of dark soup into a bowl and placed it on my tray, as the soup I'm used to at chicken rice stalls is always clear and occasionally topped with chopped spring onions.
After having a spoonful of this soup, I immediately regretted not requesting for a bigger bowl. The soup was comforting and had a light peppery flavour, reminding me of my favourite herbal bak kut teh soup. The addition of tau pok was a nice touch, as each piece released a torrent of flavourful broth with every bite.
Pro-tip: Pour some soup over the chicken rice balls to soften and add more flavour to the rice.
Ambience at Hainan Chicken Rice Ball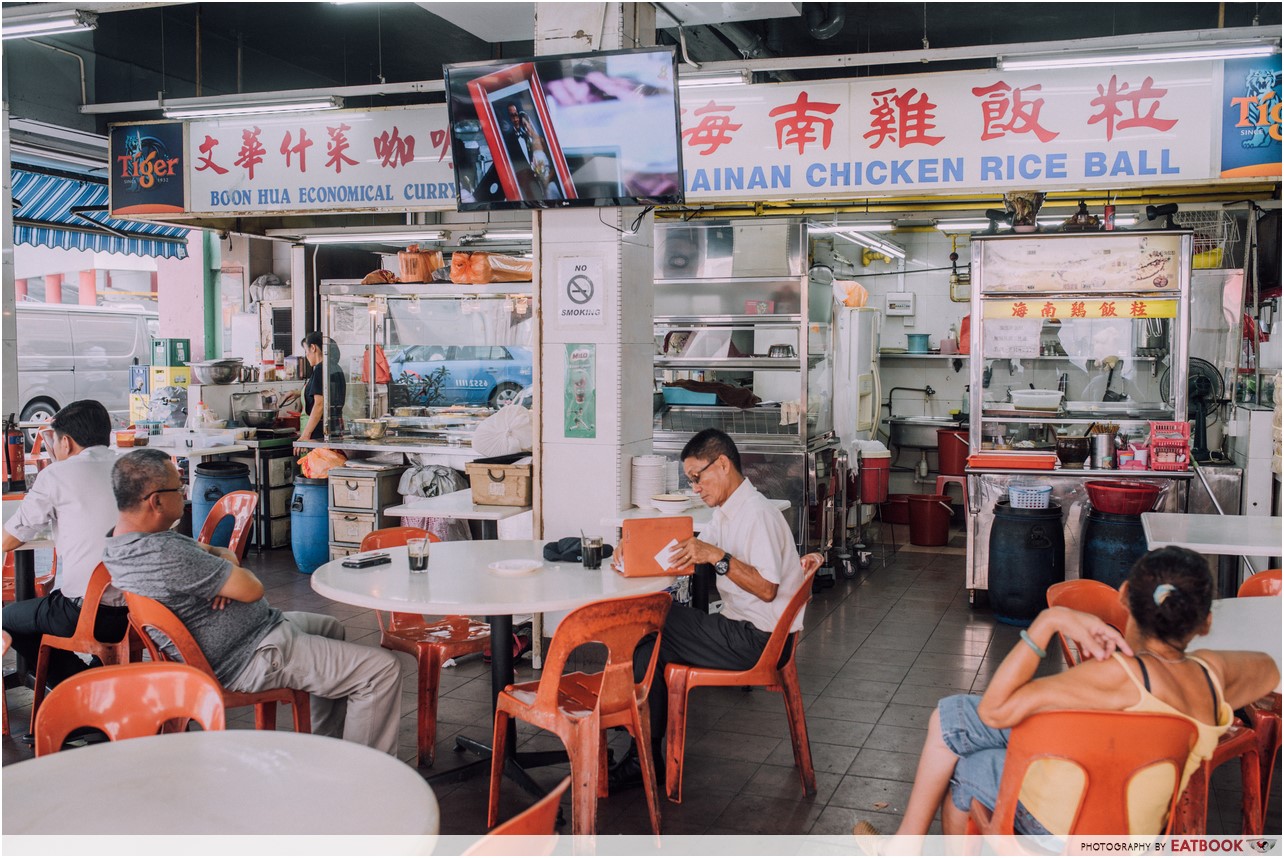 Hainan Chicken Rice Ball is located in Shin Boon Hwa Food Centre, which is tucked at a corner along Dickson Road, opposite Sim Lim Tower. We arrived in the late afternoon, and there was a surprising number of people lazing around, sipping on teh bing or kopi O. Ventilation is not the best here and it might get a little hot and stuffy, so I suggest ordering a cold drink to go with your meal.
The verdict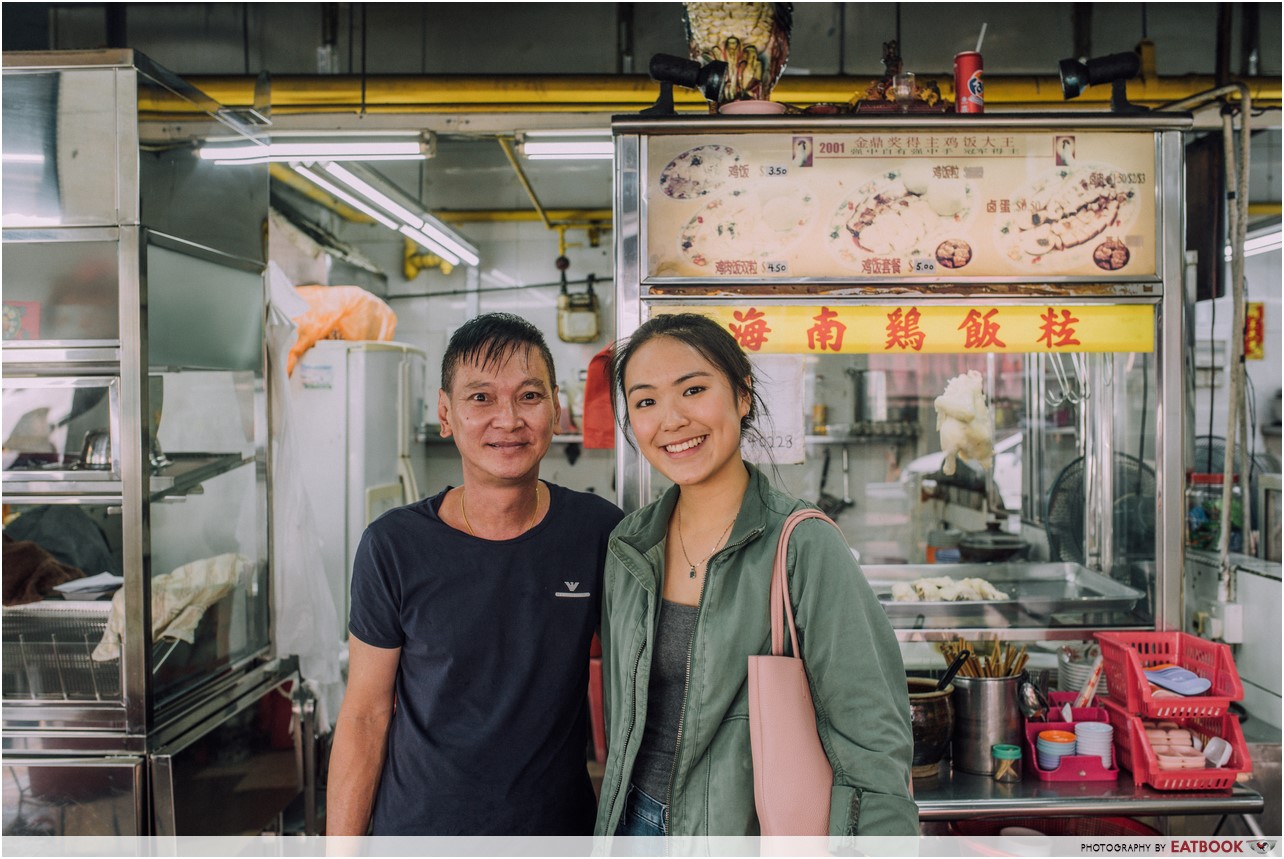 Although I've had better chicken rice, I would still revisit Hainan Chicken Rice Ball for traditional chicken rice balls, a dish that is slowly disappearing in our hawker scene. I will be sure to request for another bowl of tau pok soup the next time I am here!  
Address: 3 Dickson Road, Shin Boon Hwa Food Centre, Singapore 209530
Opening hours: Daily 8:30am to 9:30pm (closed on alternate Wednesdays)
Tel: 8314 0228
This is an independent review by Eatbook.sg.
Summary
Pros
– Affordable
– Serves chicken rice balls that are hard to find elsewhere
– Good service
Cons
– Inconvenient location
– Chicken was lacklustre
Recommended Dishes: Chicken Rice Set Meal ($5)
Operating Hours:
Daily 8:30am to 9:30pm (closed on alternate Wednesdays)
Tel:
8314 0228
Address: 3 Dickson Road, Shin Boon Hwa Food Centre, Singapore 209530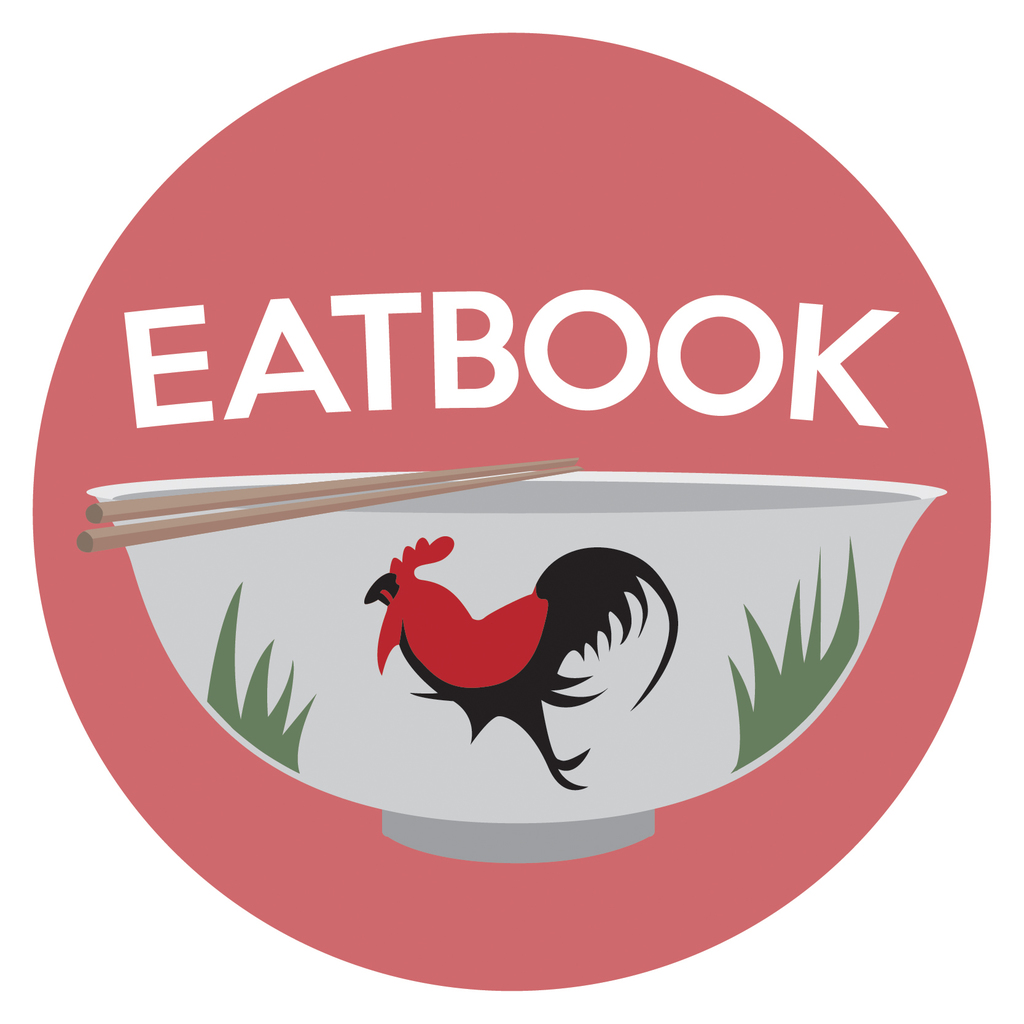 Drop us your email so you won't miss the latest news.