---
Chinese food spots for all occasions
---
Thanks to a variety of cooking methods and dishes that reminds me of home, Chinese cuisine is my personal favourite and it happens to be my parents' favourite too. Whether you're gathering the troops for a much-needed catch-up or planning a family dinner soon, check out these Chinese food spots with up to 40% off to have a feast while saving money. 
---
1. Duckland
---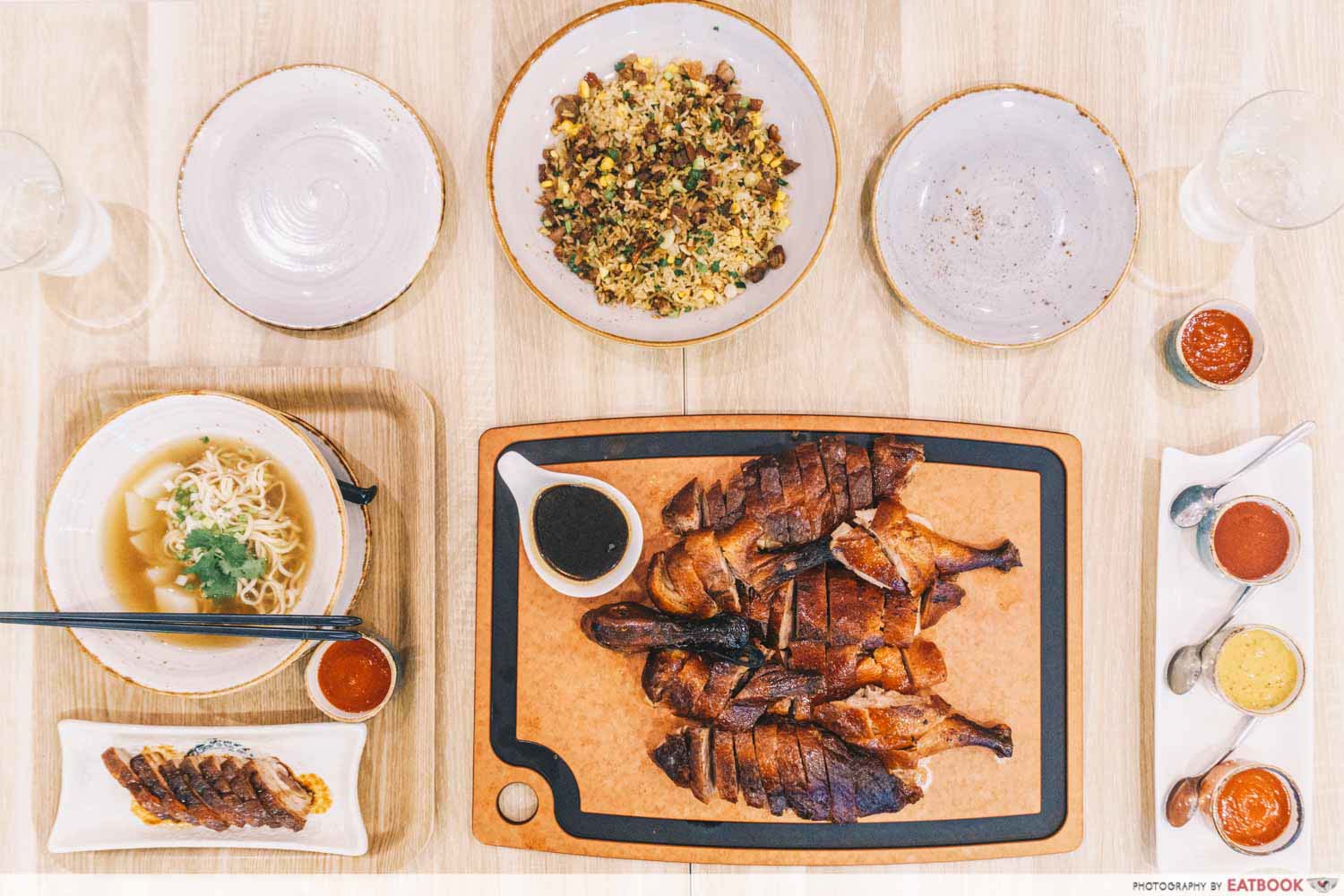 Roast duck doesn't have to be reserved only for fancy occasions. Duckland makes it inexpensive with dishes such as Roast Irish Half Duck ($30++) and Whole Duck ($54++), available at all of their outlets. Expect expertly roasted Silver Hill duck which impresses with its crispy skin, melt-in-the-mouth fat, and flavourful meat. The dishes also come with a trio of sauces, but I highly recommend savouring the true flavours of the duck by itself. 
Relish other options on the menu such as Duck Fried Rice ($12++) and Duck Fat Fries ($7++) using ChopeDeals' off-peak and all-day cash vouchers at Duckland. Get up to 43% off at off-peak hours when you purchase their $50 cash voucher at only $28.50, or $100 cash voucher at only $57.
Address: 10 Paya Lebar Road, #B2-33, Paya Lebar Quarter, Singapore 409057
Opening hours: Daily 11am to 10pm
Address: 101 Thomson Road, #B1-09 & 64/65, United Square Shopping Mall, Singapore 307591
Opening hours: Daily 11am to 10pm
---
2. Man Fu Yuan
---
Man Fu Yuan is easily a place I would revisit, as their immaculately plated dim sum and atas semi-private or private dining rooms make for a delightful experience. 
Notable dishes include their Charcoal Taro Duck Dumplings ($9++). Deep-fried to emulate the fluffy rear end of a black swan, the charcoal bun has a saucy centre with diced smoked duck, carrots and more. Forget about ending the meal on a sweet note and dive right in with their chewy Purple Sweet Potato Custard Ball ($16++ for six pieces) which explodes with a sweet and salty lava filling. 
Save up to 25% off by opting for their $50 cash voucher for just $37.50, or $100 cash voucher for $75!
Address: 80 Middle Road, Level 2, InterContinental Singapore, Singapore 188966
Opening hours: Tues-Fri 12pm to 3pm, 6pm to 10pm, Sat-Sun 11:30am to 3pm, 6pm to 10pm
---
3. Old Chengdu Sichuan Cuisine Restaurant
---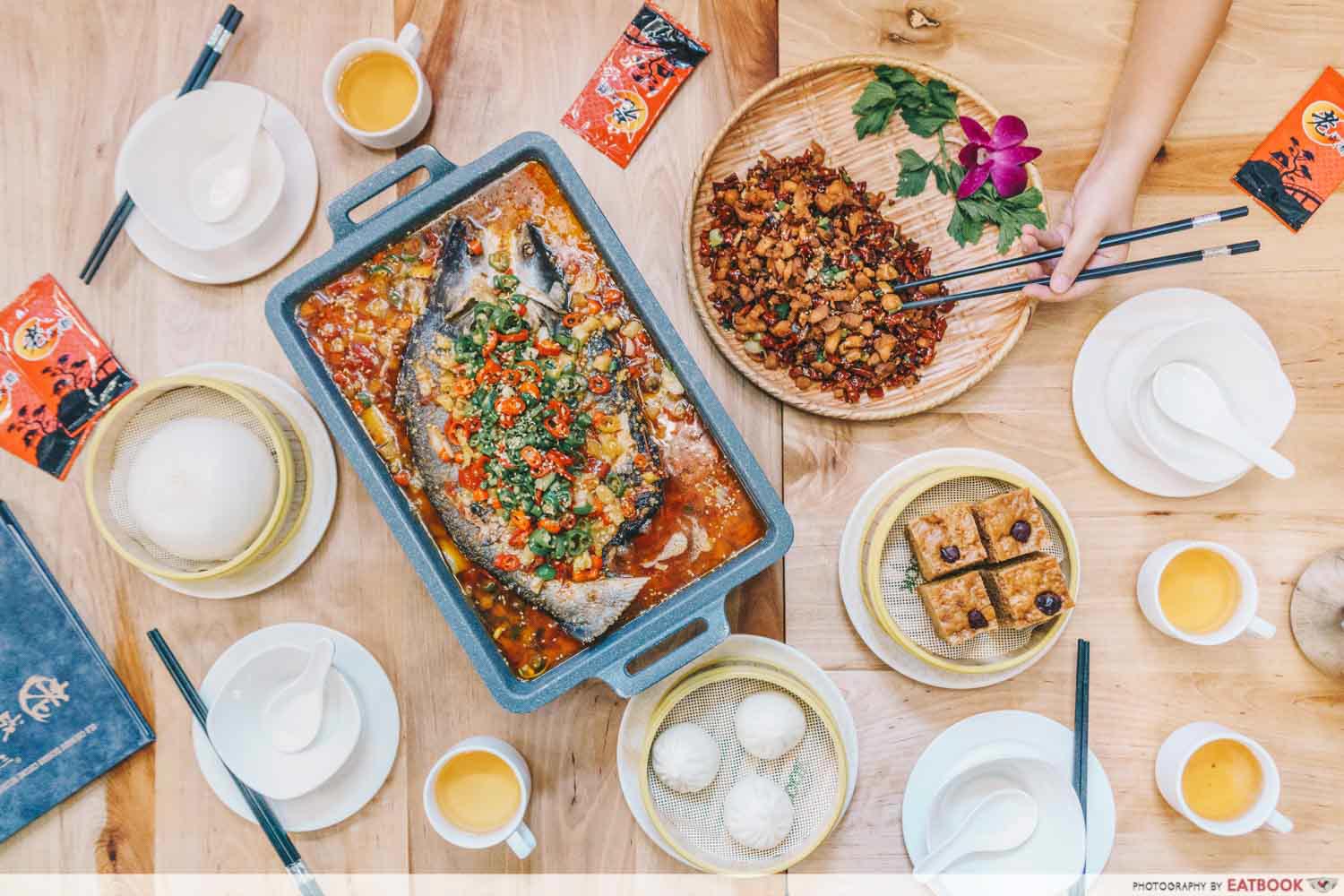 Cure any hints of lethargy by sweating it out with the deliciously spicy dishes at Old Chengdu Sichuan Cuisine Restaurant. Other than their 20% off ChopeDeals cash vouchers, which can be used on the entire menu, you can also opt for their Signature Grilled Fish Set at $36.25 nett. 
The set meal comes with your choice of fish—either Limbo Fish or Live Sea Bass—and two free signature dim sum items with prices under $5. Options are subject to availability and include handmade items such as Xiao Long Bao and Sichuan Sauteed Meat Buns. Spice lovers can order the Chilli Grilled Fish which is a blissful affair of red chilli, green chilli, and pickled green chilli for an added kick of tanginess. 
Address: 80 Pagoda Street, Singapore 059239
Opening hours: Mon, Wed, Fri 11:30am to 1:30am, Tues, Thur & Sat-Sun 11:30am to 12am
---
4. Dian Xiao Er
---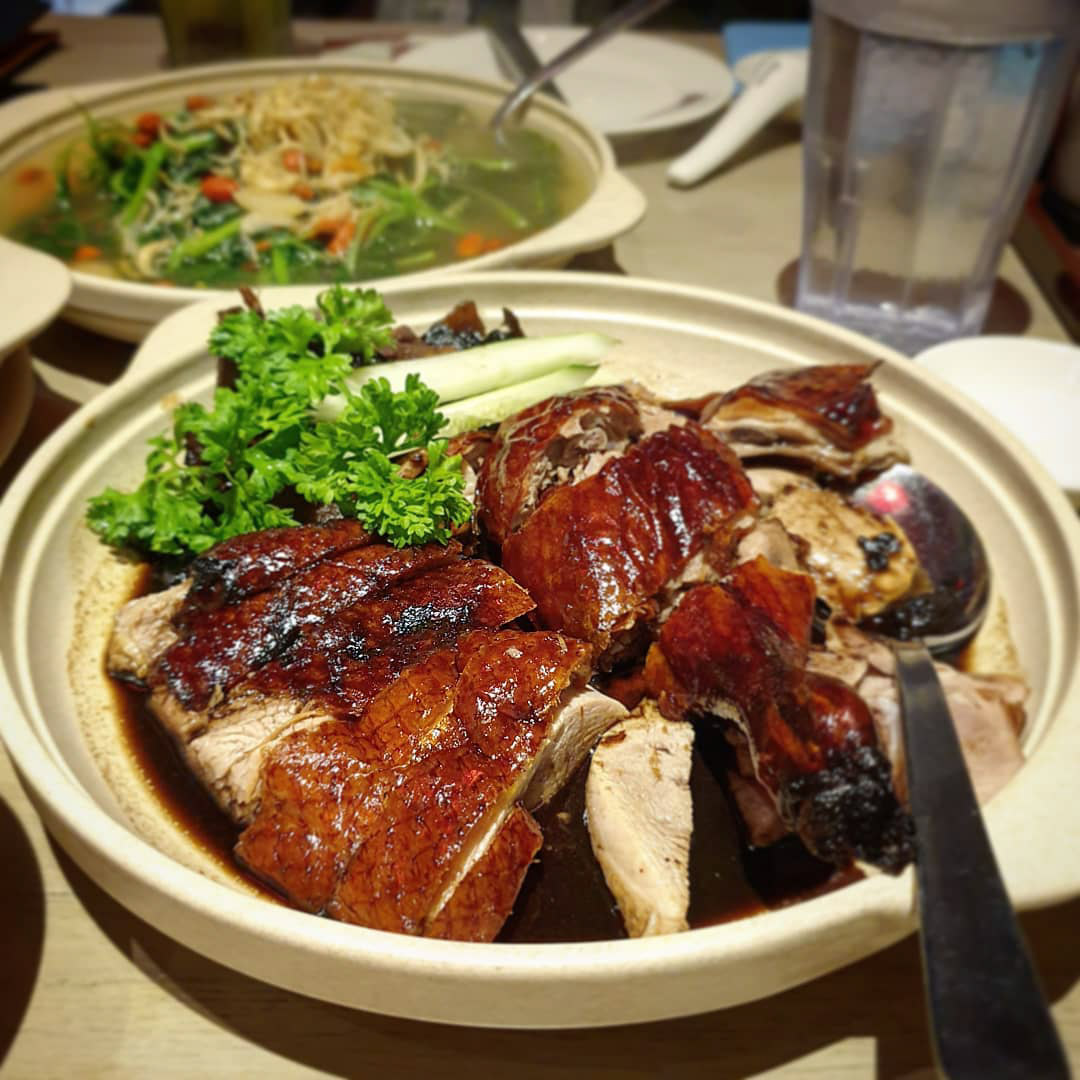 Image credit: @h_pei
With 13 outlets covering from the east to the west of Singapore, Dian Xiao Er is easily one of the places my family enjoys having a quick Sunday lunch or dinner at. Frequent Johor Bahru-goers will be familiar with their Herbal Roasted Duck (from $13.60++), which has sweet and herby flavours as potent as the one served at Restoran Ya Wang in JB. 
Other than their duck dishes, Dian Xiao Er also serves local Chinese dishes such as Marmite Superior Chicken Wing ($10.90++) and Fragrant Nestum Prawn ($19.60++). Arm yourselves with $50 or $100 cash vouchers from ChopeDeals at 10% off, in case you're hankering for some bonding over food with loved ones at any of their outlets. 
Address: 1 HarbourFront Walk, #02-138/9, VivoCity, Singapore 098585
Opening hours: Mon-Fri 11:30am to 4pm, 5pm to 9:30pm, Sat-Sun 11am to 9:30pm
---
5. Crystal Jade Jiang Nan (VivoCity)
---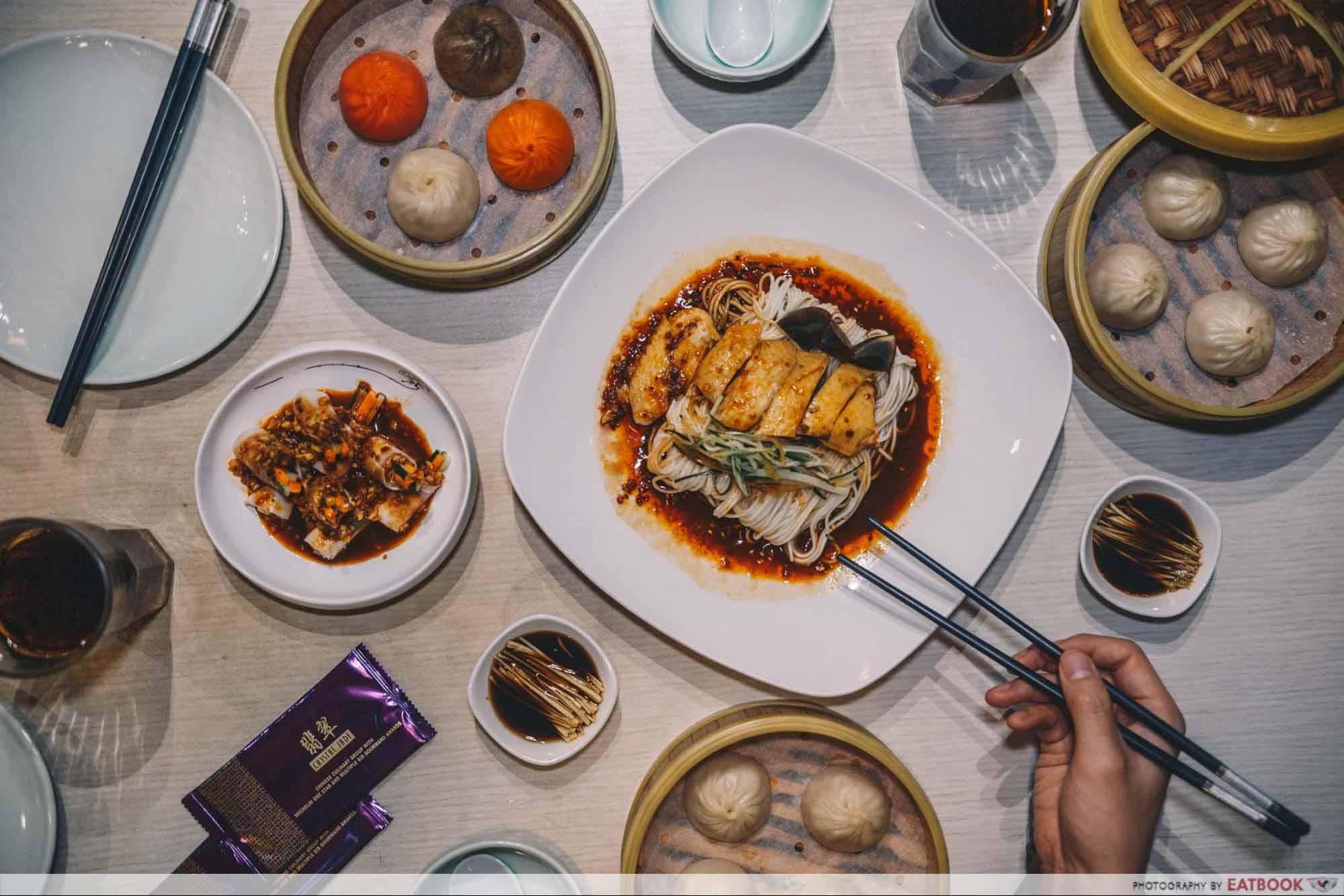 Another Chinese restaurant for those who walk on the spicier side is Crystal Jade Jiang Nan at VivoCity. Boasting a menu of dim sum, la mian, soups, and spicy dishes inspired by Sichuan and Jiangnan cuisines, the restaurant will have you spoiled for choice. 
Highlights include the La Mian with Chilled Poached Chicken in Szechuan Style ($12.80++), which features silky poached chicken and hand-pulled noodles drenched in a spicy light soya sauce, that'll leave you dripping in sweat and a numb tongue. 
No worries if you're the type to go all out on their Steamed Original Xiao Long Bao ($5.80++). ChopeDeals has all-day cash vouchers for the outlet, and you can snag a $50 cash voucher at $42.50 or a $100 cash voucher at $85.
Address: 1 HarbourFront Walk, #01-52, VivoCity, Singapore 098585
Opening hours: Mon-Thur 11:30am to 3pm, 6pm to 10:30pm, Fri-Sun 11am to 10:30pm
---
6. Swatow Garden (Serangoon Gardens Country Club)
---

Image credit: @_andmorefood
Dim sum runs can go two ways: a cheap elbow-to-elbow experience at an eatery, or a comfy one at a full-service restaurant. Swatow Garden at Serangoon Gardens Country Club belongs to the latter, serving tasty dim sum such as Teochew Steamed Pork Buns ($4++) and Teochew Five Treasures Crystal Dumplings ($6.80++), which are stuffed with sweet red bean, salty chye poh, shredded turnip, and crunchy chives. 
Offering one of the best discounts in this list of Chinese food spots, the restaurant has partnered with ChopeDeals to offer 30% off with their all-day cash vouchers. This means you will not only get a good deal, but also good food as well as a comfortable ambience to boot.
Address: 22 Kensington Park Road, Serangoon Gardens Country Club, Singapore 557271
Opening hours: Mon-Fri 11am to 3pm, 6pm to 11pm, Sat-Sun 9am to 3pm, 6pm to 11pm
---
7. Shang Social MRKT
---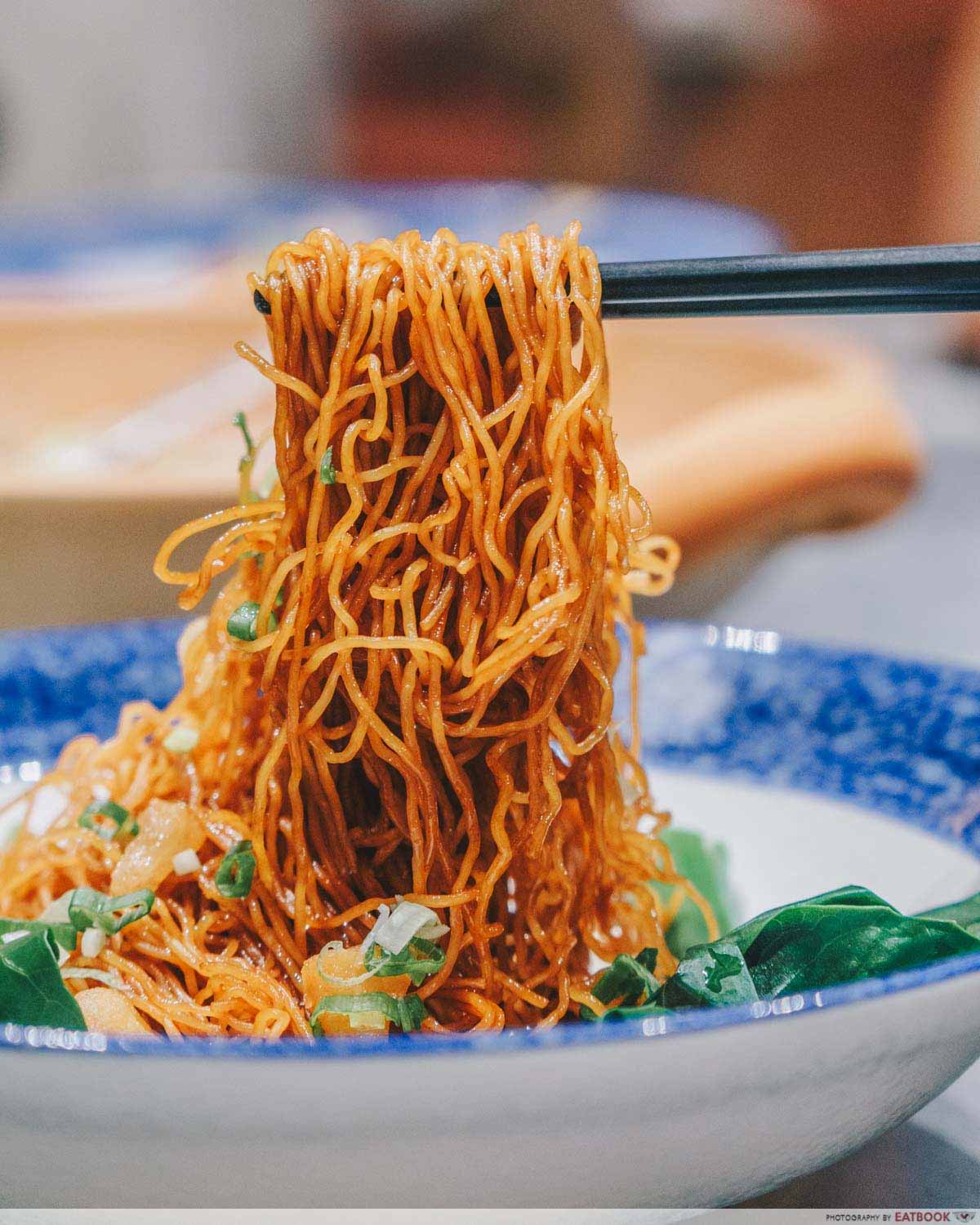 Shang Social MRKT features a more casual dining experience as compared to its counterparts—Shang Social DINING and Shang Social BAR—at this three-concept restaurant. Decked with a super aesthetic mix of brass fixtures, tiles, and plants, the interior at MRKT sets a laid-back ambience for its menu of noodles, congee, and roast meats.
Pay $24 for a $30 ChopeDeals cash voucher that can only be used during the off-peak hours here. Head down for their Bamboo Noodles with Dark Sauce & Lard ($6++), which comes with thin egg noodles generously coated with fragrant pork lard. Complete your meal with a serving of Signature Honey Pork Belly ($16++), juicy and tender morsels of pork belly that melt in your mouth. 
Address: 78 Airport Boulevard, #01-219/220/221/222, Jewel Changi Airport, Singapore 819666
Opening hours: Daily 10am to 10pm
---
8. Eventasty 一碗田 Noodle Bar
---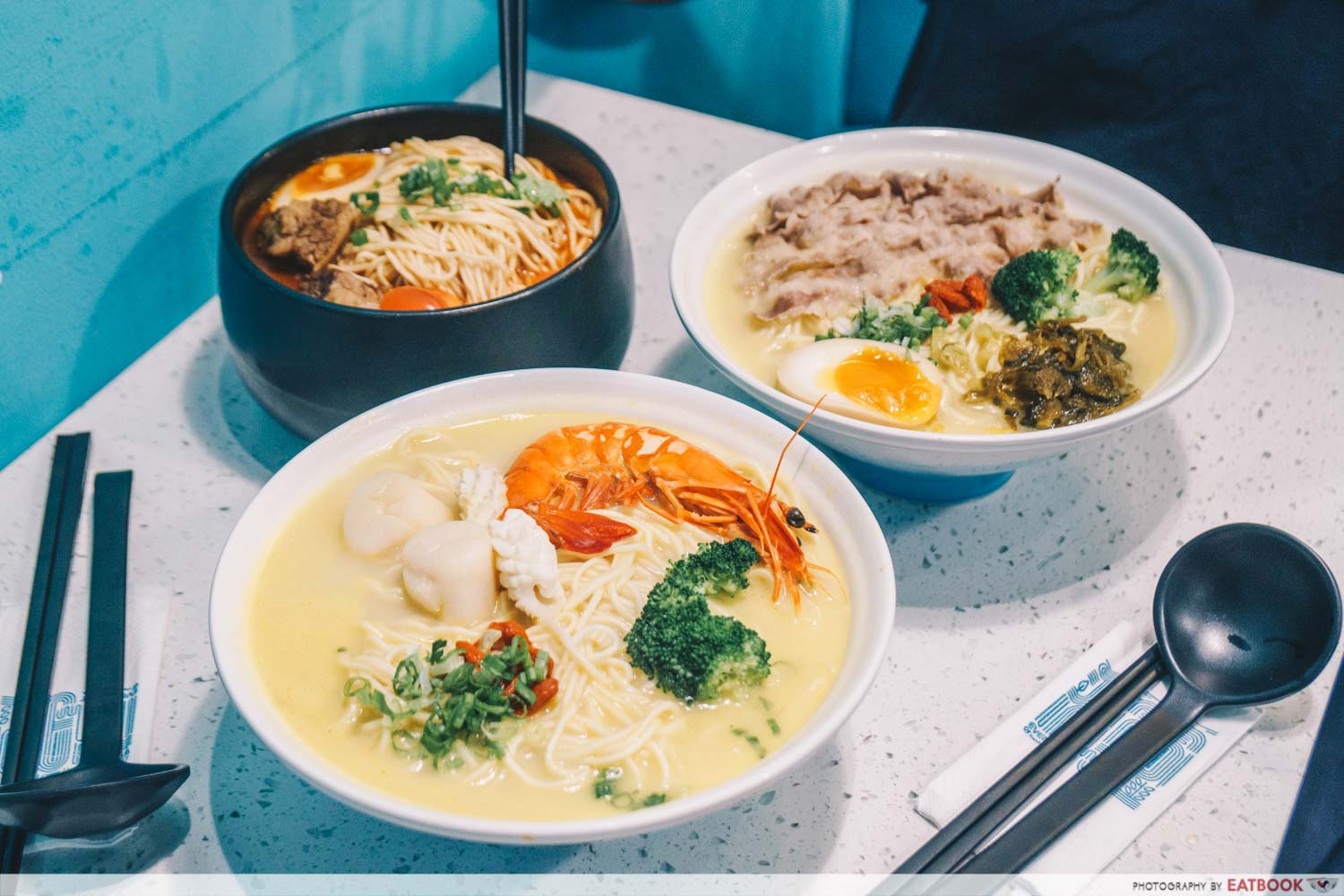 No problemo, if you're just looking for a quick meal-time refueling. Specialising in house-made la mian, Eventasty at Funan Mall makes things fun with the theatrics of hand-pulled noodles thanks to its open-kitchen concept. 
Enjoy their freshly made noodles with a friend using ChopeDeals' 1-for-1 noodle promo at only $17.50 nett. The Vinaigrette Ebiko Prawn Paste Noodle ($13.90+) delivers a combination of sweet and tangy flavours with its tomato-based soup, while those looking for more robust flavours can opt for the Marinated Wagyu Beef Noodle ($13.90+) with beef bone soup instead.
Address: 109 North Bridge Road, #01-13, Funan Mall, Singapore 179097
Opening hours: Daily 11:30am to 9:30pm
---
9. Founder Bak Kut Teh
---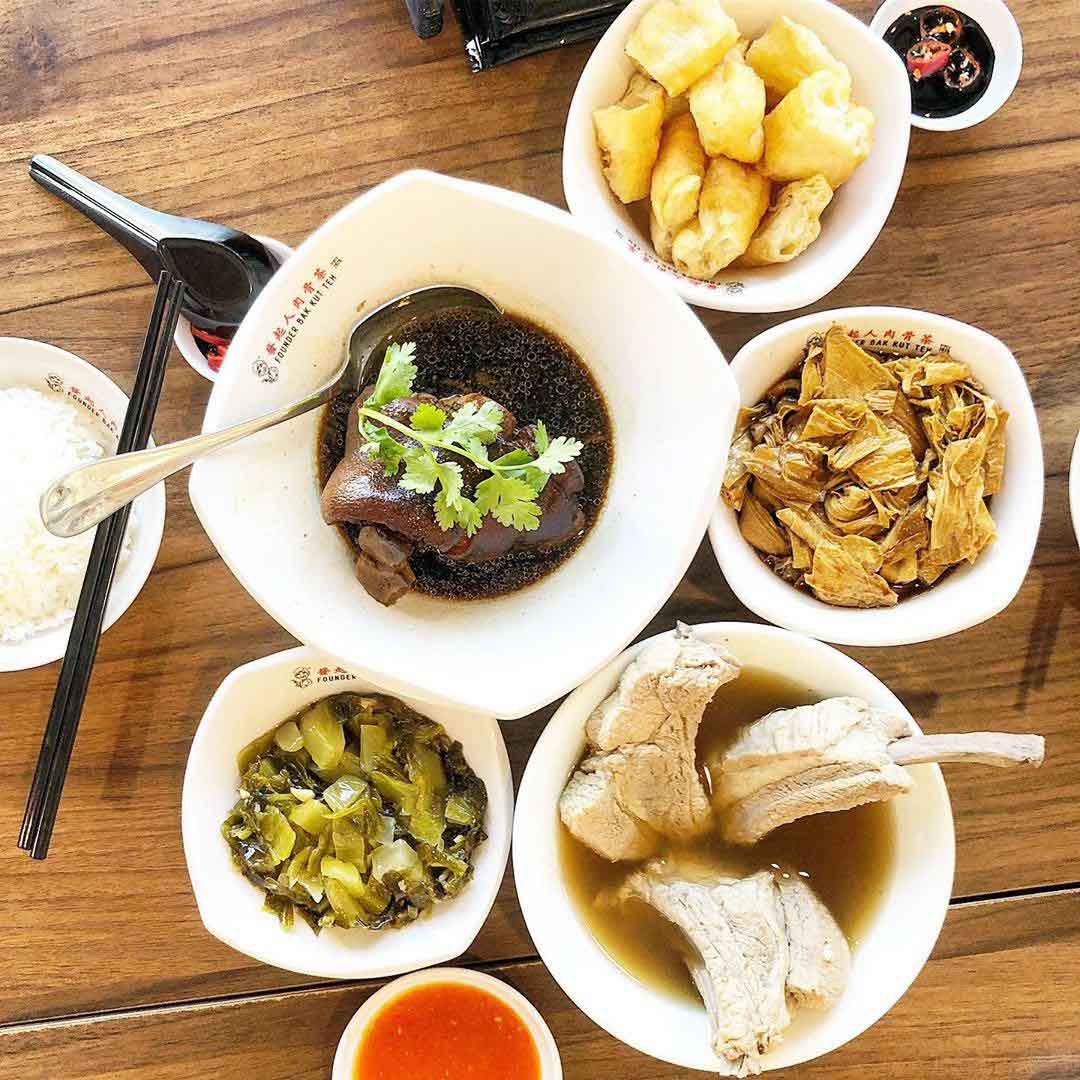 Image credit: @rararooku
Whenever hunger calls in the wee hours of the night, Founder Bak Kut Teh is usually one of my top choices. With the outlet closest to Lavender MRT Station opening till 5am, you don't have to worry about it being closed by the time the entire gang makes their way down. 
Make use of ChopeDeals' offers that give you up to $30 worth of savings for their Set Menu for 2 ($29.90) or Set Meal for 4 ($59.90) bundles. It's hard to go wrong with the fall-off-the-bone ribs and peppery broth combo, but make the drive down worthwhile by ordering a side of youtiao as well!
Address: 500 Jalan Sultan, #01-09, Singapore 199020
Opening hours: Daily 9am to 5am
---
10. Lao Huo Tang
---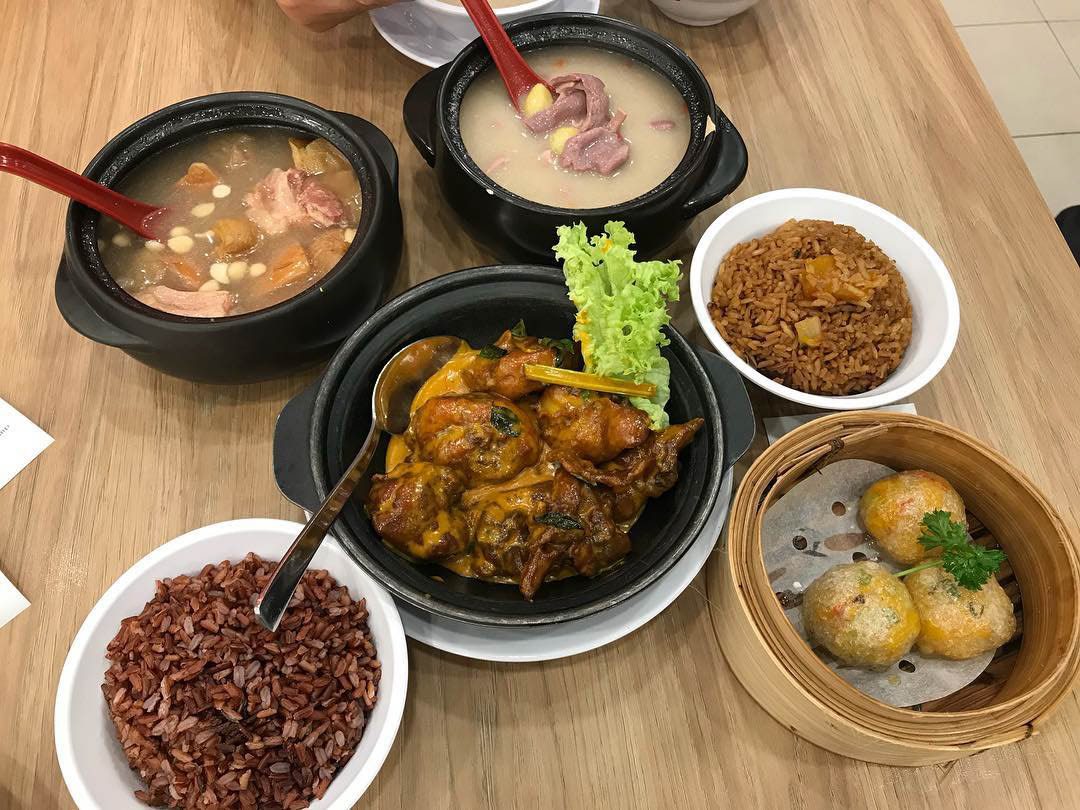 Image credit: @nancy7072
Lao Huo Tang started off with serving Cantonese soups and sides at hawker centres, but later pulled down their shutters to open a string of restaurants instead. Now offering soups, dim sum, and zi char dishes, the restaurant is the place to be for family dinners. Fan-favourites include the Pork Rib With Apple & Snow Pear Soup ($9.80++) which is chock-full of tender meat, as well as the Crispy Cereal Prawns ($17.80++).
Dining in their restaurant instead of the hawker centre doesn't have to be pricey. ChopeDeals offers both $50 and $100 cash vouchers at $45 and $90 respectively, at all 10 of Lao Huo Tang's outlets. 
Address: 6 Raffles Boulevard, #02-202, Marina Square, Singapore 039594
Opening hours: Daily 11am to 9pm
---
Indulge at these Chinese food spots with ChopeDeals
---
Eating out with a large group can often be a difficult task, especially if you happen to always be the one who's tasked to pick a restaurant. With this round up of insider Chinese food spots in Singapore, pre-empt any hiccups by further arming yourselves with cost-saving ChopeDeals vouchers beforehand.
Simply make a purchase of the cash or discount vouchers on the Chope app or website, and present it to the restaurant staff both before ordering and when footing the bill. 
This post is brought to you by ChopeDeals.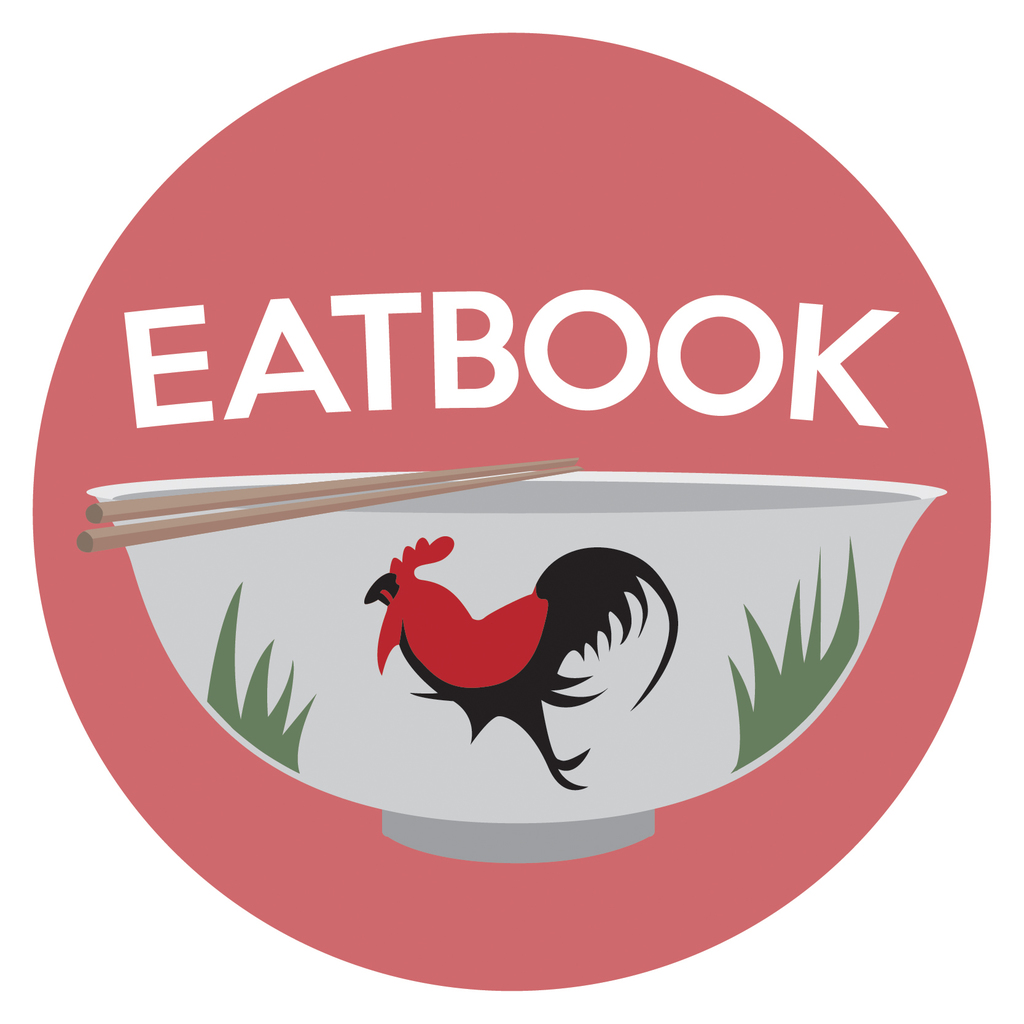 Drop us your email so you won't miss the latest news.