---
Johor Bahru hawker food to stretch that ringgit
---
When you're looking for a convenient destination without a language barrier or huge price tag, there's no better option than Johor Bahru aka JB. "Food" isn't a word that's taken lightly in this neighbouring city in Malaysia. Aside from the restaurants at Johor Bahru KSL City and the row of cafes at Jalan Trus, there are plenty of hawker stalls worth trying in JB. Here are some Johor Bahru hawker food stalls to feast on should you be crossing the causeway soon.
---
1. Bukit Changar Roti Canai
---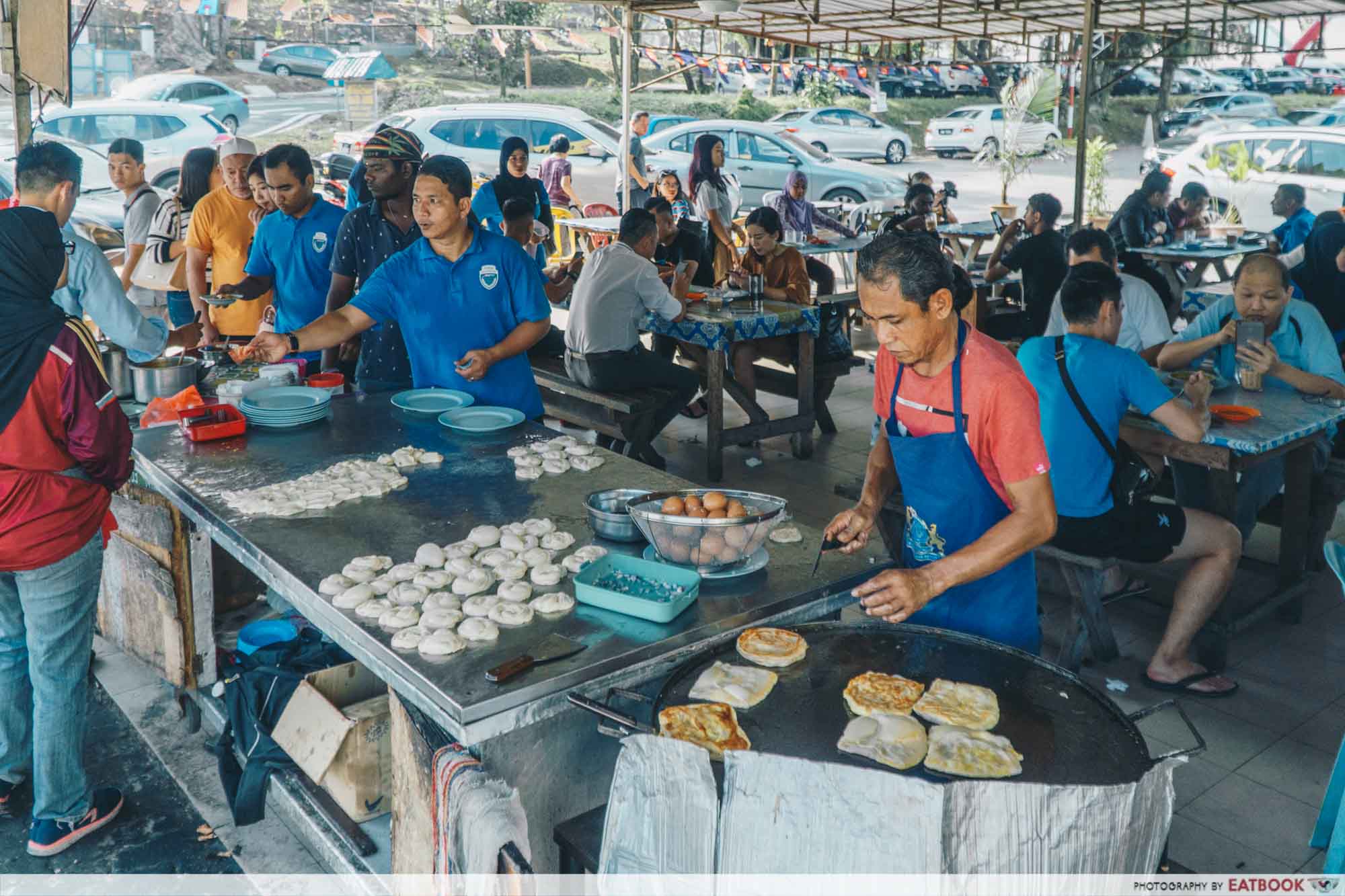 Bukit Changar Roti Canai can be the first pitstop of your JB trip as it is just an eight-minute stroll from the customs. Keep your sharp elbows up! Just like the situation at the customs, some jostling is needed at this perpetually crowded prata joint.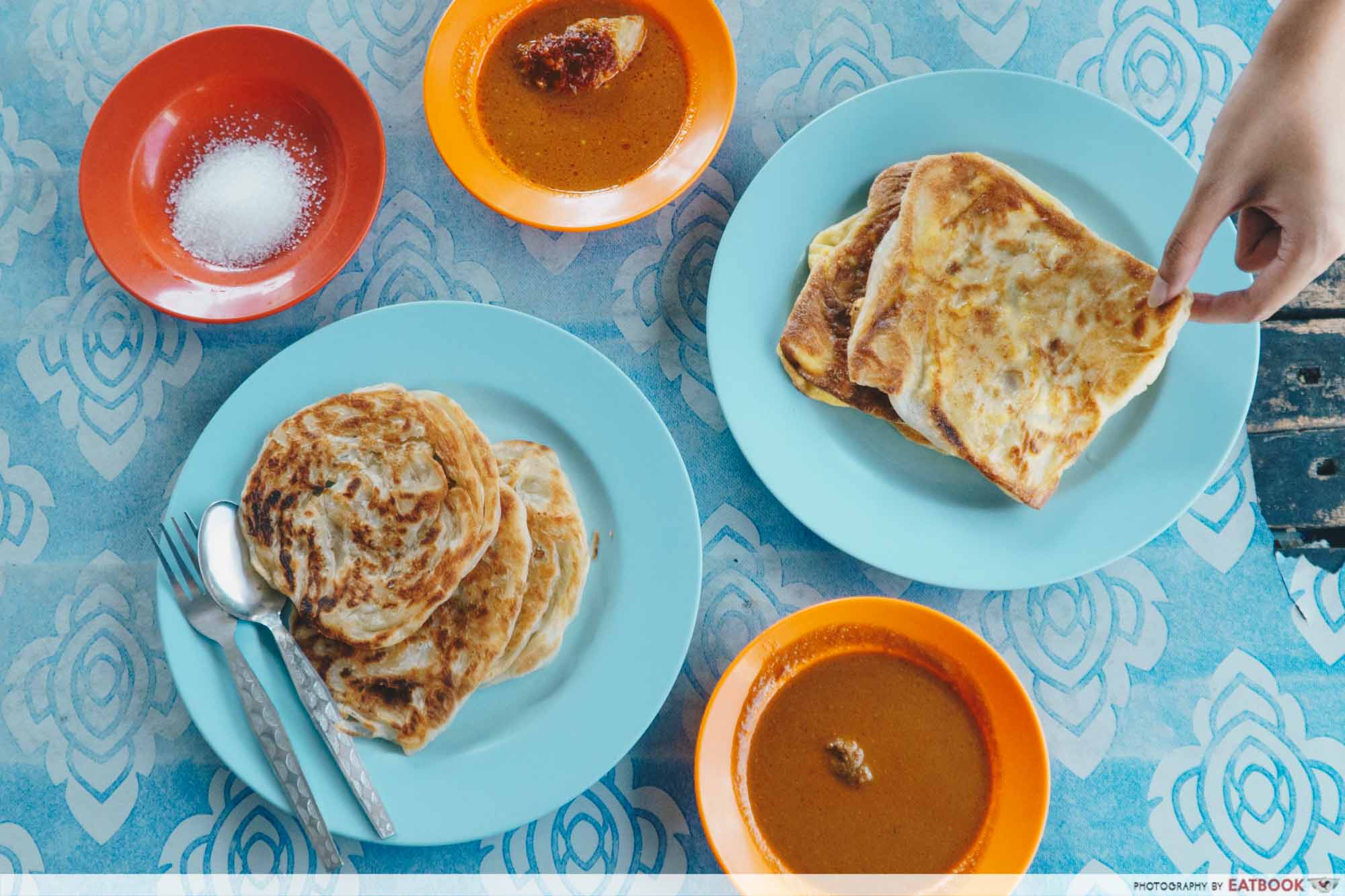 You will get to see the "open-concept" kitchen hum with activity like a well-oiled machine. Watch in anticipation as the soft white dough transforms into a beautiful golden brown as it hits the heated pan. Each prata kosong—or better known in Malaysia as roti canai—is only RM1/~S$0.33! For a more hearty breakfast, order their egg roti canai (RM2/~S$0.66) instead. 
Address: 394 Jalan Tengku Azizah, Bukit Chagar, 80300 Johor Bahru, Johor, Malaysia
Opening hours: Daily 6:45am to 11am
---
2. Todak Seafood Restoran
---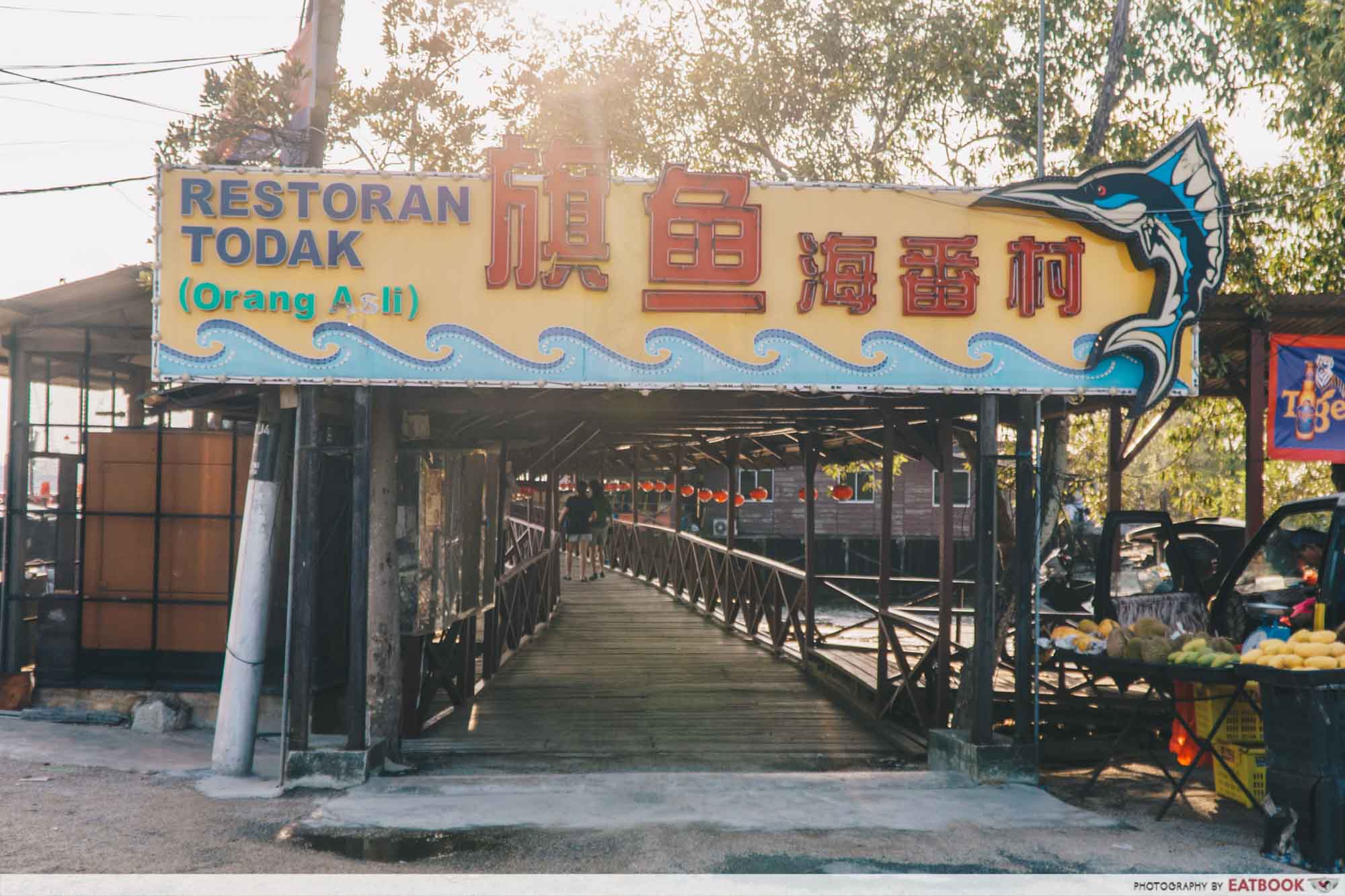 No JB holiday is complete without having seafood at a kelong restaurant with a view. Here at Todak Seafood Restoran, you will not be greeted with a fixed menu. Instead, take your pick of seafood from their tanks of fresh catches, and order your dishes according to the cooking style of your choice.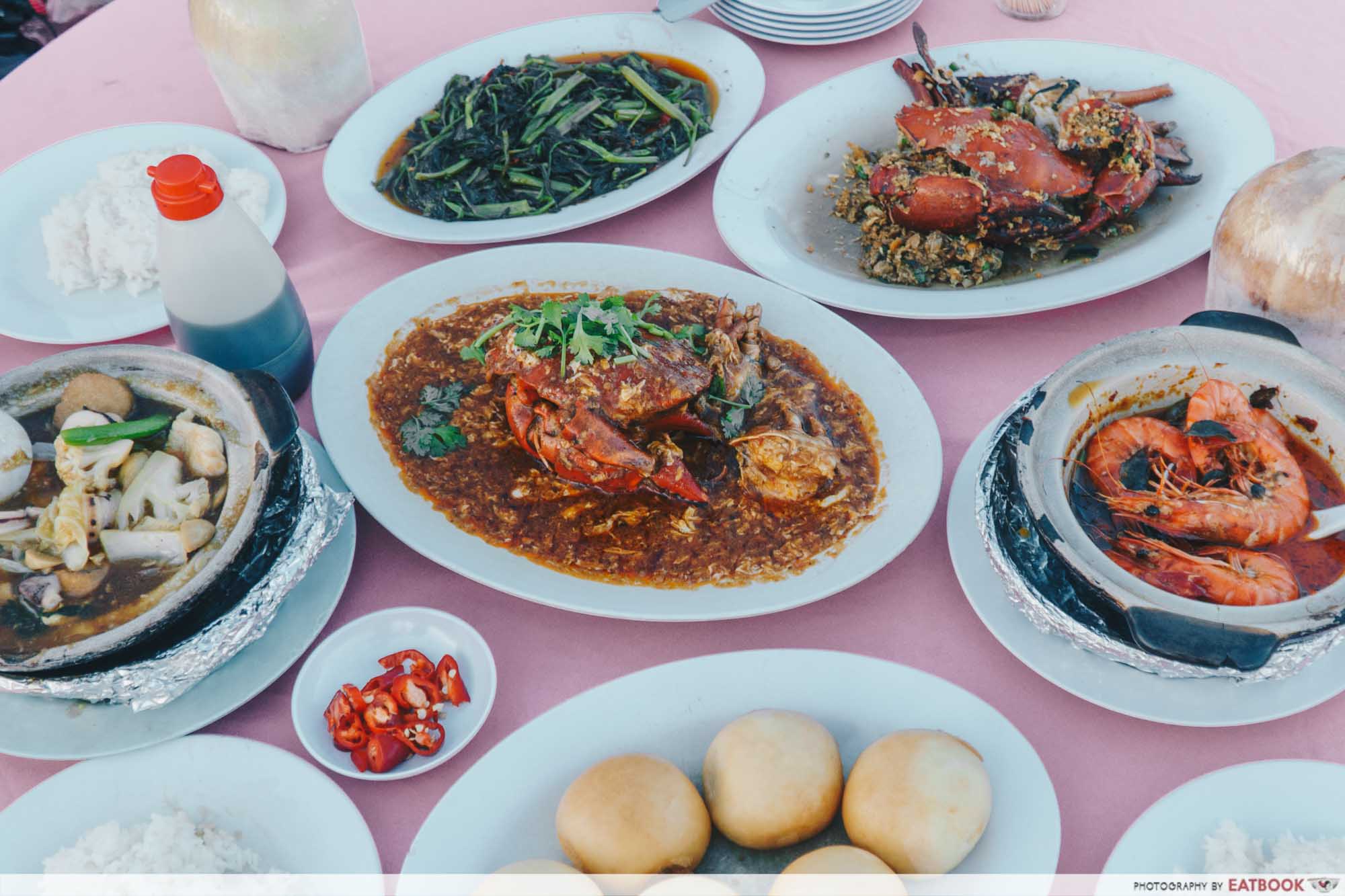 Four of us ate our fill with just S$50! The prices of the seafood might be seasonal, but we paid RM9/~S$2.98 per 100g for the crabs, and RM10/~S$3.31 per 100g for the tiger prawns. Other than the usual suspects such as chilli crab, another must-order is the Indonesian Prawn. Served in a claypot, the sweet prawns are drowned in a spicy yet creamy broth that's luscious with the flavour of coconut milk. 
If you're looking for more options, check out this list of Johor Bahru seafood restaurants!
Address: 1 Kampung Orang Asli, Kampung Teluk Jawa, 81750 Masai, Johor, Malaysia
Opening hours: Daily 11:30am to 11:30pm
Tel: +60 7-386 3696
---
3. Fa Ge Lok Lok
---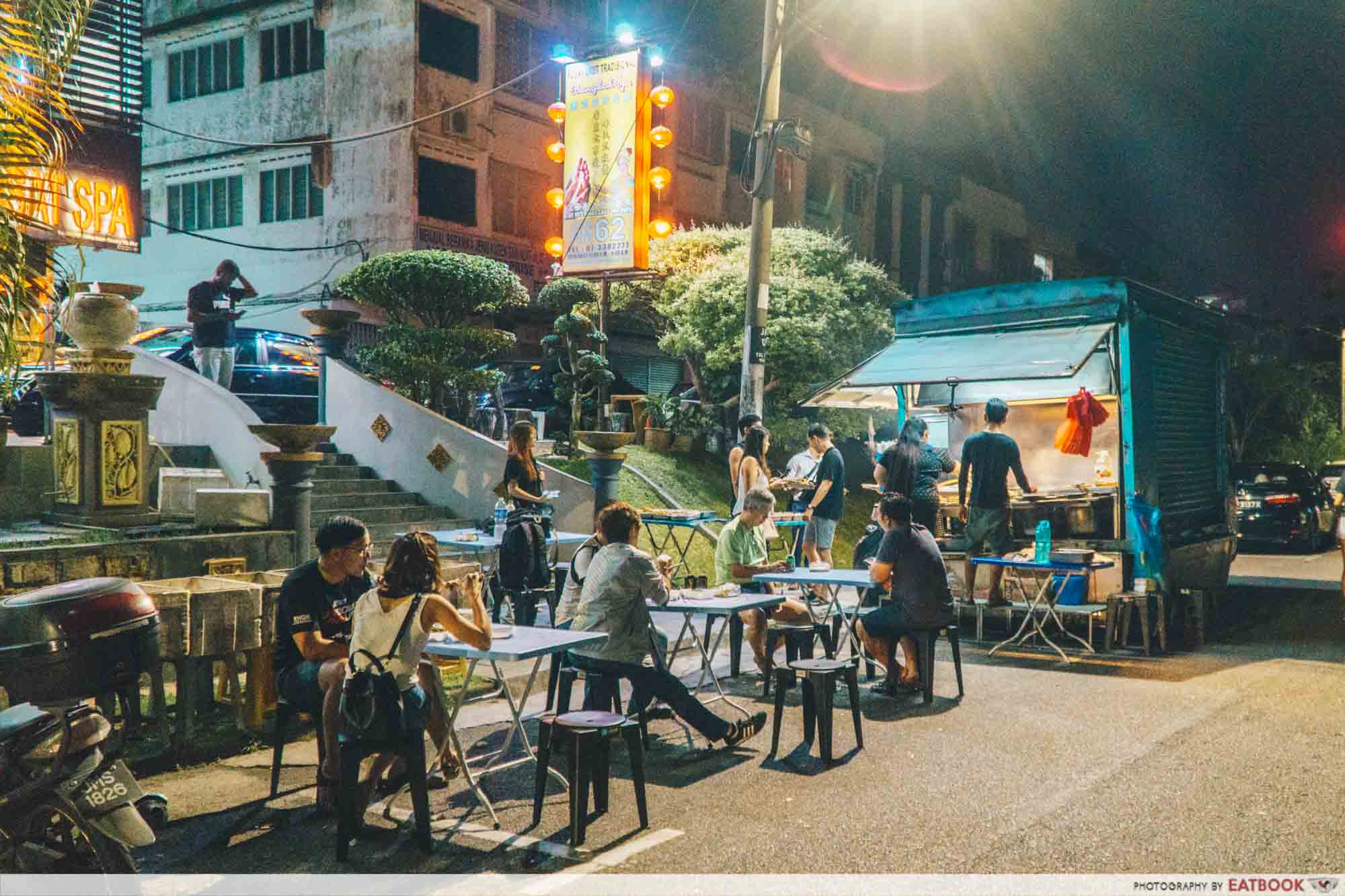 Lok lok is synonymous with late-night supper haunts in JB. Open daily from 6pm to the wee hours of 4am, Fa Ge Lok Lok is the place to go for these tasty skewers. Other than its humourous name, what we love about this food truck is its extensive array of skewers priced between RM1.50/~S$0.50 and RM4.50/~S$1.50.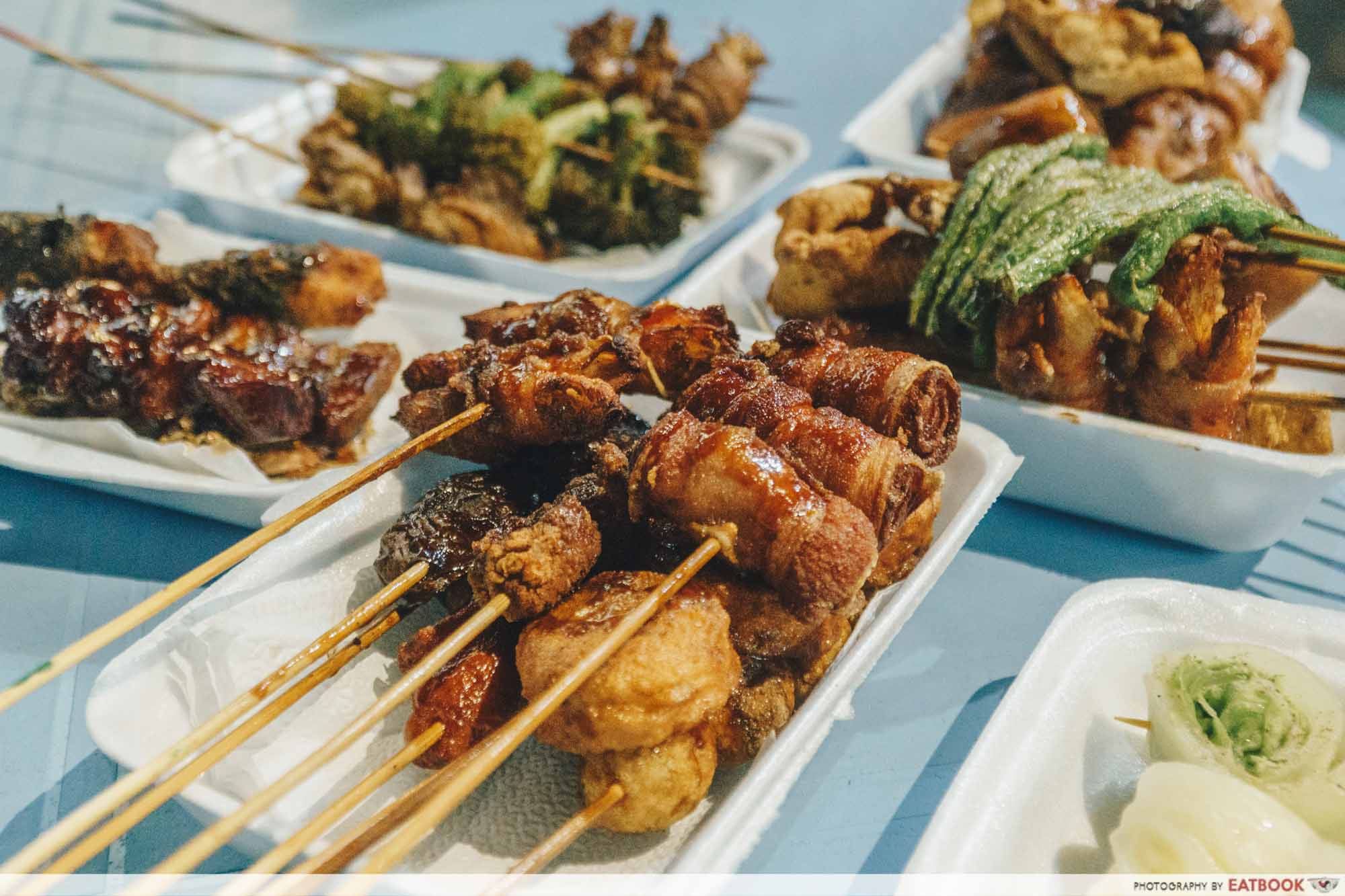 Follow these steps if you haven't had lok lok before: 
Pick from over 50 kinds of skewers including bacon rolls, wontons, and mantou.

Separate the skewers according to how you want it—deep-fried, grilled, or boiled. 

Take a styrofoam box and fill it up with your choice of peanut sauce, Thai chilli sauce, sweet sauce, or garlic ginger chilli sauce. 

Enjoy!
Address: 74 Jalan Abiad, Taman Pelangi, 80400 Johor Bahru, Johor, Malaysia
Opening hours: Daily 6pm to 4am
Tel: +60 7-335 2020
---
4. Restoran Ya Wang
---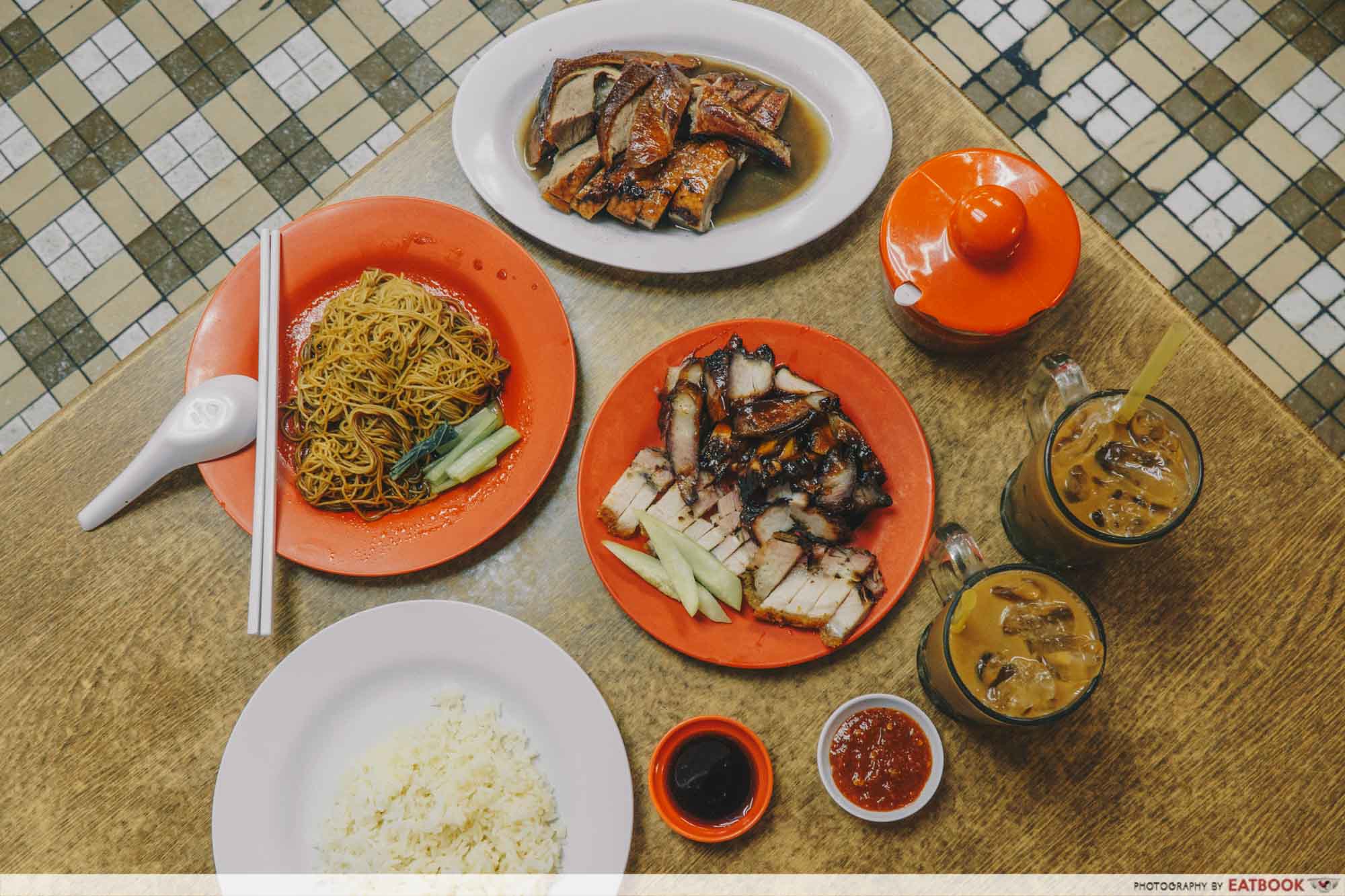 Restoran Ya Wang is so well-known amongst JB troopers that there almost wasn't a need for me to include it in this list. The restaurant is known as the official consultant behind Dian Xiao Er's Ten Wonder Herbs Roast Duck, so ordering their Herbal Roast Duck (RM22/~S$7.28) should already be a no brainer.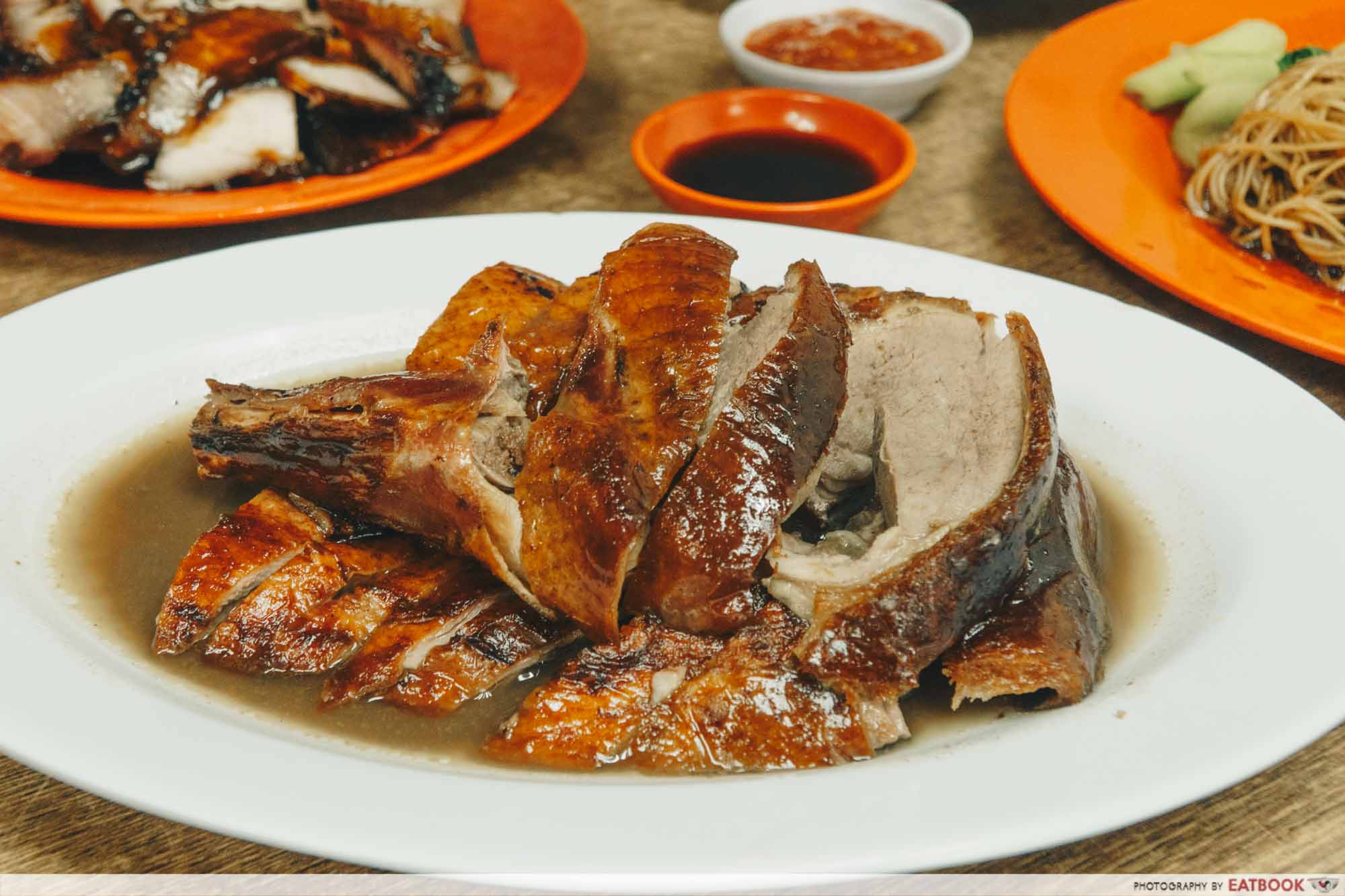 The robustly flavoured herbal sauce was so rich that I felt I could be nursed back to health with a single sip. Every bite is a delicious sequence of crisp fat-lined skin, followed by a burst of duck juices from the tender meat.
Address: 28 Jalan Segget, 80000 Johor Bahru, Johor, Malaysia
Opening hours: Thurs-Tue 8am to 6pm
Tel:+60 7-224 8624
---
5. Warung Saga
---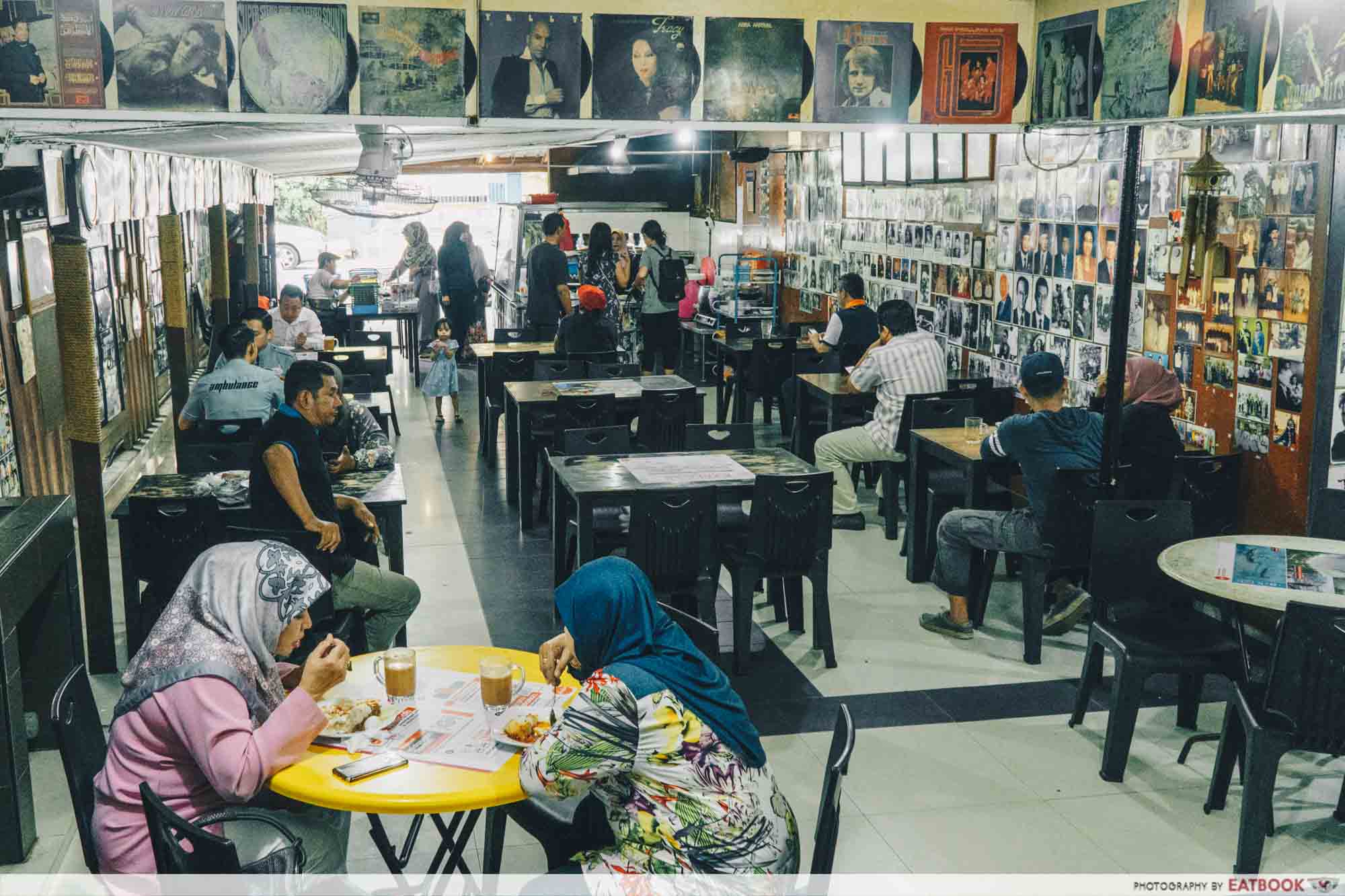 If you're looking for a hearty meal, Warung Saga is one eatery you must visit. Operating since 1986, the eatery might be hidden in plain sight, but its food and ambience make it stand out from its neighbours.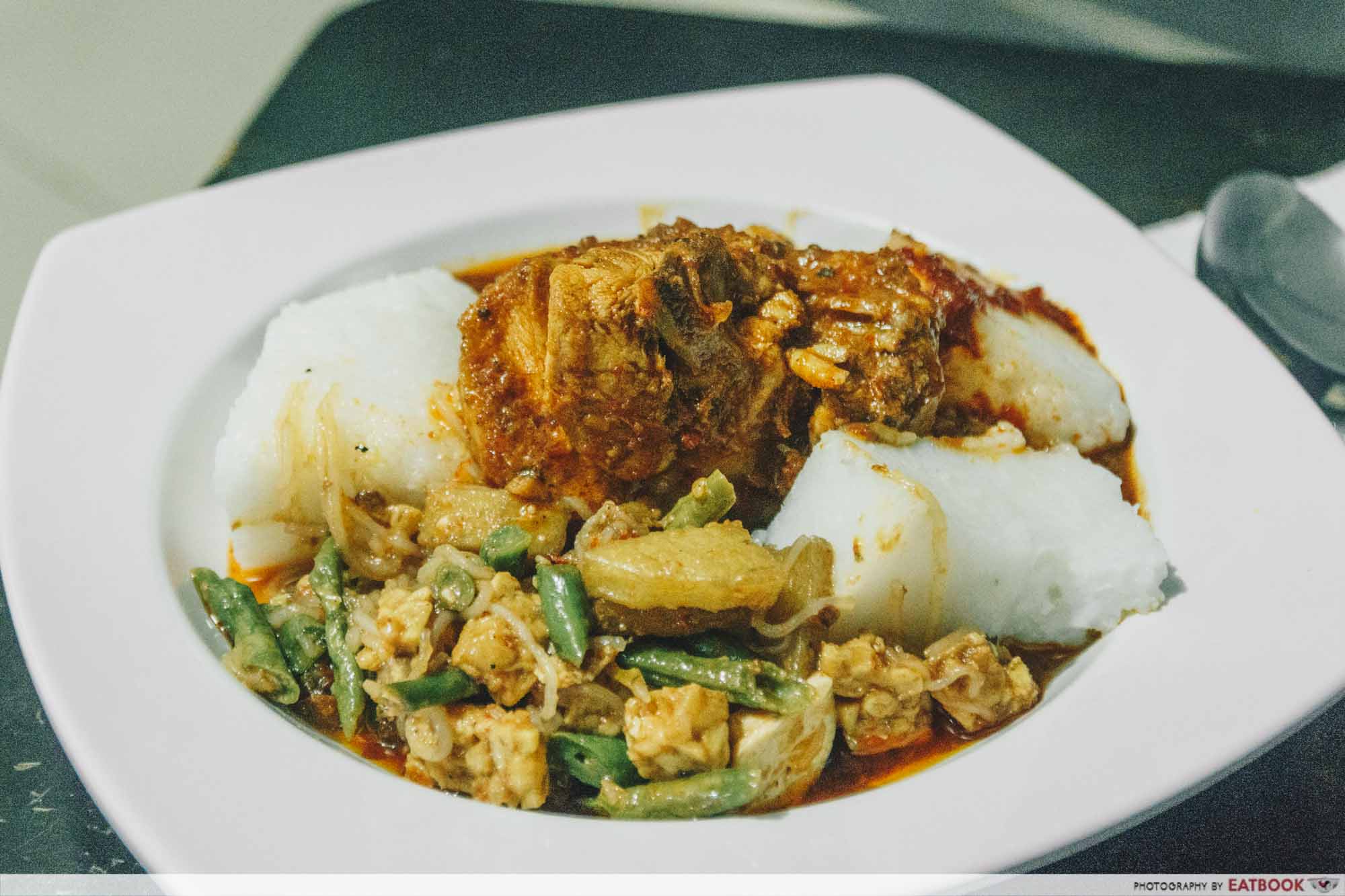 Besides classic Malay dishes such as Nasi Lemak (RM3/~S$0.99), Warung Saga also serves an interesting version of dry lontong that is unique to JB. Coined as Lontong Kering (RM5/~S$1.65), the dish features ketupat rice dunked in a fragrant peanut sambal sauce, topped with stir-fried vegetables, tempeh, and a huge chunk of chicken. According to hearsay, this breakfast staple sells out by 11am, so make sure to head down first thing in the morning.
Address: 5 Jalan Mahamoodiah, 80100 Johor Bahru, Johor, Malaysia
Opening hours: Sat 8am to 12pm, 6pm to 8pm, Sun-Thurs 8am to 4pm, 6pm to 8pm
Tel: +60 12-782 9427
Website
---
6. Salahuddin Bakery
---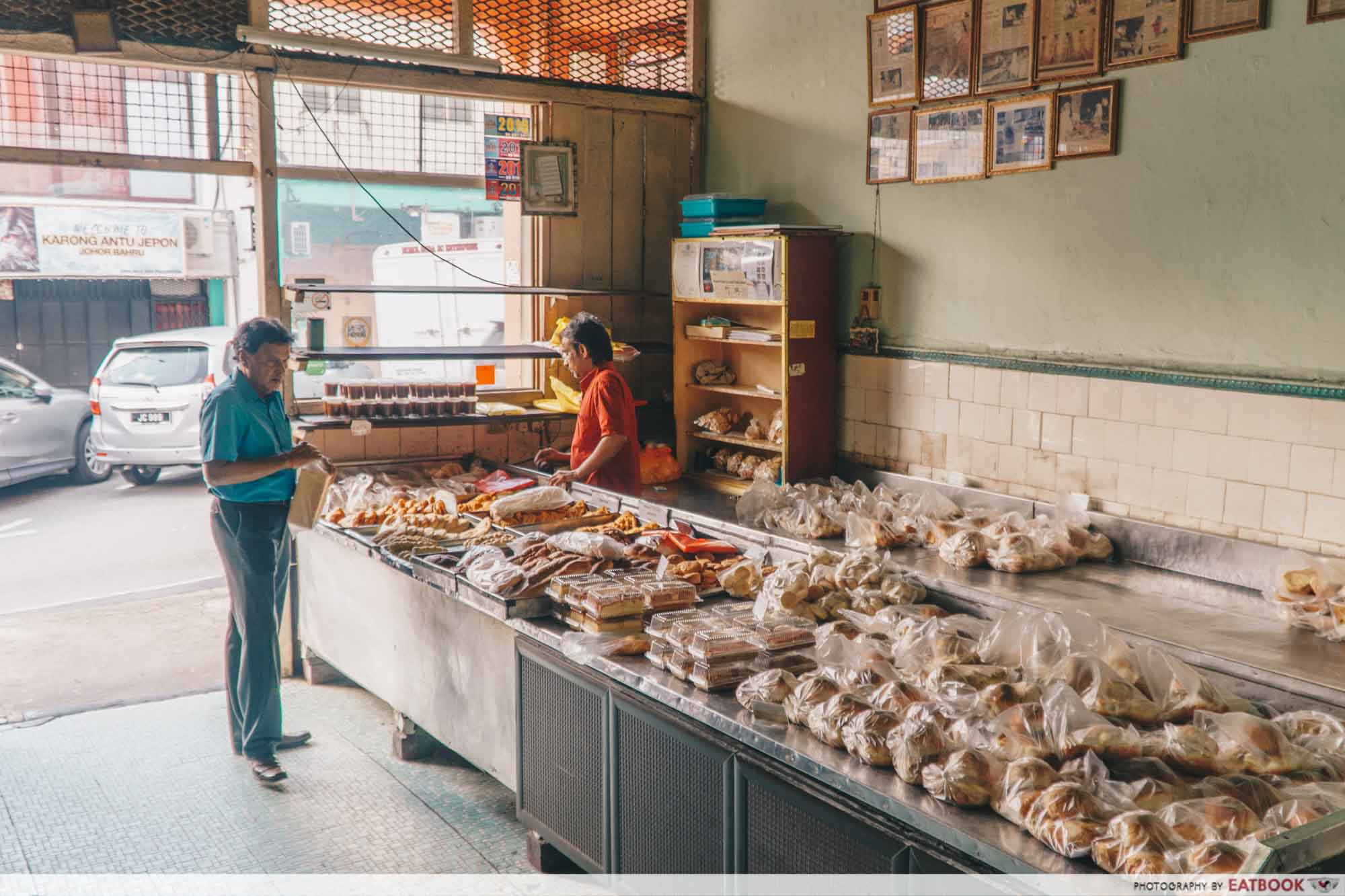 Salahuddin Bakery remains one of the few places persevering to make their food the traditional way. Opened since 1937, they still use a wood-fired baking oven to bake everything from bread to even cakes. Just an eight-minute walk from Johor Bahru City Square, the bakery makes for a great pitstop to buy some goodies back home.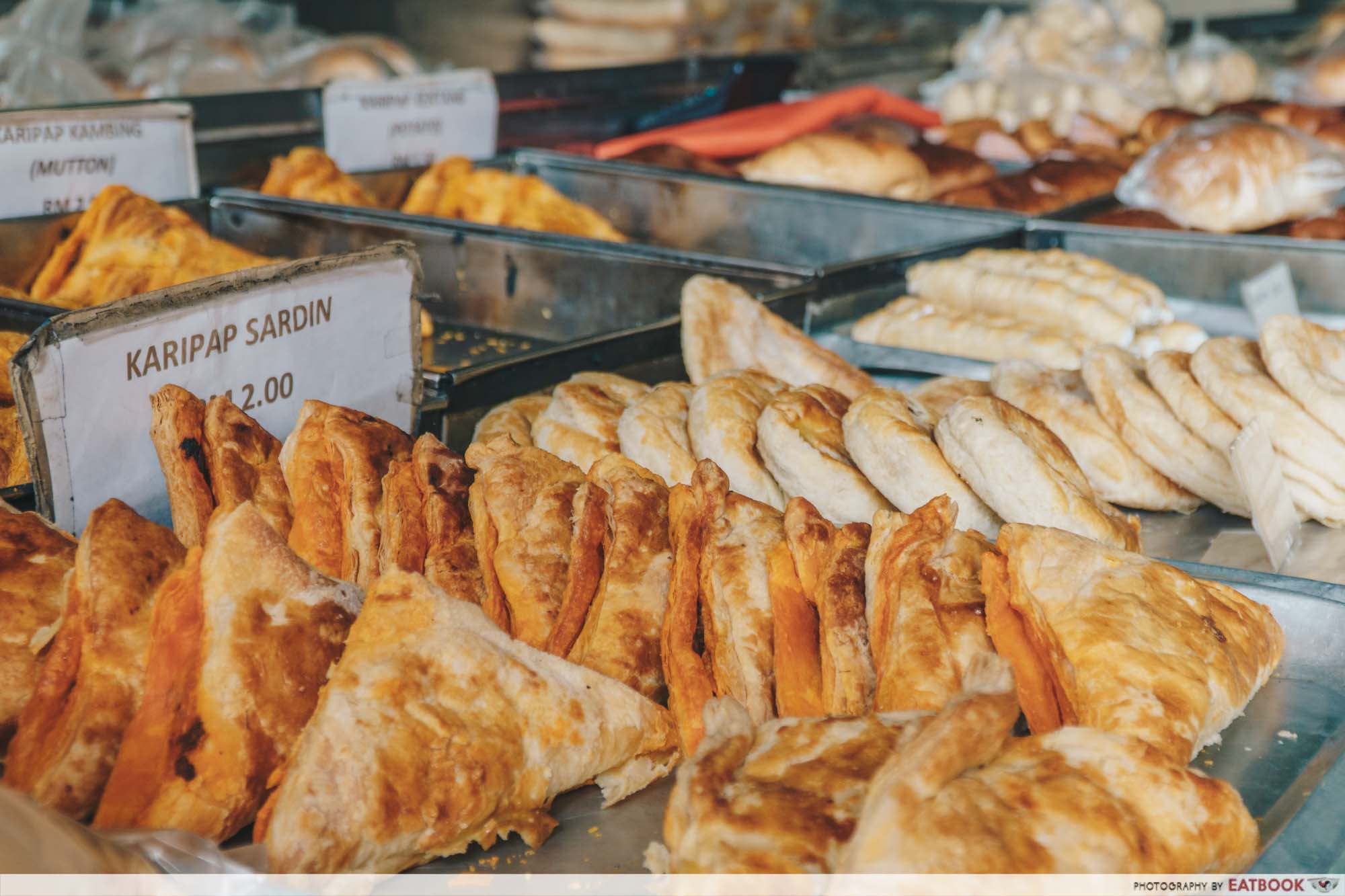 This old gem offers over 25 kinds of pastry or bread. You won't go wrong with their Karipap Potato (RM1.50/~S$0.50) or Karipap Chicken (RM2/~S$0.66), which are filled with mashed potato peppered with spices between smokey layers of puff pastry. Kids will also love nibbling on some Sugar Puffs (RM2/~S$0.66) which hit the sweet spot just fine.
Address: 26, Jalan Dhoby, 80000 Johor Bahru, Johor, Malaysia
Opening hours: Sun-Thurs 9am to 6pm
Tel: +60 12-766 8380
Website
---
Johor Bahru hawker food guide
---
Arm yourself with this list of cheap and good hawker food and be the foodie everyone turns to for food recommendations in JB. Alternatively, go another level up and venture further into the city for these Mount Austin food spots!
7 Mount Austin Food Spots To Visit In JB Including Beautiful Cafes And A $7 Korean BBQ Buffet
This article was originally written on 8 October 2019.