---
JB zi char places
---
There's no shortage of good food in Singapore, but Johor Bahru is also a fantastic destination for good eats set amidst a quick getaway. The zi char eateries there are especially renowned for being full-flavoured, with heritage recipes passed down through generations. If you're in JB craving a hearty meal, check out these JB zi char eateries.
---
1. Restoran Teck Sing
---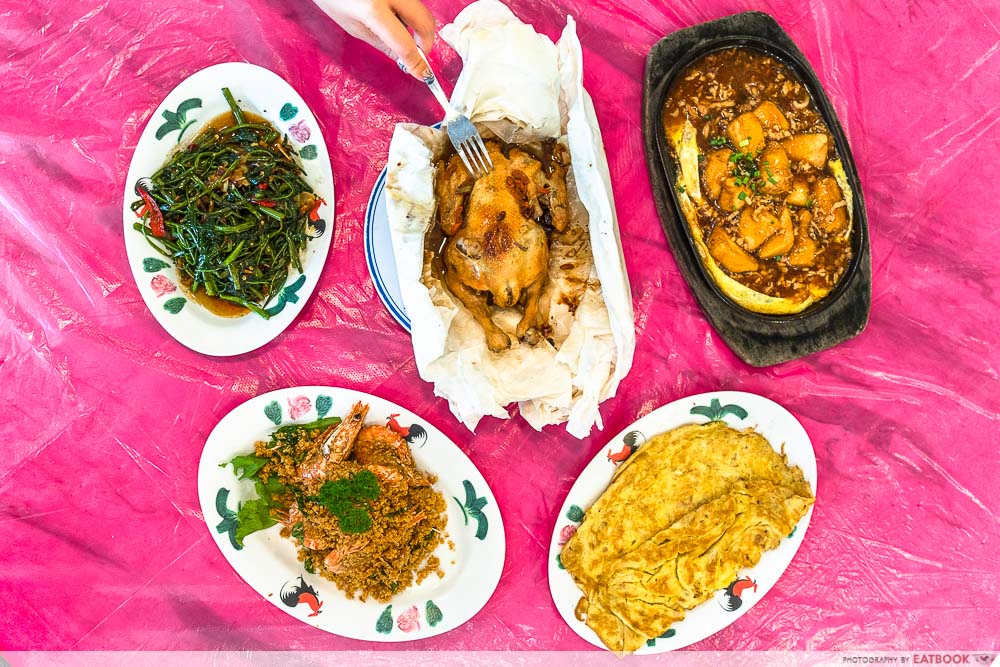 Kicking off the list is Restoran Teck Sing, a popular and well-priced JB zi char restaurant in Taman Sentosa. With more than 70 items on the menu here, you're simply spoiled for choice. Favourites with the crowd here are Oats Prawn (RM30/60), Special Deep-Fried Fish (market price), said to be served with a house-made sambal, and Sambal Kang Kong (RM10/16).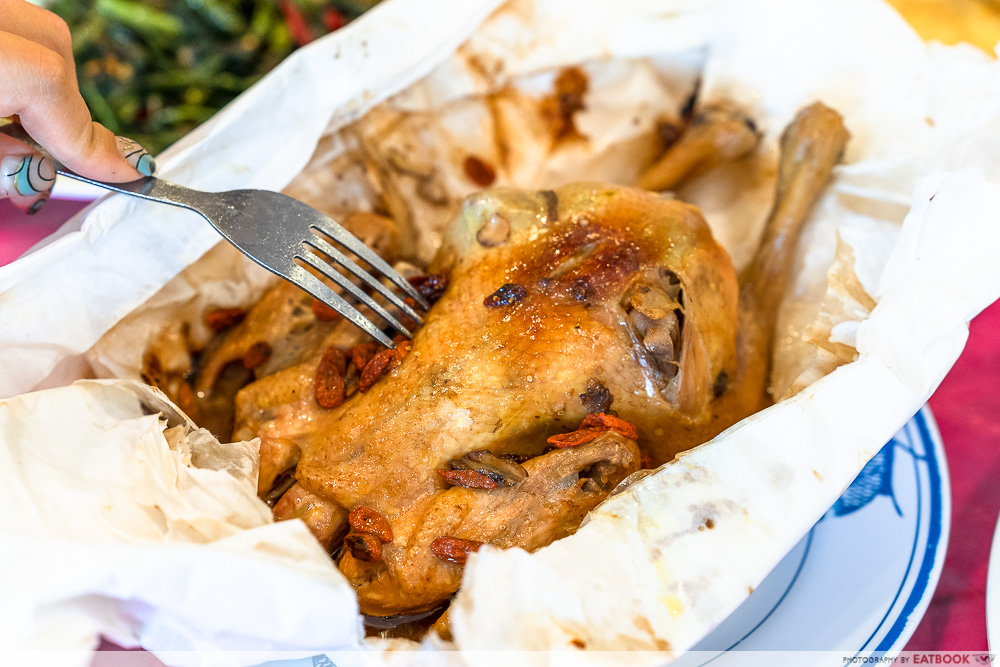 The Paper Baked Chicken (RM35) is a must-order here: kampung chicken is wrapped in baking paper with assorted Chinese herbs, imbuing the lean meat with a pleasant, herbal fragrance. There's lots of sauce beneath the chicken—grab a bowl of rice to go along with this!
Address: 3&5, Jalan Sutera 1, Taman Sentosa, 80150 Johor Bahru, Johor, Malaysia
Opening hours: Daily 11am to 9pm
Tel: +60 7-334 7025
Website
Restoran Teck Sing is not a halal-certified eatery
---
2. Restoran Ah Kaw
---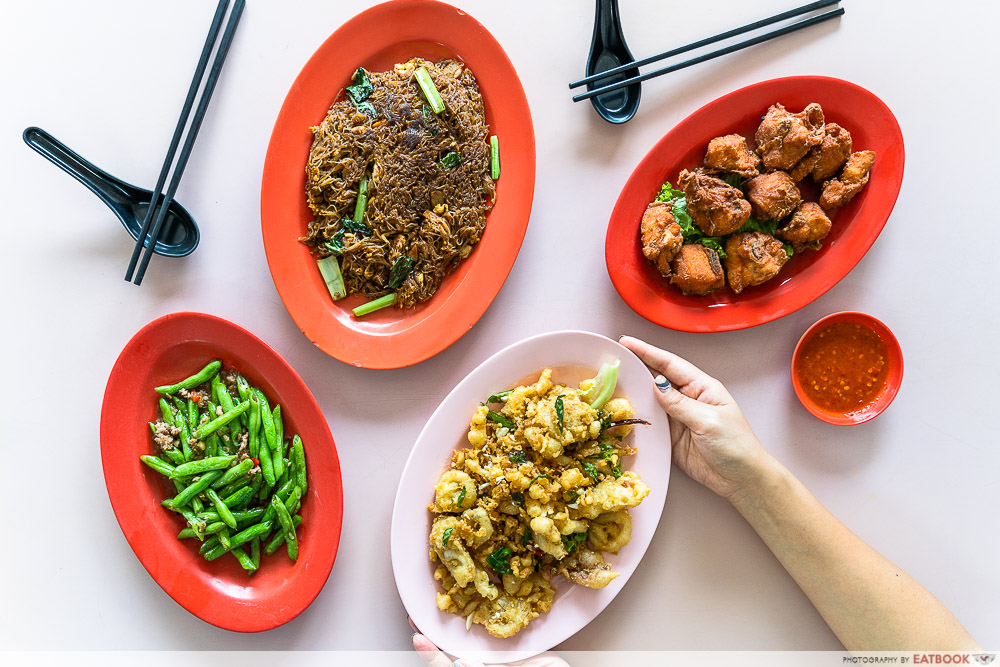 Restoran Ah Kaw claims to be the creator of a Johor signature: San Lou Bee Hoon, AKA chao ta bee hoon. This eatery has been around the block and back since its founding in 1979, so it's unsurprising that they do a whole host of other zi char dishes well.
Do not leave Ah Kaw without trying their extra tasty San Lou Bee Hoon (from RM9)—in spite of the blackened, charred top, the bee hoon within remains moist and tender. Pro tip: ask for some belacan to go along with it! Their Shrimp Paste Chicken (from RM17) and Fried Squid with Salted Egg (from RM20) are more than worth a trip here too.
Address: 33, Jalan Perang, Taman Pelangi, 80400 Johor Bahru, Johor, Malaysia
Opening hours: Wed-Mon 12pm to 3pm, 6pm to 10pm
Tel: +60 7-334 0589
Website
Restoran Ah Kaw is not a halal-certified eatery
---
3. Restoran Sulam
---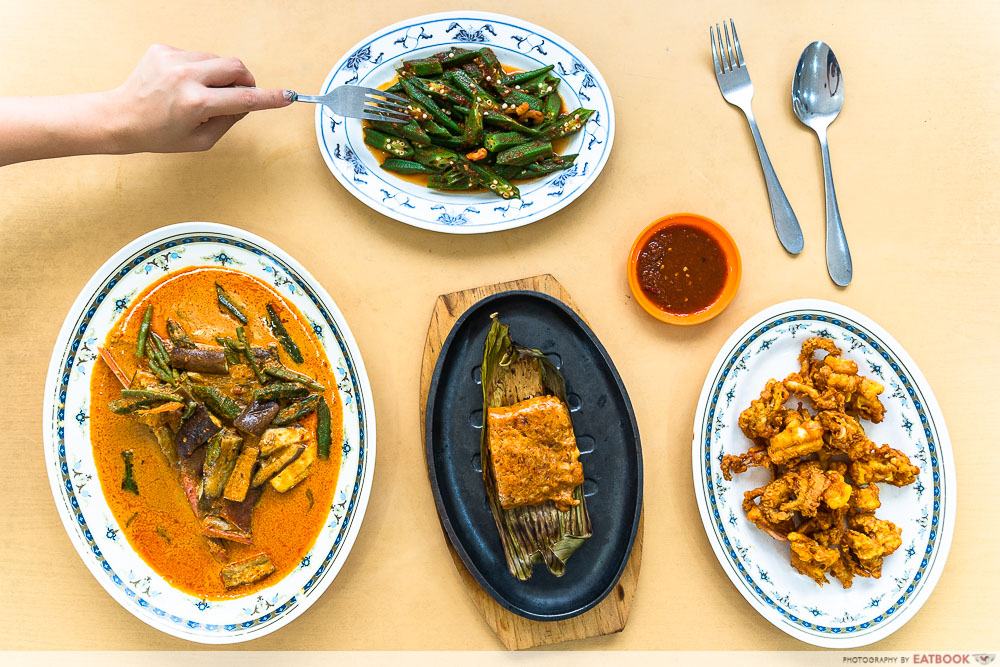 Established in 1987, Restoran Sulam is yet another zi char institution that you ought to put on your JB zi char list. While Chinese-owned and not halal-certified, they're Muslim-friendly. Owner Mr Teh personally created all the recipes for the food he serves, and is now training his son to take over the reins so you'll still get to enjoy their Kari Kepala Ikan, AKA Curry Fish Head (RM42 to RM68) in time to come.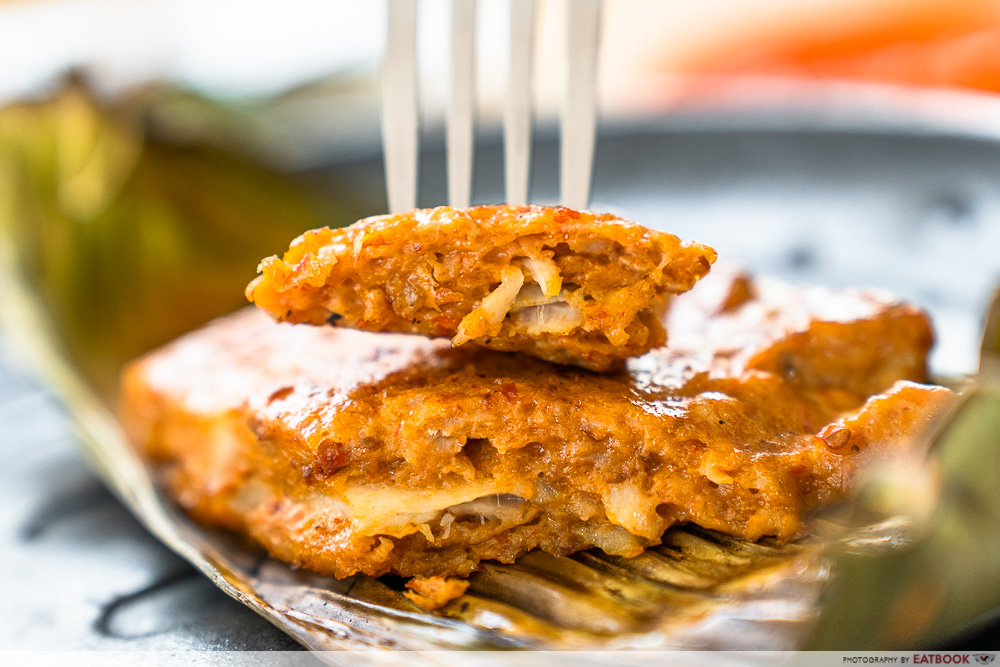 They used to make the Otak-Otak (RM8/16) in-house, but manpower crunches have forced them to outsource this. Mr Teh says it's almost as good as what he used to make, and we'll agree that it's still an above-average rendition. Another noteworthy dish is Sotong Goreng Kunyit (RM22 to RM34), an earthy, super crisp alternative to your usual salted egg sotong.
Address: 51, Jalan Sulam, Taman Sentosa, 80150 Johor Bahru, Johor, Malaysia
Opening hours: Daily 11am to 3:30pm, 5pm to 9pm
Tel: +60 12-732 2113
Website
Restoran Sulam is not a halal-certified eatery, but is Muslim-friendly
---
4. Restoran New Lucky Seafood
---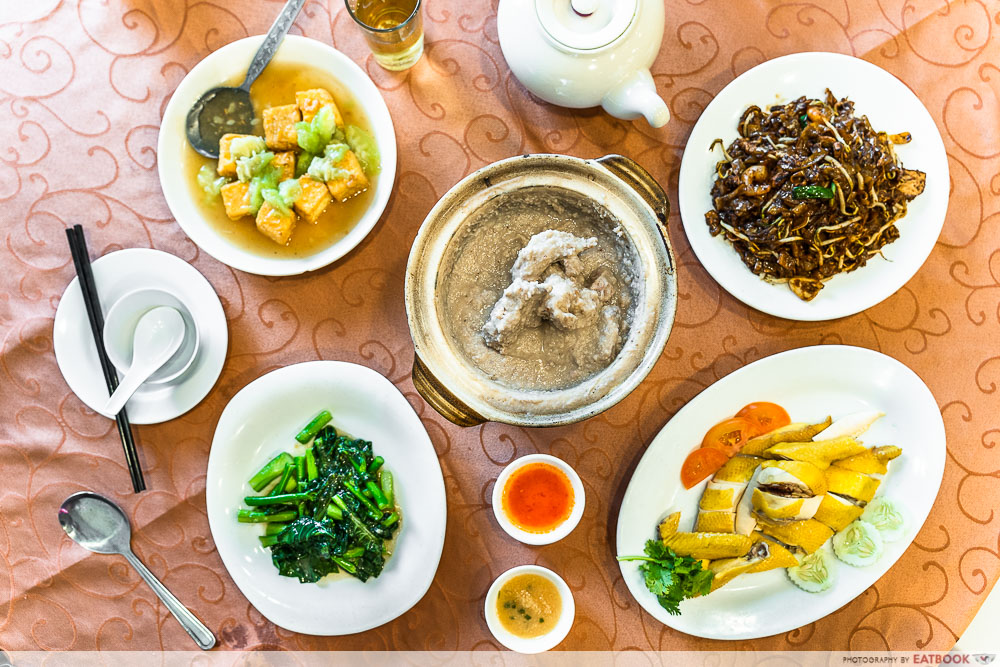 Another old dame of the JB zi char scene is Restoran New Lucky Seafood, who've been serving up zi char for more than 40 years. One of their bestselling dishes is Kway Teow (from RM20), a smoky, wok hei-filled CKT that's laced with cockles and cubes of fried pork lard.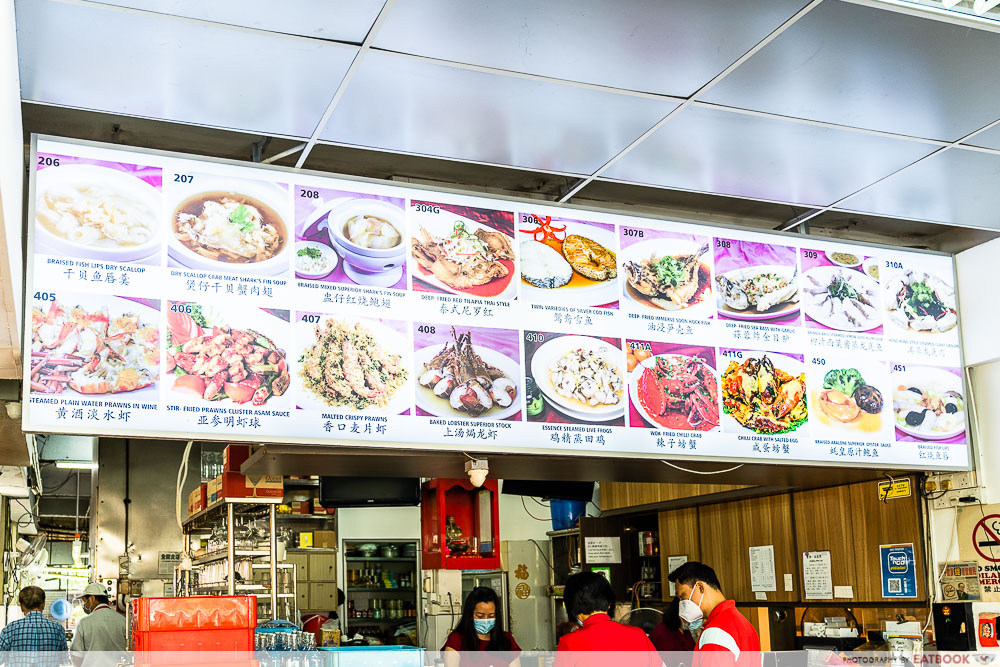 P.S. There's no physical menu here, so you're dependent on the goodwill of the waitstaff, and—if you sit outside—the boards showcasing their signature dishes, with no prices. The claypot Pork Ribs (from RM35) were an interesting recommendation, braised in a peppery orh nee-like yam paste which taste reminded us of Teochew-style BKT.
For a safer choice, get their Kampung Chicken (RM38 for half), served plain so you get to enjoy the unadulterated flavours of the chicken.
Address: 1-5, Jalan Keris, Taman Sri Tebrau, 80050 Johor Bahru, Johor, Malaysia
Opening hours: Daily 11:20am to 11pm
Tel: +60 7-338 3822
Website
Restoran New Lucky is not a halal-certified eatery
---
5. Ong Shun Seafood Restaurant
---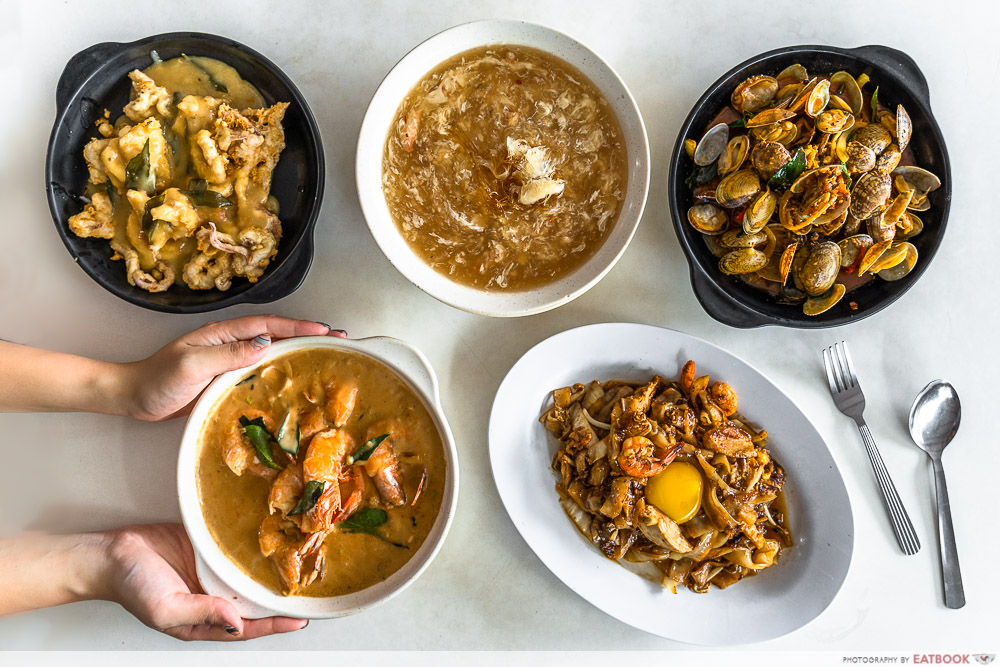 Imagine our surprise when the bill at Ong Shun Seafood Restaurant came up to RM91.80, or approximately $28, making it one of the cheapest zi char meals we've had, considering our order of five items, including Shark Fin with Dry Scallop and Crabmeat (RM26/39/52)!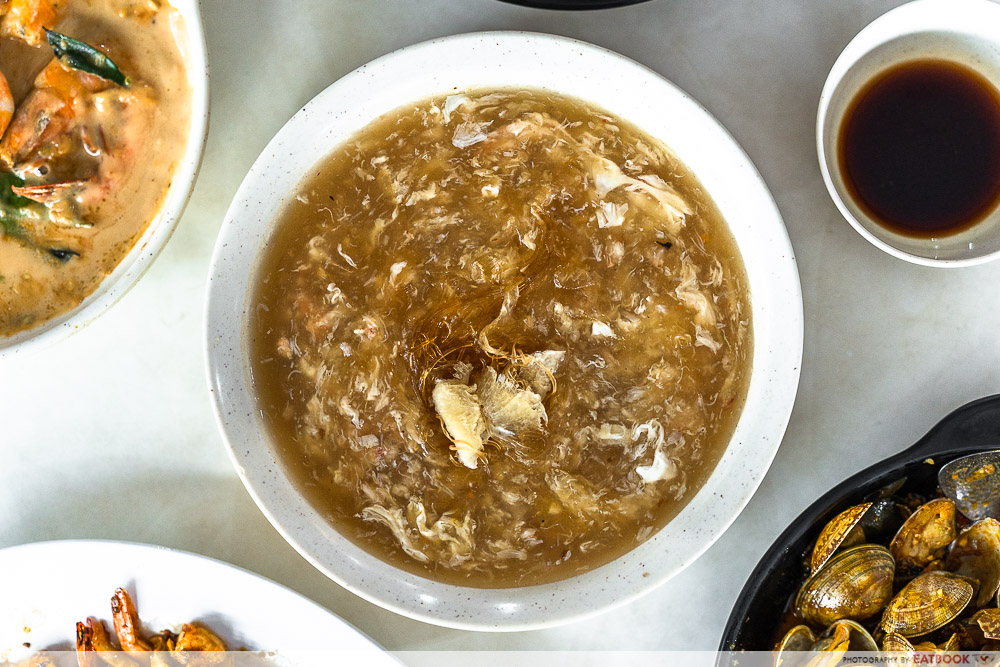 Hit up this halal-certified seafood spot if you're looking for uber cheap eats. The Moonlight Kuey Tiao is priced at just RM8.50 for a small portion, going up to RM13 and RM19 for the medium and big portions respectively.
On the seafood front, there are 10 different ways in which you can have your sotong done, any of which costs RM16, RM26, or RM32 depending on the size you choose, while the Tulip Sauce Clams—a spicy, aromatic stir-fry, ring in the till at RM15 or RM30.
Address: 67, Jalan Abdul Samad, Kampung Bahru, 80100 Johor Bahru, Johor, Malaysia
Opening hours: Tue-Sun 1pm to 11pm
Tel: +60 7-223 8953
Website
Ong Shun Seafood Restaurant is a halal-certified eatery
---
6. Restoran Zhen Wei
---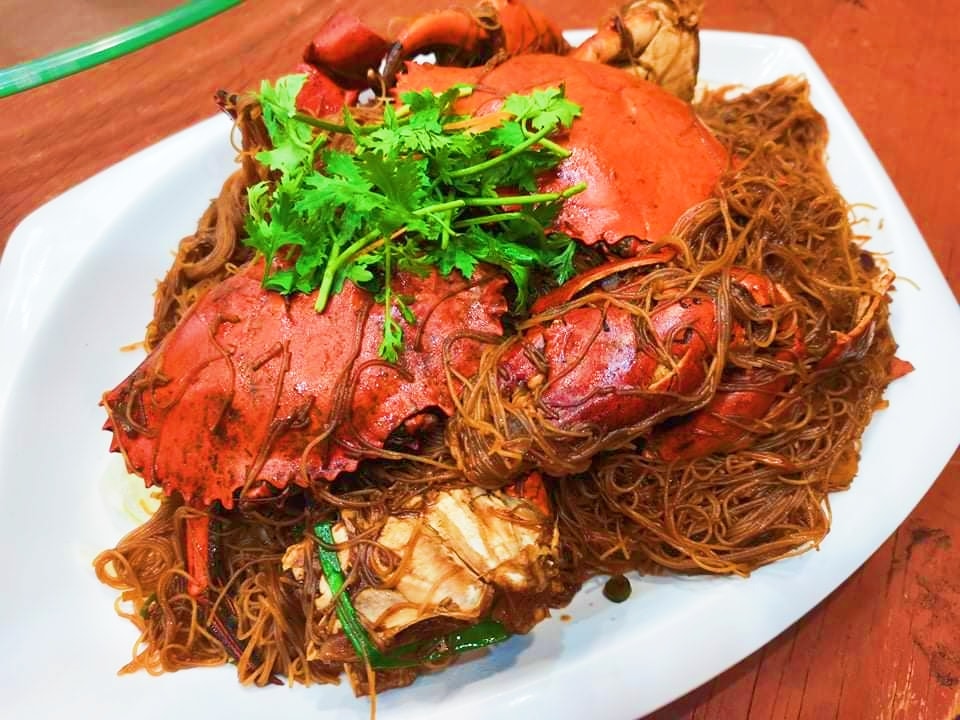 Image credit: Restoran Zhen Wei
If you didn't get a chance to dine at Restoran New Lucky, that's alright, because you could also try Restoran Zhen Wei, which similarly serves seafood and other zi char dishes. The chef-owner here used to be sous chef at New Lucky, and each restaurant has its own league of fans.
With crab season upon us, consider heading here for their massive XL Crabs, now priced at RM150 per kilo. Choose from a whopping 12 different cooking styles, including their signature Salted Egg, La Zi style that's inspired by the Sichuan mala chicken dish, or even braised with your choice of bee hoon or tang hoon.
Address: 1, Jalan Setia 7/18, Taman Setia Indah, 81100 Johor Bahru, Johor, Malaysia
Opening hours: Daily 12:30pm to 9:30pm
Tel: +60 16-710 9085
Website
Restoran Zhen Wei is not a halal-certified eatery
---
7. Selera Senibong Seafood
---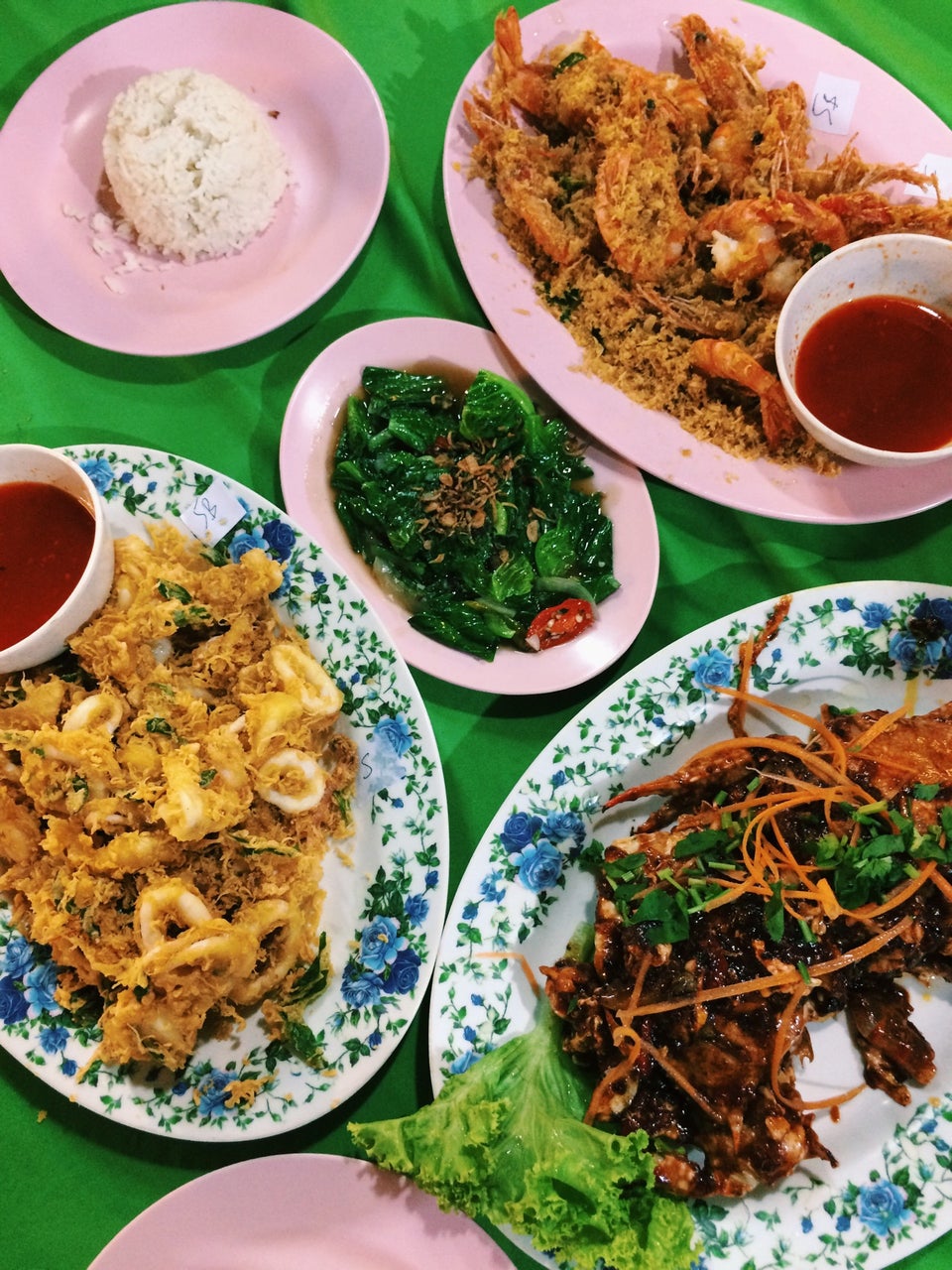 Image credit: Dee H
Housed in a building by the waterfront, Selera Senibong Seafood is another halal seafood option that's got tanks upon tanks of live seafood for you to pick your dinner from. If that's not fresh enough, the seafood in these tanks can lay claim to being fresh from Senibong Cove, right where the restaurant is.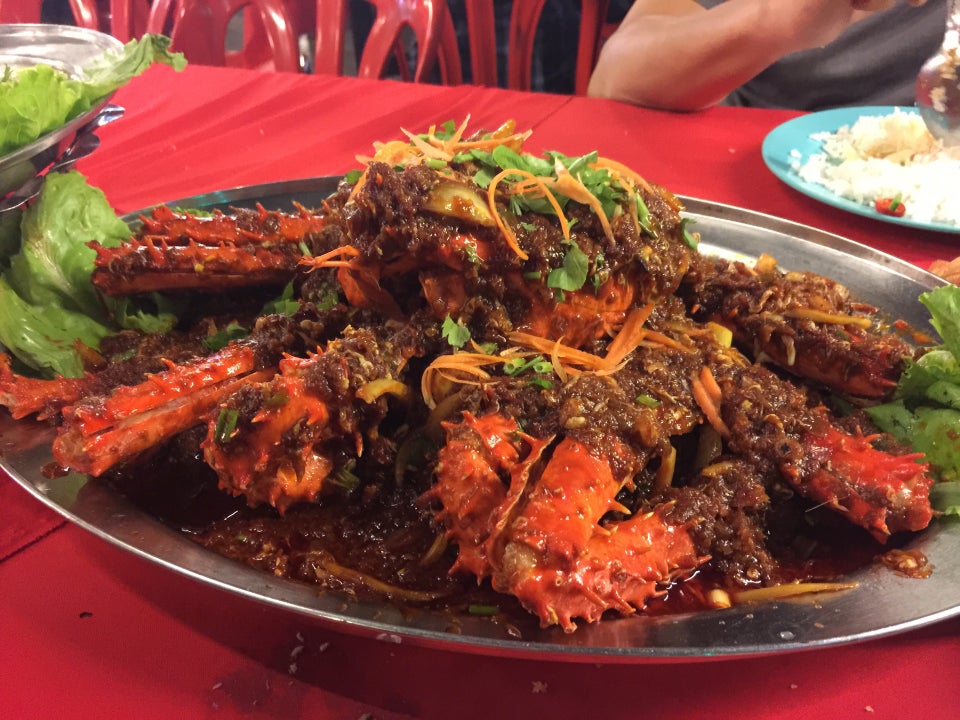 Image credit: Jeff W
They're most known for their Spicy Chilli Sauce Crab and Golden Salted Egg Prawn, among a dizzing array of other seafood—charged at market price. There's also a Sotong Goreng Tepung that's said to be most sedap too. If that's not enough, they're open till 12am daily, so you could even hop over the causeway for a seafood supper!
Address: Permas Jaya, 81750 Masai, Johor, Malaysia
Opening hours: Daily 5pm to 12am
Tel: +60 12-755 7327
Website
Selera Senibong Seafood is a halal-certified eatery
---
8. Restoran Ah Meng
---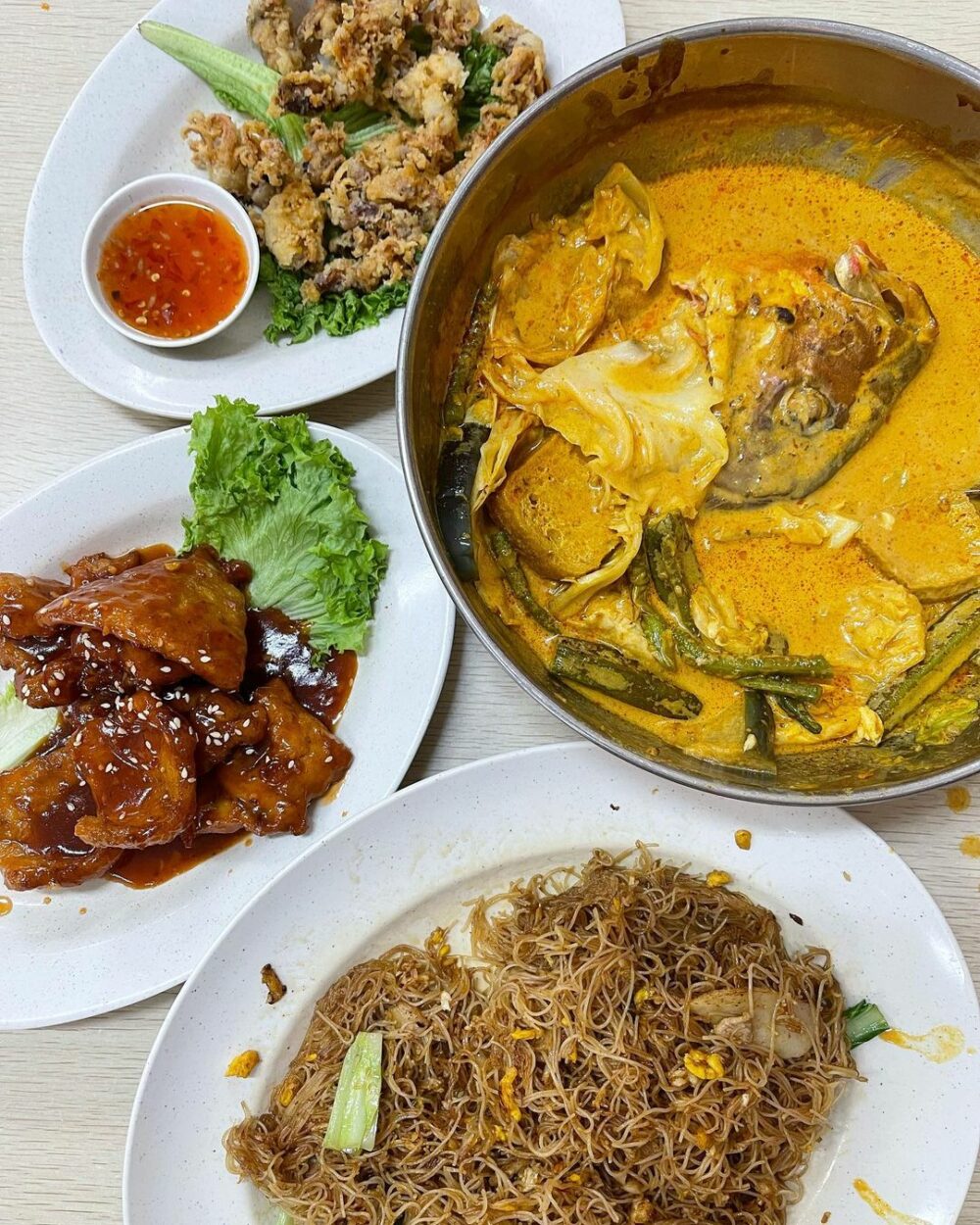 Image credit: @chiyeanng
Somewhat closer to the causeway than Ah Kaw is Restoran Ah Meng, which doles out almost the same fare as the former. Unlike other imitations around, though, Ah Meng is run by Ah Kaw's son-in-law himself, so you might say this is as close as it gets.
Here, you'll find J.B San Lou Meehoon (RM10/16/19) alongside the usual suspects of Shrimp Paste Chicken (RM17/22/30) and Curry Fish Head (RM40/50/75). The Curry Ribs (RM22) are said to be pretty good too.
Address: 38, Jalan Sultanah Aminah, Taman Iskandar, 80050 Johor Bahru, Johor, Malaysia
Opening hours: Wed-Mon 12pm to 3pm, 5pm to 11pm
Tel: +60 7-334 8634
Website
Restoran Ah Meng is not a halal-certified eatery
---
9. Restoran Todak
---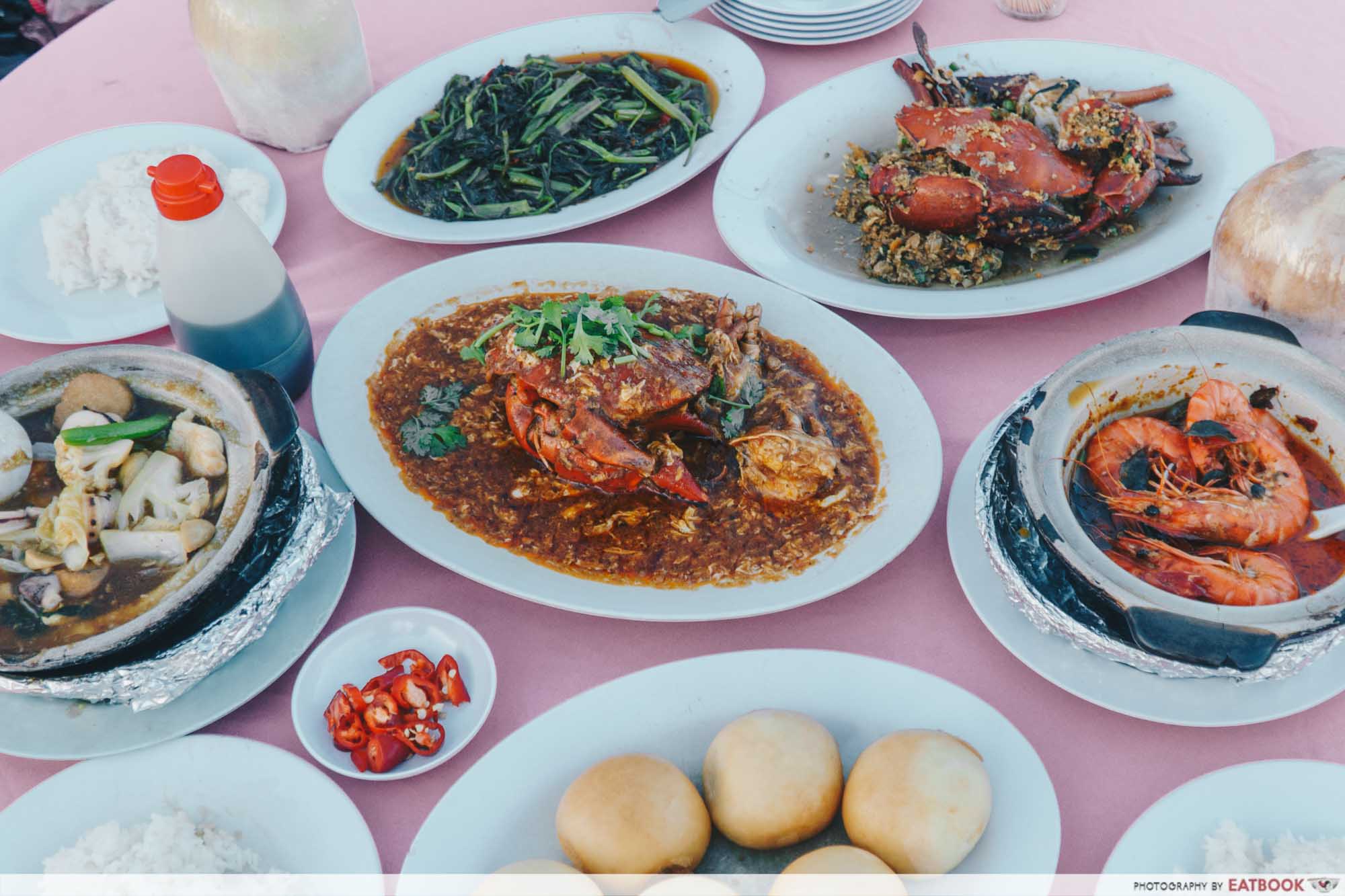 You'll need to find a friend who's a reliably good navigator and driver to bring along to Restoran Todak, another waterfront, halal seafood option to consider. Unlike the other waterfront seafood eatery on our list, you'll actually get to dine alfresco by the sea here, on a wooden platform on stilts, with the waves just beneath you.
Definitely order the Indonesian Prawns here, for a spicy, lemak gravy that complements the fresh shellfish superbly. Other dishes you can go for include Chilli Crab, Steamed Scallops, Hong Kong-style Steamed Fish to best savour the freshness of the seafood, and Butter Prawns. As with live seafood, these are all charged according to market prices.
Address: 1, Jalan Dedaru 11, Kampung Teluk Jawa, 81750 Masai, Johor, Malaysia
Opening hours: Daily 11:30am to 11:30pm
Tel: +60 7-386 3696
Restoran Todak is a halal-certified eatery
---
10. Pelangi City
---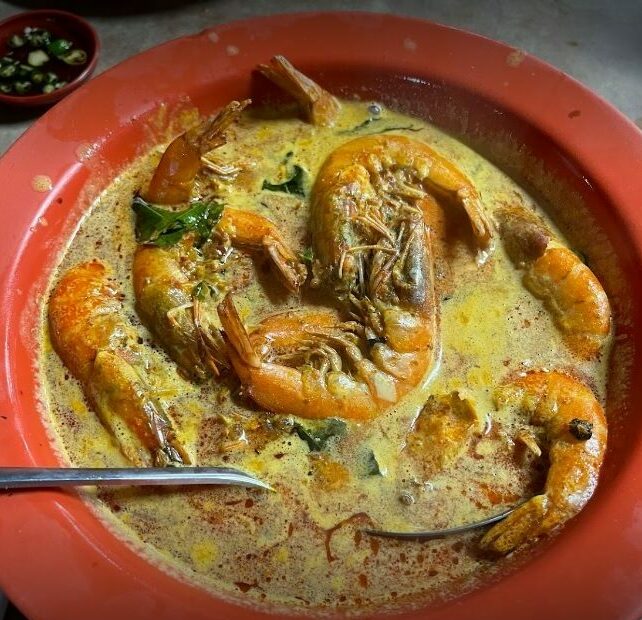 Image credit: John Wong
Unlike all the other entries on this list, Pelangi City isn't a restaurant or standalone eatery, but a stall in a food centre. The stall is a one-man show, so be prepared to wait if there's a crowd. What most people come here for is the Curry Fish Head (Price TBA), which is said to have a creamy, savoury gravy with a touch of acidity.
Another signature dish that is highly recommended is Sotong Goreng (Price TBA), deep-fried and glazed with a house-made sauce. Alternatively, get yourself an order of Udang Indonesia (Price TBA), or Daging Goreng (RM6), AKA gu lou yok, or sweet sour pork.
Address: Stall no. 11, Taman Serene Food Centre, Jalan Biru, Taman Serene, 80400 Johor Bahru, Johor, Malaysia
Opening hours: Wed-Mon 5:30pm to 10pm
Pelangi City is not a halal-certified eatery
---
Where to eat zi char in JB
---
These 10 JB zi char places are barely the tip of the iceberg if you're thinking of heading to JB for a good makan sesh. If you're going to Johor though, Mount Austin is a 'hood you should check out.
For those who're staying right here in Singapore, fret not, because we've also got you covered with these Malaysian food places so you don't have to FOMO.
10 JB Mount Austin Food Spots Including $12 K-BBQ Buffet And A Taiwanese High School Cafe