Restoran Ah Kaw in Johor Bahru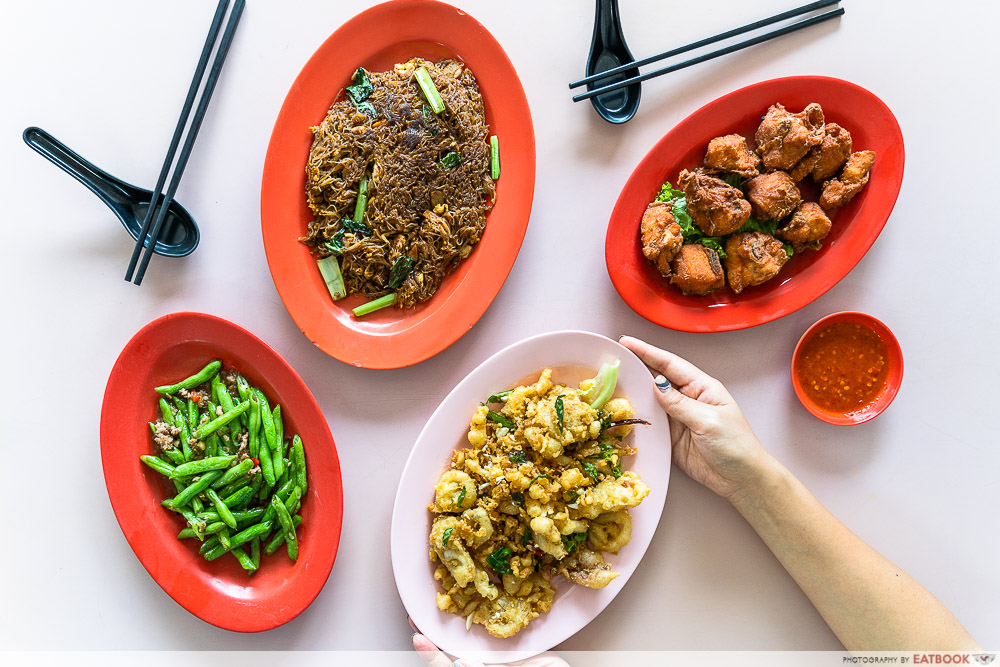 Zi char restos in Singapore are aplenty, and one dish that's taken the spotlight a great deal in recent years is chao ta bee hoon, where fried bee hoon is allowed to rest in a hot wok till the underside develops a charred layer. Across the Johor Strait, however, this dish is known as San Lou Bee Hoon, and it is said to have been first dished up at Restoran Ah Kaw.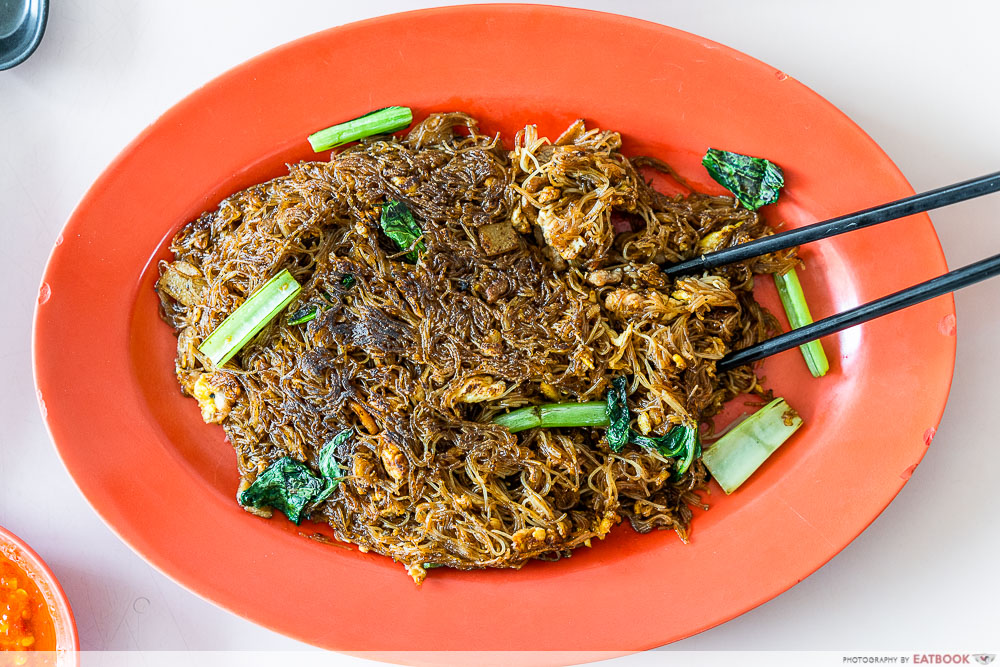 In spite of its name, San Lou Mee Hoon (from RM9/~S$2.90)—三楼干米粉—literally translated, this reads "Three Stories Dry Bee Hoon" doesn't actually have three floors. First prepared by a young Ah Kaw when he was cheffing at a restaurant named San Lou Seafood Restaurant that was housed in a three-floored building, it rapidly became his trademark dish when he set up his own namesake eatery in 1979.
There really isn't anything fancy: it's bee hoon with some greens, eggs, sliced pork, and fishcake. When asked about what makes the dish outstanding, Ah Kaw has been quoted in interviews saying it boils down to mastery over the temperature and fire as you fry the bee hoon.
10 JB Zi Char Places Worth Crossing The Causeway For, Including Chao Ta Bee Hoon And Fish Head Curry
It's evident in how the thin rice noodles remain moist and tender, contrasted against the slightly crisp, charred layer—this, too is done just right so you won't get any bitter, burnt taste.
Pro tip: ask for some of their house-made belacan to go along with the bee hoon.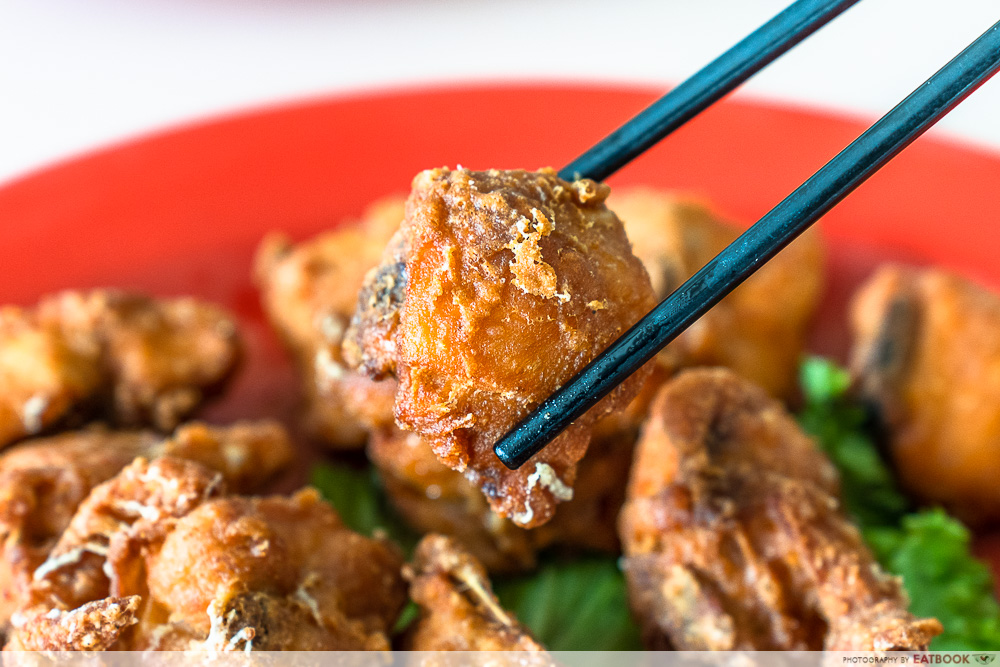 If you ask me, no zi char meal is complete without har cheong gai, or Shrimp Paste Chicken (from RM17/~S$5.50). The version here at Ah Kaw is delightfully light on the batter, and chopped into similarly-sized pieces, which means they all cook evenly, with juicy insides. They're also punchy on the shrimp paste flavour, without being overly savoury.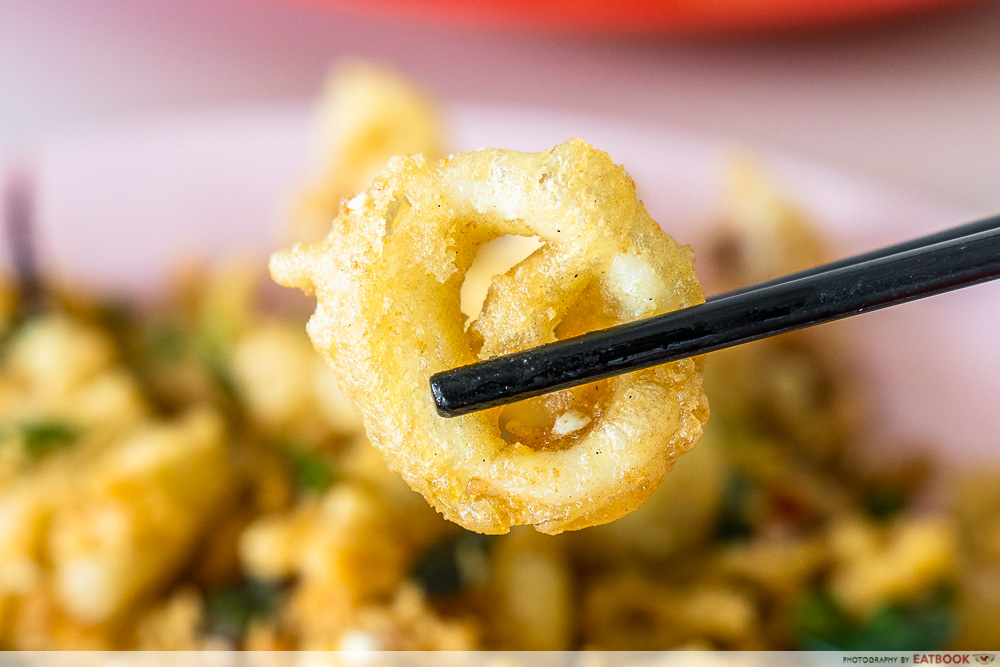 Another classic dish, Ah Kaw's Fried Squid with Salted Egg (from RM20/~S$6.50) is just as well executed. The fresh rings of squid aren't chewy nor tough, and they're coated in an airy layer of batter that doesn't taste of grease.
If you're a bittergourd fan, consider getting Bitter Gourd with Salted Egg instead, which is supposed to be one of their star dishes.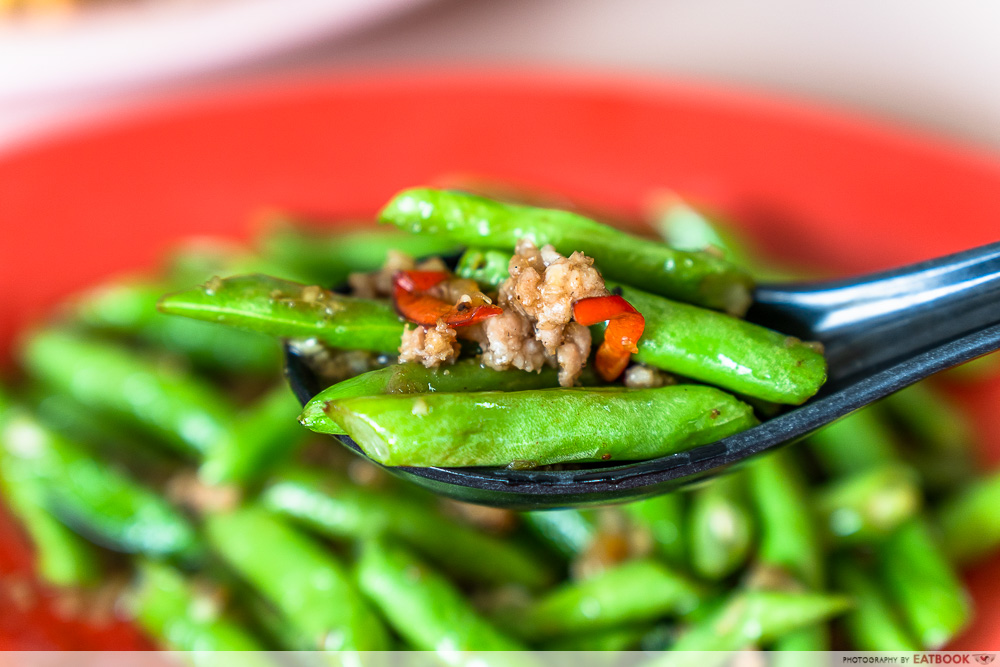 For a touch of healthy greens, go for their French Beans (from RM12/~S$3.90). The chef's deft control of the wok and fire is evident here, since the beans retain their bright green colour and a nice amount of crunch, without being over- or undercooked.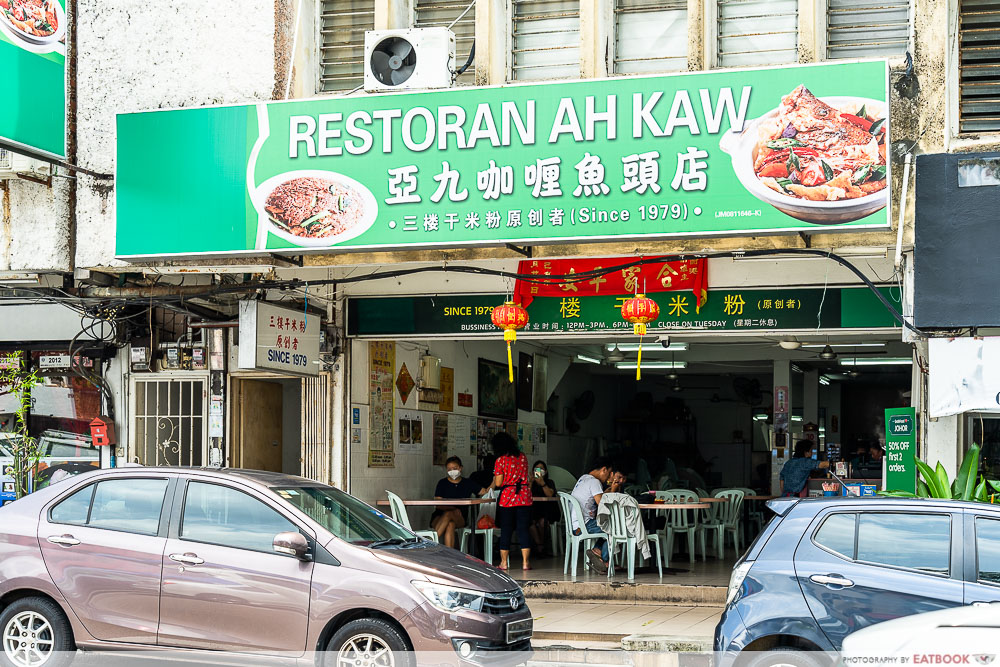 We didn't manage to order these, but other than the above, other popular dishes at Restoran Ah Kaw also include Marmite Pork Ribs, braised pig Trotter, and Assam Curry Fish Head.
For more zi char eats in JB, head to our JB zi char guide! Otherwise, round up your trip across the straits with a visit to these popular JB cafes.
Address: 33, Jalan Perang, Taman Pelangi, 80400 Johor Bahru, Johor, Malaysia
Opening hours: Wed-Mon 12pm to 3pm, 6pm to 10pm
Tel: +60 7-334 0589
Website
Restoran Ah Kaw is not a halal-certified eatery
15 Johor Bahru Cafes Near Customs, Including A Concrete Cafe And A Hidden Glasshouse Dessert Spot
Photos taken by Brad Harrison Lee
This was an independent visit by Eatbook.SG