Restoran Teck Sing JB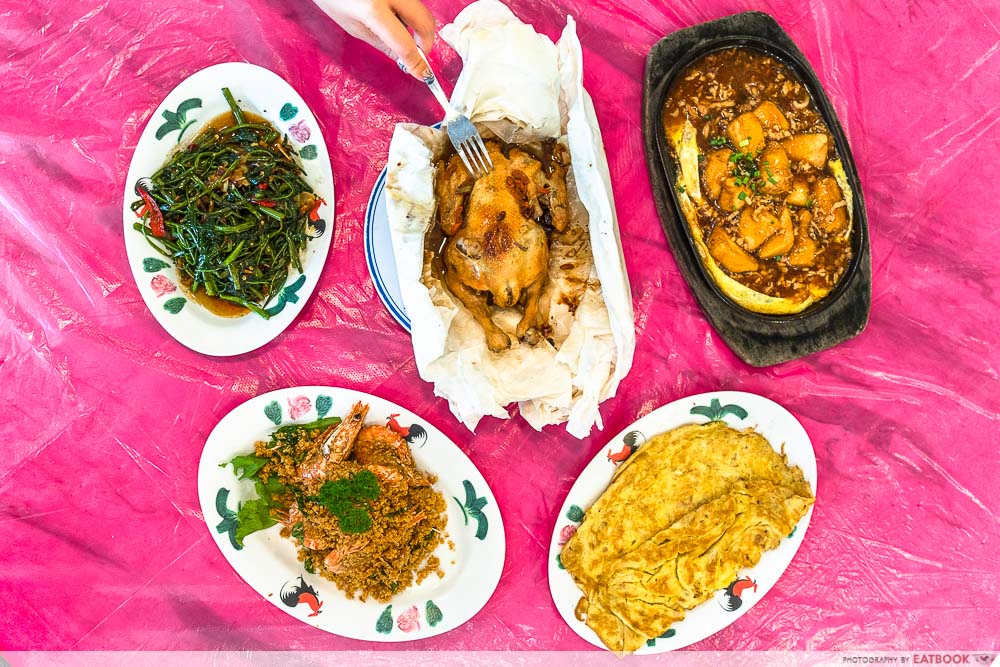 For some reason, paper wrapped chicken is seldom seen in Singapore these days, but if you miss that, Restoran Teck Sing, just across the Johor Strait, is one place that still keeps it on the menu—albeit served as a baked, whole chicken, rather than deep-fried packets of chicken pieces.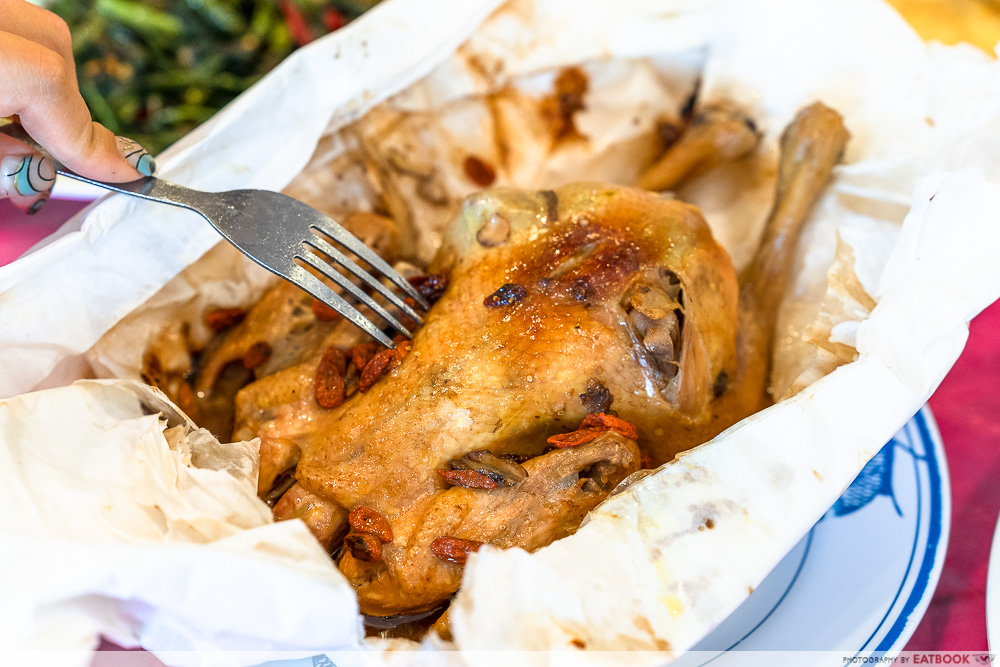 Here, Paper Wrapped Chicken (RM35/~S$11.30) has been the star dish on the menu, which encompasses more than 70 dishes, since the restaurant was first founded more than 30 years ago, first as a humble dai pai dong, before they moved into their current space. For an idea of how popular it is, it's said that nine out of 10 patrons to Teck Sing order the item.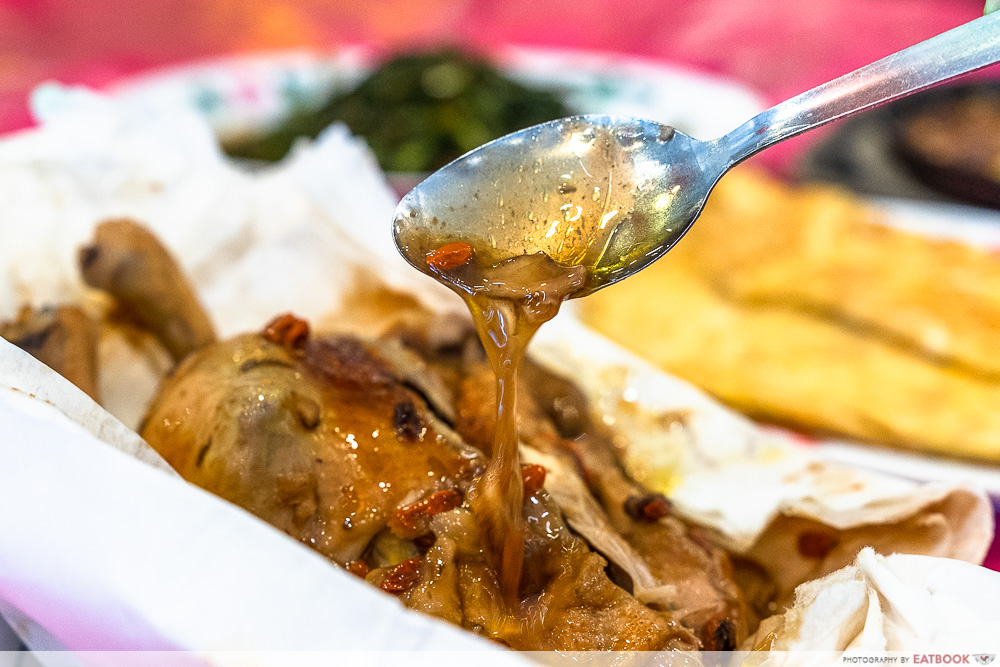 Thanks to the paper it's wrapped in, the chicken cooks in its own essence and a secret sauce blend, the flavours zhnged-up with herbs including red dates, goji berries, and dang gui, AKA angelica root. The resulting liquid you get is lightly herbal, and not greasy-feeling because of the leaner chicken.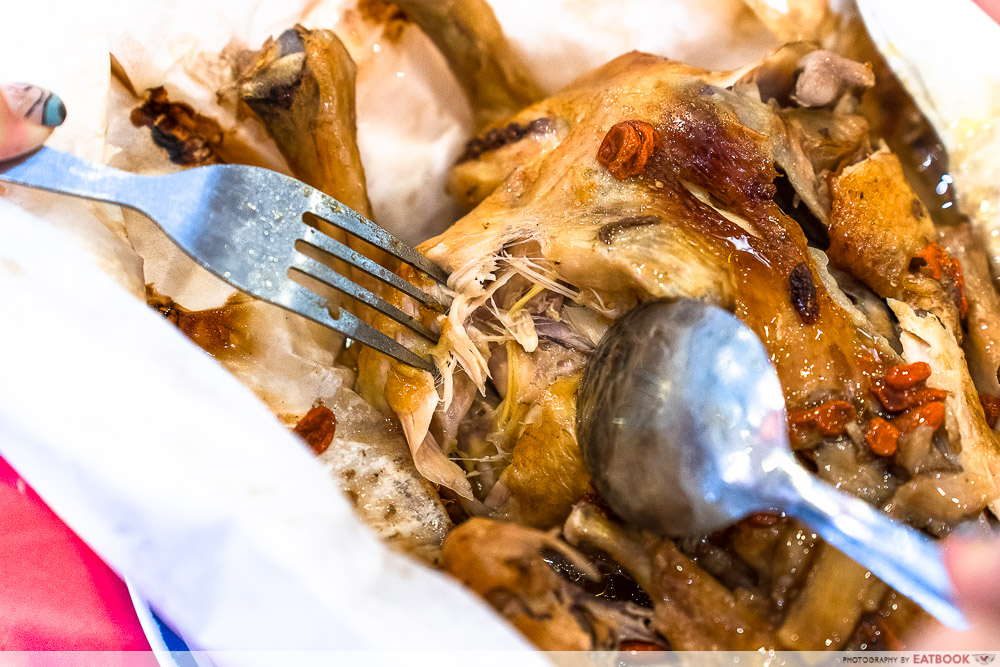 Only kampung chickens of approximately 1kg are used, and each chicken is slowly baked over something like two hours.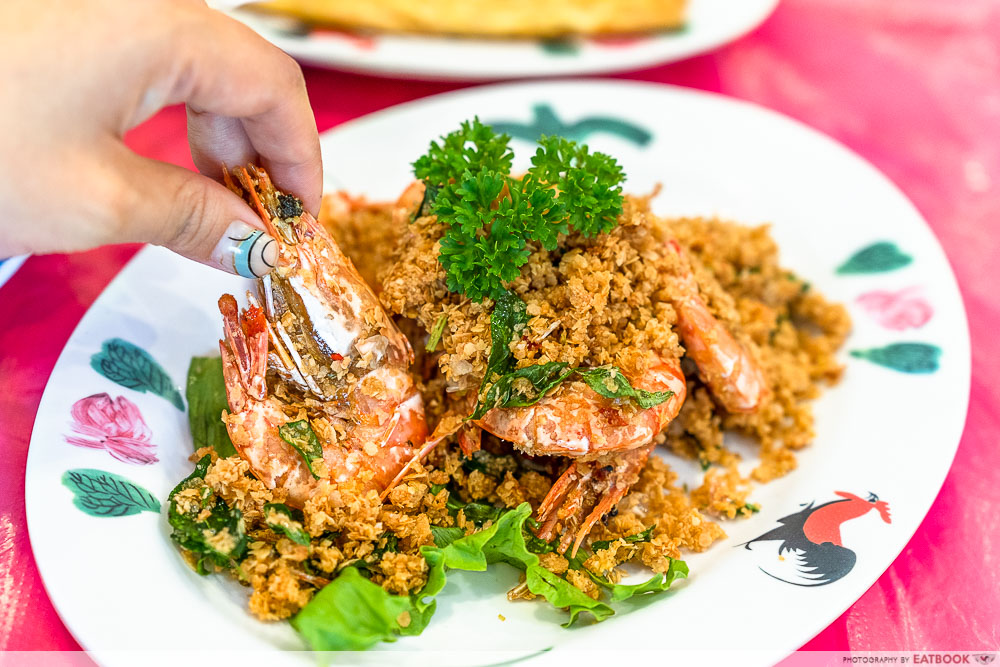 For something different than the cereal prawns we find on the menu locally, order Teck Sing's Oats Prawn (from RM30/~S$9.70), which boasts a sweeter finish.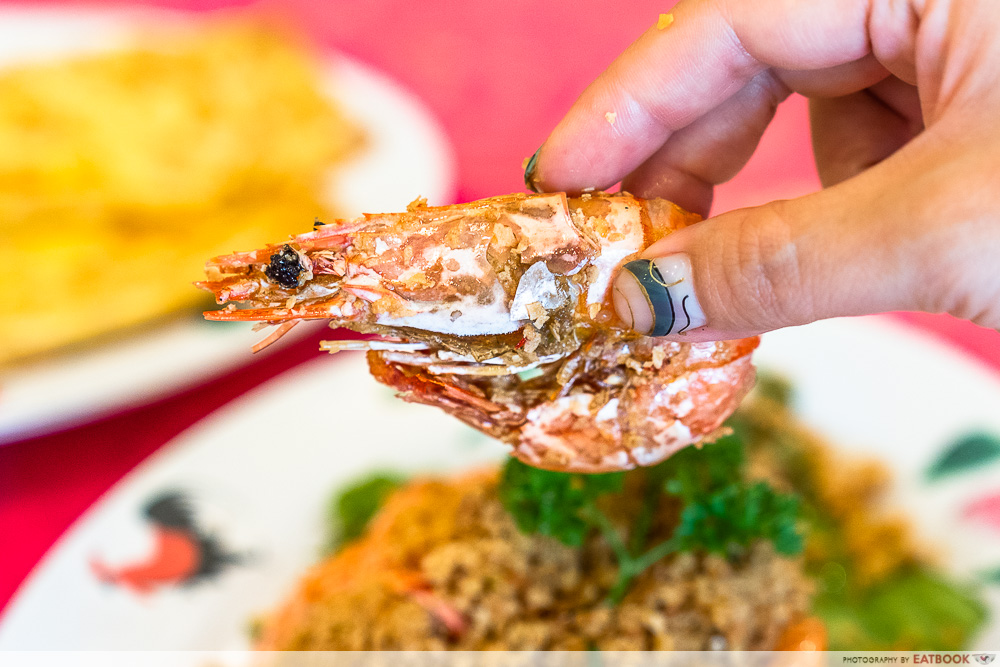 Even if you order the small portion, you'll find a good number of well-sized, fresh-tasting prawns with crisp, crumbly topping. If fried food isn't your cup of tea, go for Curry Prawn in Indonesia Style, or Drunken Prawn in Claypot, both of which are priced similarly.
10 JB Mount Austin Food Spots Including $12 K-BBQ Buffet And A Taiwanese High School Cafe
There's also crab and fish on the menu, of which the Special Deep-Fried Fish (market price) stars a house-made sambal. Then, another signature on their menu is Curry Fish Head (RM38/~S$12.20), which is made creamy with condensed milk, rather than coconut milk!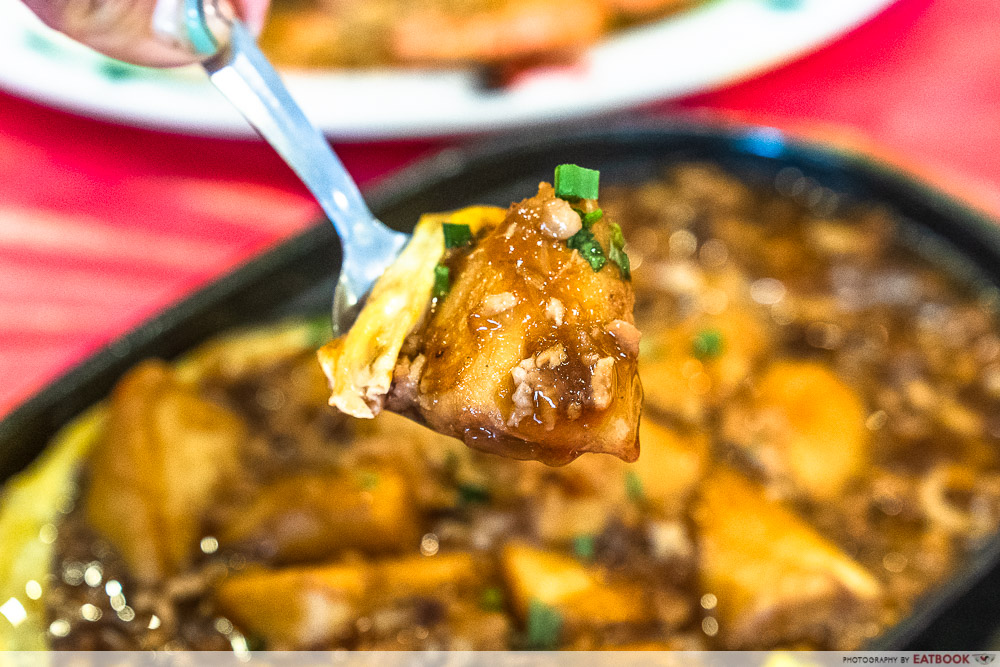 Another classic zi char dish beloved by young and old, you can't go wrong with Sizzling Beancurd (from RM12/~S$3.90), or what we more commonly know as hotplate tofu.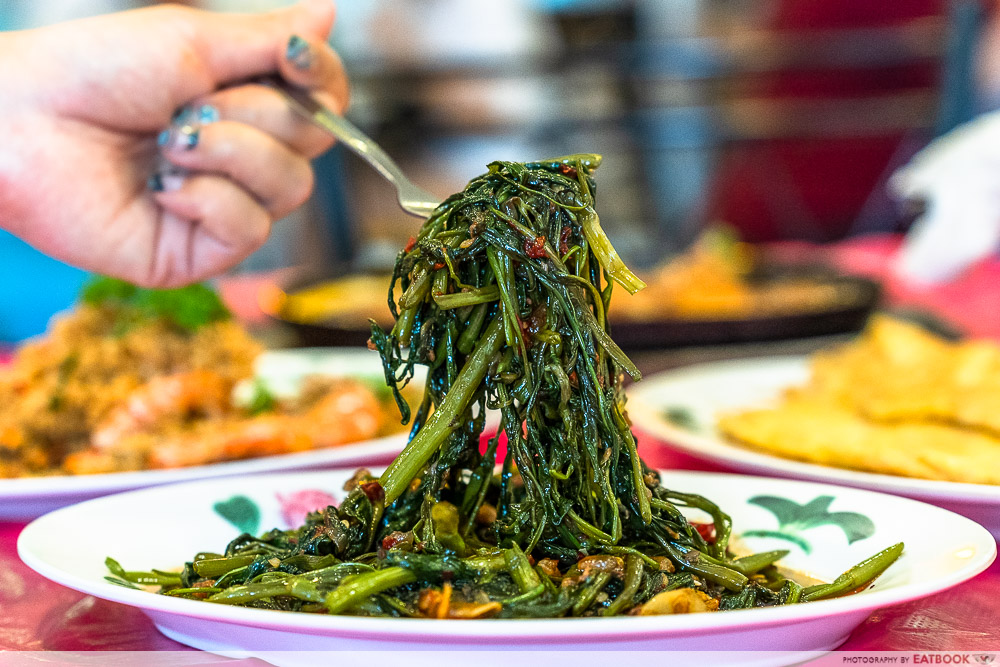 On the side, order familiar dishes such as Sambal Kang Kong (from RM10/~S$3.20) and Egg with Salted Turnips (from RM12/~S$3.90). This homey dish of chye poh omelette is a plain, but no less tasty addition to any meal.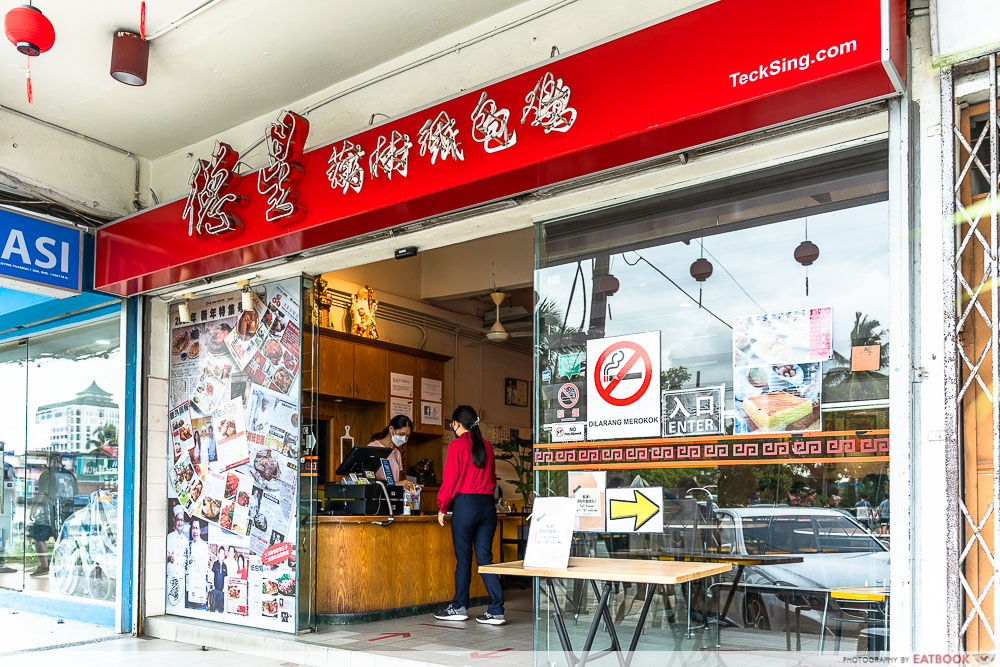 There's plenty of dishes on the menu here, but with the Chinese name of the restaurant, translated, being Teck Sing Herbal Paper Baked Chicken, you would do well to be one of the 90% of their diners who orders the namesake dish!
For more JB eats, check out our guide to eating at Mount Austin; otherwise go for tea at Keijometo, an industrial-chic cafe across the border.
Address: 3&5, Jalan Sutera 1, Taman Sentosa, 80150 Johor Bahru, Johor, Malaysia
Opening hours: Daily 11am to 8:30pm
Tel: +60 7-334 7025
Website
Restoran Teck Sing is not a halal-certified eatery
Keijometo: Industrial Cafe In JB With Mentaiko Tamago Sando, Watermelon Matcha Latte And More
Photos taken by Brad Harrison Lee
This was an independent visit by Eatbook.sg