---
ChopeDeals 11.11 Mega F&B Sale
---
Singles' Day rolls around once again, heralding the impending festive season, and one of the biggest sales events in the calendar year, 11.11. On 11 November, add dining deals to your shopping haul with ChopeDeals 11.11 Mega F&B Sale, featuring over 200 exclusive dining deals, 1-for-1 promotions, flash deals from just $1 at 12pm, 6pm and 9pm, and many more!
While the 11.11 dining deals extend across all dining categories and cuisines, here are 10 cafes with amazing discounts on ChopeDeals that you ought to shop when the sale rolls around. 
---
1. Spruce
---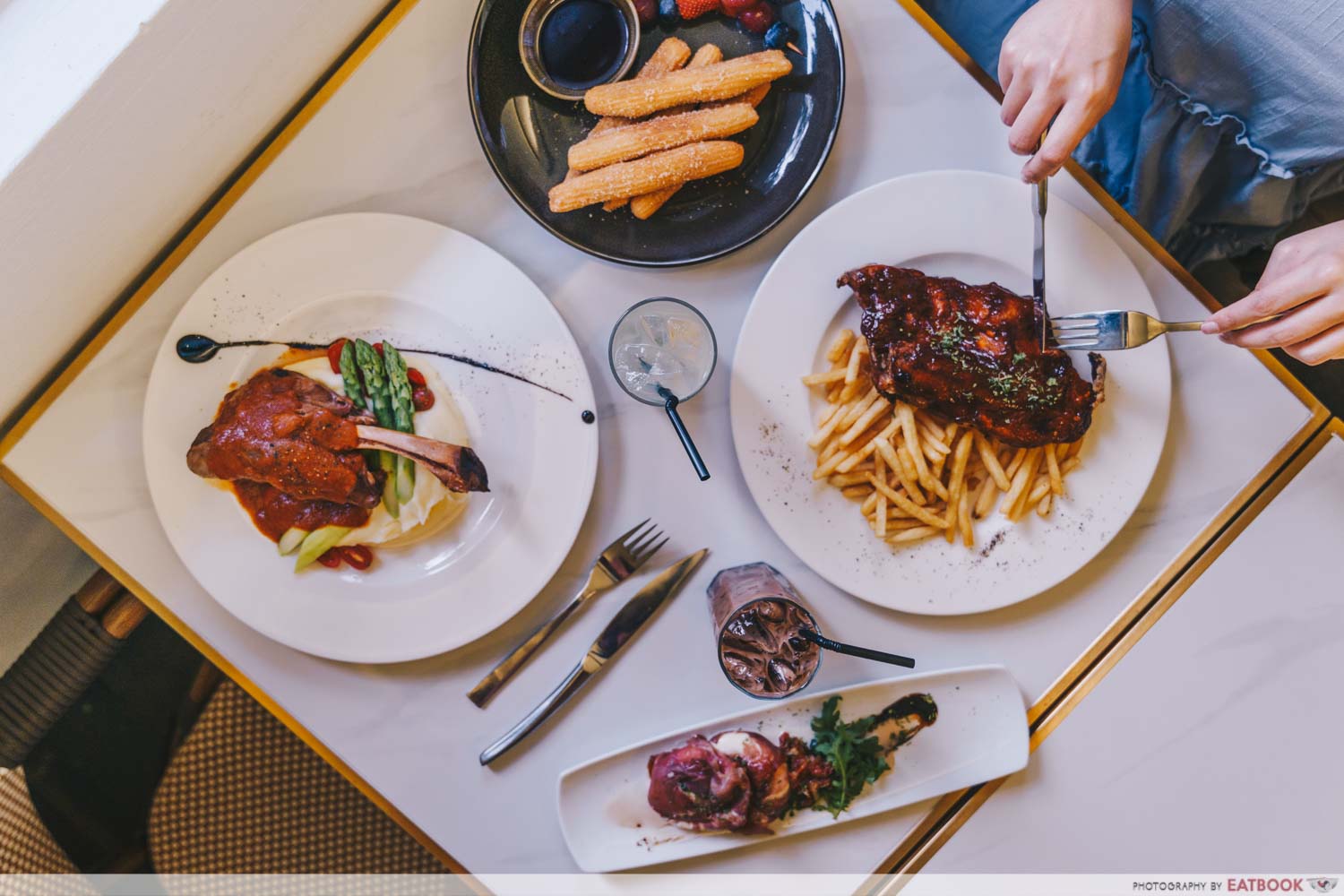 Nestled in the residential enclave of Phoenix Park is Spruce, a local dining brand that's known for their brunches, burgers, and chill atmosphere. Try their Lamb Shank ($32), or BBQ Baby Back Ribs ($26), and end your meal with Churros Churros ($14). On 11.11, get yourself All Day Cash Vouchers at Spruce at 40% off, to enjoy these dishes and more.
Get this exclusive 11.11 deal on ChopeDeals here.
Address: 320 Tanglin Road, Singapore 247980
Opening hours: Mon-Fri 11am to 10:30pm, Sat-Sun 9am to 10:30pm
Tel: 8168 7127
Website
---
2. Genius Central Singapore 
---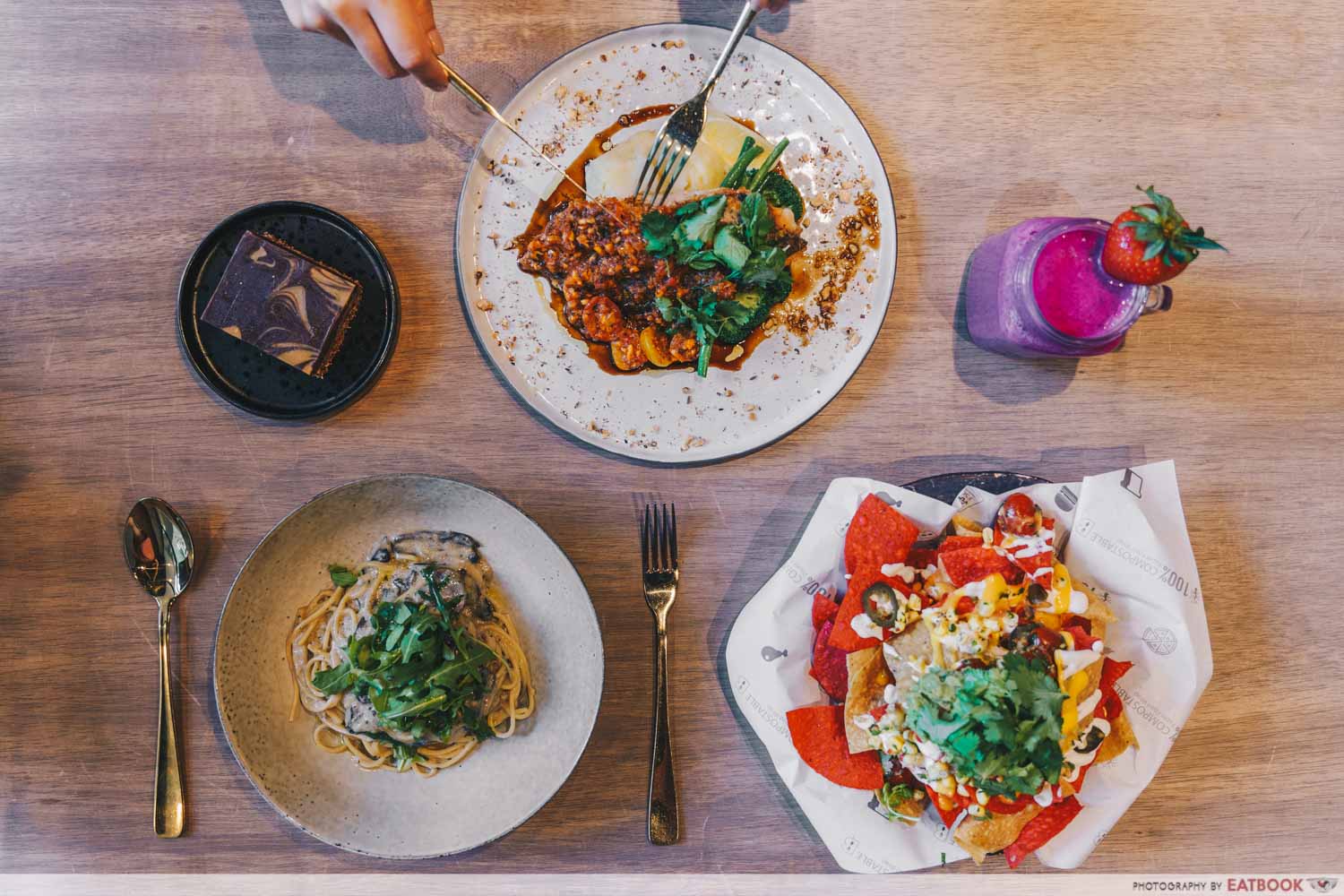 Don't skip over Genius Central just because they're touted as a plant-based-friendly dining destination. Their menu is largely organic, with vegetarian, vegan, dairy-, gluten- and nut-free options, but honestly, it is just tasty food, period. My meat-loving, non-vegetable-eating colleague raved over the Creamy Mushroom Pasta ($17) for its nutty, toasted notes, while the Vegan Nachos ($16) came in a massive, towering heap that's great for sharing.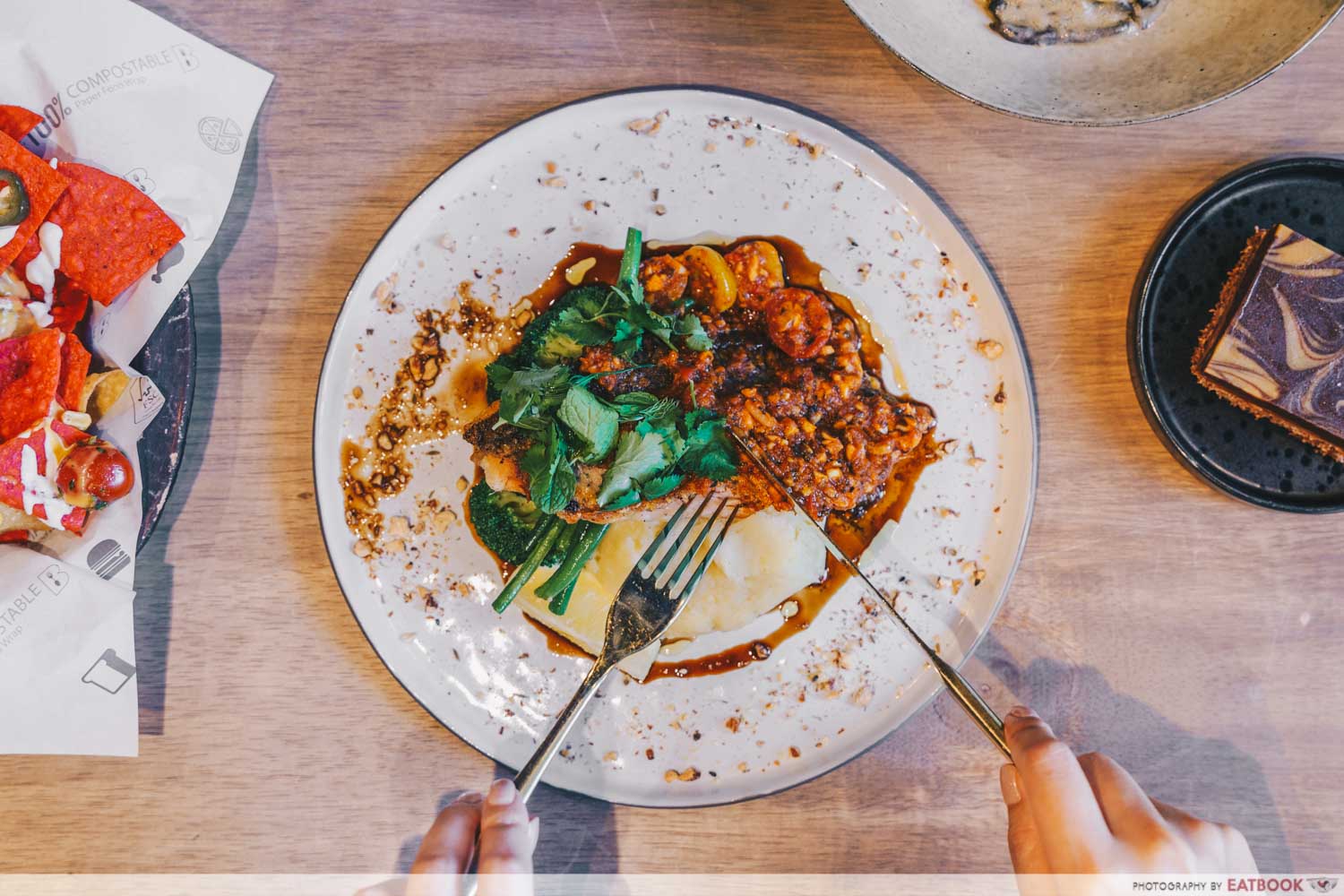 The inclusive menu here doesn't shun meat or fish, and the Seabass Livornese ($24) that we had was truly a well-put-together fish dish. What's more, the space is highly conducive for WFH-but-not-at-home, when you feel like you need a change of scenery, as the cafe is quiet and conducive. With 45% off All Day Cash Vouchers here, you'll leave here feeling pleased with yourself in more ways than one.
Get this exclusive 11.11 deal on ChopeDeals here.
Address: 7-13 Amoy Street, #01-01, Far East Square, Singapore 049949
Opening hours: Mon-Thurs 8am to 8:30pm, Fri-Sat 8am to 9:30pm, Sun 8am to 4pm 
Tel: 8940 1200
Website
---
3. The Coffee Academics
---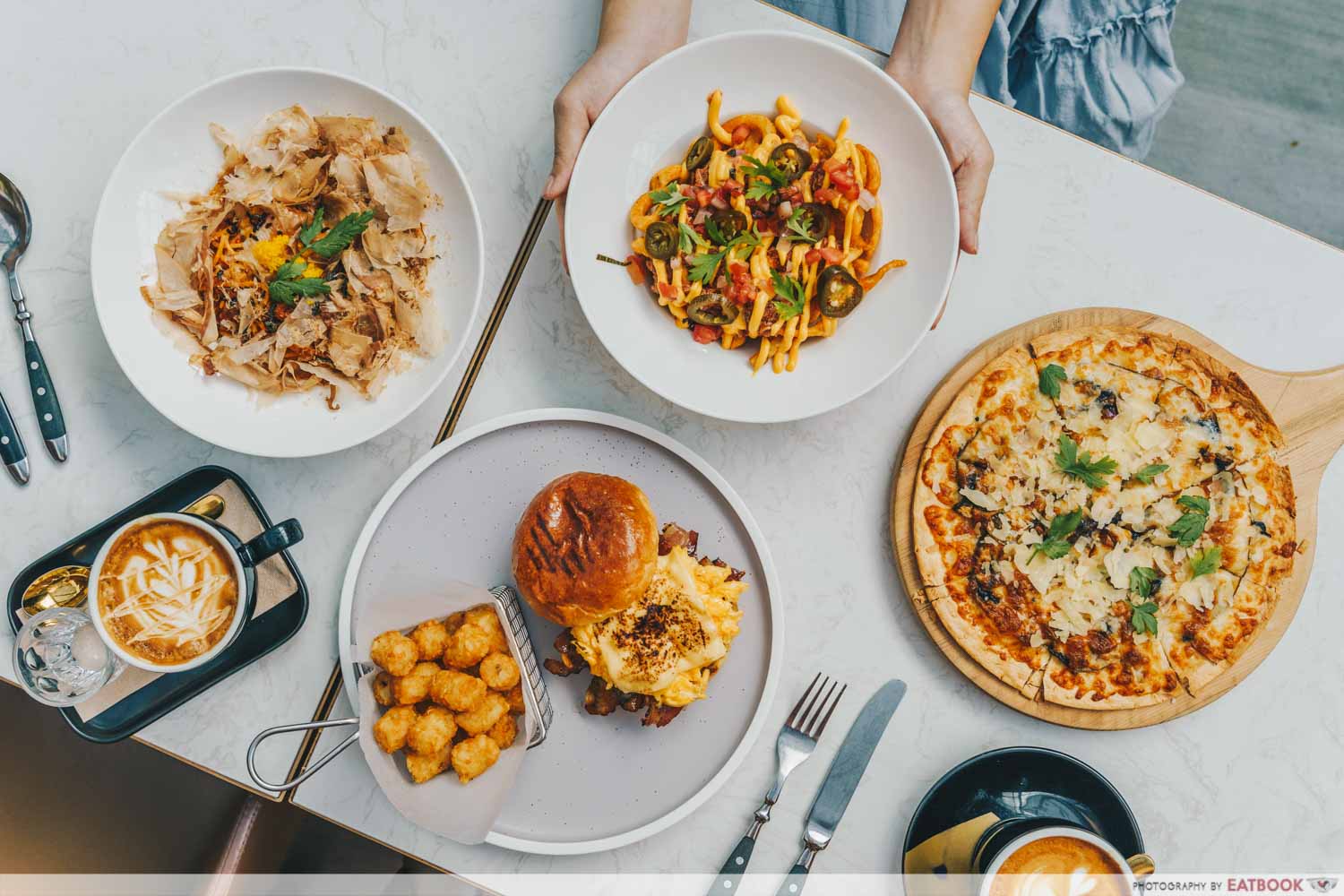 Specialty coffee house The Coffee Academics gained popularity for their coffee, but the all-day brunch fare has a staunch following as well. New to the menu is the Breakfast Burger ($20), of creamy scrambled eggs, maple-glazed bacon, and torched cheddar cheese in a potato bun, with tater tots on the side. 
Alternatively, go for their signature Umami Pasta ($23), which promises a party in the mouth thanks to sweet shrimp spicy XO sauce, shio konbu and ebiko, tied together with an onsen egg. Don't miss the coffee, especially the Manuka (from $6.40), which sees their latte drizzled with the super-honey from New Zealand. You have more excuse to visit this cafe with a 30% off All Day Cash Voucher at the ChopeDeals 11.11 Mega F&B Sale.
Get this exclusive 11.11 deal on ChopeDeals here.
Website
Locations (ChopeDeals are only available at Raffles City and Scotts Square)
---
4. W39 Bistro & Bakery 
---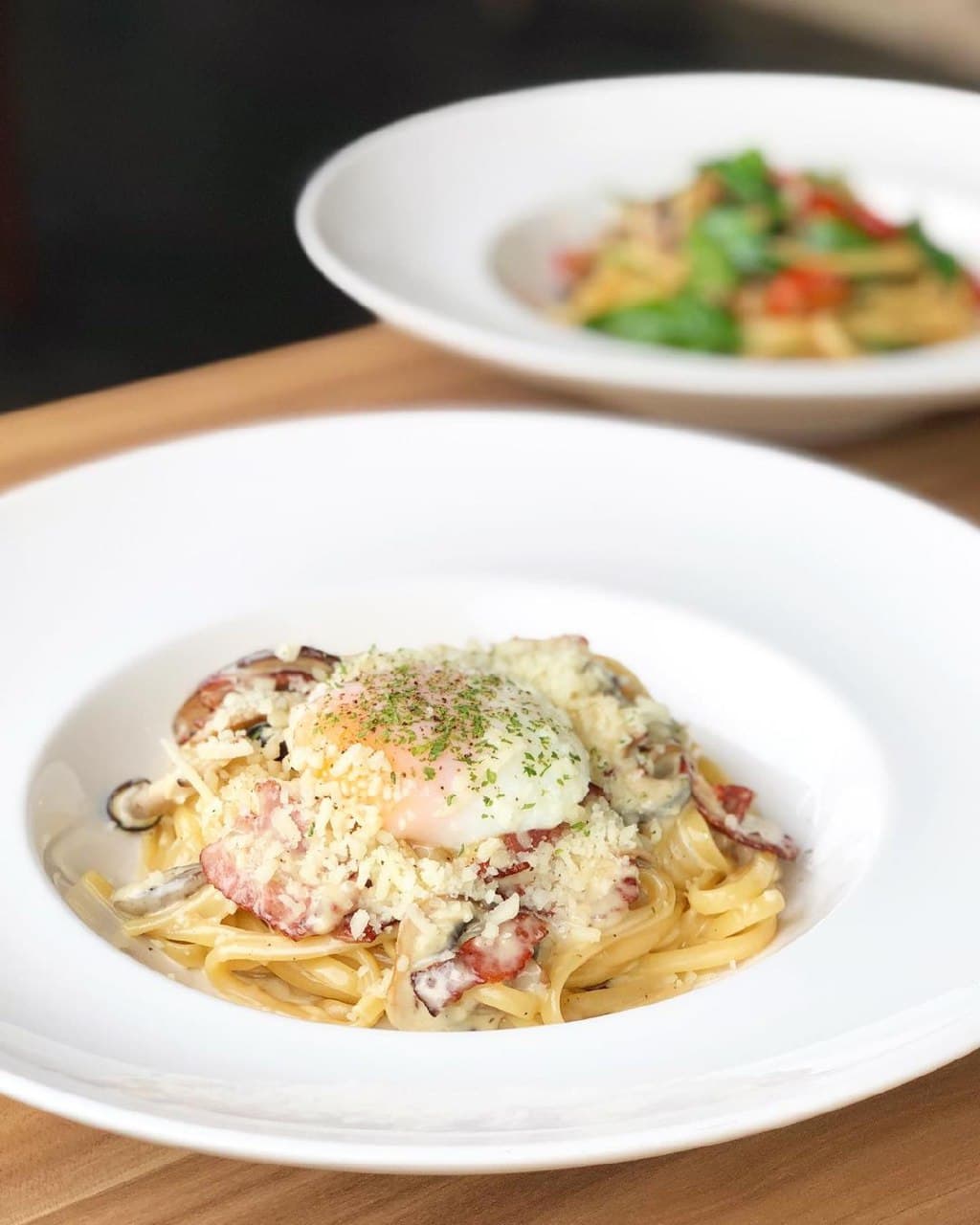 Image credit: @w39bistro
W39 Bistro & Bakery is a neighbourhood cafe tucked in a little-known lane in the West Coast area, with decor that whisks you into a quaint countryside home. They're offering 30% off their 3-course set menu on ChopeDeals this 11.11, allowing you to choose from a good selection of starters and mains, including salmon ceviche, carbonara, and barbecued chicken leg. Each set meal ($26.50, U.P $39.75) comes with a choice of starter, main, drink, and a mini cake of the day!
Get this exclusive 11.11 deal on ChopeDeals here.
Address: 39 Jalan Mas Puteh, Singapore 128637
Opening hours: Tues-Fri 11am to 10pm, Sat-Sun & PH 9am to 10pm
Tel: 9646 5372
Website
---
5. Hard Rock Cafe
---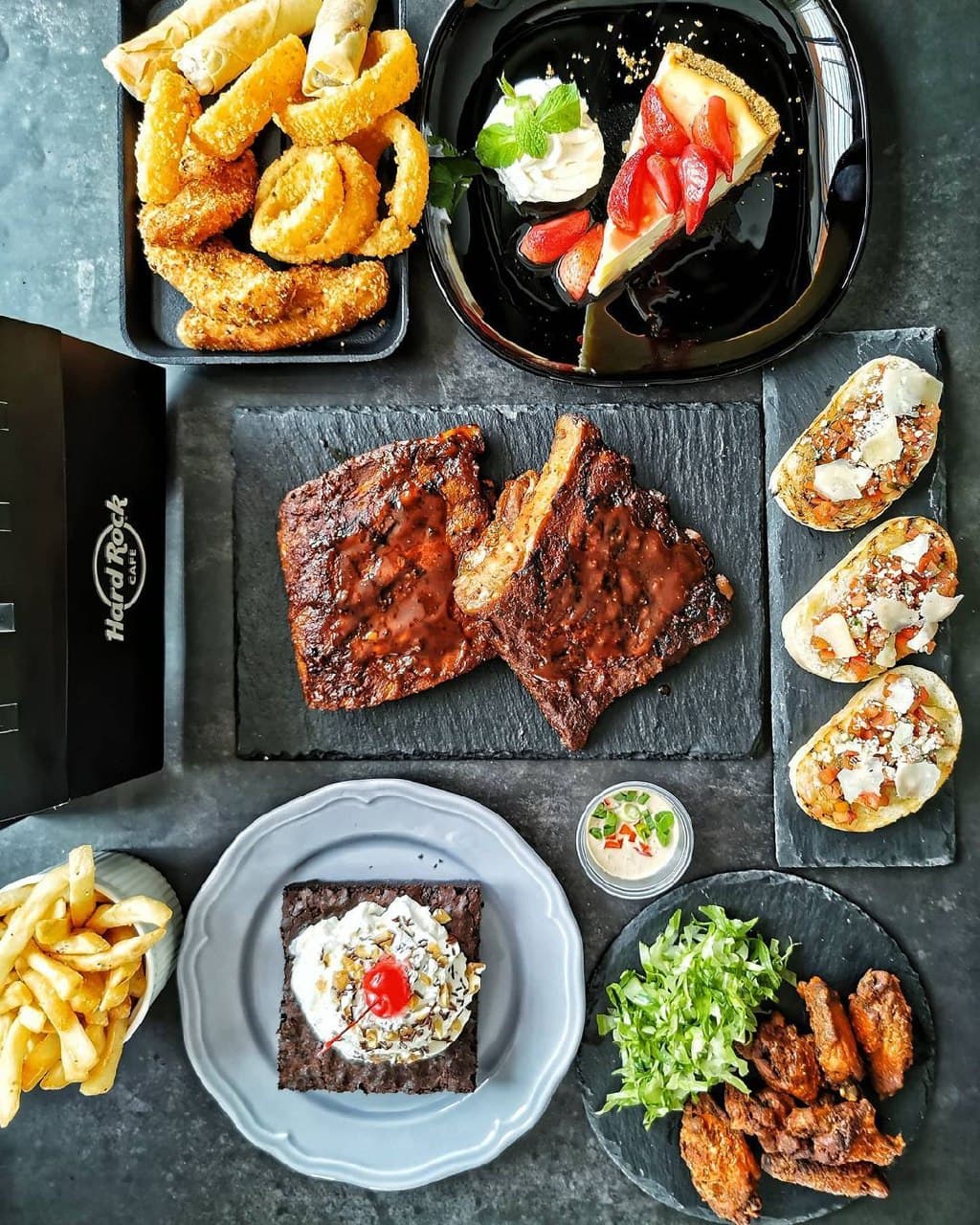 Image credit: @stellarfooddiary
There was a time when sporting a Hard Rock T-shirt, preferably emblazoned with some far-flung foreign destination, was cool. Relive those times and holidays abroad with 30% off All Day Cash Vouchers, available during the 11.11 sales on ChopeDeals, and get jamming with favourites such as the trademarked One Night In Bangkok Spicy Shrimp ($18.95) and Original Legendary Burger ($29.95).
Get this exclusive 11.11 deal on ChopeDeals here.
Address: 50 Cuscaden Road, #02-01, Hpl House, Singapore 249724
Opening hours: Daily 11:30am to 9:30pm
Tel: 6235 5232
Website
---
6. The Grumpy Bear
---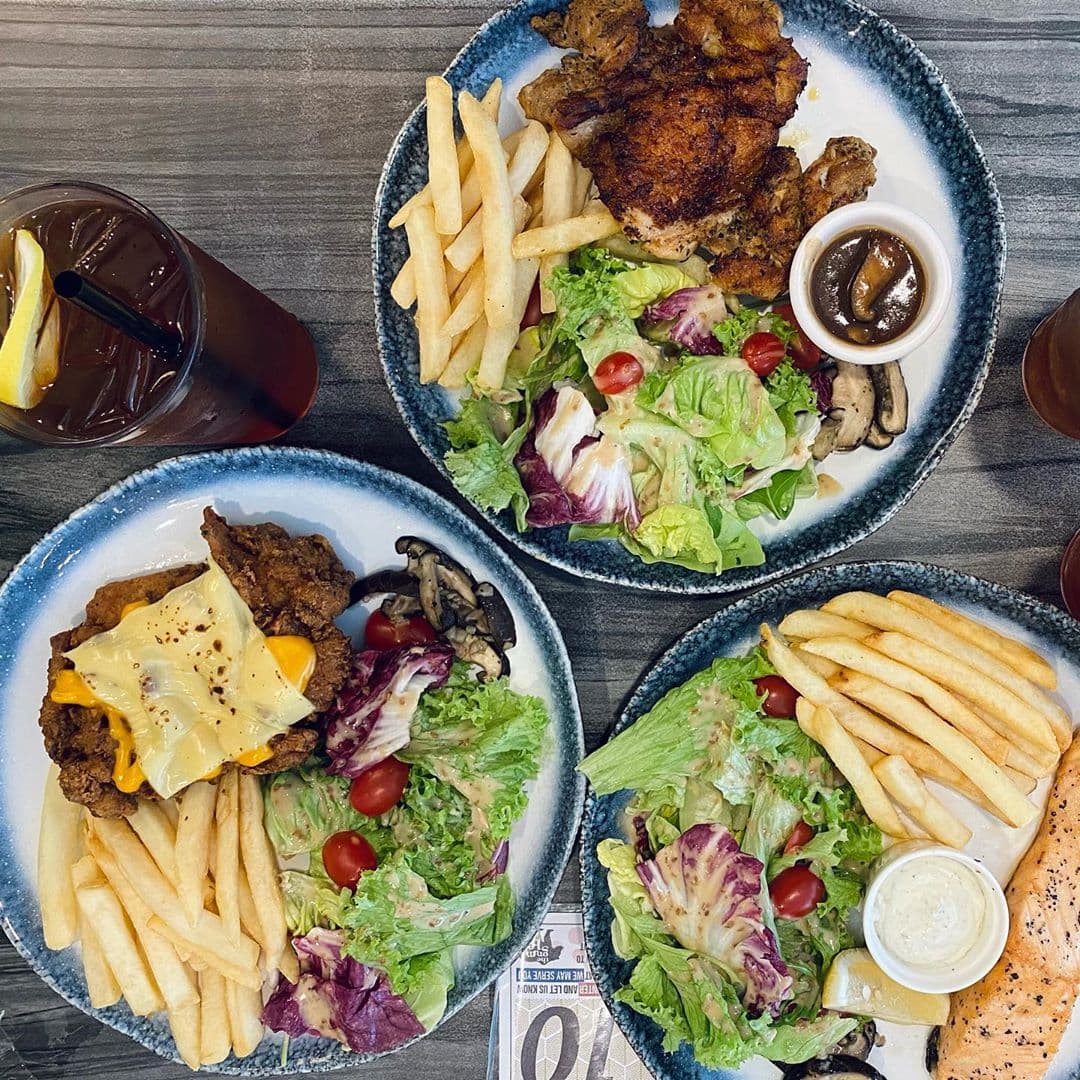 Image credit: @thegrumpybear
Entering The Grumpy Bear is like walking into someone's home. Its cosy, welcoming space is reflected in its comforting menu of reasonably-priced cafe fare. The menu is headlined by nine variations of their Signature Chicken that ranges from classic Western-style to Asian-inspired renditions. There's the Barbeque Chicken ($14.90), and Truffle Chicken ($16.90), alongside Salted Egg Chicken ($18.90) and Chilli Crab Chicken ($18.90).
There's also other Western fare on the menu, including pasta, burgers and franks, fish and chips, and steak, most priced below $20. If that wasn't enticing enough, The Grumpy Bear will be offering 50% off All Day Cash Vouchers on ChopeDeals this Singles' Day! 
Get this exclusive 11.11 deal on ChopeDeals here.
---
7. The Dempsey Project 
---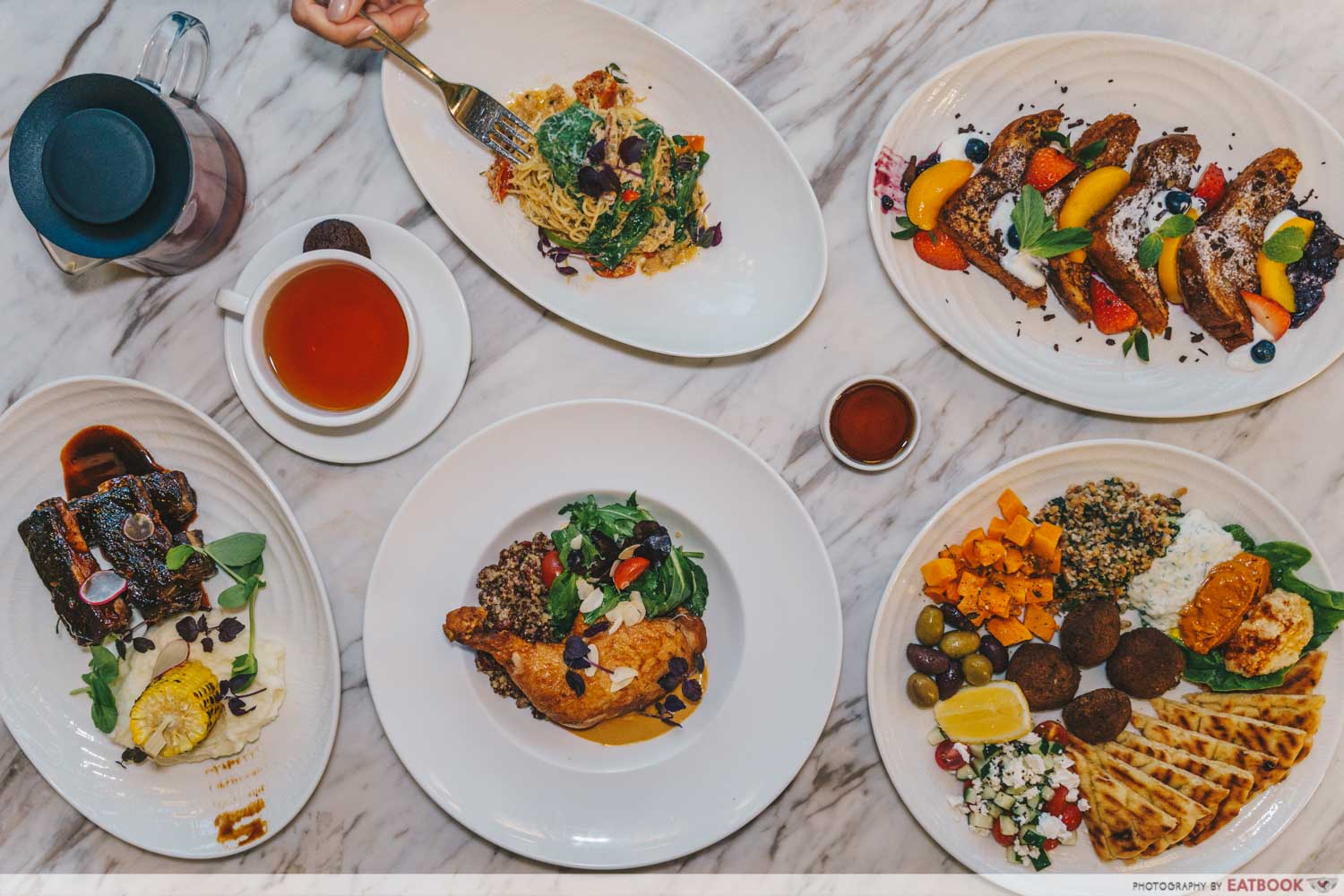 Live your best tai tai life on Dempsey Hill while enjoying ChopeDeals' 1-for-1 mains at The Dempsey Project, as well as their 40% off Off-peak Cash Vouchers with ChopeDeals. Go for the Roast Chicken ($29) and Crab Angel Hair Pasta ($29), two of the 1-for-1 options, or enjoy items from their a la carte menu.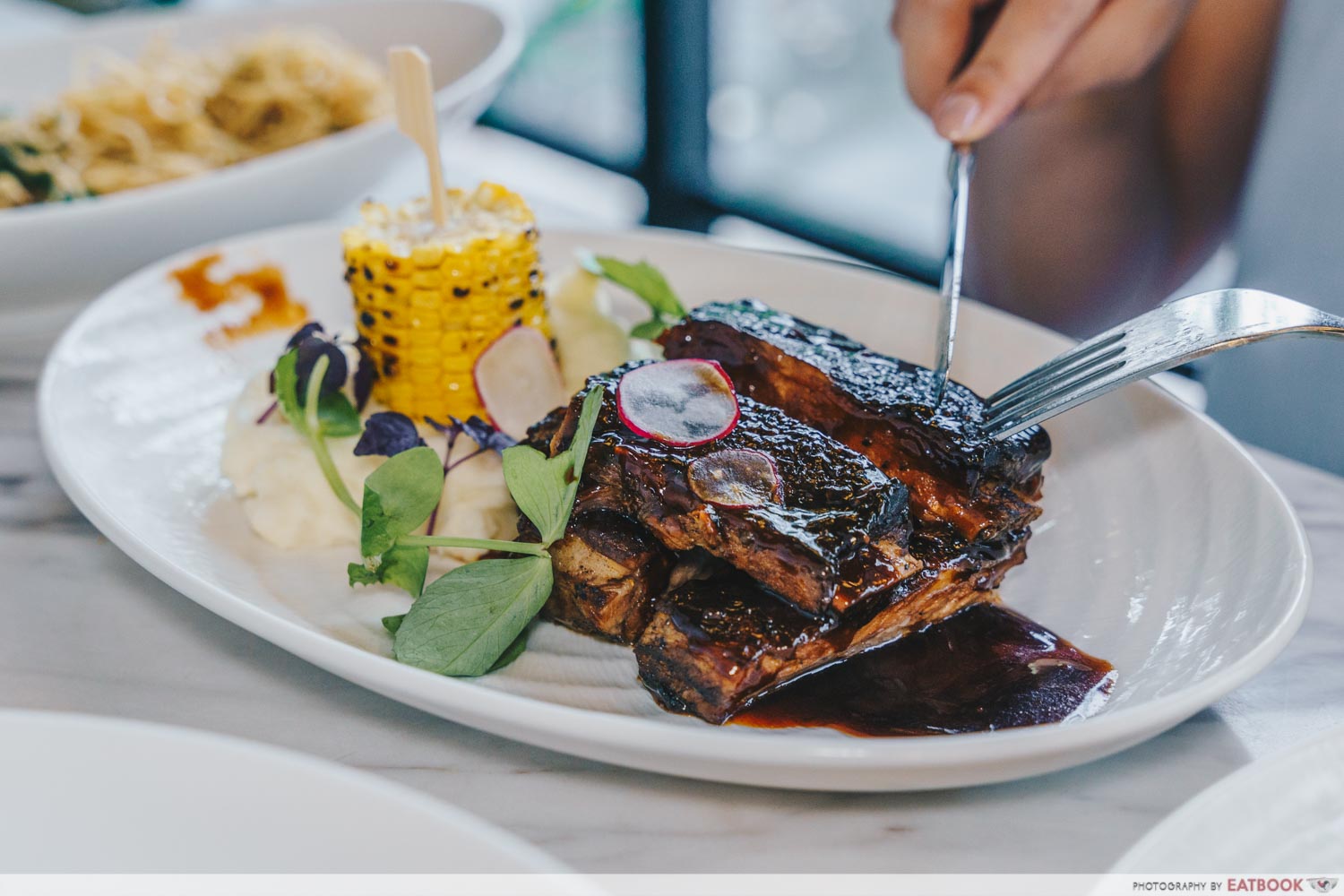 We had the Mediterranean Mezze ($26), a vegetarian-friendly option that's great for grazing, and BBQ Pork Ribs ($34), which carried Asian flavours of hoisin, accompanied by smooth mash and buttered corn on the side. End the meal on a sweet note with some Sticky Date Pudding ($16), topped with vanilla bean ice cream.
Get this exclusive 11.11 deal on ChopeDeals here.
Address: 9 Dempsey Road, Singapore 247697
Opening hours: Sun-Thurs 8am to 9:30pm, Fri-Sat 8am to 10:30pm
Tel: 6476 1518
Website
---
8. Carrotsticks & Cravings 
---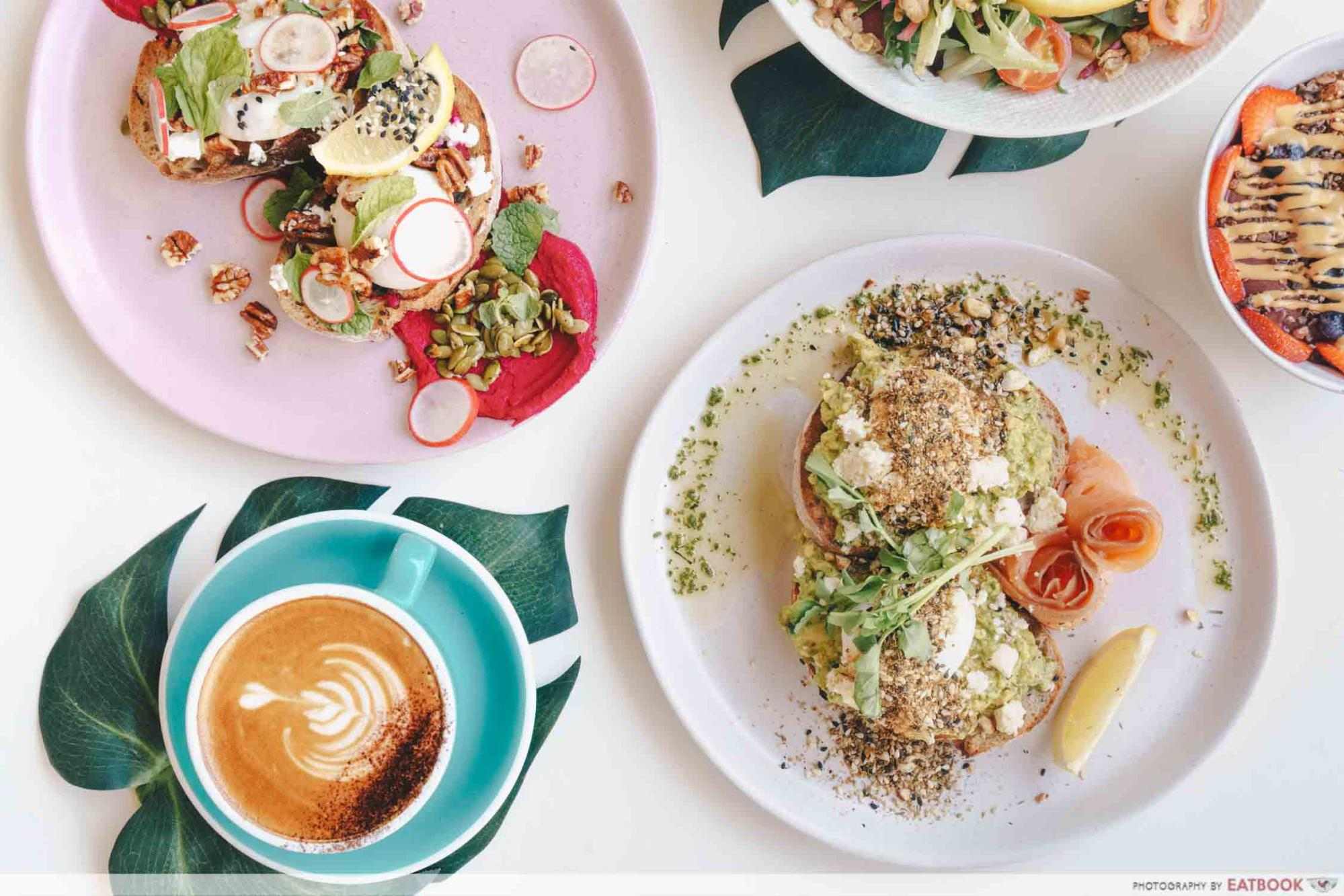 Brunch at Carrotsticks & Cravings gives me major Bali vibes, especially now that we can't travel anywhere. This hidden gem serves up healthy Australian-inspired cafe fare that's pretty, colourful, and tastes as good as it looks. Get the Smashed Avo on Sourdough ($18), Shakshouka ($18), or the Acai Berry Bowl ($14), perfect for some clean eating. Live your best Bali brunch life with 35% off All Day Cash Vouchers at both the Loewen and Robertson Quay branches on ChopeDeals this November 11!
Get this exclusive 11.11 deal on ChopeDeals here.
---
9. Oberstrasse 
---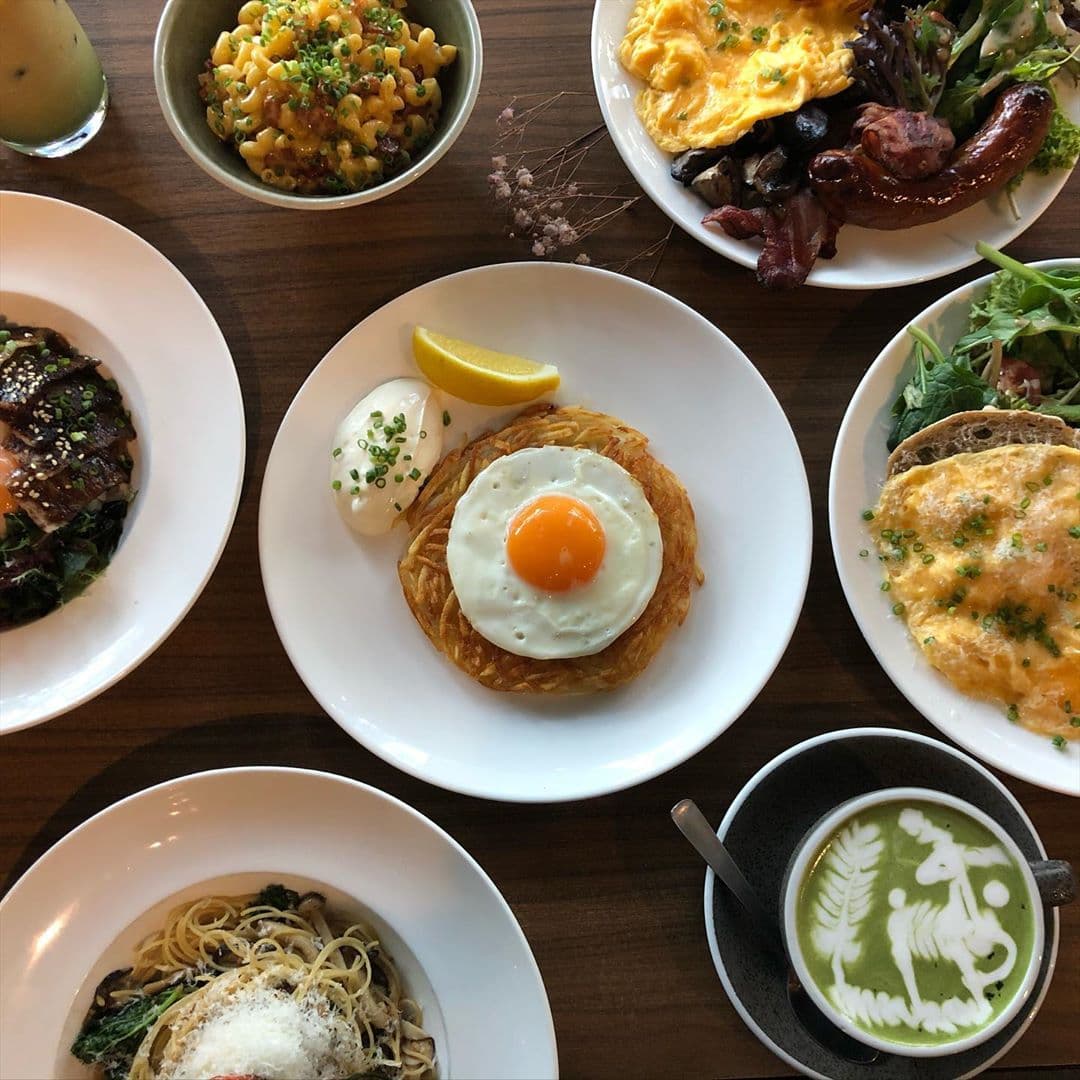 Image credit: @oberstrassesg
This rustic cafe near Lavender has rosti on the menu! An uncommon find, there's also a unique fennel rosti that features in their Breakfast Rosti ($15). Oberstrasse also has all-day breakfast options, buttermilk waffles both sweet and savoury, rice bowls and pasta. The Spanish Jowl Bowl ($14) stars sous vide Spanish pork jowl, an onsen egg, and wafu sauce on short-grain rice, with a tobiko and kelp topping. For an Italian option, try the Seafood Pasta in White Wine Cream ($17), which has crabmeat, shrimp, ikura, and crustacean oil. Go off the beaten track and give them a try, with up to 40% off Cash Vouchers, or 1-for-1 Cold Brew ($6/bottle) this 11.11.
Get this exclusive 11.11 deal on ChopeDeals here.
Address: 809 French Road, #1-50, Singapore 200809
Opening hours: Daily 9am to 5:30pm
Tel: 9652 5336
Website
---
10. Botanico at The Garage
---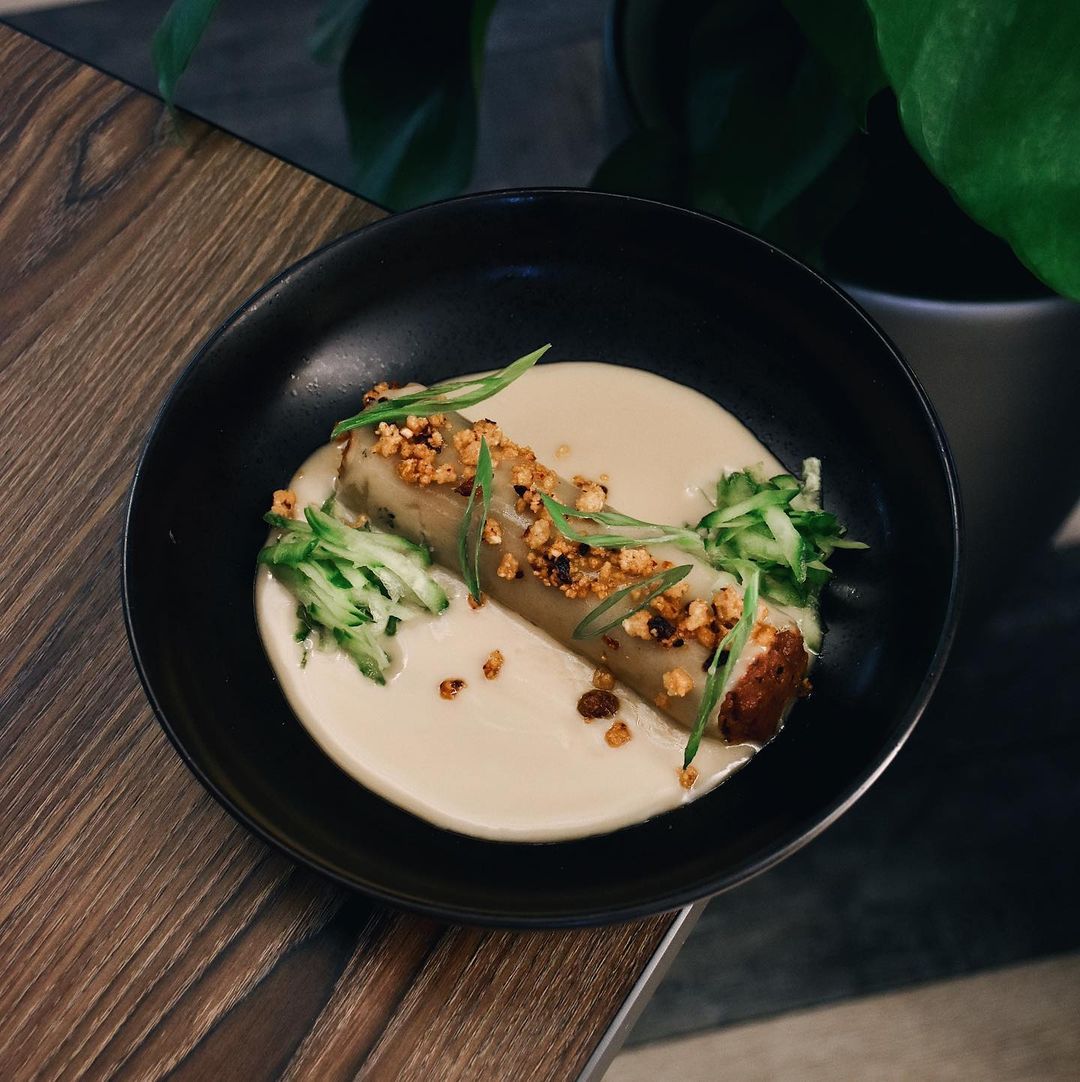 Image credit: @botanicosg
On your next visit to the Botanical Gardens, add Botanico at The Garage to your itinerary. The contemporary garden restaurant and bar is set near the Cluny Court entrance of the gardens, with an Asian-influenced menu that's inspired by nature. Try the Iberico "Chee Cheong Fun" ($12), or Herbal Chicken ($29), which are both spins on our traditional favourites. If you haven't been here, take the opportunity to visit this year with 30% off Cash Vouchers, available on ChopeDeals at their 11.11 Mega F&B Sale!
Get this exclusive 11.11 deal on ChopeDeals here.
Address: 50 Cluny Park Road, Level 2, Singapore Botanic Gardens, Singapore 257488
Opening hours: Tue-Fri 6pm to 10pm, Sat-Sun 11am to 3pm, 6pm to 10pm
Tel: 9831 1106
Website
---
Mega Sales With ChopeDeals This 11.11
---
There are more than 200 exclusive dining deals on ChopeDeals 11.11 Mega F&B Sale as well, with 1-for-1 and up to 66% off deals, flash deals from $1 and many more! 
Also, in the lead-up to Singles' Day, ChopeDeals helps you kickstart your inner deal-scoring engine with a pre-sale that's happening before 11 November 2020. 
Ramp things up with 40% off cash vouchers at TungLok Group restaurants on 9 November with TungLok Brand Day, and get holiday-ready with the Super Staycay Sale happening on 10 November, where you'll get up to 70% off staycations at Hilton Singapore, PARKROYAL hotels and Oakwood Premier properties.
So, wait no more─mark your calendars now and set your alarms for the hottest sale of the year on ChopeDeals.
Photos taken by Lim An.
This post is brought to you by ChopeDeals.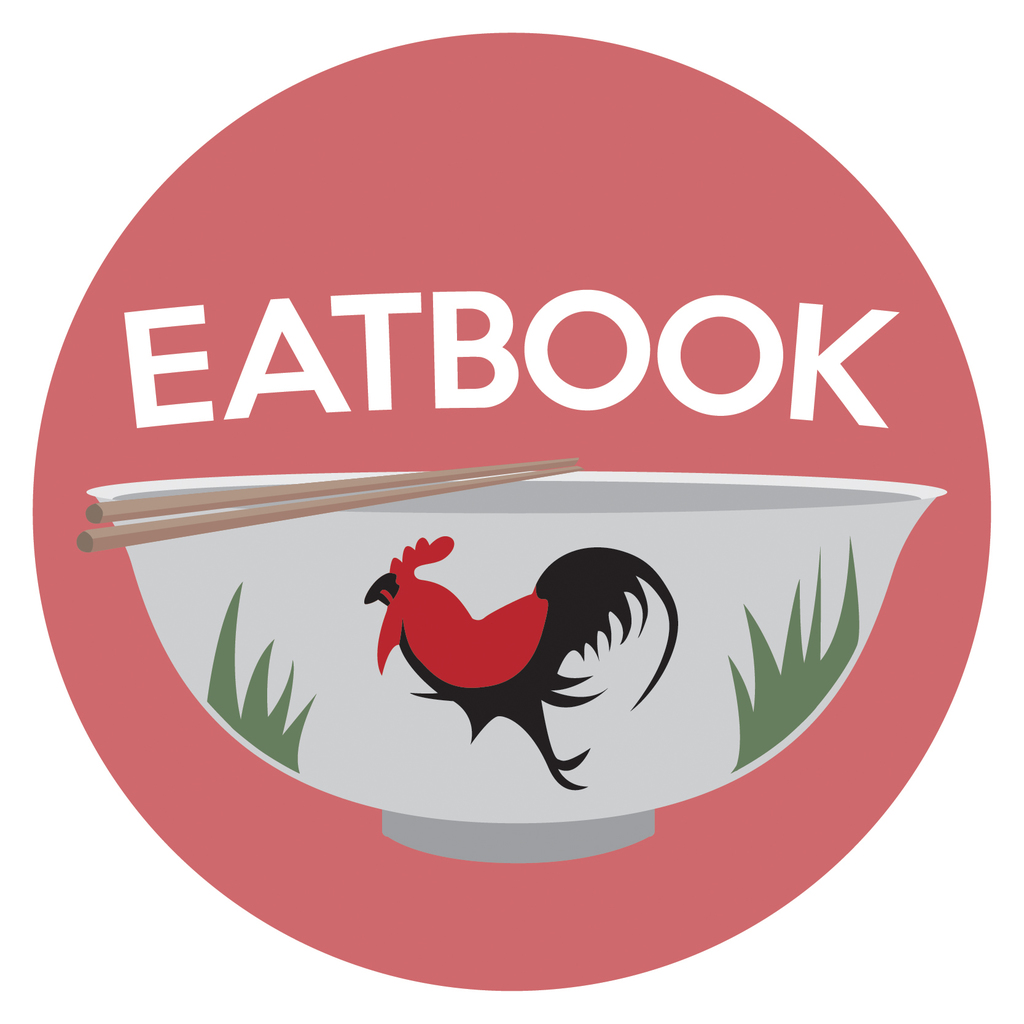 Drop us your email so you won't miss the latest news.