Chun Kee brings a twist to white bee hoon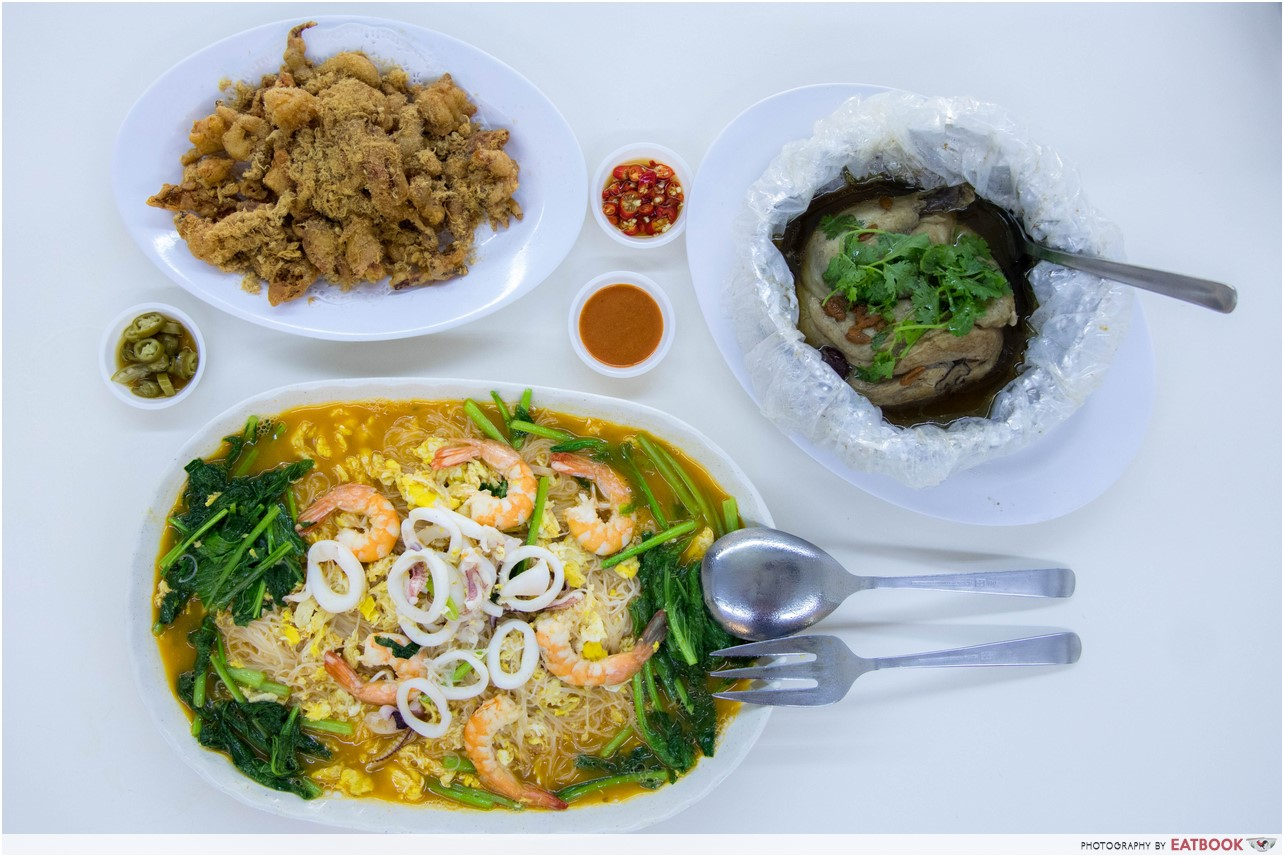 During my three years in Ngee Ann Polytechnic, the eateries at Cheong Chin Nam Road were my go-to supper spots, especially when my squad and I were mugging in school till late. Back then, we frequented Al-Azhar and several Korean BBQ restaurants, but we never thought to dig into zi char dishes.
Now, having stumbled upon Chun Kee Seafood White Bee Hoon, a part of me wishes I haven't graduated just so I can drop by this hidden gem every so often and indulge in their food with my pals.
Food at Chun Kee Seafood White Bee Hoon

Apart from serving up classic zi char fare, Chun Kee sets itself apart from other white beehoon restaurants by introducing a spicy version. This is a great alternative for spicy-food lovers or those who appreciate a good punch on their taste buds.
Their Red Beehoon ($5/$10/$15) had an intense wok fei fragrance with a strong aroma of sambal. Served with a handful of prawns, squid, vegetables, and scrambled eggs, I couldn't wait to dive right in!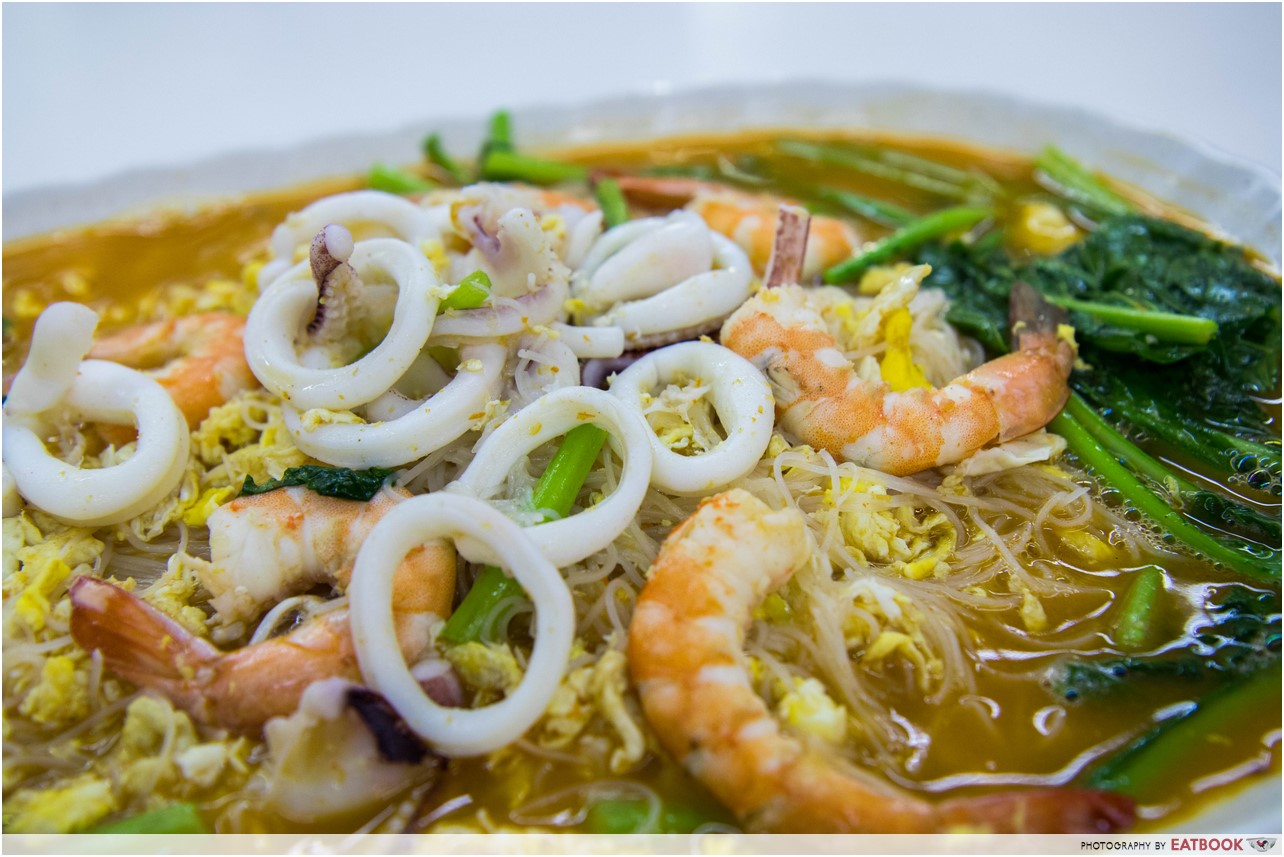 After receiving an order, the chef stir-fries their house-made sambal chilli and chopped chilli padi together. Afterwards, he throws in the seafood and gives everything a light toss to create a wok hei fragrance. The sambal seafood is then brought to a slow simmer in chicken broth. Finally, he adds a generous amount of white bee hoon and eggs.
Before digging in, the owner warned us this menacing dish is fiery hot and not for the faint-hearted. Skeptical, I took a big slurp of the broth. It was manageable at first, till I reached the five-second mark. There was a slow gradual burn at the back of my throat that lingered. Even though the piquant broth almost cooked my insides, it was undeniably addictive.
The broth, however, got a little too much for me after a while. Not only did the spiciness start to overpower the natural taste of the ingredients, it also had me reaching out for tissues. The owner's right, this dish is suited for people with a high tolerance for spicy food.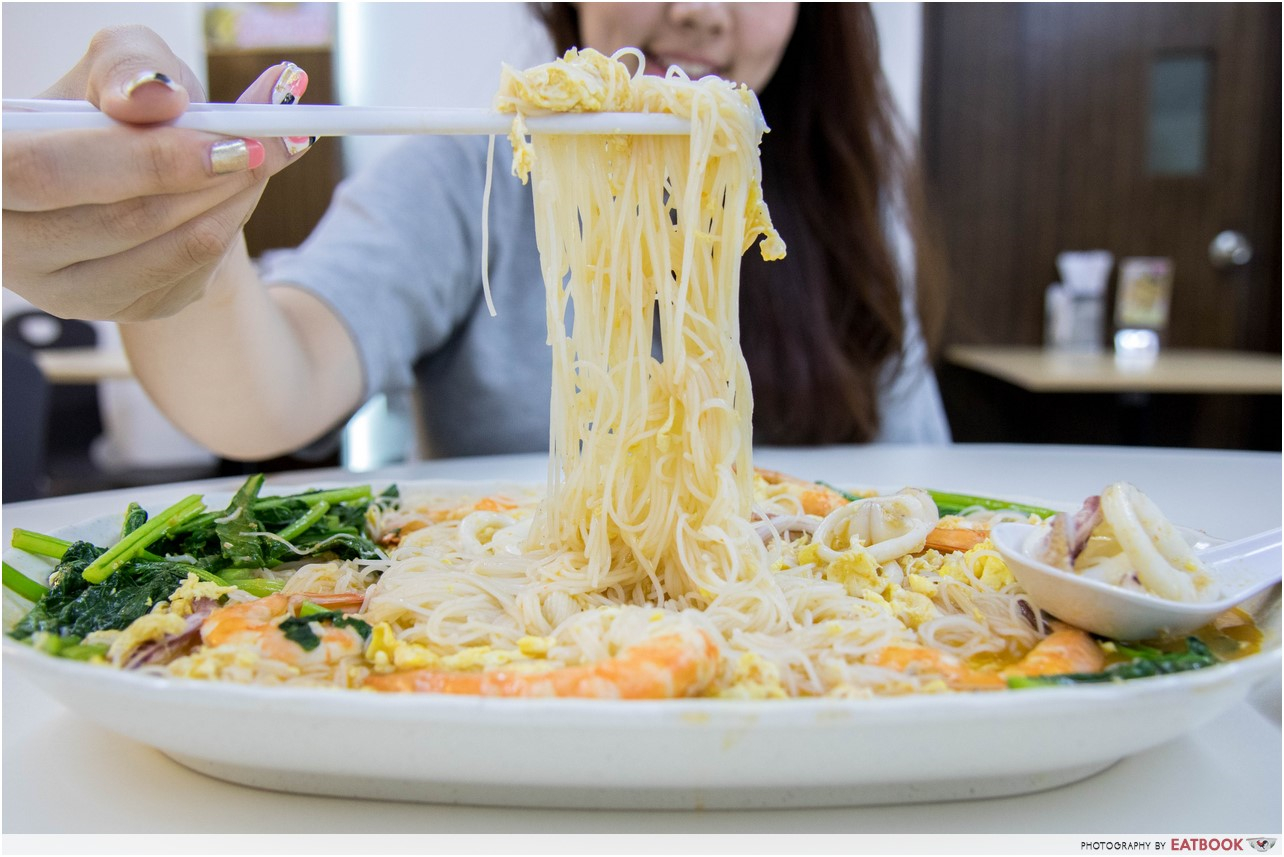 As we ordered the $15 portion, which is meant for three to four people, the amount of beehoon given was insane. After having two bowls myself, there were still plenty to go around. The chewy noodles had a much-welcomed wok hei fragrance. The eggs provided a sweetness that balanced out the spiciness of the broth.
While the bee hoon absorbed the flavour of the broth, it unfortunately dried up quickly. So be sure not to leave it out for too long!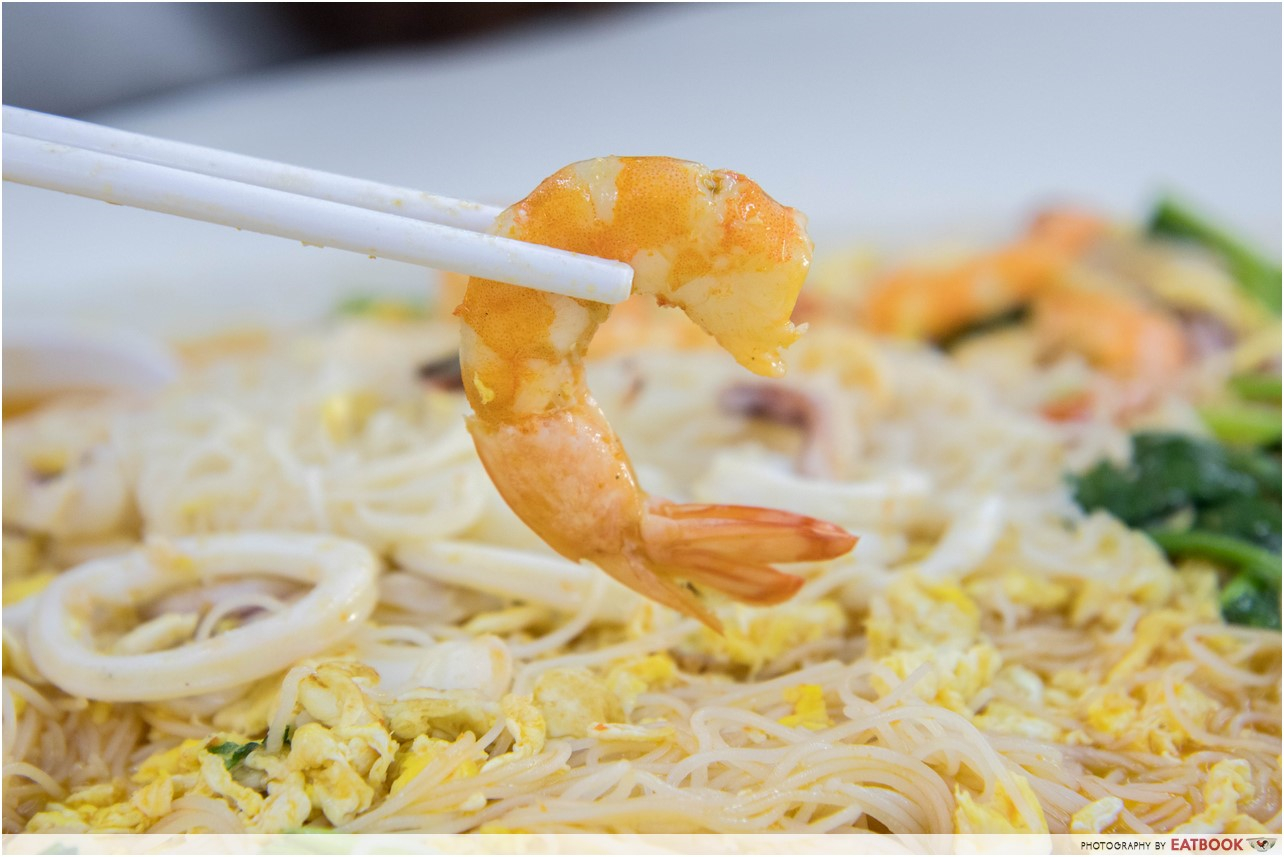 Even though I expected the prawns to be slightly bigger, the amount given made up for each prawn's small size. If you're not fond of peeling prawns, you'd be glad to know they come peeled. The pieces of squid were overcooked, resulting in a tough texture.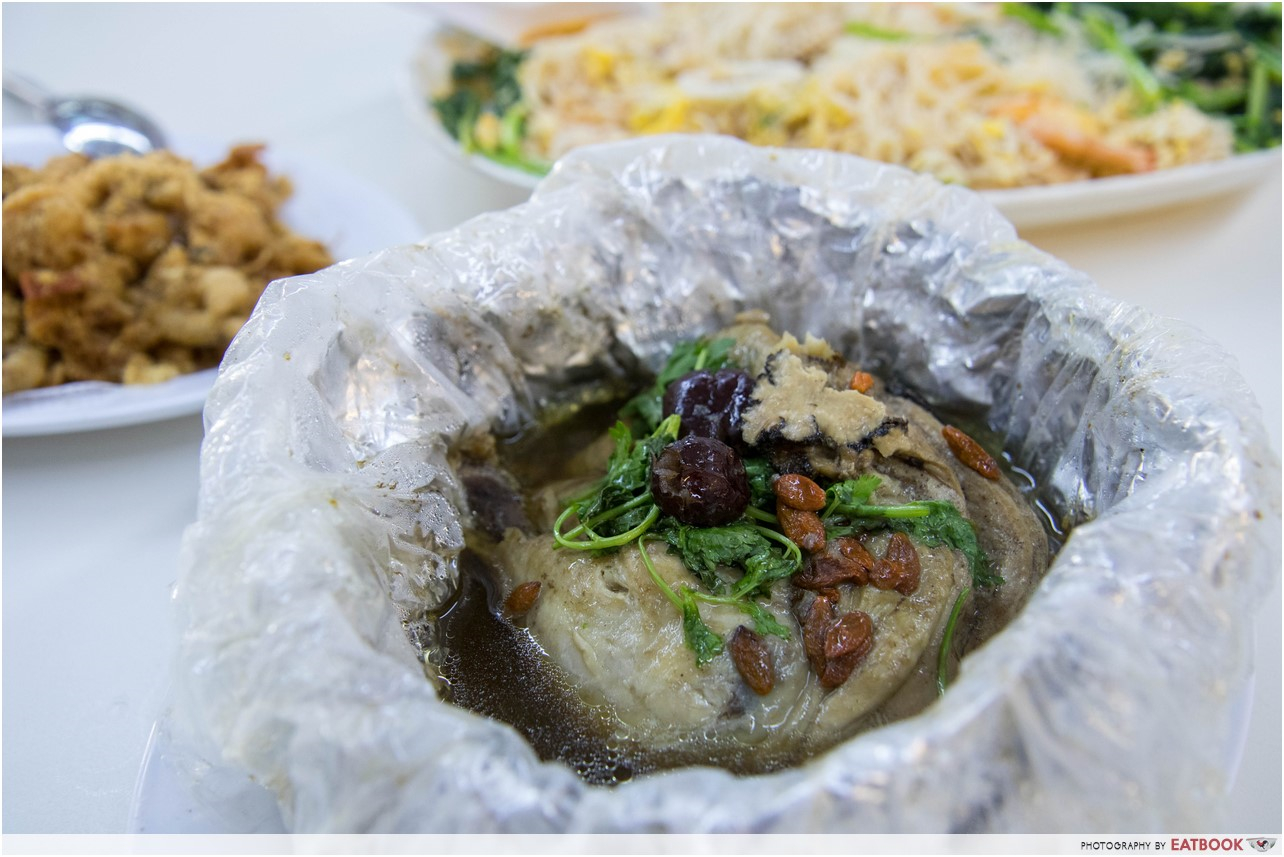 One of the more popular items on Chun Kee's menu is Herbal Chicken ($16). I was told this is the only dish the owner himself tends to, since it uses his mother's recipe. When it first arrived, I was smacked with a strong herbal aroma that got my tummy rumbling.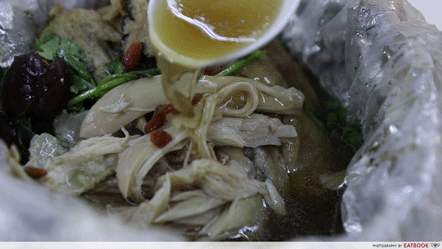 The owner uses four Chinese herbs imported from Malaysia in this dish, namely dang gui, goji berries, red dates, and chuan xiong.
He first seasons the chicken with salt, pepper, and Shaoxing wine. Then, he baths the chicken in their house-made chicken stock and fills it up almost to the brim. After throwing in the herbs, he wraps it up with aluminium foil and steams it for approximately an hour.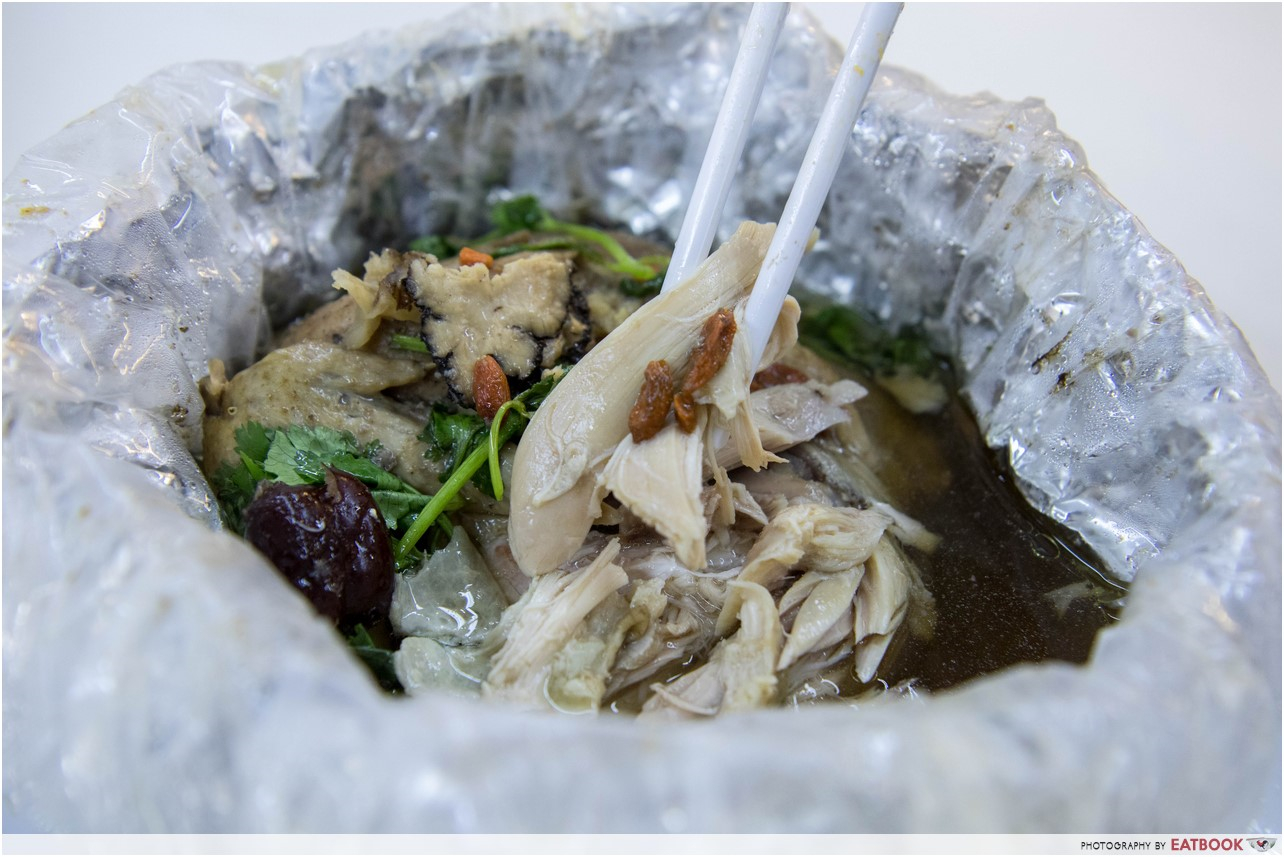 What sets Chun Kee's herbal chicken apart from other zi char stalls' is their method of cooking. The owner doesn't serve the dish immediately after steaming. Instead, he cools it down and chills it in the freezer so the chicken stays infused in the herbal broth for a longer time. Before serving, he heats it up again. This results in a chicken that's jam-packed with herbal flavours.
Every part of the chicken was juicy and flavourful. The meat was fork-tender, and fell off the bones with a slight nudge.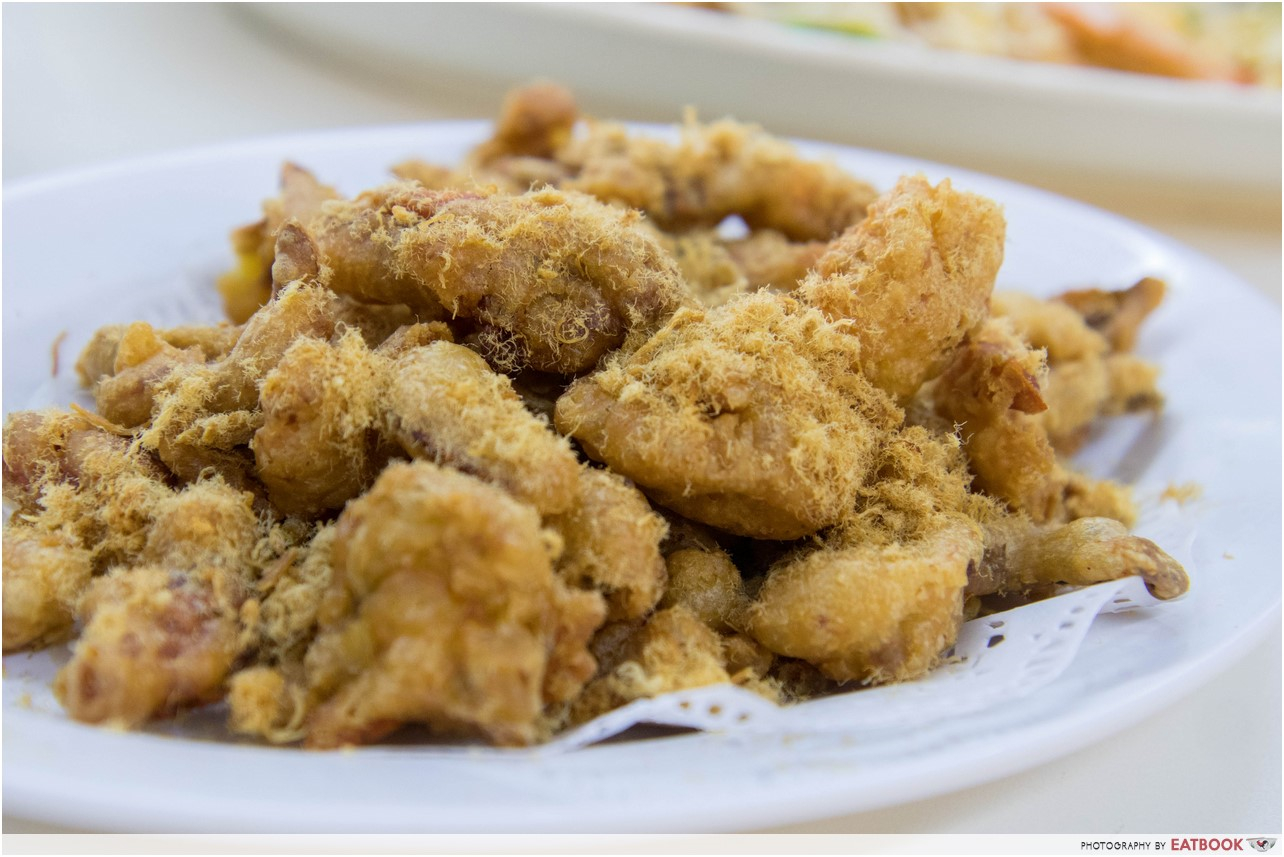 Instead of getting the usual salted egg prawn, we got Crispy Soft Shell Crab With Pork Floss ($16/$24/$32) for a change.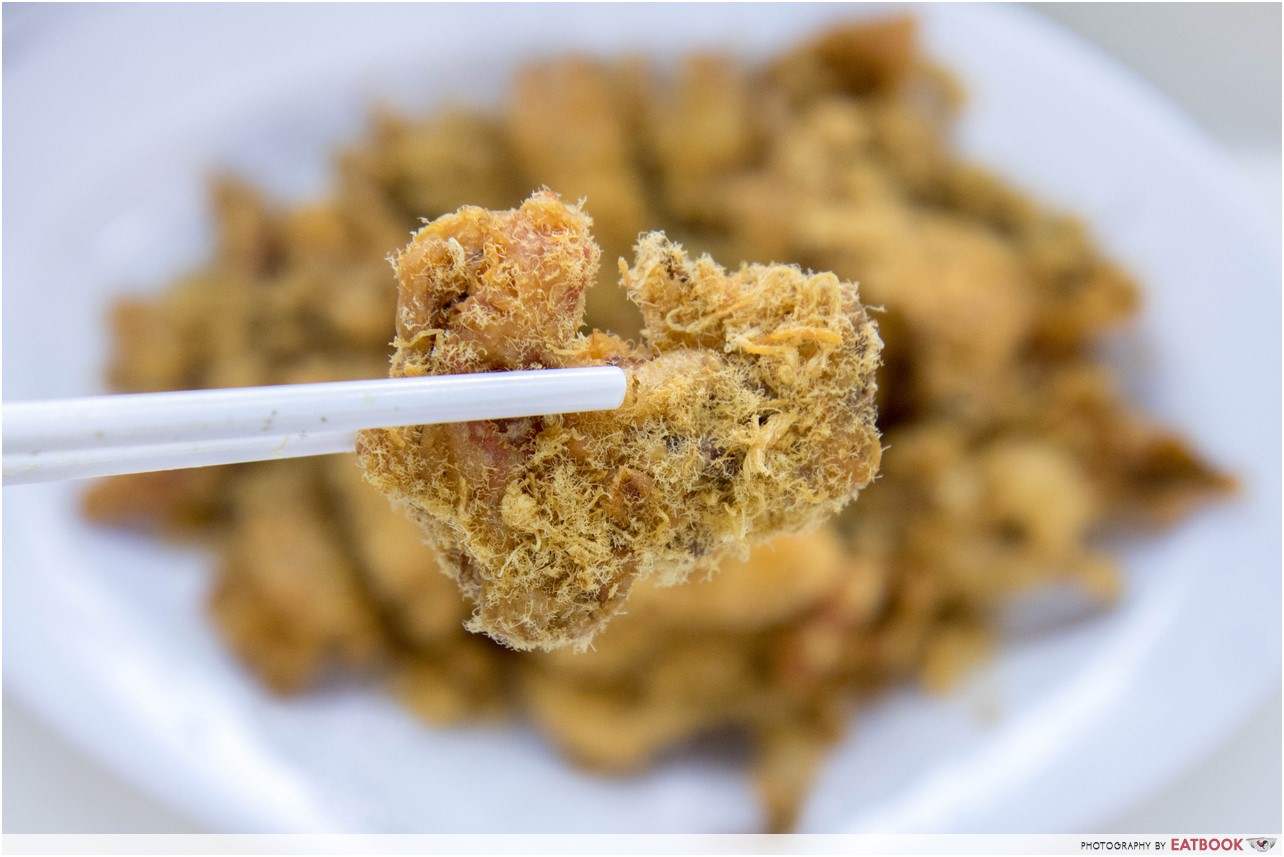 Each piece had a good ratio of soft shell crab to batter, and was dusted with curry powder and pork floss. With a crisp exterior and briny centre, these were little nuggets of happiness.
Ambience at Chun Kee Seafood White Bee Hoon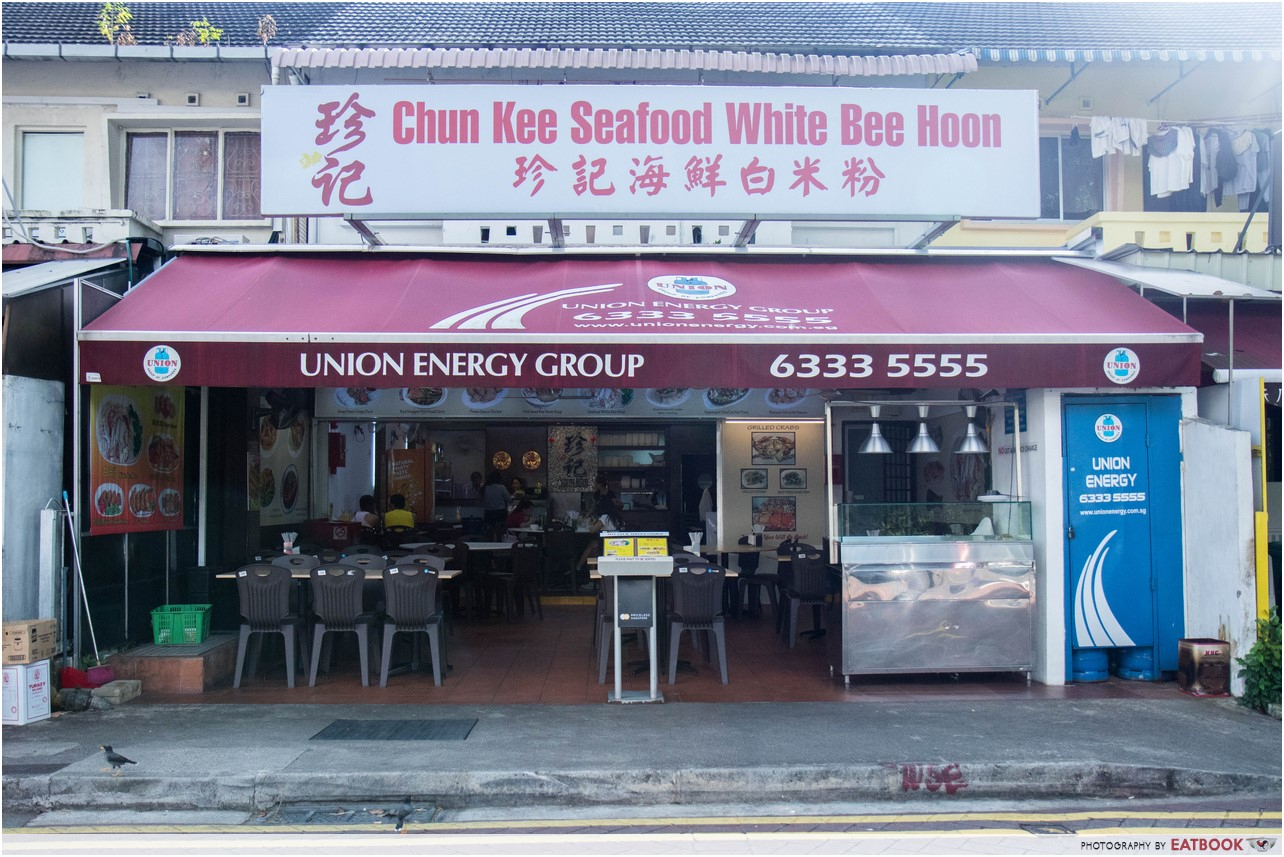 This nondescript restaurant is situated along the stretch of eateries along Cheong Chin Nam Road, so do keep a lookout or you might just walk past it. There are several buses that can bring you to Chun Kee. Alternatively, it's only a three-minute walk away from Beauty World MRT Station.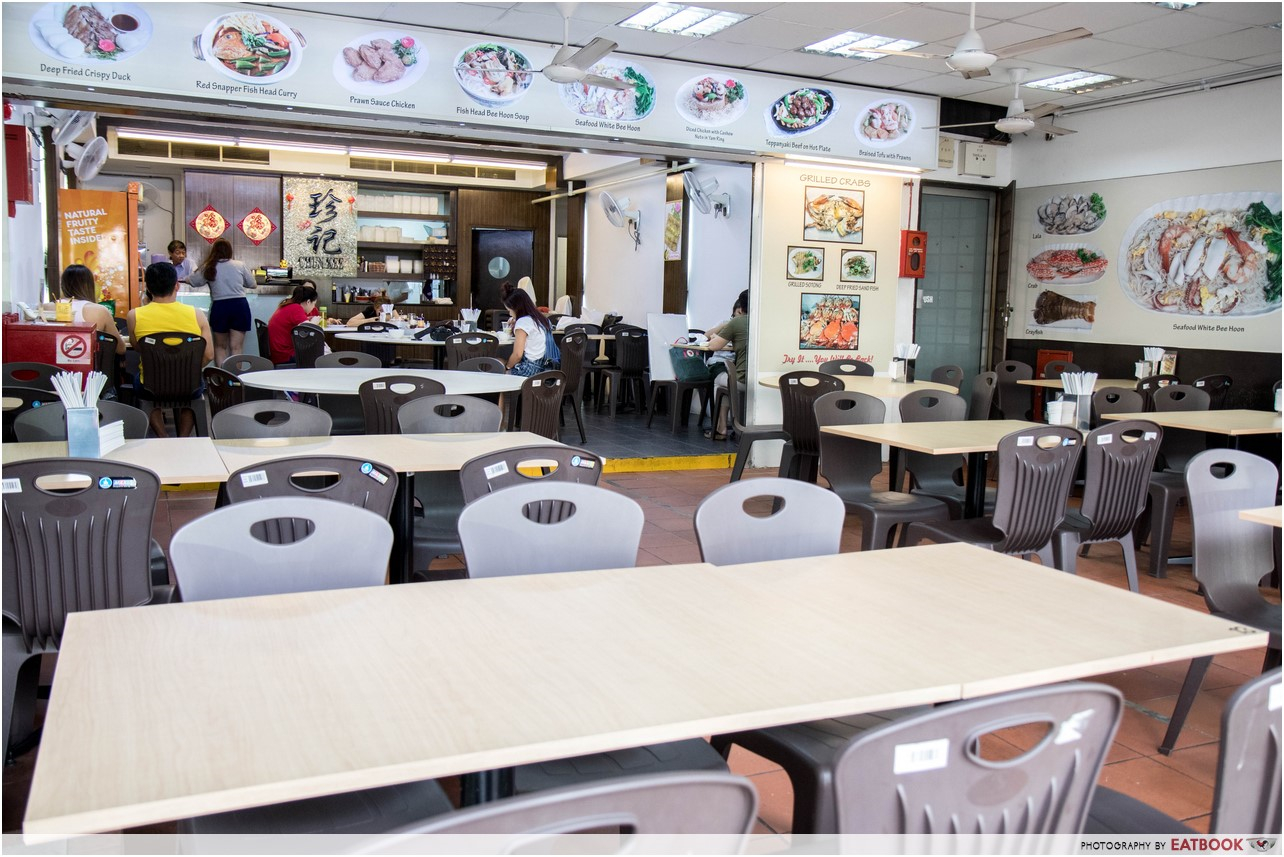 Chun Kee looks like a typical zi char restaurant. Great for get-togethers, the restaurant can comfortably fit 60 to 70 people. The decor was simple and the place was clean. We were able to get a table easily when we visited at around 3pm on a weekday. The staff and owner were all friendly and efficient.
The verdict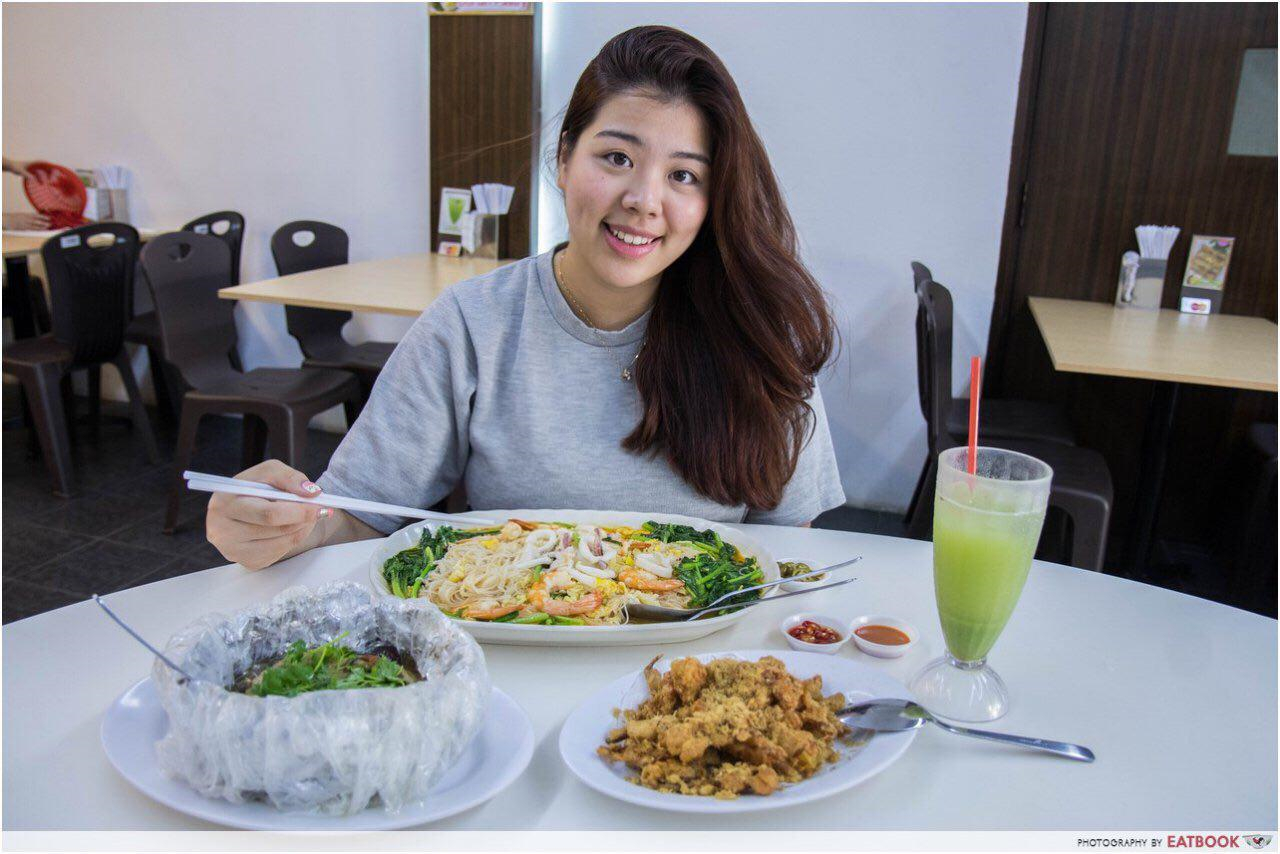 As someone who enjoys spicy food, I'd still go for the bee hoon the next time I'm back. Chun Kee also offers a wide variety of zi char fare, so you can easily cater to all the fussy eaters in your fam or squad. White bee hoon fans, check out these affordable and tasty bee hoon dishes as well!
Address: 20 Cheong Chin Nam Road, Singapore 599744
Opening hours: Daily 11am to 11pm
Tel: 6463 4155
Website
Chun Kee Seafood White Bee Hoon is not a halal eatery.
This is an independent review by Eatbook.sg.
Summary
Pros
– Delicious food
– Affordable
– Efficient staff
Cons
– Stuffy ambience
Recommended Dishes: Red Beehoon ($5/$10/$15), Herbal Chicken ($16), Crispy Soft Shell Crab With Pork Floss ($16/$24/$32)
Operating Hours:
Daily 11am to 11pm
Tel:
6463 4155
Address: 20 Cheong Chin Nam Road, Singapore 599744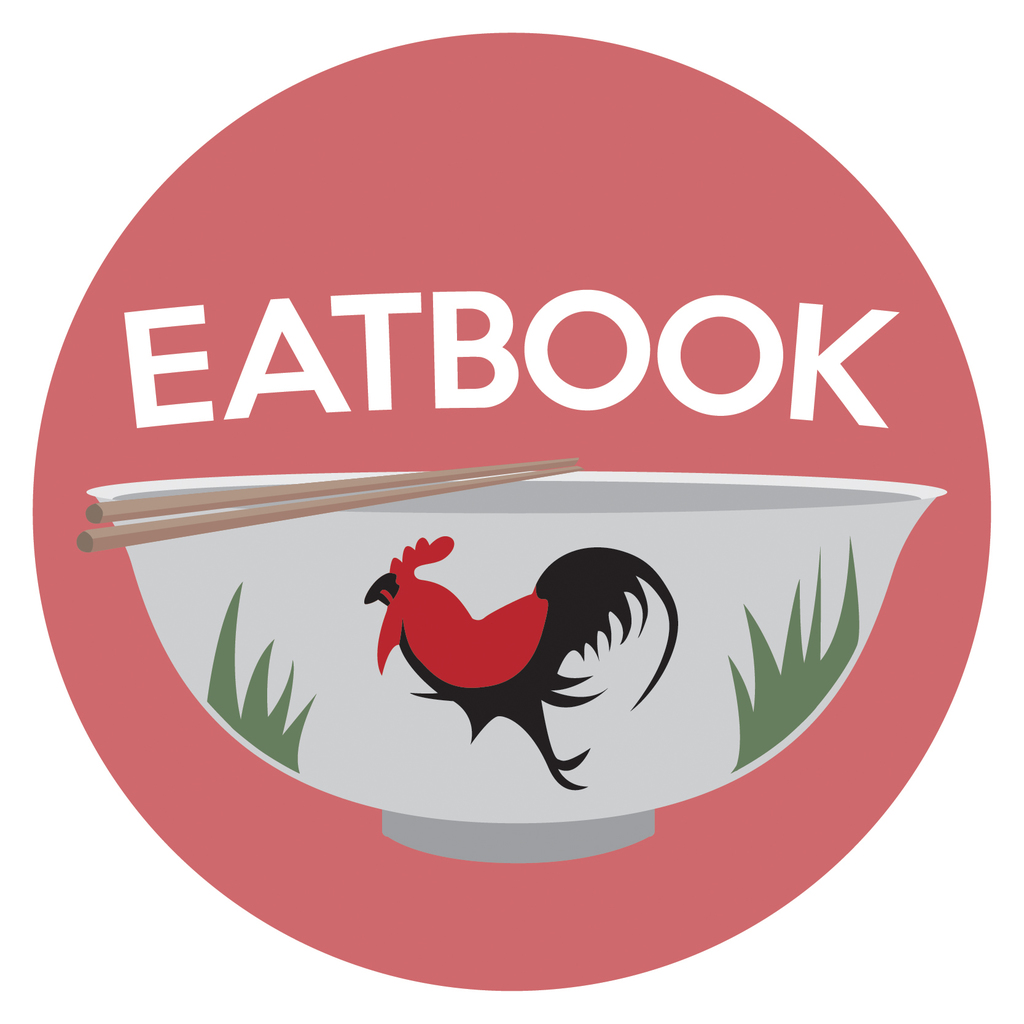 Drop us your email so you won't miss the latest news.