Cinnamoroll Cafe in Orchard Central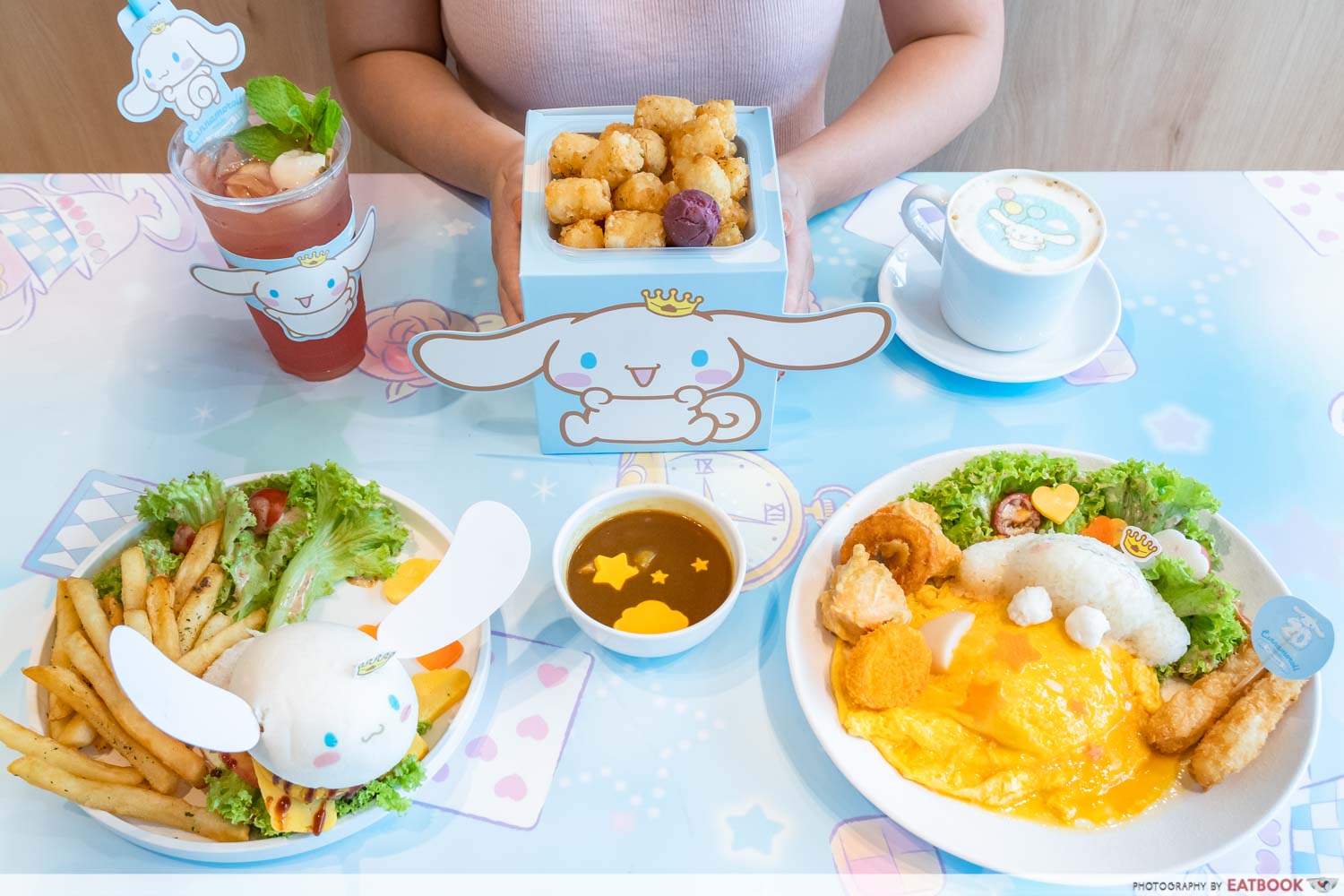 When I first heard that Kumoya is opening a Cinnamoroll pop-up cafe on 19 August 2022 at Orchard Central, I immediately jumped on the opportunity to review it. As someone who can't resist the cute white pup or anything Sanrio for that matter, I was looking forward to experiencing Cinnamaroll haven and tasting the limited-time menu specially curated and styled by Little Miss Bento's Shirley Wong.
Food at Cinnamoroll Cafe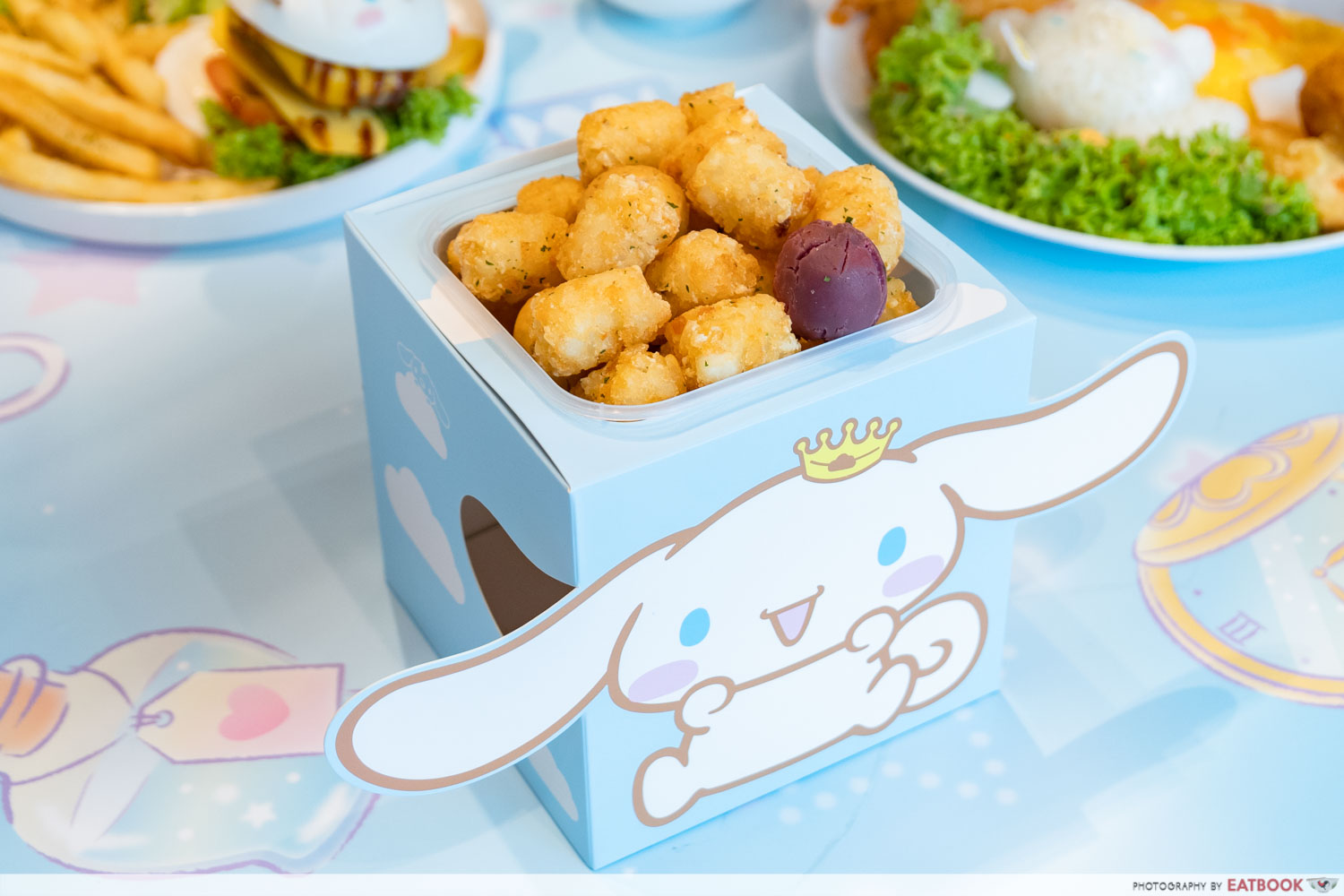 As a mochi lover, I couldn't pass up on the opportunity to try the Mini Tater Tots & Sweet Potato Mochi Balls ($13.90+). I was expecting the mochi balls to have a hard crust, but they were surprisingly soft and crumbled with each bite, revealing the smooth and chewy mochi beneath.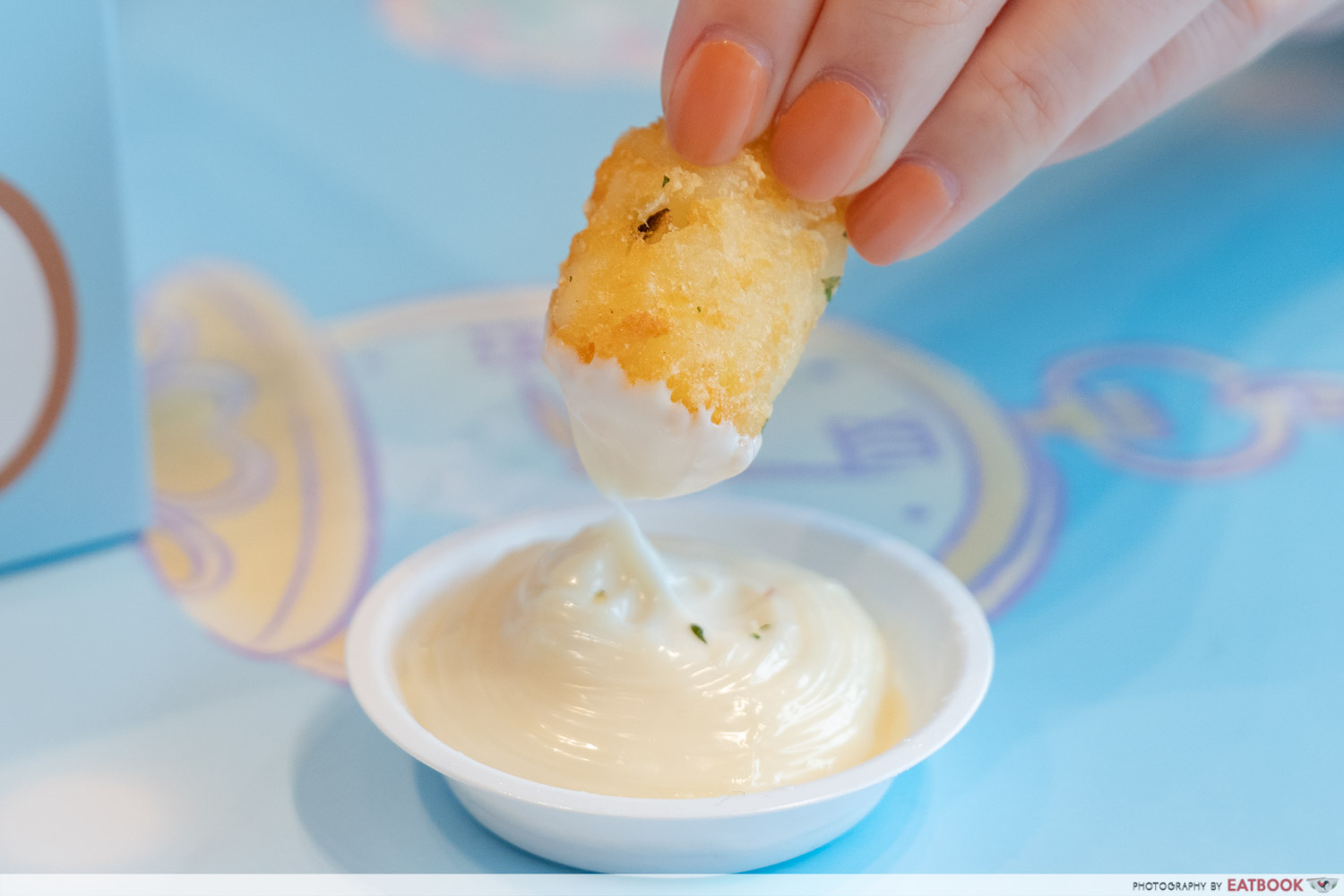 The golden-brown tater tots, on the other hand, were crunchy, but could have had a more distinct potato taste. Nonetheless, I enjoyed how they were not too oily, and the mayonnaise dip helped in elevating the flavour by adding a slight tang.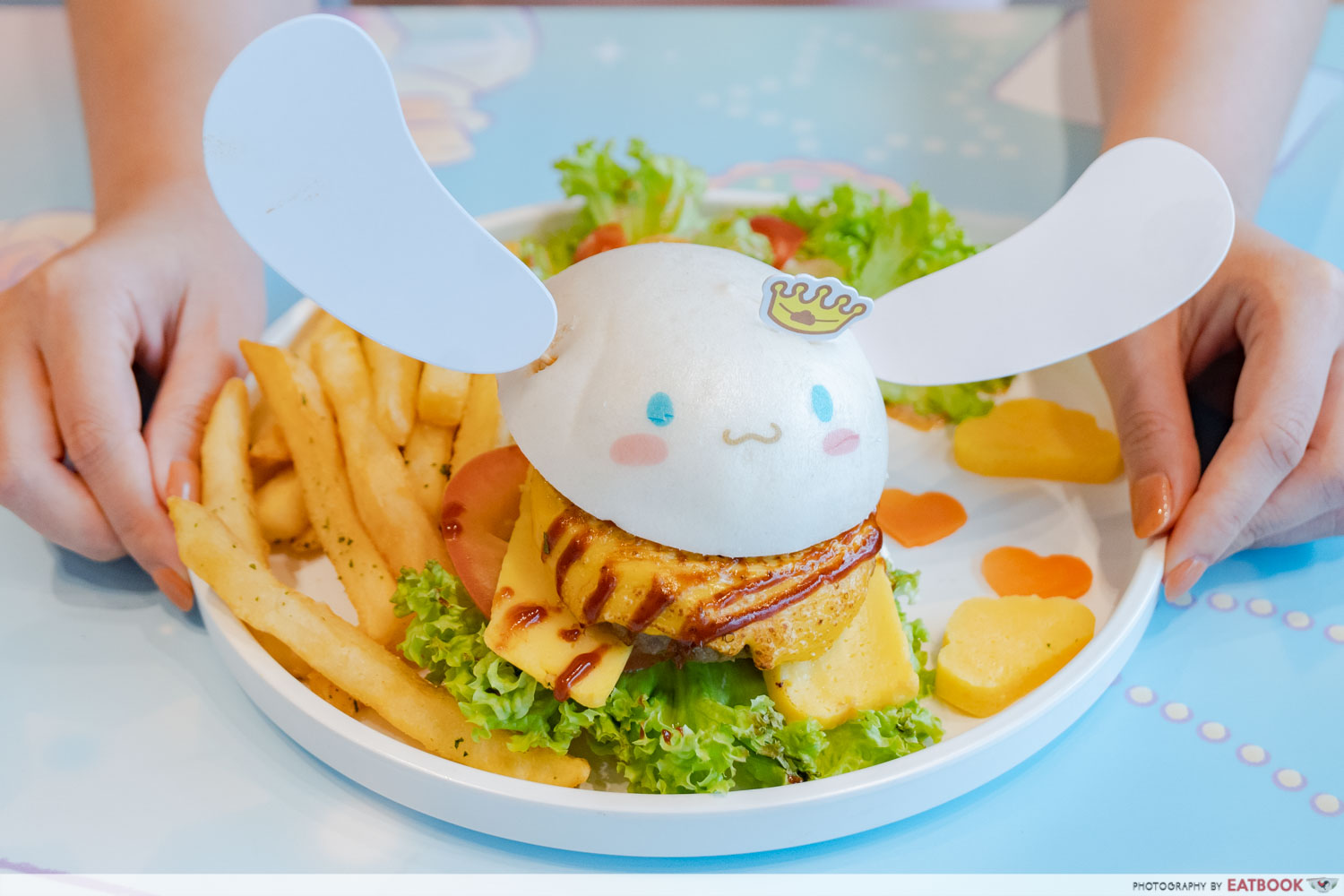 We also ordered the Flying Clouds Cinnamoroll Cheese Burger ($25.90+), which consisted of a plant-based patty with melted cheddar cheese, cloud-shaped tamago, and fresh veggies. You can request for chicken katsu or teriyaki beef patty instead of the vegetarian option, if you prefer.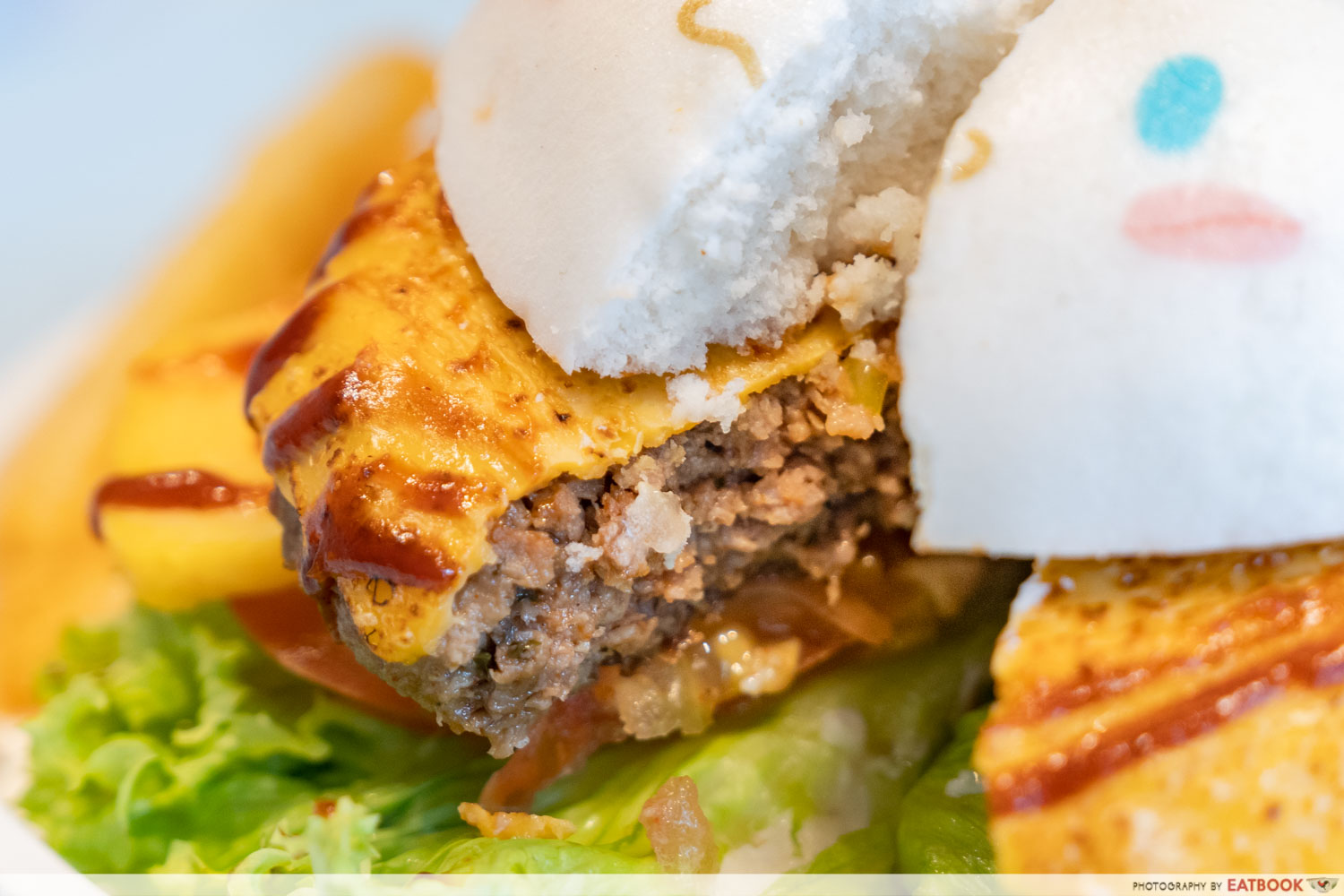 I couldn't help but let out a shriek when I cut into the Cinnamoroll mantou buns, which were fluffy but a little starchy. The patty was decent, but the highlight was definitely the thick and well-seasoned fries.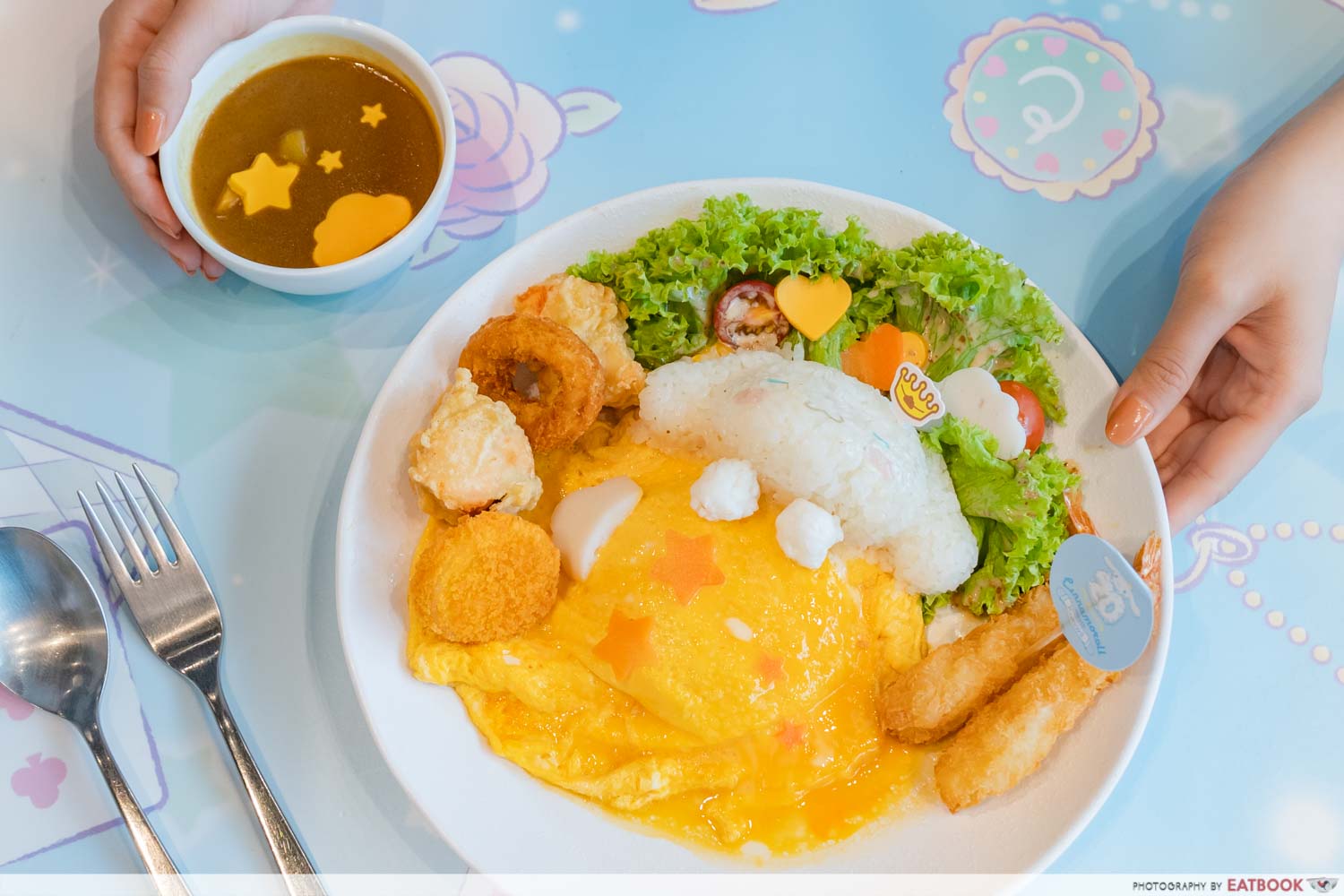 I was most looking forward to the Instagrammable Fluffy Dreamland Japanese Seafood Curry Rice ($28.90+), which came with Cinnamoroll-shaped rice snuggled under an omelette blanket. The assortment of seafood karaage included crispy tempura prawns and salmon nuggets for extra bites of umami.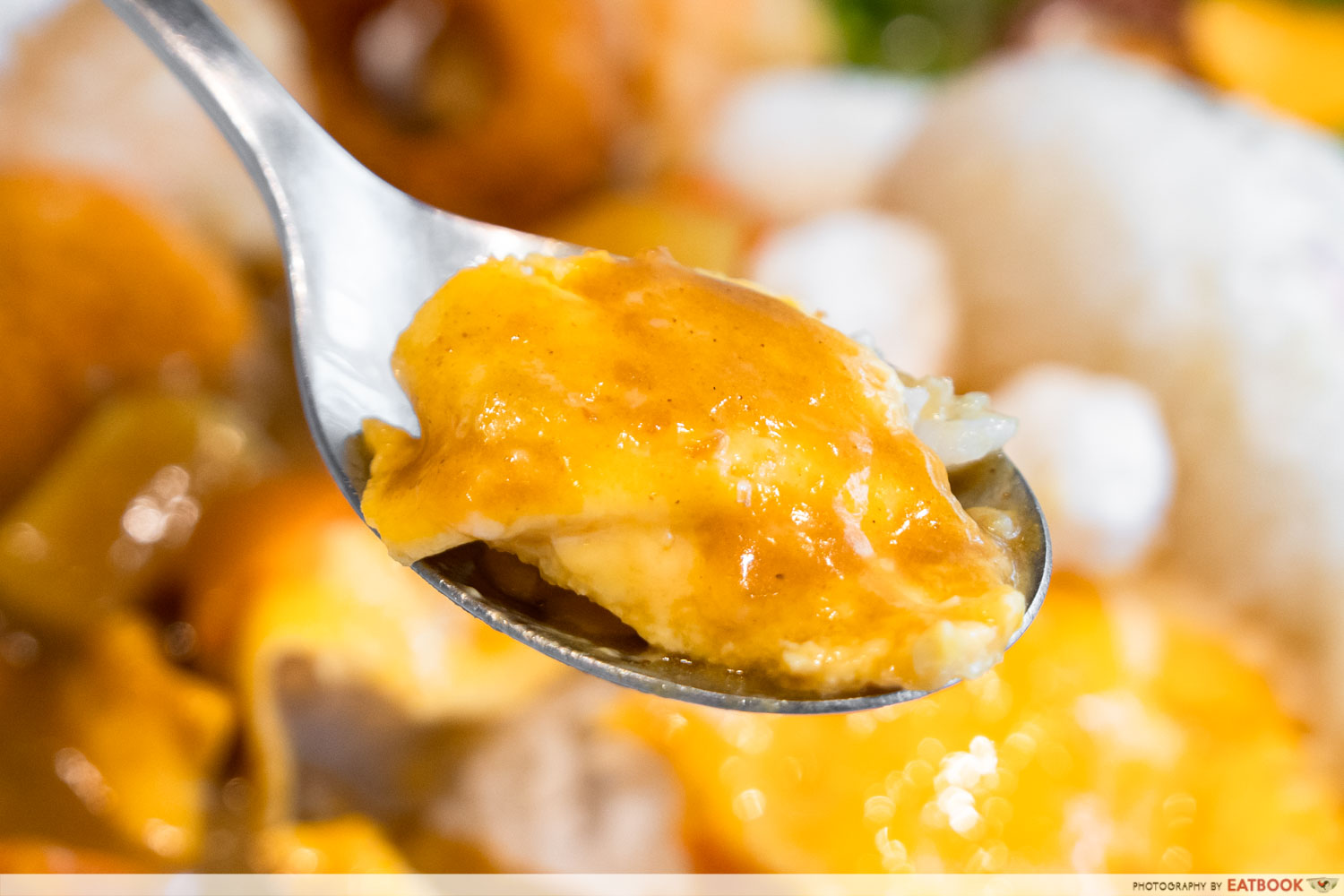 Don't forget to pour the thick house-made Japanese curry over the rice and mix it all in for a good balance of sweet and savoury flavours. Like most Japanese curries, this one was on the sweeter side with chunks of soft potatoes, carrots, and cutesy tamago shapes. My only gripe with this dish was that the rice lacked flavour, but this was no longer an issue once the rice was combined with the curry.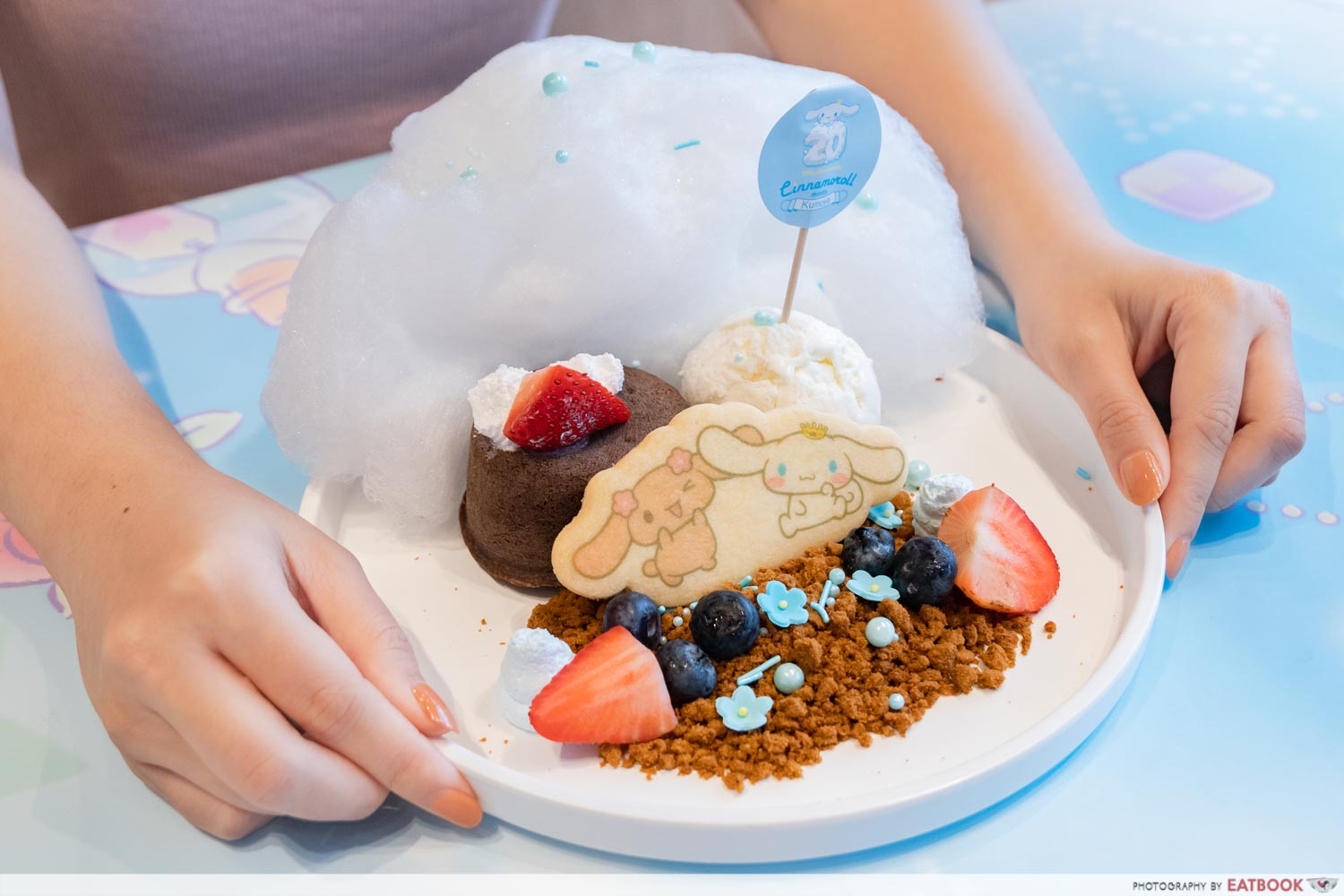 We had the Cinnamoroll Ultimate Chocolate Molten Lava Cake ($22.90+) to end the meal on a sweet note. When sliced into, the lava cake oozed with molten chocolate that flowed onto the crunchy biscoff crumble and fresh berries. While I'm not the biggest fan of vanilla, I enjoyed the distinct vanilla fragrance that helped soften the chocolate's rich flavours.
Apricus Cafe Review: New All-Day Brunch Cafe In Sengkang By People Behind The Populus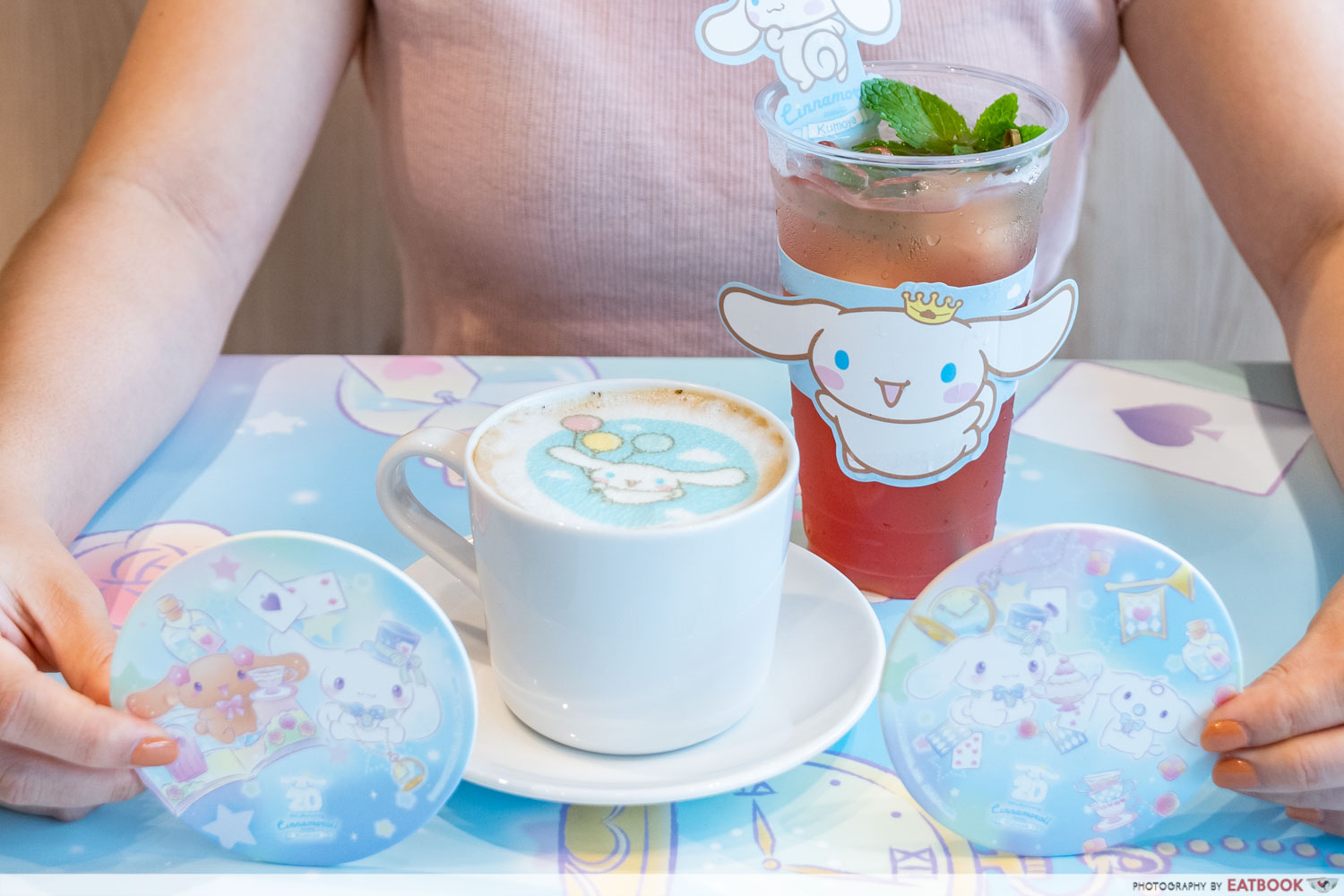 For drinks, we had the Sweet Fluffy Lychee Peach Iced Tea ($13.90+), a refreshing palate cleanser topped with mint leaves. By the way, you also get to take home a free Cinnamoroll coaster with any drink you order—great for Cinnamoroll fans like myself!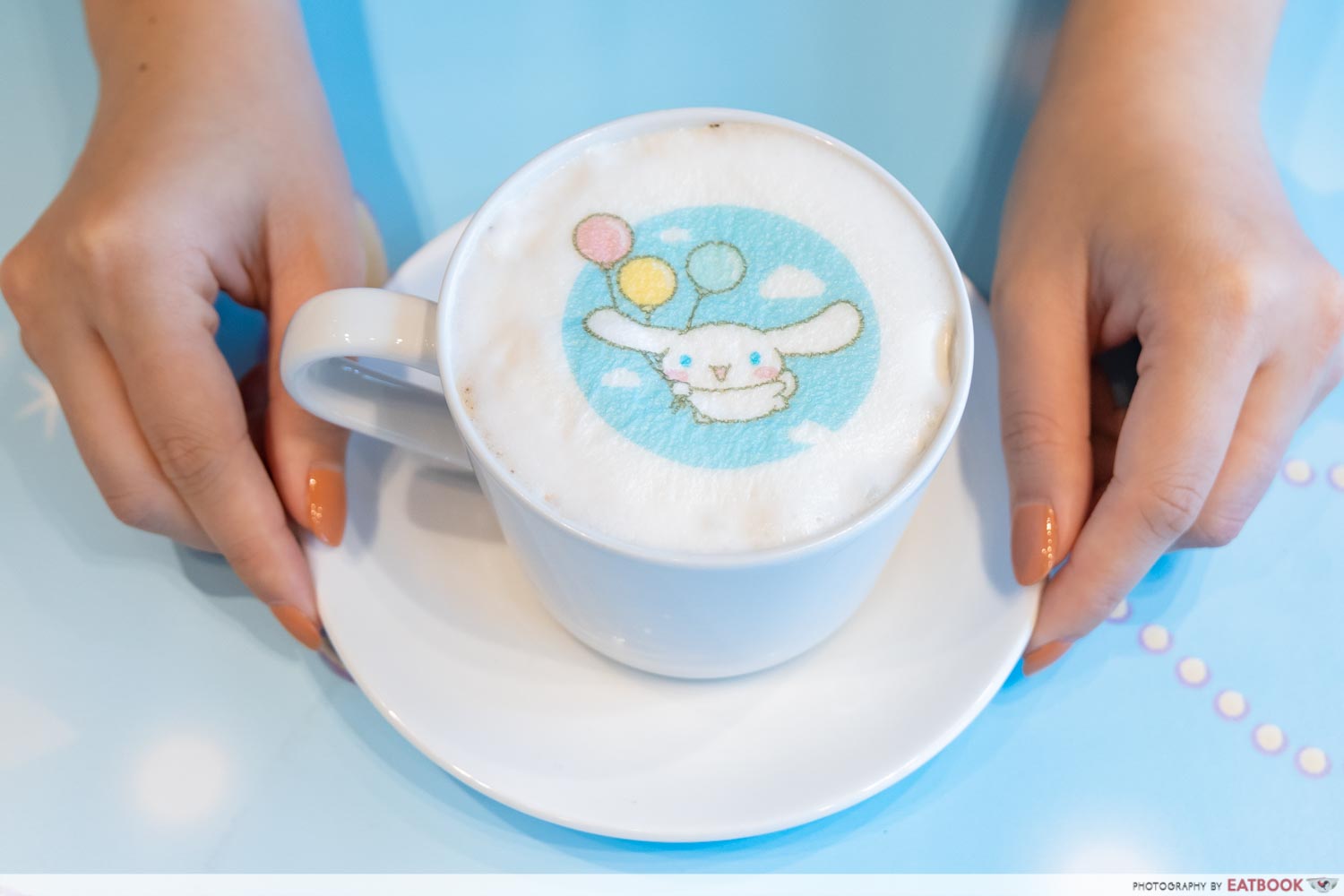 I also ordered the Cinnamoroll Hot Latte ($11.90+) to quell the impending food coma. This beverage, which came with Cinnamoroll latte art, was satisfyingly creamy with a mellow coffee aroma.
Ambience at Cinnamoroll Cafe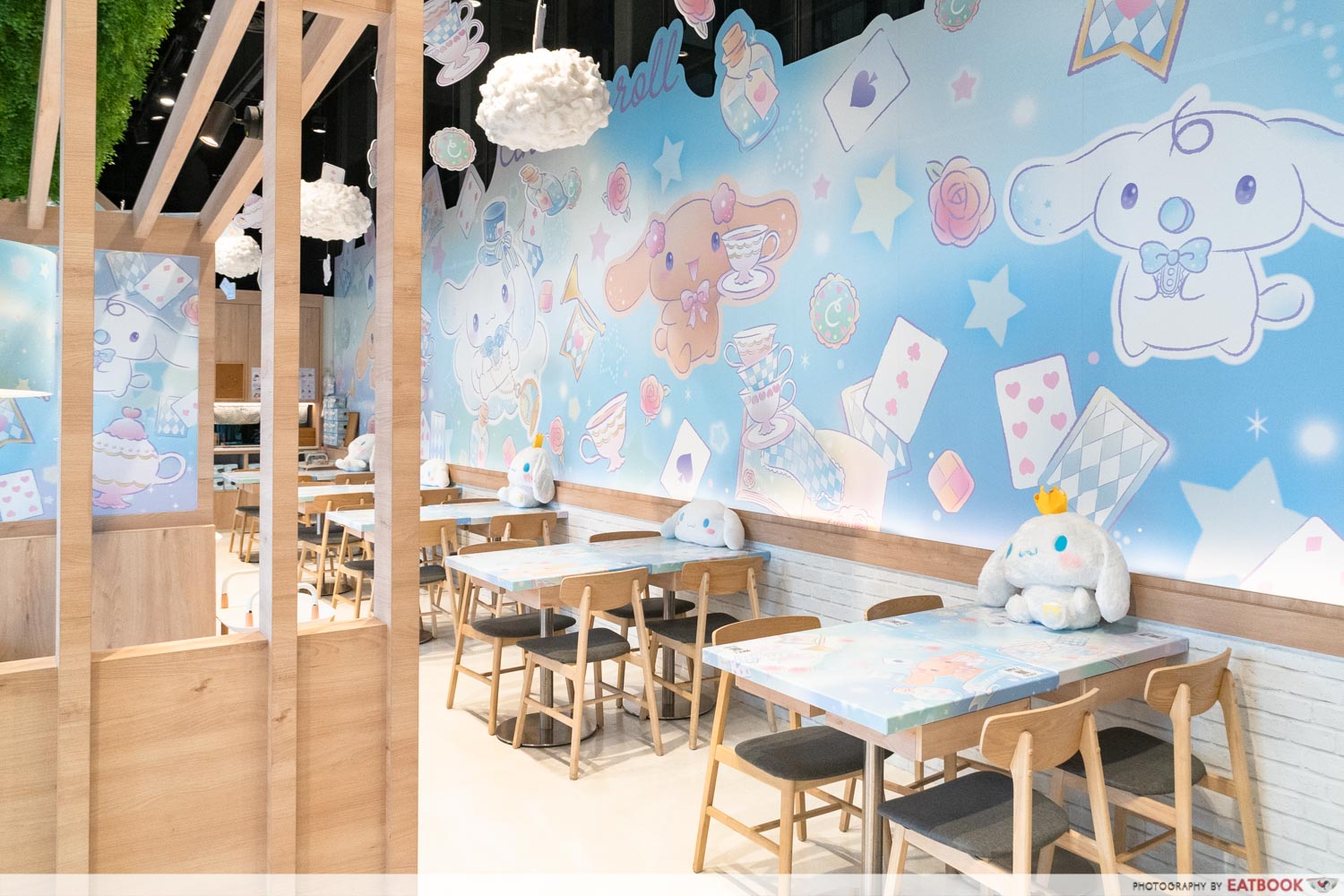 The Cinnamoroll fantasy begins the moment you step into the cafe, as the space sports a pastel pink-and-blue Cinnamoroll wallpaper, and fluffy cloud decor dangling from the ceiling. I had to contain my squeals of excitement when I saw the adorable Cinnamoroll dolls stationed at each table, which eventually found their way into my IG stories. There's even Cinnamoroll artwork plastered on each tabletop, and a mini photo booth for those who want to commemorate their experience here.
The verdict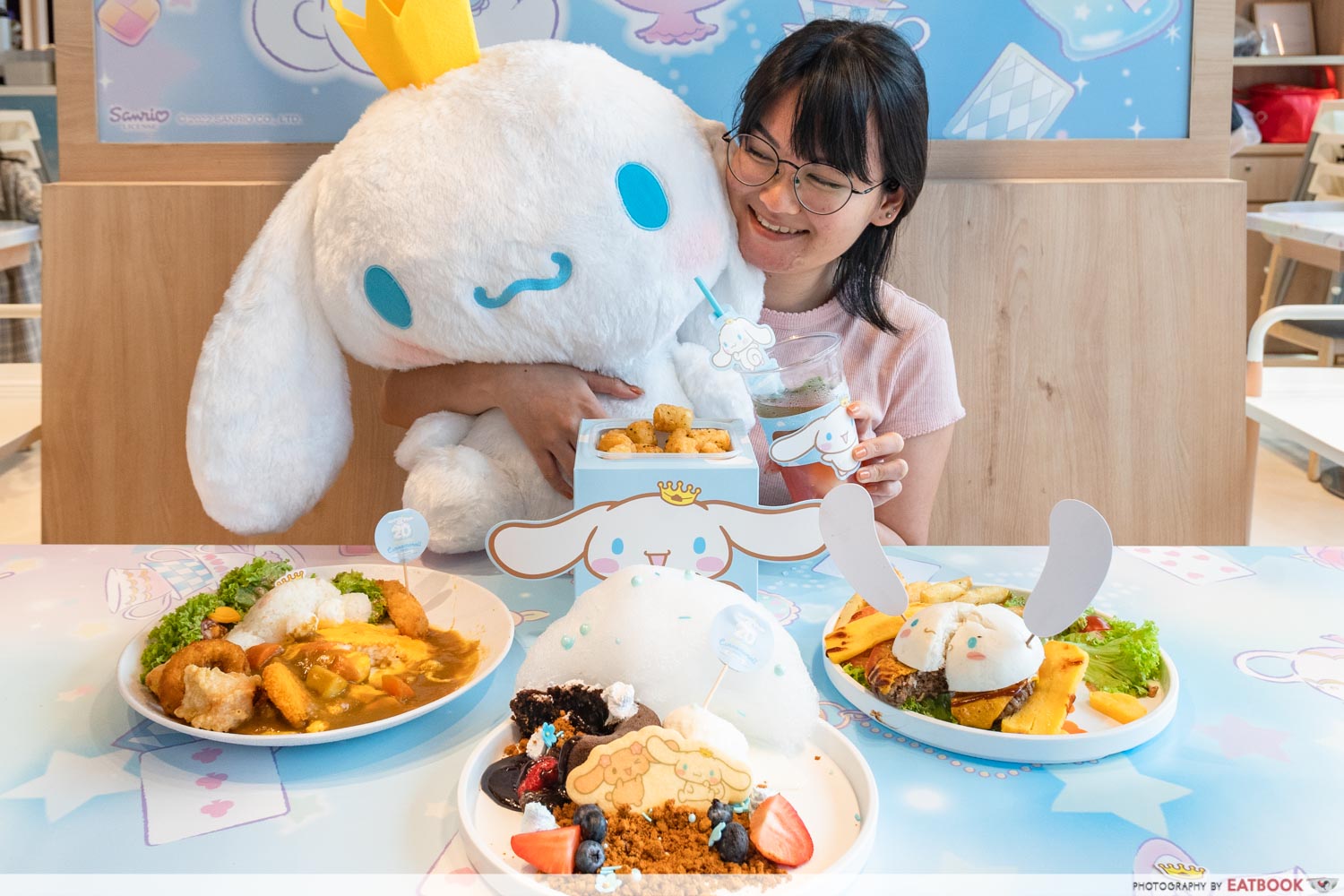 While some may argue that the Cinnamoroll Cafe is rather gimmicky, I thought the food we had exceeded my expectations. On top of that, the portions were also relatively big, compared to other cafes I've visited. Yes, there are better food options elsewhere, but Cinnamoroll Cafe offers a full sensorial experience for Sanrio fans wanting to fill their stomachs and their Instagram feed.
If you're looking for delicious Western food, read our Lola's Cafe review.
Address: 181 Orchard Road, Orchard Central, #04-08, Singapore 238896
Opening hours: Daily 11am to 9:30pm
Website
Kumoya is not halal-certified, but uses no pork, lard, or alcohol.
Photos taken by Hui Hui Lau.
This was a media tasting at Kumoya.
Cinnamoroll Cafe Review: Adorable Cinnamoroll Pop-up In Orchard Central with Seafood Curry Rice And Caramel Waffles
Cinnamoroll Cafe Review: Adorable Cinnamoroll Pop-up In Orchard Central with Seafood Curry Rice And Caramel Waffles -

7.5/10
Summary
Pros
– Creative dishes with decent portions
– Instagrammable ambience with Cinnamoroll decor
Cons
– Quite pricey
Recommended dishes: Mini Tater Tots & Sweet Potato Mochi Balls ($13.90+) and Fluffy Dreamland Japanese Seafood Curry Rice ($28.90+)
Address: 181 Orchard Road, Orchard Central, #04-08, Singapore 238896
Opening hours: Daily 11am to 9:30pm